Scroll down for English explanations - alternates with German explanations.

Unser nächstes Ziel ist der
Grand Palace
und Wat Phra Kaeo (Tempel des Smaragd Buddhas). Hier merkt man den Unterschied zwischen einer privaten Tour mit Fahrer und Fremdenführer und Taxitour. Hier kann der Fahrer schnell ranhalten, meinen Eltern helfen und dann sucht er in Ruhe einen Parkplatz, während wir bereits zur Sehenswürdigkeit schreiten können. Übrigens ist das unser Fahrer Pom, der sehr nett und zuvorkommend war.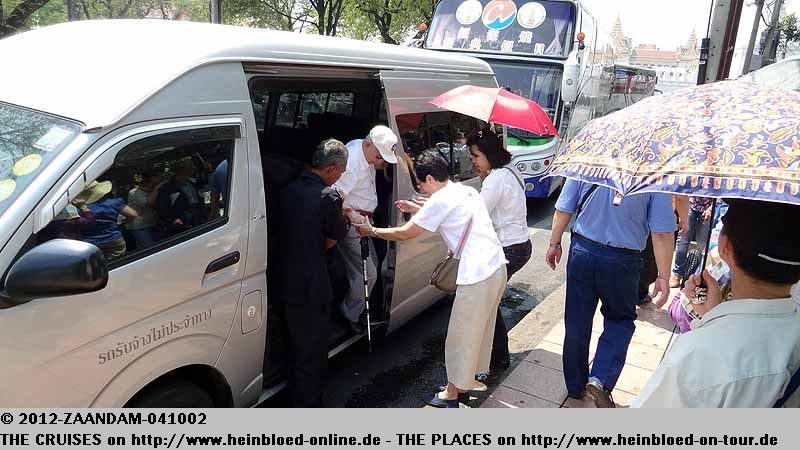 Our next destination was Grand Palace and Wat Phra Kaeo (Temple of the Emerald Buddha). Here you see the difference between a private tour with driver and tour guide and a taxitour. Here the driver can just stop and let you get out, help my parents and find a parking while we could already walk to the next spot. By the way that was our driver Pom who was very kind and courteous.

On places you find many Chinese groups you will also find someone from Falun Gong to show the condition in China. But most Chinese group (am Cologne Cathedrale, lunch Heidelberg Castle and pm Löwenbräu in Munich...) had no time anyway he was only a hurdle on the way to the palace.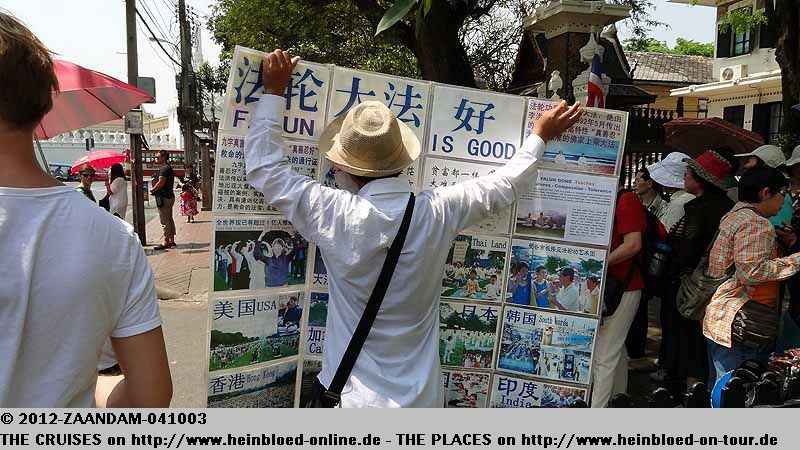 Wo viele chinesische Besuchergruppen sind, sind die von Falun Gong nicht weit, um auf die Zustände in China aufmerksam zu machen. Da die meisten Chinesen-Gruppen (morgens Kölner Dom, mittags Schloß Heidelberg und abends im Münchener Löwenbräu...) eh keine Zeit haben, war er leider nur ein Hinternis auf dem Weg zum Palast.
Hinter der Mauer...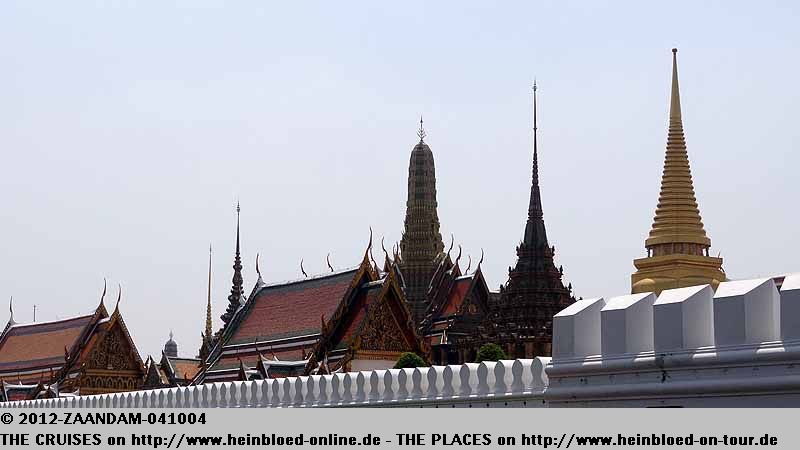 Behind the wall...

As it was very hot and my father knew everything, Sasa suggested him that he should wait here... He loved the idea. But my mother did not like it and did not let me give him some Thai Bath to stay there all the morning and to spend the money in sweet treats. My father was offended that he should see the palace again. But it was like I would "park" women in a shoe store. So my mother insisted him that he need some exercise and to walk.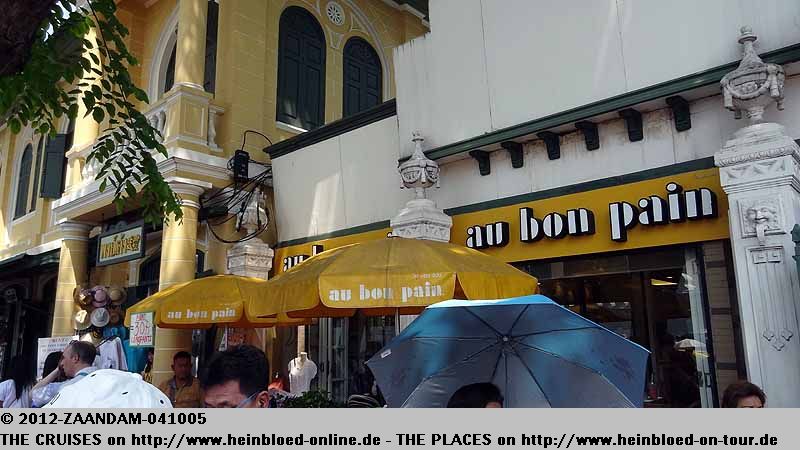 Da es sehr heiß war und mein Vater das alles schon kannte, schlug Sasa vor, dass er hier auf uns wartet... Er war ja dazu bereit. Allerdings fand es meine Mutter nicht gut und hat unterbunden, dass ich meinen Vater mit Thai Baht zu versorgen, damit er dort den ganzen Morgen verbringt und dort das Geld in Leckereien anlegt. Mein Vater war zwar beleidigt, dass er schon wieder den Palast ansehen sollte. Aber es wäre so, als ob ich Frauen in Schuhgeschäften zwischendurch "parken" würde. So hat sich meine Mutter durchgesetzt, dass er Bewegung braucht.
Außen ein paar Sicherheits- und Verhaltenshinweise.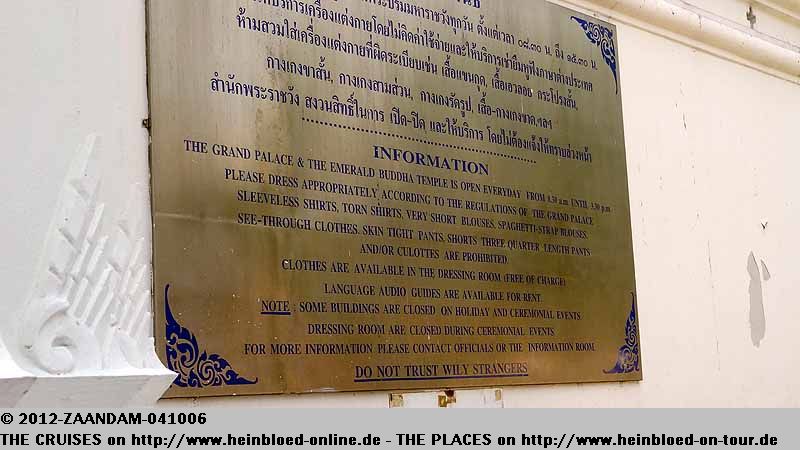 Outside few security- and behaviour-instructions.

And then it was like in Versaille (Paris), Schönbrunn (Vienna), Sanscousi (Potsdam/Berlin) etc. You cannot name Neuschwanstein because you get only access during fixed time slots... And all few degrees hotter...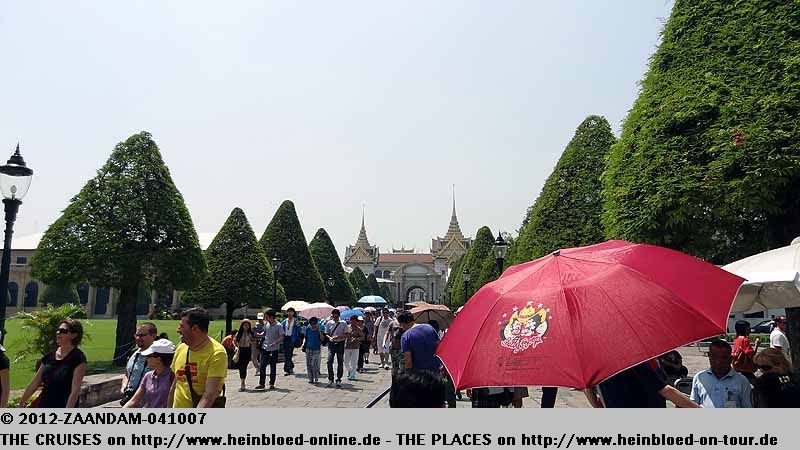 Und dann eigentlich so wie auf Versaille, Schönbrunn, Sanscousi usw. Neuschwanstein kann ich in diesem Zusammenhang nicht nennen, weil man dort nur innerhalb zugeteilter Zeitfenster hinkommt... Und das ganze ein paar Grad heißer...
Aber wunderschön.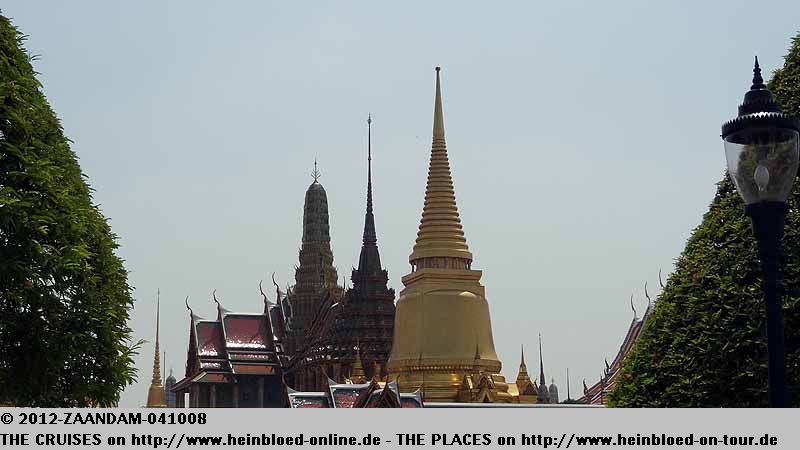 And most beautiful.

And Sasa insisted to take pictures of us.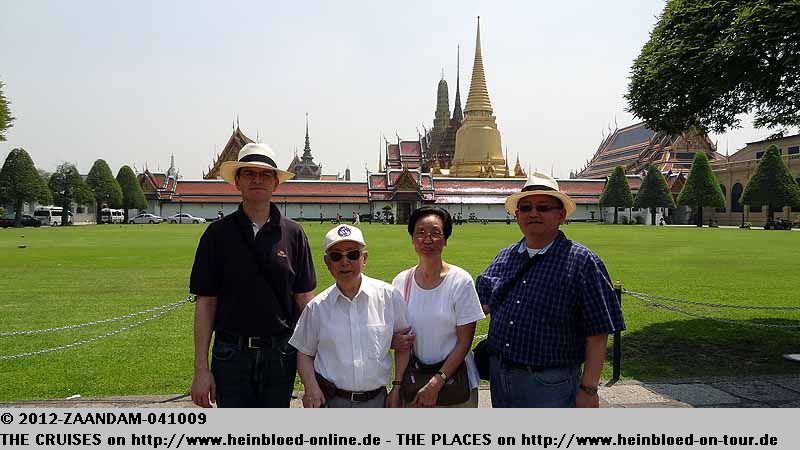 Und Sasa besteht darauf uns zu fotografieren.
Das gute, wenn man mit einem Fremdenführer arbeitet: sie besorgt alles im Vorfeld.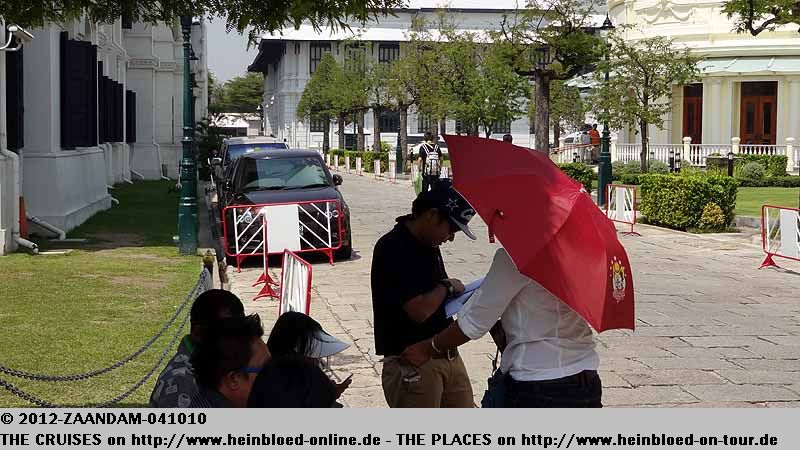 The good thing when we are working with a tour guide. Everything was well prepared.

We had already our tickets when the other were trying to find the ticket sales.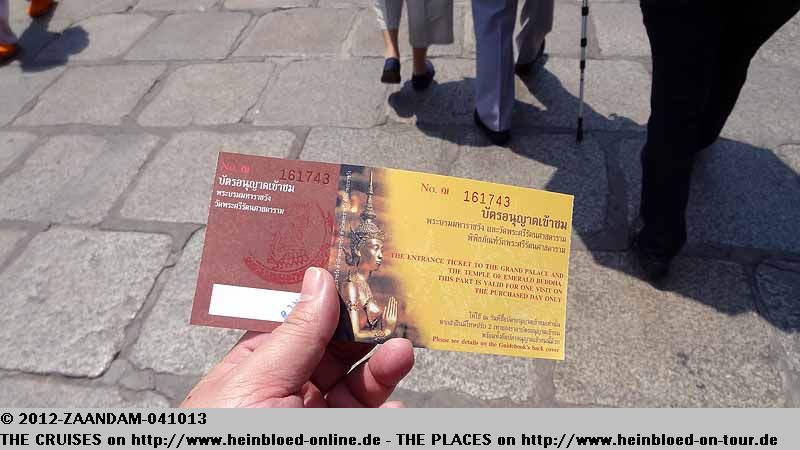 Wir hatten zu einem Zeitpunkt bereits unsere Tickets, während andere noch die Ticketausgabe am Suchen waren.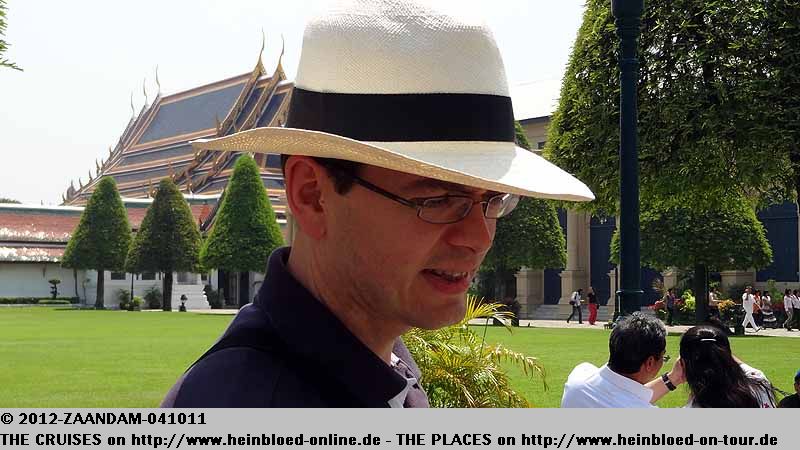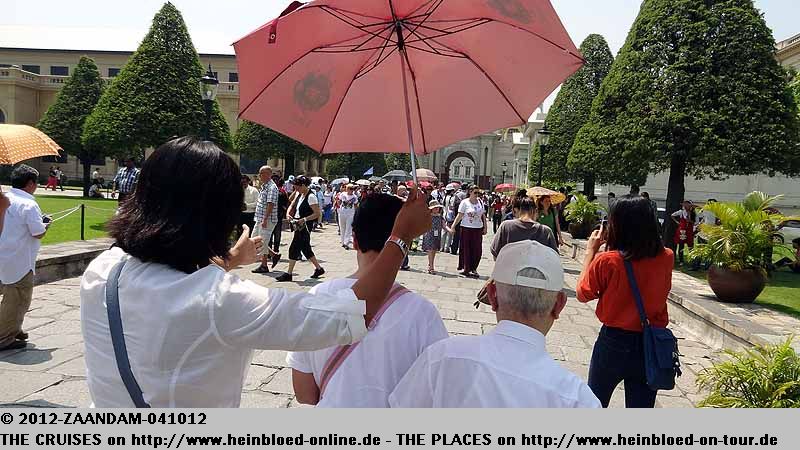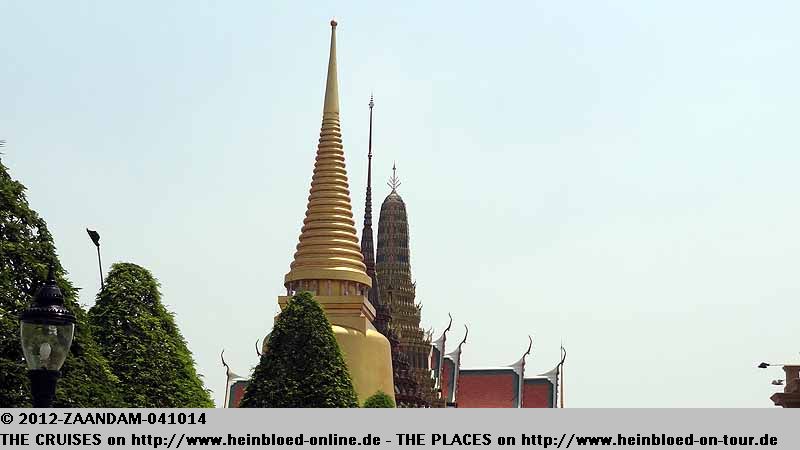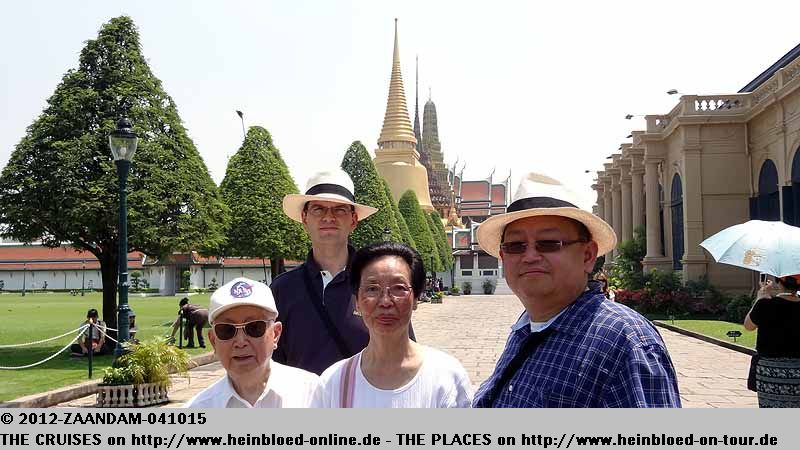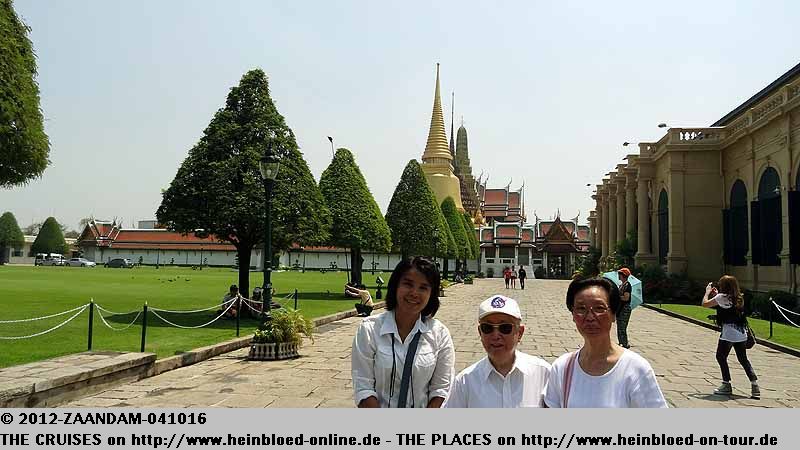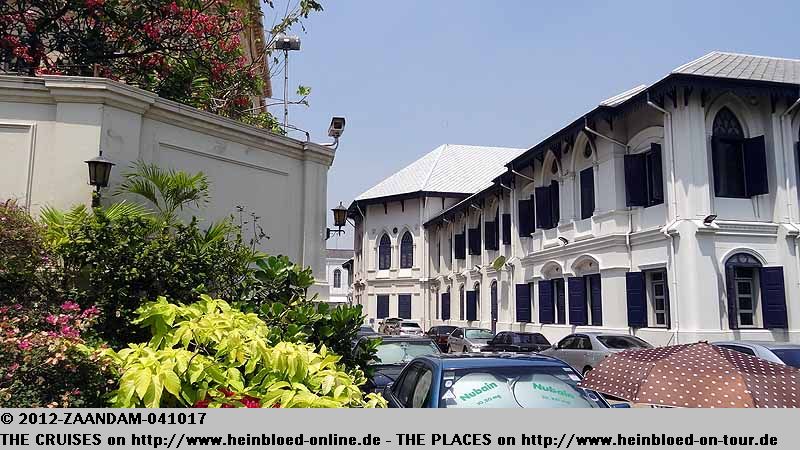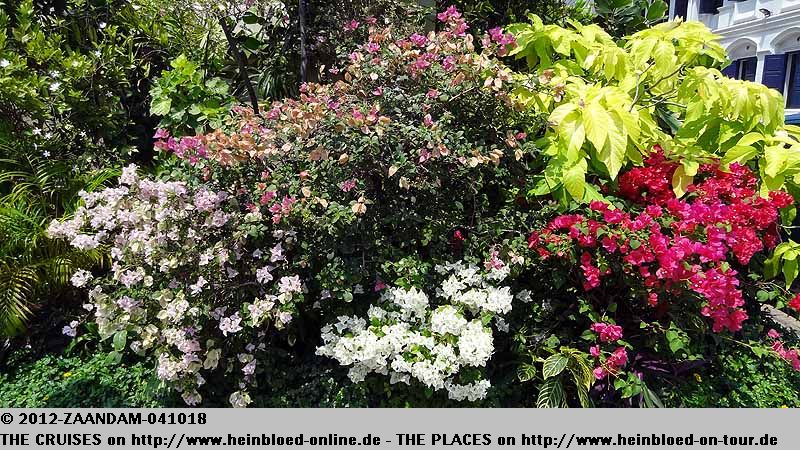 Everywhere the nice flowers.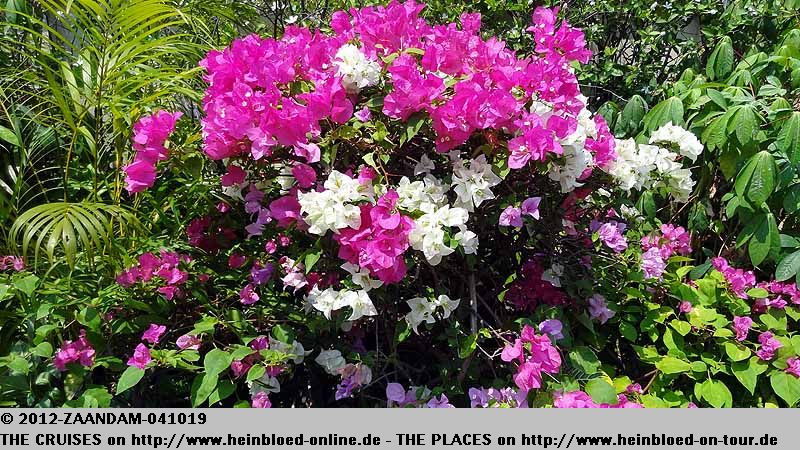 Überall die schönen Blumen.
Und hier geht es zum Ticketverkauf und zum Eingang.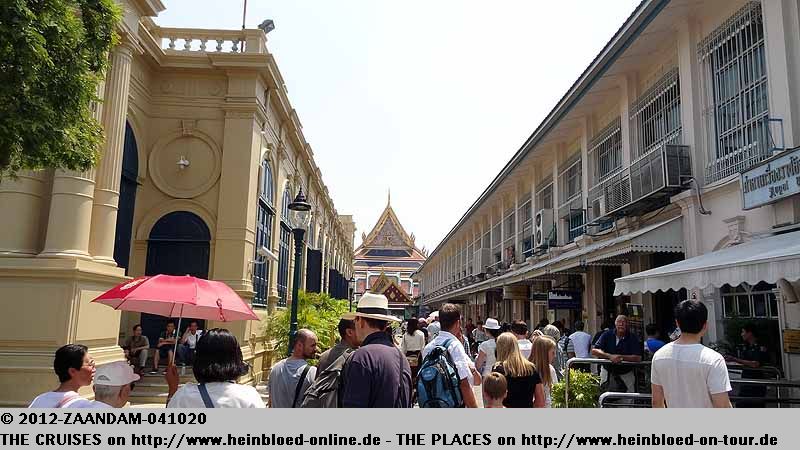 And here along for ticket sales and entrance.

400 THB (= 13 USD / 2012)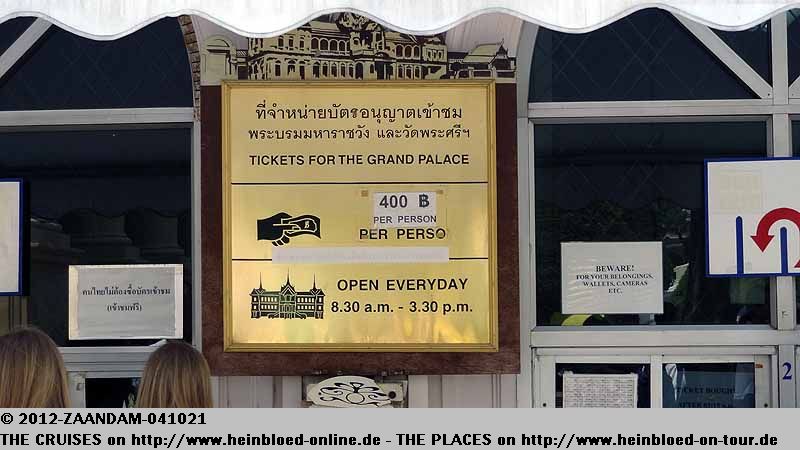 400 THB (= 10 EUR / 2012).
Hierüber habe ich mich gewundert, aber Sasa erklärt, dass Thais kostenlos den Palast besuchen dürfen, weil sie bereits mit ihren Steuern zum Unterhalt beitragen.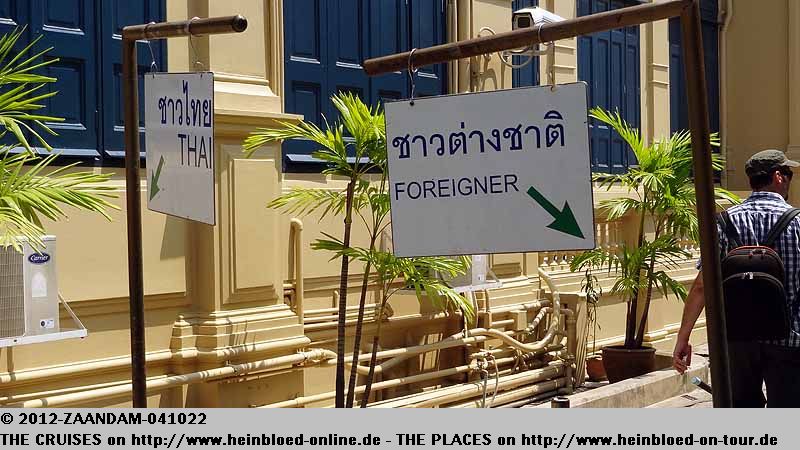 I was sursprised on this but Sasa explained that Thais may admit the palace free of charge as they pay already taxes to maintain the place.

So we had to walk in from the right side.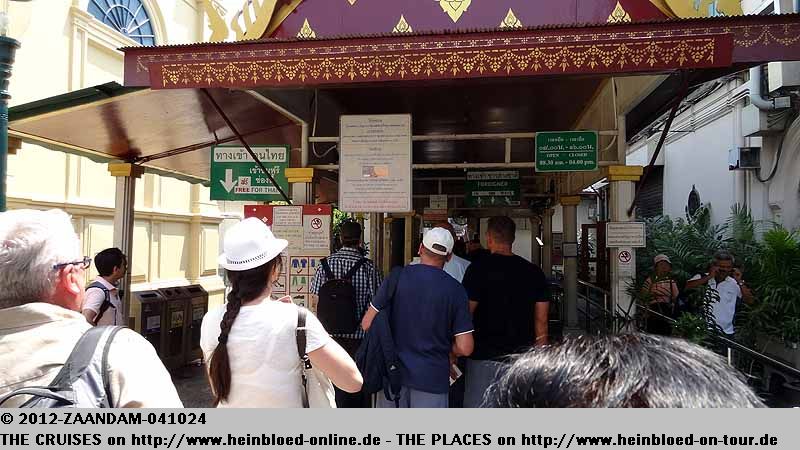 Für uns geht es also rechts rein.
Und hier bekommen wir dann auch pro Ticket einen kostenlosen Führer.

And here we got a guide book for free: one per ticket.

That was a Thai love story like Rome and Juliet which was told here at the wall.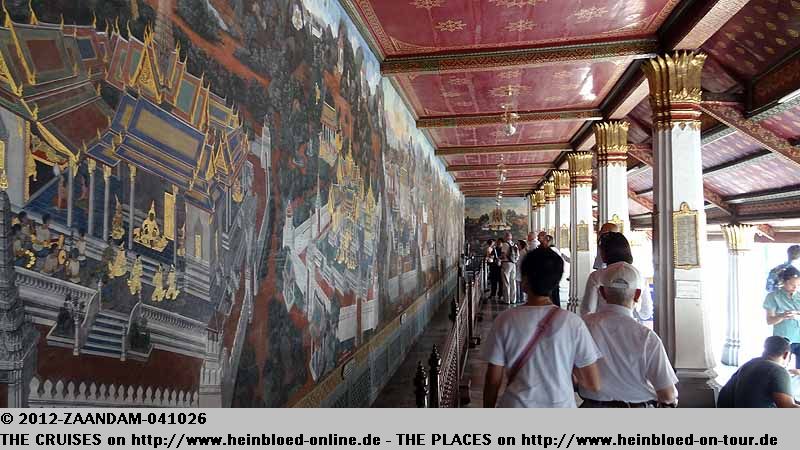 Das ist eine thailändische Liebesgeschichte im Stile von Romeo und Julia, die hier an der Wand erzählt wird.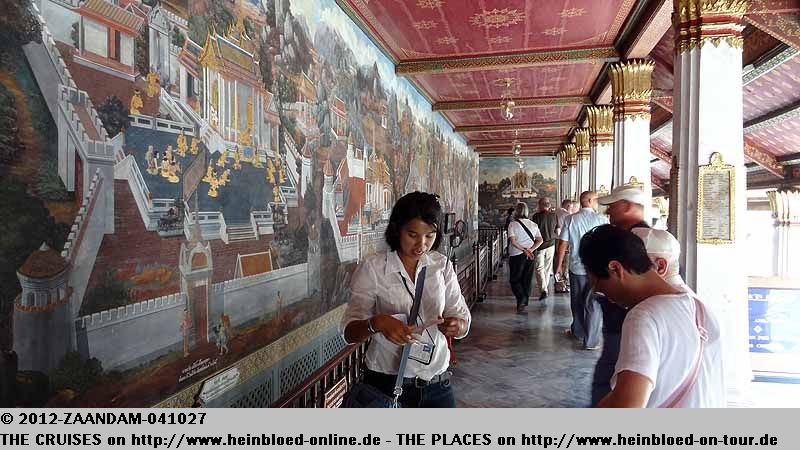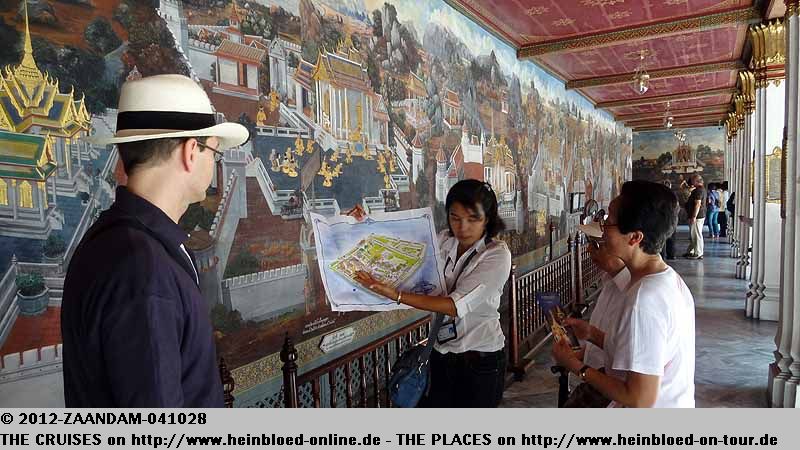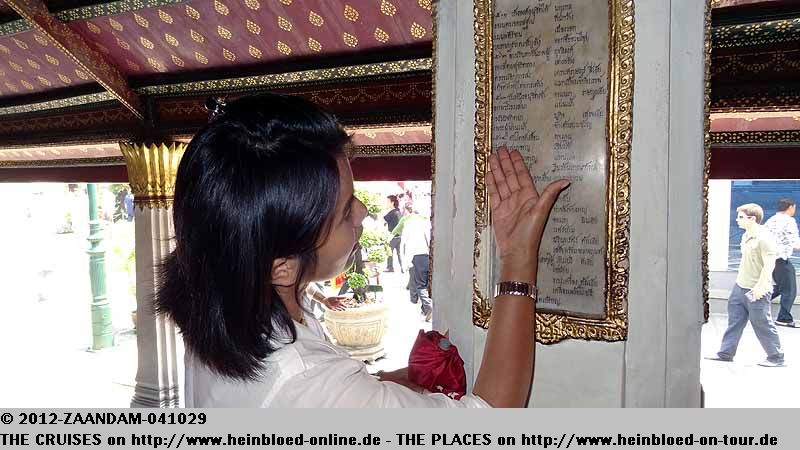 We could not stop to marvel.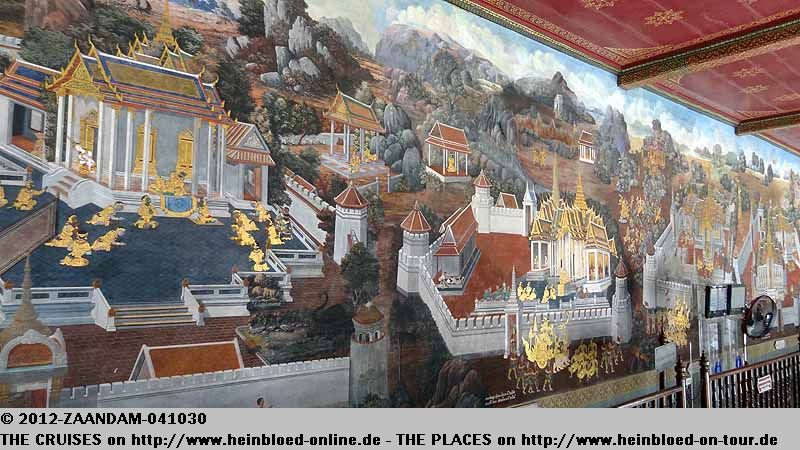 Wir kommen aber eh aus dem Staunen nicht mehr heraus.
Die ganzen Details an den Gebäuden.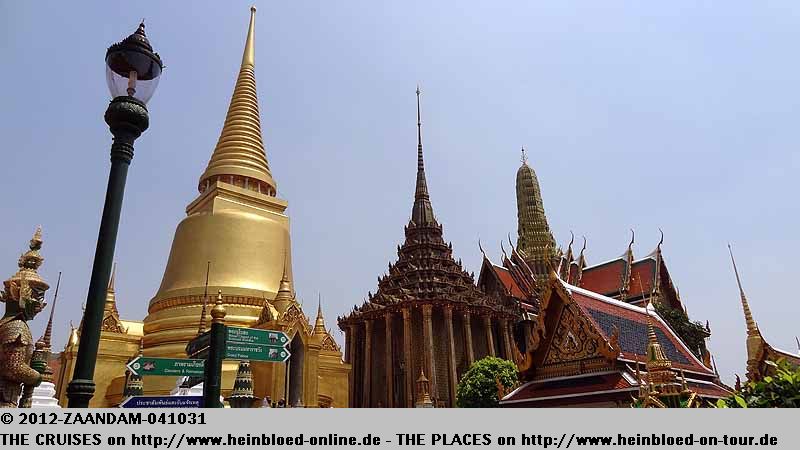 Look at all the details at the buildings.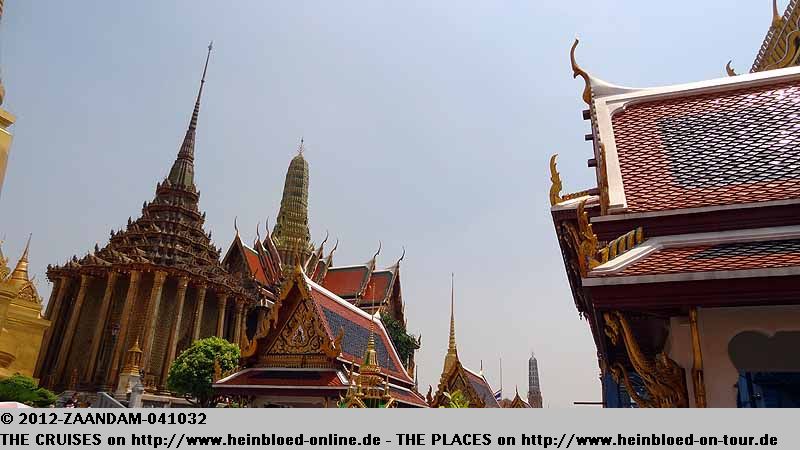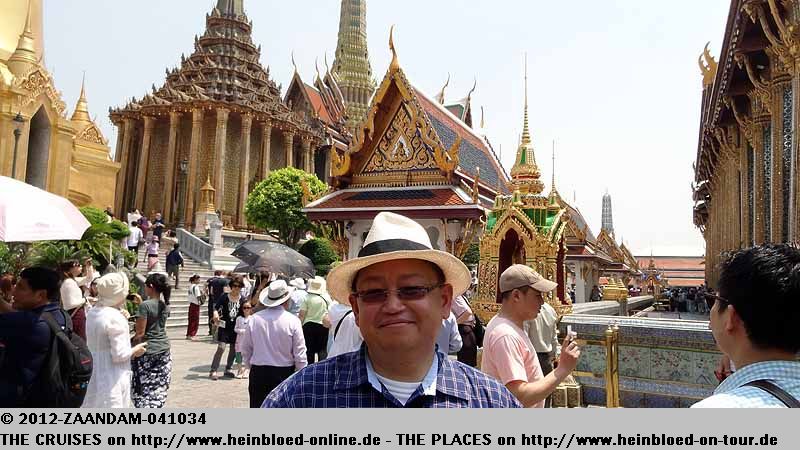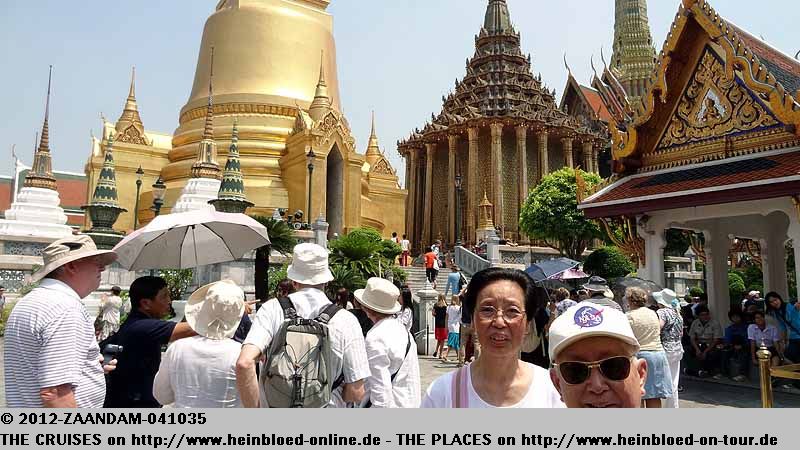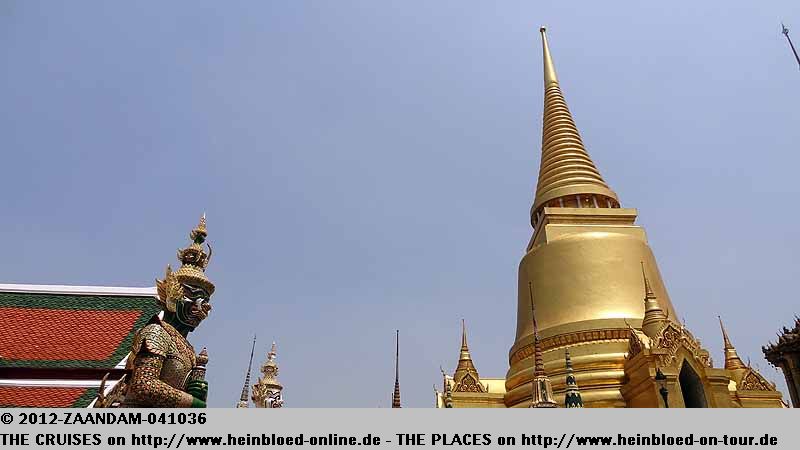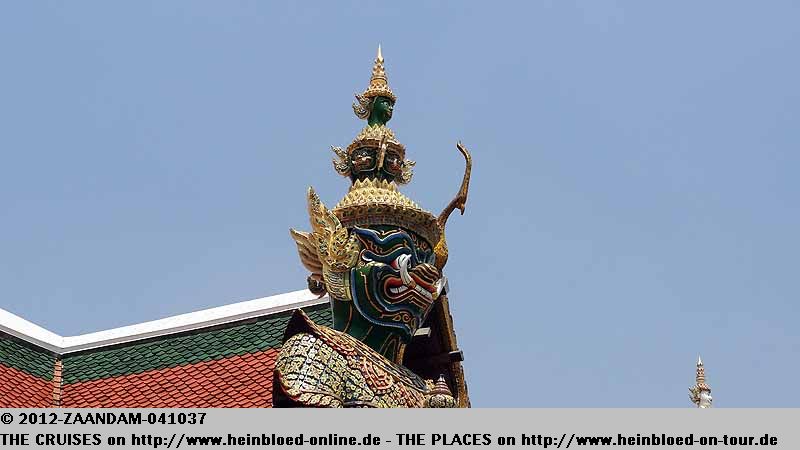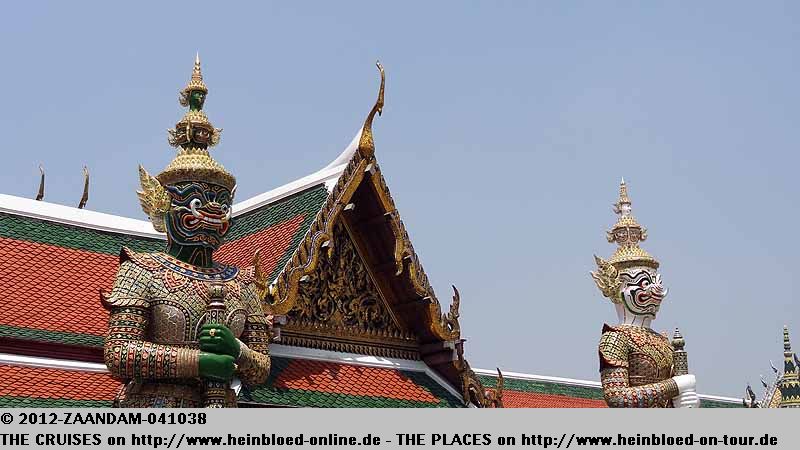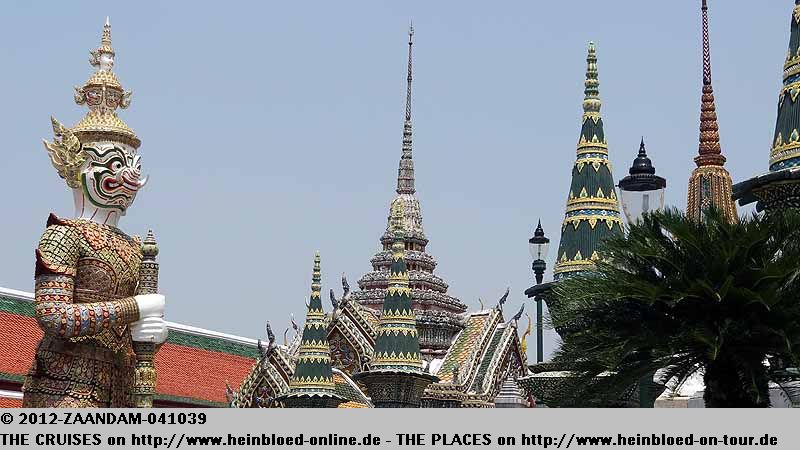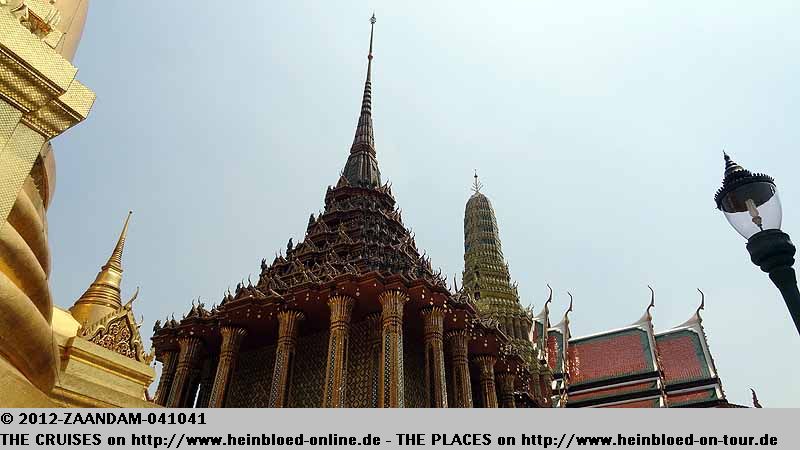 Although it was quite hot: I only enjoyed the view.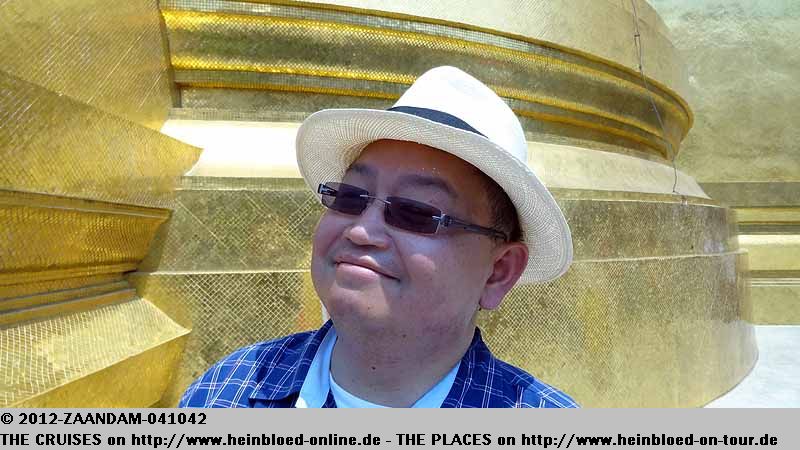 Ohwohl sehr heiß: ich genieße einfach den Anblick.
Und sehe den Arbeitern beim Restaurieren zu.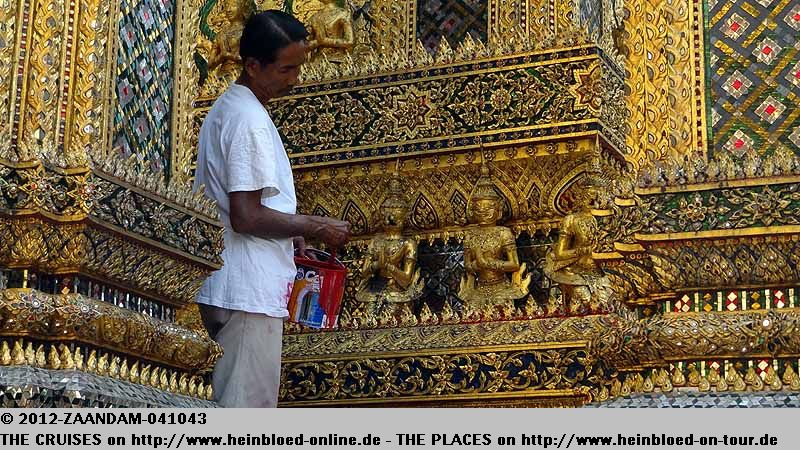 And watched the worker when they restore all the things.