Scroll down for English explanations - alternates with German explanations.

Obwohl noch eine Affen-Schau, ein mumifizierter Mönch und noch Shopping in Nathon auf dem Programm standen, baten wir darum, zum Tenderpier zurückgebracht zu werden. Die Stunde Verspätung, die Zeitumstellung und die Hitze führten zu der Bitte meiner Eltern sich auf das Schiff zurückziehen zu dürfen. Schade, dass man eine Zeitumstellung nicht am Seetag zuvor macht. Es gibt dann keine Verpflichtungen an Land und wenn sich jemand vertut, dann ist es nicht so tragisch. Aber ganz ehrlich: Shopping in Nathon war nun nicht so aufregend, soweit wir es überblicken konnten. Insgesamt war die Tour gut - genau das richtige für den Anfang oder das Ende der Reise: keine asiatische Mega-City, die Stress bedeutet. Uns hat es gefallen und sollten wir nochmals nach Koh Samui kommen, dann holen wir bestimmt den Rest der Tour nach und werden ausdrücklich nach unseren beiden Begleitern fragen.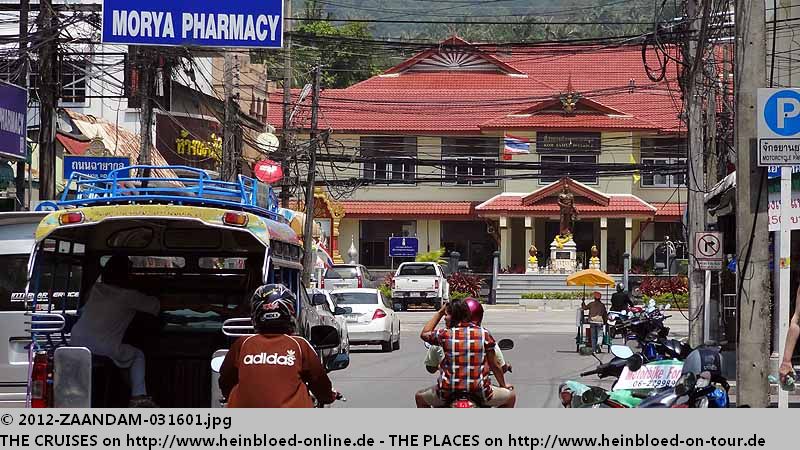 Although there was a monkey-show, a mumified monch and shopping in Nathon on the tour intinerary we kindly asked to be returned to the tender pier. The hour delay, die time change and the heat occured that my parents asked to get back on the ship. I was wondering why they do not make the time change on a day at sea. None has commitments ashore and if somebody forgot to adjust the time then this would not have serious consequences. But honestly: Shopping in Nathon was not so exited so far we could see. In general the tour was great - exactly the correct tour for the beginning or end of a cruise: no Asian Mega-City which always mean stress. We liked it: should our ways would take us back to Koh Samui one day than we would continue the tour itinerary and would like to see the missed spots and we would definately ask for our tour companions.

Before we returned to the ship we went into a coffee bar to have a drink and to check our e-mails as they offered free WiFi. Bruno tried here a fresh-squeezed lemon juice.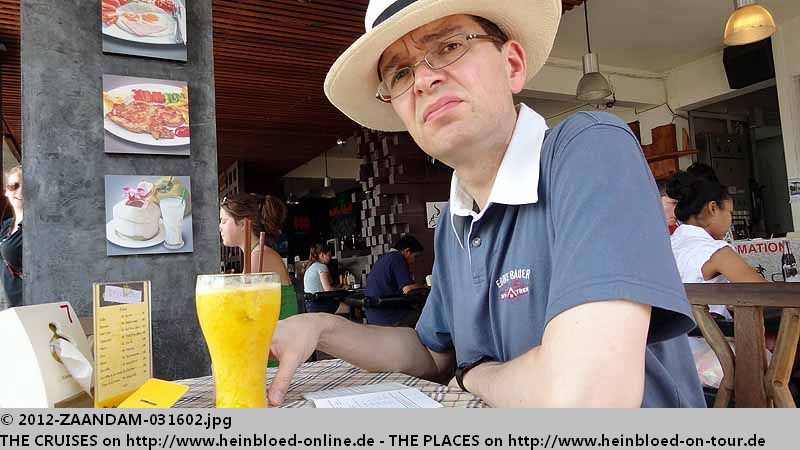 Bevor wir wieder an Bord gehen, gehen wir noch in einem Café etwas trinken und um kurz unsere E-Mails abzurufen, weil es dort kostenlos WLAN gibt. Bruno probiert hier einen frischen Zitronensaft...
Auch die ganzen Gäste, die mit Jeeps unterwegs waren, werden zurückgebracht. Ob die offenen Allradfahrzeuge etwas für uns wären. Ich glaube mal nicht.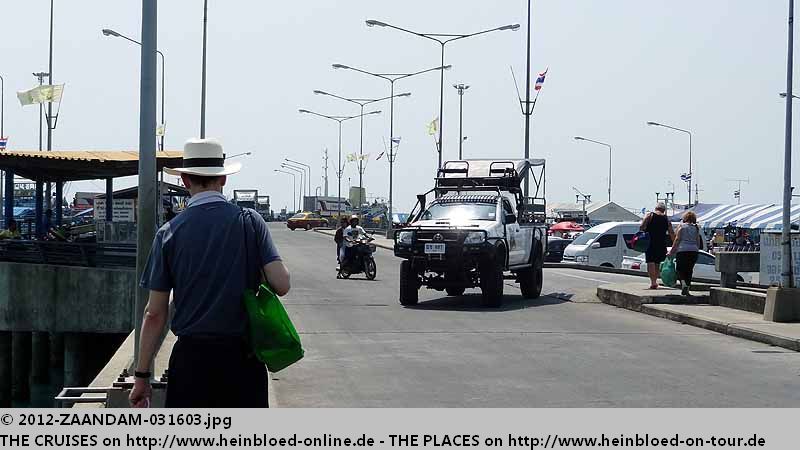 All guests, who had a Jeep-Tour were returned to the pier. No idea if the open all-wheel-vehicles would be the right for us. I do not think so.

At this time only the "regular" tenderboats were in use.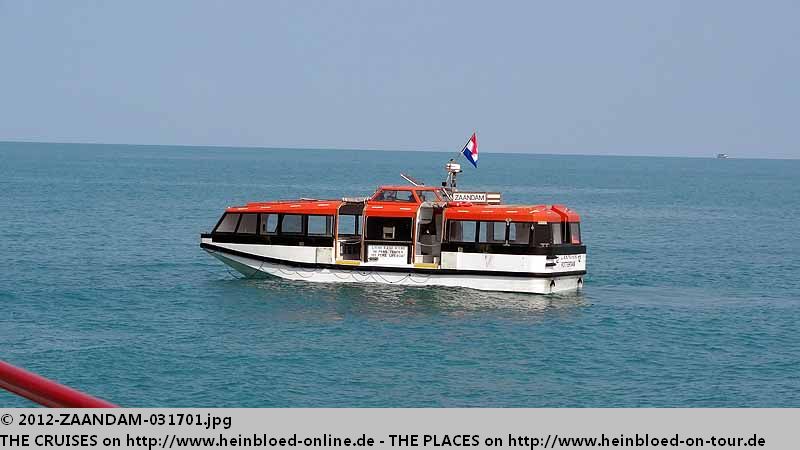 Im Moment sind nur die "normalen" Tenderboote im Einsatz.
Hier findet eine kurze Kontrolle statt. Da es jedoch gegen 15.30 Uhr geht, haben Crew-Mitglieder im Moment Vorrang. Für mich ist das in Ordnung. Sie tun so viel für uns und sollten jede freie Minute genießen.

Here they had a first check. Es it was close to 15.30 hrs crew members had somehow a little priority.So far it is fine with me. They are doing so much for us that they should enjoy each single minute leisure time they have.

There was some beverages available. But no cold wet towel and it was about 90F outside. I was more than surprised and did not expect it from HAL. There were no wet towels in Sihanoukville and Phu My either.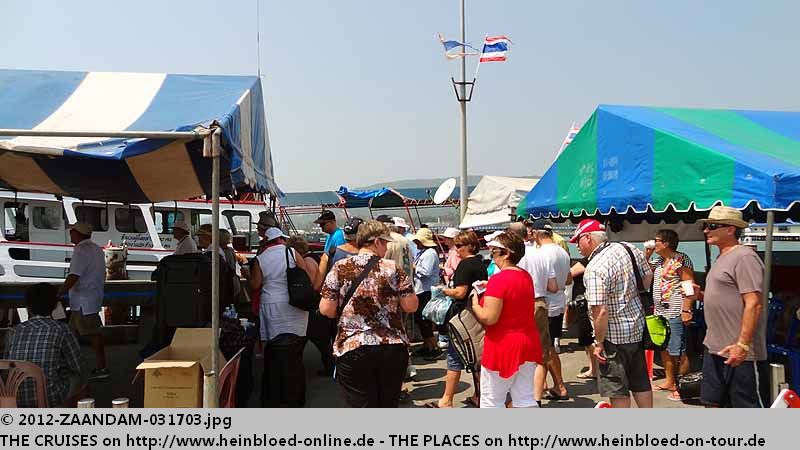 Es gibt eine Kleinigkeit zu trinken. Bloß keine kalten Handtücher und das bei 35° Außentemperaturen. Da war ich überrascht: denn das hätte ich nun von HAL nicht erwartet. Es gab auch keine später in Sihanoukville oder in Phu My.
In das schiffseigene Tenderboot zu kommen, war nicht so einfach wie auf das landseitige Tenderboot. Es ging eine kleine enge Treppe runter.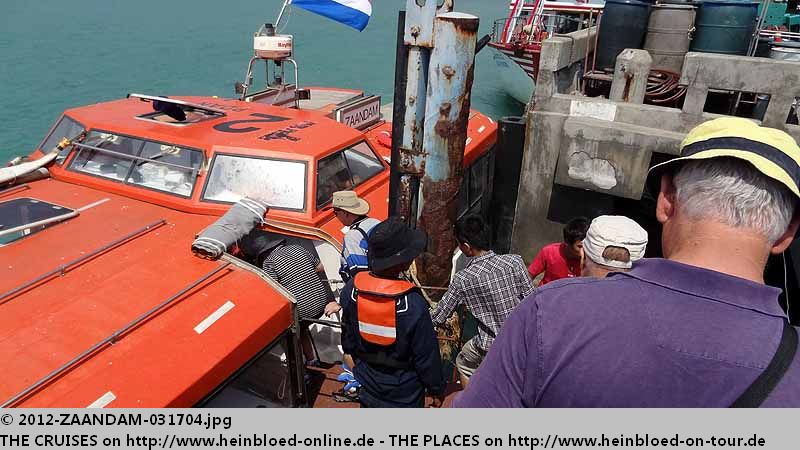 To get into the ship's own tender boat you had to walk down a small narrow stairway. It was not as easy as using the shoreside tenderboats.

The ride took about 20 minutes - the air in the tenderboat was intolerable.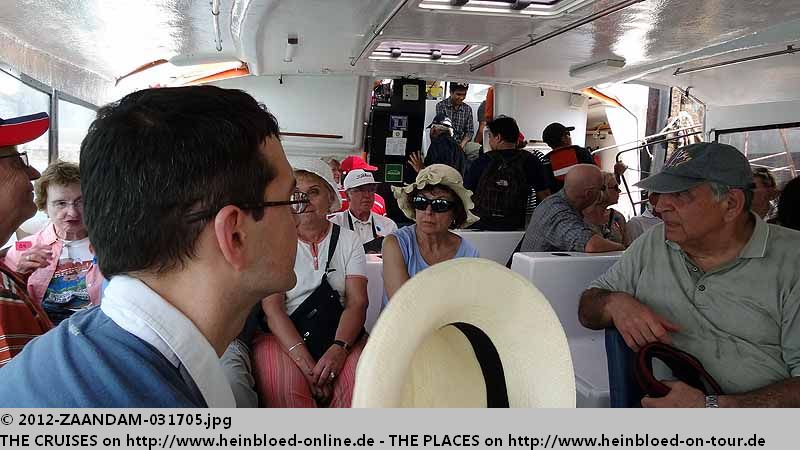 Die Fahrt dauerte 20 Minuten - die Luft im Tenderboot war unerträglich.
Es gab (rechts) Sitze mit Polster für Suiten-Gäste, rechts dahinter die normalen Sitze aus Plastik für Balkon-Gäste. Gäste mit Außen- und Innenkabinen mussten sich mit den Holzsitzen begnügen... (Ha ha ha...)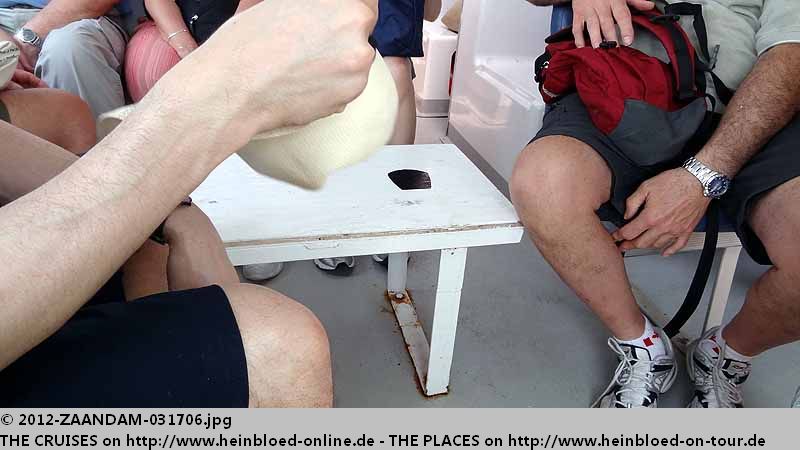 You had seats (right) with cushions for Suite-Guests, to right at the rear the regular plastic seats for Balcony Guests. For guests in Inside and Oceanview-Cabins you had the use the wooden seats... (Ha ha ha...)

We could not open the window because the waves were too high.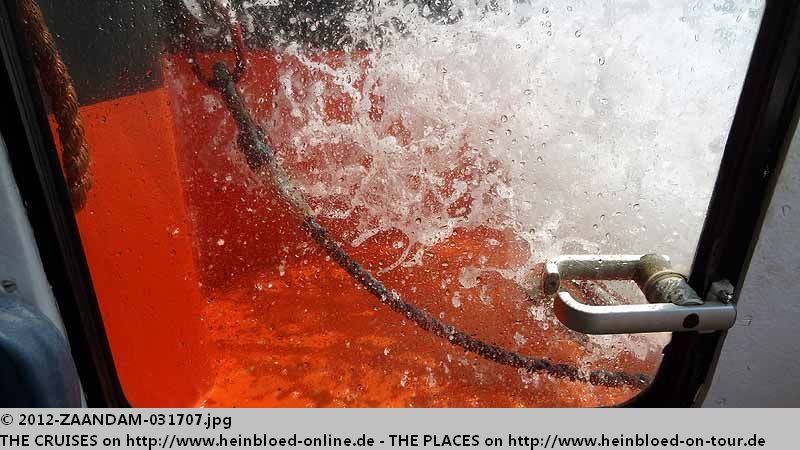 Das Fenster ließ sich nicht öffnen, weil einfach der Wellengang zu hoch war.
Und wie gesagt: keine kalten feuchten Tücher, die die Überfahrt erträglicher gemacht hätten. Da besteht wohl noch Verbesserungsbedarf. Zum Glück nehme ich immer die Feuchttücher aus der 1. Klasse im ICE mit.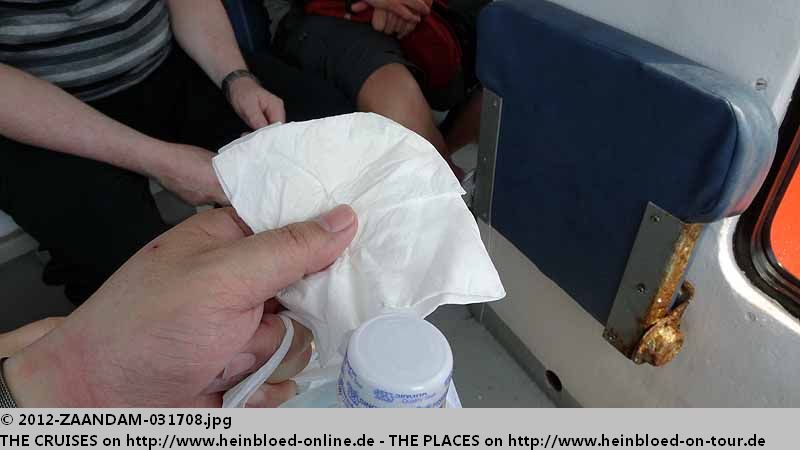 And as said again: no cold wet towels which would make the transfer more pleasant. There is always room for improvements. But I was lucky as I had the wet towels from the 1st class in the German High Speed Trains with me.

Finally on board.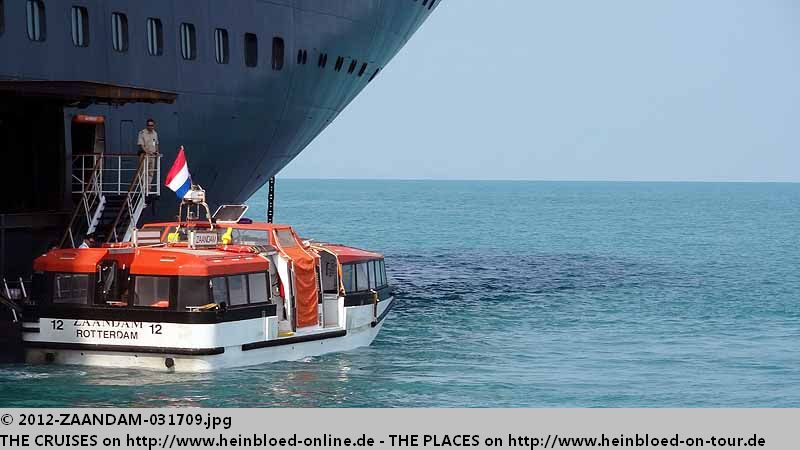 Endlich an Bord.
Wir gehen eine Kleinigkeit essen. Da wir außerhalb der klassischen Essenszeiten kommen, gibt es nur den Deli, Süßes und die Grillstation am Pool. Oder man fängt mit Eiscreme an.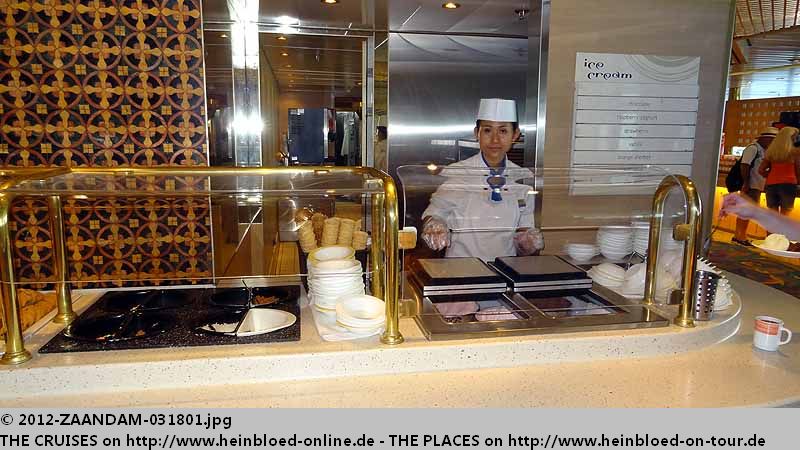 We went to have a bite. As we arrived after the classical meal-times we had only the Deli, Sweets and the Grill Station around the pool. Or you start with ice cream.

But somehow I dislike to have some sweets.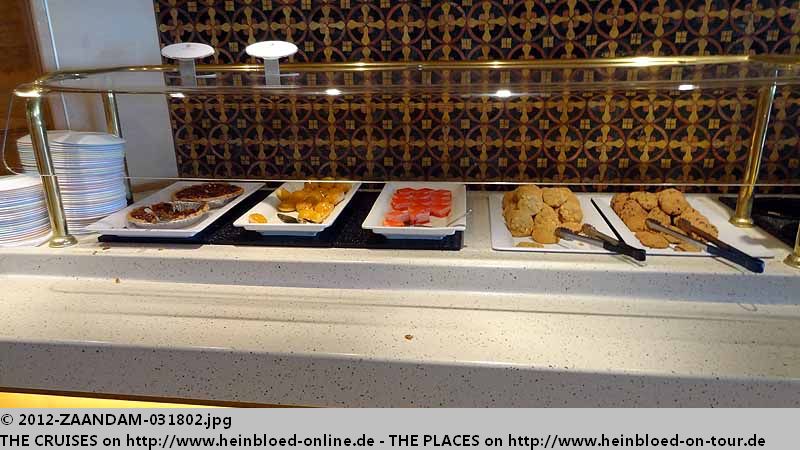 Aber auf Süßes hatte ich keine Lust.
Und so lecker wie der Bread Pudding bei HAL ist: auch hierauf hatte ich keine Lust.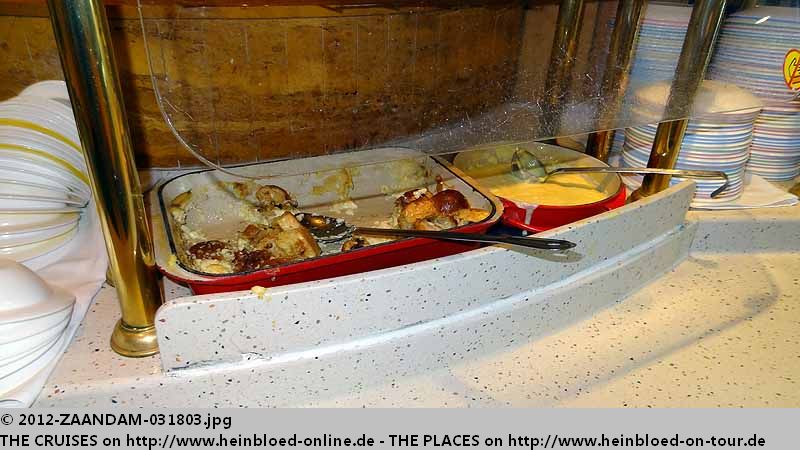 I know how good the bread pudding is from HAL but I did not want it at this moment.

I wanted something hearty.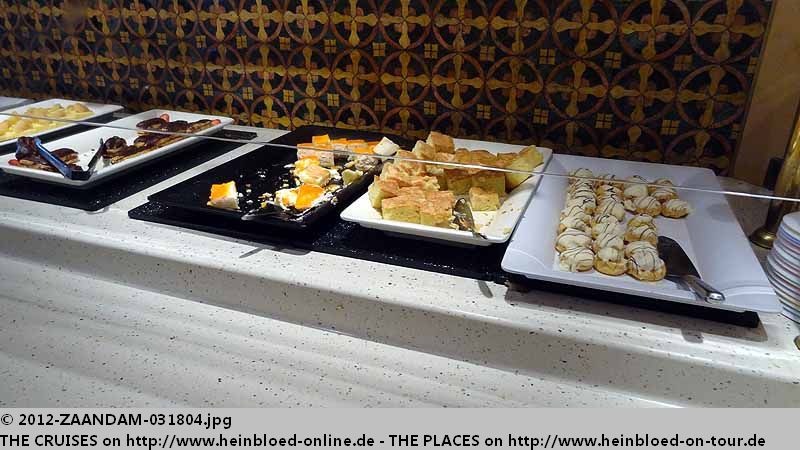 Ich wollte etwas herzhaftes.
Überraschend werde ich angesprochen: Raymond erkennt mich wieder. Er war damals Restaurant-Leiter auf der EURODAM im Pinnacle Grill.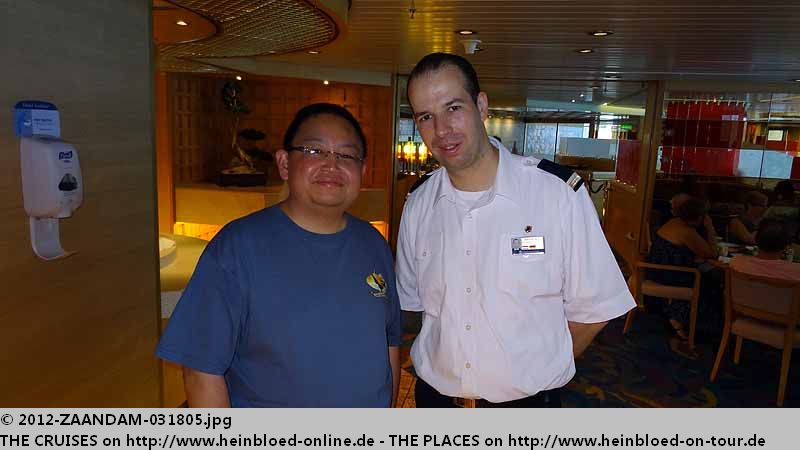 To my big surprised I was addressed by Raymond who remembered me from EURODAM. He was Restaurant Manager at the Pinnacle Grill.

I went to the pool-grill and got a freshly prepared hamburger.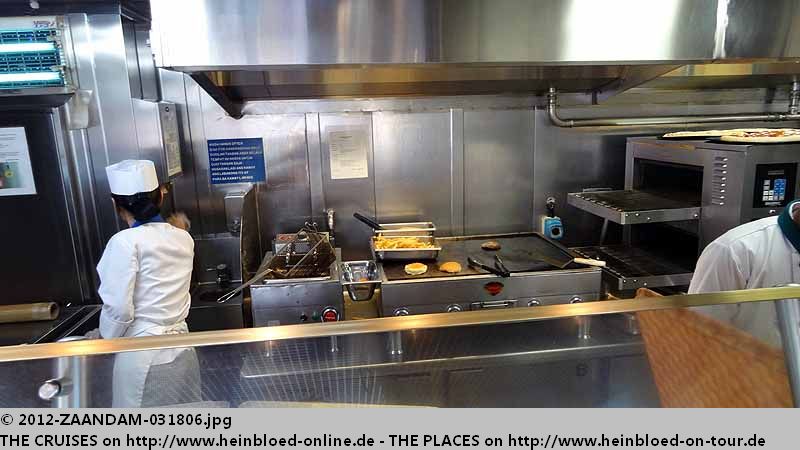 Ich gehe zum Pool-Grill und ein frischer Hamburger wird für mich zubereitet.
Hier am Büffet gibt es alles, was dazu gehört und mehr...

At the buffet you find everything you need to complete your burger.

Pizza...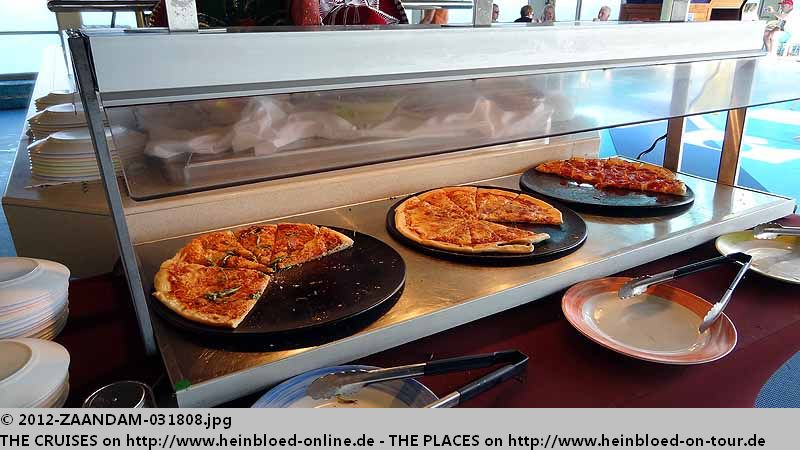 Pizza...
Tex-Mex...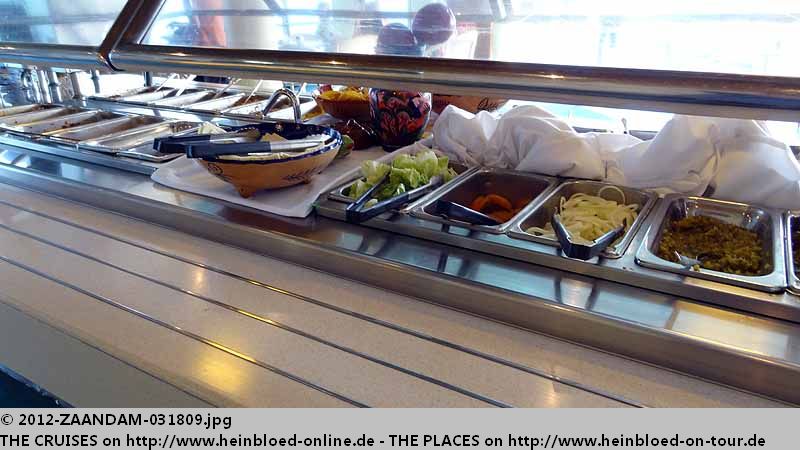 Tex-Mex...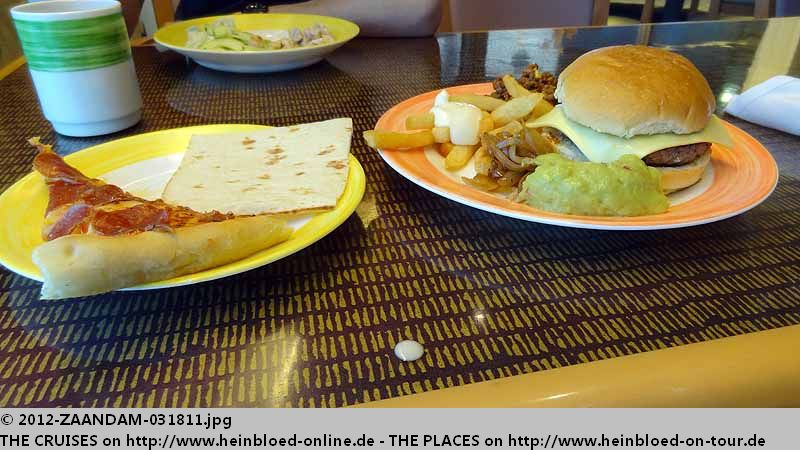 Let's come to the onboard entertainment...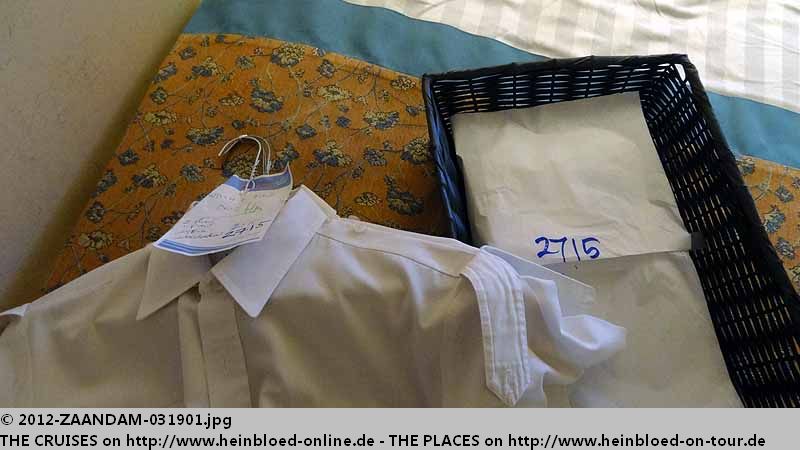 Kommen wir nun zur Bordunterhaltung...
Irgendeiner bei HAL wollte besonders sparsam sein... und verwendet die Rückseite meines Zettels für die Wäscherei... Daher sehen sie nicht, dass eigentlich die Uniform zu A092 gehört. Ich würde sie ja selbst runterbringen, aber das A-Deck ist kein öffentliches Deck.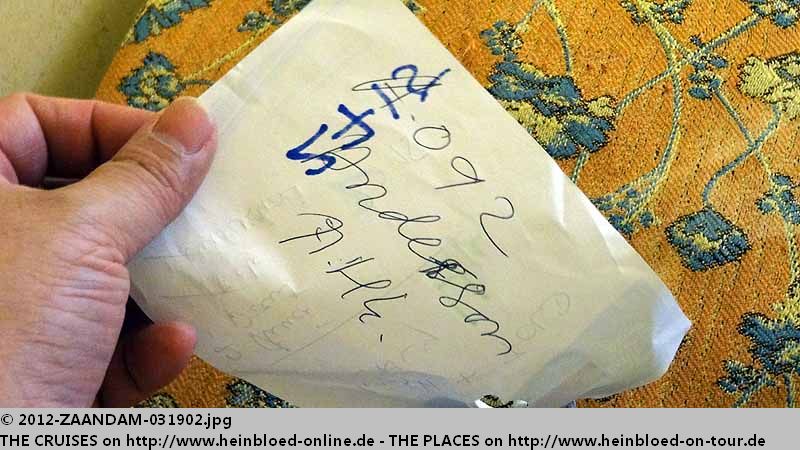 Someone on the ship wanted to become the prize for great savings... and so they used the reverse page of the note I wrote for the laundry service... So they did not see that the uniform belonged to A092. I would take it down myself but A-Deck is no public deck.

No - neither Bruno nor me have any kind of underwear from Calvin Klein. And especially not in such small sizes.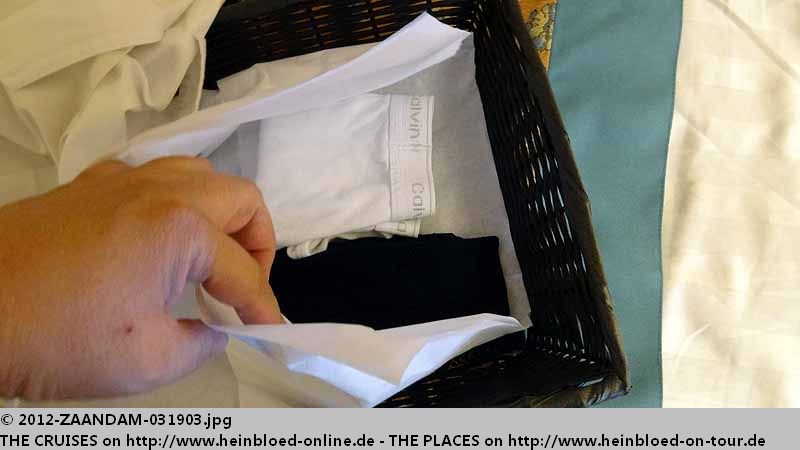 Nein - weder Bruno und ich tragen keine Unterwäsche von Calvin Klein. Und schon gar nicht in so kleinen Größen...
Zweimal bringe ich die Wäsche nochmals zur Rezeption... da es jedes Mal ein anderer ist, der die Wäsche entgegennimmt, lachen die sich kaputt... ich fand es zwischenzeitlich nicht mehr so lustig... Damit ich auch etwas zu Lachen habe, lege ich in die Unterhose eine Nachricht hinein... (Der Inhalt der Nachricht wird nicht verraten...)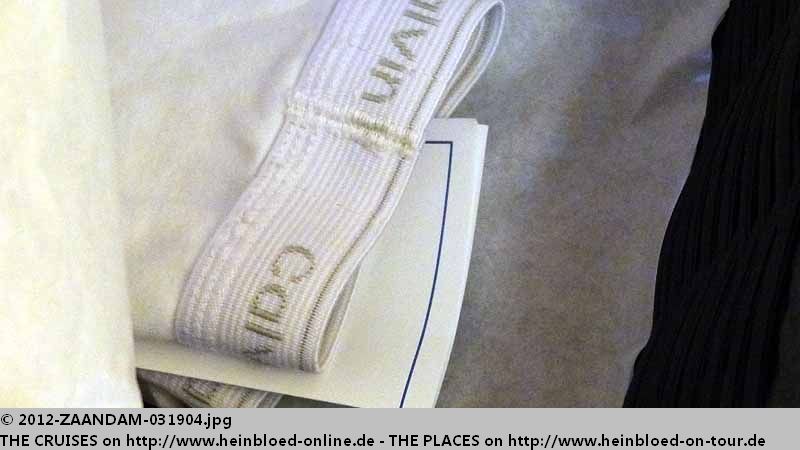 I carried two times the clothes back to the front desk... everytime someone else was on duty who took over the laundry and were loud out laughing... Meanwhile I did not find it so funny anymore... To ensure that I have something to laugh I add a note into the brief... (I will tell you what I wrote...)

But it was good that my signed Douglas Ward came back. That worked obviously.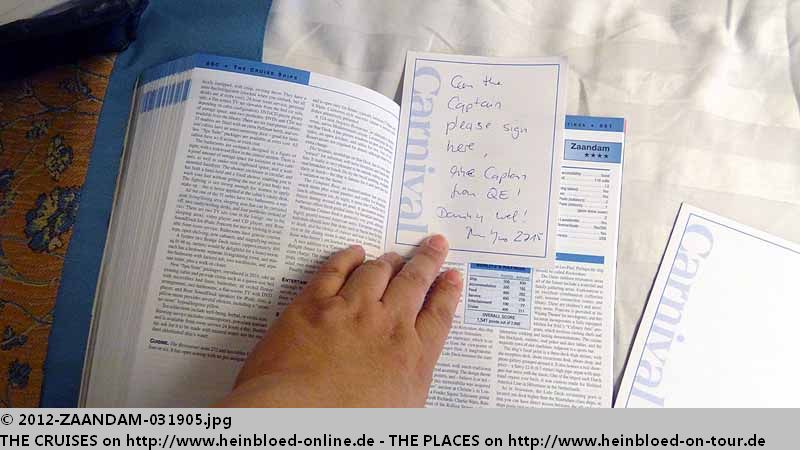 Wenigstens kam aber mein Douglas Ward unterschrieben wieder zurück. Das zumindest hat gut geklappt.