Scroll down for English explanations - alternates with German explanations.

Nun gehen Bruno und ich nochmals zum Frühstück (ein paar Stunden später...). Die schönen Plätze am Heck haben für Bruno den Vorteil, dass es dort nicht zieht. Denn die Lüftung bläst nur rechts in den Raum. Diejenigen, die unter der Schräge sitzen, bekommen daher keinen Zug ab.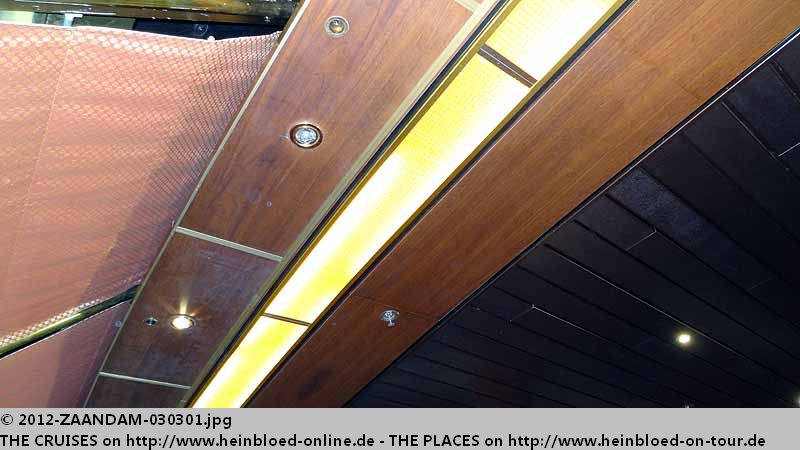 (A couple hours later) Bruno und I went for breakfast. The nicer tables at the aft are advantaged for Bruno as it was not breezy there. The airflow went to the right. And those sitting under the curved glass windows did not get any air-ventilation.

Bruno said that the coffee was acceptable.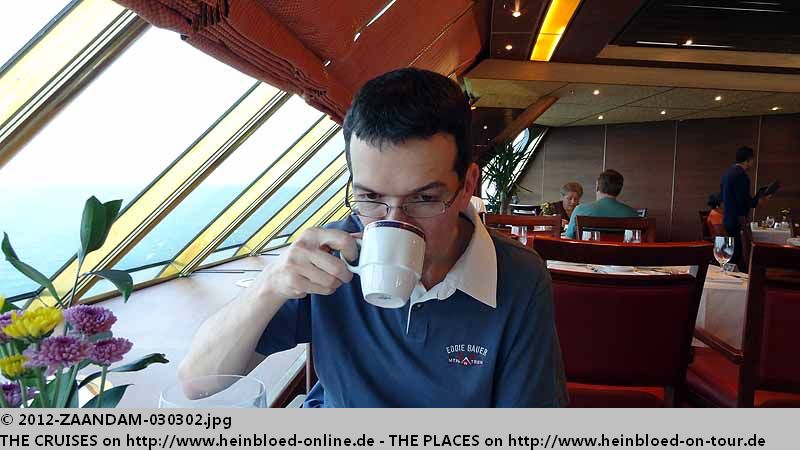 Bruno hält den Kaffee für akzeptabel.
Obwohl er auch nur in großen Behältern warmgehalten wird.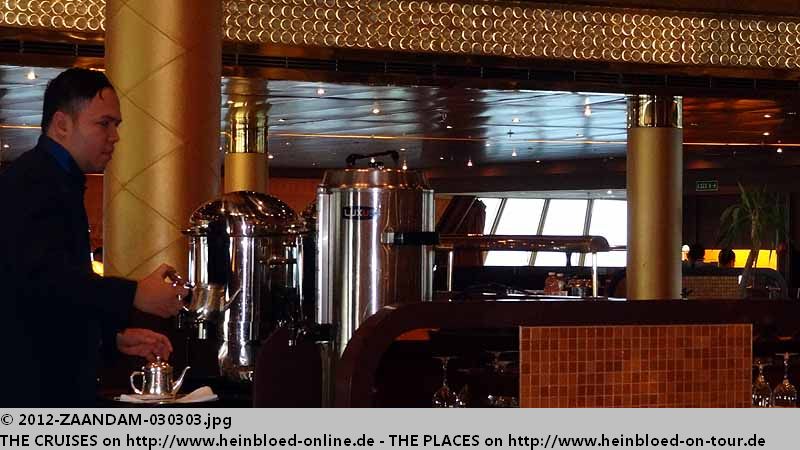 Although it was kept warm in large containers.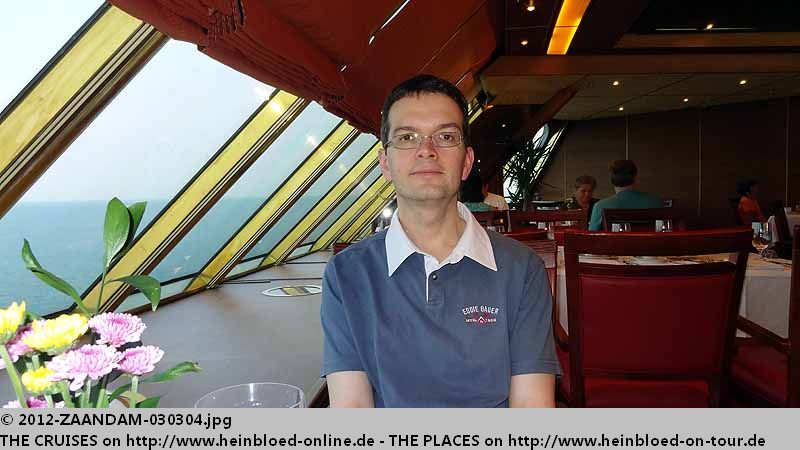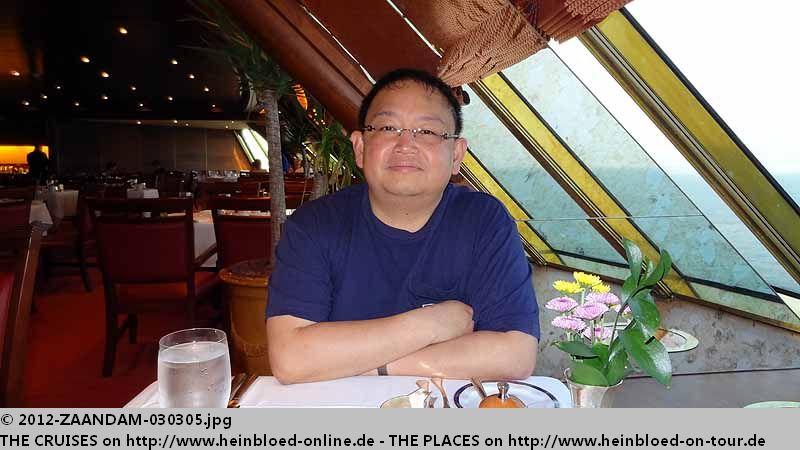 I depended to the waiter if you get a Jasmine-Tea or only a plain green tea.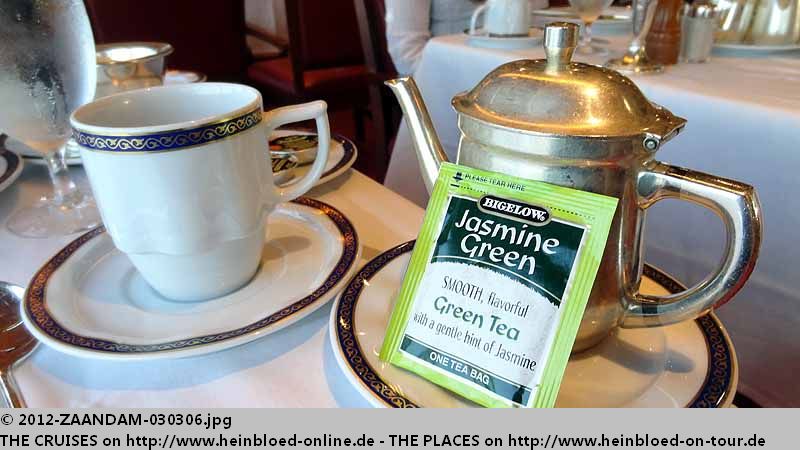 Das hing immer ein wenig vom Kellner ab, ob ich nun einen Jasmin-Tee bekomme oder nur einen grünen Tee.
Japanisches Frühstück: Gegrillter Lachs, die leckeren Eier-Omelettes und Reis.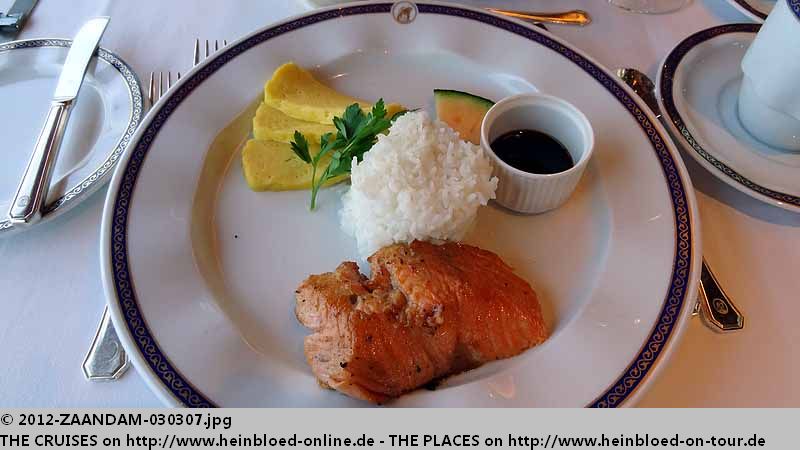 Japanese Breakfast: Grilled salmon, yummy omelettes and rice.

And a Miso-Soup (Soup made of Tuna-flakes). But the tofu cubes were cut a little too large and we missed the seaweed and some scallions. We ate the soup Japanese style: bowl to the mouth - no spoon. The waiters came and asked if something was wrong with the soup...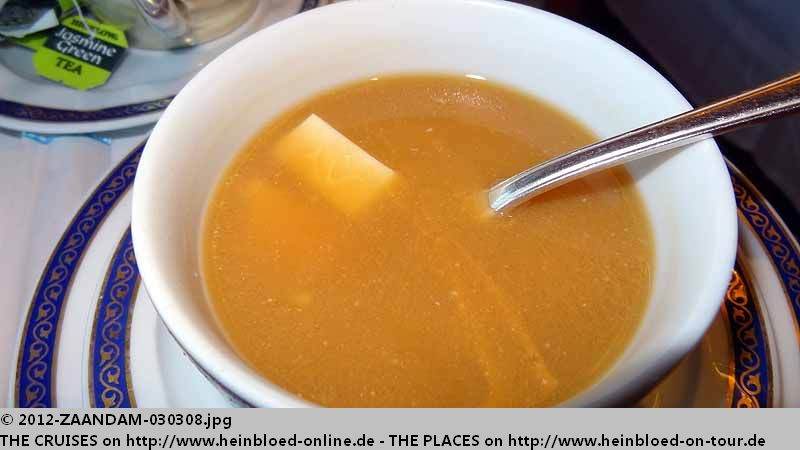 Und dazu eine Miso-Suppe (Suppe aus Thunfisch-Flocken). Leider waren die Tofu-Würfel etwas groß geschnitten und es fehlte der Seetang und die Frühlingszwiebeln. Wir haben die Suppe auf die japanische Art gegessen: Schale zum Mund und ohne Löffel. Sofort kamen die Kellner und fragten nach, ob etwas mit der Suppe nicht in Ordnung ist.
Wir bekommen auch Stäbchen, um es authentisch zu essen.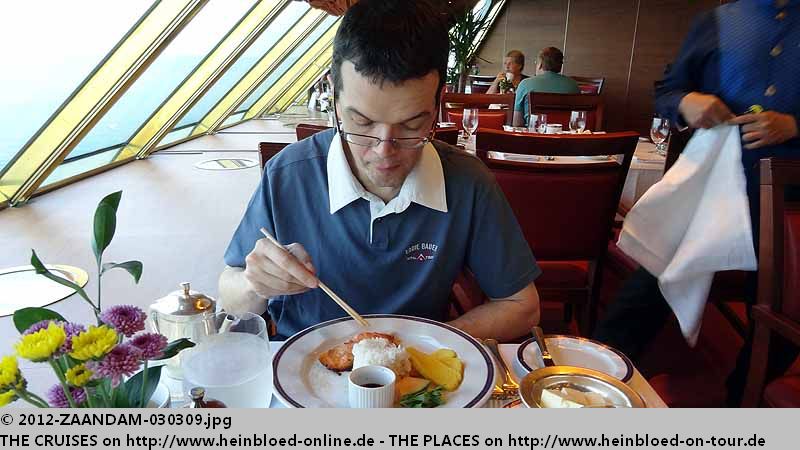 We got chop-sticks to eat authentically.

Anyhow we like this table.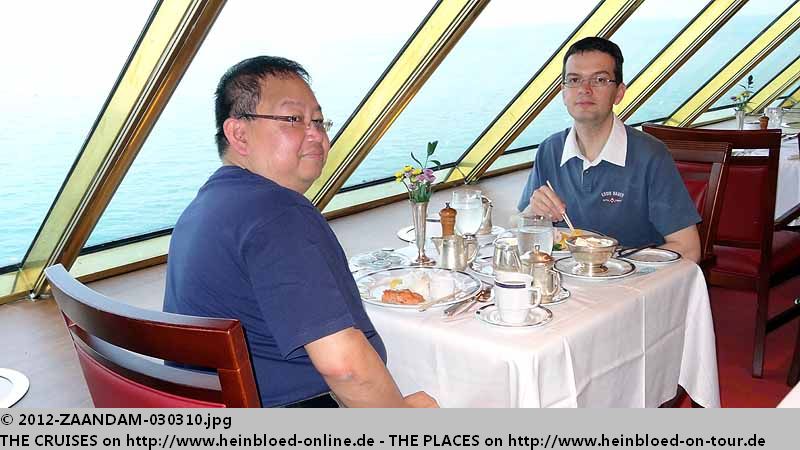 Wir mochten den Tisch auf jeden Fall.
Links ist übrigens "Franz". Einer der Oberkellner. Besonders angenehm: eine Präsenz überall und für alle. Niemals zu schade, eben schnell selbst eine Kaffeekanne zu holen und nachzuschenken. Und immer auch mal ein paar persönliche Worte für den Gast. Rechts habe ich ein Problem: sein Namensschild war so gut poliert, dass ich nur lauter Reflektionen auf den Bildern habe. Es gab einen Tintin und einen Dindin und ich meine es war Dindin. Ich hoffe, aber dass jemand das für mich ggfls. korregieren kann.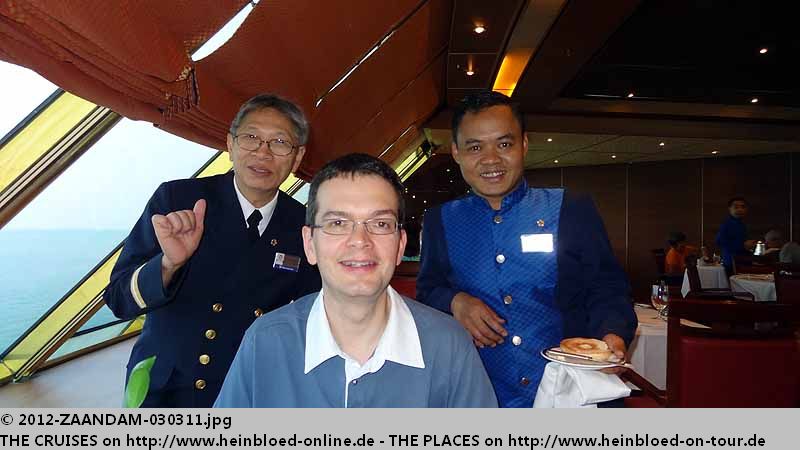 By the way left is "Franz". One of the head waiters. Very nice: he was present everywhere and for everybody. Never he was too superior to grab a coffee pot and to pour some coffee for his guests. Right I have a problem: the name was polished so well that I got only reflections on all pictures. We had a Tintin and a Dindin und I think that he was Dindin. But I truly hope that someone might correct me.

A nightmare for this voyage was the subject visas. If you had any questions you got always the same standard answers: Ask your travel agent, Look on our website, Ask the visa-service we recommend on our website, Ask the Embassy. I knew from previous reviews of other cruisers and from Princess that for Cambodia and Vietnam there were special arrangements made. Furthermore there was also a special arrangement for Sanya nobody wanted to give any mandatory information. Somehow I was totally nuts and send a letter with few appropiate words to the HAL-board in Seattle. Then I got some mandantory information. But not Thailand. So I checked by myself with the Ministry of Foreign Affairs in Bangkok and the Immigration-Office on Koh Samui. We should relax and once we arrive we just should come and see them to get a Visa on Arrival (which my parents need due to their nationality). It should cost 1,000 THB (approx. 32 USD). That was why I changed already 2,500 THB as I had no idea if there would be any ATM on the way to the immigration office. I completed the visa forms for my parents and had the pictures ready. We learned in Singapore that they offer visa for Thailand for 90 USD. But we deleted that we need a visa for my parents and added that they need a visa on arrival and we would take care ourselves on Koh Samui. Now they were asked to sign the forms which were prepared by HAL. Although they knew that the visa my parents need were only 1,000 THB, HAL charged 90 USD like for a standard visum. It was somehow very angry because we wrote a letter to the Immigration Officer on ZAANDAM which Tinamama (Christina from a German cruiser's forum) took on board to check such questions and we never got an answer. As you can see: you can do so much and the very best to be prepared to make everything perfect. But if there is something aside of the SOP of HAL you are totally lost. As said before: what they are going well they do it extremely well. But anything left or right will end in a desaster. We were lucky as there were not so many of them so that we can leave the ship with a positive balance.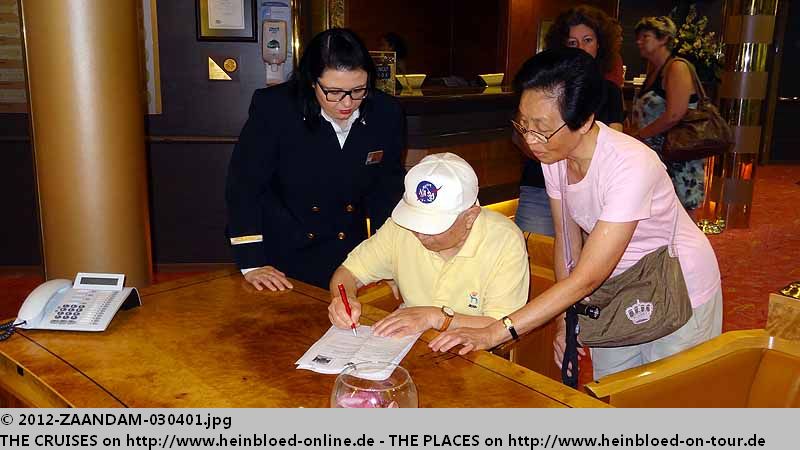 Ein Albtraum innerhalb der Reise war das Thema Visa-Beschaffung. Wenn man dazu Fragen hatte, dann kamen immer folgende Standardantworten: Fragen Sie Ihr Reisebüro, Gucken Sie bei uns auf der Homepage nach, Fragen Sie den Visadienst, den wir auf unserer Homepage empfehlen, Fragen Sie bei der Botschaft nach. Ich wusste jedoch von Berichten anderer Kreuzfahrer und von Princess, dass es für Kambodscha und Vietnam Sonderregelungen gibt. Dann gibt es eine Sonderregelung für Sanya über die keiner verbindlich Auskunft geben konnte. Auf jeden Fall hatte ich irgendwann die Nase so voll, dass ich dann ein paar passende Worte an den HAL-Vorstand in Seattle geschickt hatte. Dann bekam ich endlich eine verbindliche Antwort. Informationen über Thailand gab es nicht. Also habe ich mich selbst beim Außenministerium in Bangkok erkundigt und mit dem Immigrations-Büro auf Koh Samui gesprochen: Wir sollten uns keine Sorgen machen und einfach vorbei fahren und das Visum bei Ankunft (die meine Eltern dort aufgrund der Staatsangehörigkeit benötigten) dort ausstellen lassen. Es kostet 1.000 THB (ca. 25 EUR). Deswegen hatte ich mal sicherheitshalber in Deutschland schon 2.500 THB gewechselt, weil ich ja nun nicht wusste, ob der Weg uns an einem Geldautomat vorbeiführt. Der Visumsantrag für meine Eltern war ausgedruckt und Bilder hatte ich auch dabei. In Singapur haben wir dann erfahren, dass das Schiff Visum für 90,00 USD (ca. 69 EUR) anbietet. Wir hatten aber das Feld durchgestrichen und hingewiesen, dass wir uns selbst in Koh Somui ein Visum bei Ankunft besorgen. Nun mussten meine Eltern die Änträge ausfüllen, die von HAL vorbereitet waren und obwohl sie bestätigen, dass das besondere Visum bei Ankunft nur 1.000 THB kostet, verlangt HAL 90,00 USD dafür, wie für ein Standardvisum. Besonders ärgerlich: wir haben über Tinamama (Christina aus kreuzfahrten-treff.de) einen Brief an den Immigration-Officer auf der ZAANDAM zukommen lassen, um solche Fragen zu klären. Aber das Schreiben blieb leider unbeantwortet. Wie man sieht: man kann sich noch so anstrengen, es perfekt zu machen und auf alles vorbereitet zu sein: Nur wenn man dann irgendwie außerhalb der SOP von HAL gerät: dann ist man hoffnungslos verloren. Wie gesagt: was sie gut machen, machen sie extrem gut. Nur wenn es davon mal links oder rechts abgeht, endet es meistens in einer Katastrophe. Zum Glück gab es aber nicht allzuviele davon, so dass die Reise insgesamt mit einer positiven Bilanz endet.
Es wird ein Wechseldienst für alle Währungen angeboten, die auf der benötigt werden. Allerdings werden keine Münzen zurückgetauscht. Hierfür gibt es dann die Spendenbox für UNICEF.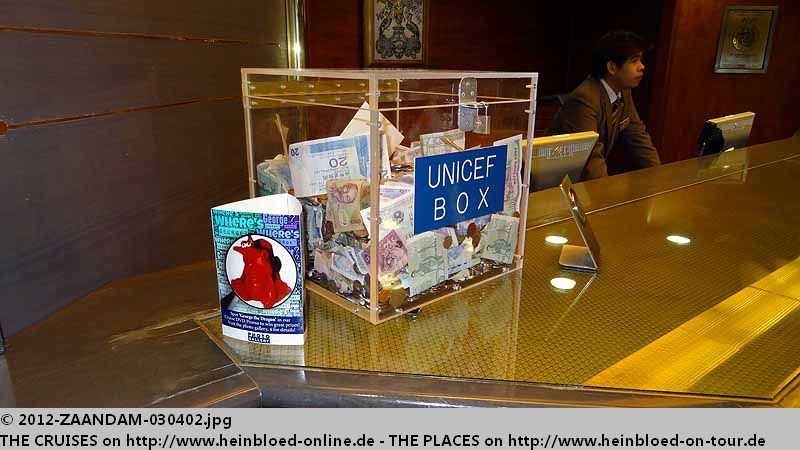 They offered an exchange service for all currencies you need in the different ports. But you cannot return any change. So that why they had a box for UNICEF.

The map in public rooms was very good.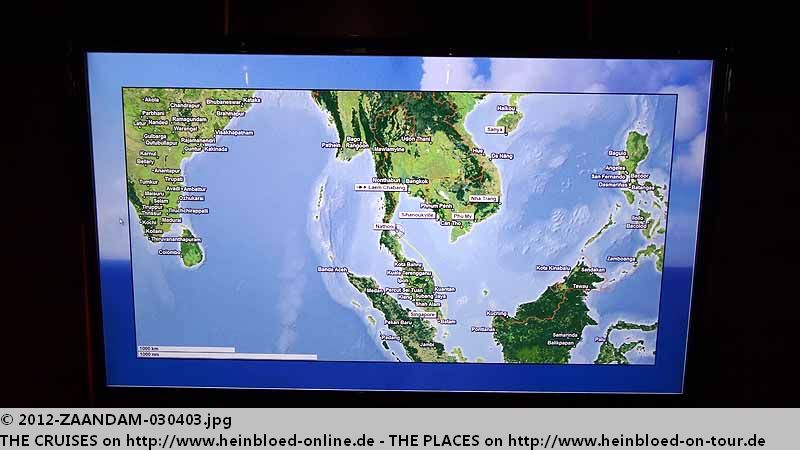 Die Karte in den öffentlichen Räumen ist gut.
Gegen 09.00 Uhr soll unsere Tour beginnen. So denken wir, dass wir mit 08.10 Uhr eigentlich ziemlich gut in der Zeit liegen. Zu diesem Zeitpunkt wird Nr. 10 ausgerufen und wir bekommen Nr. 13.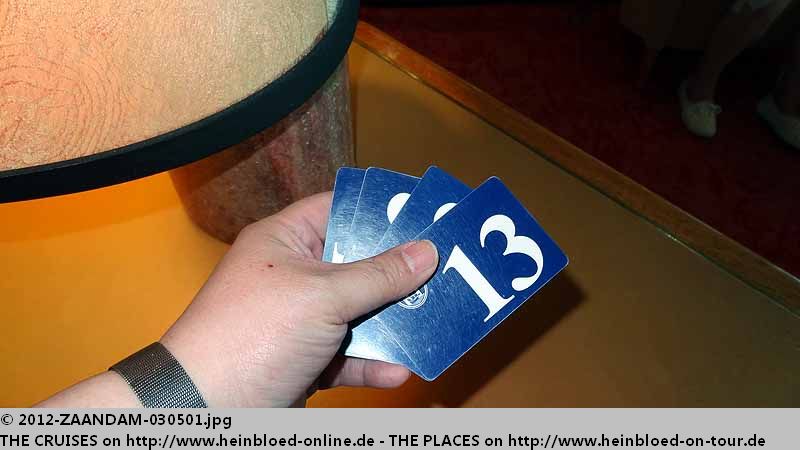 Around 09.00 hrs our tour should start. So we thought that 08.10 hrs was quite suitable to be right on time ashore. At this time they announced No. 10 and we got No. 13.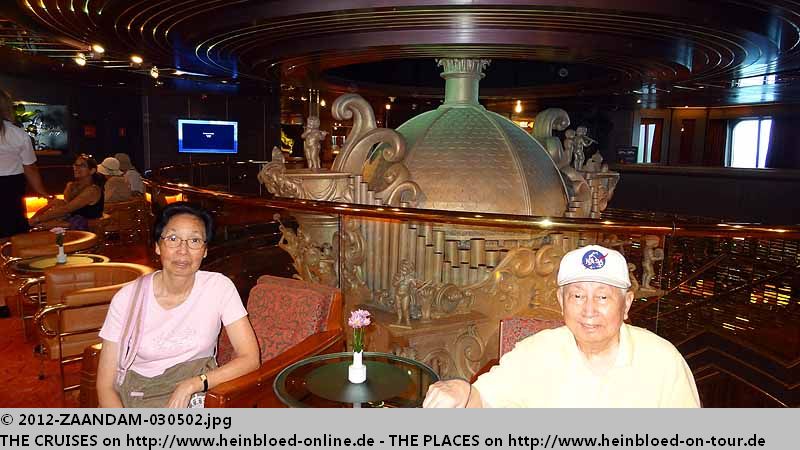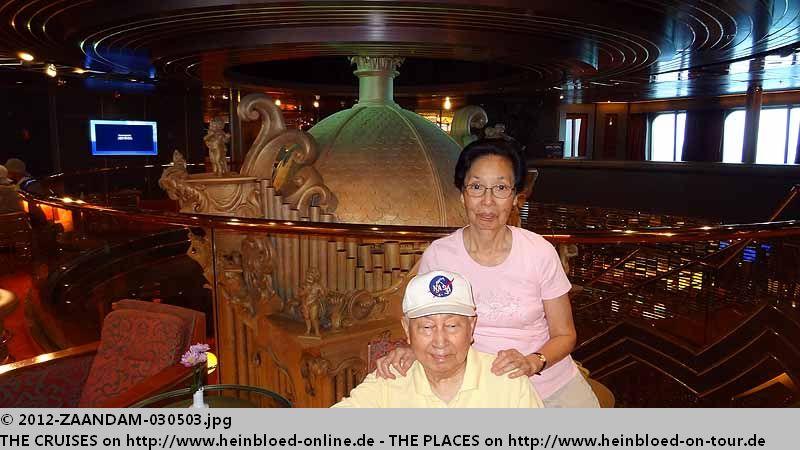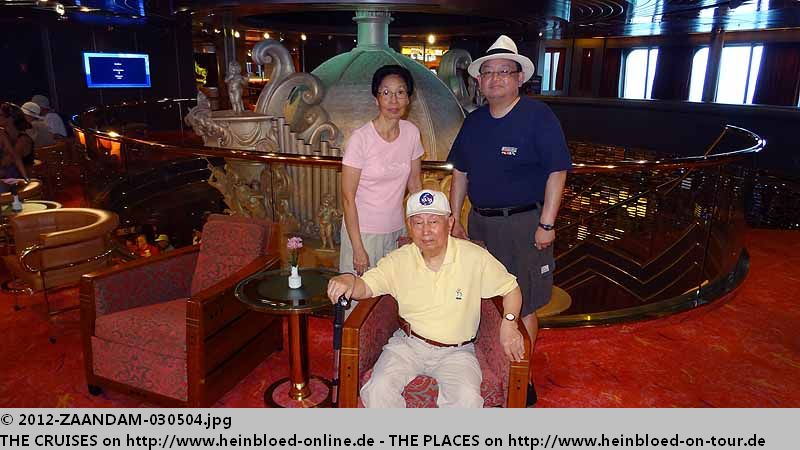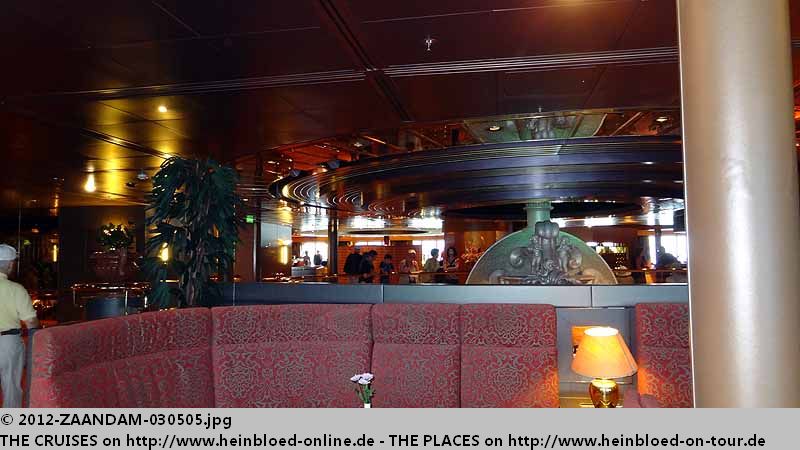 Nothing happened. As announcements were limited only to the Ocean's Bar Bruno stayed there.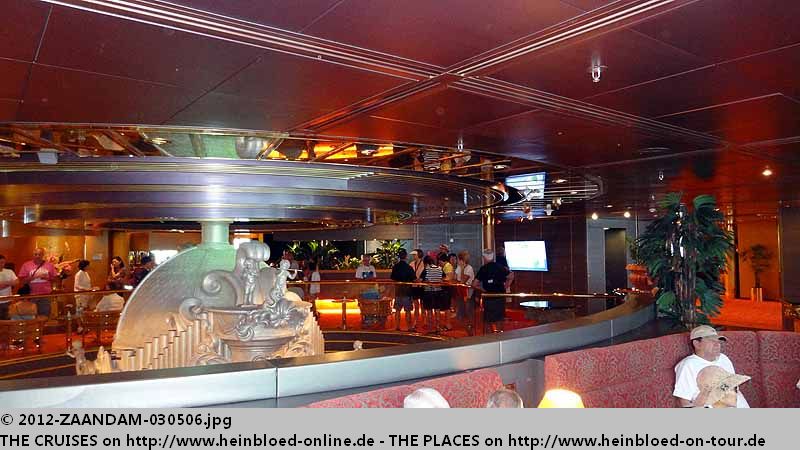 Es passierte gar nichts. Da die Ansagen nur in der Ocean's Bar erfolgen, bleibt Bruno dort stehen.
Aber es wird immer voller. Die Gäste müssen sich auch in den umliegenden Bereichen verteilen.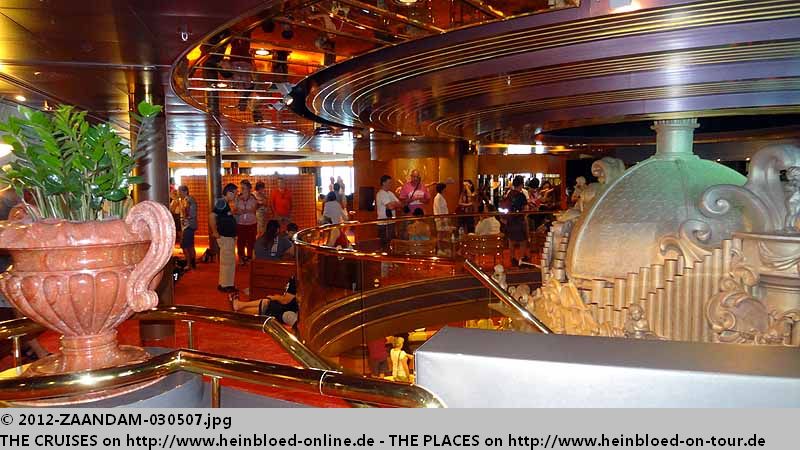 It became more and more crowded. The guests need to spread out to other areas.

But now all seats were taken and still nothing happened.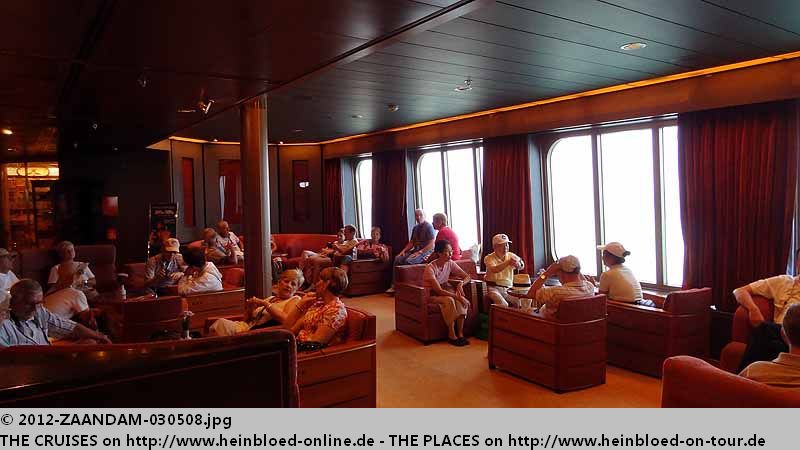 Alles ist jetzt voll und es passiert immer noch nichts.
Mitlerweile wird Nr. 24 ausgegeben und seit Nr. 10 ist nichts mehr ausgerufen worden. Hinterher wird uns mitgeteilt, dass einer im Ausflugsbüro so schlau war ALLE Ausflüge auf den gleichen Startzeitpunkt zu legen, mit dem Erfolg, dass 400 Gäste zeitgleich an Land gebracht werden müssen, und Gäste mit Individualbuchungen das Nachsehen haben.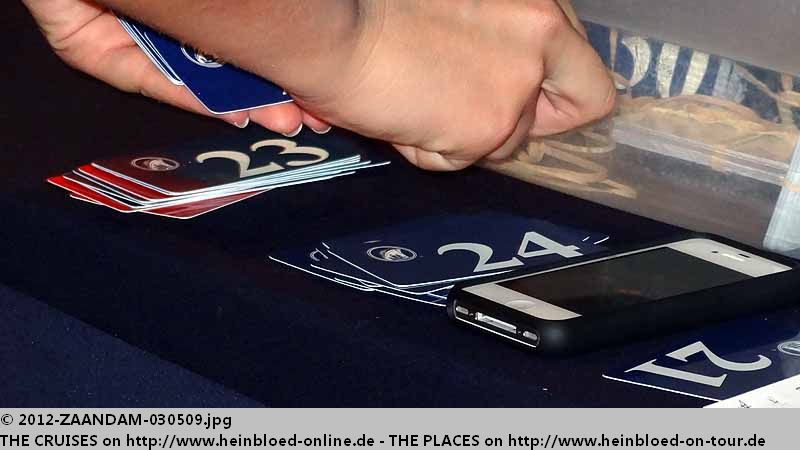 Meanwhile they released No. 24 and since No. 10. no announcements were made. Later they told that the shore excursion desk made a mistake by scheduling ALL shore excursions at the same departure time so they had to tender 400 guests at once and guests with individual arrangements had to wait.

In the part where we sat we did not notice that our number was already announced. They did not use a microphone. Also one of the inconvenience we had to live with and which do not fit to the picture we have on HAL. But to say it now: you will the next time that they learned - somehow.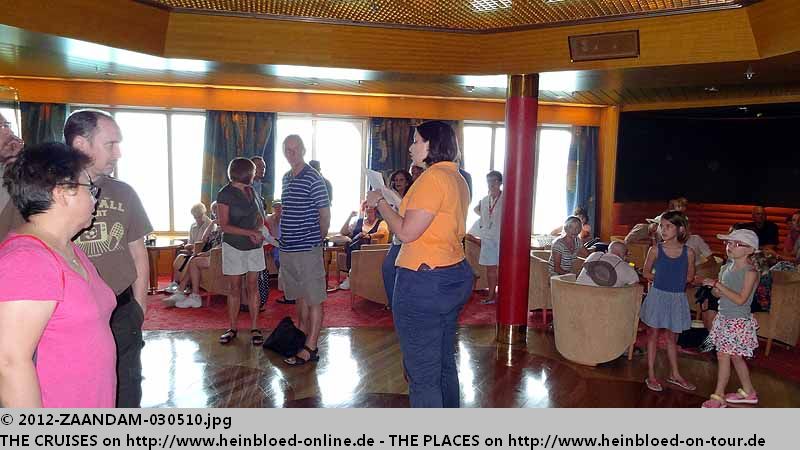 In unserem Teil bekommen wir überhaupt nicht, dass unsere Nummer bereits aufgerufen wurde. Es wird nämlich kein Mikrofon benutzt. Auch das gehört zu den Unannehmlichkeiten, die gar nicht zum Bild der HAL passen. Aber man muss jetzt schon sagen: sie lernen bis zum nächsten Mal hinzu - etwas...