Scroll down for English explanations - alternates with German explanations.

Für das Meet & Greet habe ich entsprechende Namensschilder vorbereitet.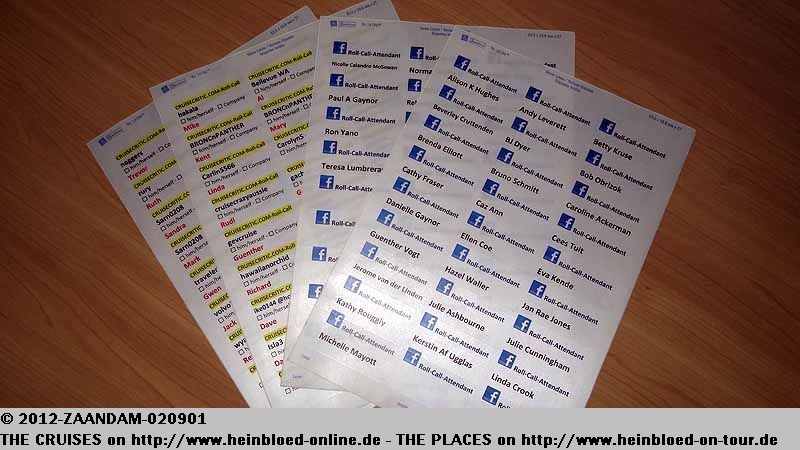 For our Meet & Greet I arranged some name tags.

Originally it should be hold in the Captain's Corner in Crow's Nest.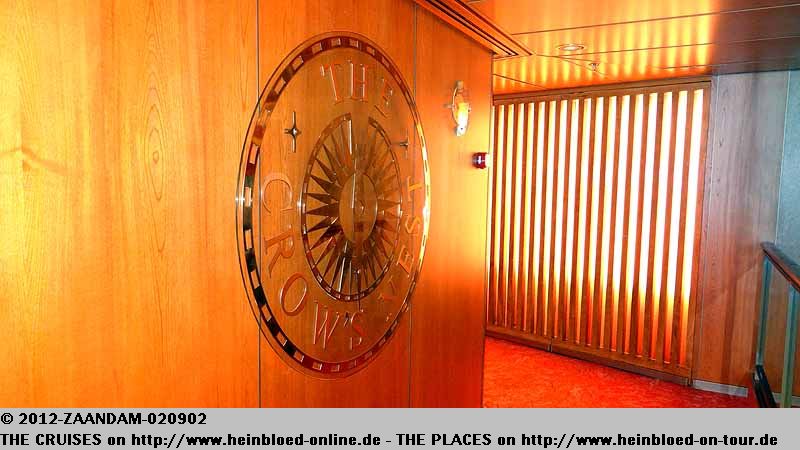 Eigentlich hätte das Meeting im Captain's Corner im Crow's Nest stattfinden sollen.
Das wäre der Bereich gewesen.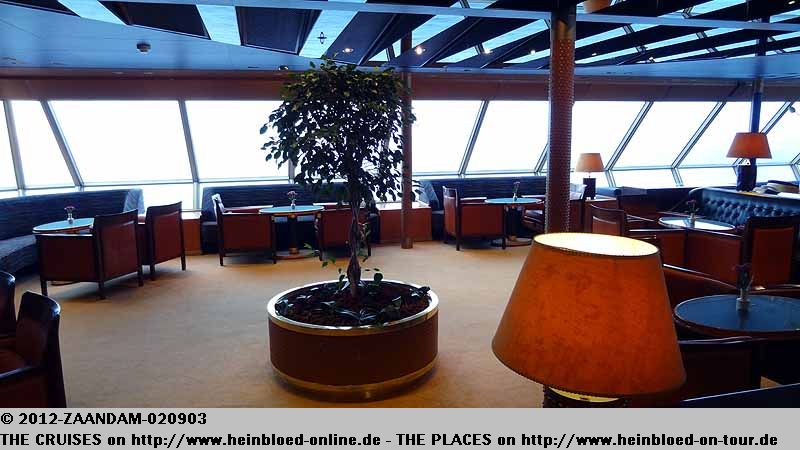 That should be our area.

When I requested the meeting we were 20 half a year ago... when HAL requested the actual number four weeks ahead of the meeting we were 50. So they had to re-locate our meeting to the Piano Bar.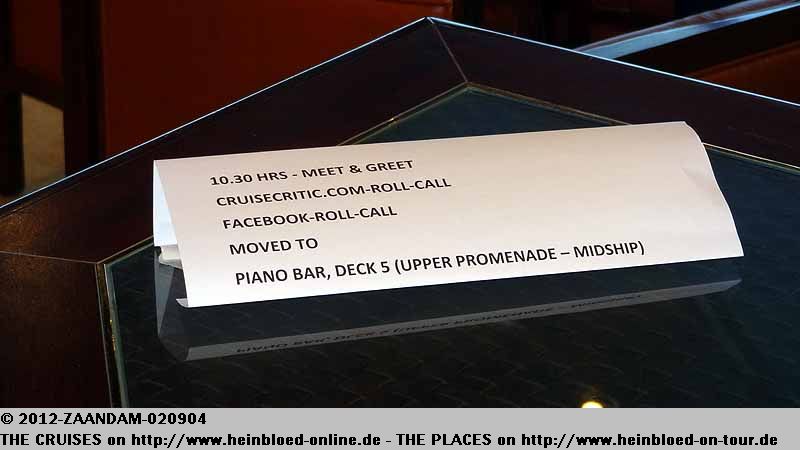 Nur als ich vor einem halben Jahr das Treffen angemeldet habe, waren wir etwa 20... nun sind wir 50 und HAL hat vier Wochen sicherheitshalber angefragt. Deswegen wurde das Meeting in die Piano Bar verlegt.
Hier habe ich dann entsprechend alles vorbereitet: Namensschilder und Mon Cheris. Denn dieses Mal waren die Leute ganz nett, so dass wir auch mal wieder nett sein wollten.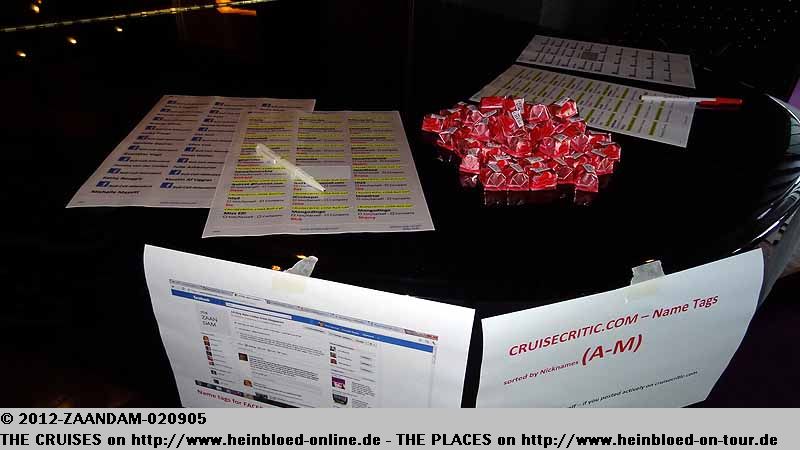 Here I prepared everything for our meeting: name tags and Mon Cheris (incl. filling you normally need to pay corkage fee...). This time the round seems to be nice so we wanted to be nice too.

HAL was nice and offered us some beverages and cookies.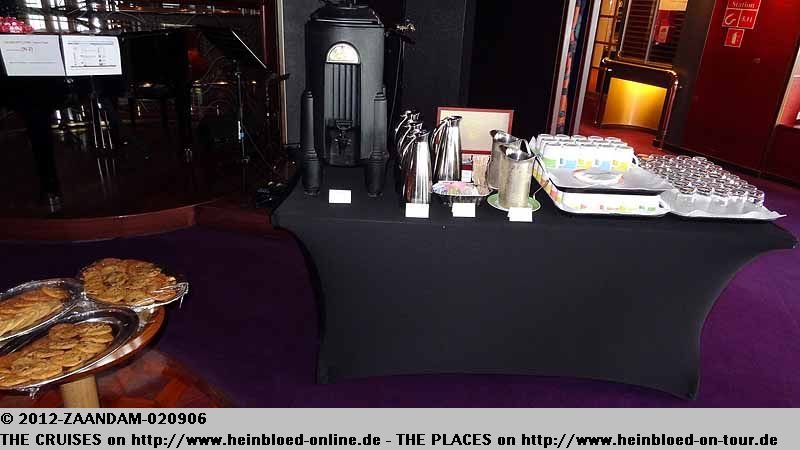 HAL war nett und es gab Getränke und Kekse.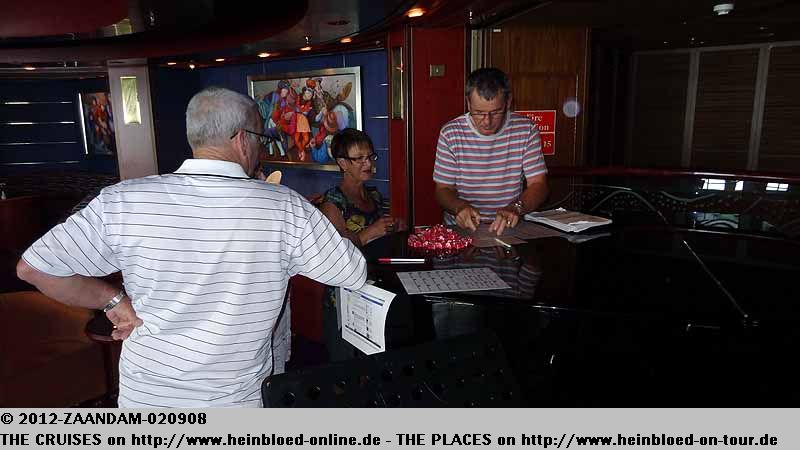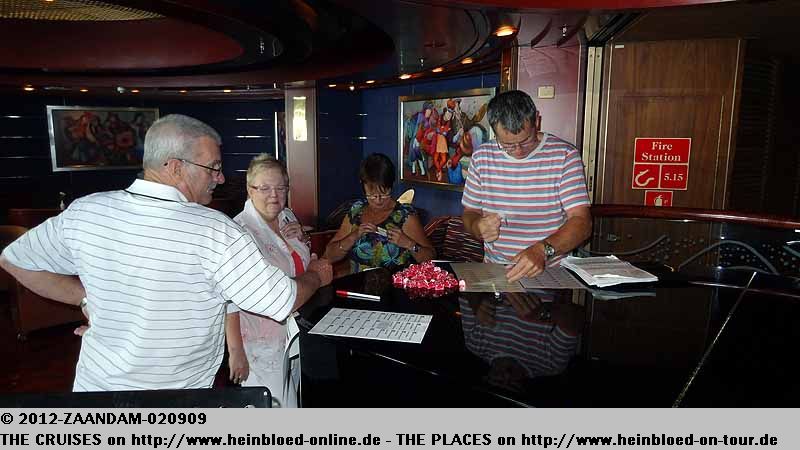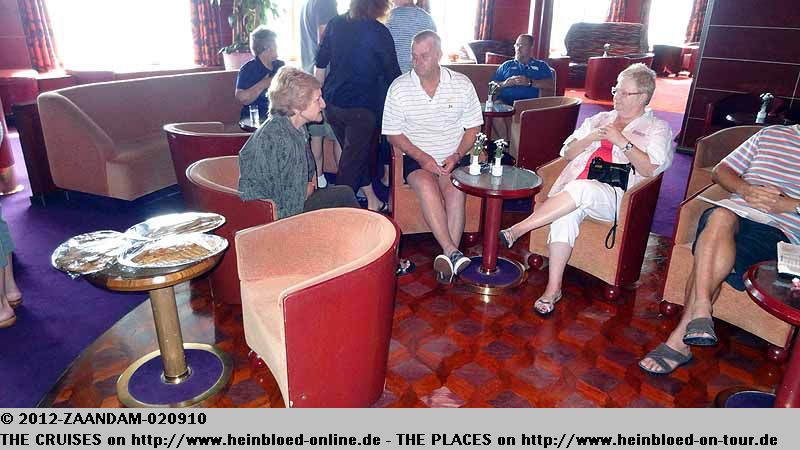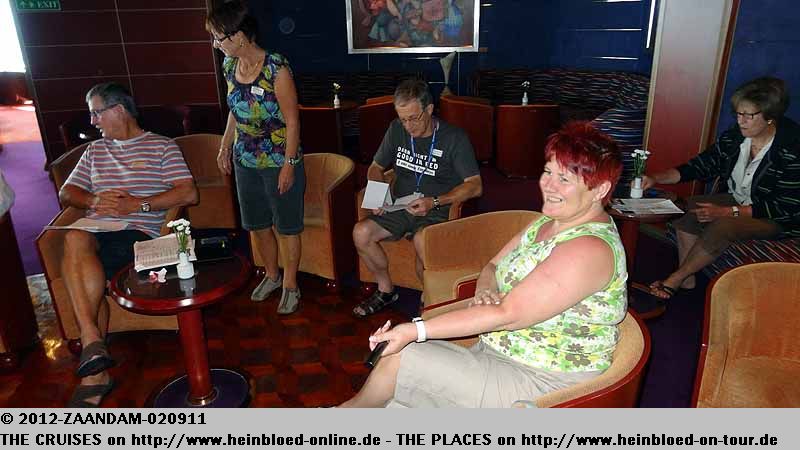 This was a surprise: last night I had the confirmation call, this morning the deposit to my future cruise and now the person in charge for activities of cruisecritic.com-members: Debbie Buchanan.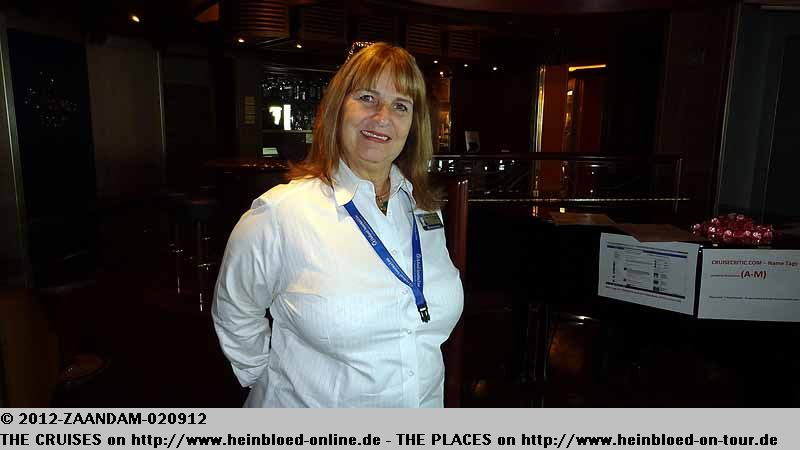 Das war eine Überraschung: gestern Abend gab es Bestätigungsanruf, heute Morgen die Anzahlung für eine spätere Reise und nun die Betreuerin für cruisecritic.com-Mitglieder: Debbie Buchanan.
Ich hatte 50 anmeldet. Und es passte.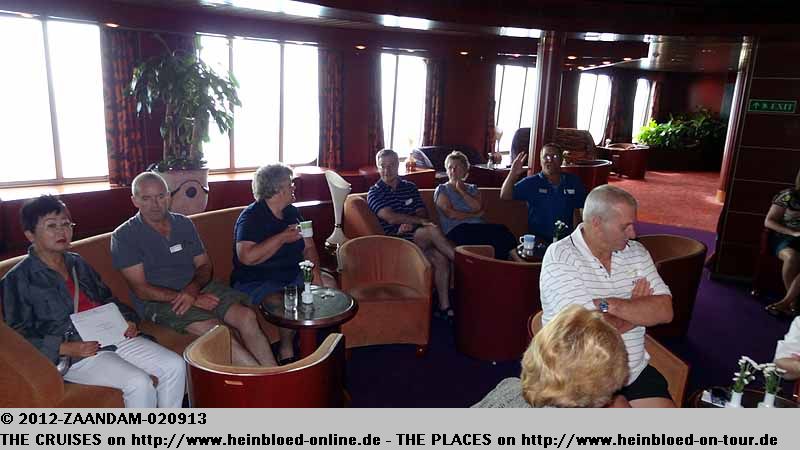 I requested a venue for 50. It fitted.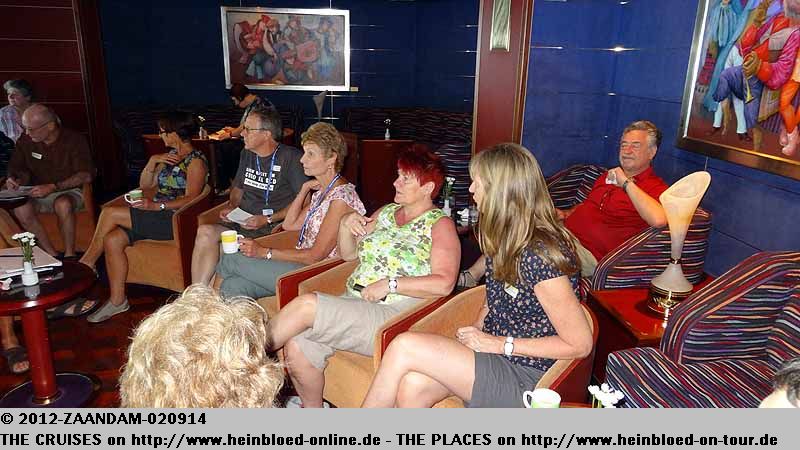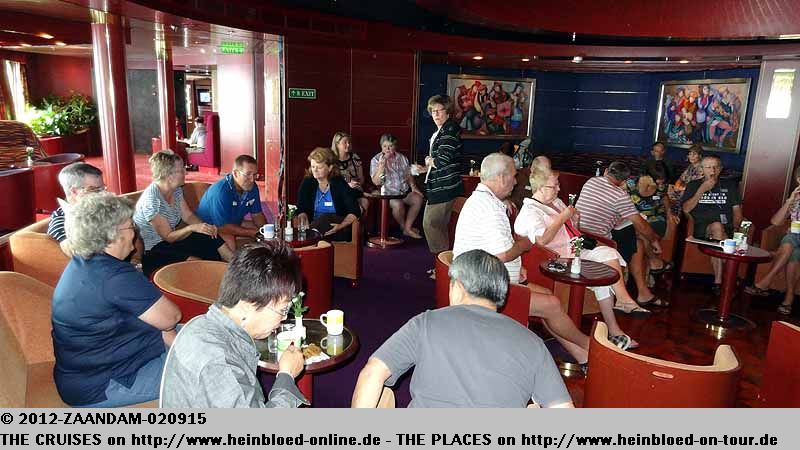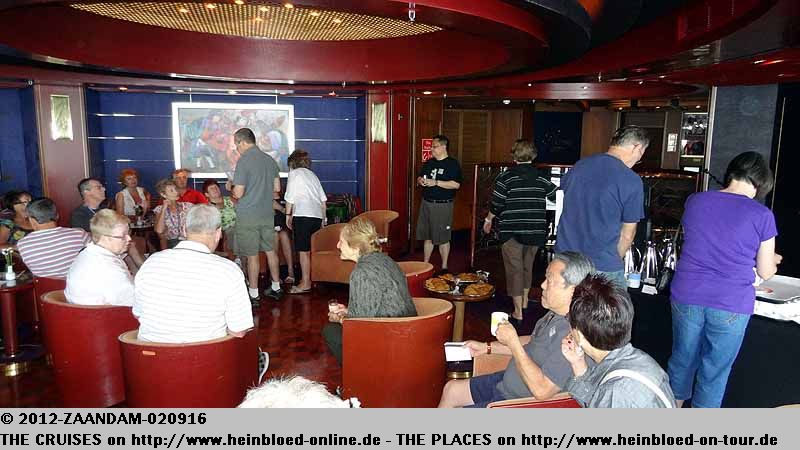 Many Australians: we were lucky that they tought us the correct greeting on CARNIVAL SPIRIT: Good Day!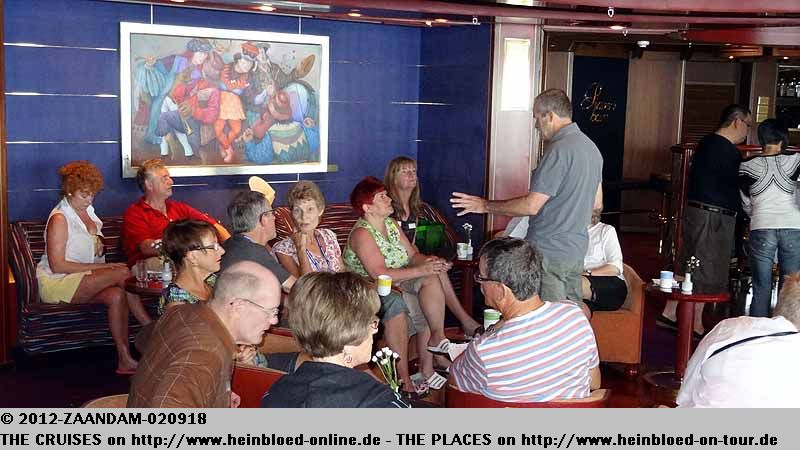 Viele Australier: zum Glück wurde uns die korrekte Begrüßung bereits auf der CARNIVAL SPIRIT beigebracht: Good Day!
Und noch eine weitere Überraschung:
Kreuzfahrtdirektor Michael Headla, den wir von der WESTERDAM schon kennen
. Kapitän und Hotel Manager sind gar nicht erschienen. Auf der WESTERDAM hatte ich mit dem Hotel Manager ein ernstes Wort zu wechseln und möglicherweise hat dieser seinen Kollegen auf der ZAANDAM vorgewarnt, besser nicht aufzutauchen. Aber damals ging es nicht um die Augen auf den Handtuchtieren, die verrutscht waren, sondern um ein ernsthaftes Problem, wo ein schnelles Eingreifen eines Crew-Mitglieds mit entsprechender Kompetenz kurzfristig notwendig war. Bislang wurden alle Probleme auf sehr niedriger Ebene bereits gelöst, so dass es keinen Grund gab, irgendwie den Hotel Manager zu sprechen, außer um ihm zu sagen, wie gut es verhältnismäßig bisher läuft...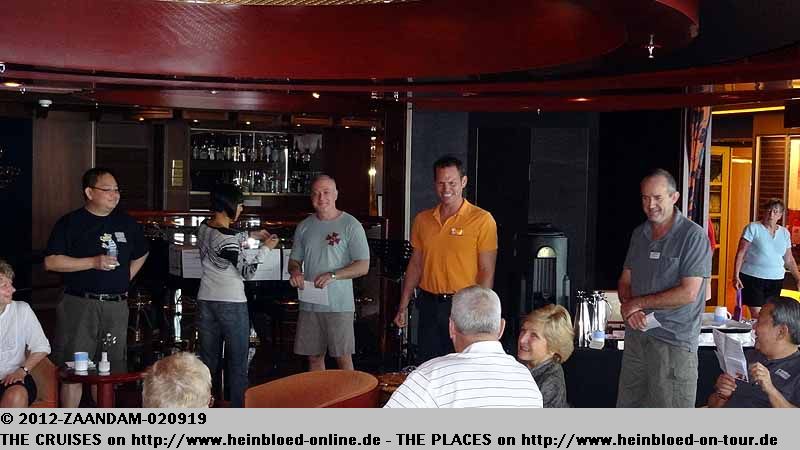 And another surprise: Cruise Director Michael Headla whom we knew from WESTERDAM. Captain and Hotel Manager did not appear. On WESTERDAM I had a serious word with the Hotel Manager and maybe he warned his collegue on ZAANDAM better not to appear. But then it was no problem with the eyes of the towel animals which were not placed correctly but a problem I really urgently need the action of someone with a position who can decide at short notice. So far all problems were solved on a very low level so there was no reason to have a word with the Hotel Manager beside to tell him how well it worked so far - relatively.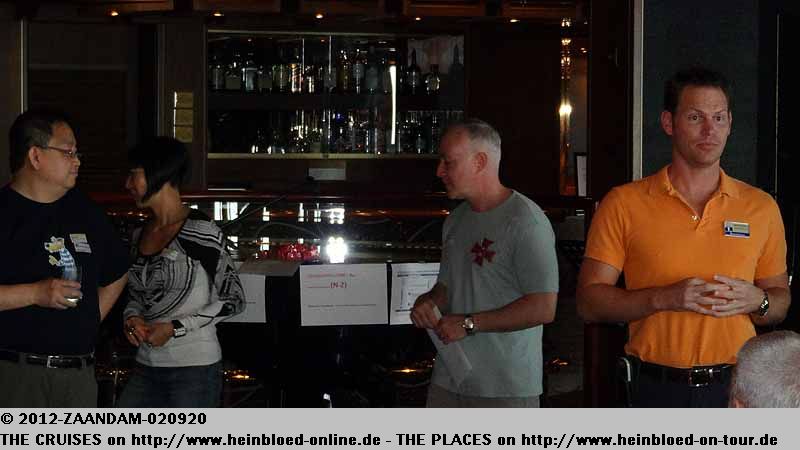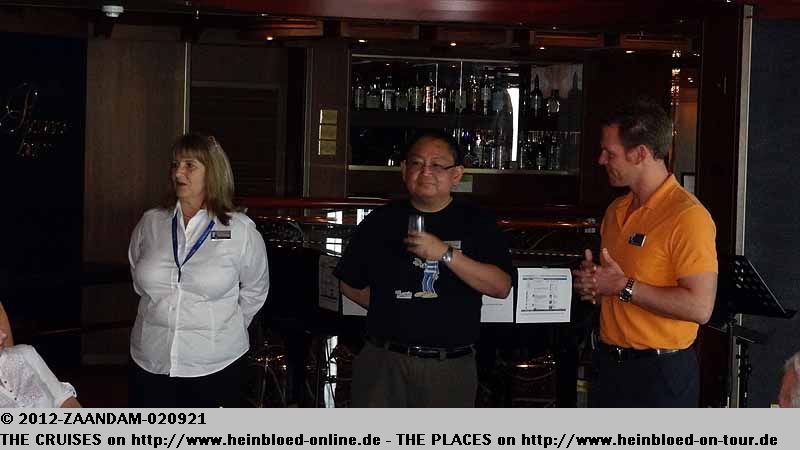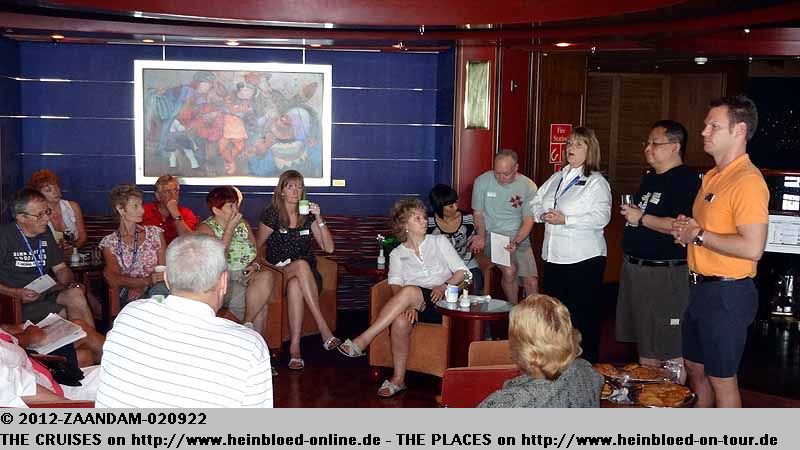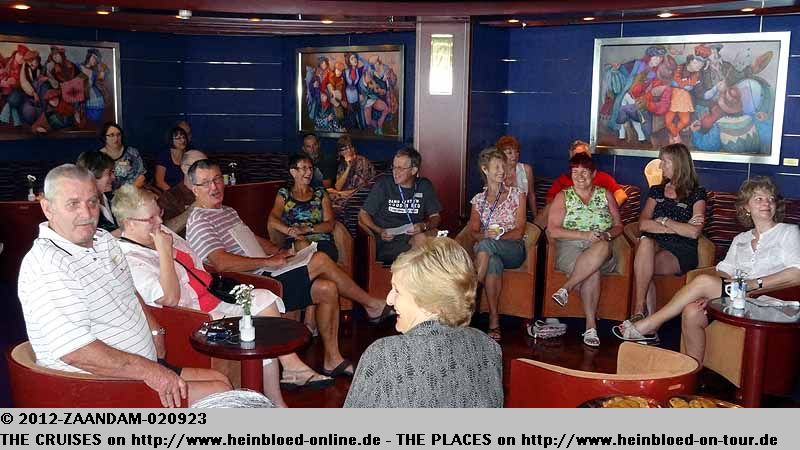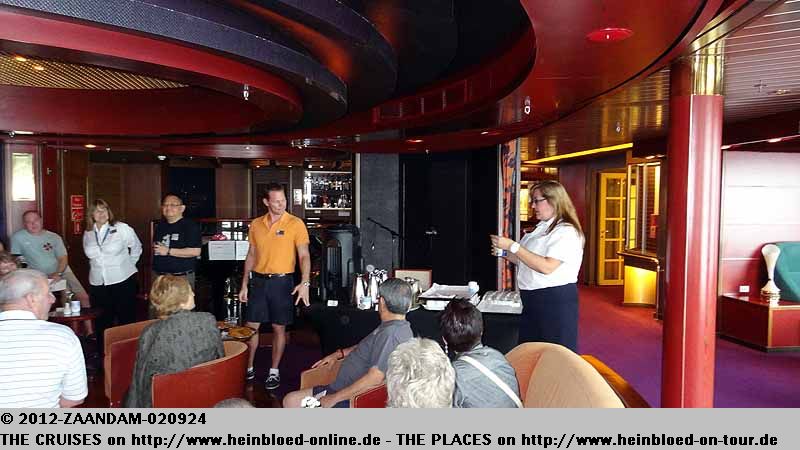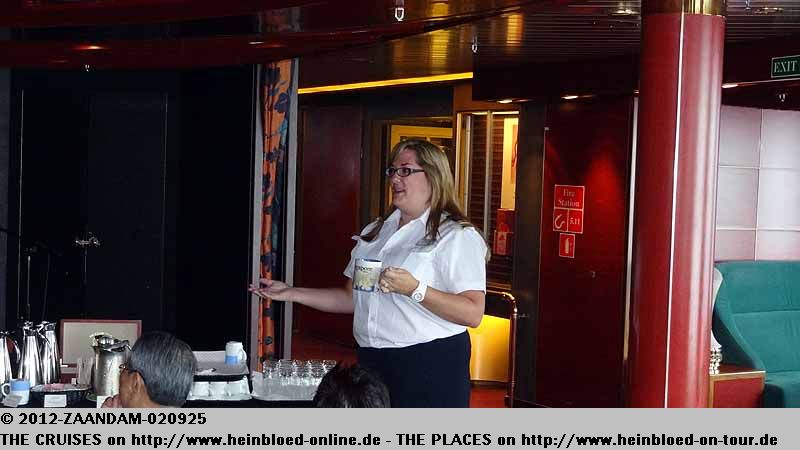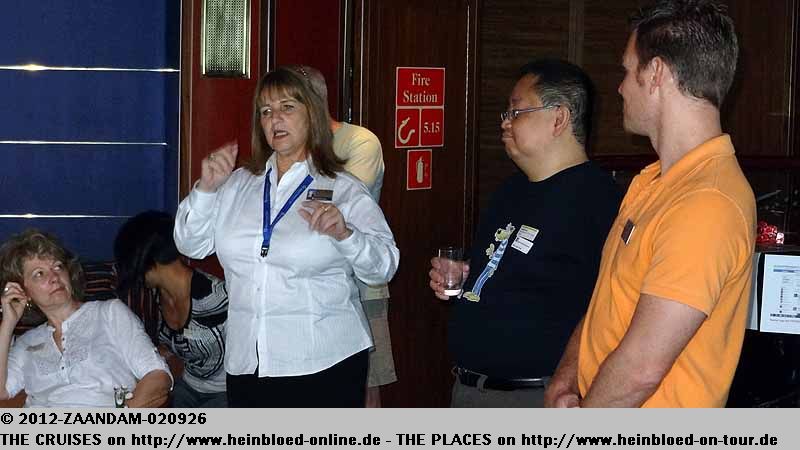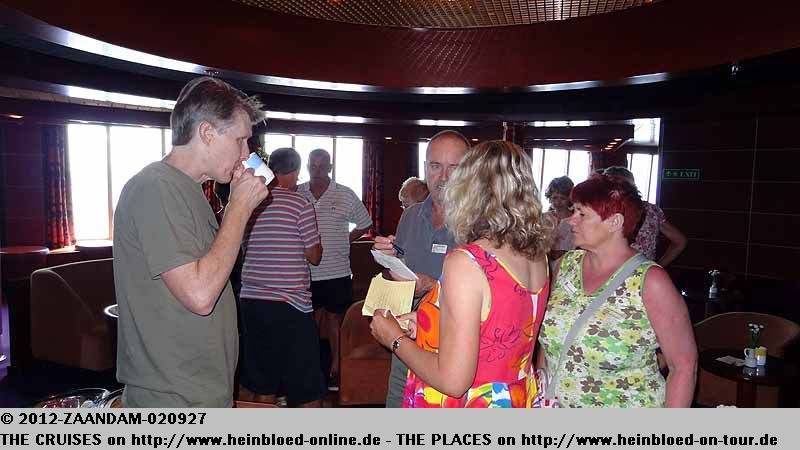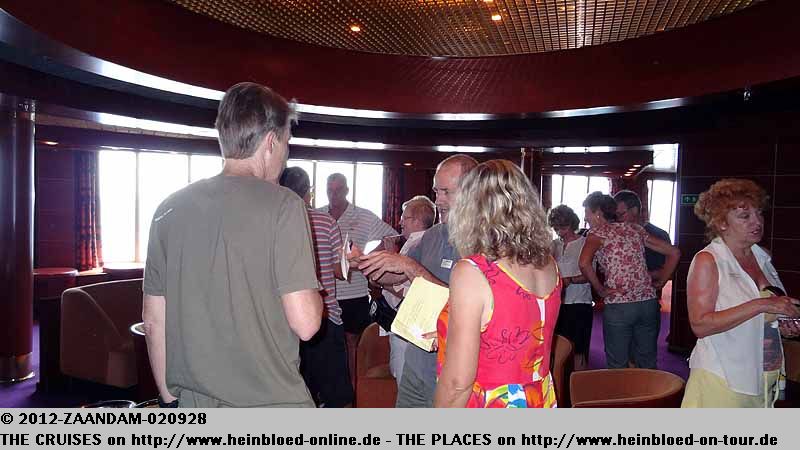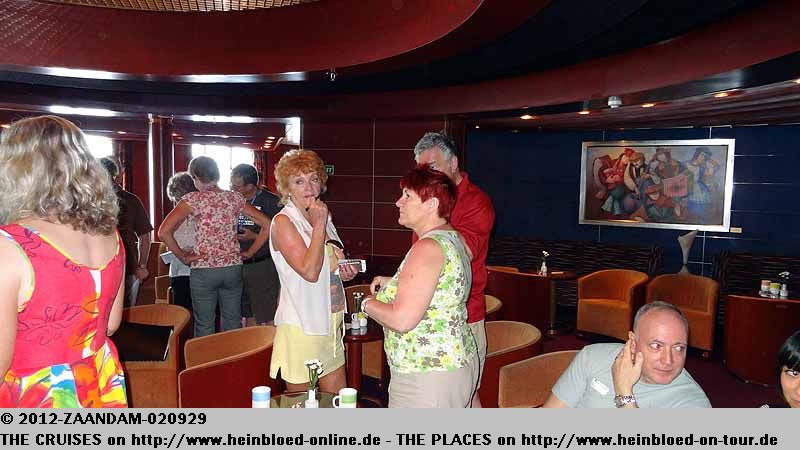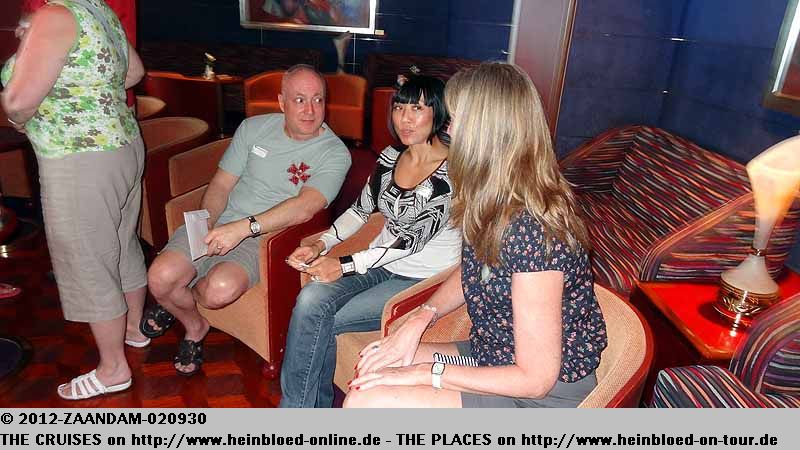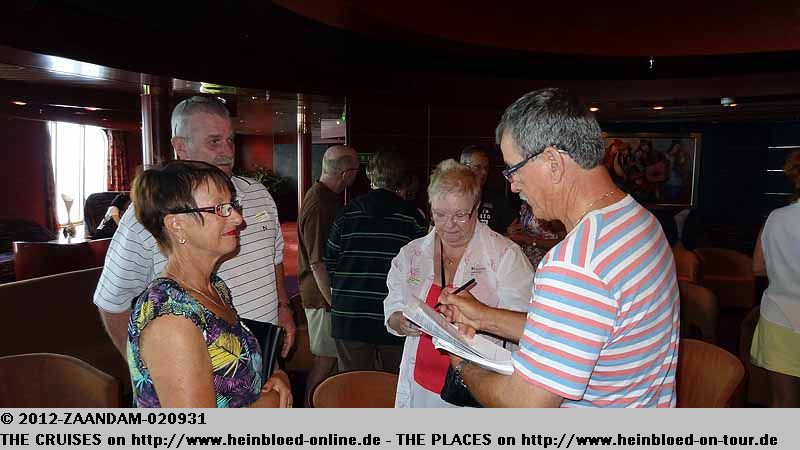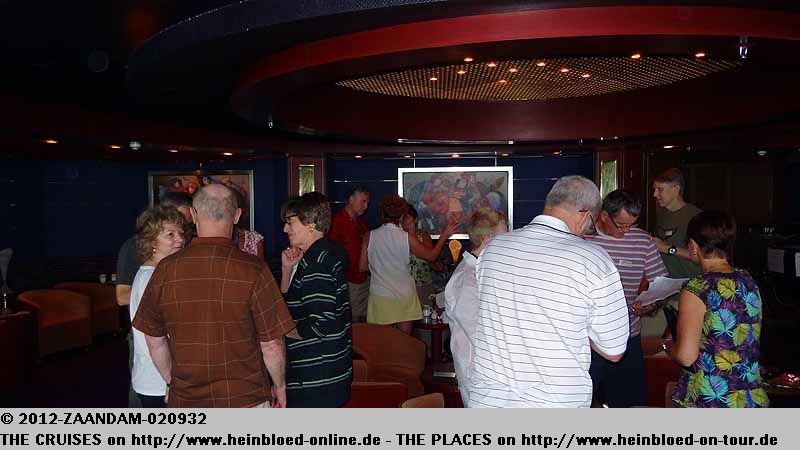 So they could accomodate few cruise fellows on private tours.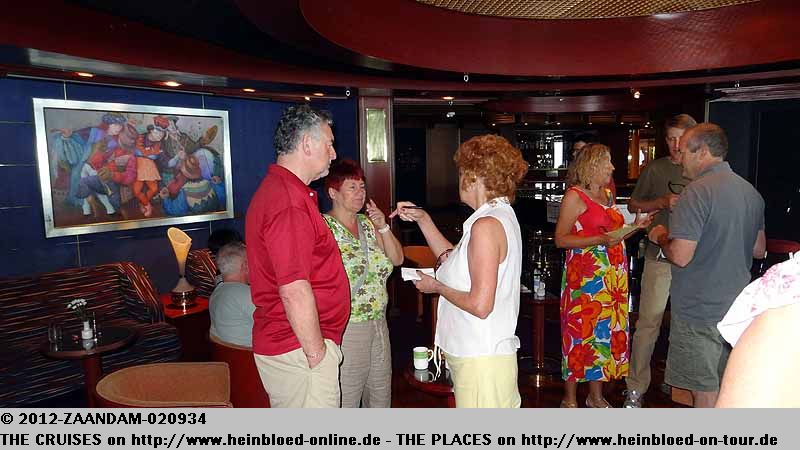 So konnten noch einige bei privaten Ausflügen untergebracht worden.
Eine große Überraschung: wyatthawaii (Rebecca aus cruisecritic.com und von Facebook) bringt mir Kau'ai-Kaffee mit. Vielen Dank. Den werden wir zu Hause genießen.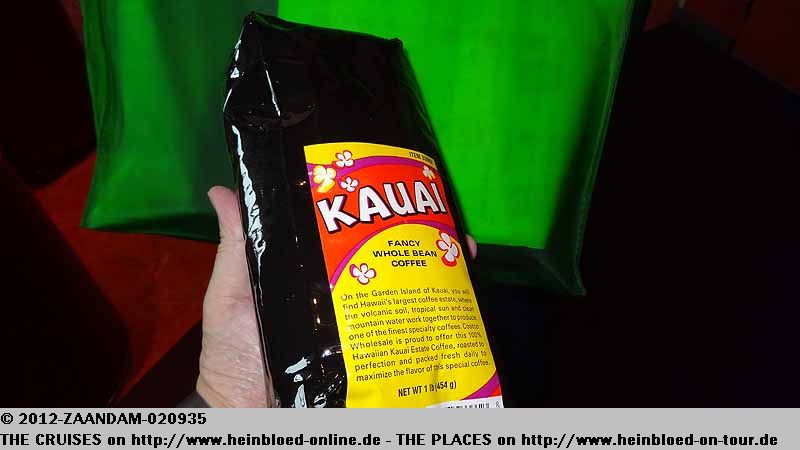 A big surprise: wyatthawaii (Rebecca from cruisecritic.com and from Facebook) got me some Kau'ai coffee. Thank you so much. We will enjoy it at home.