Scroll down for English explanations - alternates with German explanations.

Bruno bat uns ihn zum Schiff zurückzufahren: 10° weniger an Land, die Klimaanlage an Bord, die eher so läuft, als ob es draußen noch 35°C wäre und die Klimaanlage im Fahrzeug, die man nicht so individuell regeln konnte, führen dazu, dass er lieber an Bord bleiben möchte. So setzen wir ihn ab und wir fahren quer durch die Innenstadt von Sanya.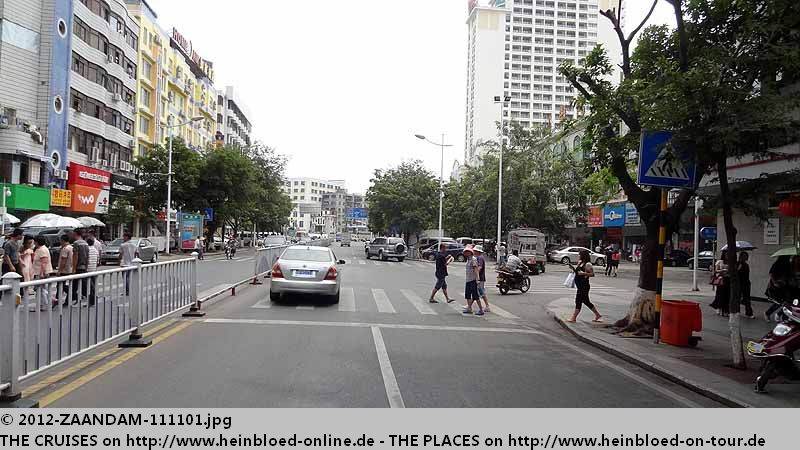 Bruno asked us to deliver him back to the ship. 10° less ashore, the air-condition on the ship which still worked as it would be 90F outside and the air-condition in the vehicle which cannot be adjusted individually per seat made Bruno preferred to stay on board. So we delivered him and went through Sanya's downtown.

We arrived at Luhuitou (= Deer turn back) Scenic Park und we were welcomed.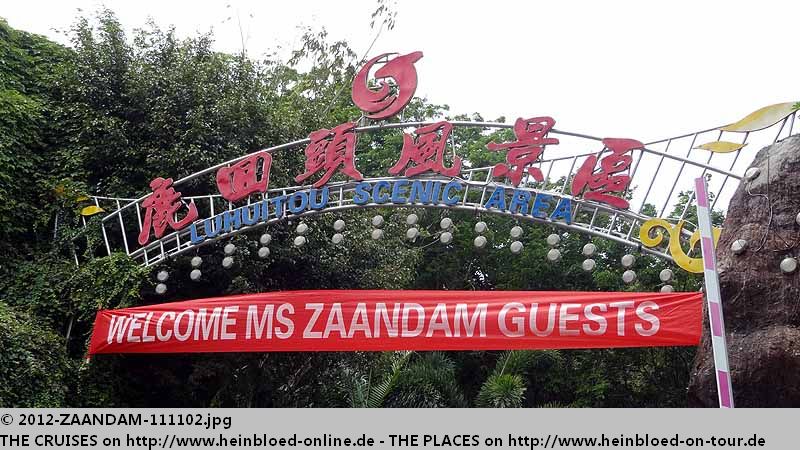 Wir kommen zu Luhuitou Scenic Park (= der Aussichtspark des umdrehenden Rehs...) und werden willkommen geheißen.
Diese Schlange galt nur für die Schiffsausflügler. Als ich da durchlaufe, stoße ich auf Unverständnis, trotz meiner Bordkarte.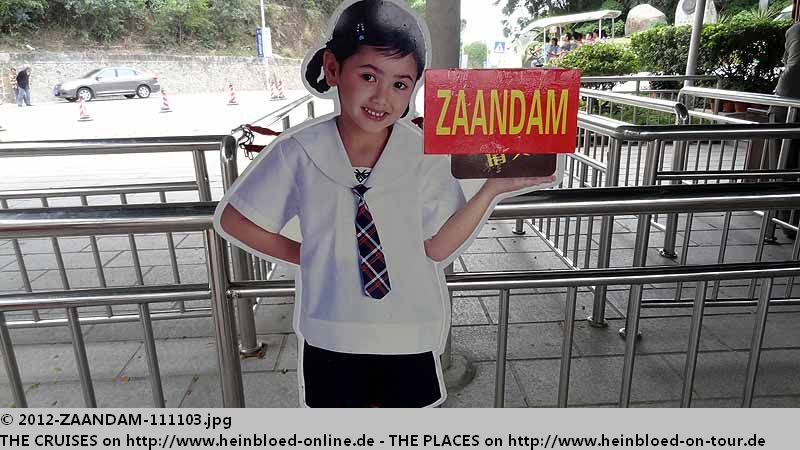 This queue was only for the guests on the ship's tour. When I walked through they were very much confused even I showed my shipcard.

We bought some tickets so you must walk all the way upwards. It was only 60 CNY (= about 8 USD / 2012) for a return journey.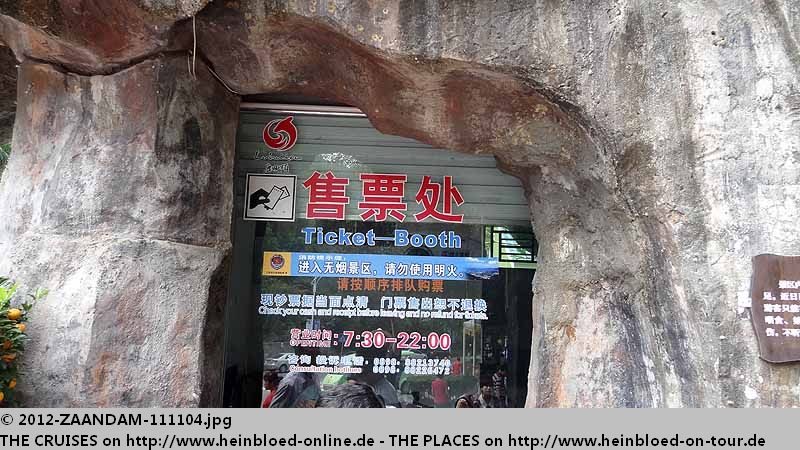 Wir kaufen Karten, um nicht hochlaufen zu müssen. Es waren aber bloß 60 CNY (= ca. 6 EUR / 2012) für Hin- und zurück.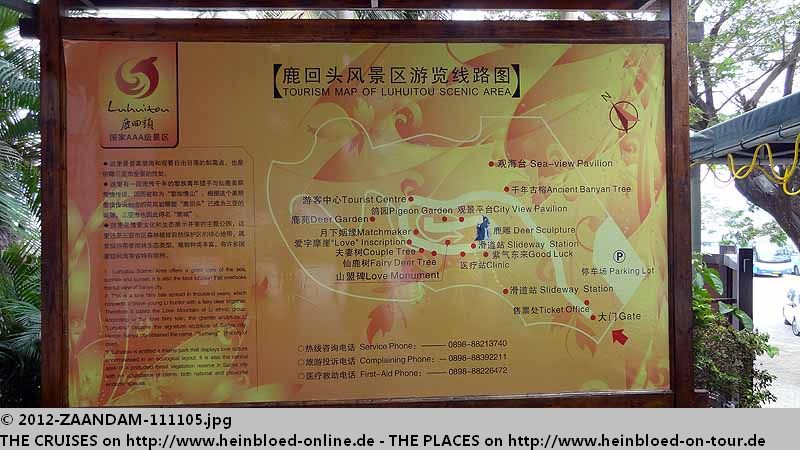 Pay attention: this ticket was for the bus: 15 CNY...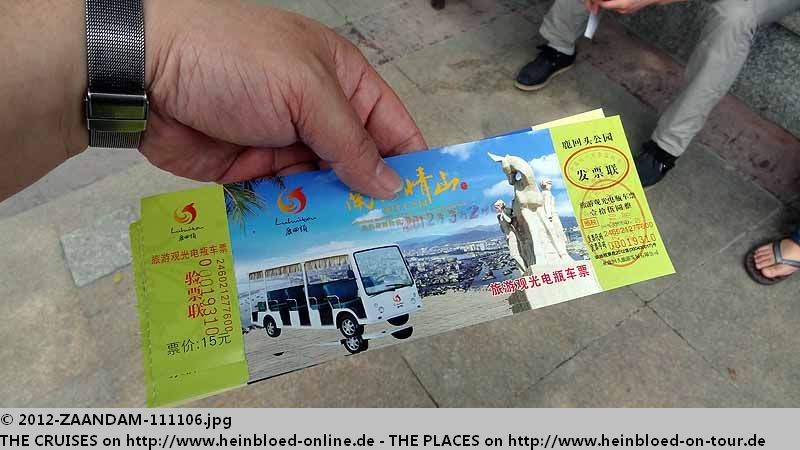 Aufpassen: das ist die Karte für den Bus: 15 CNY...
Und die Karte für den Park: 45 CNY... also insgesamt 60 CNY...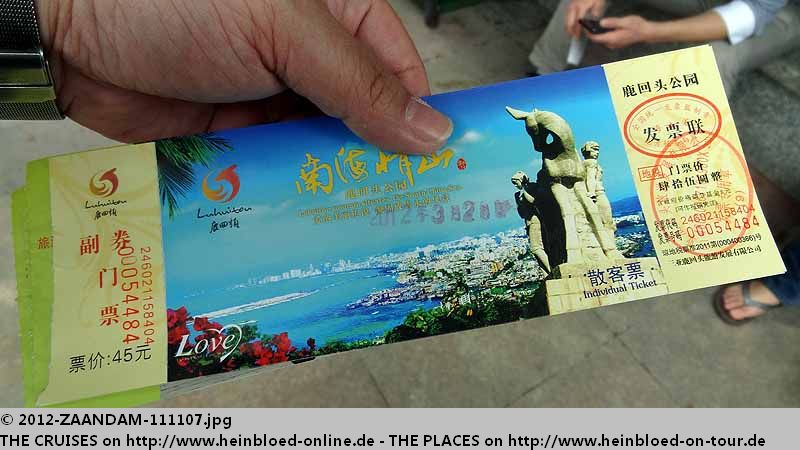 And this ticket was for the park: 45 CNY... so in total 60 CNY...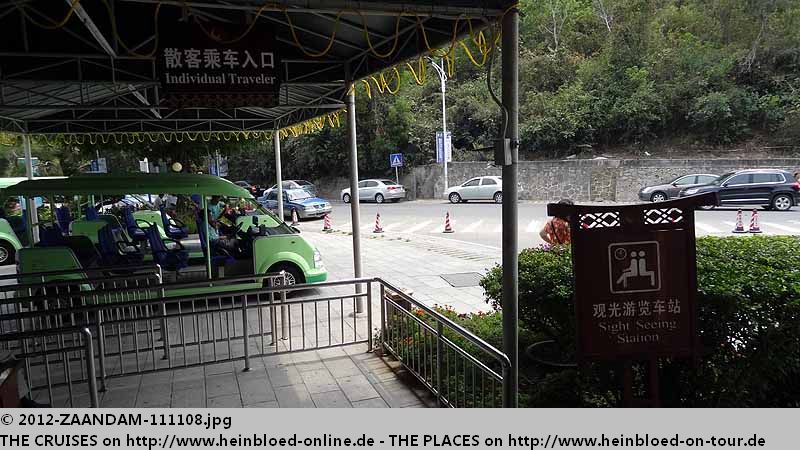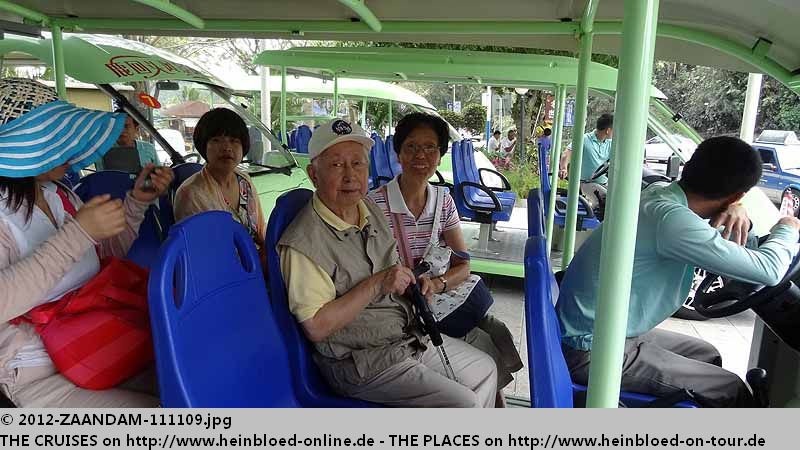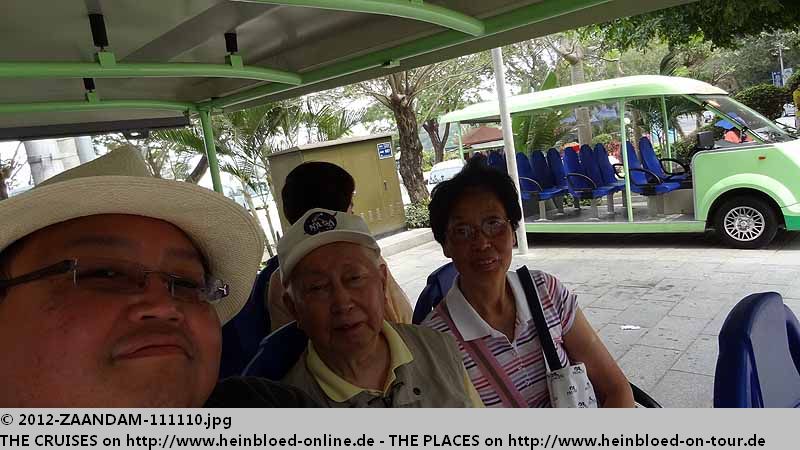 Von oben sehen wir schön unsere ZAANDAM im Hafen.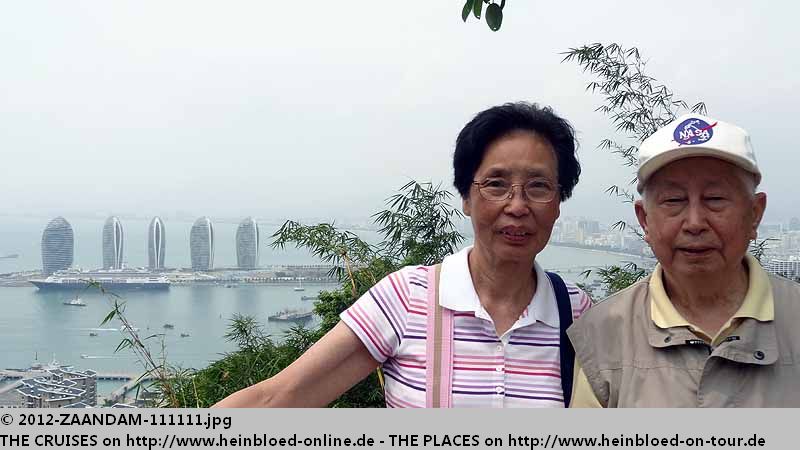 From here you could see our ZAANDAM in the port.

The tree of the lovers. Each tape was for one destiny.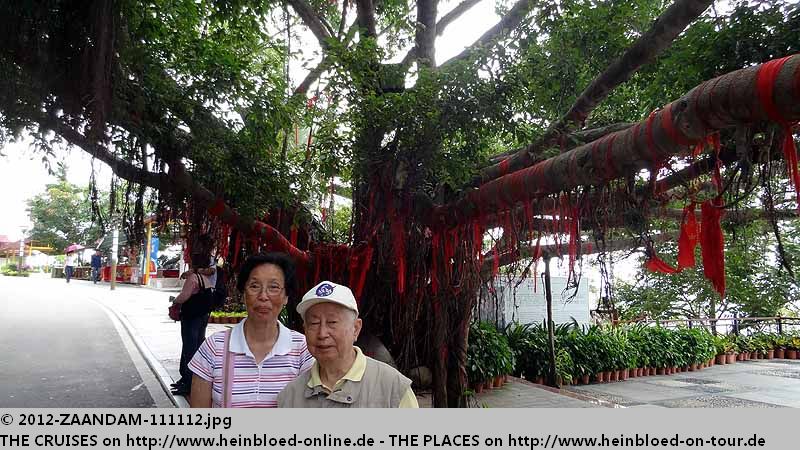 Der Baum für die Liebenden. Jedes Band steht für ein Schicksal.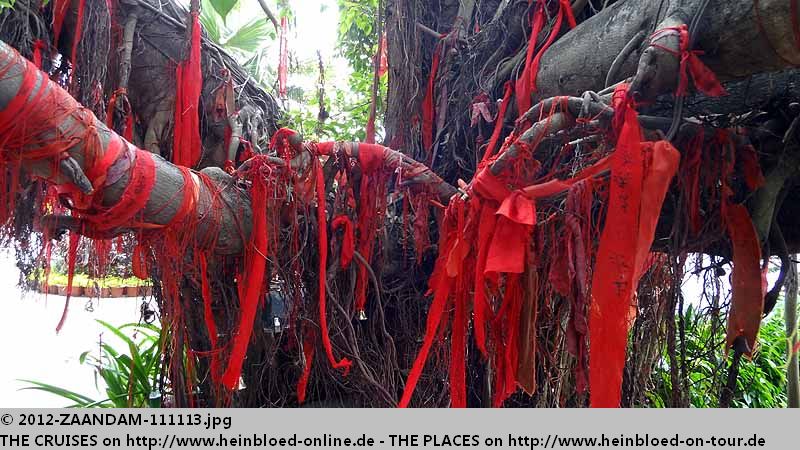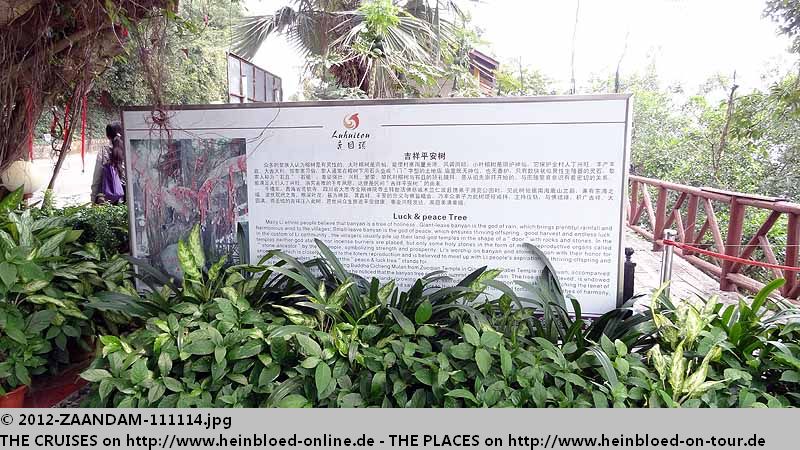 Mein Vater freut sich über jeden, der den Akzent eines Nord-Ost-Chinesen spricht. In dem Fall tauscht er sich mit dem Souvenirverkäufer über ihre gemeinsame alte Heimat aus.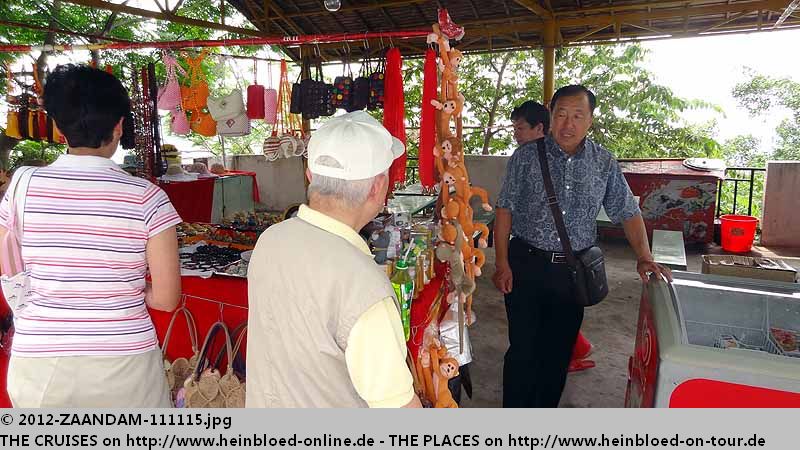 My father was happy to meet anyone who spoke like one from North-East-China. Here he found the vendor of souvenirs who he can talk about their common homeplace.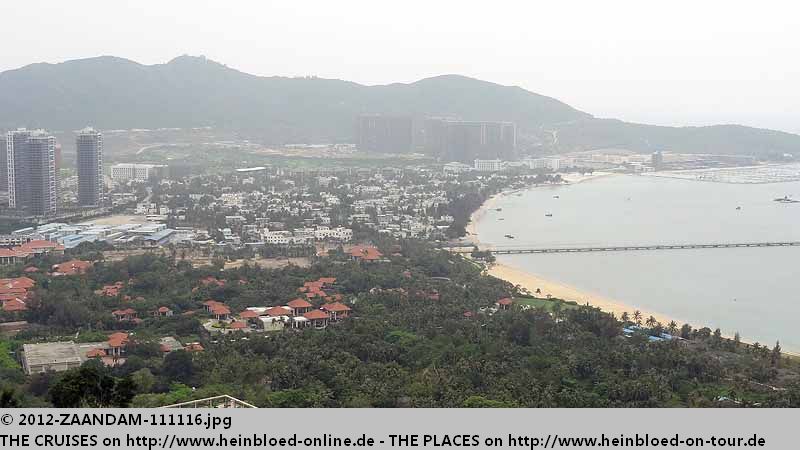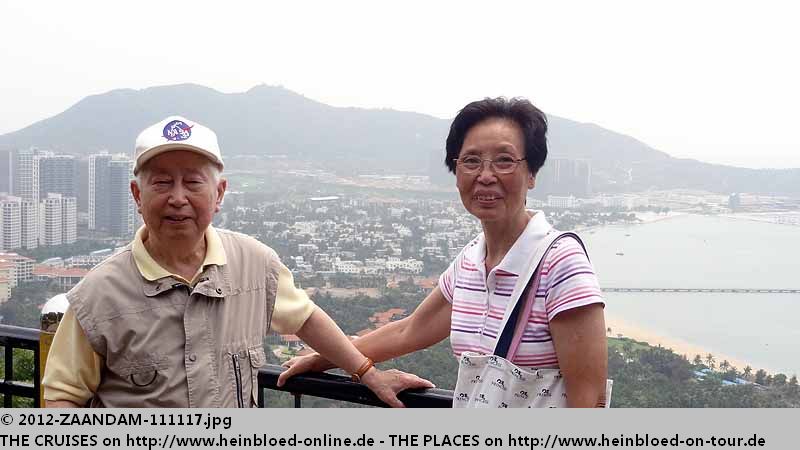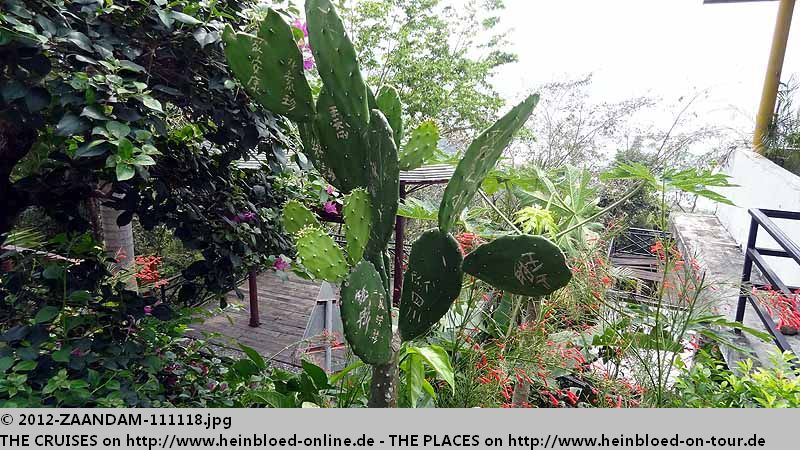 Natürlich könnten wir noch weiter rauflaufen (Treppen), um die Skulptur des Rehs zu sehen. Aber wir lassen es und genießen die Natur. Weiter hochlaufen ist ja Brunos Job...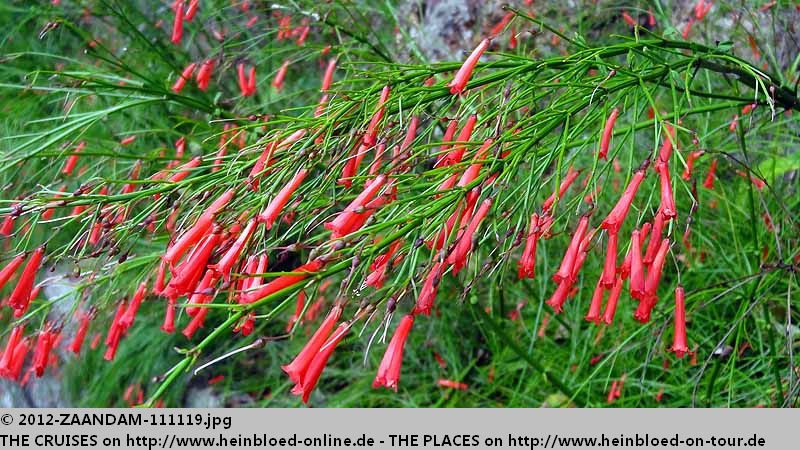 Of course we could walk (on stairs) further upwards to see the sculpture of the deer. But we did not and just enjoyed the nature. Climbing up is Bruno's job...

In total I was glad that I could take some nice pictures of our ZAANDAM - later also with the Cruise Terminal.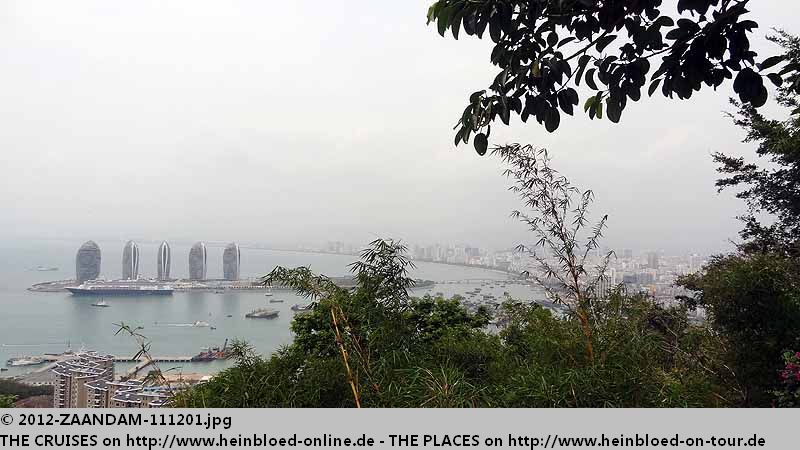 Insgesamt können wir doch schöne Aufnahmen von unserer ZAANDAM machen - auch später am Cruise Terminal.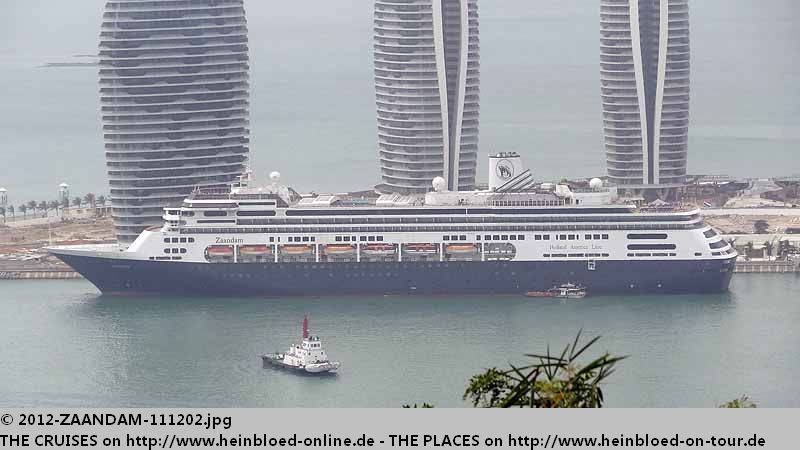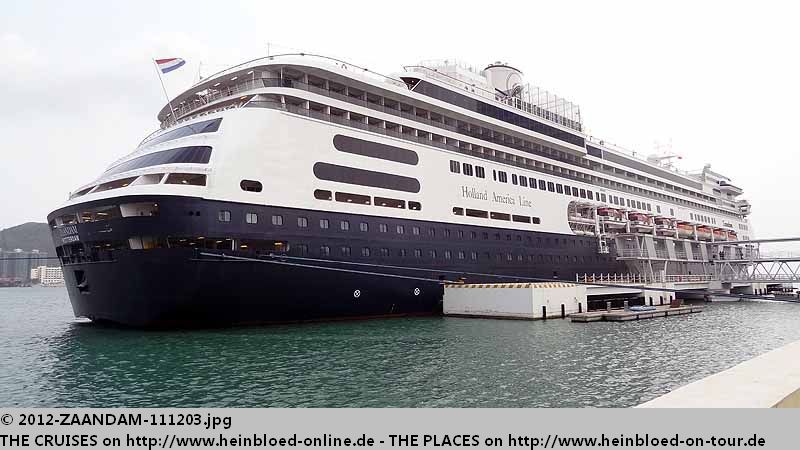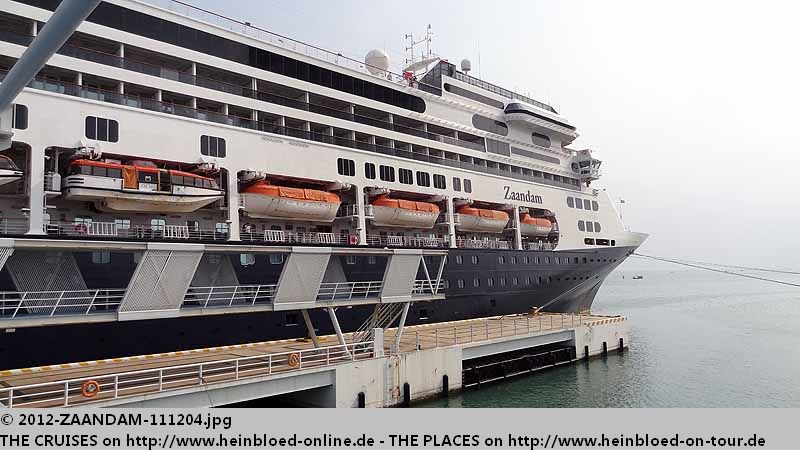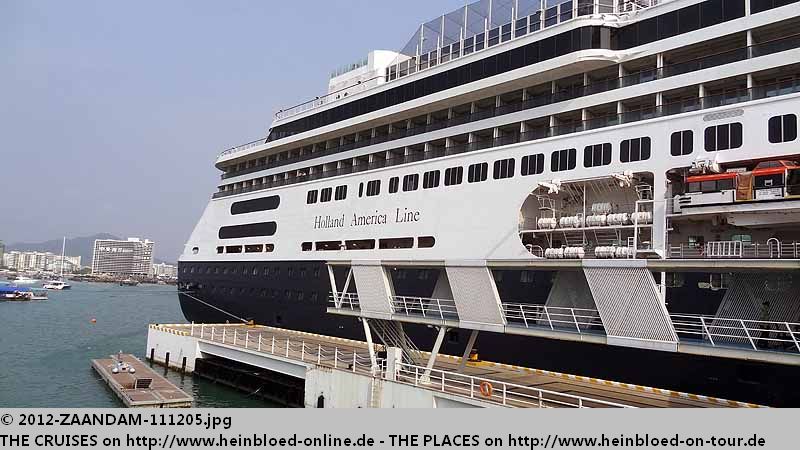 Wir wollen noch ein bißchen durch ein Kaufhaus und lassen uns in der Stadt absetzen. Bekommen wir hier unsere Steuern zurück? Wir kaufen nicht so viel, dass es sich lohnt zu fragen.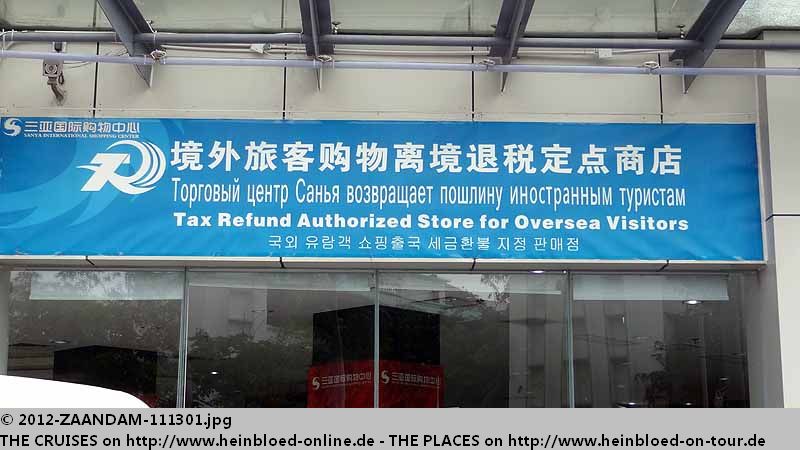 We wanted to browse a little trough a department store and asked to be dropped-off in the city center. Do we our taxes refund? But we did not buy so much that it was worth to ask.

So we went to a Chinese super-market because my mother was interested to buy little somethings. The agents there made us mad. It was like years before in communism in an East-Berlin department store before the wall came down.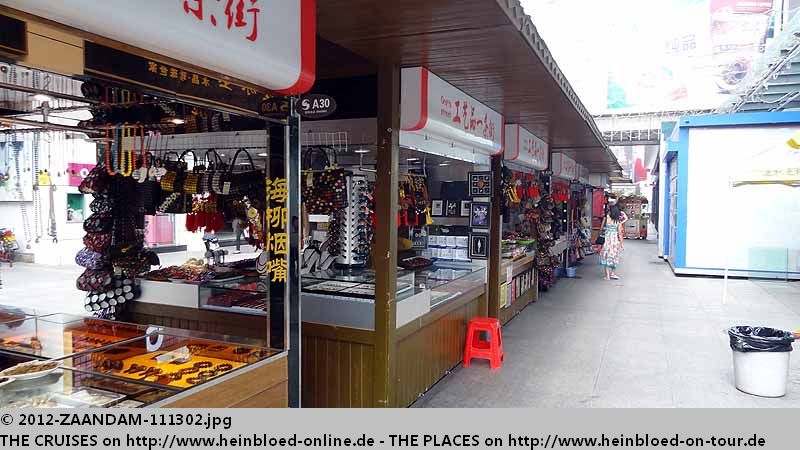 Wir gehen in einen chinesischen Supermarkt, weil meine Mutter ein paar Kleinigkeiten kaufen will. Die Verkäuferinnen bringen uns zur Verzweiflung. Das war wie damals im Centrum Kaufhaus damals in Ost-Berlin vor der Wende.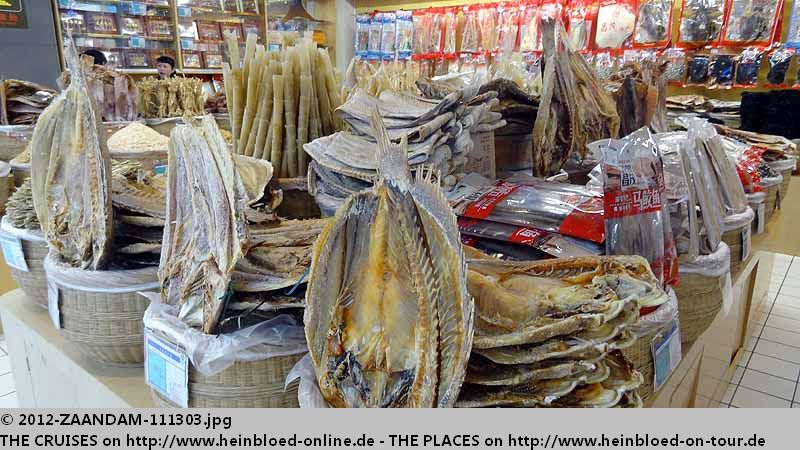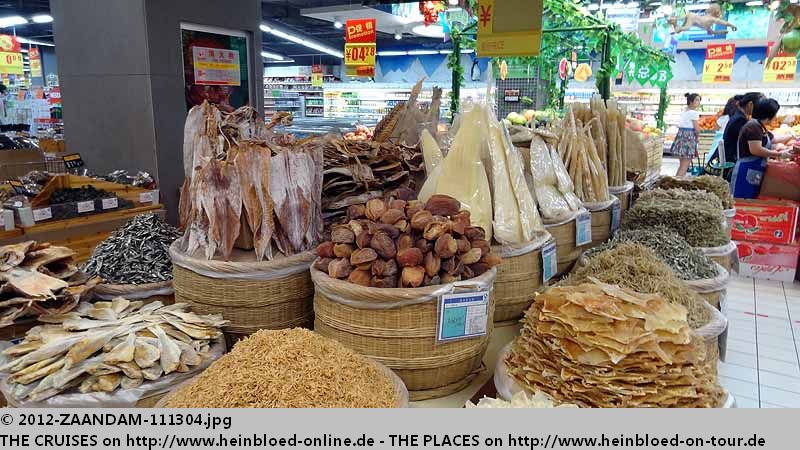 Waren gab es genug und schön aufgebaut. Bloß der Service passte nicht dazu.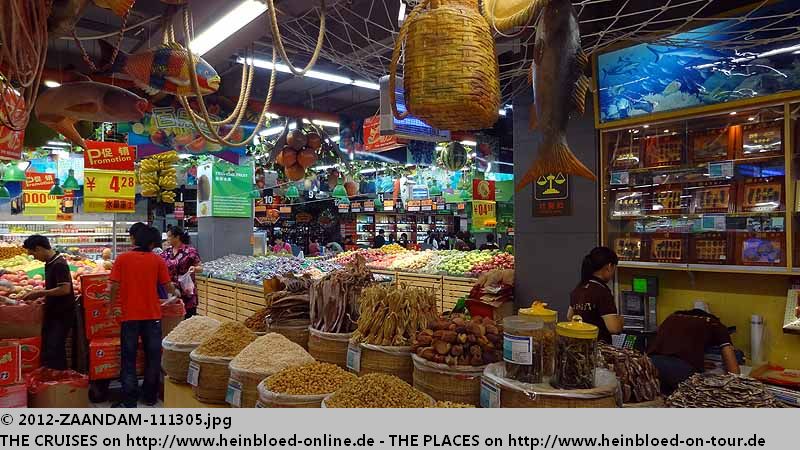 They had enough stuff to sell and it was nicely displayed. Only the service did not fit.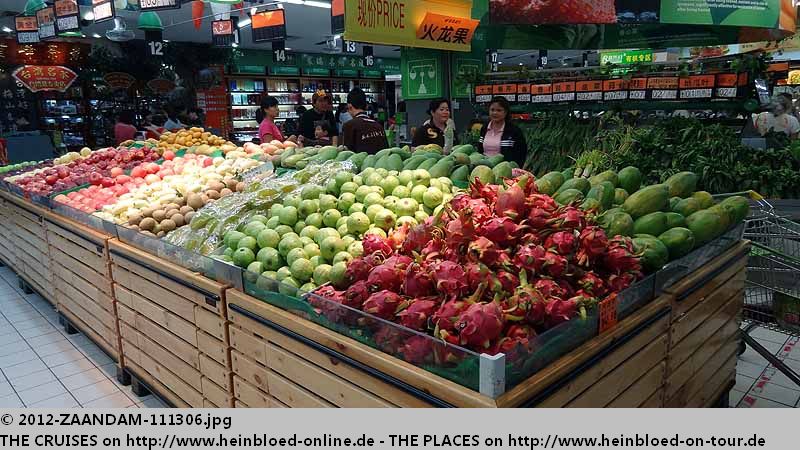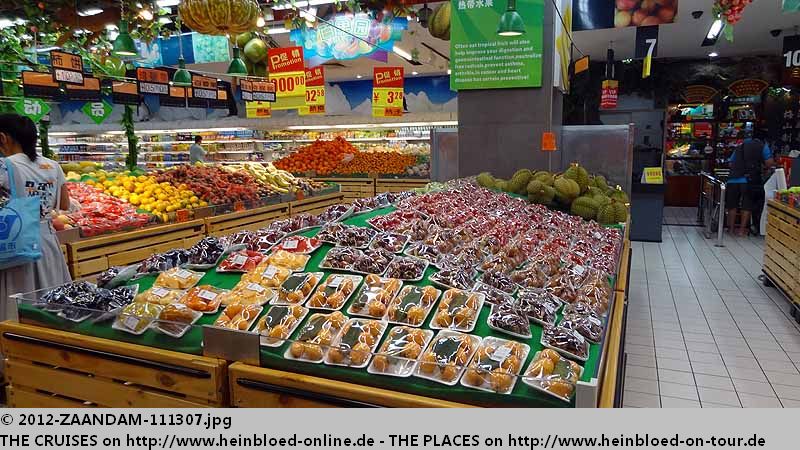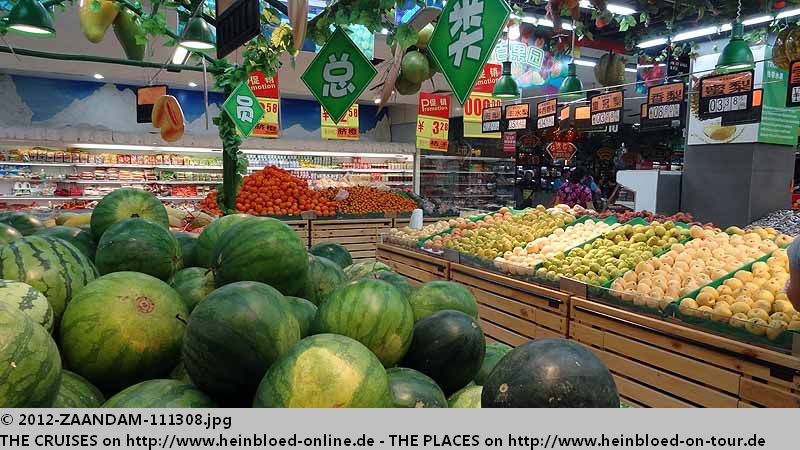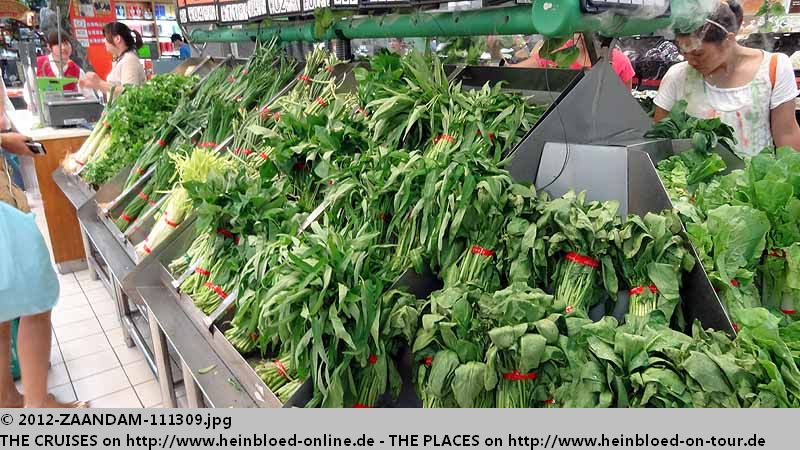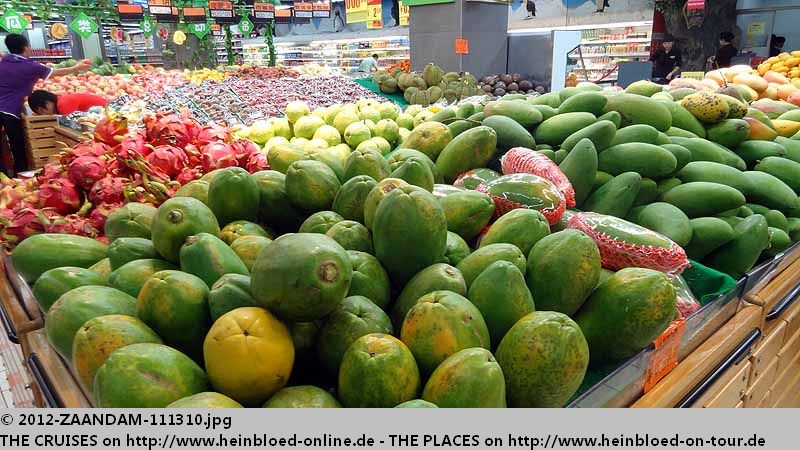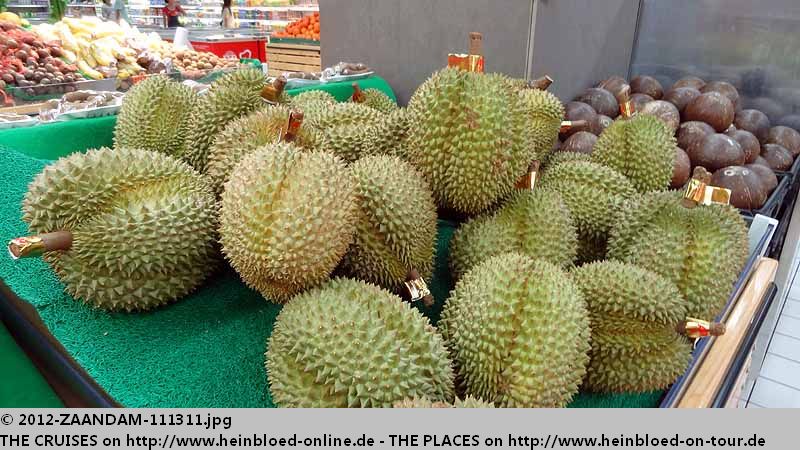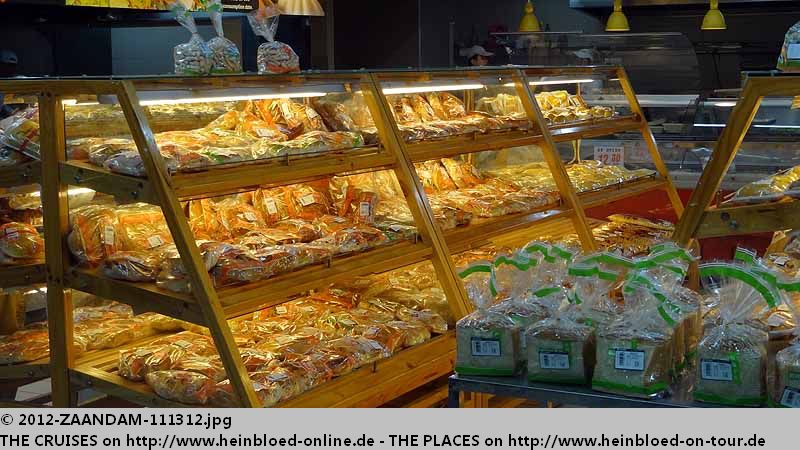 Ich kaufe etwas für die Crew. Wir haben zu wenig dabei, was bedeutete, dass wir eine tolle Crew hatten.

I bought something for the crew. We had too less with us which meant that we had a great crew.

I really would love to have something from this snackbar as it smelled so wonderful but my parents pushed.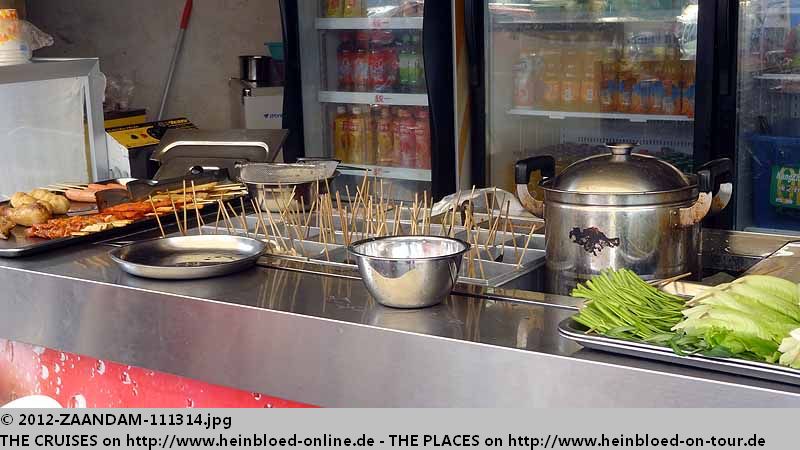 Ich hätte ja gerne noch etwas hier am Imbiss probiert, weil es so richtig toll roch, aber meine Eltern drängeln...
So gönne ich mir aber noch einen Eistee.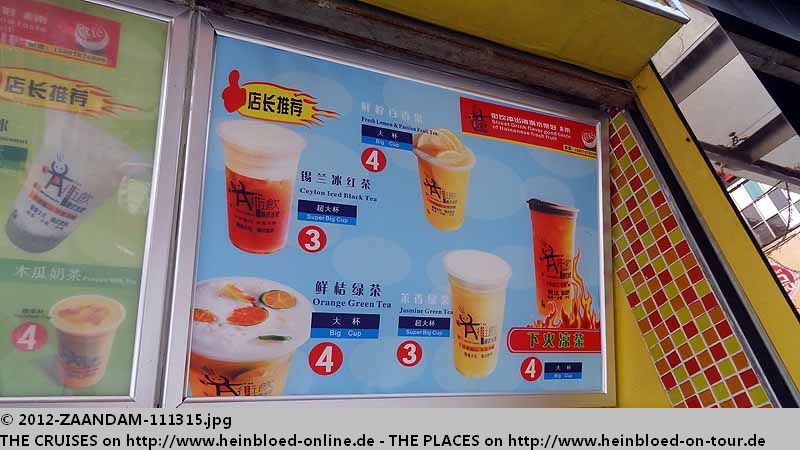 So I had an iced tea only.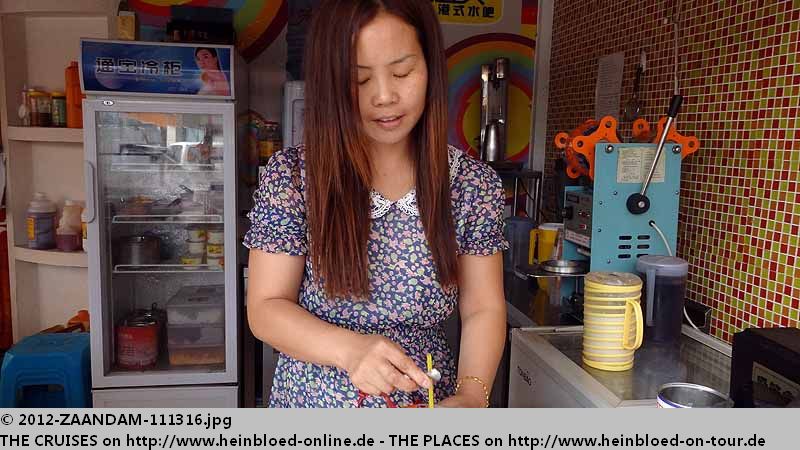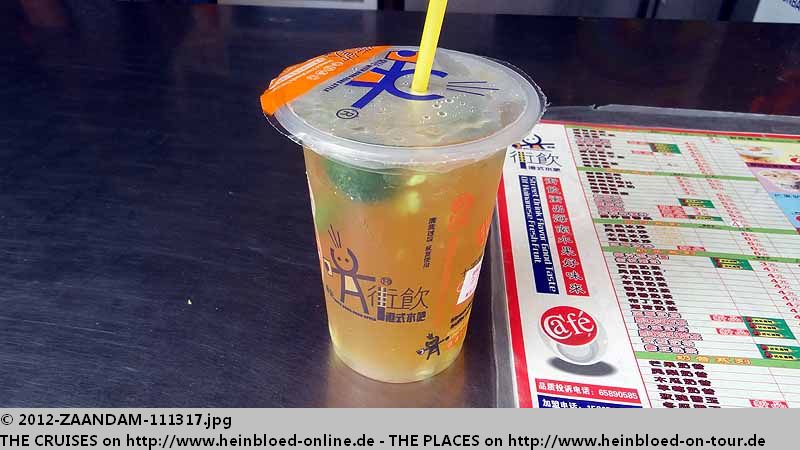 Just yummy which you had to enjoy freshly.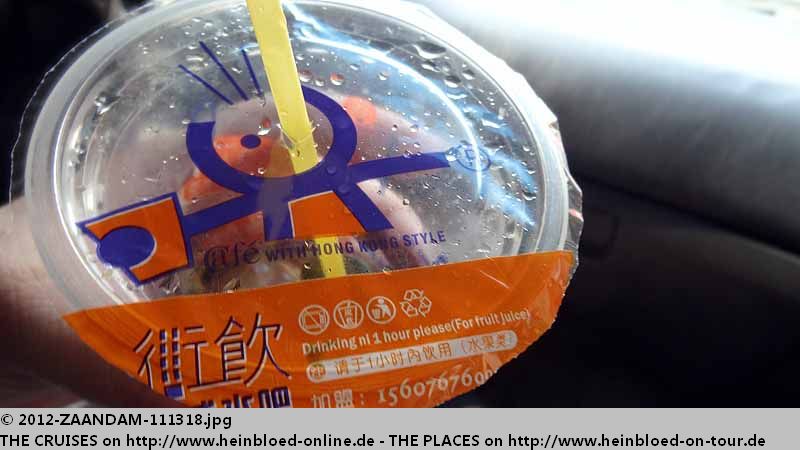 Einfach lecker, der frisch getrunken werden muss.
Schließlich war er mit frischen Früchten zubereitet worden. Vielleicht kann ich ja eine Lizenz für Deutschland erwerben und eine Kette wie Starbucks aufbauen...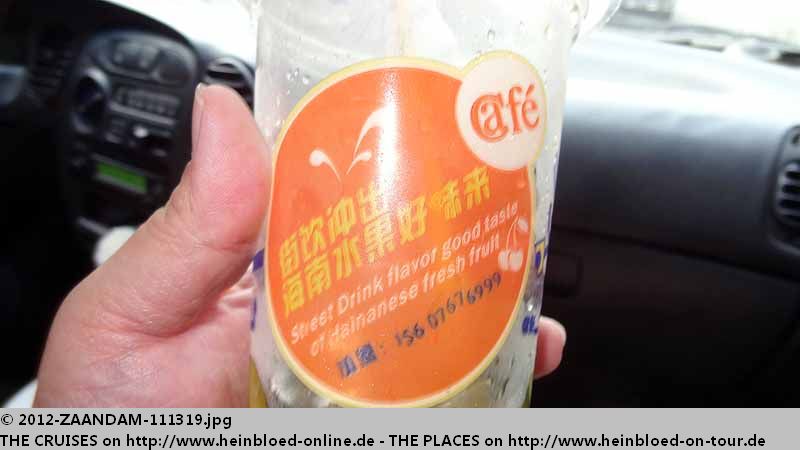 It was made with fresh fruits. Maybe I can buy a license for German and open a chain like Starbucks...

Anyhow my parents were were satisfied with the day in China. Thank you very much to Xiao Ye and Sunny Sanya for organising the great tour.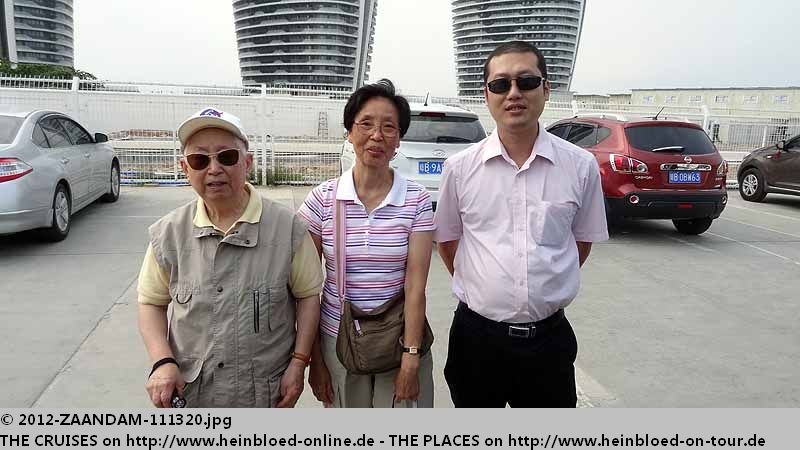 Auf jeden Fall waren meine Eltern sehr zufrieden mit dem Tag in China. Vielen Dank an Xiao Ye und
Sunny Sanya
für die Organisation dieser tollen Fahrt.