Scroll down for English explanations - alternates with German explanations.

Endlich sehe ich Shirley mal tagsüber und nicht mitten in der Nacht an der Rezeption.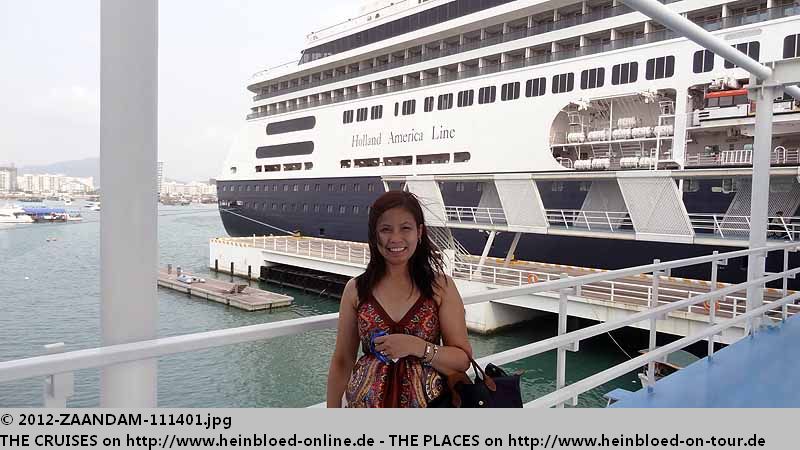 Finally I saw Shirley during daytime and not middle at the night at the front desk.

Then someone "hit" on me in German: we sat together at one table... WE HAD FLEXIBLE DINING. I knew that I did not sit with them at one table... That is why we always choose flexible dining: we must not share the table with anyone...

Und dann werde ich "angemacht" auf Deutsch, dass wir schon mal am gleichen Tisch saßen... WIR HABEN FLEXIBLE TISCHZEIT. Ich weiss definitiv, dass ich mit denen nicht am gleichen Tisch saß... Deswegen nehmen wir an der flexiblen Tischzeit teil, damit ich eben mit niemandem den Tisch teilen muss...
Es stellt sich heraus, dass wir tatsächlich schon mal einen Tisch geteilt haben... allerdings nicht an Bord der ZAANDAM, sondern auf der Hochzeitsfeier meiner Ex-Kollegin Andrea in Rauenberg im Kraichgau (bei Heidelberg).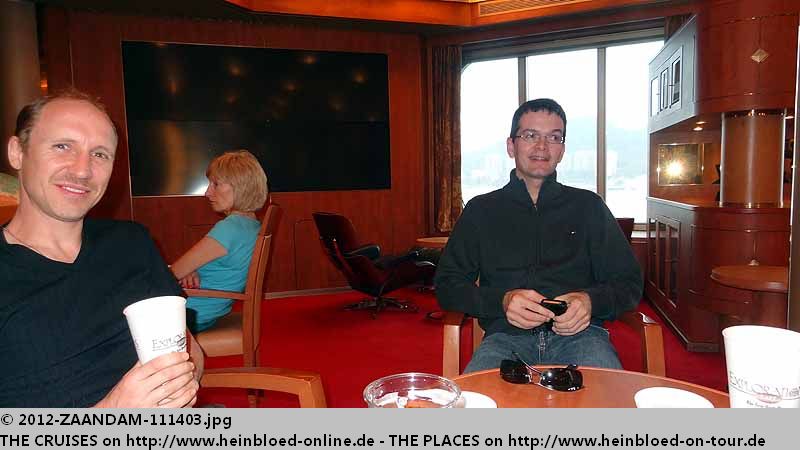 But finally I got it that we indeed shared a table... but not onboard of ZAANDAM but a wedding party of my former collegue Andrea near Heidelberg, Germany.

5,744 miles air line distance we met after eight years Elko and Tanja whom we really shared a table. The world is small!!! Unbelieveable.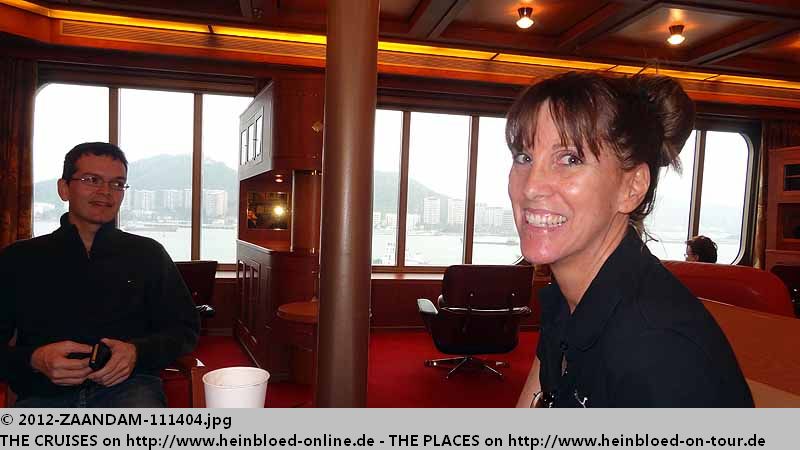 9244 km
Luftlinie
treffen wir nach ca. acht Jahren Elko und Tanja wieder, mit denen wir tatsächlich zusammen am Tisch saßen. Die Welt ist klein!!! Unglaublich.
Um 18.00 Uhr laufen wir aus und genießen den letzten Anblick von Sanya, die sich viel Mühe geben, dass wir sie in guter Erinnerung behalten. Das ist denen definitiv gelungen.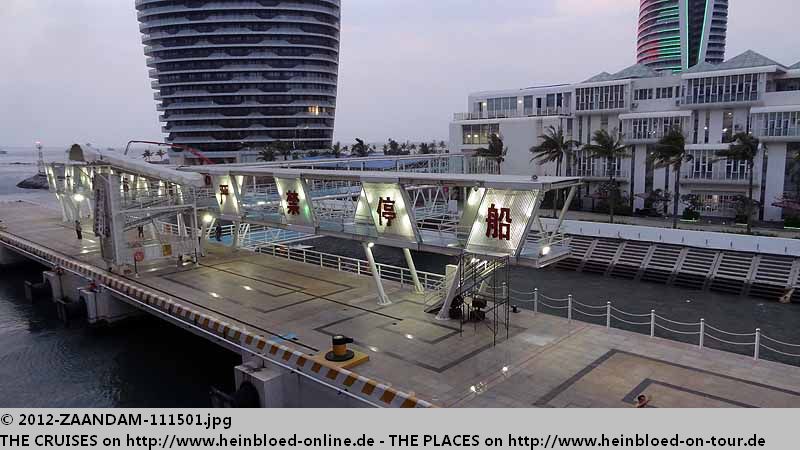 At 18.00 hrs we set sail and enjoyed the last view of Sanya who spent a lot of effort that we keep them in good memories. That was absolutely right.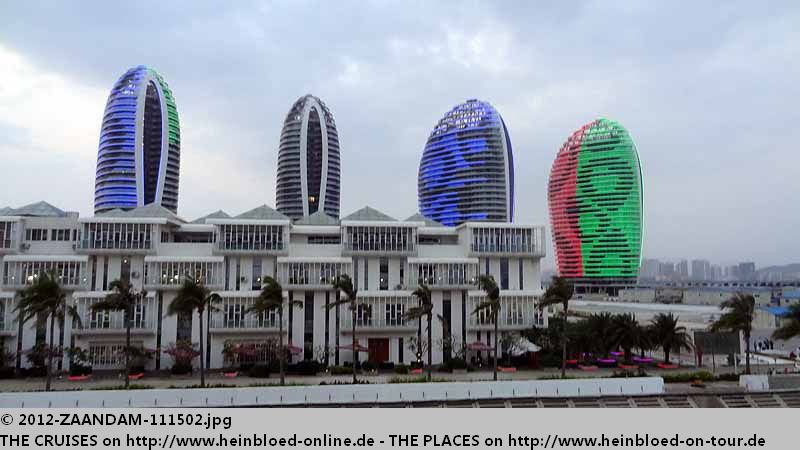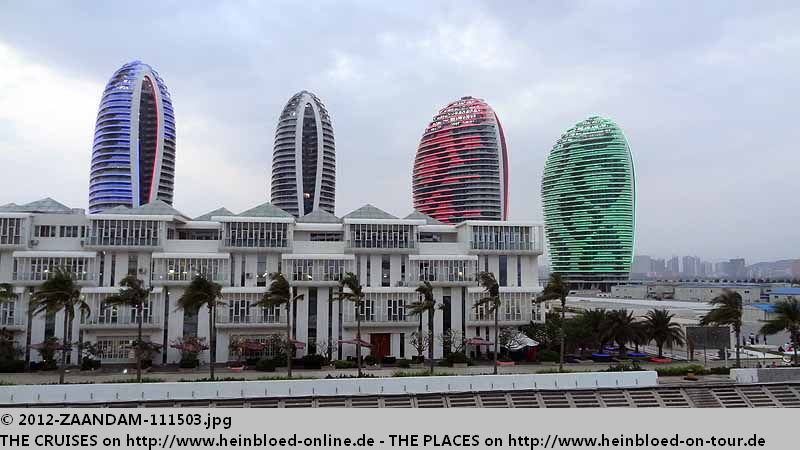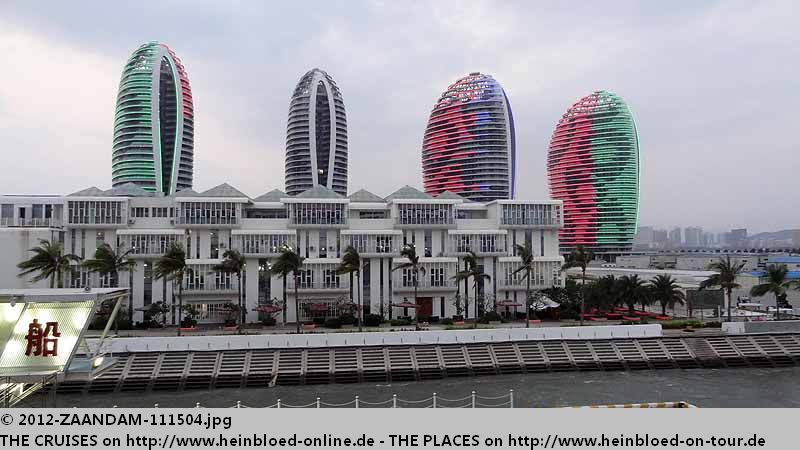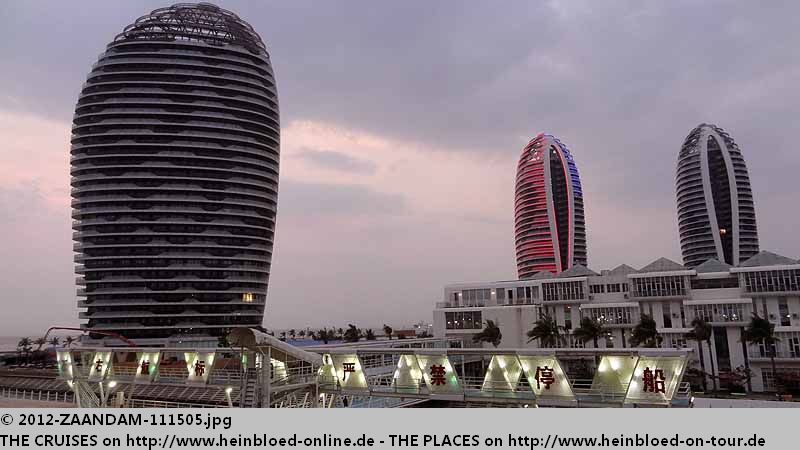 The lightshow made Guenther coming out of his cabin.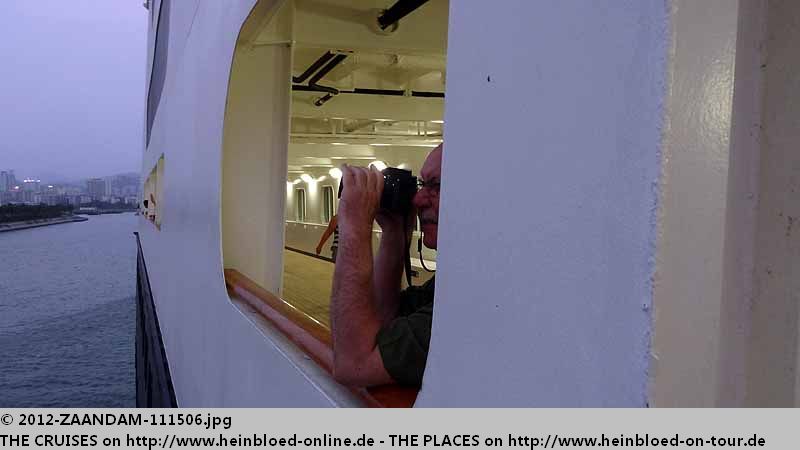 Die Lichtshow lockt auch Guenther aus seiner Kabine raus.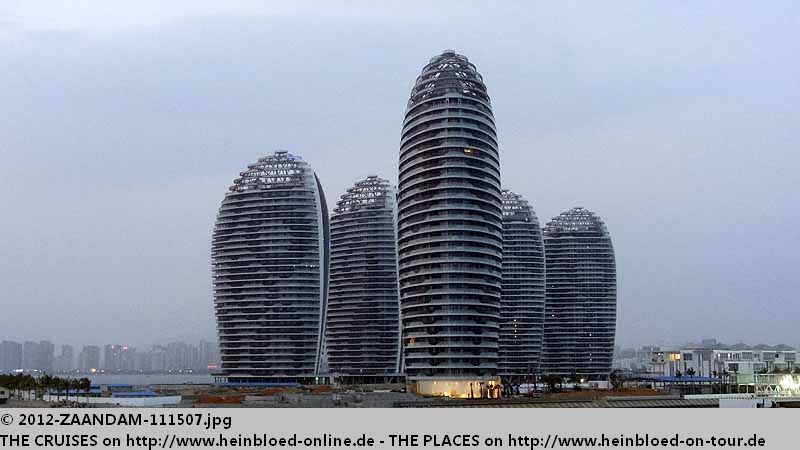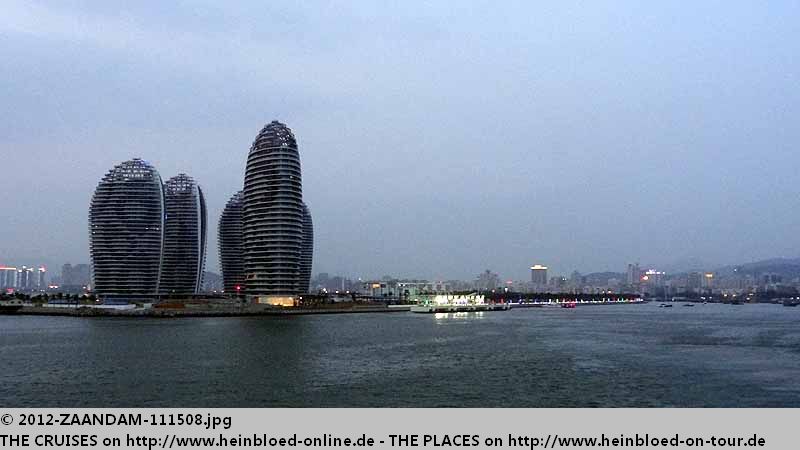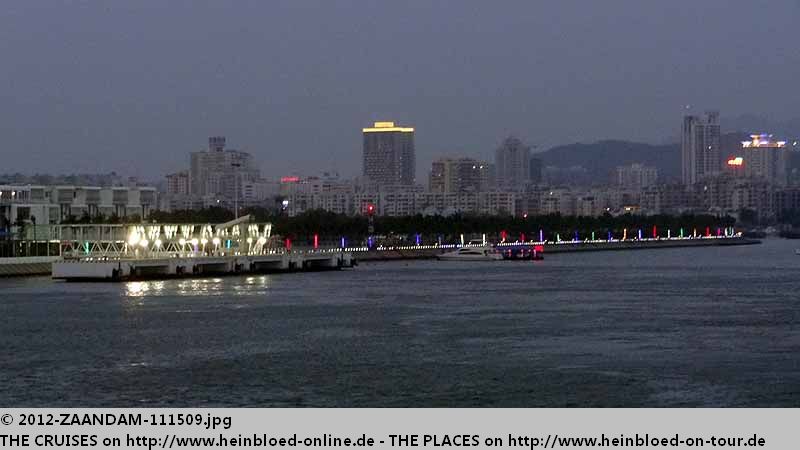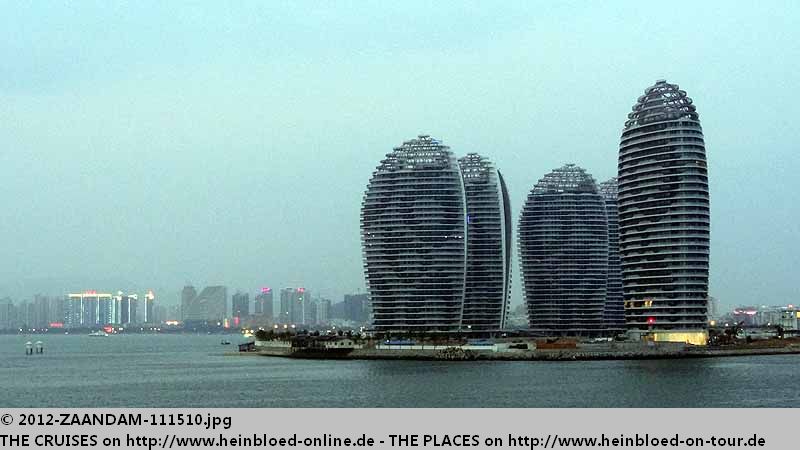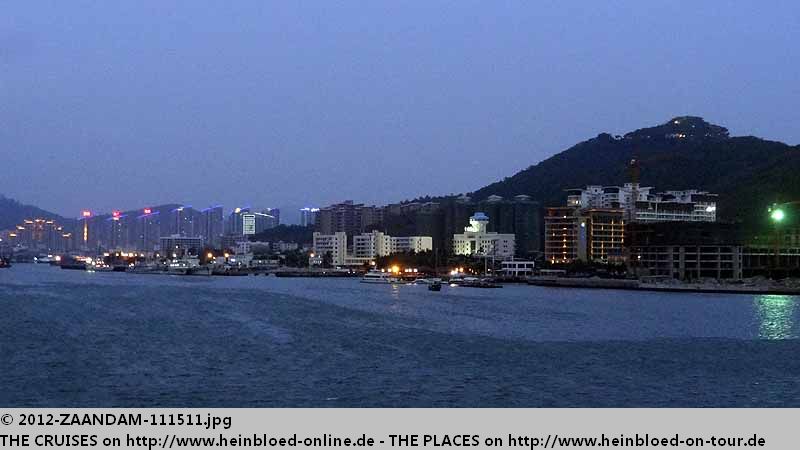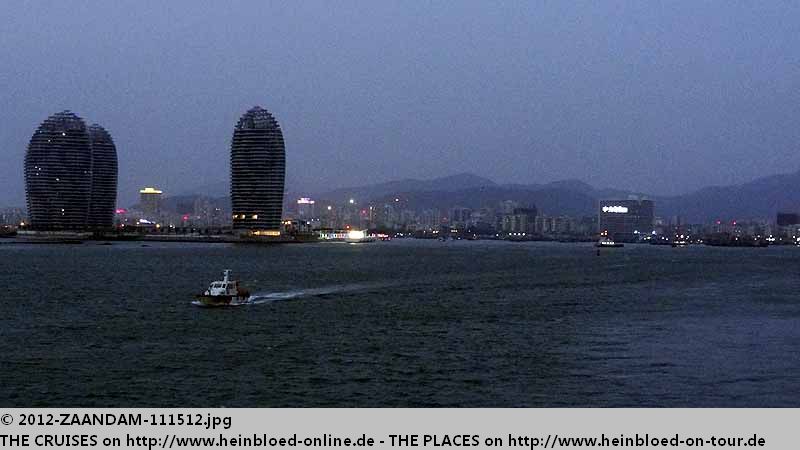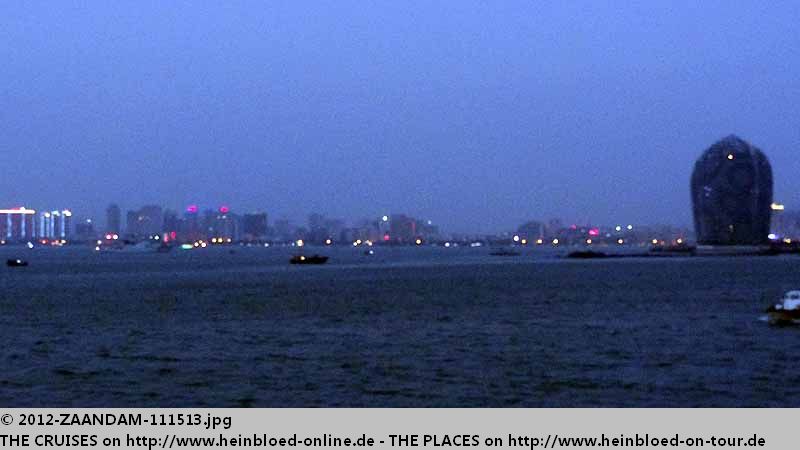 When I saw these cards I noticed that we did not get any invitation for Pinnacle Grill for tonight although we were booked again.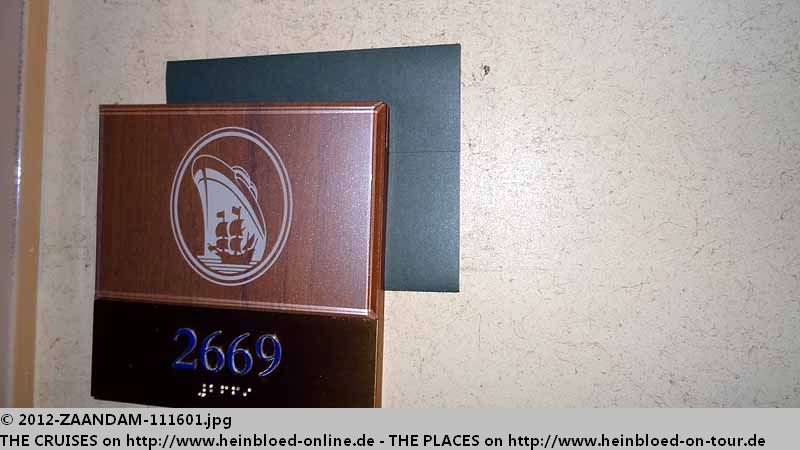 Beim Anblick dieser Karten fällt mir auf, dass wir für heute Abend keine Einladungen für den Pinnacle Grill bekommen haben, obwohl wir für heute Abend wieder gebucht waren.
Wir haben ja ein Team, das bei uns in der Kabine aktiv ist.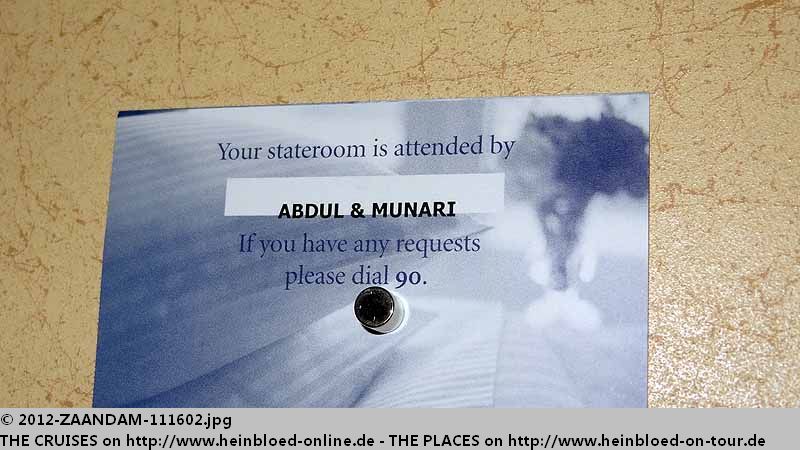 We had a team that was active in our cabin.

And finally we got the both on a shot.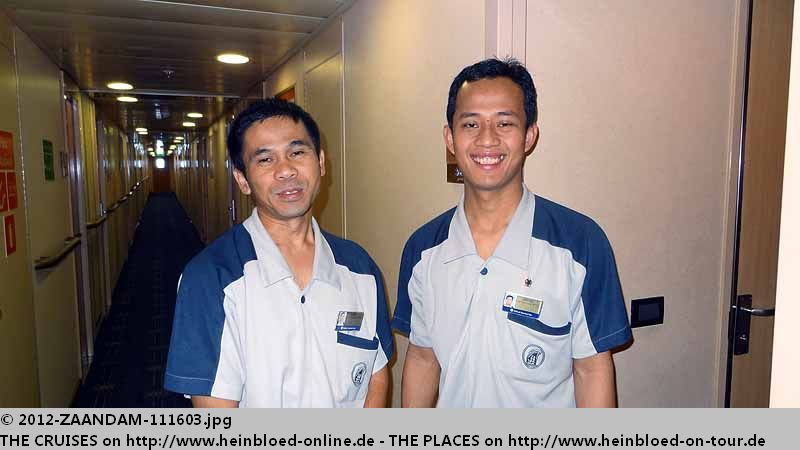 Und endlich gelingt es uns mal beide zusammen auf ein Bild zu bekommen...