Scroll down for English explanations - alternates with German explanations.

Ich war frustriert. Nun hatten wir so lange Sonnenschein und ausgerechnet in der Halong Bucht ist alles so dunstig und nebelig.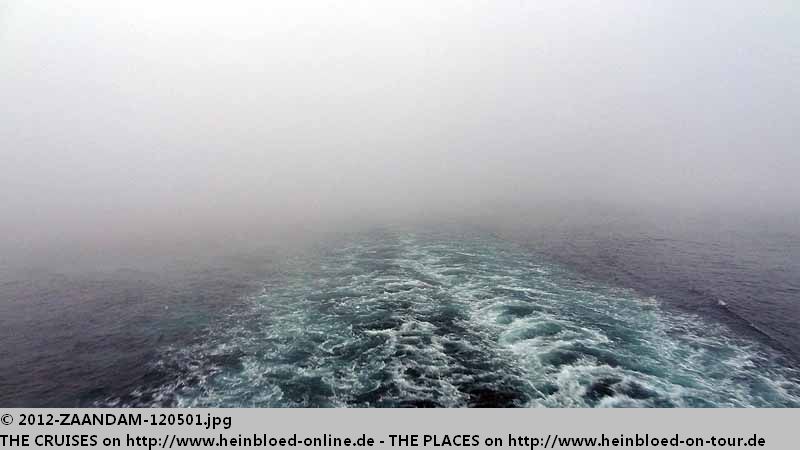 I was frustrated. We had all the time sunshine but just now in Halong Bay it was misty and foggy.

The pilot arrived.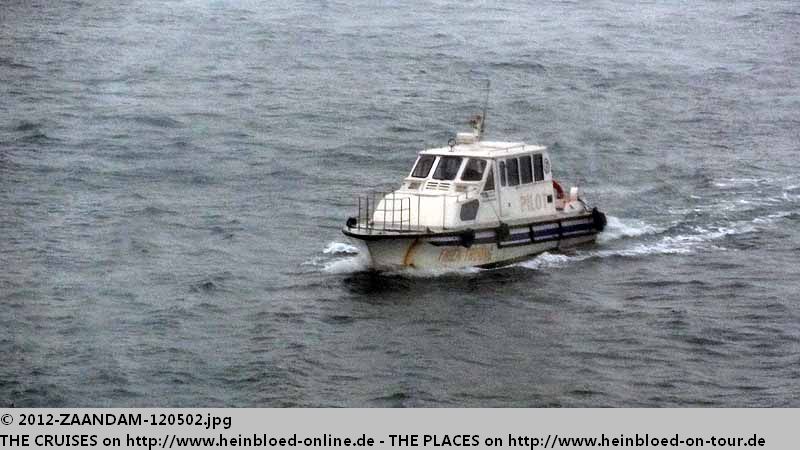 Da kam auch schon der Lotse.
Was ich sehr schade finde: hier hätte man doch wie im Aurland- und im Geirangerfjord auf der WESTERDAM etwas erklären können, während wir reinfahren. Nichts. Kein Hinweis im Programm und keine Ansage auf dem Bordfunk.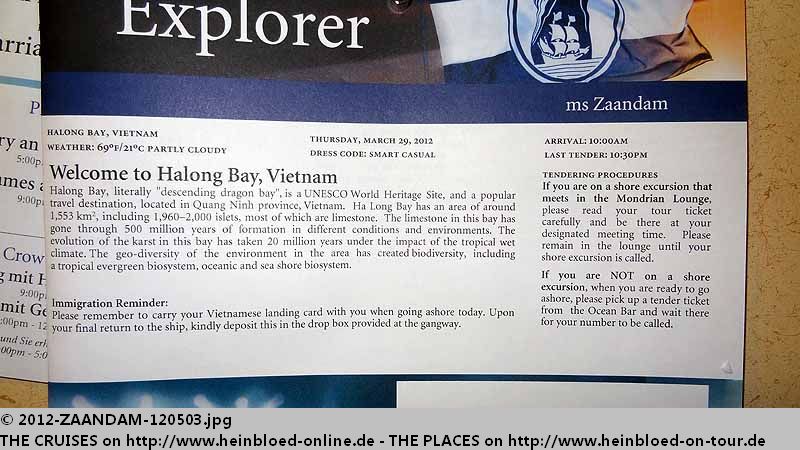 What I was really missing: there was no lector like in the Aurland- or Geirangerfjord who gave explainations like we had on WESTERDAM. Nothing. No information in the daily program and no announcements on the ship's radio.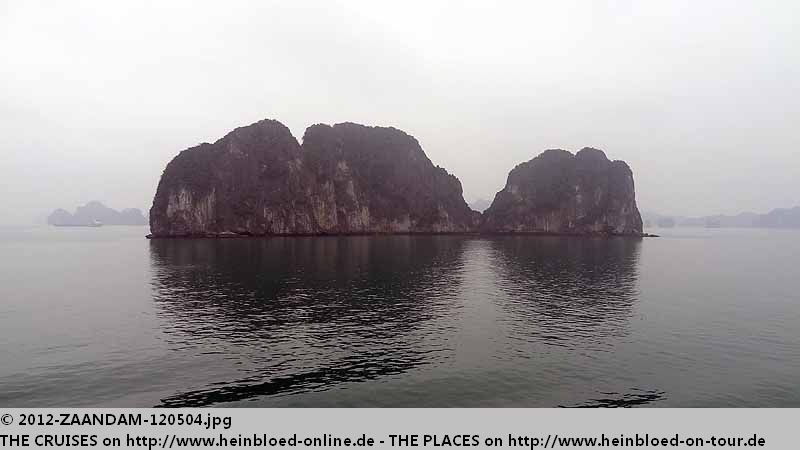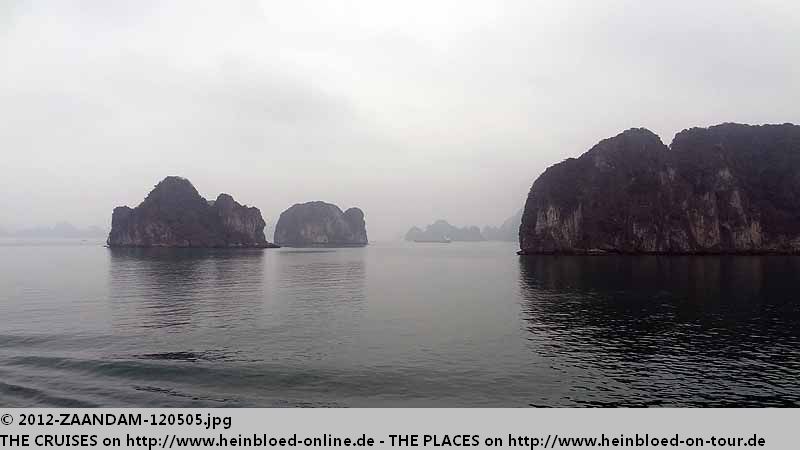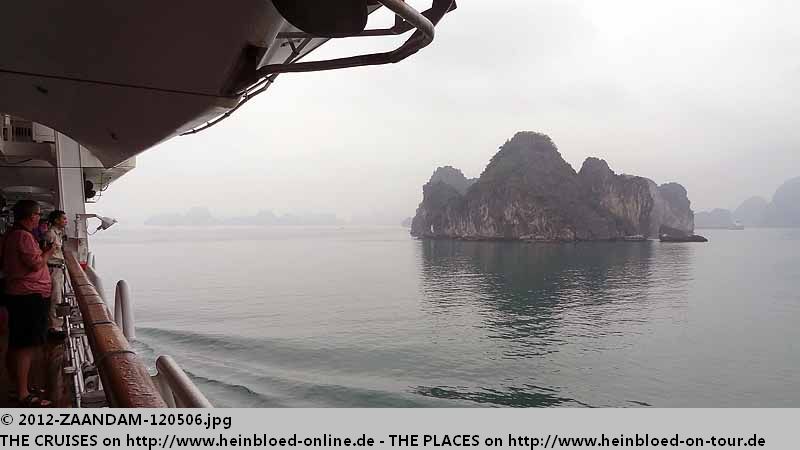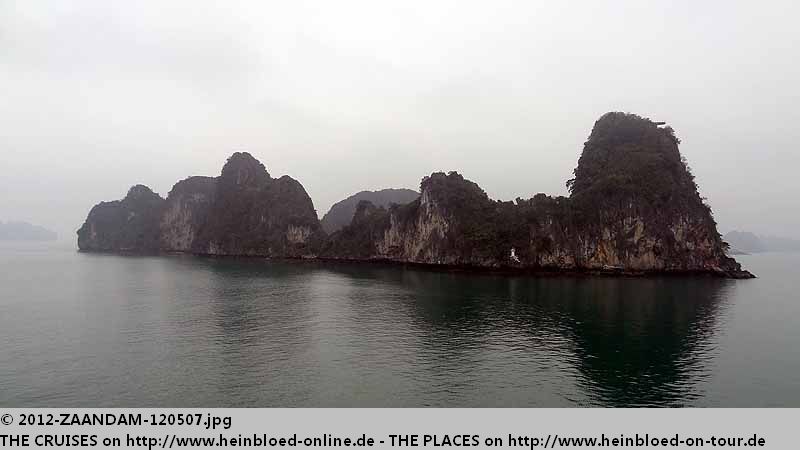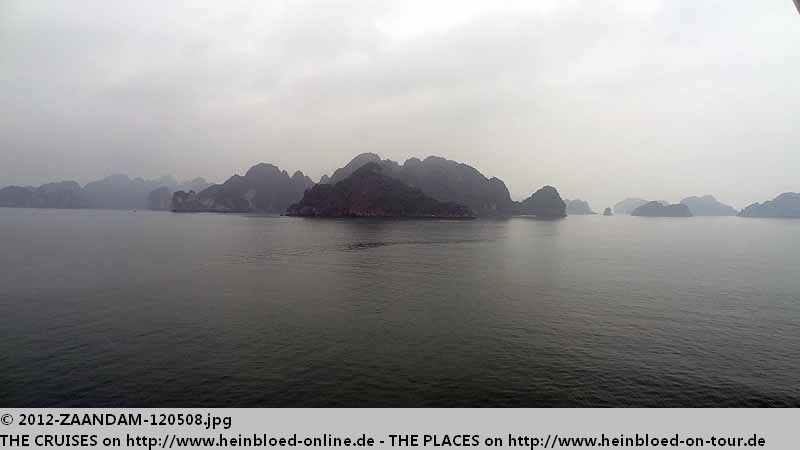 Wer jetzt in der Kabine blieb, war es selbst Schuld. Ich treffe Rebecca, die auch die Einfahrt auf Bildern festhält.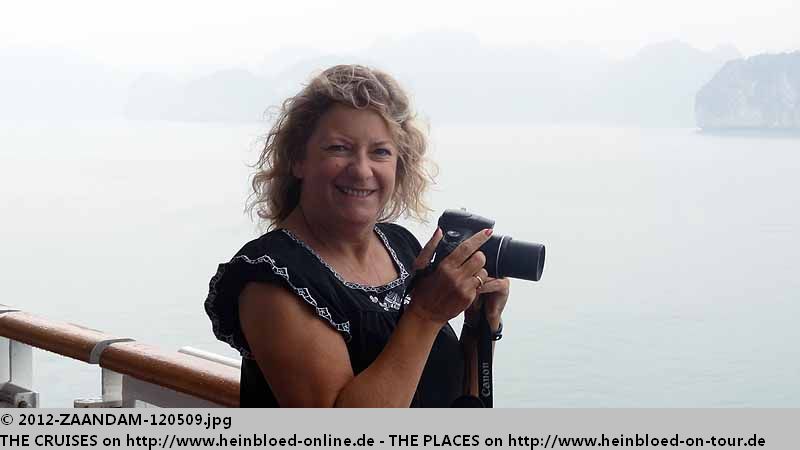 Who was staying now in the cabin was punishing himself. I met Rebecca who also kept the memories of our entry to the port on her camera.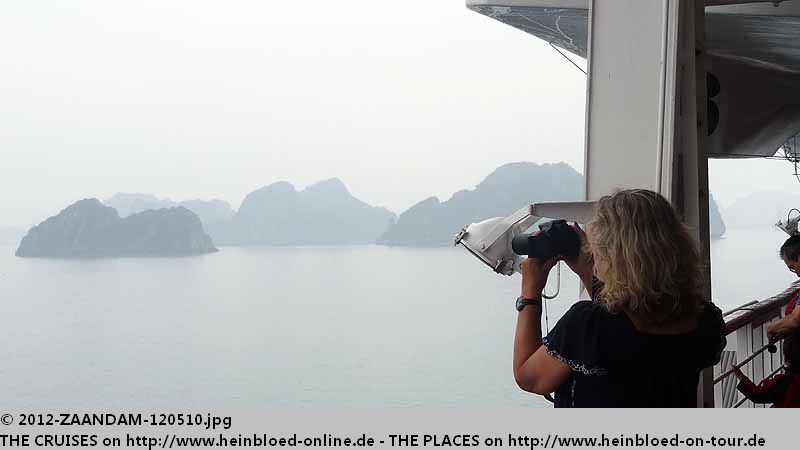 Der Formationsflug der Gänse war schon atemberaubend mit anzusehen.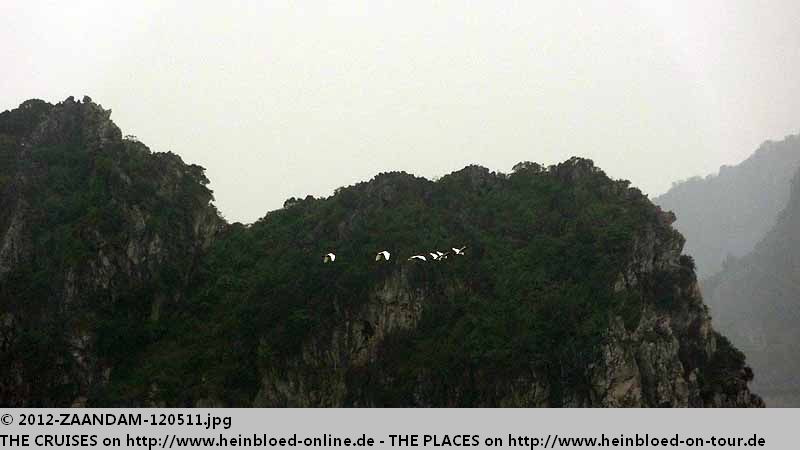 To see the gooses were flying a formation was somehow breathtaking.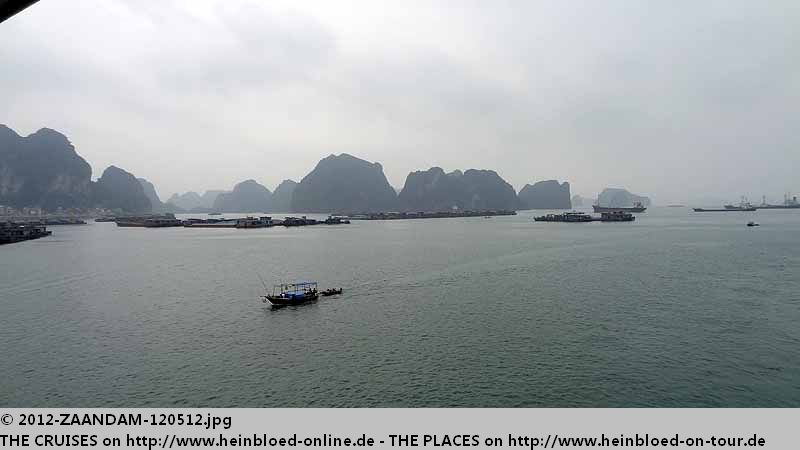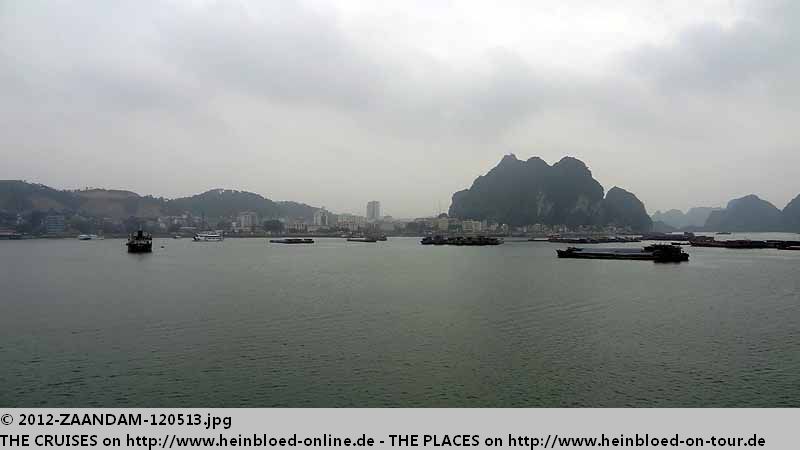 Somehow it was strange as the little boats did not turn away to by-pass our ZAANDAM but kept straight ahead towards our ship.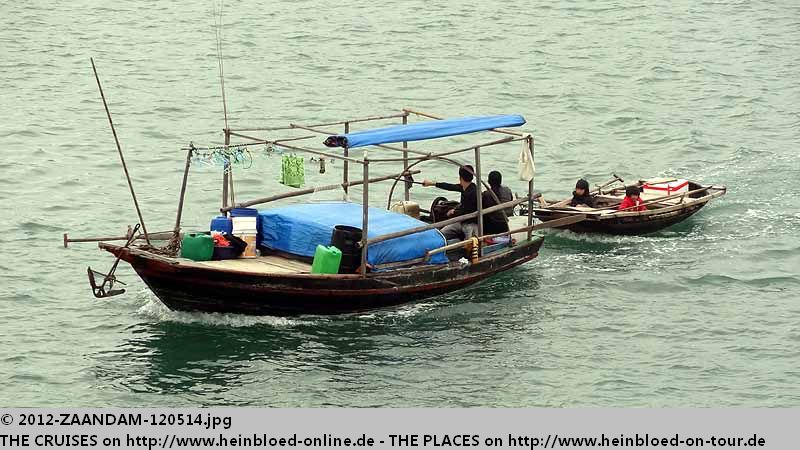 Ungewöhnlich war allerdings, dass nicht die kleinen Boote beidrehten und unserer ZAANDAM auswichen, sondern gerade auf uns zufahren.
Währenddessen wird ein Teil des (unteren) Promenaden-Decks gesperrt. Die Vorbereitungen für das Tendern beginnen.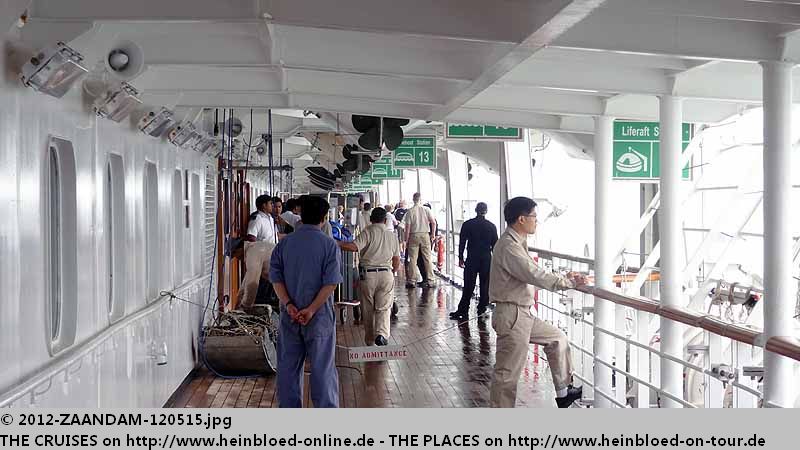 Meanwhile they closed a part of the (lower) promenade deck. The preparation for the tender operation started.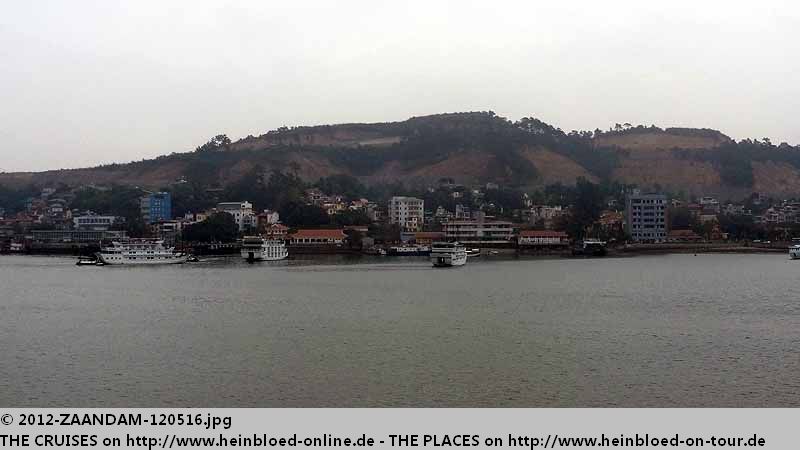 "Dam Security" - Leider war diese Mütze nicht käuflich... Schade...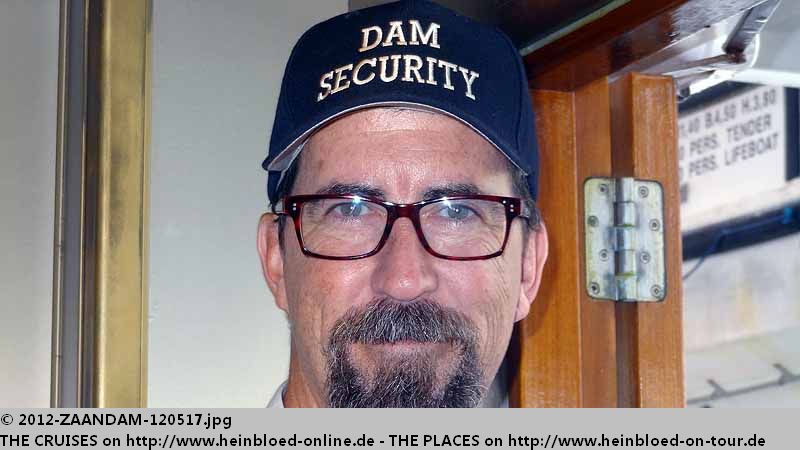 "Dam Security" - Unfortunately it was not available for sale... How bad...

One boat after the other was lifted downwards.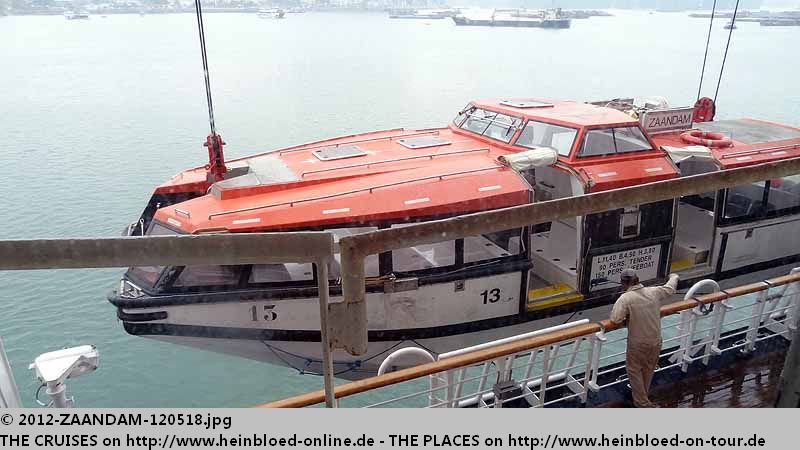 Ein Boot nach dem anderen wird heruntergelassen.
Die kleinen Boote kommen auf uns zu, und betteln um etwas zu Essen. Die Behörden sehen das nicht gerne und so werden die Gäste angehalten, nichts Essbares vom Schiff zu werfen.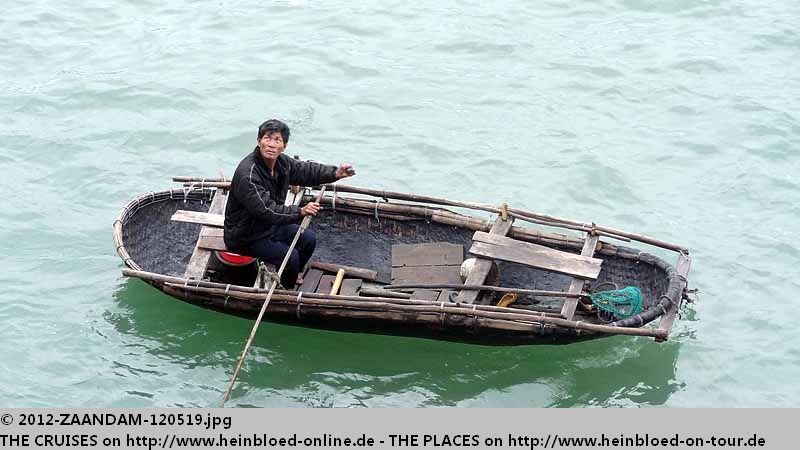 The small boats came to us to beg for food. The authorities did not like it and so the guests were asked not to throw any food from the ship.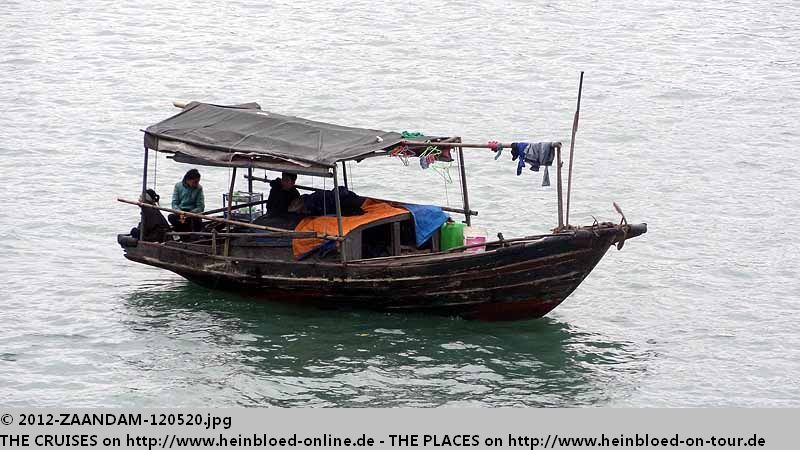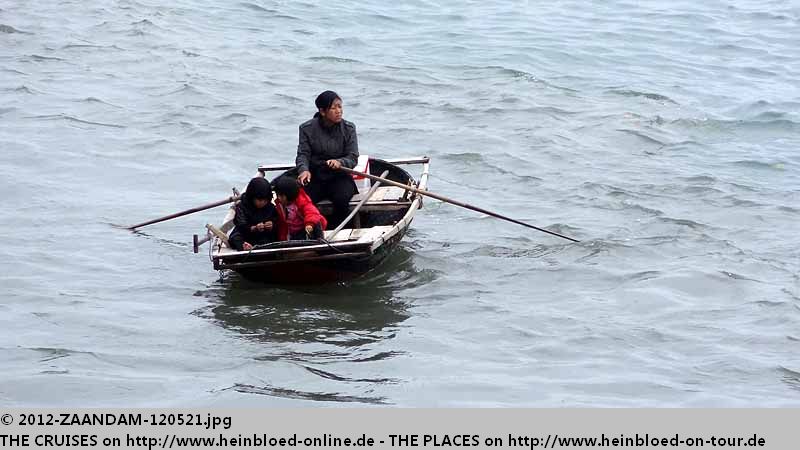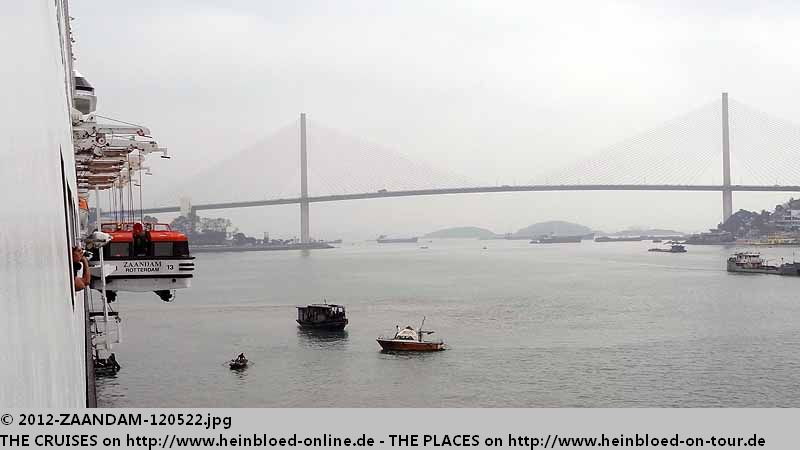 Wieso können eigentlich die ersten Gäste hier nicht einfach miteinsteigen und dann mit heruntergelassen werden. Ist das nicht einfacher als alle zum A-Deck laufen zu lassen?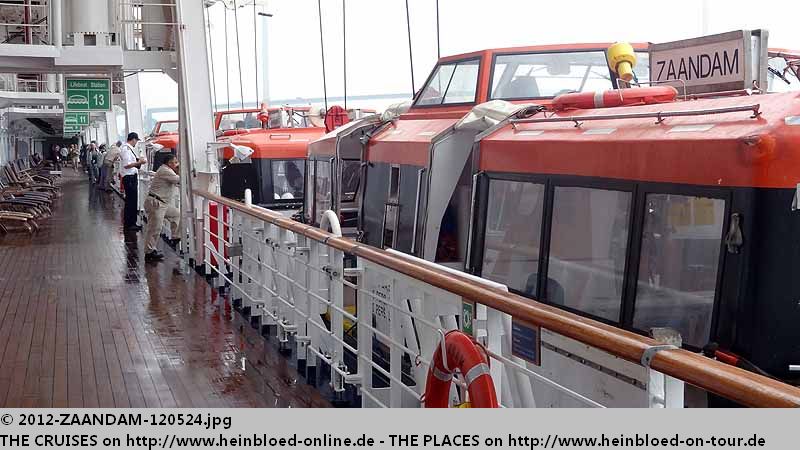 Why cannot the first guests enter here the boat and lifted together in the boat downwards. Would that not be easier but to let them all walk down to A-Deck?

Soon all boat were down and we need to be ready to leave the ship soon.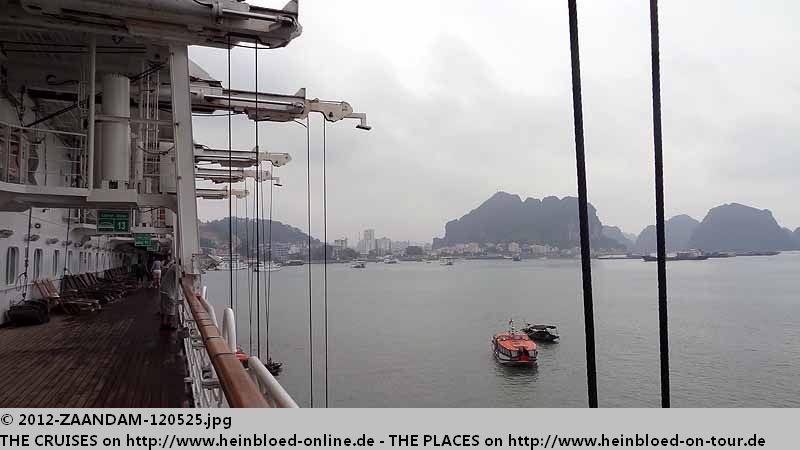 Bald sind auch alle Boote unten und wir müssen uns auch fertig machen.
In der englischen Ausgabe, sollen wir in die Ocean's Bar und in der deutschen Ausgabe sollen wir in die Mondrian Lounge, um unsere Tendertickets zu holen.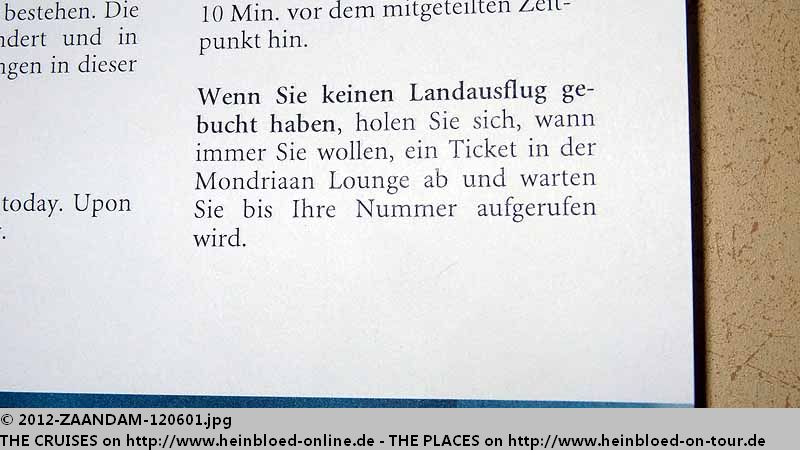 In the English edition we should meet in the Ocean's Bar and in the German edition we should meet in the Mondrian Lounge to get our tender tickets.

BJ and Guenther got already some for our party. So we could sit and relax.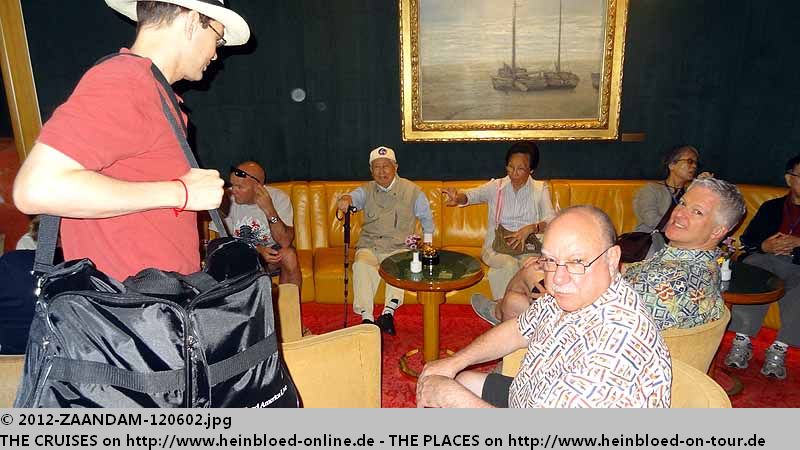 BJ und Guenther haben für unsere Gruppe schon welche geholt. So bleiben wir einfach sitzen.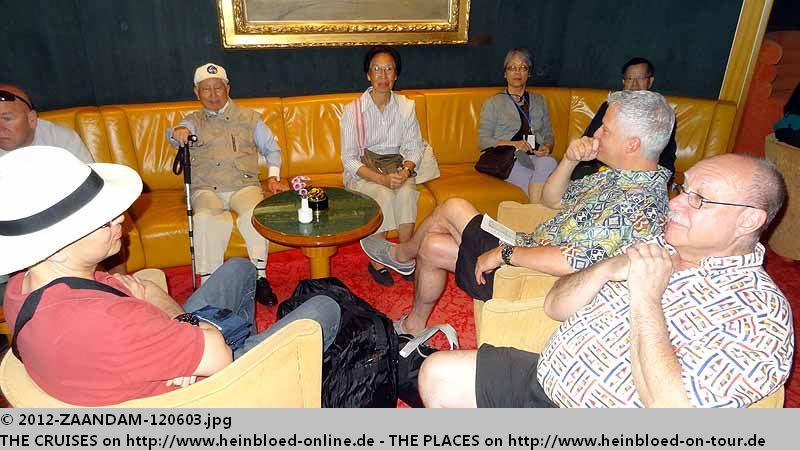 They lerned from their errors in the past. They arranged a microphone and a loudspeaker to make the announcements.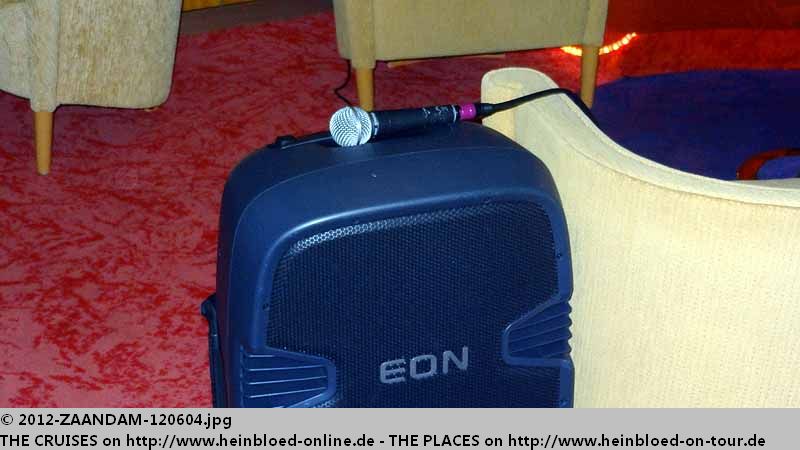 Aus den Fehlern der Vergangenheit wurde gelernt. Es wurde ein Mikrofon und ein Lautsprecher bereitgestellt, um die Ansagen zu machen.
Dafür passiert folgendes: es werden so viele Nummern aufgerufen, dass der Platz vor den Fahrstühlen auf dem A-Deck nicht mehr reicht, um sich anzustellen. Einige Gäste müssen in den Crew-Bereich hinter der Schwenktür ausweichen.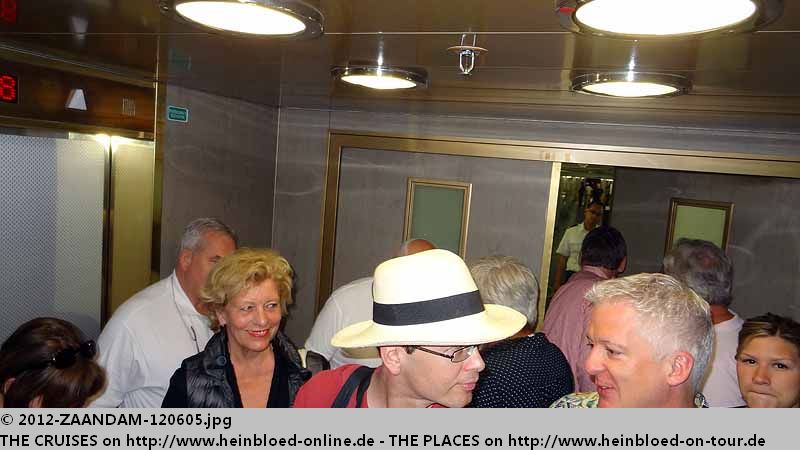 But therefore something else happened: they paged so many numbers that the space in front of the elevators on A-Deck was not sufficient to queue up. Some guests need to switch to the crew area behind the swinging doors.

From the left side the guests came who walked the stairways and so we had major backlog in the elevator area and guests with a higher number wo walked went first while guests with a lower number who followed the instructions to use the elevator went last on the tender. Somehow they still need to exercise tendering on ZAANDAM. Many potential for improvements.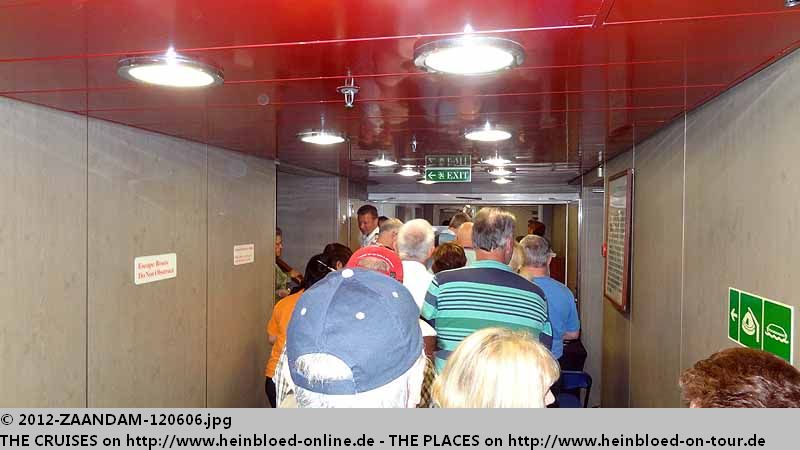 Von links kommen aber diejenigen, die zu Fuß runtergelaufen sind, und so entsteht bei uns im Liftbereich ein größerer Rückstau, der dazuführt, dass höhere Nummern zuerst fahren, weil sie eben die Treppen gelaufen sind und vorne direkt herauskommen sind, während die niedrigeren Nummern, die den Fahrstuhl benutzen sollten, später von Bord kommen. Also das mit dem Tendern müssen sie auf der ZAANDAM noch ein wenig üben. Das ist auf jeden Fall stark verbesserungswürdig.
Draußen treffen wir den Kapitän Smits und fragen nach, ob wir eigentlich abends direkt mit der eigenen Dschunke direkt hier am Tenderausgang anlegen dürfen. Aber das gestattet er mir aus Sicherheitsgründen nicht.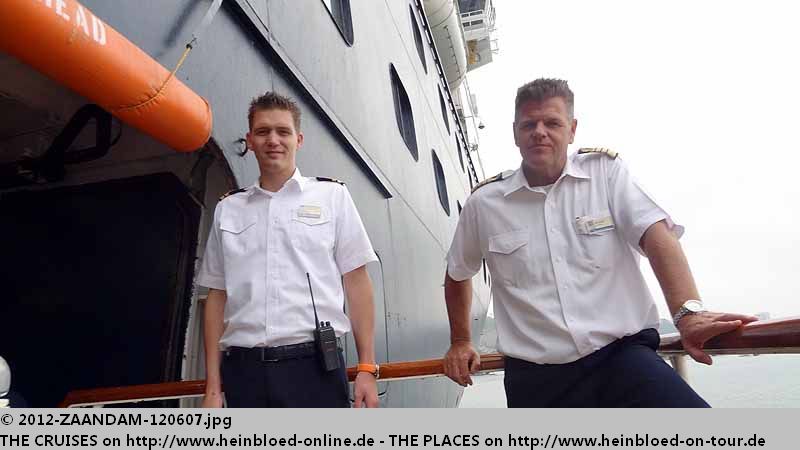 Outside we met Captain Smits and we asked if we would be allowed to dock directly at the tender gates when we return with our Junk in the evening. But due to security reason we did not allow it.

My parents were exited becaused they were allocated to the seats behind the driver and so they got the best seats on the tender boat.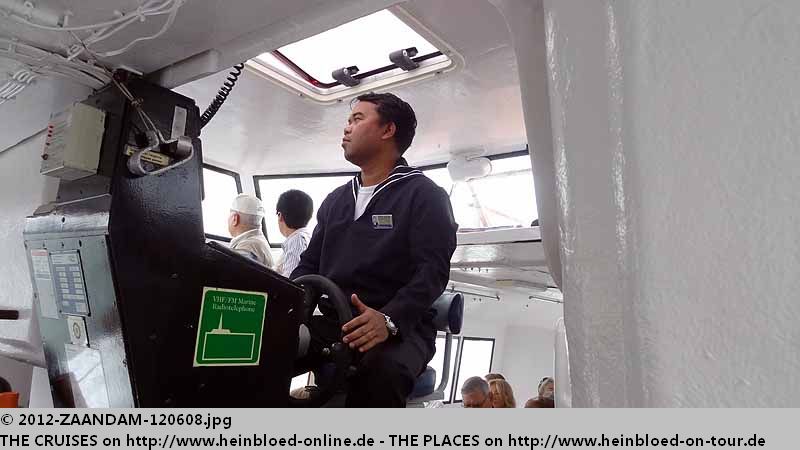 Meine Eltern sind sehr begeistert, weil sie direkt zum Fahrer platziert wurden und den schönsten Platz auf dem Tenderboot bekommen haben.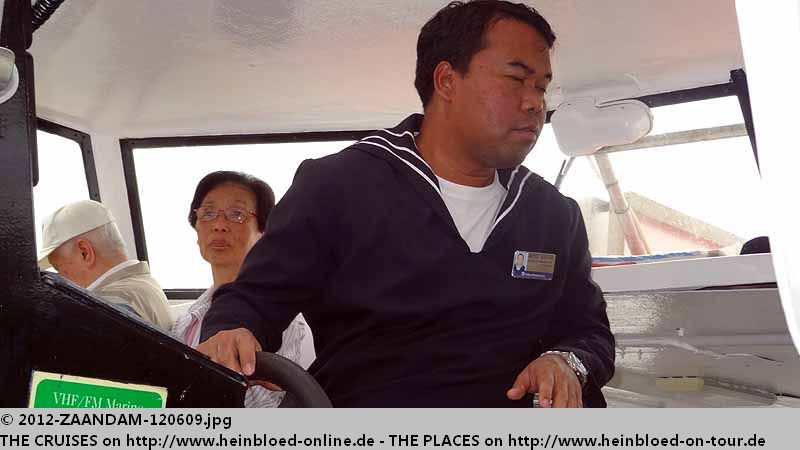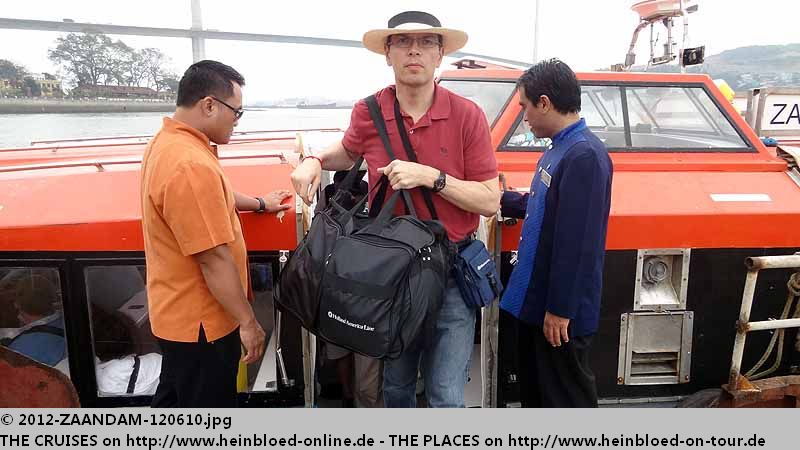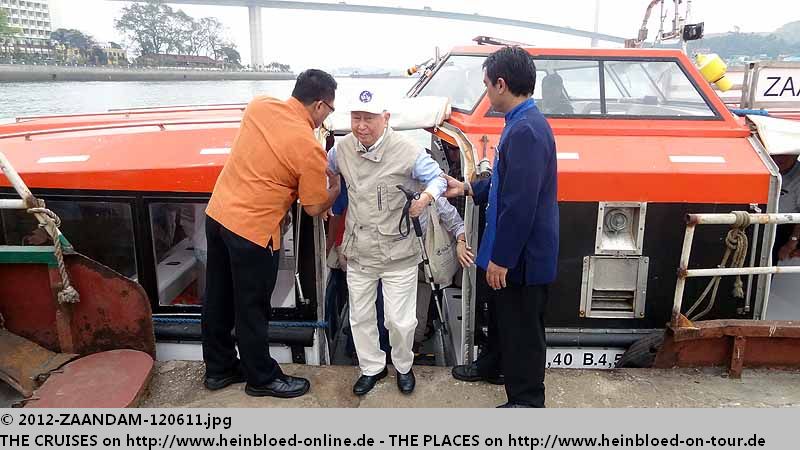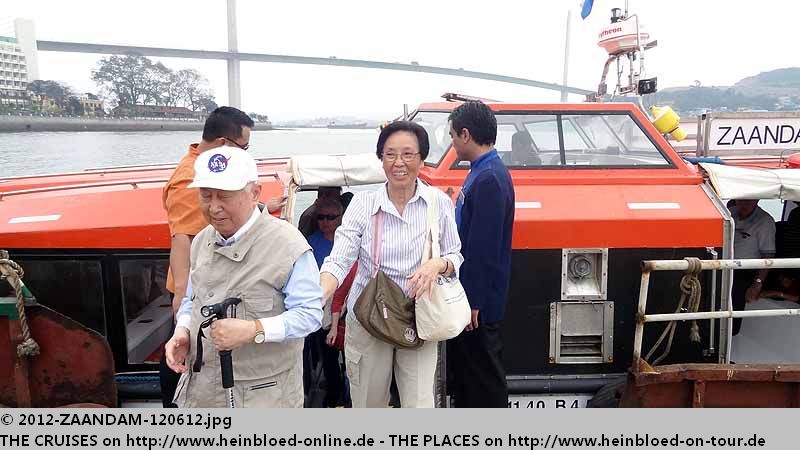 Trotz der gleichen Nummer kommen Guenther und BJ erst ein Boot später an Land.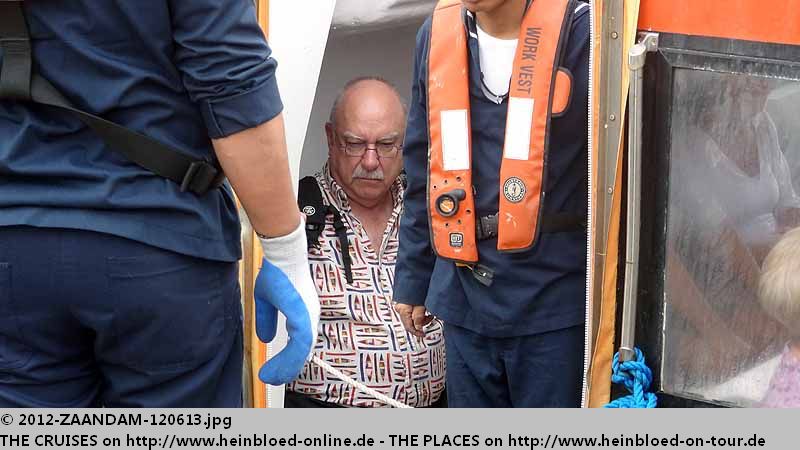 Although we had the same number Guenther and BJ arrived one later boat ashore.