Scroll down for English explanations - alternates with German explanations.

Bruno und meine Eltern waren müde und ich wollte noch ein paar alkoholfreie Cocktails ausprobieren... Nur Holland America hat diese große Auswahl.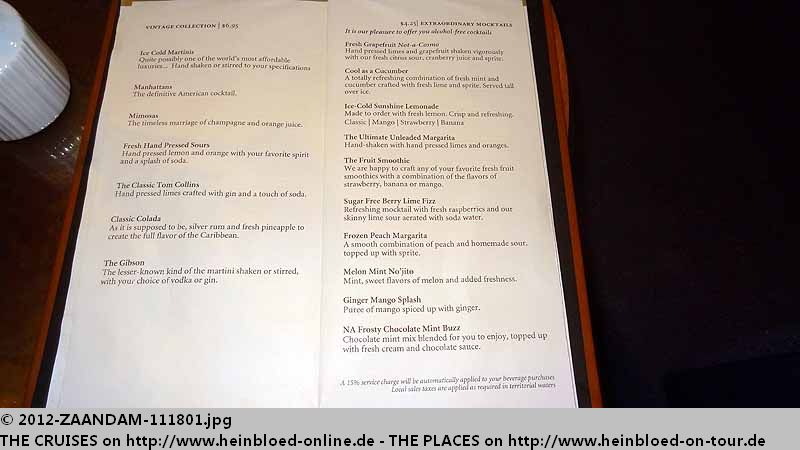 Bruno and my parents were tired and I wanted to try some more non-alcohol cocktails... Only Holland America has such a wide variety.

Cool as a Cucumber... somehow I had it in a different memory...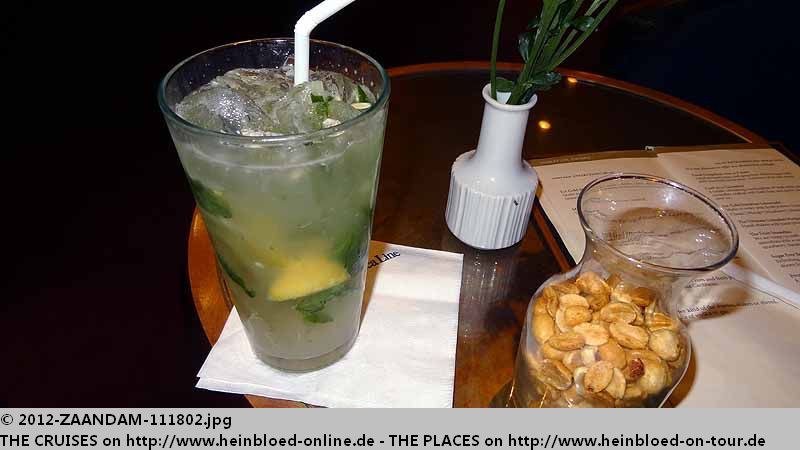 Cool as a Cucumber (Kalt wie eine Gurke)... hatte ich irgendwie anders in Erinnerung...
Zufällig kommt der Musikchef vorbei (David??? - Ich erinnere mich leider nicht mehr) und ich äußere meine Verwunderung, warum er nicht in der Show ist. Er klärt mich auf, dass es eben auch Shows gibt, bei denen es keine Live-Muik gibt und lädt mich ein, dass ich doch mal hoch zum Crow's Nest kommen soll. Dort würden sie später noch live spielen. Ich bedanke mich und vor allem lobe ich die tolle Leistung der Musiker bei den Shows.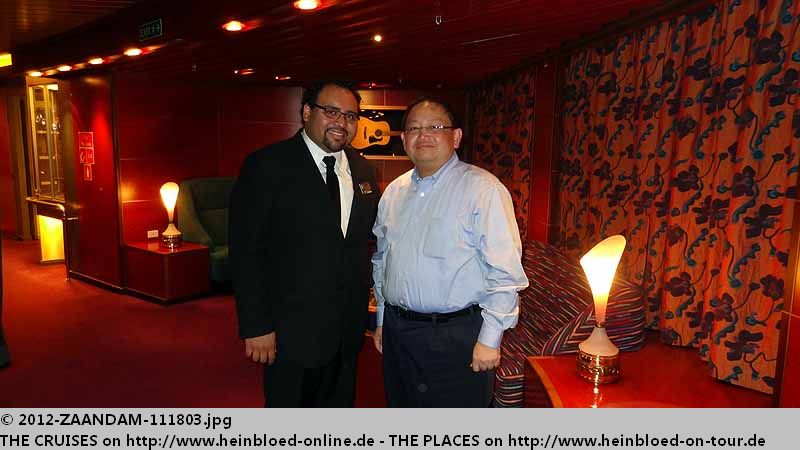 By coincidence the head of the musicians came by (David??? - I could not remember very well) and I was wondering why he was not in the show. He explained that there are shows without live music and invited me to come and see the band playing later in Crow's Nest. I thanked him and told him how great the performance of the musicians were during the show.

Now I had to start my farewell-tour: Bimbo who prepared many many iced tea for me.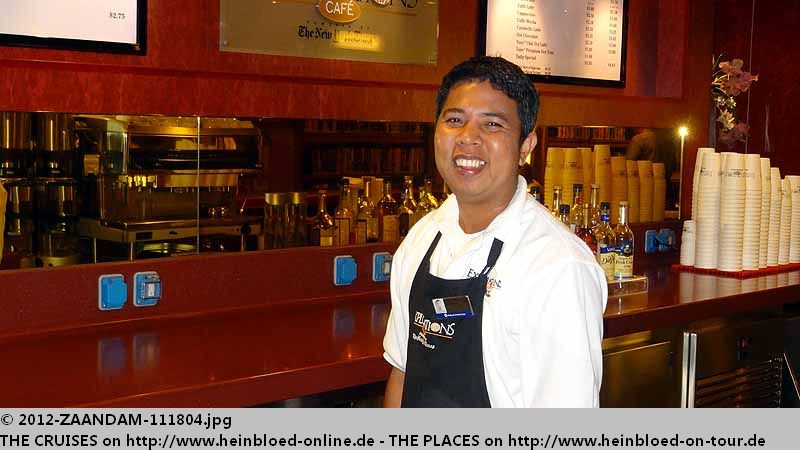 Langsam fängt ja auch die Abschiedstour an: Bimbo, der mir jede Menge Eistees zubereitet hat.
Pianist und Sänger
James Blackmon
, der mir viele schöne Stunden in der Bar mit seiner Musik bereitet hat.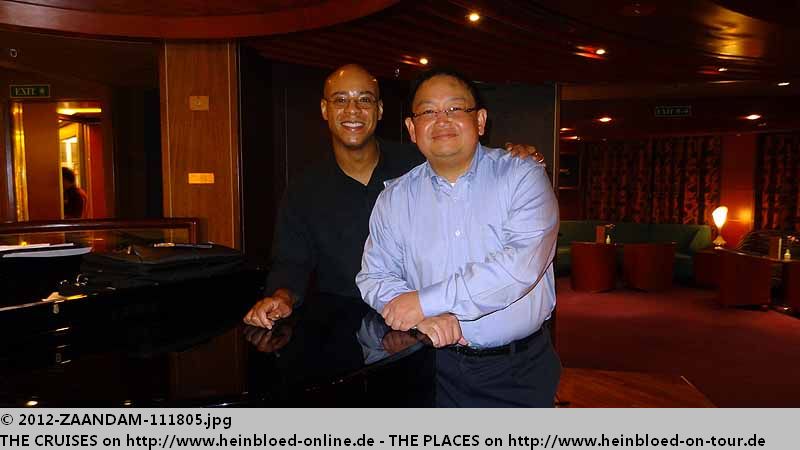 Pianist and vocalist James Blackmon who let me have many nice hours at the bar with his music.

Normally we are not so the bar visitors, but entertainment, offer and the frienliness of all bar stewards let us come very frequently. Same like with Jeffrey.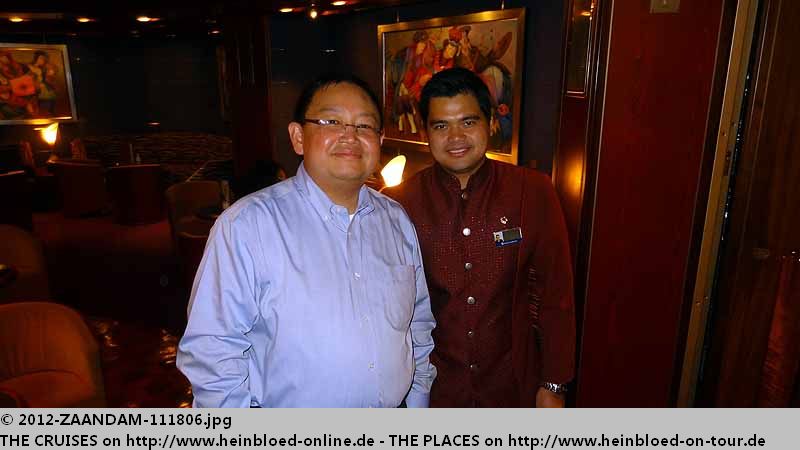 Wir sind ja normalerweise nicht so die Bargänger, aber Unterhaltung, Angebot und die Freundlichkeit der ganzen Barstewards haben uns ja doch oft kommen lassen. Auch bei Jeffrey traf es zu.
Und nochmals bei Jonathan. Später als ich der einzige Gast hier war, lade ich die Mitglieder von Adagio Strings auf eine Runde ein. Wir haben uns so toll unterhalten, dass ich komplett vergessen hatte, davon Bilder zu machen.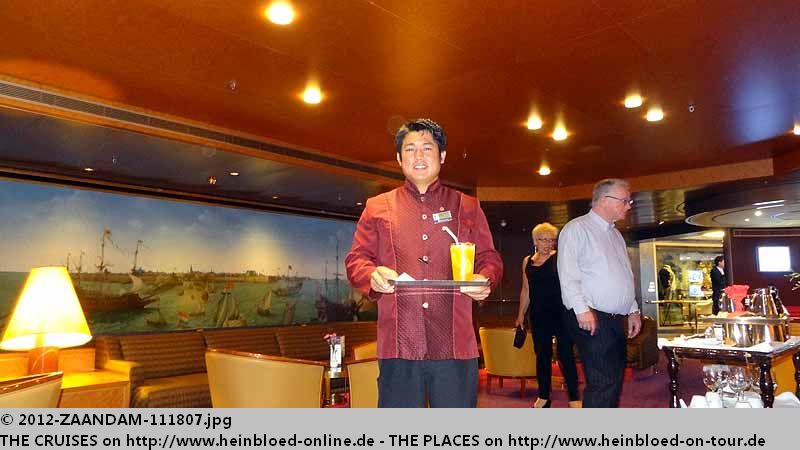 And again Jonathan. Later when I was the only guest I invited the members of Adagio Strings for a round. We had such a great conversation that I totally forgot to take some pictures of this event.

Finally Jonathan handed over two postcards from his homeplace in the Philippines and Bruno loved them as he loves vulcanos. The next day Bruno told him about his passion to vulcaones and that his postcards will be placed with this little stone he got from Mt. Vesuv and Jonathan was happy to here such a feedback from a guest for his little personal gesture. I know that some of the senior management of Holland America Seattle is reading my blog. I sincerely hope that the credit by names will occur a feedback from Seattle to the crew too. With such little personal guestures they made sure that bad memories become smaller and smaller while good memories become bigger and bigger and that we are coming with pleasure again to Holland America and to tell our friends to try it with them.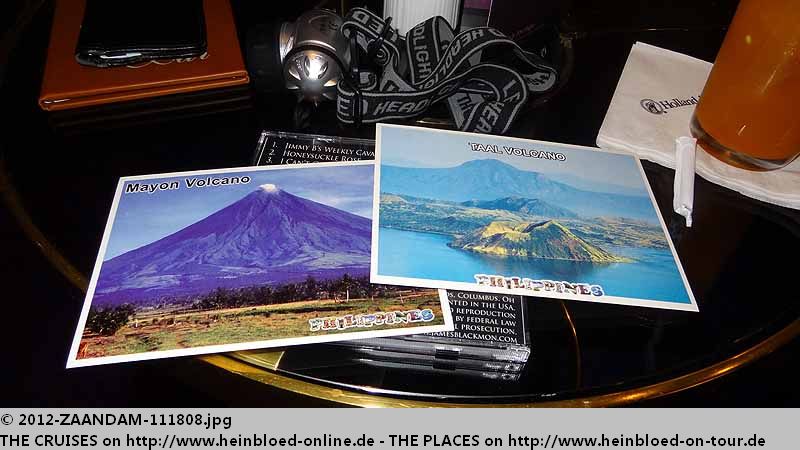 Jonathan hat mir am Schluss noch diese zwei Postkarten aus seiner Heimat Philippinen geschenkt, worüber sich Bruno als Vulkanliebhaber auch sehr gefreut hat. Als Bruno ihm am nächsten Tag erzählt, dass er sich sehr für Vulkane interessiert und die Karten direkt zu dem Steinchen vom Vesuv kommen, hat sich Jonathan sehr darüber gefreut, dass er für diese sehr schöne persönliche Geste ein solches Feedback bekam. Ich weiss auch, dass mein Blog von einem hohen Tier bei Holland America in Seattle gelesen wird. Ich hoffe, dass die Erwähnung der Namen hier auch zu einem Feedback von Seattle an die Crew führt. Sie sorgen mit so einer kleinen persönlichen Geste dafür, dass die negativen Erinnerungen immer kleiner und die positiven Erinnerungen immer größer werden und dass wir immer wieder gerne mit Holland America fahren und unseren Freunden empfehlen, es unbedingt es auch zu versuchen.
Gegen 23.30 Uhr luden die vier von Adagio Strings (Cristina, Vahtang, Lilian und Alexandra) mich ein, dass ich sie noch ins Lido Café begleite, um dort noch etwas zu essen. Dort war dann zwar kaum ein Gast, sondern so ziemlich alle Künstler, viele Senioroffiziere usw. Hunger hatte ich nicht. Gucken wollte ich auf jeden Fall. Es war spanischer Abend.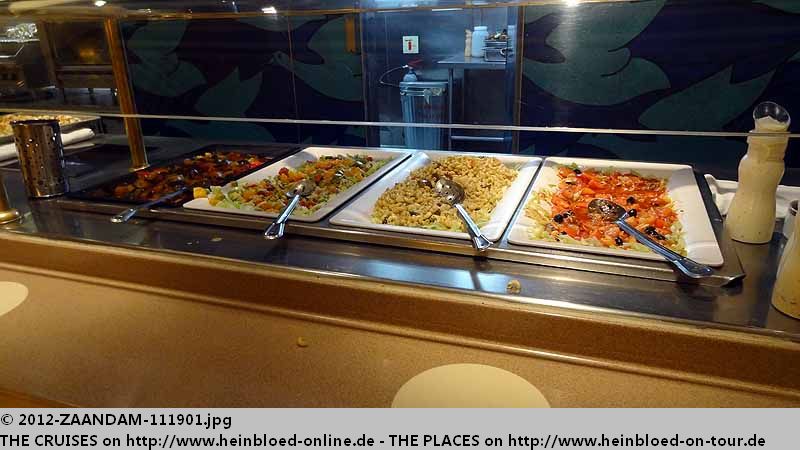 Around 23.30 hrs the four of Adagio Strings (Cristina, Vahtang, Lilian and Alexandra) invited me to join them to the Lido Café to have some food. There were not so many guests but most of the artists and entertainer, many senior officers etc. I was not hungry at all. I wanted to see it for sure. It was Spanish night.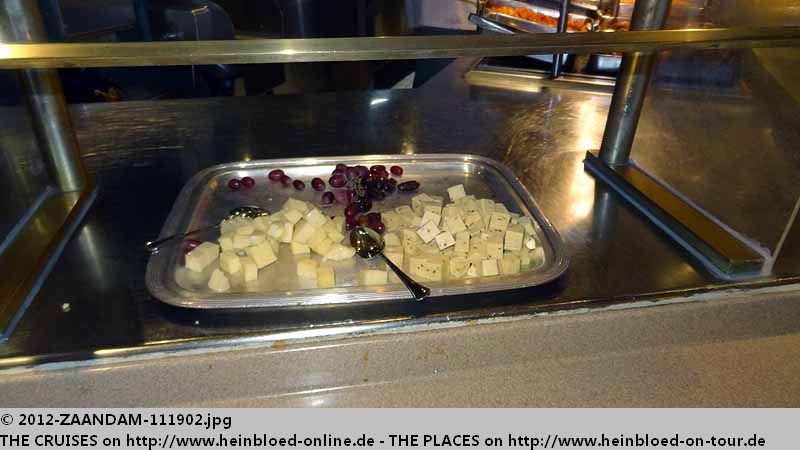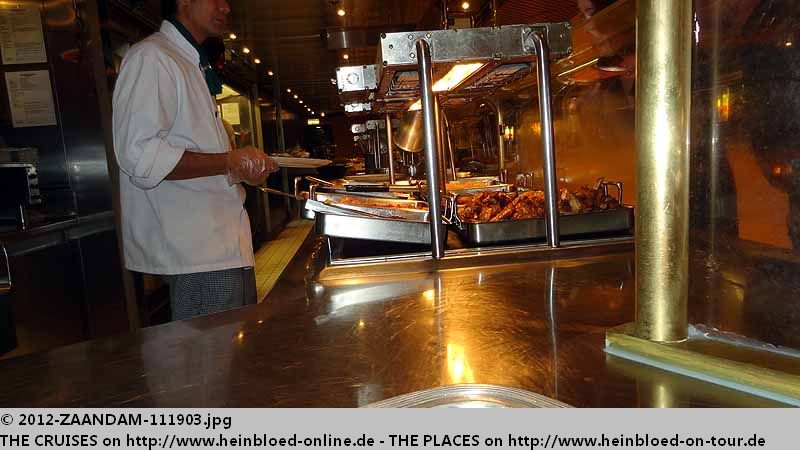 I really was not hungry. So I went to bed and said good-bye to my new friends of Adagio Strings.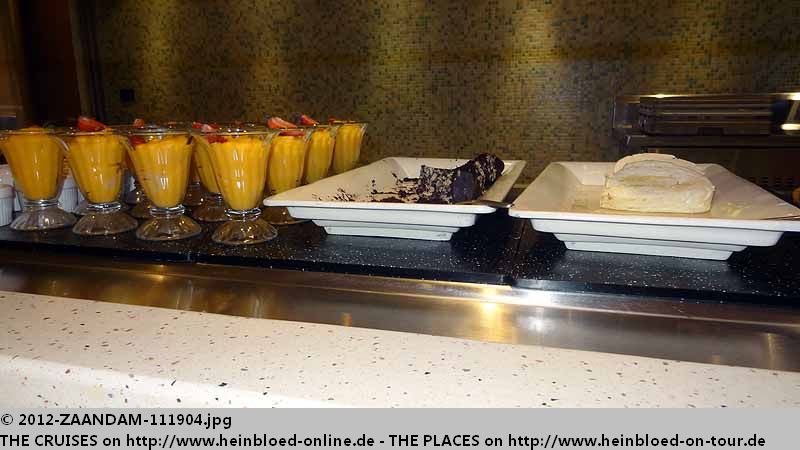 Hunger hatte ich wirklich keinen. Deswegen gehe ich zu Bett und verabschiede mich von meinen neuen Freunden von Adagio Strings.