Scroll down for English explanations - alternates with German explanations.

Nach dem Essen begegnen wir nochmals Debra und ihrer Freundin und bedanken uns nochmals für Ihr Ständchen.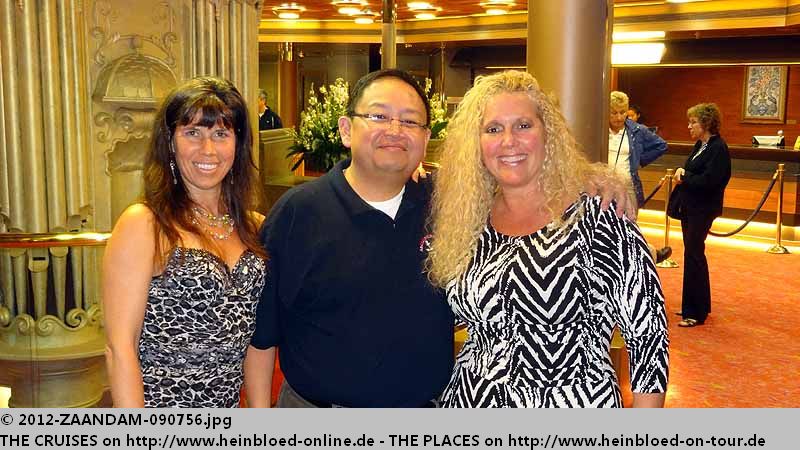 After dinner we met again Debra and her friend and thanked her again for singing "Happy Birthday"

Obviously BJ left a great impression to the ladies.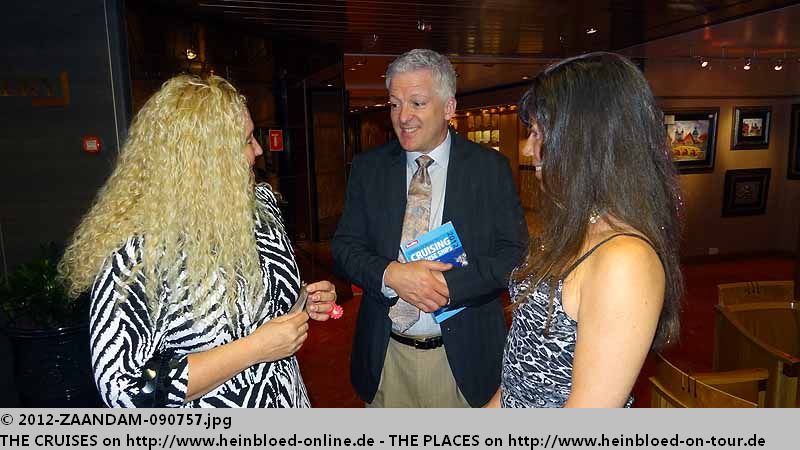 Auch BJ hat bleibenden Eindruck bei den Damen hinterlassen.
Irgendwie denken sie, dass er der Autor des Buches ist... so wie er es in der Hand hält...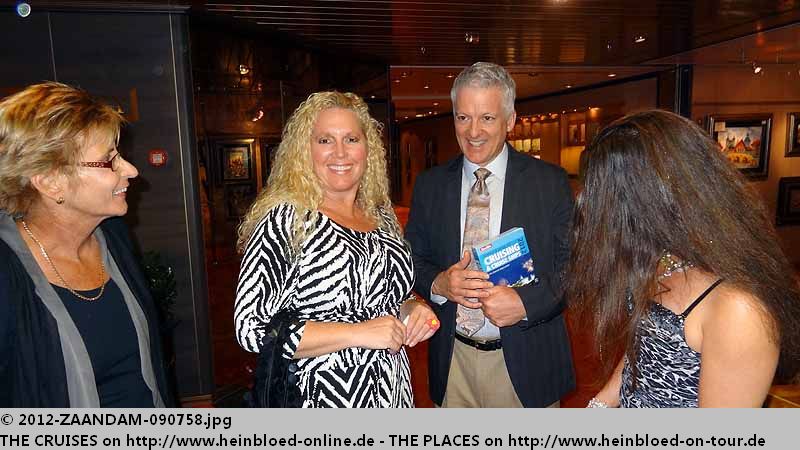 Somehow they thought that he was author of the book... the way he hold it in his hand...

like then on MSC MUSICA with Douglas Ward and his wife and Cruise Director Anna.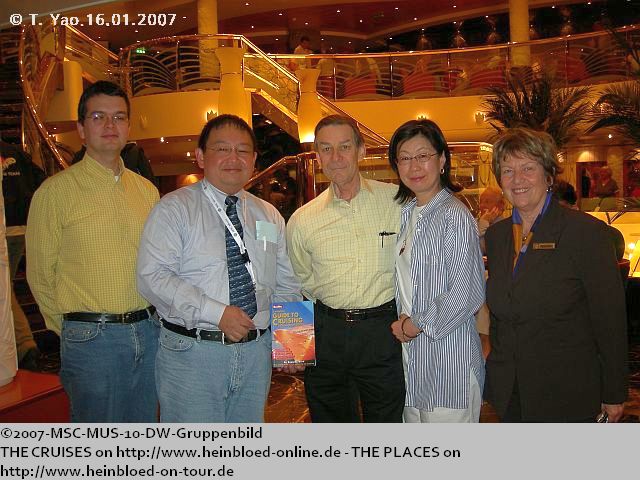 wie damals auf der MSC MUSICA mit Douglas Ward und seiner Frau sowie Kreuzfahrtdirektorin Anna.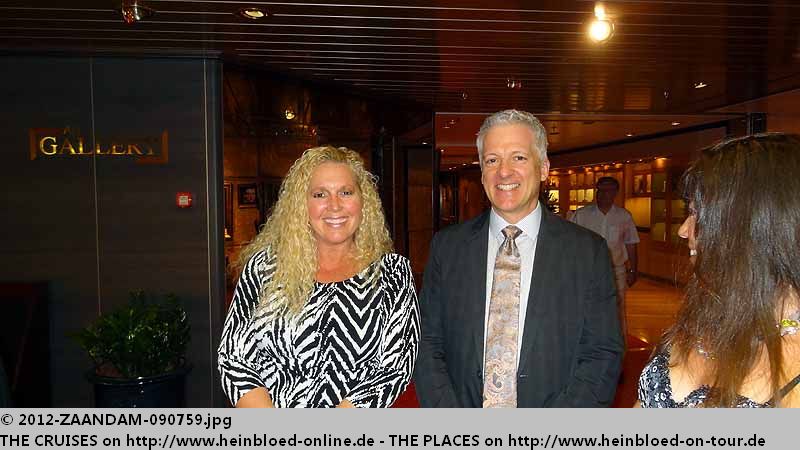 Debra sang so well that I asked for an encore: "All that Jazz" from the musical "Chicago".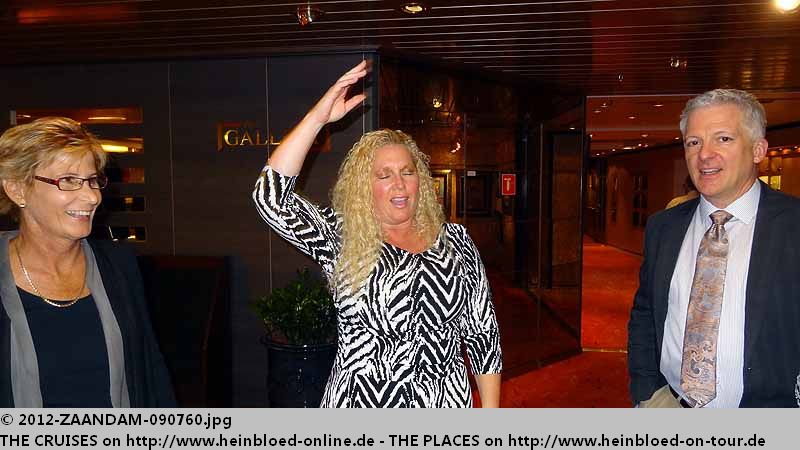 Debra hat so toll gesungen, dass ich sie um eine Zugabe bitte: "All that Jazz" aus dem Musical "Chicago".
Wir gehen in die Piano Bar. Dort spielt wieder
James Blackmon
. Man achte mal auf das Bild... Etwas stört BJ an dem Anblick...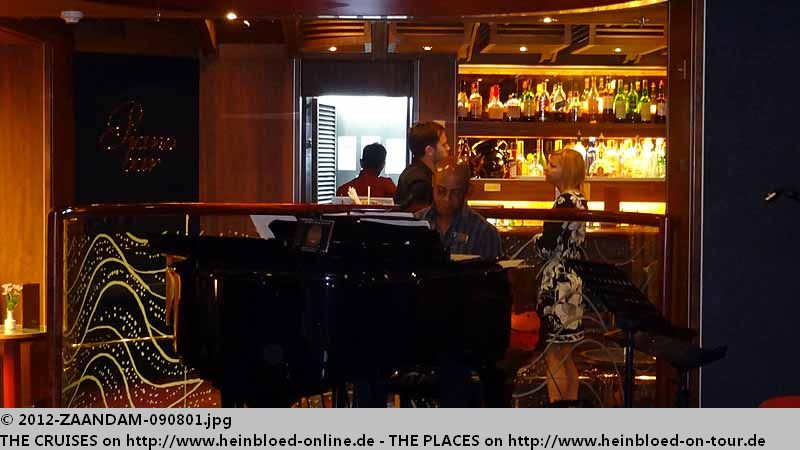 We went to the Piano Bar. There James Blackmon played again. Check this picture... BJ disliked the view...

So he stopped the Beverage Manager Mariusz and showed it to him.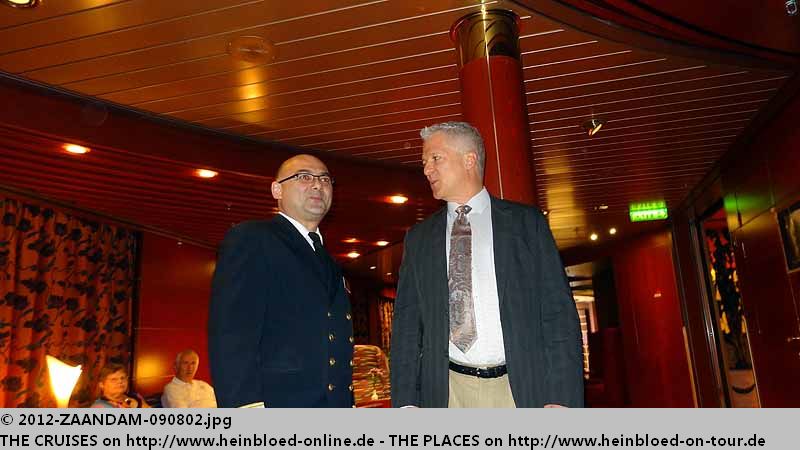 Er schnappt sich den Beverage Manager Mariusz und zeigt ihm das.
Und er hat Recht: die offene Lagertür passt nicht in das Bild einer noblen Piano Bar.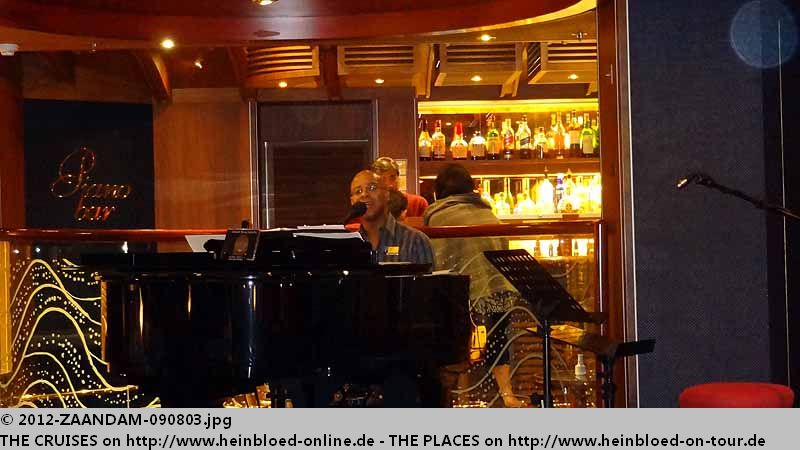 And he was right: the open door to the storage did not fit to the picture of an elegant Piano Bar.

I took a Ginger Mango Splash and enjoyed the rest of the night.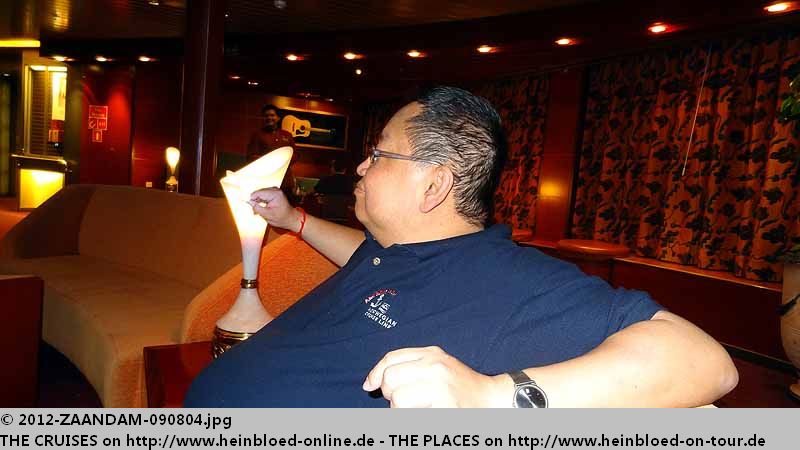 Ich nehme wieder einen Ginger Mango Splash und genieße den Rest des Abends.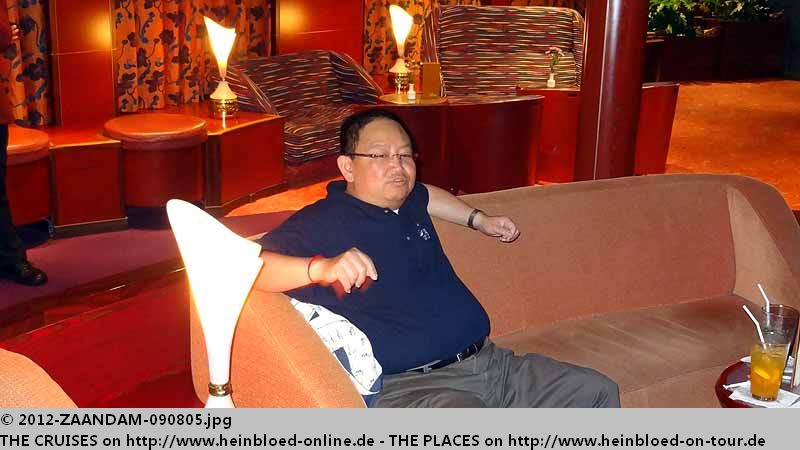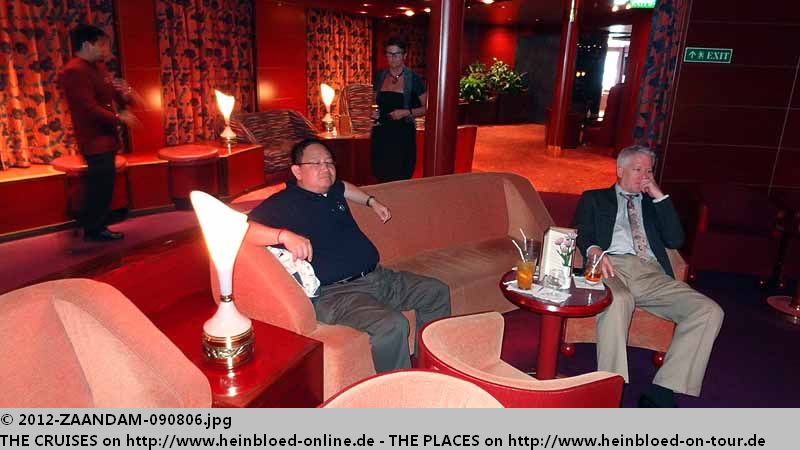 Irgendwann geht es doch in die Kabine, wo uns dieses niedliche Tierchen erwartet.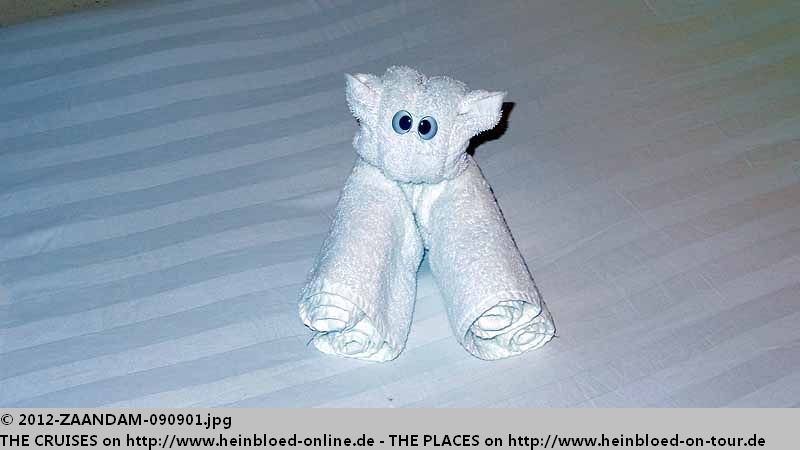 Sometimes later we went to the cabin where this cute animal waited for us.

As well as our laundry...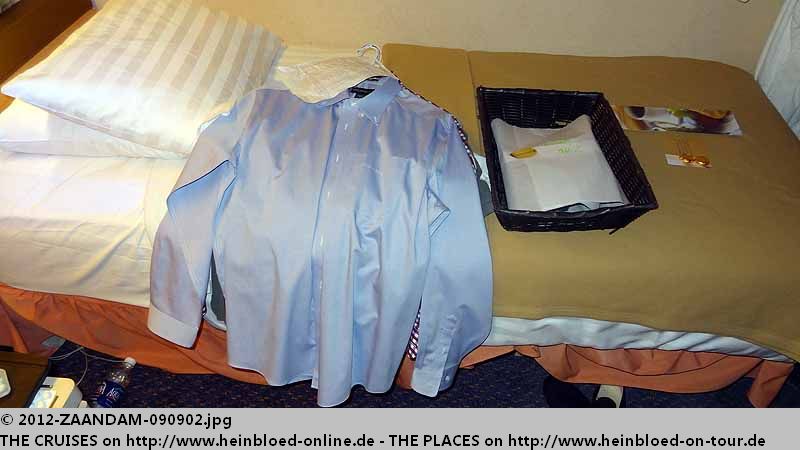 und unsere Wäsche...
und ein Empfang im Schmuckladen... Da Bruno mir aber nichts kaufen will, darf ich da alleine auch nicht hin... Gute Nacht.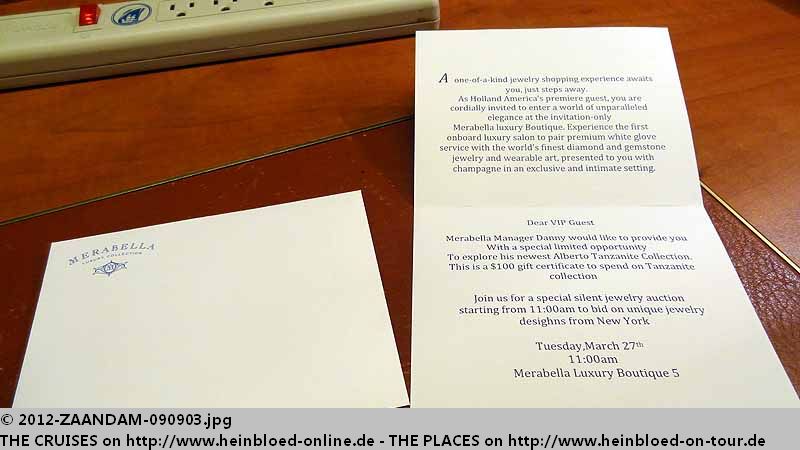 and a reception in the jewelery store... As Bruno refused to buy me anything I was not allowed to see the party just by myself... Good Night.