Scroll down for English explanations - alternates with German explanations.

Zurück bestellt uns unser Führer ein Großraumtaxi. Mit Taximeter kostet es nur 2/3 von dem, was wir heute Morgen bezahlt haben. Es geht zunächst wieder auf das Fährschiff. Heute Abend sind die Straßenhändler wieder agressiv. Nicht so wie in Angkor Wat. Schade: die Frau, die den Stand auf dem Fährschiff hatte und bei der wir heute Morgen bereits gekauft hatten, baut gerade ihren Stand ab.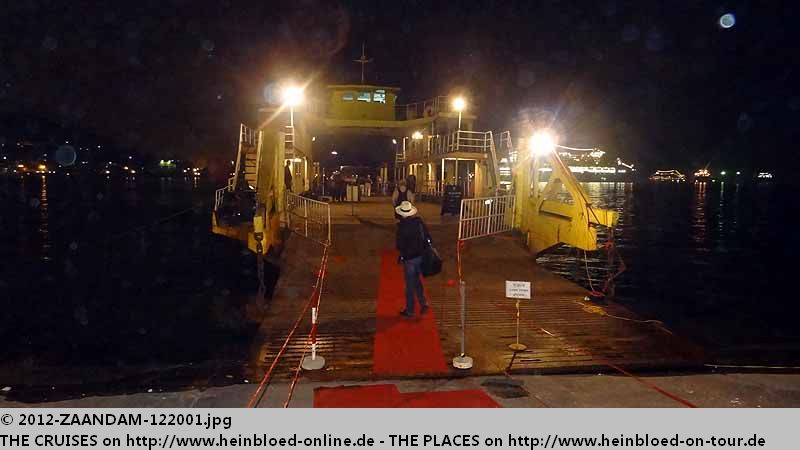 For our return journey our guide ordered a van taxi. With a meter it costed only 2/3 of the amount we paid this morning. Back to the ferry boat first. This night the street dealers were more aggressive. But not like in Angkor Wat. So sorry, but the woman who had the stand on the ferry boat and where we bought already this morning just packed everything together.

We had a small orientation problem. So nobody could told us where exactly the ferryship (= tender pier) is located: Here you find some orientation. The Halong Plaza Hotel is just adjustent more or less and you can get some orientation on their website.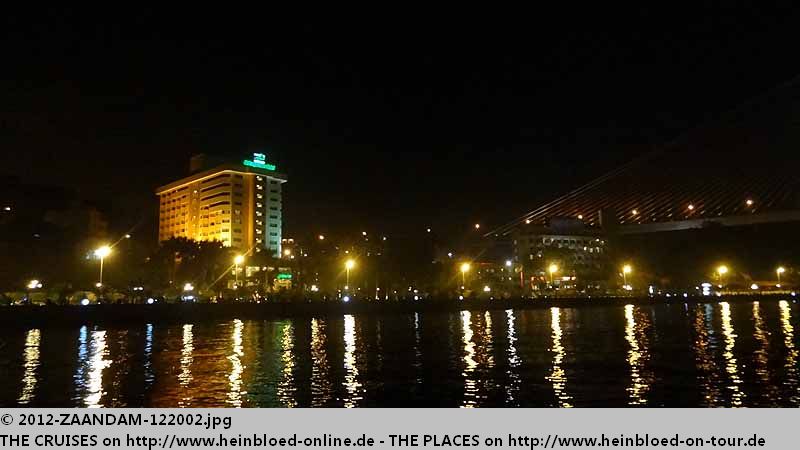 Es gab bei uns ein kleines Orientierungsproblem. So genau konnte keiner sagen, wo eigentlich dieses Fährschiff (= Tenderboot-Anleger) liegt. Hier ein Orientierungspunkt. Das Halong Plaza Hotel liegt fast gegenüber und man kann sich hier auf deren
Webseite
orientieren.
Für 5,00 USD haben Guenther und BJ noch zwei Perlenketten erworben.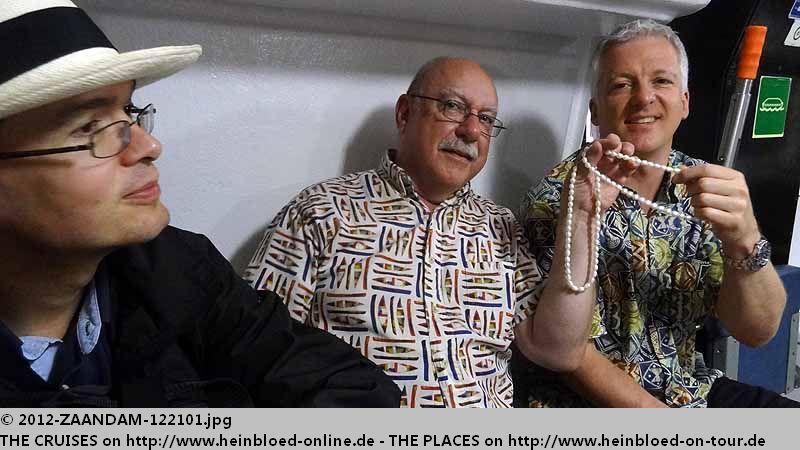 For 5.00 USD Guenther and BJ bought two pearl necklesses.

My parents were quite surprised.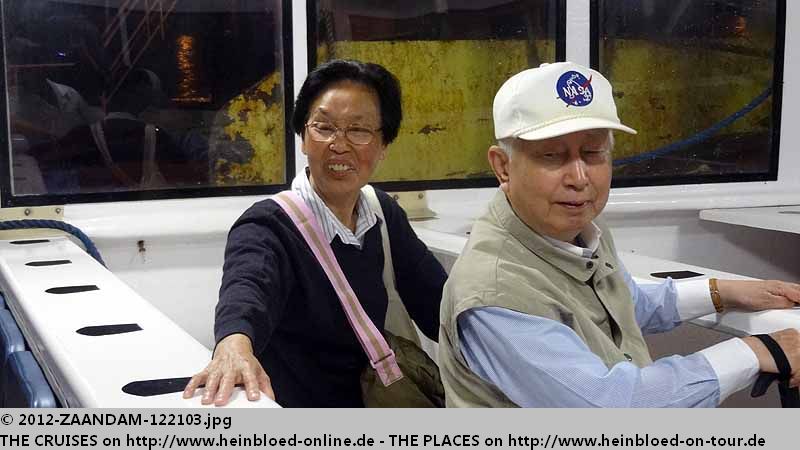 Meine Eltern staunen nicht schlecht.
Wir verabschieden uns mit dem letzten Anblick auf die Brücke von Halong Stadt.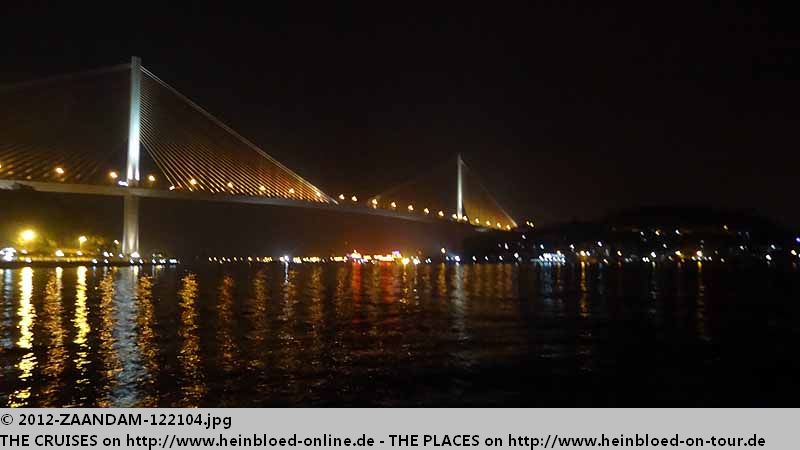 We had a last sight to the bridge of Halong City and to say bye-bye.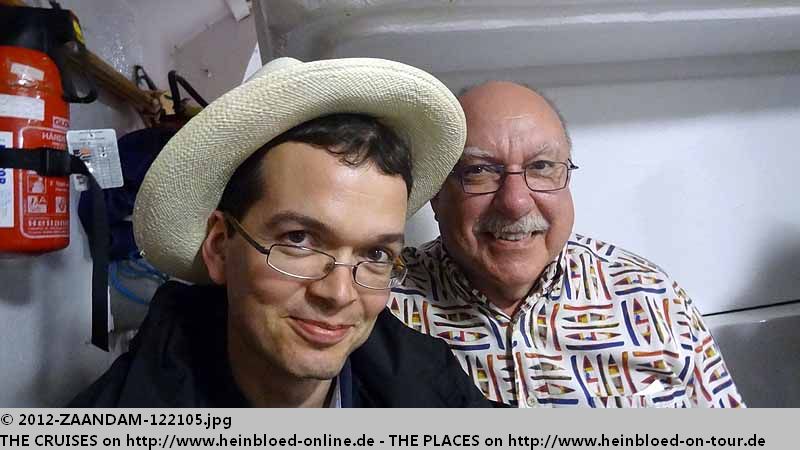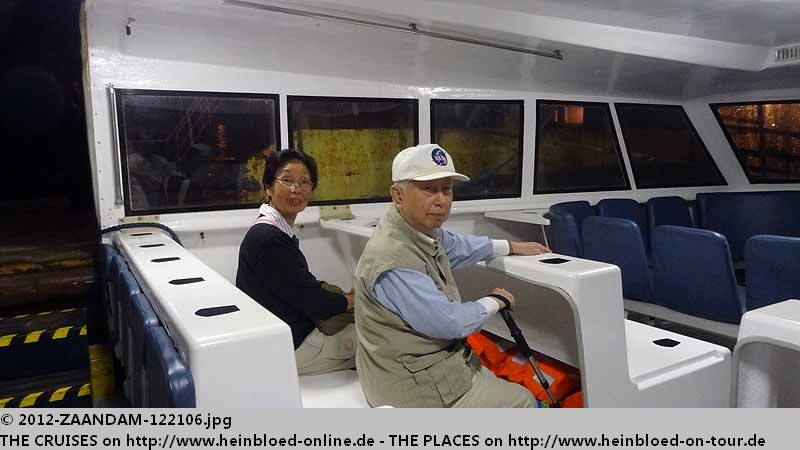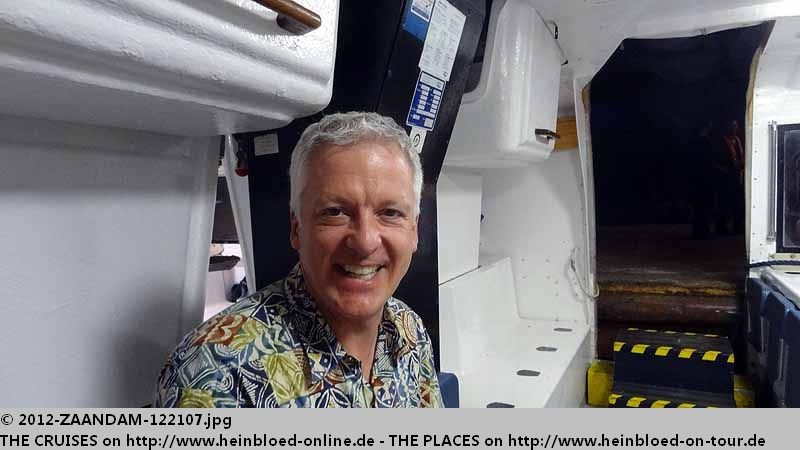 Kaum legen wir am Tenderdeck an der ZAANDAM an, kommen schon die Bettler an Bord.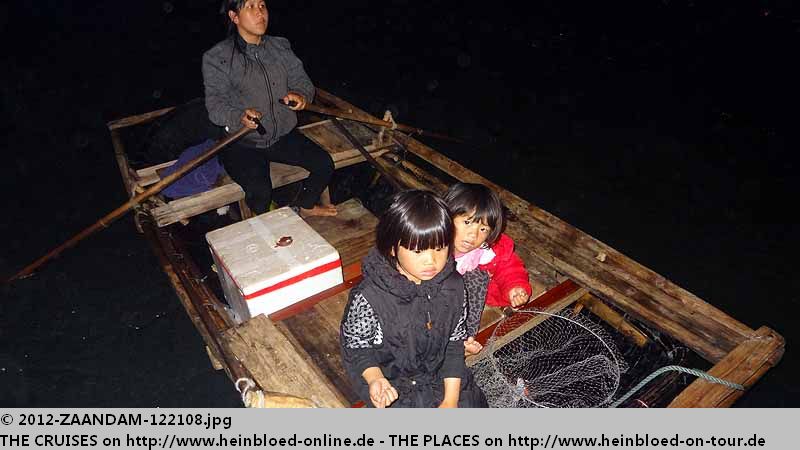 Just arriving at the tender deck on ZAANDAM the solicitors came onboard.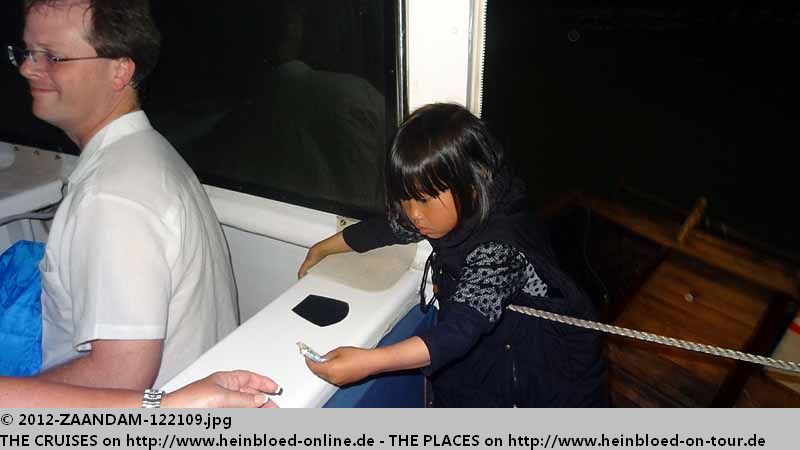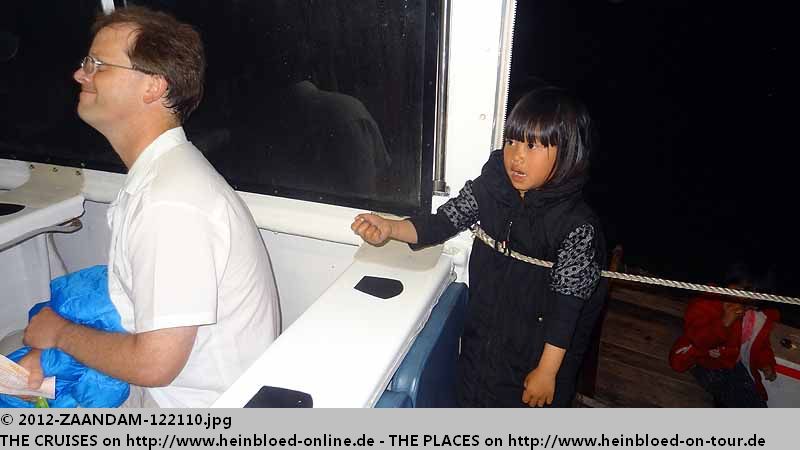 Tonight you need to adjust your time forward.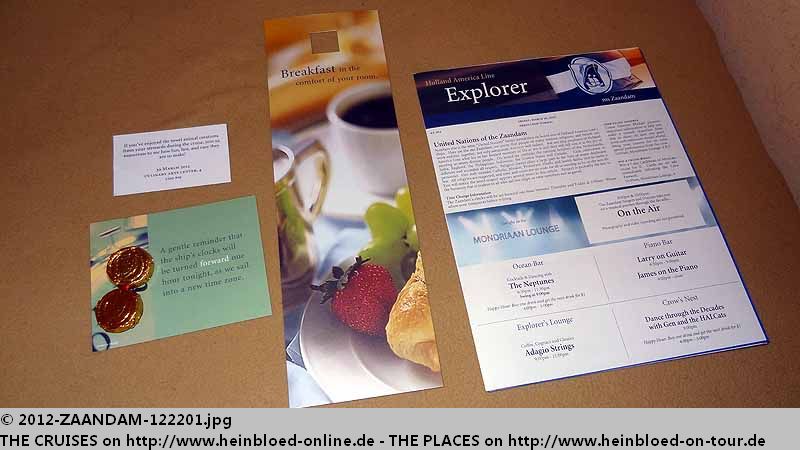 Heute Nacht wird die Uhr mal wieder vorgestellt.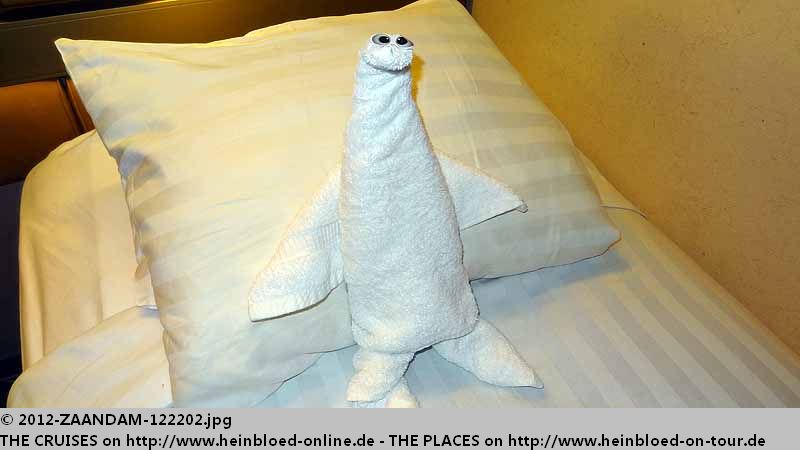 I need something with meat in my mouth. They had Satay. I missed it anyway in Singapore. Well. When I was seated there was only the assistant waiter available. When the main waiter returned I saw how he read the slip which he got from the Restaurant Manager and then came personally to make sure that everything was alright so far... I wanted to have a sneak on the slip. But you need to say: all waiters were very loyal to their employer: none gave me the slip even it was a generous tip.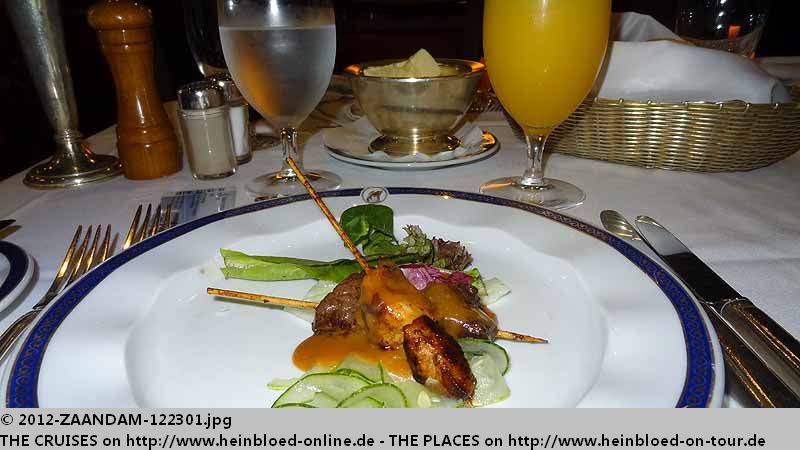 Ich brauche etwas Fleischiges im Mund. Es gab Satay. Hatte ich eh in Singapur verpasst. Gut. Als ich platziert werde, war zu diesem Zeitpunkt nur der Hilfskellner verfügbar. Als der Hauptkellner wiederkommt, sehe ich wie er an der Servicestation den Zettel vom Restaurant Manager liest, und dann persönlich nochmals vorbeikommt um sich zu erkundigen, ob soweit schon alles in Ordnung ist... Kann ich als Wunsch äußern, dass ich diesen Zettel mal gerne lesen würde. Man muss eines lassen: alle Kellner waren loyal gegenüber ihrem Arbeitgeber: Niemand hat mir den Zettel gegeben, auch wenn das Trinkgeld noch so großzügig war.
Als ich meine Bordkarte hinlege und einen Orangensaft zu bestellen, meinte man nur, dass man sicherlich auf die Berechnung verzichten kann, weil es ihn ja zum Frühstück auch umsonst geben... Als ich mein Essen fotografieren will, versteht man die Handbewegung so, dass ich selbst mit dem Essen fotografiert werden möchte... Warum nicht?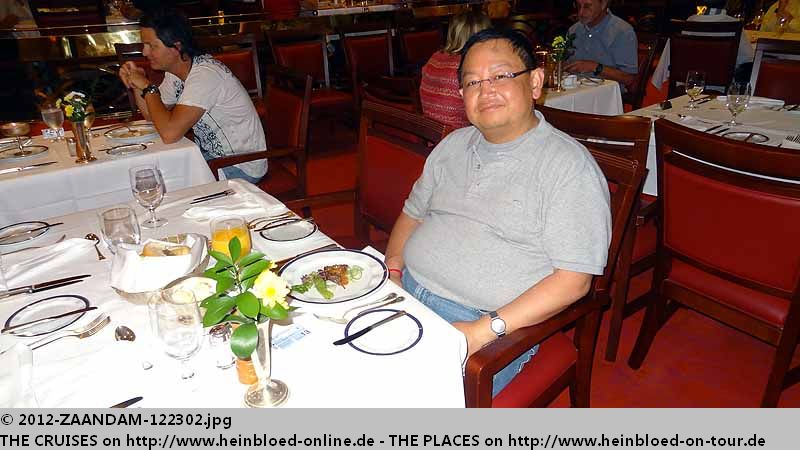 When I placed my shipcard to order an orange juice I was told that this must not be charged as I could get it free for breakfast... When I wanted to take a picture of my food it was understood as request for a picture of me and my food. Why not?

They had the night Mixed Grill. I was actually full. That was why I only wanted one bite of meat for the flavour. So when I left so much on the plate the crew got panic that I might not like it. This night you definately had no reason to claim that the service was unattentive.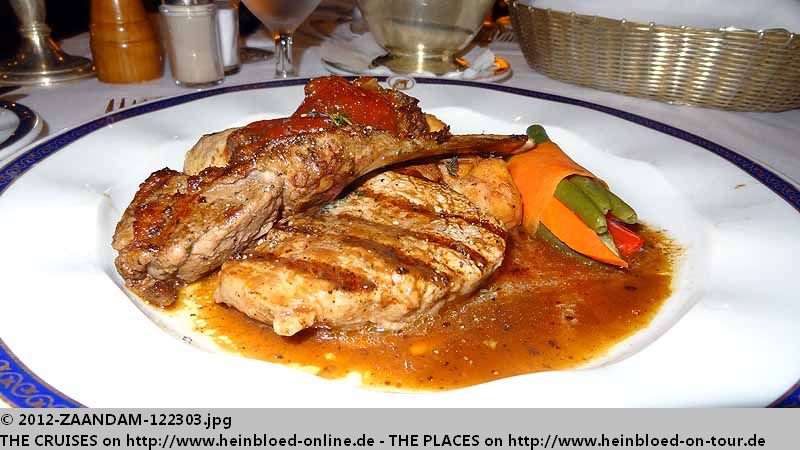 Es gab heute Abend Mixed-Grill. Ich war ja eigentlich satt. Deswegen wollte ich auch bloß von jedem Stück Fleisch einen Bissen haben. Und als ich die Reste stehen lasse, war natürlich beim Personal Panik, dass es mir nicht geschmeckt hat. Heute Abend gab es wirklich keine Gründe sich zu beklagen, dass der Service unaufmerksam war.
Ermutigt durch den Orangensaft, bestelle ich eine Lemonade (hat nichts mit der Fanta-/Sprite-Limonade zu tun, wie wir sie in Deutschland kennen, sondern eher wie das ganz alte Lift nur ohne Kohlensäure). Hier wird mir erklärt, dass Lemonade nicht mehr im Hauptrestaurant angeboten werden würde, aber in meinem Fall, hätten sie einfach ein Glas für mich angerührt. Soviel VIP-Service auf einmal... Um es vorweg zu sagen: am nächsten Tag wird dieser Bonus von heute leider wieder abgezogen. Da läuft es genau umgekehrt.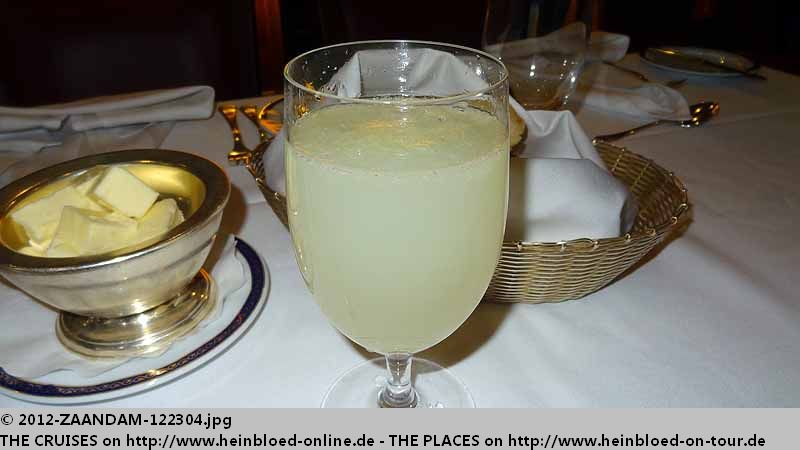 Encouraged by the orange juise I ordered a lemonade. I was told that they do not offer anymore lemonade in the MDR but they just mixed a glass just for me. So much VIP service at once... To say it prior to the next day: next dinner we lost the bonus I got today. It was just opposite.

By the way Leika and Bedi whom I could enjoy with my 2nd dinner that night. After so many impressions I need to see my bed. Good Night.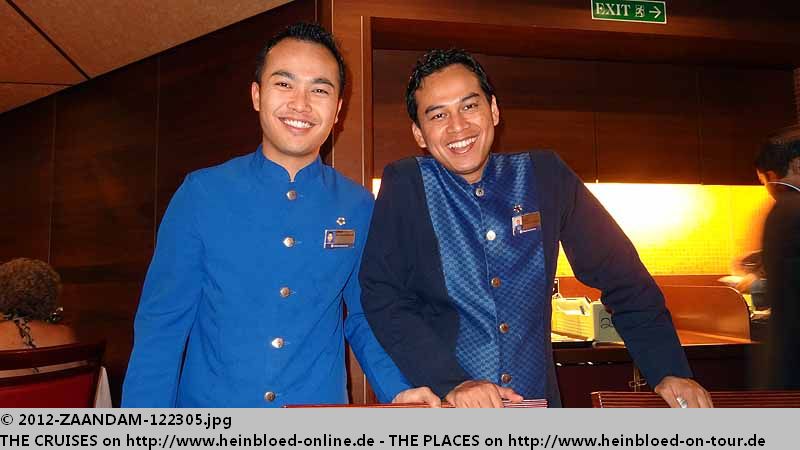 Und das sind Leika und Bedi, deren Service ich bei meinem 2. Dinner heute Abend erleben durfte. Nach so vielen Eindrücken musste ich nun auch endlich ins Bett. Gute Nacht.