Scroll down for English explanations - alternates with German explanations.

Der Seegang machte es erforderlich, dass wir für meine Mutter doch mal etwas von der Rezeption besorgen mussten. Kostenlose und nicht 10,00 USD wie bei Cunard...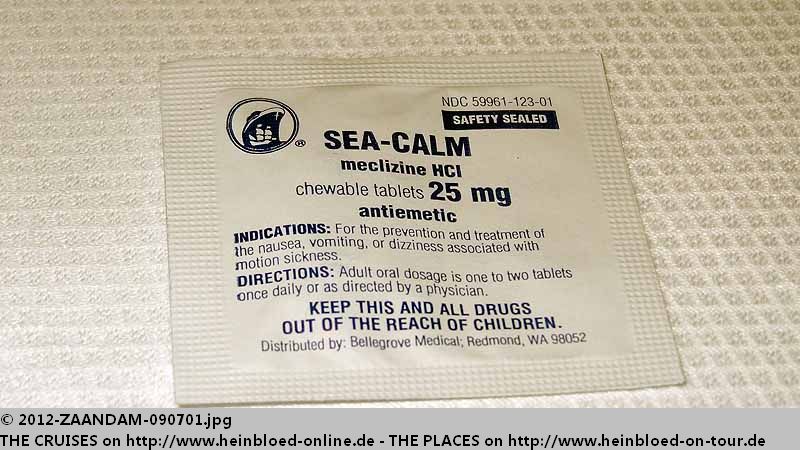 The sea condition made it necessary that we need to see the front desk to get something for my mother. Free of charge - not 10.00 USD like with Cunard...

BJ and Guenther were tonight my guests. We learned that it was more common in the US to invite the birthday child for a meal and not like with us that the birthday child invites the friends.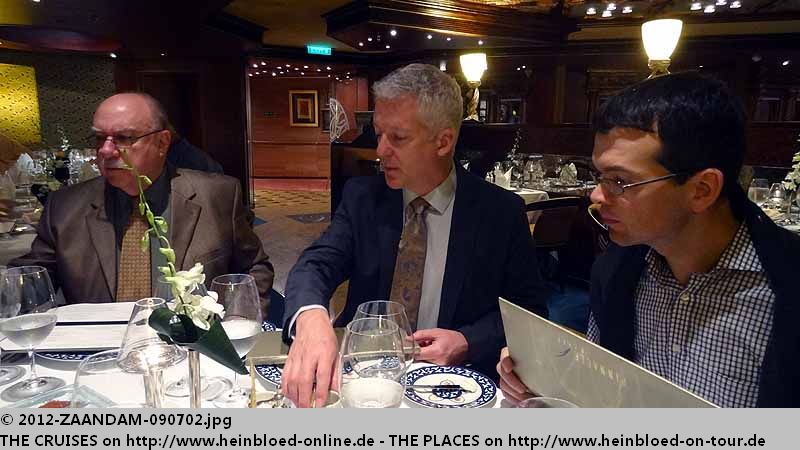 BJ und Guenther sind heute Abend meine Gäste. Wir lernen jedoch, dass es in den USA wohl eher üblich ist, dass die Freunde einen Geburtstagkind zum Essen einladen und nicht wie bei uns, dass das Geburtstagskind die Freunde.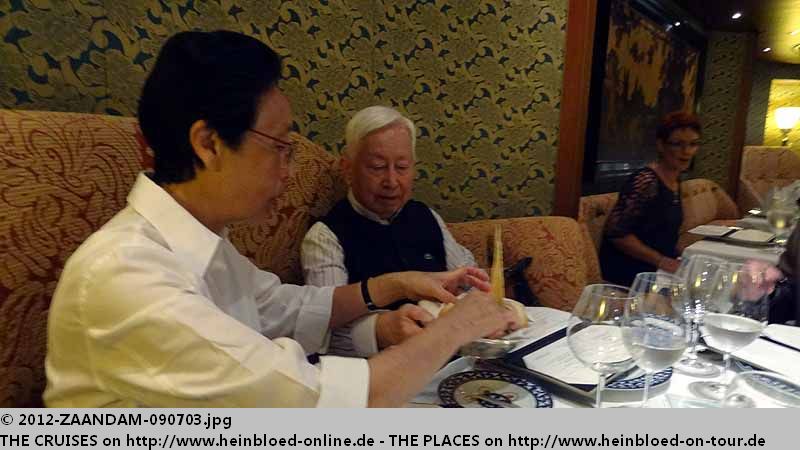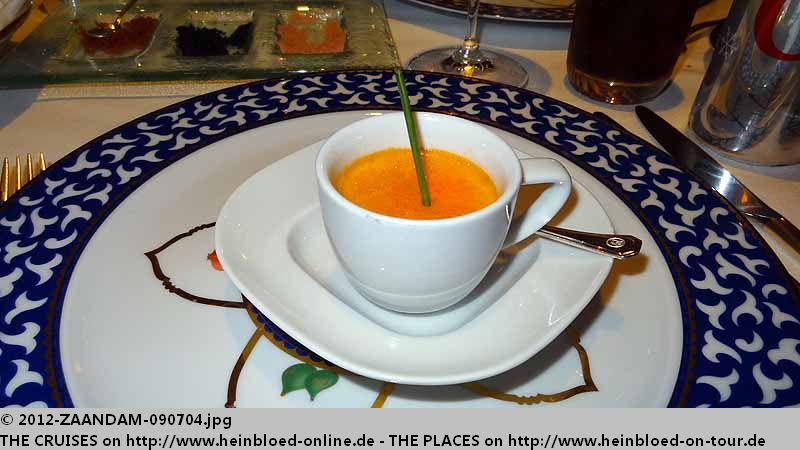 Im Pinnacle Grill wird nur sehr dezent "Happy Birthday" gesungen. Am Nachbartisch hat auch jemand Geburtstag und freut sich über unser Ständchen. Nur Debra Mindlin meint, dass es nicht gut klang. Sie stand auf und sang mit voller Inbrunst "Happy Birthday". Ich dachte, dass Marilyn Monroe gerade John F. Kennedy zum Geburtstag gratuliert und dass sie möglicherweise sie beim nächsten Superbowl die Nationalhymne anstimmen wird. Wow. Hinterher wussten wir, dass sie Sprachtherapeutin (und 5 Berufe mehr) aus Los Angeles ist und daher so gut singen kann.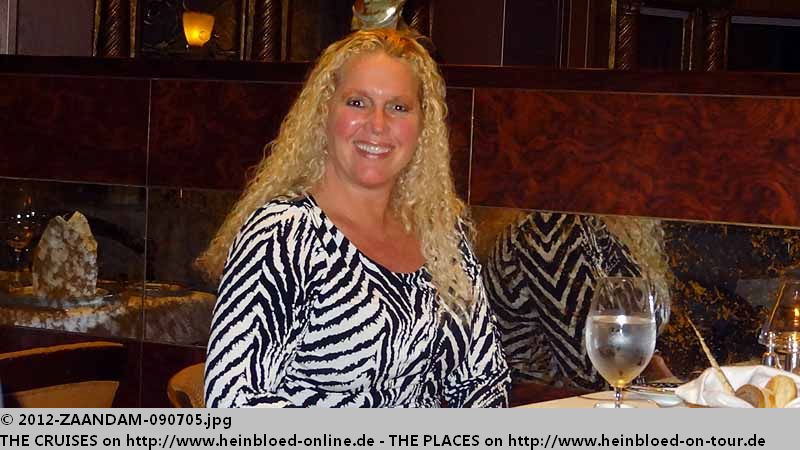 In the Pinnacle Grill everyone sang "Happy Birthday" very discretely. The guest at the next table had also birthday and were glad about to hear the song. Only Debra Midlin thought that it did not sound well enough. So she stand up and sang full of passion "Happy Birthday". I thought that Marilyn Monroe just sang for John F. Kennedy "Happy Birtday" and she might sing at the next Superbowl the national anthem. Wow. Later we learned that she could be hired for speaking engagements (and five more professions) from L.A. and that was why she sang so great.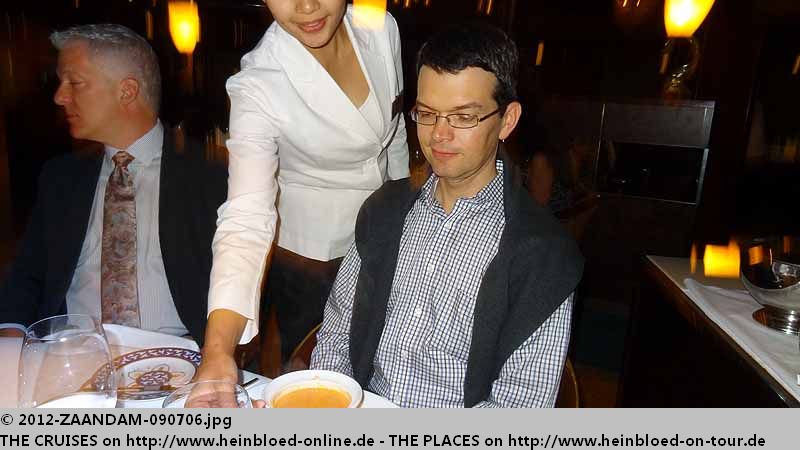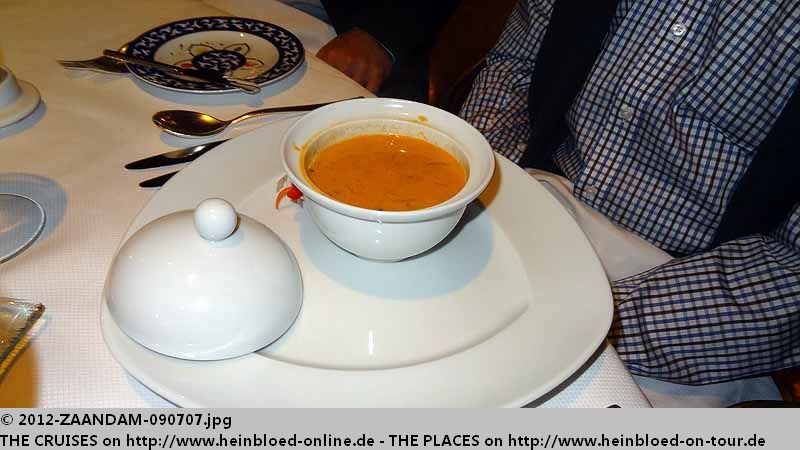 Again the nice time took care of us which took already care my mother.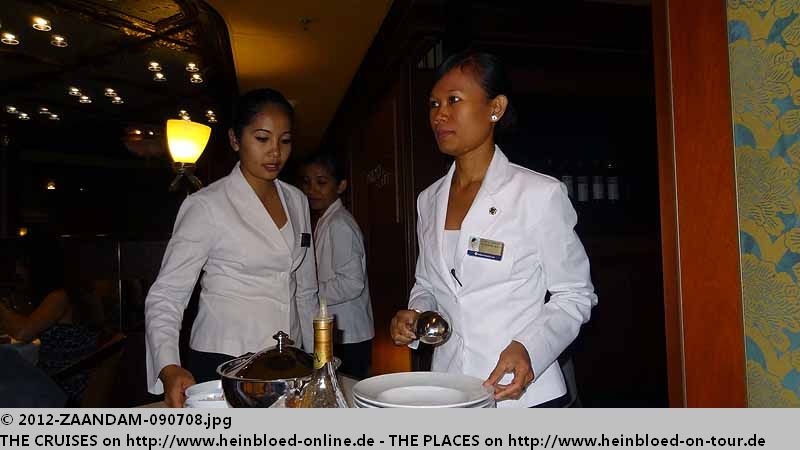 Wieder betreut uns liebevoll das Team, das auch meine Mutter betreut hat.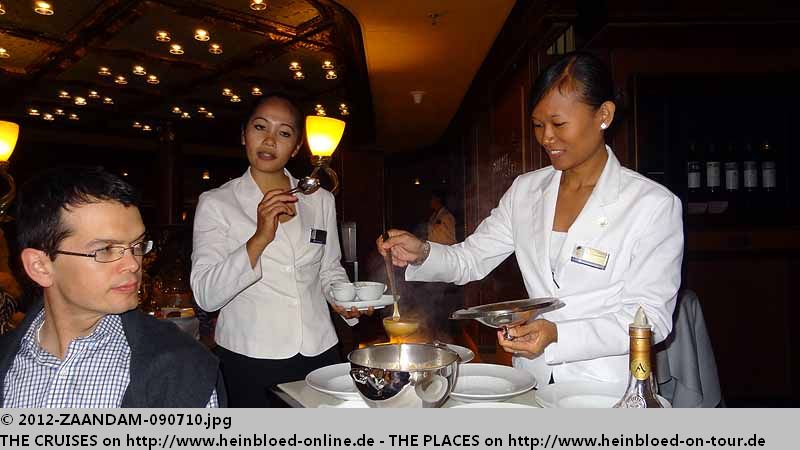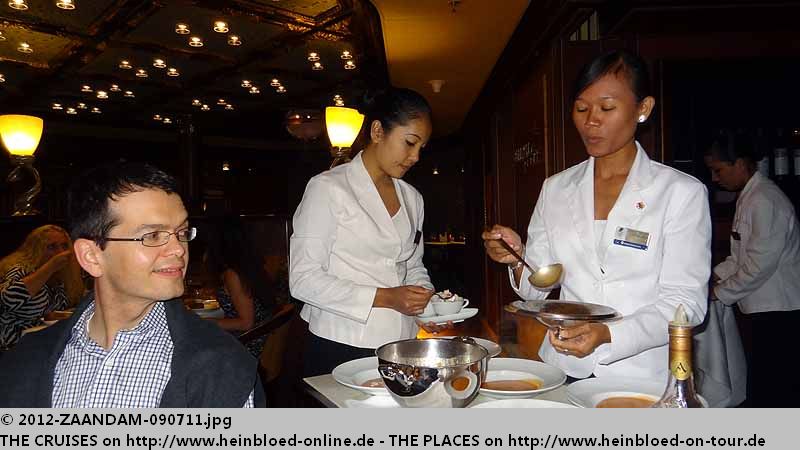 Guenther und BJ, die zum ersten Mal im Pinnacle Grill sind, waren auch ganz beigesistert.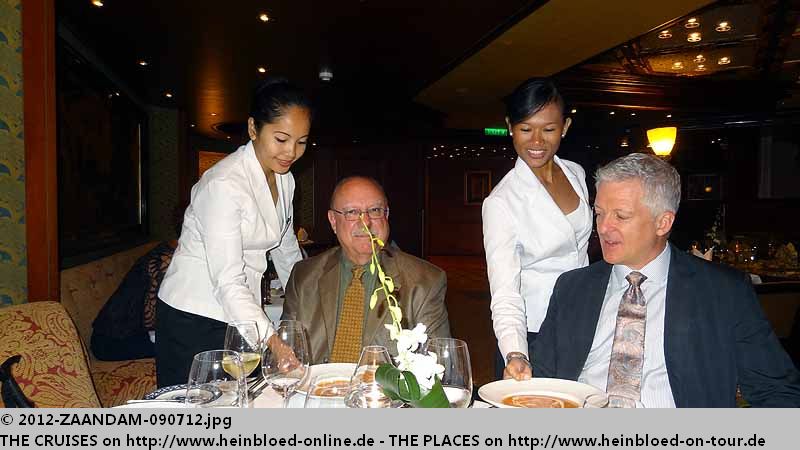 Guenther and BJ were very exited too as they were the first time in the Pinnacle Grill.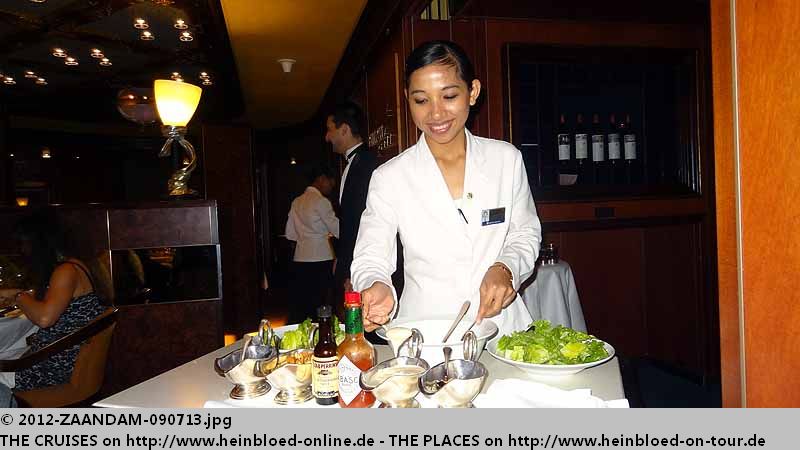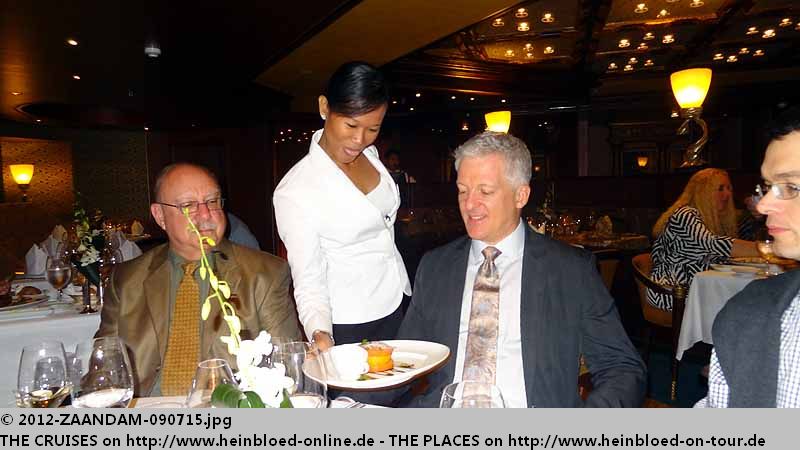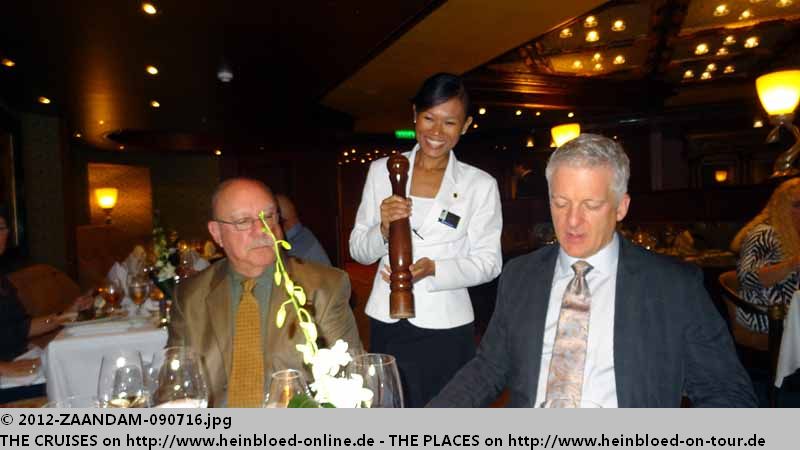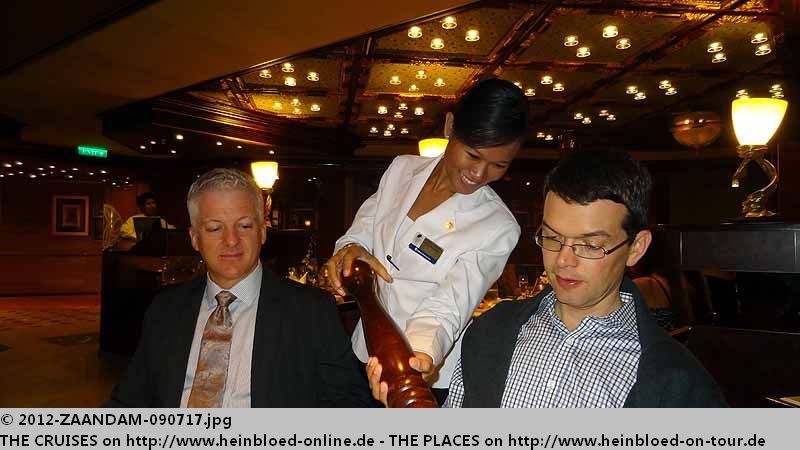 Bruno checked the sea condition while BJ observed him with some interest.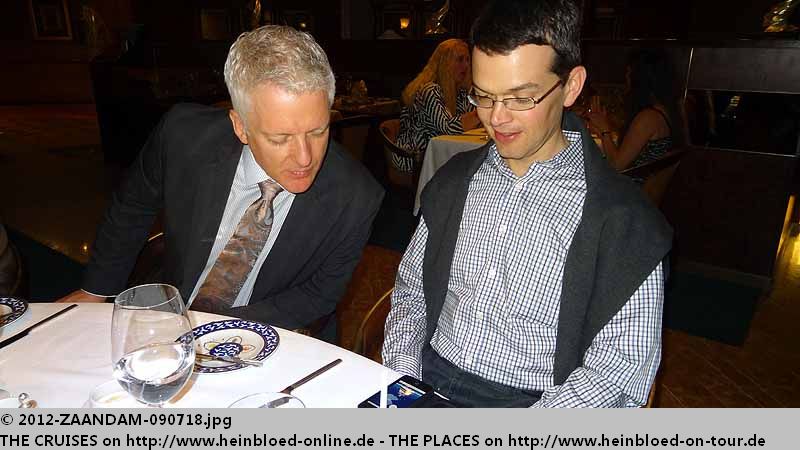 Bruno prüft mal den Seegang nach. BJ guckt interessiert zu.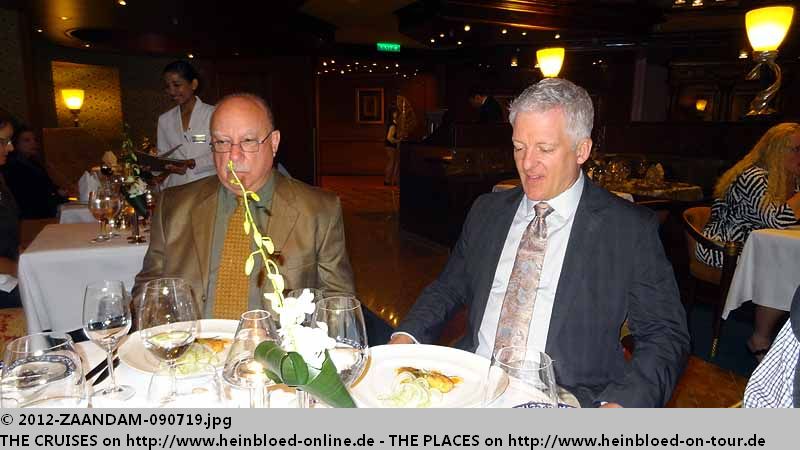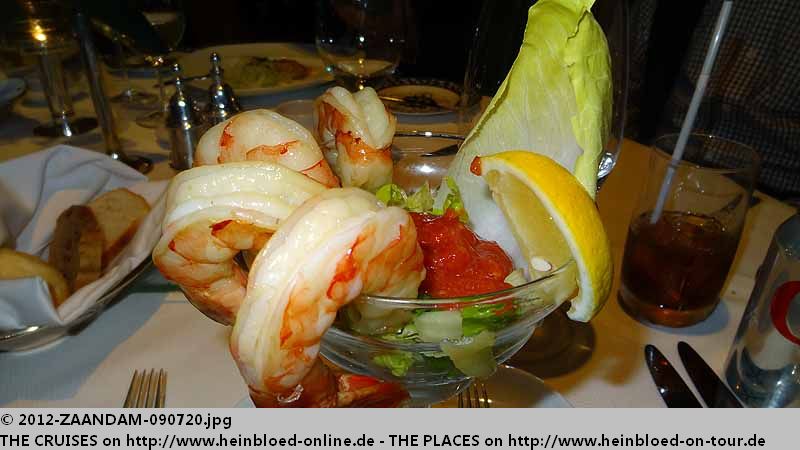 Alexander erkundigt sich, ob alles in Ordnung ist.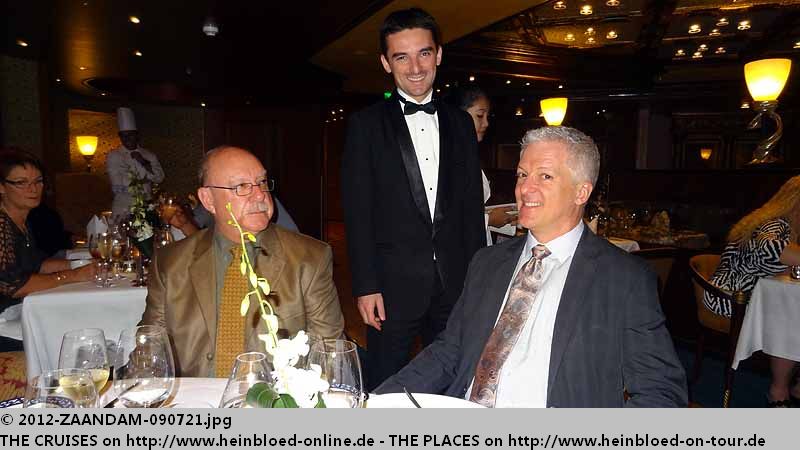 Alexander asked if everything was alright.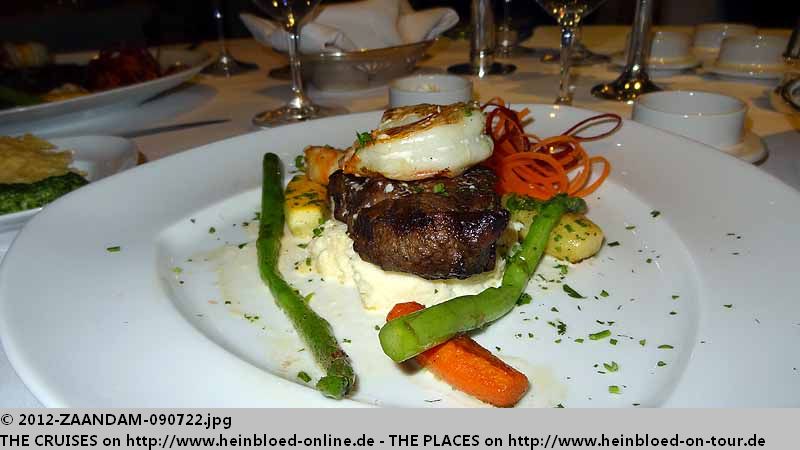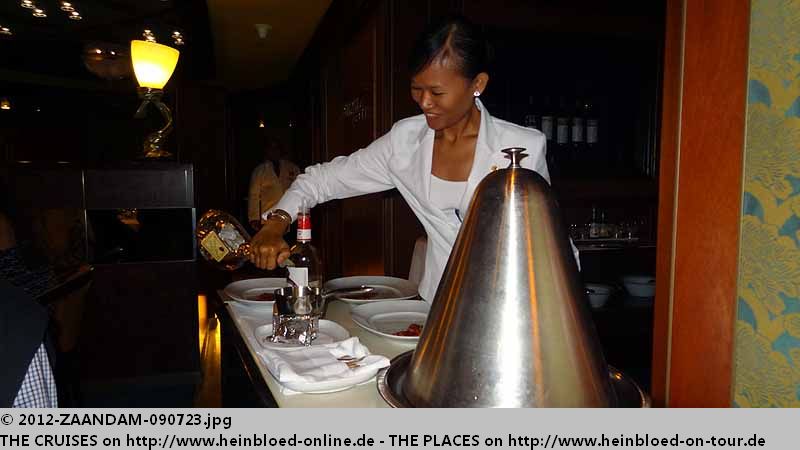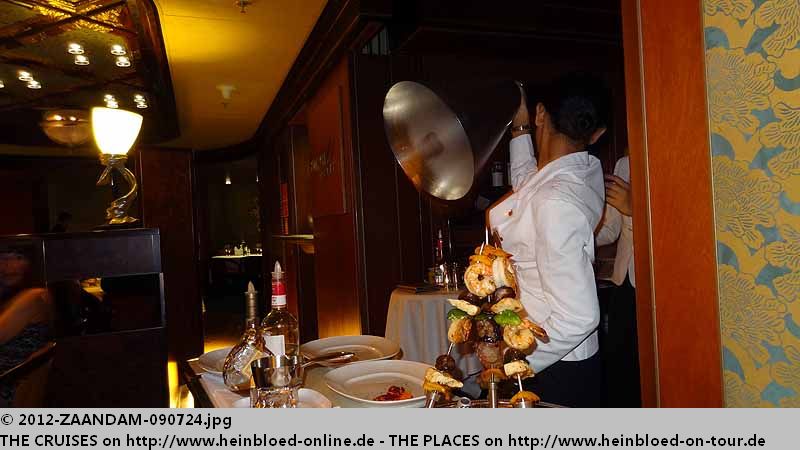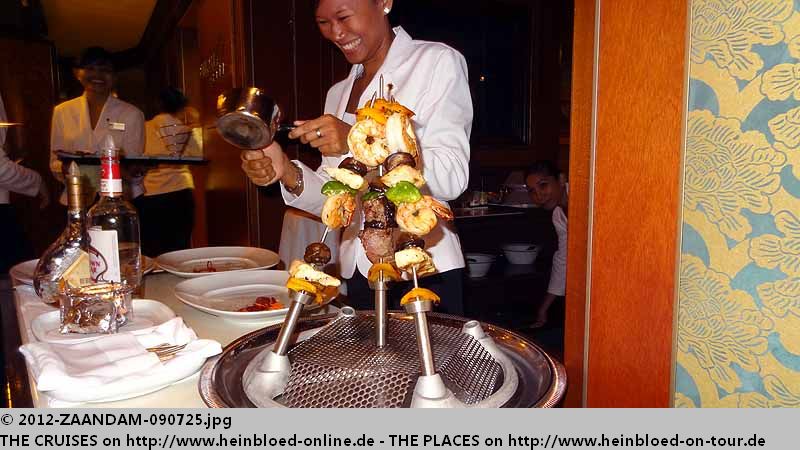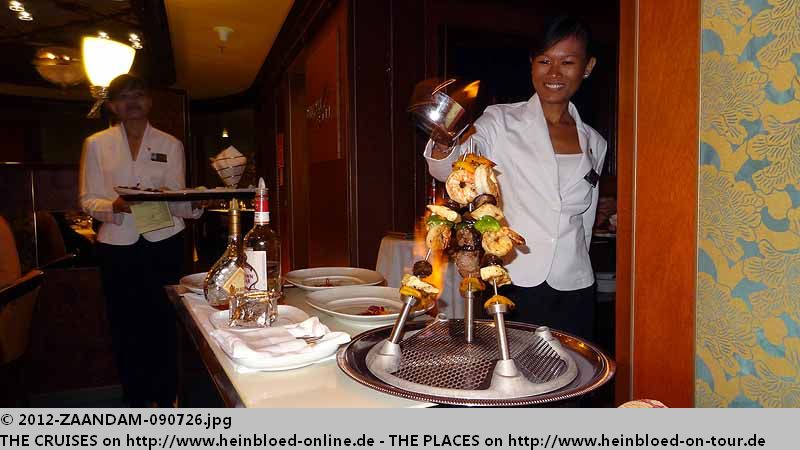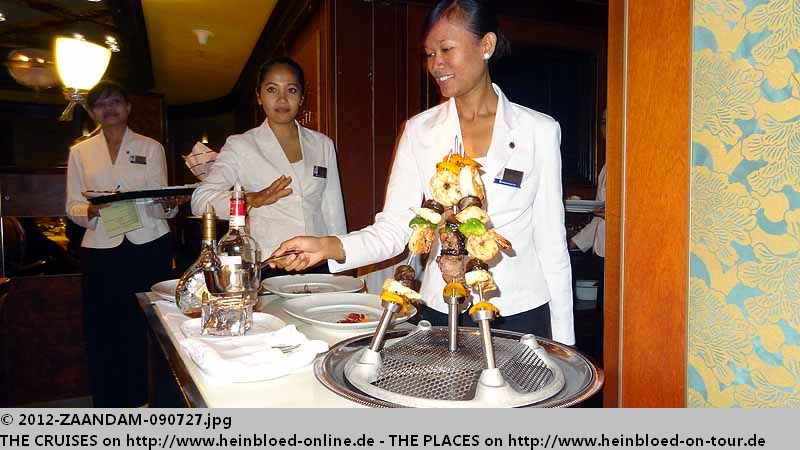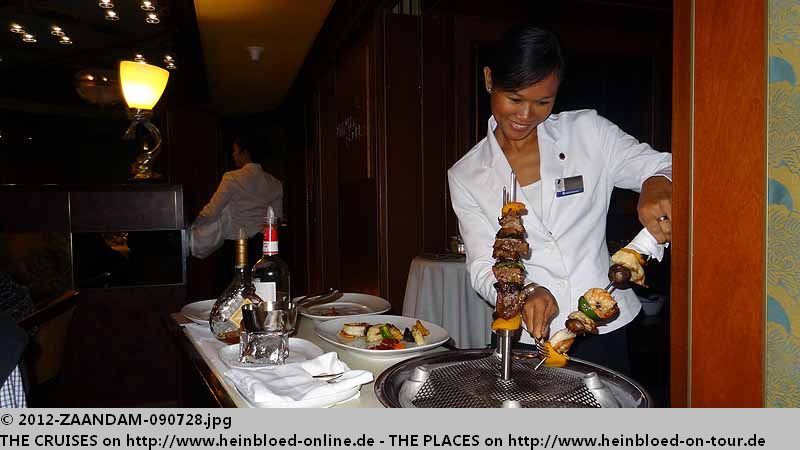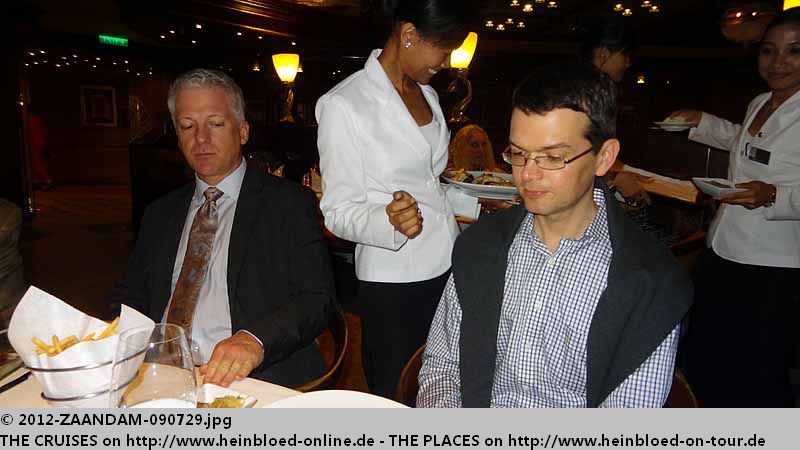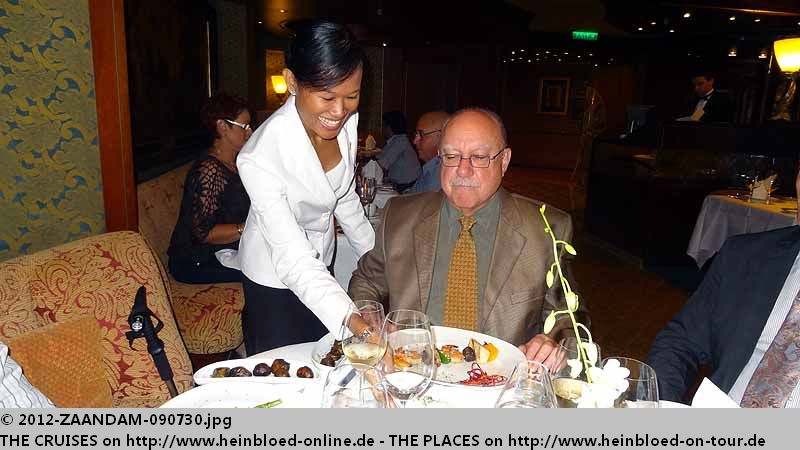 So schade es ist, dass wir nicht an Land feiern können, aber auch hier war es sehr schön.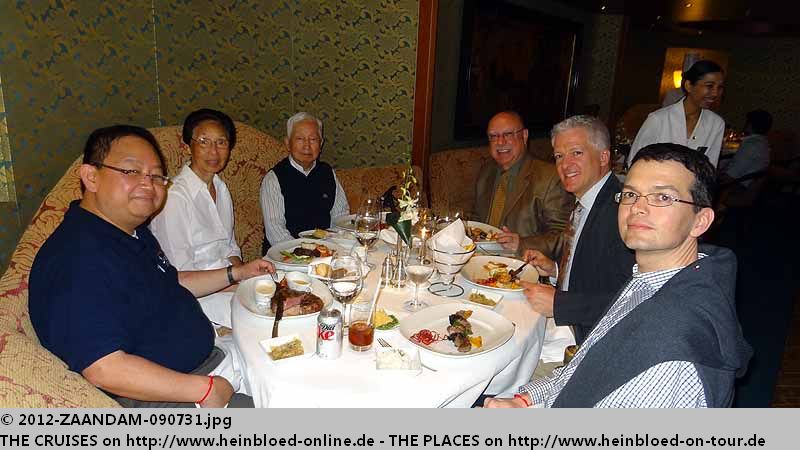 It was sad that we could not celebrate ashore but it was here also very nice.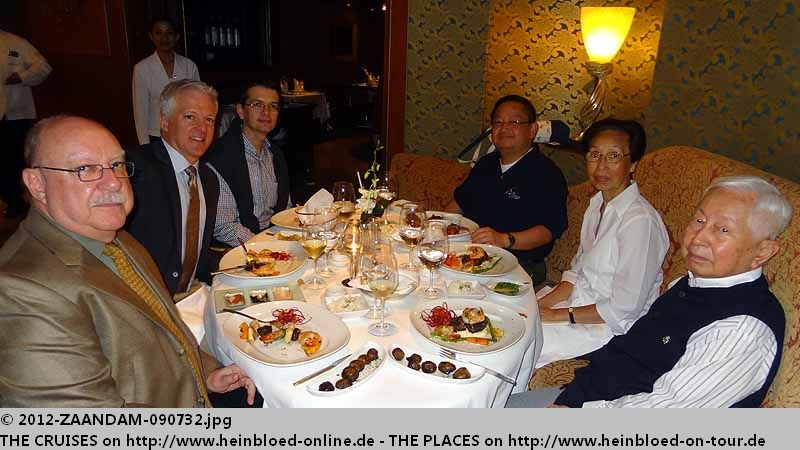 Ich gönne mir das Rib-Eye-Steak mit Knochen...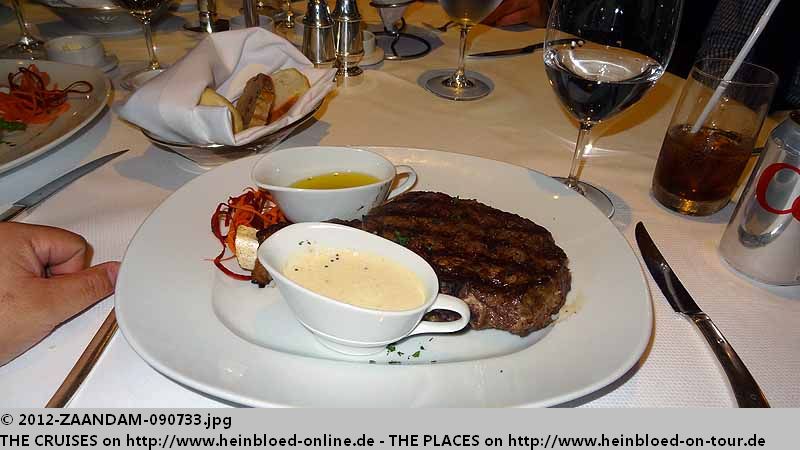 I granted myself with a rib-eye-steak with bone...

Wow...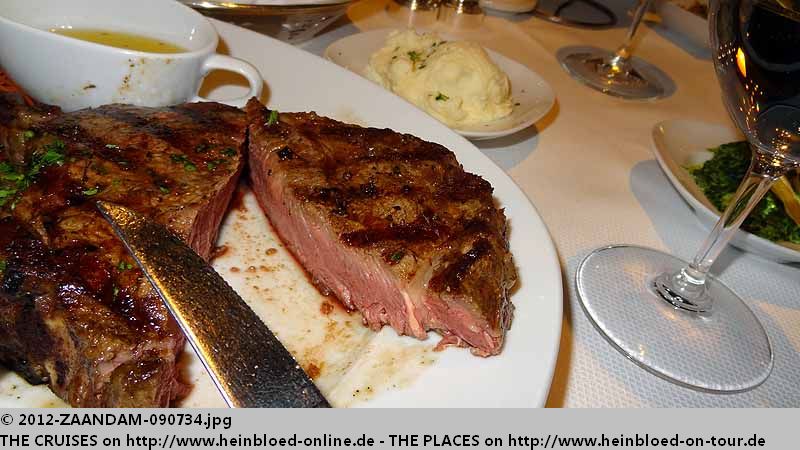 Wow...
Ich hätte gar keine Saucen gebraucht. Es war so lecker. Schon alleine der Fleischsaft...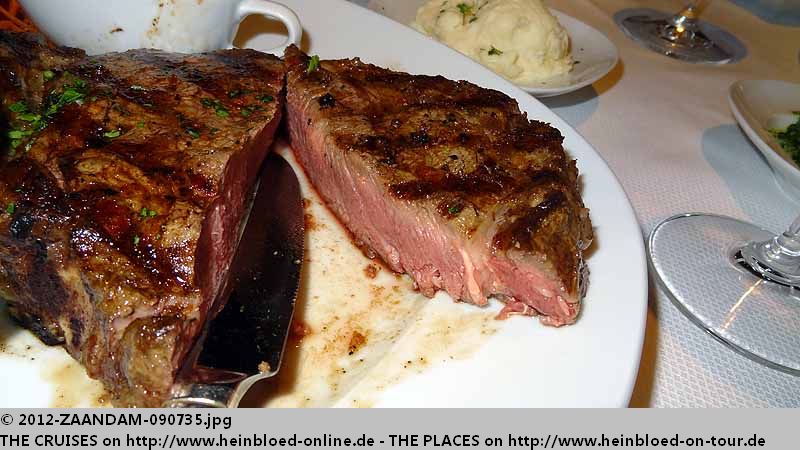 I did not need any sauce. It was so good. Just the pure juice of the meat...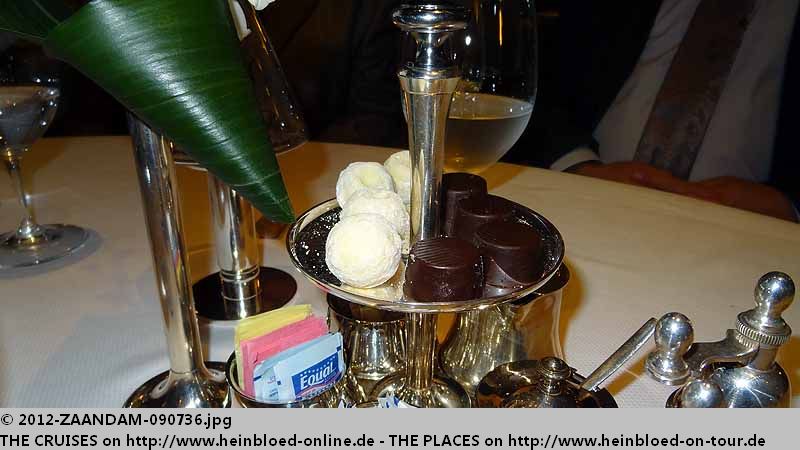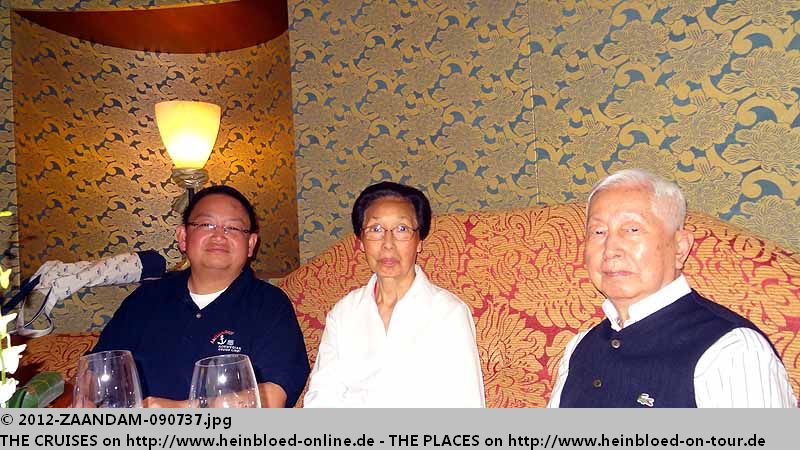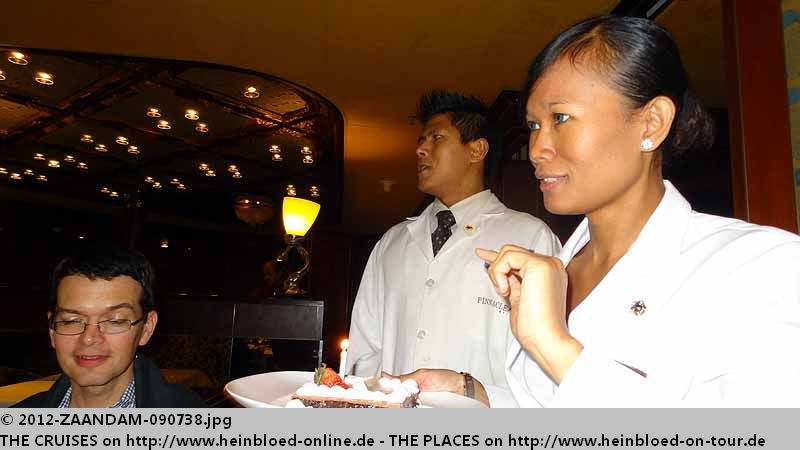 Dann bekam ich auch eine Geburtstagstorte.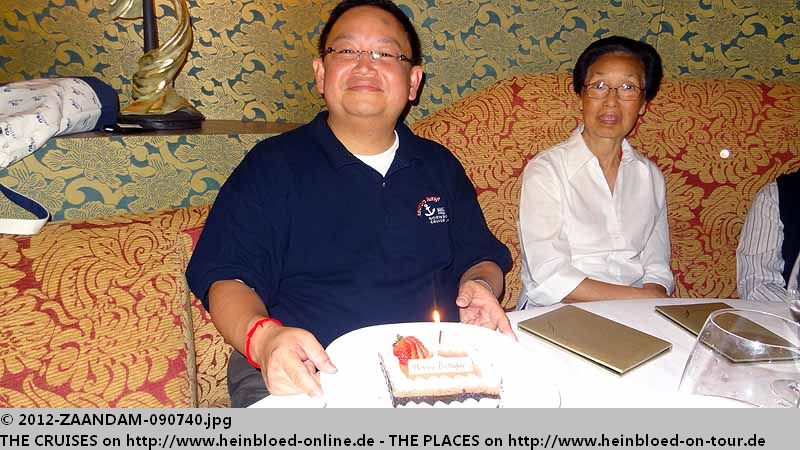 Then I got also my birthday cake.

Real yummy!!!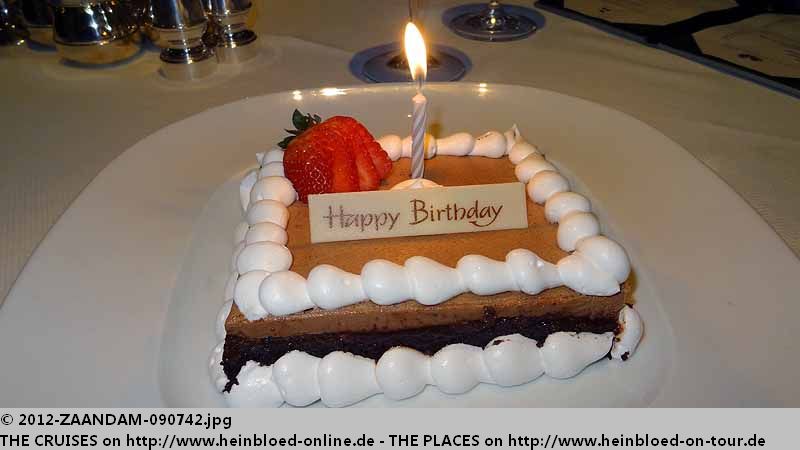 Echt lecker!!!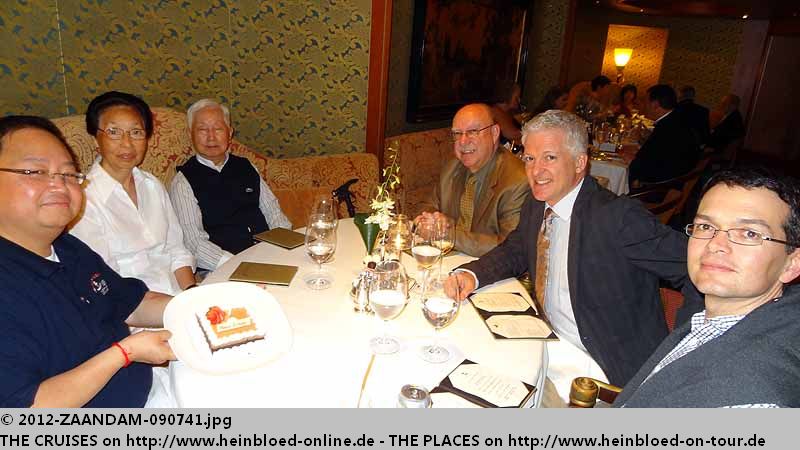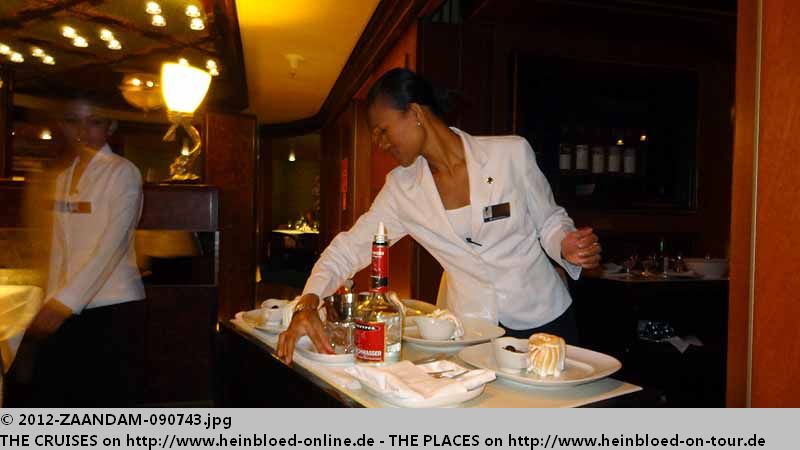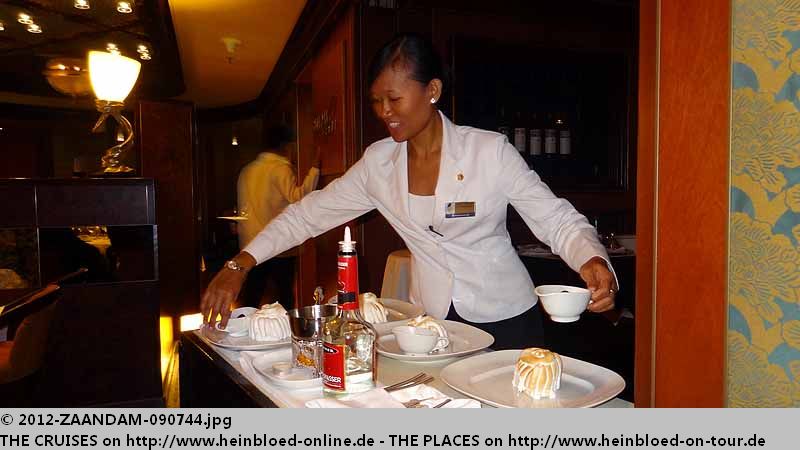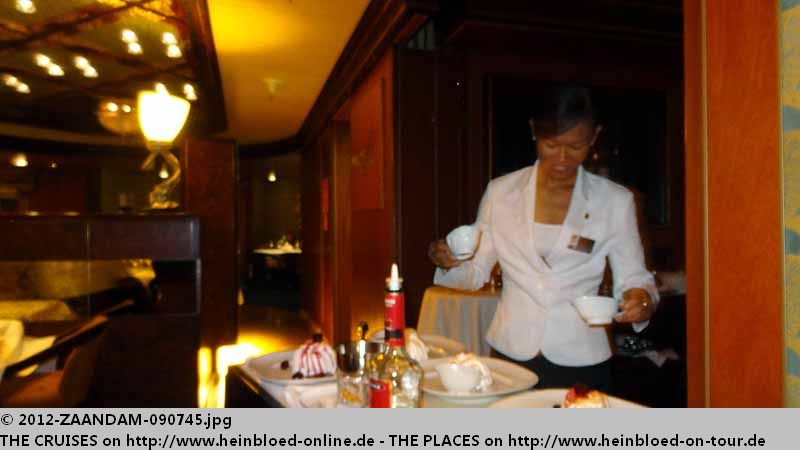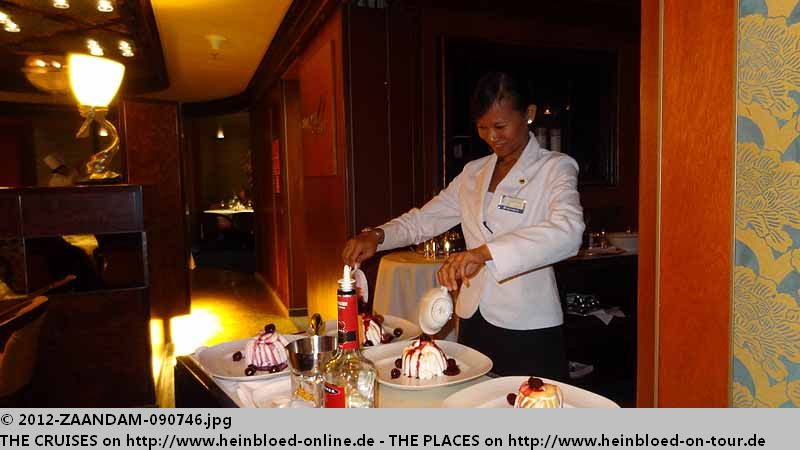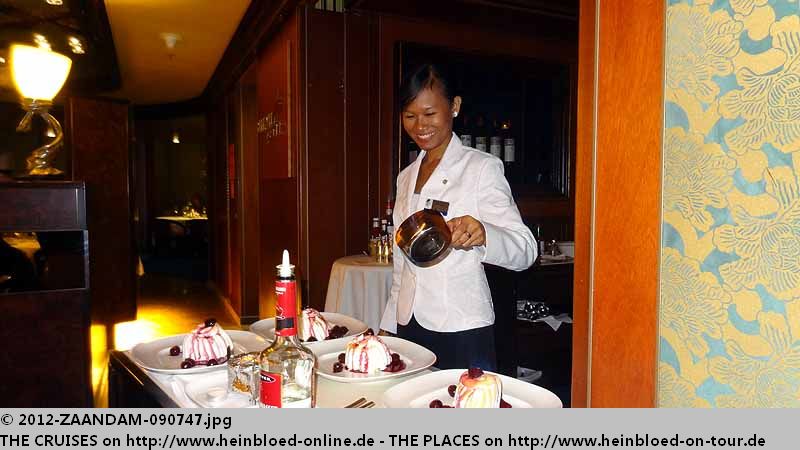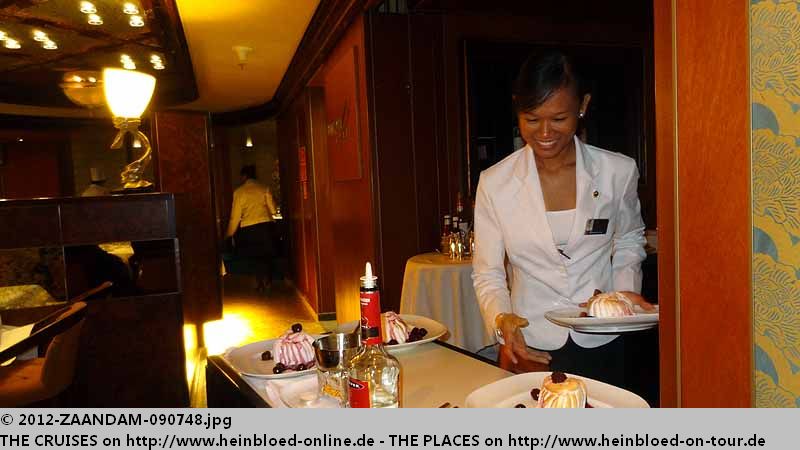 My father did not want to try anything new. All he wanted was his Baked Alaska...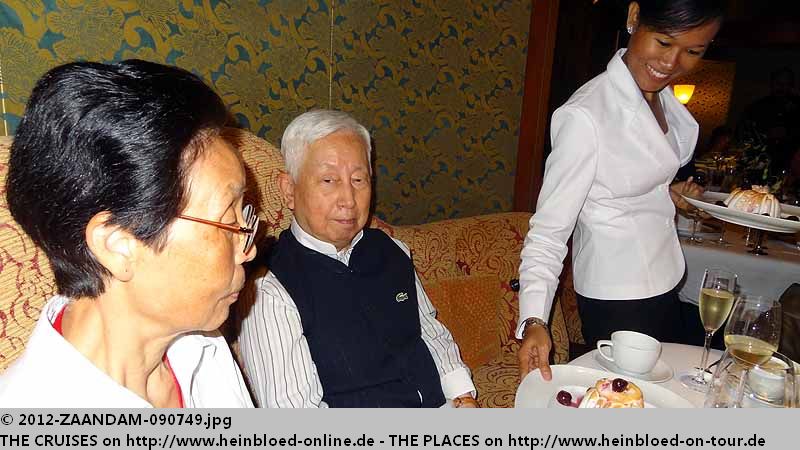 Mein Vater wollte nichts neues testen. Er wollte sein Baked Alaska wiederhaben...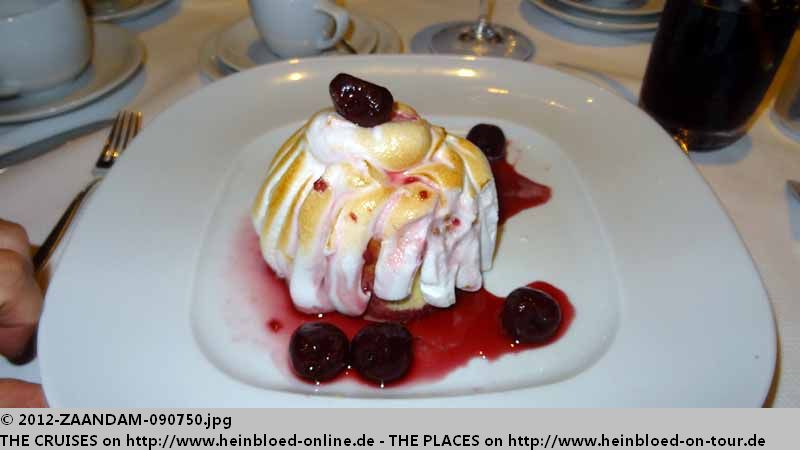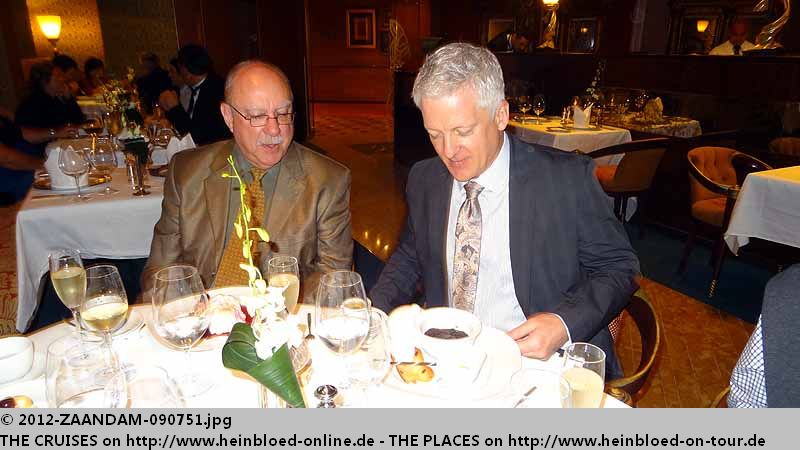 Da es meiner Mutter nicht so gut ist, bekommt sie einen grünen Apfel aufgeschnitten, der bei Seegang helfen soll.

As my mother did not feel so well she got a green apple cut in pieces which should help if you have problems with the sea motion.

There was a difference between Guenther and BJ and Bruno and me: we did not have the right view for such things. Until this night I hade not idea what or who Frette was. Bruno said even Douglas Ward noticed it. So I am not qualified to go on such high-class ships as I could not identify the high-class items.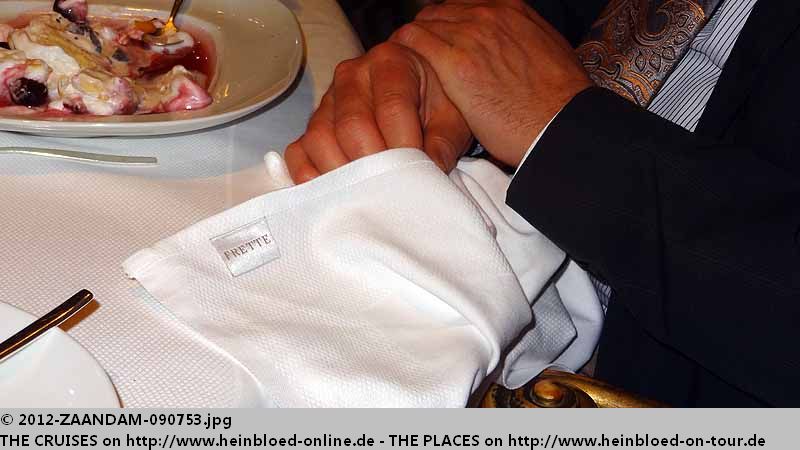 Der Unterschied zwischen Guenther und BJ und Bruno und mir: wir haben noch nicht das notwendige Auge für diesen Blick. Bis heute Abend wusste ich nicht wer oder was
Frette
ist. Bruno meinte, dass das sogar Douglas Ward aufgefallen ist. Ich bin daher nicht für solche hochklassigen Schiffe qualifiziert, weil ich die hochwertigen Sachen nicht identifizieren kann.
Die Crew soll ein wenig mitfeiern und so bedanke ich mich für einen tollen Service.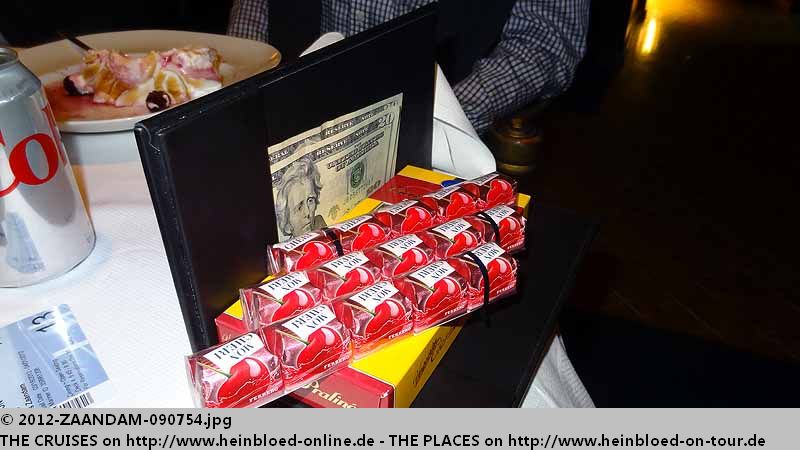 The crew should celebrate with us and so I thanked them for an outstanding service.

All of the waiters and waitresses were very kind and attentive. But Esther Uly Simanjuntak had the most major part of the treatment that we felt very great there. My mother could not eat too much and was very happy that Esther helped her to get her food on her cabin and escorted her. After she had some sleep she very hungry and happy to have some food around. My father was very exited about the charming escort: From now he would love to have such her escort service for every meal...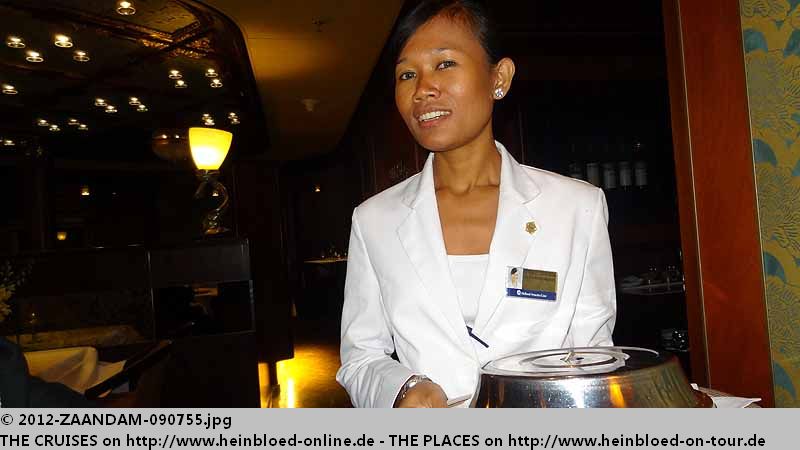 Alle Kellner und Kellnerinnen waren sehr nett und zuvorkommend. Aber Esther Uly Simanjuntak hat den höchsten Anteil daran, dass wir uns sehr wohl gefühlt haben. Meine Mutter hat kaum gegessen und war sehr froh, dass Esther sie mit ihrem Essen zur Kabine begleitet hat. Nach dem sie etwas geschlafen hat und hungrig war, war sie froh, dass sie etwas zu Essen hatte. Mein Vater war über die charmante Begleitung in die Kabine auch sehr begeistert. Der würde am liebsten jetzt von jedem Essen in die Kabine von ihr begleitet werden...