Einfahrt in Civitavecchia heißt immer frühes Aufstehen als Shipspotter und auf die Pole-Position hoffen. Und zwischendurch immer noch Ecken entdecken, an denen ich in den letzten zwei Wochen achtlos vorbeigelaufen bin: Die Sammlung der Hafen Plaketten.

Arrival in Civitavecchia meant always getting up early as shipspotter and hoping for the pole-position. And discovering corners in between which did not attract my attention in the last two weeks: the collection of the port plaques.

But soon Civitavecchia became visible.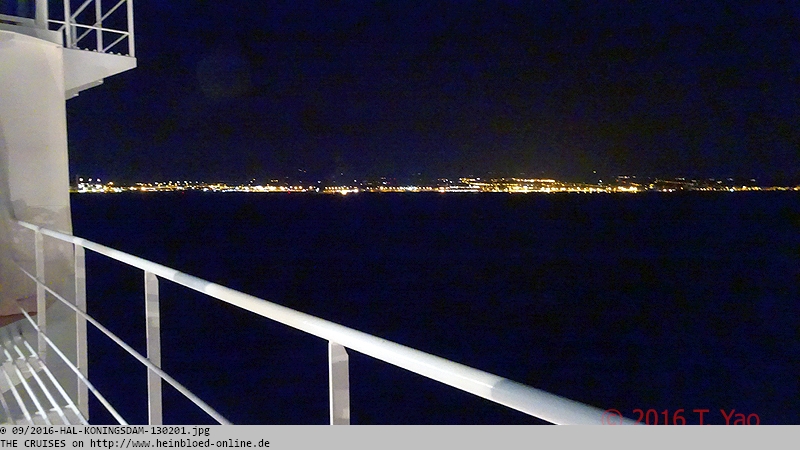 Aber bald ist dann doch Citivecchia zu sehen.
Wir haben schon mal die Pole Position für Shipspotter leider auch nicht: die sind schon belegt wie ich sehe.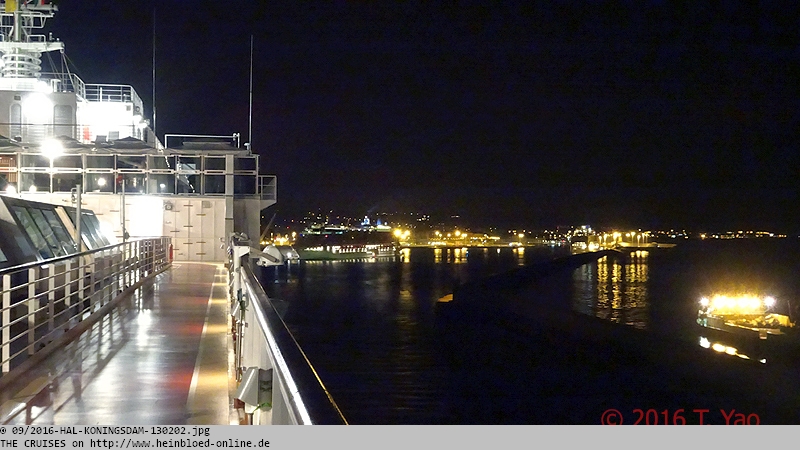 Unfortunately we did not have the pole position for shipspotter: was already taken as I could see.

Aurora which meant bad weather... (old German farmers' wisdow).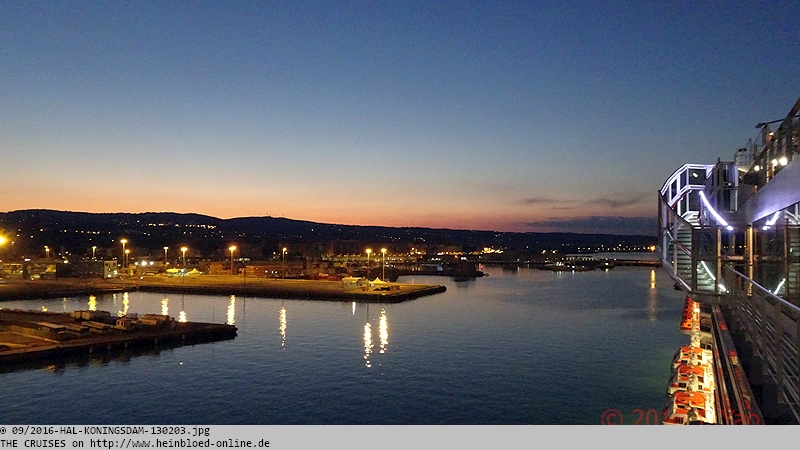 "Morgenrot, schlecht Wetter droht"...
Trotzdem immer wieder schön.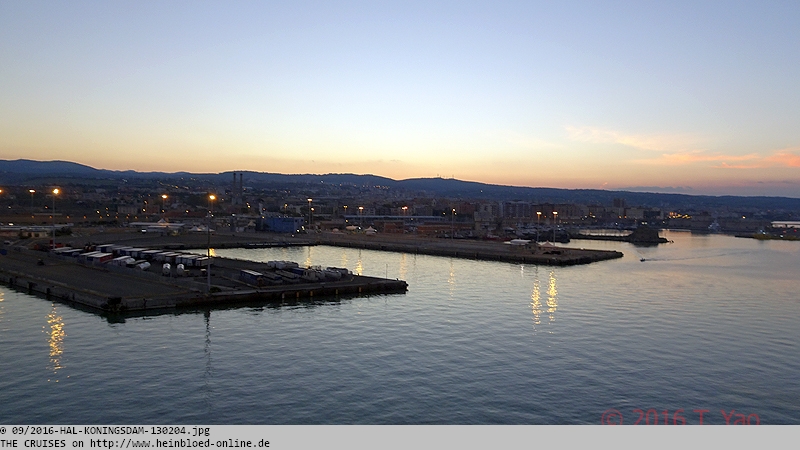 Anyhow it looked great again.

A small farewell-round.

Eine kleine Abschiedsrunde.
Die beste Position zum Fotografieren hat die CELEBRITY REFLECTION.

The best position to take pictures had CELEBRITY REFLECTION.

Our first cruise with Royal Caribbean was on JEWEL OF THE SEAS. Then we loved her very much. Later we did not like it anymore.

Unsere erste Kreuzfahrt mit Royal Caribbean war auf der JEWEL OF THE SEAS. Damals fanden wir es ganz toll. Später dann nicht mehr so.
AZAMARA JOURNEY.

AZAMARA JOURNEY.

MSC ARMONIA.

MSC ARMONIA.
SILVER WIND.

SILVER WIND.

HORIZON.

HORIZON.
Noch einmal Congee. So gutes bekomme ich sonst nur bei meiner Mutter. Also öfters nach Hause fahren oder öfters Holland America fahren. Leider geht beides nicht mehr: mein Vater fühlt sich für lange Urlaubsreisen zu schwach.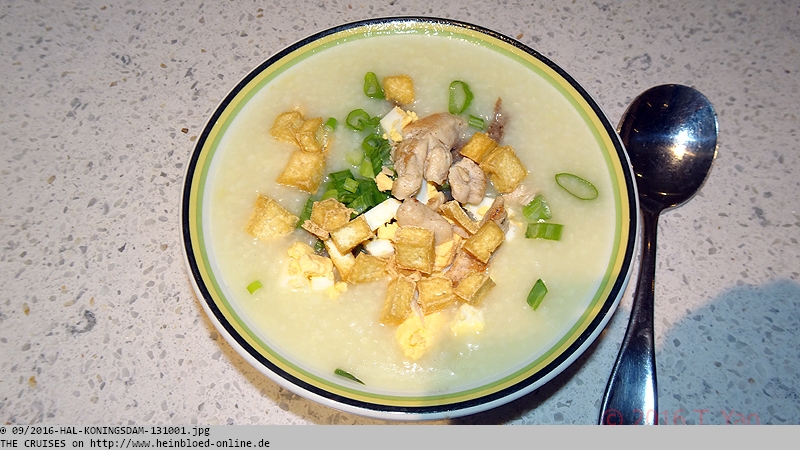 One more time congee. Such good I could only get with my mother. So I have to go more often to my mother or go often on Holland America. Both toghether will not be possible anymore since my father does not feel well enough to go on long travel.

Even you had non-smoking signs on the table: you could smell the smokers in an extreme way.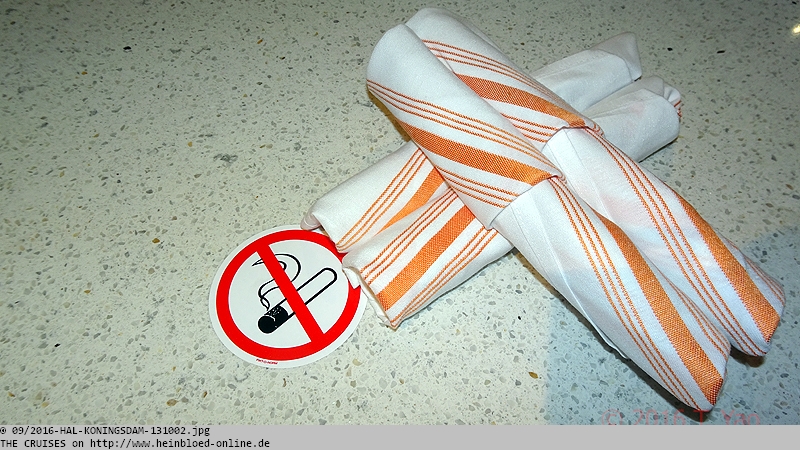 Trotz Nichtraucherzeichen auf den Tischen: Man bekommt die Raucher doch ziemlich kräftig mit.
Dann kommt auch das allerletzte Frühstück in unserer "Postfiliale".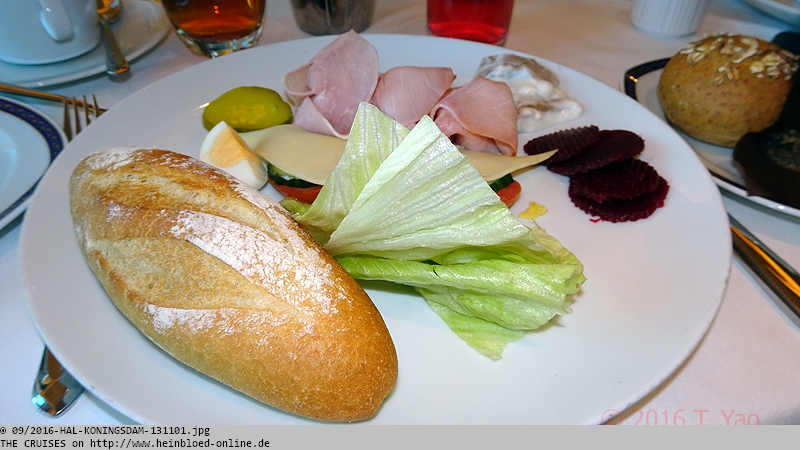 Then we had also our very last breakfast in our "post office".

The invoice arrived. Few last pictures. Time to go: jam packed. And now we could see the scale: in the lobby. Should every guest carry his bag to the lobby to weigh there... You were more customer friendly before with Holland America...

Die Rechnung ist da. Einige letzte Bilder. Zeit zu gehen: voll bepackt. Und nun ist auch die Waage zu sehen: in der Lobby. Solle jeder Gast sein Gepäck zur Lobby schleppen, um dort zu wiegen... Ihr seid schon mal kundenfreundlicher bei Holland America gewesen...
Und dann sind wir auch so weit. Mit einer leichten Verzögerung. Als jemand mir von der Rezeption anbietet einzugreifen und uns von Bord zu bringen, wird unsere Farbe bzw. Nummer aufgerufen.

And finally it was our turn. With a slight delay. When someone offered me to help to get off the ship they paged our color and number.

09.35 hrs...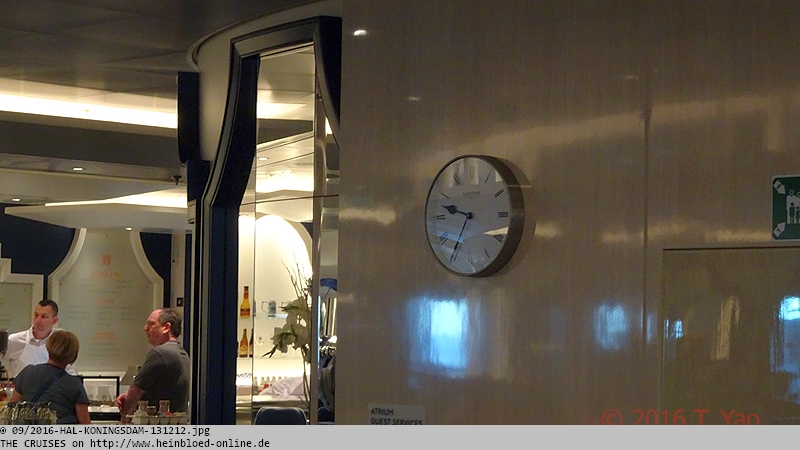 09.35 Uhr...
Und schon sind wir raus. Ankunft am
Roma Cruise Terminal
: Wir sind am Terminal Bramante.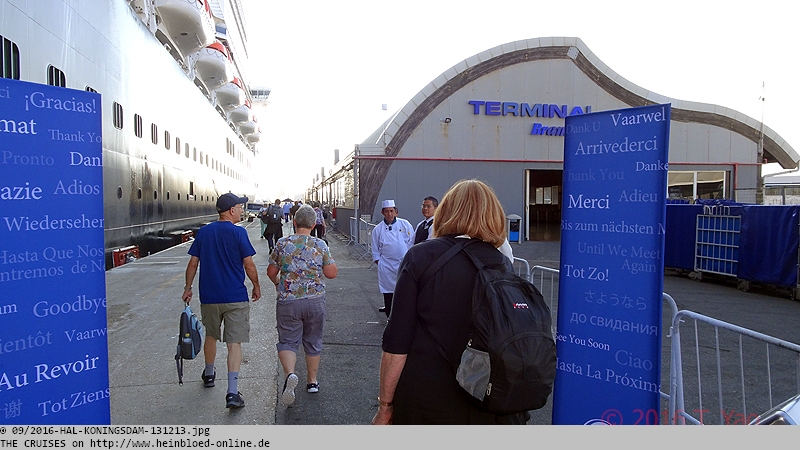 And suddenly we were out. Arrival at Roma Cruise Terminal: we were at Bramante Terminal.

Waving one more time.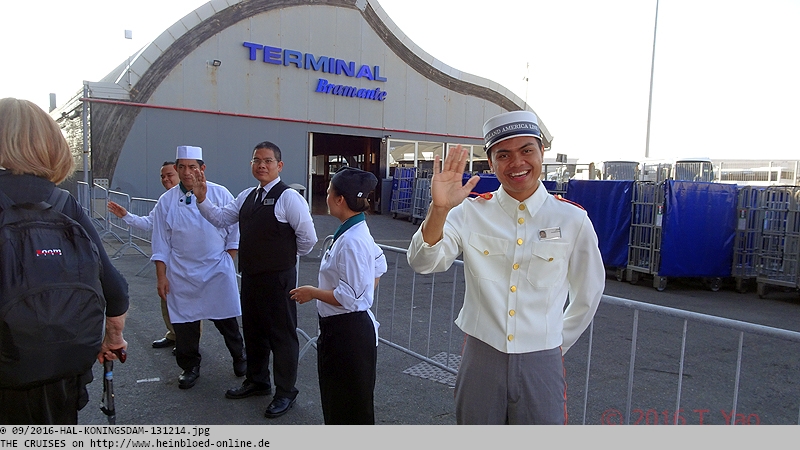 Ein letztes Winken.
Gepäck ging sehr schnell. Ich suche allerdings unseren Fahrer während die anderen sich um das Gepäck kümmern.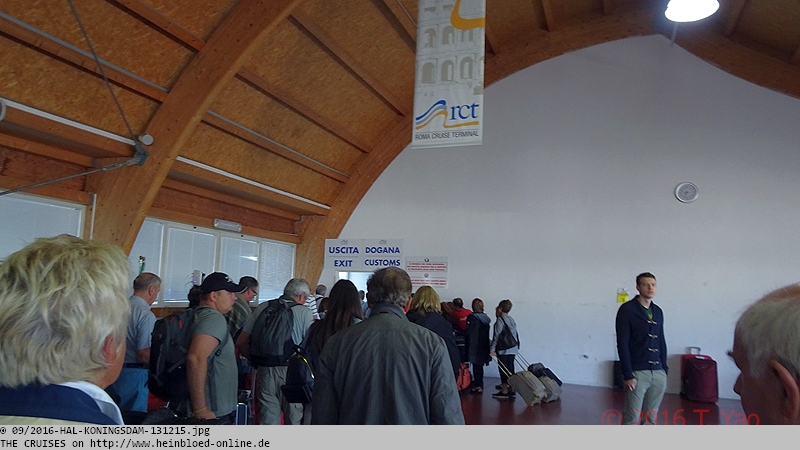 Baggage went very fast. I was looking for the driver while the other were taking care of the baggage.

It was quite important to book the right terminal for a ship.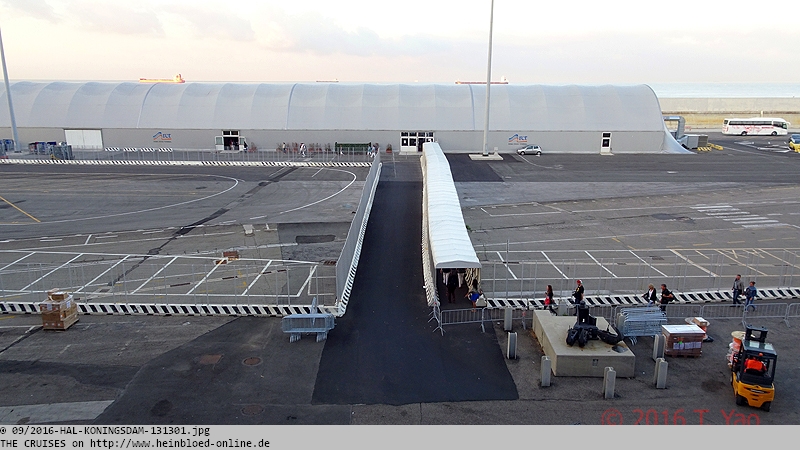 Es ist aber auch wichtig das richtige Terminal für ein Schiff zu buchen.
Hinter uns bei der JEWEL OF THE SEAS: deren Gäste haben weite Wege zu Fuß vom Schiff zum Terminal zurückzulegen.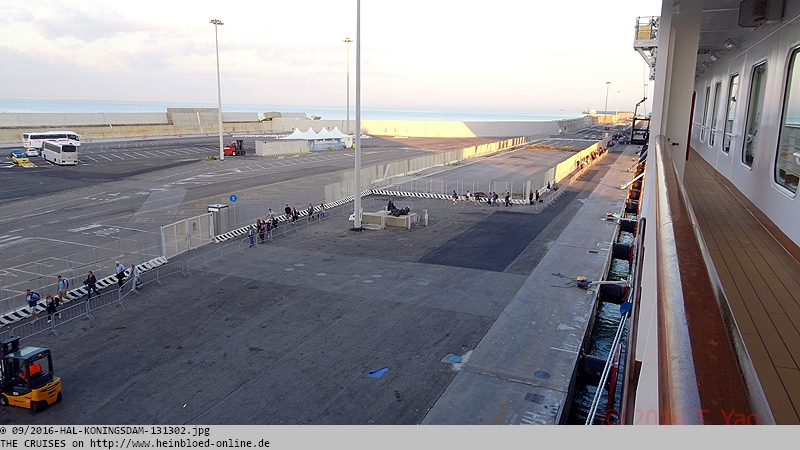 Behind us the JEWEL OF THE SEAS: their guests had long ways to walk from the ship to the terminal.

We were quite facing the the city. Close by.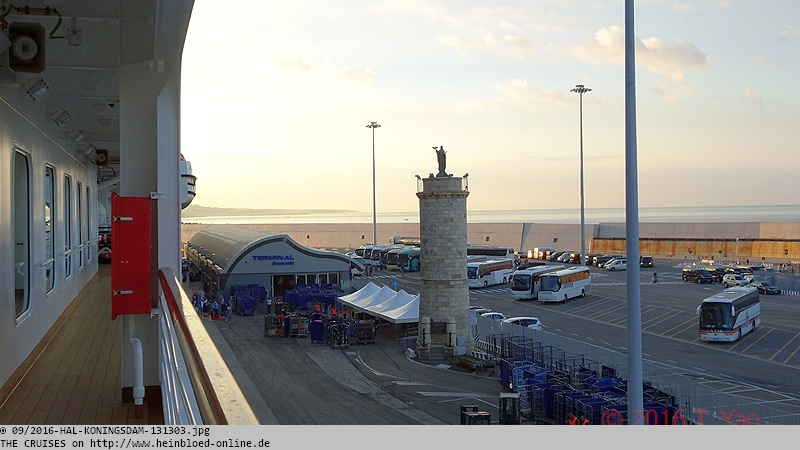 Wir sind doch ziemlich weit vorne. Stadtnah.
Welcher Schutzpatron mag das sein? Nikolaus?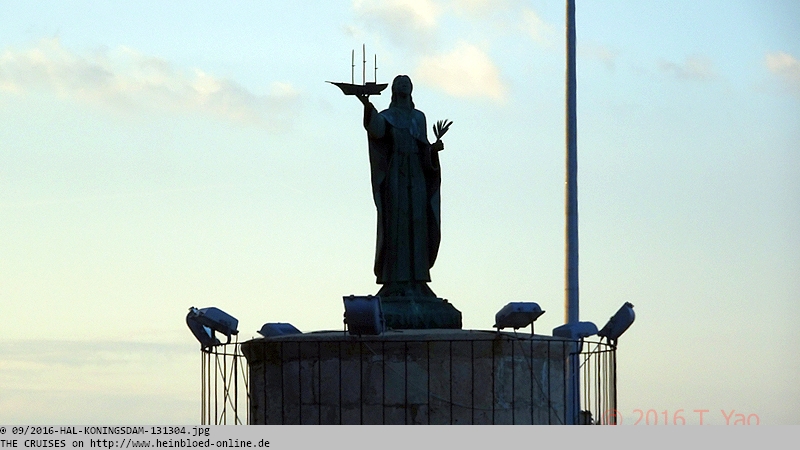 Which protection patron might it be? Nicolas?

Sigi and Bruno made it to outside.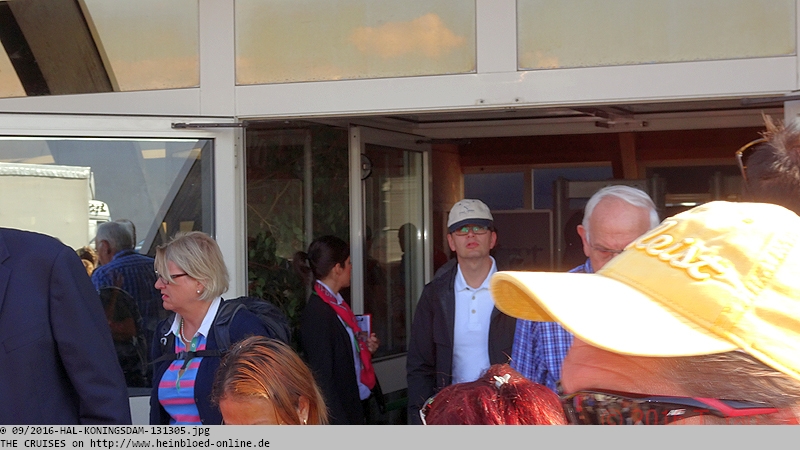 Sigi und Bruno sind draußen.
Wir haben dieses Mal mit
NCC Airport
gebucht. Sie bieten Sammelfahrten mit einem Fahrplan an. Allerdings waren wir die letzte Abfahrt und der Fahrer konnte nicht mehr länger warten. Sonst wird man auf den nächsten durchgereicht. Es geht aber alles gut. Wir müssen auch am Busbahnhof für den Hafenverkehr raus. Da man in Civitavecchia neuerdings ja nicht mehr in der Stadt rauskommt, wenn man den Hafen verlässt, muss nun Hertz seine Kunden abholen. Das wäre noch die Alternative gewesen, wenn wir den Shuttle verpasst hätten.

We booked this time with NCC Airport. They offered shared transfers with a scheudule. But that was the last departure and the driver could not wait any longer. Otherwise we were transfered to the next. But it went well. We had also to exit at the bus terminal for the for port traffic. As you cannot get out anymore directly at the city center in Civitavecchia, Hertz need to offer a pick-up service. That might me an alternative in case we missed the shuttle.

I dislike to fly Ryanair. But all other went two hours earlier or later. And the airport Fiumicino-Leonardo da Vinci did not invite for a longer stay there around. In the Ryanair-Terminal 2 we chould directly check it at the Business Plus counters. We booked a little too much baggage but otherwise it would become unaffordable. We used the time until boarding to have some coffee and some fresh fruits.

Ich fliege überhaupt nicht gerne
Ryanair
. Aber die anderen wären erst zwei Stunden früher oder später geflogen. Und der
Flughafen Fiumicino-Leonardo da Vinci
lädt nicht unbedingt zum Verweilen ein. Im Ryanair-Terminal 2 können wir direkt am Business Plus-Schalter einchecken. Wir haben ein wenig zu viel Gepäck bestellt, aber sonst wäre das ja wieder unbezahlbar geworden. Die Zeit bis zum Boarding nutzen wir, um noch einen Kaffee uns zu gönnen und etwas frisches Obst.
Business Plus bei Ryanair... Bevorzugtes Boarding hieß, dass wir 20 Minuten alleine im Bus saßen, bevor dann alle anderen doch in den gleichen Bus eingestiegen sind. Wir hatten ja schon die Bulkhead-Reihe, aber trotz allem macht der Flug wenig Spaß.

Business Plus with Ryanair... Prefered boarding meant that we sat by ourselves for 20 minutes in the bus before all others boarded the same bus. We had already our bulkhead-row but the flight was less fun.

Arrival in Barcelona. Paradise for shipspotter: in the morning in Civitavecchia and now here.

Ankunft in Barcelona. Paradies für Shipspotter: morgens in Civitavecchia und nun hier.
Und später nochmals im Hafen MEIN SCHIFF 5.

And later in the port too MEIN SCHIFF 5.

CRYSTAL SYMPHONY.

CRYSTAL SYMPHONY.
NORWEGIAN SPIRIT.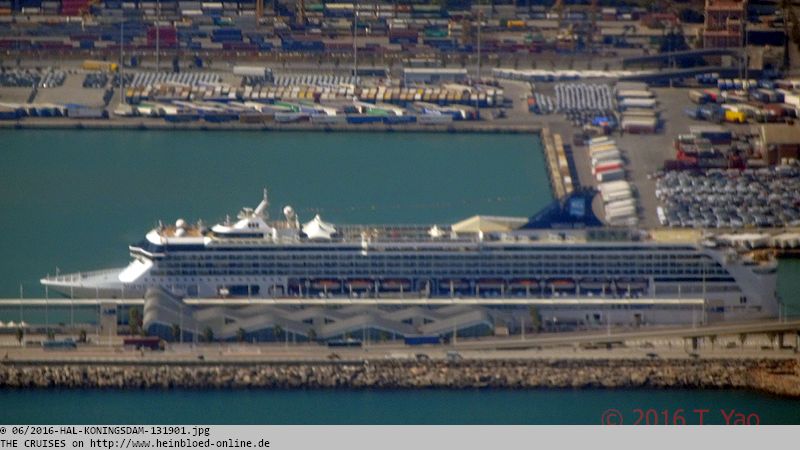 NORWEGIAN SPIRIT.

My favorite ship of NORWEGIAN. But unfortunately meanwhile a little overpriced.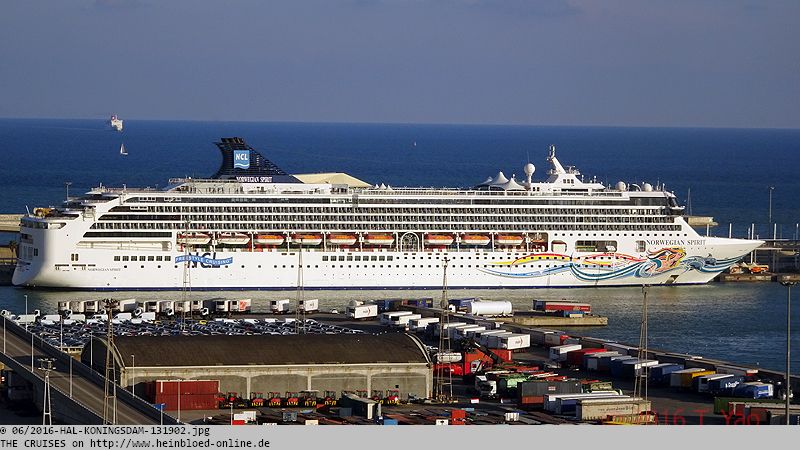 Mein Lieblingsschiff von NORWEGIAN. Nur leider mittlerweile total überteuert.
Ob Armando als Hoteldirektor an Bord ist?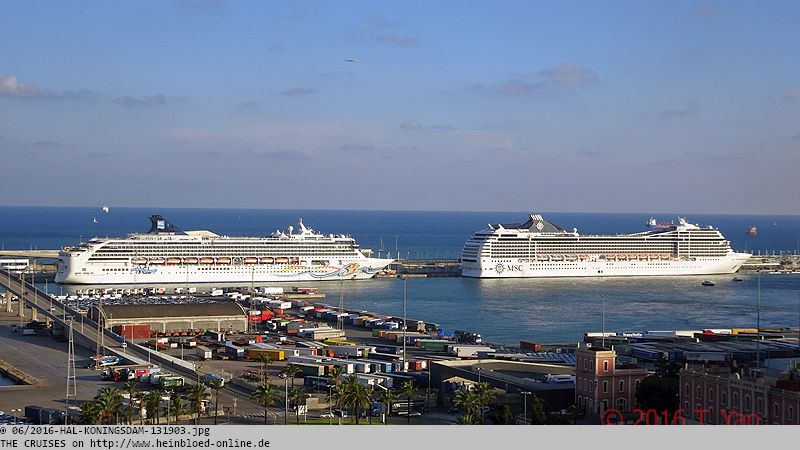 Wondering if Armando was Hotel Director on board?

Last time we were on with our parents (Bruno's and my) and my landlords Karl-Heinz and Käthe and that was a voyage with many friends like Frances and Eddie, Marc and his mother Holde, Karin, Christine and Axel. Was a great voyage then: see Blog 2013.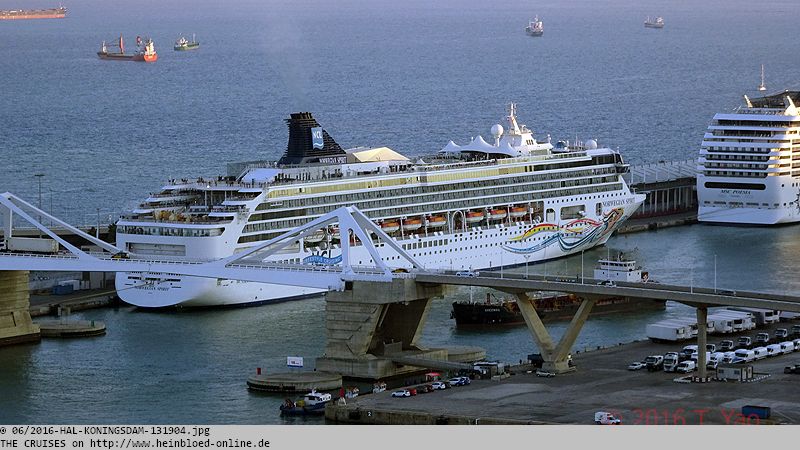 Zuletzt waren wir hier mit unseren Eltern (Brunos und meine) sowie meinen Vermietern Karl-Heinz und Käthe und das war eine Reise mit sehr vielen Freunden, wie Frances und Eddie, Marc und seine Mutter Holde, Karin, Christine und Axel. Es war eine tolle Reise damals: siehe
Blog 2013
.
MSC POESIA.

MSC POESIA.

AIDAblu.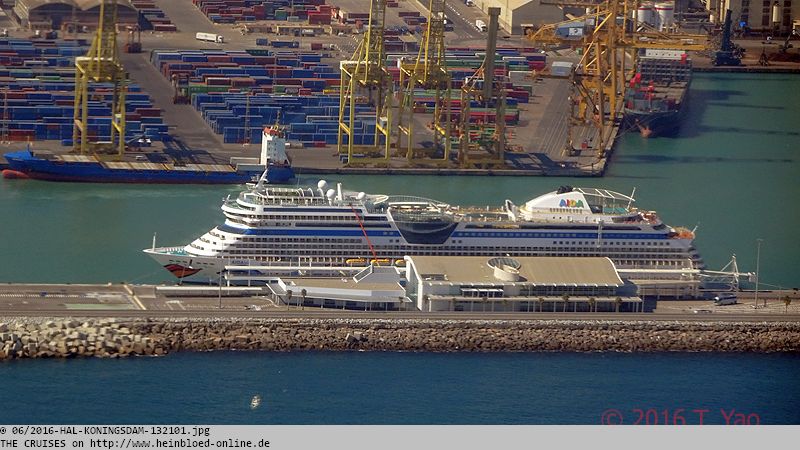 AIDAblu.
Später nur noch bei der Ausfahrt.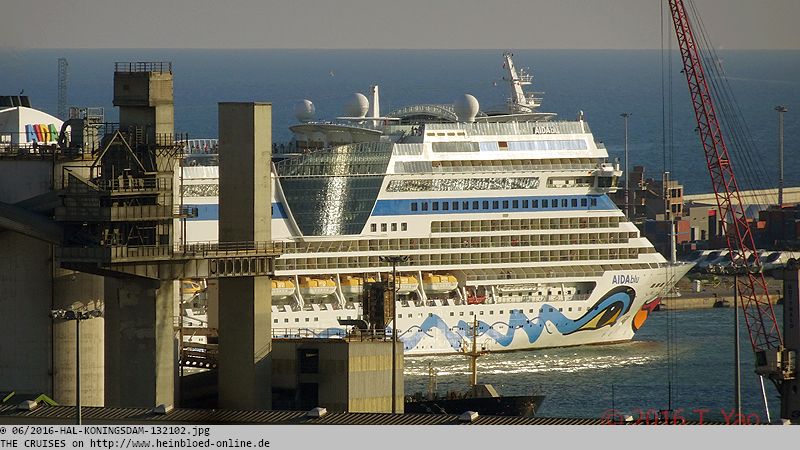 Later when she was leaving.

That was somehow bad in Barcelona. The port fascilities which were based in between.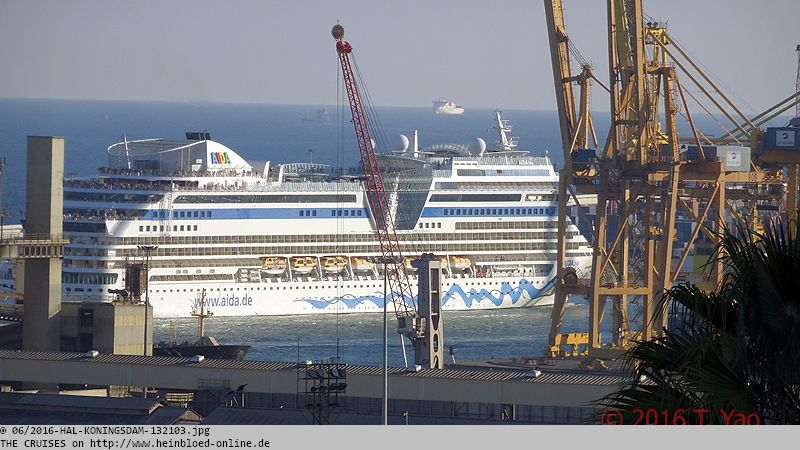 Das ist leider etwas schlecht in Barcelona. Die Hafenanlagen, die dazwischen stehen.
Nur von oben THOMSON DISCOVERY.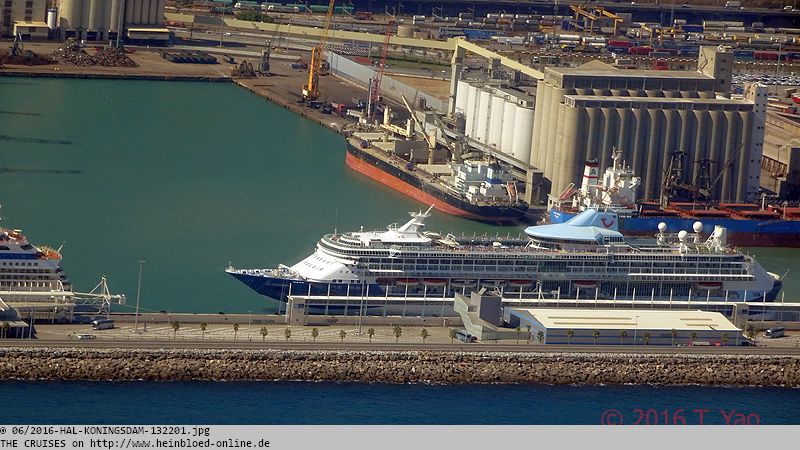 Only from the top THOMSON DISCOVERY.

And gone.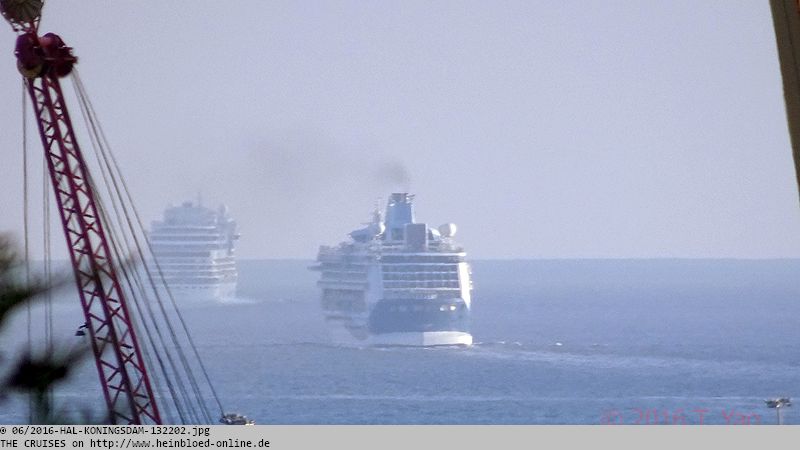 Und weg ist sie.
Zurück zur Ankunft am Terminal 2 des
Flughafen El Prat
. Leider kommt Ryanair hier an. Wir müssen daher zum Terminal 1. Von hier fährt die neue Metro und von hier fliegen wir auch wieder ab. Deswegen müssen wir zunächst mit dem
kostenlosen Shuttlebus
zum Terminal 1.

Back to our arrival at terminal 2 of El Prat Airport. Unfortunately Ryanair arrived here. So we need to change to Terminal 1. From here the new metro and our flight onward will start. So we need to take the free shuttle bus to Terminal 1.

We left two bags at the baggage storage. 10.00 EUR/piece and day. With two days and two bags it was not worth anymore. You could take a taxi and store in your hotel.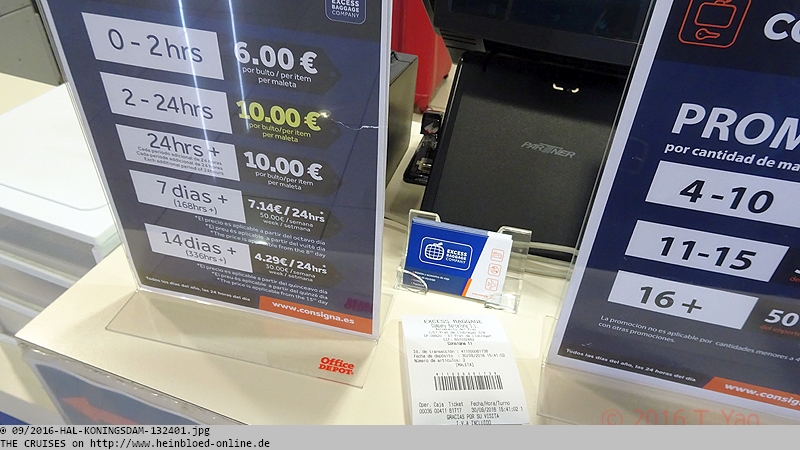 Wir geben hier zwei Gepäckstücke in der
Gepäckaufbewahrung
ab. 10,00 EUR/Stück und Tag. Bei zwei Tagen und zwei Gepäckstücken lohnt es sich eigentlich nicht mehr. Da kann man genauso gut ein Taxi nehmen und im Hotel lagern.

Bei
Barcelona Smart Moving
haben wir drei 3-Tages-Karten für die öffentlichen Verkehrsmittel inkl. Flughafen U-Bahn im Voraus gekauft. Ist billiger (2017 19.08 EUR statt 21.20 EUR)! Man holt die Tickets direkt am Automaten ab. Einfach die Buchungsreferenz eingeben. Und schon bekommt man die Karten. Wichtig: für die Nutzung der S-Bahn (
Cercanias R2 Nord ab Terminal 2 zum Bahnhof Sants und in die Innenstadt
) gelten die "normalen" Fahrkarten. Für die Nutzung der U-Bahn (Metro 9 Sud) braucht man
Flughafenkarten
. Die
Linie 9 Sud
(derzeit noch nicht durchgebunden mit Linie 9 Nord) fährt leider nicht in die Innenstadt. Außerdem darf man mit dem Verbundtarif nicht am Bahnhof Europa / Fira zur FGC-Vorortbahn umsteigen, um schnell in die Innenstadt zu kommen. Man muss daher weiterfahren, um dann in die U-Bahn umzusteigen. Wir steigen an der Haltestelle
Collblanc
aus. Von hier aus könnten wir mit der
Linie 5
weiter zur Innenstadt. So viele Rolltreppen bin ich noch nie hochgefahren. Unser Hotel liegt allerdings am Ausgang der Linie 5.

With Barcelona Smart Moving we pre-bought a 3-days-pass for the public transport incl. airport-metro. It was cheaper (2017: 19.08 EUR instead of 21.20 EUR)! We just collected the tickets at the machine. Just enter the booking reference. And quickly you get your tickets. Important: for the use of the commuter train (Cercanias R2 Nord from Terminal 2 for Sants Station and the city center) you can use the "standard" tickets. For the use of the subway (Metro 9 Sud) you need special airport tickets. The Line 9 Sud (currently not yet attached with Line 9 Nord) does not call the city center. Furthermore you are not allowed to change at Europa / Fira into the commuter trains of FGC to get quickly to the city center. You had to head on to change to another metro-line. We get off at Collblanc stop. From we could head on by Line 5 to the city center. I never used before so many escelators. Our hotel was located at the end of the Line 5 exists.

We stayed two night at Hotel Madanis Liceo. Booked because of the location: connected at metro to airport and city center and affordable those days. But it is not suitable for everyone: the front desk is based in a different building same block but just diagonal i.e. you had to walk with all your bags there and back. Die first floor you cannot reach with an elevator. The rooms were clean. But they did not check if everything was working properly.

Wir wohnen zwei Nächte im
Hotel Madanis Liceo
. Gebucht wegen der Lage: direkt mit der Metro zum Flughafen und in die Innenstadt und bezahlbar in diesen Tagen. Allerdings ist es nicht unbedingt für jedermann geeignet: die Rezeption ist in einem anderen Gebäude diagonal des Wohnblocks, d. h. man muss immer erst mit dem gesamten Gepäck dahin und wieder zurücklaufen. Die erste Etage muss man ohne Aufzug überwinden. Das Zimmer ist sauber. Aber es wird nicht immer auch geprüft, ob alles in Ordnung ist.
Wir haben ohne Frühstück bestellt. Drei Häuser ist die Bäckerei Forn Rovira. Hier bekommen wir alles, was unser Herz begehrt. Für sehr wenig Geld. Und es ist sehr viel näher als zum anderen Hotelgebäude zu laufen.

We did not book with breakfast. Three houses apart there was a bakery Forn Rovia. Here you could get everything your heart wanted to have. For just a little money. And it was much more closer than walking the other hotel building.

We took the early flight to meet friends from the US for dinner. But they still had jet lag so that we move by ourselves short-notice. We started with a cocktail at Martinez. Before my favorite place to do shipspotting... and then Martinez moved into the empty building and placed a fence around the terrace. They were setting the tables for dinner while we were sitting on the terrace. I had never seen before someone carrying so many glasses at once.

Wir sind so früh geflogen, weil wir Freunde aus den USA zu Abendessen treffen wollten. Die sind aber wegen des Jet Legs so müde, dass wir kurzerhand alleine losziehen. Wir beginnen mit einem Cocktail bei
Martinez
. Früher mein Lieblingsort zum Shipspotten... und dann ist Martinez in das leerstehende Gebäude gezogen und hat die Terrasse abgezäunt. Sie decken für das Abendessen, während wir auf der Terrasse sitzen. So viele Gläser haben wir auf einmal noch nie jemanden tragen sehen.
Wir haben Glück, dass wir die letzte
Seilbahn Aeri del Port
bekommen. Wir haben Pech, weil die Mittelstation Jaume II derzeit geschlossen ist und weil das Personal so unfreundlich ist und mich nicht mal für wenige Sekunden noch ein paar Aufnahmen machen lässt.

We had luck that we got the last rope care Aeri del Port. We had unluck that the stop in the middle Jaume II was currently closed and the staff was very unfriendly and did not allow me to take pictures for few seconds.

We went to the beach of Barcelonata. Here we had luck to enjoy a wonderful sunset. So we browsed a little around and were watching what others were doing.

Wir sind am Strand von Barcelonata. Hier erwartet uns ein schöner Sonnenuntergang. So gehen wir hier noch ein wenig spazieren und gucken dem Treiben zu.
Langsam wird es dunkel und wir haben Hunger. Hier ist alles touristisch. Es gibt hier sehr viele Restaurants, in denen es Paella aus der Tiefkühltruhe gibt. Wir gehen weiter bis zum
Cal Pinxo
. Es war in Ordnung, auch wenn es ziemlich teuer war für die Leistung war. Wir sind nicht verhungert und hatten auch keine Lebensmittelvergiftung. Die Lage ist sehr schön: in einem alten Lagerhaus, das heute das
Museum für katalanische Geschichte (Museu d`Història de Catalunya)
beherbergt. For the better restaurants according to Tripadvisor we need to walk back to the rope car station. Aber wir sind Touristen im Urlaub.

Slowly it became dark and we become hungry. Here everything was very touristic. You had here many restaurants you get Paella (Spanish rice dish) from the freezer. We went on to Cal Pinxo. It was ok even it as overpriced for the performance. We did not die on hunger and had no food poisining. The location was very nice. In an old storage building which accomodate today the HMuseum of Catalan History (Museu d`Història de Catalunya). Für die besseren Restaurants in Barcelonata lt. Tripadvisor hätten wir wieder zur Seilbahn zurücklaufen müssen. But we were tourists on vacation.

We went again to Montjuic to have here a wonderful view of the city and the port.

Wir fahren nochmals kurz am Montjuic raussetzen, damit wir hier nochmals den Hafen und die Innenstadt von oben sehen.
Es geht weiter zum
MNAC (Museu Nacional d'Art de Catalunya)
. Wir haben heute Abend Glück. Seit vielen Jahren kommen wir nach Barcelona. Aber noch nie haben wir es geschafft, die
Zauberbrunnen
zu sehen. Heute sind wir zufällig zum richtigen Zeitpunkt am richtigen Ort. Es ist sehr voll. So bewegen wir uns mit der Show immer weiter runter. Trotzdem ein tolles Erlebnis, das mal live erlebt zu haben. Ein schöner Abend geht zu Ende.

We headed on to MNAC (Museu Nacional d'Art de Catalunya). We had luck that night. So many years we came to Barcelona. But we never made it to see the Magic Fountains. That night we were at the right time at the right place. It was only jampacked. So we moved with the show more and more downwards. Even thus it was a great experience to have it seen live by ourselves. A very nice evening came to the end.