Ich buche am liebsten direkt bei den Fluggesellschaften. Manchmal kommt es aber vor, dass ich so einen ungewöhnlichen Open-Jaw brauche, das man besser in einem Reisebüro bucht, wie z. B.
Expedia
. Allerdings mag ich sie trotzdem nicht! Der Kundenservice ist gleich Null! Zwei Tage vor Abflug kommt mitten in der Nacht eine Mail, dass unser Hinflug nach Amsterdam gestrichen ist. 00.51 Uhr - was jetzt? So schnell wach bin ich um diese Zeit selten. Ich komme auch nicht auf die Lufthansa App auf meinem iPhone. Jetzt schalte ich auf Panik-Modus. Ich will doch bloß nachsehen, ob mein Flug geht. Also fahre ich meinen Rechner hoch: Oh nein!!! Auch
Lufthansa
ist nicht erreichbar. Ich versuche es mal auf der Facebook-Seite von Lufthansa. Dort ist der Fehler nicht bekannt. Also rufe ich das Call-Center an: Alles gut!!! Mein Flug geht. Ich habe bei Lufthansa für ein
Upgrade geboten
! Für das Minimum 60,00 EUR pro Platz. Mehr war mir die Sache nicht Wert. Und ich habe den Zuschlag bekommen und in diesem Moment, wird dann die Buchung direkt ins Lufthansa-System überführt. So kann ich beruhigt weiterschlafen. Übrigens obwohl ich bereits mein Gebot abgegeben habe, versucht Lufthansa über Bruno ein teureres Upgrade per E-Mail anzubieten. Zum Glück hat er das nicht angenommen.

I prefer to book directly with the airlines. Sometimes it could happen that I need an unusual open-jaw which you better book with a travel agent, like Expedia. But anyhow I dislike them! You have zero customer service! Two days before departure you got a mail in the middle of the night that our onward flight to Amsterdam was canceled. 00.51 hrs - what now? At this time of the day I barely wake up so quickly. I switched to panic-mode. No chance to get on Lufthansa's App on my iPhone. I just wanted to check if my flight will be operated. So turned on my netbook: oh no!!! Lufthansa was not available either. I tried it on the Facebook side of Lufthansa: error unknown. So I called the call-ceneter: everything was fine!!! My flight will operate. I bid for an upgrade with Lufthansa! For the minimum of 60.00 EUR per seat. More it was not worth to pay. And my bid was accepted and in this moment they transfered the booking to the Lufthansa system. So I could calm down and continued to sleep. By the way: while I already made a bid Lufthansa tried to offer Bruno a more expensive upgrade by e-mail. But we had luck as he did not accept it.

The next morning I would like to check what was going... but it still did not work.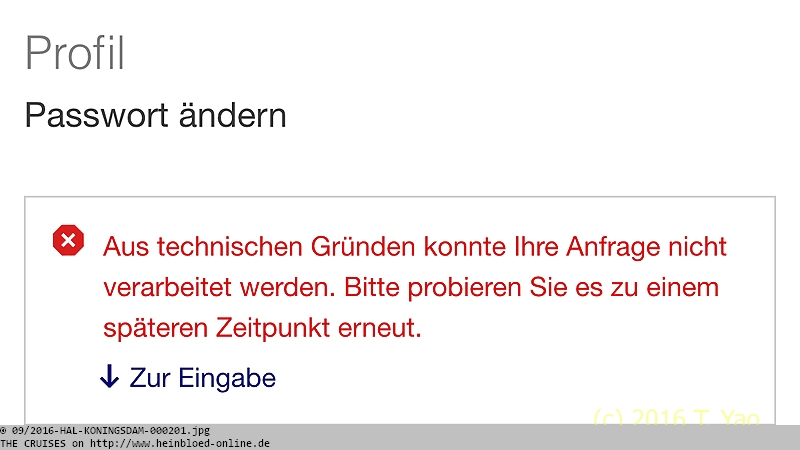 Nun würde ich ja gerne am nächsten Morgen doch mal ein wenig nachsehen... aber es geht immer noch nichts.
Ärgerlich: ich buche am liebsten Economy Classic, weil Standard-Sitzplatzreservierung und ein Gepäckstück frei sind. Damit man mit den niedrigsten Preisen werben kann, bietet Expedia ausschließlich Economy Light-Tarife an. Daher musste ich extra für die Sitzplatzreservierung zahlen. Wegen des Upgrades bekomme ich allerdings die 20,00 EUR für Frankfurt - Amsterdam nicht zurück.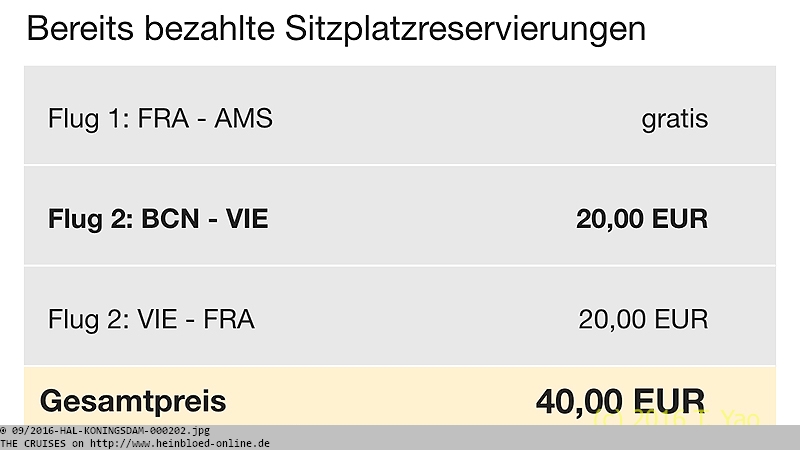 Very angry. I prefer to book Economy Classic because seat-assignment and one bag are free. To promote with the cheapest price Expedia exclusively offeres Economy Light-fares. So you need extra to pay for seat-assigment. Due to the upgrade I did not get my 20.00 EUR for Frankfurt - Amsterdam refunded.

When I finally got in the next surprise was waiting: my paid baggage did not appear anymore in my booking. Even with an upgrade the baggage rule at time of booking will not change. So you do not get for 60.00 EUR 2 x 50 lbs. for free.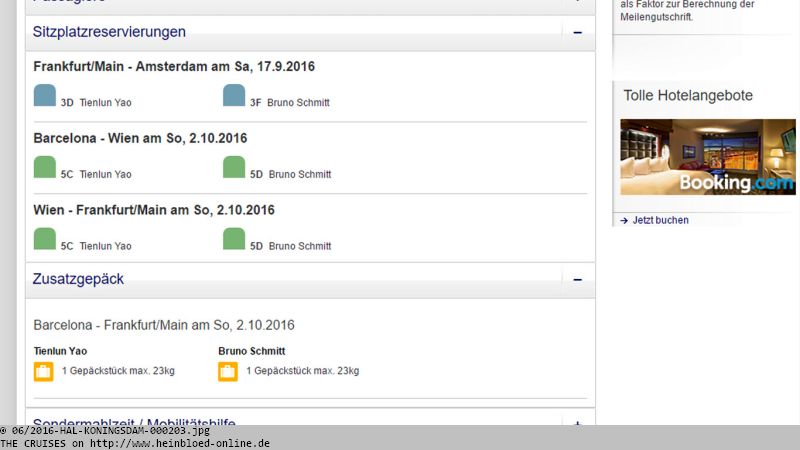 Als ich endlich reinkomme, wartet die nächste Überraschung: mein bezahltes Gepäck erscheint nicht mehr in der Buchung. Trotz Upgrade gilt nämlich: die Gepäckregelung ändert sich nicht. Man hat nicht auf einmal für 60,00 EUR 2 x 23 kg frei.
Endlich am Flughafen... der Gang vom Parkhaus zum Terminal 1 voll in Opels Hand: ich soll Basketball spielen und 30 cm größer sein als Michael Jordan???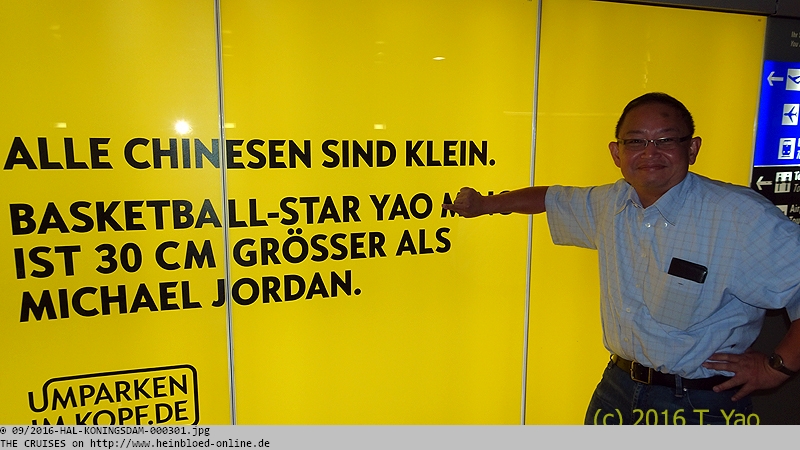 Finally at the airport... the gangway from the parking deck to Terminal 1 was dominated by Opel (GM's German subsidiary): All Chinese are little. I should play basketball and one feet taller than Michael Jordan???

Anticipation for our destination Amsterdam: "Dutch are mostly high - but the consumption of marijuana is much more higher in other European countries".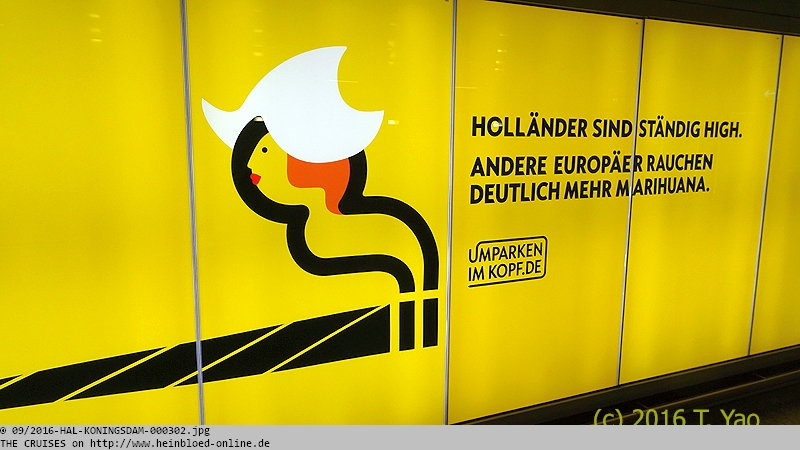 Wir stimmen uns auf unser Ziel Amsterdam ein.
Manchmal läuft es in der Schweiz bei der Arbeit doch zu ruhig.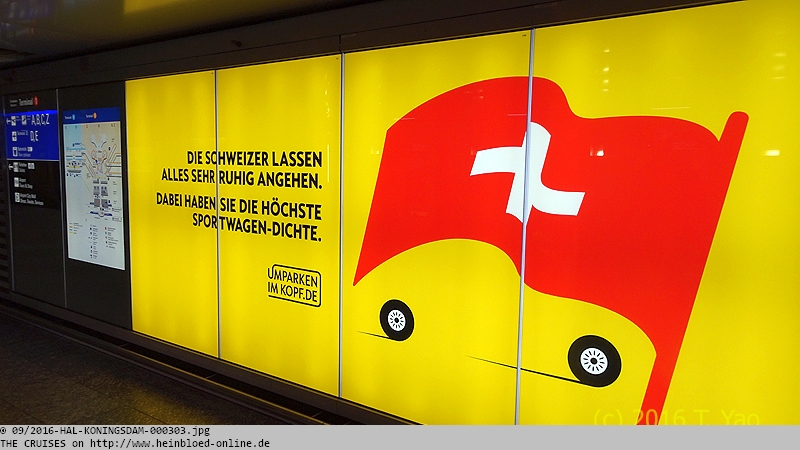 Sometimes working in Switzerland runs too calm: "Swiss like to have things running calm. Switzerland has the highest ratio of sport cars."

Another time we tried to use HomeTag. Last time we printed everything and they had no tag holders. This time we made to get some of the tag holders and learned at the counter that this did not work actually. We should remove everything and we get the classical. As expected we had trouble. MyOffer and upgrading against payment nobody knew at the check-in-counters and so they had problems how to handle the bags. Call with the supervisor was not successful at all. They did not know it really well. With their records they could not see anymore my "purchased" bags in their system. I was lucky to have printed out my receipts. The nice tag holders we still use for the ship. Very practical. Last minute we got seats 1A and 1C which were released shortly before departure for Non-Senators. At leaset we could carry two hand bags with us. 20 lbs. = 8 kgs??? But 20 lbs. are more than 9 kgs. If they check the weight: how do I prove that I have 20 lbs. and not 8 kgs??? We knew Ioana from our last flight to Singapore. So we need to visit her after our check-in at least to say hello. Knowing what might happen with us troublemaker she was wise enough to hide herself behind the Family Check-In-counter. There were were not allowed to go without kids. So she must not take care of our baggage problems. We were happy to see her and she was so too so she left her counter to enable one common picture. So our holiday could start again very nice like it did the last time.

Ein weiteres Mal versuchen wir
HomeTag
zu nutzen. Letztes Mal hatten wir alles ausgedruckt, aber da gab es die Hüllen nicht. Dieses Mal schaffen wir die Hüllen zu besorgen und erfahren am Schalter, dass es im Moment leider nicht funktioniert. Wir sollen sie wieder abmachen und wir bekommen die klassischen. Wie erwartet gibt es Schwierigkeiten: MyOffer und das Upgrade gegen Geld kannte keiner am Check-In-Schalter und so gab es auch Schwierigkeiten, wie nun mit dem Gepäck zu verfahren ist. Der Anruf beim Supervisor brachte auch nichts. Die wussten es auch nicht so richtig. Bei denen stand mein "gekauftes" Gepäck ja nicht mehr im System. Zum Glück hatte ich mal vorher die Rechnungsbelege ausgedruckt. Die schönen Hüllen für HomeTag können wir dann für das Schiff nutzen. Auch sehr praktisch. In letzter Minute haben wir dann doch noch die Sitze 1A und 1C bekommen, die für Nicht-Senatoren erst kurz vor Abflug freigegeben werden. Zumindest dürfen wir doch zwei Handgepäckstücke mitnehmen. 20 lbs. = 8 kg??? Aber 20 lbs. sind mehr als 9 kg. Falls nachgewogen wird: wie weise ich nach, dass ich die 20 lbs. habe und nicht die 8 kg??? Wir kennen Ioana ja noch von unserem letzten Flug nach Singapur. Deswegen müssen wir sie nach dem Einchecken kurz besuchen und zumindest mal Guten Tag sagen. Sie hat sich in weiser Voraussicht weil sie uns Problemkinder kennt, hinter dem
Family Check-In
Schalter barrikadiert. Da durften wir ohne Kinder nicht hin. So musste sie sich nicht mit unseren Gepäckproblemen befassen. Wir haben uns sehr gefreut und sie auch, dass kurz nach vorne gekommen ist und wir doch ein Bild machen konnten. So kann der Urlaub wieder so schön beginnen, wie beim letzten Mal.
Da wir ja schon für den Aufenthalt in der Business Class Lounge bezahlt haben (ohne FTL-Karte oder Upgrade: 40,00 EUR Einzelzutritt), müssen wir natürlich dort essen: Oktoberfest.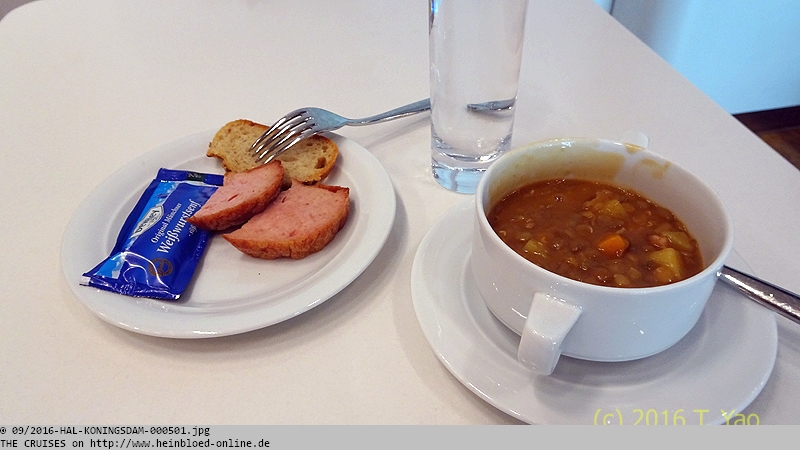 As we already paid for the stay in the Business Class Lounge (without FTL-card or upgrade: 40.00 EUR single admission) we must eat there: Oktoberfest.

Everything in white-blue.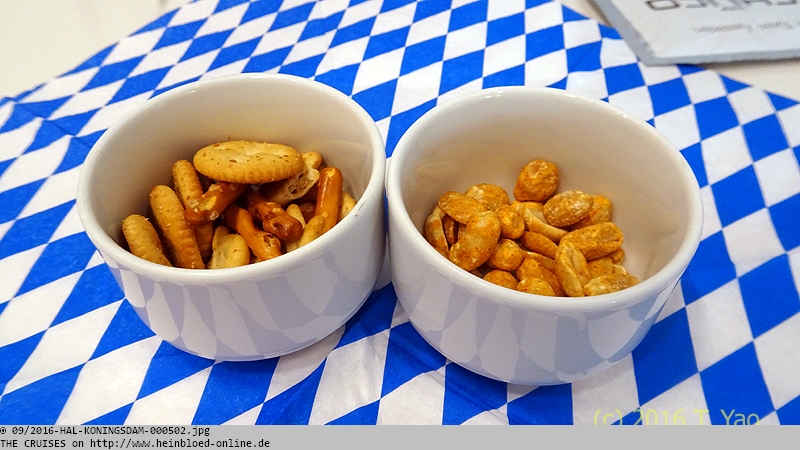 Alles in weiß-blau.
Eigentlich wollten wir heute Mittag bei
Hausmann's
essen.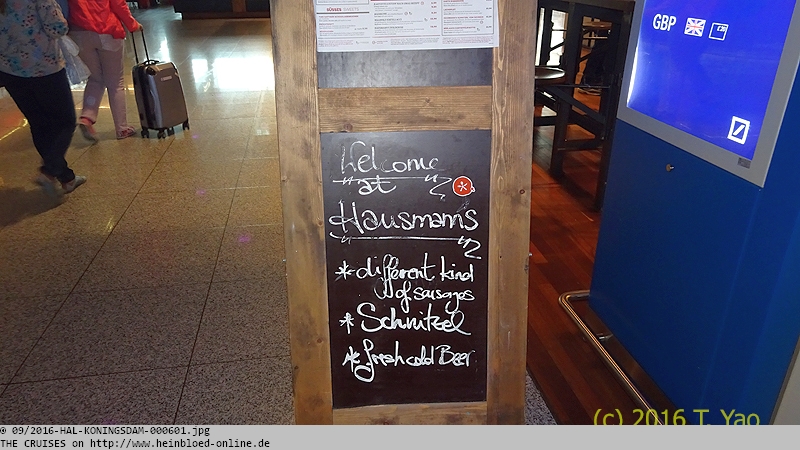 Originally we wanted to have lunch with Hausmann's.

Is located very central in Teminal 1 A Schengen-area just behind the security check and duty free shop.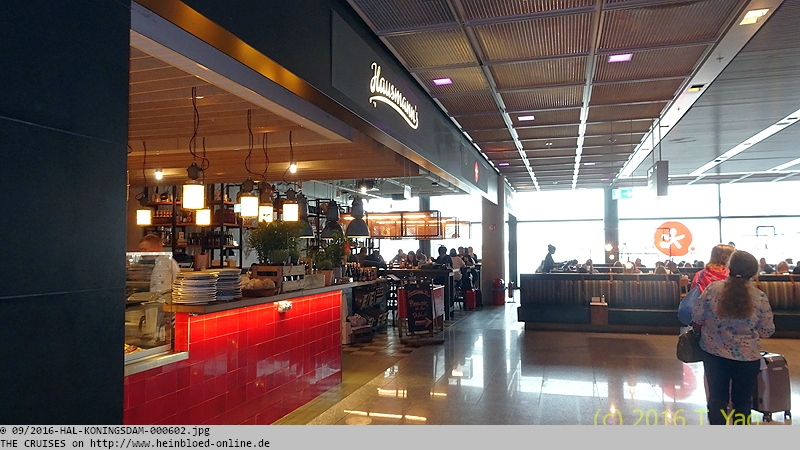 Ist schön zentral gelegen direkt Terminal 1 A Schengen-Bereich direkt hinter der Sicherheitskontrolle und Duty Free Shop.
Sieht nicht so nach den Groß-Ketten (es gibt derzeit nur zwei) aus, die mit Convenience beliefert werden.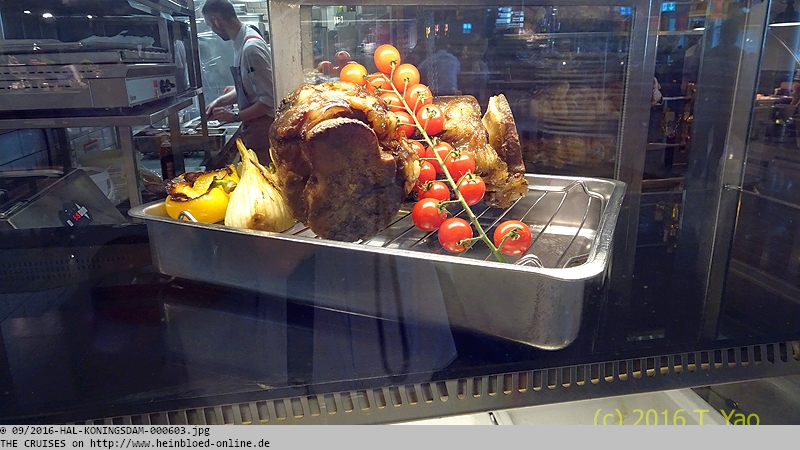 Did not look like the mega-chains (currently there are only two) which were supplied with convenience.

We checked the situation for our next flight: although we sould fly out of Terminal 1 B we could use the manual entry here with 1 A and after breakfast we could use the transit tunnel to 1 B.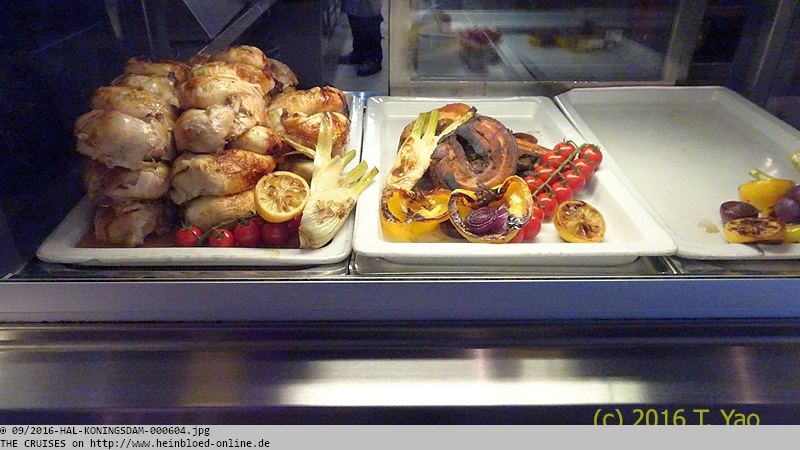 Wir haben uns schon mal für das nächste Mal erkundigt: obwohl wir ab Terminal 1 B fliegen, können wir durch den manuellen Zugang bei 1 A und nach dem Frühstück durch den Transittunnel zu 1 B.
Kostenlose Getränke wurden bei Lufthansa im Gatebereich abgeschafft. Nun steht dort ein kostenpflichtiger Nespresso Automat. Allerdings ohne George Clooney oder Jack Black.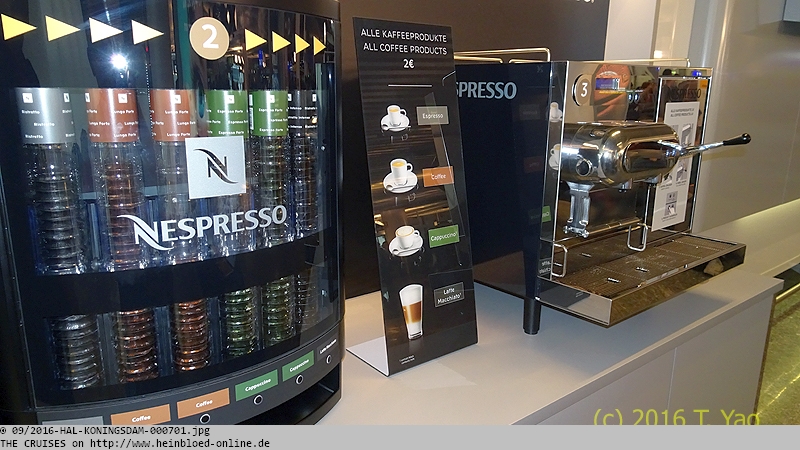 Free beverages in the gate area were withdrawn by Lufthansa. Now you have a Nespresso machine on charge. But without George Clooney or Jack Black.

Even with creditcard acceptance fo rthe international passengers without Euro-change.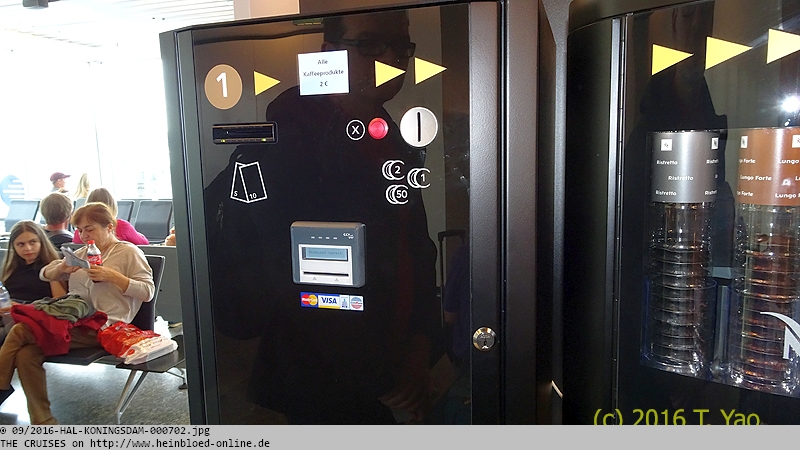 Sogar mit Kreditkartenannahme für die internationalen Fluggäste ohne Euro-Münzen.
Da der letzte Gast nur diese Brühe bekommt, lassen wir es lieber. Aber mit diesem Pad-Verfahren habe ich auch meine Schwierigkeiten.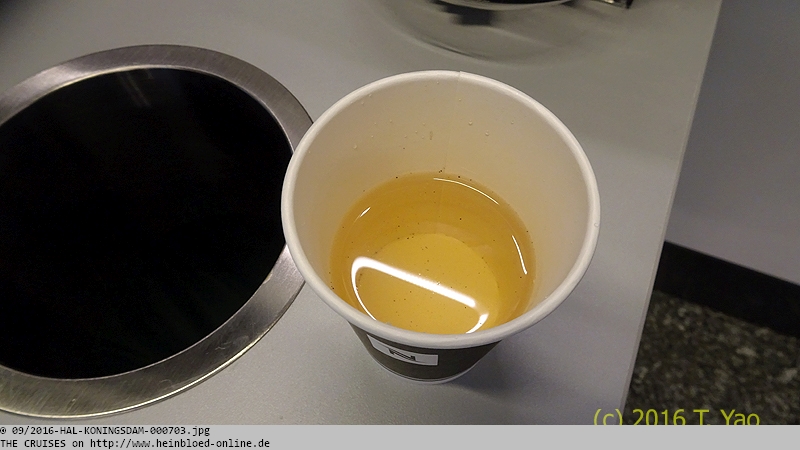 As the last guest only got this broth we leave it to try. But this those kind of pads I had troubles too.

We had an appointment at the Amsterdam airport. So we were in trouble because of the slight delay. Especially if you check the different media of Lufthansa: App or mobile version: different information. How should we rate the flight? Now we got for 60.00 EUR our space. Not alone but two are sharing the vacant center seat. Nice view and a little yummy food. Interesting: Lufthansa changed from coffee cups with handles to coffee-to-style-cups made of China. So they must walk all the time around to offer a refill.

Wir sind in Amsterdam am Flughafen verabredet. Deswegen haben wir schon Probleme mit der leichten Verspätung. Vor allem, wenn man die unterschiedlichen Medien von Lufthansa nimmt: App oder mobile Version: unterschiedliche Informationen. Wie sollen wir den Flug beurteilen? Nun haben wir für 60,00 EUR unseren Freiraum. Nicht alleine, aber zu zweit teilen wir uns den freien Mittelsitz. Interessante Aussichten und ein wenig leckeres Essen. Interessant: Lufthansa hat von Tassen auf Kaffeebecher umgestellt, aber aus Porzellan. So müssen sie nicht so oft durchlaufen, um nachzuschenken.
Die Schalter der Autovermietung finden wir sehr schnell. Aber den Weg zum Parkhaus. Ewig.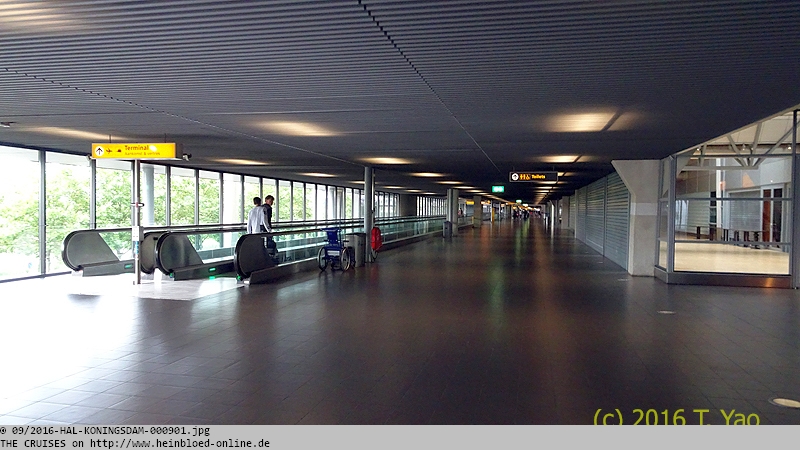 The counters of the car rentals were easy to find. But the way to the parking. Eternal long way.

I had the impression as long as I have already walked I should be soon in the city center of Amsterdam. Worse was only Rome-Fiumicino Leonardo da Vinci.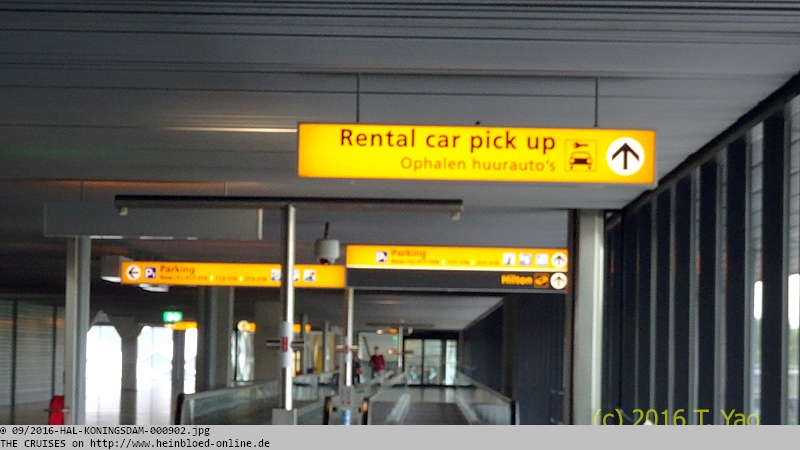 Ich habe den Eindruck, dass wir mittlerweile schon zu Fuß in der Innenstadt von Amsterdam sind. Schlimmer war zuletzt es nur in Rom Fiumicino-Leonardo da Vinci.
Wir haben über
ADAC Autovermietung
bei Sixt gebucht. Der Mietwagen plus Hotel außerhalb von Amsterdam war sehr viel günstiger als Zug plus Hotel am Kreuzfahrtterminal (an dem Abend 260 EUR).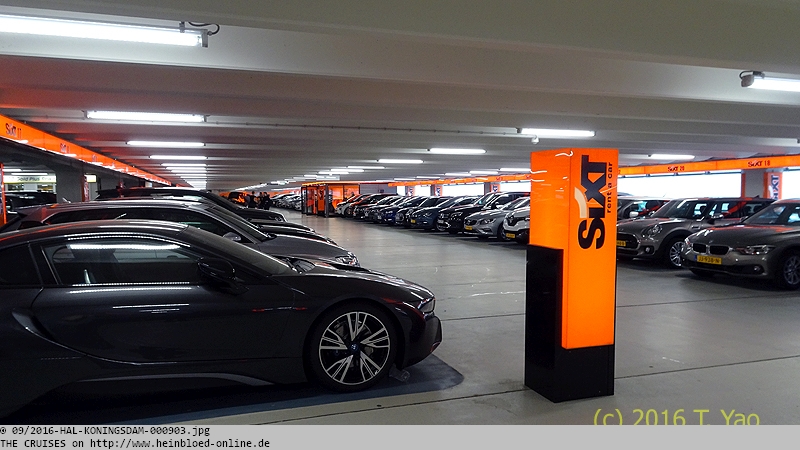 We booked the car with ADAC Autovermietung (like AAA car rental) for Sixt. The car rental plus hotel outside of Amsterdam was much cheaper than train plus hotel at the cruise terminal (that night was about 300 USD).

We got a Ford Focus Station Car. Hope it would be sufficient enough for us three.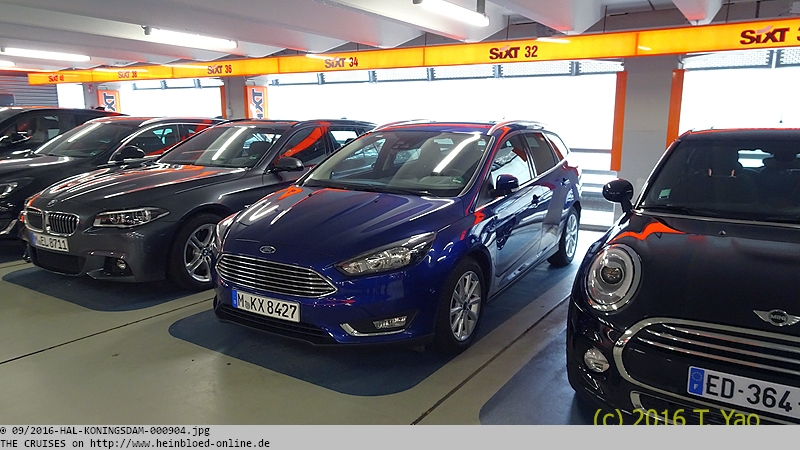 Wir haben einen Ford Focus Kombi bekommen. Das reicht hoffentlich für uns drei.
Ich verabrede mich am liebsten in Cafés mit Bedienung. Wenn jemand zu spät ist, kann der andere einfach bei einer Tasse Kaffee sitzen und warten. Deswegen gehen wir zum
Café Rembrandt
.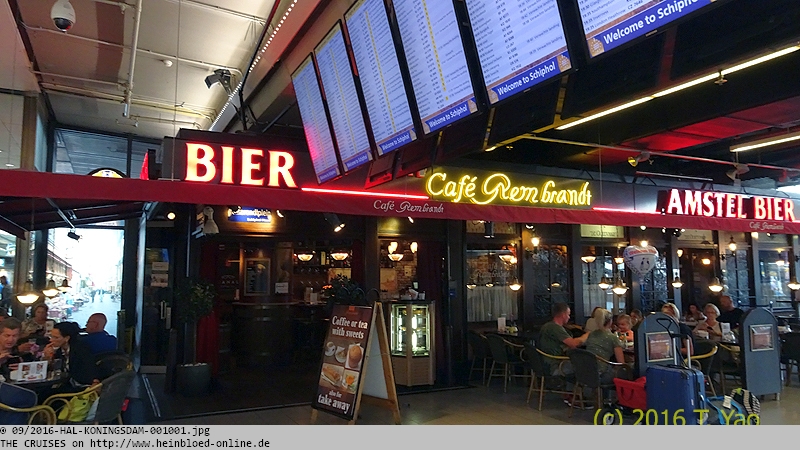 I prefer to meet someone in an European style café with service at the table. If someone is late you can just sit there, wait and sip a cup of coffee. So we were appointed at Café Rembrandt.

We met here Ine who we knew from cruisecritic.com. Personally she surprised me on EURODAM in 2008. And once we met before in Zaandam. When she heared that we supposed to be here again she was willing to meet us at the airport to exchange experiences, future cruises on her list and on our list.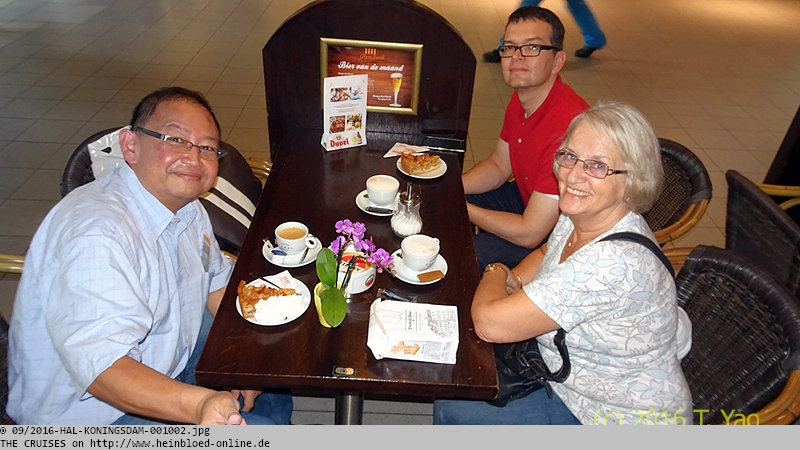 Wir treffen hier Ine, die wir von
cruisecritic.com
her kennen. Persönlich hat sie mich auf der EURODAM 2008 überrascht. Und einmal haben wir uns auch schon in Zaandam getroffen. Als sie hört, dass wir wieder da sind, kommt sie gerne zum Flughafen, damit wir uns mal wieder austauschen können, was wir auf unserer Liste haben und was man noch so auf seine Liste packen kann.
In den Niederlanden obligatorisch: ein Stück Apfelkuchen mit Sahne.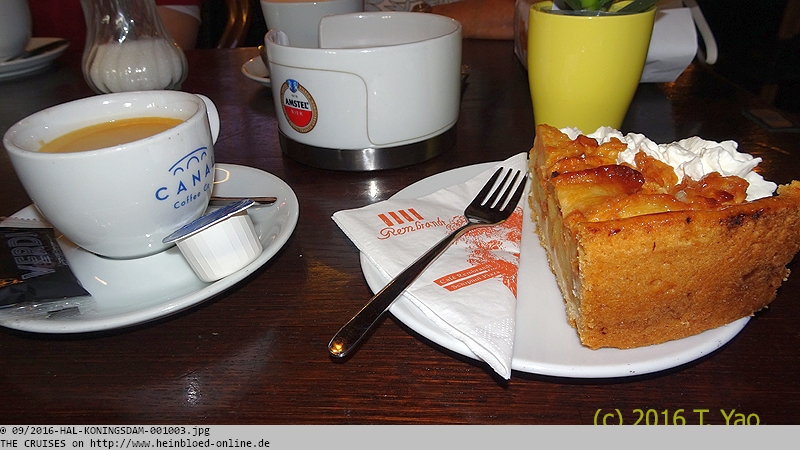 Mandantory in the Netherlands: a piece of apple pie with whipped cream.

A nice meeting came to the end.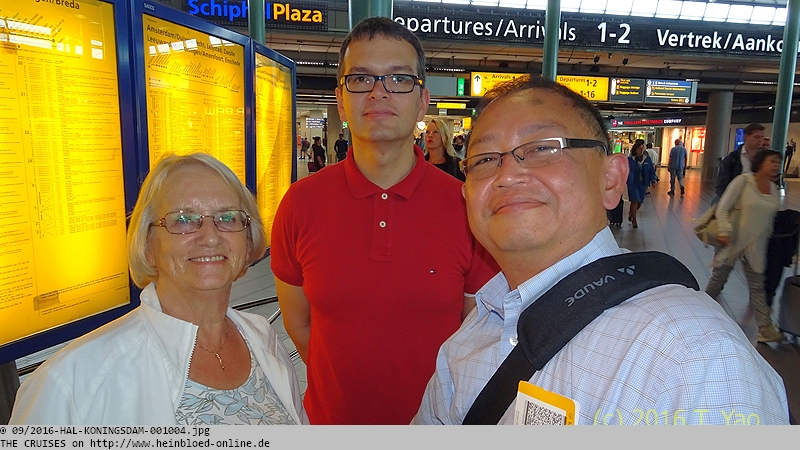 Ein schönes Treffen geht zu Ende.
Wir laufen noch ein paar Minuten herum. Der Bahnhof, der sehr zentral in der Ankunftshalle ist.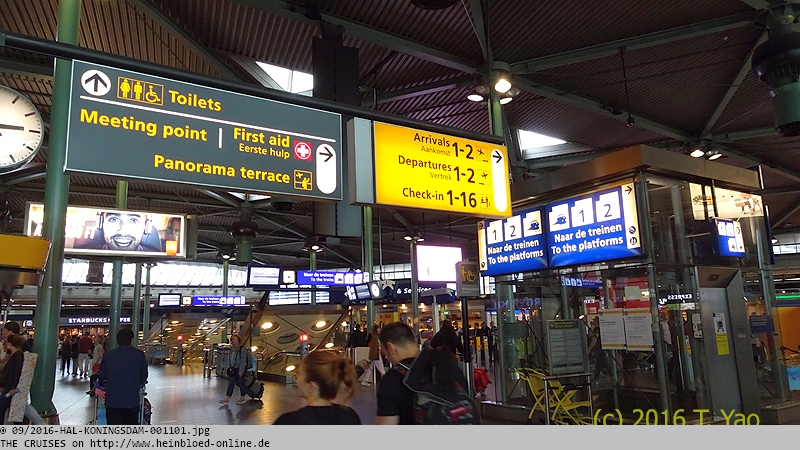 We walked around for few minutes. The train station is located centrally in the arrival hall.

And in front of the hall the giant "

I am

sterdam" - the official slogan of the tourist board.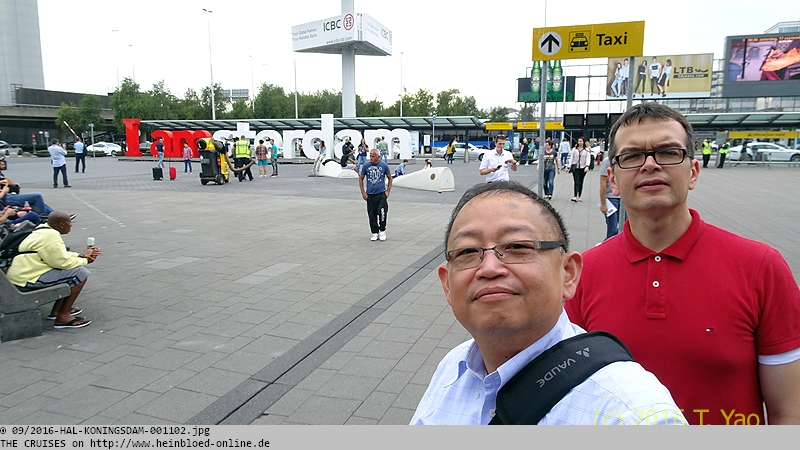 Und vor der Halle das große "
I am

sterdam
" - der Slogan der Tourismuszentrale.
Noch reicht die Zeit für einen frisch-gepressten Saft in der
Juggle Juice Bar
.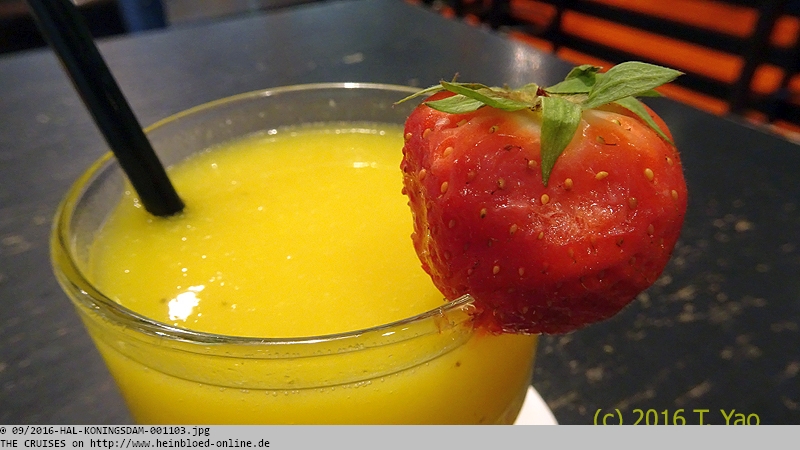 Still we had time for a freshly-squeezed juice in the Juggle Juice Bar.

From here we could easily observe the exit out of the baggage claim area.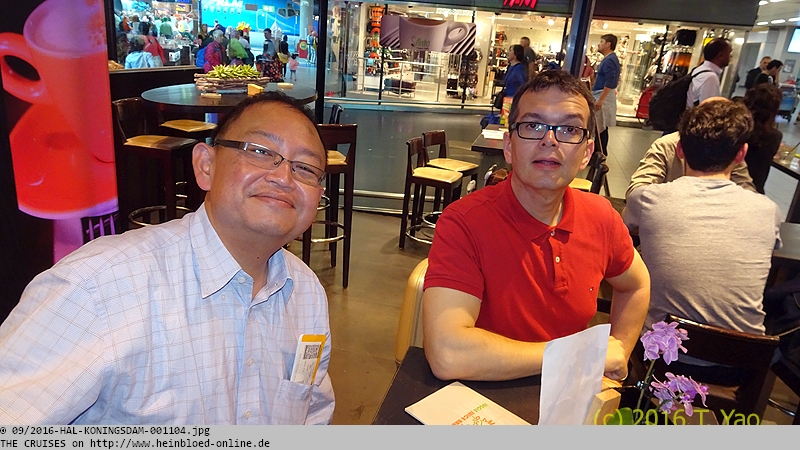 Von hier aus können wir direkt auf den Ausgang aus der Gepäckausgabe gucken.
Hier können wir entspannt die Verspätung abwarten.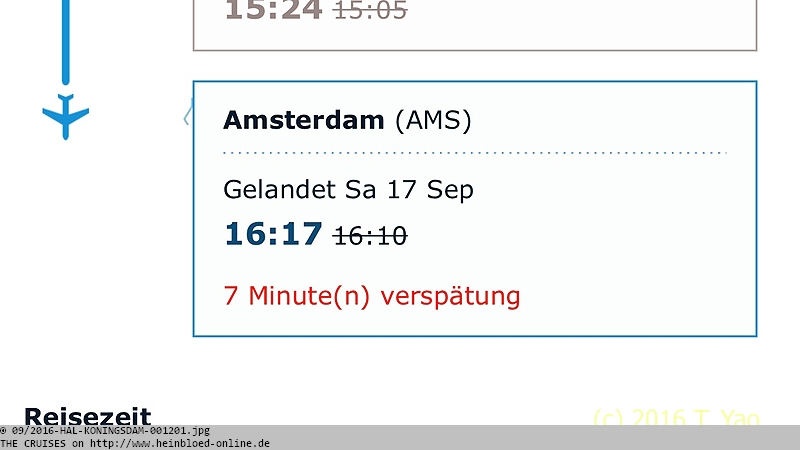 Here we could easily wait for any delays.

I was trying to display the name of an arriving guest as moving letters on my iPhone.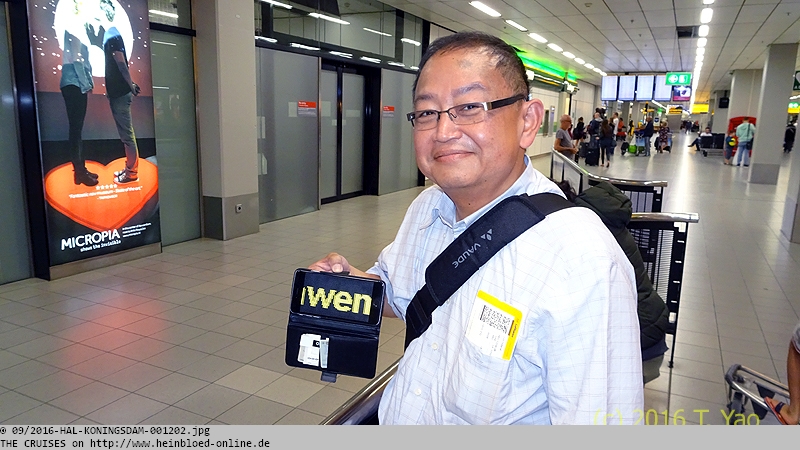 Ich versuche mit dem Laufband auf dem iPhone den Namen der abzuholenden Person anzuzeigen.
Da kommt sie schon.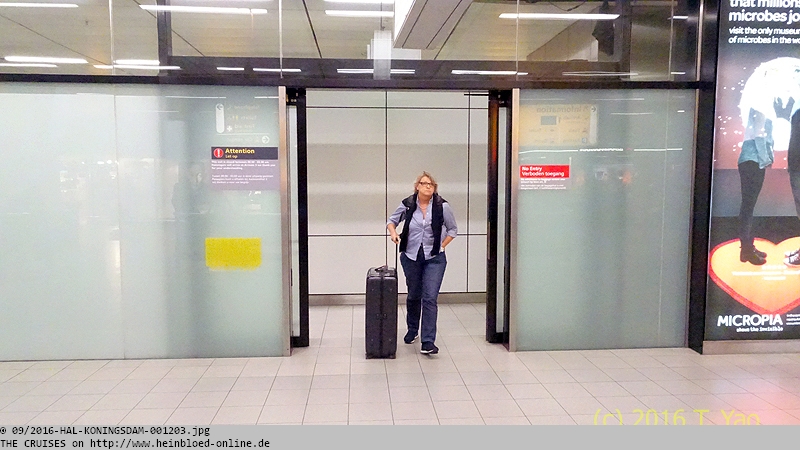 There she came.

Sigi was with us on EURODAM 2014/15 and wanted to join when we told her that we planned to go Holland America again.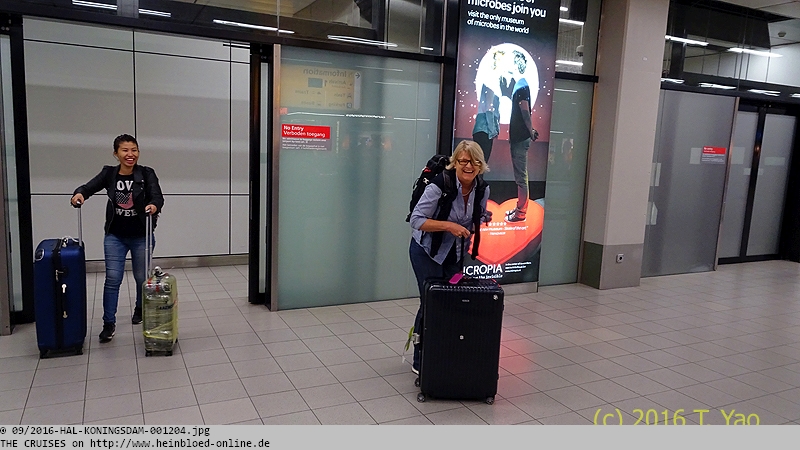 Sigi war mit uns auf der EURODAM 2014/15 und wollte mit, als wir ihr erzählen, dass wir wieder mit Holland America unterwegs sind.
Sigi darf immer mit. Sehr pflegeleicht.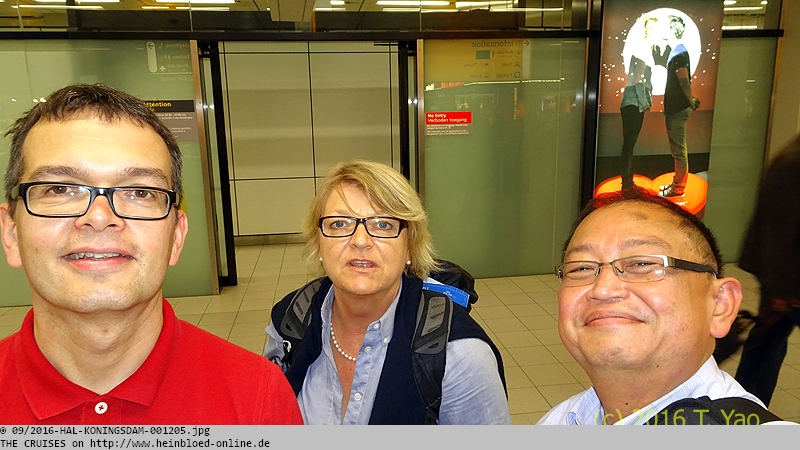 As Sigi is easy-care she is always welcome to join.

I prefer to stay with Holiday Inn Hotels because I am Platinum Elite member of the IHG Rewards Club. Not by overnight stays but by paid membership in the Ambassador Club of Inter Continental. That was why I booked the Holiday Inn in IJmuiden. Very angry: due to lack of staff members they did not attend the check-in-counter for tier customers. Anyhow it looked like they refurbished everything since our last stay. Anyhow it was nice.

Ich steige am liebsten in Holiday Inn Hotels ab, weil ich
Platinum Elite Mitglied
des IHG Rewards Club bin. Nicht durch Übernachtungen, sondern durch die bezahlte Mitgliedschaft im
Ambassador Club vom Inter-Continental
. Deswegen habe ich das
Holiday Inn in IJmuiden
gebucht. Ärgerlich: wegen Personalknappheit ist der Check-In-Schalter für die Statuskunden nicht besetzt. Ansonsten haben wir sie hier wohl alles seit unserem letzten Aufenthalt renoviert. Ist ansonsten sehr schön.
Das Hotel liegt direkt am Strand und daher ist der Ort etwas entfernt. Wir sind aber alle drei so müde, dass wir nicht mehr groß noch in den Ort laufen oder fahren wollen und bleiben einfach hier am Strand- bzw. Yachthafenbereich.

The hotel is just next tot he beach and so a little distant to the town. All three of us were too tired that we were interested to walk into the town und just stayed in the area of the beach and the marina.

At this time there were not anymore overcrowded by tourists. Few guests wer still here but the poster with the clams just invited us to see Zuidpier to dine. Brun took his fish which must be very good. I did not get any piece to try. And Sigi welcome the benefit that I could not eat so much. Clams and fries - a typical combination here at the North Sea coast. Just yummy!!! Stomach was full - jump into the bed in 5 minutes. Alarm was set for 03.30 hrs. KONINGSDAM supposed to arrive.

Um diese Zeit ist es nicht mehr touristisch überlaufen. Wenige Gäste sind noch hier, aber das Muschelplakat lädt uns ein, hier im
Zuidpier
einzukehren. Bruno hat seinen Fisch, der wohl sehr lecker war. Ich bekam nämlich kein Stück zum Probieren hab. Und Sigi hat auch davon profitiert, dass ich nicht soviel essen kann. Muschel und Fritten - eine typische Kombination hier an der Nordseeküste. Einfach nur lekker!!! Bauch voll - ab ins Bett in 5 Minuten. Der Wecker wird auf 03.30 Uhr gestellt. KONINGSDAM kommt an.