Ankunft in Huelva. Das sieht aber sehr nach einem Industriehafen aus.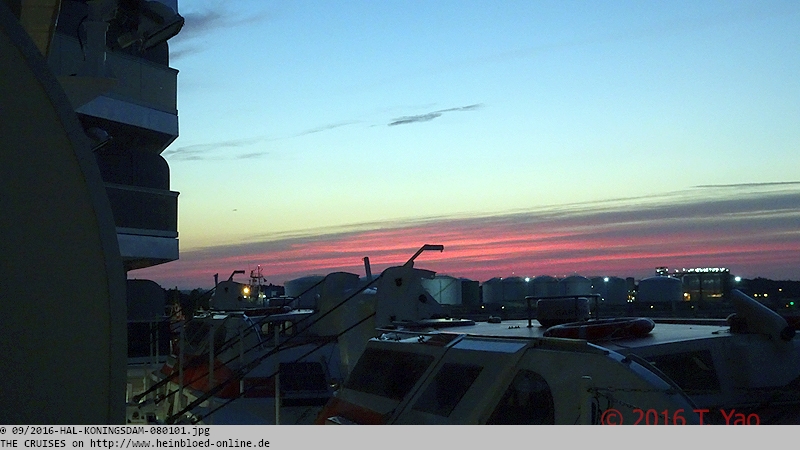 Arrival in Huelva. Looked more like an industrial port.

Again we went for breakfast. It made fun if you get service by a team like Widi, Dewa and Putu Eka. Sad that the selection became smaller. But on request we could also get the dishes which were not offered anymore but we knew from previous cruises.

Wieder geht es zum Frühstück. Es macht Spaß, wenn man von einem Team wie Widi, Dewa und Putu Eka bedient wird. Schade nur, dass das Angebot kleiner geworden ist. Aber auf Anfrage bekommen wir auch die Sachen, die nicht mehr auf der Karte stehen und die wir von früheren Reisen her kennen.
Da nur eine Brücke geöffnet wird, dauert das Verlassen des Schiffs etwas länger. Mit einem kostenlosen Shuttle geht es in die Stadt. Ich hatte vorher gefragt, wo wir genau anlegen: Muelle Sur. So richtig weiß ich nicht, wo wir anlegen. Sofort schalte ich meinen TOM TOM ein, als wir an Land sind: wir sind 15 km (3:02 Stunden zu Fuß/30 Minuten mit dem Bus) von Huelva entfernt. Die anderen Schiffe legen in Cadiz an.

As only one bridge was available leaving of the ship took a little longer. With a complimentary shuttle we were taken to the town. I asked before where we exactly would dock: Muelle Sur. But I was not really sure where we supposed to dock. Immediately I turned on my TOM TOM when we arrived ashore: we were about 9 miles (3:02 hours by walk/30 minutes by bus) apart from Huelva. Other ships docked in Cadiz.

The welcome reception at the pier was very nice. We were supplied with a map of the city center.

Der Empfang am Pier ist ganz nett. Wir werden mit einem Plan der Innenstadt ausgestattet.
Obwohl es einen Fahrplan gibt: der Shuttle ist so gut organisiert, dass immer ein Bus zur Verfügung steht und sofort losfährt, wenn der Bus voll ist und die Abfahrtszeit noch nicht erreicht ist. Die Fahrt ist recht langweilig, weil es zwischen Raffinerien geht. Jeder Bus wird jedoch begleitet und sie erklären uns, was wir machen können und welche hübschen Fischerdörfer und Strände hinter einem Wald ist. Aber zwischen den Raffinerien fehlt mir etwas die Vorstellungskraft. Insgesamt ist aber alles sehr gut organisiert und sehr gastfreundlich. Wir kommen am Zielort an. An der Haltestelle in der Alameda Sundheim werden wir abgesetzt. Das ist am Anfang der Fußgängerzone. Durch diese laufen wir durch: alles ist geschlossen, bis auf eine Bäckerei und ein Carrefour Express-Mini-Markt. Deswegen gibt es nicht viel zum Fotografieren.

Although there was a scheduled: the shuttle was so well-organised that there was always a bus available and just started when the bus was full but the departure time was not met so far. The ride was quite boring because we drove between the raffineries. Every bus was escorted and they explained us what we could do and which nice fishermen's villages and beaches were located behind the forest. But between the raffineries I had problems to have the power to picture it. Everything was well organised and they were very hospitable. We arrived at the destination. At the bus stop Alameda Sundheim we were released. That was at the beginning of the pedestrian zone. Through that we walked thorugh: everything was closed but a bakery and a mini-market of Carrefour Express. So far there was not very much to take pictures of.

I could not find any trains from Huelva to Seville on Sunday. At least not at the time I would like to go. So we need to walk to the Bus Terminal (Estación de Autobuses) in the Avenida Doctor Rubio which was located at the other end of the pedestrian zone. It was about 10-15 minutes to walk. With Damas we booked some tickets online. They were so cheap: would it had rained today: we would have stayed on board. But they were only 13.03 EUR (return ticket / 2016).

Züge von Huelva nach Sevilla finde ich nicht für sonntags. Zumindest nicht zu den Zeiten, zu denen ich fahren will. So müssen wir zum Busbahnhof (Estación de Autobuses) in der Avenida Doctor Rubio laufen, das quasi am anderen Ende der Fußgängerzone sind. Es sind etwa 10-15 Minuten zu Fuß. Bei
Damas
haben wir Bustickets online bestellt. Die sind so günstig: hätte es heute geregnet, wären wir einfach an Bord geblieben. Aber sie haben mal gerade 13,03 EUR (hin und zurück / 2016) gekostet.
Der Bus ist ziemlich voll, deswegen ist es gut, dass wir vorab gebucht haben.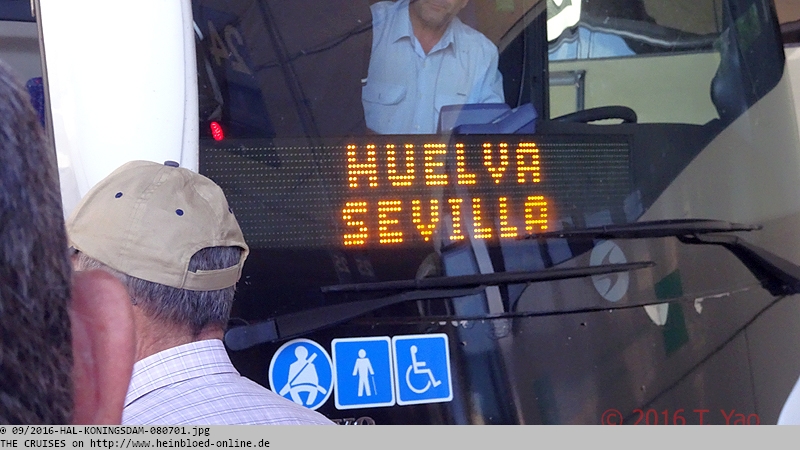 The bus was quite full. So it was good that we pre-booked the tickets.

For that price it was ok to stay.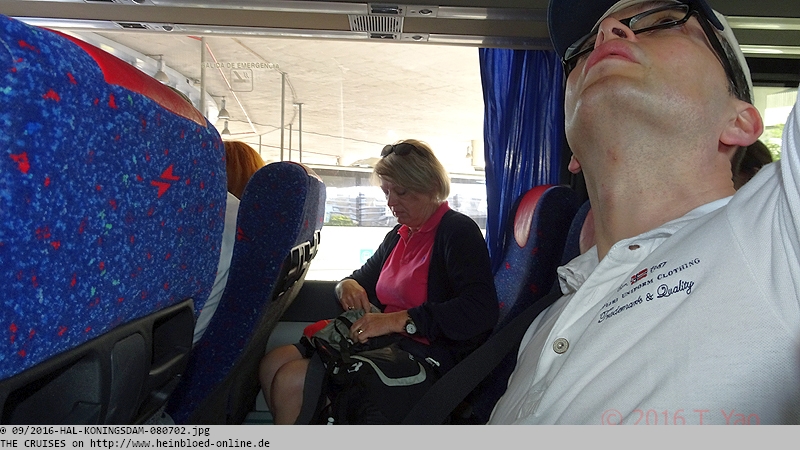 Für den Preis lässt es sich gut hier aushalten.
Bruno guckt entsetzt. Warum eigentlich?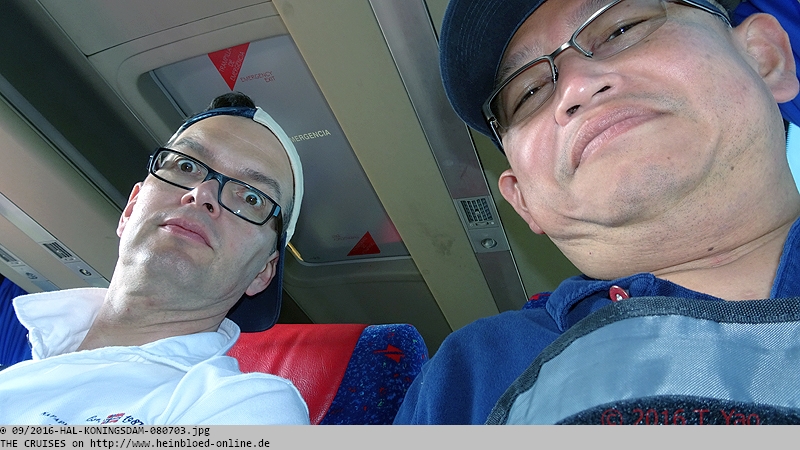 Bruno looked so horrorfied? But why?

On time we arrived in Seville.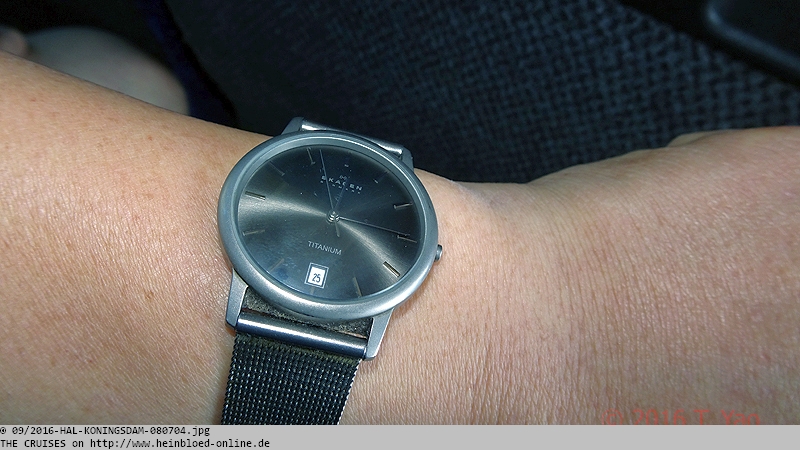 Pünktlich kommen wir in Sevilla an.
Am Busbahnhof Plaza de Armas werden wir von unserer Fremdenführerin Pilar Rubio von
SEVILLA4REAL
abgeholt. Wir spazieren entlang eines Altarms des Guadalquivir-Flusses. Hmm... dafür sind wir jetzt extra aus Huelva gekommen? Aber nach ein paar Metern kommen wir an der Brücke Puente de Isabel II mit dem Blick auf das Museo Del Castillo De San Jorge. Nun wird es schon interessanter. Vor allem die frisch-gerösteten Nüsse, die an jeder Ecke duften. Lecker. Weiter laufen wir durch den Garten Jardines Rafael Montesinos zum
Museo Taurino de la Real Maestranza de Caballería
. Untergebracht in der ehemaligen Stierkampfarena. Etwas für einen nächsten Besuch in der Stadt. Weiter laufen wir bis zum
Goldturm (Torre del Oro/Schiffahrtsmuseum)
. Auch etwas für das nächste Mal. Langsam beginne ich mich für Sevilla zu begeistern. Durch enge Gassen geht es zum Fuente de Híspalis-Brunnen vor das
Hotel Alfonso XIII
. Das bevorzugte Hotel von Brad Britt und Angelina Jolie, bevor sie sich getrennt haben.

At the bus terminal Plaza de Armas we met our tour guide Pilar Rubio of SEVILLA4REAL. We walked along an older arm of the river Guadalquivir. Hmm... well to see this we made all the way from Huelva? But after few steps we arrive the bridge Puente de Isabel II with a view on Museo Del Castillo De San Jorge. Now it became more interesting. Especially the freshly roasted nuts which were smelling great at every corner. Yummy. He headed on through the garden Jardines Rafael Montesinos to the Museo Taurino de la Real Maestranza de Caballería. It was installed in the former bullring. Something for our next visit in town. We continued to walk to The Golden Tower (Torre del Oro/Maritime Museum). Also something for the next time. Slowly I became friend with Sevilla. Through narrow lanes we came to Fuente de Híspalis-Fountain in front of the Hotel Alfonso XIII. The prefered hotel of Brad Pitt and Angelina Jolie before they seperated from each other.

We headed on to the University of Seville. Installed in the former Royal tobacco manufactury (Real Fábrica De Tabacos De Sevilla). Well?! Here Pilar started to tell of Carmen. Carmen??? From Georges Bizet's opera. Due to her prestidigitation she worked in the cigar manufactury. And Pilar built the connection and told us how Carmen might live in Seville... No limits for our fantasies.

Weiter geht es zur
Universität Sevilla
. Untergebracht in der ehemaligen königlichen Tabakfabrik (Real Fábrica De Tabacos De Sevilla). Aha?! Hier beginnt Pilar von Carmen zu erzählen. Carmen??? Aus der Oper von Georges Bizet. Sie arbeitete wegen ihrer Fingerfertigkeiten in der Zigarrenfabrik. Und Pilar stellt die Verbindung her und erzählt wie Carmen so in Sevilla gelebt haben dürfte... Unserer Fantasie sind keine Grenzen gesetzt.
Durch die Gassen der Altstadt geht es weiter bis wir vor dem
Archivo General de Indias
: das spanische Zentralarchiv.

Through the lanes of the old town we went to Archivo General de Indias: the Spanish central archive.

In front of the palace Real Alcázar de Sevilla there was a giant queue. Something again for the next time. Pilar passed the queue to enter the court where the exit was set and looked aroud in the court. Great views.

Vor dem Palast
Real Alcázar de Sevilla
ist eine Riesenschlange. Auch etwas für das nächste Mal. Pilar geht aber einfach an der Schlange vorbei in den Hof, in dem der Ausgang ist und sieht sich mit uns hier im Hof um. Tolle Aussichten.
Weiter geht es nochmals durch ein paar enge Gassen. Noch etwas trinken. Bei den Preisen merkt man, dass wir hier in einer Touristenhochburg sind.

Again we went trough some narrow lanes. Something to drink. You can feel with those prices that you were in a touristic hot spot.

Somehow Pilar was "mean". Such a beauty at the end. Somehow I had a wrong impression of Seville until the time I saw and stood in front of the Cathedrale (Catedral de Sevilla): just wow. A visit must be pre-booked. The queues of fellow-cruisers were long although that was the access for the groups. We could not get in but Pilar showed us again the inner court through a side exit.

Irgendwie ist Pilar "gemein". So etwas schönes ganz am Schluss. Irgendwie habe ich Sevilla komplett in einem falschen Licht gesehen, bis zu dem Zeitpunkt, als ich vor der
Kathedrale (Catedral de Sevilla)
stand: Nur wow. Ein Besuch muss vorher gebucht werden. Die Schlagen unserer Mitreisenden der Kreuzfahrt sind lang, obwohl das der Zugang für Gruppen ist. Wir kommen zwar nicht rein, aber Pilar zeigt uns kurz den Innenhof von einem Seitenausgang.
Eine tolle Tour geht zu Ende. Wieder viele Gründe hier auch nach Sevilla wieder zu kommen. Für die Rückfahrt kaufen wir noch ein paar Sandwiches und etwas zu trinken. In etwa 15-20 Minuten sind wir wieder zurück am Busbahnhof.

A great tour came to the end. Again many reasons to retun to Seville one day. For the return ride we bought some sandwiches and something to drink. In about 15-20 minutes we were quickly back at the bus station.

We must return to Huelva. Hmmm... Well... Huelva is on the way to Ayamonte.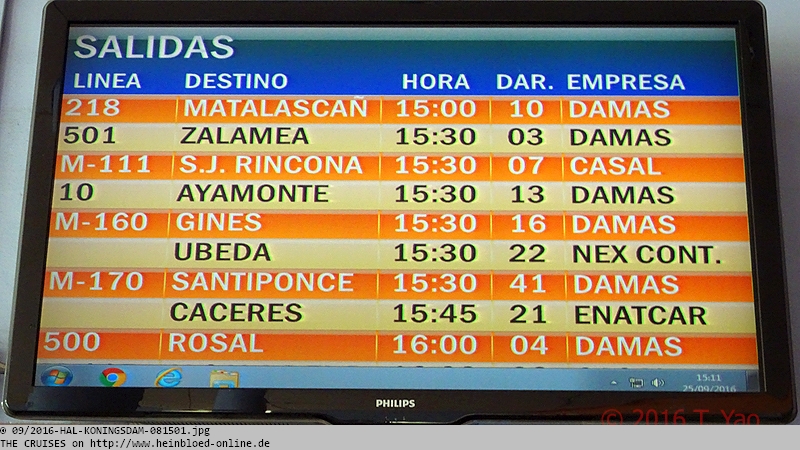 Wir müssen zurück nach Huelva. Hmmm.... Aha... Huelva liegt auf dem Weg nach Ayamonte.
Es geht über die Autobahn A-49 zurück.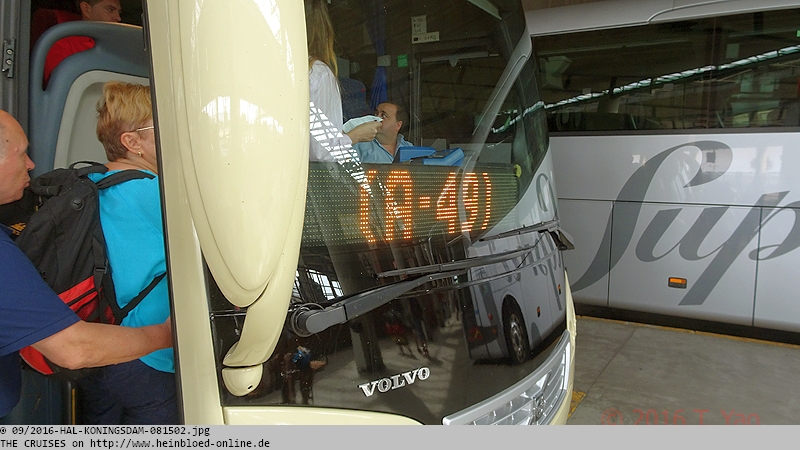 We went back on highway A-49.

OK - we were correct.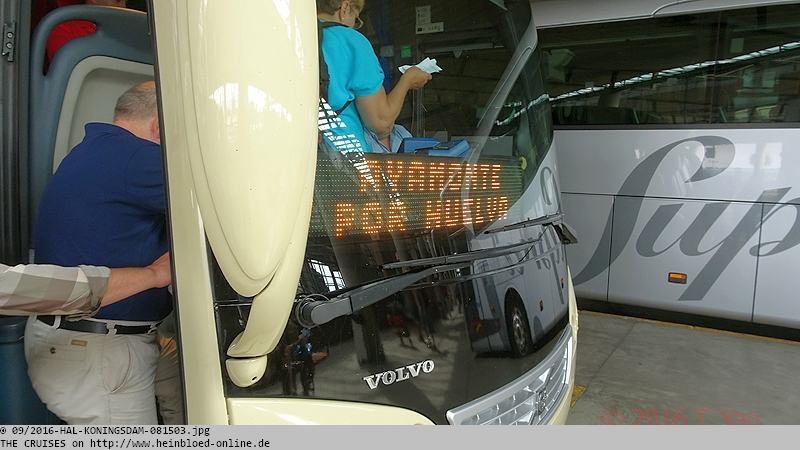 OK - wir sind richtig.
Wieder in Huelva nehmen wir uns die Zeit, uns die Innenstadt anzusehen, aber es ist immer noch nicht lebendiger. Eben Sonntag.

Back in Huelva we took the time to see the city center but there was no more life. It was Sunday.

We saw a smile in the display of the Panaria-Bakery store. Coffee breaks must be. Otherwise tours make no fun. For the worst case we could go to Gibraltar somehow.

Die Sachen in der
Panaria
lachen uns an. Kaffeepausen müssen sein. Sonst machen Ausflüge keinen Spaß. Notfalls müssen wir halt gucken, wie wir weiter nach Gibraltar kommen.
Nach ein paar Minuten erreichen wir die Bushaltestelle. Hier wartet bereits ein Bus.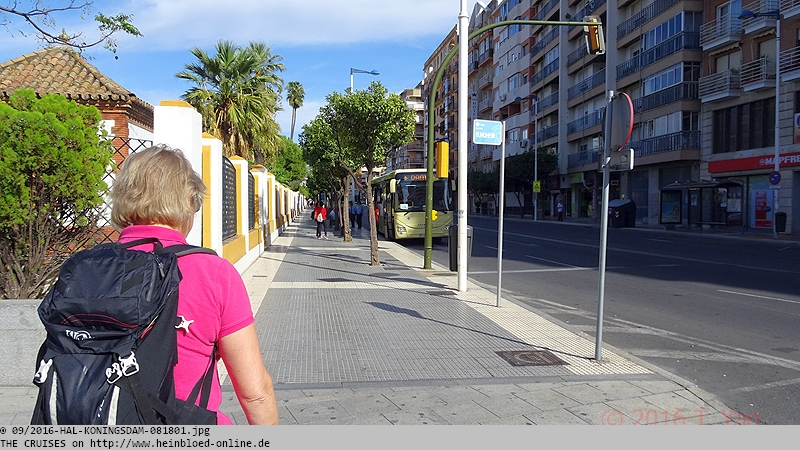 Only few minutes to the bus stop. A bus was already waiting for us.

But they did not wait until the bus was full so every guest might have a little more comfortable.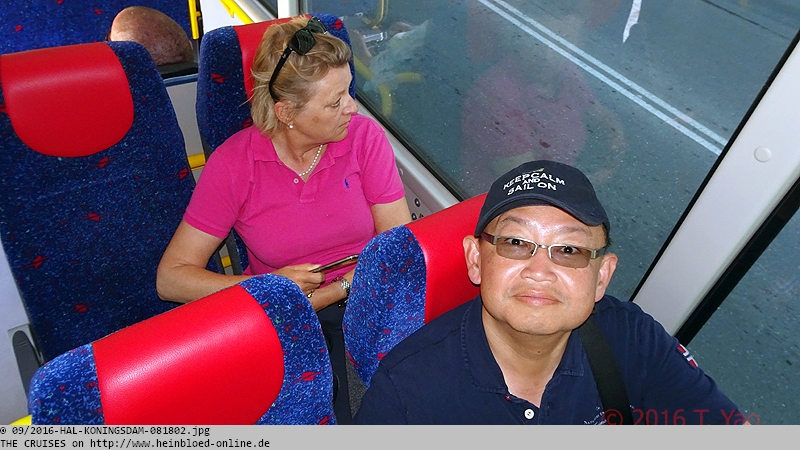 Aber man wartet nicht, bis dass er voll ist, damit alle Gäste es ein wenig komfortabler haben.
Jeder hat eine eigene Reihe für sich.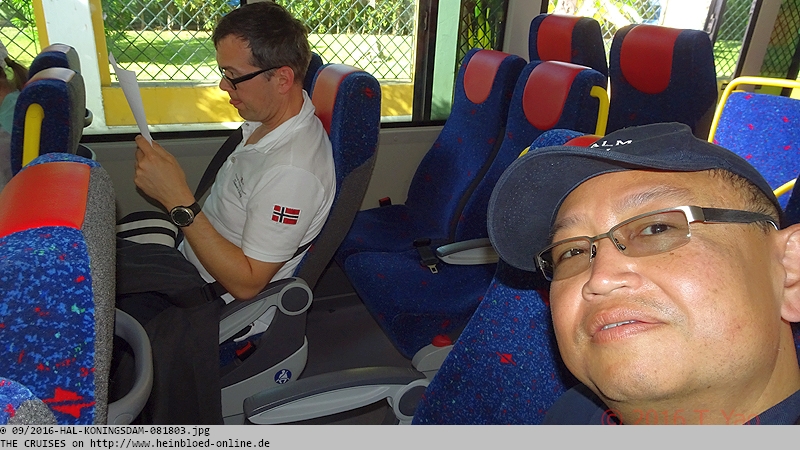 Each of us had a row of our own.

In return they asked us to rate the visit and the cruise port of Huelva on a questionaire.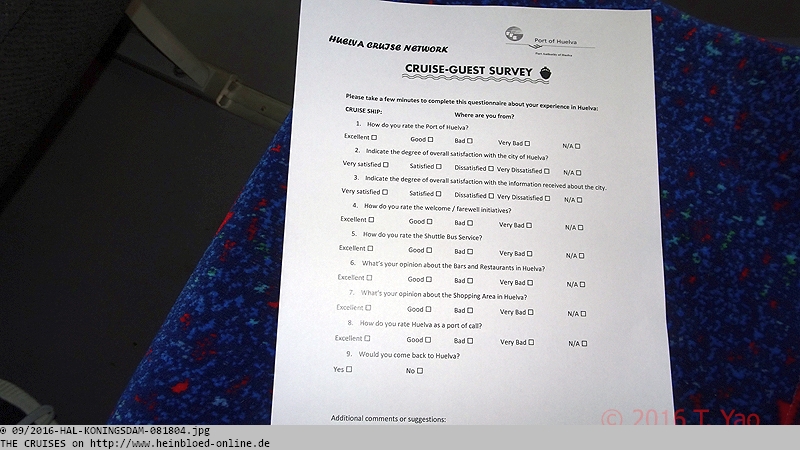 Im Gegenzug bittet man uns den Fragebogen zu bewerten und den Kreuzfahrthafen Huelva zu bewerten.
Auch der Abschied von Huelva ist toll gestaltet. Escorte, Sherry. Wir kommen mal wieder viel zu spät. Sie bauen schon alles ab.

Also the farewell from Huelva was nicely created. Guards, Sherry. We came again much to late. They were removing everything.

I already drank the sherry and so I cannot hand it over to them.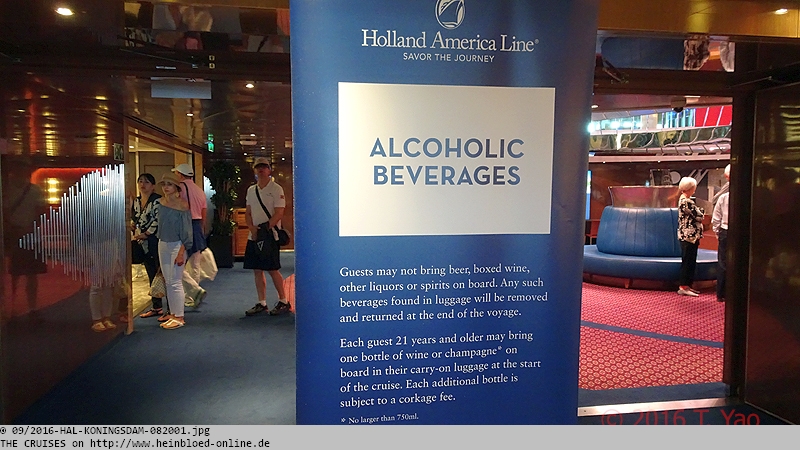 Ich habe den Sherry schon getrunken und kann ihn schlecht abgeben.
Ein schöner Sonnenuntergang.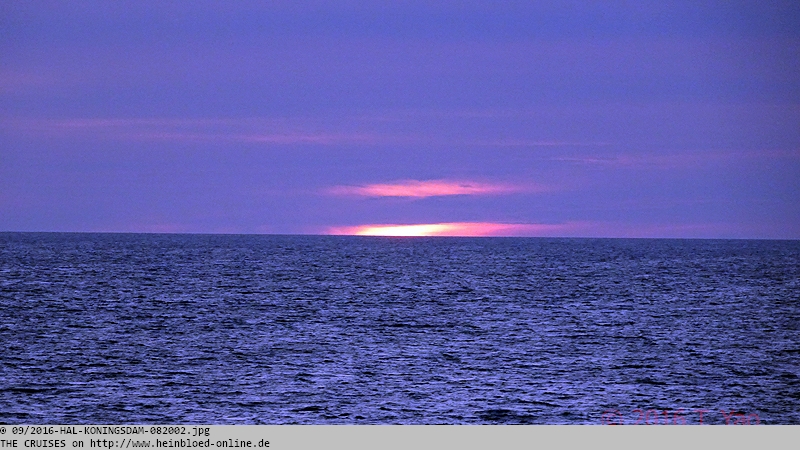 A nice sunset.

But I was few minutes late.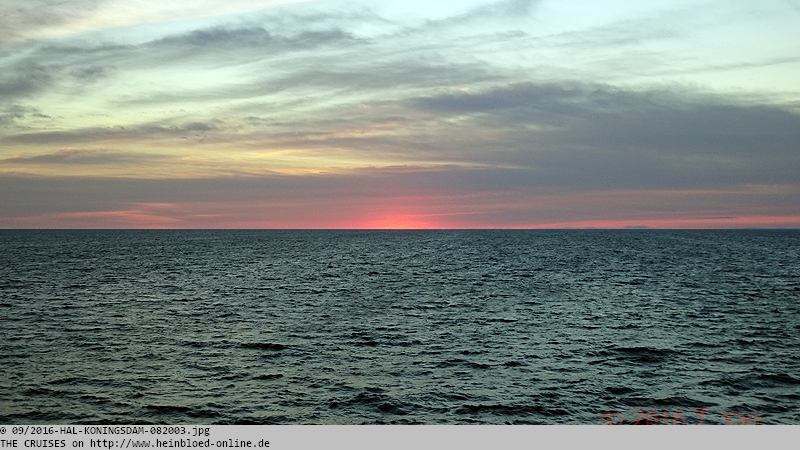 Aber ich bin ein paar Momente zu spät.
Es geht wieder zum Abendessen.

We went again for dinner.

Then we went to the show "Thousand Steps". With three shows in the evening and only one couple of vocalists and you could really see what kind of physical high performance they provided.

Dann geht es in die Show "Thousand Steps". Bei drei Shows am Abend und nur noch einem Gesangspaar, kann man wirklich sehen, welche körperliche Hochleistung sie erbringen.
Während wir den Tag in Sevilla genossen haben, stellen wir fest, dass unsere wunderbaren Kabinenstewards unseren Balkon gereinigt haben.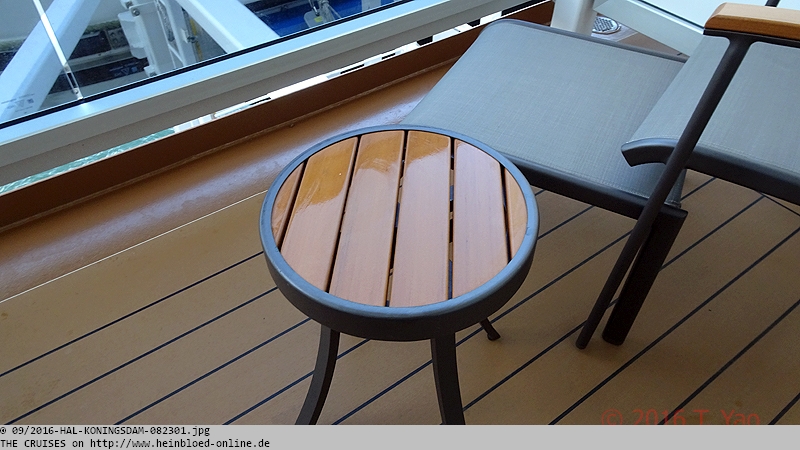 While we enjoyed the day in Seville we found out that our wonderful cabin stewards cleaned our balcony.

With the nightly greeting we went to bed.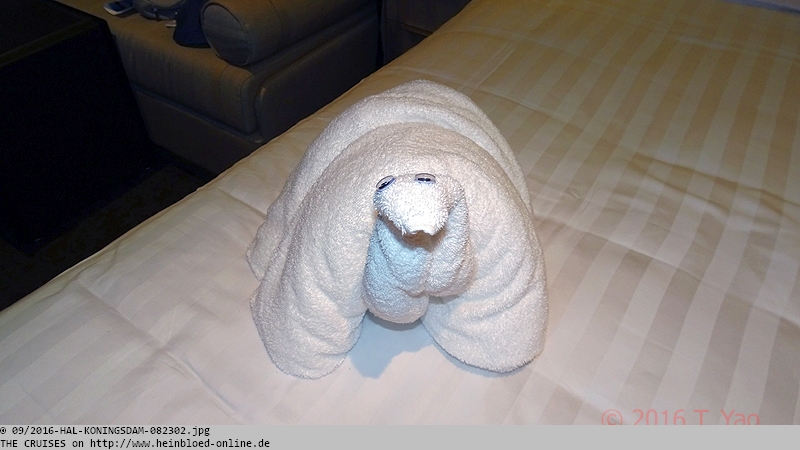 Mit dem nächtlichen Gruß geht es ins Bett.