Der Tag vor der Ausschiffung. Immer ein Anlass zur Melancholie. Nur zwei Mal wäre ich froh gewesen, wenn ich schon vorzeitig das Schiff verlassen hätte. In allen anderen Fällen: schön war die gesamte Reise irgendwie doch, auch wenn ich mich über das eine oder andere geärgert habe. Und in den meisten Fällen, wollen wir auch wieder mit und kaufen für die nächste Reise eine Anzahlung. Holland America und ich pflegen eine "masochistische" Beziehung. Ich hätte eigentlich schon einmal Grund gehabt, meine Freundschaft mit ihnen kündigen: viele Jahre her. Also nicht jetzt. Ein Ereignis, ein falscher Satz und schon geht eine Freundschaft zu Bruch. Du versuchst andere Gesellschaften und stellst fest: Du würdest die Freundschaft mit Holland America wegen einer einzigen Person und eines eizigen Ereignis kündigen und würdest die vielen schönen Momenten mit vielen tollen anderen Crew-Mitgliedern verpasst haben. Und weil die Anzahl der schönen Moment und der vielen anderen anderen Crew-Mitgliedern besonders hoch ist, ist meine Schmerzgrenze bei Holland America zu leiden eben "höher". Deswegen ich bin traurig, als ich meine letzte Runde über das Schiff laufe. Ich freue mich wieder über ein Crew-Mitglied, der mich von einer früheren Reise erkennt: Deswegen freue ich über Nurdin, der auf mich zukommt und mich begrüßt und sagt, dass er es schade findet, dass er mich nicht schon früher hat willkommen an Bord heißen können. Irgendwie ist aber auch der Klabautermann an Bord: Schlappen mitten im Treppenhaus und Crew, die gerne nicht gestört werden möchte.

The day before debarkation. Always a reason for being sad. Only two times I would be more than happy to had an early debarkation. I all other cases: somehow the voyage was generally nice even you one or two occassions to be angry. And in most of the cases we still wanted to go again and bought a future deposit for our next voyage. Holland America and I are maitaining a "masochistic" relationship. I had actually one reason to quit my friendship with them: many years ago. So not now. An incident: one wrong phrase and a friendship is broken. You tried different companies and you found out: You might have quit your friendship with Holland America because of one single person and one single incident and would have missed the many many wonderful moments with all the other great crew-members. And the number of the great moments and the other crew-members is very high my pain barrier is also "higher" to suffer with Holland America. So I was sad that I was walking my last round. I was happy to meet a crew member who remembered me from a previous cruise: So I was happy when Nurdin came and welcomed me and said that he was regretting that he could not welcome me earlier onboard. Somehow it was also a ship's cobold onboard: Slippers in the stairways and crew who did not want to be disturbed.

We were taken back to "normal" reality: boiled eggs by the couple and again too hot.

Wir kommen aber auch wieder in die "normale" Realität zurück: gekochte Eier als Paar und wieder viel zu heiß.
Auch Joseph überrascht uns mit einem selbstgebasteteltem Souvenir.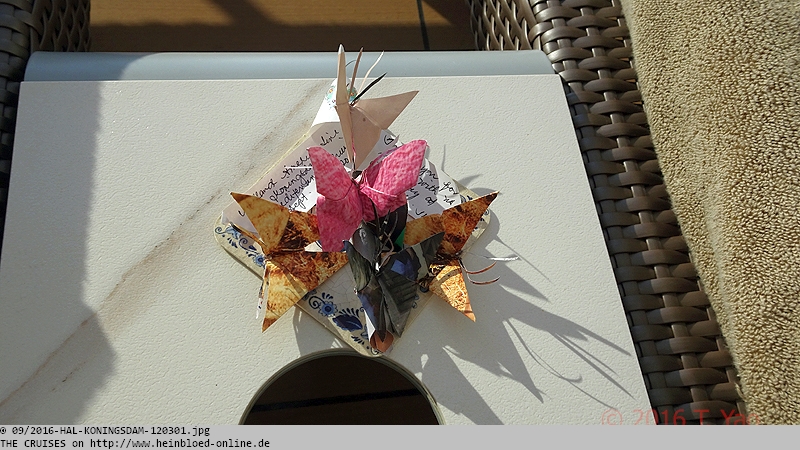 Also Joseph surprised me with a self-handicrafted souvenir.

It must not cost anything. It is a valueable souvenir to this voyage and everytime I need to decide: Holland America or not? Then I will decide in the favor of Holland America.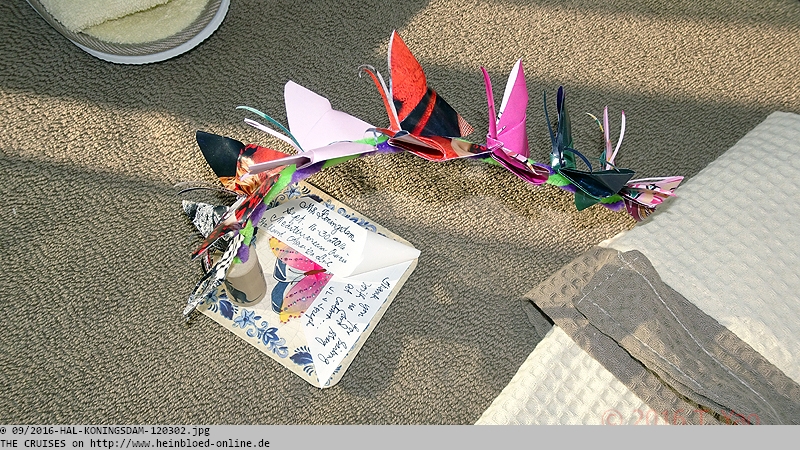 Es muss nichts kosten. Es ist aber eine wertvolle Erinnerung an diese Reise und jedes Mal, wenn ich das sehe und entscheiden muss: Holland America oder nicht? Dann wird die Entscheidung immer zugunsten von Holland America fallen.
Jetzt bin ich noch trauriger als vorher.

Now I am more sad than before.

And also Sigi got her own souvenir.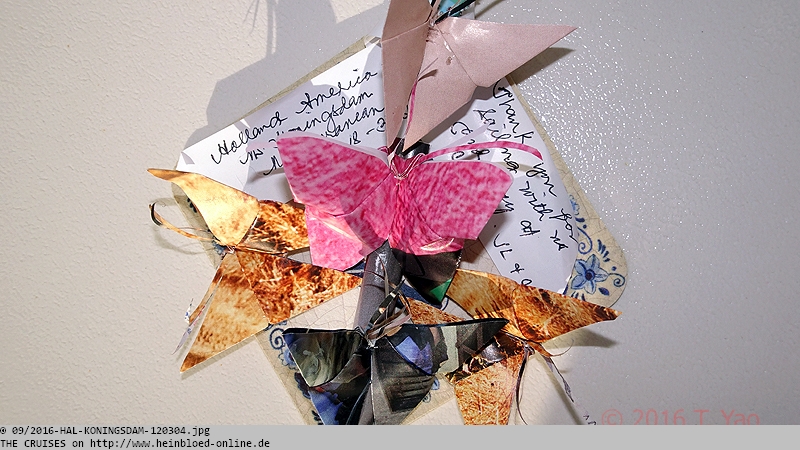 Und auch Sigi bekommt ihr eigenes Souvenir.
Vielen Dank Joseph.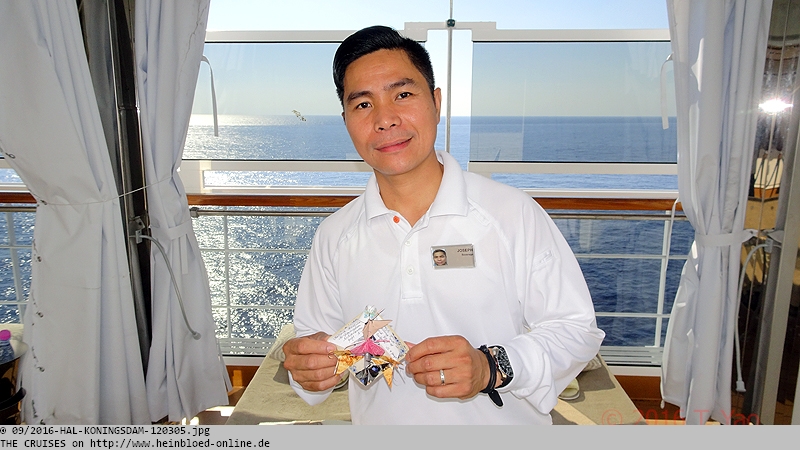 Thank you Joseph.

On Deck for a Cause. The guests' charity run for the benefit of the cancer reasearch (like American Cancer Society, KWF Kankerbestrijding (Netherlands) and some more). Always a good occasion to remember to those who shared with us the passion for cruising and cannot travel any more with us the seven seas: Mrs Pannen, Barbara, Jenny and Günther. After the voyage I need to add Jeannette to my list. To make the list not any larger it was important to me to donate and participate. I did not walk all the way (5 km = 3 miles) to the end: the promenade on KONINGSDAM is not suitable for such an event. It was hard to pass. It is too narrow. I could not keep MY speed. It was no fun for me and I left. Furhtermore it was next to the following event and you need time to take a shower.

On Deck for a Cause
. Der Wohltätigkeitslauf der Gäste zu Gunsten der Krebsforschung (u. a. auch zu Gunsten der Deutsche Krebshilfe). Immer eine gute Gelegenheit uns an diejenigen zu erinnern, die die Leidenschaft für das Kreuzfahren mit uns teilen und nicht mehr mit uns zusammen mehr weiter die sieben Weltmeere bereisen können: Frau Pannen, Barbara, Jenny und Günther. Nach der Reise muss ich auch noch Jeannette auf die Liste aufnehmen. Damit diese Liste eben nicht länger wird, ist es mir wichtig, dass wir spenden und an dem Lauf teilnehmen. Ich laufe den Lauf (5 km) nicht zu Ende: die Promenade auf der KONINGSDAM eignet sich nicht für die Veranstaltung. Man kann kaum überholen. Es ist alles zu eng. Ich kann MEIN Tempo nicht halten. Es macht mir keinen Spaß und ich steige aus. Außerdem grenzt es direkt an dem nachfolgenden Programmpunkt und ich brauche Zeit zum Duschen.
Mariner's Lunch. Ein Höhepunkt der Reise, den ich verpasst hätte, wenn ich schon auf dem Weg nach Barcelona wäre. Sigi und Bruno hatten ja ihre Zustimmung verweigert. Wir werden von Kapitän Emiel, Hoteldirektor Don und Kreuzfahrtdirektor Jonathan willkommen. Ich hatte 90 Schweizer Schokoriegel an Bord. Der letzte bekommt Kapitän Emiel symbolisch für den Rest der Crew, der uns auf dieser Fahrt begeistert hat. Ob persönlich oder hinter den Kulissen. Das Essen zum Anlass war auch schon mal besser. Es gab ja auch mal einen Hummerschwanz... früher... Zumindest gibt es noch die Fliese. Deswegen kommen wir gerne. Und die letzte Chance ein Bild mit dem Bellboy Suta zu machen. Ich vermisse die alten Uniformen im Hauptrestaurant. Die Eleganz der guten alten Zeit habe ich auf der gesamten Reise sehr vermisst.

Mariner's Lunch. A highlight which I would miss if would be already on my way to Barcelona. Sigi and Bruno declined to leave early. We were welcomed by Captain Emiel, Hotel Director Don and Cruise Director Jonathan. I had 90 chocolote bars on board. The last was for the Captain - symbolic for the rest of the crew which excited us on this voyage: personally or behind the curtains. The food for this event was better before. You had before also a lobster tail... then... At least you had the tile. That was why we loved to come. And the last chance to take a picture with the Bellboy Suta. I missed the old uniforms in the Main Dining Room. I missed very much the elegance of the good old times on our voyage.

The flower arrangements: wonderful.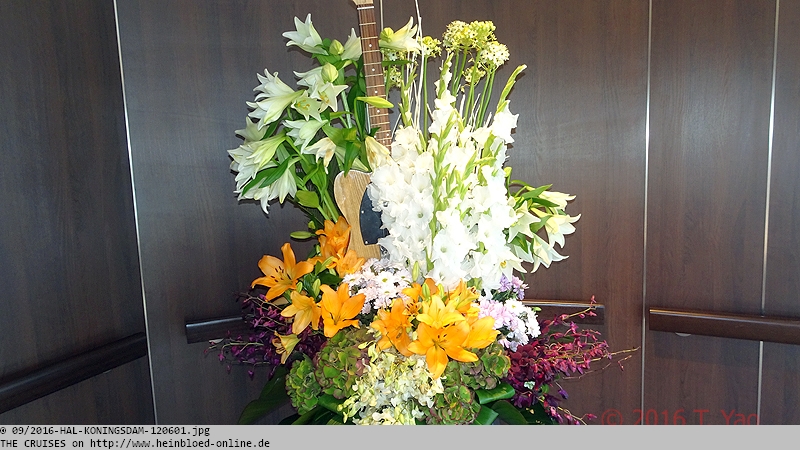 Die Blumenarrangements: wunderbar.
Es findet eine Veranstaltung hierzu statt, die von Jonathan moderiert wird.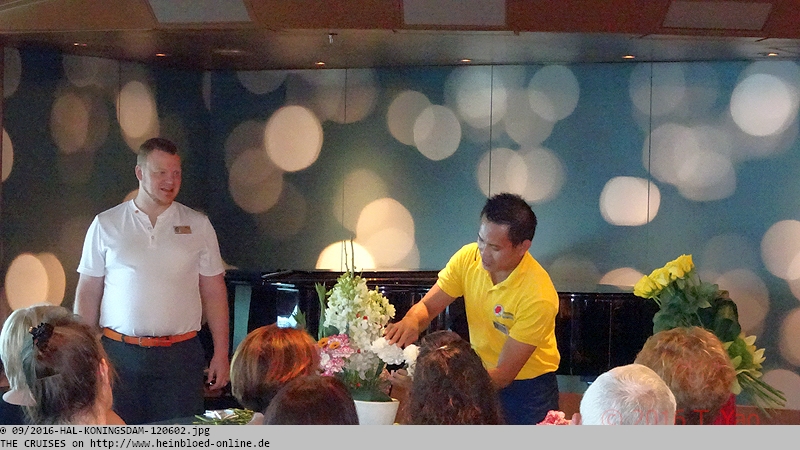 They had an event for that which was presented by Jonathan.

But here we passed quickly. None of us had a "green thumb". Even a cactus or the basil in the kitchen do not survive with us.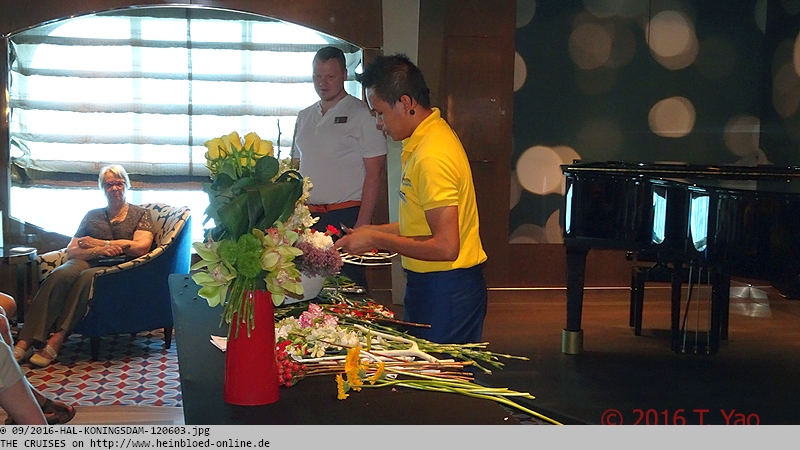 Aber hier rennen wir immer schnell vorbei. Mangels grüner Daumen überlebt bei uns nicht mal ein Kaktus geschweige denn der Basilikum in der Küche.
Schade, dass Sonia auf dem Bild fehlt, aber so haben wir alle von unserem tollen Housekeeping-Team zusammen, die uns wirklich auf Händen in unseren Kabinen getragen haben: Wayan, Ari und der Deck-Housekeeping Manager Shankar. Die waren doch im Reisepreis mit eingeschlossen, dass man sie mit nach Hause nehmen darf... Eine schlimme Zeit steht uns ohne sie bevor.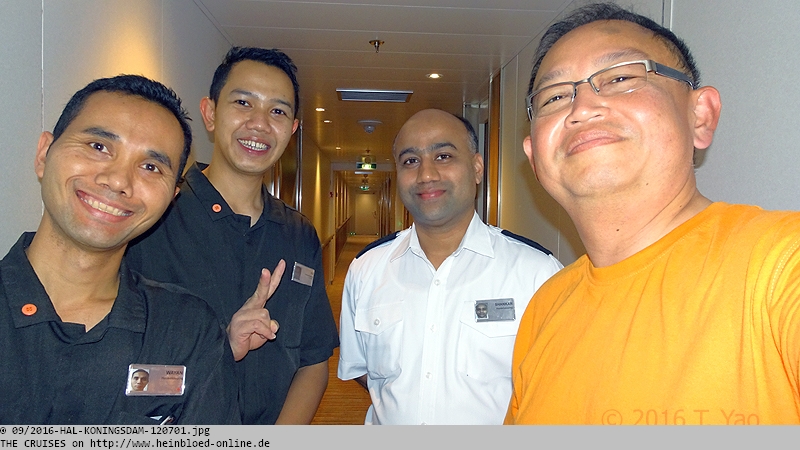 Sad that Sonia was missing on this picture - so we had all of the great housekeeping-team together who really carried us on their arms: Wayal, Ari and Deck-Housekeeping Manager Shankar. I thought they were included in our cabin price and we could take them home... A bad time with outh them home was waiting for us.

The last laundry came from the laundry. Why cannot the other can take Holland America as example? One suitcase less. Space for my chocolate bars. Perfect.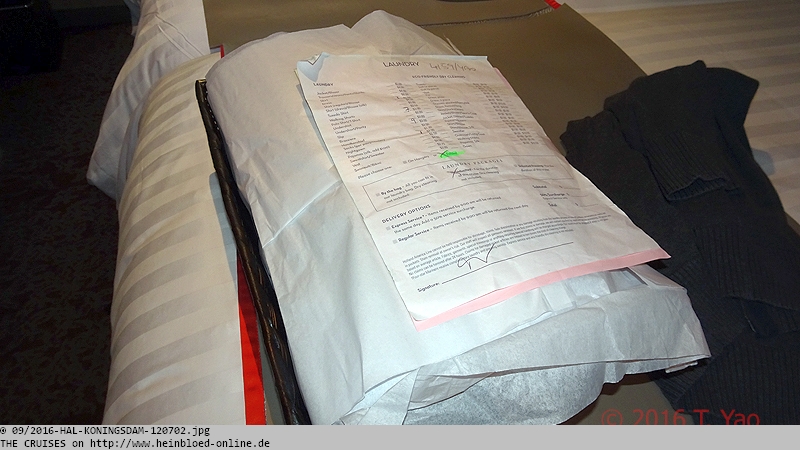 Die letzte Wäsche kommt aus der Wäscherei zurück. Warum können sich die anderen nicht eine Scheibe von Holland America abschneiden? Ein Koffer weniger. Platz für meine Schokoladenriegel. Perfekt.
Ein Schreiben, in dem wir informiert werden, dass Bahnstreik in Italien ist.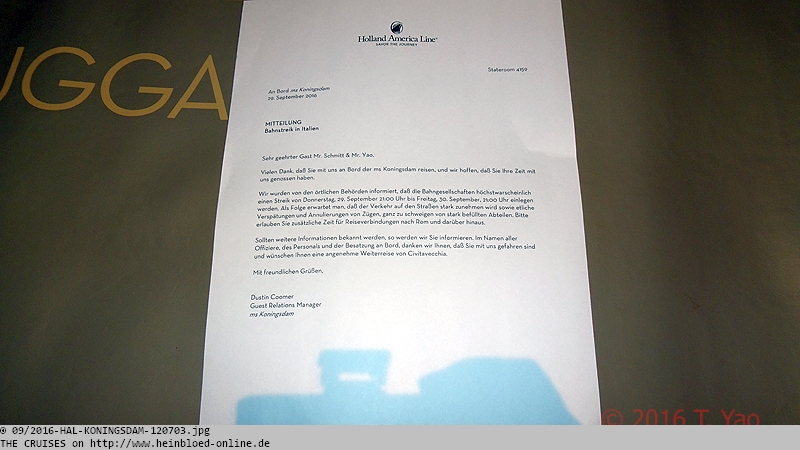 A letter to keep us informed that they would be a strike with rail workers.

Our last towel-animal greeting.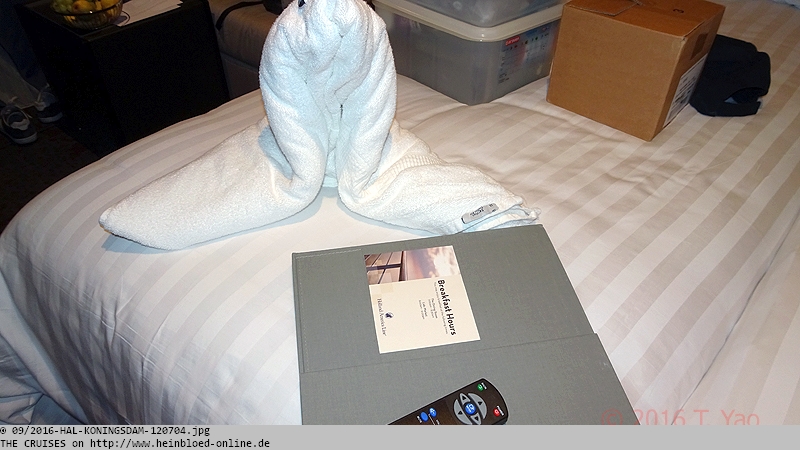 Unser letzter Handtuchtier-Gruß.
Und der letzte Programmpunkt dann am letzten Morgen: Frühstück.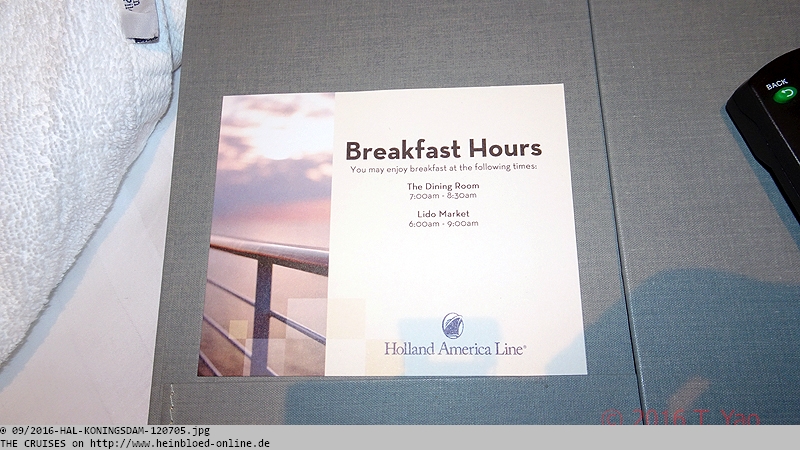 And the last programme of the very last morning: breakfast.

I treated myself with a with an popsicle. Sometimes later we passed the Strait of Bonifacio (between Corsica, France and Sardinia, Italy). Now it was not soon anymore to Civitavecchia. They started already to prepare everything for the next voyage. Interesting view on the little Dutch houses made of Delft porcelaine.

Ich gönne mir ein Eis am Stiel. Irgendwann passieren wir die Straße von Bonifacio (Meerenge zwischen Korsika und Sardinien). Jetzt ist es nicht mehr weit bis Civitavecchia. Es wird schon alles für die neue Reise vorbereitet. Interessanter Blick auf die kleinen holländischen Häuschen aus Delfter Porzellan.
Noch ein Mal zur Tea-Time. Wie brav die Musiker jetzt aussehen. Gestern noch auf der Bühne in der "On The Charts" Show.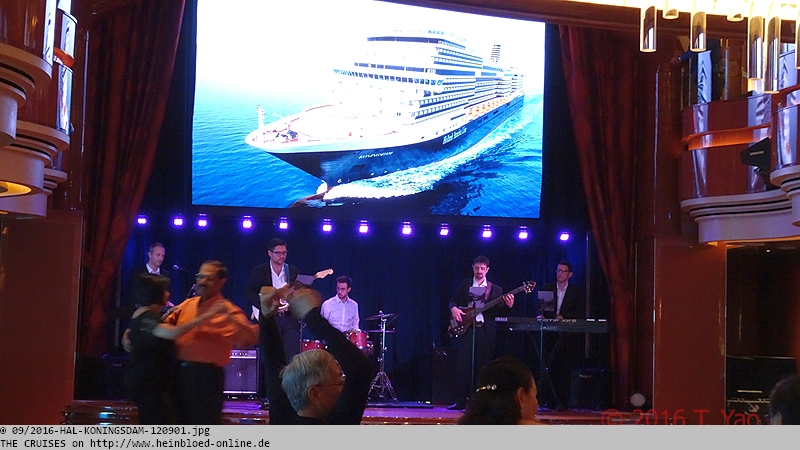 One more time having tea-time. How brave the musician looked like now. Last night they were on the stage of "On The Charts"-Show.

I still wanted to have back my Royal Dutch High Tea. This was too English.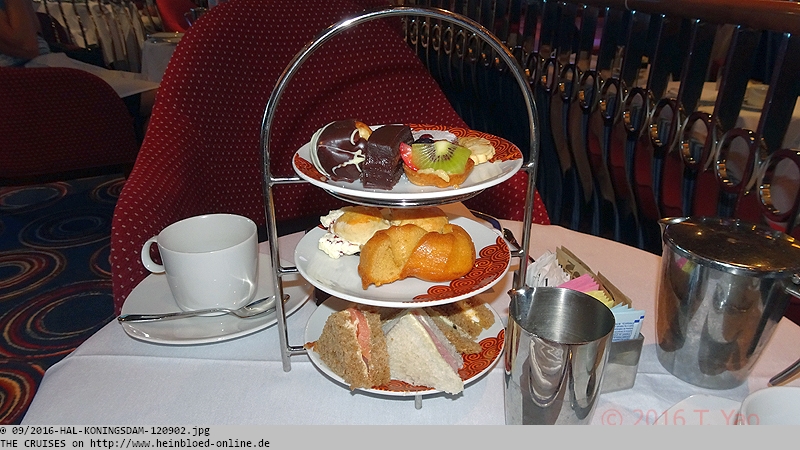 Ich will trotzdem meinen Royal Dutch High Tea zurück. Das ist zu englisch.
Chandra fällt wieder durch einen tollen Service auf.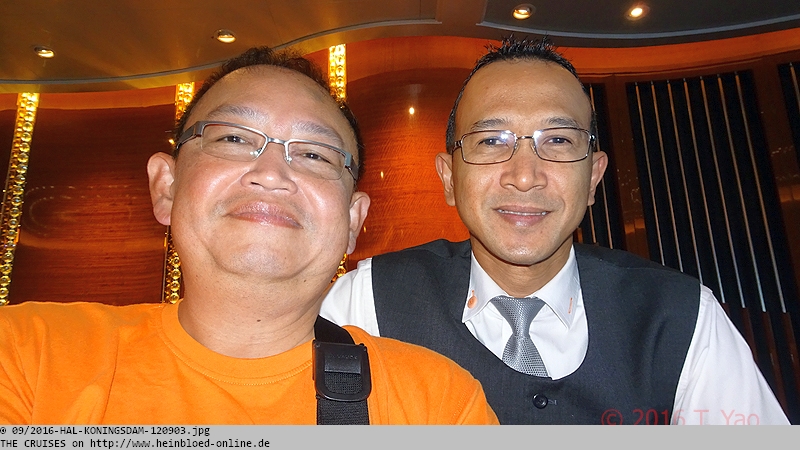 Chandra attracted our attention by his fine service for us.

Need to check what was available in the Lido Market.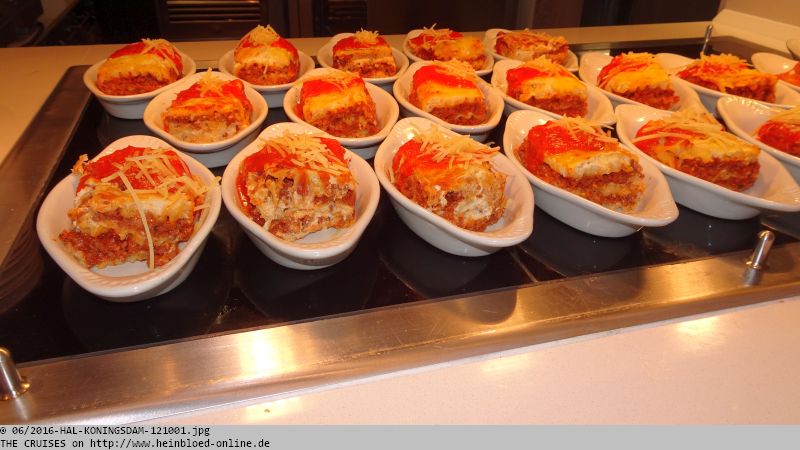 Mal wieder gucken, was es im Lido Markt gibt.
Die Salate sehen immer einladend aus.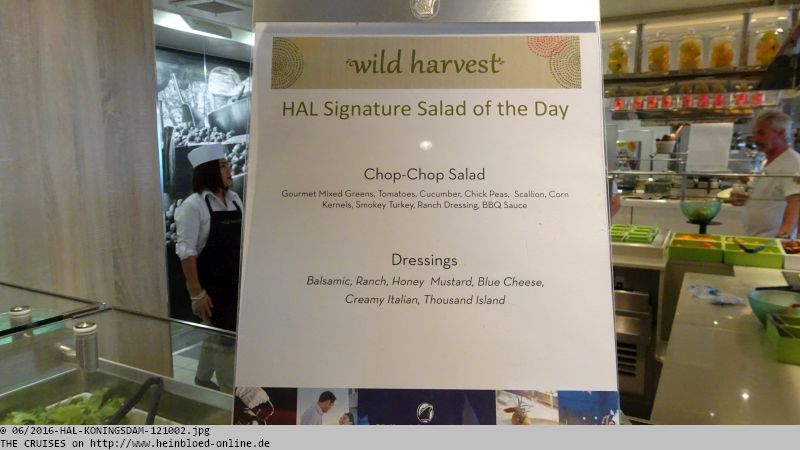 The salads always looked very inviting.

I need to get off the ship otherwise I would start to eat too much.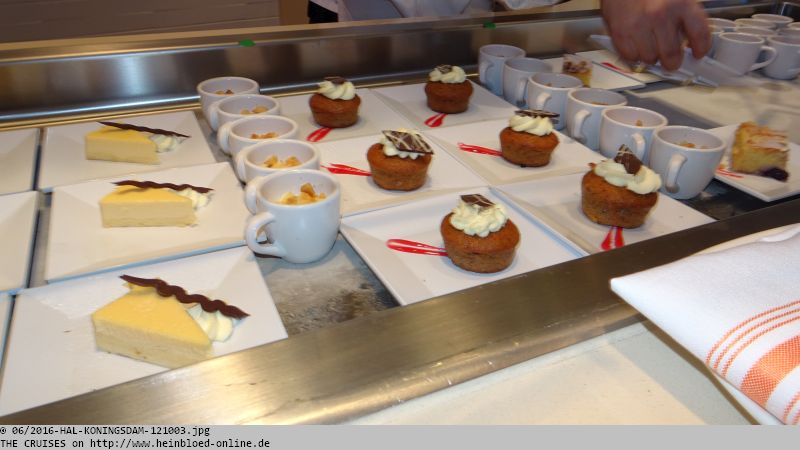 Ich muss runter von Bord, sonst überfresse ich mich bald bestimmt wieder.
Bei einer Sache kann ich nicht nein sagen: Frittierte gekochte Eier. Gibt eine Riesensauerei, wenn man es zu Hause selbst macht.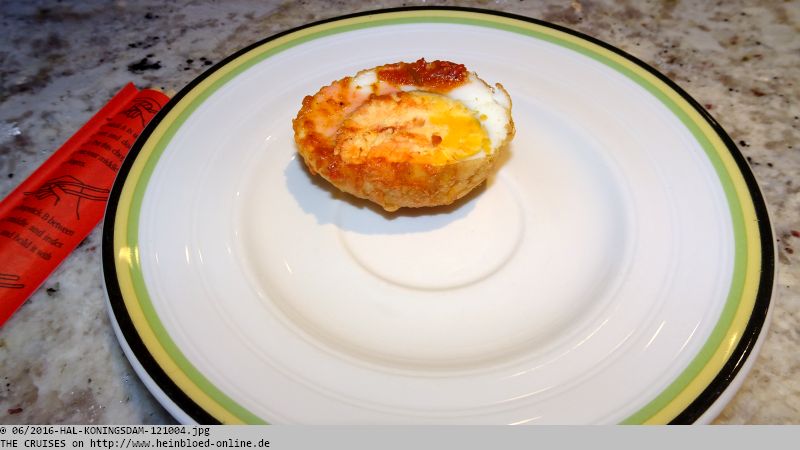 One item I could not say no: deep-fried biled eggs. You had a giant mess when you them yourself at home.

A little salad - was anyhow "only" water.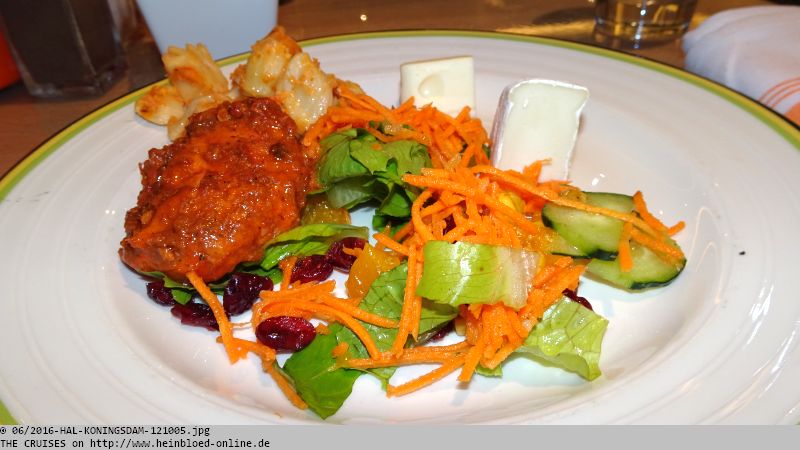 Ein bisschen Salat - ist ja eh "nur" Wasser.
Noch einmal zu Reggie.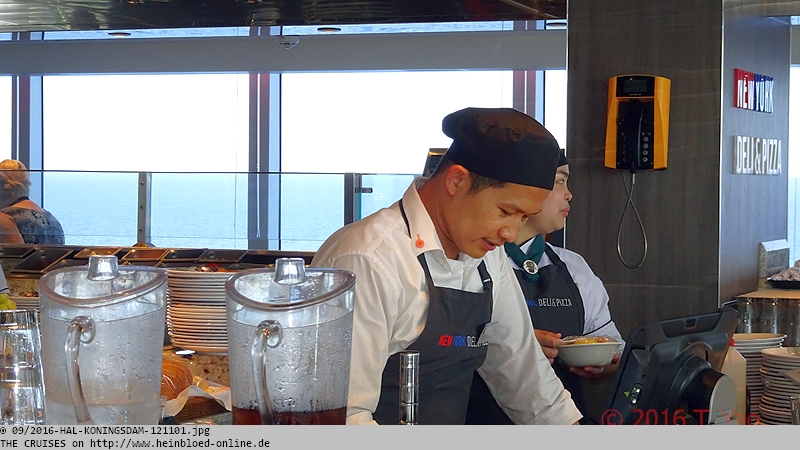 One more time to see Reggie.

He liked it here he told me.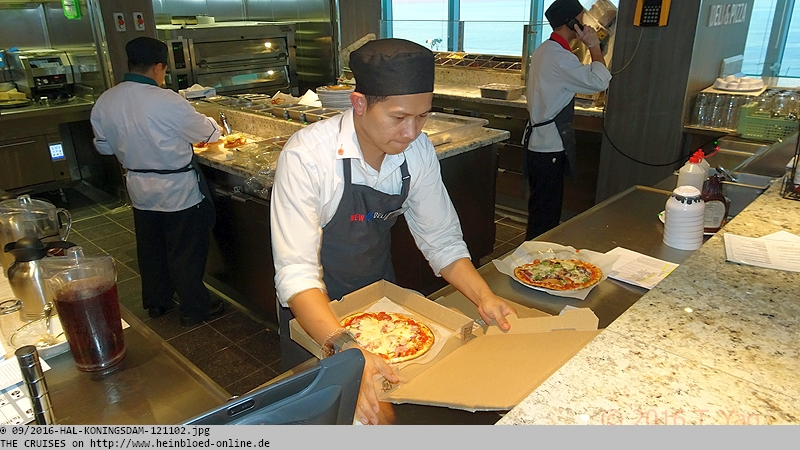 Ihm gefällt es hier, hat er mir erzählt.
Meine letzte Pizza.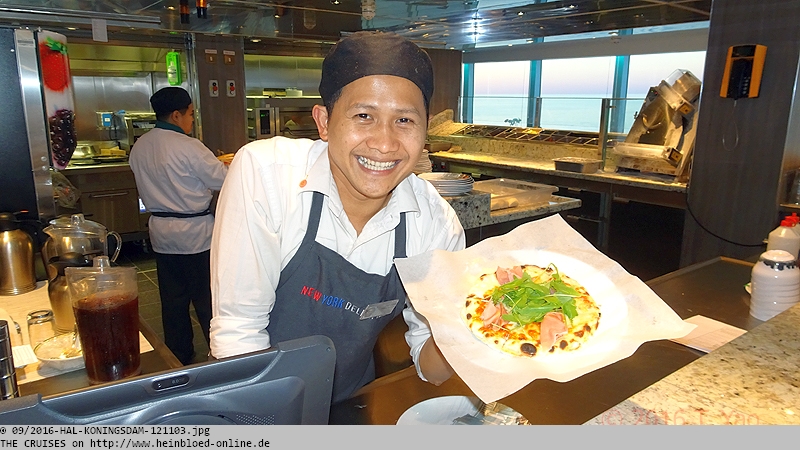 My last pizza.

Now I was really disappointed and unhappy: no last beautiful night with the International menu and all waiters dressed like chefs. One fo the most beautiful evenings so far. And now quite "normal". Some more dishes which were developed by the Culinary Council.

Nun war ich doch enttäuscht und unglücklich: kein letzter schöner Abend mit der internationalen Speisekarte und alle Kellner als Köche angezogen. Einer der schönsten Abende bisher. Und jetzt leider ziemlich "normal". Einige Gerichte mehr, die vom Culinary Council entwickelt wurden.
Ich bin nicht enttäuscht, weil ich nicht von Bord wäre und auf dem Weg nach Barcelona sein könnte, sondern weil ich hätte diesen Abend nochmals im Pinnacle Grill oder im Canaletto oder nochmals im Tamarind hätte verbringen können. So gehen wir trotzdem vorbei im Pinnacle Grill und verabschieden uns von Agus (es kam heraus, dass wir ihn auch von früher her kennen - er war gemeinsam mit Lilis auf der RYNDAM 2013), Lisa, die irgendwie es immer hinbekommen hat, unsere Tischwünsche zu erfüllen und last not least Kiliana, die uns beim ersten Besuch des Pinnacle Grills auf der KONINGSDAM so toll bedient hat, dass wir weitere Besuche im Pinnacle Grill eingebaut haben. Nur leider abends nicht beim regulären Abendessen.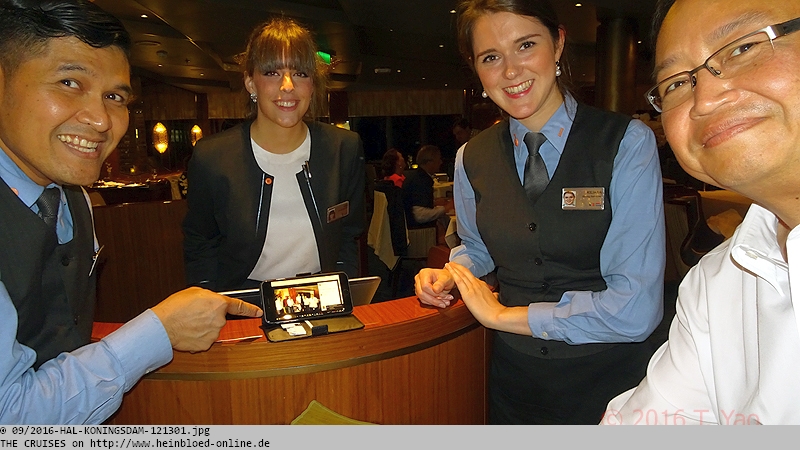 I was not disappointed because I could be off the ship and on the way to Barcelona but because I could have another dinner in the Pinnacle Grill or in Canaletto or again in the Tamarind. So we walked by at the Pinnacle Grill to say Good-Bye to Agus (we found out that we knew him from a previous cruise - he was together with Lilis on RYNDAM 2013), Lisa who managed it that we somehow got the tables we wanted to have and last not least Kiliana who served us so fantastic when we came to Pinnacle Grill the first time on KONINGSDAM that we include other visits of the Pinnacle Grill. But not with regular dinner unfortunately.

"My name is Bond, James Bond..." here togehter with Agus... Now I was more frustrated that we need to leave the next day. Sad: real good reasons to return. I old later our cabin steward Aji that I was happy to meet someone of the 2013 crew of RYNDAM. He topped it: He and Agus are family.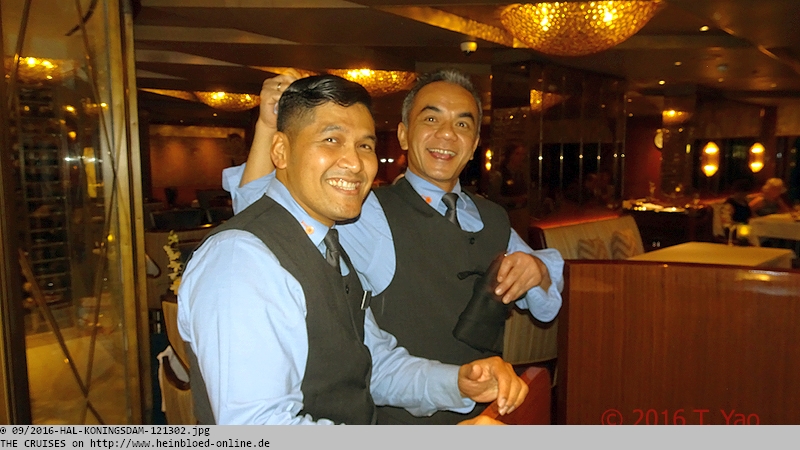 "Mein Name ist Bond, James Bond..." hier gemeinsam mit Agus... Nun bin ich noch mehr frustriert, dass wir morgen von müssen. Schade: echte Gründe wieder zu kommen. Ich erzähle später unserem Kabinensteward Aji, dass ich mich sehr gefreut habe, jemanden von der 2013-er Crew auf der RYNDAM zu treffen. Er setzt noch eins drauf: er ist mit Agus verwandt.
Zum Glück haben wir unsere eigene Waage mit... Es gab ja auch mal Zeiten, dass es in jedem Treppenhaus auf jedem Deck eine Waage stand... Es war einmal...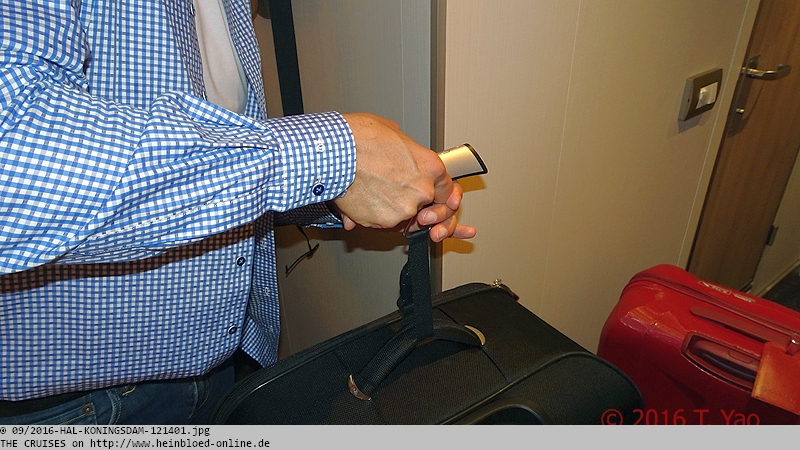 We had luckily a scale of our own with us... They had times when you could find in every stairway on every deck a scale... Once upon a time...

No chance to get out anymore.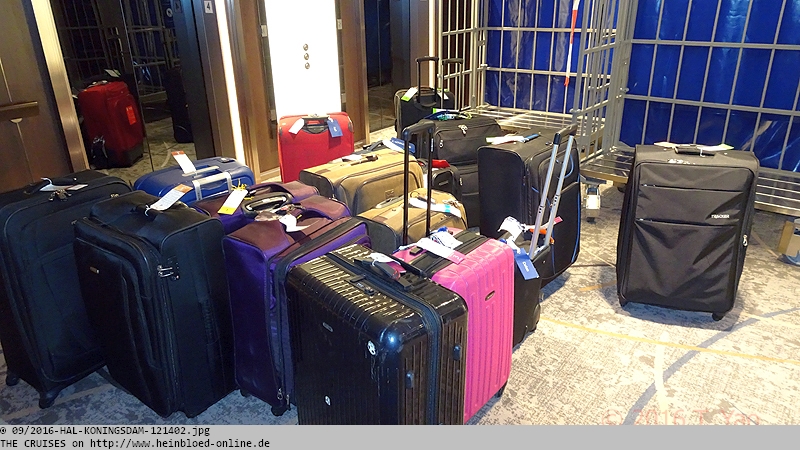 Wir kommen aber kaum noch raus.
Die ganzen Gänge stehen voll mit Gepäck. Es ist wohl tatsächlich das Ende einer schönen Reise.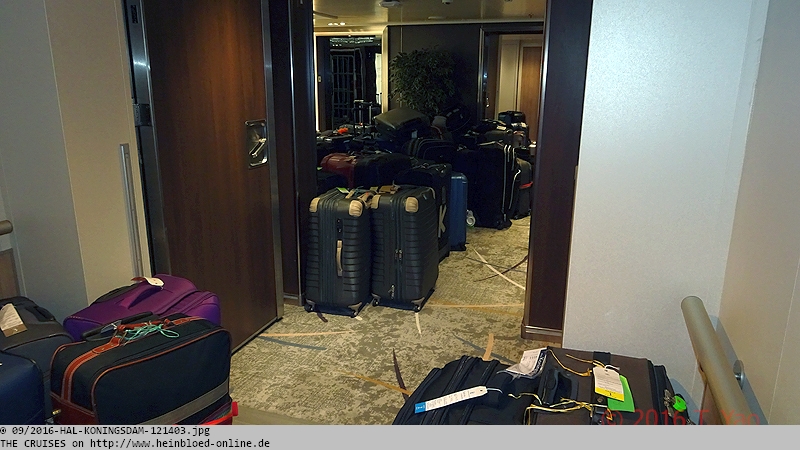 All the hallways were full of baggage. It was finally the end of a nice voyage.