Wie üblich gucke ich mir das Schiff lieber nachts in Ruhe an. Das Casino ist nicht mehr uneingeschränkte Raucherzone. Oben am Heck darf man außen rauchen. Der Bereich wird als Erwachsenen Pool bezeichnet. Hier gibt es ein paar Tische draußen mit Aschenbecher.

As usually I was browsing over ship in the nighttime when everything is calm. The casino was not an unrestricted smokers zone. Above at the aft you may smoke outside. The part was named Adult Pool. Here you could find some tables outside with ash trays.

We were on the Beethoven-Deck 4. Something strange as our hallway went one place up and down. Later I was told that they had to add space for some cablelanes for the theater.

Wir sind auf dem Beethoven-Deck 4. Etwas merkwürdig unser Gang geht an einer Stelle kurz rauf und runter. Später hat mir erklärt, dass noch eine Kabelbahn für das Theater hier untergebracht werden musste.
Die Kunst orientiert sich sehr an der Musik. Jede Musikrichtung.

Art oriented very much to music. Every style of music.

The new log and only a mono-funnel... not mine...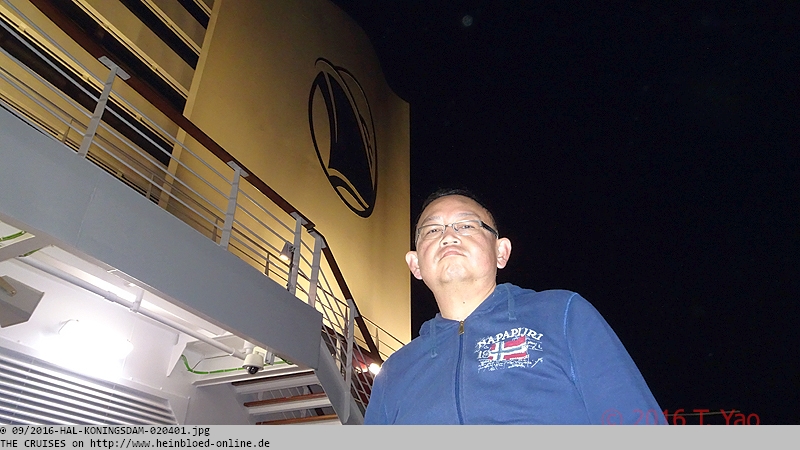 Das neue Logo und nur der Mono-Schornstein... nicht meins...
Für Jimmy Hendrix bin ich zu jung. War nicht wirklich meine Welt. Mir fehlte im Alter von 4 als er starb wohl der Zugang zu Drogen, um die Musik wirklich genießen zu können.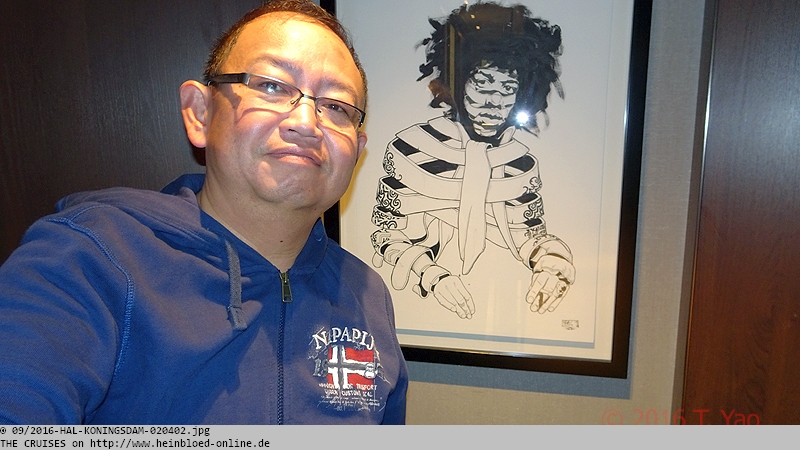 For Jimmy Hendrix I was too young. He was not really my world. With my age of 4 when he passed I had no access to drugs to had joy with his music.

Records - my world, when I was young.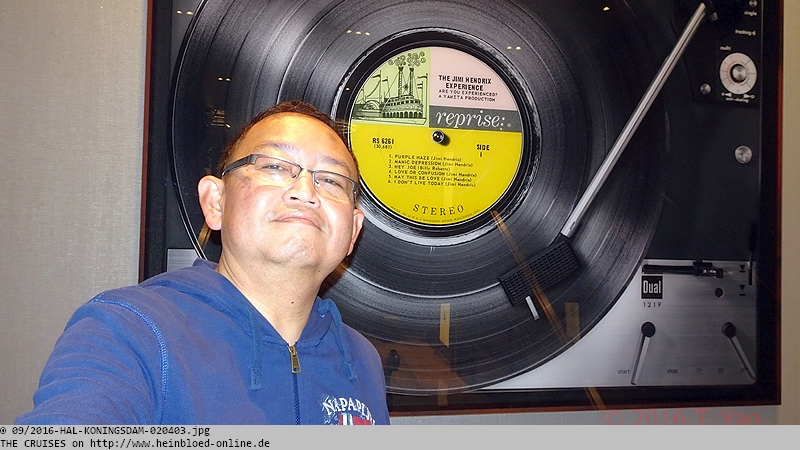 Schallplatten - meine Welt als ich noch jung war.
Die 80er - meine Welt.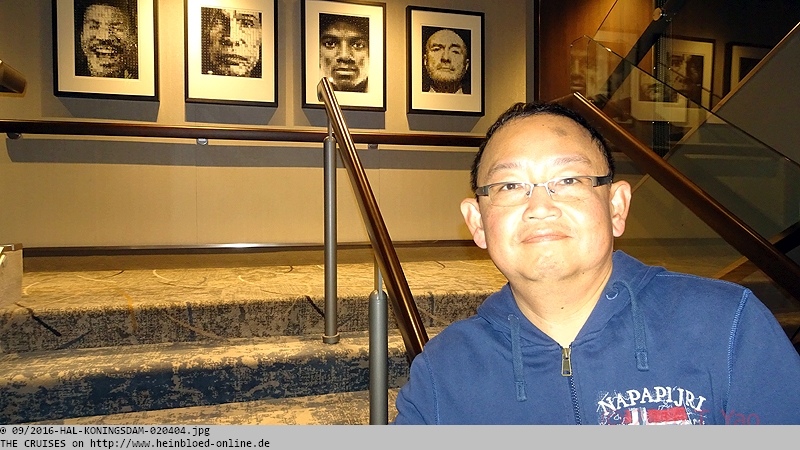 The 80s - my world.

Marilyn Monroe... my world... although she was already dead when I was born.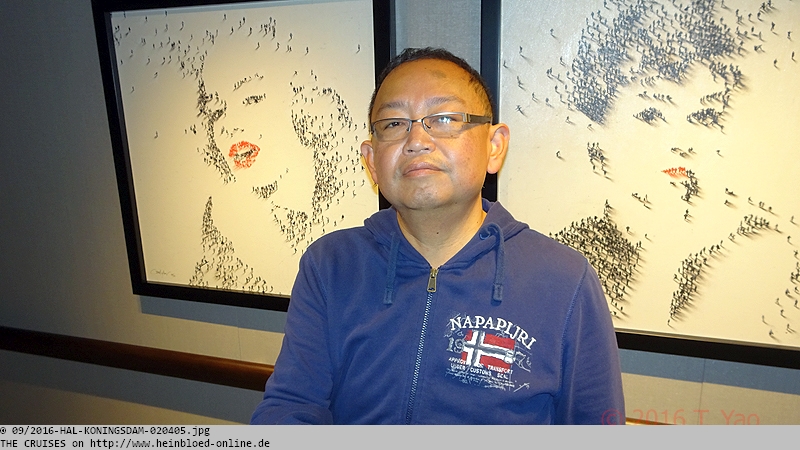 Marilyn Monroe... meine Welt... obwohl sie ja schon tot war, als ich geboren wurde.
Ganz unten im Atrium.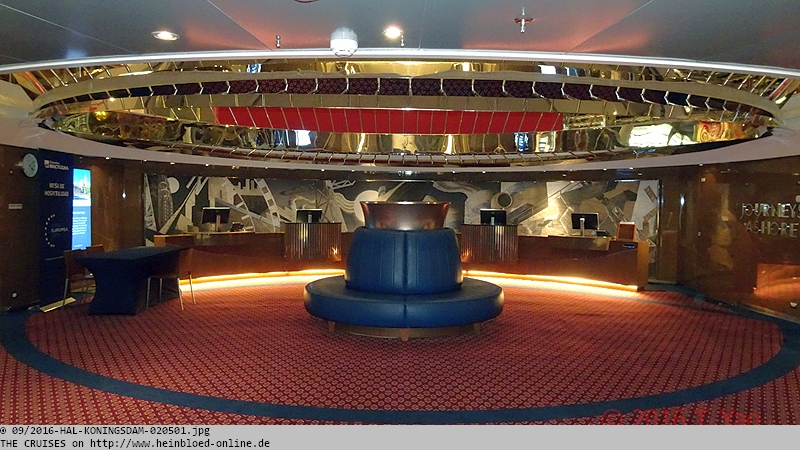 Very down in the atrium.

Even a Mexican travelgroup was onboard.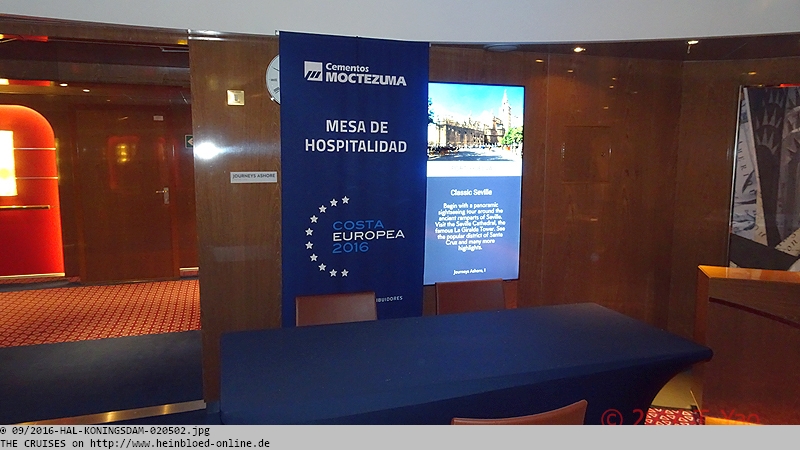 Sogar eine mexikanische Reisegruppe ist an Bord.
Das Atrium auf Deck 2/3.

The atrium on Deck 2/3.

Even above there was a lot to see - like here in the Queen's Lounge.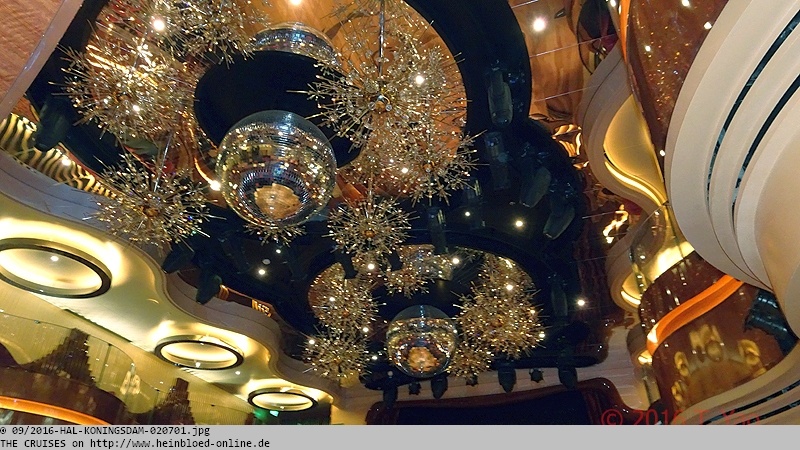 Auch oben gibt es viel zu sehen - hier in der Queen's Lounge.
Aber irgendwie zu modern für mich.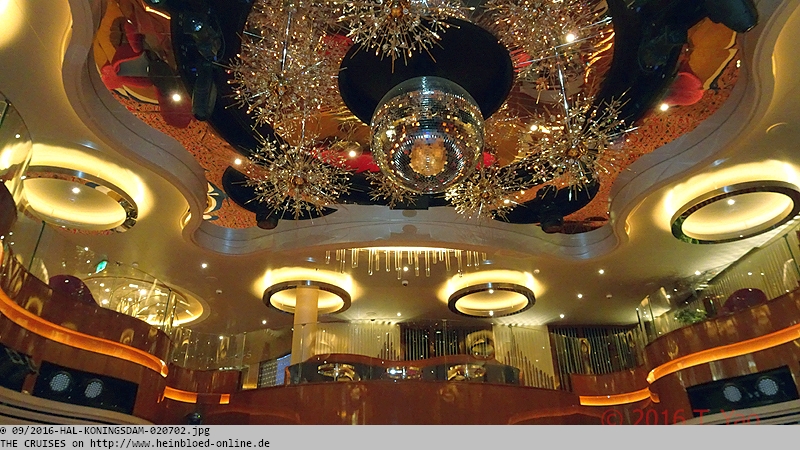 But somehow too modern to me.

Even here at the Queen's Lounge.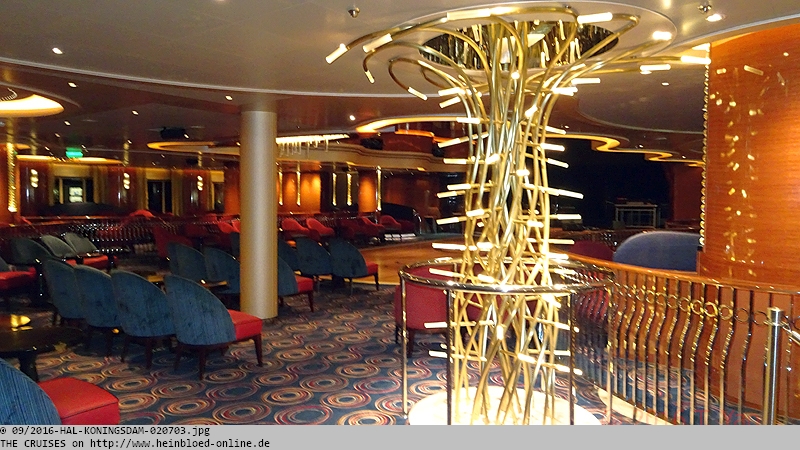 Auch hier an der Queen's Lounge.
Irgendwie zu modern. Ich fahre nochmals in 20 Jahren mit... dann ist es schön historisch.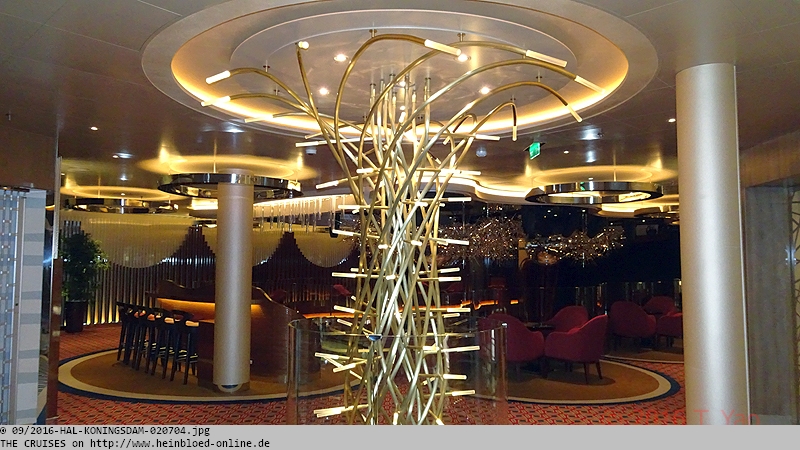 Somehow too modern. I am coming back in 20 years... then it would be nicely historic.

Reminds a little to QUEEN ELIZABETH 2. It was like this.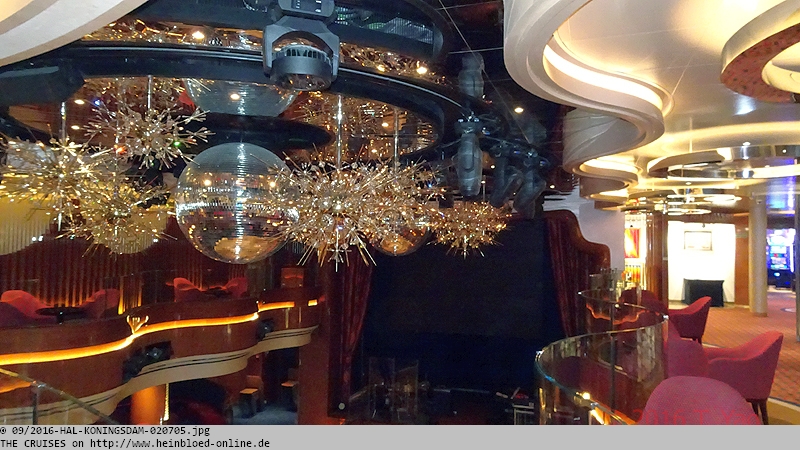 Es erinnert sehr an die QUEEN ELIZABETH 2. Da war es so ähnlich.
Lincoln Center Stage. Für die Freunde klassischer Musik.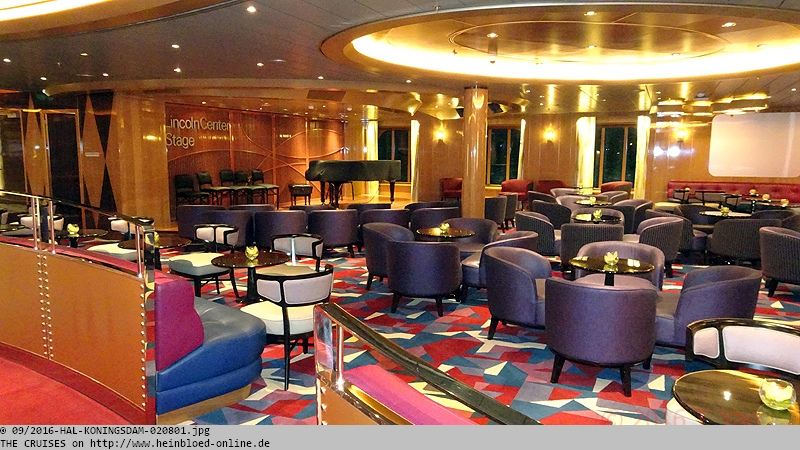 Lincoln Center Stage. For the friends of classical music.

Somehow unusual: for classical music you need somehow quiteness. Everything was very open at a main transit way.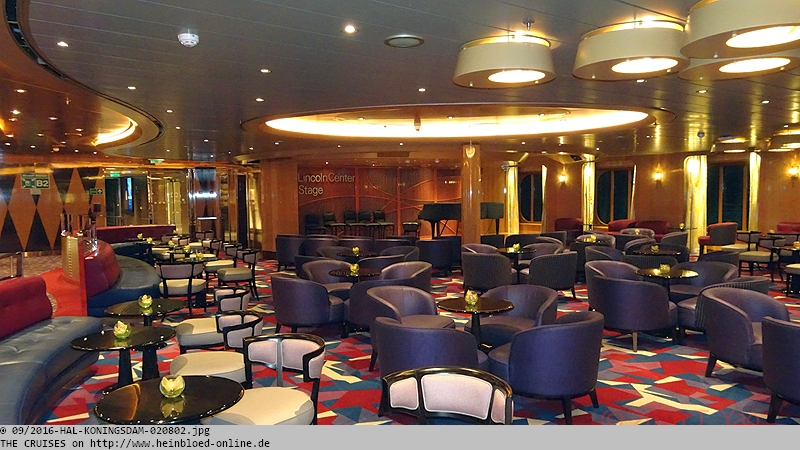 Nur etwas ungewöhnlich: für Klassik braucht man ja schon ein wenig Ruhe. Es ist aber sehr offen, an der Hauptdurchgangangsstraße.
Auch die anderen Bars gucke ich mir an.

I checked also the other bars.

Somehow it was too modern here. I missed the old style in Crow's Nest.

Irgendwie ist mir das hier zu modern. Ich vermisse den alten Stil im Crow's Nest.
Neu ist ein Kundenportal im Bordnetz. Und es gibt wieder ein automatisches Update von Windows. Jetzt an Bord auf einem Seetag? Bruno erklärt mir, dass Windows Updates neuerdings peer-to-peer ausgerollt werden. Da HAL mit Microsoft zusammen arbeitet, werde ich wohl einen Server erwischt haben, das dann automatisch über das Bordnetz mir die Update überspielt. Nach dem zuletzt es keinen Internet-Manager mehr gab, sondern die Bibliothekarinnen die Gästebetreuung übernommen haben, gibt es jetzt wieder einen Internet-Manager an Bord.

New was a board portal in the onboard-network. And they had again an automated update of Windows. Now onboard at a day at sea? Bruno explained that Windows release nowadays Windows Updates peer-to-peer. As HAL is cooperating with Microsoft I must have caught a server which started automatically to transfer the update. After they did not have anymore an internet manager onboard they had the librarians who took care of the guests. But now they had an internet manager again.

In return they made the library smaller.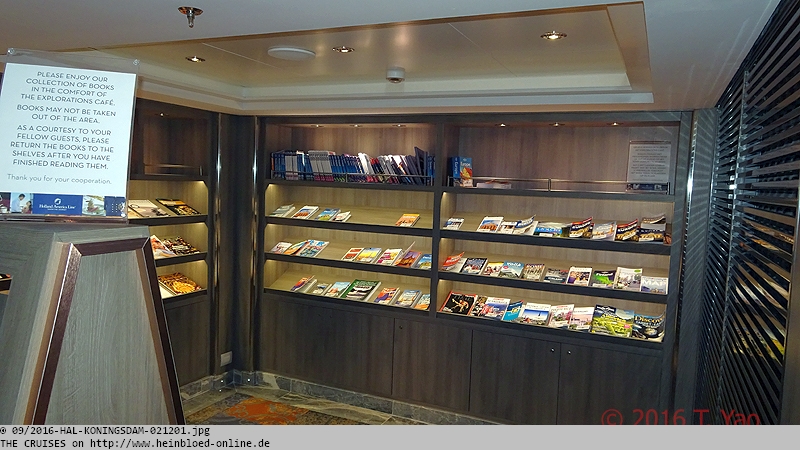 Dafür haben sie die Bibliothek so verkleinert.
So klein, dass sie keine Bibliothekarin mehr brauchen. Ich denke an die wunderbare Fahrt auf der ZAANDAM mit einer tollen Bibliothekarin Julie und einem tollen Internet-Manager Jacques. Damals war aber dafür das Internet langsamer. Sie haben ja den Provider gewechselt. Es ist für ein Schiff ganz brauchbar.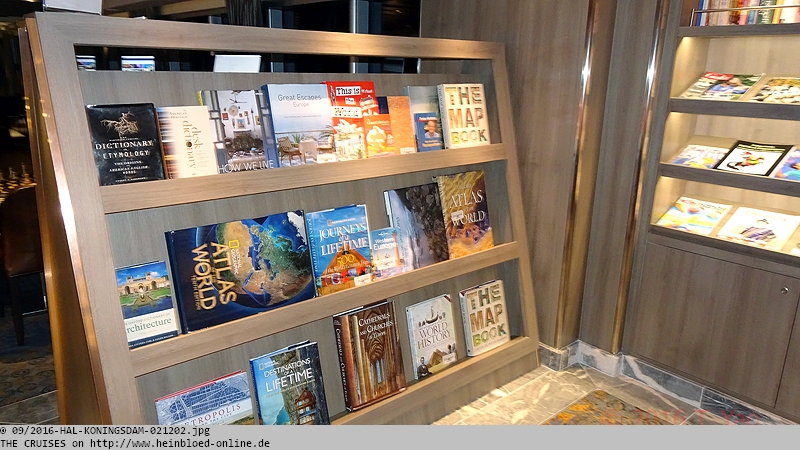 So small that no librarian was used anymore. I remember a great librarian Julie and a great internet-manager Jacques on ZAANDAM. Then the internet was much slower. They changed the provider. It is one which was of a good use for a ship.

Front Desk, Casino, Medical Center, Photo Gallery and Art Gallery.

Rezeption, Casino, Bordklinik, Fotogalerie und Bildergalerie.
Noch ein Blick in das Fitness-Studio.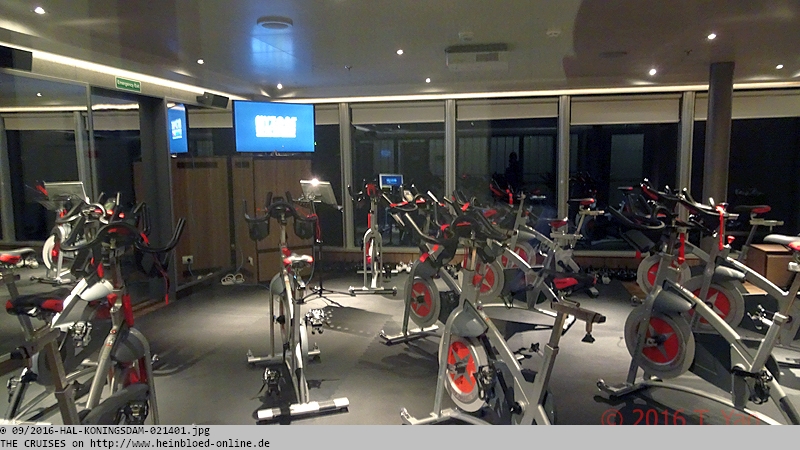 One more view into the Gym.

Bruno said that everything was available to make him happy.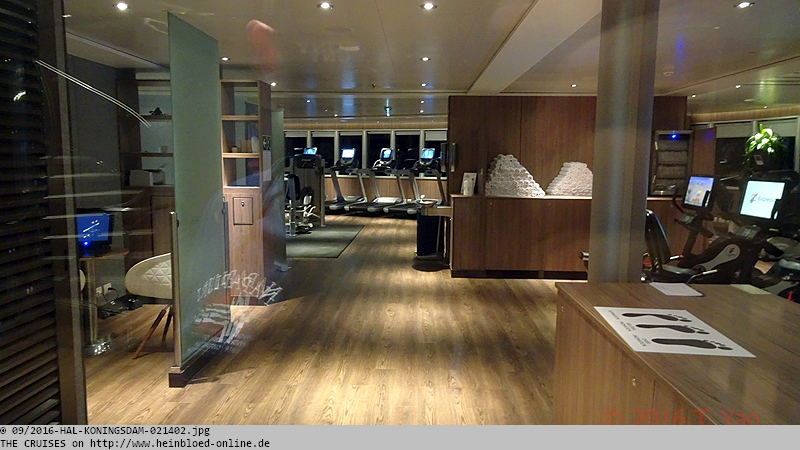 Bruno meint, dass alles da war, was er zum glücklich sein brauchte.
Handtücher liegen aus.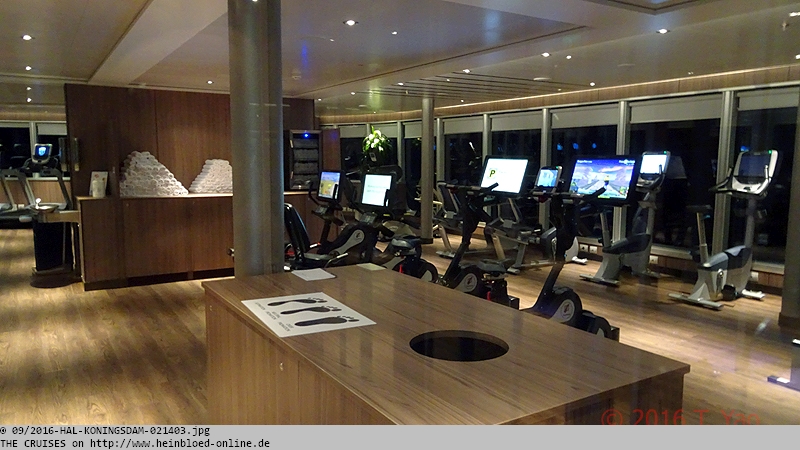 Towels were avaialable.

They also had VitaminWater in the vending machine but it did not work.

Es gibt sogar VitaminWater aus dem Automaten, aber er funktioniert leider nicht.
Der Teppich im Fahrstuhl erinnert uns daran, welchen Tag wir heute haben.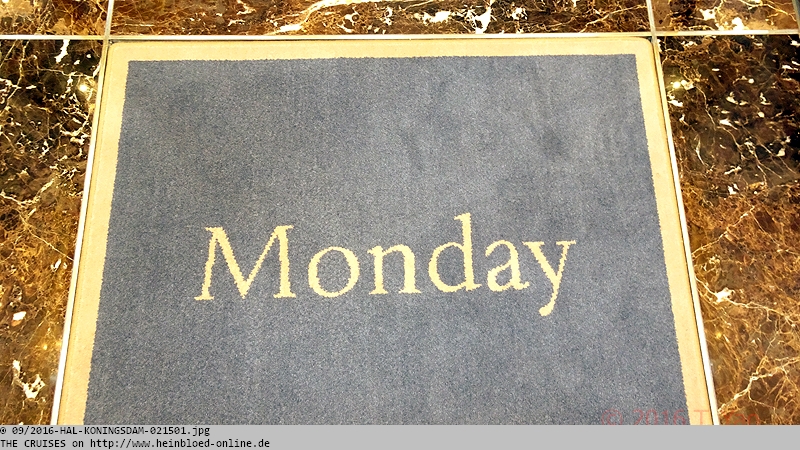 The carpet in the lift remembered us which day we had actually.

As usual with HAL: you need to know the names of the decks. With the numbers you cannot have full orientation onboard at all.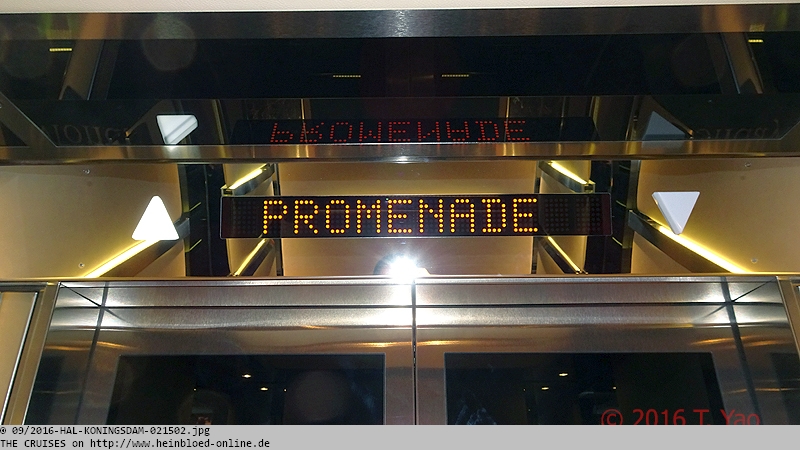 Wie üblich bei HAL: man muss die Namen der Decks kennen. Mit Nummern kommt man nicht sehr weit an Bord, um sich zurecht zu finden.
Es gibt leider an Bord dieses Schiffes nur so komische Gänge auf den oberen Decks. Manche enden mitten drin oder führen rauf und runter. Bisher war Holland America immer meine bevorzugte Linie für meine mobilitätseingeschränkten Mitreisenden, aber die KONINGSDAM ist leider nicht dafür geeignet.

They had onboard only very akward ways on the upper decks. Some just ended in the center. Other took you up and down. So far Holland America was my prefered line when I was travelling with mobility reduced fellow-cruisers but KONINGSDAM would not be suitable for such plans.

The roof covered pool-area.

Der überdachte Poolbereich.
Eisbar kostenpflichtig und auch die SB-Getränkeautomaten haben Einzug gehalten. Nur die Hot Dogs und Hamburger-Bar ist noch konstenlos.

Ice cream bar on fee and also the self-service beverage machines arrived on bog. Only the hot dogs and burger-bar was still free on charge.

A view in the lido market. The self service offer.

Ein Blick in den Lido Market. Das SB-Angebot.
Ein Blick auch in das Culinary Art Center für das wir eine Buchung haben.

A view into the Culinary Art Center for which we had a booking.

Canaletto was again part of the Lido-Market which was set in the evening in a different way.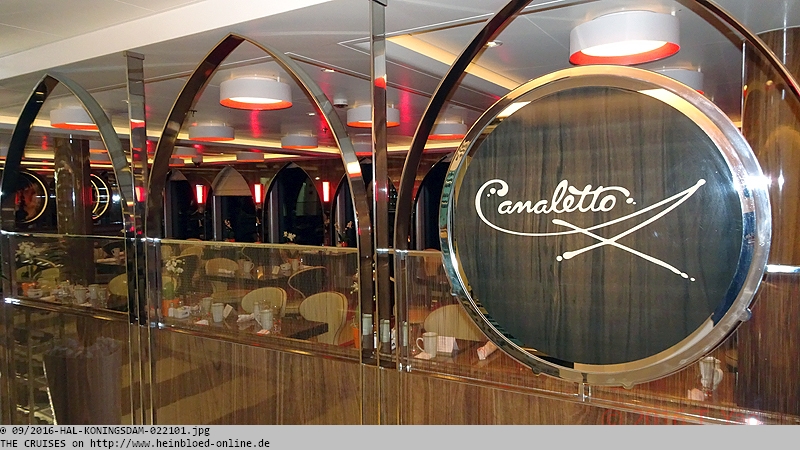 Canaletto ist wieder ein Teil des Lido-Markets, das abends anders eingedeckt wird.
Aber wie gesagt: mir ist es zu modern.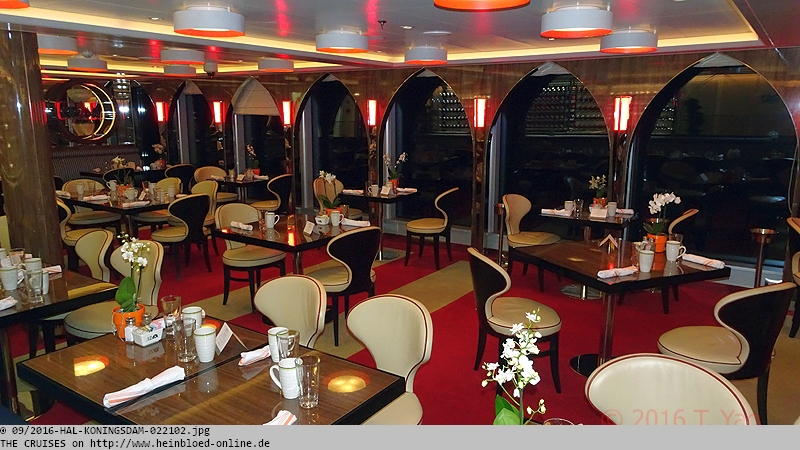 But as said: too modern for my taste.

Here the wall of wine was the seperator.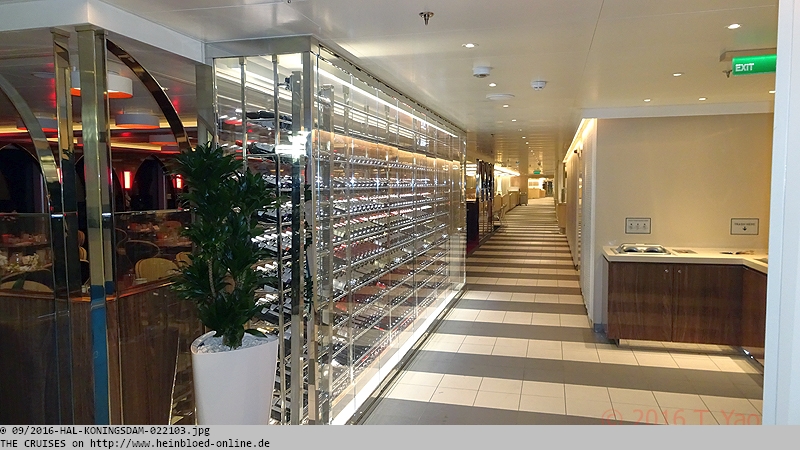 Hier bildet die Weinwand die Trennung.
Pinnacle Grill.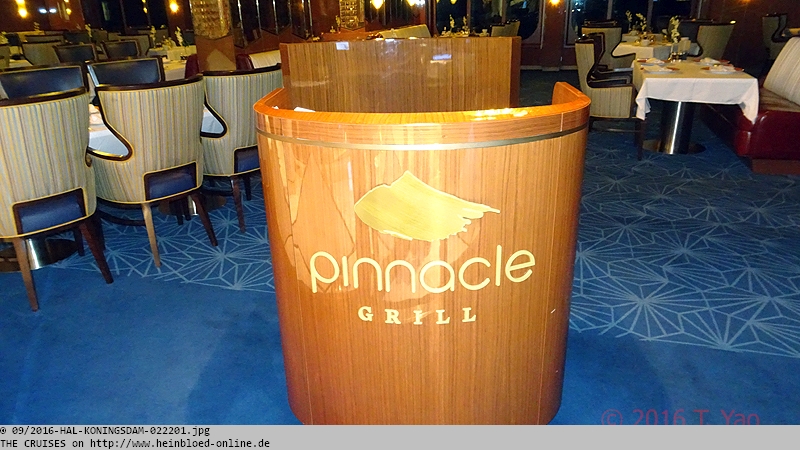 Pinnacle Grill.

This time we had no booking made and want to get there spontaneously and we had a booking for De Librije. We missed the event on EURODAM.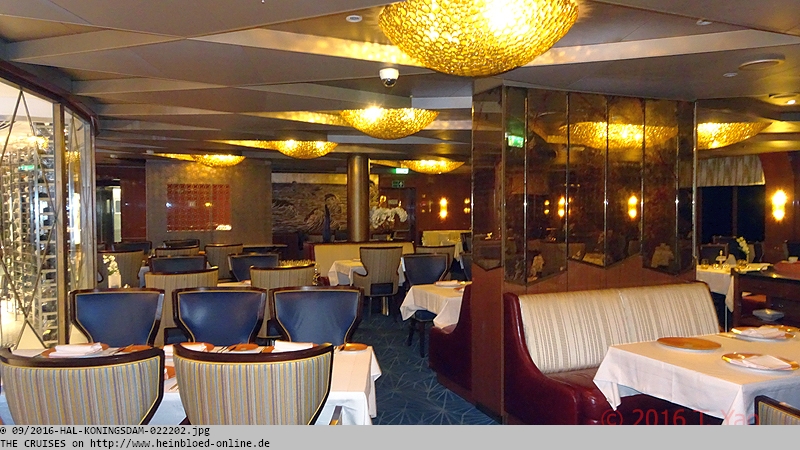 Wir haben dieses Mal keine Buchung gemacht und wollen spontan hin bzw. haben eine Buchung für De Librije. Das Ereignis haben wir auf der EURODAM verpasst.
Und schon wieder eine Weinwand. Irgendwie ist dem Designer nichts mehr eingefallen.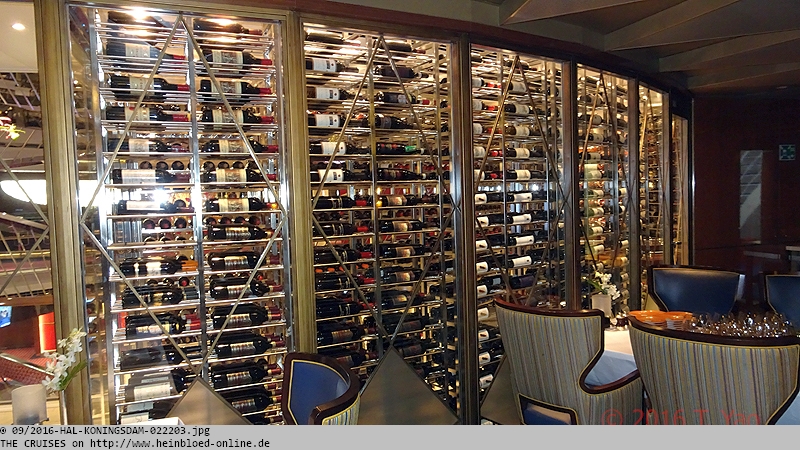 And again a wall of wine. Somehow the designer had no further new ideas.

New was the Sel de Mer with an à-la-carte offer.

Neu ist das Sel de Mer mit einem à la carte Speiseangbot.
Es gibt wieder ein Tamarind. Sehr schade: kein kostenloses Mittagessen mehr!

They had again a Tamarind. Very bad: no more free lunch!

A view to the CLUB HAL. Kids were kept in glass containers at the fresh air... Very nice... Can you feed them?

Ein Blick in den CLUB HAL. Kinder werden in Glaskästen an der frischen Luft gehalten... Sehr schön... Darf man sie dort füttern?
Wir sind ein Deck über dem "schönen" Promenadendeck. Quietschende Schuhe der Läufer...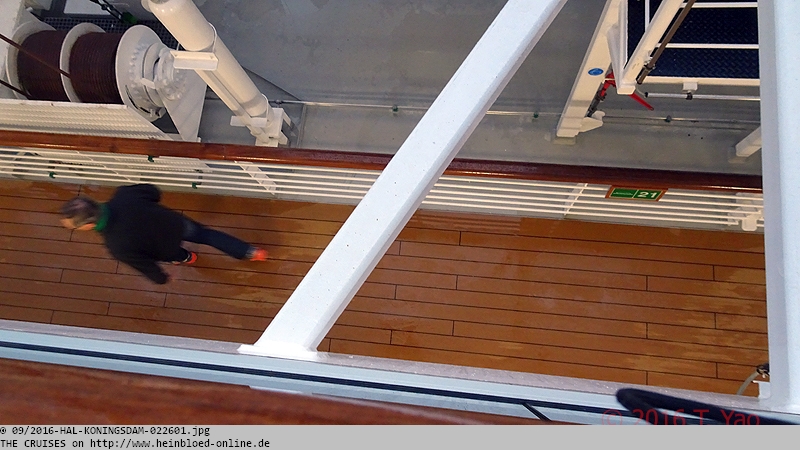 We were just one deck above the "beautiful" promenade deck. Squeaking shows of the runners...

Made one crazy when you wanted to chill on your own balcony.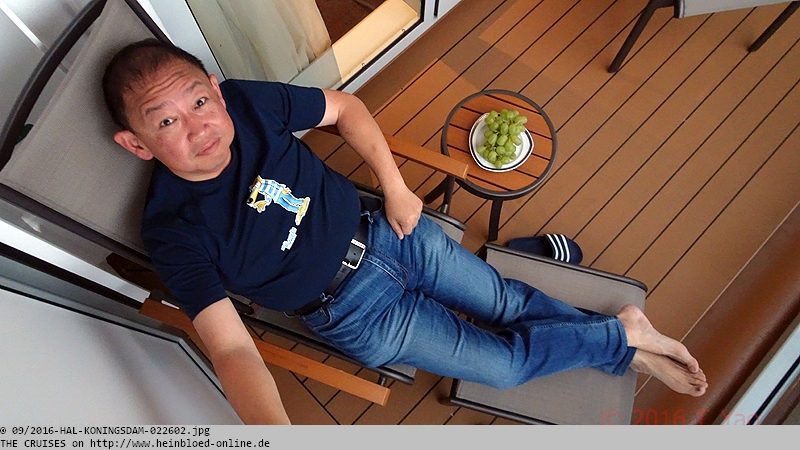 Macht einen wahnsinnig, wenn man auf dem eigenen Balkon chillen will.
Blöd, dass es keine Siebetüren gibt. Sind sehr hilfreich, wenn der Wind stärker weht.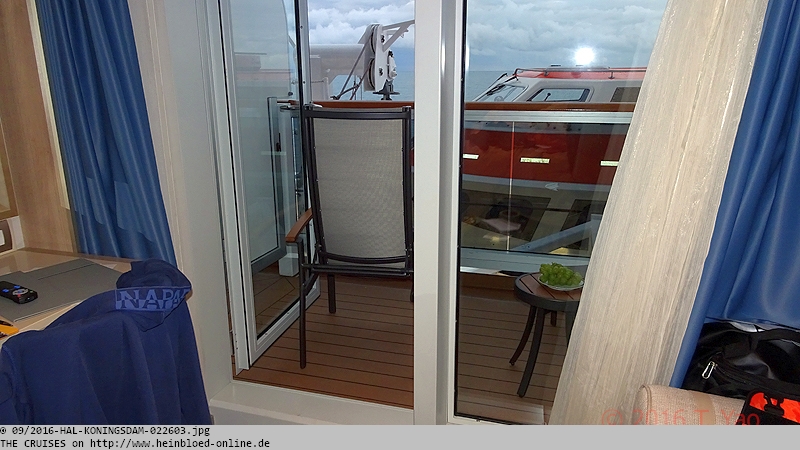 Stupid that there were no sliding doors. Very helpful if you have strong wings.

For 108.00 USD we used the unlimited laundry package.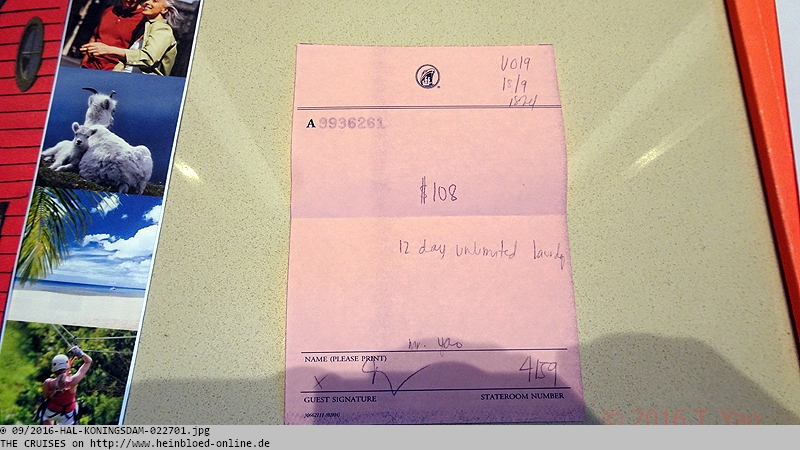 Für 108,00 USD haben wir mal wieder das unbegrenzte Wäschepaket gekauft.
Wir müssen aber trotzdem zählen und schreiben.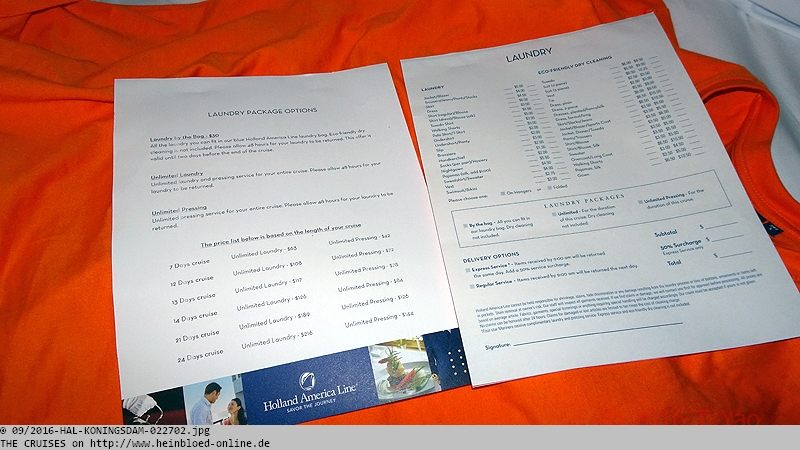 But still we need to count and write.

Somehow they forgot to add space for name and cabin number on the forms.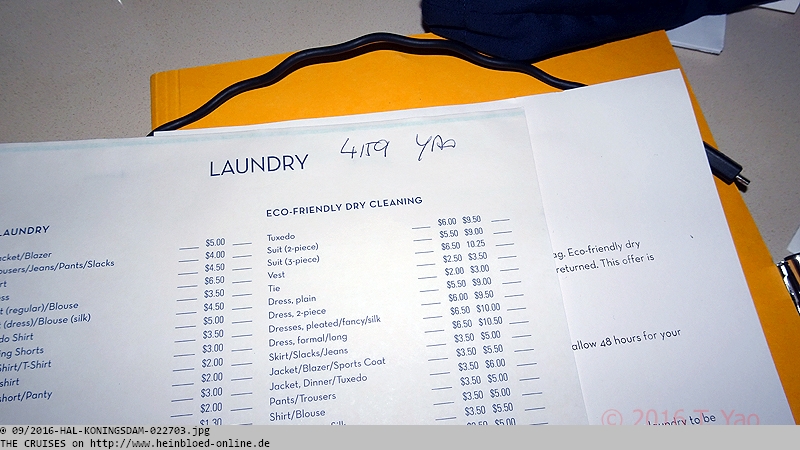 Irgendwie haben sie bei den Formularen vergessen ein Feld für den Namen und die Kabinennummer einzudrucken.
Wir bekommen an gleichen Abend bereits die Wäsche zurück.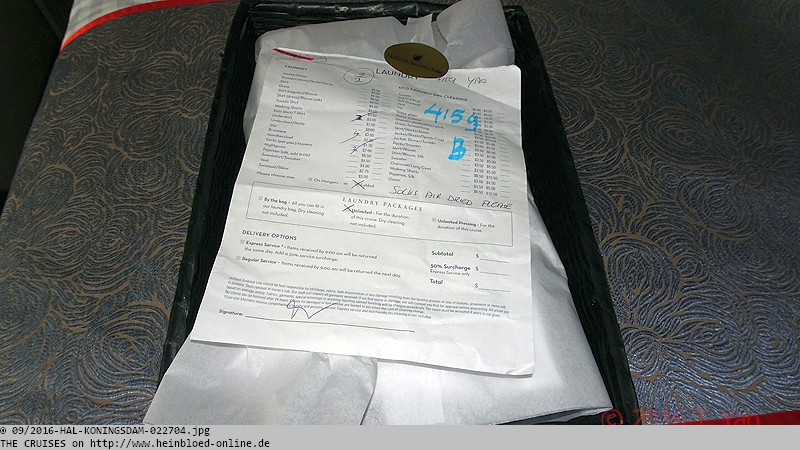 We got already back our laundry the same night.

We had really great cabin stewards: Wajan and Aji... we were highly satisfied with their performance.

Wir haben tolle Kabinenstewards: Wajan und Aji... wir sind sich hochzufrieden mit ihrer Leistung.
An einigen öffentlichen Punkten gibt es auch die aktuellen Übersichten zum Verlauf der Reise.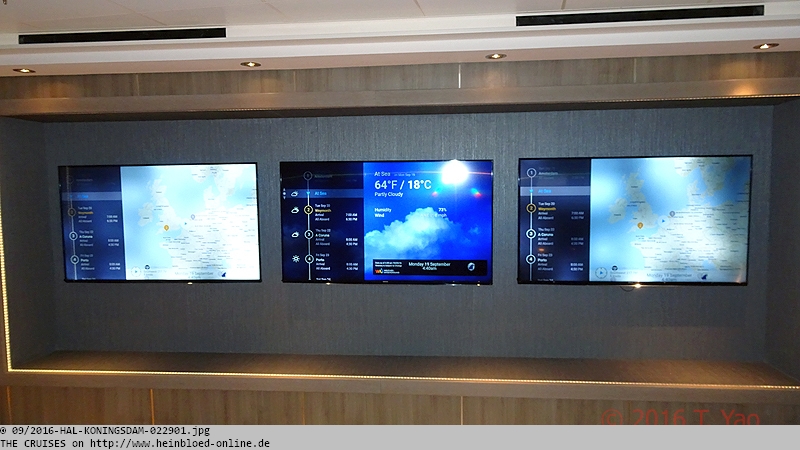 On few public spots you could have an overview on the acutal state of your voyage.

Nice: fresh fruits in little glasses in the Explorations Café.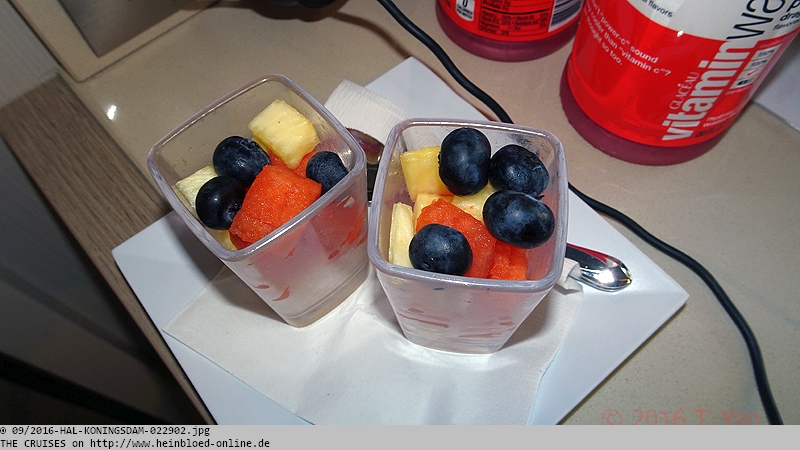 Nett: frisches Obst in Gläschen im Explorations Café.
Netter: Anita, die mir immer sehr charmant, meinen Cappucino macht.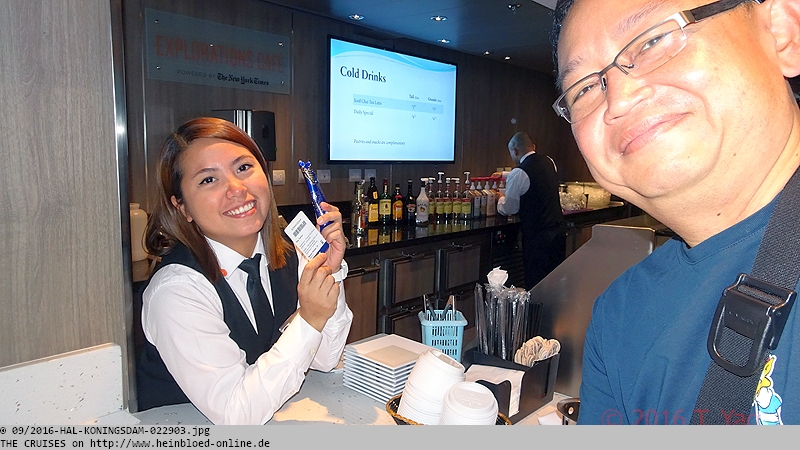 Nicer: Anita who made on her charming way my Cappucino.

First time for breakfast into the Main Dining Room. I was positively surprised: No more bird singing in the morning. But also some less nicer breakfast offers. It started with Norwegian the same: They did not come anymore with the tray but with a basket and you must ask very targeted for items you already knew from prom previous cruises. No dragon fruit onboard that time. But orange juice in carafes on the table even when none at the table drank it. I only knew the rule, what was on the table must be discarded... Maybe we had in this area of the ocean fish with an extreme high part of Vitamin C or you had a lot of orange sherbet for dessert. The crew did the best that we still were happy. So Bruno got his berries. But I cannot become familiar with the modern china etc.

Zum ersten Mal zum Frühstück ins Hauptrestaurant. Hier bin ich positiv überrascht: Das Vogelgezwitscher ist abgeschafft worden. Dafür leider auch einige weniger schöne Frühstücksangebote. Mit NCL hat es genauso angefangen: Irgendwann kamen sie auch nicht mehr mit dem Tablett, sondern mit einem Körbchen und man musste sehr gezielt fragen, wenn man das Gebäckangebot von früher her kannte. Eine Drachenfrucht gab es dieses Mal gar nicht an Bord. Dafür Orangensaft in Karaffen auf dem Tisch, auch wenn ihn keiner getrunken hat. Ich kenne die Regel, was auf dem Tisch war, muss vernichtet werden... Entweder gibt es in diesem Seegebiet nur Fische mit einem besonders hohen Vitamin C Anteil, oder jede Menge Orangensorbet zum Nachtisch. Die Crew hat das Beste unternommen, damit wir trotzdem glücklich sind. So hat Bruno seine Beeren bekommen. Aber irgendwie kann ich mich mit dem modernen Geschirr usw. absolut nicht anfreunden.
Vormittags findet im Captain's Corner im Crow's Nest das Meet & Greet von cruisecritic.com statt. Auf der EURODAM hatte ich "Glück". Alle Senior-Offiziere kamen und dafür kein einziger Mitreisende: ich hätte sie noch persönlich alle an Bord erinnern müssen. Ich konnte damals ein Super Selfie machen mit den ganzen Senior-Offizieren und wurde als Trost zur VIP-Party eingeladen. Danach habe ich fest mit gerechnet, dass ich nie wieder in Seattle nach einem Meet & Greet anfragen darf. Aber dem war nicht so. Dieses Mal hatte ich "Pech": es findet ein Audit an Bord statt, so dass nur Sonia (Housekeeping Manager) und Don (Hotel Manager) vorbeikommen. Leider kommen auch die Meisten der Angemeldeten zur Veranstaltung, so dass ich dieses Mal keine Trostpflaster bekommen habe. So habe ich aber Gelegenheit schon mal ein paar meiner Mitläufer auf meinen Touren kennenzulernen: Sherry und Andy aus Australien, Claire, Sri, Margot und Larry aus den USA, June und Joyce aus Kanada wollten sich bei einigen Ausflügen anschließen. Sehr nette Vorbereitung.

In the morning we had in the Captain's Corner in the Crow's Nest the Meet & Greet of cruisecritic.com. On EURODAM I had "luck". All seniof officers appeard and none of the other fellow-cruisers: I should have reminded them personally on onbard. I could made a super-selfie with all the senior-officers and was invited as solace to the VIP Party. After that I really expected that was not allowed anymore to make any requests for any Meet & Greet in Seattle. But it was not. This time I had "unluck": they had an audit onboard so that we only had Sonia (Housekeeping Manager) and Don (Hotel Manager) who came by. Unfortunately this time most of the registered came so I did not get any consolation prize. But I used the occassion to meet some of my co-walkers on my tours: Sherry and Andy from Australia, Claire, Sri, Margot and Larry from the US, June and Joyce from Canada wanted to join us for some of our tours. Very nicely prepared.

We started to occupy our cabana und became whitness of taping onboard of a film: Don participated to the film. As far as we could follow they had a cabana as gift to a couple which just married... Hmm... we were on a Dutch ship (homeport Rotterdam). In the Netherlands same-sex weddings are legal but no Dutch Captain on any HAL-ship was doing the ceremony. All ceremonies were done ashore... What a pity... To our comfort we enjoyed the fantastic service of Joseph and John Larry. That was somehow decadent. But we were on vacation and that meant that we loved to be pampered a little. For that reason HAL was always good.

Wir nehmen unsere Cabana in Beschlag und werden Zeugen von Dreharbeiten an Bord: Don hatte bei den Dreharbeiten mitgemacht. Soweit wir es mitbekommen haben, wurde der Aufenthalt in der Cabana an das Hochzeitspaar im Film kostenlos verschenkt... Hmmm... wir sind auf einem niederländischen Schiff (Heimathafen Rotterdam). In den Niederlanden sind gleichgeschlechtliche Ehen legal, nur traut leider kein niederländischer Kapitän an Bord der HAL-Schiffe. Die Zeremonien finden leider alle an Land statt... Schade...So genießen wir einfach zum Trost den fantastischen Service von Joseph und John Larry. Das ist schon dekadent. Aber wir haben Urlaub und dazu zählt es auch, dass wir uns ein wenig verwöhnen lassen möchten. Und dazu eignet sich HAL immer gut.
Unser Mittagessen wird uns von Joseph und John Larry serviert, die uns jeden Wunsch von den Augen ablesen und uns vom Lido holen.

Our lunch was served by Joseph and John Larry who read all our wishes from our eyes and got it from the Lido.

Anita kept her promise and got me some lactose-free milk. The direct neighbourhood between the Exploration Café and The Retreat was very practical. The way to goodies took us through our Cabana-stewards or directly to the Exploiration Café.

Anita hat ihr Versprechen gehalten und mir laktosefreie Milch besorgt. Die direkte Nachbarschaft zwischen dem Exploiration Café und The Retreat ist schon äußerst praktisch. Der Weg zu Leckereien führt über unsere Cabana-Stewards oder direkt zum Exploiration Café.
Im Royal Dutch Café gibt es eben die anderen niederländischen Leckereien. Aber so viel konnte ich nicht essen, um alles auszuprobieren.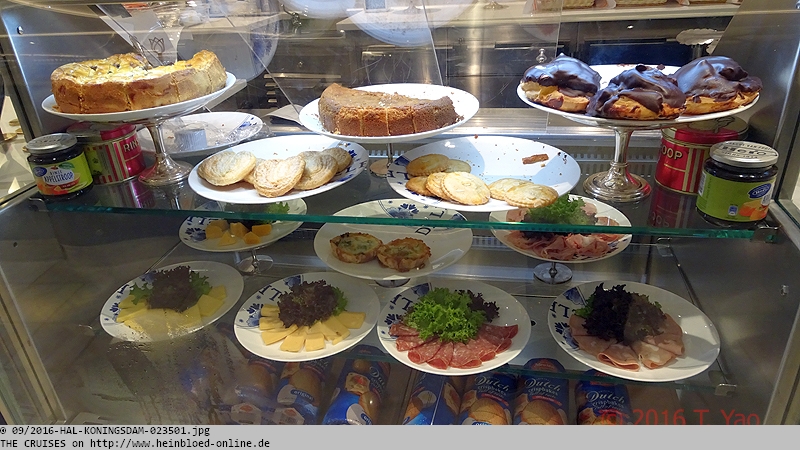 In the Royal Dutch Café they had the other Dutch goodies. But I could not eat so much to try everything.

They even had a typical Dutch spread made of apple syrup.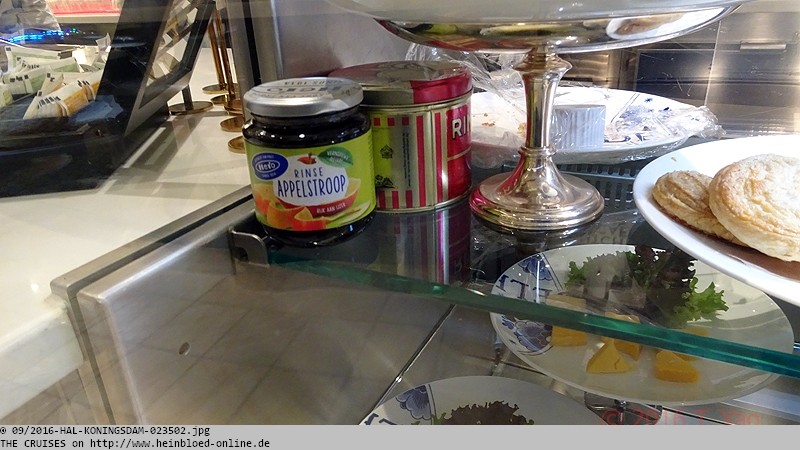 Sogar Apfelkraut gibt es hier.
Und die leckeren Schoko-Windbeutel lachen ja einen an... aber zum Glück habe ich einen kleineren Magen und kann nicht mehr essen.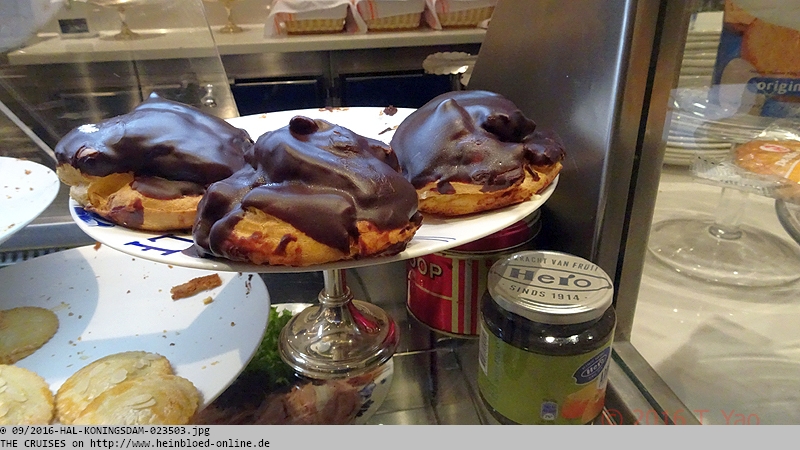 And the yummy chocolate cream-puffs were inviting with a smile... but I had luck that I had a smaller stomach und could have more.

Few items were only for sale.

Einige Produkte werden auch nur zum Kauf angeboten.
Bei Michael muss ich mich noch für die tolle Organisation des cruisecritic.com-Meet & Greet bedanken. Mit auf dem Bild Jules von der Rezeption.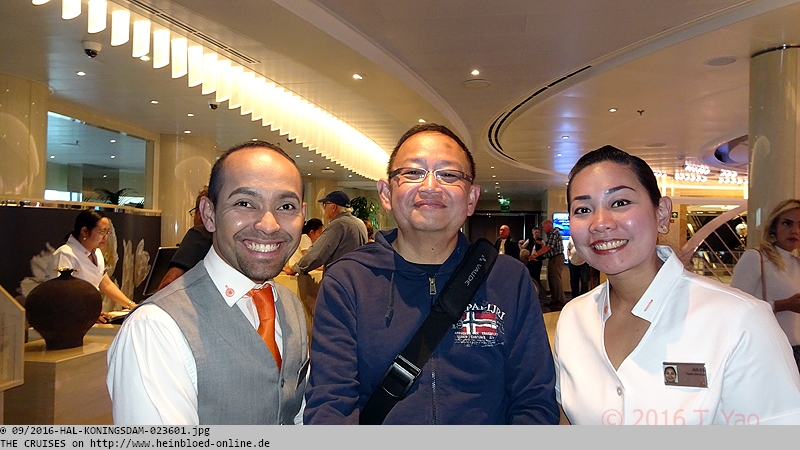 I need to thank Michael for the great organisation of the cruisecritic.com-Meet & Greet. On the picture there was also Jules from the front desk.

And Isobel took care of our bookings of additional days in our cabana and our laundry flat rate.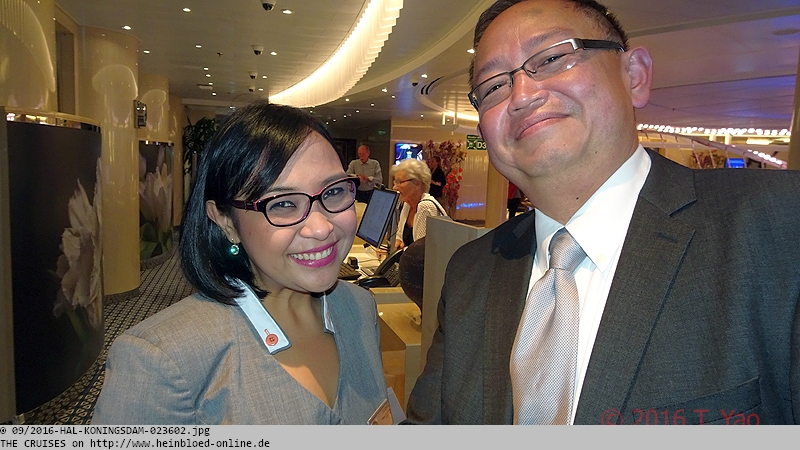 Und Isobel hat sich um unsere Buchungen der zusätzlichen Cabana-Tage und Wäscherei-Flat-Rate gekümmert.
Neben uns fährt die MIDNATSOL.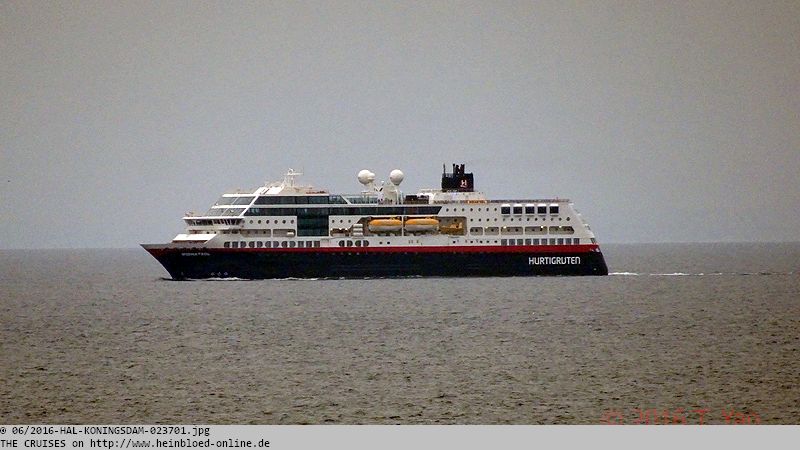 Next to us MIDNATSOL was siling.

She was really like a stalker.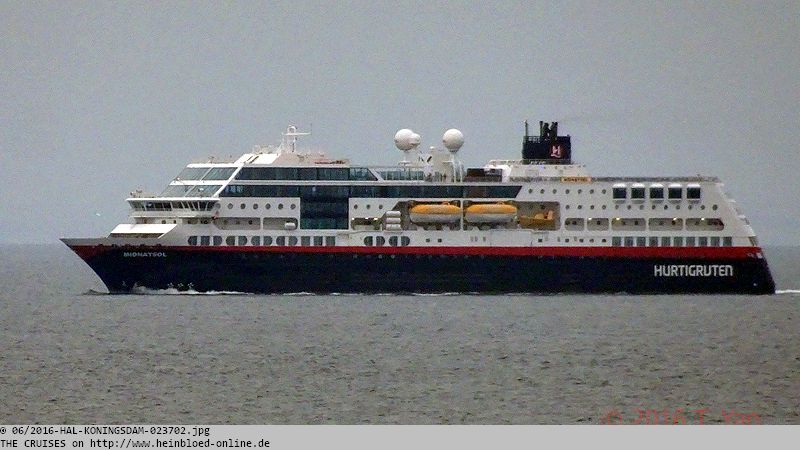 Sie wird zur Stalkerin.
Weiter geht es zur ersten Production Show. Im Mittelpunkt ist die LED Wand - nicht mehr so die Künstler. Es gibt drei Shows pro Abend, weil das Theater kleiner ist. Wir nutzen die Gelegenheit zuerst in die Show zu gehen und erst danach zum Essen, um den Druck rauszunehmen.

We headed for our first production show. In the center was the LED wall - less the artists. They had three shows since the theater was smaller. We used the chance to see first the show and dining after the show to pull out some time pressure.

We got the same post-yellow corner from yesterday and at the end of the meal we kindly ask that we did not want to be allocated the same table night by night. We loved to be "on tour" und make acquaintance of new crew-members and other corners of the restaurant. We had nice waiters: Iwan and Resi, Head Waiter Krasas and Sommelier Jobelle took very well care of us. It was not because of them that we had the wish to change. But in this corner I only felt like in a German post office. The food was good but not anymore such a large of variation like befroe.

Wir hatten wieder unsere postgelbe Ecke von gestern bekommen und am Ende des Essens haben wir darum gebeten, dass man uns bitte nicht jeden Abend denselben Tisch zu teilen möchte. Wir sind sehr gerne "unterwegs" und lerne so neue Crew-Mitglieder und andere Ecken im Restaurant kennen. Wir hatten sehr nette Kellner: Iwan und Resi, Oberkellner Kirasas sowie Sommelier Jobelle haben uns super betreut. An denen liegt es nicht, dass wir den Wunsch haben zu wechseln. Aber ich fühle mich in dieser Ecke, wie in einer Filiale der Deutschen Post AG. Das Essen war gut, leider nicht mehr so umfangreich wie früher.
Wir gehen noch ein wenig beim B.B. King's Blues Club gucken. Aber drei asiatische Paare lenken mich zu sehr mit ihren Tanzkünsten von der tollen Leistung der Sänger und Musiker ab. Ich wusste nicht, worauf ich mich konzentrieren sollte.

We went to have a sneak view in the B.B. King's Blues Club. But three Asian diverted my attention off the performance of singers and musicians due to their art of dancing. I did not know how to concentrate on one item.

2/3 of the venues were open every night.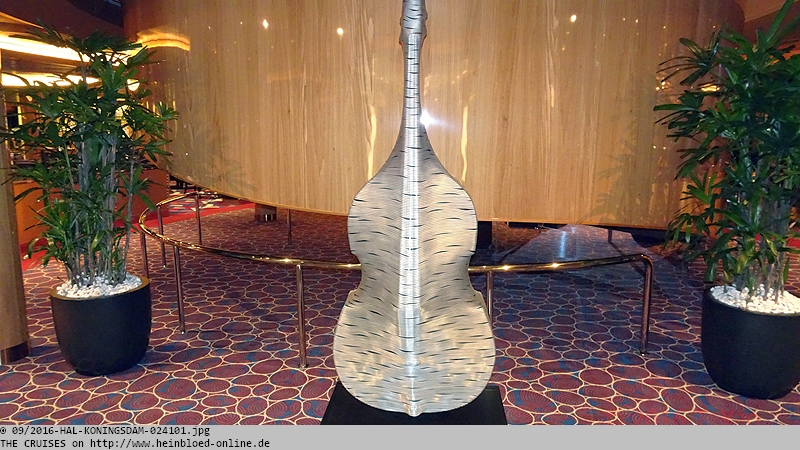 2/3 Veranstaltungsorte sind jeden Abend geöffnet.
Tagsüber gibt es nichts bei den Billboard Onboard Sängern.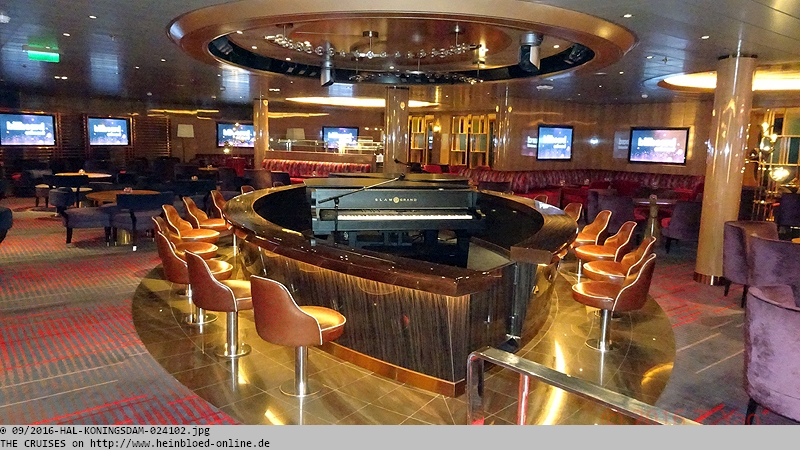 During the day time you had nothing with the Billboard Onboard Singers.

But in the middle of the night they had great music so I recorded the songs on Shazam to download the songs later ashore.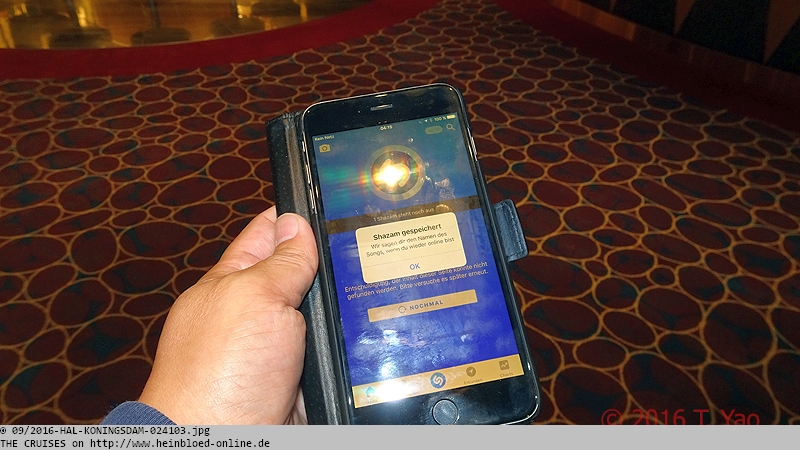 Aber mitten in der Nacht läuft hier super Musik, dass ich die ganze Zeit mit Shazam aufzeichne und hinterher mir an Land herunterlade.
Abends ist hier gute Stimmung.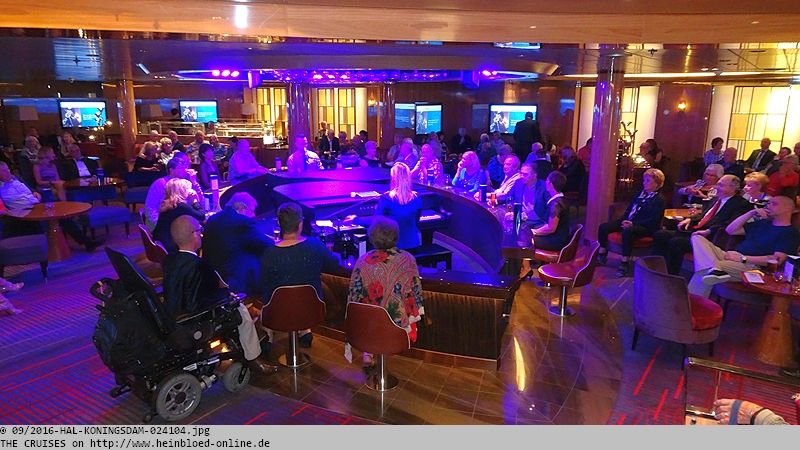 In the evening the atmosphere was great.

I need to return when I was not so tired again. Good Night.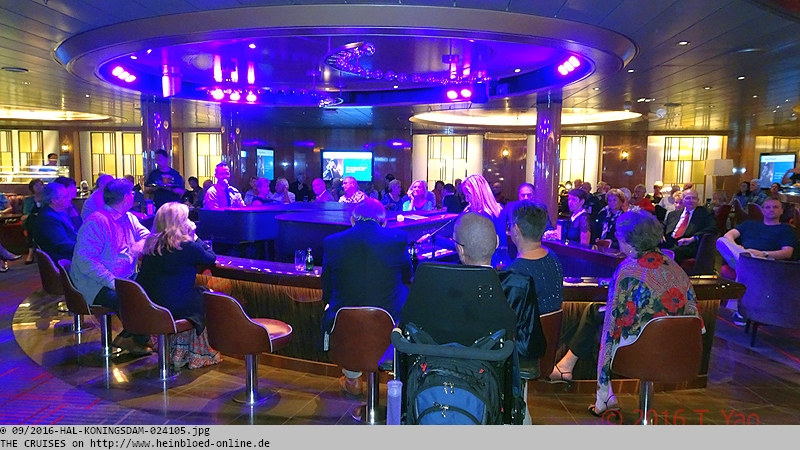 Ich muss wiederkommen, wenn ich nicht so müde bin. Gute Nacht.