Fertig zum Walk a Mile.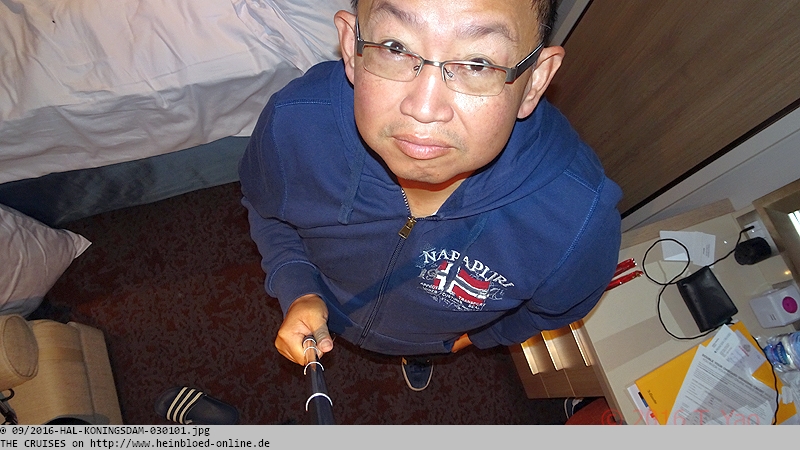 Ready for Walk a Mile.

07.30 hrs - so late? Deck 9? Perhaps above? Sounded like jogging track. I prefer to walk by myself.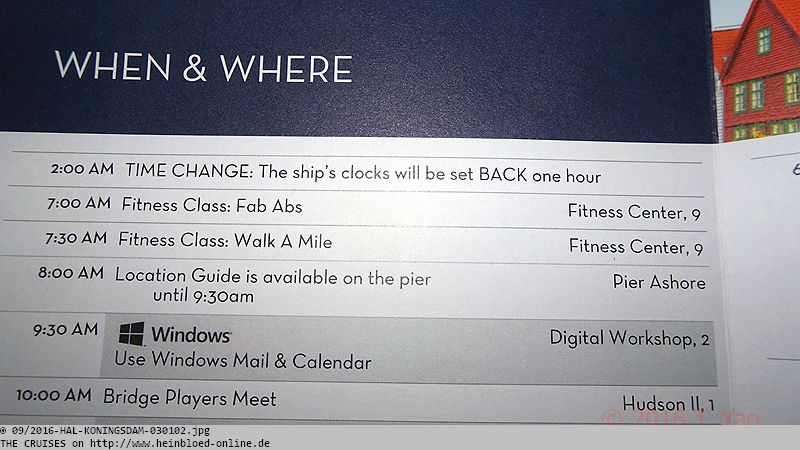 07.30 Uhr - so spät? Deck 9? Oben etwa? Klingt nach Joggingpfad. Ich laufe lieber für mich selbst.
Aber irgendwie ist das hier doch ganz schön eng auf dem Promenadendeck.

Somehow it was quite narrow here on the promenade deck.

Barely possibilities to overtake.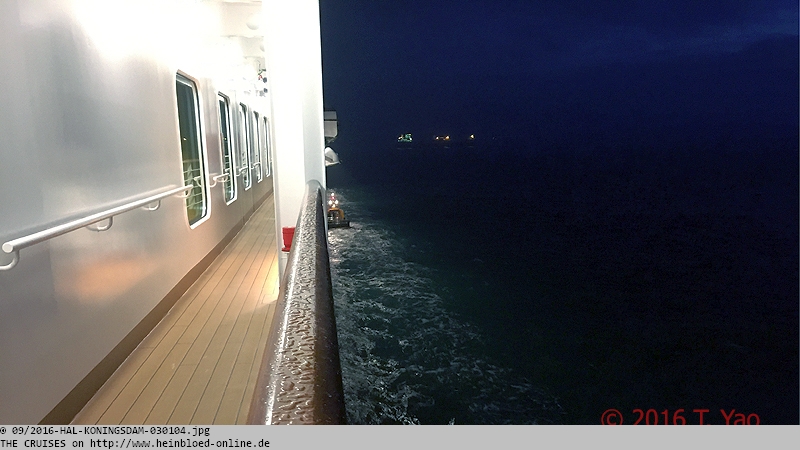 Kaum Überholmöglichkeiten.
Immer dieser Zickzacklauf. Da kommt schon der Lotse.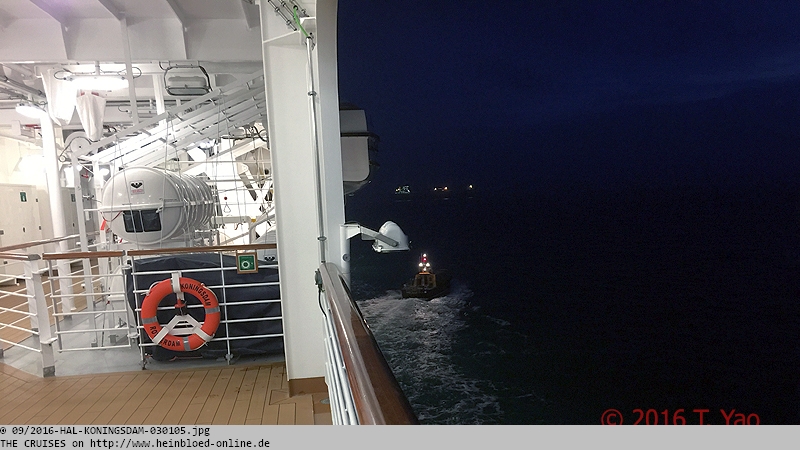 Again the zick-zack walk. The pilot arrived.

Arrival at 07.00 hrs in Weymouth, Devon, England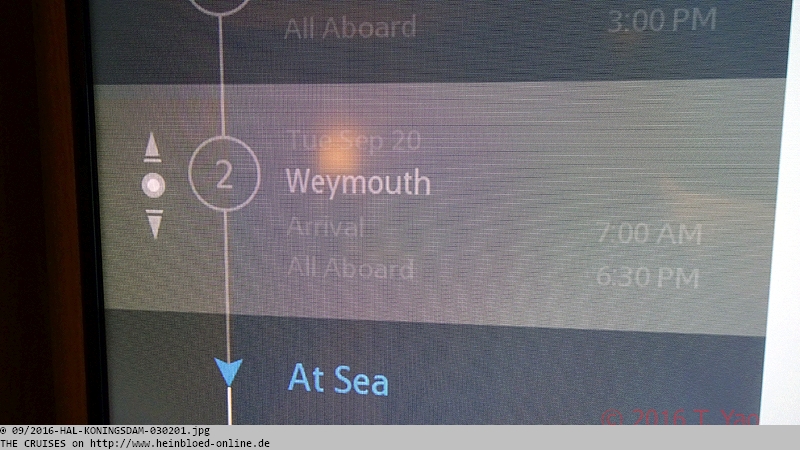 Ankunft 07.00 Uhr in Weymouth, Devon.
Hmm... Kontrolle erst am Morgen der Ankunft... Die letzte Gruppe drei Stunden nach Ankunft. Nun ich habe Holland America in dieser Angelegenheit in besserer Erinnerung... Man hätte ja schon in Amsterdam die Einreisebeamten an Bord nehmen können und in Ruhe am Seetag die Passkontrollen vornehmen können. Die Kontrolle findet im Theater statt. Beeindruckend: was man so mit einer LED-Wand machen kann. Leider kann ich davon kein Foto machen. Man lief direkt schnell rein und raus. Der Ausgang ist nicht zu verfehlen.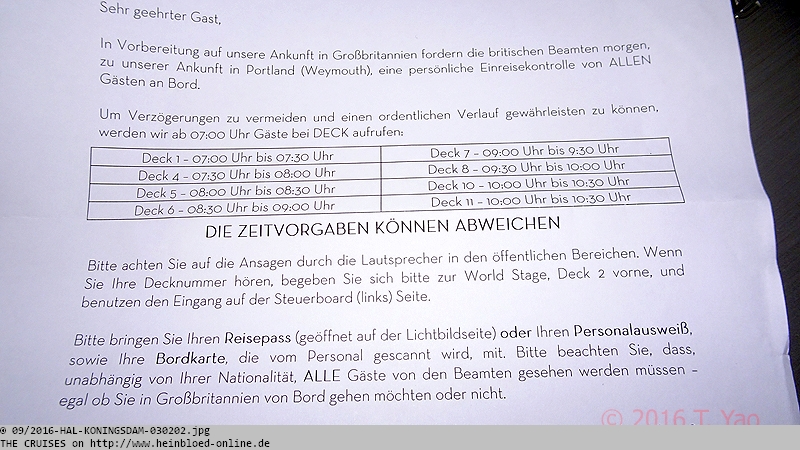 Well... Immigration at the morning of the arrival.. The last group three hours after arrival. Well I have Holland America in much better memories for those issues... They could have them in Amsterdam onboard and use the day at sea to inspect the passports. The conducted the inspection in the theater. Impressive: what you can do with an LED-screen wall. Unfortunately I could not take a picture. You walked in very quickly and out again. You could not miss the exit.

"Well done"... the queue to the theater in the bow ended here at the Main Dining Room at the aft.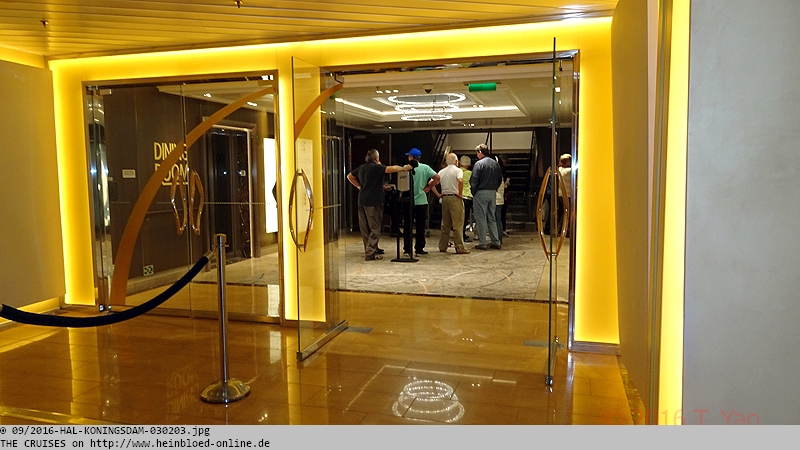 O.K. "Sehr gut"... die Schlange bis zum Theater am Bug endet am Hauptrestaurant im Heck.
Damit wir unsere Pässe nicht nochmals an der Gangway vorzeigen müssen, gibt es diese Karten, die wir einfach abgeben.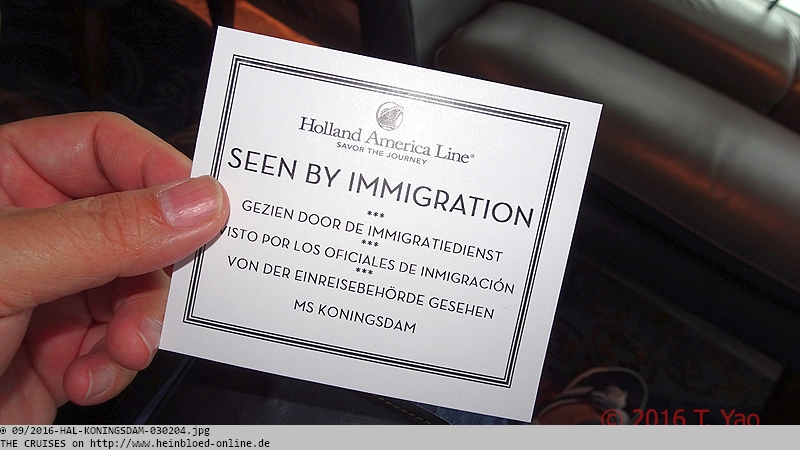 To avoid showing again our passports at the gangway we got those casrs to hand over.

After becoming "familiar" to have breakfast in the canteen of German Postal Services I could concentrate more on my breakfast. The difference to our earlier experiences you could see here best: EURODAM-2014-Blog. My elegant little silver tea pot was not anymore here. The fruit plate looked like 30 years ago when I was studying and eating at the Technical University in Berlin: food preperation on a conveyor belt and some who was not unerringly might placed some meat sauce on the desert on the plate. At least they had my Rye-Bread with careaway and some English mustard for an English breakfast. But Shirley and Godfrey prepered their breakfast with love. But in England you need to have English breakfast. You had Dutch breakfast only in the Royal Dutch Café altough they assured that there would be no problem to prepare some for me. There were no exotic ingredients. Cranberry Juice was always available and still complimentary. Due to the strong flow or wind a tug was need to secure us.

Nachdem ich mich damit "angefreundet" habe in der Kantine der Deutschen Post zu frühstücken, kann ich mich wieder mehr auf mein Frühstück konzentrieren. Den Unterschied zu früher sieht man hier am Besten:
EURODAM-2014-Blog
. Mein edles Silberkännchen ist nicht mehr da. Der Obstteller sieht so aus, wie vor 30 Jahren in der Mensa an der TU Berlin: als alles noch am Fließband erstellt wurde und man nicht immer treffsicher alles auf den Tellern platziert hat und auch mal die Bratensauce im Nachtisch sich wiederfand. Wenigstens gibt es mein Kümmel-Roggenbrot und englischen Senf zum englischen Frühstück. Aber das von Shirley und Godfrey ist mit Liebe zubereitet. Aber in England muss man englisch frühstücken. Niederländisches Frühstück gibt es ja nur noch im Royal Dutch Café, obwohl man mir versichert hat, dass es kein Problem wäre, es für mich zuzubereiten. Ist ja nichts exotisches an Zutaten dabei. Cranberry-Saft gibt es immer kostenlos. Anscheinend sind die Winde oder Strömungen so stark, dass wir von einem Schlepper gesichert werden müssen.
Wir haben es nicht eilig. So gönnen wir uns zunächst einen Cappucino.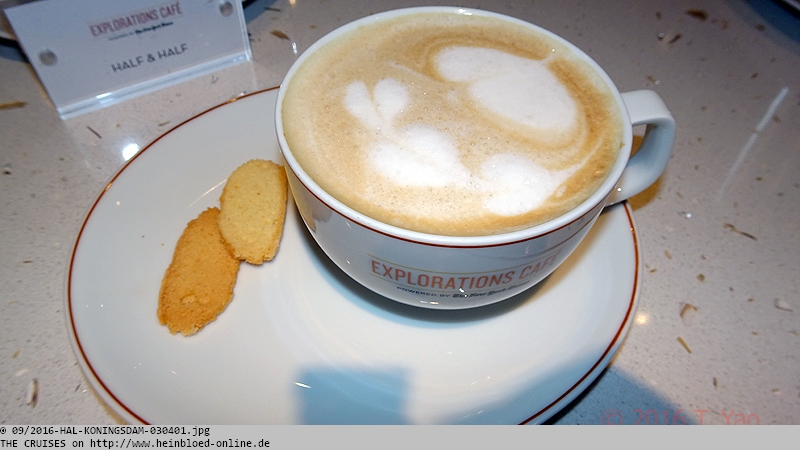 We were not in hurry. So we treated ourselves with a cappucino.

and we chilled a little in the Exploirations Café.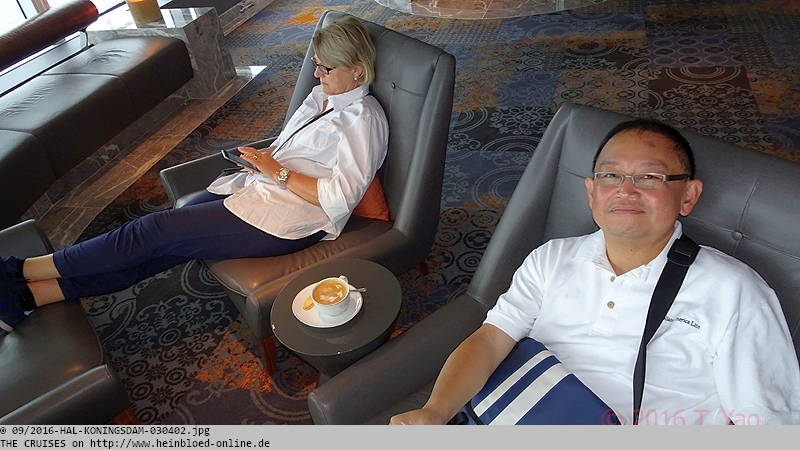 Und hängen noch ein wenig im Exploirations Café herum.
Richtig gemütlich.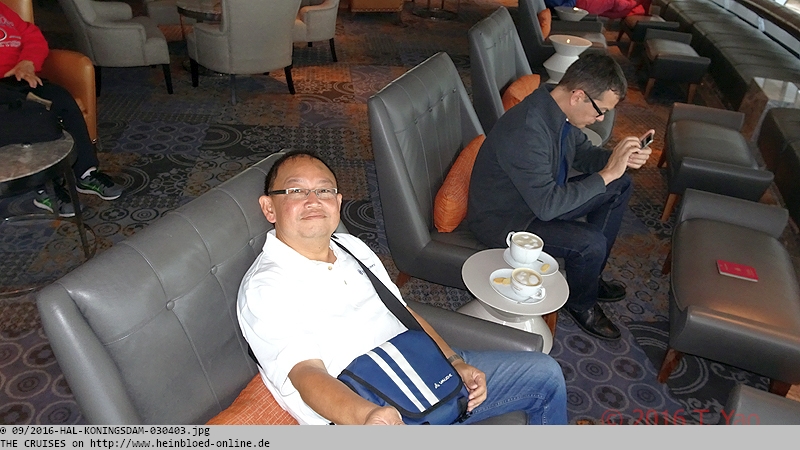 Very cozy.

I made myself comfortable and took a little nap.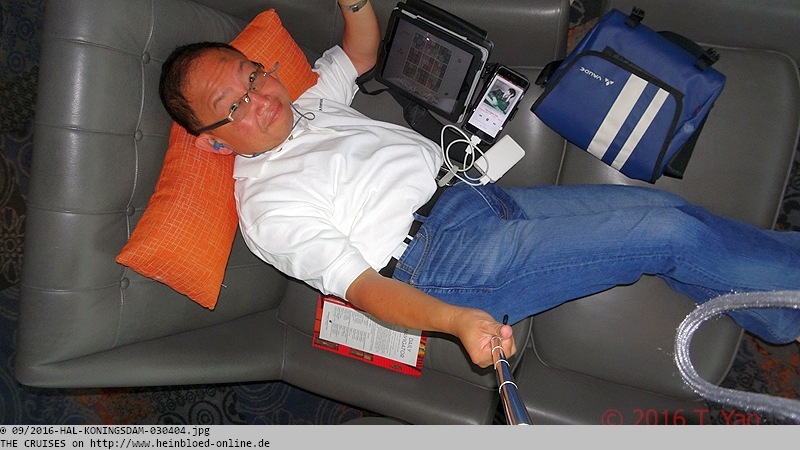 Ich mache es mir richtig gemütlich und döse noch ein wenig.
Auf ins New York Deli & Pizza. Einen "alten" Freund besuchen. Nach meinem letzten Post auf cruisecritic.com bekam ich einen Hinweis, dass Reggie hier eingesetzt wird. Also müssen wir hier zu Mittag essen. Die Freude über das Wiedersehen ist sehr groß auf beiden Seiten. Auch meine ich irgendwie Ash auch zu kennen. Es gibt leckere Salate, es gibt leckere Pastrami-Sandwiches, es gibt schöne Teller und es gibt Pager.

Seeing New York Deli & Pizza to meet on "old" friend. After my last post on cruisecritic.com I got a tip that Reggie was working here. So we had to have lunch here. The pleasure was big and on both side to see eachother again. Somehow I think that I might know Ash too. They had yummy salads, they had yummy Pastrami-sandwiches, they had nice plates and they had pagers.



Bevor es an Land geht müssen wir uns informieren. Das ist gut, dass man bereits am Anfang der Reise alle Informationen bekommt, die man so braucht, um seinen Tag selbst zu gestalten... alle??? Fast alle!!! Bei Cartagena ist denen ein Fehler passiert: das sind die Daten von Cartagena in Kolumbien. Da waren wir schon mal. Man verspricht mir, dass automatisch jeder Gast einen Nachtrag erhält. Leider nur ein Versprechen, das später nicht eingehalten wird. An Land hat man eine Mini-Infrastruktur für Kreuzfahrer in einem Container untergebracht.
Es gibt einen kostenlosen Shuttle in die Stadt auf dem "Festland" soweit man es bei der Britischen Insel so bezeichnen kann. Hin ging es gut. Zurück war es eher eine Katastrophe. Die Insel Portland an der liegen, ist mit einer Straße verbunden und während der Rush-Hour dauerte es etwas. Die Schlange zurück ist endlos.

They had a complementary shuttle to the town on "mainland" if you can call it that way for the British Island. The outbound journey worked quite nice. The return journey was a desaster. The island of Portland where we docked was connected by one road and during the ruh-hour it took a while. Ashore they had a mini-infrastructure for cruisers packed in one container.

A nice little town. Typical English. As just recently experienced around the British Isle on OCEAN PRINCESS.

Netter kleiner Ort. Typisch englisch. So wie wir es gerade auf der OCEAN PRINCESS rund um die britischen Inseln erlebt haben.
Oh, wir hätten mit der
Fähre von Portland
kommen können? Sieht aber eher nach einer Rundfahrt aus.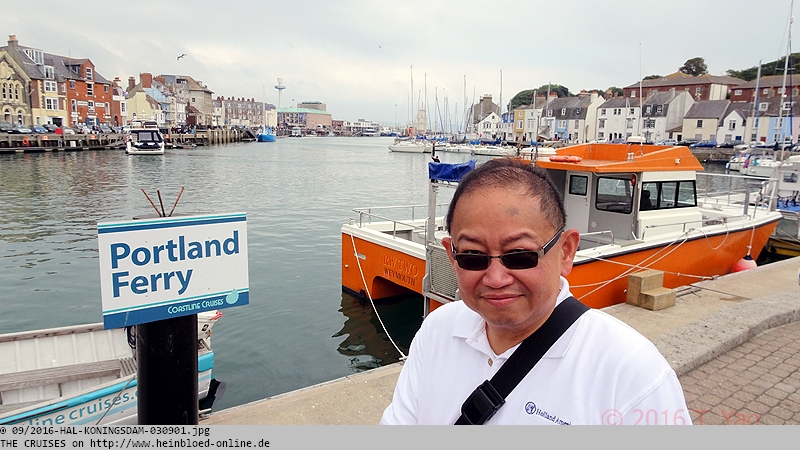 Oh we should have come by ferry from Portland? Looked more a like a roundtrip tour.

From here you could also had departures to Jurassic Coast. Sigi was here before on ASTOR and we were recently in Cornwall. File miles apart and looked somehow similar.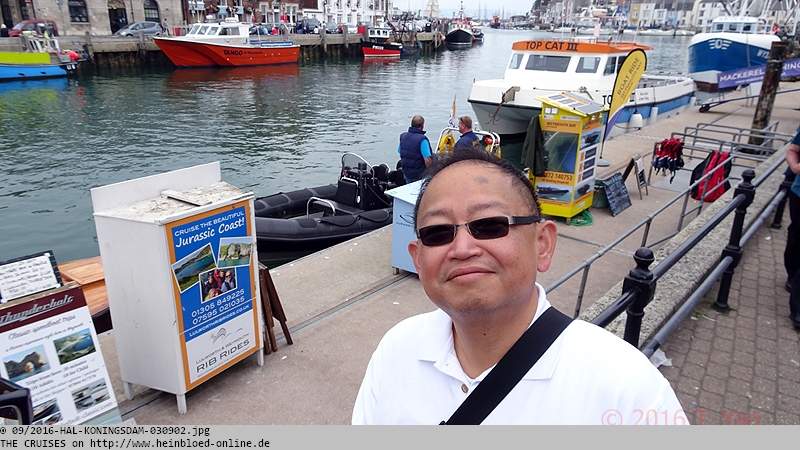 Von hier gibt es auch Abfahrten zur
Jurassic Coast
. Sigi war hier schon mal mit der ASTOR und wir waren ja vor kurzem in Cornwall. Das ist ja nur ein paar Meter weiter und dort sieht es ja so ähnlich aus.
Ein Selfie mit allen.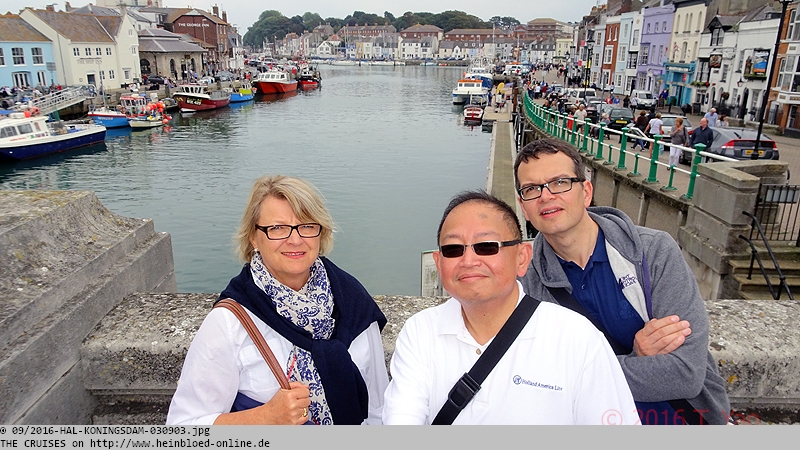 A selfie with everybody.

A quick check of the beach.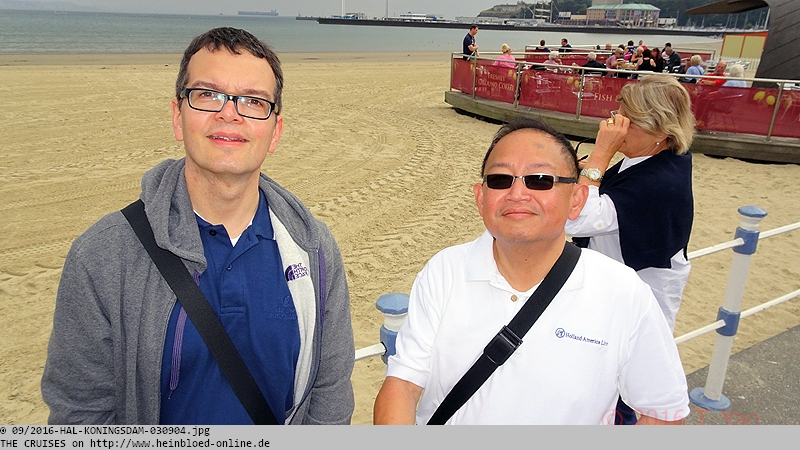 Kurz noch zum Strand.
Tea-Time. In England gehört es mit zum Leben dazu. Wir entdecken
The Good Life Café
. Hausgemachter Kuchen. Im wahrsten Sinne des Wortes. Ich bleibe bei meinem Scone mit Clotted Cream und Erdbeermarmelade. Und wir haben gut gelernt: erst die Milch und dann der Tee.

Tea-Time. In England it was part of their lifestyle. We discovered The Good Life Café. Homemade cakes. By meaning. I stayed with a scone with some clotted cream and strawberry jam. And we properly learned: first the milk and then the tea.

Back onboard I want to use the time to upload pictures.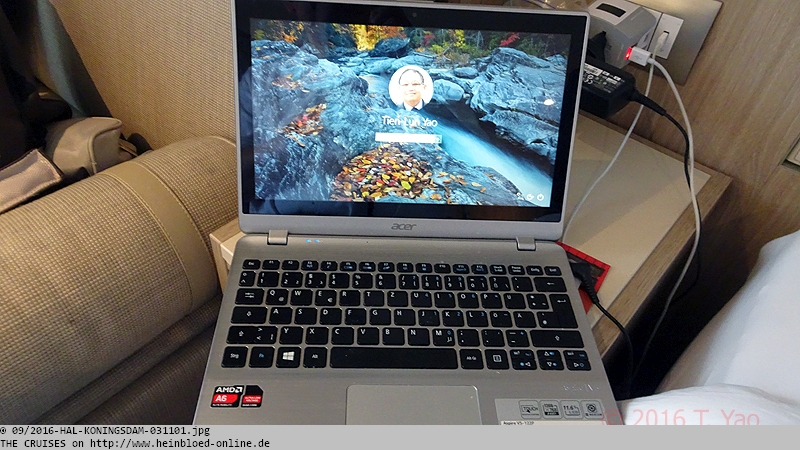 Zurück an Bord will ich die Zeit noch nutzen, um Bilder hochzuladen.
ICH WERDE WAHNSINNIG: schon wieder ein Windows Update.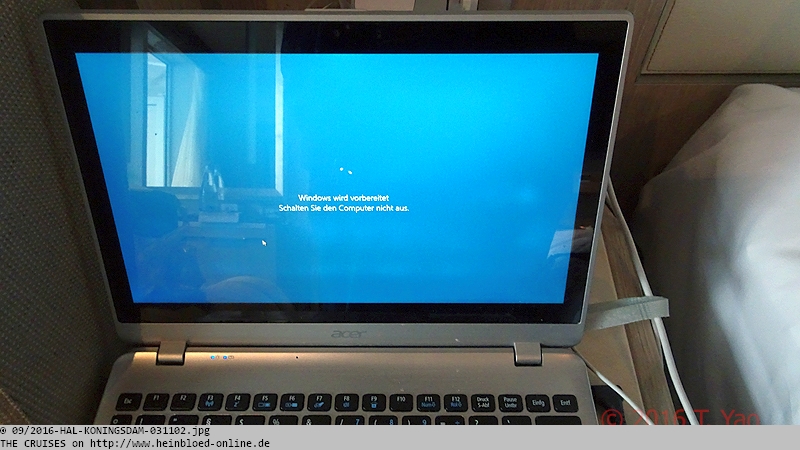 I WAS GETTING MAD: again a Windows Update.

I was lucky that I made the pictures earlier in the port. So I could check again the rate indications and phone number and ordered a taxi. So we could get up the hill to the fortress and took some pictures from here.

Zum Glück hatte vorhin Bilder vom Hafen gemacht. So kann ich noch mal die Preisindikationen und Telefonnummer sehen und bestelle mir ein Taxi. So können wir auf den Hügel hoch vor das Fort und von hier Aufnahmen machen.
Bruno will auch mit.

Bruno also would like to join.

Here they had the sailing competitions during the Olympic Games 2012 in London. I forgot to buy my Papadam-Chips with Mark and Spencer. But disliked the idea to going back. So I ahd only the new fruity steak sauce of HP

Hier fanden die Segelwettbewerbe der Olympischen Spiele 2012 in London statt. Ich habe vergessen bei Mark und Spencer Papadam-Chips zu kaufen. Aber nochmals zurück zu fahren hatte ich auch keine Lust. So gibt es nur eine neue
fruchtige Steaksauce von HP
.
Ich laufe noch ein wenig auf dem Schiff herum: Ein Mini-"Skywalk", wie bei der ROYAL PRINCESS. Für die Freunde von
kids-on-cruise.de
ein paar Einblicke vom HAL Club und die überschaubare Anzahl von Hafenplaketten.

I was browsing on the ship: a mini-"Skywalk" like with ROYAL PRINCESS. For the friends of kids-on-cruise (in German only) few impressions from HAL Club and the clear number of port plaques.

We had a pre-dinner cocktail in the Crow's Nest.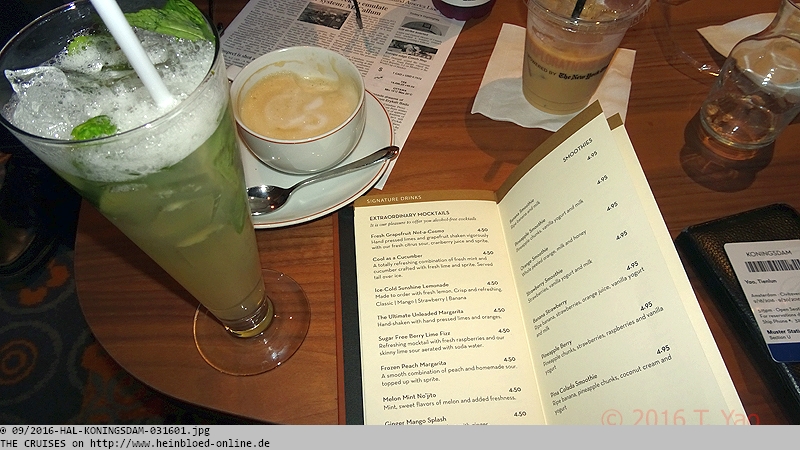 Einen Pre-Dinner Cocktail im Crow's Nest nehmen wir zu uns.
Ein paar Appetit-Häppchen. Man muss schon danach fragen. Früher wurden sie "freiwillig" angeboten. Oder haben wir einfach Pech bei unserer Bedienung?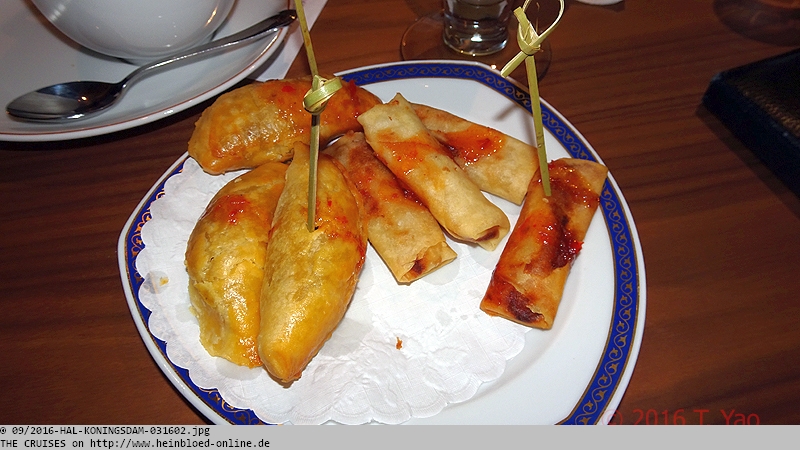 Few appetizers. You need to ask for. Then they offered them "volontary". Or did we only have unluck with the service crew?

Still 15% Service Charge (2016) on beverages.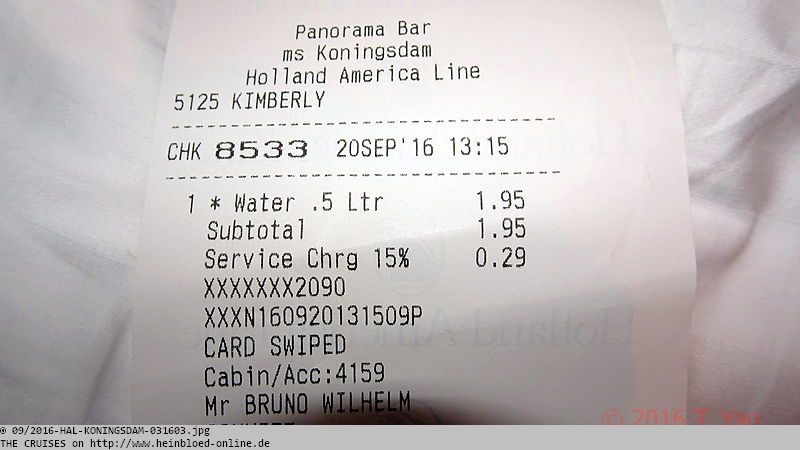 Noch 15% Service Charge (2016) auf die Getränke.
Ein schöner Abschied durch
Weymouth Concert Brass
. Schöne Blasmusik und ein Kanonensalut. Die unscharfen Bilder sind Zeuge, dass ich mich richtig erschrocken habe.

A very nice farewell by Weymouth Concert Brass. Nice brass music and a cannon salute. The unclear pictures were whitness that I was really frightened.

"Officers on Deck" replaced the Captain's Toast. Here we met again Panca: He was again Restaurant Manager in Tamarind and served Sigi "nothing" when she ordered "noting". Very regrettable that no more complimentary lunch was offered anymore in Tamarind. Here I met Captain Emile and had to make one selfie. He assured that he did not get a speeding ticket on the ride to Amsterdam.

"Officers on Deck" ist die Nachfolgeveranstaltung des Captain's Toast. Hier treffen wir Panca wieder:
. Er ist wieder Restaurant Manager im Tamarind und hatte auf der EURODAM Sigi "nichts" serviert, als sie "nichts" wollte
. Wirklich sehr bedauerlich, dass mittags kein kostenloses Mittagessen mehr im Tamarind angeboten wird. Hier treffe ich auch Kapitän Emile und muss natürlich ein Selfie machen. Er versichert mir keinen Bußgeldbescheid für die schnelle Fahrt nach Amsterdam bekommen zu haben.
Lisa bringen wir zur Verzweiflung, weil Holland America in einem Punkt unverändert ist: Reservieren kann man nur für früh oder spät. Wir wollen eigentlich immer sehr gerne 19.00 Uhr. Das geht nicht. Zwischenzeitlich geht es nur als Walk-In. Also buchen wir heute Abend für das Sel de Mer, damit es nicht so spät wird. Ich habe nämlich so einen großen Hunger, dass ich bereits alle Snack-Vorräte, die ich heute gekauft habe, bereits esse. Das Sel de Mer ist ein à-la-carte-Abrechnung Restaurant, d. h. keine Pauschale wird berechnet, sondern Gang für Gang. Frischer Fisch und Meeresfrüchte liegen auf Eis aus. Wir erleben einen ganz tollen Service, der uns sehr viel Spaß macht. Das ist ein richtiges Team. Jeder guckt, ob er etwas tun kann. Im Mittelpunkt steht jedoch Mitchel. Der muss vorher in einer Butler-Schule gewesen sein. Das hatte eine gewisse Eleganz. Bloß konnte ich mit den ganzen Brotkrümeln auf dem Tisch nichts anfangen. Das soll in einer französischen Brasserie so üblich sein. Ich lebe ja nun ein paar Minuten von der französischen Grenze. Aber bisher habe ich dort das Brot nie so serviert bekommen. Wahrscheinlich war ich bislang nur in den falschen Brasserien. Die Bilder des Essens sprechen für sich. Es schmeckt so, wie es aussieht. Ich liebe Tartar. Ich konnte mich nicht einigen, was ich essen wollte. So nehme ich eine Bouillabaise, weil hier eben alles drin ist, um alles probieren zu können. Das ist schon hohe Kochkunst abseits von Fischstäbchen oder Fischfilet à la Bordelaise. Oft erleben wir an Land oder auf anderen Schiffen, dass sehr schnell "nein" gesagt wird, wenn wir einen Sonderwunsch äußern. Wir können es nicht verifizieren, ob sie es nicht haben oder wollen oder können. Manchmal etwas enttäuschend. Hier kommt man wieder und sagt: wir haben nochmals nachgefragt. Selbstverständlich können wir Ihren Wunsch erfüllen. Das ist Service Qualität. Wer gibt schon gerne zu, dass man sich geirrt hat. Chapeau!!! Ein tolles Team, das man leider nie schafft, gemeinsam auf das Bild zu bekommen. Deswegen Mitchel als solo und der Rest als Gruppe: Restaurant Manager Glenn, Sommelier Ariel, Lars, Manon und Restaurant Hostess Nicole. Hätten wir gewusst, welche Änderungen es im Hauptrestaurant zwischenzeitlich seit unserer EURODAM-Reise gegeben hat, hätten wir mit Sicherheit nochmals das Sel de Mer gebucht.

We exasperated Lisa because Holland America has not changed their policy You can only book early or late. We would like to have a table at 19.00 hrs. That was impossible. In the interim you can only go as walk-in. So we booked for that night Sel de Mer as it should not become too late. I was quite hungry and I started to eat my stock of snacks which I bought today ashore. Sel de Mer was a à-la-carte pricing restaurant, i. e. you had no cover charge but you paid course by course. Tasty fish and sea food were presented on ice. We experienced a great service which made us a lot of pleasure. That was a true team. Everyone checked if he could do anything for you. In the center of our attention was Mitchel. He must have studied in school for butlers. He had a certain elegance. I did not know how to handle to all the breadcrumbs on the table. I was told that it was used to serve this way in a French brasserie. I just live few minutes away from the French border. But so far bread was never served this way. I assume that I visited so far the wrong Brasseries. The pictures of the food tells their own stories. It tasted as it looked like. I love tartare. I could not agree with myself what to eat. So I took a Bouillabaise because here you had everything inside to try. It was high art of cooking far apart of fish sticks and fillet of fish with breadcrumbs on top Bordeaux style. We experienced very often ashore or on other ships that they quickly say "no" if we had a special request. We cannot verify it if they just did not want or did not have it or did not can do it. Sometimes a little disappointing. Here they came back and said: we double checked. Certainly we can do your special request. That was service quality. Who likes to admit that you did something wrong. Head off!!! A great team I never could get on one picture. So we had a single one with Mitchel and the rest as group: Restaurant Manager Glenn, Sommelier Ariel, Lars, Manon and Restaurant Hostess Nicole. Should we would have known which changes they had in the Main Dining Room in the meantime since our EURODAM-voyage we definately would have booke Sel de Mer again.


Our cabin was again nicely prepared every night. The advise for the time change. Chocolate was not withdrawn. Only with the new format of the daily program I could not get familiar with. I did not like it.

Unsere Kabine wie jeden Abend toll hergerichtet. Der Hinweis auf die Zeitverschiebung. Die Schokolade noch nicht abgeschafft. Nur mit dem neuen Format des Tagesprogramms komme ich nicht klar. Gefällt mir nicht so.
Auch die Handtuchtiere gibt es immer noch an jedem Abend.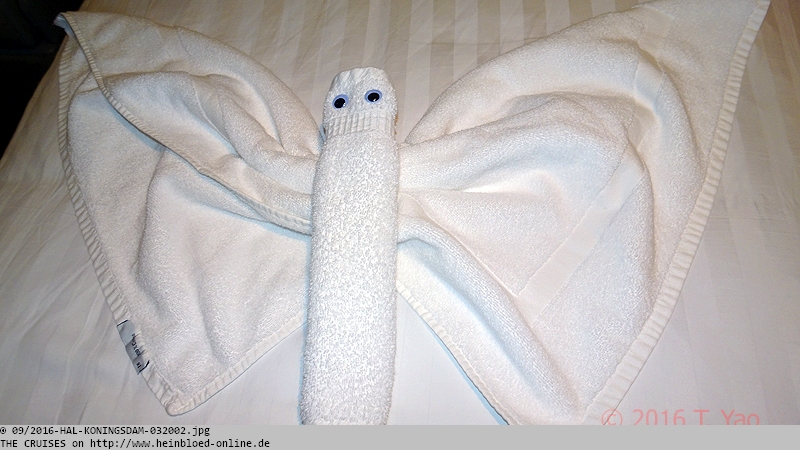 And still they had animal towels every night.

Should that be a butterfly or a bat?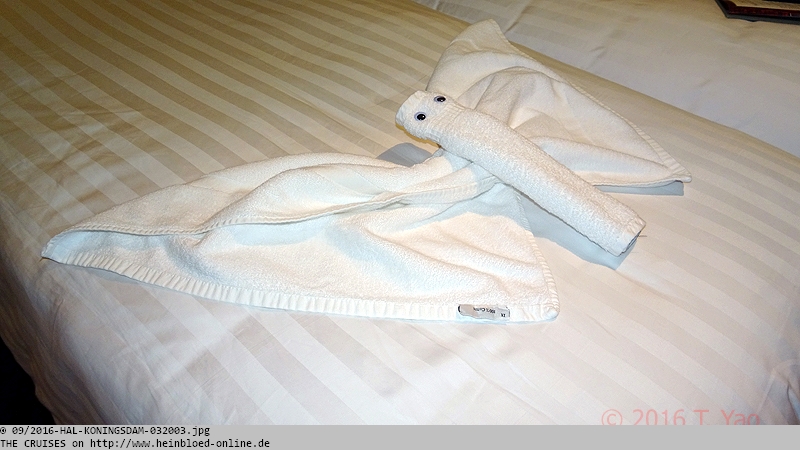 Soll das aber ein Schmetterling oder eine Fledermaus sein.
Sonia kümmert sich perfekt darum, dass wir uns in unserer Kabine und im öffentlichen Bereich wohlfühlen.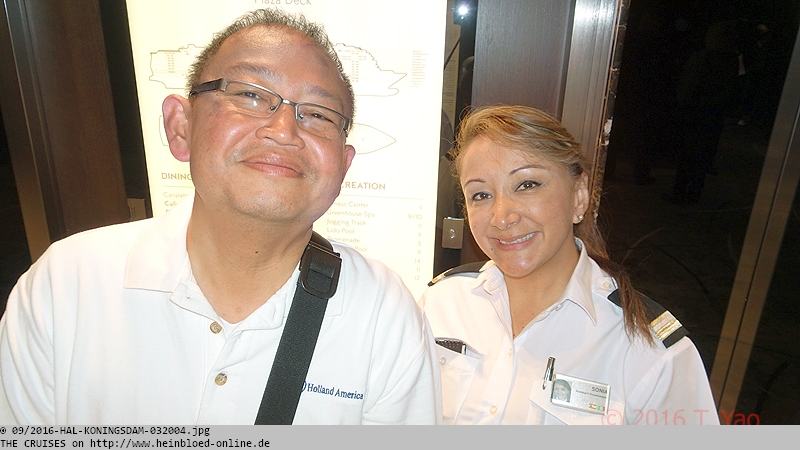 Sonia took perfectly care that we felt very well in our cabin and in the public area.