UNDER CONSTRUCTION - SORRY - GOOGLE CHANGED THE CONFIGURATION

Google/Blogger changed the configuration: Slideshows work only on https and I used on a different browser to test. While I was copying I made a mistake. Texts are soon back.

03.30 Uhr klingelt das iPhone. Ein erster Blick auf
MarineTraffic
. Was macht die KONINGSDAM in der Schleuse von IJmuiden? So schnell habe ich mich zuvor noch nie wach und angezogen. Schnell versuche ich zur Schleuse zu fahren. Das ist aber gar nicht so leicht, weil wegen Bauarbeiten, die Verkehrsführung und Parkmöglichkeiten eingeschränkt wurden. Ein paar Selfies schaffe ich hier und später erst wieder in Amsterdam.

03.30 hrs the iPhone was ringing. A first view on MarineTraffic. What was KONINGSDAM doing in the lock of IJUmuiden? I have never been faster awake and dressed up. Quickly I tried to get to the locks. But that was not so easy because of the construction works the routing and parking fascilities were very restricted. But I could made few selfies here and lager again in Amsterdam.

In the lock I could take few picture but I wanted to have nice ones from the ship. Later I decided to follow her. But KONINGSDAM was moving so fast that every time I made it to a spot at the banks without obstruction she was already gone. I need to go to Amsterdam to get some nice pictures. The Captain should get a speeding ticket for that. Later I was told that he wanted to be early there by an hour to check something in the port without hassle. My problem: I forgot the charging cable of my iPhone in the hotel room because I had to rush. So I could not use my TomTom.

In der Schleuse kann ich ein paar Bilder machen, aber ich will noch schöne Bilder vom Schiff. Später entschließe ich mich hinterher zu fahren. Aber die KONINGSDAM fährt so schnell, dass sie jedes Mal schon weg ist, wenn ich eine Stelle am Ufer ohne Sichtbehinderung finde. Ich muss daher bis nach Amsterdam fahren, um schöne Bilder zu machen. Dafür müsste doch der Kapitän ein Geschwindigkeitsprotokoll bekommen. Hinterher erfahre ich, dass er früher ankommen wollte, um eine Zusatzstunde zu haben, um etwas in Ruhe im Hafen prüfen zu können. Mein Problem: ich hatte das Ladekabel meines iPhones im Hotelzimmer liegenlassen, weil ich so schnell aufbrechen musste. Daher konnte ich meinen TomTom nicht nutzen.
Sie ist an allem Schuld, dass ich nicht schnell genug hinterher gefahren bin: MSC OPERA.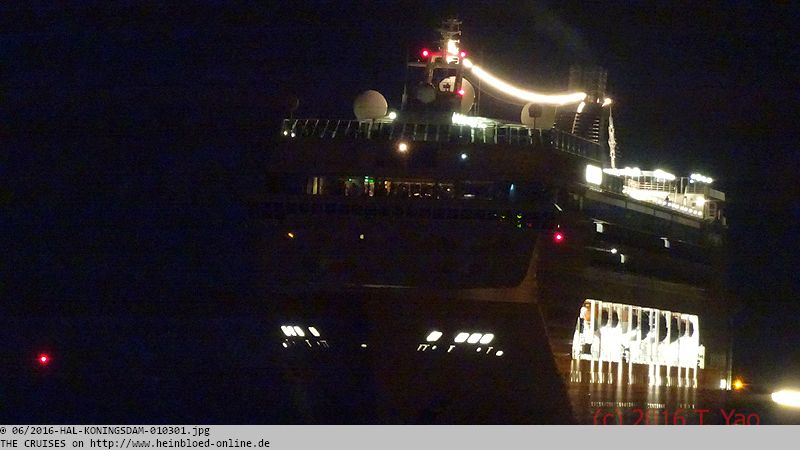 And I had to blame her that I could get fast enough away: MSC OPERA.

She did not move.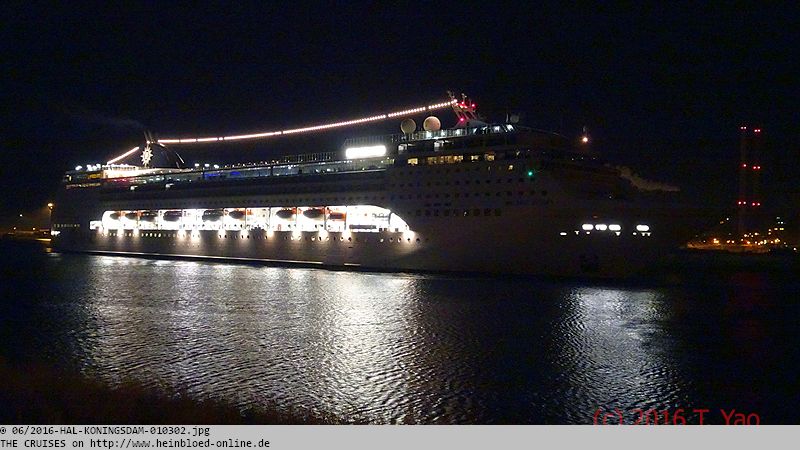 Sie bewegt sich einfach nicht.
Ich will eigentlich warten, bis dass sie weiterfährt.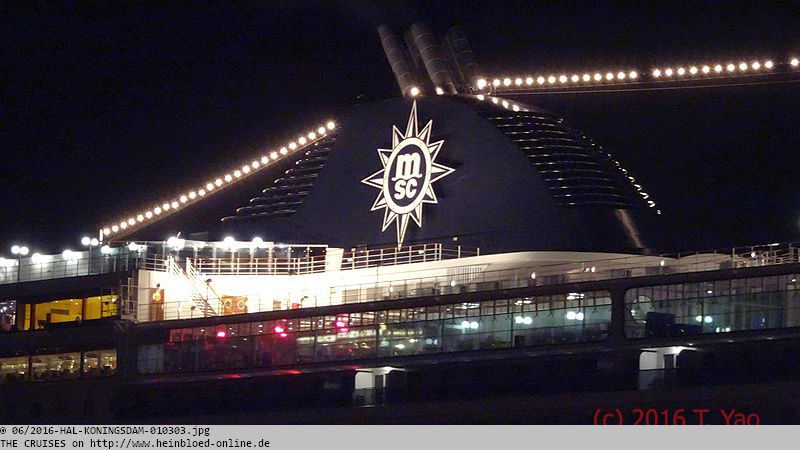 I wanted to wait until she continued her voyage.

As nothing happened I decided to follow KONINGSDAM.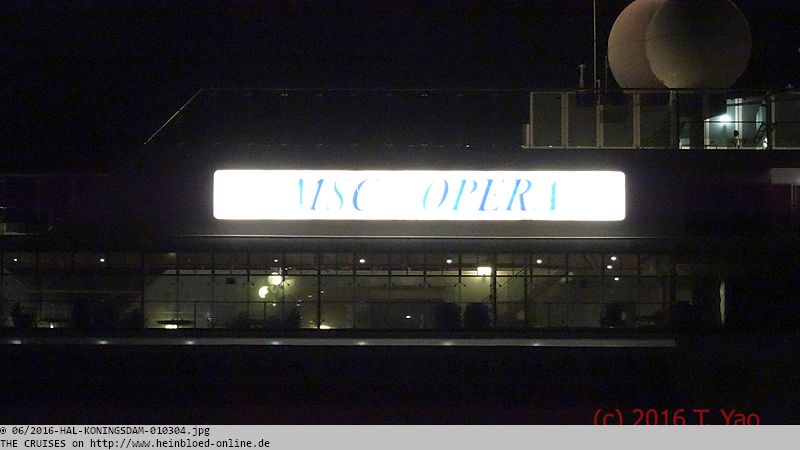 Da nichts passiert, fahre ich irgendwann doch der KONINGSDAM hinterher.
Und später als ich zurück bin: MIDNATSOL. Sie bewegt ich natürlich, statt dort zu verharren.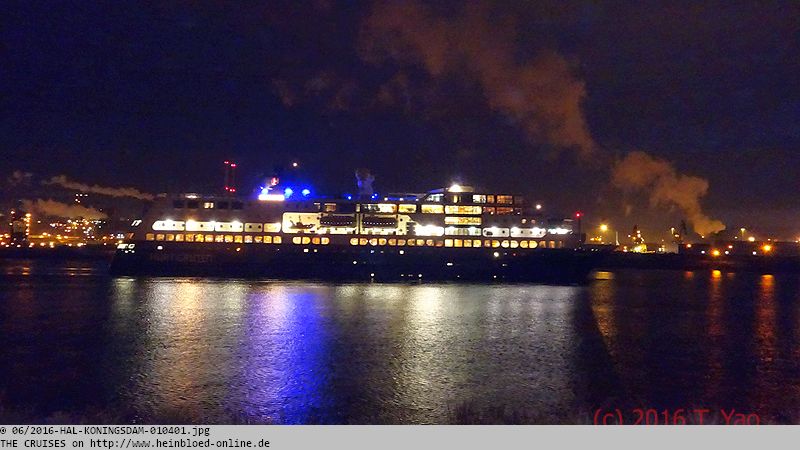 And later when I was back: MIDNATSOL. She moved instead of staying there.

We knew her from a short voyage from Bergen, Norway to Aalesund, Norway.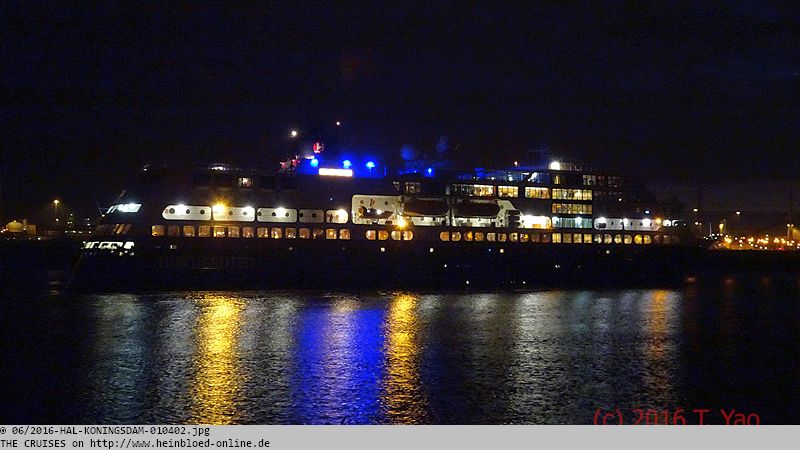 Wir kennen sie von einer kurzen Reise von Bergen nach Aalesund.
Das ist aber nicht unsere Welt von der Ausstattung.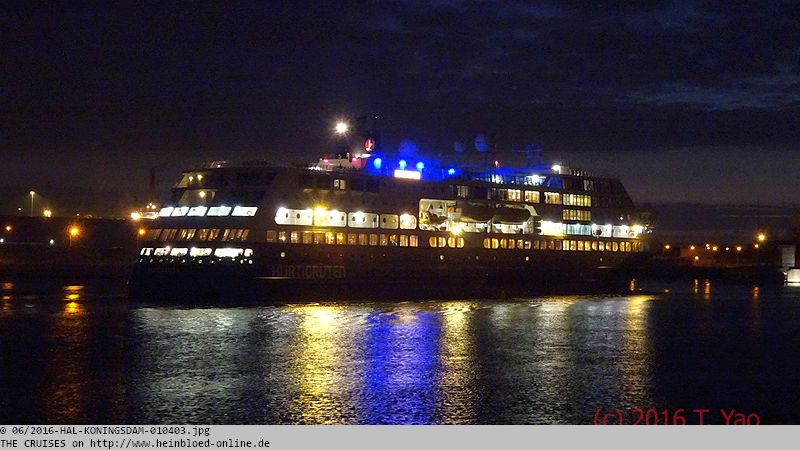 But the equipment was not our world.

It was not a cruise ship.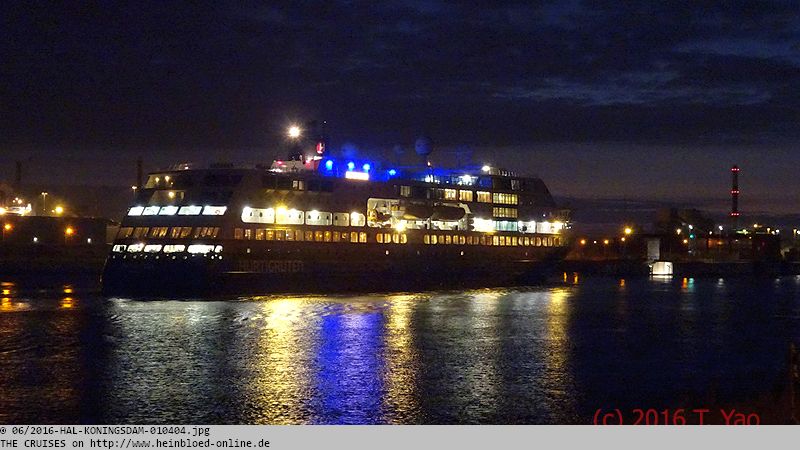 Ist eben kein Kreuzfahrtschiff.
Sondern ein Postschiff. Der Komfort in der Kabine ist ja eher Fährstandard.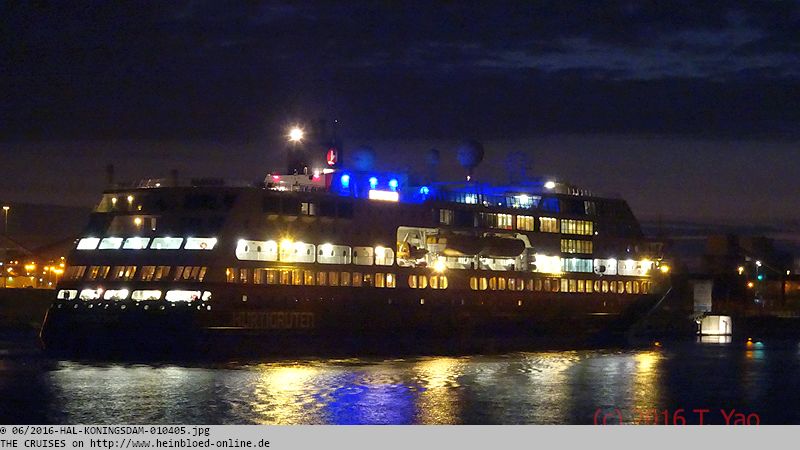 But a coastal mail ship. The comfort of the cabins was more ferry standard.

Two fellowcruisers waited for me back for breakfast and wanted to be collected. The breakfast was not bad at all.

Zwei Mitreisende erwarten mich zum Frühstück zurück und möchten auch abgeholt werden. Die Auswahl beim Frühstück ist gar nicht mal so schlecht.
Vom Hotel sehen wir die Ankunft der AMADEA in IJmuiden. Wir fahren zur Schleuse und warten geduldig, dass sie sich bewegt. Es tut sich wieder nichts. Da der Rauch des Stahlwerks nicht sehr angenehm ist, fahren wir nach ein paar Selfies vor dem neuen
ZDF-Traumschiff
, weiter. Später sehen wir sie dann als wir wieder ausfahren im Industriehafen. Sehr gut versteckt. Bei vier Schiffen im der Stadt mussten zwei hierher ausweichen.

From our hotel we saw the arrival of AMADEA in IJmuiden. We went to the lock and waited patiently that she moved. Again nothing happened. As the smoke of the steel plant was not very nice we went after few selfies in front of the new "Dream Ship" (A "Love Boat" like TV-soap on German TV). Later we saw her in the Industrial port again when we set sail

We dropped of our bags. A porter took our bags from us. We had to tip a little. But no need to queue up for the baggage check. After that we went to the Java-Island. Meanwhile MSC OPERA arrived at PTA. She had the better position to be taken pictures of. She berthed after KONINGSDAM. She left earlier than KONINGSDAM. Typical MSC: extremely short call times.

Wir geben unser Gepäck ab. Eine Gepäckträgerin nimmt uns das Gepäck ab. Das kostet ein wenig Trinkgeld. Dafür müssen wir nicht in der Schlange vor der Gepäckkontrolle anstehen. Danach fahren wir auf die Java-Insel. Am
PTA
ist auch die MSC OPERA zwischenzeitlich eingetroffen. Sie hat die bessere Position um fotografiert zu werden. Sie legte erst nach der KONINGSDAM an. Sie legt jedoch früher als die KONINGSDAM ab. Typisch MSC: sehr kurze Liegezeiten.
Die Lage des PTA ist schon fantastisch. Direkt am PTA: Das
Mövenpick Hotel
. Für die letzte Nacht hätten sie jedoch 260,00 EUR pro Zimmer verlangt und ich hätte von hier nur die MSC OPERA und KONINGSDAM fotografieren können. So war für uns die Übernachtung in IJmuiden und Mietwgen um einiges günstiger.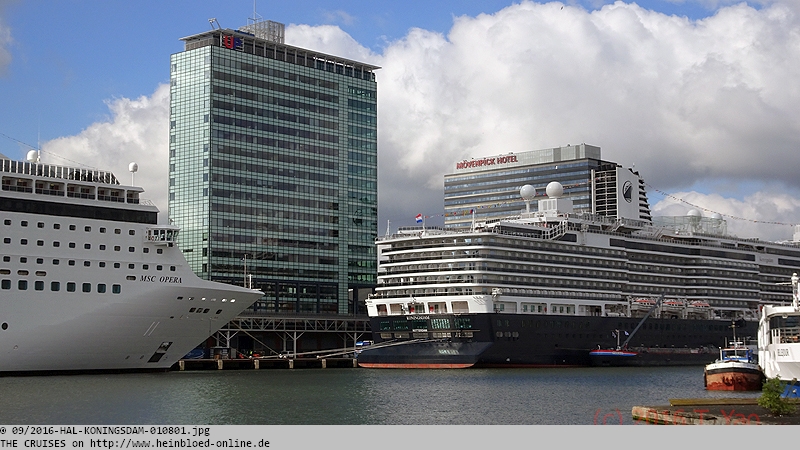 The location of the PTA was fantastic. Just at the PTA: The Mövenpick Hotel. For the last night it would be around 300.00 USD per room and I could only take pictures of MSC OPERA and KONINGSDAM. So our stay in IJmuiden and the car rental was much cheaper.

A river cruise ship of the German company Transocean docked at the Java-Island. They did not allow to step on the upper deck to take few pictures of KONINGSDAM. Anyway I had no intention anymore to go with Transocean.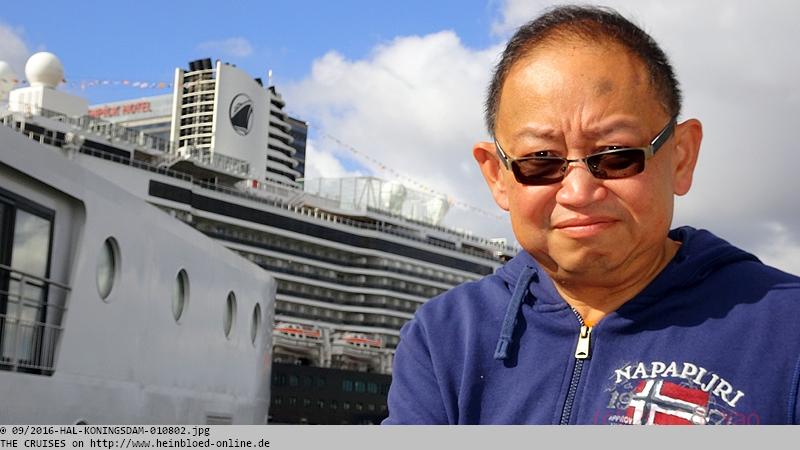 Ein Flußkreuzfahrtschiff von Transocean liegt an der Java-Insel. Sie erlauben mir nicht kurz auf dem Oberdeck ein paar Bilder von der KONINGSDAM zu machen. Ich will ja eh nie wieder mit Transocean fahren.
So gibt es leider kein schönes Selfie von hier.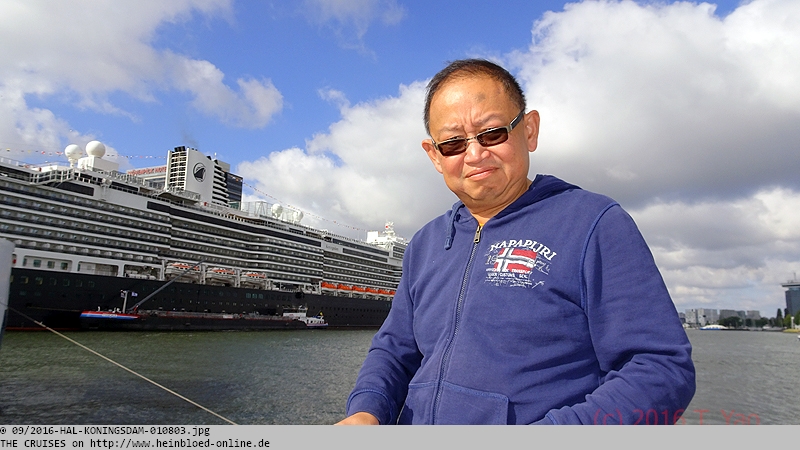 So no nice selfies from here unfortunately.

Something was always in the view.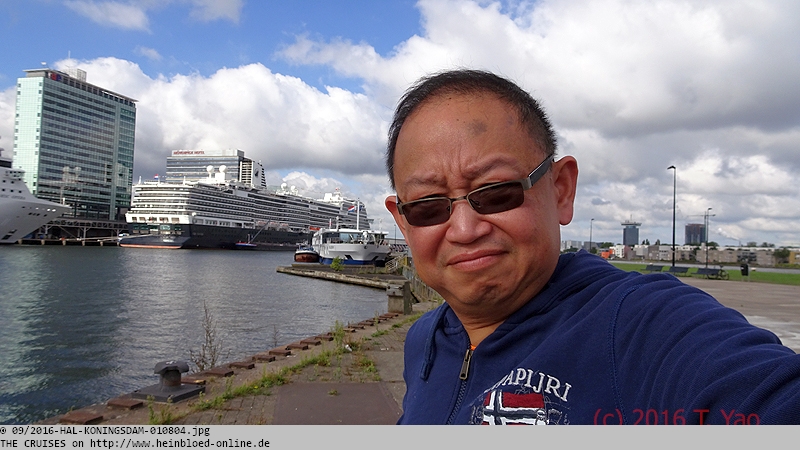 Irgendwas steht immer im Weg.
Die anderen wollen auch mal gemeinsam mit der KONINGSDAM fotografiert werden.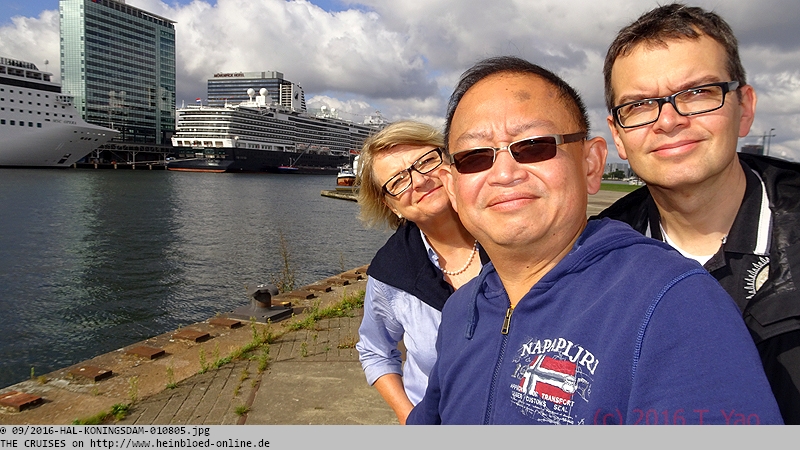 The others wanted also to have a shot together with KONINGSDAM.

We were looking for the Sixt-Station.A little hidden in the new Doubletree Hotel. By coincidence we discovered a smoking agent in front of the building and so we knew that Sixt was accomodated here. Very nice location. More or less on the half way from the Central Station to PTA. Who was well with walking and packed accordingly could have stay here very well.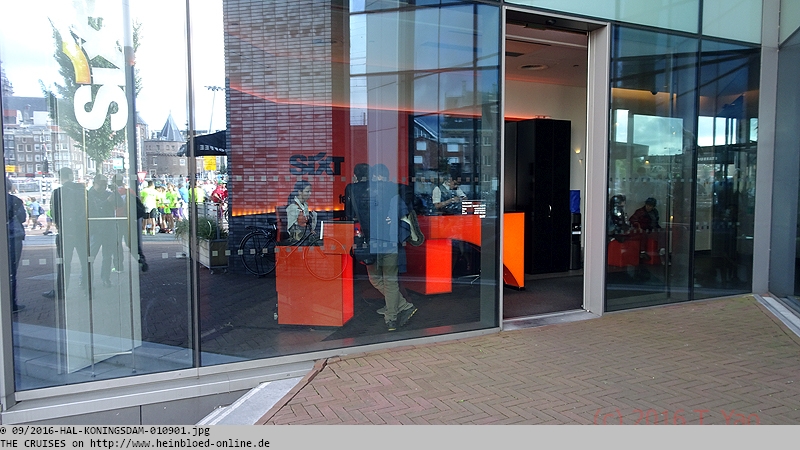 Wir suchen die
Sixt-Station
. Etwas versteckt im neuen
Doubletree Hotel
. Zufällig entdecken wir eine rauchende Mitarbeiterin vor dem Gebäude und wissen daher, dass Sixt hier untergebracht ist. Sehr schöne Lage. Quasi auf dem halben Weg zwischen dem Hauptbahnhof und PTA. Wer also gut zu Fuß ist und entsprechend gepackt ist, kann hier gut übernachten.
Ine hatte uns gestern gewarnt, dass heute ein Stadtlauf stattfindet und wir mit Umleitungen und Straßensperrungen rechnen müssen.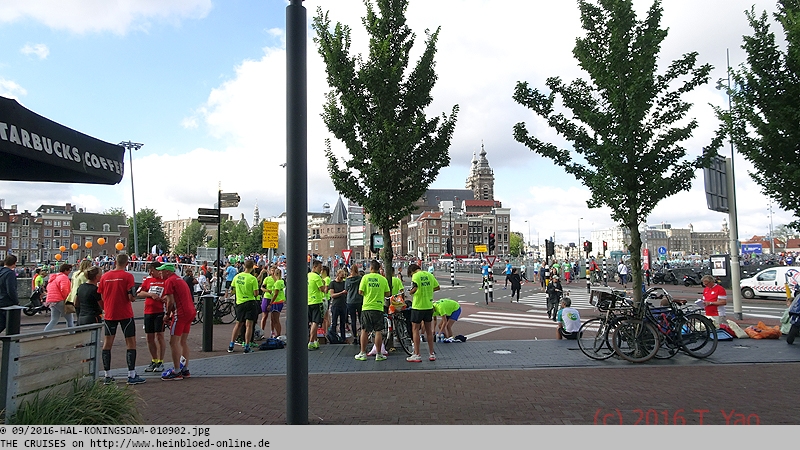 Ine warned yesterday that there would be city run and we might count with deviations and road closures.

We walked back to PTA. Also Enterprise was accomodated here too. They were also open on Sunday.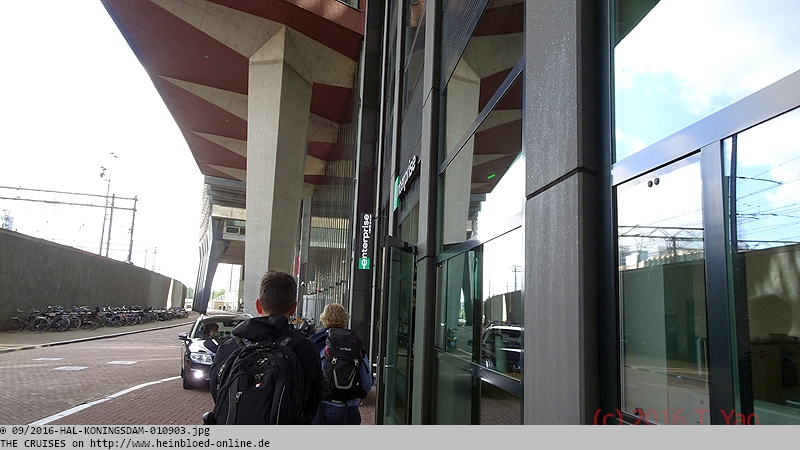 Wir laufen zu Fuß zurück zum PTA. Auch
Enterprise
ist hier untergebracht. Auch sie haben sonntags geöffnet.
Leider ohne Schild: die Einfahrt zu den Parkplätzen von Sixt und Enterprise ist hier im
Oosterdok Parkhaus
. Hier kann man übrigens für 13,00 EUR/Tag (2016) parken. Man muss allerdings min. 5 Stunden parken, dann greift der Tageshöchstsatz von 13,00 EUR. Insgesamt ist das ein Monat lang möglich.

Unfortunately without signage: the entry to the parking lots of Sixt and Enterprise was here in the Oosterdok Parking Garage. Here you could park for 13.00 EUR/day (2016). You need to park at least 5 hours than the daily maximum rate of 13.00 EUR apply. In total it would work for one month.

Simply walk along of the rail embankment. Left under the railways bridge. The stairway to the right. Here you find the Muziekgebouw Bimhuis tram stop of tram route 26. But it was only one stop from "Centraal Station". Very that tram route 25 was not operating anymore. It went directly from PTA to the city center. So we need to cross the street. Few steps kept us away from PTA.

Einfach entlang des Bahndamms gehen. Links unter der Eisenbahnbrücke. Rechts die Treppe hoch. Dort ist auch die
Haltestelle Muziekgebouw Bimhuis
der
Straßenbahnlinie 26
. Ist allerdings nur eine Haltestelle vom Hauptbahnhof (
Centraal Station
). Schade, dass die Straßenbahnline 25 nicht mehr fährt. Sie fuhr direkt vom PTA direkt in die Innenstadt. So müssten wir noch einmal über die Straße gehen. Ein paar Stufen trennen uns noch vom PTA.
Da wir ja bereits unser Gepäck abgegeben haben, werden wir direkt zur Rolltreppe geleitet und können direkt in die Check-In-Halle. Bereits viele Monate vor der Fahrt wurden wir von Holland America informiert, dass deckweise eingecheckt wird. Uns passt es gut, dass wir früh dran sind. So können wir noch zum Mariner's Lunch. Bisher waren wir immer nur auf der Durchreise in Amsterdam. Daher kannten wir die Halle mit den Check-In-Schaltern bislang nicht. Hier sind zahlreiche Schalter. Der Eincheckvorgang ging sehr schnell. Wir bekommen bevor wir die Wartehalle erreichen eine Einschiffungsnummer. Wir werden gebeten uns in den Wartebereich für unsere Einschiffungsnummer zu setzen. Sie achten darauf, dass wir nicht woanders uns reinsetzen. Zwischendurch gehen wir mal gucken, was hier so alles zum Verkauf angeboten wird. Keiner hat den Käse zum Kreuzfahrtterminal gerollt. Früher gab es auch Käse als Souvenir zum Kauf. Auch ein Wein- und Wasserhändler ist vor Ort, der sich gut mit den Freimengen an Bord auskennt. Als wir ankommen wird Nr. 5 zur Einschiffung aufgerufen. Als sie dann weg sind, wird die Wartezone umbenannt. So rolliert die Wartezone. Sehr bald kommen auch wir dran. Wir werden dann "sortiert" in EU-Bürger und Nicht-EU-Bürger. Es finden getrennte Handgepäckkontrollen statt. EU-Bürger werden auf dem Weg stehend von einem Grenzkontrollbeamten kontrolliert. Nicht-EU-Bürger müssen sich an den Schaltern anstellen, weil sie ja die Schengenzone verlassen und das protokolliert werden muss. So smart sind wir schon lange nicht mehr an Bord gekommen.

As we meanwhile handed over our bags we were directed immediately to the escalator to the check-in hall in the upper level. Months ago we were informed by Holland America that check-in will be conducted deck by deck. It was perfect to us that our slot was so early so we could go to the Mariner's Lunch. So far we were only in transit in Amsterdam. So did not know the hall mit den check-in-counters. Here there were many counters. Checking-in went very quickly. Before we reach the waiting lounge we got an embarkation number. We were asked to have a seat in the waiting area for our embarkation number. They kept an eye on that we did not sit in a non-applicable area. Meanwhile we checked what they were offering for sale. Nobody moved any cheese to the cruise terminal. Then you had also cheese to buy as souvenir. Even a wine and water-dealer was present who was familiar with the allowed quantity to carry onboard. When we arrived Nr. 5 was paged. When they went they renamed their waiting area. So the waiting zones were revolving. Soon it was our turn. We were "sorted" in EU-citizen and Non-EU-citizen. We had separate hand baggage checks. EU-citizen were checked while walking by an immigration officer. Non-EU-citizen need to queue up for the counters as they were leaving the Schengen-Zone and it need to be recorded. Long time ago we went so smart onboard.

Until 13.30 hrs (last admission) you can get Mariner's Lunch. We had luck: our embarkation time fit and it was still open. So we went there directly. We were very surprised. No more name (like e.g. Rembrandt before) but a "Main Dining Room". It appeared like the entrance area of a German Post Office. We were all a little bit shocked. It was not anymore like on EURODAM, WESTERDAM, ZAANDAM, RYNDAM. It was more like a light-version of Solstice-Class of Celebrity. If I really would love to go on Celebrity I could have booked them. After the desaster on CELEBRITY MILLENIUM 2022 was the earliest time I wanted to go again. We stumbled more or less to our table. We identified a hurdle on the floor which had already many many shoe-prints. The new uniforms: did not give you anymore the nice traditional-conservative feeling of the golden era when cruising was something elegant-luxurious. No more Rosenthal but only Thomas - One company but two different target markets. I was working many years in the China department of KaDeWe Berlin (THE department store in Germany). No more logo on the modern silverware of WMF. The china reminded me more to a hospital, nursery home, canteen. I could not pay any attention to my food. The Coke from South Africa, altough has not been there before. Finally I woke up from my state of a shock. Never have had for long time such a sweet sherbet. Then I loved the sherbet from Holland America because they tasted very fruity and not sweet.

Bis 13.30 Uhr (letzter Eintritt) gibt es Mariners Lunch. Wir haben Glück: unsere Einschiffungszeit passt und es ist auch offen. So gehen wir direkt hin. Wir sind jedoch überrascht. Kein Name mehr (vorher z. B. Rembrandt), sondern ein "Main Dining Room". Das wirkt aber wie der Eingangsbereich einer
Filiale der Deutschen Post
. Wir sind alle geschockt. Das ist nicht mehr wie auf der EURODAM, WESTERDAM, ZAANDAM, RYNDAM. Das ist mehr wie auf einer Light Version von der Solstice-Klasse von Celebrity. Wenn ich hätte Celebrity buchen wollen, dann hätte ich sie gebucht. Sie wären aber erst 2022 nach dem Fiasko auf der CELEBRITY MILLENNIUM wieder an der Reihe gewesen. Wir stolpern regelrecht zu unserem Tisch. An dem Hindernis im Boden sind wohl mehrere hängengeblieben, wenn man den Spuren entnehmen kann. Die neuen Uniformen: gar nicht mehr das schöne tradionell-konservative Gefühl der goldenen Zeiten als Kreuzfahren noch etwas elegant-luxuriös war. Kein
Rosenthal
mehr, sondern nur noch
Thomas
- Ein Unternehmen, zwei Zielmärkte. Ich habe viele Jahre im
KaDeWe Berlin
in der Porzellanabteilung gearbeitet. Kein Logo mehr auf dem modernen Edelstahlbesteck von
WMF
. Das Geschirr erinnert mehr an Krankenhaus, Seniorenheim, Kantine. Ich kann mich kaum auf das Essen konzentrieren. Die Coca Cola aus Südafrika, obwohl das Schiff ja gar nicht zuvor dort war. Erst beim Nachtisch erwache ich aus meinem Schockzustand. So ein süßes Sorbet habe ich schon lange nicht mehr gegessen. Früher habe ich die Sorbets von Holland America geliebt, weil sie fruchtig und nicht süß schmeckten.
Es geht dann in unsere Kabine.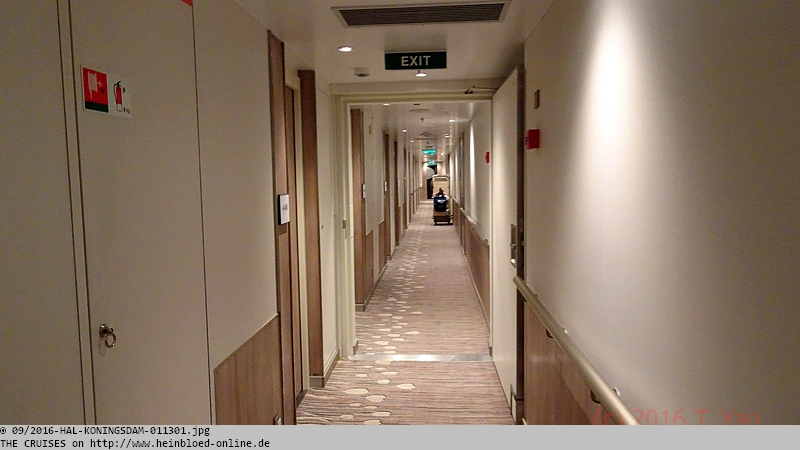 We went for our cabins.

4159 - a balcony stateroom with obstructed view. Later it was cheaper than our oceanview cabin. Dorothy of cruisebrothers.com did it in her proven way again to get the best for our money. With the check we got from DIAMOND PRINCESS we could nearly pay off the voyage. Unfortunately we did not get a nice downgrade-offer again that we could go again for free.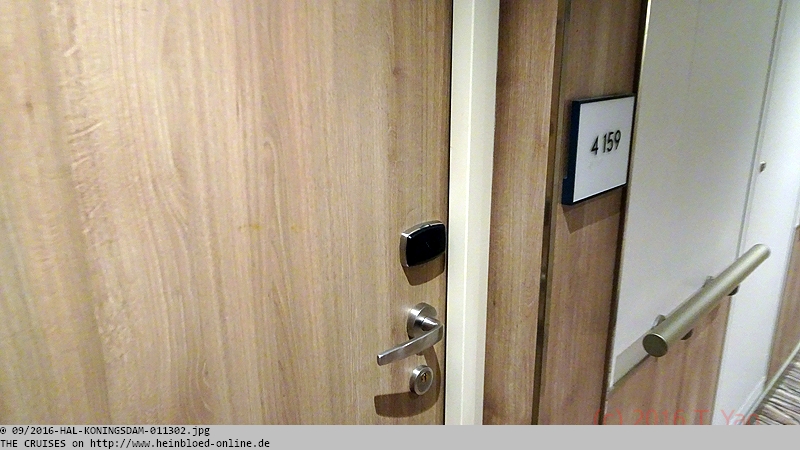 4159 - eine Balkonkabine mit Sichteinschränkung. War am Schluss günstiger als unsere Außenkabine.
Dorothy von cruisebrothers.com
hat sich in bewährter Weise darum gekümmert, dass wir das beste für unser Geld bekommen. Mit dem Scheck von der DIAMOND PRINCESS konnten wir fast diese Reise bezahlen. Leider gab es nicht wieder ein schönes Downgrade-Angebot, dass wir wieder kostenlos mitfahren konnten.
Auf den ersten Blick wie früher.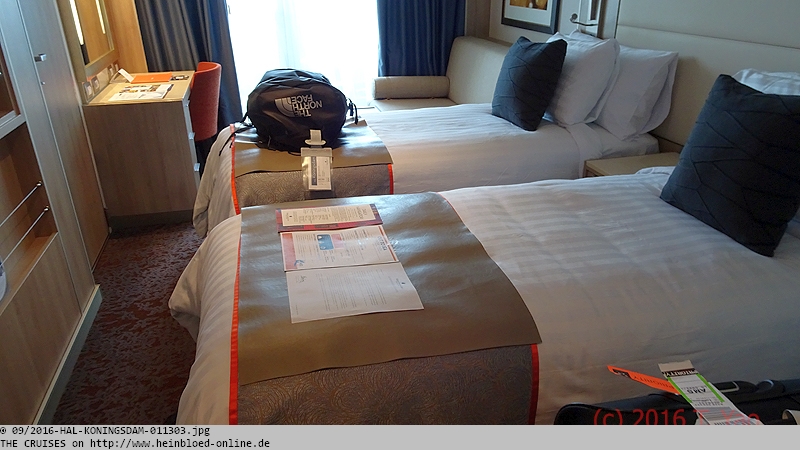 The first look like we know from then.

Very nice: the new flat-screen-TV.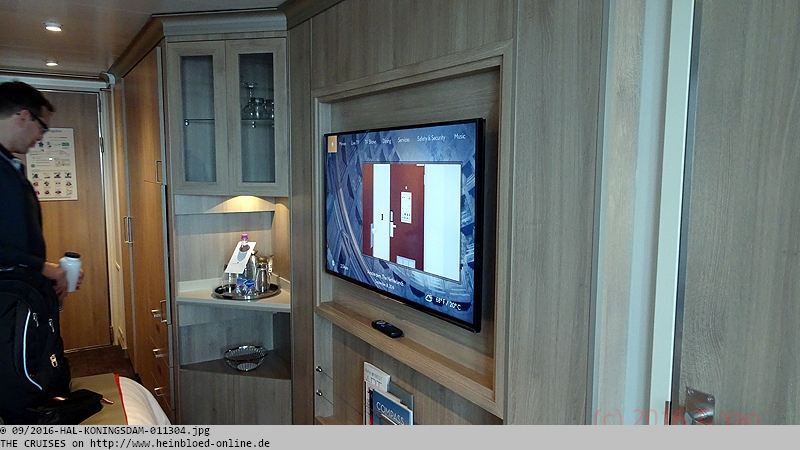 Sehr schön: der neue Flachbildschirm-Fernseher.
Unser Balkon. Sogar mit Licht auf dem Balkon. Zuletzt hatte NORWEGIAN ESCAPE nicht mal mehr Licht auf dem Balkon.

Our balcony. Even with light on our balcony. Recently on NORWEGIAN ESCAPE we did not have light anymore on the balcony.

We liked very much the bathroom! Somehow they under-dimensioned the diameter of the drain pipe. The water did not flow away quickly enough and congested.

Das Bad gefällt uns sehr gut! Nur irgendwie haben sie hier den Durchmesser der Abflussrohre unterdimensioniert. Das Wasser fließt nicht schnell genug ab und staut sich.
Schöne Details, die wir nicht mehr wiederfinden: so z. B. mein Hocker, den man noch als Stauraum benutzen konnte. Dafür gibt es jetzt Licht im Safe. Für meinen Geschmack noch zu wenige USB-Ports. Die Klimaanlage leider immer noch nicht zugfrei. Sehr gut das neue Angebot im Fernsehen. Weniger gut: die kostenpflichtige Angebote auf der Frühstückskarte. Insgesamt gefällt uns der Zustand, so dass wir mal unseren Kabinenstewards ein erstes Signal geben können: so hätten wir es gerne weiter so für den Rest der Reise. Die Bordkarten waren früher wirklich schöner. Schade.

Nice details we did not find anymore: like the stool which you still could use as stowage. But you had now light in the safe. For my taste not enough USB-ports. The air-condition still did not work free of draught. Very good was their offer on TV. Less good: the offers on charge on the breakfast menu. Generally we love the state so we could give our cabin stewards a clear signal: that was the way we liked it and want to have it for the rest of the voyage. The ship cards were earlier nicer. So sad.

On Holland America ships I felt so far very safe because the had the toughest life drill in my eyes: outside on the promenade deck, properly positioned in rows. A Security Officer who collected the phones of undisciplined guests who were making phone calls during the life drill. Now we felt as safe as with the others and sit in the restaurant and watched the "show". No active actions required on our side. There was no space anymore on the promenade deck for the life drill.

Auf Holland America Schiffen habe ich mich bislang sehr sicher gefühlt, weil sie in meinen Augen die Seenotrettungsübung sehr streng durchgeführt haben: Draußen auf dem Promenadendeck, brav in Reihen aufgestellt. Ein Sicherheitsbeamter, der die Telefone von undisziplinierten Gästen abnimmt, weil sie während der Seenotrettungsübung telefonieren. Nun fühlen wir uns genauso sicher, wie bei anderen und sitzen im Restaurant und gucken der "Show" zu. Aktives Handeln unsererseits nicht notwendig. Platz für die Seenotrettungsübung auf dem Promenadendeck gibt es keinen mehr.
Wir genießen die Ausfahrt aus Amsterdam. Ein Flugzeug verabschiedet uns. Ein neues Hotel direkt am Wasser entdeckt:
Amstel Botel
- sieht aus, wie ein ehemaliges Flusskreuzfahrtschiff. Aber auch von hier hätte nicht alle vier Schiffe fotografieren können. Ich mag die Revierfahrt durch den Nordseekanal nach IJmuiden.

We enjoyed the set sail in Amsterdam. A plane bit farewell. Discovered a new hotel directly at the waterfront: Amstel Botel - looked like a river cruise ship. But also from here I had no chance to take pictures of all four ships. I loved the trip through the North Sea Canal to IJmuiden.

Never I had pictures of myself while I am onboard of a ship. There was no selfie-stick which was long enough. I weared for the special occasion an orange t-shirt but had to learn: you wear it only during the King's Day (National Holiday) and when the national soccer team plays. On the one side we had Ine standing there with an orange towel. The canal had a lenght of 17 miles. But just here adjustant we had Aad and Nicoline who were taking pictures of me or KONINGSDAM. They run https://www.cruisefans.nl/indexgb.html.

Es gibt ja nie Bilder von sich selbst, während man auf einem Schiff ist. So lange Selfie-Sticks gibt es leider nicht. Ich habe extra ein oranges T-Shirt an und stelle fest: das trägt man in den Niederlanden wohl nur zum Königstag und wenn die Fußball-Nationalmannschaft spielt. Auf der der einen Seite steht Ine mit orangem Handtuch. Der Kanal ist 27 km lang. Ausgerechnet hier stehen dann direkt gegenüber Aad und Nicoline, die mich bzw. die KONINGSDAM fotografieren. Sie betreiben diese Seite
https://www.cruisefans.nl/indexgb.html
.
Die schönsten Promenaden gab es bisher auf Holland America Schiffen. Jetzt leider nicht mehr. Schuld ist Ex-Kapitän Schettino, der die COSTA CONCORDIA versenkt hat. Kein Platz mehr für eine breite Promenade, kein Platz mehr für schöne Liegestühle, keine schöne Aussicht mehr.

Holland America ships so far the nicest promenades. Now not anymore. Blame to Ex-Captain Schettino who sent COSTA CONCORDIA to the bottom. No more space for a wide promenade, no more space for nice sunbeds, no more nice views.

The new Royal Dutch Café with Dutch goodies. With draft beer and croquettes sandwiches in soft rolls.

Das neue Royal Dutch Café mit niederländischen Leckereien. Mit Bier vom Fass und Kroketten-Soft-Brötchen.
Das offene Deck ist mir zu modern. Leider auch hier unterdimensionierte Abflussrohre: das Wasser steht. Ich will meinen Doppelschornstein zurück.

The open deck was too modern to me. Again the underdimensioned drain pipes: the water stayed. I wanted to have back my double funnels.

The Jogging-Track was also here on the top.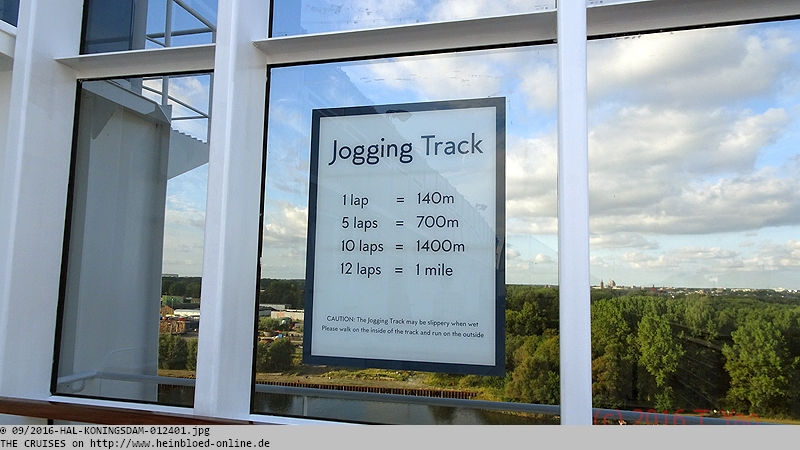 Die Joggingbahn befindet hier oben.
Rund um das Glasdach.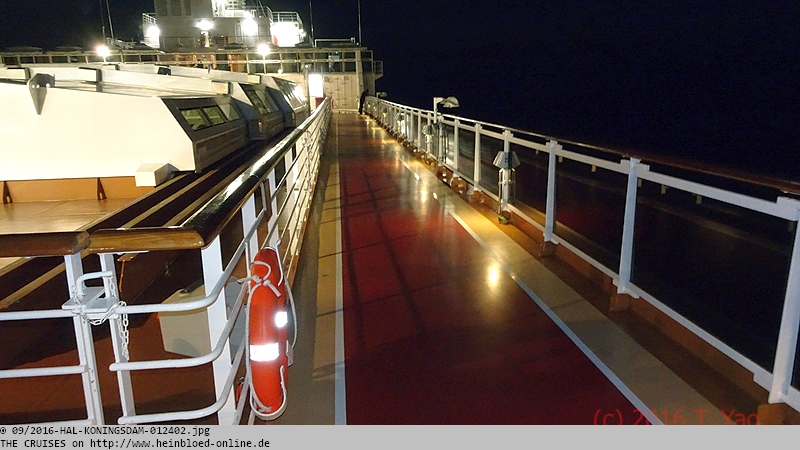 Around the glass roof.

In between you found some devices for stretching etc.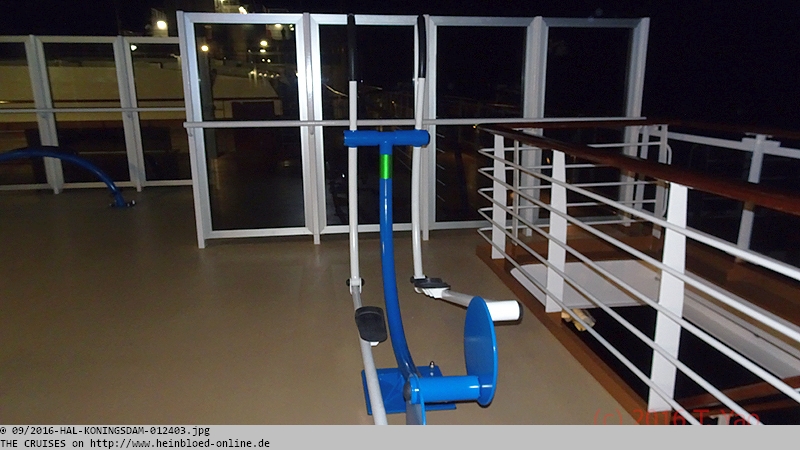 Zwischendurch Geräte zum Dehnen usw.
Aufgrund der Liegezeiten haben wir noch zwei weitere Tage im The Retreat gebucht. In Gibraltar sind wir eh den ganzen Tag. Und in Cartagena legen wir bereits um 14.00 Uhr ab. Also noch ein paar Stunden, die wir hier nutzen könnten.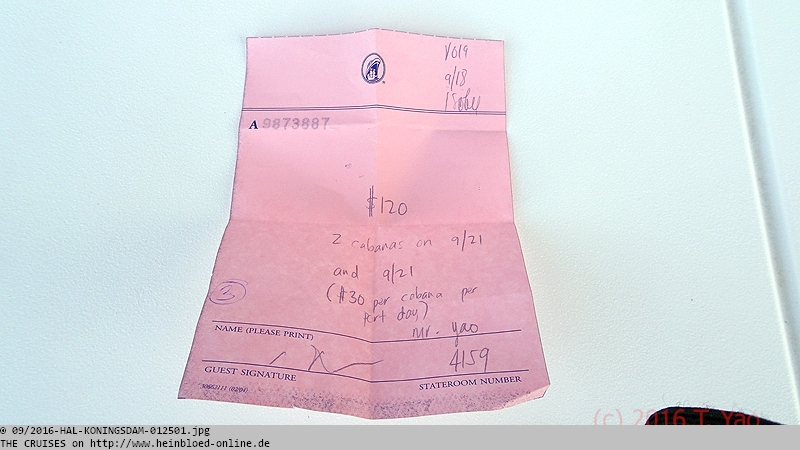 Due to the berth time we booked additional two days in The Retreat. In Gibraltar we supposed to dock all the day. And in Cartagena we supposed to depart at 14.00 hr. So few hours we could have use here.

On vacation some exclusivity and separation would not not be too bad.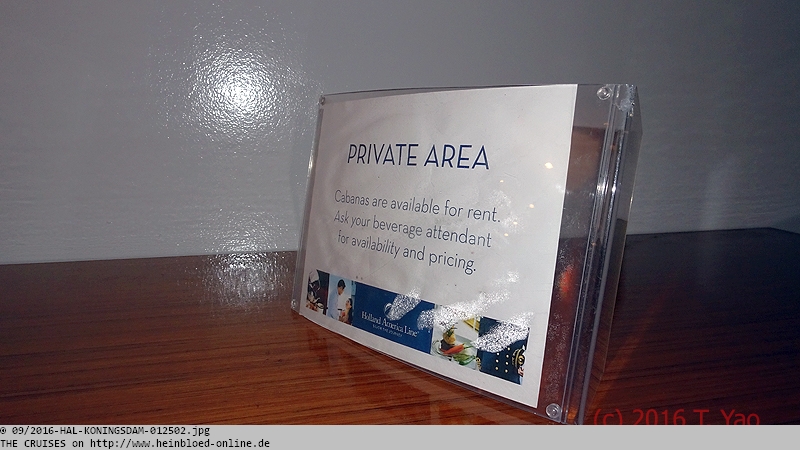 Ein bisschen Exklusivität und Abgeschiedenheit ist gar nicht mal so schlecht im Urlaub.
Ist wieder alles sehr nett. Eine große 4-er Kabana ist nicht mehr da. So nehmen wir zwei 2-er. Manche haben Verbindungs"türen" besser -vorhänge.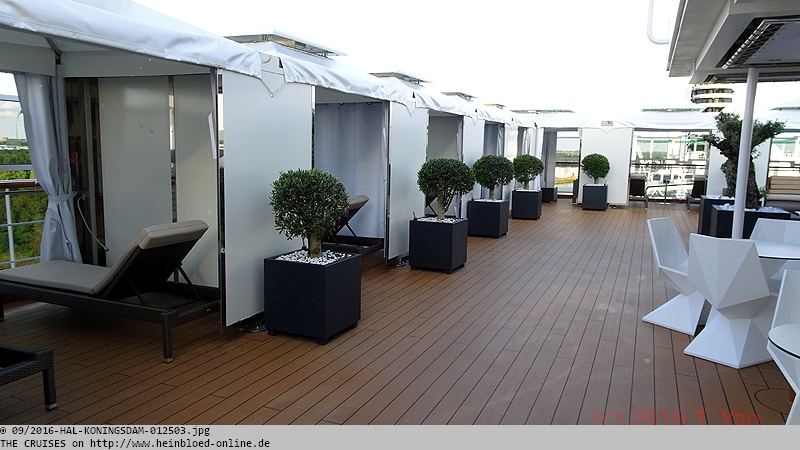 Everything was very nice. A large cabana for 4 was not available anymore. So we took two for 2. Some have connecting "doors" or better curtains.

Only the rabbit... hmm... hopefully not a children's playground... but no playground for adults: like a little jacuzzi.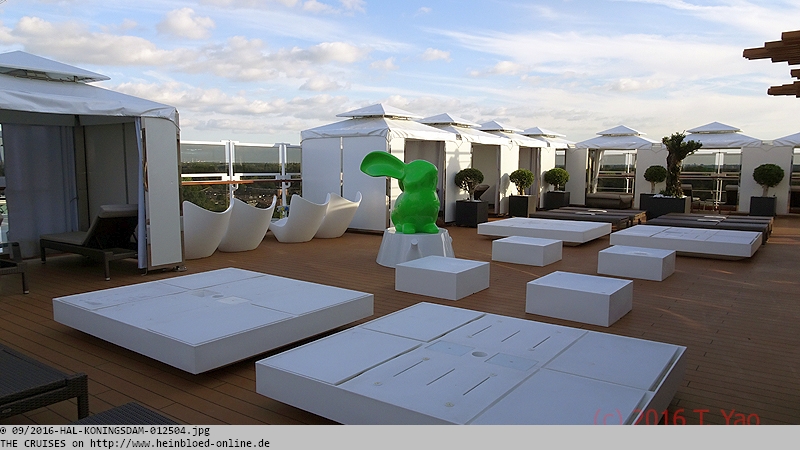 Nur der Hase... hmm... Hoffentlich kein Kinderspielplatz... Nur kein Spielplatz für Erwachsene: wie z. B. ein kleiner Whirlpool.
Früher war Holland America, die ich deswegen geschätzt habe, weil sie eine Leidenschaft zum Detail hatte. So etwas hatte ich früher nicht wahrgenommen. Aber vielleicht bin ich schon zu kritisch. Die schwere Tür, die schnell zuschlägt und man muss schnell zwischen die Lücke durch...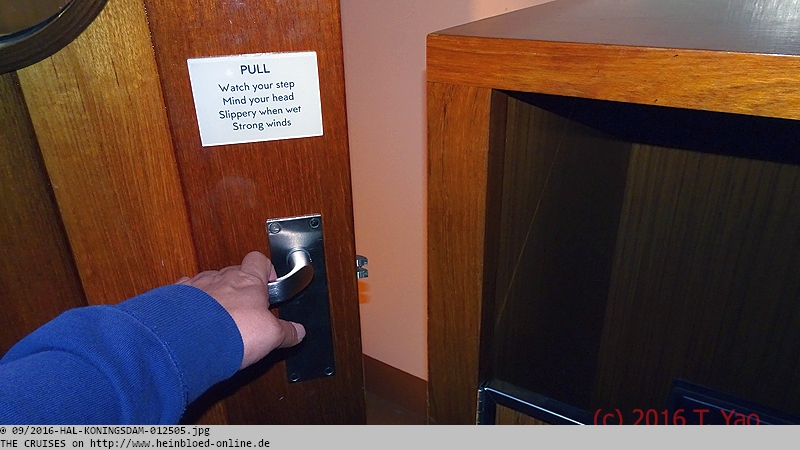 Before I appreciated Holland America so much because of the their passion for details. Something like this I never noticed before. The heavy door which closed very fast and you need to get quickly through the gap.

Finally something familiar.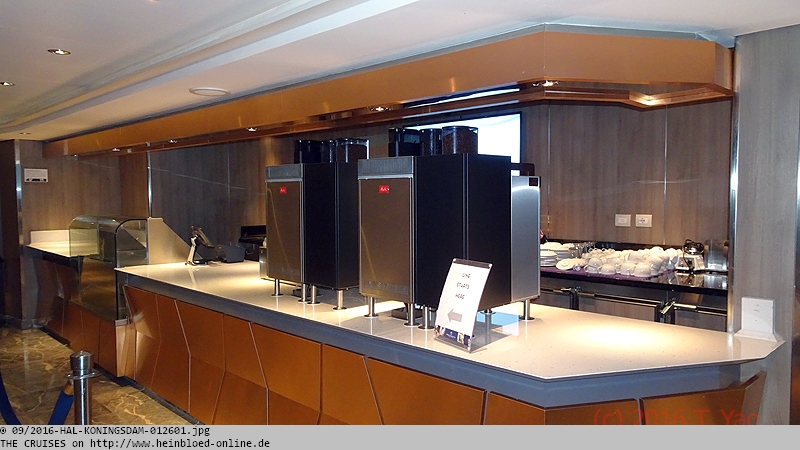 Endlich etwas vertrautes.
Das Exploiration Café im Crow's Nest.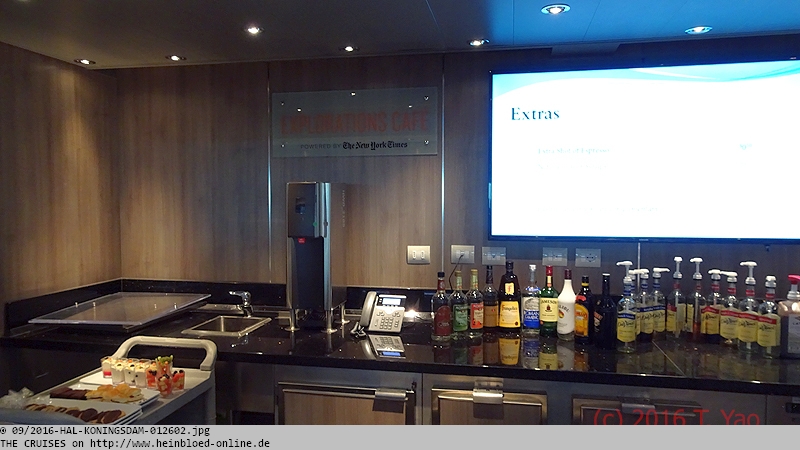 The Exploiration Café in the Crow's Nest.

It looked like nothing has changed.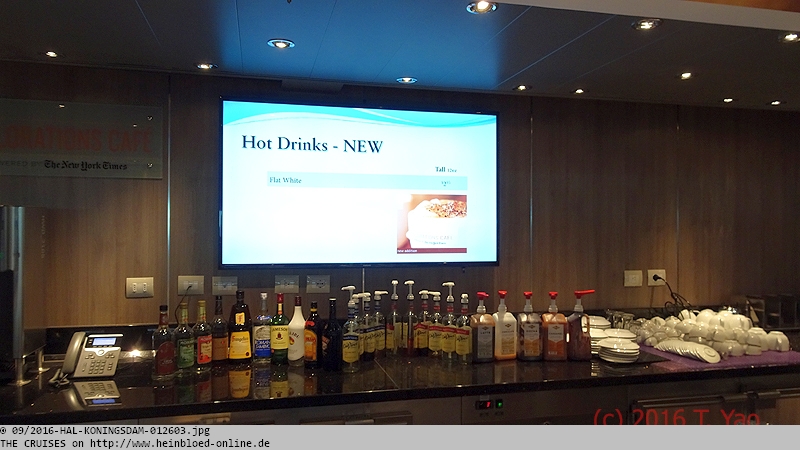 Das sieht wirklich unverändert aus.
Auch unverändert kleine kostenlose Snacks.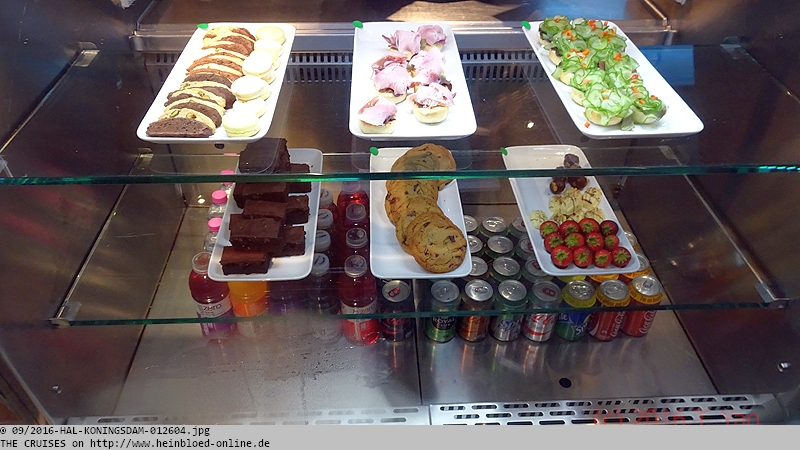 Also unchanged the small complimentary snacks.

And again my beloved Glaceau VitaminWater.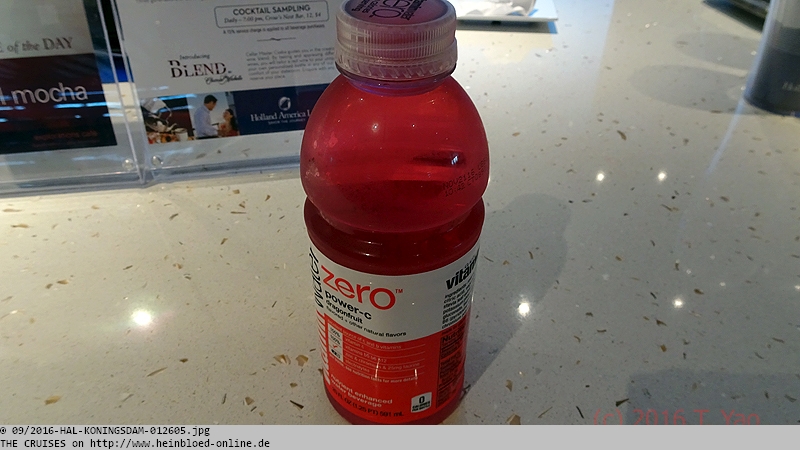 Und wieder mein geliebtes
Glaceau VitaminWater
.
Ich liebe Spas. Aber hier hasse ich ihn.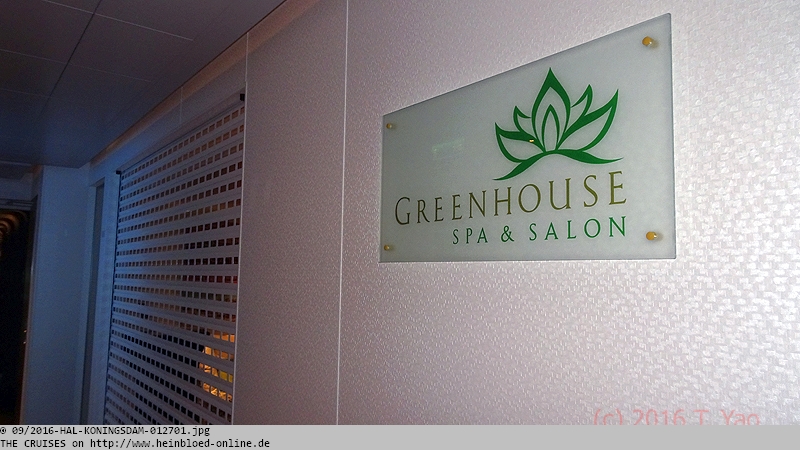 I love spas. But here I hated it.

My anger was due to the Thermal Suite.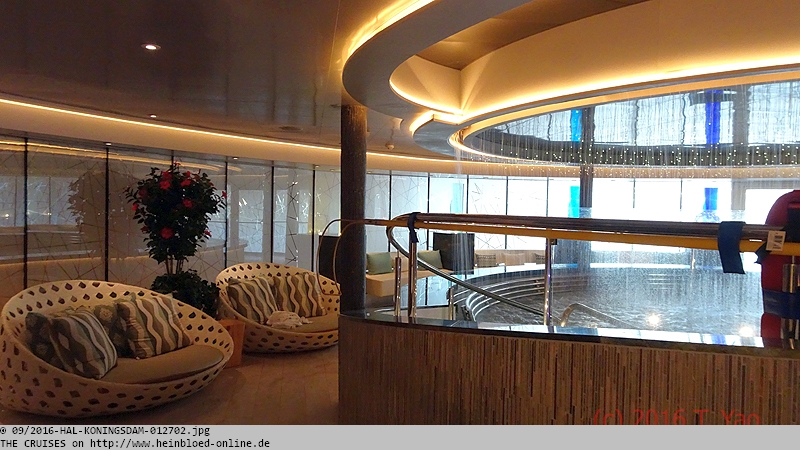 Der Ärger betrifft das Thermal Suite.
In Deutschland nennt man das unlauterer Wettbewerb, wenn man etwas bewirbt, das nicht existiert. Demnach sollte es Tagespässe geben. Aber sie weigern sich diese zu verkaufen. Nur paarweise für die gesamte Kreuzfahrt.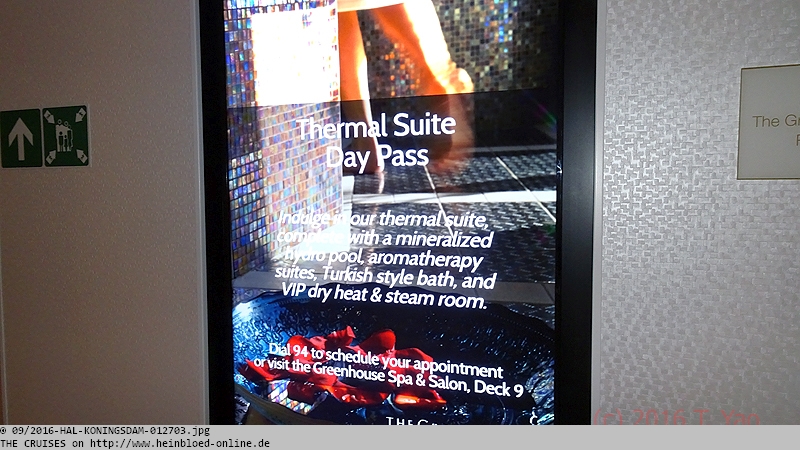 You call it unfair competition in Germany when you advertise for something what is not existing. So they should offer day passes. But they refused to sell them. Only couplewise for the whole cruise.

We reached again the locks in IJmuiden. Here we need to moor. We should have joined here...

Wir erreichen wieder die Schleusen in IJmuiden. Hier müssen wir festmachen. Wir hätten ja auch hier zusteigen können...
Hier ist wieder die freundliche Bevölkerung, die uns zuwinkt. Mangels Parkplätzen wird auch mal ein Stau verursacht.

Here the friendly people were again to wave us. Due to lack of parking lots they occured a congestion.

We arrived at Felison Cruise Terminal in IJmuiden. I was here on ARTANIA (former ARTEMIS/ROYAL PRINCESS). But that was no alterantive to Passenger Terminal Amsterdam.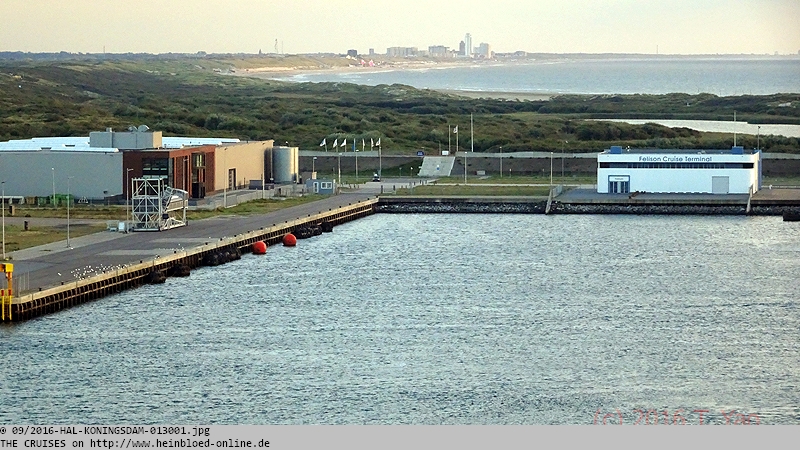 Wir kommen am
Felison Cruise Terminal
in IJmuiden an. Ich war hier mit der ARTANIA. Aber das ist keine Alternative zum Passagier Terminal Amsterdam.
Nochmals einen Blick auf unser Hotel.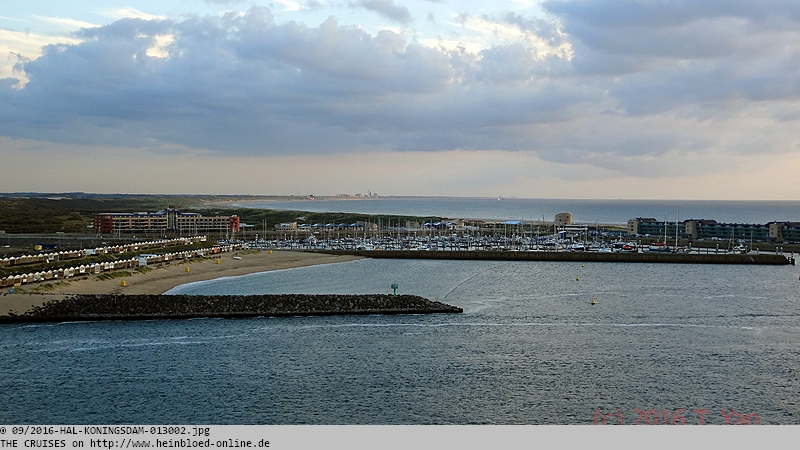 Another view to our hotel.

Another view to the IJmuiden beach and then we arrived the open sea.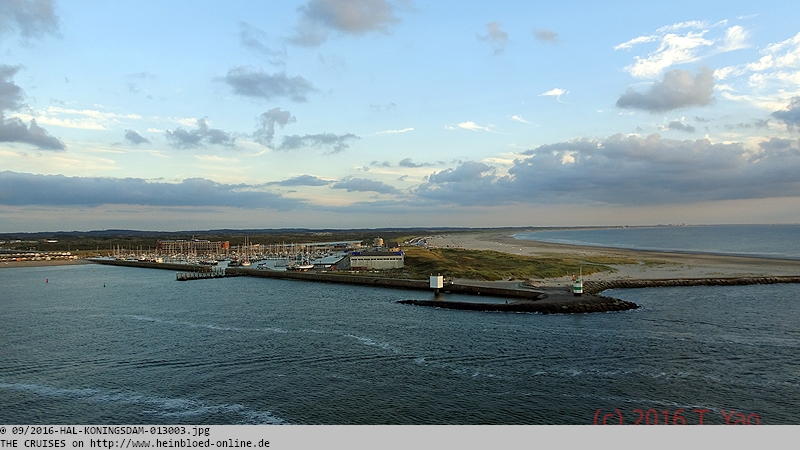 Noch einen Blick auf den Strand von IJmuiden und dann sind im offenen Meer.
Sigi hatten wir zunächst in diese Einzelkabine gebucht. Aber irgendwie keine schöne Lage.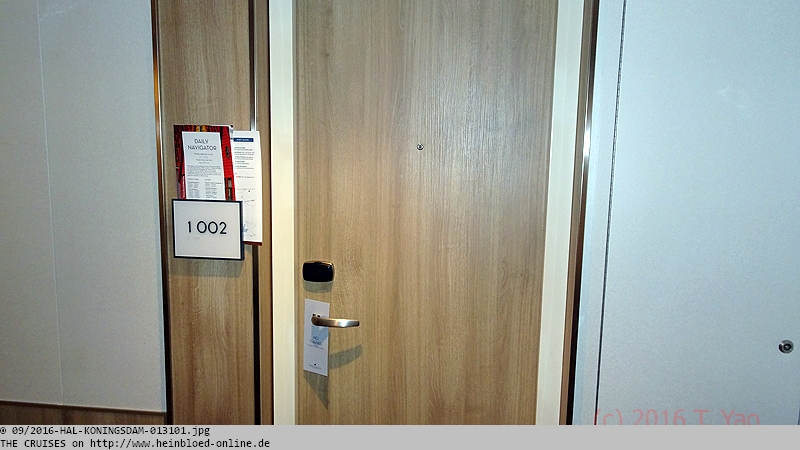 We booked originally for Sigi a single cabin. Somehow not a very nice location.

Dorothy arranged that she got a good price and so she was next to us.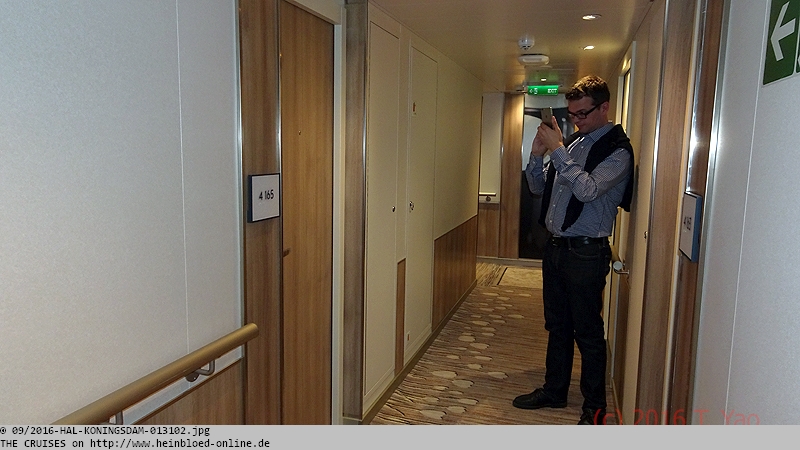 Dorothy hatte erreicht, dass sie einen guten Preis bekommen hat und so ist sie neben uns.
Immer muss man auf Frauen warten. Wir haben Hunger und sie will nicht gestört werden.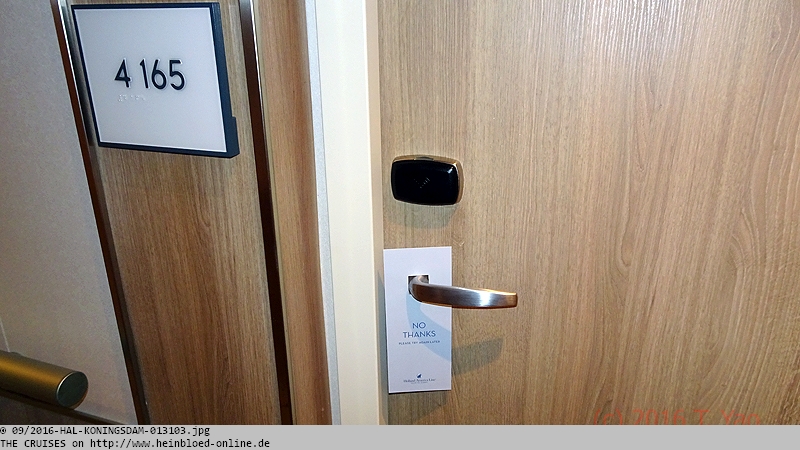 You always must wait for women. We were hungry and she wanted her privacy.

Sigi during her personal ship-fell-well-test.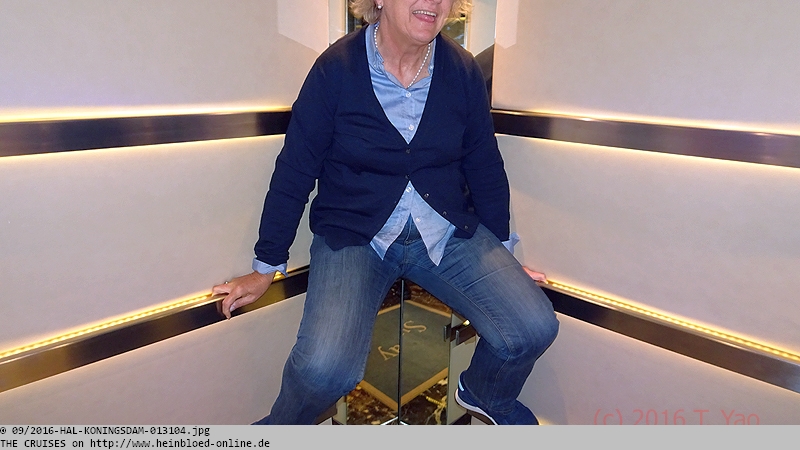 Sigi bei ihrem persönlichen Schiffs-Wohlfühltest.
Es geht wieder in die "Schalterhalle der Deutschen Post" zum Abendessen. Ich fasse es immer noch nicht.

We went again to the "counter hall of German Postal Services" for dinner. I still could not believe it.

They had also positive changes: a counter where you could book your tables for the night. Here they introduced the alternative dining venues. Here they had great dining packages which was not offered in the internet. They immediately offered us to upgrade a different one and what we paid in internet would be taken into account. Later I was upset with my self that I declined the offer. Also very nice: you could inform yourself in the cabin what you would have for dinner. I was very happy that I was greeted by Citra and Harry who identified me from previous cruises. I could not say too much on the food. I was deeply in charge with the post-yellow corner which made me feeling like in a canteen of the PostTower (Corporate Office of the German Postal Services) in Bonn, Germany. And Bruno discovered the signs on the table and how to disassemble them.

Es gibt aber auch positive Veränderungen: ein Schalter, an dem man Tische für den Abend reservieren kann. Hier werden auch die alternativen Zuzahlrestaurants vorgestellt. Hier gibt es auch tolle Restaurant-Pakete, die im Internet nicht angeboten werden. Man bietet uns aber sofort an, dass wir ein anderes nehmen können und es dann angerechnet wird, was wir bereits im Internet bezahlt haben. Später ärgere ich mich darüber, dass ich das Angebot ausgeschlagen habe. Auch sehr schön: man kann sich in der Kabine bereits über das Angebot für das Abendessen informieren. Besonders freue ich mich über die Begrüßung von Citra und Harry, die mich wiedererkannt haben. Über das Essen kann ich nicht sehr viel sagen. Mich beschäftigt immer noch diese postgelbe Ecke, in der ich mich so fühle, wie vermutlich in der Kantine im
PostTower
in Bonn. Und Bruno hat die Schilder auf dem Tisch entdeckt, die er auseinander nimmt.
Zum Abschluss des Abends noch ein wenig Kunst.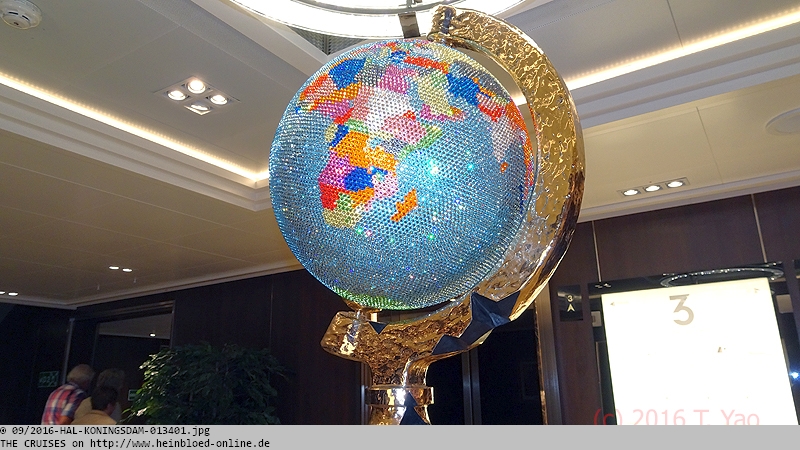 For the end of the evening some art.

Well... really art???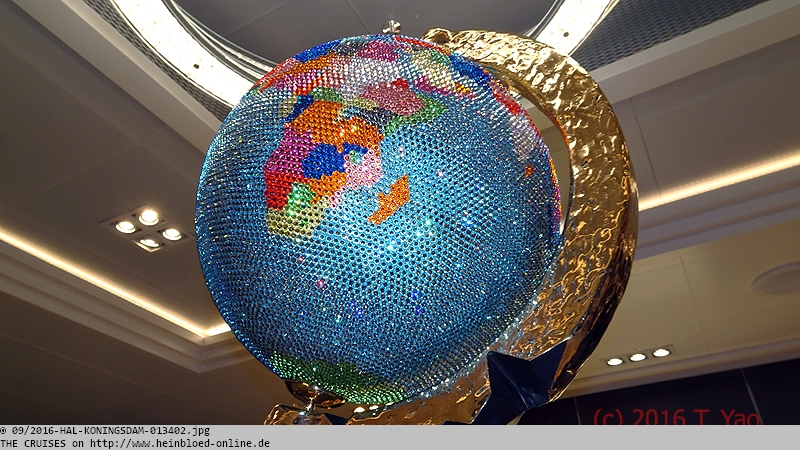 Hmm... wirklich Kunst???
Naja...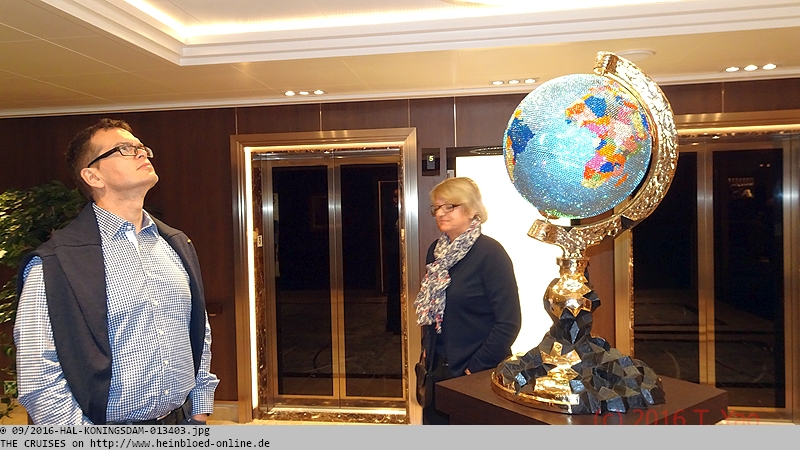 Well...

Not anymore with Beatrice... but with the Dutch King Willem-Alexander and Queen Maxima...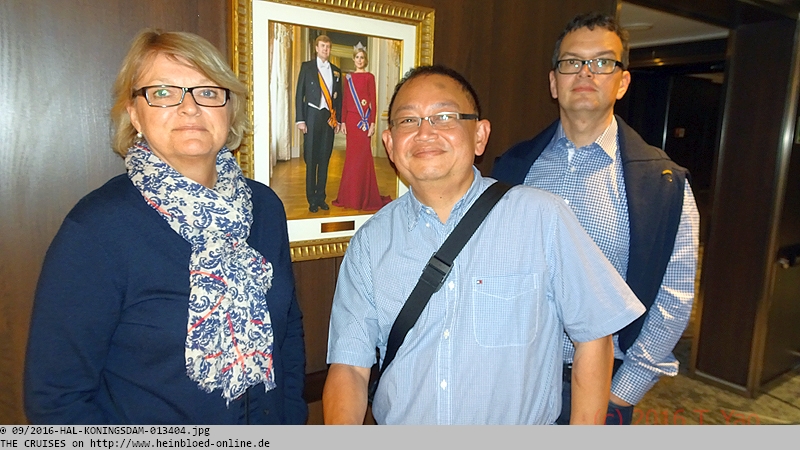 Nicht mehr mit Trixie... aber mit Willem-Alexander und Maxima...
Und noch ganz alleine mit denen und dann geht es endlich ins Bett. Gute Nacht.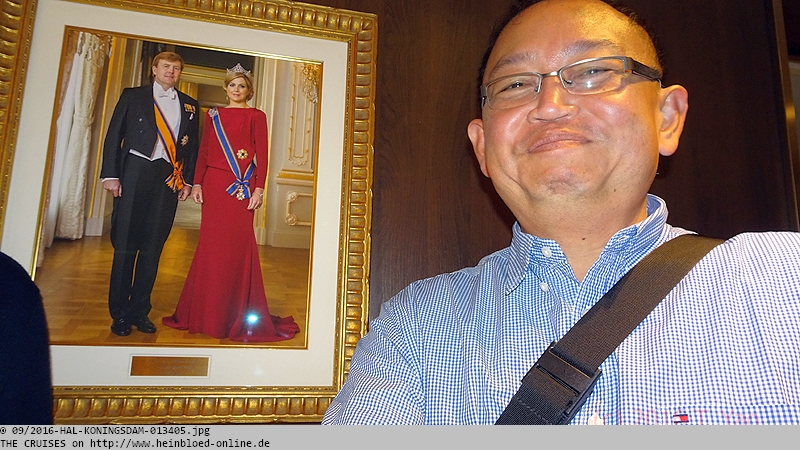 And just by myself with them and then finally into bed. Good Night.