Da wir bereits um 14.00 Uhr ablegen, habe wir noch eine Cabana gebucht. Hier oben erwartet mich John Larry mit einem kleinen Souvenir.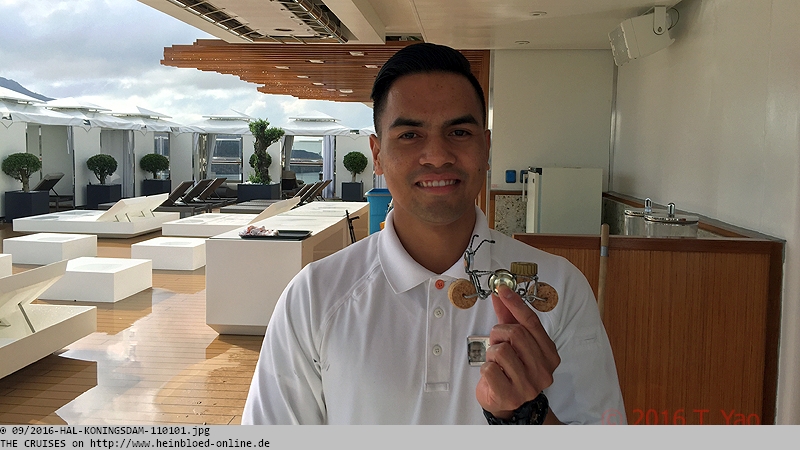 As we already set sait at 14.00 hrs we booked a cabana. Here John Larry had a small souvenir for me.

I have never seend this before. It was very nice to me.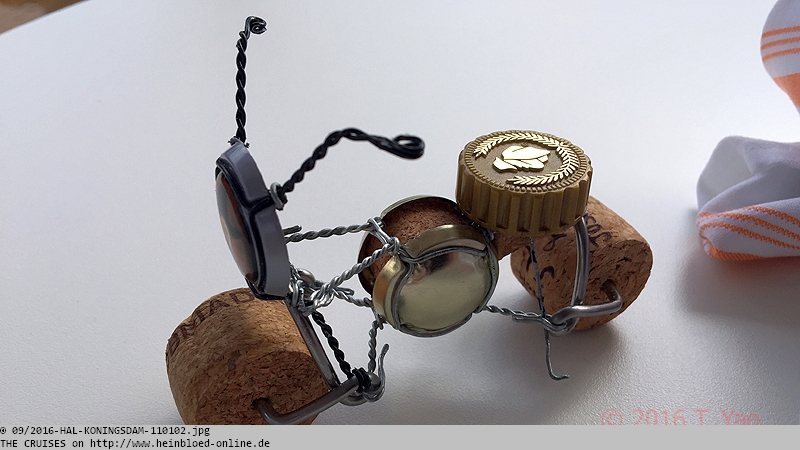 Habe ich bislang auch noch nie gesehen. Ich freue mich sehr.
Es geht mir nicht gut. Nach sechs Landgängen hintereinander brauche ich doch mal einen Tag Ruhe. Morgen wäre zwar ein Seetag gewesen. Aber der kommt zu spät. Ich bin nicht mehr in dem Party-Alter. Am siebten Tag sollst du ruhen. Und selbst in der Firma habe ich nur eine 5-Tage-Woche. So schön, wie jeder der Häfen zu vor war. Weniger ist manchmal mehr. Ich freunde mich mit einem Kamillentee an.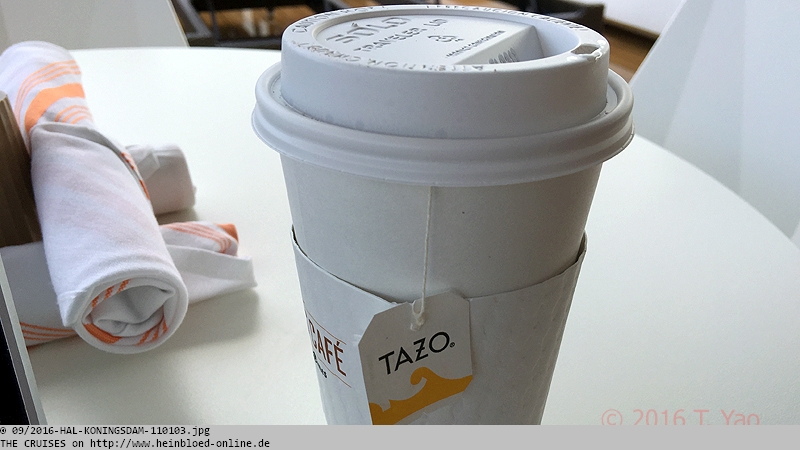 I did not feel well. After six consecutive calls of port I need another day to rest. The next would be a day of sea. But it came too late. I am not anymore in an age to party all time. On the 7th day you should rest. Even in the company I work only five days a week. So nice as each of the ports was before. Less is sometimes more. I became familiar with a chamomile tea.

John Larry got me a chicken soup. He walked an extra mile for me because that was no standard offer but only available from the cabin service galley. Thereafter I felt much more better.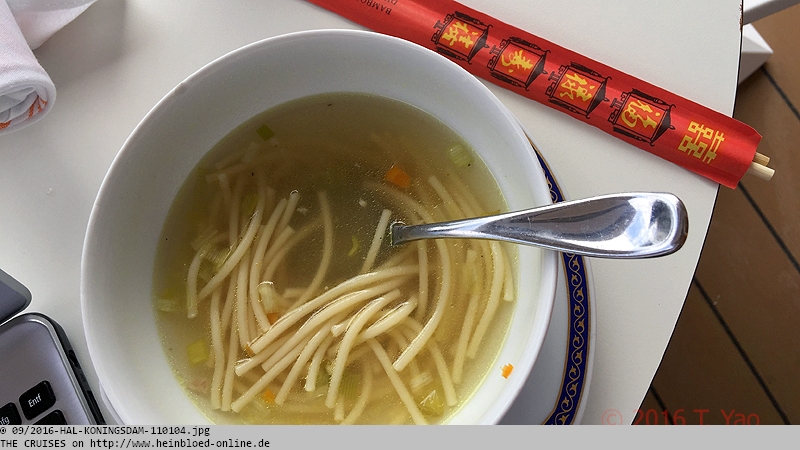 Joseph Larry besorgt mir eine Hühnersuppe. Er ist dafür wohl eine Extrameile gelaufen, weil sie kein Standardangebot ist, sondern nur in der Galley für den Kabinenservice vorrätig ist. Danach geht es mir aber wieder besser.
Bruno und Sigi gehen alleine in Cartagena in der Provinz Murcia an Land.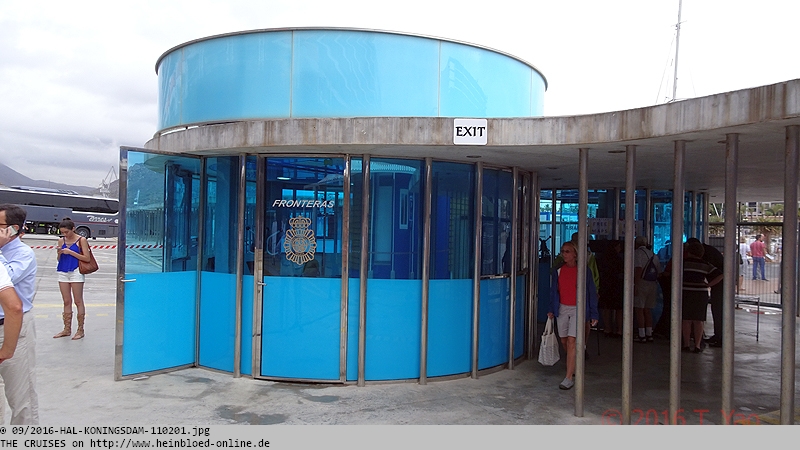 Bruno and Sigi went ashore by themselves for Cartagena, Spain in the province of Murcia.

Here in the port they had a small tourist office.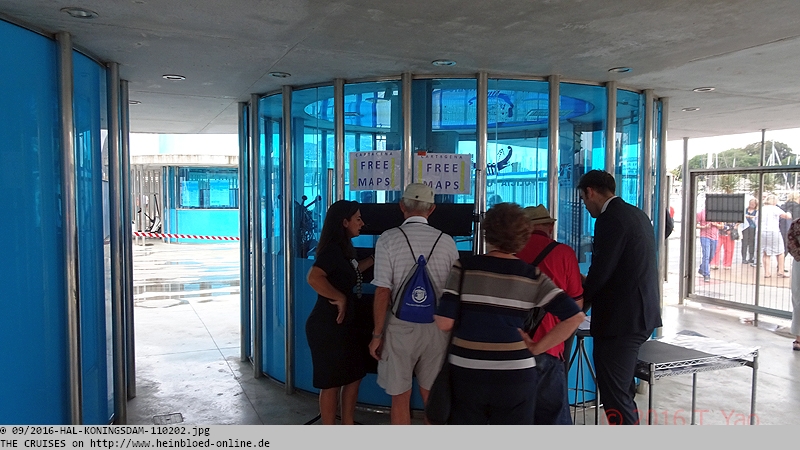 Hier im Hafen gibt es eine kleine Touristeninformation.
Und eine Karte von der Innenstadt.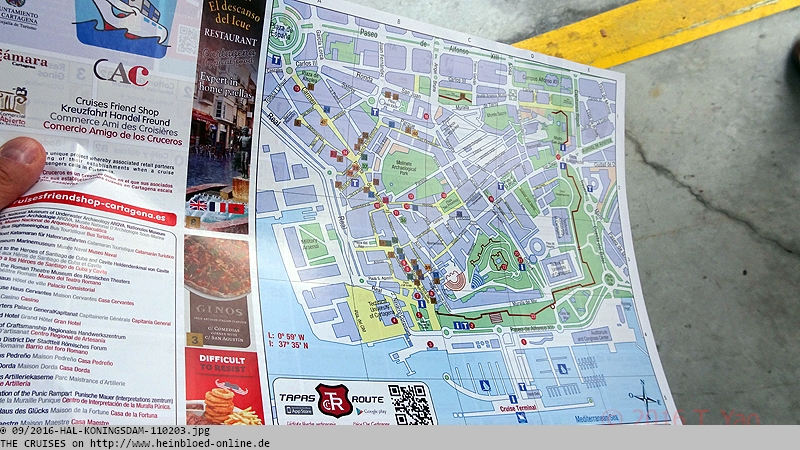 A map of the city center.

They walked alongside of the port and followed the recommendation to walk to the part and the fortress.

Sie laufen zunächst im Hafen entlang und folgen der Empfehlung zum Park und zur Festung zu laufen.
Es geht zum
Castillo de la Conceptión
.

They went to Castillo de la Conceptión.

From here Bruno took pictures of our KONINGSDAM.

Von hier macht Bruno mir auch Aufnahmen von unserer KONINGSDAM.
Es geht weiter zum
Römischen Theater
. Es erinnert alles an Karthago (bei Tunis) und das war mal Cartago Nova. Kein Wunder, dass es Cartagena heißt.

They headed on to Roman Theater. Everything reminded to Catargue (near Tunis, Tunisia) and that was before Cartago Nova. No wonder that this city is called Cartagena.

They walked a little more through the city center. I would not be averse to repeat this cruise 2018 again. Portland will be replaced by Southampton. But from Northern Spain there would be again the same seven ports. I would not like to miss anyone but Gibraltar. But I do not like to do such power-tours again.

Dann laufen sie noch kurz durch die Innenstadt. Ich wäre nicht abgeneigt gewesen, 2018 die Kreuzfahrt zu wiederholen. Portland ist durch Southampton ersetzt. Aber ab Nordspanien wären es die gleichen sieben Häfen gewesen. Bis auf Gibraltar möchte ich auf keinen verzichten und wieder solche Power-Touren machen.
Auch Bruno ist kaputt, als er wieder an Bord ist und freut sich auf ein wenig Entspannung in der Cabana.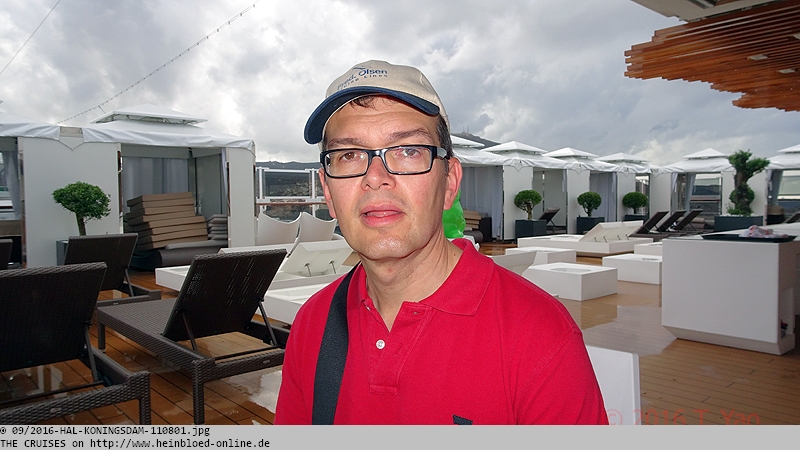 Bruno was down when he returned to the ship and was looking forward for some relaxtion in the cabana.

The problem: the weather changed. So far it was calm...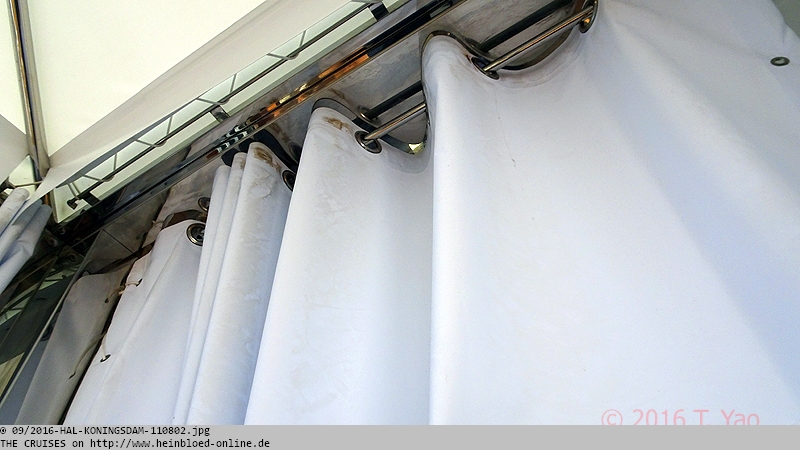 Das Problem: das Wetter ändert sich. Noch ist Ruhe...
Noch ist Sonne...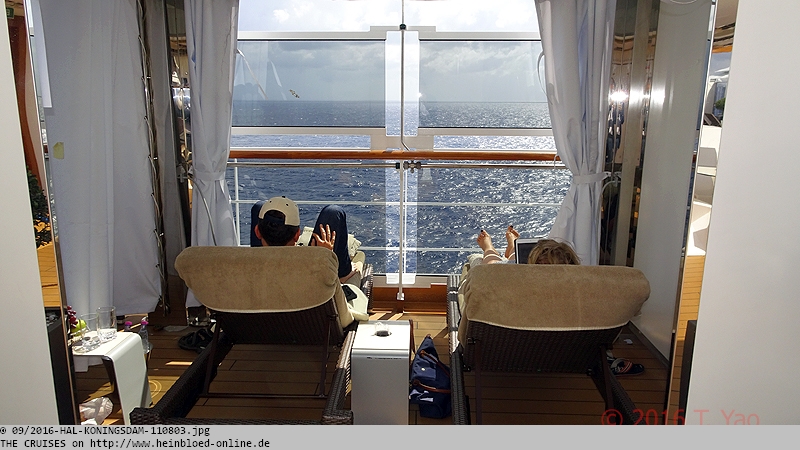 So far still sun...

Later it was so windy that even the curtains were teared up.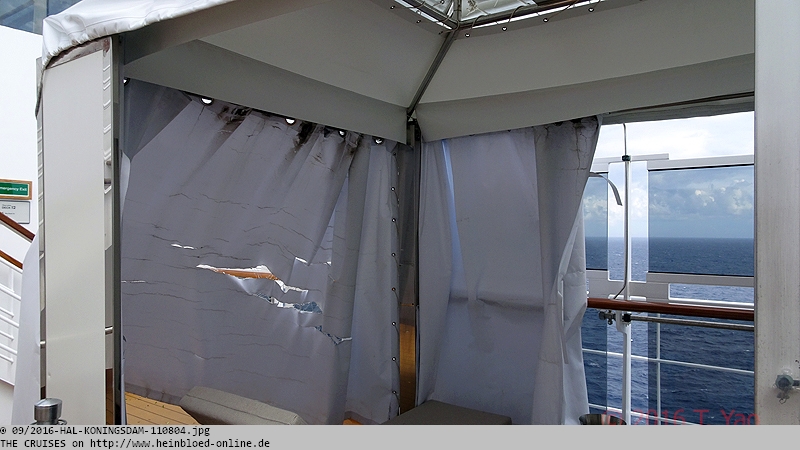 Später ist es so windig, dass es sogar die Vorhänge zerreisst.
Mittags ist nochmals im Pinnacle Grill auf. Wir nutzen die Chance und gehen dort nochmals zum Mittagessen. Der Pinnacle Grill ist einfach unschlagbar.

Pinnacle Grill was open for lunch. We used the chance and went again to have lunch. The Pinncle Grill was always unbeatable.

Exit in Cartagena.

Ausfahrt in Cartagena.
Nachmittags muss ich mal einen Hot Dog im Dive In probieren. Auch hier ist wieder Widi da sowie Niel und Carlo.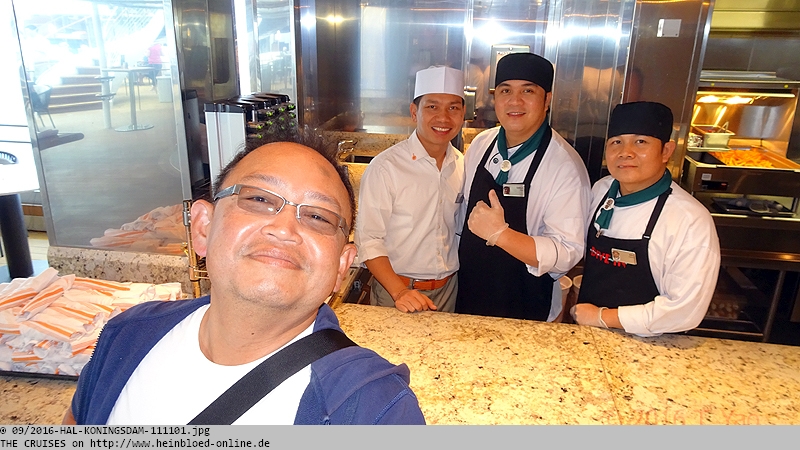 In the afternoon I need to try a hot dog with Dive In. Here again Widi with Niel and Carlo.

They really meant it too well... much too much. It was yummy. Especially those onions.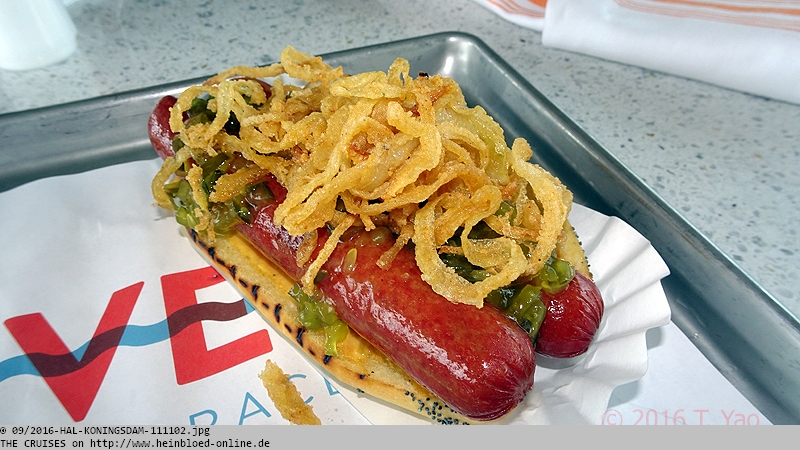 Sie haben es wieder gut gemeint... viel zu viel. Lecker ist er ja. Speziell diese Zwiebeln.
Mir geht es wieder so gut, dass ich mich bewegen möchte. Die Außendecks sind geschlossen. Eine Tür ohne Schild nehme ich zum Anlass, um doch rauszulaufen und zu laufen.

I was feeling well again so I wanted to move somehow. The open decks were closed. One door without sign I used as occasion to exit and started to walk.

There are two companies which were remarkable due to their cordiality of the crew (99.9 % - there were also companies with the value down to 66.7 %...) and one of the two is Holland America. Our cabin steards Wayan, Aji with their collegue Nurdin. Everywhere you were greeted friendly. You did not have too many chances to be the first to greet.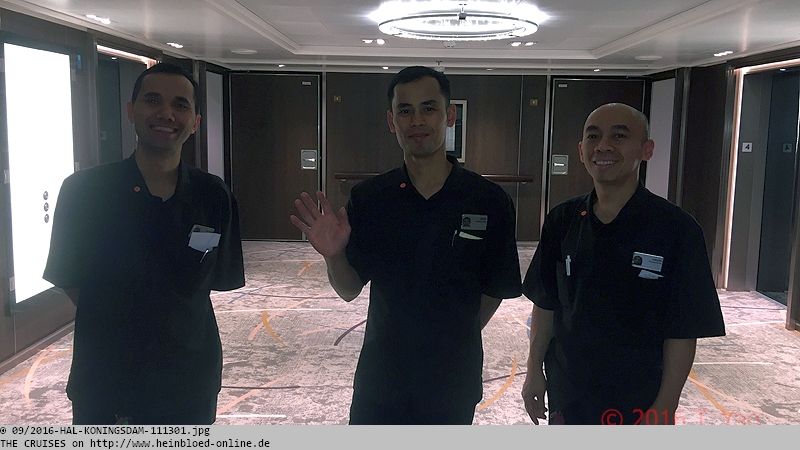 Es gibt zwei Gesellschaften, die zeichnen sich durch die Herzlichkeit der Crew besonders aus (99,9 % - es gibt auch Gesellschaften, da geht die Quote auch mal auf 66,7 % runter...) und eine der beiden ist Holland America. Unsere Kabinenstewards Wayan, Aji mit ihrem Kollegen Nurdin. Man wird überall freundlich begrüßt. Selten hat man die Chance als erster zu grüßen.
Keine Ausschiffungspost? Dürfen wir an Bord bleiben?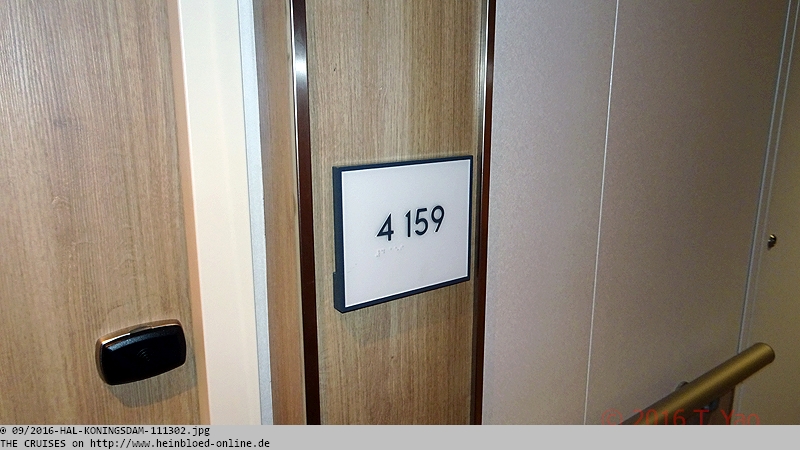 No debarkation mail? Could we stay onboard?

All the others had them already.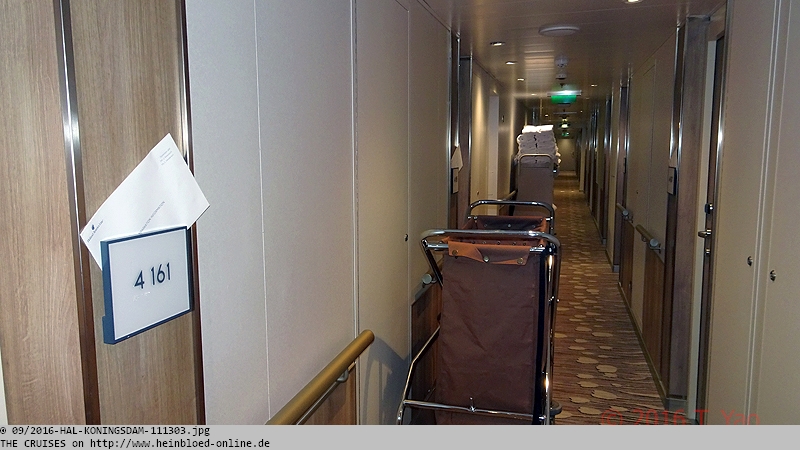 Die anderen haben sie schon.
Leider wir auch später am Abend.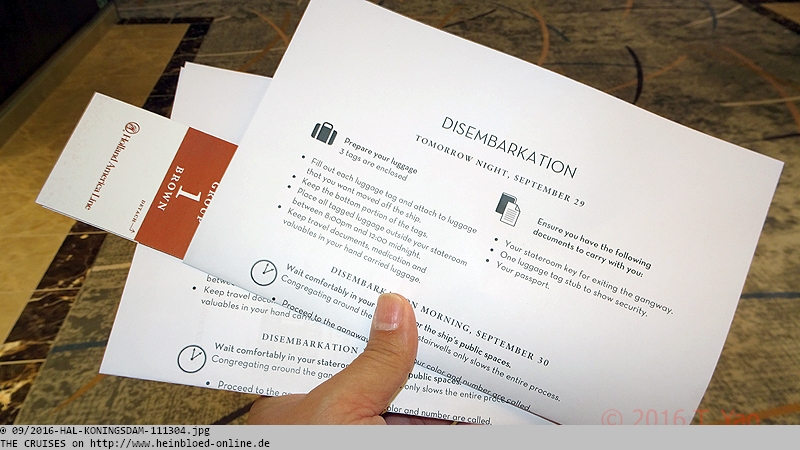 Unfornately we got them later the night.

Another monkey for good night.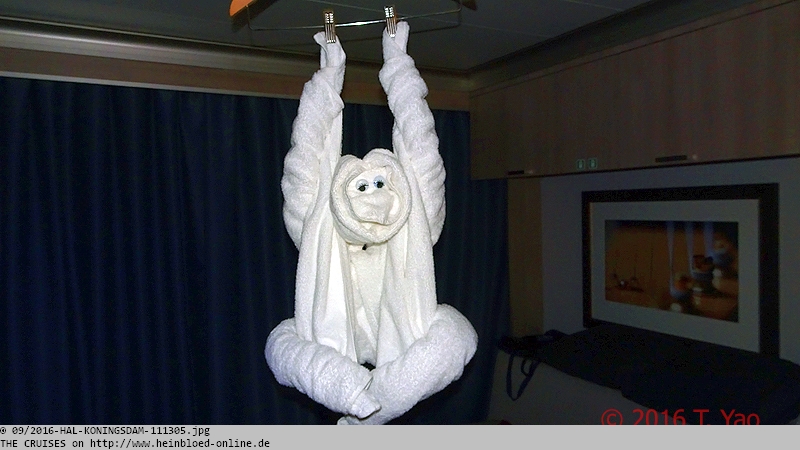 Noch ein Affe zur Guten Nacht.
Das Angebot heute Abend im Main Dining Room.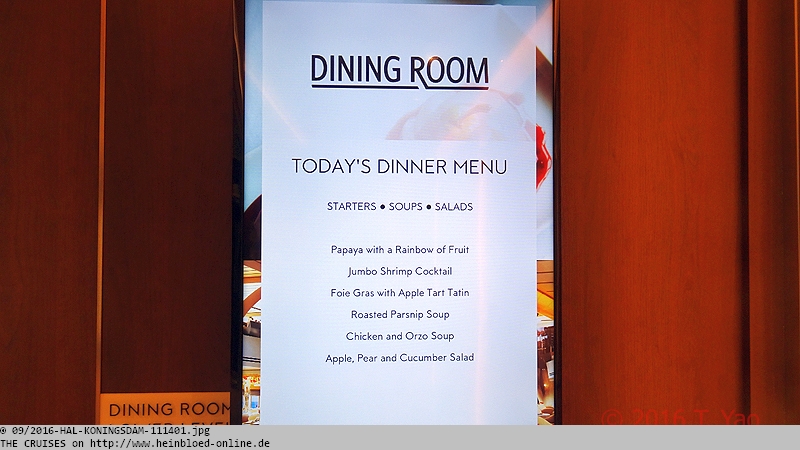 The offer tonight in the Main Dining Room.

We wanted to know what we would miss.

Wir informieren uns, was wir verpassen.
Das heißt, dass wir etwas anderes vorhaben.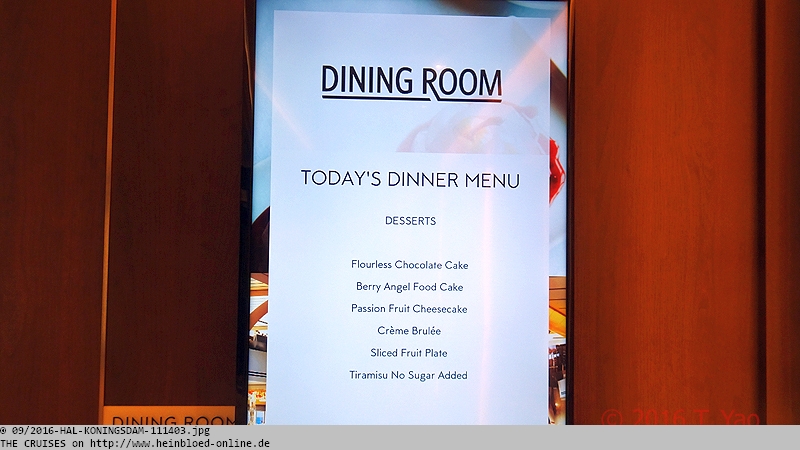 That meant that had alternative plans.

We went to see what we would miss in the Lido Market.

Wir gehen auch mal gucken, was es im Lido Market gegeben hätte.
Es gibt an Bord den Culinary Council und wir haben einen persönlichen Culinary Counselor, die sich um uns kümmert: Lilis. Sie war unsere Kellnerin im Pinnacle Grill auf unserer RYNDAM-Reise 2013. Seitdem sind wir auf Facebook befreundet. Ich gucke mir ihre Bilder von den Häfen und von den Schiffen an und ich plane für mich, was ich noch alles machen will. Sie ist die perfekte Botschafterin für Holland America. So fragen wir sie auch im Vorwege, was wir unbedingt ausprobieren sollten. Sie meinte, dass wir unbedingt das Culinary Art Center ausprobieren sollten. Wir sollten einfach Tika und Nanik grüßen und wir könnten sicher sein, dass wir den besten Service an Bord bekommen würden. Leider hat sie nur vergessen ihren Ex-Chef Glenn zu grüßen... Tika "lädt uns jeden Tag ein", ins Culinary Art Center zu kommen. Sie wirkt im Trailer mit, der im Bordfernsehen läuft. Es ist etwas neues: Koch-Demonstration zum Nachkochen zu Hause und Erlebnistherapie in jeder Hinsicht. Man soll nicht die ganze Zeit da sitzen und sich passiv bedienen lassen. Es gibt zwei alternative Speisekarten, die täglich wechseln. Eine Menüfolge hat alle Gänge mit meinen Lieblingszutaten und die andere eben nicht. Und ich hatte Pech: heute ist das alternative Angebot. Deswegen bin ich ein wenig enttäuscht, obwohl es ein tolles kulinarisches Erlebnis ist, dank des Kochteams Thomas, Richard, Jonnel und Joye und wir einen tollen Service von Nanik, Tika, Ary, Alih, Hadi, Ramsdent und Lex. Ich würde es nochmals probieren, wenn eben sicher wäre, dass es die andere Menüfolge wäre.

On board we had a Culinary Council and we had a personal Culinary Counselor who took care of us: Lilis. She was our waitress in the Pinnacle Grill on our RYNDAM-voyage 2013. Since then we have been friends on Facebook. I always check her pictures of the ports and from the ships and I plan for myself what I wanted to do. She is the perfect ambassador of Holland America. So we aked her before what we should test. She told uns that we should try Culinary Art Centr. We should say hello to Tika and Nanik and we could be sure that the get the very best service onboard. Unfortunately she forgot to say hello to her former boss Glenn... Tika "invited us every day" to join the Culinary Air Center. She was part of the trailer you could see in the Board-TV. It was something new: cooking demonstration to cook later yourself at home and a therapy of experiences in every kind. You should not just sit there and let them serve you all the time there passively. They had two different alterantive menu cards which was alternating every day. One menu had all my favorite ingredients and the other did not. And I had unluck: that night was the alternative offer. So I was a little bit disappointed although a great culinary experience thanks to the cooking team Thomas, Richard, Jonnel and Joye and we had a great service by Nanik, Tika, Ary, Alih, Hadi, Ramsdent and Lex. I would try it again subject I would be sure that I would get the other menu.

Finally we had a nice time voyage through the billboards of the last 60 years: "On The Charts". I liked it. We had some discussion with the songs of "Chicago" because the ship's singer did not hit the notes as well as a Peter Cetera when singing "Glory of Love". I did not like that "Downtown Train" was counted as commercial success for Rod Stewart as I love very much the original of Tom Waits. As a big fan of "How I met your Mother" I certainly like the version of Everything but the Girl. With "I have nothing" Whitney Houston was honored. With ."Story of my Life" of One Direction many artists were remembered who already passed away. With "Twist and Shout" of The Beatles you got the very last and most tired cruiser off his seat. The songs worked as well as an energy drink. A great show came to the end.

Am Schluss gibt es noch eine Zeitreise durch die Hitparaden der letzten 60 Jahre: "On The Charts". Mir hat es gefallen. Etwas Diskussionsbedarf gibt es bei den Liedern von "Chicago", weil der Schiffs-Sänger bei
"Glory of Love"
nicht so gut die Töne getroffen hat, wie ein
Peter Cetera
. Mir passte es nicht, dass "Downtown Train" als kommerzieller Erfolg
Rod Stewart
zugeordnet wird: dafür mag ich zu sehr das Original von
Tom Waits
. Als großer Fan von "How I met your Mother" selbstverständlich auch die Version von
Everything but the Girl
. Mit
"I have nothing"
wird Whitney Houston gewürdigt. Mit
"Story of my Life"
von One Direction werden viele Künstler geehrt, die bereits von uns gegangen sind. Mit
"Twist and Shout"
von The Beatles bekommt man auch letzten müden Kreuzfahrer vom Sitz hoch. Die Songs hatten die gleiche Wirkung wie ein Energy-Drink. Eine tolle Show geht zu Ende.
Und nach der Show mal gucken, was es jetzt immer noch im Lido Market zur späten Stunden gibt. Gute Nacht. Was freue ich mich auf den Seetag.

And after the show we checked what Lido Market offered for late night. I was only looking forward for another day at sea.