Scroll down for English explanations - alternates with German explanations.

Zum letzten Mal ein schönes Omelette holen...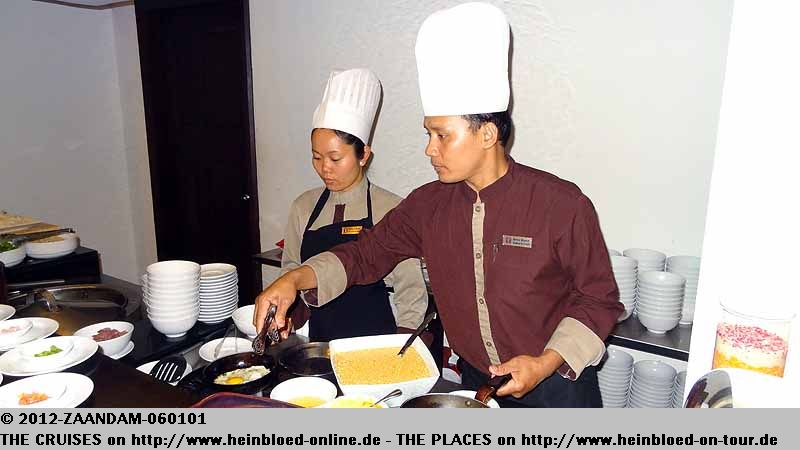 Getting the last time a beautiful shaped omelette...

My parents enjoyed one more time the nice breakfast buffet. Unfortunately we had a problem to pay the hotel bill by my MasterCard. Five minutes later I had no problem to withdraw 500 USD at the ATM next to the hotel. And Bruno's MarterCar worked too. No idea who might understand what happened.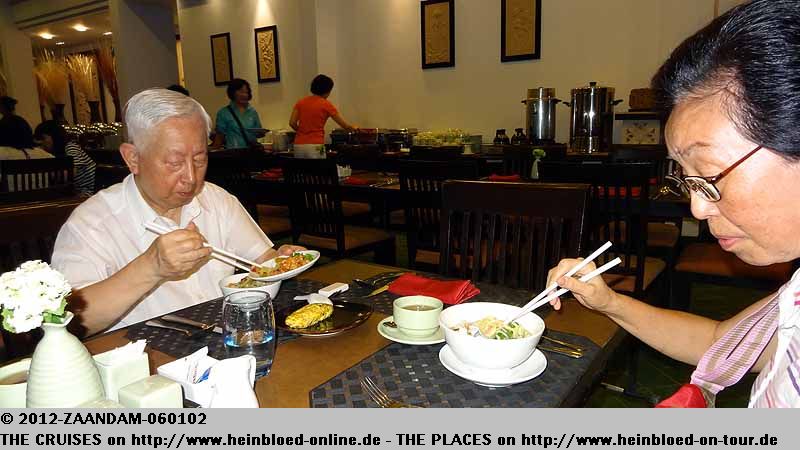 Meine Eltern genießen auch nochmals das schöne Frühstücksbüffet. Leider gab es ein kleines Problem mit meiner MasterCard. Fünf Minuten später konnte ich ohne Probleme 500 USD am Geldautomaten daneben abheben. Und Brunos MasterCard funktionierte auch. Verstehe das der will.
Da wir einen sehr frühen Abflug hatten, konnten wir nicht den normalen Shuttle zum Flughafen nehmen. Aber das Hotel hatte uns einfach einen eigenen Shuttle besorgt, so dass wir pünktlich zum Flughafen kamen. Schön war, dass wir so auch mal etwas von Siem Reap sehen konnten.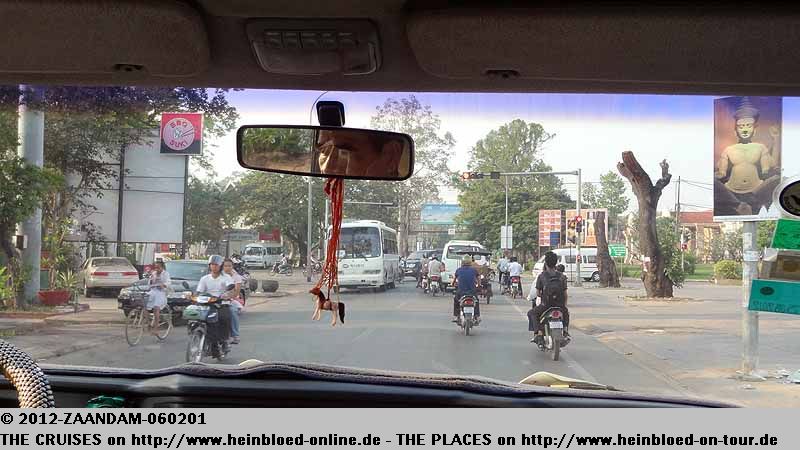 As we had an early departure we could not use the regular airport shuttle. But the hotel arranged a shuttle just for us so we arrived right on time at the airport. It was nice that we had a chance to have a sneak view of Siem Reap.

We were surprised how large the place was.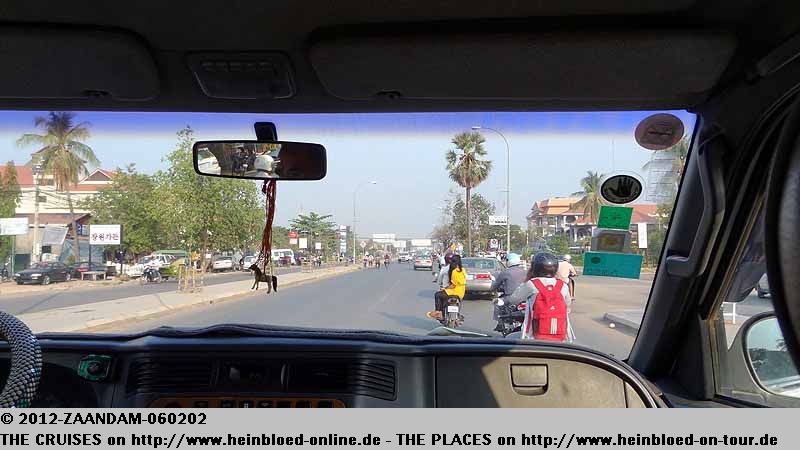 Wir waren doch überrascht, wie groß der Ort war.
Da wir nach Phnom Penh fliegen, müssen wir zum Inlandsterminal. Wenige Wochen später wurden auch direkte Flüge nach Sihanoukville angeboten. Aber die Ankunftszeit 15.20 Uhr war mir zu riskant, wenn man um 16.30 Uhr an Bord sein muss. Wenn die Maschine pünktlich ist, wäre es o.k. aber was ist, wenn die Maschine Verspätung hat?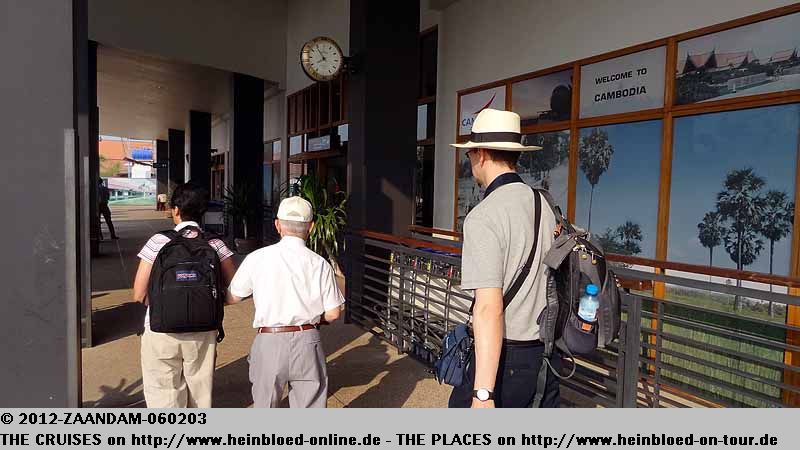 As we wanted to fly to Phnom Penh we need to see the inland terminal. Few weeks later they offered direct flights to Sihanoukville. But when you have to be onboard at 16.30 hrs I dislike the idea to arrive at 15.20 hrs. When the flight would be scheduled it would be o.k. but guess what would be when the flight would be late?

We got there by Cambodia Angkor Air for 100 USD. So far less than 500 USD for this trip.

Es geht mit
Cambodia Angkor Air
für 100 USD dort hin. Bisher also weniger als 500 USD für den Ausflug dahin.
Wir hatten ein Gepäckstück für alle aufgegeben. Bei der Sicherheitskontrolle fällt jedoch das Duschgel auf, das wir für Bruno in Bangkok gekauft haben, weil er Elemis nicht verträgt. Die Mitarbeiter vom Check-In hatten keine Möglichkeit mehr unser Gepäck zurückzuholen. Sie leeren einfach einen Karton mit Prospekten und legen das Duschgel rein und fertigen das Paket als Gepäckstück ab. Ob Lufthansa in Frankfurt für uns das auch gemacht hätte, möchte ich mal bezweifeln.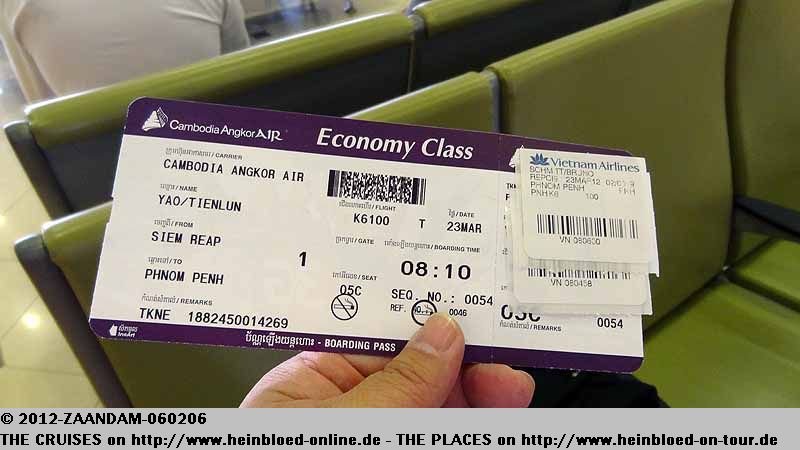 We checked one bag for all of us. When we passed the security check we saw the shower gel that we bought for Bruno in Bangkok as he cannot stand the Elemis. The staff members at the check-in had no chance to get back our bag. They just empty a box full of brochures and placed the shower gel inside and checked-in the box as bag. I doubt that Lufthansa would be so cooperative and helpful.

In the terminal there were few nice shops. With other prices and other quality than we had with the street dealers. You had also the difference at the snack bar: like in Frankfurt, San Francisco or Heathrow... and higher prices but on Cambodian level.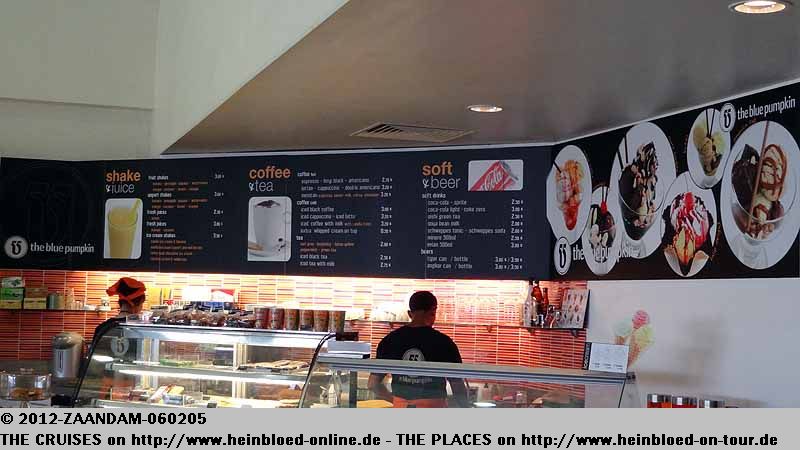 Im Flughafen gibt es ein paar nette Geschäfte. Mit anderen Preisen und anderer Qualität als bei den Straßenhändlern. Die Unterschiede merkt man auch am Imbiss: fast genauso wie in Frankfurt, San Francisco oder Heathrow... und auch die höheren Preise, wenn auch auf kambodschanischen Niveau.
Air Baltic hier in Siem Reap?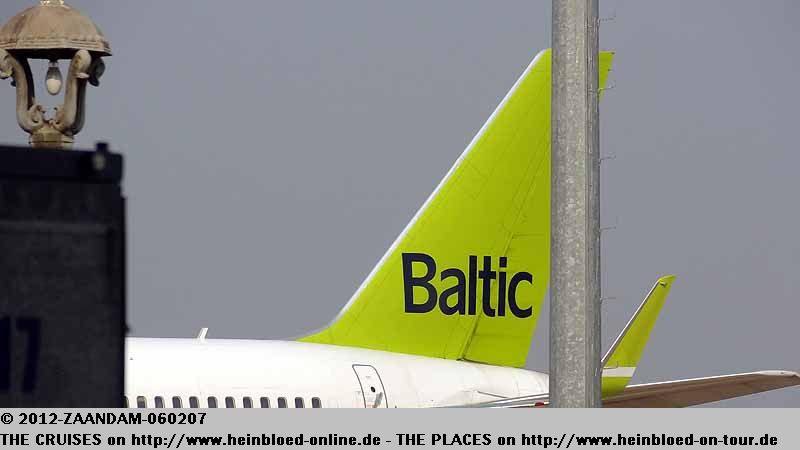 Air Baltic here in Siem Reap?

It looked like an aircraft in wet-lease.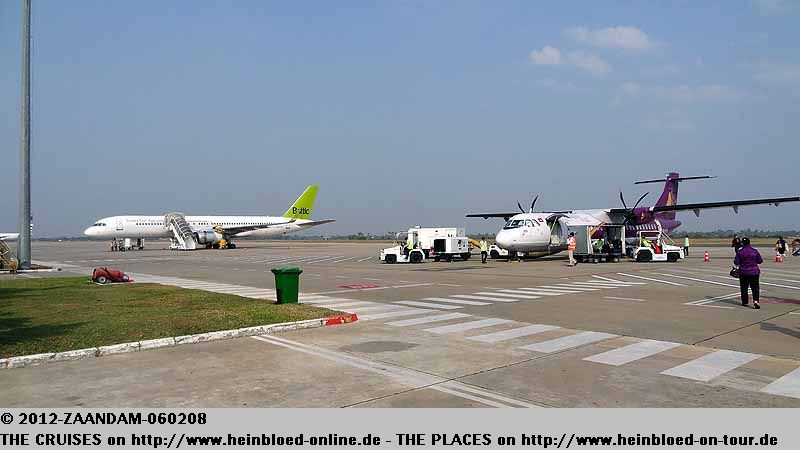 Es war wohl eine Maschine im Wet-Lease.
Unsere Maschine ist die ATR 72, die fast ausgebucht war.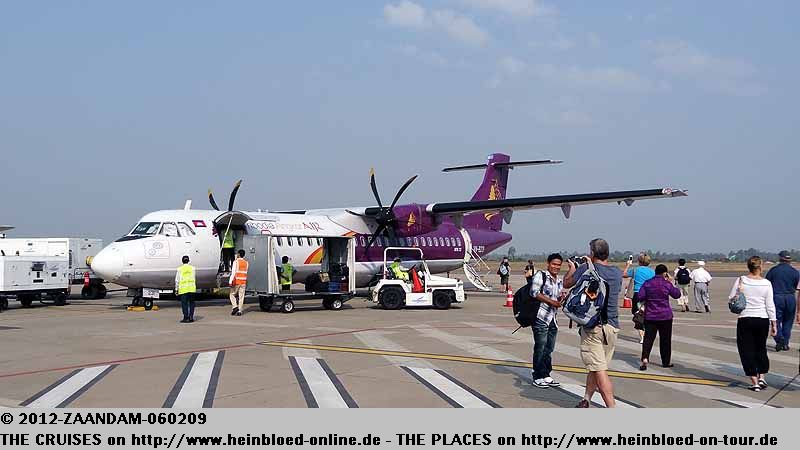 Our aircraft ATR 72 was nearly sold out.

The airport was really cute.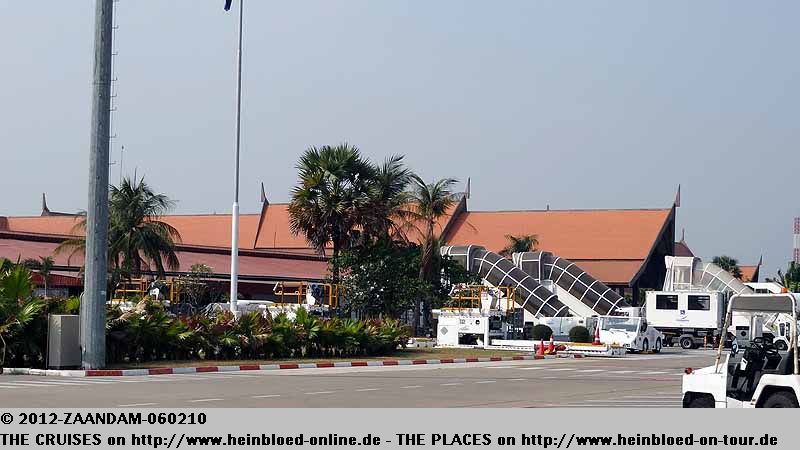 Der Flughafen war richtig schnuckelig.
Der Flug dauert mal 35 Minuten... Mehr als ein Erfrischungstuch gibt es wohl nicht.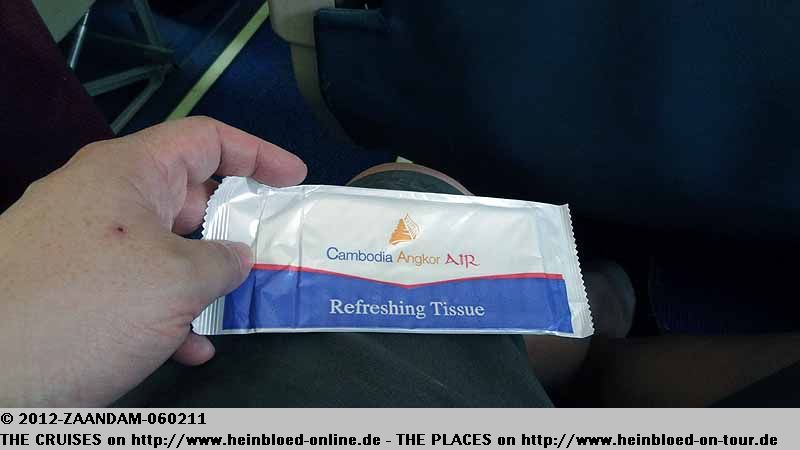 The flight took around 35 minutes... You would not get more but an refreshing towel.

But we got a box.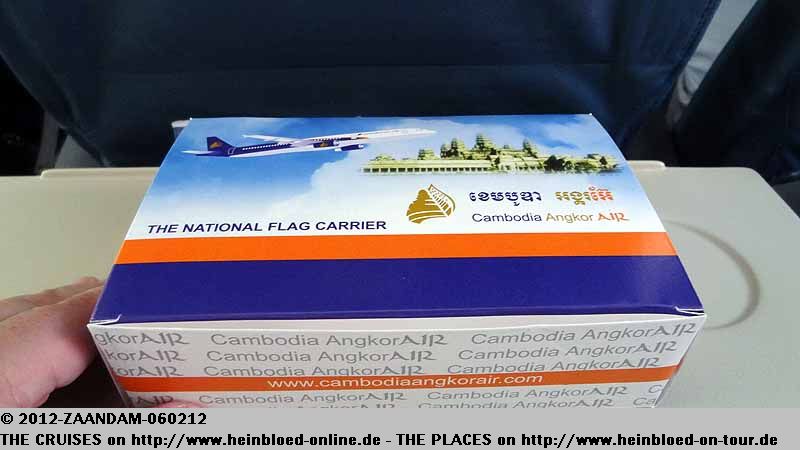 Aber es gibt sogar eine Box.
Mit einem Muffin und Wasser.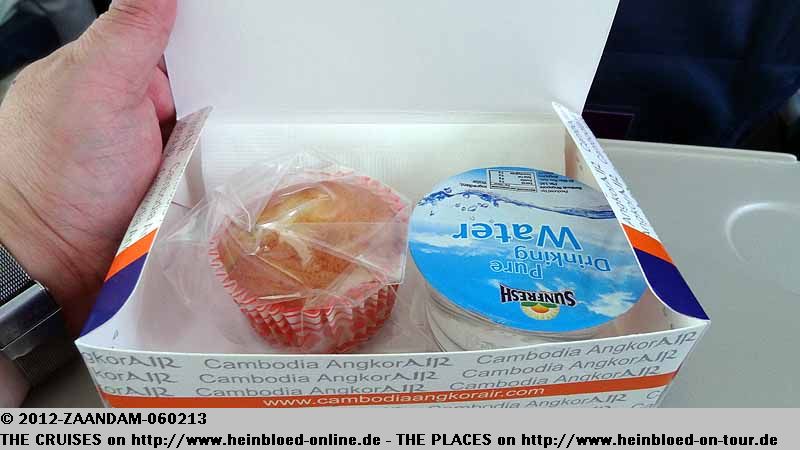 Containing a muffin and some water.

Bruno did not want to be my smiling model anymore... But anyhow the flight was full of cruisers but not from our ZAANDAM...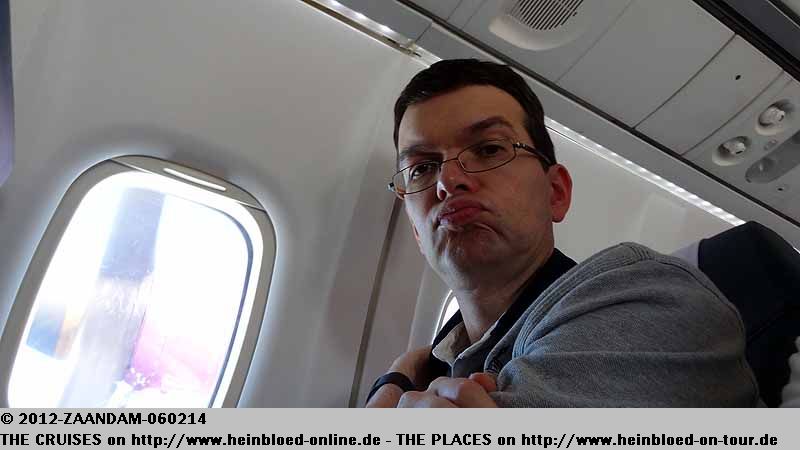 Bruno mochte als Modell nicht mehr lächeln... Ansonsten war das Flugzeug voller Kreuzfahrer. Nur nicht von der ZAANDAM...