Scroll down for English explanations - alternates with German explanations.

Die Klimaanlage läuft bei uns in der Kabine immer unangenehmer: Wir kleben zumindest eine Seite ab. So ließ es sich ertragen. Daher: wir kein Abonnement für Beschwerden. Zunächst einmal versuchen wir es mit Eigeninitiative und unserer Überlebensausrüstung.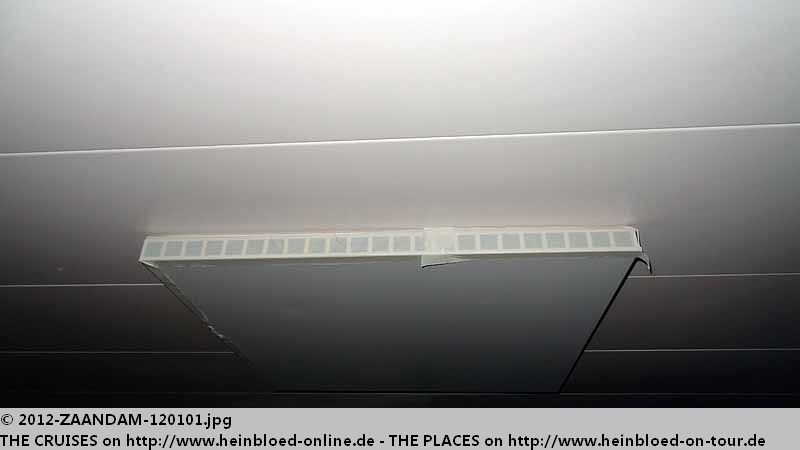 The air-condition in our cabin become more and more inconvenient. We taped one side. So it was somehow acceptable. Just for a good order's sake: We did not have a subscription for claims. First of all we try to it ourselves and with our survival kit.

According to this we should arrive very soon.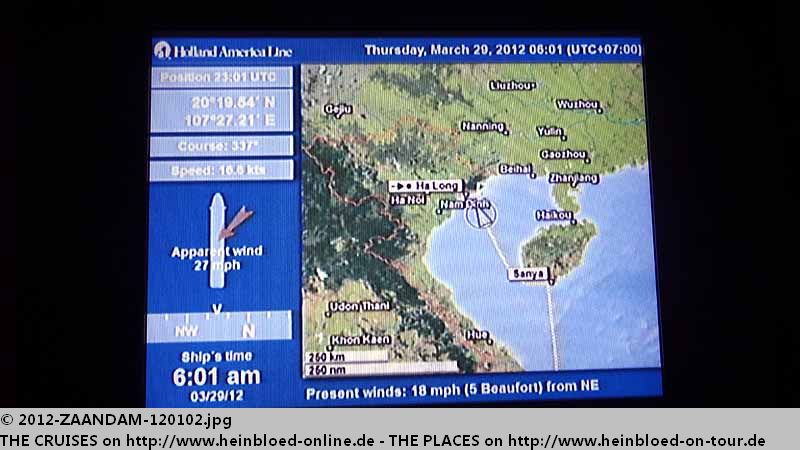 Demnach müssten wir gleich da sein.
Später wird auch gezoomt, damit wir sehen, dass bald die ersten Inseln kommen.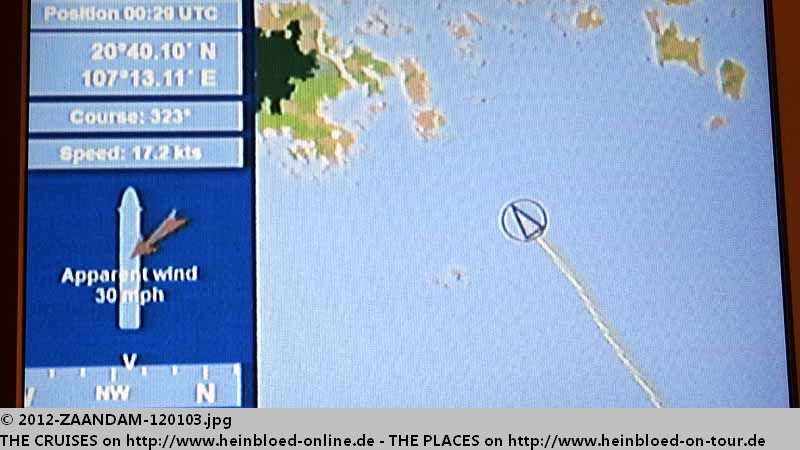 Later they used also a szoom to see when we reached the first islands.

Debbie was torturing us again: she should have add a lottery ticket.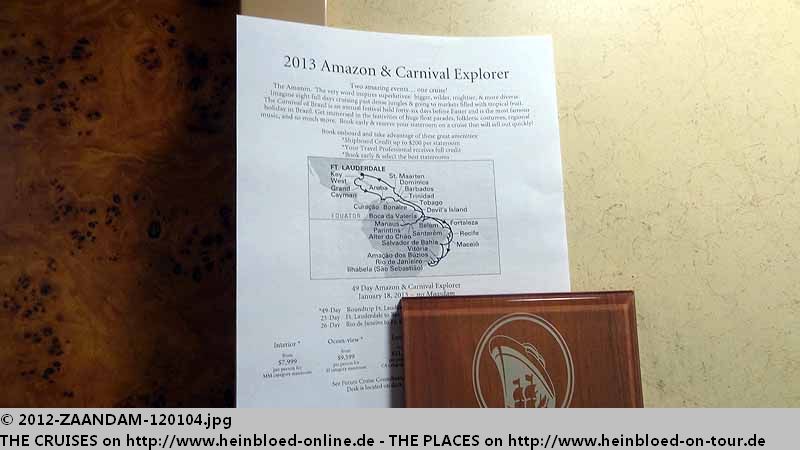 Debbie quält uns wieder: sie hätte direkt den Lottoschein dabei packen sollen.
Seit zwei Tagen nervt es mich, dass diese Tür offen steht. Sie geht immer von selbst auf. Man muss sie erst schließen, damit man die Tür zum Außendeck öffnen kann. Ich melde es, damit jemand mal die Tür richtig schließt.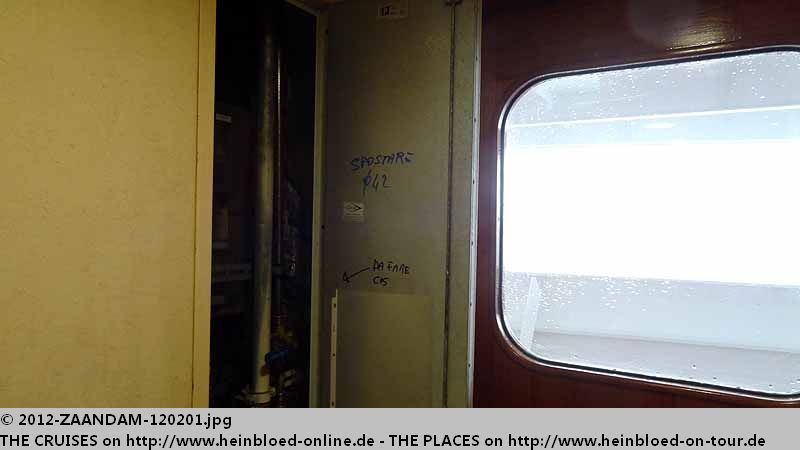 For two days it made me nervous that the door was open all the time. It just opened itself. You need to close it before you can open the door to the open deck. I reported it that somebody could lock the door by key.

But I could not get further. They were just cleaning and all the water just came down like a rain shower.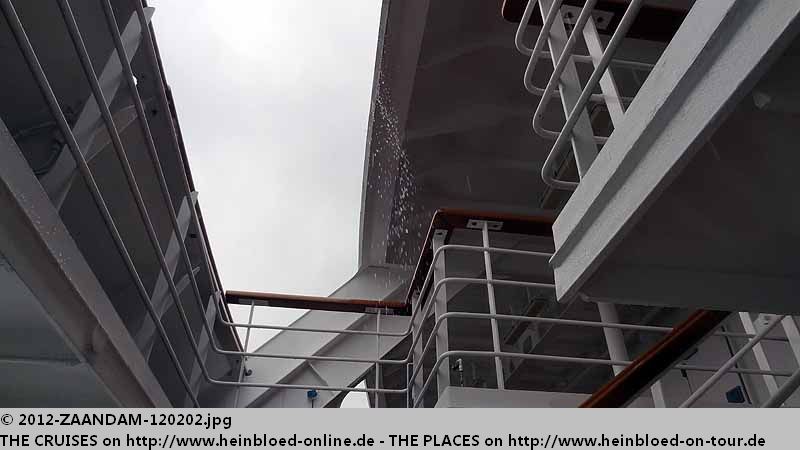 Aber ich kann eh nicht weiter. Sie sind gerade am reinigen und das ganze Wasser kommt runter wie ein Regenguss.
An der Rezeption beschaffe ich mal sicherheitshalber ein paar VND, nachdem sie in Saigon nicht überall den USD angekommen haben.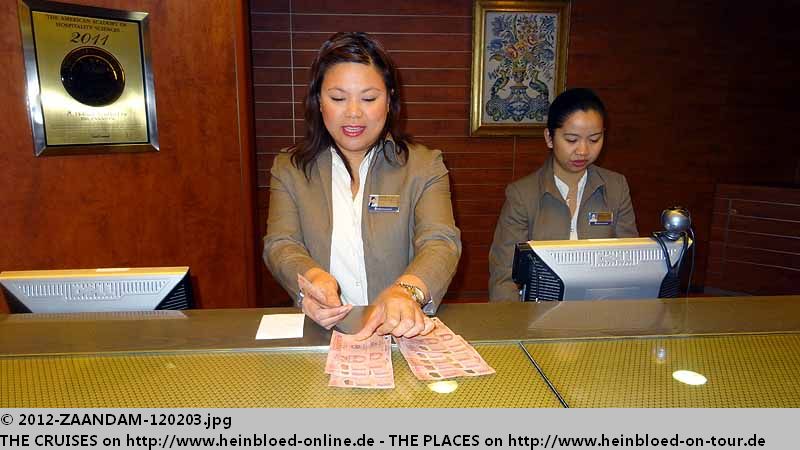 At the front desk I changed few VND to be son the safe side after they did not accept everywhere USD in Saigon.

Sold at a conversion rate of 5,248... So I became nearly millionaire with 50 USD only: I got 900,000 VND.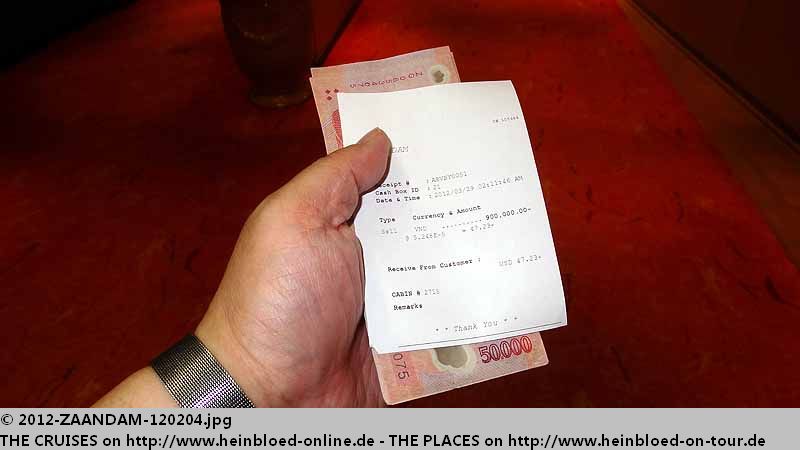 Verkauft zum Kurs 5,248... Mit 50 USD wäre ich beinahe Millionär geworden: 900.000 VND bekomme ich dafür.
90 USD statt 1.000 THB (= 33 USD) für die Visa für Thailand... Mal gucken, was sie dazu sagen, wenn ich sie darauf anspreche. Wir wollten sie ja nicht haben, sondern hatten ja alles selbst vorbereitet, um sie uns selbst zu beschaffen. Ich fürchte mal, dass wir das wieder in Seattle klären lassen müssen.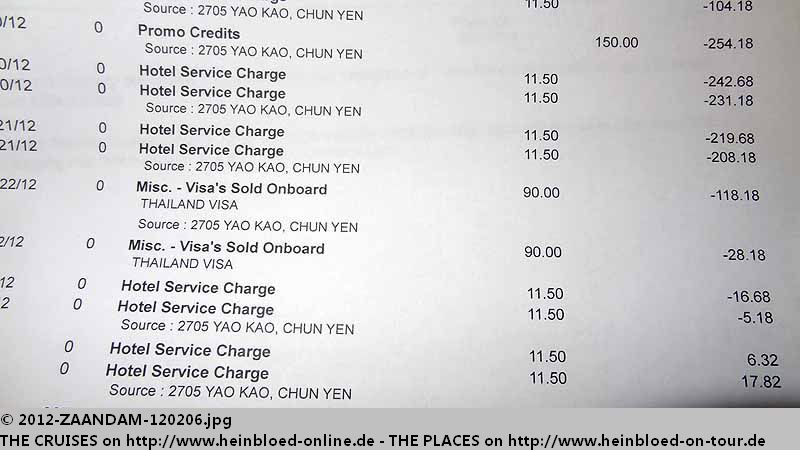 90 USD instead of 1,000 THB (= 33 USD) for the Thai visa... Let us see what they would say when I attract this to their attention. We did not want them because we prepared everything ourselves to get them. I am afraid that I need Seattle to find a solution.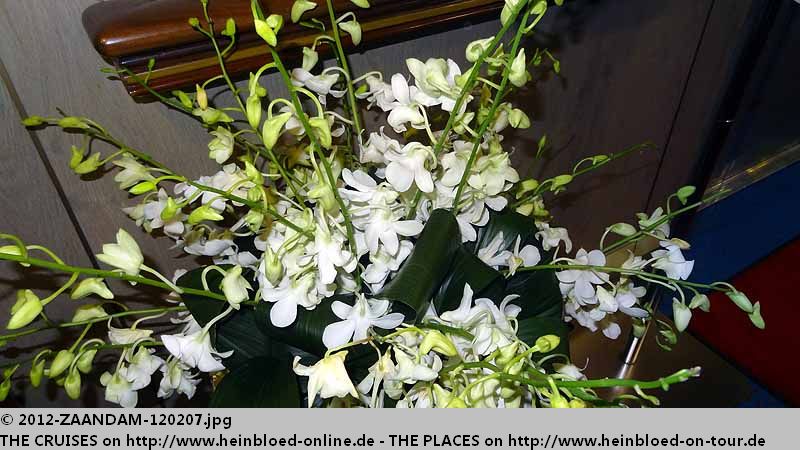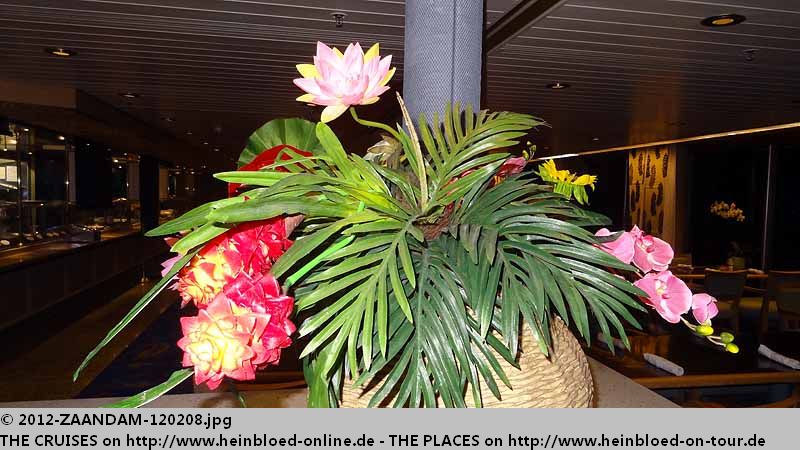 It was my luck that I kept the greeting card for my parents' wedding anniversary which I got already on the 1st day and deliver it again to their stateroom.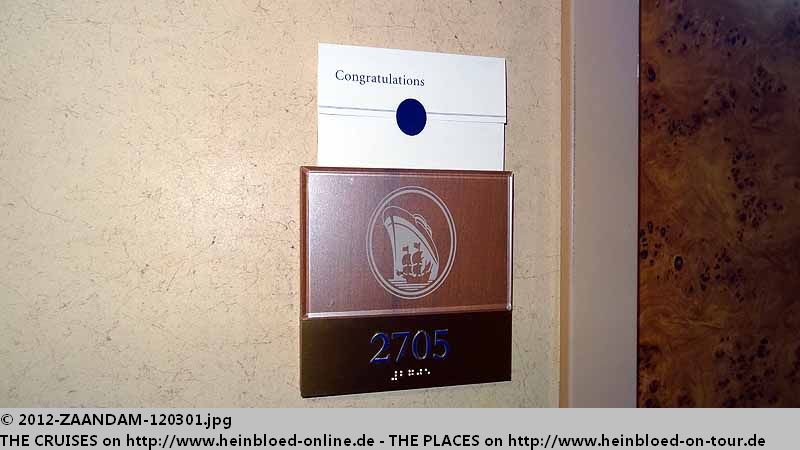 Zum Glück hatte ich die Glückwunschkarte zum Hochzeitstag, die meine Eltern am 1. Tag bekommen haben, aufgehoben und sie nochmals eingesteckt.
Sie haben sich über den Gruß des Kapitäns sehr gefreut und wundern sich wie ich, woher sie überhaupt von dem Hochzeitstag wussten... CIA... FBI... NSA...??? Es wurde im Maninfest nicht abgefragt.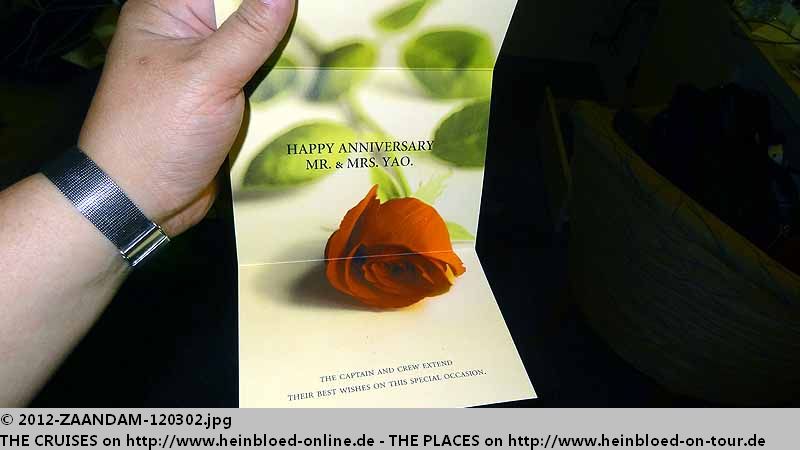 They were very happy about the greeting of the Captain but were wondering how they would know about the wedding day... CIA... FBI... NSA...??? It was not a part of the manifest-information.

The day before in Sanya I took already some pictures because there were so many rocks referring to the subjects marriage and love.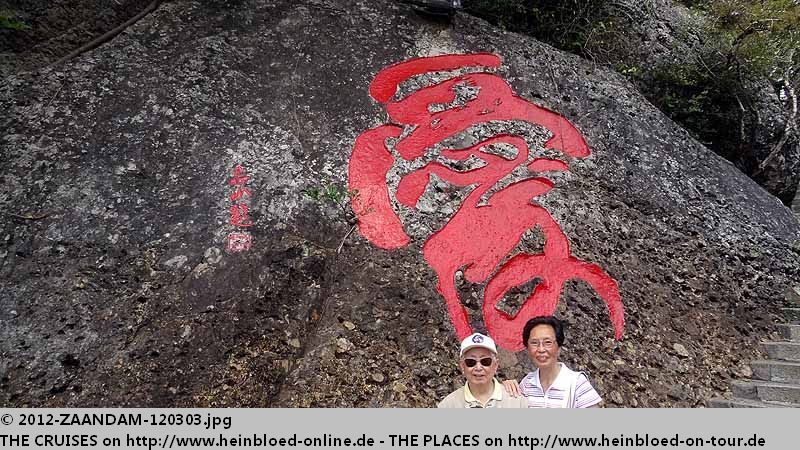 Am Tag zuvor, hatte ich meine Eltern ja schon in Sanya fotografiert, weil dort sehr viele Steine zum Thema Heiraten und Liebe gab.
Wir hätten im Exploiration Café eine Kleinigkeit frühstücken können, aber wir wollten doch ein vollständiges Frühstück.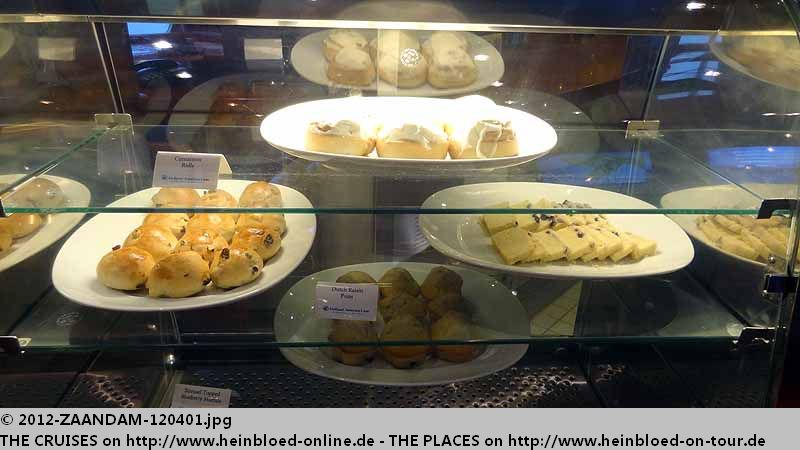 We could also have something little in the Exploiration Café for breakfast but we preferred to have a full breakfast.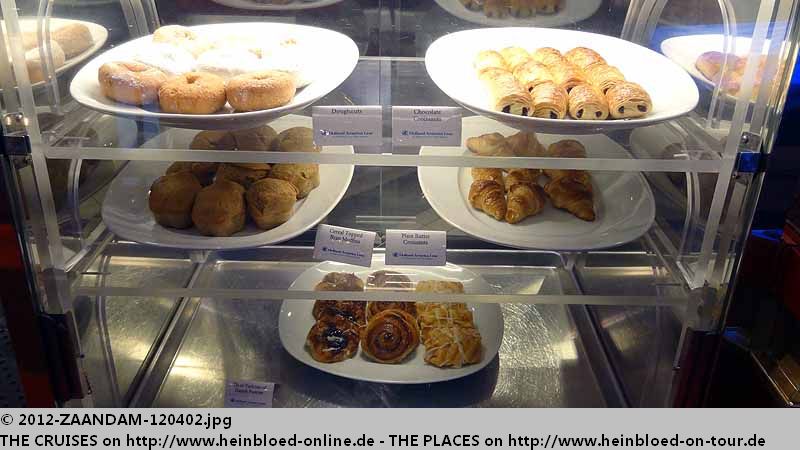 Der frischgespresste Orangensaft ist leider ein Konzentratsprodukt...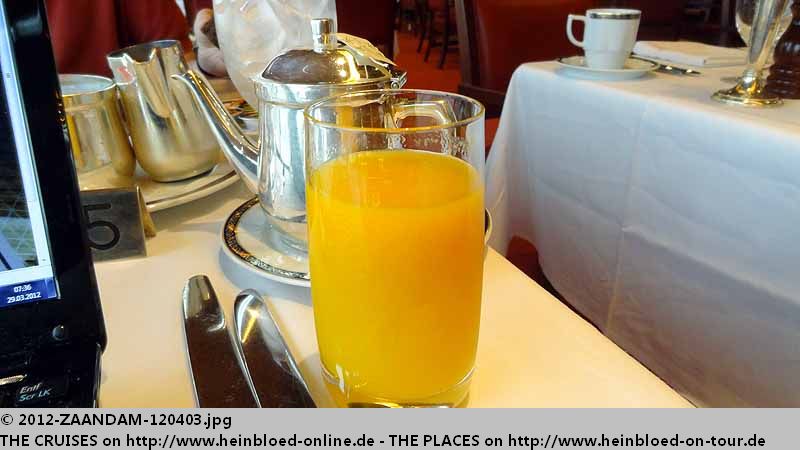 The freshly sqeezed orange juice was unfortunately made of concentrate.

My sugar-free muffin.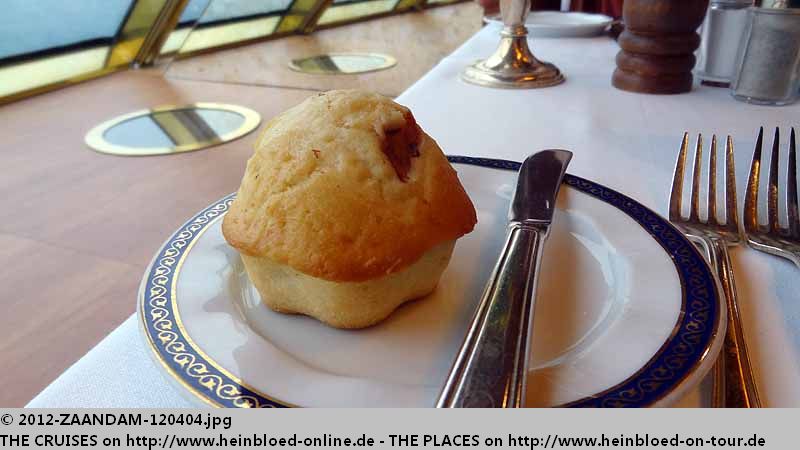 Mein zuckerfreier Muffin.
Congee... oben gibt es aber noch Lauch und Röstzwiebeln als Garnierung dazu...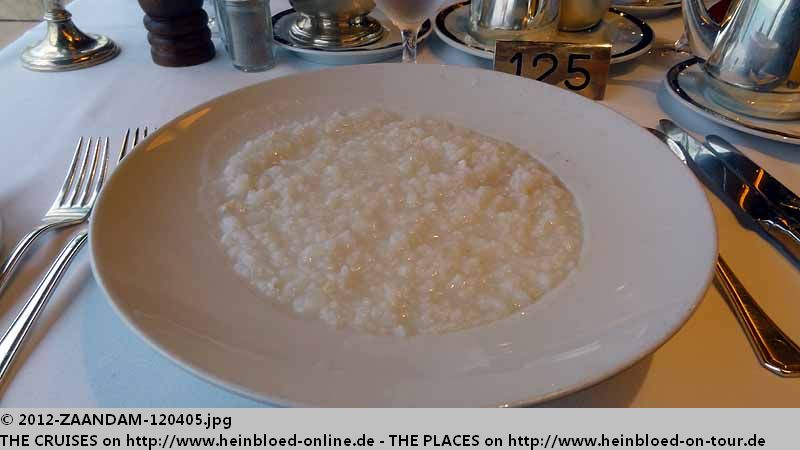 Congee... but upstairs you get also some scalliions and some roasted onions as decoration...

So we asked for some soy-sauce to get some flavour.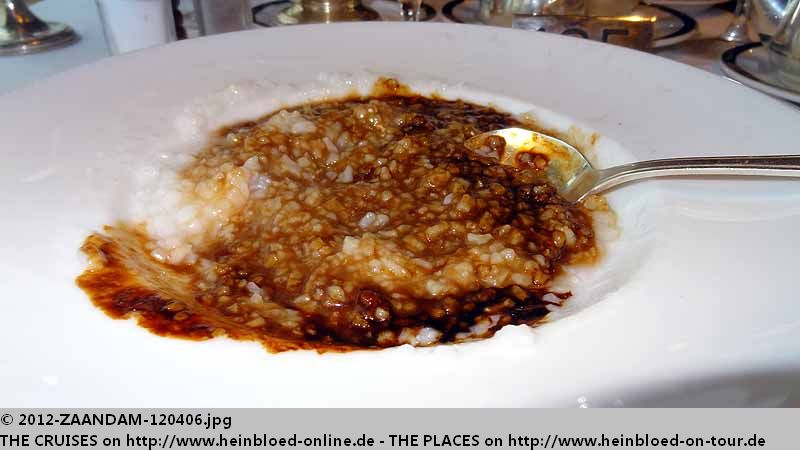 So bitten wir um etwas Sojasoße, damit es etwas Geschmack bekommt.
Auch Bruno nimmt Congee.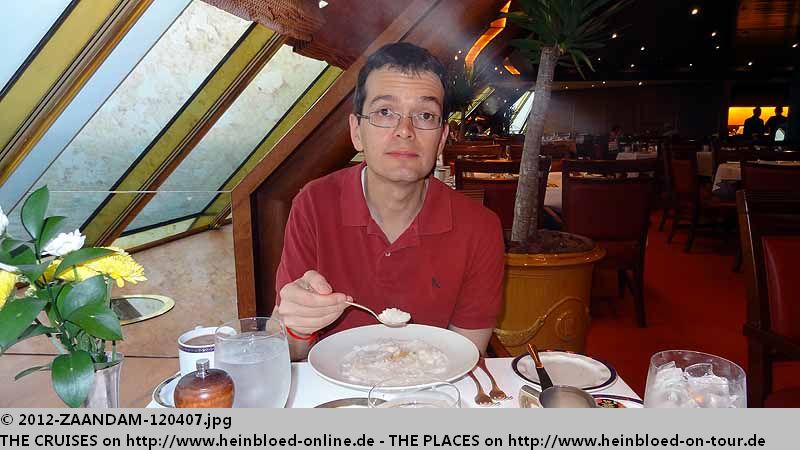 Bruno took Congee too.

I only wanted a small bowl of Congee like you got upstairs. After we got the giant plate I had the problem to eat my Scandinavian breakfast.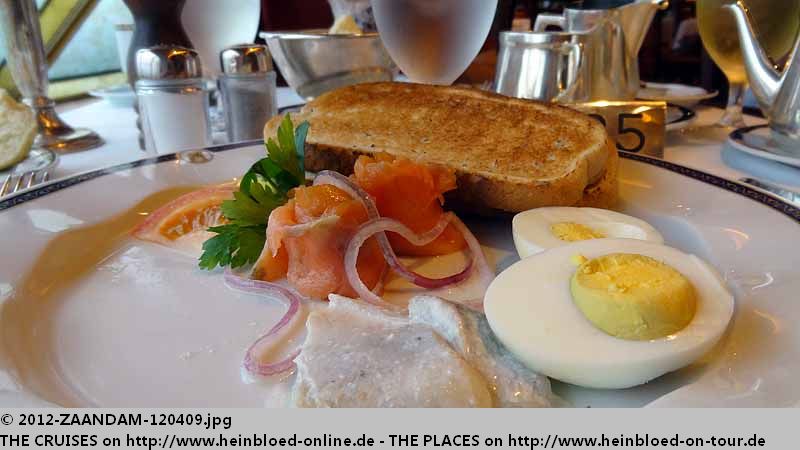 Ich wollte ja bloß eine kleine Schale Congee, wie oben auch. Nachdem wir den Riesenteller bekommen hatten, habe ich schon ein Problem mein skandinavisches Frühstück noch zu essen.