Scroll down for English explanations - alternates with German explanations.

Zurück zum Frühstück: auch hier im Olive Tree im Hotel hätten wir frühstücken können. Aber das sieht doch sehr viel voller aus, als bei uns in der Club Lounge.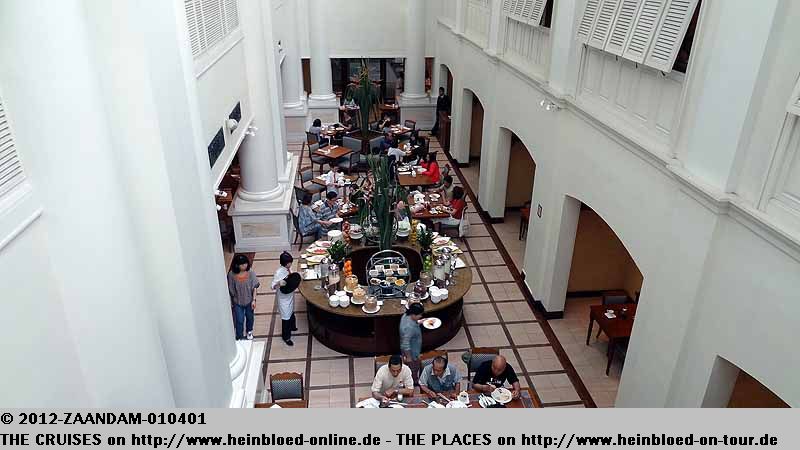 Back to breakfast: we could have also breakfast at Olive Tree. But it looked more busy than in our Club Lounge.

After the desaster (the MDR was closed for lunch before the first guests were onboard) on WESTERDAM I preferred to have full breakfast before I get onboard.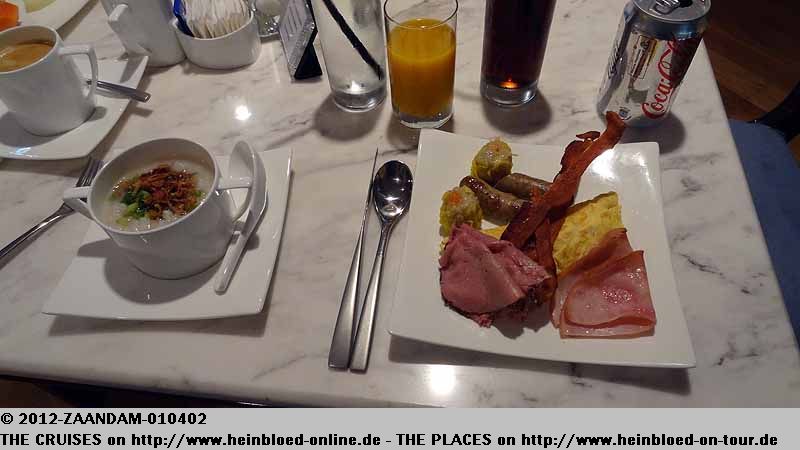 Nach der Katastrophe (das Hauptrestaurant war bereits für das Mittagessen geschlossen, bevor überhaupt der 1. Gast an Bord war) damals auf der WESTERDAM, ziehe ich es lieber vor, mich hier nochmals satt zu essen, bevor ich an Bord gehe.
Morgens aufgenommen: aber es war so schwül und heiß bereits, dass wir uns weder dazu aufraffen können ins Chinesische Dokumentationszentrum noch zum Botanischen bzw. Orchideen-Garten zu fahren.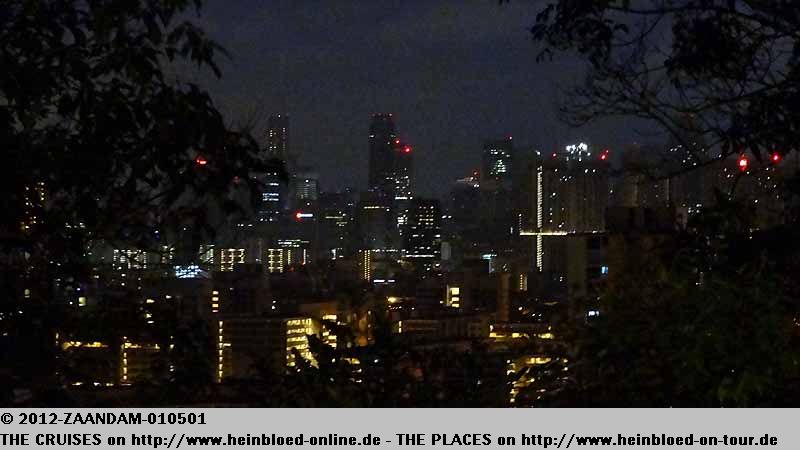 Taken in the morning: but it was so hot and humid already that we neither we were willing to see the Chinese Heritage Center nor the Botanical- or Orchard-Garden.

Our driver Harry Tan Teck Hai, who took us already to the airport was there right on time to collect us for the port. I can only highly recommend his service. He is not only offering the transfers but also sightseeing tours.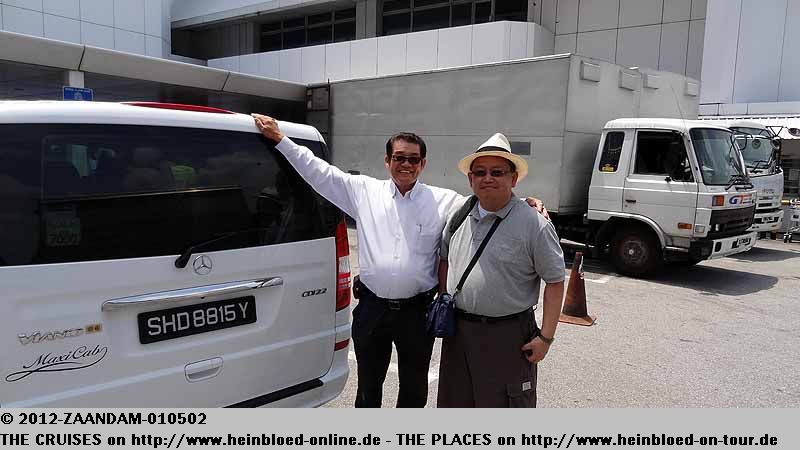 Unser Fahrer
Harry Tan Teck Hai
, der uns ja schon zum Hotel gebracht hat, holt uns pünktlich ab. Seinen Service kann ich nur wärmstens weiterempfehlen. Er bietet nicht nur die Transfers an, sondern auch Stadtrundfahrten.
Es gibt vom Schiff aus nur zwei Attraktionen zu sehen: Sentosa und diese Gebäude.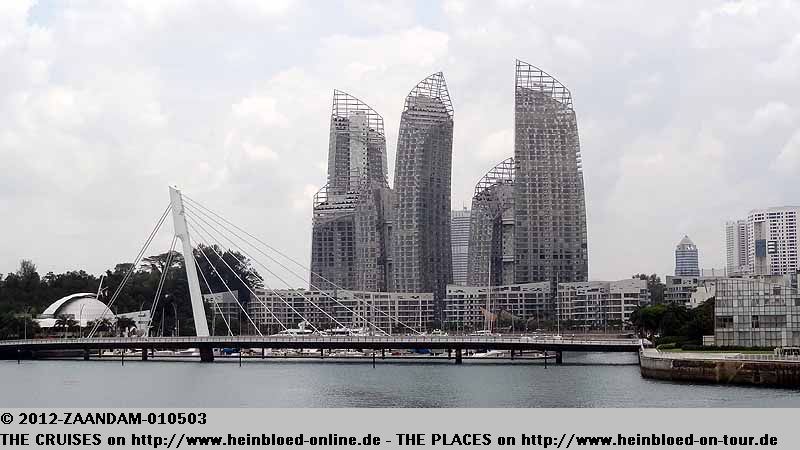 You can see from the ship only two attractions: Sentosa and this building.

Is this a submarine or a yacht or a submarine-yacht?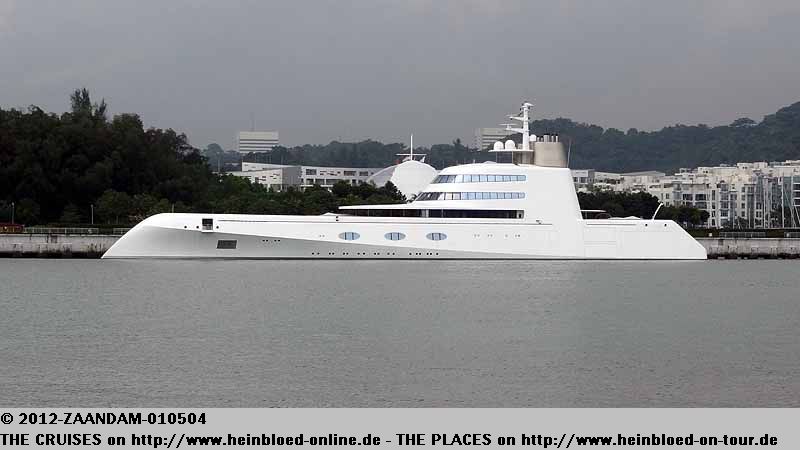 Ist das eigentlich ein U-Boot oder eine Yacht oder eine U-Boot-Yacht?
Wie bereits von mir erkundet: wir geben das Gepäck vor dem Terminal ab. Da wir bereits alles fertig etikettiert haben, brauchen wir uns nicht zusätzlich anstellen.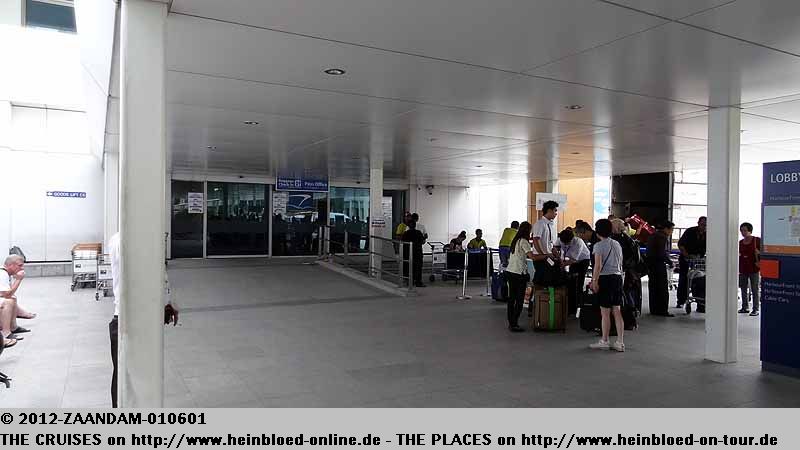 As already checked: we dropped off the bags in front of the terminal. As all bags were already correctly tagged we did not need to queue up additionally.

Still no information on ZAANDAM.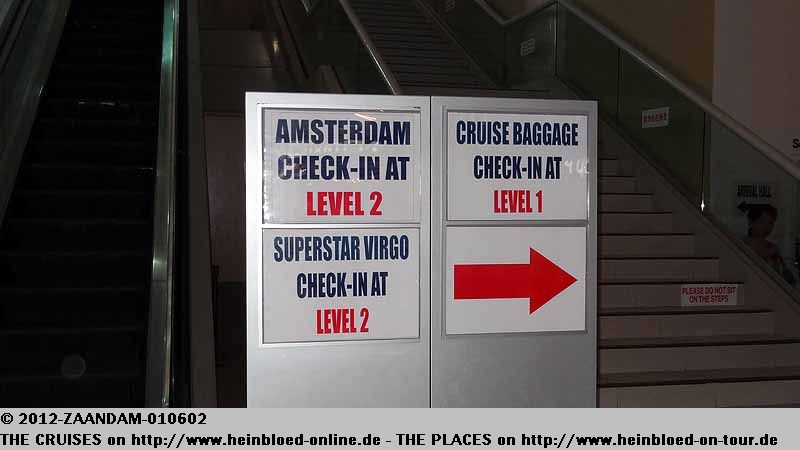 Immer noch keine Hinweise auf die ZAANDAM...
Endlich ZAANDAM. Ich wusste es doch: 13.00 Uhr stand in den Unterlagen und wir waren gegen 12.15 Uhr da. Sie haben aber bereits um 11.30 Uhr mit der Einschiffung angefangen.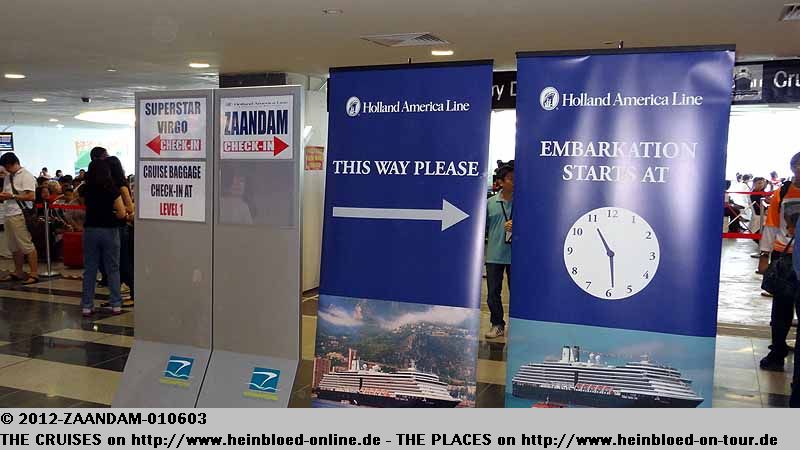 Finally ZAANDAM. I knew it always: 13.00 hrs in the docs. We arrived already 12.15 hrs and they started embarkation already 11.30 hrs.

Everything was well organised.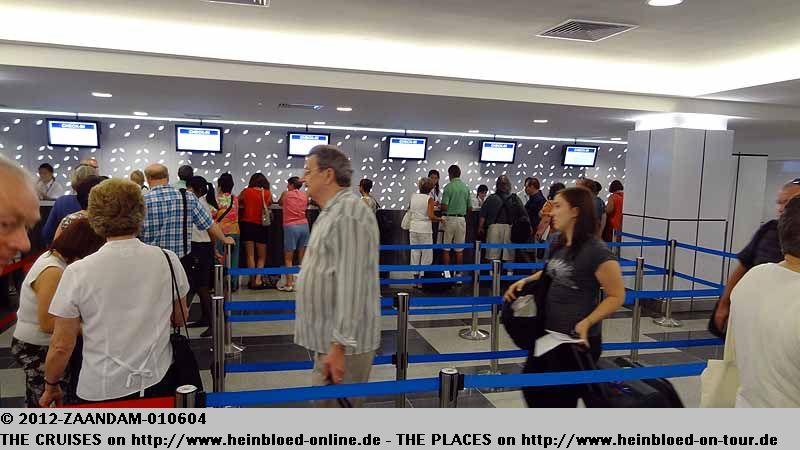 Alles ist sehr gut organisiert.
Die Wartezeiten sind gering.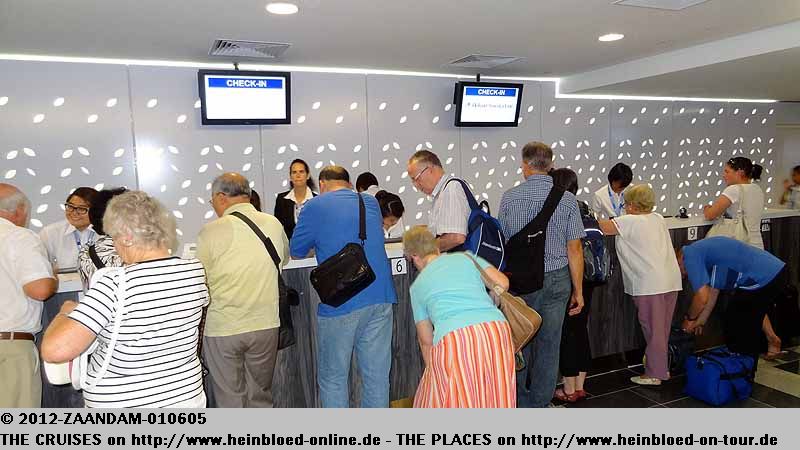 The waiting time was short.

I was glad that it went so quickly.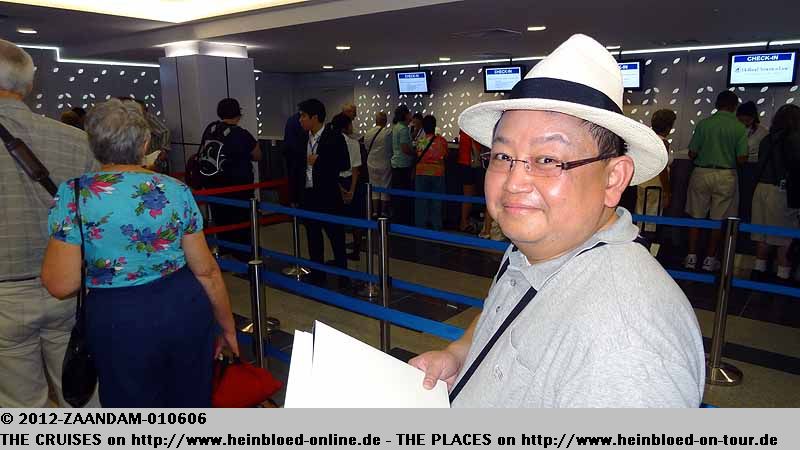 Ich freue mich darüber, dass es so schnell geht.
Zuvor mussten wir bereits die üblichen Gesundheitsbögen und Visumsbögen ausfüllen und eben erklären, ob das Schiff uns die Visa beschaffen soll. Neben Vietnam (2 x 45 USD), bieten sie Kambodscha (45 USD) und Thailand (90 USD - alles 2012) an. Für Thailand sind bereits die Ein-/Ausreisekarten ausgefüllt.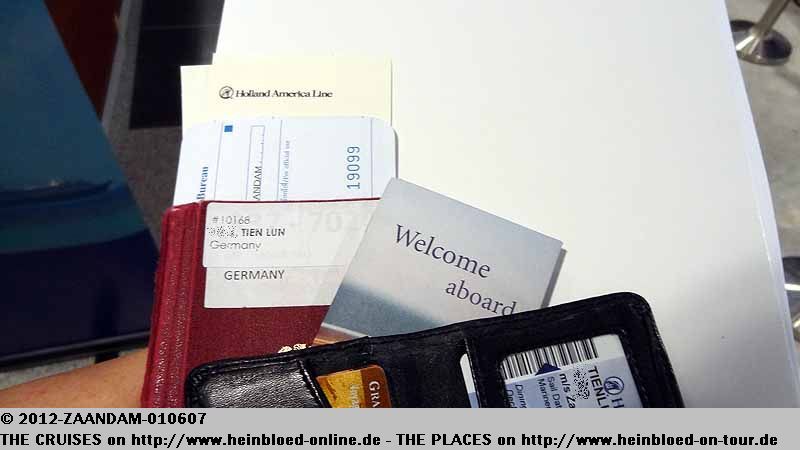 Before we need to complete the health and visa questionnaires. We were asked if they should get us the visa. We could get two for Vietnam (2 x 45 USD), Cambodia (45 USD) and Thailand (90 USD - all prices in 2012). Arrival and departure cards for Thailand were already completed.

Going trough immigration to exit Singapore was smooth again. All we had to do is to return the departure card. But we could go ashore again against presentation of passport and ship's card.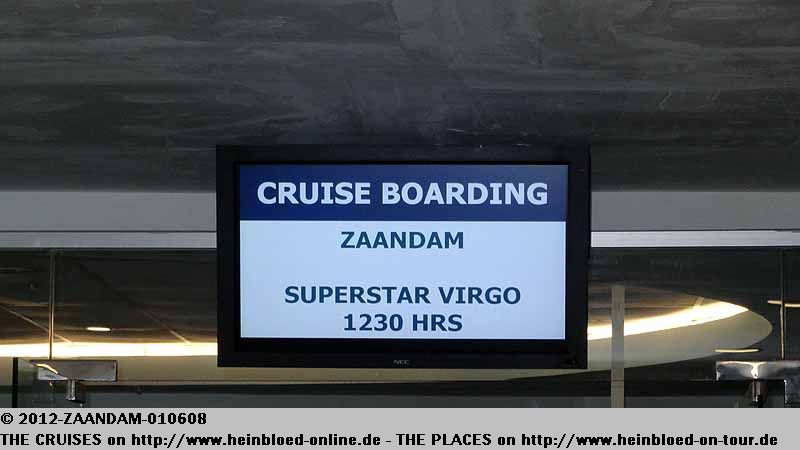 Es geht sehr schnell weiter durch die Ausreisekontrolle. Unsere Ausreisekarten müssen wir abgeben. Wir dürfen wieder an Land gegen Pass und Bordkarte.
Da ist sie.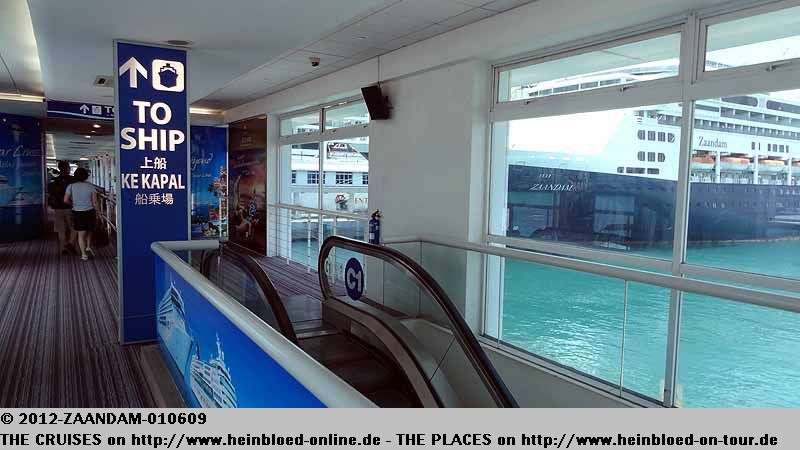 There she was.

Of course we had to take a picture.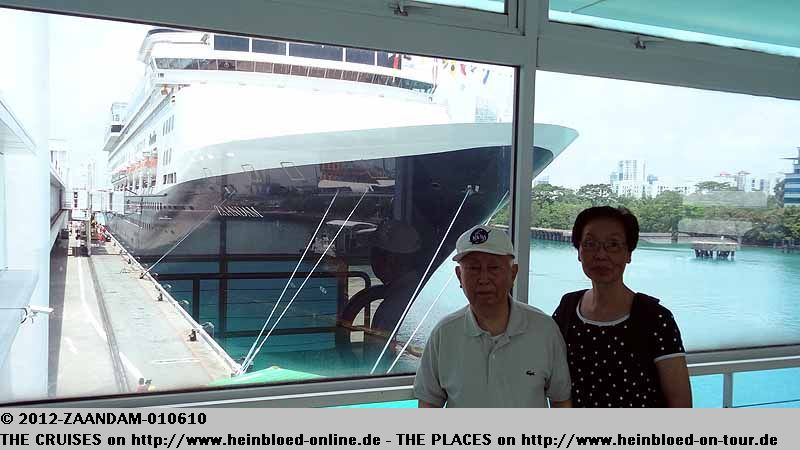 Natürlich müssen wir hier ein Bild machen.
Links geht es zur SUPERSTAR VIRGO und rechts zur ZAANDAM.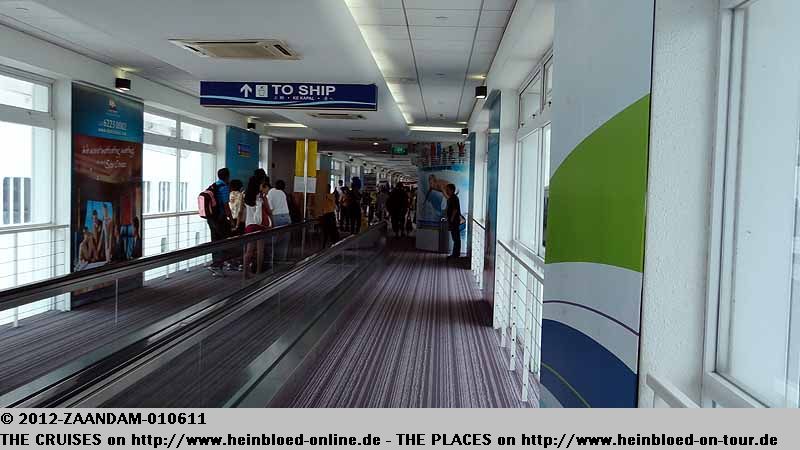 Left to SUPERSTAR VIRGO and right to ZAANDAM.

A very great surprise was waiting for me: Yvonne, whom I knew from WESTERDAM.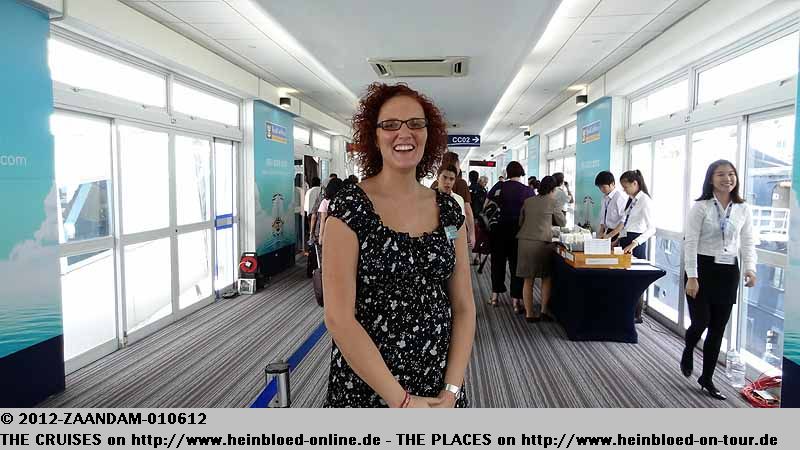 Eine große Überraschung wartet auf mich:
Yvonne
, die ich von der WESTERDAM kenne.
Sie hatte schon meinen Namen auf der Passagierliste entdeckt und beschlossen das Schiff in Singapur zu verlassen... Spaß beiseite: Sie trat heute ihren wohlverdienten Urlaub an und hat noch ihren Kollegen an der Gangway geholfen, bis das ihr Flug ging.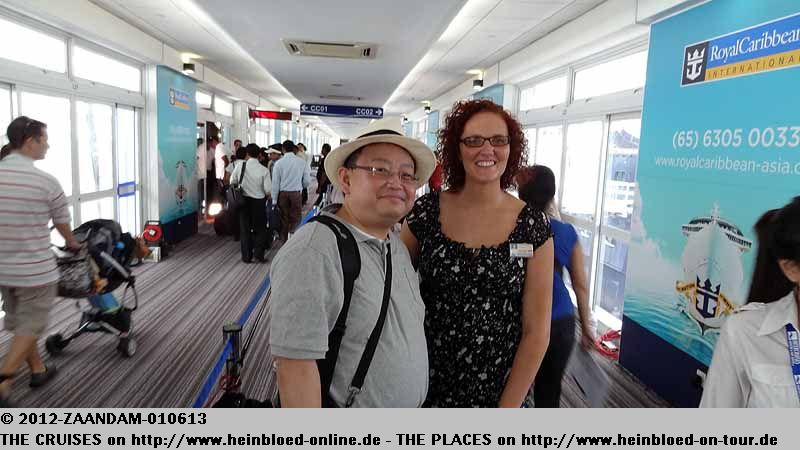 She already discovered my name on the passenger list and decided to leave the ship in Singapore... No more jokes: She started today her well deserved vacation and helped her collegues at the gangway until her flight's departure.

Welcome.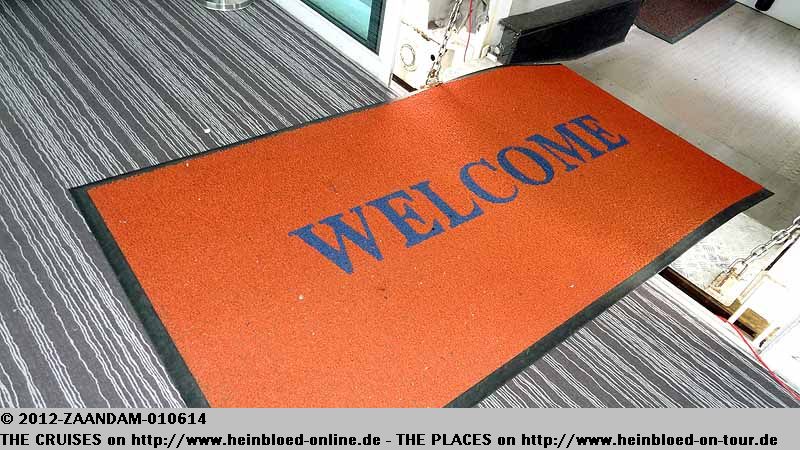 Willkommen.
Noch wenige Schritte bis zur ZAANDAM.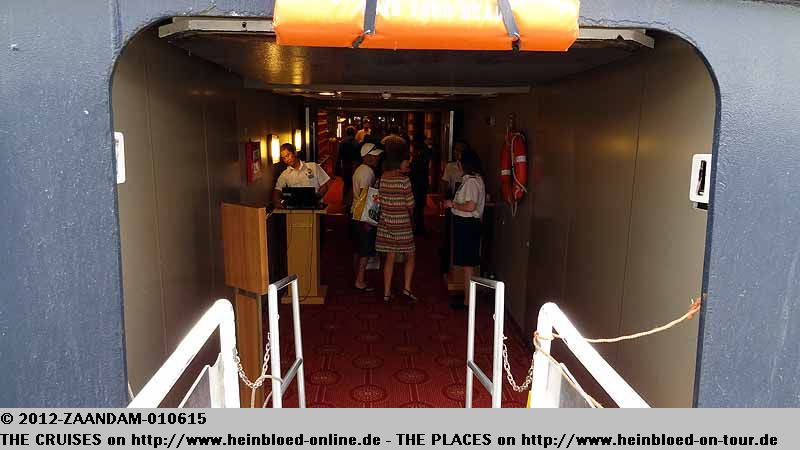 Only few steps to ZAANDAM.