Scroll down for English explanations - alternates with German explanations.

Zunächst ein paar Bilder für die Shipspotter: DISCOVERY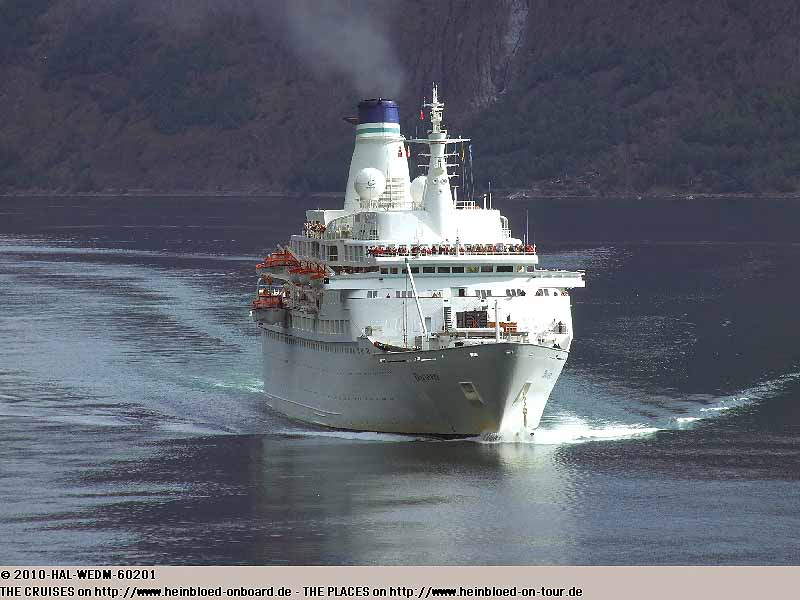 Some pictures for the shipspotter: DISCOVERY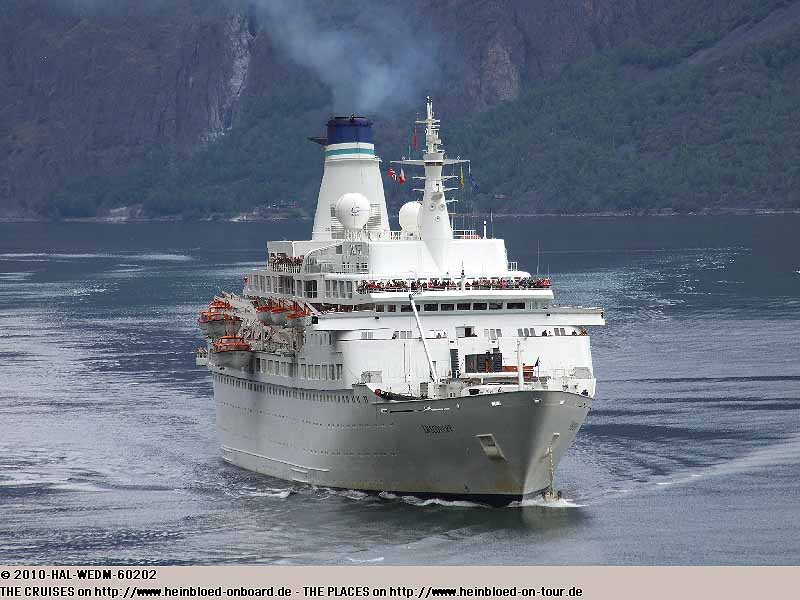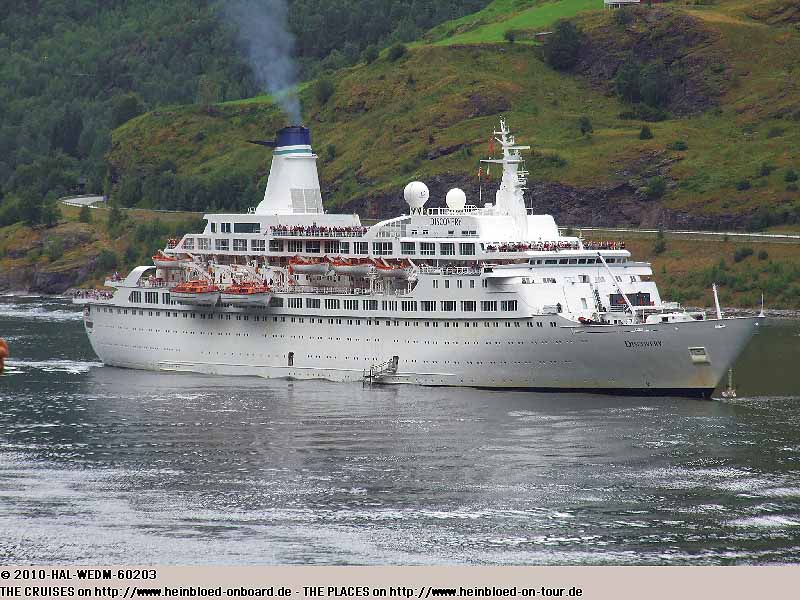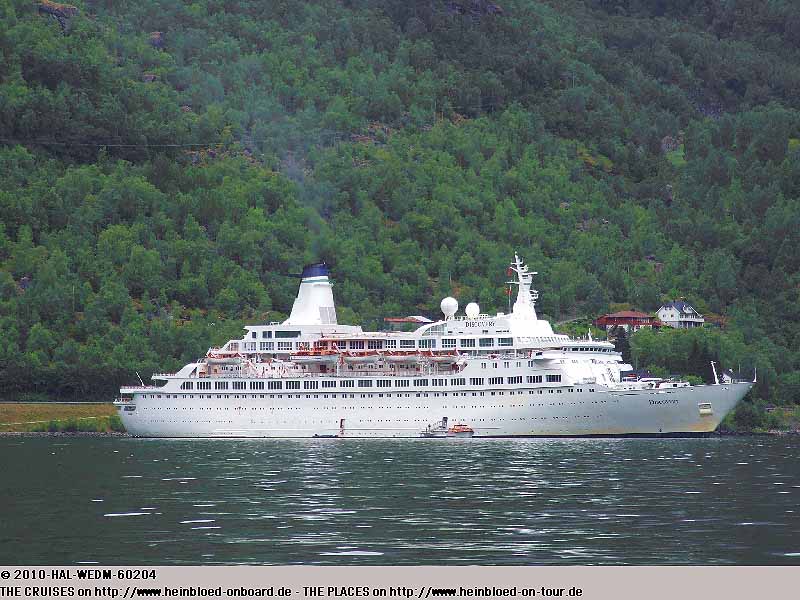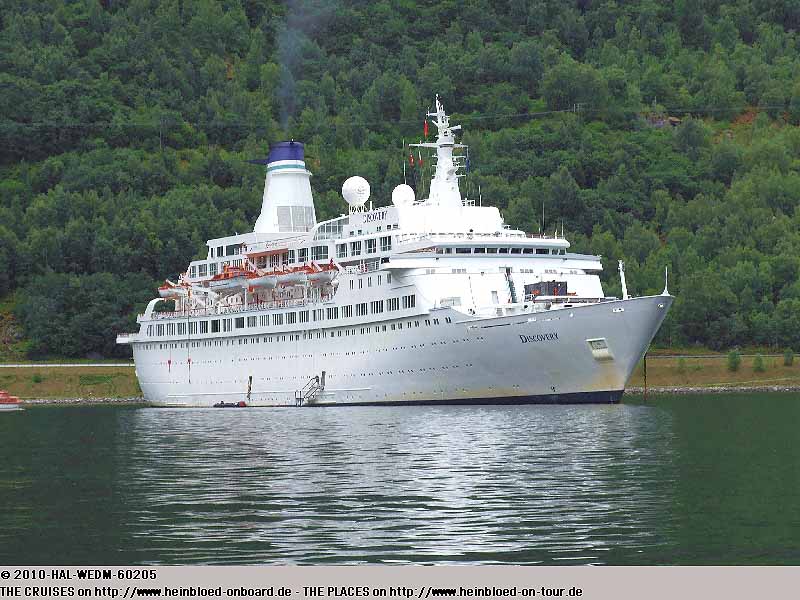 Eggs Benedict on Salmon (like I get them on NCL) are called Scottish Eggs Benedict with HAL. As the Vanilla French Toast attracted my attention too I asked for a single one.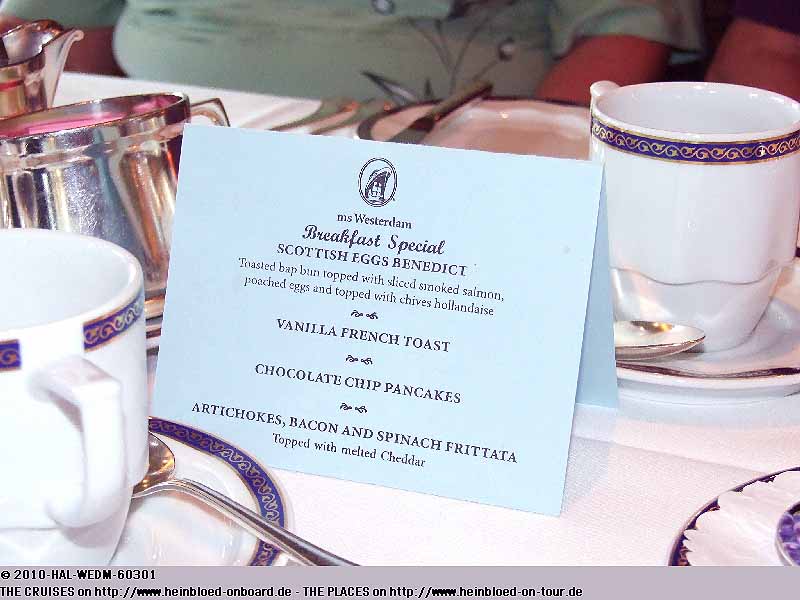 Eggs Benedict auf Lachs (wie ich sie bei NCL bekomme) heißen bei HAL Scottish Eggs Benedict. Da mich aber der Vanilla French Toast auch reizt, bitte ich um einen einzelnen.
Ausnahmsweise nehme ich mal einen Tomatensaft.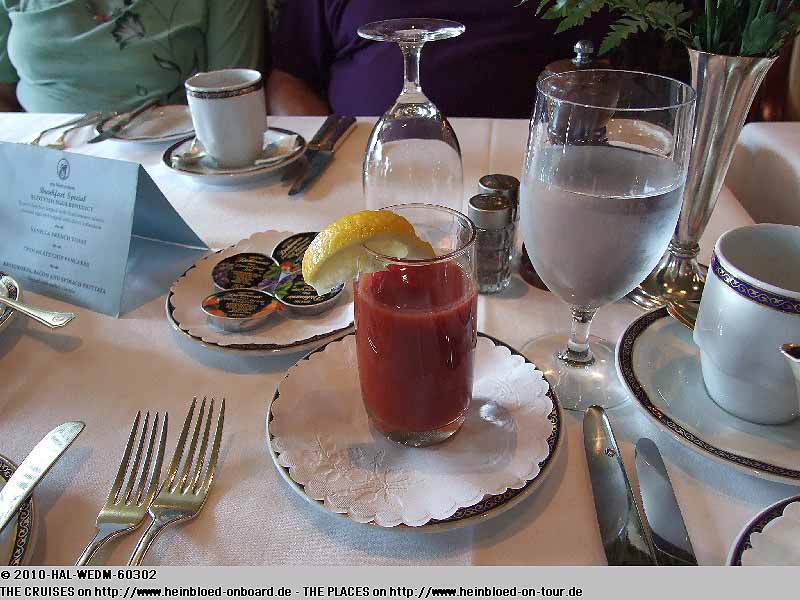 By exception I took a tomato juice.

No salt but three times pepper...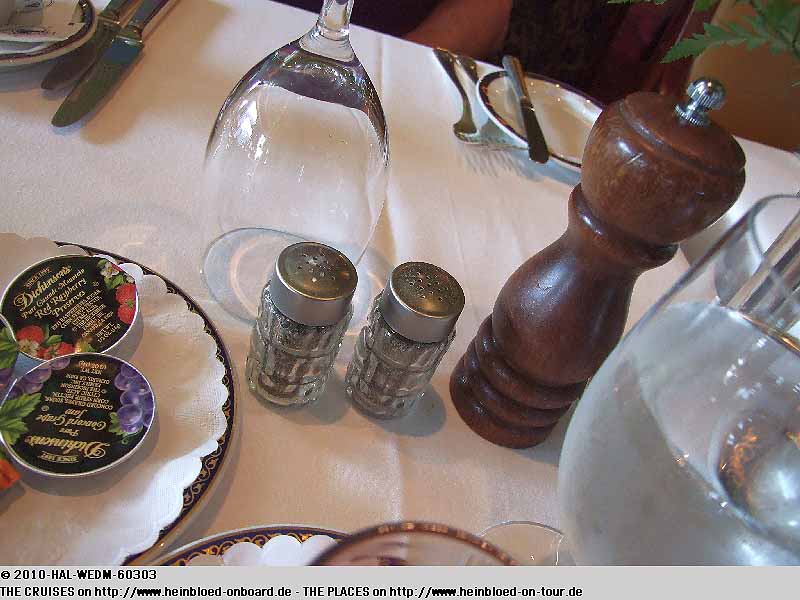 Kein Salz, aber drei Mal Pfeffer...
Irgendwie finde ich, dass der English Muffin genauso schmeckt wie zuletzt der Buiscuit... Irgendwie schmeckt er nur bei NCL...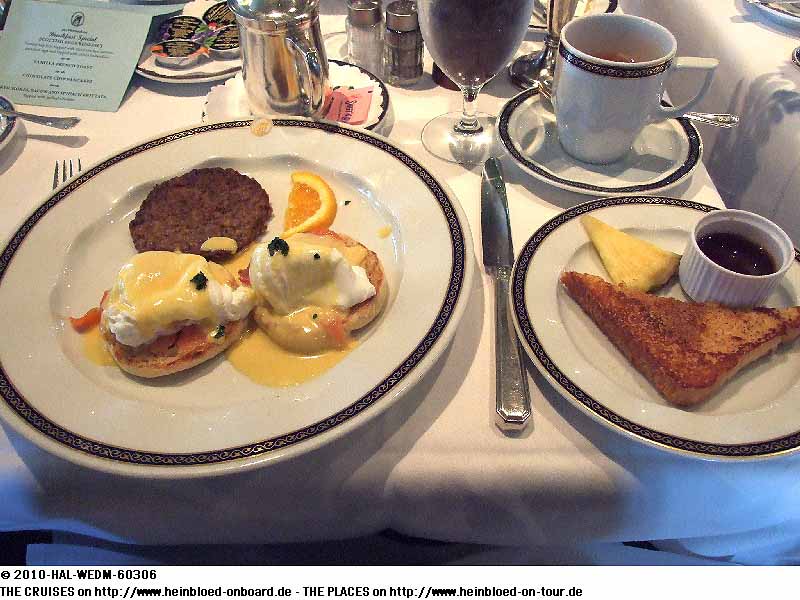 Somehow I found that the English Muffin tasted like the buiscuit I had recently... Somehow it is only tasty with NCL.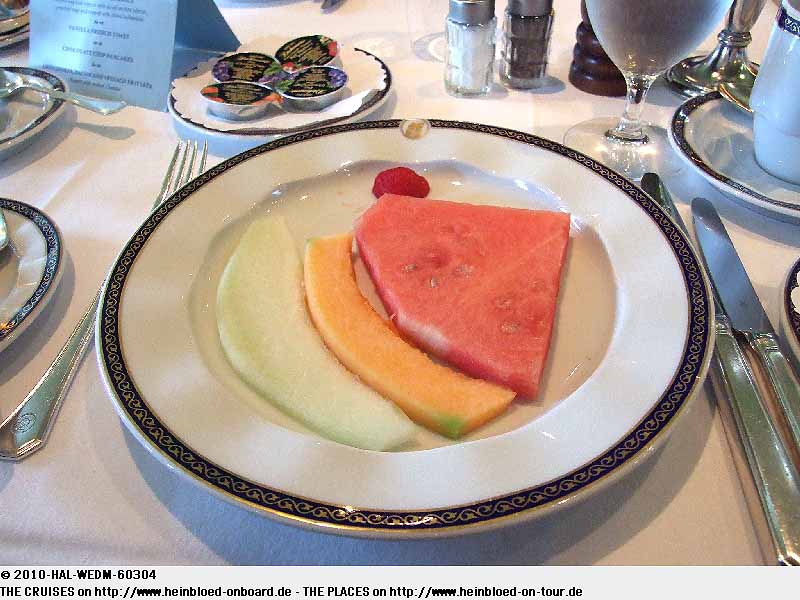 Here Bruno's milk was served in a milk jug. Some served before just the plain milk carton instead... Everything was wonderful this morning: the very first time they came with a second teapot of hot water for my tea. But mostly I only drink no more than one cup of tea... but that they thought on me.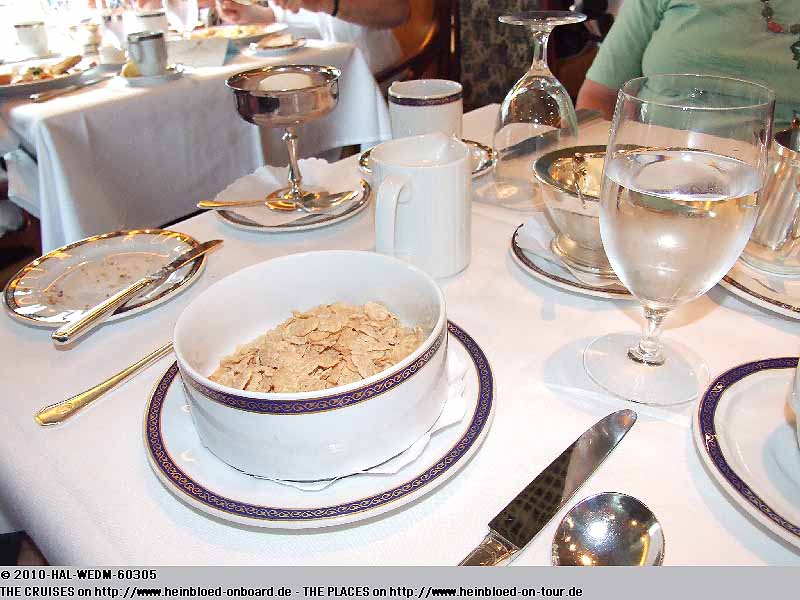 Hier wird Brunos Milch in einem Kännchen serviert. Andere servieren auch mal nur eine Milchtüte... Überhaupt war es heute Morgen wunderbar: zum ersten Mal kamen sie mit einem zweiten Kännchen heißem Wasser für meinen Tee vorbei. Dabei trinke ich selten mehr als eine Tasse... aber dass jemand an mich gedacht hat.
Da wir ausschlafen können, wollten wir uns morgens mal nicht zum Frühstück verabreden. Meine Eltern mögen lieber im Lido Café frühstücken. Brunos Eltern mögen die Atmosphäre morgens im Lido Café nicht und warten einfach, bis dass wir gehen und kommen. So kommen Frau und Herr Pannen alleine ins Vista Restaurant. Annemarie kümmert sich liebevoll um sie und sorgt dafür, dass Herr Pannen durch einen Steward in die Kabine zurückgebracht wird.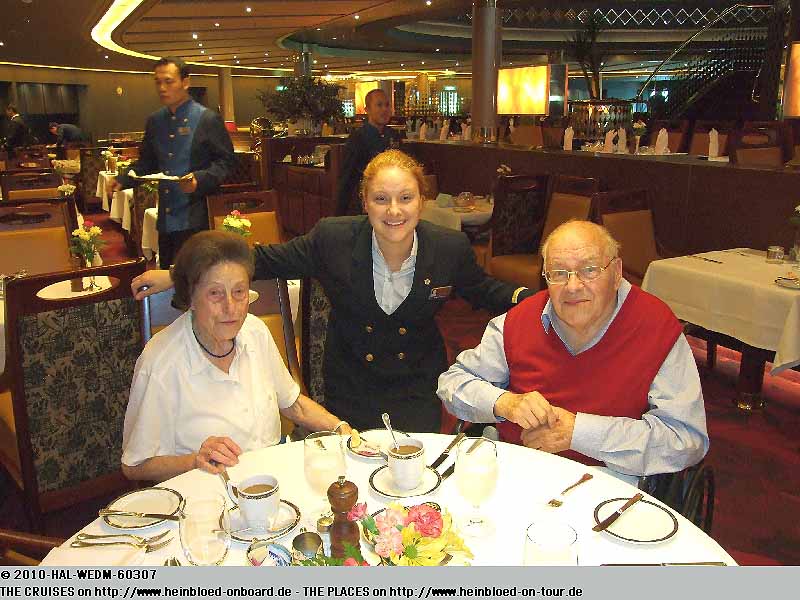 To be able to sleep late we had no appointments for breakfast. My parents loved to have breakfast in the Lido Café. Bruno's parents just waited until we were going as they did not like the atmosphere during breakfast time in the Lido Café. So Mrs and Mr Pannen came by themselves in the Vista Restaurant. Annemarie took care very lovely on them and made sure that Mr Pannen was taken back by a steward to their cabin.

If the paint the railing it might be somehow unpleasant that the warning was on the floor. I found the warning too late...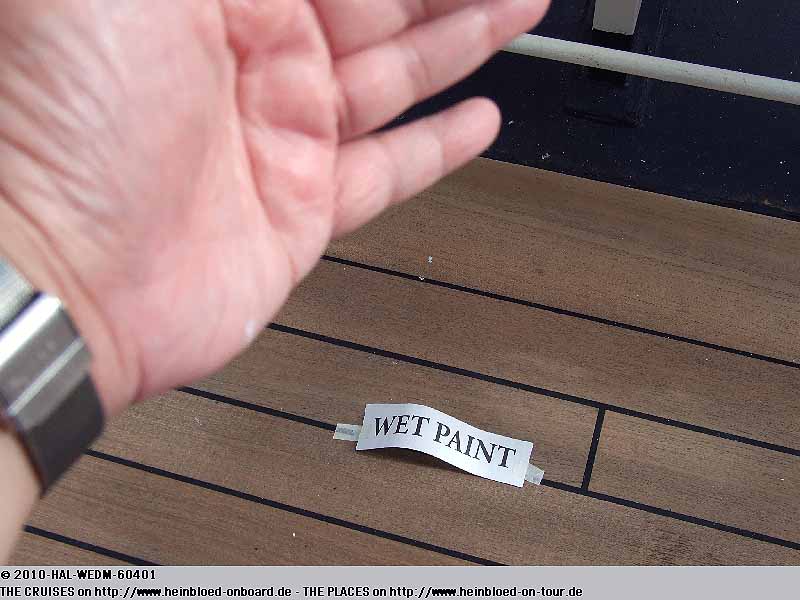 Wenn die Railing gestrichen wird, ist es vielleicht etwas unglücklich, dass der Hinweis am Boden steht. Bei mir kam der Hinweis zu spät...
Das ist richtig einladend. Wozu also einen eigenen Balkon buchen???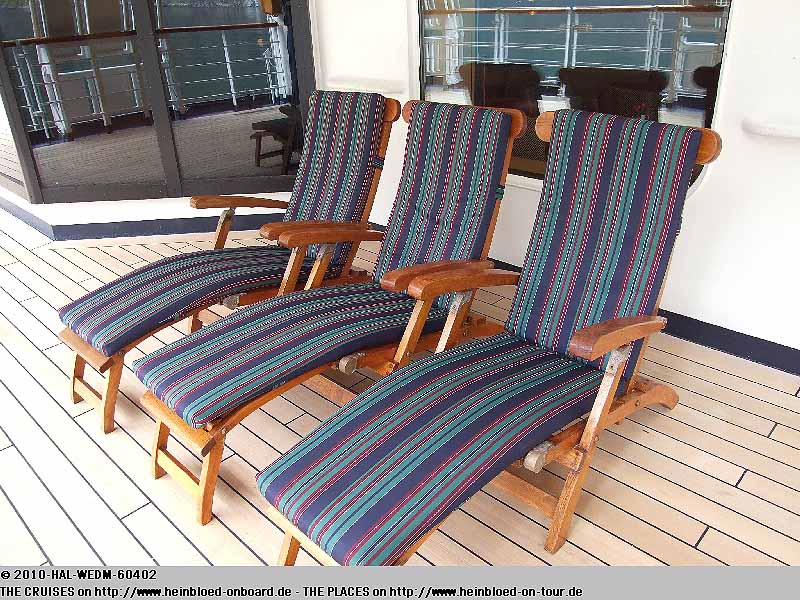 That was very inviting. Why should you book a verandah???

In the Lido Café it was always busy.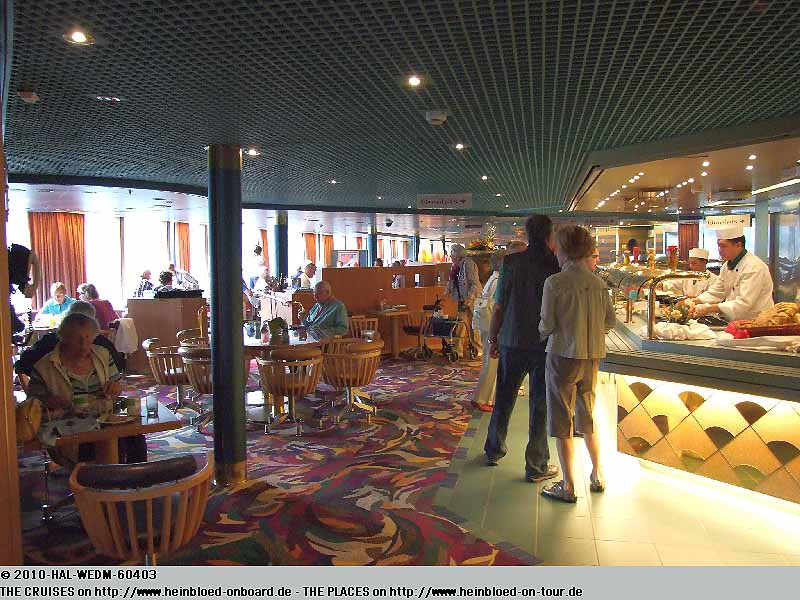 Im Lido Café ist irgendwie immer Betrieb.
Sind überhaupt Briten an Bord??? Die sitzen sonst immer hier im Whirlpool, egal bei welchem Wetter.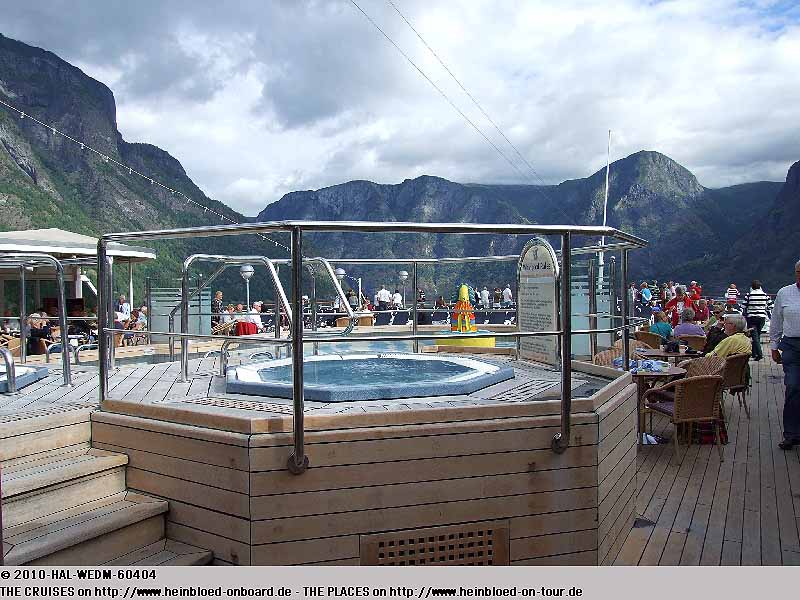 Were any British guests on board??? Any weather you find them here in the jacuzzi.

In the loudspeakers you hear the Captain explaining the situation last and this day.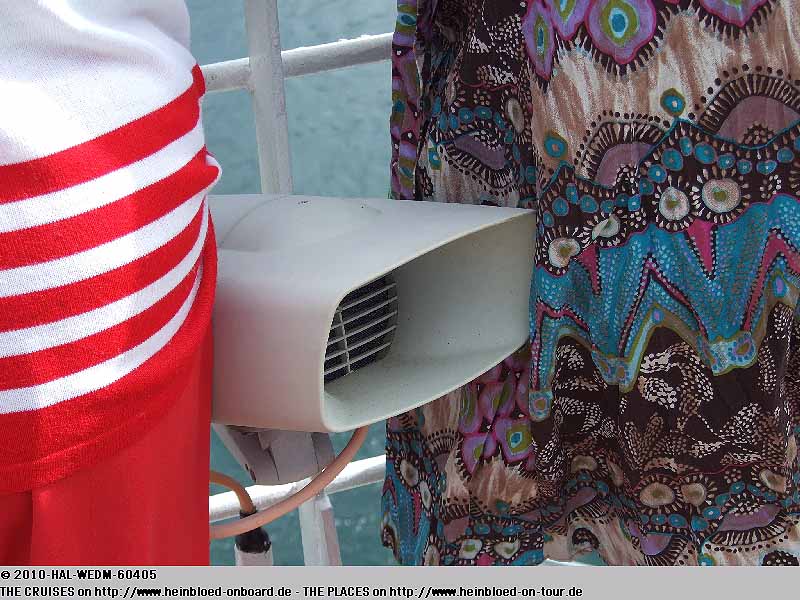 Über die Lautsprecher erklärt uns der Kapitän die gestrige und heutige Situation.
Bevor man ein Hinweis auf die Touristeninformation findet, gibt es Hinweise wie man zur Flåmbahn kommt.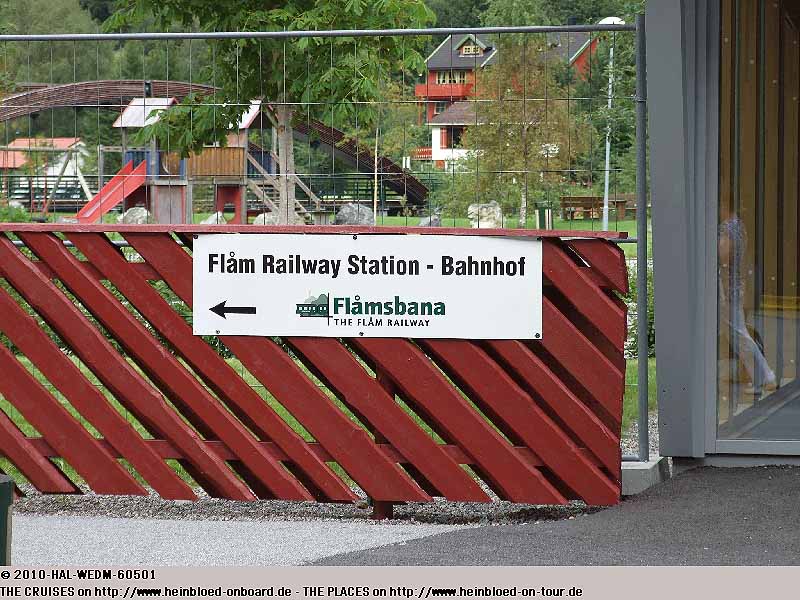 Before you find information to find the tourist info you find the direction to the Flåm-Railways.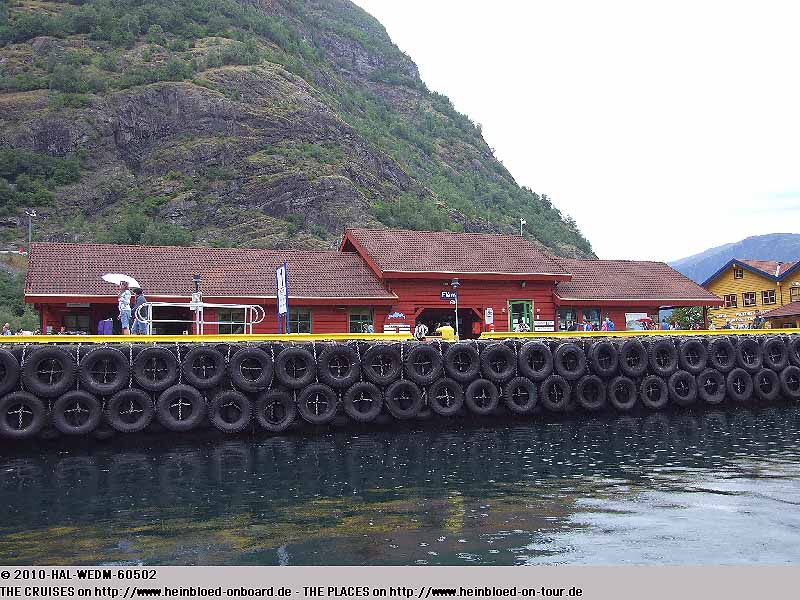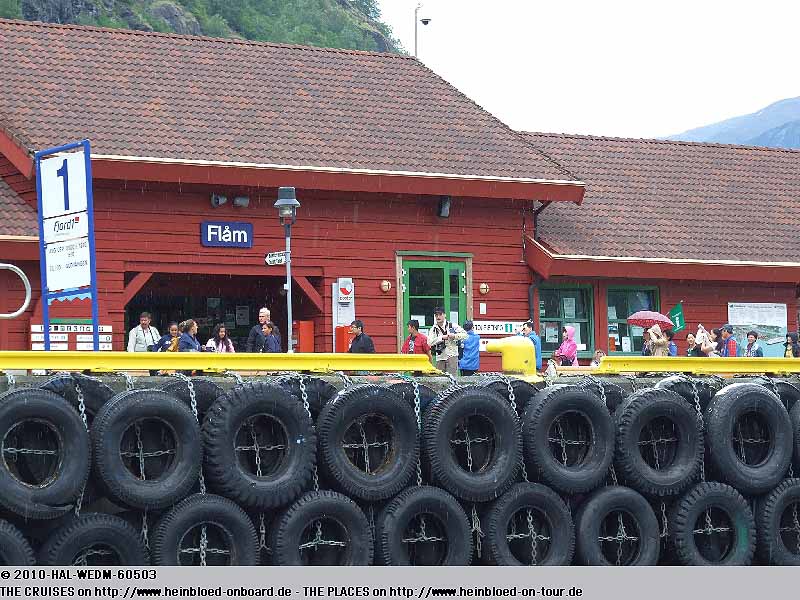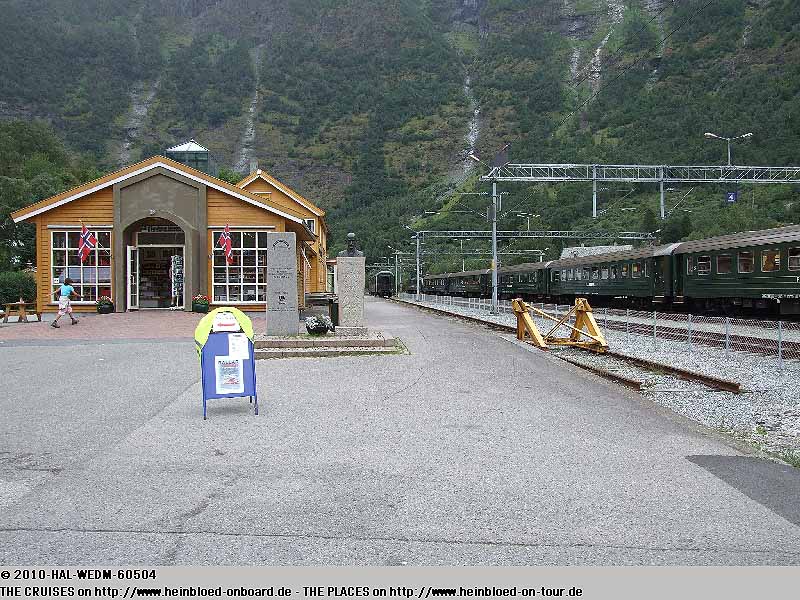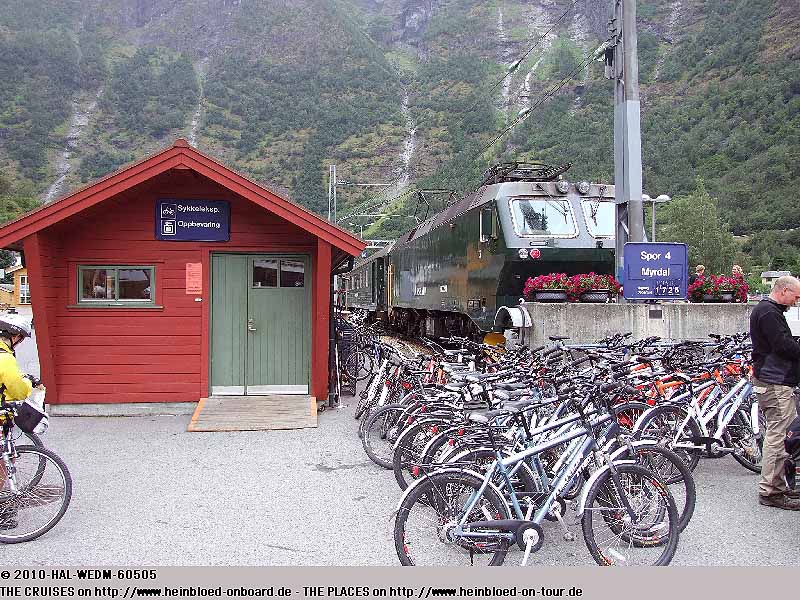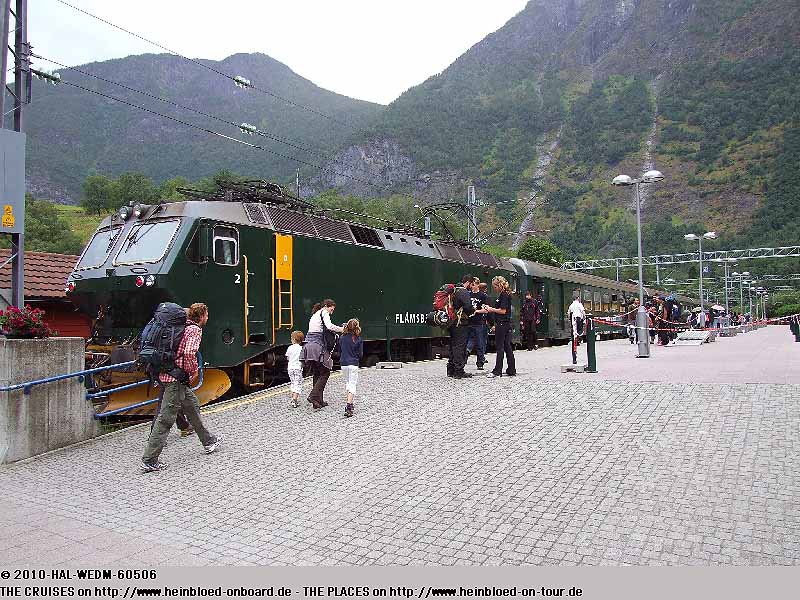 Originally we planned to go as well but Flåm-Railways never responded my e-mail-request if they have fascilites for handicapped. When I called they told that they have a ramp.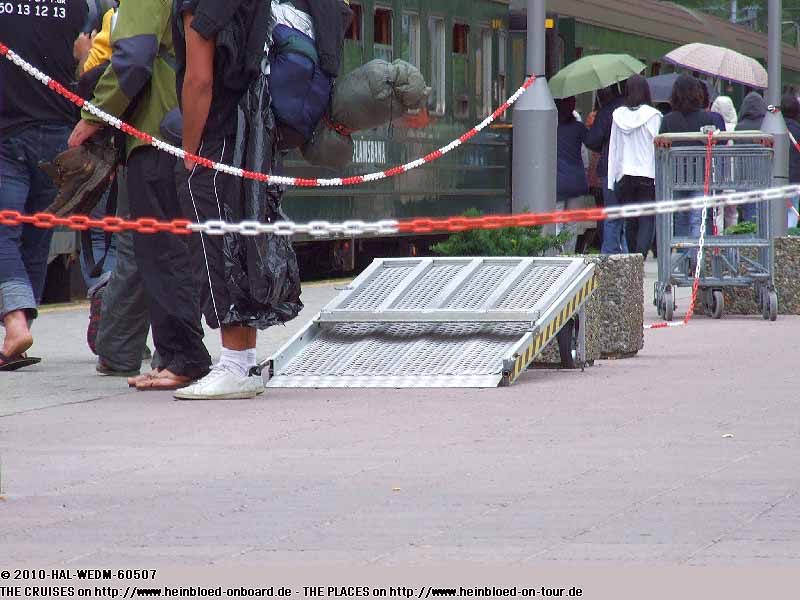 Ursprünglich wollten wir auch mitfahren, aber Flåmbahn hat leider nie die E-Mail-Anfrage beantwortet, ob sie Einrichtungen für Behinderte haben. Als ich anrief erklärten sie, dass sie eine Rampe haben.
Und der Zugang zum Zug erfolgt über das Rolltor am Waggon. Da wir zum Zeitpunkt der Buchung keine Zusage für Plätze bekommen konnten, weil zu diesem Zeitpunkt die QUEEN MARY 2 auch im Hafen sein sollte, ändern wir unsere Pläne. Später wird die Rotation von QUEEN MARY 2 geändert aber da haben wir schon andere Pläne.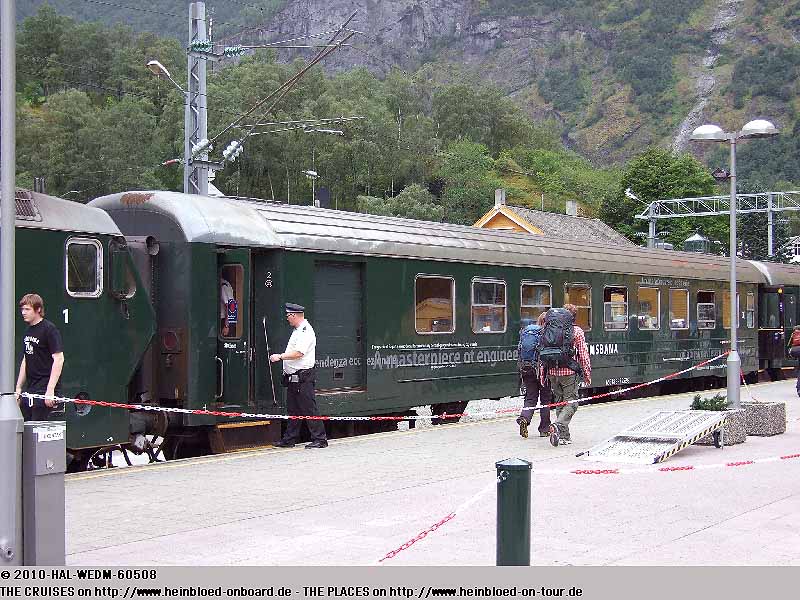 The roller shutter is access to the car. As we had no confirmation at the time of the booking for availability as QUEEN MARY 2 should be the same time in port we changed our plans. Later QUEEN MARY 2 changed the port rotation but then we had other plans.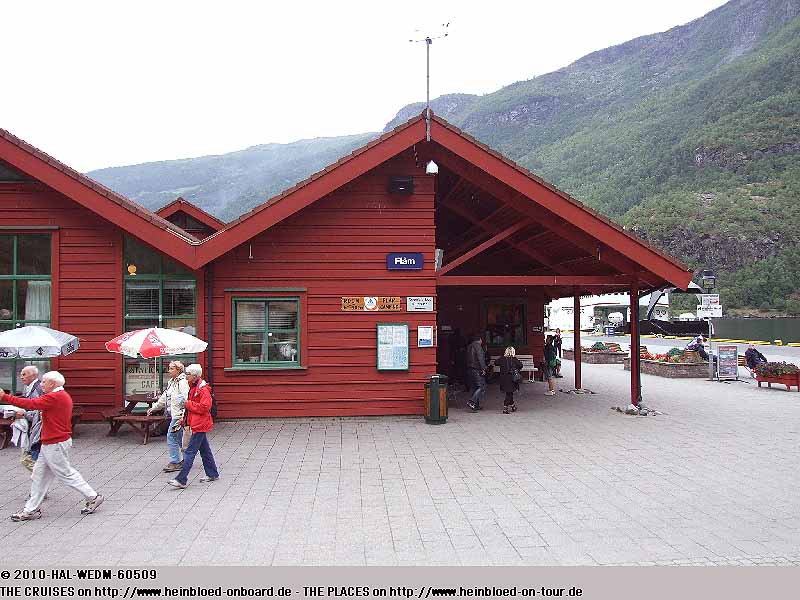 Wenn man sich die große Flåmbahn nicht leisten kann, gibt es ja noch eine kleine...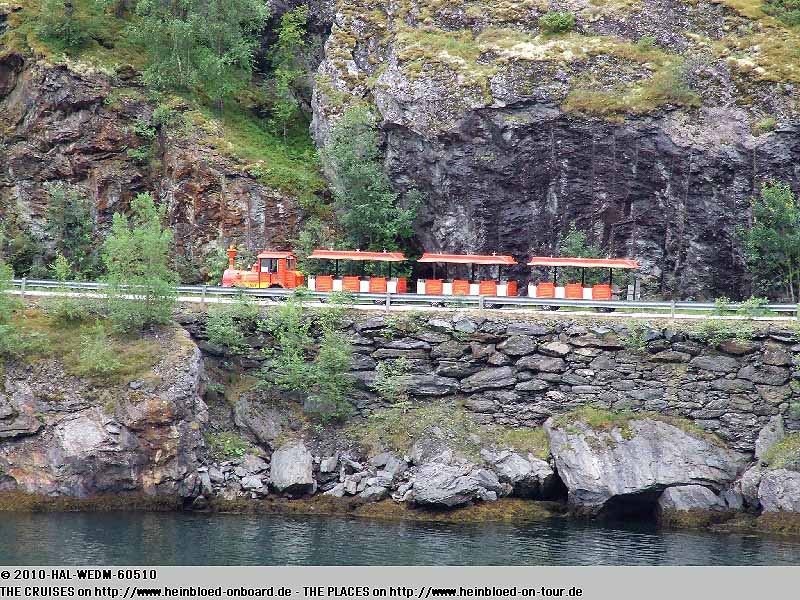 If you cannot afford the big Flåm-Railways there would be small one...

By the way the tourist information was just next to the train station.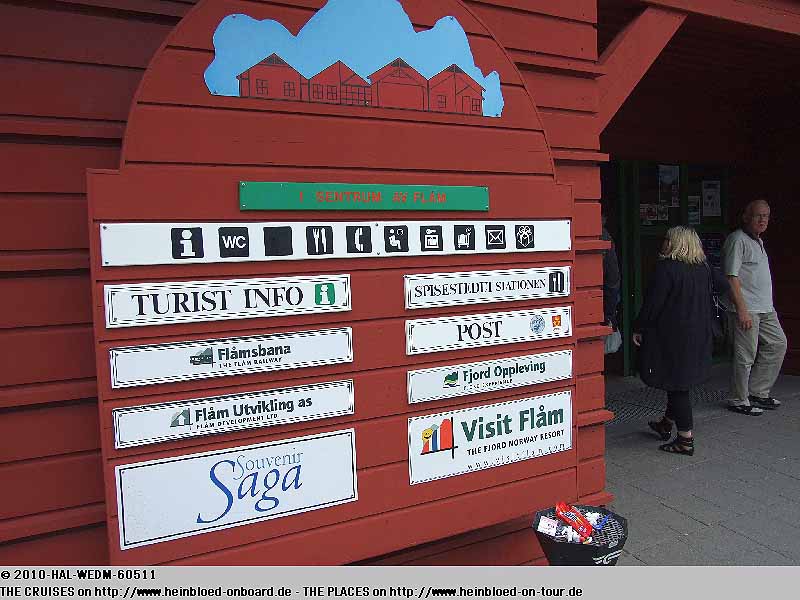 Übrigens die Touristeninformation befindet sich ebenfalls am Bahnhof...