Scroll down for English explanations - alternates with German explanations.

Die zweite Eltern-Kreuzfahrt steht an. Nach dem wir letztes Jahr mit beiden Elternpaaren gemeinsam auf der
NAVIGATOR OF THE SEAS
unterwegs waren, wollten wir gerne auch dieses Jahr wieder eine Elternkreuzfahrt machen. Es sollte etwas sein, ohne Fliegerei, deswegen bot sich eine Fahrt ab Rotterdam an, das von Mönchengladbach aus in zwei Stunden mit dem Auto erreichbar ist. Leider gibt es dieses Jahr nur eine einwöchige Fahrt ab Rotterdam nach Norwegen, weil die WESTERDAM eigentlich als Hotelschiff für Südafrika verplant war. Die Entscheidung für die WESTERDAM fiel auf der letzten
EURODAM-Reise
, weil wir unbedingt wollten, dass Brunos Eltern auch dieses spitzenmäßige Kreuzfahrtprodukt kennenlernen. Meine Eltern kannten HAL ja schon von der allerersten
EURODAM-Reise
. Die Buchungen wurden damals schon an Bord getätigt und die Anzahlungen geleistet. Im Anschluss daran haben wir die Buchungen an
Dorothy von CruiseBrothers.com
übertragen lassen. Sie hat kurz vor der Abfahrt für ein tolles Upsell-Angebot für unsere Eltern gesorgt. Das war unser Glück, da wir sonst sicherlich bei der bisherigen Kabinenaufteilung (von Kat. F auf Deck 1 auf Kat. VA auf Deck 7 - wir sind wieder in unserer Kat. F geblieben) enterbt worden wären. Vier Tage vor der Abfahrt ergab sich dann eine Überraschung, so dass wir vermutlich doch enterbt werden: Wir haben dann auch eine VA-Kabine als Upgrade bekommen. Das gibt bestimmt Ärger mit den Eltern und können ja dann nicht vom Schiff runter... Meine Grundschullehrerin Frau Pannen und ihren Mann kennen manche hier im Blog von unseren gemeinsamen Reisen auf der
NORWEGIAN DREAM
und
NORWEGIAN JADE
. Den Wunsch Norwegen mit den Hurtigruten zu entdecken, war wegen der beschwerlichen Anreise nach Bergen nicht mehr realsierbar. Eine zweistündige Autofahrt nach Rotterdam schon. Da diese Kabine erst nach unserer EURODAM-Reise gebucht wurde und sich keine Vorteile mehr wegen der an-Bord-Anzahlungen ergaben, haben wir diese Kabine bei
Patrick Wetter
bei
Cruisopolis
in Luxemburg gebucht. Übrigens sind sie seit kurzem auch Generalagent für Holland America. Bekannt ist er übrigens auch aus dem
Kreuzfahrten-Treff-Forum
. Auch die Abwicklung hat sehr gut geklappt. Ein persönliches Erscheinen in Luxemburg war nicht notwendig. Alles wurde per E-Mail erledigt.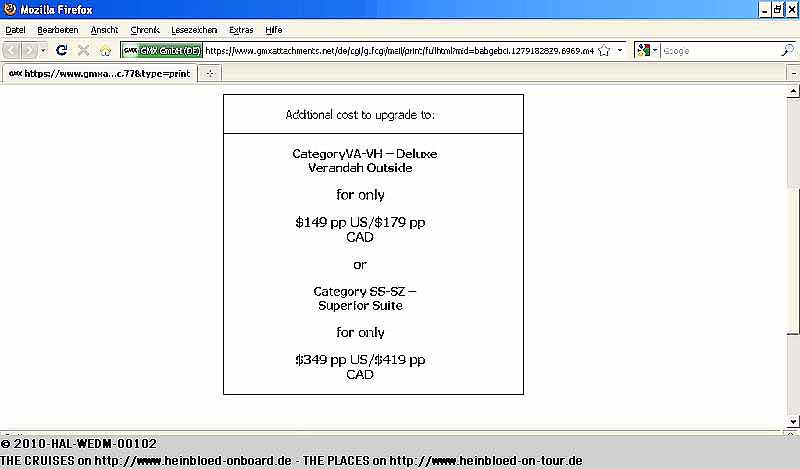 The second parents-cruise started. After we went last year together with our both couples of parents on NAVIGATOR OF THE SEAS (Blog only available in German - Sorry) we wanted to do such a parents-cruise this year again. It should be a home-port one without flying therefore a cruise out of Rotterdam which is located two hours by car from Mönchengladbach was the most perfect solution. Unfortunately this year only one 7-night-cruise to Norway was offered out of Rotterdam because WESTERDAM was supposed to be used as hotel ship in South Africa. The decision for WESTERDAM was made on our last cruise on EURODAM- because we wanted Bruno's parents make the acquaintaince with this top premium cruise product. My parents knew already HAL from the very first cruise of EURODAM (Blog only available in German - Sorry). We booked and made the deposits while we were on board. Later we transferred the booking to Dorothy from CruiseBrothers.com. She took care that our parents got a great Upsell-offer before sailing. That was our luck as we expected to be withdrawn from their last will if they would have known the previous cabin allocation (from Cat. F on Deck 1 to Cat. VA on Deck 7 - we stayed in Cat. F). Four days before sailing we got a big surprise so I am afraid that we will be taken off from the last will of our parents: we got as well a free upgrade to VA. I am sure we will get trouble with our parents and cannot escape from a ship... Im Some of you might know from this blog my elementary school teacher Mrs Pannen and her husband who joined us on two previous cruises on NORWEGIAN DREAM (Travel story only available in German - Sorry) and NORWEGIAN JADE (Travel story only available in German - Sorry). Their wish to discover Norway by Hurtigruten (Norwegian Coastal Line) was unable to fulfill due to the difficult journey to embark in Bergen, Norway. A 2-hours-ride by car to Rotterdam was very realistic. As this cabin was booked after we finished our EURODAM-voyage and there was no more advantages possible for on-board-deposits we booked the cabin with Patrick Wetter from Cruisopolisin Luxembourg. By the way: they became General Sales Agent for Holland America recently. Some might know him from the German forum Kreuzfahrten-Treff-Forum. The organisation was well arranged. A personal appearance in Luxembourg was not necessary. Everything can be arranged by e-mail.

Again we ordered and paid for many on-board-gifts. But last time we had some late deliveries. For my part everything was solved while I was onboard and later ashore so I had no further reason for a claim. I only asked for a compensation as on-board-credit as I had to pay import tax when I got my deliveries at home anbd I was very much surprised that someone in Seattle read my blog and rated the late delivery of the Bon-Voyage-Champagne as not delivered and refunded the amount back to my credit card. Furthermore they promised to keep a special eye on the deliveries this time. A first class customer service!!!. And if you read mails like this you know: somebody is taking you as guest seriously and taking care of your request.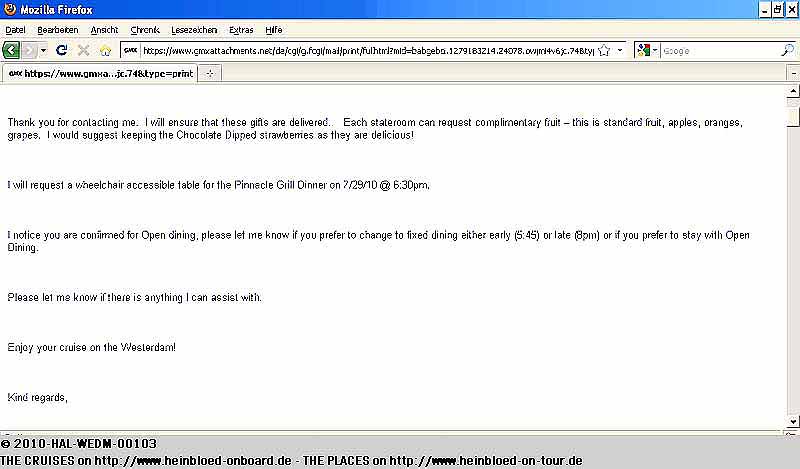 Wieder haben wir viele On-Board-Gifts vorab bestellt und bezahlt. Beim letzten Mal kam es jedoch bei der Auslieferung zu Verzögerungen. Für mich waren alle Probleme an Bord und später an Land gelöst worden, so dass ich keinen weiteren Grund mehr zur Reklamation sah. Die Einfuhrumsatzsteuer, die ich später zu Hause entrichten musste, bekomme ich als Bordguthaben wieder und was mich besonders erstaunt hat: in Seattle hat man den Blog gelesen und die Verzögerung bei der Auslieferung des Bon-Voyage-Grußes so bewertet, als wenn nicht geliefert worden wäre und man erstattete mir den Kaufpreis auf die Kreditkarte. Gleichzeitig gab man mir die Zusage dieses Mal einen besonderen Augenmerk auf die Auslieferungen zu haben. Ein erstklassiger Kundendienst!!! Und wenn man dann solche Zeilen bekommt, dann weiss man, dass da jemand ist, der sich ernsthaft um dich als Gast und deine Belange kümmert.
Worüber ich mich sehr gefreut habe.
mate
aus dem
NCL-Fan-Forum
hatte mir von einer Reise auf
MEINER
EURODAM ein HAL-Coupon-Buch mitgebracht und wollte es mir überreichen. Leider hatte die persönliche Übergabe auf der
NORWEGIAN EPIC
aufgrund der technischen Probleme und der damit verbundenen Absage ihrer Reise nicht geklappt. Schade und vielen Dank.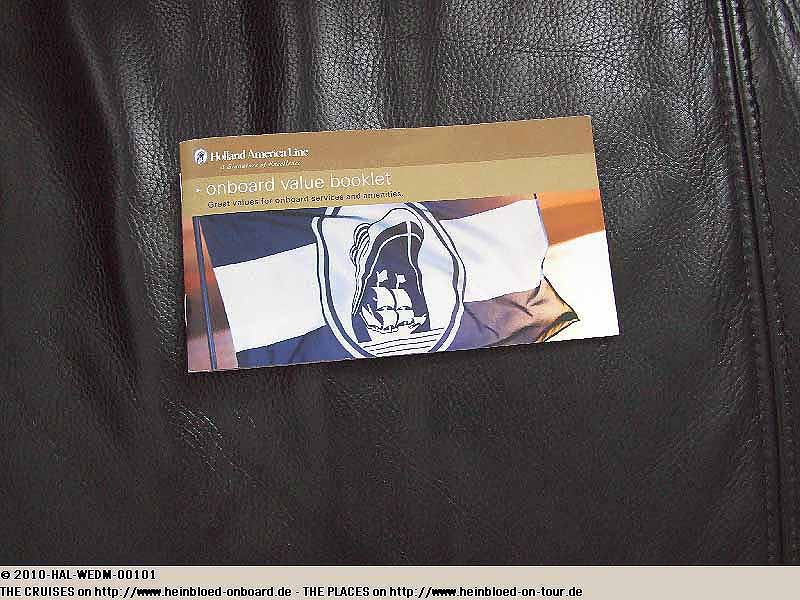 Someone made me very happy: mate from the German NCL-Fans-Forum got me a HAL-Coupon booklet when she was on MY EURODAM and wanted to hand me over personally. Unfortunately it did not work with the personal delivery on NORWEGIAN EPIC due to technical problems and her short-notice cancellation of the voyage. Sorry and thank you very much.

Our voyage started two days ahead of embarkation in Andernach, Rhine-Valley, Germany. There we met Bruno's parents who arrived by train from Trier.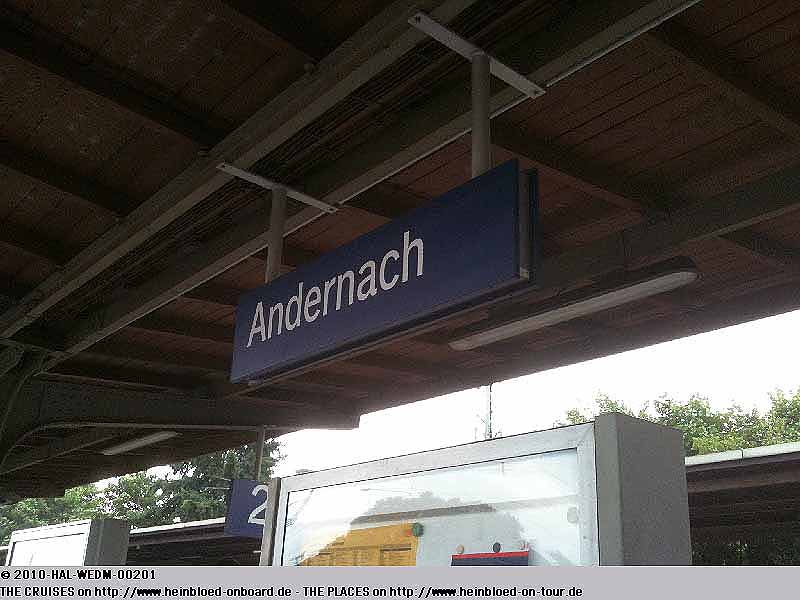 Unsere Reise begann zwei Tage vor Einschiffung in Andernach. Dort haben wir uns mit Brunos Eltern verabredet, die mit dem InterCity aus Trier angereist sind.
Das Wetter war alles andere als vielversprechend.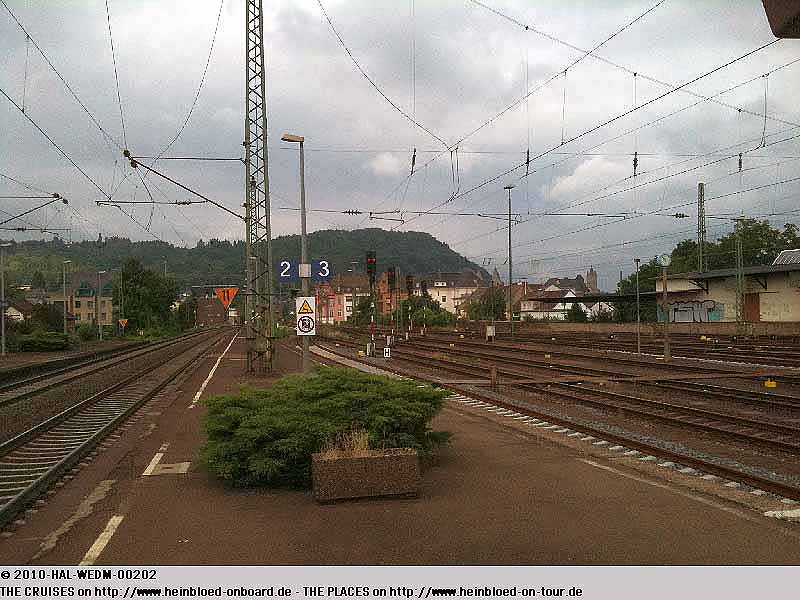 The weather was anything else but promising.

Our way took us via Mönchengladbach (where I was growing up). We could not skip Café Heinemann to have the world best ice cake ("Grillage Torte"). But Mönchengladbach was no detour on the way to Amsterdam.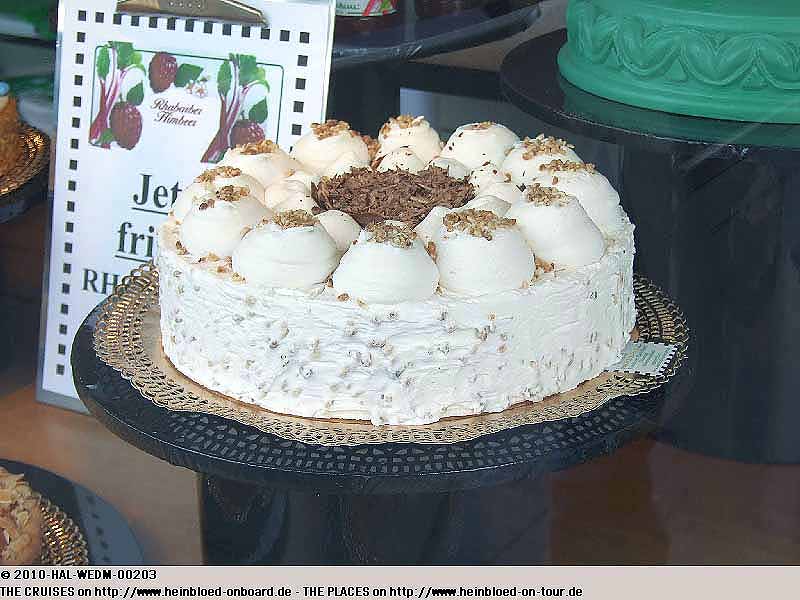 Unser Weg führte uns über Mönchengladbach (dort bin ich aufgewachsen). Bei der weltbesten Grillagetorte von
Café Heinemann
, mussten wir unbedingt einen Halt machen. Zum Glück liegt ja Mönchengladbach auf dem Weg nach Amsterdam.
Über
Priceline
habe ich 4* für 100 USD (plus Steuern) ergattert. Dafür gab es das es
NH Amsterdam Centre
. Andere von unserer Cruise sind für das gleiche Gebot im
Mövenpick
am Cruise Terminal untergekommen.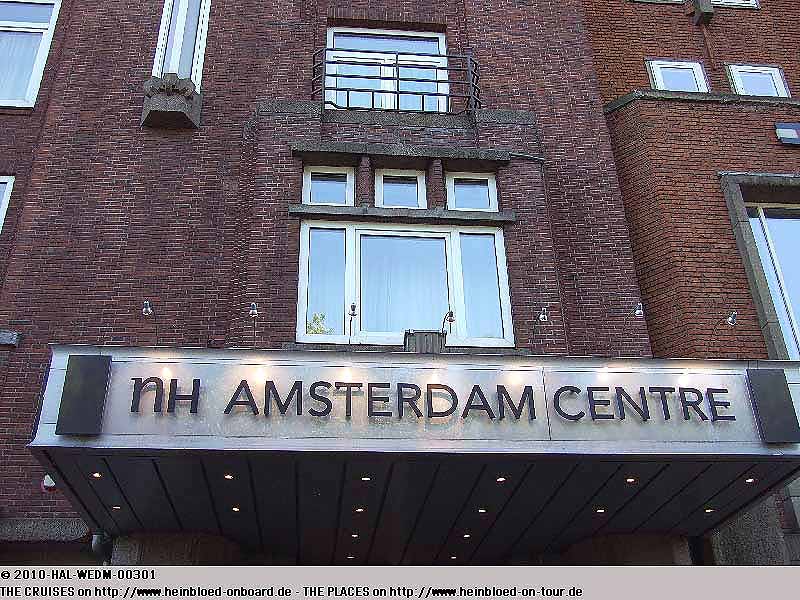 On Priceline I bid for 100 USD (plus tax) 4*. So I got NH Amsterdam Centre. Others got from our cruise for the same bid the Mövenpick at the cruise terminal.

Has a very nice location around Leidseplein.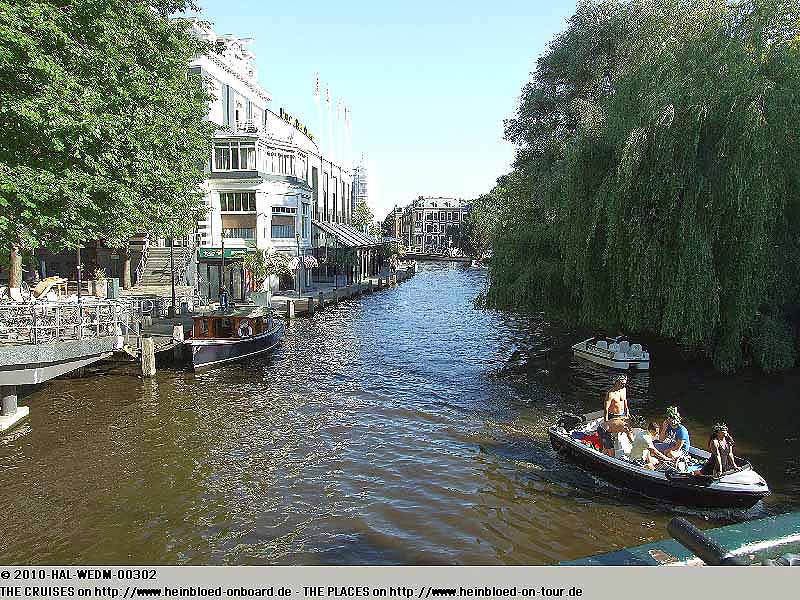 Es hat eine schöne Lage direkt am Leidseplein.
Man erreicht gut einigermaßen günstig den Flughafen.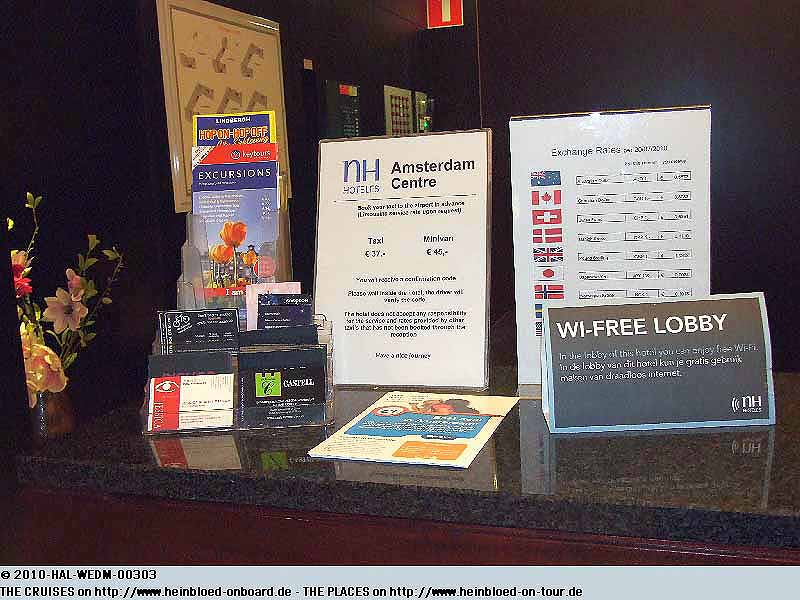 You can access the airport for an acceptable amount.

And obviously the hotel does not participate to any revenue if you compare the official prices published at Leidseplein.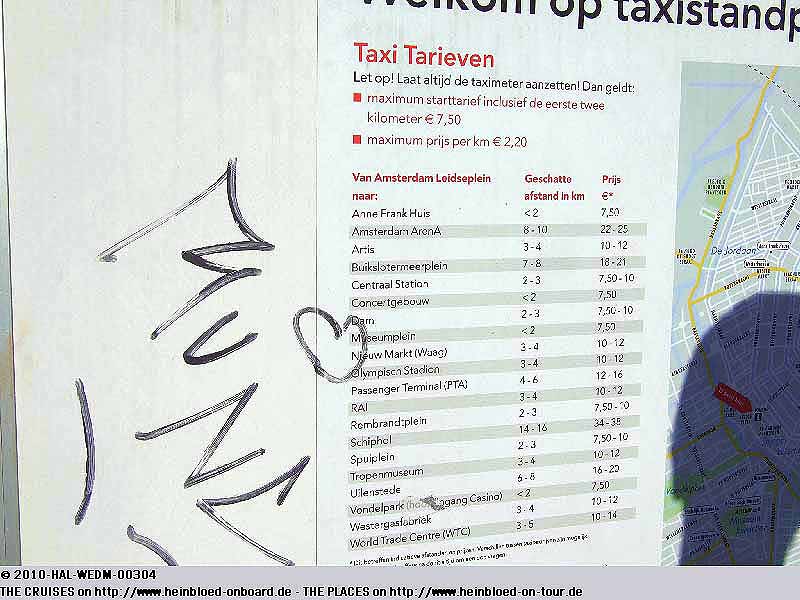 Und das Hotel scheint bei den Fahrten zum Flughafen nicht mitzuverdienen, wenn man mal die ausgehängten Preise am Taxistand Leidseplein vergleicht.
Nur die Anreise mit dem eigenen Auto entwickelt sich zum Debakel: 68,00 EUR für 24 Stunden. Und ich dachte immer, dass New York und Tokio unschlagbar seien.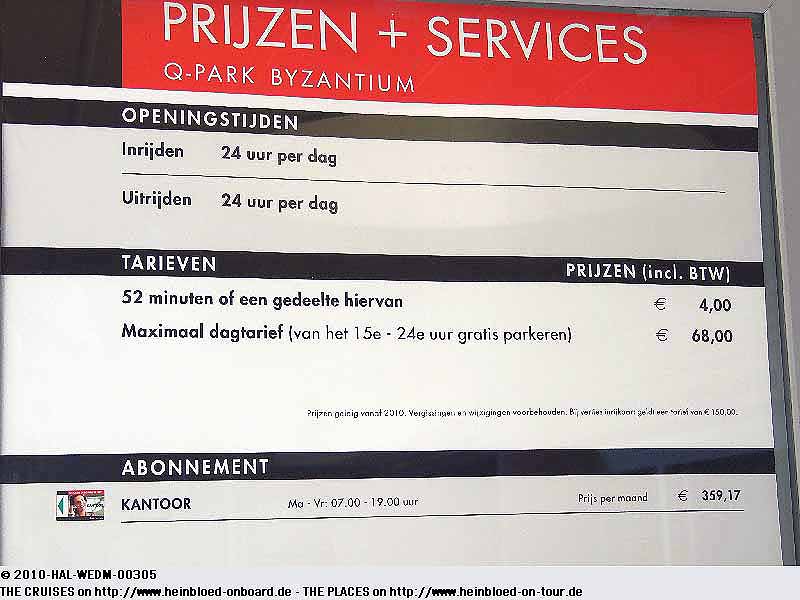 Only if you travel with your own car the situation could develop to a nightmare with 68.00 EUR for 24 hours. And I thought that only New York and Tokyo are unbeatable.

The lobby of the hotel made a great impression to so we were looking forward for our stay.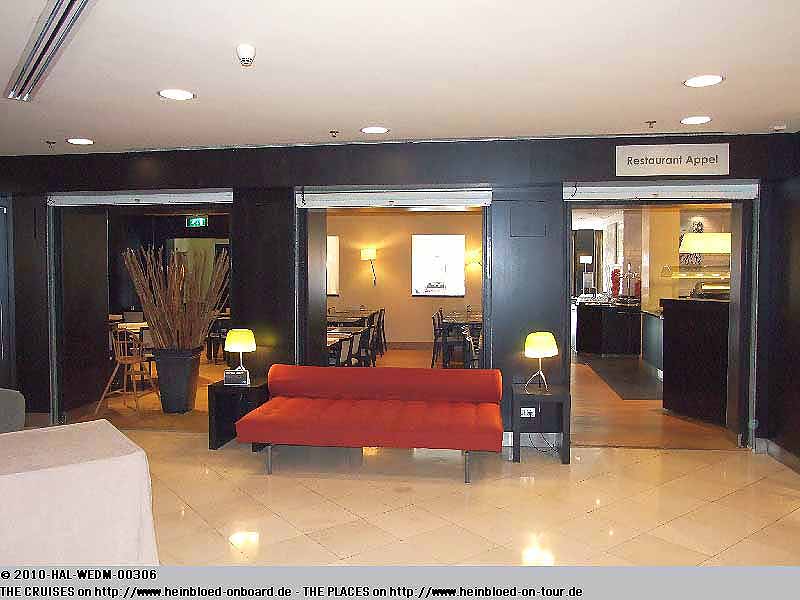 Das Hotel machte in der Lobby einen tollen Eindruck auf uns, so dass wir uns schon sehr auf den Aufenthalt gefreut haben.
Leider war der Besuch der Toilette auch schon so ziemlich der einzige Eindruck, den wir vom Hotel gewinnen konnten.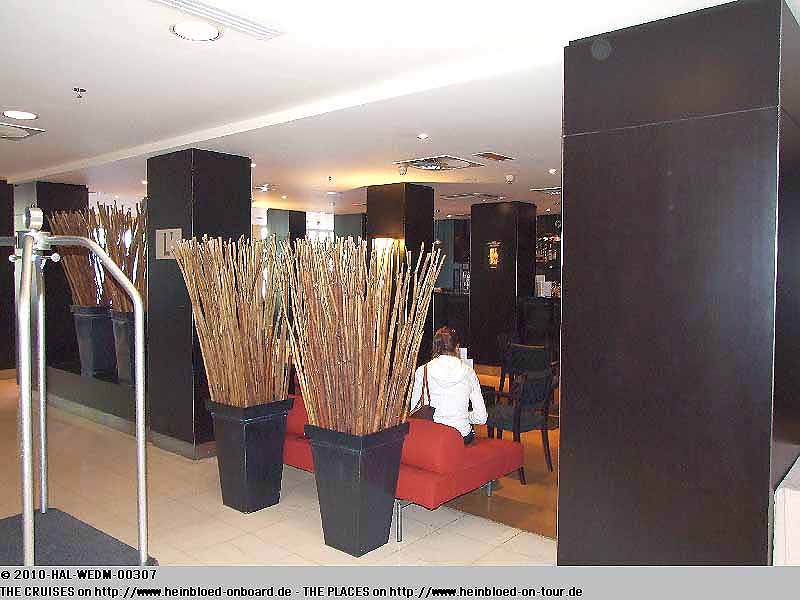 Unfortunately the visit of the washrooms were the only memorable memories we will have from this hotel.

Although our rooms were fully paid: the hotel was overbooked.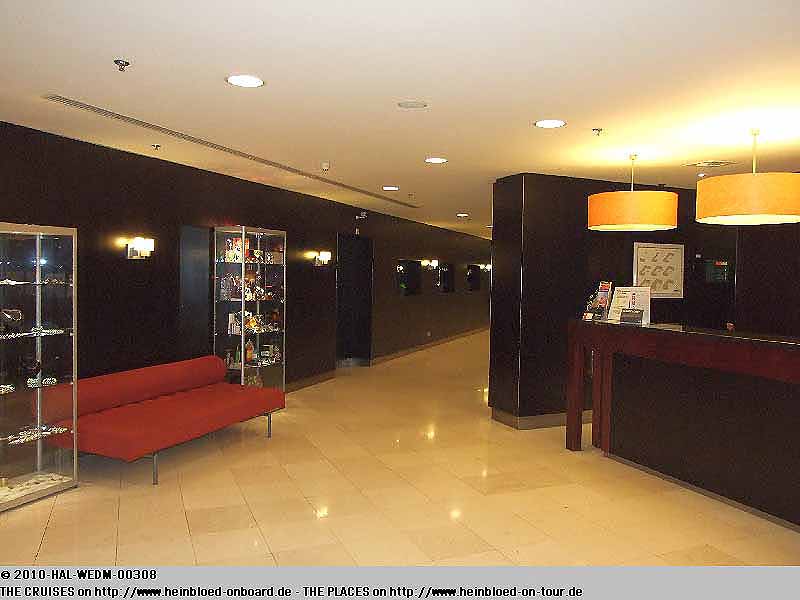 Obwohl Zimmer schon voll bezahlt waren: das Hotel war überbucht.
Man besorgte uns einen Taxitransfer und einen 5*-Ersatz ohne Aufpreis: Das
NH Barbizon Palace
gegenüber vom Hauptbahnhof.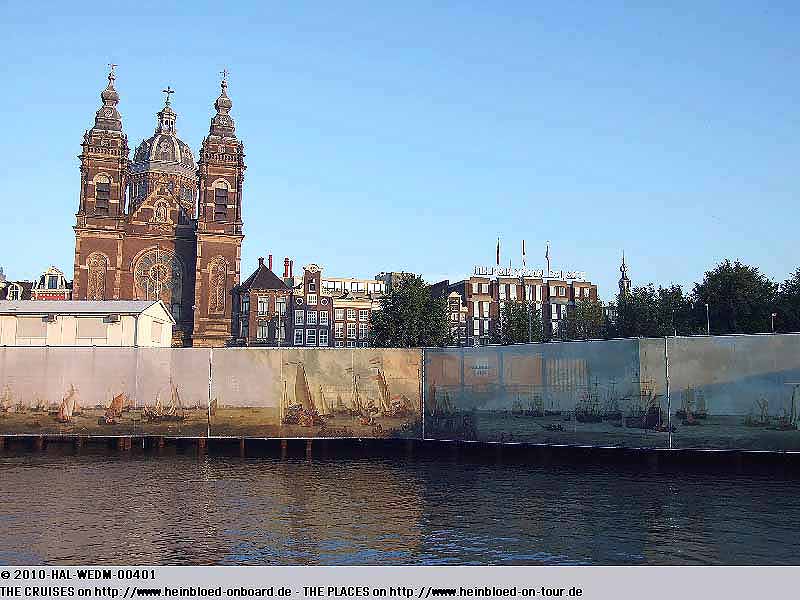 They organised a taxi transfer and a 5* replacement without surcharge. The NH Barbizon Palace opposite of the Central Station.

Inside it made a great impression.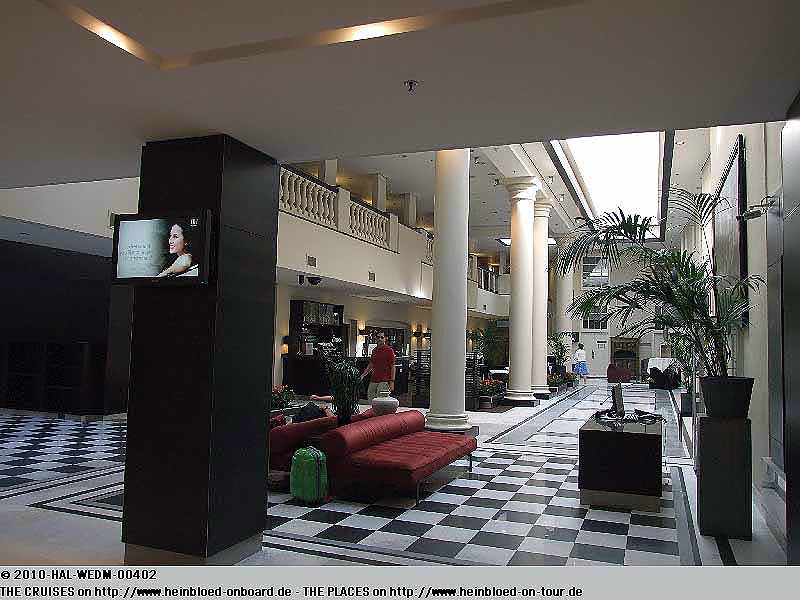 Innen machte es einen Supereindruck.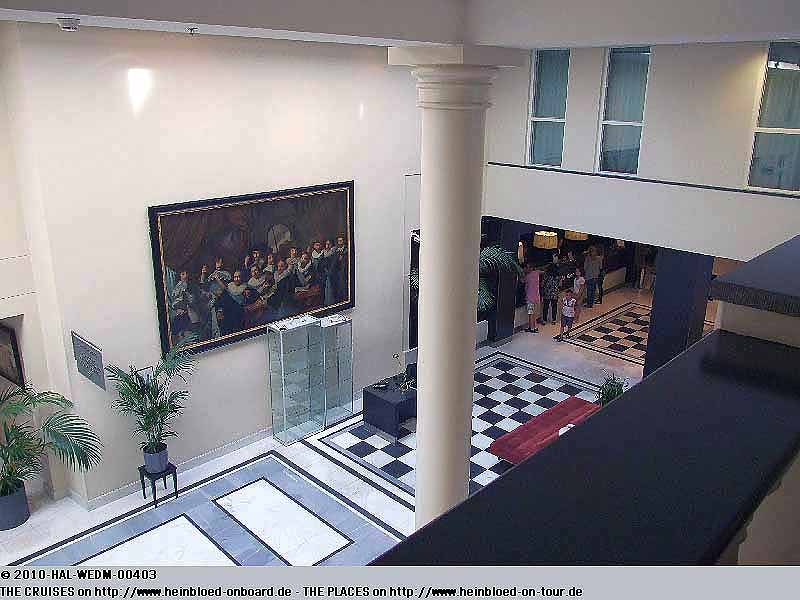 The rooms were fine and clean - but no 5*.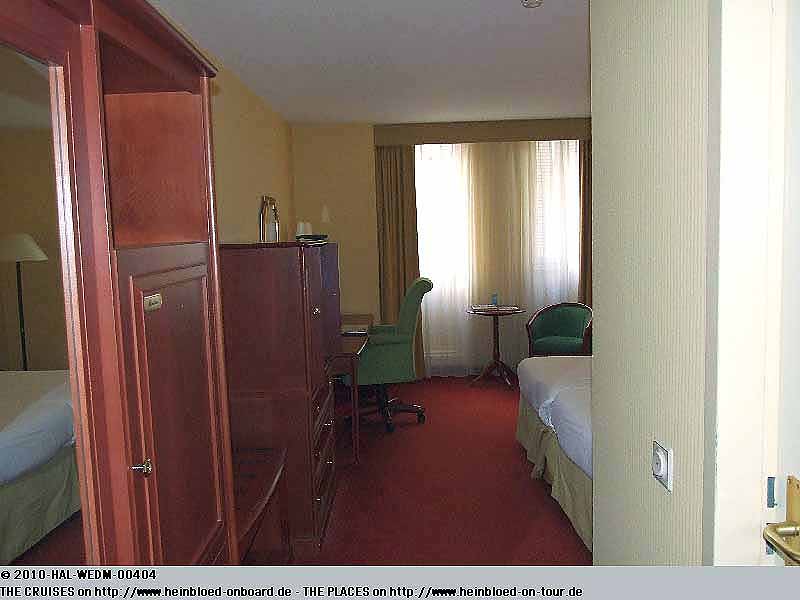 Die Zimmer waren in Ordnung, sauber - nur keine 5*.
5* tatsächlich lt.
Niederländischer Hotelklassifizierungsgesellschaft
. Bei
Tripadvisor
sind wir von 4* auf 3 1/2* abgestiegen und von Nr. 62 auf Nr. 85 der Rankliste. Irgendwie war es eine Mogelpackung. Und ich teile das Gesamturteil der anderen Tripadvisor-Nutzer: 5* ist es definitiv nicht.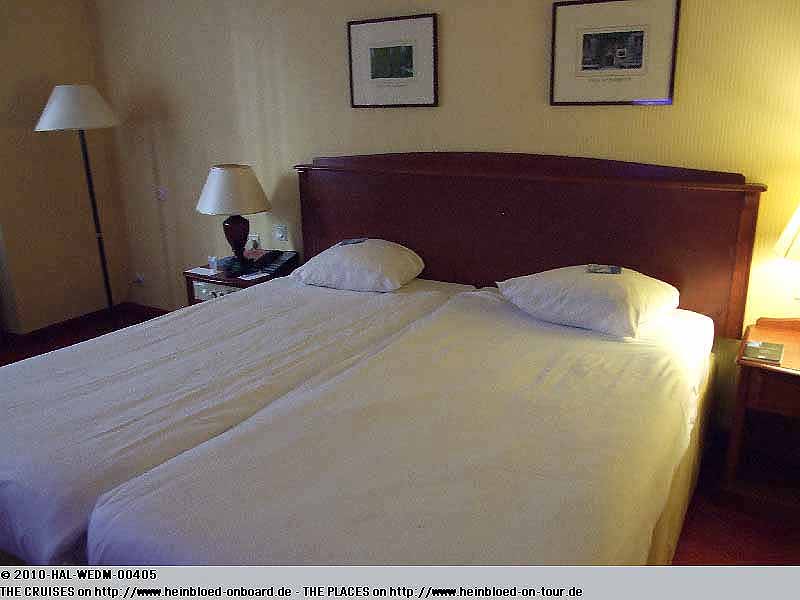 I cannot believe but 5* according to the Dutch Hotel Classification Organisation. With Tripadvisor we went down from 4* to 3 1/2* and from rank no. 62 to rank no. 85. It was not very honest. And I share the general rating of other Tripadvisor-users: It's definately not 5*.

We just stayed for one night and it could be worse. With Priceline and the NH-Hotel Managemente I will have some clear words once I am back from my vacation.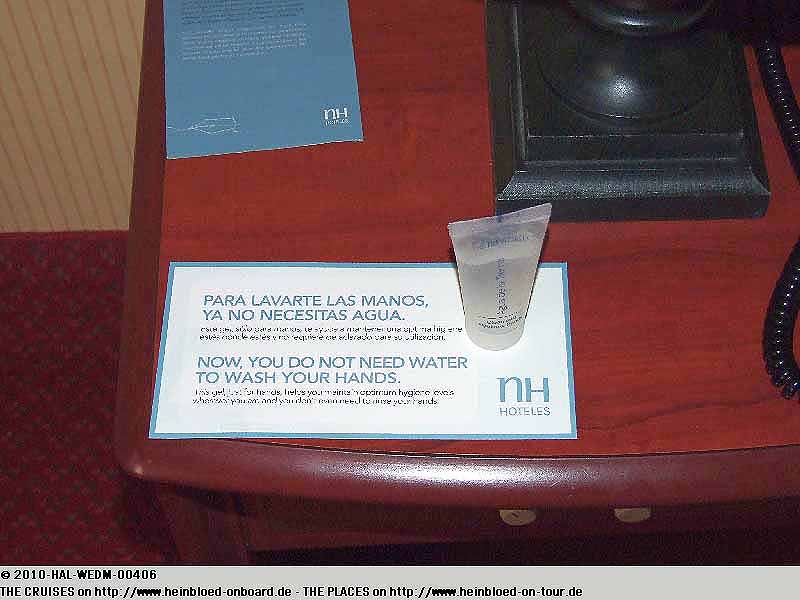 Wir bleiben, weil es uns ja auch schlimmer treffen könnte. Mit Priceline und dem NH-Hotelmanagement werde ich allerdings noch ein paar klärende Worte nach der Reise haben.