Scroll down for English explanations - alternates with German explanations.

Gegen 03.30 Uhr wache ich wieder auf, weil es wieder hell wird.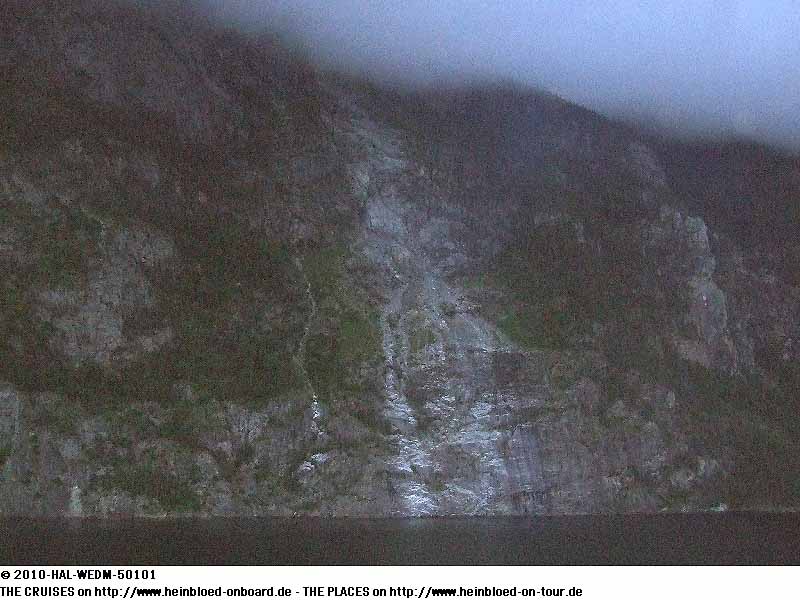 Around 03.30 hrs I woke-up again because it became light.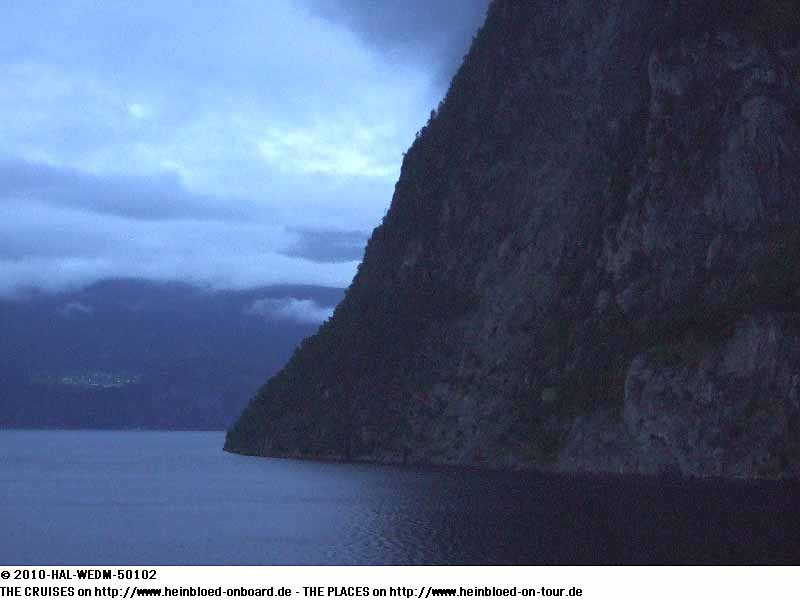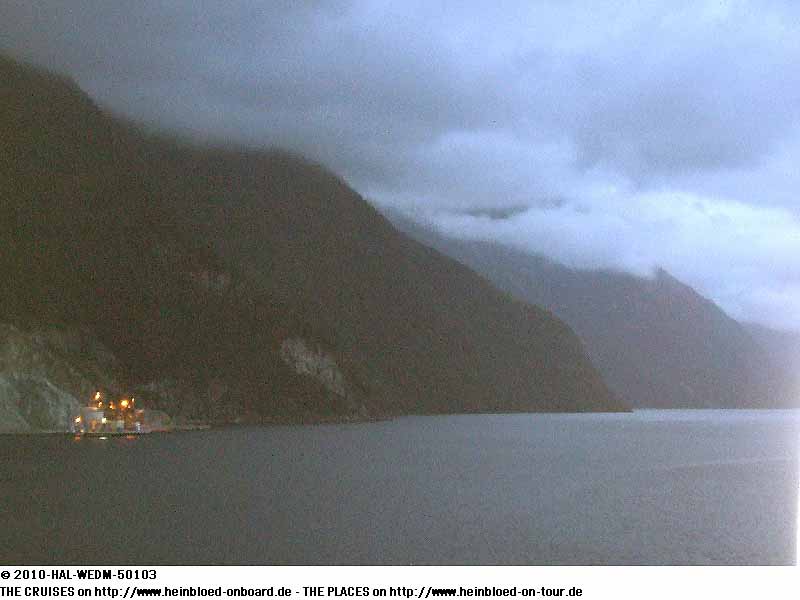 Obviously we were in Hellesylt. The tenderboats took the full-day tour participants ashore and they return later back in Geiranger. Nothing for me: start with the tender at 07.00 hrs... for this you need to wake-up at 05.00 hrs and having breakfast at 06.00 hrs in the Lido Café.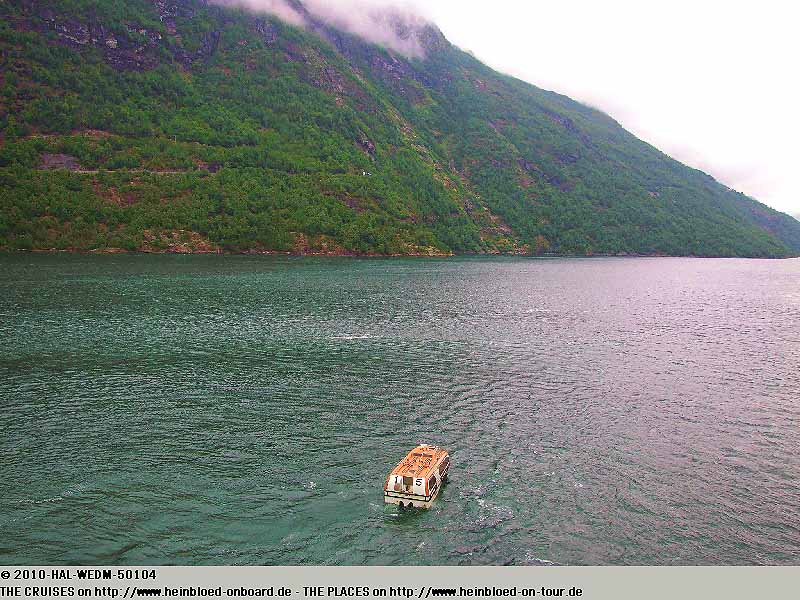 Offensichtlich sind wir in Hellesylt. Die Tenderboote bringen die Ganztages-Ausflügler an Land und steigen später in Geiranger wieder zu. Das wäre nichts für mich: um 07.00 Uhr begann das Tendern... dafür um 05.00 Uhr aufstehen und um 06.00 Uhr im Lido Café frühstücken...
Wie bei Hitchcocks "Die Vögel"...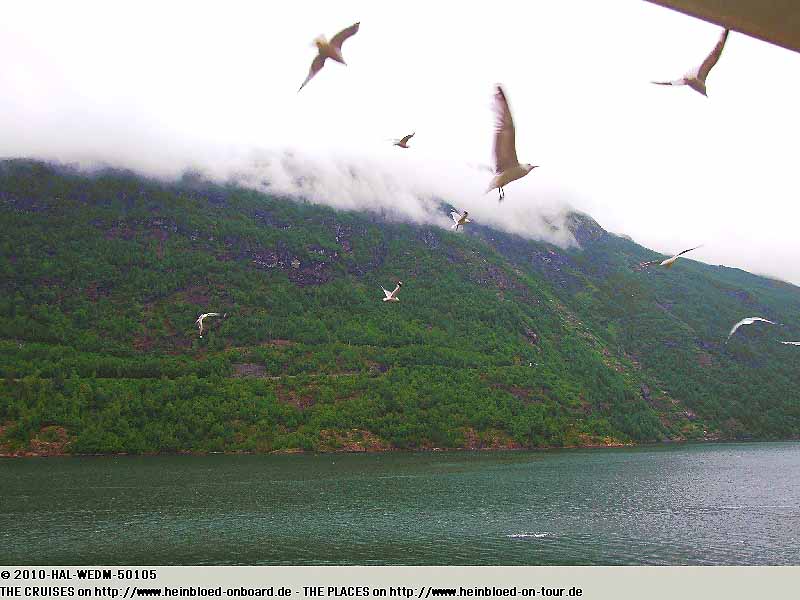 Like with Hitchcock's "The Birds"...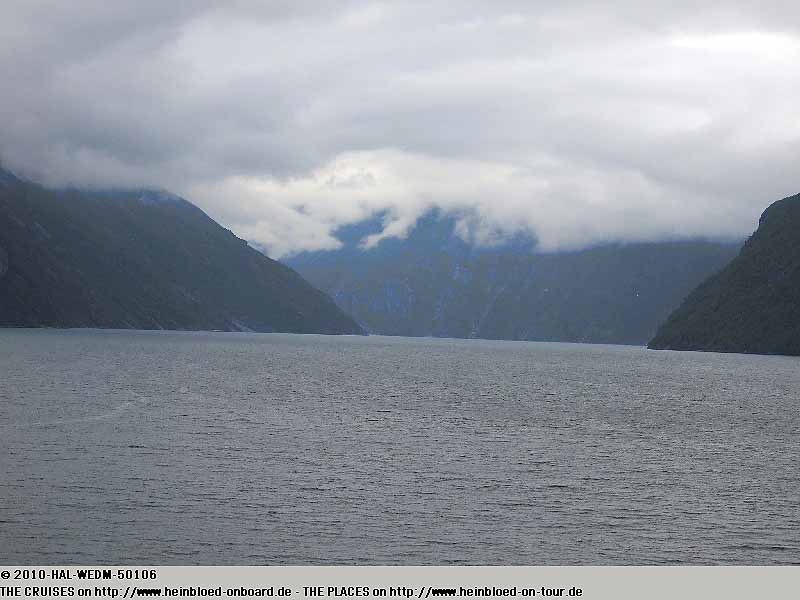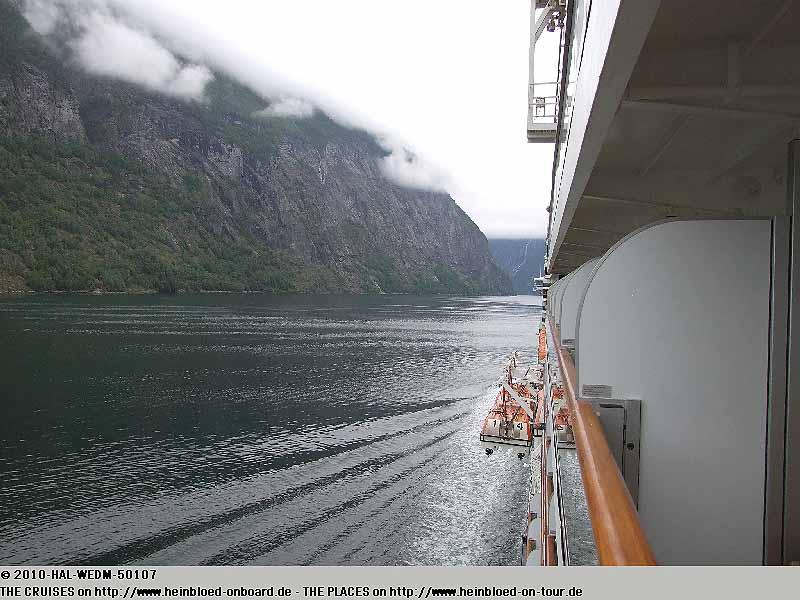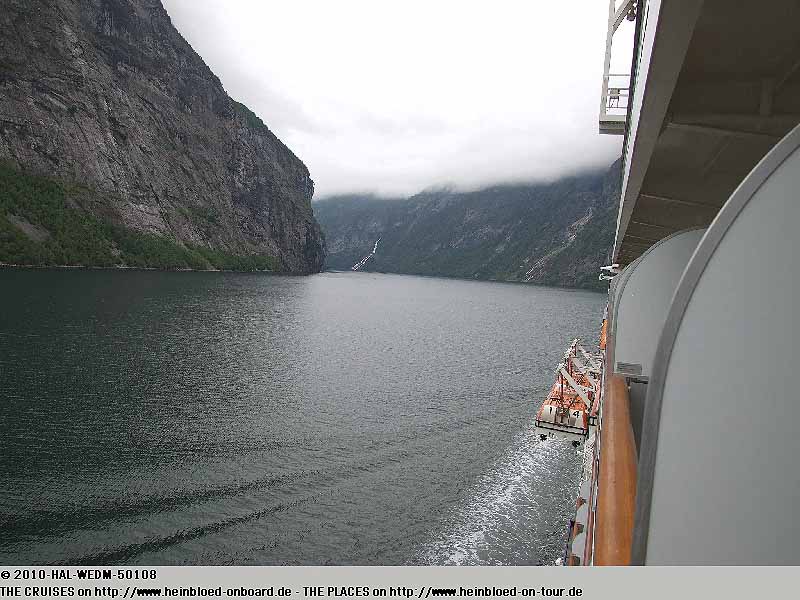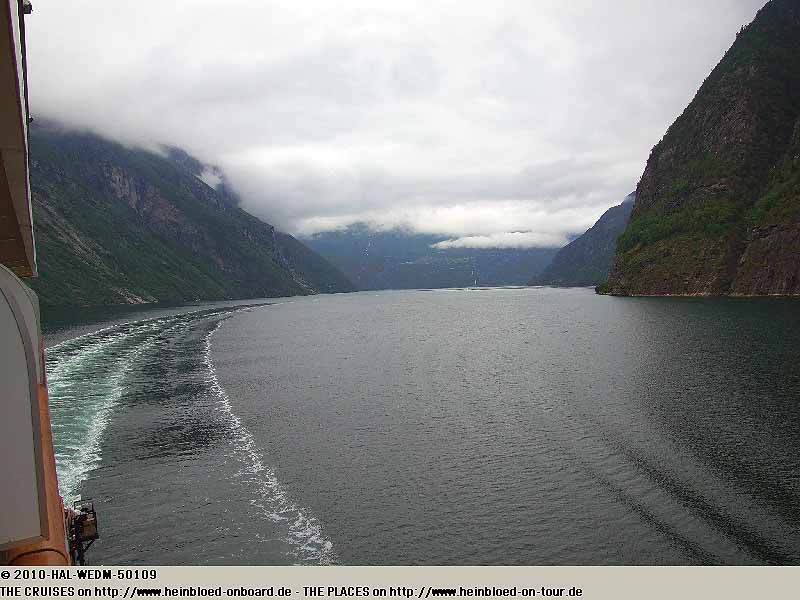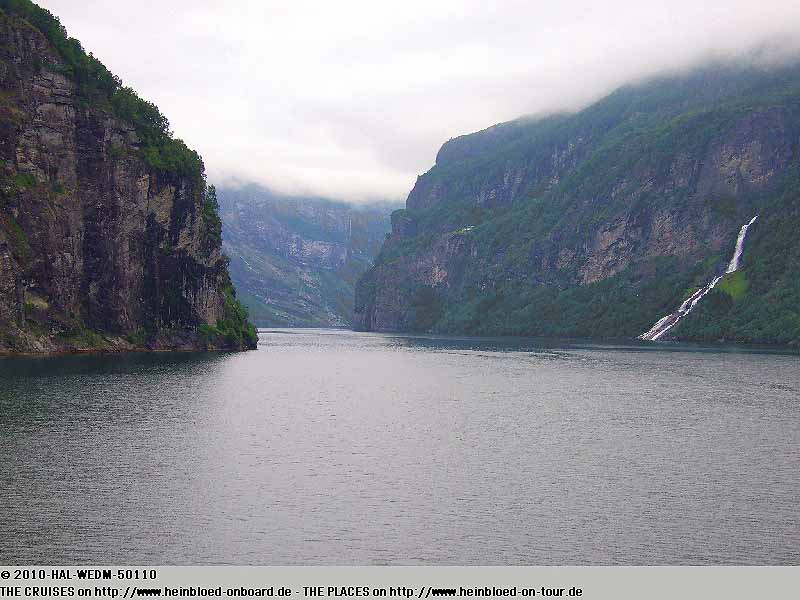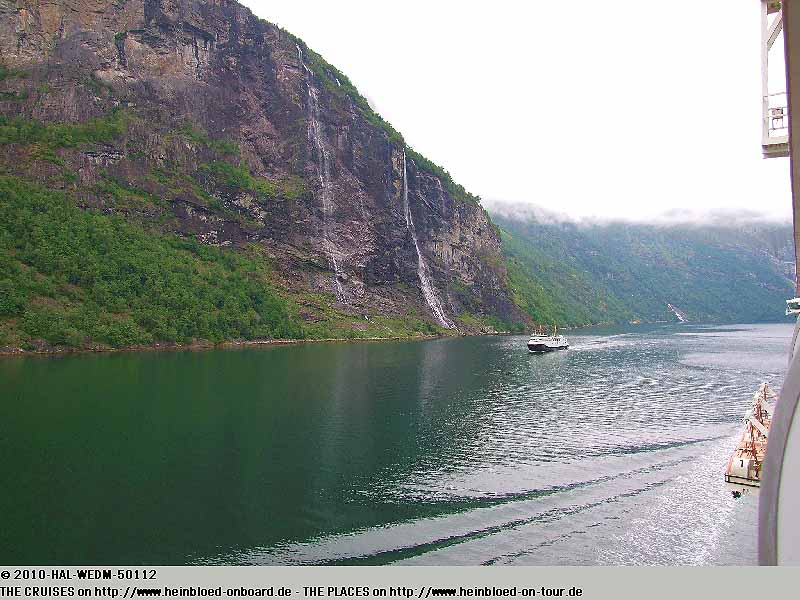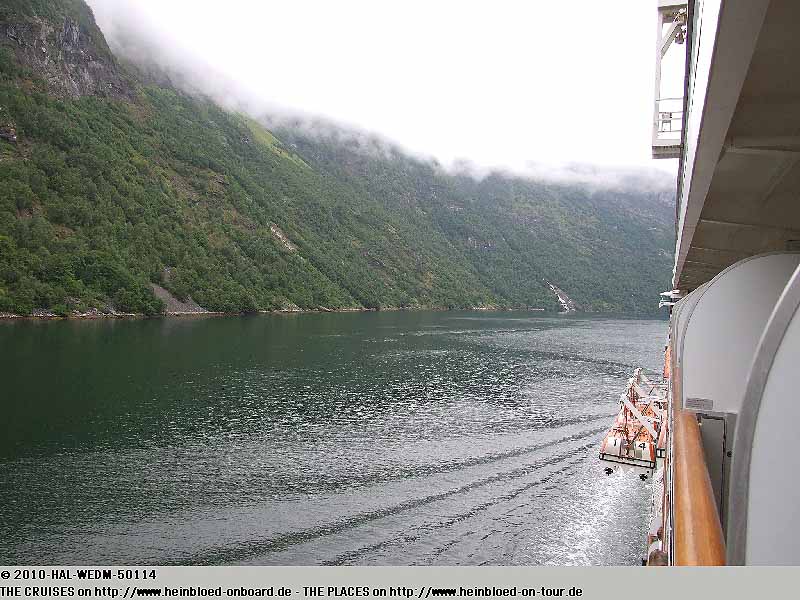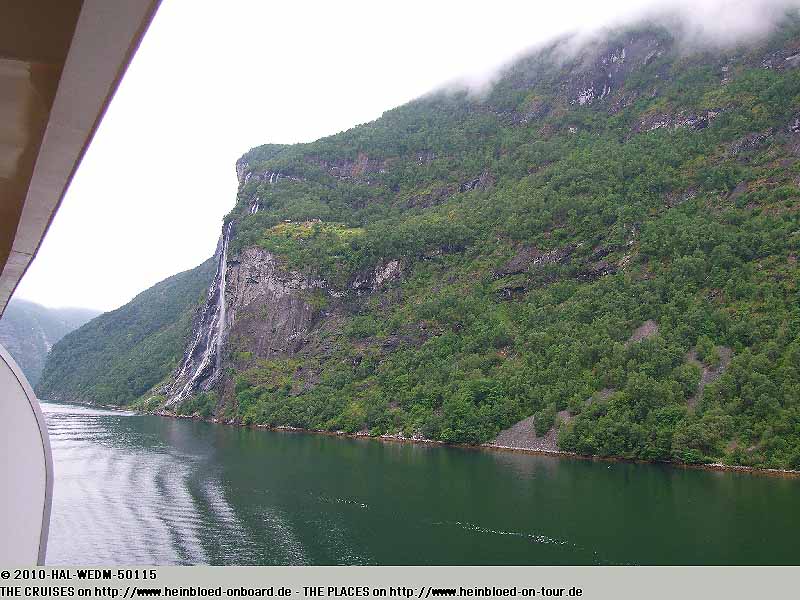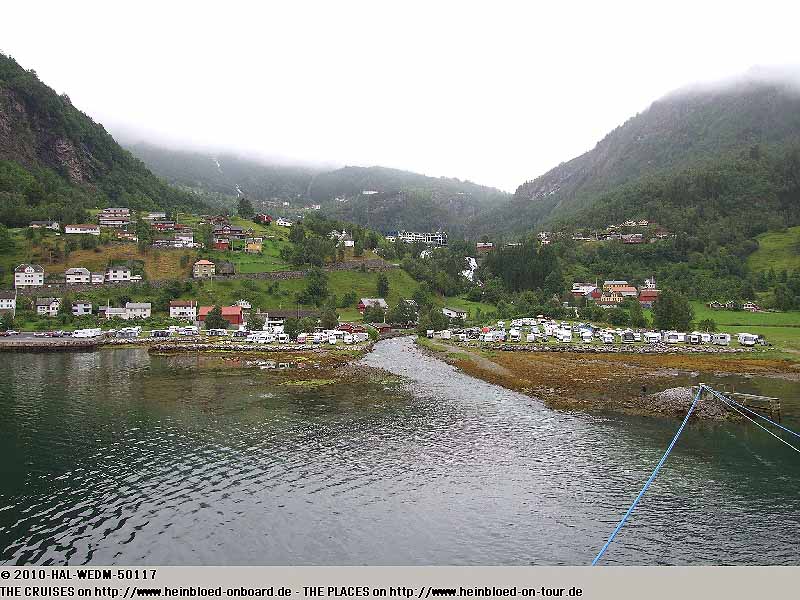 So finally we reached Geiranger. As we booked our Taxi for 13.30 hrs we did not need to have tender tickets. Around 10.00 hrs they announced open tenders. Before you need tender tickets for which you need to queue up in the Queen's Lounge and wait there.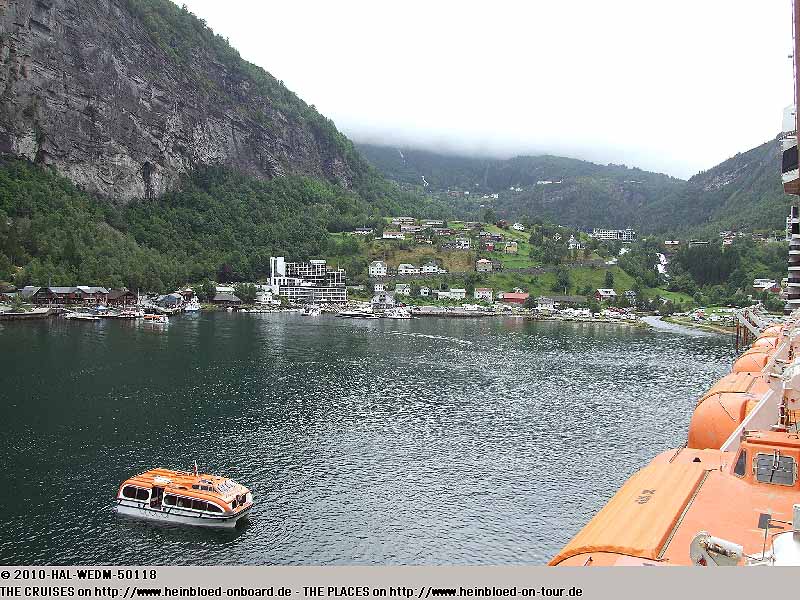 Auch wir erreichen Geiranger. Da wir unser Taxi für 13.30 Uhr gebucht haben, brauchen wir uns keine Tendertickets zu holen. Gegen 10.00 Uhr wird das offene Tendern ohne Tickets ausgerufen. Zuvor musste man sich Tendertickets in der Queen's Lounge abholen und dort warten.
Dort ist die Anlegestelle für die Tenderboote.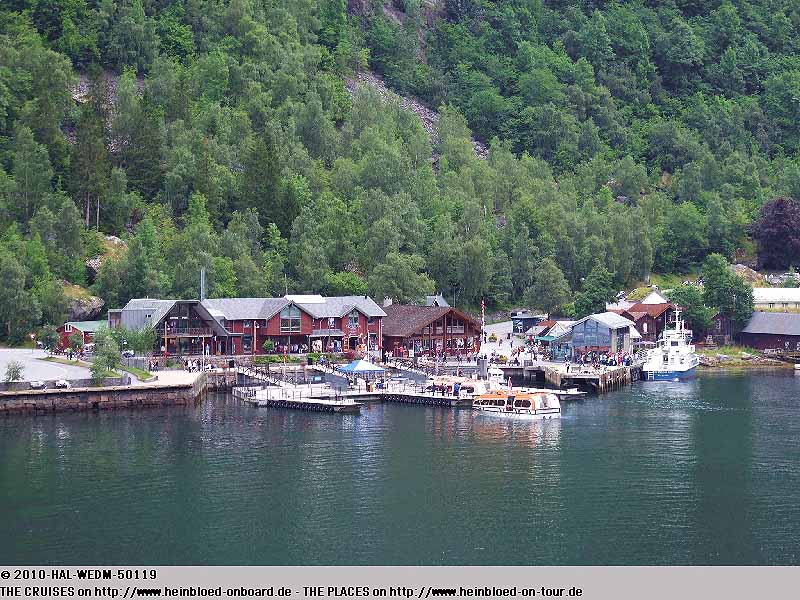 There are the piers for the tenderboats.

This morning I had again a problem... do I have Steak and Eggs or a Shrimp Omelette - all the difficult decisions...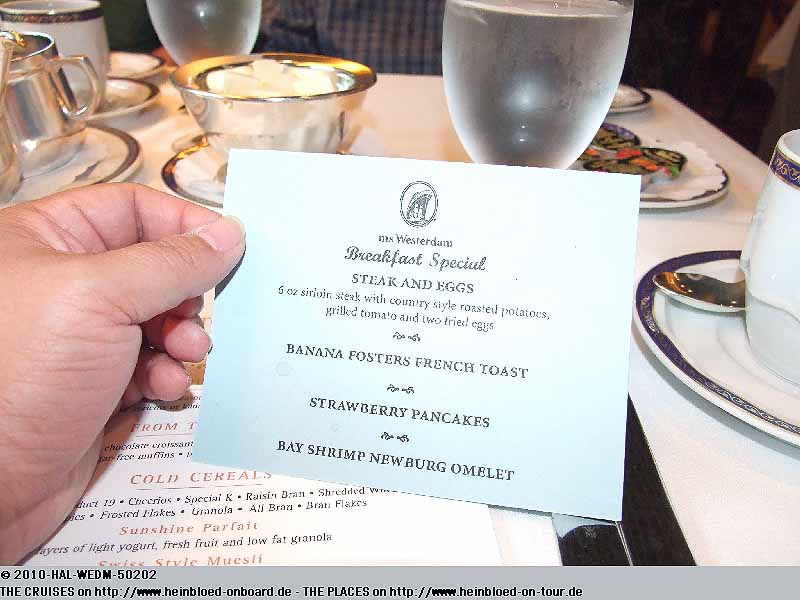 Heute morgen habe ich mal wieder ein Problem... nehme ich nun Steak and Eggs oder ein Shrimps Omelette - Immer diese schwierigen Entscheidungen...
Dieses Mal bekomme ich meine Eier durchgebraten.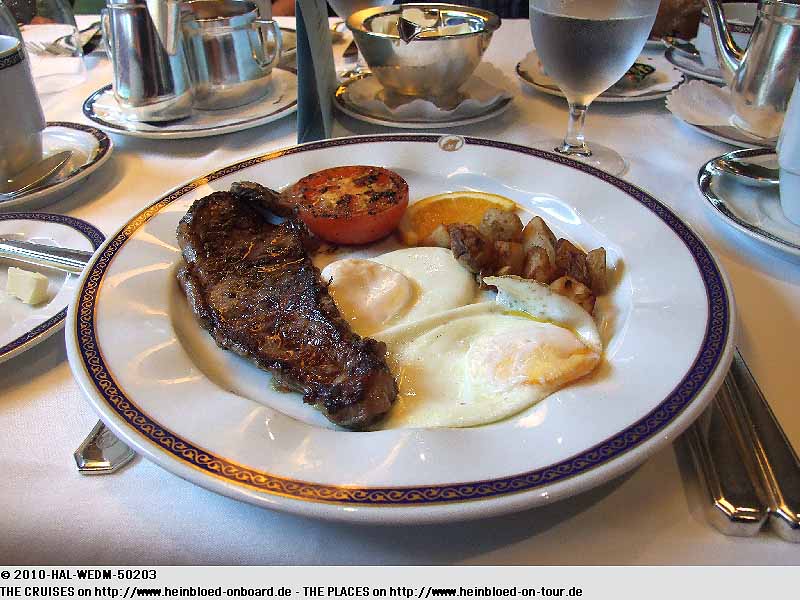 Today I got my eggs well done.

And the toast came so early that I could build my sandwiches before my first bite.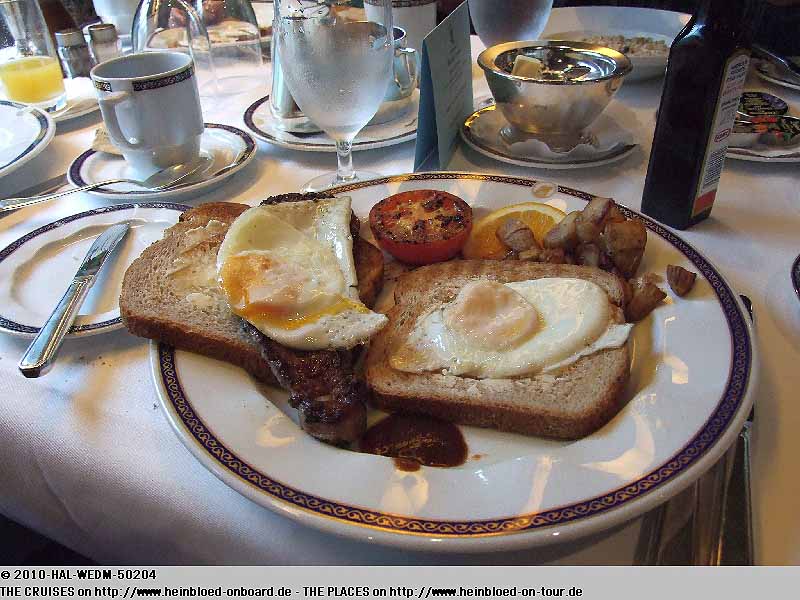 Und der Toast ist so früh da, dass ich vor dem ersten Bissen bereits mir meine Brote bauen kann.
Cristian erinnert mich sehr an Luiza von NCL... Im Moment noch Assistent Restaurant Manager. Bei ihm bin ich mir sicher, dass ich ihn das nächste Mal als Restaurant Manager wiedersehen werde. Er war übrigens zuvor bei NCL. Aber ausgerechnet NORWEGIAN SUN - da glaube ich nicht, dass ich ihn her kenne.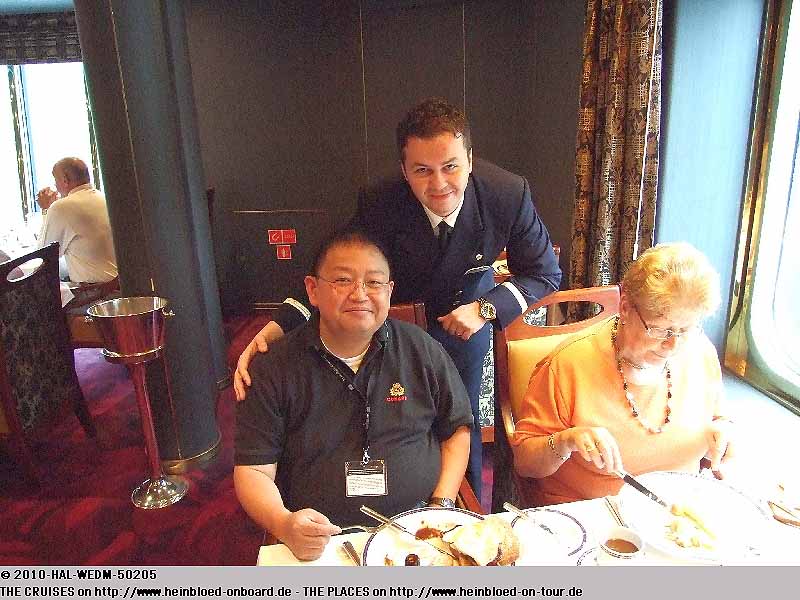 Cristian reminded me very much to Luiza from NCL... Currently still Assistent Restaurant Manager. But I am sure that we will meet him the next time as Restaurant Manager. He was before on NCL. But on NORWEGIAN SUN - so I do not think that I knew him.

Somehow I had the impression that they turned-off the cold water. Cold water was only available if you turn your water tap to the limit stop and wait few seconds. As we did not counted that they will fix the problem at short notice we left it for the next guest to annoy on.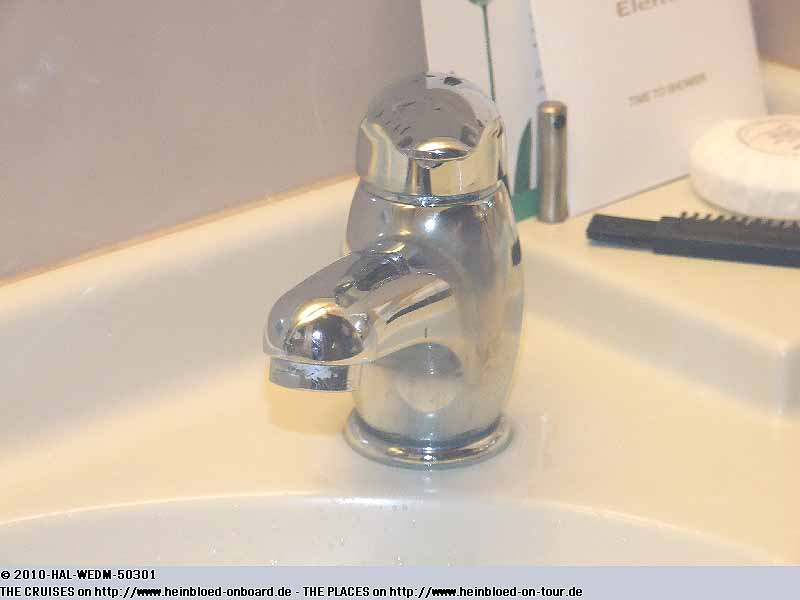 Irgendwie haben sie uns vielleicht das kalte Wasser abgestellt. Denn kaltes Wasser kommt erst dann wenn man bis zum Anschlag den Wasserhahn aufdreht und einige Sekunden laufen lässt. Da wir nicht damit rechnen, dass kurzfristig für Abhilfe gesorgt werden kann, kann sich der nächste Gast hierüber ärgern.
100% Baumwolle. Wieder ein Votum für HAL.

100% cotton. One more vote for HAL.

With the words "Dutch" and "Deutsch" (German) we cannot expect that the Indonesian stewards can know the difference and so the news were in Dutch or in German. From the previous cruises they learned few phrases in German which they used to communicate with us and they asked for more phrases which they can learn.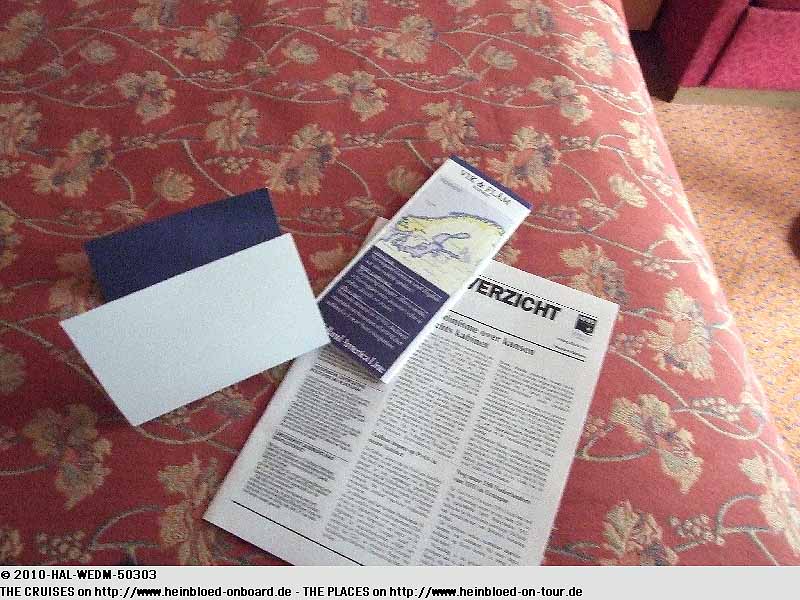 Bei den Wörtern "Dutch" (Niederländisch in Englisch) und "Deutsch" können wir nicht erwarten, dass die indonesischen Stewards das auseinander halten können, ob nun die Nachrichten in Niederländisch oder Deutsch sind. Auf den zwei Reisen vorher haben einige schon ein paar Brocken Deutsch gelernt, die sie auch bei uns immer wieder anwenden und fragen und auch nach neuen Phrasen, die sie lernen können.
Es geht schnell zum Mittagessen, bevor wir zum Ausflug müssen.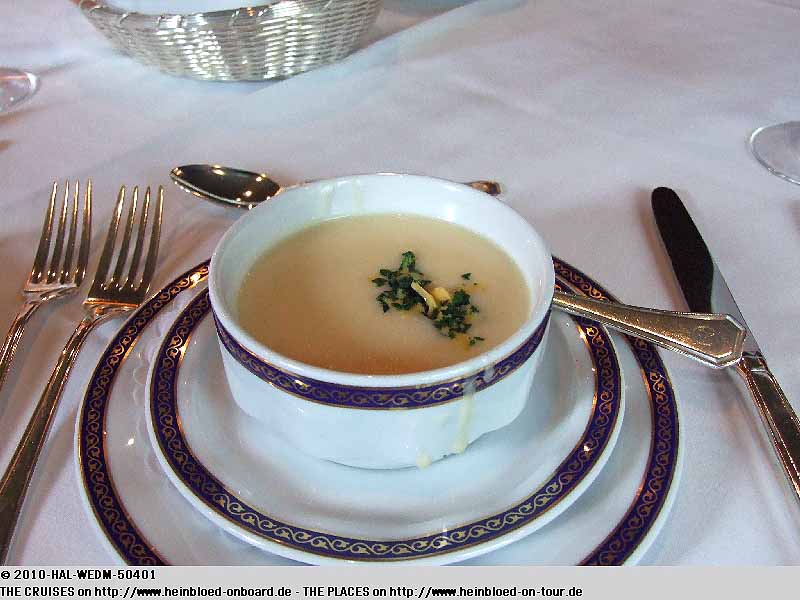 Just a quick bite before we need to get to our tour.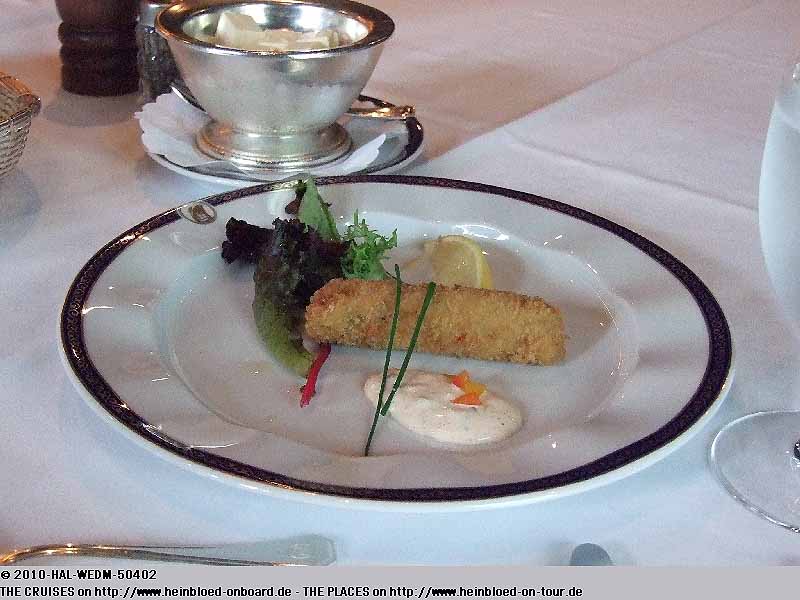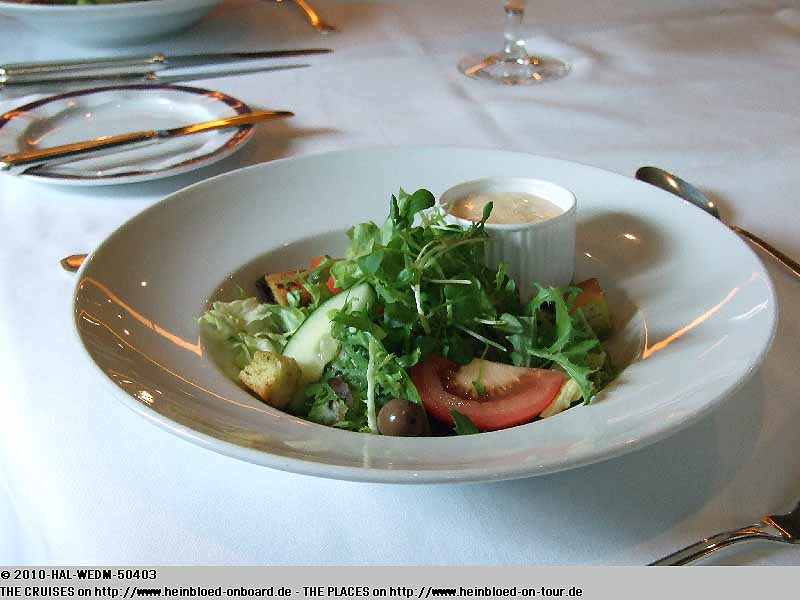 No dessert as we need to leave the ship around 13.00 hrs.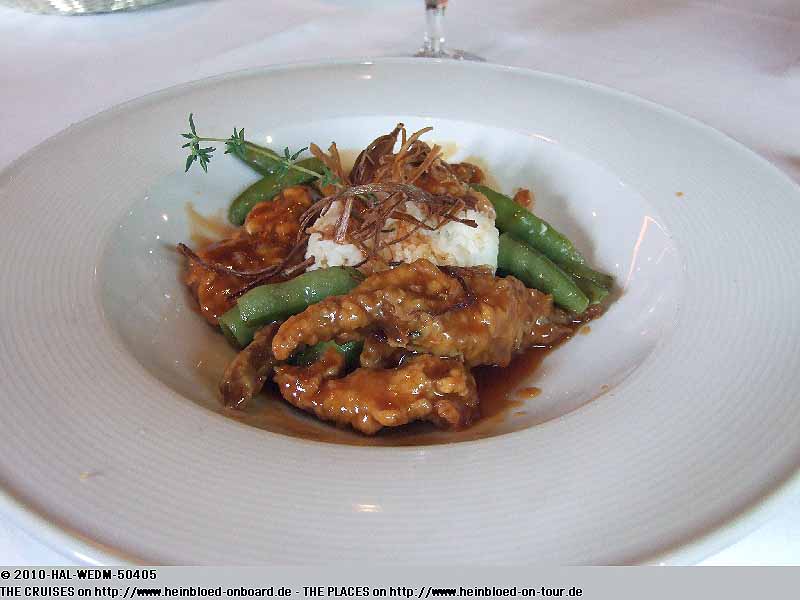 Kein Dessert, da wir gegen 13.00 Uhr von Bord müssen.