Da wir ja im Januar 2014 wieder in Katakolon sind und dann erst nach Olympia wollen, nutzen wir den Aufenthalt für ein paar Recherchen.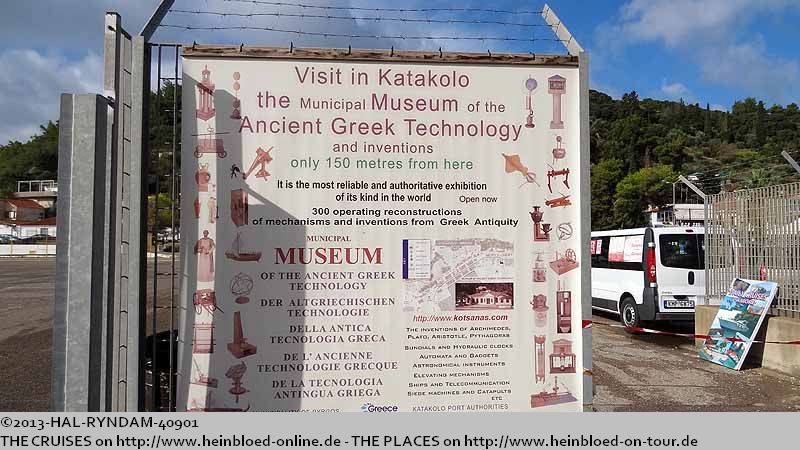 As we will be back in January 2014 again in Katakolon and then we want to see Olympia we used the call to do some researches.

The signs for the busses to Olympia attracted our attention as soon as you left the ship. You found them everywhere.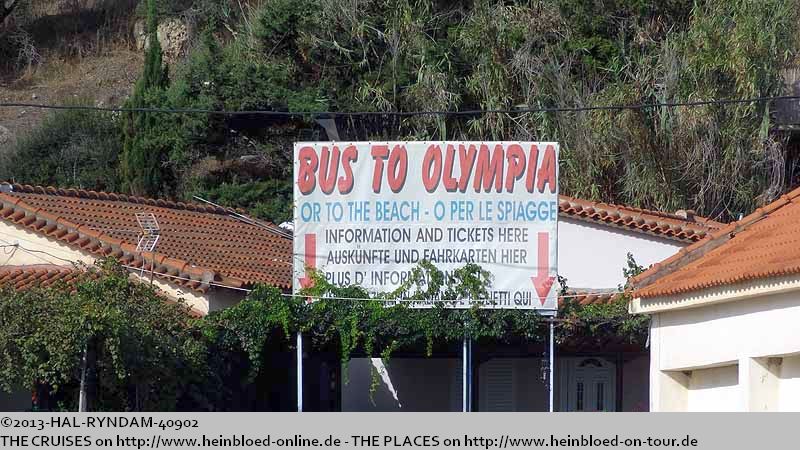 Die Schilder für die Busse nach Olympia sieht man überall. Sie fallen sofort auf, sobald man das Schiff verlässt.
Taxis gibt es auch. Aber nur bis 4 Fahrgäste. So scheidet das für Januar aus, weil wir 5 sind.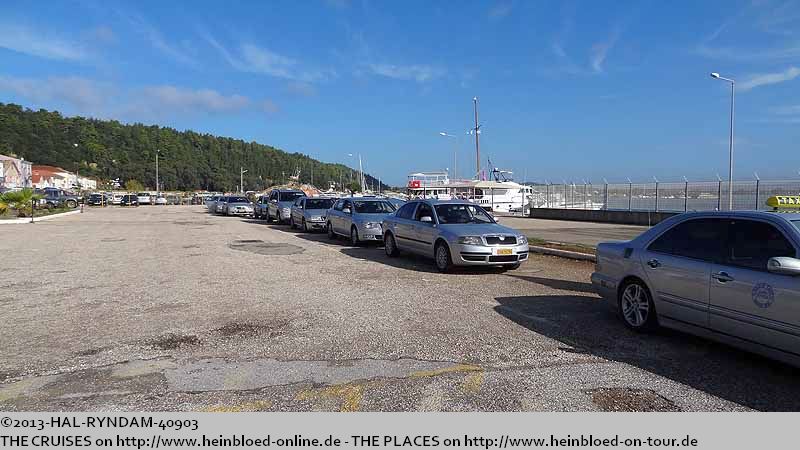 You found a taxi rank. But only for max. 4 guests. So it will not work in Janaury as we will be 5.

The information booth was very good.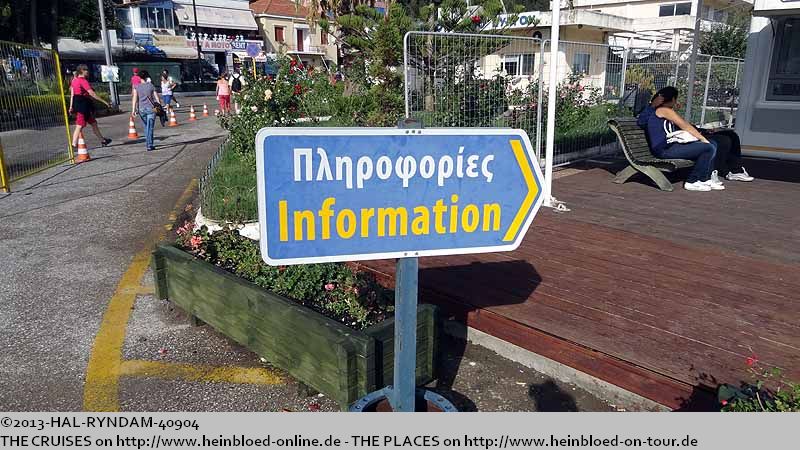 Der Informationsstand war sehr gut.
Eigentlich kam ich mir so vor, wie in Juneau, Ketchikan oder Skagway, Alaska...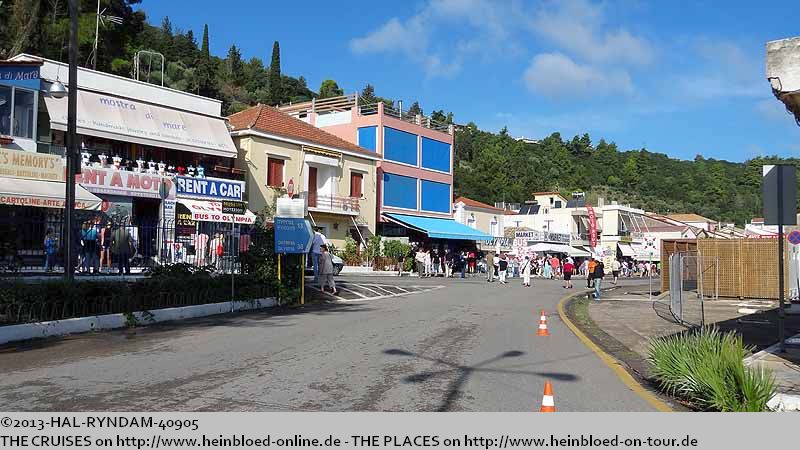 Honestly: It reminded me to Juneau, Ketchikan or Skagway, Alaska...

It was 10.00 EUR in the morning... If you left in the noon it was only 08.00 EUR (2013). But you must come back with the dedicated bus and some told us that it was good that you were taken just in front of the entrance but that you also did not have enough time to see everything.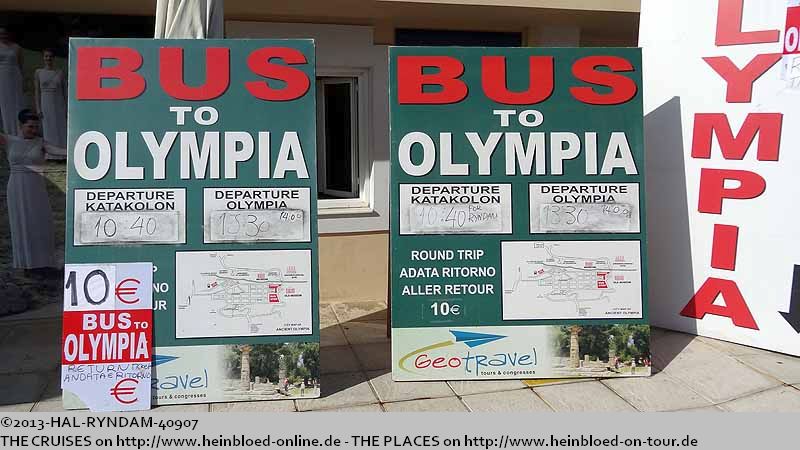 10,00 EUR waren es am Morgen... Wenn man erst mittags fuhr kostete es bei vielen nur noch 8,00 EUR (2013). Allerdings man muss mit dem zurückfahren, der für einen vorgesehen ist und da haben uns mache gesagt, dass es gut war, dass man direkt vor den Eingang gebracht wurde, aber eben zu wenig Zeit hatte, um sich alles in Ruhe anzusehen.
Das ist gut: Sixt gibt es hier auch.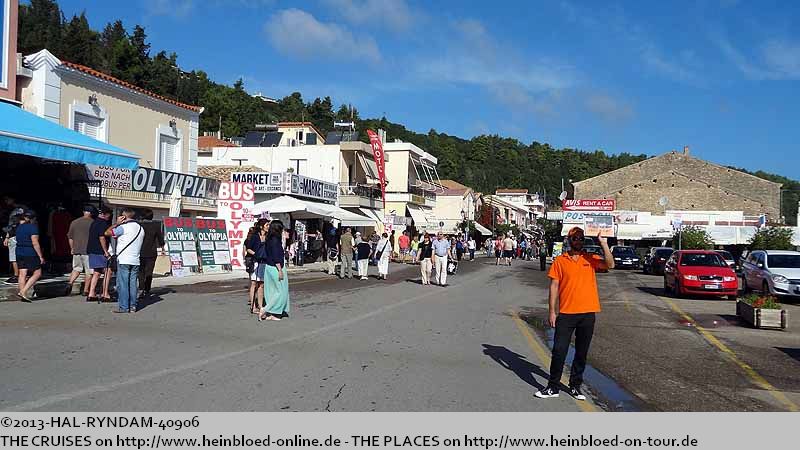 That was good: they had Sixt here.

But Avis too...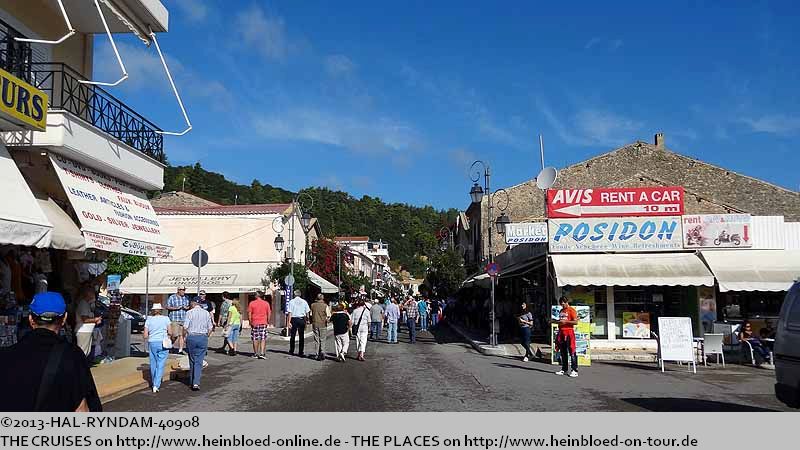 Avis gibt es auch...
direkt um die Ecke...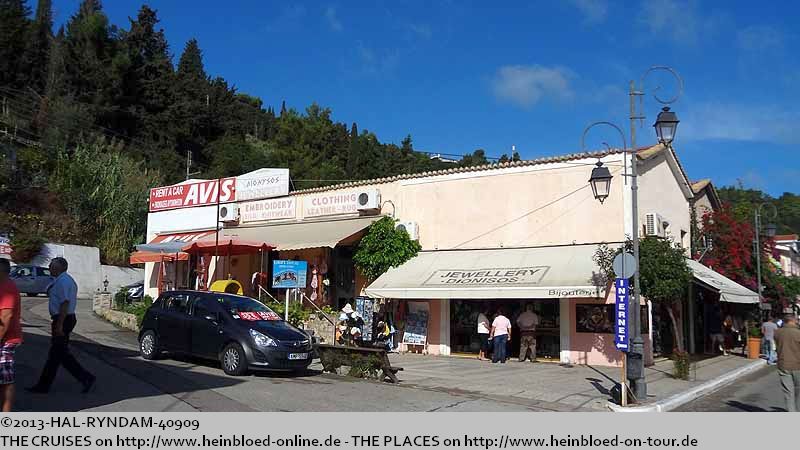 just around the corner...

To Olympia it was only 24 miles.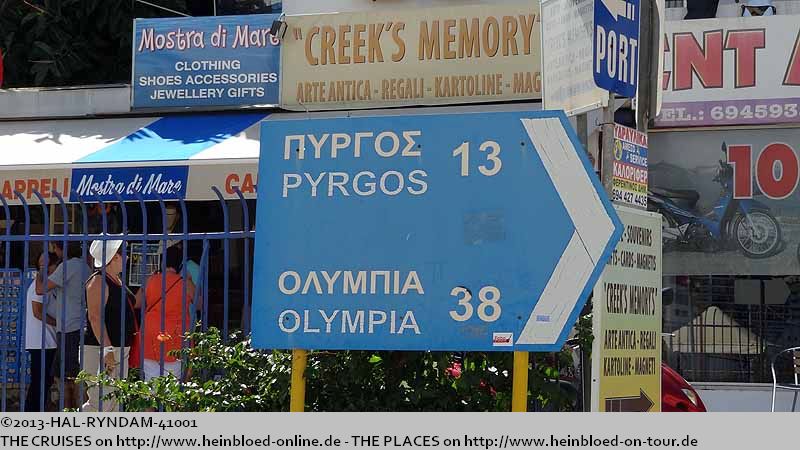 Nach Olympia sind es 38 km.
Vor dem Hafen stehen Autos von Avis und Sixt. Die Preise sehen gut aus. Allerdings gelten sie nur im Winter.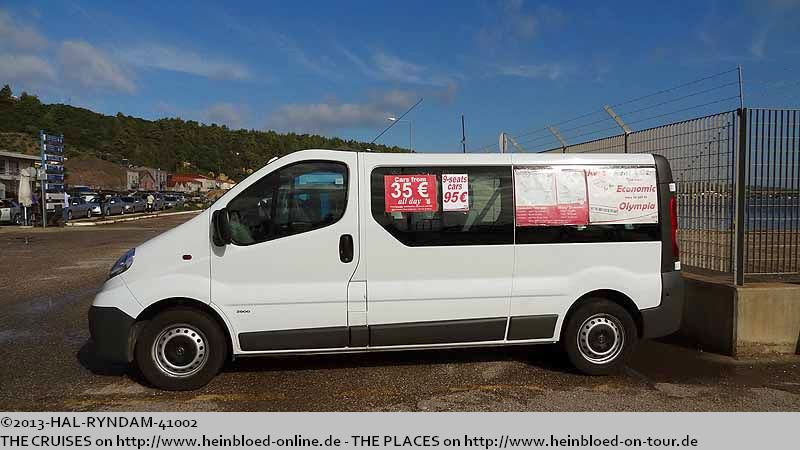 In front of the port they placed the cars from Avis and Sixt. The prices looked very well. But they were only valid for the winter season.

NORWEGIAN JADE arrives at 08.00 hrs and Avis forces me to collect the car until 08.59 hrs otherwise they will give my car someone else. When I explained that I am on vacation and I did not like to go so early from ship they explained that I should book the international rates.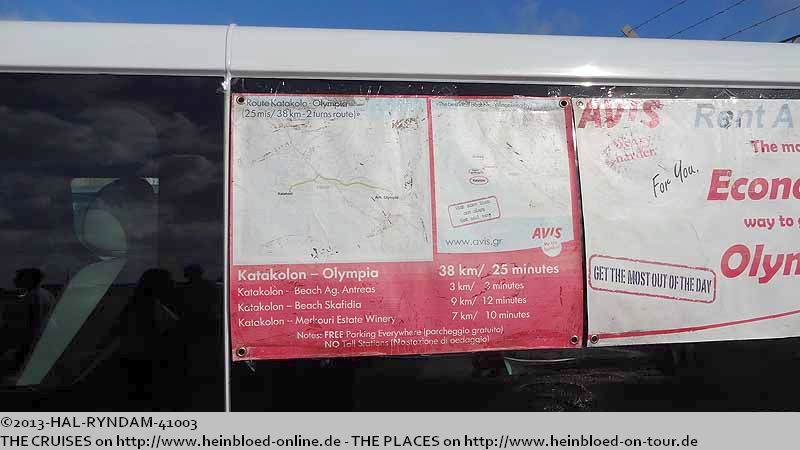 NORWEGIAN JADE kommt um 08.00 Uhr und bei Avis will man mich zwingen, dass ich den Wagen bis 08.59 Uhr abholen muss, sonst würden sie den bestellten Wagen weiterreichen. Als ich ihnen erkläre, dass ich in Urlaub bin und keine Lust habe, so früh von Bord zu gehen, erklärt man mir, dass ich dann halt die internationalen Tarife buchen soll.
Bei Sixt sind sie netter. Ich habe einen Wagen für 09.00 Uhr bestellt und erklärt, dass ich 08.45 Uhr erscheine oder auch um 09.15 Uhr. Hier finde ich auf Verständnis. Ich zahle ja eh eine Pauschale, egal, ob ich um 08.00 Uhr, 08.45 Uhr, 08.59 Uhr oder 09.15 Uhr den Wagen übernehme.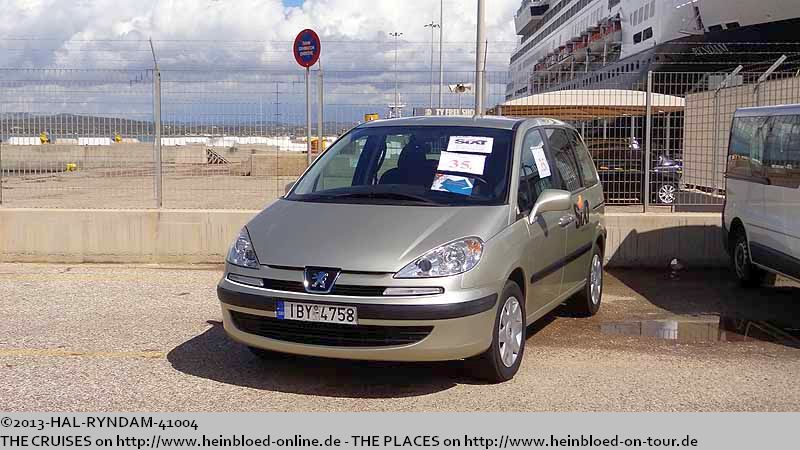 With Sixt they were more friendly. I booked a car for 09.00 hrs and told them that I might show up at 08.45 hrs or at 09.15 hrs. They understand my situation. I pay a flat rate for the car no matter if I appear at 08.00 hrs, 08.45 hrs, 08.59 hrs or 09.15 hrs.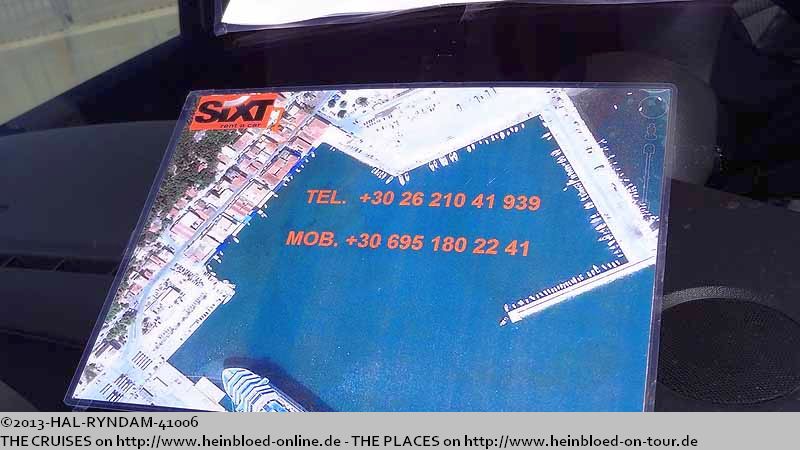 There was also a little train for the village.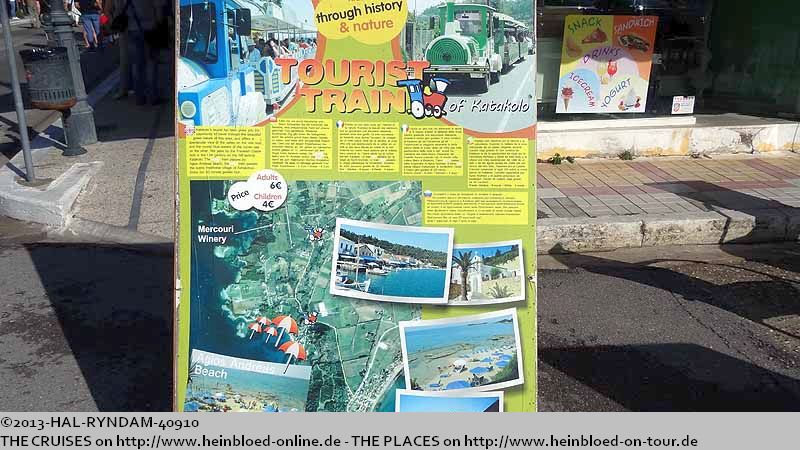 Dann gibt es noch eine Bimmelbahn für den Ort selbst.
Wie bereits erwähnt: Erinnert mich alles an Juneau, Ketchikan und Skagway, Alaska.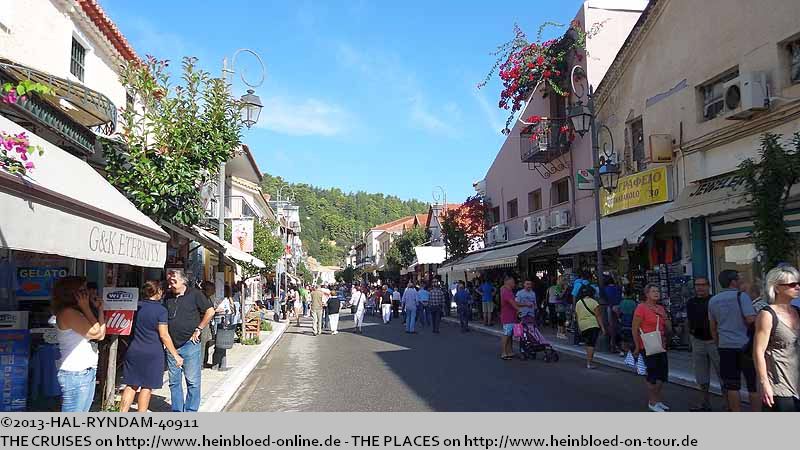 As mentioned before: reminded me to Juneau, Ketchikan and Skagway, Alaska.

Pita Gyros 1.50 EUR (2013) - that was really cheap!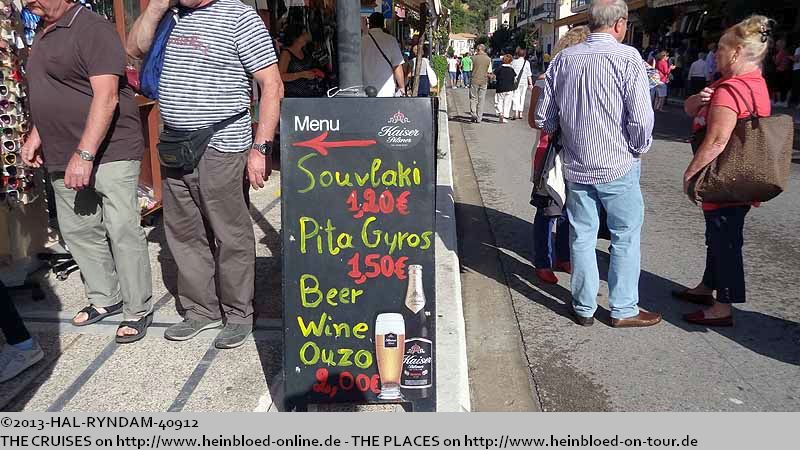 Pita Gyros 1,50 EUR (2013) - das war echt billig!
Und die Shopping-Garantie von Holland America...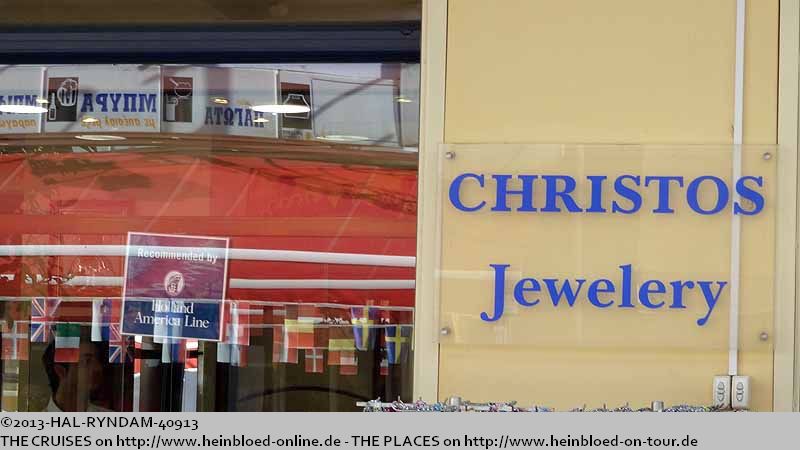 And the shopping garantee from Holland America...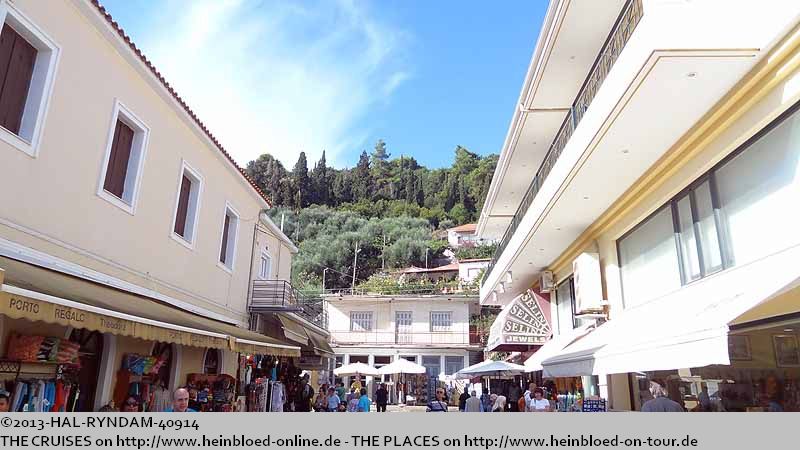 Wir suchen eine Apotheke auf. Italiener kennen den Diskretionsabstand eines Deutschen in einer Schlange nicht und meinen, dass sie sich direkt an die Theke stellen müssten und versuchen können, die Putzfrau in ein Verkaufsgespräch einzubinden, damit es schneller geht. Die Apothekerin hält nichts davon und lässt sie auflaufen. Sie nimmt uns dran und als sie merkt, dass wir deutsch sprechen, führt sie in Ruhe ein ausführliches Beratungsgespräch in deutsch, was wiederum die Italiener ärgert, die nicht so mitbekommen, ob wir nicht doch über das Wetter sprechen...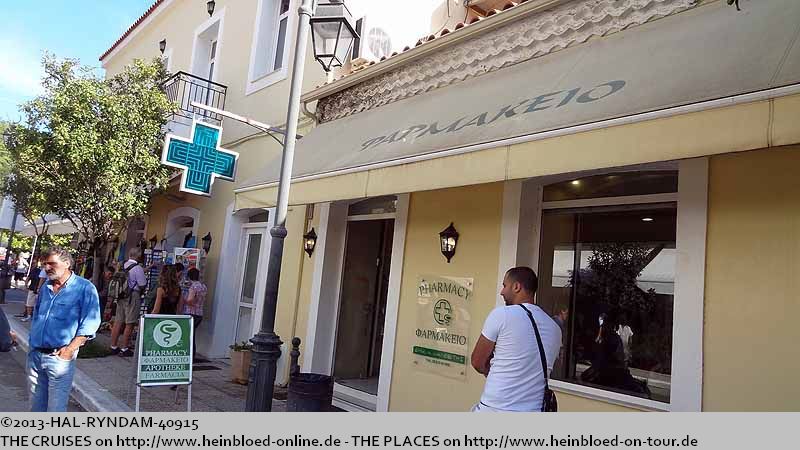 We saw a pharmany. Italians did not know the German distance for discretion in a queue and thought that they need to place themselves directly at the counter by trying to convice the cleaner to sell them something to be faster. The pharmacist just showed that she disliked that habit and took us as we were in the order of appearance. When she noticed that we were talking German she started a great consulation in German. that made the Italians upset because they did not understand if we might talk of the weather...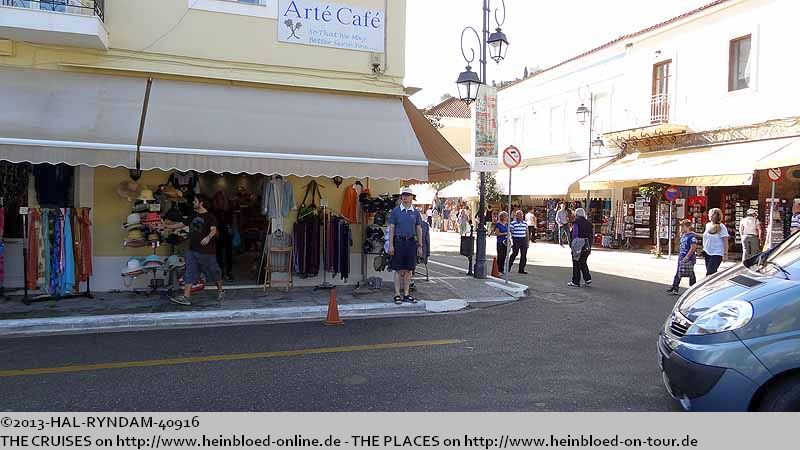 Hier gibt es die üblichen Kutschfahrten.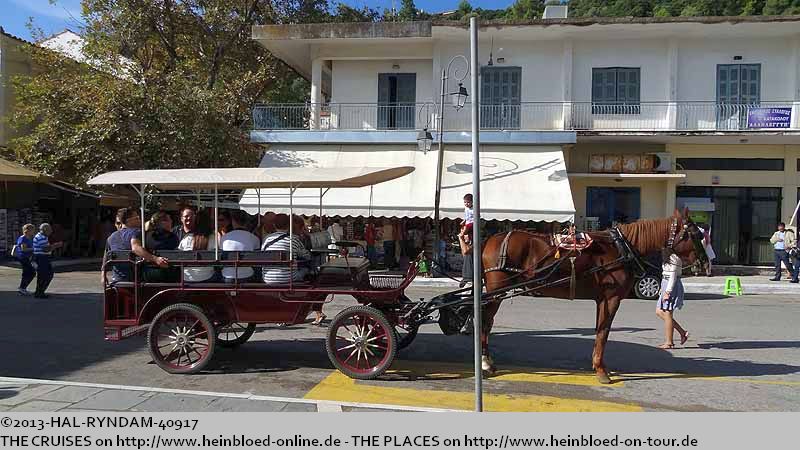 Here you get the usual carriage tours.

The big square all busses stopped and you were waiting...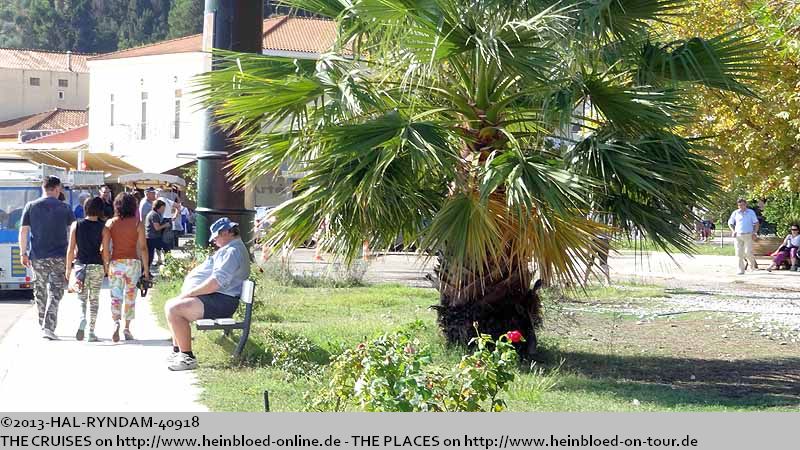 Der große Platz, an dem die Busse halten und alle warten...
Und eine kleine griechische Kirche.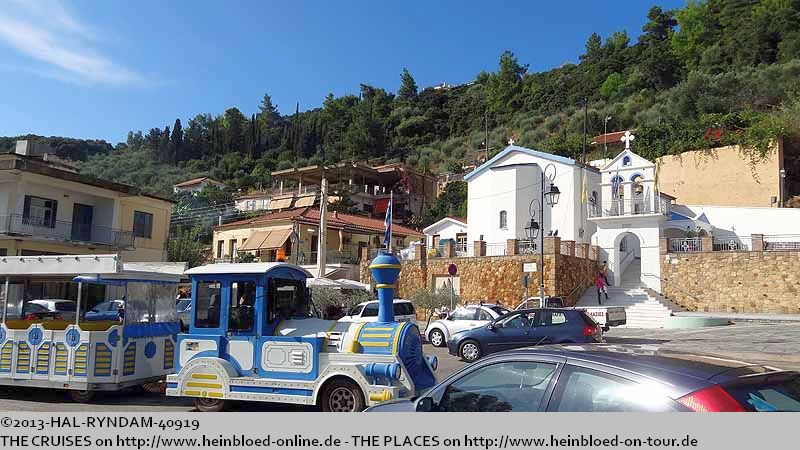 And a small Greek church.

We went to the parallel road which was more calm.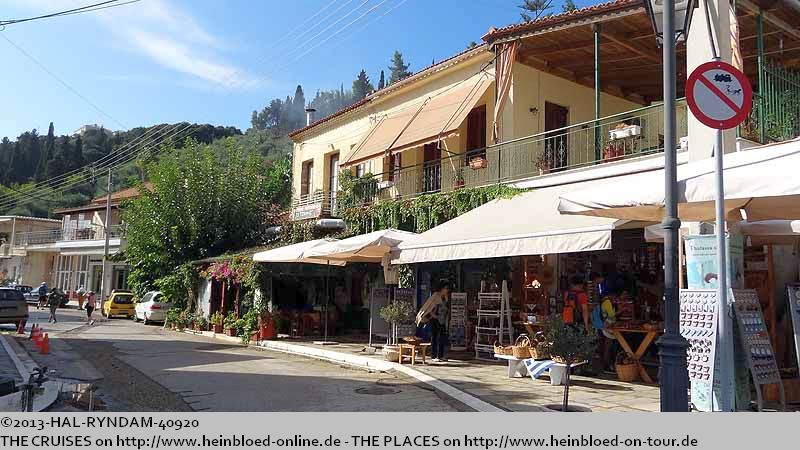 Wir gehen jedoch in die Parallelstraße, die sehr viel ruhiger ist.
Irgendwie zieht uns dieser Laden an: Taverna Jimmys.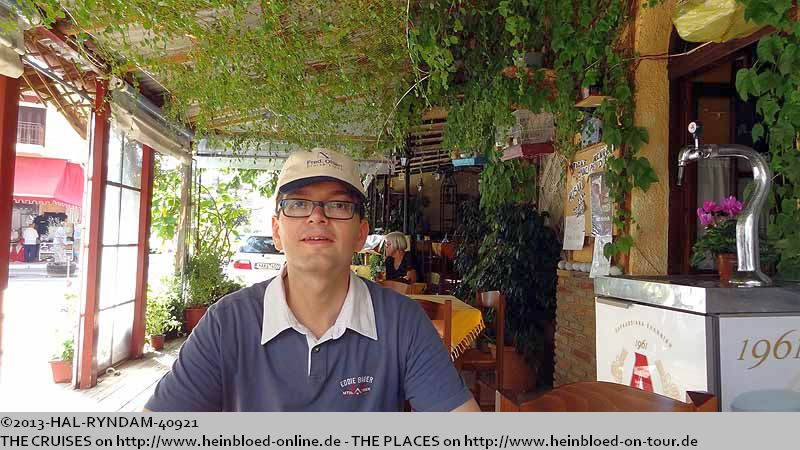 Somehow our attention was attracted by Taverna Jimmys.

Bruno got a good Cappucino.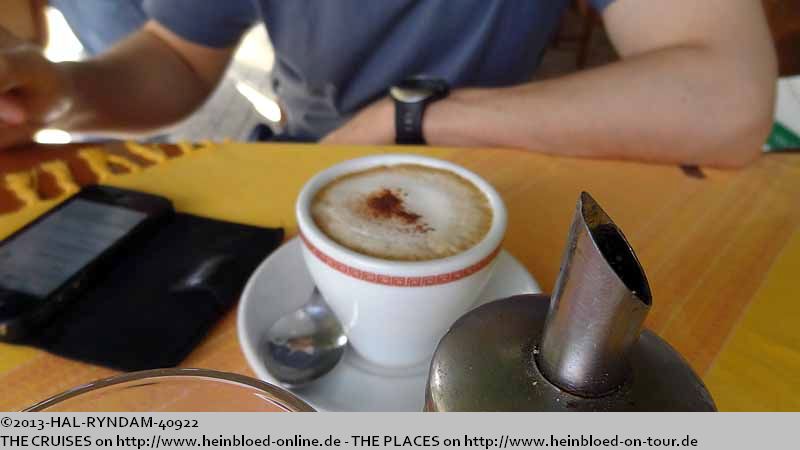 Bruno bekommt erst mal einen guten Cappucino.
Und kostenlos WLAN.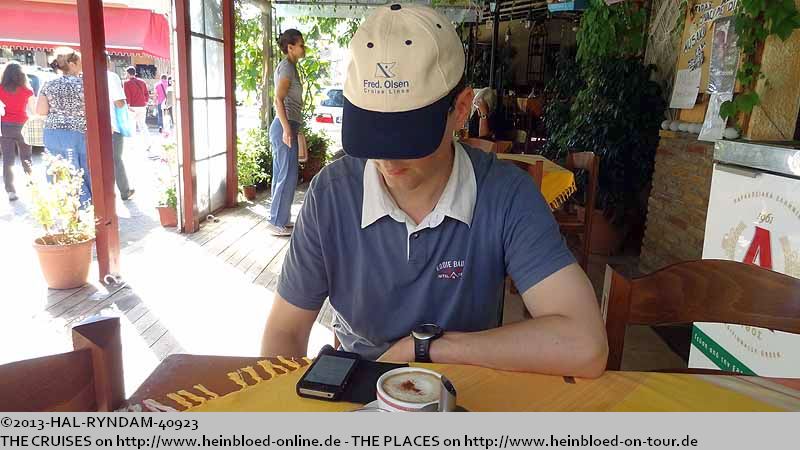 And free WiFi.

And I got finally my Suvlaki.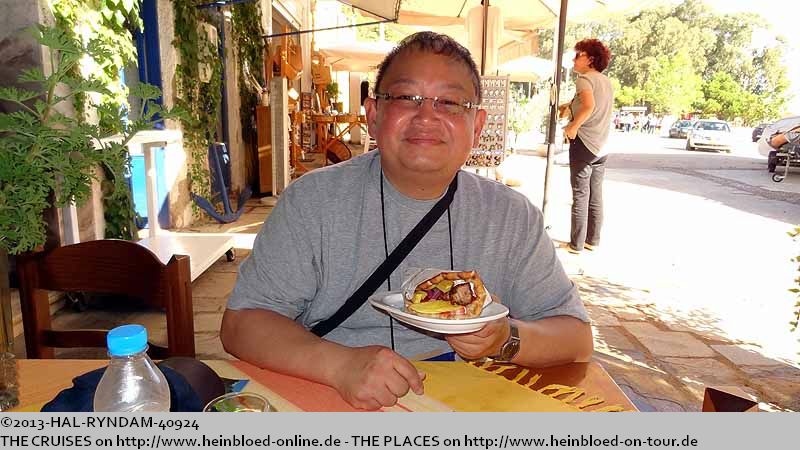 Und ich bekomme endlich mein Suvlaki.
Für 1,50 EUR (2013).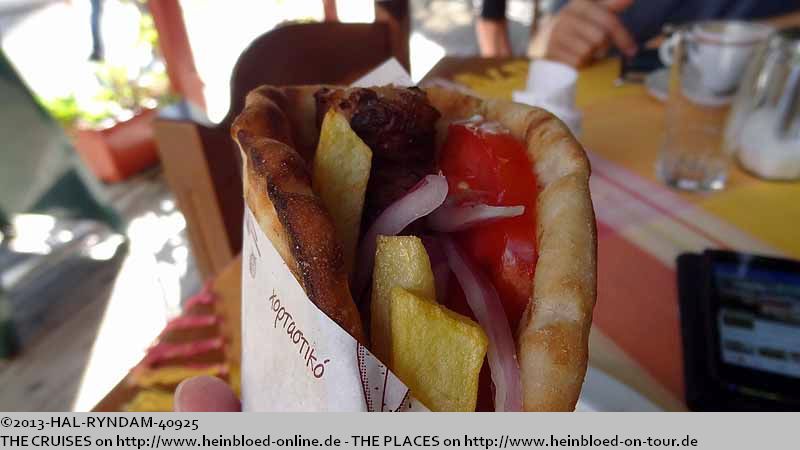 For 1.50 EUR (2013).

Could he be Jimmy - no idea. We will check it in January...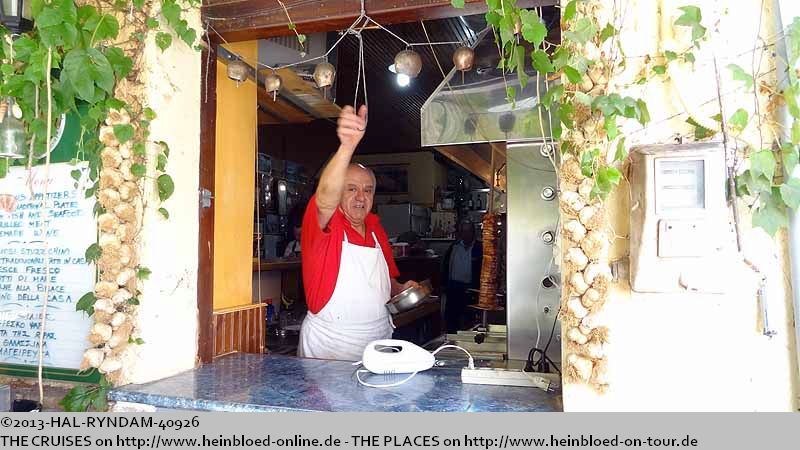 Ob das Jimmy ist - keine Ahnung. Das klären wir im Januar...
Die nächste Kaffeepause folgte direkt schon wenige Minuten.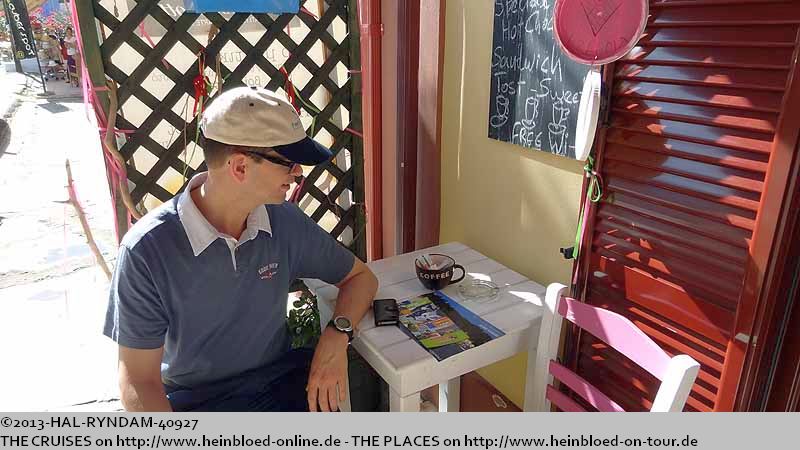 The next coffee break just followed minutes later.

As soon as there is a illy-sign Bruno had to be there.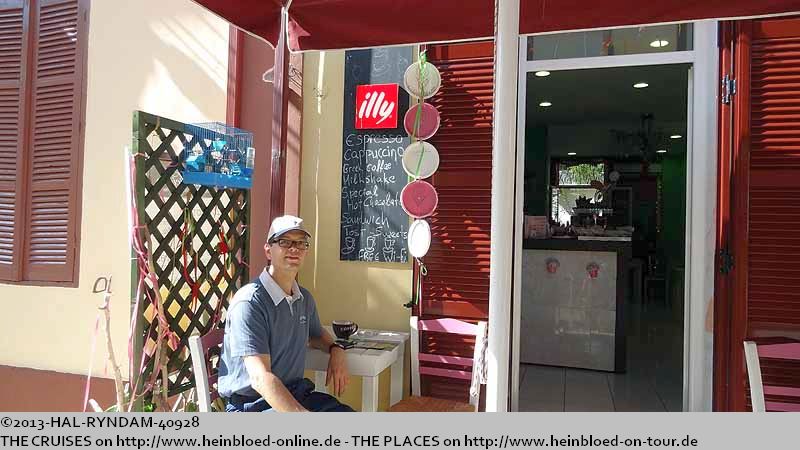 Sobald ein illy-Schild auftaucht, ist Bruno dort zu finden.
Auf der Suche nach einem Anbieter für private Touren stoßen wir auf diese Gesellschaft.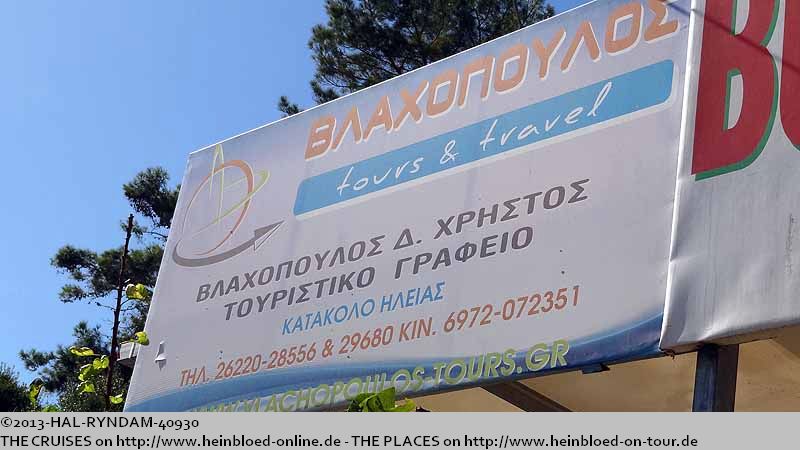 We were looking for a private tour operator and so we found them.

But somehow we decided that we prefer to rent a car in January 2014 as we should be more independent. But I am sure that we will call Katakolon more times and we do not want to see Olympia all the times. So we should keep the address very well with our records.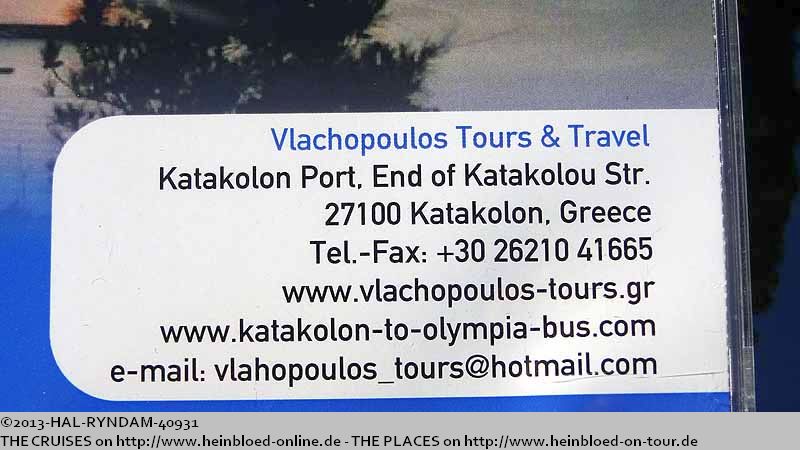 Aber irgendwie hatten wir dann doch beschlossen, dass wir im Januar 2014 nur ein Auto mieten wollen, damit wir unabhängiger sind. Aber wir werden sicherlich noch öfters nach Katakolon kommen und dann auch nicht immer nach Olympia wollen. Da werden wir mal uns die Adresse gut aufheben.
Es gibt wohl auch eine lokale Busverbindung nach Pyrgos, die man bei
KTEL ILEIAS
findet.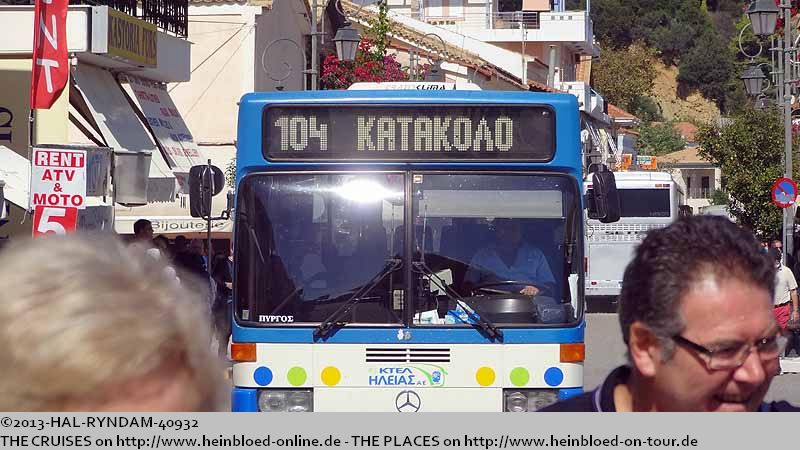 There was also a public bus connection to Pyrgos which you can find with KTEL ILEIAS.

In one restaurant they were dancing on Greek music.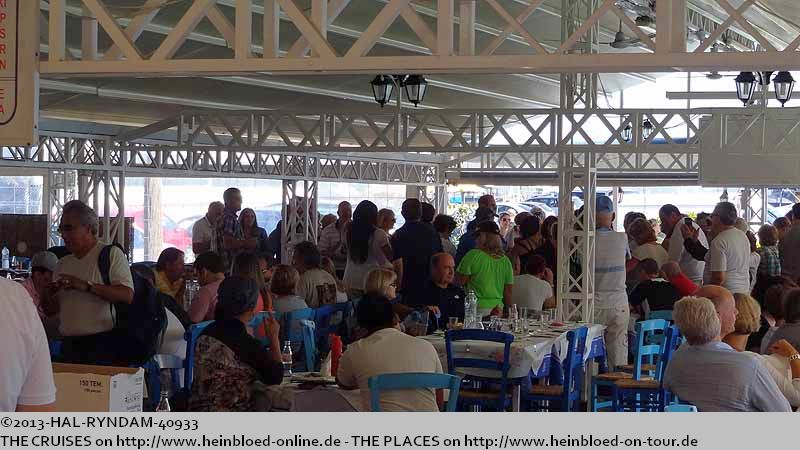 In einem Lokal wird zu griechischer Musik getanzt.
Bloß schnell weg hier...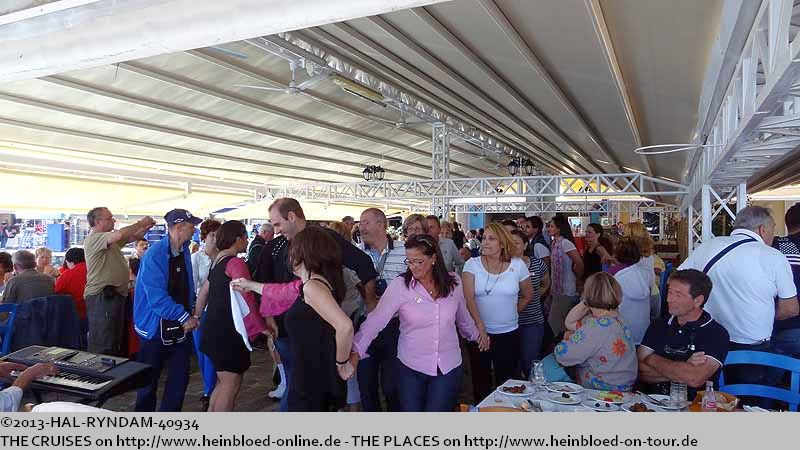 Time to escape quickly...