Ich ziehe mal wieder nachts los.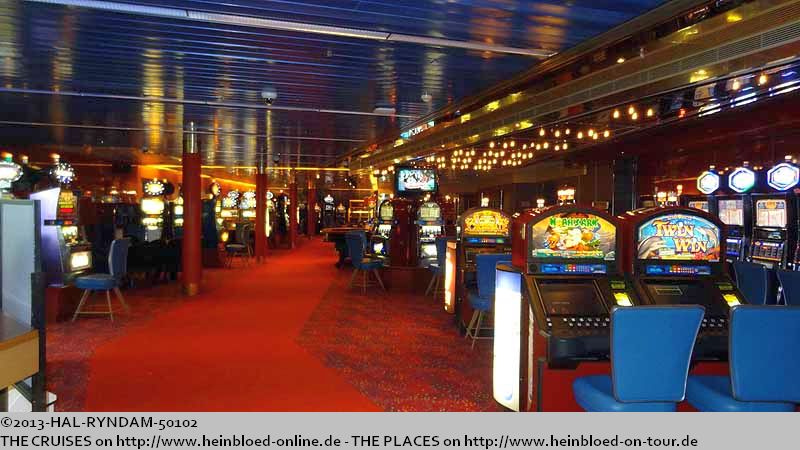 I had my night walk.

Slowly the casino changed to a non-smoker-casino with few seats for smokers.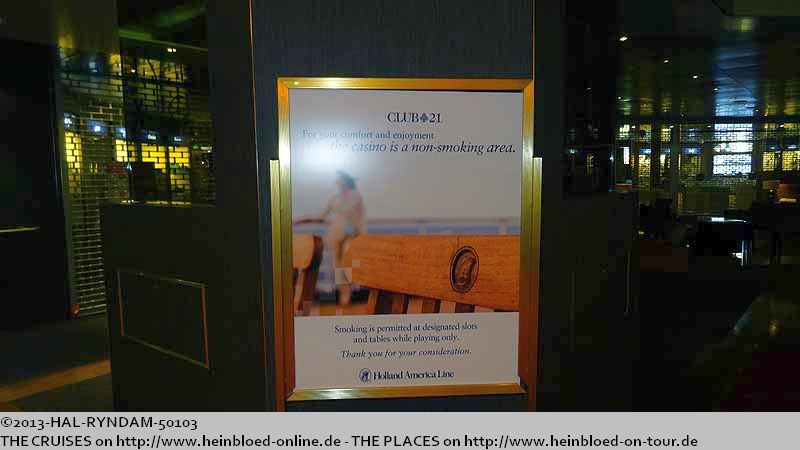 Auch im Casino ändert es sich langsam: ein Nichtrauchercasino mit wenigen Plätzen für Raucher.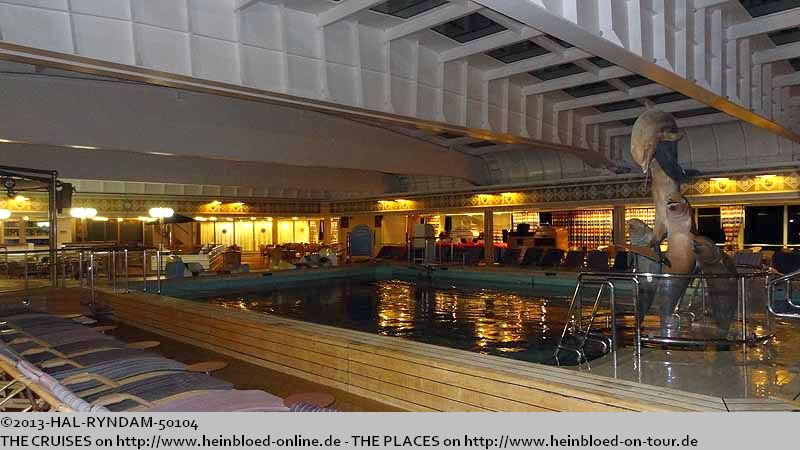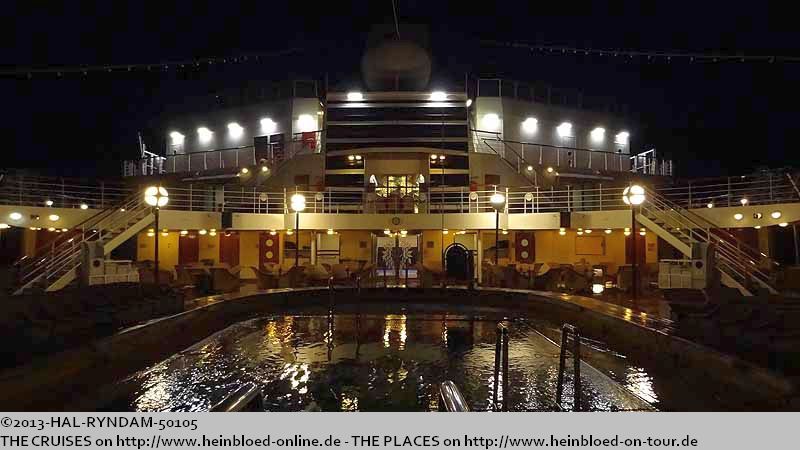 Neben der Neptune Lounge gibt es auch Innenkabinen, aber diese Gäste dürfen nicht in die Neptune Lounge.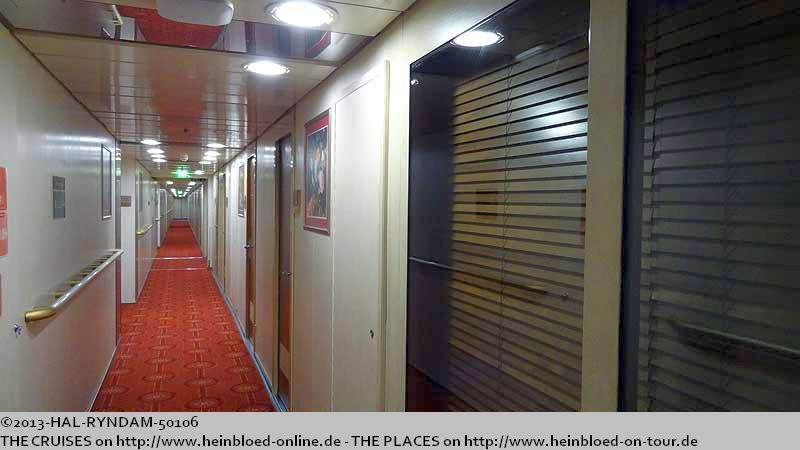 Next to the Neptune Lounge there were few inside cabins but their guests were not allowed to see the Neptune Lounge.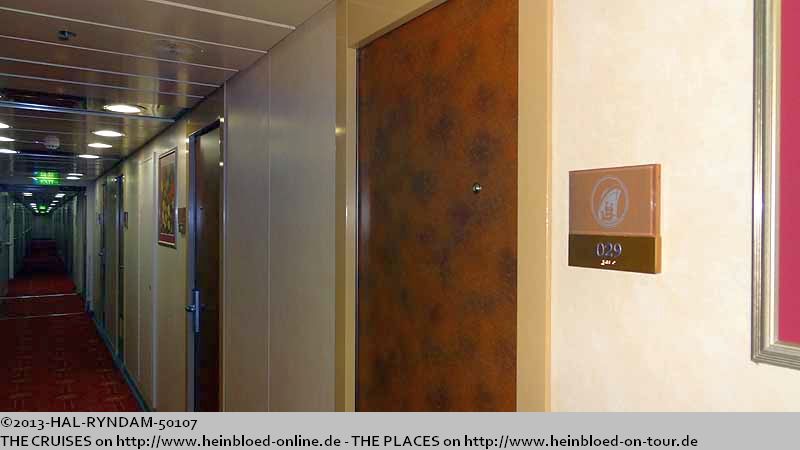 Ein Bild damals von der ZAANDAM: Bibliothekarin Julie (leider nicht mehr bei HAL) und Internet-Manager Jacques. Das war immer sehr nett bei ihnen, weil sie auch ein tolles Team bildeten.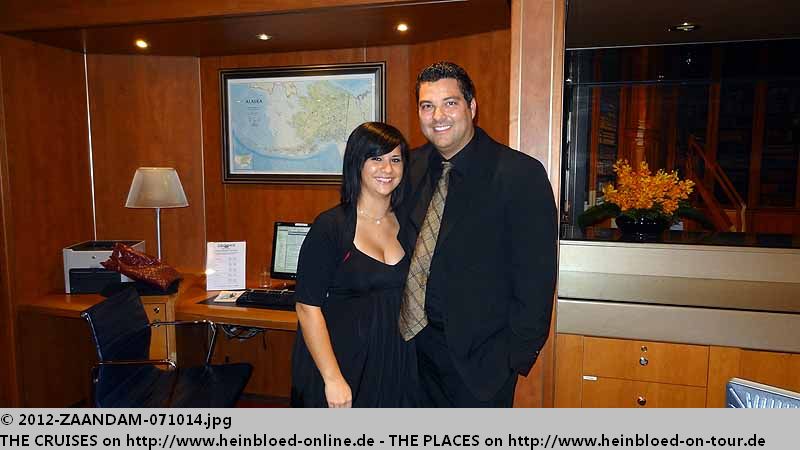 A picture from then on ZAANDAM: Librarian Julie (not anymore with HAL) and Internet-Manager Jacques. It was always very nice with them because the were a great team.

Here the librarian was on one side of the lounge (no bun and thick glasses)...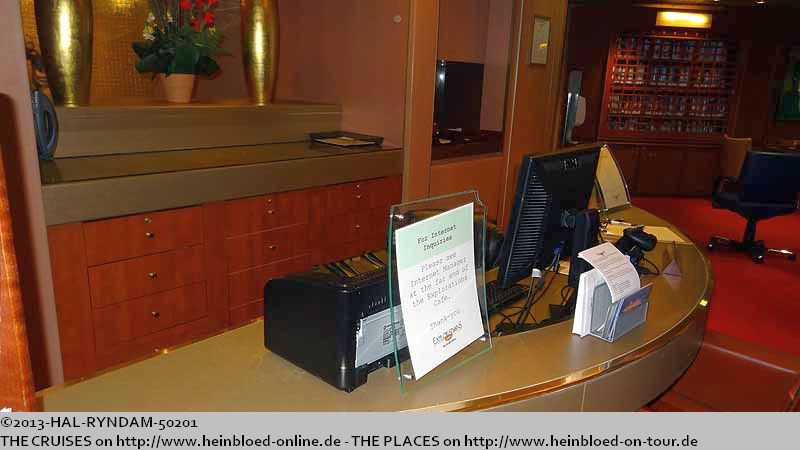 Hier ist die Bibliothekarin auf der einen Seite der Lounge (ohne Dutt und dicke Brille)...
Und ein Schild, dass sich der Internet-Manager auf der anderen Seite der Lounge befindet.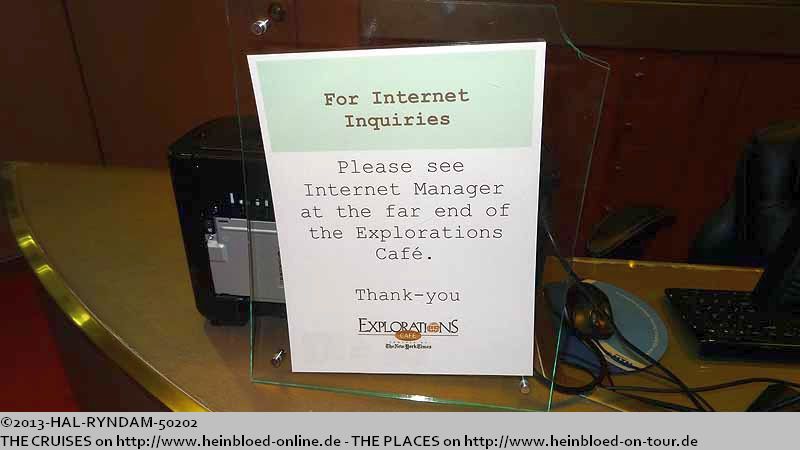 And a sign that the Internet-Manager was located as the far end of the lounge.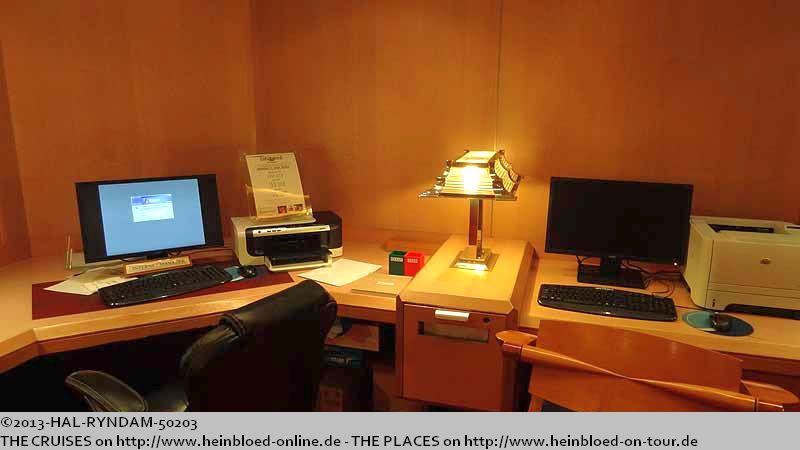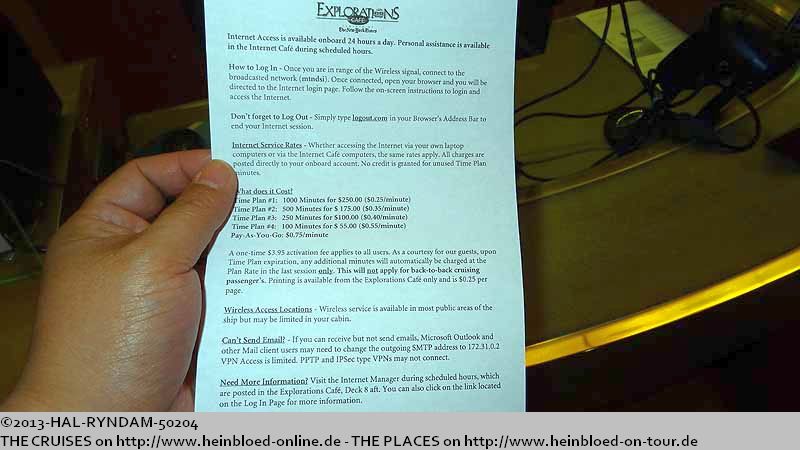 Here you find the information how to connect. Currently they were settting up on board a network for the cabins.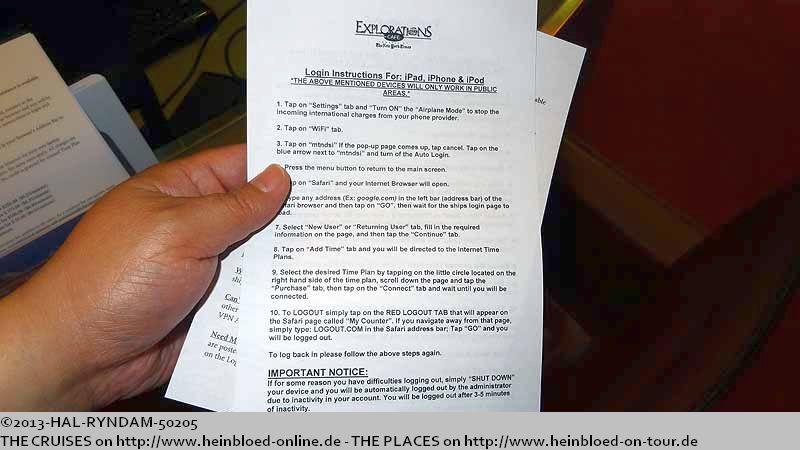 Hier findet man auch die Informationen, um sich anzuschließen. An Bord sind sie gerade dabei, das Netz an Bord auszubauen, damit man in der Kabine auch Internet hat.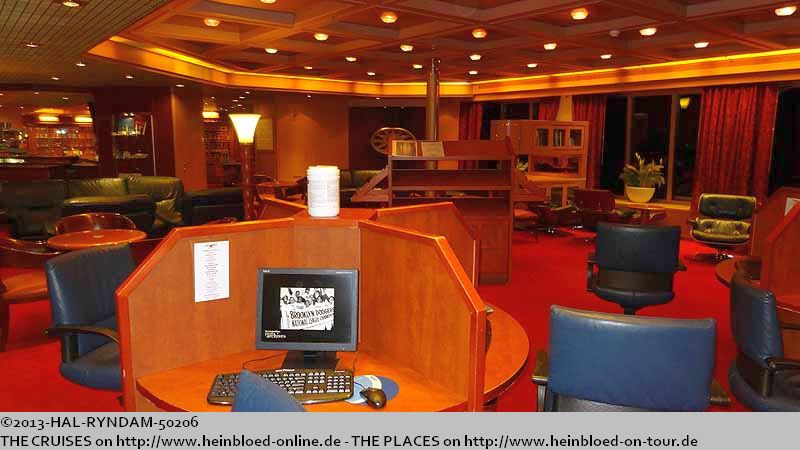 Breakfast. Bruno was treated better than me. He got his Kiwis (not on the menu - on request only) without reuqesting.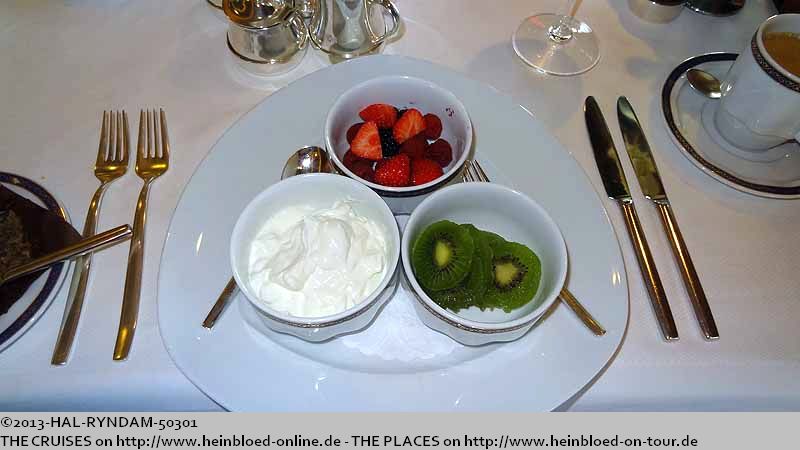 Frühstück. Bruno wird besser behandelt als ich. Er bekommt seine Kiwis ohne Anfrage (nicht auf der Karte - nur auf Anfrage).
Eine Pittahaya gibt es nicht an Bord... Es wird gegessen was da ist... und das ist schon ganz schön toll...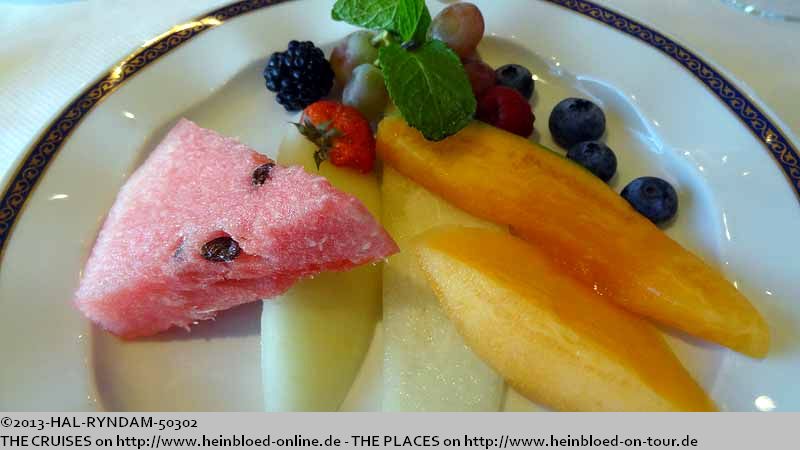 There was no dragonfruit for me onboard... You had to eat what they had on board... and that was anyway great...

Bruno took Eggs Benedict but without Sauce Hollandaise.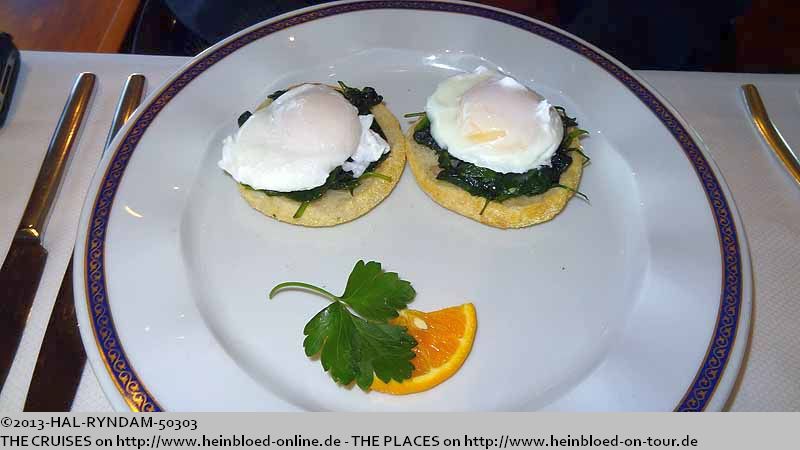 Bruno nimmt einmal Eggs Benedict ohne Sauce Hollandaise.
Und ich das japanische Frühstück.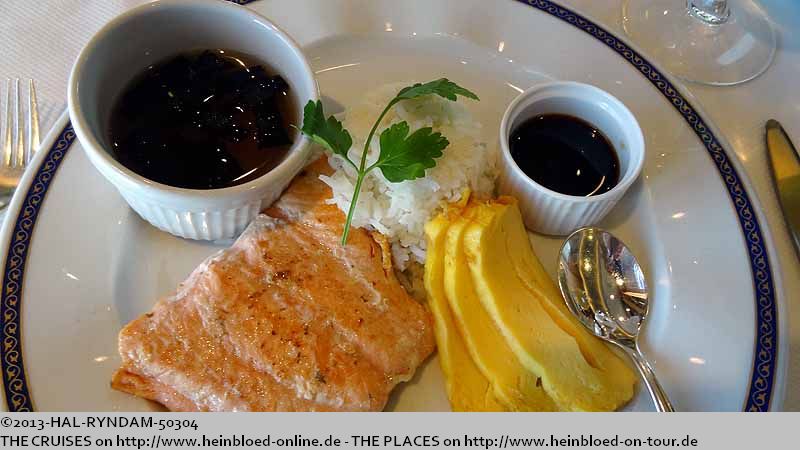 I took the Japanese breakfast.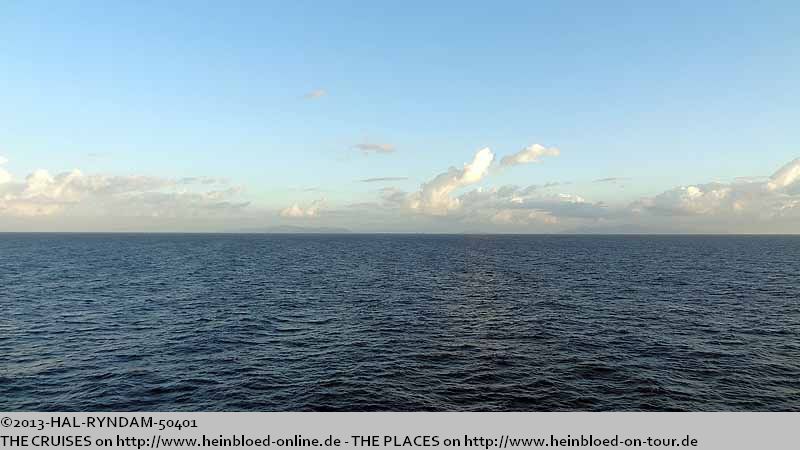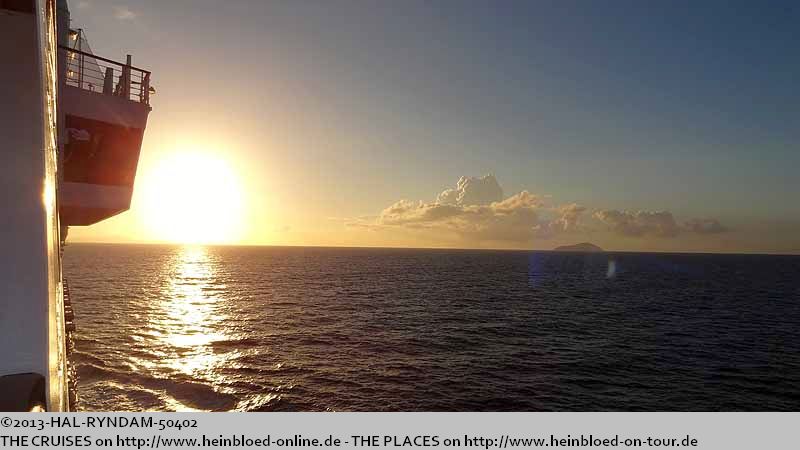 On this picture I checked the arrival of the cruise ships. Bruno was only interested in the shape of the caldera and vulcanos.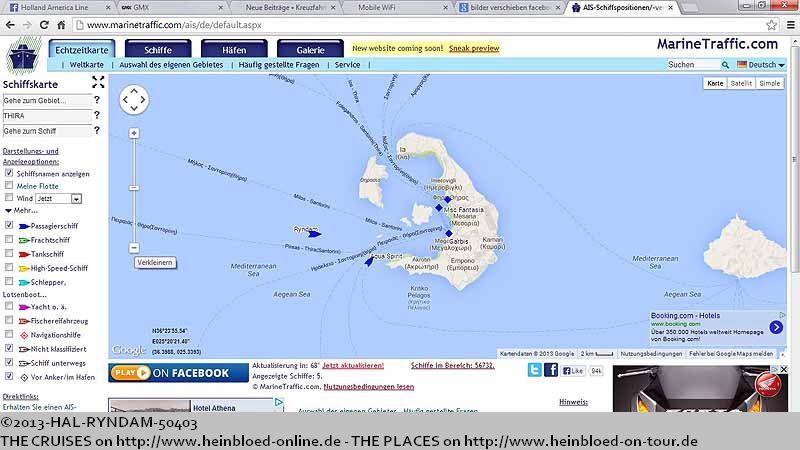 Auf dem Bild verfolge ich die Ankunft der Schiffe. Bruno interessiert sich nur für die Form der Krater und Vulkane.
Die Einfahrt nach Santorini.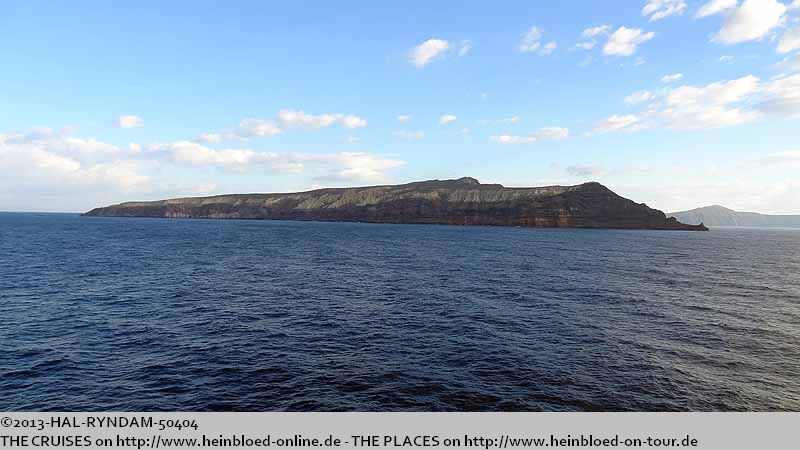 Entering Santorini.

Bruno and his vulcano.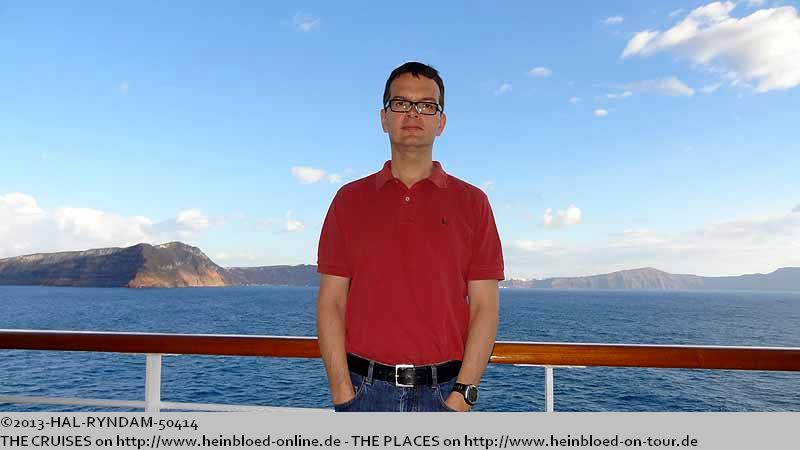 Bruno und sein Vulkan.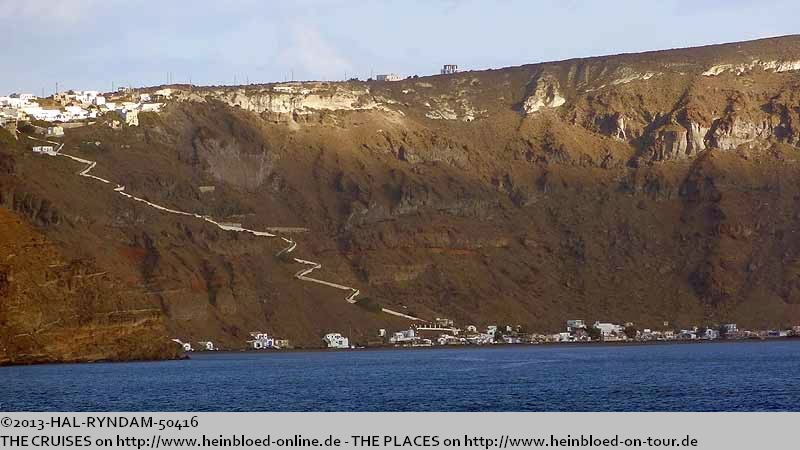 Das sieht nach Thirasia aus.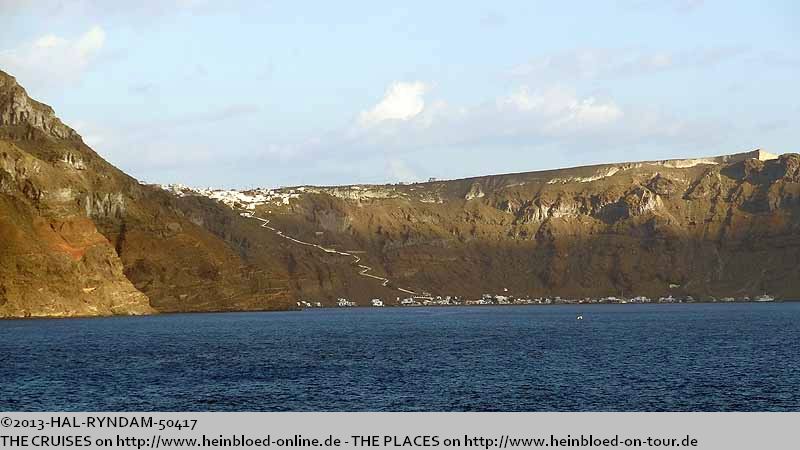 That looked like Thirasia.

We saw that there were ships berthing at the vulcano. Maybe we can have tour and vulcano.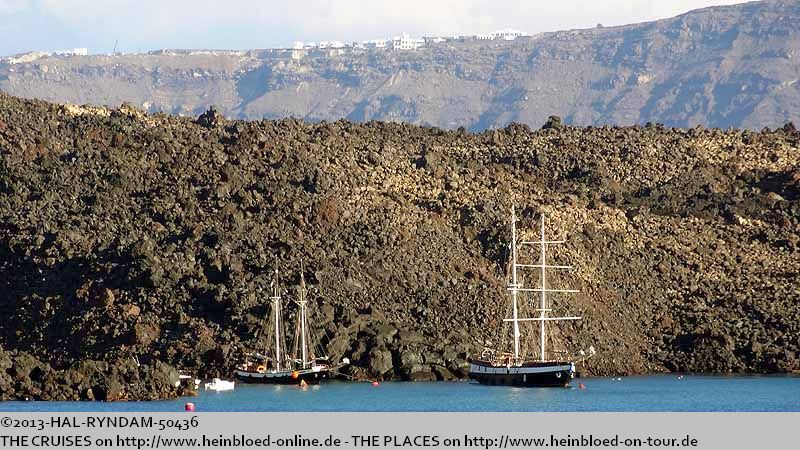 Wir sehen, dass Schiffe am Vulkan anlegen. Vielleicht schaffen wir ja Tour und Vulkan.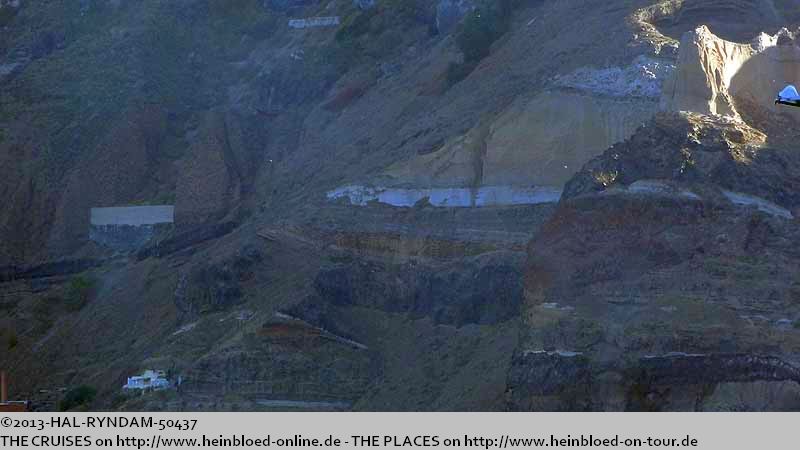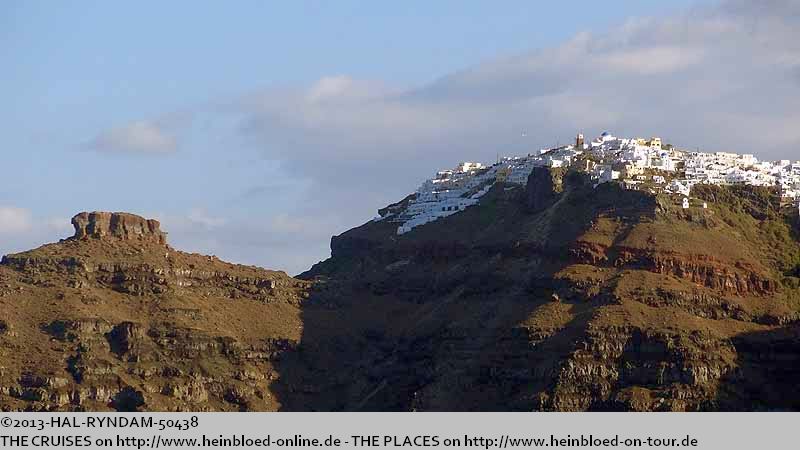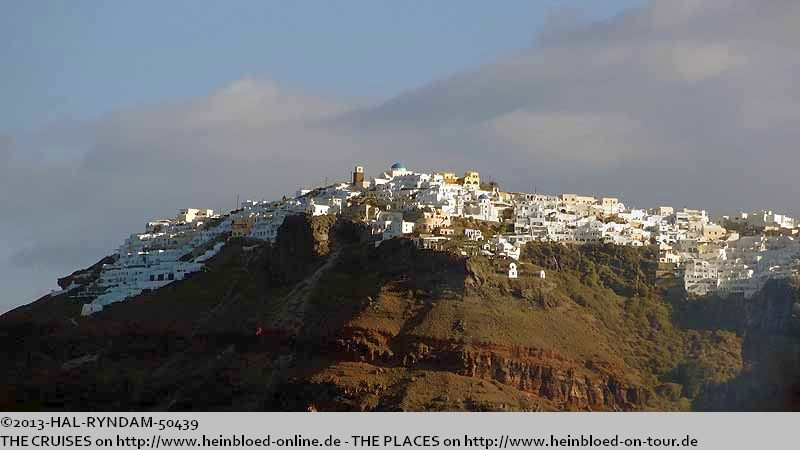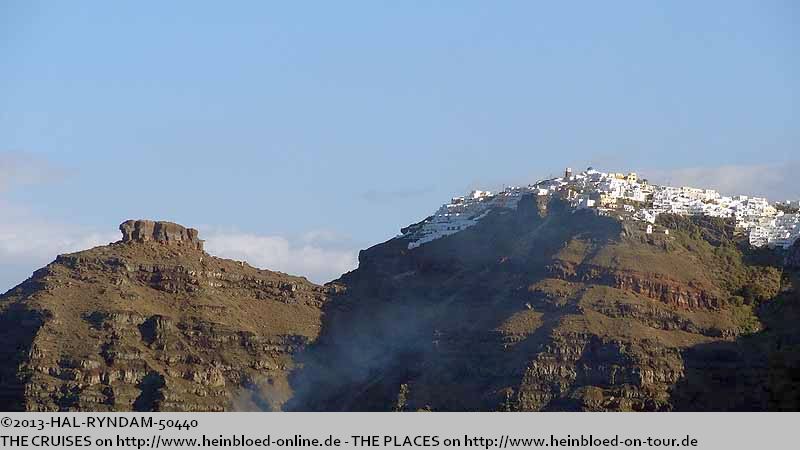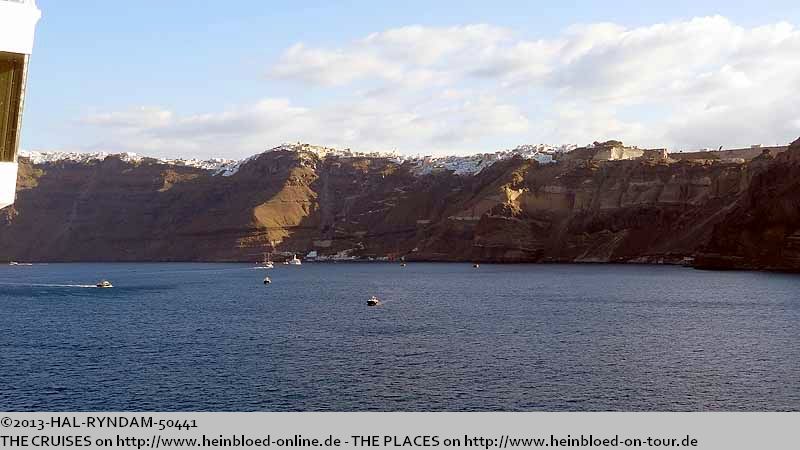 Welcome to Fira.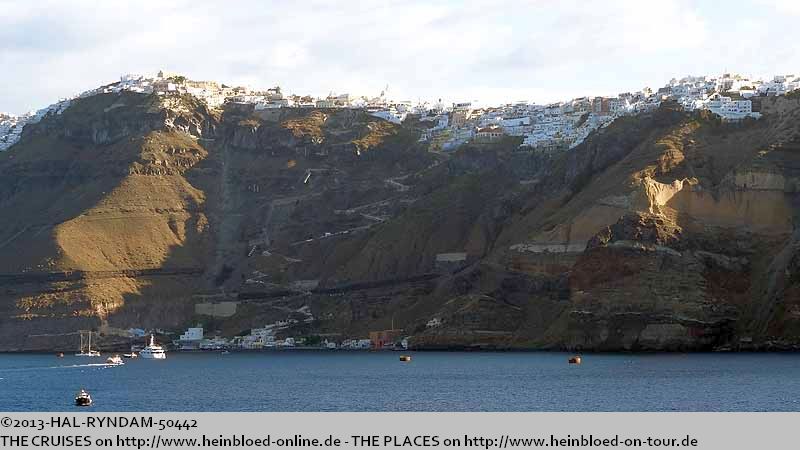 Willkommen in Fira.