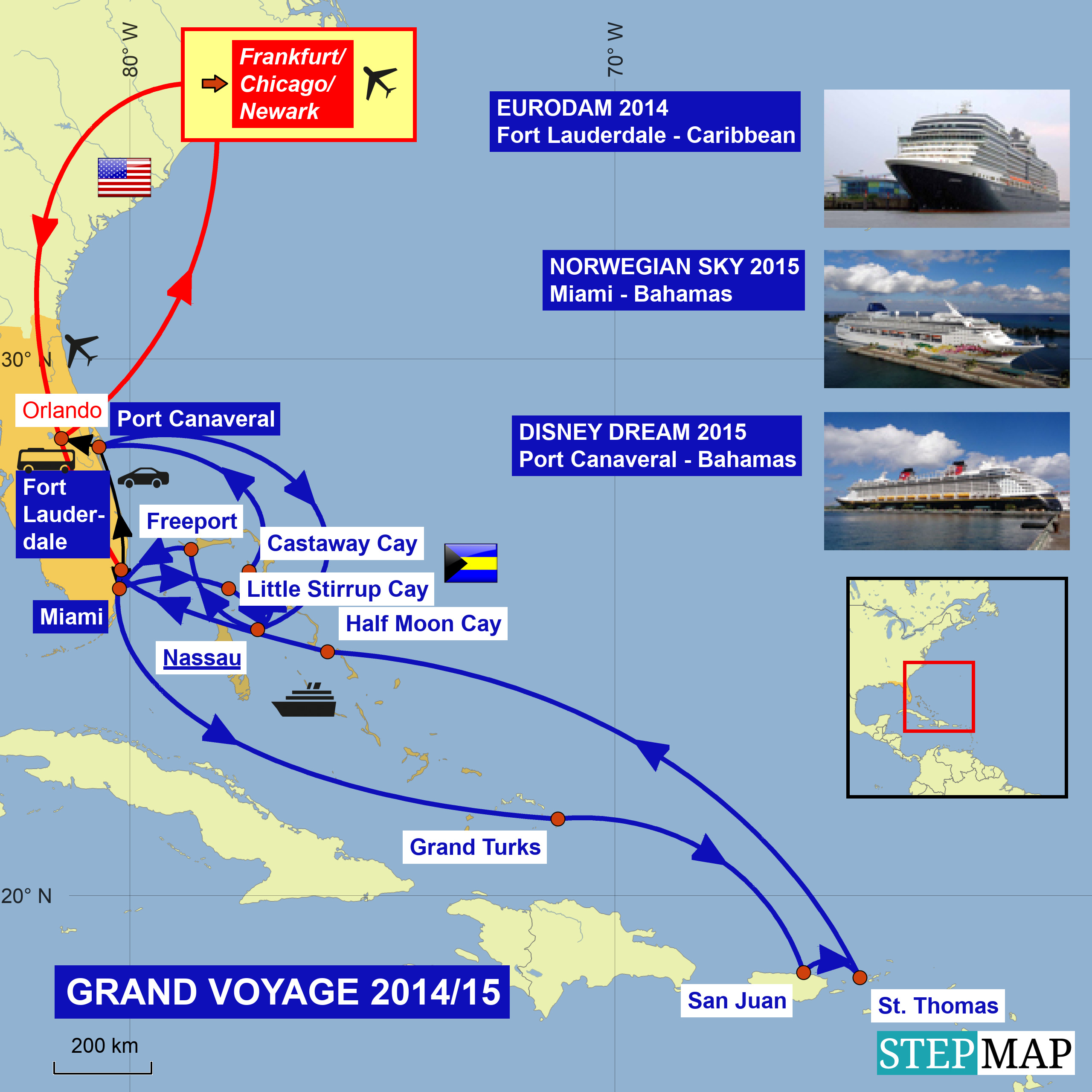 Leider wird nicht jeden Morgen "Walk a Mile" unter Anleitung angeboten. Die Alternative: Stretching. Aber ich laufe dann alleine für mich selbst. Was ich liebe an dem Promenadendeck: ich kann rund um laufen und ich sehe dabei das Meer. Ich rieche die Seeluft und spüre den Fahrtwind. Aus dem Gedanken: ich müsste eigentlich etwas für mich tun wird ein ich will etwas für mich tun. Und diese tolle Infrastruktur auf dem Schiff unterstützt mich dabei. Auch wenn 15 Minuten gar nichts sind. Aber 15 Minuten sind eben mehr als gar nichts. Und auf den früheren Fahrten gab es die 15 Minuten nicht. Da hätte ich jetzt am PC gehangen und geblogt. Aber jetzt genieße ich mein neues Leben. Auch Bruno gefällt es ist hier auf der Promenade und ist hier mit dabei. Ihm laufe ich nicht schnell genug, aber das spielt keine Rolle: Ich setze mein Tempo und Rhythmus zur Musik auf meinem iPhone. Mein "Fan-Club" von gestern versammelt sich gerade auch, um mir wieder zuzujubeln. Für 15 Minuten bin ich deren Champion: Ein unbezahlbares Gefühl, das mich aufbaut!

Unfortunately not every morning "Walk a Mile" under a trainer was offered. The alternative was stretching. So I walked then by myself. What I loved with the promenade deck: you could walk around, and you could see the sea. I smelled the sea and felt the wind. My thoughts: I should do something for me became I wanted to do something for me. And this great infrastructure on board this ship supported me. Even 15 minutes was nothing. But 15 minutes was more than nothing. And on previous cruises, those 15 minutes did not exist. Then I would hang around with my PC and blog. But now I enjoyed my new life. Bruno liked it here on the promenade too and was also present. I did not walk fast enough for him, but that did not matter: I set my speed and rhythm according to the music on my iPhone. My yesterday's "Fan-Club" were just assembling to cheer me again. For 15 minutes I was their champion again: A priceless feeling which let me rise up.

To be happy you need some caviar on blinis and champagne for breakfast. But you cannot get it here, and you did not pay for. Who watched too much Love Boat and thought it would work like this here on board booked the wrong ship. You cannot get HAL for the prices of MSC's or Costa's Med Sea winter season (except very short-notice as last-minute-offers). The difference you could see with the breakfast buffet. Actually, I hated breakfast buffet: but everything was available to make me happy: Vitamin Water and Congee (= Chineses rice porridge like breakfast with your Mum!). As we were "pre-alerted" we waited until everyone was down on the gangway and we had the Lido Café just for ourselves. I was on the search for lactose-free milk. Currently, none was available. Joseph offered me as an option some almond milk and promised to get someone to get some from the storage. I stopped him and just took the almond milk and which I liked meanwhile. I asked for the favor to have one additional box which I could carry to the coffee bar for a lactose-free cappuccino (it did not taste good: cappuccino made of soy milk!). He only said that he would take care of it and there would be no reason to wait. I saw how he grabbed the next maître and addressed my request to him. It did not happen very often that someone with Holland America will send you from pillar to post. Usually, the person you spoke with and told him your personal problem took responsibility for the guest - no matter which function or which tier. And this policy worked better with Holland America than any other company which I knew so far. There was only one problem they could not solve obviously (but on any ship): a boiled egg which is too hot. As long as we had just issues like that we had a wonderful life. Would I have told Don or Norbert about this problem: they would have organized us a personal egg-peeler or sent someone to the engine room to get some asbestos gloves for us. But we helped ourselves, and we had Sigi with us who burned her fingers for Bruno.

Zum Glücklich sein brauche ich Kaviar auf Blinis und Champagner zum Frühstück. Bekommt man an Bord nicht und hat dafür auch nicht bezahlt. Wer also zuviel ZDF-Traumschiff geguckt hat und meint, dass es hier an Bord so abgeht, der ist auf dem falschen Dampfer. Man bekommt HAL nicht zu MSC-Costa-Winter-Mittelmeer-Preisen (außer sehr kurzfristig als Last-Minute-Rest-Angebot). Den Unterschied sieht man sehr gut beim Frühstücksbüffet. Ich hasse ja eigentlich Frühstücksbüffets: Aber es ist alles da, was ich zum Glücklich sein benötige: Vitamin Water und Congee (= chinesischer Reisbrei, also Frühstück wie bei meiner Mutter!). Da wir ja "vorgewarnt" waren, haben wir gewartet, bis dass alle anderen unten an der Gangway warten und wir das Lido Café quasi für uns haben. Ich war auf der Suche nach laktosefreier Milch. Im Moment war keine mehr da. Joseph bietet mir alternativ Mandelmilch für sofort an und verspricht, dass sofort jemand im Lager die Milch holt. Ich stoppe ihn und begnüge mich mit der Mandelmilch, die ich für zwischendurch auch mal ganz lecker finde. Ich bitte darum, dass er bei der Gelegenheit bitte noch eine Packung mehr mit hochbringen möge, die ich gerne an der Kaffeebar für meinen laktosefreien Cappucino (aus Sojamilch schmeckt es einfach ekelhaft!) hätte. Er meint nur, dass er dafür sorgen wird, dass die Milch zur Kaffeebar gebracht wird und dass ich nicht warten muss. Ich sehe, wie er sich den nächsten Maître schnappt und ihm meinen Wunsch vorträgt. Bei Holland America werde ich sehr sehr selten von Pontius zu Pilatus geschickt. I. d. R. übernimmt derjenige, den du gerade mit deinem persönlichen Problem ansprichst, Verantwortung für dich als Gast - egal welche Funktion und welcher Rang er hat. Und das Prinzip lebt Holland America besser als jede andere Gesellschaft, die ich kenne. Nur ein Problem kann offensichtlich an Bord (keines Schiffes) nicht gelöst werden: ein viel zu heißes hartgekochtes Ei. Aber so lange wir nur solche Probleme haben, geht es uns verdammt gut. Und hätte ich das Problem Don oder Norbert vorgetragen: wir hätten wohl dann jeden Morgen einen persönlichen Eier-Schäler bekommen oder sie hätten aus dem Maschinenraum ein paar Asbest-Handschuhe uns besorgt. Aber wir helfen uns ja selbst und haben Sigi dabei, die sich für Bruno die Finger verbrennt.
Da uns ja gerade Holland America mit vielen Kleinigkeiten positiv auffällt, wollen wir auch denen ein wenig Aufmerksamkeit schenken, die wir gar nicht zu Gesicht bekommen: z. B. diejenigen in der Wäscherei: Ein "Happy New Year" kostet nichts, aber vielleicht freut sich ja derjenige darüber, der unsere Wäsche sortiert. Wir freuen uns über Post: Reservierungsbestätigungen, Zeitumstellungshinweis und die Nachfrage, ob alles in Ordnung ist. Dass ein Haken bei der Tür fehlt, damit die Schiene besser läuft, melde ich nicht, da es kein Sicherheitsproblem darstellt. Sonst wüsste ich jetzt nicht, was ich auszusetzen hätte. Ich müsste mich ja ganz schlecht fühlen - es gibt nichts zu meckern. Nun geht es mir ganz schlecht! Nur bei der Einladung zum Mariner's Brunch müssen wir mal nachhaken, ob wir Sigi als HAL-Frischling mitnehmen dürfen. Auf der WESTERDAM eine endlose Diskussion, hier auf der EURODAM kein Problem. Es hätte ja eh die Regelung gegeben, dass man sich vor der Reise schon als Mariner's Society Mitglied hätte anmelden dürfen. Deswegen verblasst die weniger guten Erinnerung von damals auf der WESTERDAM immer mehr und der Standard hier auf der EURODAM, ZAANDAM und RYNDAM wird zum Standard meiner Erinnerungen. Mein
Douglas-Ward-Führer
ist unterschrieben zurück.

As the many many small details attracted our attention with Holland America we would like to give some attention to those whom we normally would never see: like those who were working in the laundry: A "Happy New Year" costs nothing, but maybe the person who would sort our laundry would appreciate our words. We were happy to have so much mail: reservation confirmation, information of time change and the request if everything was fine. Well, a hook was missing with the door to make sliding easier, but I did not report as it did not impact the safety. There was nothing else I could complain. I needed to feel very bad - nothing to complain. Now I felt so bad! Only for a good order's sake, we need to ask regarding the invitation for the Mariner's Brunch if were allowed to take Sigi as HAL-newbie with us. On WESTERDAM we had an endless discussion and here on EURODAM no problem. There was any way the option to register before set sail as Mariner Society. So the less good memories from then on WESTERDAM became weaker and weaker, and the standard here on EURODAM, ZAANDAM, and RYNDAM became more the standard of my memories. My Douglas-Ward-Guide was signed and back.

Next, to us, CARNIVAL FANTASY docked. In the slide-show, you find the pictures of all day including later the day which was taken from ashore and when she set sail.

Neben uns liegt CARNIVAL FANTASY. In der Diaschau die Bilder des ganzen Tages, also auch von später mit den Bildern, die ich an Land mache und als sie ausläuft.
Und noch Selfies, obwohl gar nicht in MEINE Flotte gehört.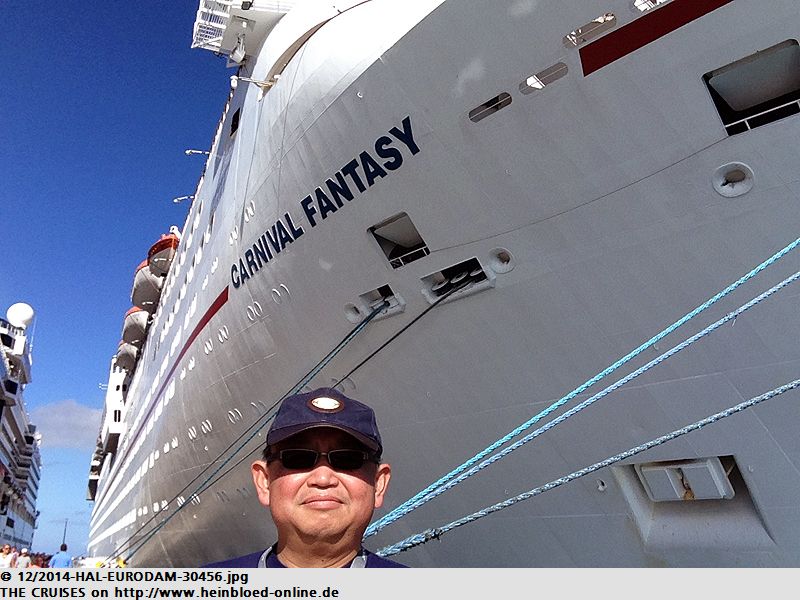 And also selfies although she was not part of MY fleet.

But maybe one day. You never know.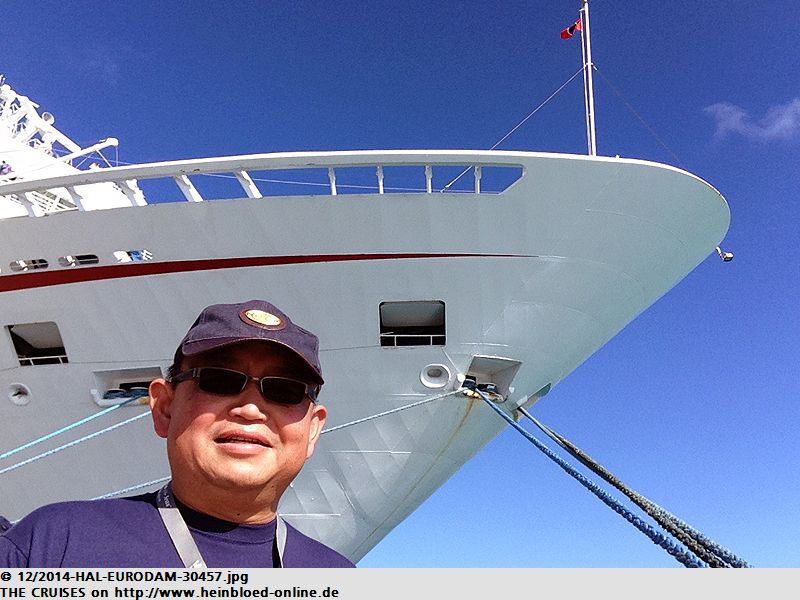 Aber vielleicht eines Tages. Man weiß es ja nie.
Vom Schiff sieht ja Grand Turk ganz hübsch aus.

From the ship Grand Turk looked nice.

The two most important pictures of the day: who was the port agent? Conveniently same as the port operator accidentally.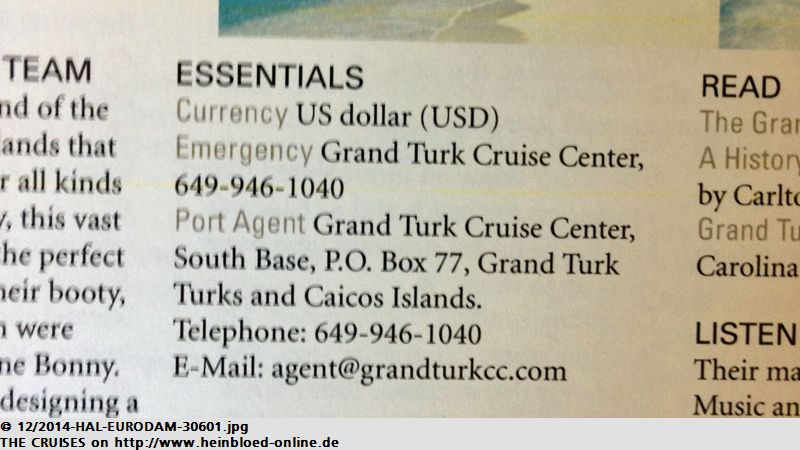 Die zwei wichtigsten Bilder des Tages: Wer ist der Hafenagent? Praktischerweise zufällig der Hafenbetreiber.
Und wann müssen wir wieder an Bord sein? Diese zwei Bilder auf dem Fotoapperat, auf dem iPhone und/oder auf Papier ersparen manchen Ärger.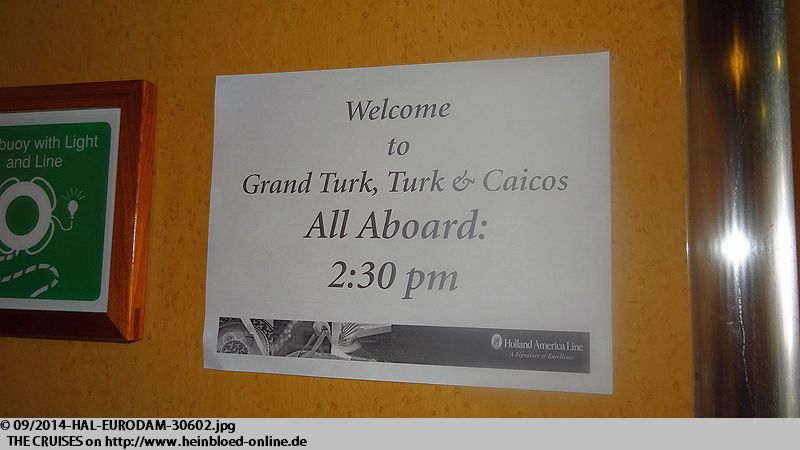 And when do we need to be back onboard? Those two pictures on your camera, on your iPhone and/or on paper, might beware you of some trouble.

A selfie in between.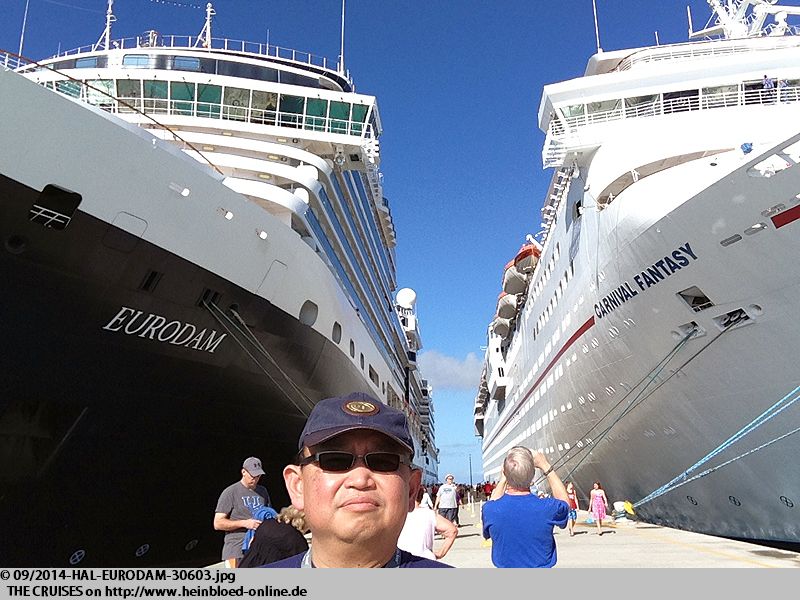 Ein Selfie mittendrin.
Ansonsten: das Wasser ist ja mal schön blau und wiederkommen ist auch immer wieder schön.

Apart from that: the water was nicely blue and coming back was also nice.

Few more selfies with both ships in port.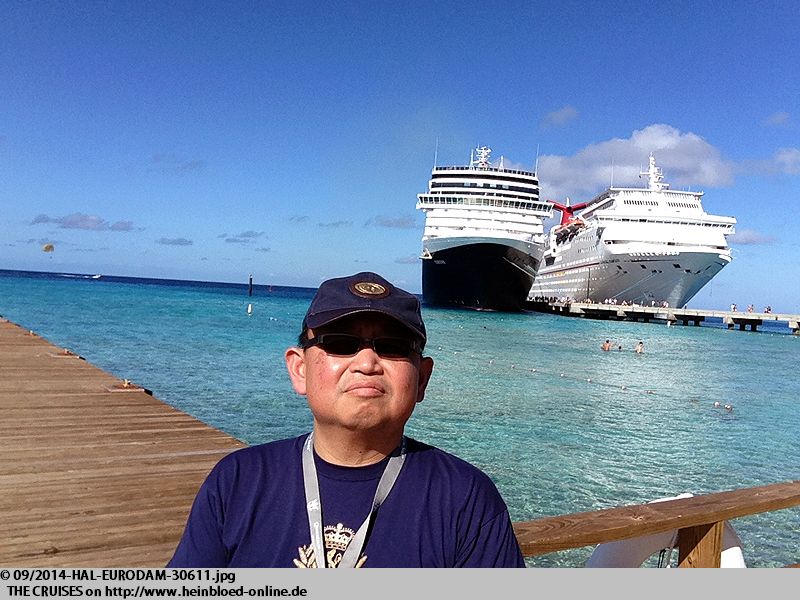 Ein paar Selfies mit beiden Schiffen im Hafen.
Und später noch mal vom Land aus.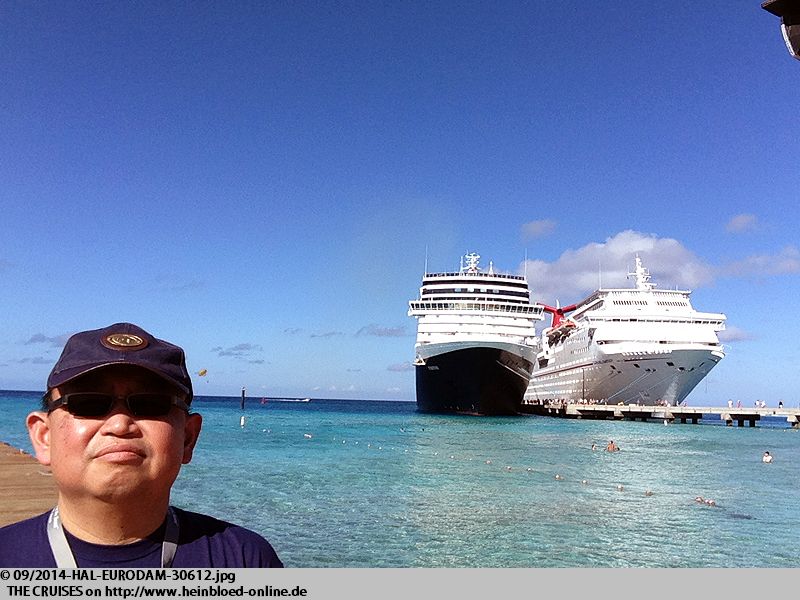 And later from ashore again.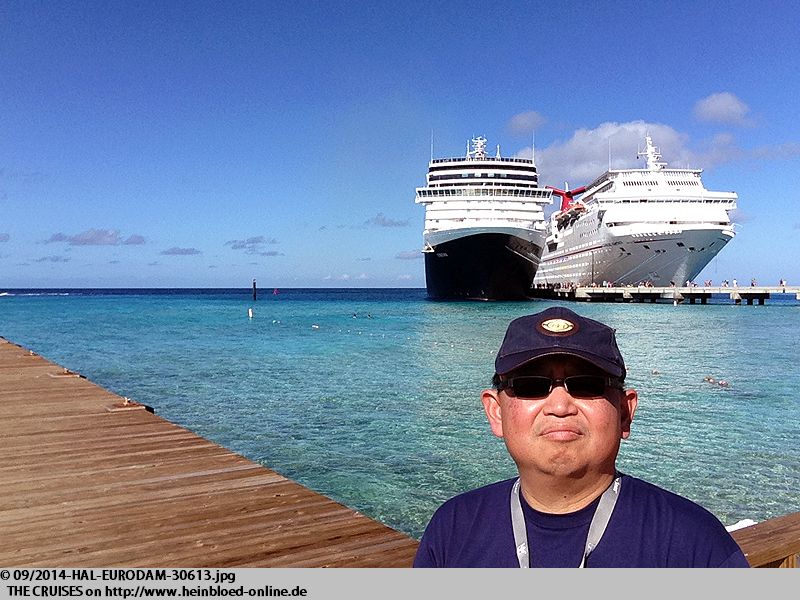 Aber auch Selfies mit
MEINER
EURODAM müssen auch sein.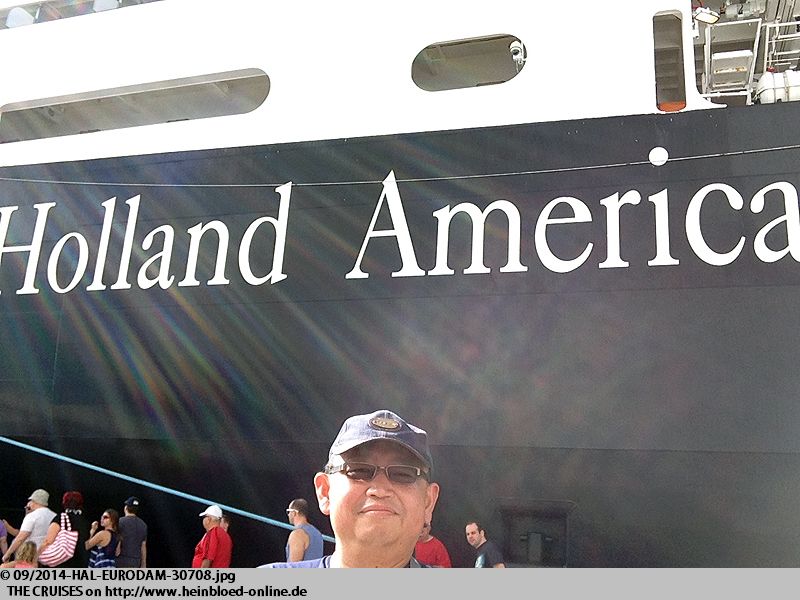 But a must: some selfies with MY EURODAM.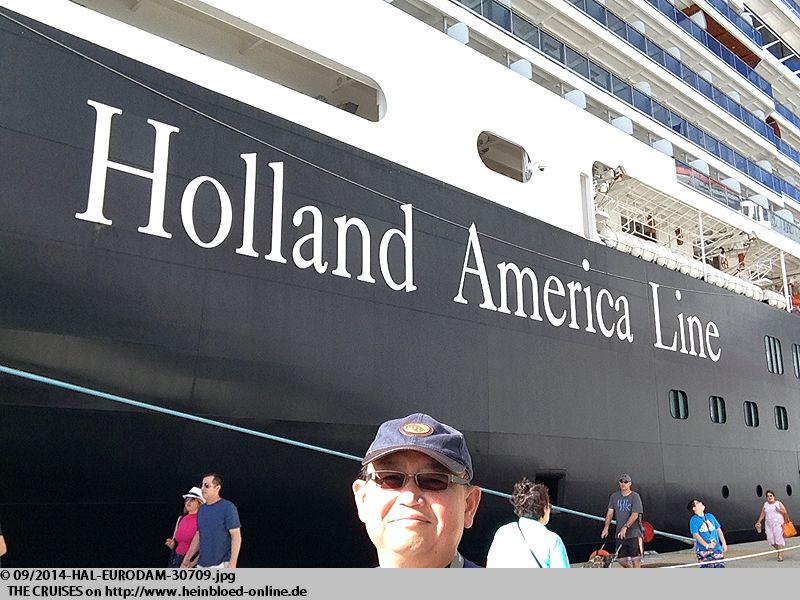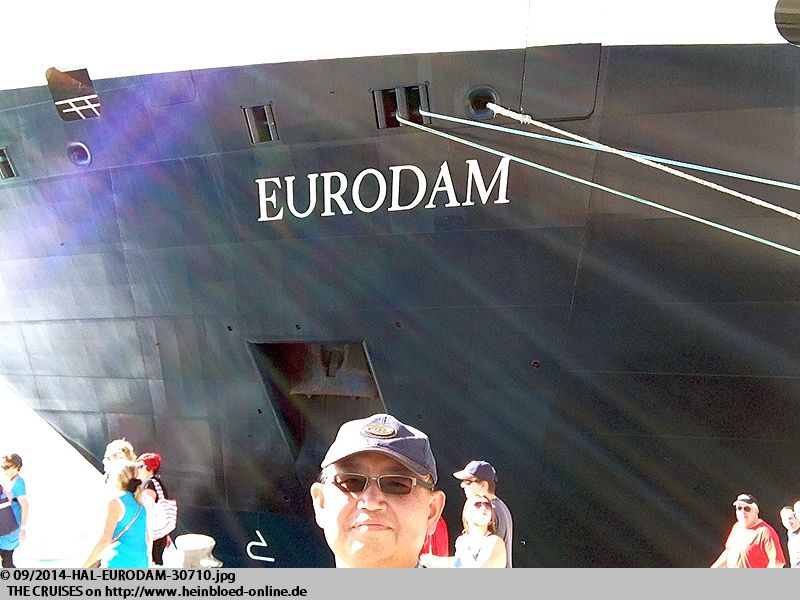 And few more shots of MY EURODAM without me.

Und noch ein paar Solo-Bilder von
MEINER
EURODAM ohne mich.
Die anderen Reisen in diesem Blog/
The other voyages in this blog: