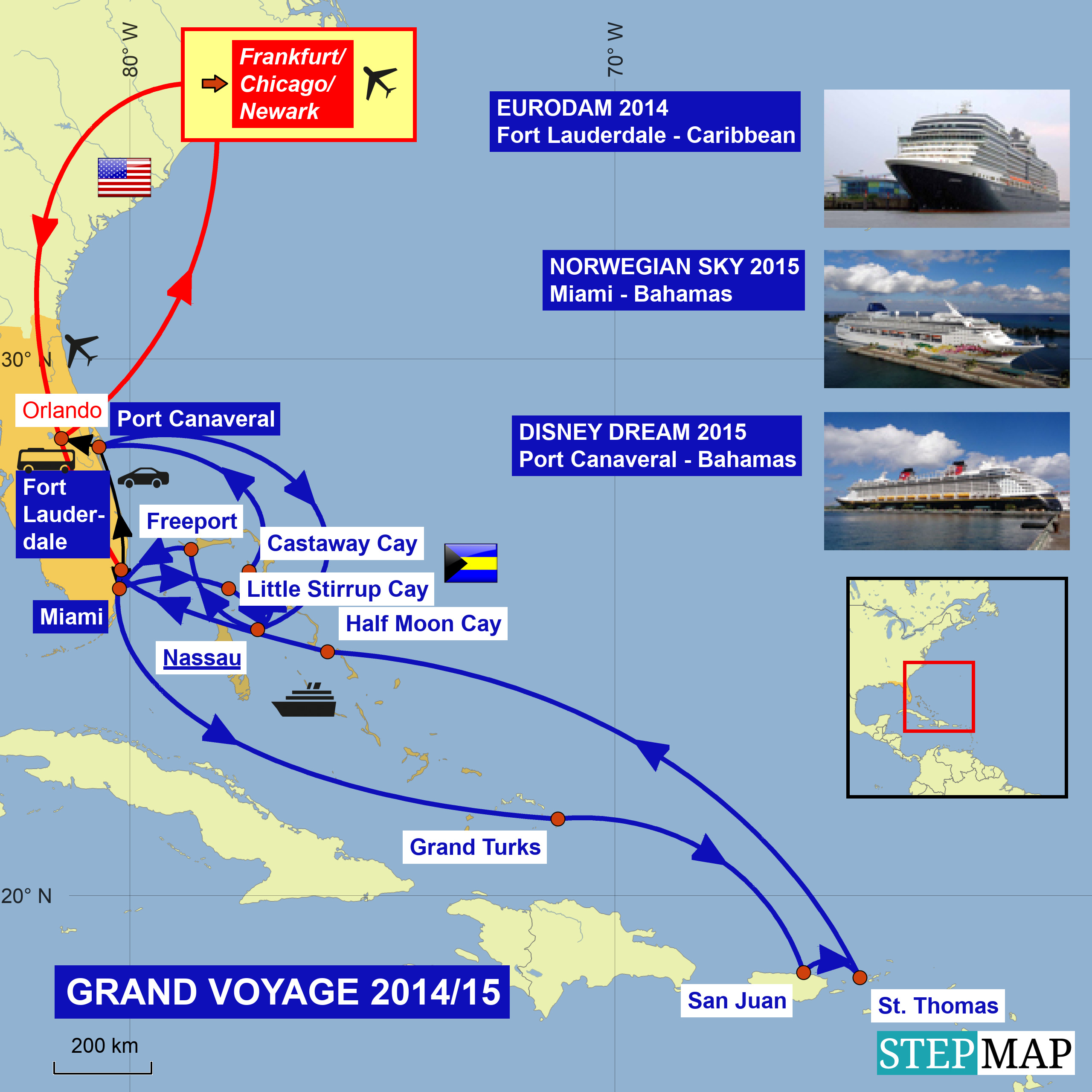 Den Tag nutzen wir um zum
Sawgrass Mills
zu fahren, um einzukaufen. Es gibt einen Bus, der täglich fährt, allerdings muss man sich eben an den Fahrplan halten. Wir sind zu dritt. Für 10 USD mehr pro Person können wir selbst bestimmen, wann wir wieder zurückfahren. Wir bekommen die Handynummer vom Fahrer und sollen anrufen, wenn wir zurück wollen.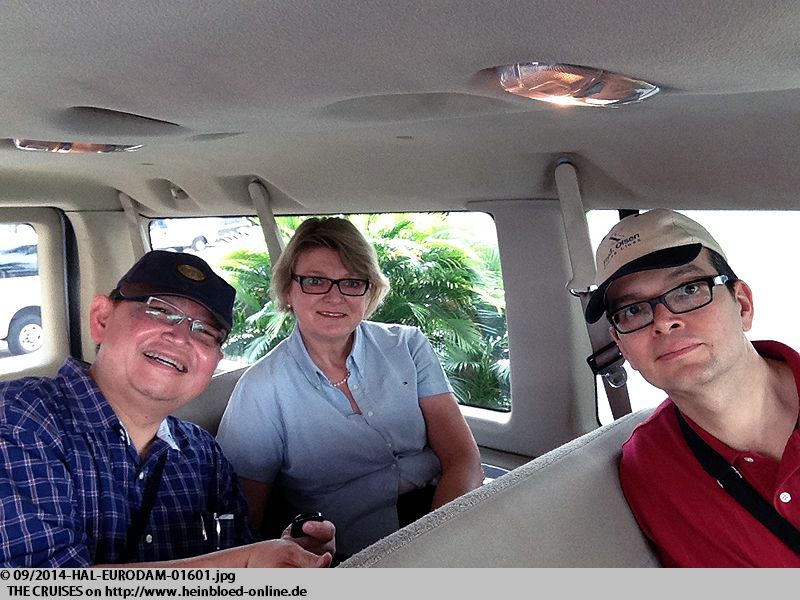 We used the day to see Sawgrass Mills to shop. They had a daily scheduled bus to get there and back, but you need to keep to the bus' schedule. For just 10 USD more per person, you could get back whenever you want. We got the cell phone number of the driver and should call when we want to get back.

It was before a real factory-outlet. Nowadays you had also many stores with "regular" assortment from the actual season. We had the luck that we came very early. Later it was so crowded that we were happy to get back. First we bought a new suitcase with Samsonite and a lot of sugarfree protein powder with Vitamin World. Protein-shakes were perfectly well for me, but I did not take any: all are based it on frozen yogurt with sugar. Furthermore I need some suitable shoes for this weather with Tommy Hilfiger. Nautica was before one of my favorite stores, but it was very disappointing: scrap!!! Goods and service!!! With Brooks Brothers we had luck with the goods and with a wonderful sales agent who took the time to measure up our collar sizes and arm lengths. Unfortunately, I did not record her name. She had a tag showing "Espanol" for Spanish-speaking customers. But we managed it very well. You should skip in a big bow the store International Electronics Superstore! I only wanted to buy few button cells and an SD-card! I should better buy a new thermometer. Total rip-off. We had a quick bite at Sushigami. O.K. it was more for Americans and less for Japanese. But it was too full, and we were happy to get any food. It was surprising to find Sigi outside waiting for us as she was not interested in shopping anymore.

Es war mal ein reines Factory-Outlet. Heute sind auch sehr viele Geschäfte mit "normalem" Sortiment aus der aktuellen Saison. Wir haben Glück, dass wir sehr früh kommen. Später ist es so voll, dass wir froh sind, dass wir zurückfahren können. Wir kaufen uns zunächst einen neuen Koffer bei
Samsonite
und jede Menge zuckerfreies Eiweisspulver für mich bei
Vitamin World
. Protein-Shakes sind das richtige für mich, nur hier nehme ich keinen: Alles auf Basis von Frozen Yoghurt mit Zucker. Außerdem brauche ich unbedingt ein paar passendere Schuhe bei
Tommy Hilfiger
für das Wetter. Nautica ist eine große Enttäuschung, sonst immer einer meiner Lieblingsshop: Schrott!!! Ware und Service!!! Bei
Brooks Brothers
haben wir sehr viel Glück: mit der Ware und mit einer ganz tollen Bedienung, die sich die Zeit nimmt, unsere Kragenweite und Armlängen auszumessen. Leider habe ich ihren Namen nicht mehr. Sie hat aber immer ein Schild "Espanol" für die spanisch-sprechenden Kunden. Aber wir sind gut klar gekommen. Um den Laden International Electronics Superstore sollte man einen großen Bogen herum machen. Ich wollte bloß ein paar Knopfzellen und eine SD-Karte kaufen! Ich hätte ein neues Thermometer kaufen sollen. Totaler Nepp. Wir essen schnell bei
Sushigami
. O.K. es war mehr für Amerikaner und weniger für Japaner. Aber es war einfach zu voll und wir froh überhaupt irgendwo etwas essen zu können. Zu unserem Erstaunen hatte Sigi auch schon keine Lust mehr zum Shoppen und hat draußen auf uns gewartet.
Wir genießen einfach die Sonne und Wärme und warten auf unser Taxi.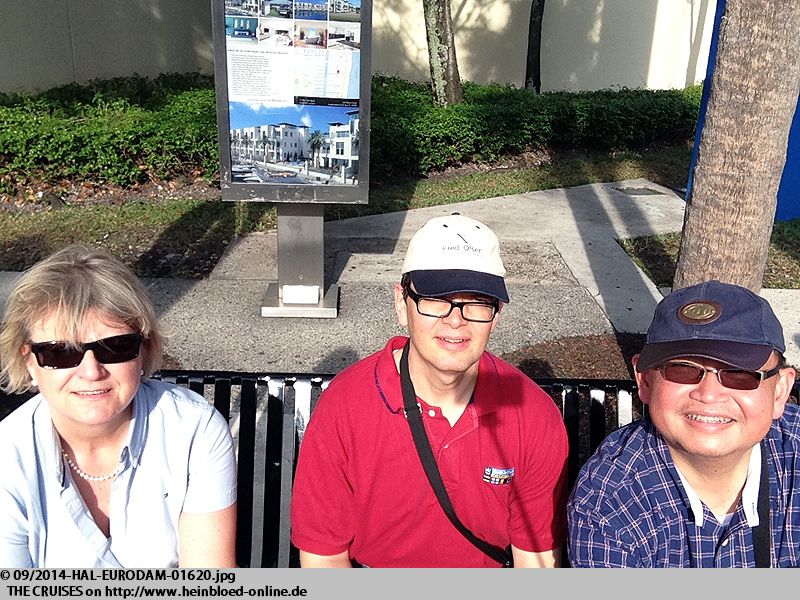 We enjoyed the sun and warmth and were waiting for our cab.

When we returned, everything was well prepared for our return. We got 1008. The most perfect view for ship spotters.

Als wir wieder kommen ist allerbestens auf unsere Rückkehr vorbereitet. Wir bekommen 1008. Der perfekte Blick für einen Shipspotter.
Und äußerst praktisch: die Wassertaxi-Haltestelle. Aber noch weiter fahren sie nicht rein, um die Schiffe fotografieren zu können.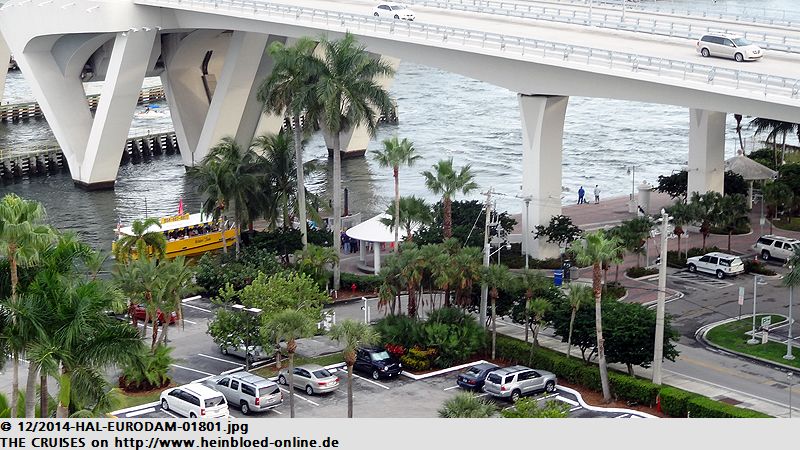 And very practical: the water taxi stop. But they did not go any further to allow taking pictures of the ships.

We really had a beautiful view for the set sail of the ships heading to the sea.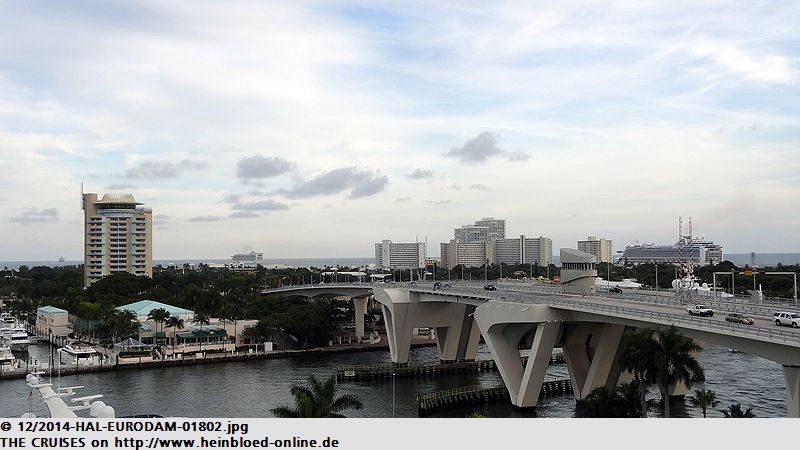 Wir haben wirklich einen schönen Ausblick auf die Ausfahrt für Schiffe zum Meer.
Leider wird die manchmal durch die Klappbrücke gestört, weil eine Yacht durch will.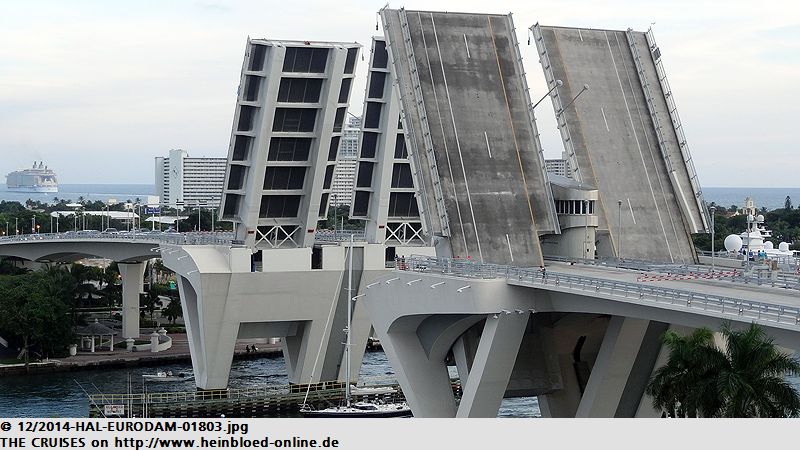 Occasionally the view became obstructed since yachts need to pass the bascule bridge.

Thank you, Sigi that you blocked our room the night before.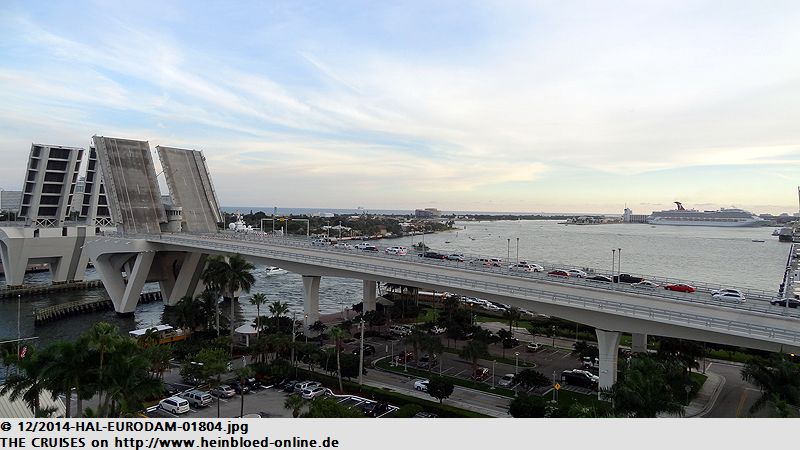 Danke Sigi, dass sie die Nacht zuvor unser Zimmer blockiert hat.
Falls man keinen so schönen Ausblick hat wie wir: von der Brücke geht es auch. Muss man halt ein wenig laufen.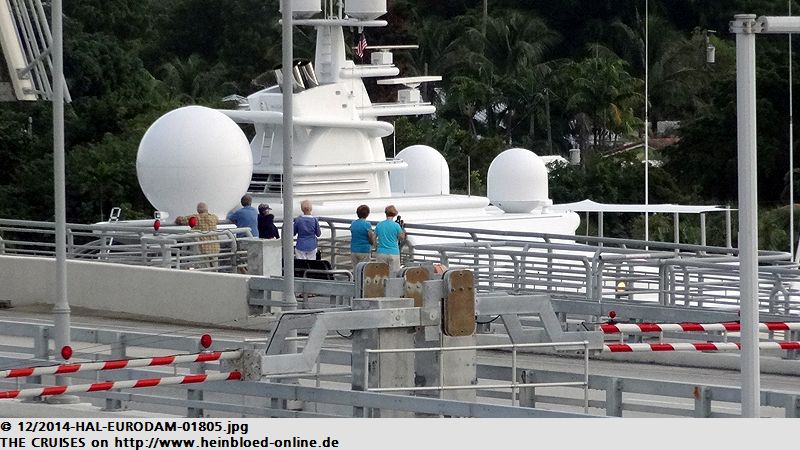 If you did have a beautiful view like we had: you can have one from the bridge, but you need to walk a little bit.

MY WESTERDAM were leaving.

MEINE
WESTERDAM fährt raus.
Danach verlässt die CARIBBEAN PRINCESS Fort Lauderdale.

Then CARIBBEAN PRINCESS were leaving.

Sistership RUBY PRINCESS were following.

Die Schwester RUBY PRINCESS folgt.
Die nächste, die Port Everglades verlässt: CELEBRITY CONSTELLATION.

Next who left Port Everglades: CELEBRITY CONSTELLATION.

Next was OASIS OF THE SEAS.

Weiter geht es mit der OASIS OF THE SEAS.
Und der erste wird der letzte sein: CARNIVAL FREEDOM.

And the first one was the last one: CARNIVAL FREEDOM.

It was so nicely warm that we decided to sit outdoor at the hotel pool: The G.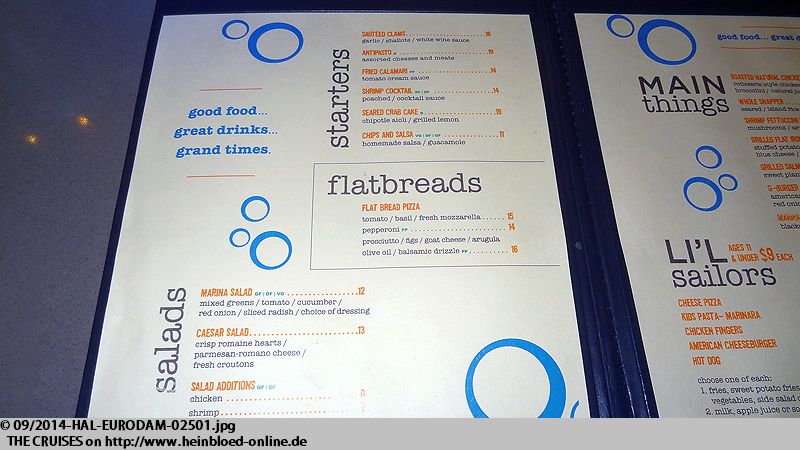 Es ist so schön warm, dass wir draußen am Hotelpool essen:
The G
.
Ein typisch amerikanisches Angebot.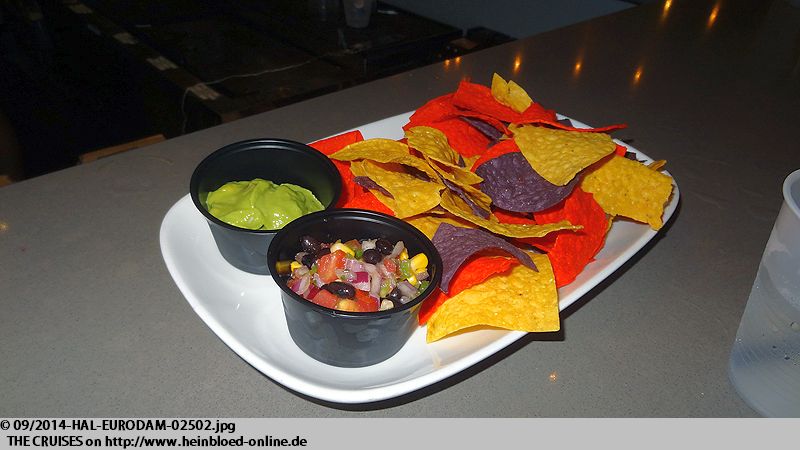 A typical American offer.

I did not know anymore what I had. But I do not believe that I ate much of this.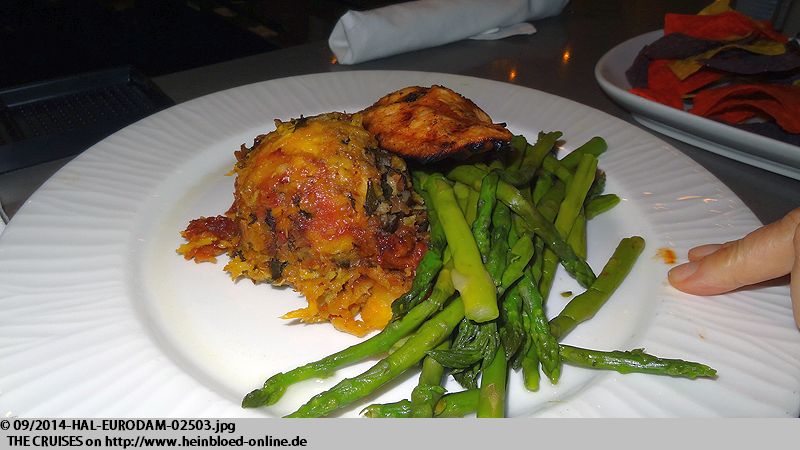 Ich weiss wirklich nicht mehr, was es war. Ich glaube aber nicht, dass ich viel davon gegessen habe.
Salat geht aber irgendwie immer.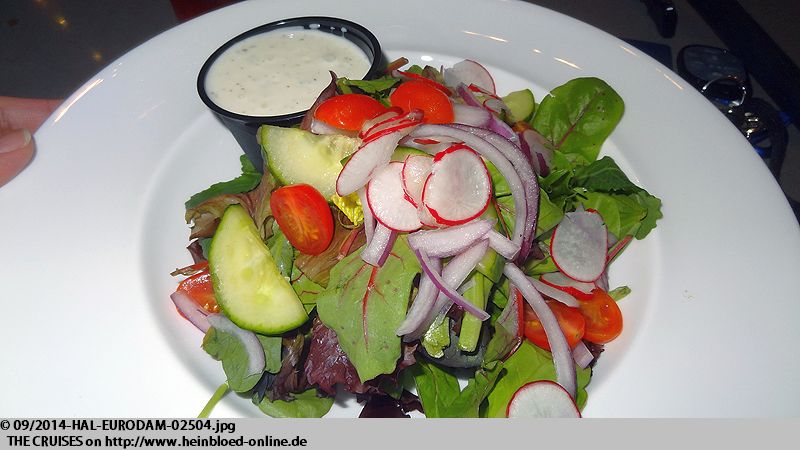 Salad always works.

Anyhow we had our fun.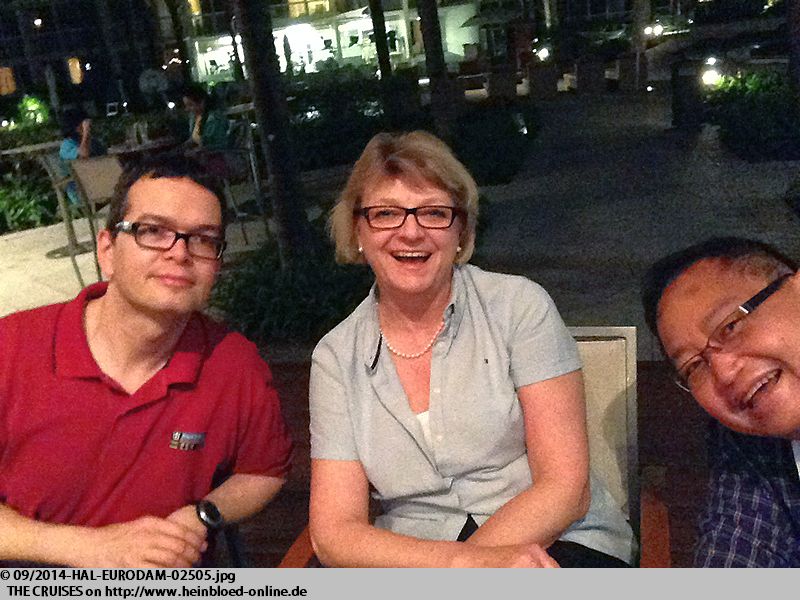 Wir haben auf jeden Fall Spaß.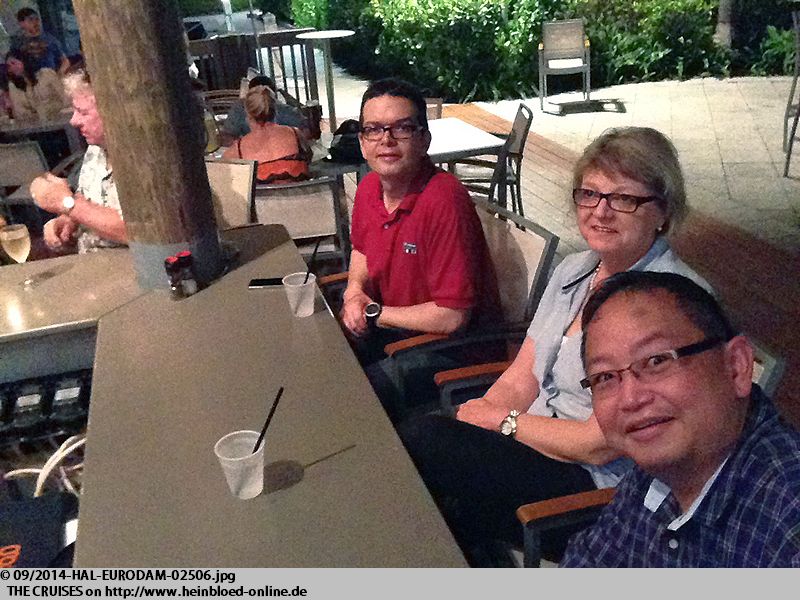 And we attracted the attion of our fellow-cruisers with the selfie-stick.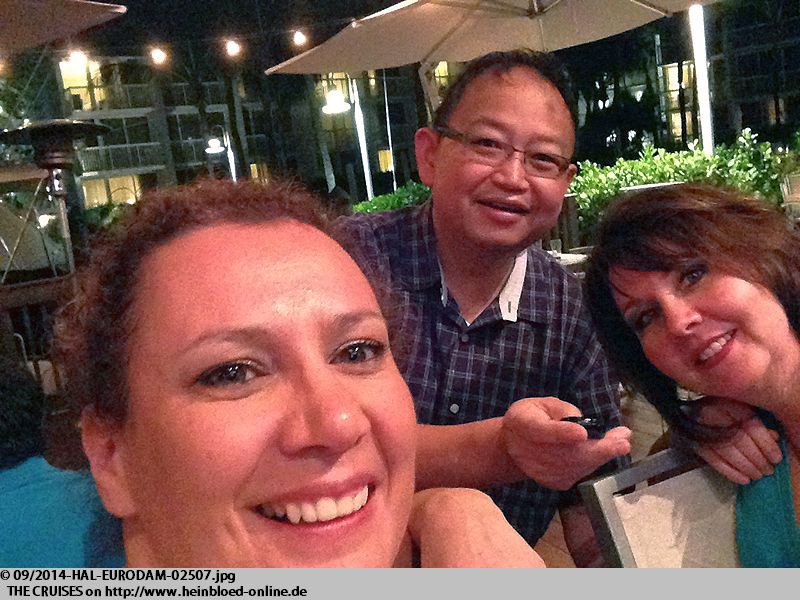 Und wir ziehen mit dem Selfie Stick die Aufmerksam unserer Mitreisenden an.
Sie sind auch auf der EURODAM gebucht, aber getroffen haben wir sie später nicht mehr. Aber ein perfekter Shipspotter-Tag endet: Sechs Schiffe zum Beginn einer insgesamt schönen Reise.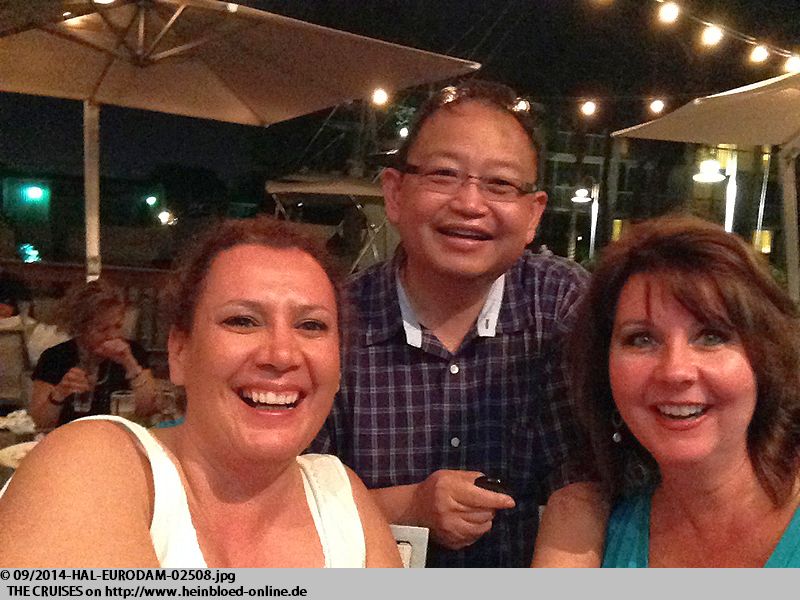 They were also booked on EURODAM but later we did not met them anymore. But a perfect shipspotting day came to an end: six ships at the start of a very nice voyage.
Die anderen Reisen in diesem Blog/
The other voyages in this blog: