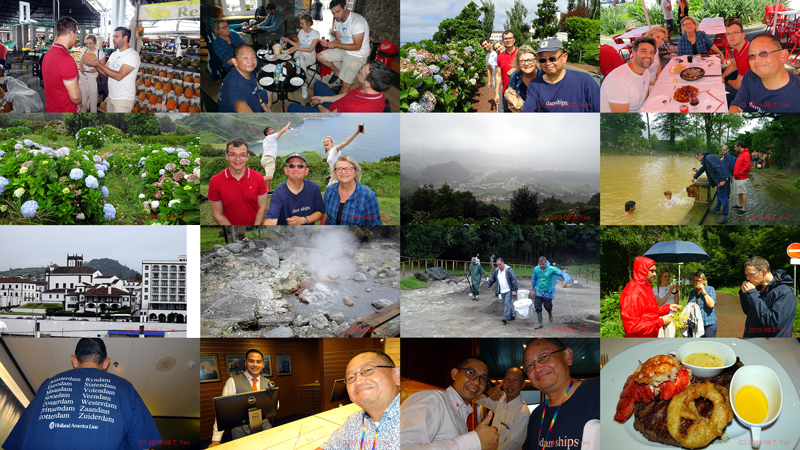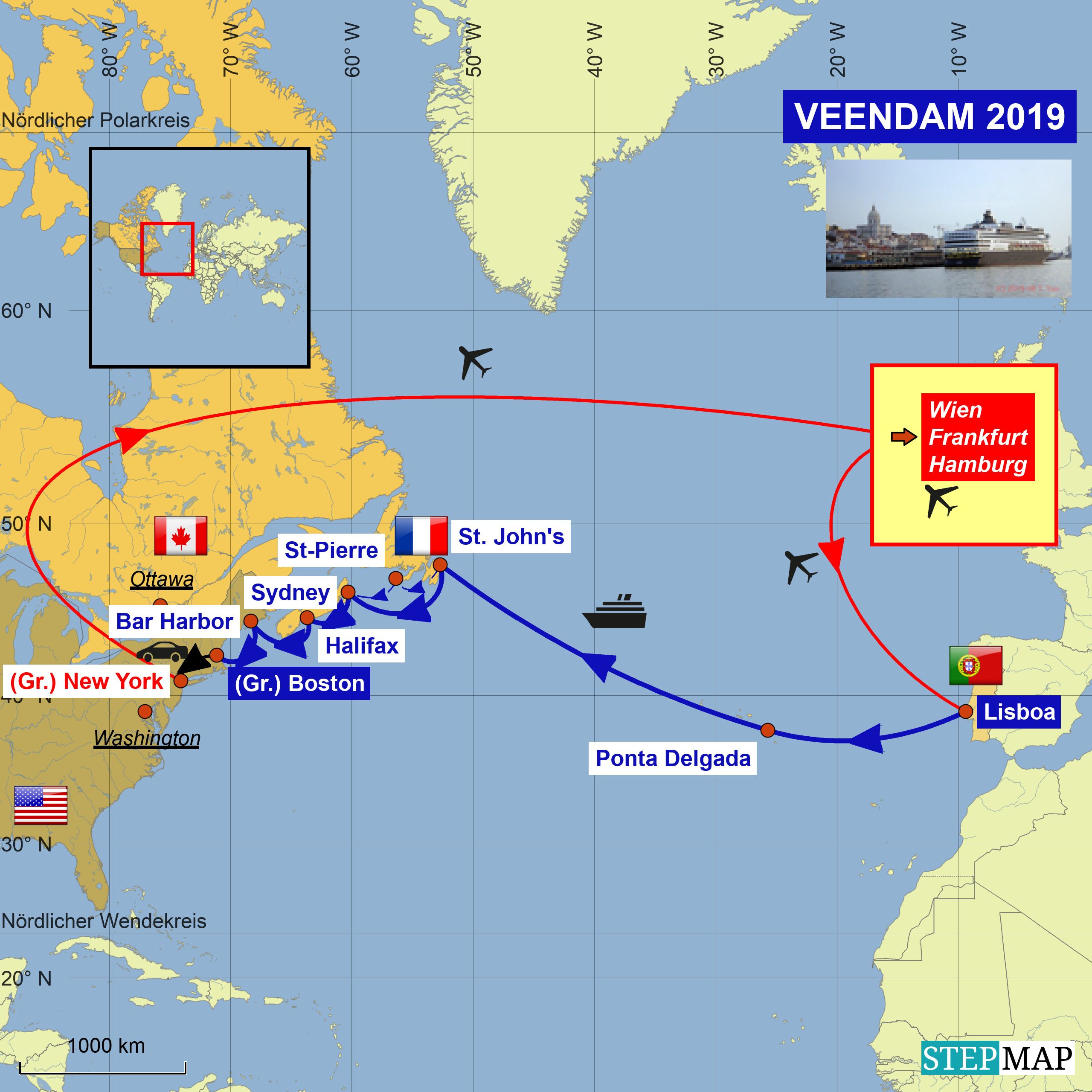 Es geht zum Walk a Mile. Dunkelheit ist kein Hinderungsgrund für Bewegung.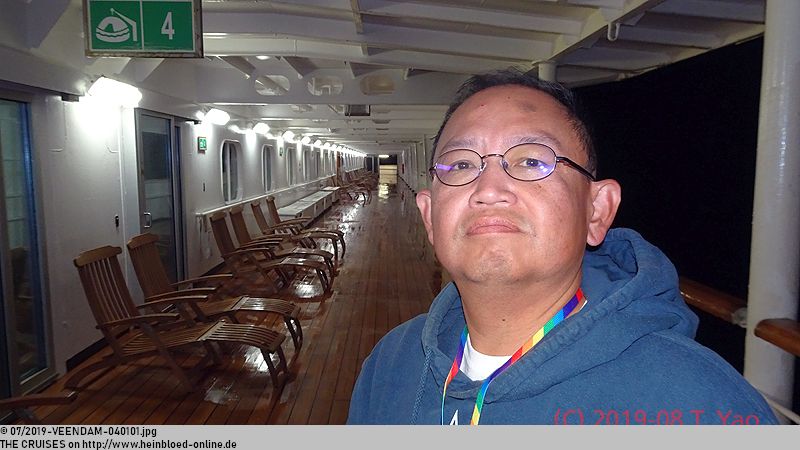 I went for walk a mile. Darkness was no hindrance to movement.

On that time, our deckchairs were being reinstalled.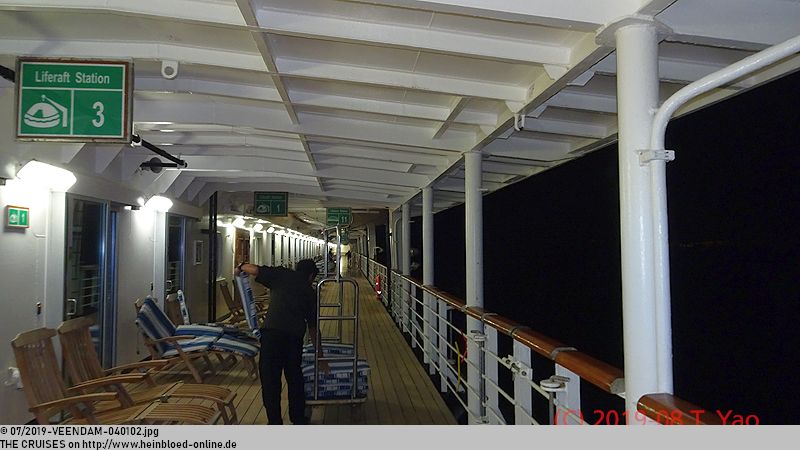 In der Zeit werden unsere Liegestühle wieder hergerichtet.
Und unser Deck und auch das Deck über uns wird gereinigt. Auf eine Dusche von oben muss ich mich immer gefasst machen. Ich habe aber meinen wasserfesten
Sony Walkman
an. So ist es nicht so schlimm. Ich muss danach sowieso unter die Dusche.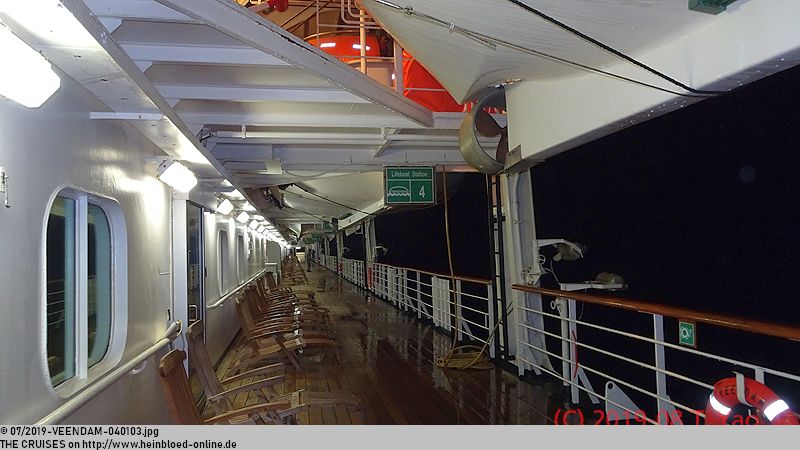 And our deck and even the deck above us were cleaned. I always had to be prepared for a shower from above. But I had my waterproof Sony Walkman. It was not that bad. I had to take a shower anyway.

After a few laps, everything was ready for us.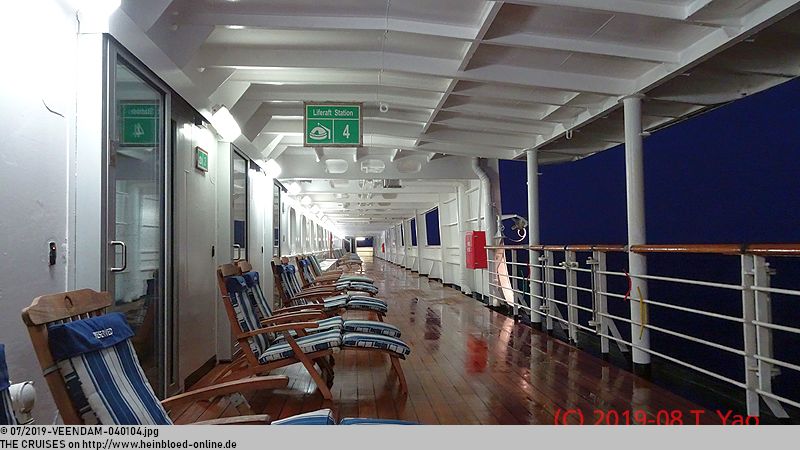 Nach ein paar Runden ist alles wieder hergerichtet für uns.
Ich trage mein liebstes Holland America-T-Shirt "dam ships".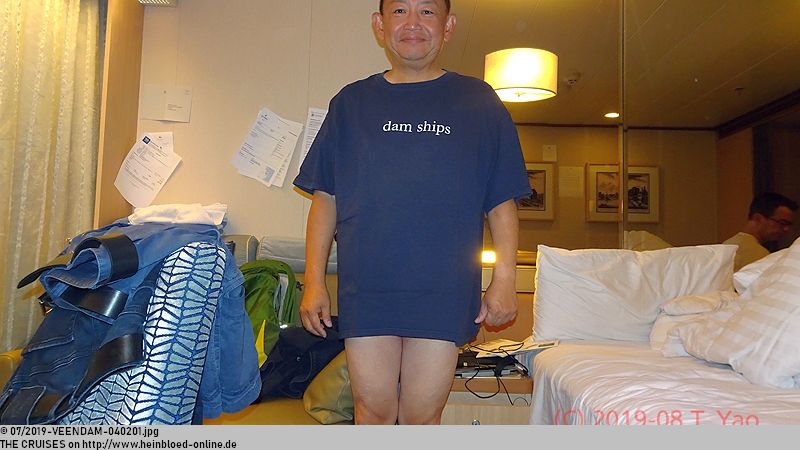 I wore my favorite Holland America T-Shirt "dam ships".

Unfortunately, in XL.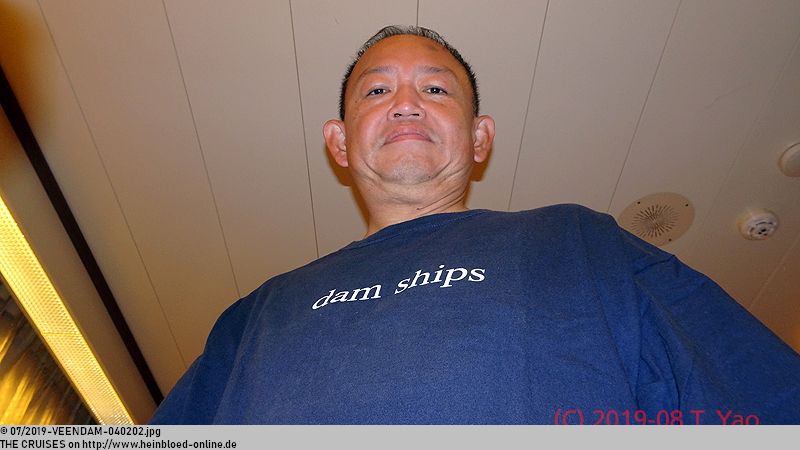 Leider in XL.
Aber eine aktuellere Version konnte ich bislang in M nicht kaufen.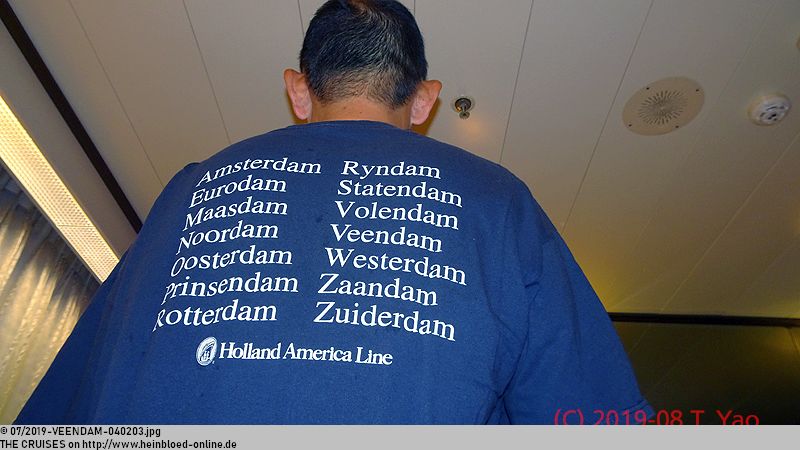 But it was not possible to buy an actual version in M.

Shore day and the Lido market opened at 06:30 hrs. I was going to get a portion of Congee. I also had a second tray that fit even more to carry it to our cabin.

Landgang und der Lido Markt öffnet erst um 06:30 Uhr. Ich gehe mir schon mal eine Portion Congee holen. Ich habe noch ein zweites Tablett bei, bei dem noch mehr darauf passt, um es zu unserer Kabine zu tragen.
Donnerstag. Das schlimme ist: trotz zweier Seetage: die Zeit vergeht zu schnell an Bord.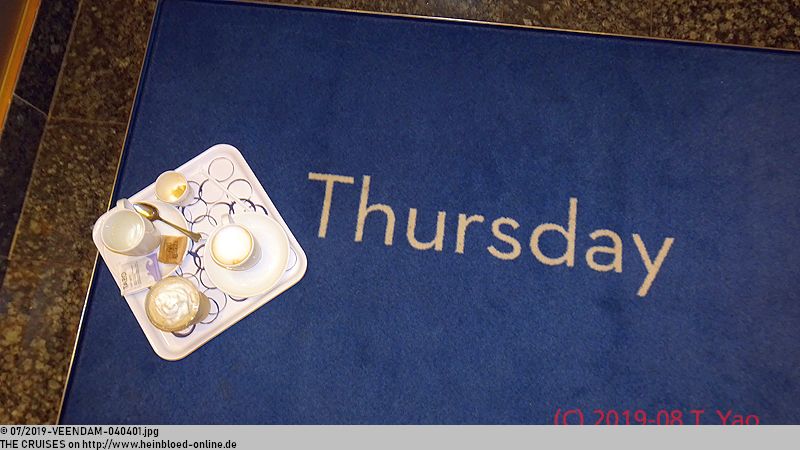 Thursday. The bad thing was: despite two days at sea: time went by too fast on board.

Our morning ritual: getting coffee for everyone and enjoying a cup before breakfast in or in front of our cabin.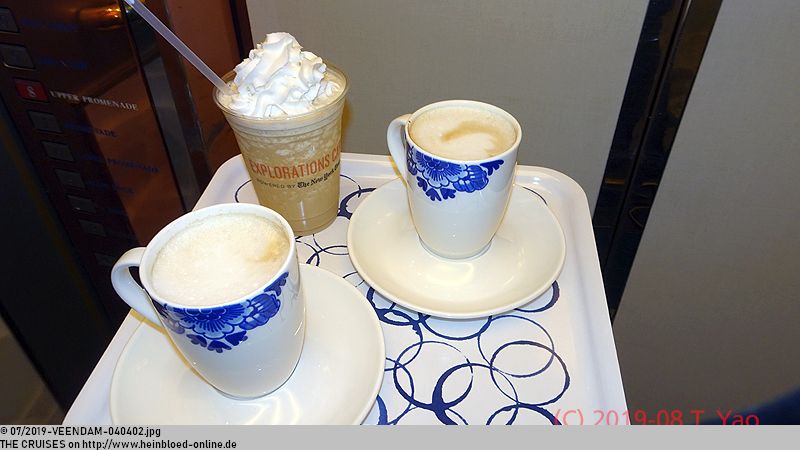 Unser morgendliches Ritual: Kaffee für alle holen und eine Tasse vor dem Frühstück in oder vor unserer Kabine genießen.
Auch immer schön: Bilder von historischen Holland America-Schiffen, die zwischen den Bücherregalen hängen.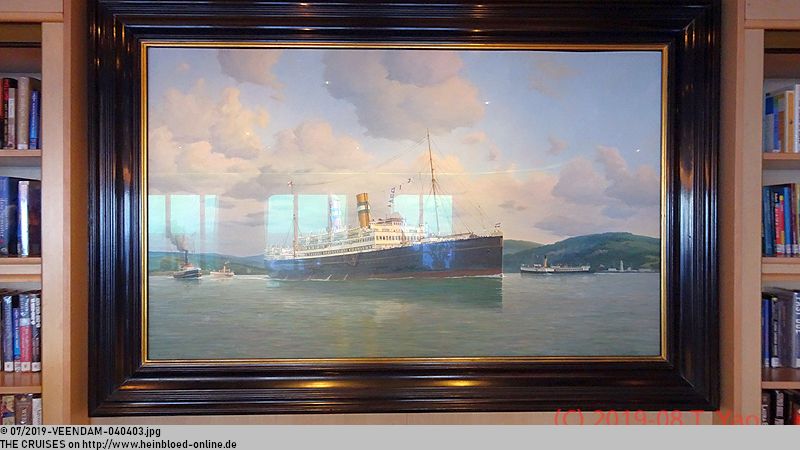 Also nice: pictures of historic Holland America ships hanging between the bookshelves.

VEENDAM (II). We were actually on VEENDAM (IV).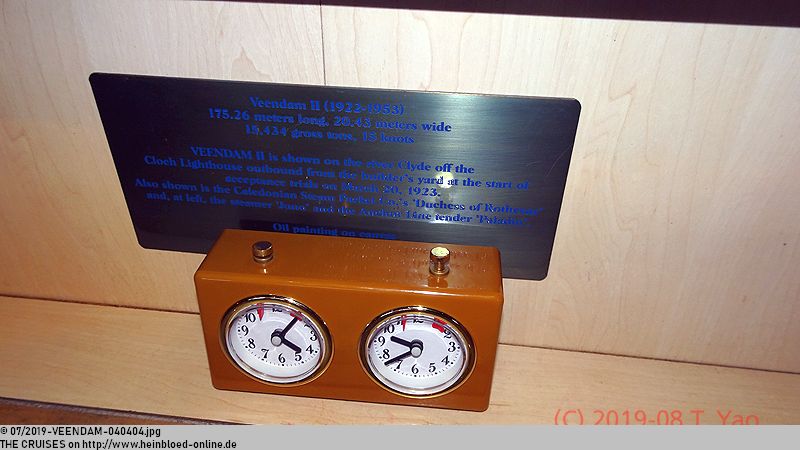 VEENDAM (II). Wir sind aktuell auf der VEENDAM (IV).
Ankunft in Ponta Delgada. Zum 2. Mal. Auf der
QUANTUM OF THE SEAS 2014
gab es einen medizinischen Notfall. Aber wir mussten damals an Bord bleiben und haben damals nicht angelegt, sondern geankert. Was macht aber das griechische Fährschiff MEGA JET aus Piräus hier in Ponta Delgada? Gibt es eine Fährlinie nach Griechenland? Später bekomme ich heraus: eine Fährverbindung zwischen dem Festland und den Azoren gibt es nicht. Die
Atlântico Line
verbindet in den Sommermonaten die Inseln untereinander. Die Kirche São Pedro müssen wir uns für das nächste Mal aufheben.

Arrival in Ponta Delgada, Azores, Portugal. For the second time. On QUANTUM OF THE SEAS 2014, there was a medical emergency. But we had to stay aboard and did not dock at that time, but anchored. But what did the Greek ferry MEGA JET from Piraeus, Greece was doing here in Ponta Delgada? Was there a ferry line to Greece? Later I found out: there was no ferry service between the mainland and the Azores. Atlântico Line connected the islands with each other in the summer months. We had to save the church of São Pedro for the next time.

First, we went for breakfast. And again, we enjoyed the excellent service of Firman and Dadang. I took the European cold breakfast. There was always a very delicious bread roll aside. Only with the herring, I could not do anything at this time. But in which European countries was a herring served for breakfast? Boiled eggs were again only available as a couple, and somehow they did not look like they came from the same chicken.

Wir gehen erst mal zum Frühstück. Und wieder genießen den tollen Service von Firman und Dadang. Ich nehme das europäische kalte Frühstück. Dazu gibt es immer ein sehr leckeres Brötchen. Nur mit dem Hering kann ich um diese Uhrzeit auch nichts anfangen. Aber in welchen europäischen Ländern wird ein Hering zum Frühstück serviert? Gekochte Eier gibt es wieder nur als Pärchen und irgendwie sehen sie nicht danach aus, dass sie vom selben Huhn kämen.
Das Internet steht.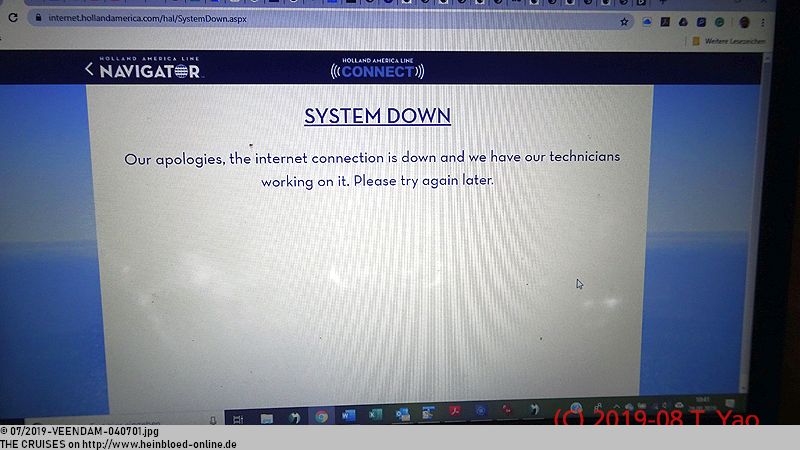 The internet was shut down.

Bruno was warned while sitting at breakfast in the main dining room on his iPhone that a ship collision was imminent: in less than a minute with VEENDAM. Well.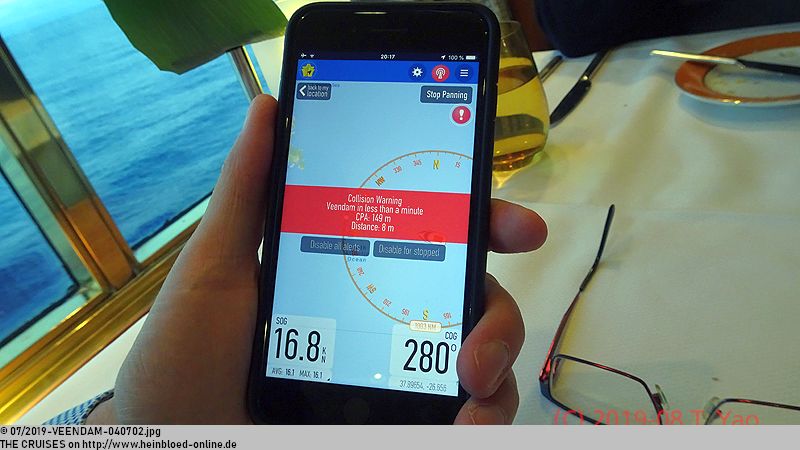 Bruno wird während wir beim Frühstück im Hauptrestaurant sitzen auf seinem iPhone davor gewarnt, dass eine Schiffskollision bevorsteht: in weniger als einer Minute mit der VEENDAM. Aha.
Oh klasse: Für Gäste mit Wohnsitz außerhalb der EU besteht an Bord die Möglichkeit, sich einen Ausfuhrstempel für die Mehrwertsteuererstattung zu erhalten. Guter Service, den ich bislang noch nicht kennen gelernt habe. Allerdings verlasse ich die EU auf diese Art zum ersten Mal. Unsere bisherigen Transatlantik-Fahrten auf der
QUEEN VICTORIA 2008
und
QUANTUM OF THE SEAS 2014
führten uns ja direkt von einem noch EU-Hafen (Southampton) raus aus der EU.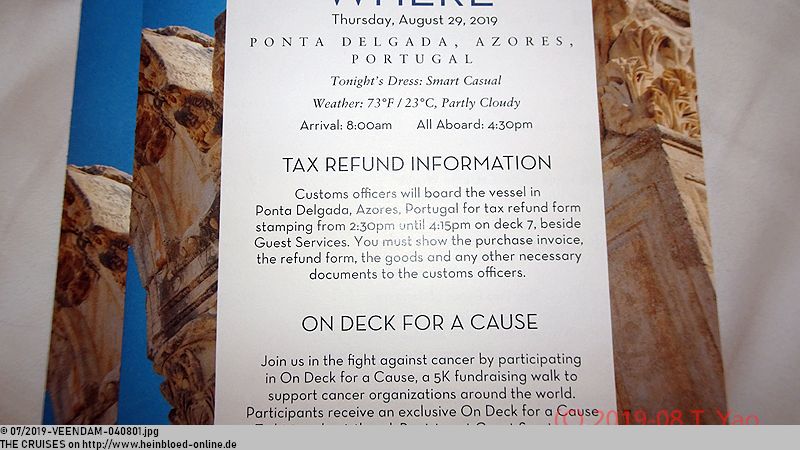 Oh great: For guests residing outside the EU, there was the option on board to get an export stamp for the VAT refund. Good service, which I had not met yet. However, I was leaving the EU for the first time in this way. Our previous transatlantic crossings on QUEEN VICTORIA 2008 and QUANTUM OF THE SEAS 2014 took us directly from one (still) EU port (Southampton, England) out of the EU.

Always important: taking the information about the port agent.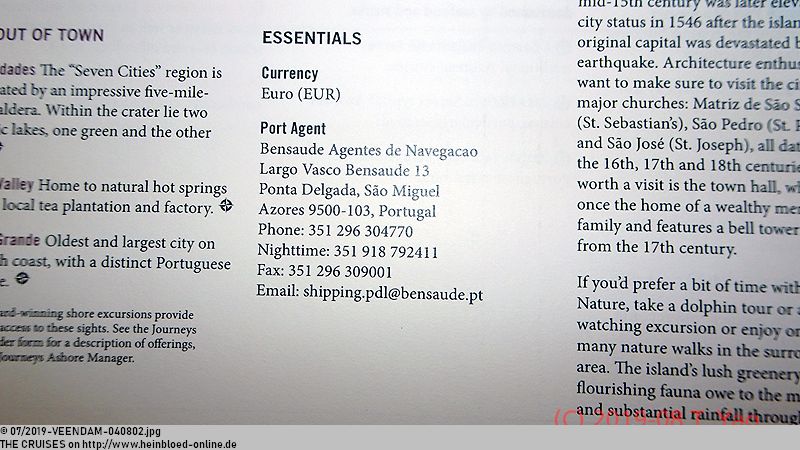 Immer wichtig: die Informationen über den Hafenagenten mitnehmen.
Und die Zeit nochmals, wann wir an Bord sein müssen.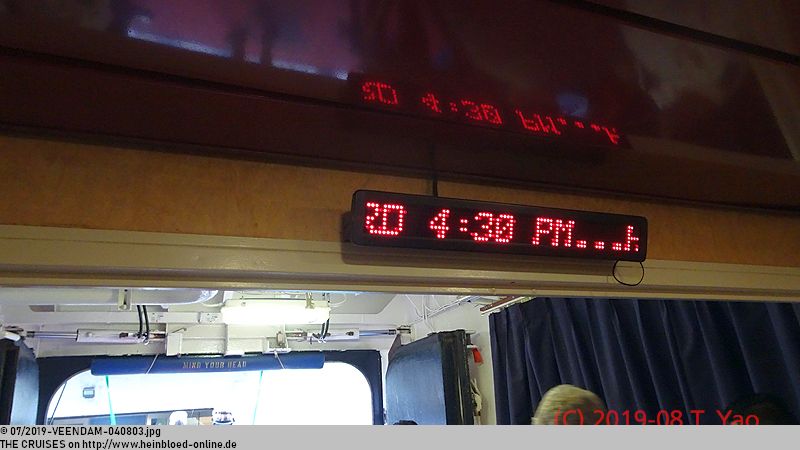 And the time again, when we supposed to be back on board.

And with the weather forecasts, my new freehand umbrella from Euroschirm was a must. Today it could show what it could work it out.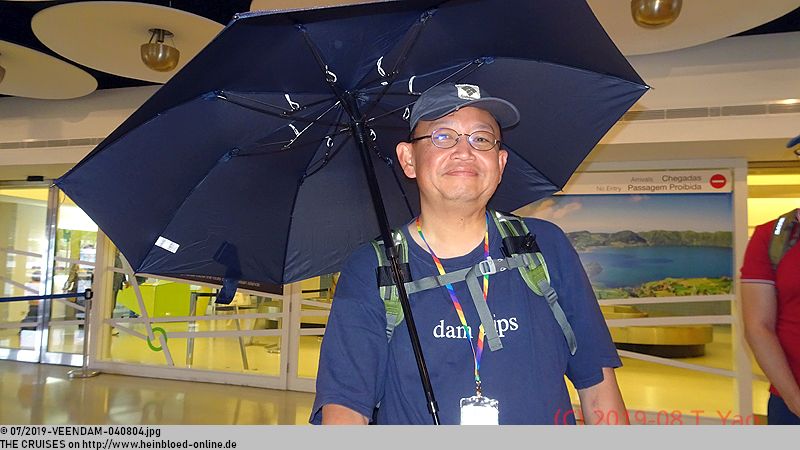 Und bei den Wetterprognosen ist mein neuer
freihändiger Schirm von Euroschirm
ein Muss. Heute kann er zeigen, was er kann.
Das Kreuzfahrtterminal am
Portas do Mar
ist toll gestaltet, so dass man auch die Infrastruktur sehr gut nutzen kann, wenn kein Kreuzfahrtschiff da ist. Viele Läden und Restaurants sind direkt integriert. Die Infrastruktur für Kreuzfahrer ist ebenfalls sehr gut. Allerdings auf verschiedene Ebenen verteilt, so dass es nicht immer einfach ist die Treffpunkte zu finden. Sogar ein Schwimmbad ist Teil der Anlage. Bestimmt kann man auch hier gut das Schiff fotografieren, aber leider lässt heute die Zeit das nicht zu. Wir kommen erst last minute wieder zurück.

The cruise terminal at Portas do Mar was great, so you could use the infrastructure very well if no cruise ship was there. Many shops and restaurants were integrated directly. The support for cruisers was also excellent. However, distributed on different levels, so that it was not always easy to find the right meeting places. Even a swimming pool was part of the complex. Surely you could also take a good picture of the ship here, but unfortunately, today time did not allow that. We only returned the last minute.

The offer by the ship.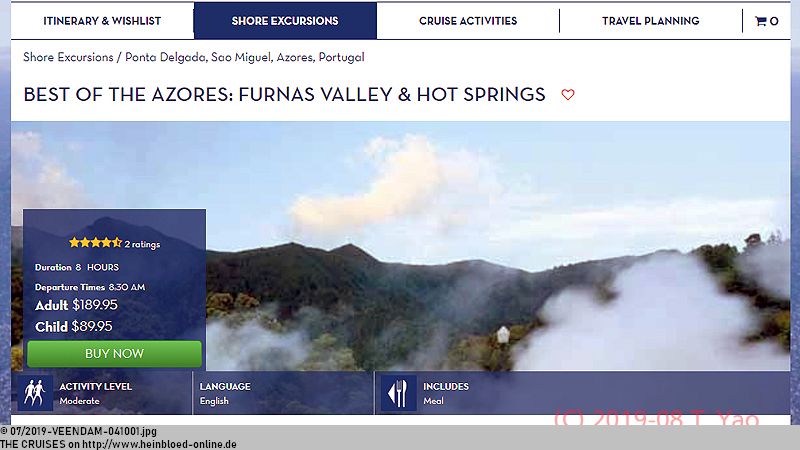 Das Angebot seitens des Schiff.
Für die selbe Summe (oder weniger) ziehen wir immer einen Privatausflug vor. Hier bestimmen wir, was wir machen. Z. T. sehr spontan. Deswegen gibt es für diese Tour keine Liste, was wir uns ansehen. Wie üblich heißt die Aufgabe: seid die Botschafter von den Azoren und stellt einfach mit eurer Auswahl sicher, dass wir allen erzählen, wie toll die Azoren sind bzw. der Veranstalter und wir gerne wiederkommen und sie wiederbuchen würden. Im Bus haben wir daher ausreichend Platz.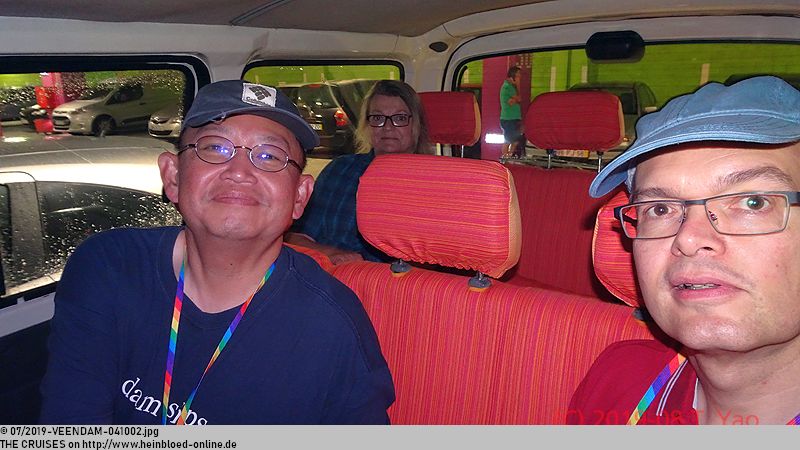 For the same amount (or less) we always preferred a private tour. Here we determined what we should do, partly very spontaneous. That was why there was no list of what we supposed to see for this tour. As usual, the task was: be the ambassadors of the Azores and make sure with your selection that we tell everyone how great the Azores are or the tour supplier, and we would like to come back and rebook them. Therefore we had plenty of space in the van.

This was obvious when traveling with Hungry Whales. We got so much food during the day that we could have relinquished breakfast comfortably. Nadja Schreurs and Rafael Fraga offered in the summer tours on the main island of São Miguel. In the winter, they were active in Amsterdam. Since food was always part of our tour philosophy and we liked to get to know new treats in the ports, we were, therefore, traveling with Hungry Whales. I did not offer the tour in the roll call, because I did not know what we supposed to see and others already expected that they would like to know in advance, what could be seen on the day.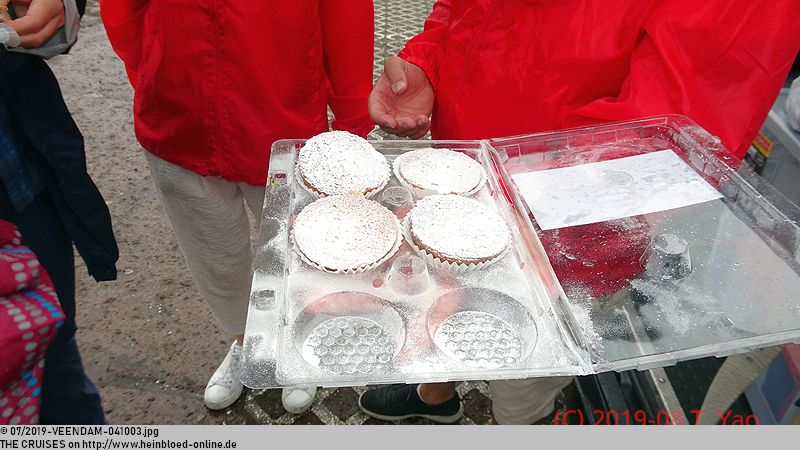 Das ist naheliegend, wenn man mit
Hungry Whales
unterwegs ist. Wir bekommen im Laufe des Tages so viel zu essen, dass wir bequem auf das Frühstück hätten verzichten können. Nadja Schreurs und Rafael Fraga bieten im Sommer Touren auf der Hauptinsel São Miguel an. Im Winter sind sie in
Amsterdam
aktiv. Da eben Essen immer ein Teil unserer Tourphilosophie ist und wir gerne neue Leckereien in den Häfen kennenlernen, sind wir daher bei
Hungry Whales
unterwegs. Ich habe die Tour nicht im Roll-Call angeboten, weil ich selbst ja nicht weiß, was wir sehen und andere i.d.R. schon erwarten, dass sie vorab wissen, was alles an dem Tag zu sehen ist.
Aufgrund des Regens verzichten wir auf die Attraktionen im Zentrum von Ponta Delgada und gehen direkt in die Markthalle Mercado da Graça. Hier sehen wir auch die berühmte Ananas von den Azoren, die Cisco bereits an Bord beworben hat. Wir dürfen hier vieles probieren. Z.B. auch frische Passionsfrucht. Kirschen gibt es hier nicht: es wird im Sommer nicht heiß genug. Aber es wird im Winter auch niemals kalt genug. Ich nehme Pimenta und etwas Tee mit nach Hause. Der Blick in die Fischhalle und bei den Blumenhändlern ist wie ein Besuch beim Aroma- und Farbtherapeuten.

Due to the rain, we did without the attractions in the center of Ponta Delgada and went straight into the market hall Mercado da Graça. Here we also saw the famous pineapple from the Azores, which Cisco already advertised on board. We could try a lot here. For example, even fresh passion fruit. Cherries did not exist here: it did not get hot enough in summer. But it never got cold enough in the winter either. I bought some Pimenta and some tea home. The view into the fish hall and the flower dealers was like a visit to the aroma and color therapists.

We loved our gourmet breaks. Through Cisco, we knew that the Azores was a hotbed of tea cultivation. There was no coffee break, but a tea break at Terra Verde.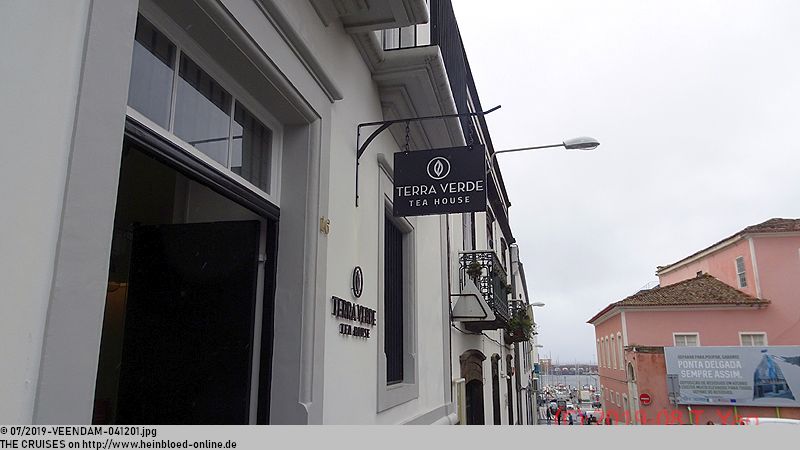 Wir lieben unsere Genießer-Pausen. Durch Cisco wissen wir, dass die Azoren eine Hochburg des Teeanbaus gibt. Dadurch gibt es keine Kaffeepause, sondern eine Teepause bei
Terra Verde
.
Nadja macht uns darauf aufmerksam, dass man hier etwas kaufen kann, aber man kann auch günstiger und weniger aufwändig verpackt an anderen Orten kaufen.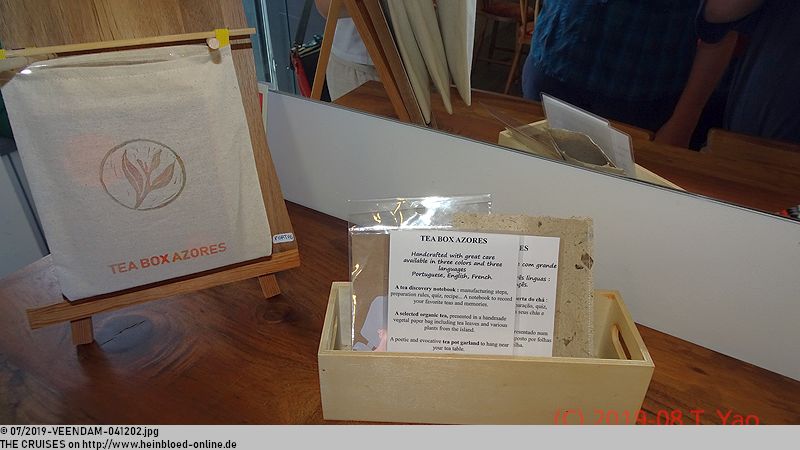 Nadja pointed out that you could buy something here, but we could also buy cheaper and less expensive packaged in other places.

But here we got an excellent selection to try.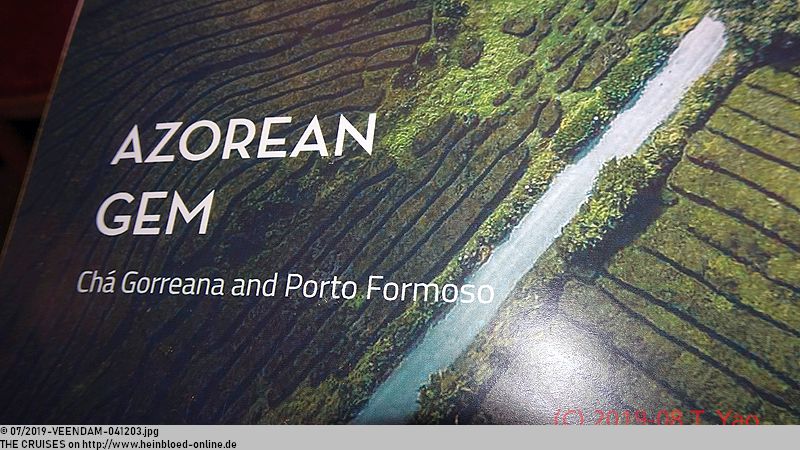 Aber hier bekommen wir eine schöne Auswahl zum Probieren.
Der Ausflug ist teuer, ABER alles was wir essen und trinken ist bereits im Preis enthalten. So kann ich alle Teesorten auch als Eistee probieren.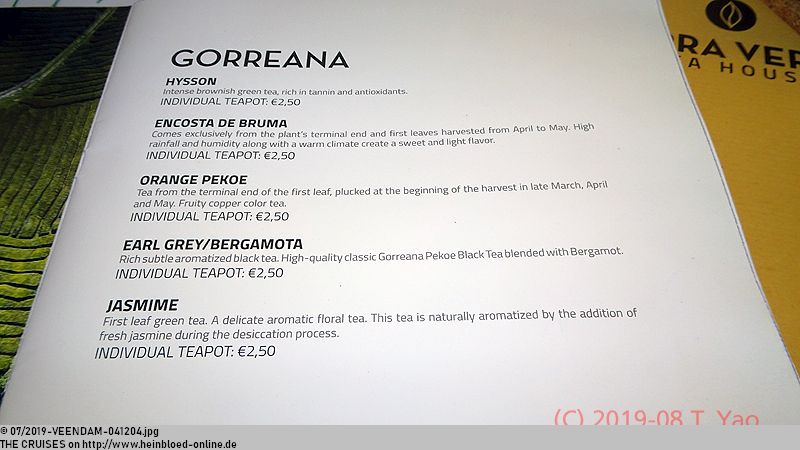 The tour was expensive, BUT all we ate and drank was already included in the price. So I could taste all teas as iced tea.

I was born in Taiwan. Formerly Portuguese and therefore Formosa for the beautiful island. I understood therefore immediately the term Porto Formoso.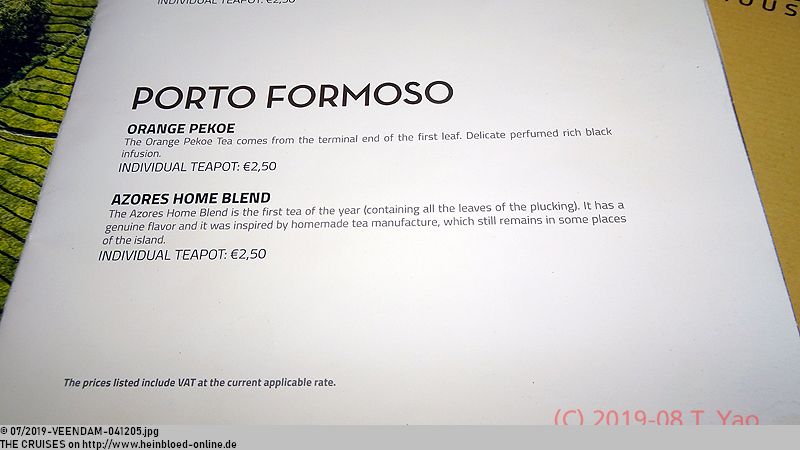 Ich bin ja auf Taiwan geboren. Vormals portugiesisch und daher Formosa für die schöne Insel. Ich verstehe daher sofort den Begriff Porto Formoso.
Unser erster Stopp im strömenden Regen: Miradouro do Lombo dos Milhos überhalb von Furnas. Trotz des Regens: ein schöner mystischer Anblick und dazwischen die vielen Hortensien, die hier wie Unkraut wachsen.

Our first stop in the pouring rain: Miradouro do Lombo dos Milhos above Furnas. Despite the rain: a beautiful mystical sight and in between the many hydrangeas that grew here like weeds.

We drove down to Lake Furnas. A crater lake that was still active. Bruno loved it. We went to Mt. Vesuvius on NORWEGIAN GEM 2009, CARNIVAL SPIRIT 2011 on Big Island Hawai'i and MSC MERAVIGLIA 2017 on Mt. Etna. Why would we need to see another crater lake? They all looked the same and stank all the same. Especially as it rained dogs and cats.

Wir fahren zum Furnas-See runter. Ein Kratersee, der noch aktiv ist. Bruno liebt das. Wir waren schon mit der
NORWEGIAN GEM 2009
auf dem Vesuv,
CARNIVAL SPIRIT 2011
auf Big Island Hawaii und
MSC MERAVIGLIA 2017
auf dem Ätna. Wozu müssen wir einen weiteren Kratersee sehen? Die sehen alle gleich aus und stinken alle gleich. Zumal es in Strömen regnet.
In dem vulkanischen Sand wird "gekocht" - im wahrsten Sinne des Wortes. Verschiedene Restaurants lassen hier einen Tontopf mit verschiedenen Fleisch- und Gemüsesorten eingraben und nach einer gewissen Garzeit wird es wieder ausgegraben. Die Tontöpfe werden entsprechend markiert, damit das Restaurant den Tontopf wieder bekommt, der nach seiner Rezeptur zubereitet ist. Hier als Beispiel
Restaurant Tonys
. ACHTUNG: Wir essen hier nicht, weil es doch sehr viel Zeit in Anspruch nehmen würde und daher kann ich nicht sagen, wie es schmeckt. Auf den Fotos des Restaurants sieht es wie Bäckeofen aus dem Elsass aus. Wir ziehen es vor, lieber mehr von der Insel zu sehen, statt in einem Restaurant zu verbringen. So müssen wir die Probe des Gerichtes
Cozido nas Caldeiras
ebenfalls auf die Liste für das nächste Mal packen. Aber wir stellen fest: es gibt soviel auf den Azoren zu sehen: das schafft man nicht in den wenigen Stunden eines Schiffsanlaufs. Trotz der Tatsache, dass es sich um eine kleine Insel handelt.

In the volcanic sand was "cooked" - in the truest sense of the word. Various restaurants had a clay pot with various meat and vegetables buried here, and after a certain cooking time, it was dug up again. The clay pots were marked accordingly. So that the restaurant got the clay pot again, which was prepared according to its recipe. There was an example of Restaurant Tony's. ATTENTION: We did not eat here, because it would take a lot of time and therefore I can not say how it tastes. In the photos of the restaurant, it looked like "Bäckeofen" (Cabbage stew with a lot of meat) from Alsace, France. We preferred to see more of the island instead of staying in a restaurant. So we had also to put sampling the dish Cozido nas Caldeiras on the list for the next time. But we found out: there was so much to see on the Azores: you could not do that in the few hours of a ship's call. Even though it was a small island.

We continued to the hotel complex Terra Nostra. This admission was already included in our tour price. It was a mix of a botanical garden and an outdoor pool in volcanic waters. The park was lovely, but it was still raining. We did without a bath in the brown mineralized volcanic water. The effort to move, store clothes safely, bathing, showering, drying, walking was too high for us. Since it only rained since we arrived, we did not have bathing suits anyway. That so many took a bath here in spite of the rain, surprised me a lot.

Weiter geht es in die Hotelanlage
Terra Nostra
. Auch dieser Eintritt ist bereits in unserem Tourpreis enthalten. Es ist eine Mischung aus
Botanischer Garten
und
Freibad im vulkanischen Wasser
. Der
Park
ist sehr schön, aber es regnet immer noch in Strömen. Auf ein
Bad in dem braunen mineralisierten Vulkanwasser
verzichten wir. Der Aufwand Umziehen, Kleidung sicher unterbringen, Baden, Duschen, Trocknen, Umziehen ist uns zu hoch. Da es ja seit unserer Ankunft bloß regnet, haben wir eh keine Badesachen mit. Dass trotz Regens so viele hier ein Bad nehmen, überrascht mich doch sehr.
Den nächsten Snack gibt es dann im Bolos Lêvedos Rosa Quental. Hier wird wieder bestätigt: Portugiesen mögen es süß. Selbst der Käse schmeckt mit dem hausgemachten Brot schmeckt süß. In der Auslage sehe ich etwas niederländisch-schweizerisches Saucijzenbroodje bzw. Wurstweckli. Nadja bestellt sofort für mich. Leider nicht ganz so gut, wie auf der
KONINGSDAM 2016
.

The next snack we got with Bolos Lêvedos Rosa Quental. Here was again confirmed: Portugueses liked it sweet. Even the cheese tasted sweet with the homemade bread. In the display, I saw something Dutch-Swiss Saucijzenbroodje or Wurstweckli (Sausage roll). Nadja ordered for me immediately. Unfortunately, not quite as good as on KONINGSDAM 2016.

We headed a little further: in Caldeiras.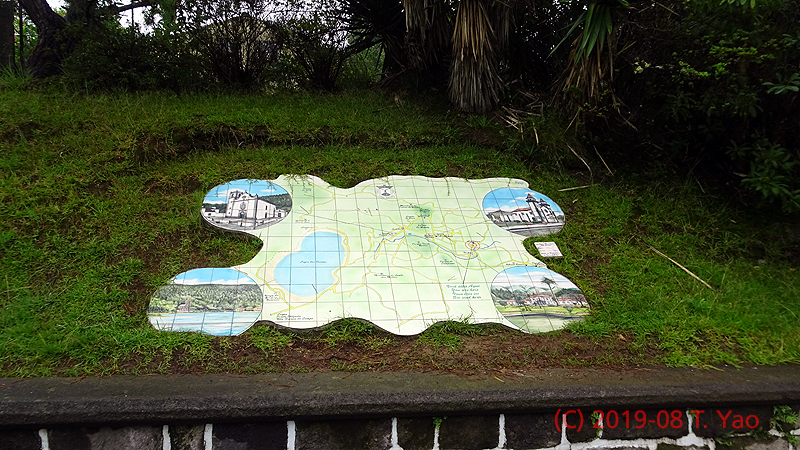 Wir sind wieder ein Stückchen weiter: in Caldeiras.
Nächste Spezialität: Mineralwasser direkt aus der Quelle.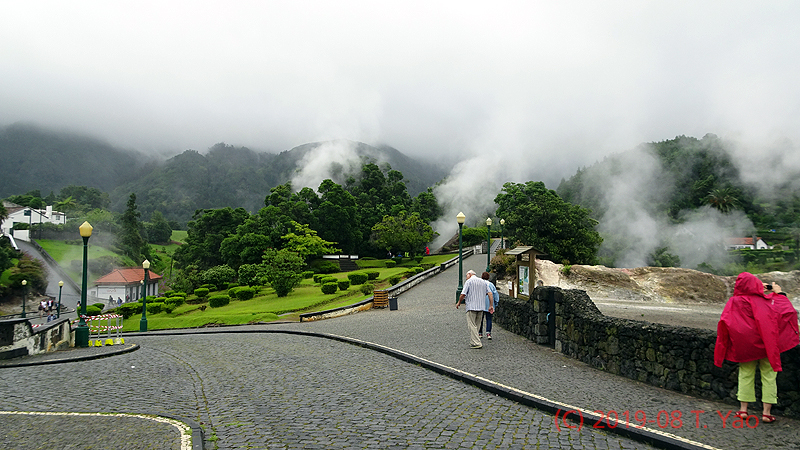 Next specialty: mineral water right from the source.

Everywhere you could experience the steam out of the earth.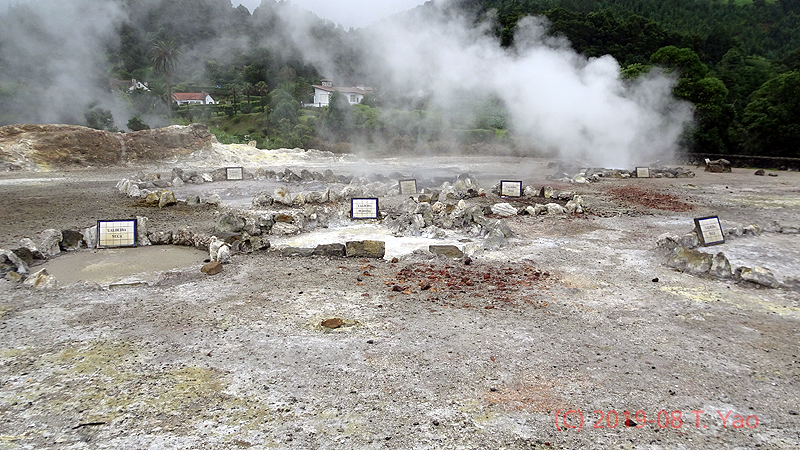 Überall dampft es auch hier aus der Erde.
Ein altes Thermalbad.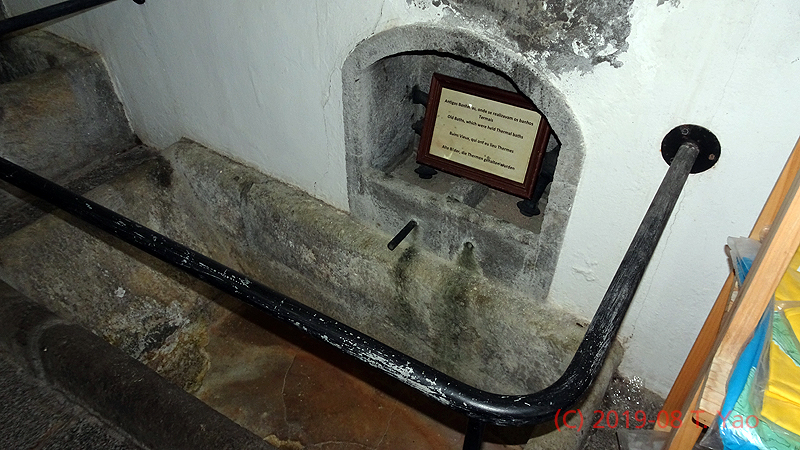 An ancient thermal bath.

I HATE vulcanic mineral water - neither I liked it in Aachen, Germany nor in the Vulkaneifel Highlands (always tasted like sulfur).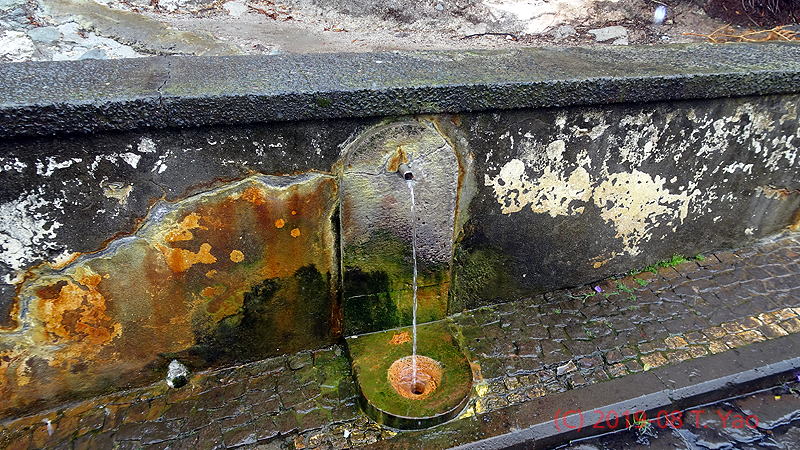 Ich HASSE vulkanisches Mineralwasser - sei es in Aachen und auch in der Vulkaneifel.
Nach dem Schwefelgeschmack im Mund, kommt mir der Laden Loja de Artesanato für einheimische Liköre von Cooperativa Celeiro da Terra sehr recht, um einen anderen Geschmack im Mund zu bekommen.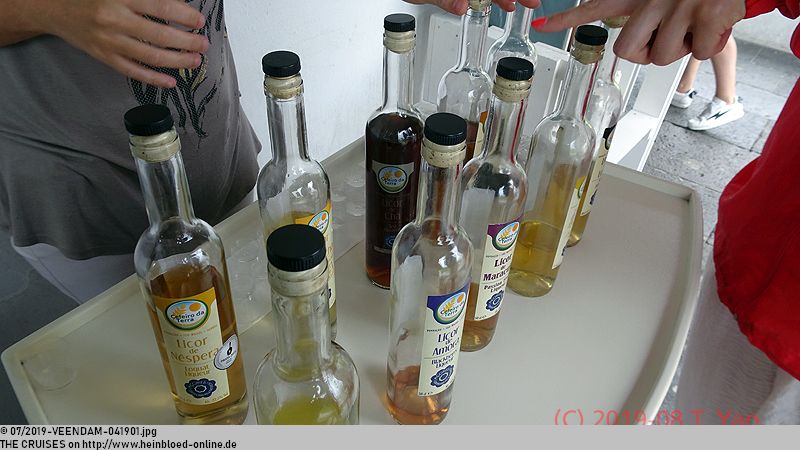 After having the sulfur taste in my mouth, I appreciated the appearance of the little shop Loja de Artesanato offering local liquors by Cooperativa Celeiro da Terra to get a different flavor in my mouth.

It would be a perfect souvenir for friends.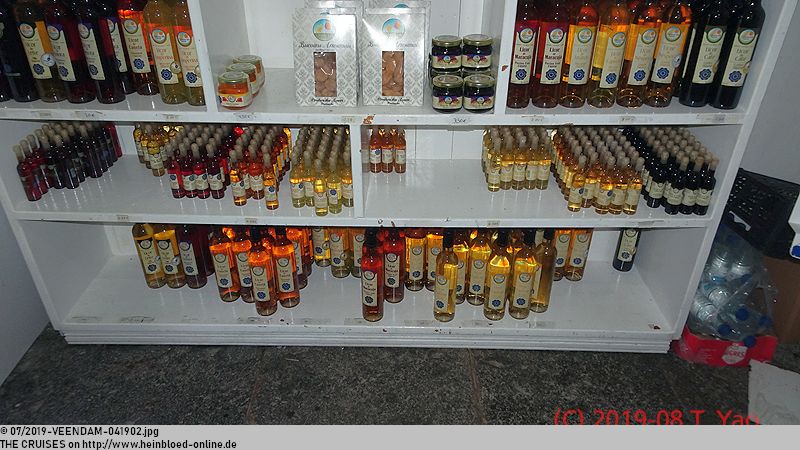 Das könnte als Mitbringsel geeignet sein.
Aber auch wie man schon sieht: die Portugiesen mögen es süß. Es ist so süß, dass es einem die Schuhe auszieht und man einen Zuckerschock bekommt. Der perfekte Ort eigentlich für unsere Freunde von der
NORWEGIAN SUN 2019
: Sie könnten hier sehr gut ihre Blutzuckermessgeräte verkaufen. Wenn man bislang noch keine Diabetes hatte: spätestens nach dem winzigen Schlückchen Likör hat man jetzt Diabetes.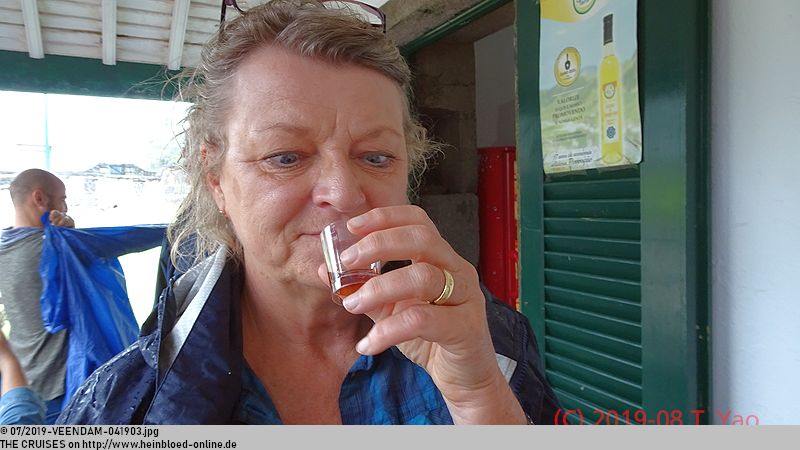 But as you could see: the Portugueses like it sweet. It was so sweet that you would get a sugar shock. The perfect place actually for our friends from NORWEGIAN SUN 2019: They could very well sell their blood glucose meters here. If you did not have diabetes yet: after one tiny sip of liqueur, you now would have diabetes.

Now we needed a change. URGENTLY. Sun and a different taste in the mouth. Nadja and Rafael took us to the tea plantation Chá Gorreana. I already knew that somehow: this morning at Terra Verde. Here we could see the production of tea, taste the tea, and later buy cheap in the store. I tried the Matcha ice cream, but again too sweet.

Nun brauchen wir eine Abwechslung. DRINGEND. Sonne und einen anderen Geschmack im Mund. Nadja und Rafael führen uns zur Teeplantage
Chá Gorreana
. Das kenne ich bereits irgendwie: heute Morgen bei
Terra Verde
. Hier können wir uns die Herstellung von Tee ansehen, den Tee probieren und später auch günstig im Laden kaufen. Ich probiere das Matcha-Eis, aber auch jetzt wieder viel zu süß.
Wir fahren ein paar Meter weiter zum Aussichtspunkt Miradouro de Santa Iria. Hier sieht es aus wie in Cornwall. Wie damals auf der Reise nach der
OCEAN PRINCESS 2015
. Es ist schwierig genug Gruppenselfies... wenn man aber Fremdenführer wie Nadja und Rafael hat, gibt es ja schon Momente, in denen man böse Gedanken bekommt...

We were taken a few yards further to the viewpoint Miradouro de Santa Iria. Here it looked like in Cornwall, England. Like on the journey after OCEAN PRINCESS 2015. Difficult enough to take a group selfie... but if you have tourist guides like Nadja and Rafael, there were some moments when you would get bad thoughts...

We went another few yards to the waterfall Salto do Cabrito. Apart from the fact that it started raining immediately when we got out, the amount of water in the falls overwhelmed me a bit: we just came from in Brazil and Argentina, what we visited before we joined NORWEGIAN SUN 2019.

Wir fahren wieder ein paar Meter weiter zum Wasserfall Salto do Cabrito. Nun abgesehen mal davon, dass es sofort anfängt zu regnen, als wir aussteigen, überfordert mich die Wassermenge des Wasserfalls etwas: wir kommen ja gerade aus Iguazu in
Brasilien
und
Argentinien
, das wir vor der Reise auf der
NORWEGIAN SUN 2019
besucht haben.
Am Schluss geht es noch nach Ribeira Grande. Ein kleiner schöner Ort und nur Sonnenschein.

At the end we went to Ribeira Grande. A small beautiful place and only sunshine.

We went briefly to the Misericórdia church, which Rafael showed us.

Wir gehen kurz in die Misericórdia Kirche, die uns Rafael zeigt.
Für eine Besichtigung von innen der Kirche Matriz de Nossa Senhora da Estrela reicht unsere Zeit nicht mehr.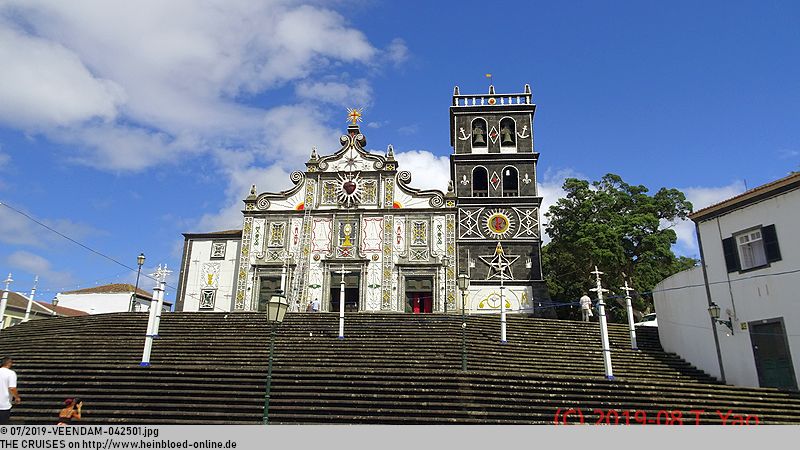 For a visit inside the church Matriz de Nossa Senhora da Estrela our time was no longer enough.

We just ran around to see all the details of the facade.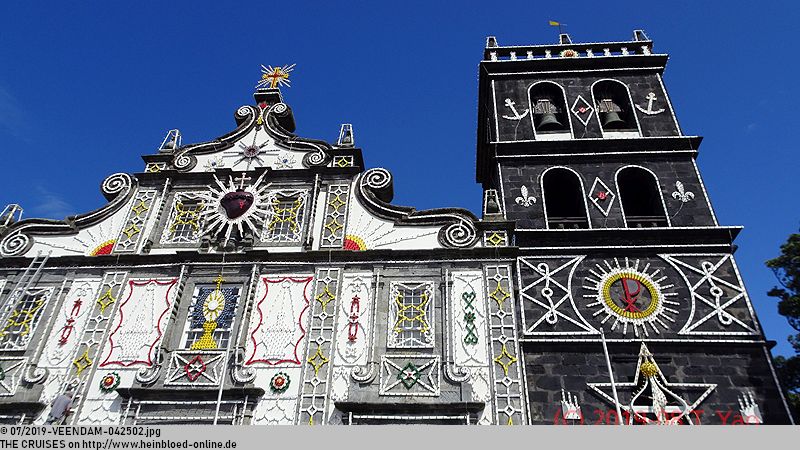 Wir laufen nur mal davor, um die ganzen Details der Fassade uns anzusehen.
Und wir sehen uns im Garten der Kirche um. Was ist das?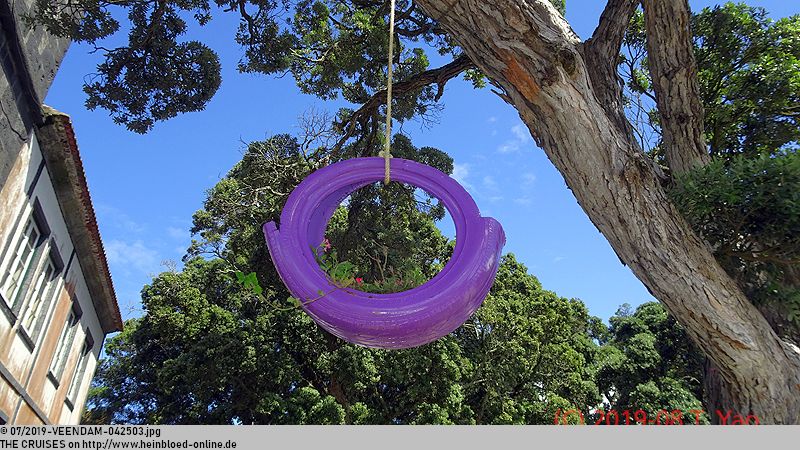 And we looked around in the garden of the church. What should this be?

The lifebuoy if someone should fall into the water in the garden?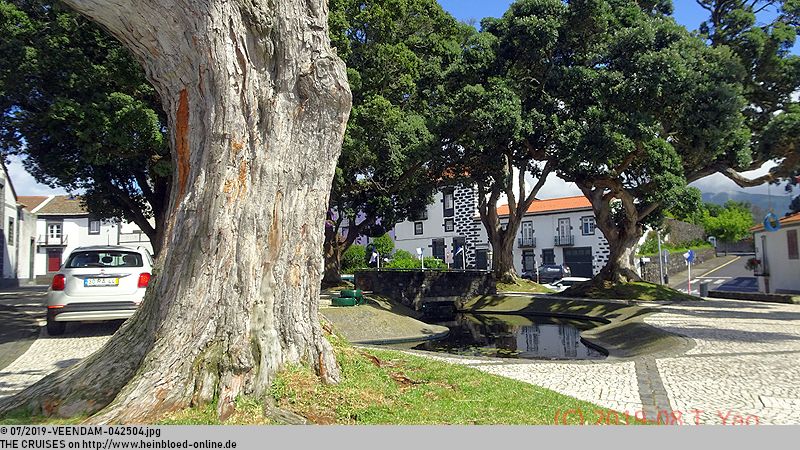 Der Rettungsring, falls jemand im Garten ins Wasser fällt?
Noch eine Mahlzeit im Lokal Cascata, bevor es zurück zum Schiff geht. Eigentlich frage ich mich ja schon, wozu wir zwei Führer brauchen und die Tour dadurch teurer ist. Aber hier sehen wir sehr gut, dass es ein sehr gutes Konzept ist: während Rafael uns im Dorf herumgeführt, parkt Nadja das Auto und arrangiert schon das Essen. Die Tour hat dadurch eine andere Qualität, für die ich gerne bereit bin, etwas mehr zu bezahlen. Wir gewinnen bestimmt insgesamt geschätzt 30-60 Minuten zusätzliche Zeit für neue Erlebnisse über den Tag verteilt.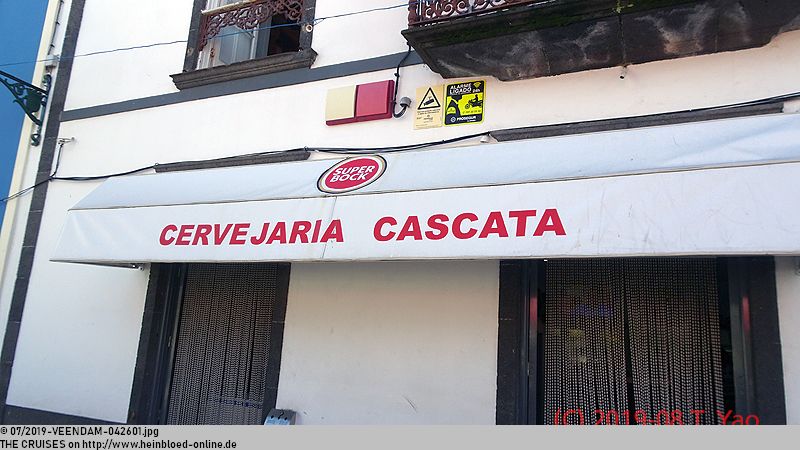 Another meal in the restaurant Cascata, before returning to the ship. Actually, I was already wondering why we should need two guides, and the tour was more expensive. But here we saw very well that it was a terrific concept: while Rafael led us around the village, Nadja parked the car and arranged the food. The tour had a different quality, for which I was willing to pay a little more. We were sure to get an estimated 30-60 minutes of extra time for new experiences throughout the day.

We had octopus stew and clams.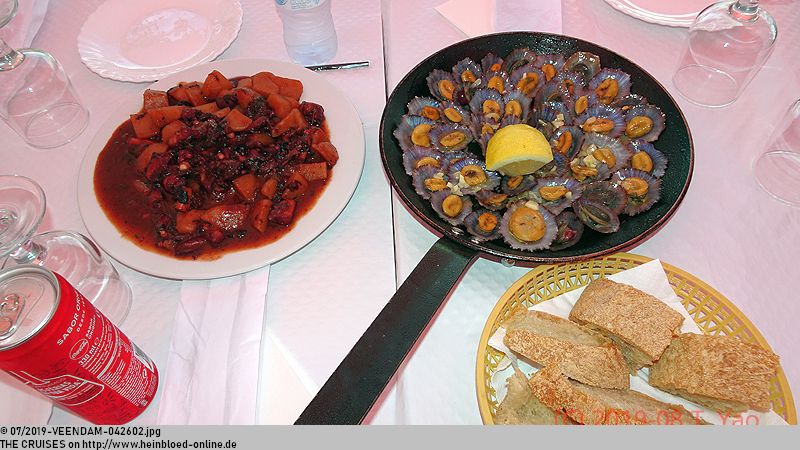 Es gibt einen Tintenfisch-Eintopf und Muscheln.
Statt fertiger Saucen aus dem Glas: einfach Zitronensaft.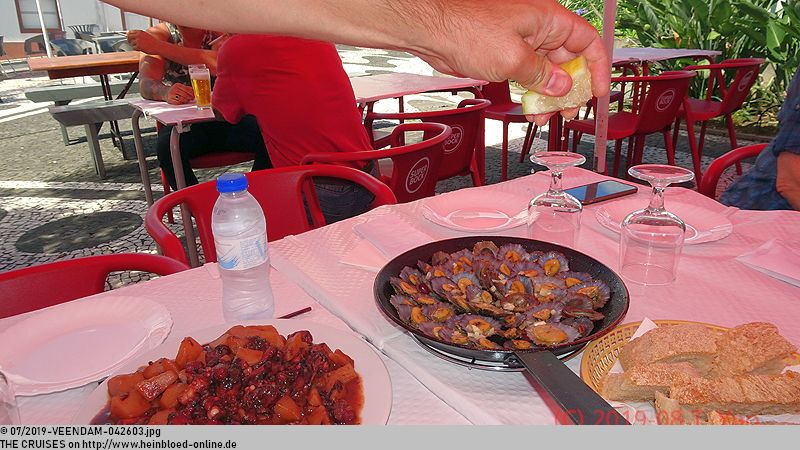 Instead of the use of manufactured sauces from a glass container: simply lemon juice.

So we ate a quick bite before we had to return to the ship. The perfect end of the tour. We were so impressed by the Azores that we are considering the CARNIVAL LEGEND from Barcelona, Spain, to Baltimore, MD, in 2021: 1. It not only stops in Ponta Delgada but also in Praia da Vitória on the Azores island of Terceira. 2. There is the trip at an unbeatable low price, so we could even afford a rear balcony cabin. 3. Baltimore would a good starting point to arrive in the middle of Indian Summer. 4. From here, it is not far to get to the Shenandoah National Park. 5. We could annoy my relatives and friends in Delaware, Virginia, and North Carolina. 6. We know the sister ship from our trip to Hawaii very well: CARNIVAL SPIRIT 2011. For that unbeatable price then, we got an excellent performance. Hopefully, Nadja and Rafael of Hungry Whales would have time for us again and ensure a rain-free stay on the Azores. Maybe they also know a good colleague on Terceira.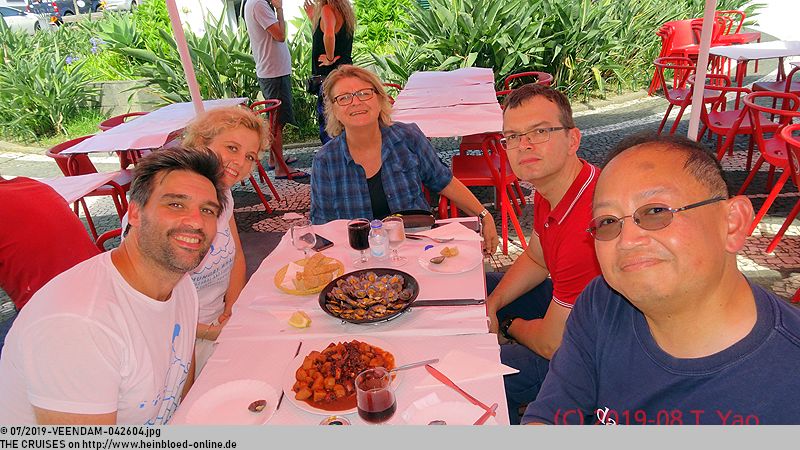 So essen wir noch schnell eine Kleinigkeit, bevor wir dann zum Schiff zurück müssen. Der perfekte Abschluss für die Tour. Wir sind so sehr von den Azoren beeindruckt, dass wir für 2021 die CARNIVAL LEGEND von Barcelona nach Baltimore in Erwägung ziehen: 1. sie hält nicht nur die Ponta Delgada, sondern auch in Praia da Vitória auf der Azoren-Insel Terceira. 2. Es gibt die Reise zu einem unschlagbar günstigen Preis, so dass wir sogar eine Heckbalkonkabine uns leisten können. 3. Baltimore ist ein guter Ausgangspunkt, um mitten im Indian Summer anzukommen. 4. Von hier ist es nicht mehr weit in den Shenandoah National Park. 5. Wir könnten meiner Verwandtschaft und Freunden in Deleware, Virginia und North Carolina auf die Nerven gehen. 6. Wir kennen das Schwesterschiff von unserer Reise nach Hawaii sehr gut:
CARNIVAL SPIRIT 2011
. Für den damals ebenfalls unschlagbaren Preis gab es eine sehr solide Leistung. Hoffentlich haben dann Nadja und Rafael von
Hungry Whales
wieder Zeit für uns und sorgen für einen regenfreien Aufenthalt auf den Azoren. Vielleicht kennen sie ja auch einen guten Kollegen auf Terceira.
Wir sind fast die letzten Gäste, die zurück an Bord sind. Vor unserer Kabine sehen wir uns die Ausfahrt an. Adeus
Portas do Mar
. Das ist wieder ärgerlich: jetzt scheint die Sonne über den Teil der Azoren, der heute Morgen verregnet war.

We were almost the last guests back on board. In front of our cabin, we looked at the set sail. Adeus Portas do Mar. This was annoying again: now the sun shined over the part of the Azores, which was rainy this morning.

On each deck with cabins, a small stand was set up to collect passports.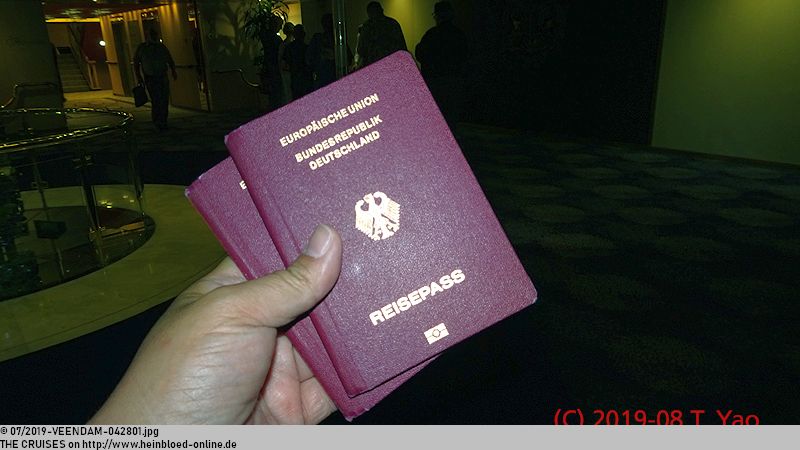 Auf jedem Deck mit Kabinen hat man einen kleinen Stand aufgebaut, um die Pässe einzusammeln.
So muss niemand weit laufen und zum Abholen bekommen wir eine Quittung. Diese perfekte Organisation kennen wir schon von unserer Asienreise auf der
ZAANDAM 2012
.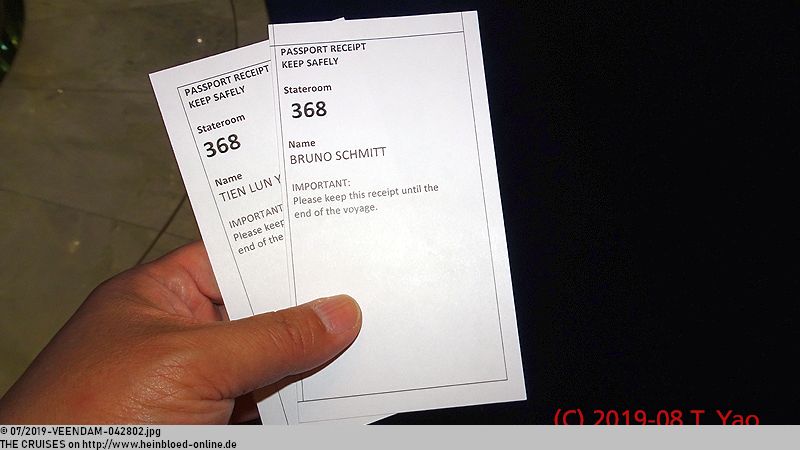 So none had to walk far and we got a receipt for picking up. We already knew this entire organization from our trip to Asia on ZAANDAM 2012.

The front desk asked if everything would be ok.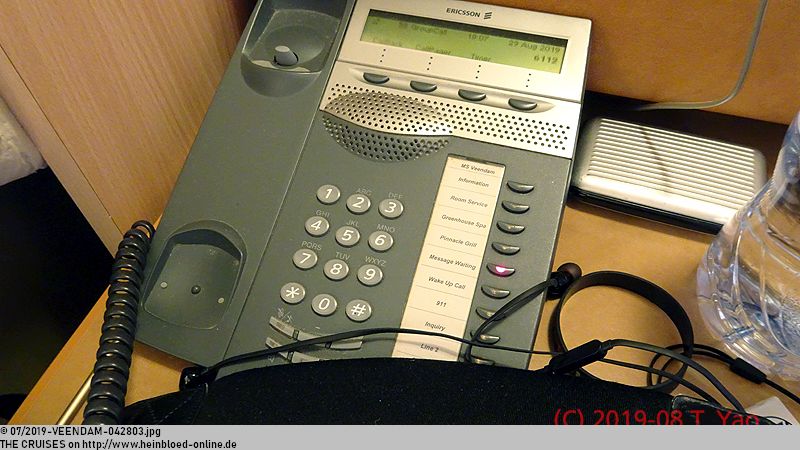 Die Rezeption erkundigt sich, ob alles in Ordnung ist.
Die Fragebögen zur Ausschiffung können einfach hier eingeworfen werden.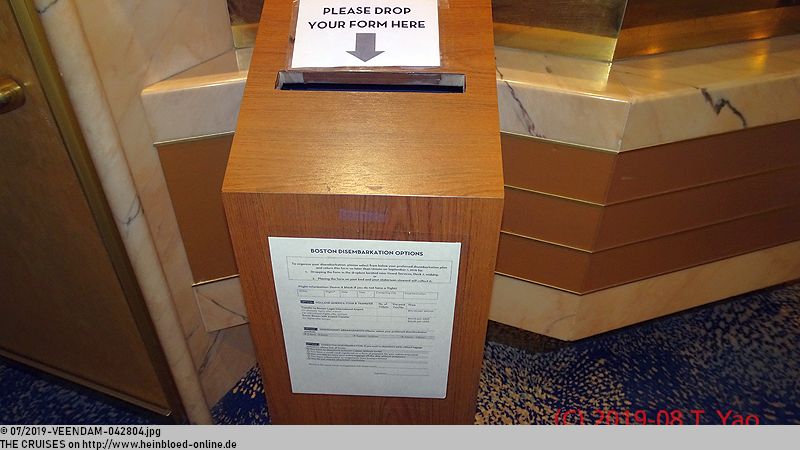 The disembarkation questionnaires could simply be dropped here.

At the reception, a pleasant surprise was waiting for me. Finally, someone I knew from an earlier voyage. Ray, I knew from EURODAM 2014.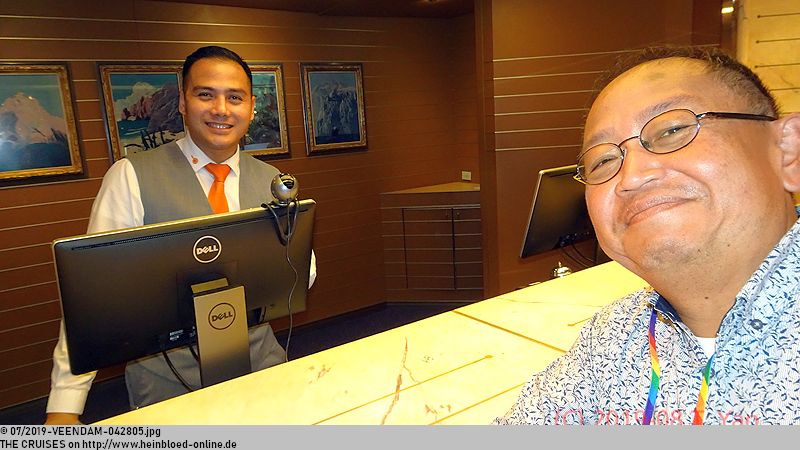 An der Rezeption wartet eine schöne Überraschung auf mich. Endlich jemand, den ich von einer früheren Fahrt kenne. Ray kenne ich von der
EURODAM 2014
.
Wir hatten sehr viel Spaß miteinander. Nur ohne Brille hätte ich ihn gar nicht erkannt.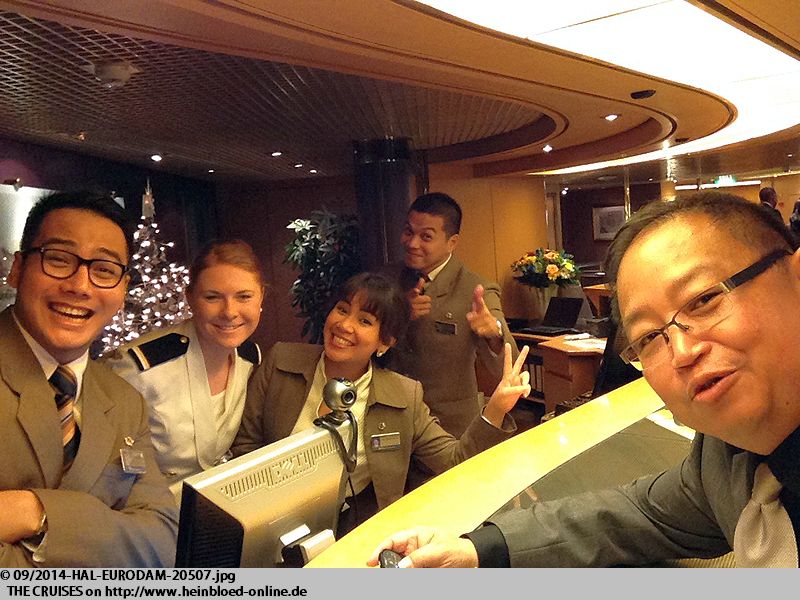 We had a lot of fun together. I would not recognize him without glasses.

I was told that they activated "Meet the Officers" again. Only the "wrong" captain was not noticed - except me.

Mir wird mitgeteilt, dass man wieder "Meet the Officers" aktiviert hat. Nur den "falschen" Kapitän bemerkt keiner - außer mir.
Ich gucke schon mal nach den Öffnungszeiten des Bordhospitals. Mir ist beim Zusammenstellen der Medikamente ein Fehler unterlaufen. Man bietet mir an, dass man ein Rezept ausstellt und den Agenten in St. John's bittet das Medikament zu besorgen und es an Bord zu bringen. Leider ist dieses Verfahren in Kanada nicht zugelassen.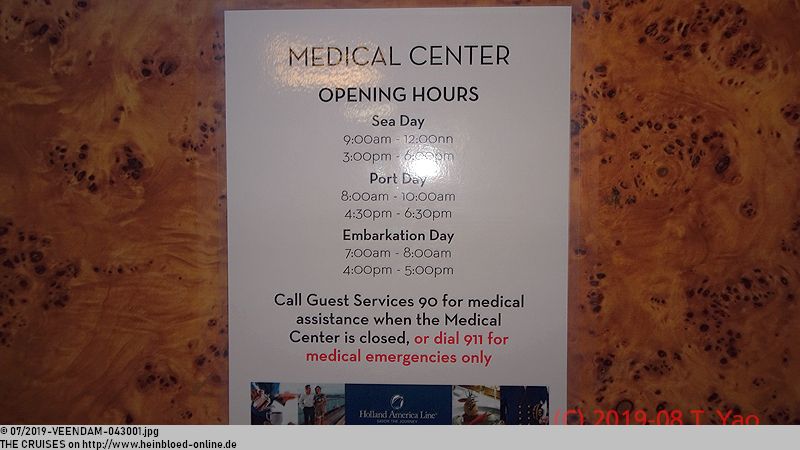 I went to have a look at the opening hours of the medical center. I made a mistake when putting together my medication. I was offered their issuance of a prescription, and they would ask the agent in St. John's, NL, Canada, to get the medication and bring it on board. Unfortunately, this procedure would not work in Canada.

Today I had to try it myself. I selected the picture on the screen.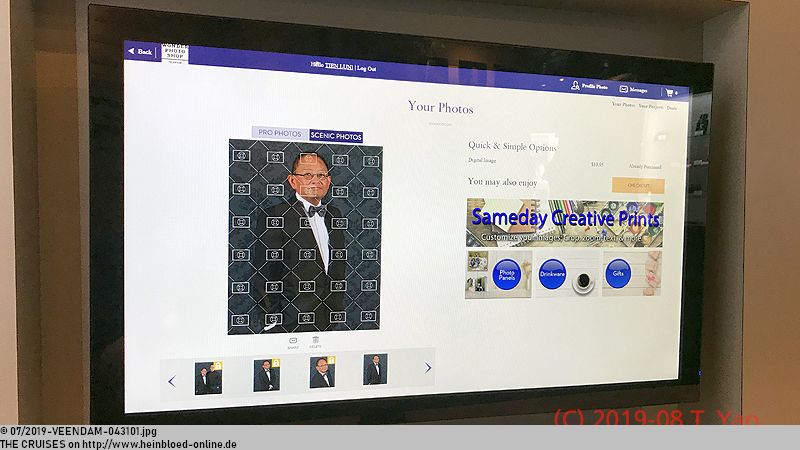 Heute muss ich es selbst ausprobieren. Ich suche das Bild am Bildschirm aus.
Später beim Kauf muss ich es mir einfach über einen Link herunterladen. Kein Datenträger mehr. Klasse.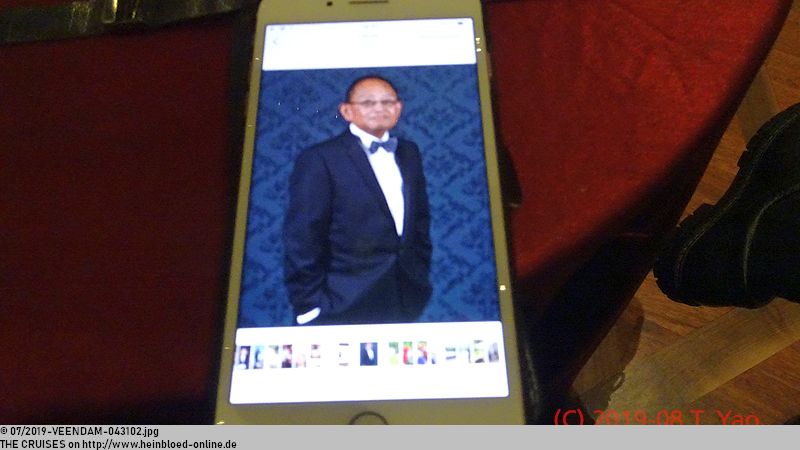 Later on the purchase I just had to download it via a link. No more media. Wonderful.

We needed to remember: Happy Hour was another drink for only 2.00 USD (2019). And that was not only available in Crow's Nest but also at the other bars. I could not deal with the offer, because then I would need to drink twice the quantity. The others did not like my non-alcohol cocktail but used the offer to get two glasses of Gin-Tonic.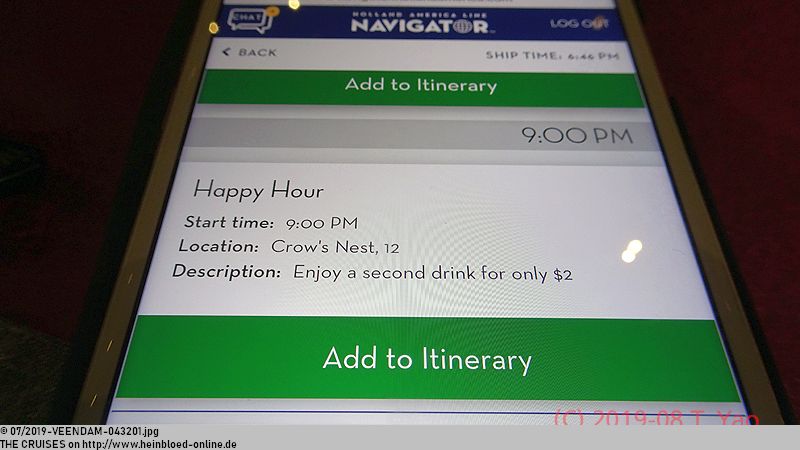 Das müssen wir uns merken: Happy Hour heißt ein weiteres Getränk für nur 2,00 USD (2019). Und das gibt es nicht nur im Crow's Nest, sondern auch an den anderen Bars. Ich kann mit dem Angebot nichts anfangen, weil ich dann die doppelte Menge trinken müsste. Die anderen mögen meinen alkoholfreien Cocktail aber nehmen das Angebot an, um zwei Gläser Gin-Tonic zu bestellen.
Wir gehen zu der Veranstaltung, die heute Abend eine Show ersetzt: Es wird
Planet Earth II
von
BBC Earth
gezeigt. Jedoch wird die Musik live auf der Bühne gespielt. Auch der Violin-Spieler vom Adagio Duo steht auf der Bühne und spielt.

We were going to the event that replaced a show tonight: Planet Earth II was presented by BBC Earth. However, the music was played live on stage. The violin player of the Adagio Duo was also playing on stage.

The alternative dining options were also offered on the internet. When I first visited the Pinnacle Grill on EURODAM 2008, it cost 25.00 USD cover charge. And Canaletto was still free then.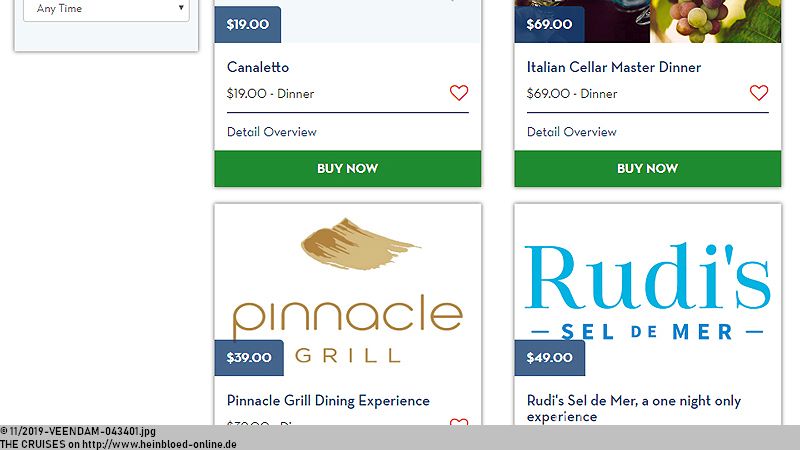 Die Zuzahlrestaurants werden auch im Internet angeboten. Als ich zum ersten Mal den Pinnacle Grill auf der
EURODAM 2008
besucht hatte, kostete es 25,00 USD Zuzahlung. Und Canaletto war damals noch kostenlos.
Für 50,00 USD (2019) kann man jedoch einmal ins Canaletto und einmal zum Pinnacle Grill. Das Paket buchen wir, weil es kein Paket mit allen vier Angeboten inkl. Rudis Sel de Mer und Italian Cellar Master gibt.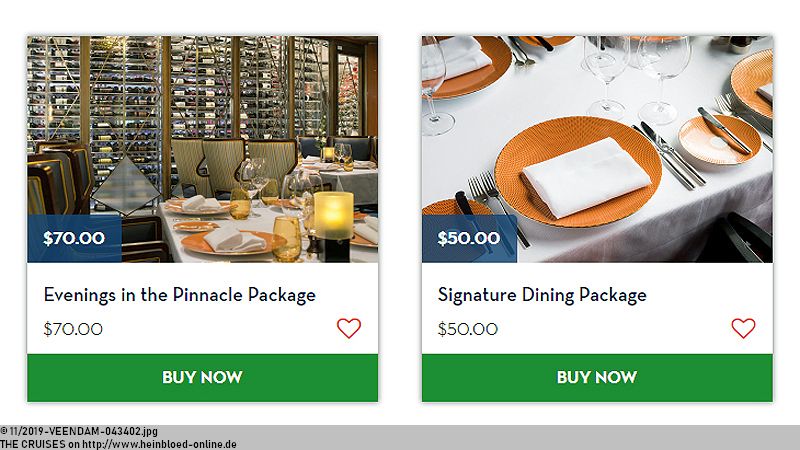 For 50.00 USD (2019) you could go to the Canaletto and once to the Pinnacle Grill. We booked the package because there was no package with all four offers, incl. Rudis Sel de Mer and Italian Cellar Master.

The package we could be booked onboard for the same price.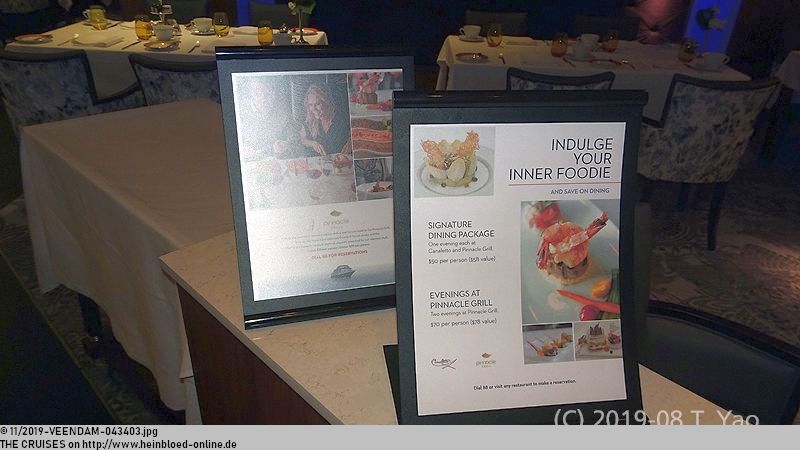 Das Paket hätten wir an Bord zum gleichen Preis buchen können.
Unser Besuch im Pinnacle Grill. Sie beschreiben sich selbst als inspiriert durch die Küche des amerikanischen Nordwest-Pazifik-Raumes. Es sind einige Gerichte bei, die durch
David Burke
und
Jacques Torres
entwickelt bzw. beeinflusst sind. Beide Köche sind jedoch aus dem amerikanischen Nordost-Atlantik-Raum. Viele tolle Gerichte. Nur die "Gourmet Cheesecake Lollipops" erinnern mich irgenwie an die Zuckerwatte im Canaletto auf der
ZAANDAM 2012
, die ich ja schon damals nicht mochte. Warum kann es nicht einfach Essen geben, dass normale Erwachsene anspricht? Gegen eine Zuzahlung zur Zuzahlung bekommt man hochwertigeres Essen, wie Kaviar, Hummer. Wir erleben einen tollen Service. Da wir noch mehrere Besuche hier geplant haben, stelle ich das Team später vor. Obwohl schon mehrfach in meinen Blogs angekündigt, das ich etwas gerne für zu Hause hätte: Die Mini-Butterglocken werden mir immer noch an den Tisch gestellt. Und es gibt eine Salz- und Pfeffermühle am Platz. So wie ich es mag. Die Lobster-Bisque ist unverändert gut. Ich bin ein absoluter Tartar-Fan und egal wo ich bin: wenn ich es auf der Karte sehe, bestelle ich es sofort. Ich freue mich daher über das Angebot hier an Bord und nehme es sofort. Leider mag ich es überhaupt nicht! Es ist ein komisches Gefühl auf der Zunge. Das liegt wohl an der Auswahl der viel zu feinen Scheibe im Fleischwolf. Für mich schmeckt alles irgendwie nur nach Senf mit Fleisch, statt Fleisch mit Senf. Das Fleischgenusserlebnis muss im Mittelpunkt stehen. Außerdem mag ich es auch nicht so, wenn alles schon in der Küche fertig zubereitet ist, sondern wenn es erst am Tisch zubereitet wird. Dafür bin ich in den letzten Jahren immer gerne von Basel nach Mülhausen in Frankreich gefahren. Mein Surf und Turf ist perfekt. Leider viel zu viel. Ich hätte ja gerne das Fleisch als Sandwich mir herrichten lassen und am nächsten Morgen zum Frühstück gegessen. Der Hummer: das Nonplusultra! Nur bei meinem Lieblingsdessert gibt es eine Neuerung: Mein Baked Alaska kommt mit
Ben und Jerry's
Eis. Es ist lecker, aber mir ist das Eis von
Ben und Jerry's
viel zu süß und ich möchte eigentlich an Bord nichts essen, was ich auch im nächsten Supermarkt bei mir zu Hause bekommen kann. Ein fast perfekt gelungener Abend, wenn nicht die Erinnerungen an noch schönere Genusserlebnisse vergangener Abende im Pinnacle Grill gewesen wären.

Our visit to the Pinnacle Grill. They described themselves as inspired by the cuisine of the American Northwest Pacific region. There were some dishes included, developed or influenced by David Burke and Jacques Torres. Both cooks, however, were from the American Northeast Atlantic region. Many great dishes. Only the "Gourmet Cheesecake Lollipops" somehow reminded me of the cotton candy in the Canaletto on ZAANDAM 2012, which I did not like back then. Why could not there just be food that appeals to normal adults? For a surcharge to the cover charge, you could get higher valuable food, such as caviar, lobster. We experienced outstanding service. Since we supposed to have several more visits planned here, I would introduce the team later. Although several times announced in my blogs that I would like to have something for home: The mini-butter cover was still placed at the table. And there was a set of salt and pepper mill on the table. As I liked it. The Lobster Bisque was still delicious. I was an absolute Tartar fan and no matter where I would be: if I see it on the menu, I would order it right away. I was therefore pleased about the offer here on board and took it immediately. Unfortunately, I did not like it at all! It was a strange feeling on the tongue. This was probably due to the selection of the much too fine disc in the mincer. For me, everything tasted just like mustard with meat instead of meat with mustard. The meat enjoyment must be in the center of my experience. Besides, I did not like it that way, when everything was already prepared in the kitchen. But I preferred it when it was finally prepared at the table. In the last few years, I always enjoyed going from Basel, Switzerland to Mulhouse, France (30 minutes by car) to get it this way. My surf and turf dish was perfect. Unfortunately, too much. I would like to have the meat prepared as a sandwich and eaten for breakfast the next morning. The Lobster: the ultimate! Only my favorite dessert received an innovation: My Baked Alaska came with Ben and Jerry's ice cream. It was delicious, but the ice cream of Ben and Jerry's was too sweet for me, and I did not really want to eat anything on board, which I could get at the next supermarket at my home place. An almost perfectly successful evening, if there would not be the memories of even more beautiful enjoyment experiences of past evenings in the Pinnacle Grill.

My very first visit to Holland America on EURODAM 2008 was my very first visit to the Pinnacle Grill. It was love at first sight. At that time, my world was still okay. Nostalgia, but on the occasion of my 100th cruise I could also take a look back and remember how much more excellent it used to be in the Pinnacle Grill.

Auf meiner allerersten Reise mit Holland America auf der
EURODAM 2008
war mein allererster Besuch im Pinnacle Grill. Es war Liebe auf den ersten Blick. Damals war meine Welt noch in Ordnung. Nostalgie, aber anlässlich meiner 100. Kreuzfahrt darf ich auch mal einen Rückblick machen und mich noch erinnern wie viel schöner es früher im Pinnacle Grill war.
Auch auf der
EURODAM 2009
: Es gab noch einen Gruß aus der Küche. Das rohe Fleisch wurde vorgestellt, ohne dass man vorher in der Metzgerei an der Tafel sich über die einzelnen Fleischstücke informieren musste. Es gab mehr als nur "normale" Butter. Cesar's Salad wurde am Tisch nach den Wünschen des Gastes zubereitet. Und es gab am Schluss zum Dessert auch Petit Fours.

Also on EURODAM 2009: There was still a amuse-bouche from the kitchen. The raw meat was presented, without first having the need to inform about the individual pieces of meat on the board in the butcher's shop. There was more than just "regular" butter. Cesar's Salad was prepared at the table according to the wishes of the guest. And at the end of dessert, they offered some Petit Fours too.

Unforgettable: my favorite skewers on WESTERDAM 2010. Back then, Baked Alaska was still flambéing at the table. And other dishes were still flambéed at the table. It was so nice!!! And they came with the big pepper mill over. It was just a great feeling to be around "pampered" and to be able to witness live at the table how something was prepared for you.

Unvergessen: meine Lieblingsspieße auf der
WESTERDAM 2010
. Damals wurde noch das Baked Alaska am Tisch flambiert. Und auch andere Gerichte wurden am Tisch noch flambiert. Es war so schön!!! Und sie kamen noch mit der großen Pfeffermühle vorbei. Es war einfach ein tolles Gefühl, wenn man rund um "betüddelt" wurde und man am Tisch live miterleben durfte, wie etwas für einen fertig zubereitet wurde.
Besonders unvergessen auf der
ZAANDAM 2012
. Die besonderen Formen der Baguette-Brötchen und die tollen Salzarten, die am Tisch bereitgehalten wurden. Das hatte vor allem optischen Eindruck gemacht. Wir haben hier den Geburtstag meiner Mutter gefeiert.

Especially memorable on ZAANDAM 2012. The special shapes of the baguette rolls and the unordinary sorts of salt, which were brought to our table. This made a visual impression. We celebrated my mother's birthday here.

Unforgettable: my birthday on ZAANDAM 2012 voyage, we should spend in Nha Trang, Vietnam. But because of the strong winds, we could not anchor. The Pinnacle Grill was fully booked for the evening, but for my birthday dinner, they immediately said, "Sir, do not worry, of course, you could celebrate your birthday with us at the Pinnacle Grill." That day my mother was not feeling well because of the strong winds. She wanted to retire and asked if she might take the dessert into the cabin. She was not allowed to! But a waitress has accompanied her to the cabin and carried her dessert. Additionally, they cut a green apple in small pieces for her. Today back on VEENDAM, some of the crew were sitting at the next table. She also wanted to take their dessert with her. So far, so good: nothing unusual. I did too from time to time, and usually, the crew prepares everything so that you could make it with you. You would not be accompanied anymore. The crew member was probably in a hurry, and it did not go fast enough. Without further ado, she grabbed silverware from the neighboring covered table and wanted to take it. The crewmember noticed that I was a witness to the whole story. Without further ado, the crewmember DEMONSTRATIVE made the following gesture: "Look: I even steal the cutlery and put it in my purse! Do you see it? I will take it with me!". Sorry, but I did not like such behavior. First of all, I found it un-collegial when a guest later would sit down at a table where cutlery would be missing. It would be unpleasant for the guest and for the waiter, who did his job and covered everything before. In this case, the crew member later told the waiter. But I was wondering, if he immediately noticed in the stress, that someone took cutlery from the table? I should be a potential customer of this crewmember and decided that I did not really want her to be involved in my revenue. I just did not like the gesture and felt beeing attacked as a guest of Holland America. The crew member carried a Holland America name tag, and everything the crewmember with name tag did in public would represent Holland America. Usually, Holland America had a ratio of 99.9% good to 0.1% less good crewmembers. Obviously, I probably caught someone from the 0.1%.

Unvergessen: meinen Geburtstag auf der
ZAANDAM 2012
-Reise hätten wir in Nha Trang verbringen sollen, aber wegen der starken Winde konnten wir nicht anlegen. Der Pinnacle Grill war für den Abend ausgebucht, aber für mein Geburtstagsessen haben sie sofort gesagt: "Sir, machen Sie sich keine Sorgen. Selbstverständlich können Sie Ihren Geburtstag bei uns im Pinnacle Grill feiern." An dem Tag ging es meiner Mutter wegen der starken Winde nicht gut. Sie wollte sich zurückziehen und hat gefragt, ob sie vielleicht das Dessert mit in die Kabine nehmen dürfte. Sie durfte nicht! Sondern eine Kellnerin hat sie auf die Kabine begleitet und ihr Dessert getragen und dazu noch einen grünen Apfel aufgeschnitten. Heute zurück auf der VEENDAM sitzen am Nachbartisch einige von der Crew, die ebenfalls ihr Dessert mitnehmen wollen. Nichts ungewöhnliches. Mache ich auch mal von Zeit zu Zeit und i.d.R. bereitet die Crew alles so vor, dass man das bequem mitnehmen kann. Man wird nicht mehr begleitet. Dem Crewmitglied ist wohl in Eile und es geht wohl nicht schnell genug. Kurzerhand schnappt sie sich Besteck vom gedeckten Nachbartisch und will es einstecken. Das Crewmitglied bemerkt, dass ich das ganze beobachte. Kurzerhand macht das Crewmitglied DEMONSTRATIV folgende Geste: "Guck: ich klaue sogar das Besteck und stecke es mir in die Handtasche! Siehst du es: ich nehme es mit!". Tut mir leid, aber ich mag so ein Verhalten nicht. Zunächst einmal finde ich es unkollegial, wenn ein Gast sich später an einem Tisch setzt, an dem Besteck fehlt. Es ist unangenehm für den Gast und für den Kellner, der ja alles zuvor eingedeckt hat. In diesem Fall hat das Crewmitglied es wohl später dem Kellner gesagt, aber ob der sich sofort im Stress merkt, dass dort jemand Besteck vom Tisch entnommen hat? Ich bin ein potenzieller Kunde dieses Crewmitglieds und beschließe, dass ich eigentlich nicht möchte, dass sie an meinem Umsatz beteiligt wird. Ich mag einfach die Geste nicht und fühle mich als Gast der Holland America angegriffen. Das Crewmitglied trägt ein Namensschild von Holland America und alles was das Crewmitglied in der Öffentlichkeit mit Namensschild macht, repräsentiert Holland America. Normalerweise hat Holland America eine Quote 99,9% gut zu 0,1% weniger gut. Offensichtlich habe ich wohl jemanden von den 0,1% erwischt.
Auf der
RYNDAM 2013
haben wir ein besonderes Pinnacle Grill-Erlebnis, weil wir eine Suite haben und auch hier frühstücken und Mittag essen dürfen. Das war eine Woche Schlaraffenland pur.

On RYNDAM 2013 we have a unique Pinnacle Grill experience because we had a suite and could have breakfast and lunch here. That was the pure paradise for a week.

On EURODAM 2014, we spent Sigi's birthday on December 31 at the Pinnacle Grill and celebrated New Year's Eve at the same time. Also, they prepared the event very enjoyable for us. At that time, you could see at the tartar that the meat was turned much coarser by the mincer. As I liked it. On KONINGSDAM 2016, we decided not to attend the regular Pinnacle Grill for dinner, because instead, we wanted to get to know the new restaurants on board, and we visited the Pinnacle Grill as part of the pop-up restaurant De Librije. Now, it was still excellent at the Pinnacle Grill, but it used to be more careful before!

Auf der
EURODAM 2014
verbringen wir Sigis Geburtstag am 31.12. im Pinnacle Grill und feiern hier gleichzeitig Silvester. Auch das Ereignis haben sie toll für uns vorbereitet. Damals kann man beim Tartar sehen, dass das Fleisch sehr viel gröber durch den Wolf gedreht wurde. So wie ich es mag. Auf der
KONINGSDAM 2016
haben wir auf den Besuch des regulären Pinnacle Grills zum Abendessen verzichtet, weil wir stattdessen die neuen Restaurants an Bord kennelernen wollten und wir im Rahmen des Pop-Up Restaurants
De Librije
den Pinnacle Grill aufgesucht haben. Es ist heute immer noch schön im Pinnacle Grill, aber früher war es schöner!
Zurück in der Kabine ist unsere Wäsche da.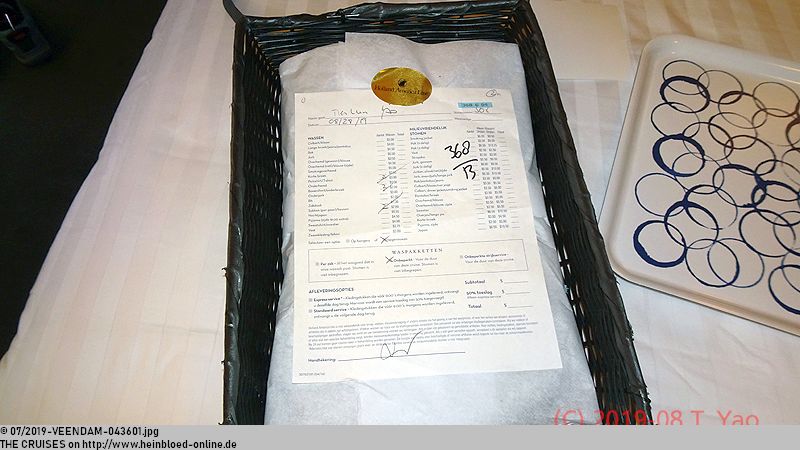 Back in our cabin, the laundry was already there.

As usual, our two stewards had all been beautifully prepared for the night again.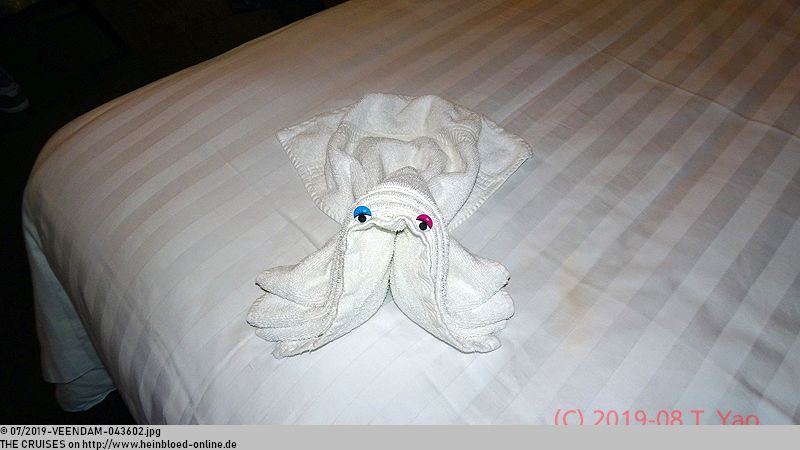 Wie üblich haben unsere beiden Stewards wieder alle sehr schön für die Nacht hergerichtet.
Die Schokolade nehmen wir immer mit nach Hause und nach der Reise essen wir sie Stückchen für Stückchen auf und sind im Gedanken wieder zurück auf dieser tollen Reise auf der VEENDAM.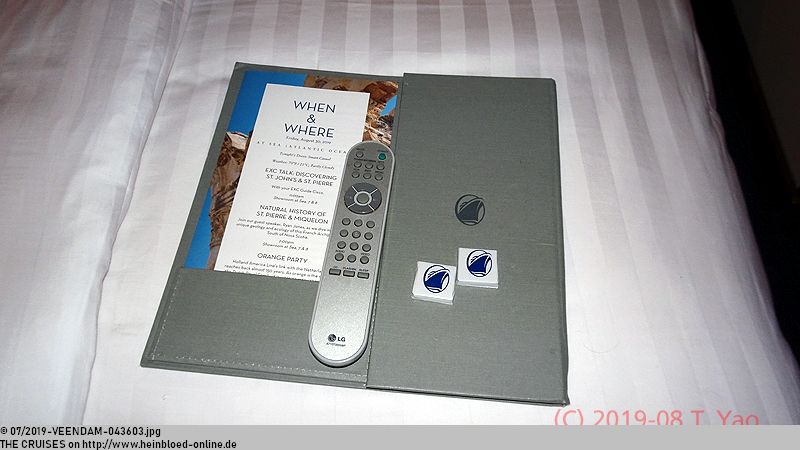 We always took the chocolate home with us, and after the voyage, we ate them bit by bit, and we were thinking back to this great journey on VEENDAM.
Die anderen Reisen in diesem Blog/
The other voyages in this blog: