Egal ob ein Schiff oder an Land. Nur selten duscht man als erstes, so dass man weitere "Missstände" nicht sofort sieht, um sofort wieder zu reklamieren oder auszuziehen. Aber solche Handtücher benutzt man beispielsweise nur noch als Putzlappen und nicht als Gästehandtuch.

No matter ship or shore. It did not happen very often that you test the shower and notice a bad state to claim or to leave. But such kind of towels you should normally use as cleaning rags and not as towels for guests.

We went again to Forns Rovira to have breakfast. 10.22 EUR (2016)... Unbelievable. And also very yummy.

Wir gehen wieder zu Forns Rovira zum Frühstück. 10.22 EUR (2016)... Unglaublich. Und das auch noch sehr lecker.
Sigi möchte zunächst nicht mit und selbst durch die Stadt laufen. Wir melden uns bei
Eva
. Unser zuverlässiger Taxi-Dienst in Barcelona, mit der wir nur positive Erfahrungen haben. Mit neuem Auto. Und es geht erst mal zum Shipspotten. Da mittlerweile die Taxen bestraft werden, wenn man auf der Brücke auf dem Weg zum Kreuzfahrtterminal hält, ist es praktisch, dass Eva uns immer an einem Ende raus läßt und am anderen Ende auf uns wartet. Obwohl der
T3 Hafenbus
fährt: wir treffen immer wieder Gäste, die lieber zu Fuß laufen, statt die 3,00 EUR (2017) eine Fahrt zu zahlen. In einem Fall hielt doch ein Bus direkt vom Flughafen zum Schiff: jemand springt schnell raus und übergibt sich. Zum Glück nachdem wir hier schon durch sind. 200 m noch und sie wären am Terminal gewesen. Lourdes kennen wir auch von unseren früheren Fahrten und wartet auf uns am Flughafen. Sie ist auch mit ihrem Taxi hier. Da Sigi nicht mit ist und diejenigen, die wir abholen offensichtlich auch nur kleines Gepäck haben, und Evas neues Auto sogar sechs Fahrgäste aufnehmen darf, benötigen wir keine zwei Taxen und ihre Dienste nicht. Wir entschädigen sie großzügig, so dass ihr keine finanziellen Nachteile entstehen. Sie möchte doch lieber direkt am Flughafen bleiben und andere Fahrgäste von hier aufnehmen.

Sigi did not want to join us and preferred to walk by herself around. We called Eva. Our liable taxi-service in Barcelona. With her we had only good experiences. With a new car. So we went first around for ship spotting. As meanwhile the taxis get punished when stopping on the bridge on the way to the cruise terminal it was very good that Eva always released us at the one end of the bridge and awainted us at the other. Although the T3 Portbus was operating: we saw guests prefered to walk but to spend 3.00 EUR (2017) for a ride. In one case a bus stopped on the way from the airport to the ship: somebody jumped out at was vommiting. But luckily we already passed the place. 200 yards more and she would be at the terminal. We also knew Lourdes from previous rides whom we met later at the airport. She was also here with her taxi. As Sigi did not join us and those whom we picked-up travelled light and Eva's new car can accomodate six passengers we did not need anymore two taxis and her service. We compensate her generously to avoid any financial disadvantages. She prefered to stay at the airport and take other passengers from here.

The result of the this ride with Eva on the way to the airport: SOVEREIGN

Die Ausbeute bei der Fahrt auf dem Weg zum Flughafen mit Eva: SOVEREIGN.
CRYSTAL SYMPHONY.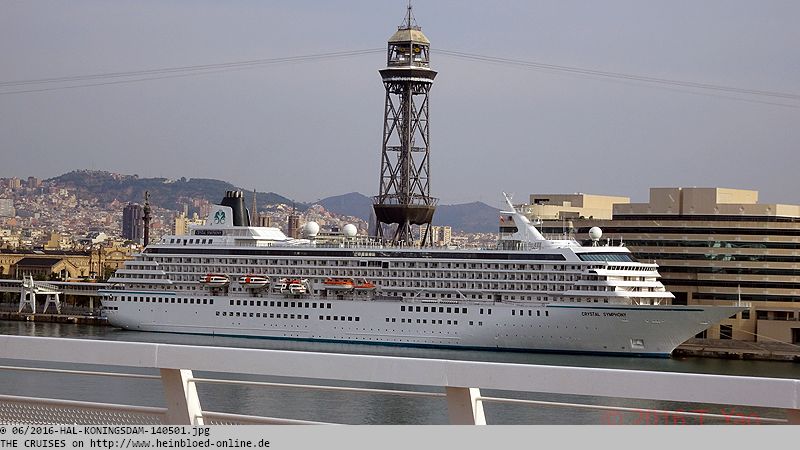 CRYSTAL SYMPHONY.

Berthed directly at the World Trade Center. Perfect location. We docked here once too with OCEAN PRINCESS.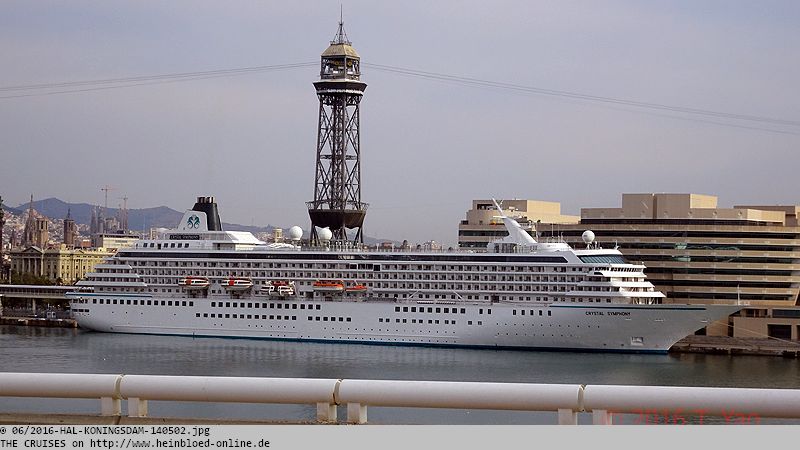 Liegt direkt am World Trade Center. Perfekter Liegeplatz. Lagen wir auch einmal mit der OCEAN PRINCESS.
Und sie liegt hier Übernacht. Unglaublich, dass es auch Gesellschaften gibt, die in dieser tollen Stadt nur fünf Stunden bleiben.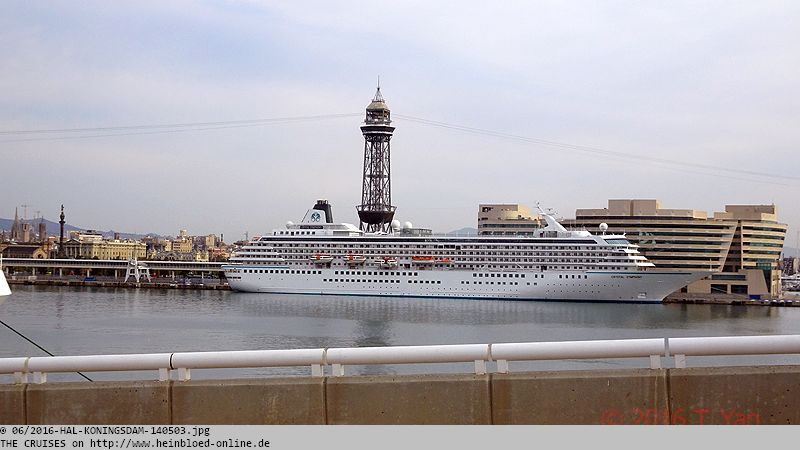 And she docked here overnight. Unbelieveable that the companies who docks only for five hours in this great city.

COSTA FAVOLOSA.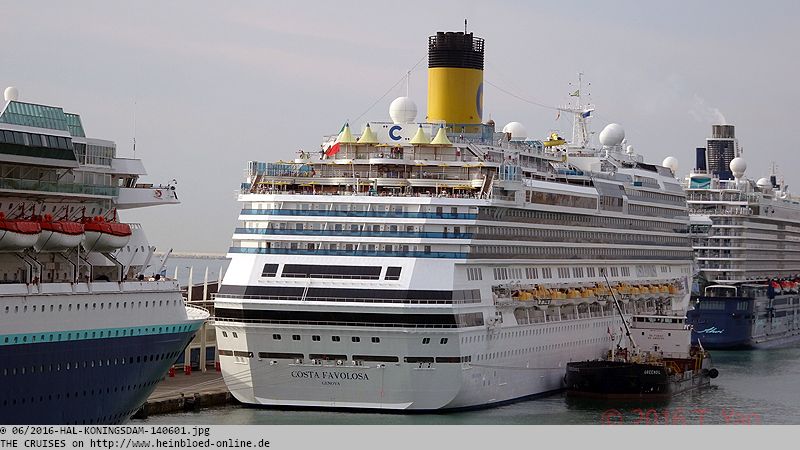 COSTA FAVOLOSA.
Ostern 2017. Wir kommen. Marseille - Savona - Barcelona - Palma de Mallorca - Marseille.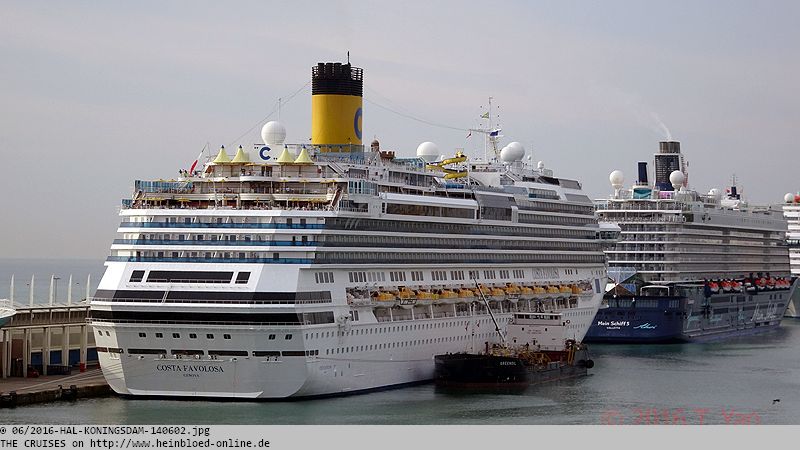 Easter 2017. We are coming. Marseille, France - Savona, Italy - Barcelona, Spain - Palma de Mallorca, Spain - Marseille, France.

There was really no other line (but the ferries) who could offer us a voyage on the Easter holidays starting on Good Friday (public holiday in major parts of Europe) and terminating on Tuesday and where we can join by train. Celestyal would also be possible when joining by flight in Athens, Greece.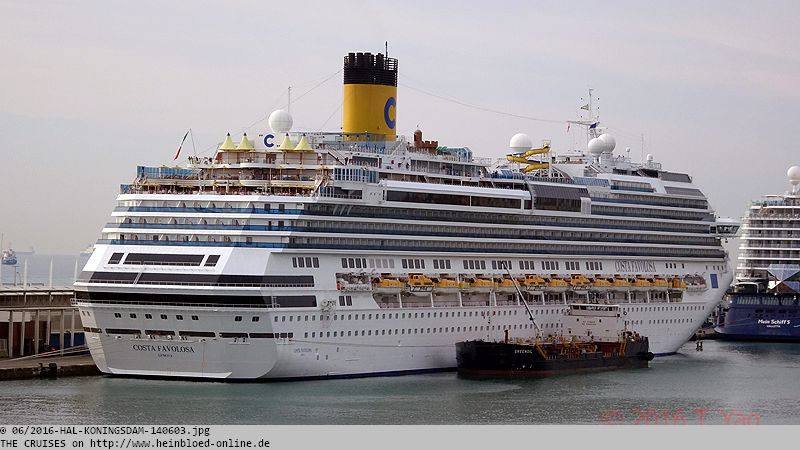 Es war wirklich keine Gesellschaft (außer die Fähren) da, für eine Fahrt über Ostern beginnend am Karfreitag und Ende am Dienstag, mit der man mit der Bahn anreisen kann. Celestyal wäre auch noch mit Anreise nach Athen möglich gewesen.
Aber nach zehn Jahren können wir es mal wieder selbst probieren. Wir waren damals auf der
COSTA CLASSICA 2007
nicht so begeistert.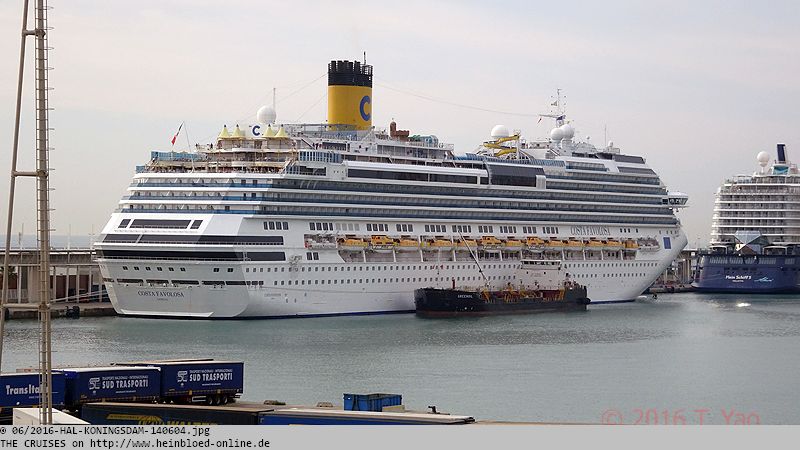 After ten years we could try it again ourselves. Then on COSTA CLASSICA 2007 we were not so exited.

That is why we will be on tour on COSTA FAVOLOSA: five hours for such a beautiful city. What a shame.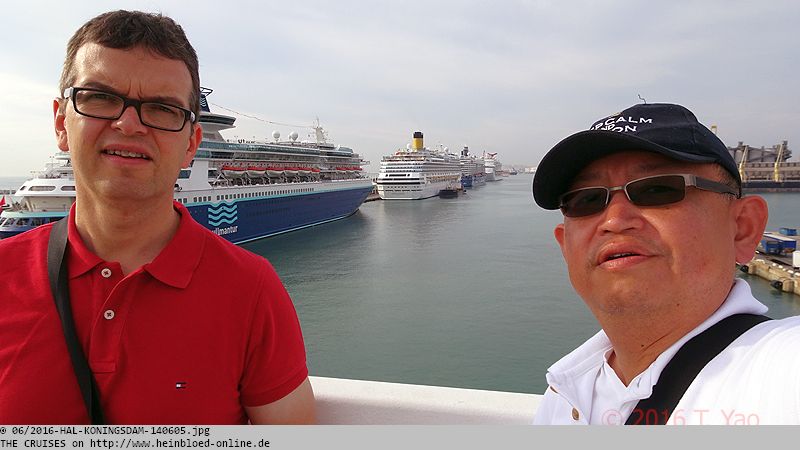 Deswegen sind wir mit der COSTA FAVOLOSA unterwegs: fünf Stunden Aufenthalt für eine so fantastische Stadt. Eine Schande.
Auch MEIN SCHIFF 5 ist hier Übernacht geblieben.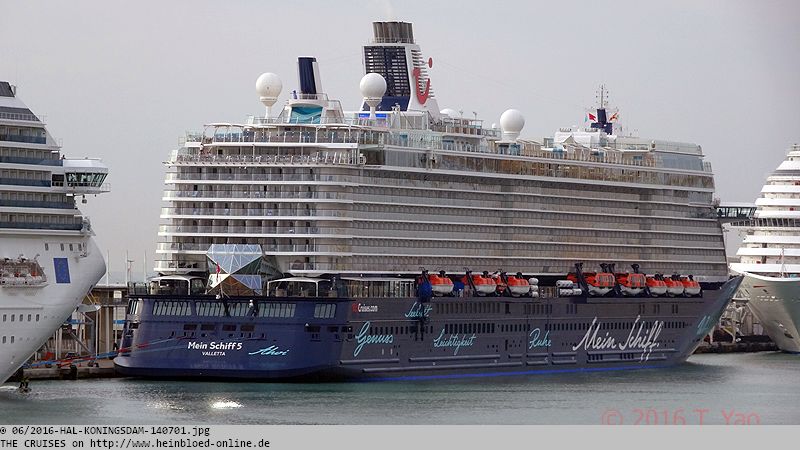 Also MEIN SCHIFF 5 stayed here overnight.

Last not least: the newest Carnival ship: CARNIVAL VISTA.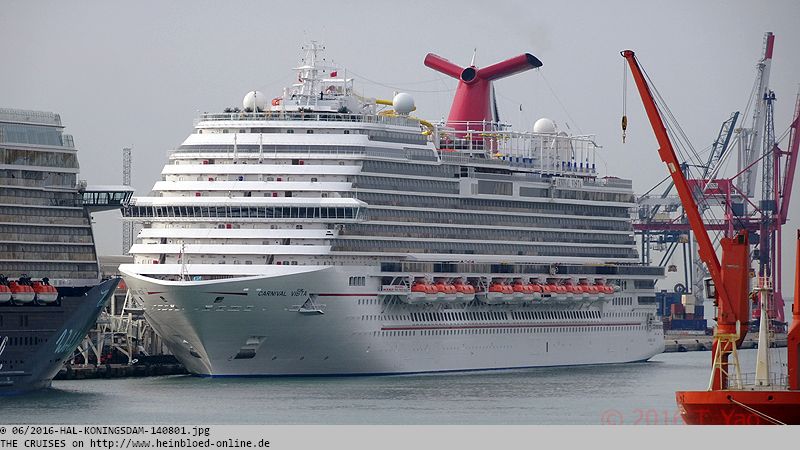 Last not least: das neueste Carnival Schiff: CARNIVAL VISTA.
Wir sind wieder am Flughafen El Prat. 900 km Luftlinie von Rom. Per Land 1.350 km. New York - Los Angeles sind 4.000 km. D. h. 900 km ist für amerikanische Verhältnisse "um die Ecke". Deswegen sind wir gerade "um die Ecke" von Rom. Leider fährt die Fähre von
Grimaldi Lines
erst am Abend in Civitavecchia ab und kommt daher erst am nächsten Abend in Barcelona an. Sonst wäre es perfekt gewesen, um um die Ecke zu kommen.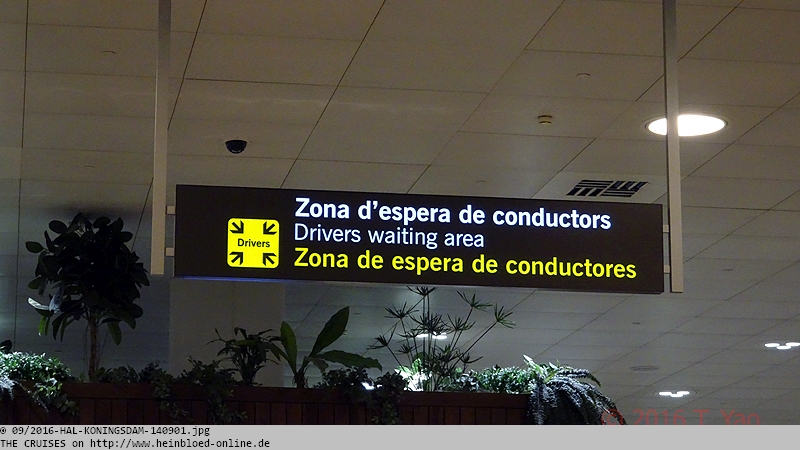 Back again at El Prat airport. 500 miles distance air line. A shore 800 miles. New York - Los Angeles are about 2,500 miles. So for Americans 500 miles are "just around the corner". So we were only "around the corner" of Rome. Unfortunately the ferry of Grimaldi Lines only sails in the night out of Civitavecchia and arrives the next day in the night in Barcelona. Otherwise it might a perfect way to get "around the corner".

We knew Sandy and Scott from our voyage on CELEBRITY EQUINOX 2010. They were here the first time in Europe. So we came by "around the corner" to say hello. Here we also met their friends Josée and Steven who are joining togehter here for a cruise.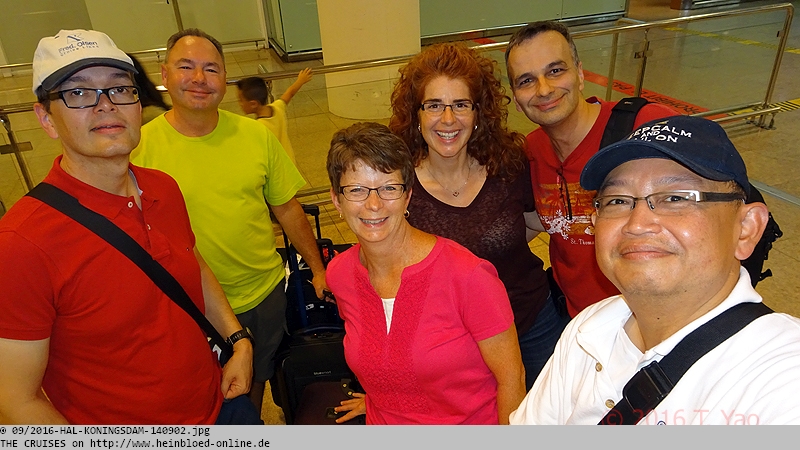 Sandy und Scott kennen wir von unserer Reise auf der
CELEBRITY EQUINOX 2010
. Sie sind zum ersten Mal in Europa. Also kommen wir mal schnell "um die Ecke", um mal Guten Tag zu sagen. Hier treffen wir ihre Freunde Josée und Steven, mit denen sie gemeinsam hier zu einer Kreuzfahrt starten.
Eva fährt uns zunächst zum Essen.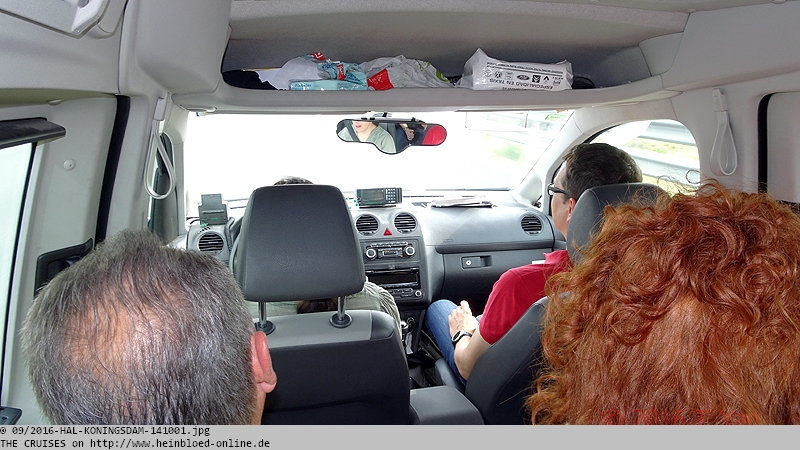 Eva took us first to have lunch.

We looked like in Carpool Karaoke in James Corden's Late-Late-Show on CBS. Her car had really a lot of space. Bruno was sitting with Eva in the front.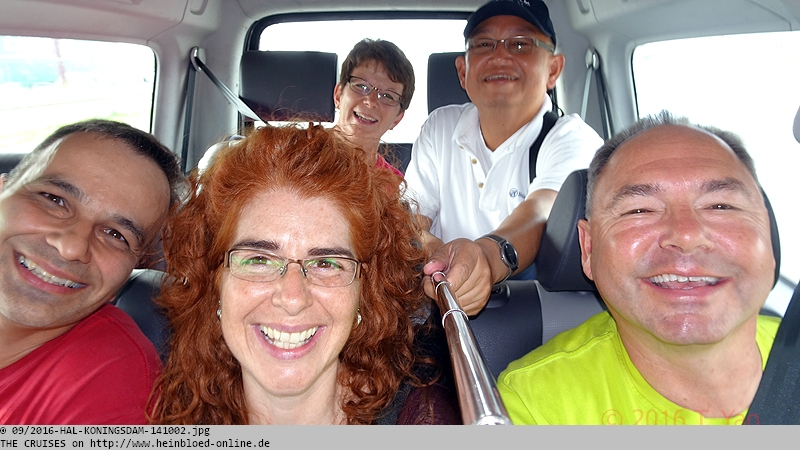 Wir sahen aus wie bei
Carpool Karaoke in James Cordens Late-Late-Show
im US-Fernsehen. Doch: ihr neues Auto hat sehr viel Platz.
Wir essen wieder im La Marina De L'Hospitalet. Kennen wir von unserer Reise auf der
NORWEGIAN SPIRIT 2013
. Damals haben wir ganz toll gegessen. Damals hat uns Eva in die Geheimnisse der katalanischen Küche geweiht. Und sie macht es auch heute wieder. Auch heute wieder lecker und gut.

We ate again in La Marina De L'Hospitalet. We knew from our voyage on NORWEGIAN SPIRIT 2013. Then we had great food. Then Eva showed us the secrets of Catalan kitchen. And today she did it again. And today again really yummy and good.

We went quickly to the Olympic village. There Scott and Sandy rented an appartment. Here Steven and Josée could freshen them up before we headed on.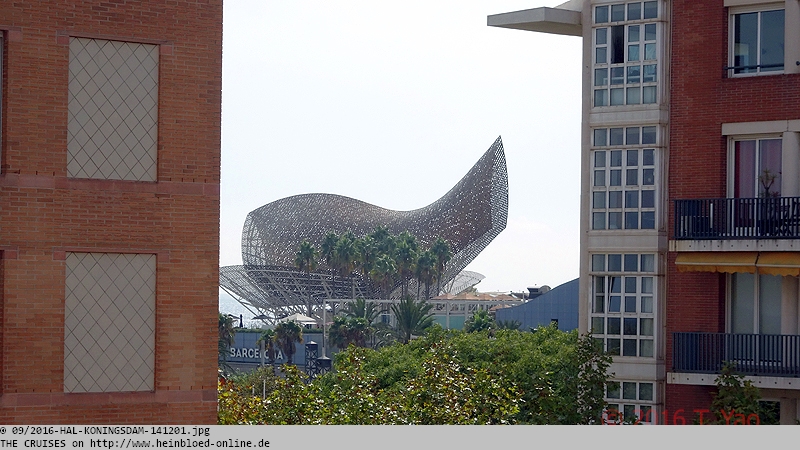 Kurz fahren wir ins Olympische Dorf. Dort haben Scott und Sandy eine Wohnung angemietet. Hier können sich Steven und Josée frisch machen, bevor es weitergeht.
Mit der U-Bahn geht es wieder in die Stadt. Weiter dann mit der
Vorortbahn L7 der FGC
nach Av. Tibidabo.

We took the metro back to the city. Heading on FGC commuter train L7 to Av. Tibidabo.

Finally we made it. The last time Bruno and I had unluck. We made it to here. And then the blue tram did not go.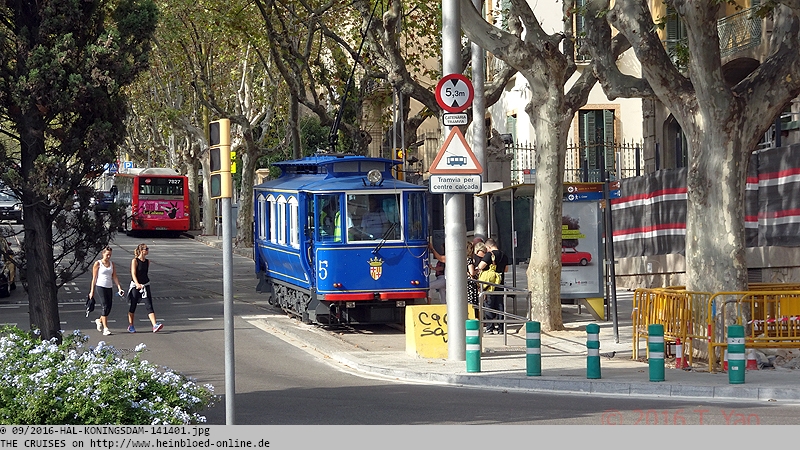 Endlich geschafft. Das letzte Mal hatten Bruno und ich Pech. Bis hierher sind wir gekommen. Und dann fuhr die
blaue Straßenbahn
nicht.
Alle drin. Einfache Fahrt: 5,50 EUR (2017).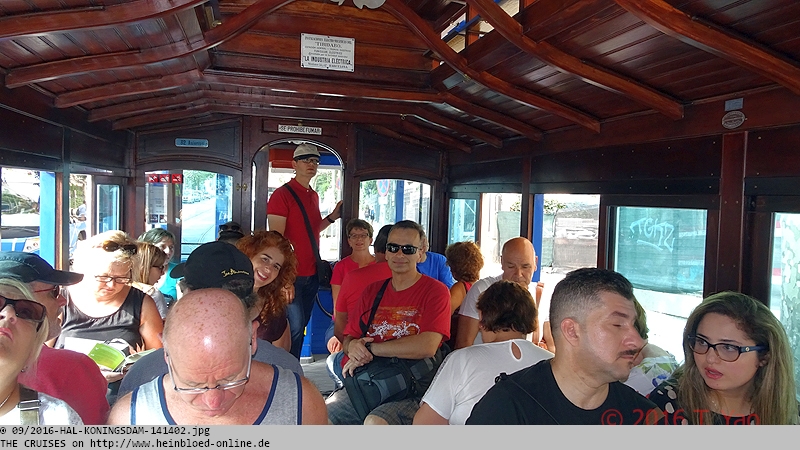 All onboard. Single ride: 5.50 EUR (2017).

Sigi rejoined our group on the way to this place.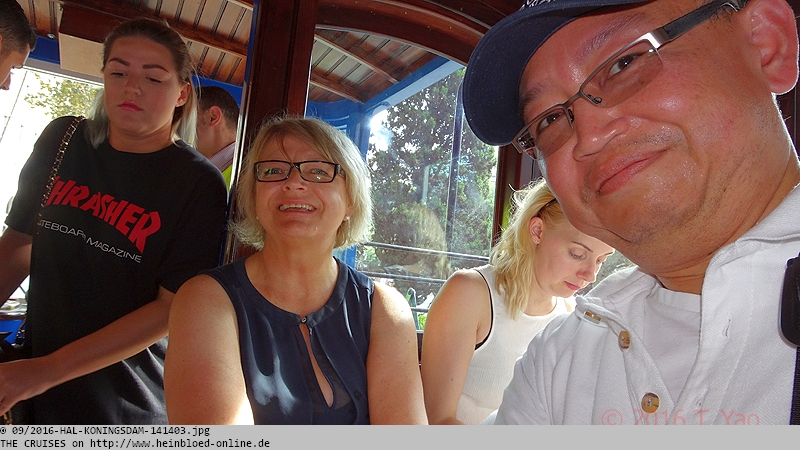 Auch Sigi haben wir unterwegs wieder eingesammelt.
Ankunft an der Endstation.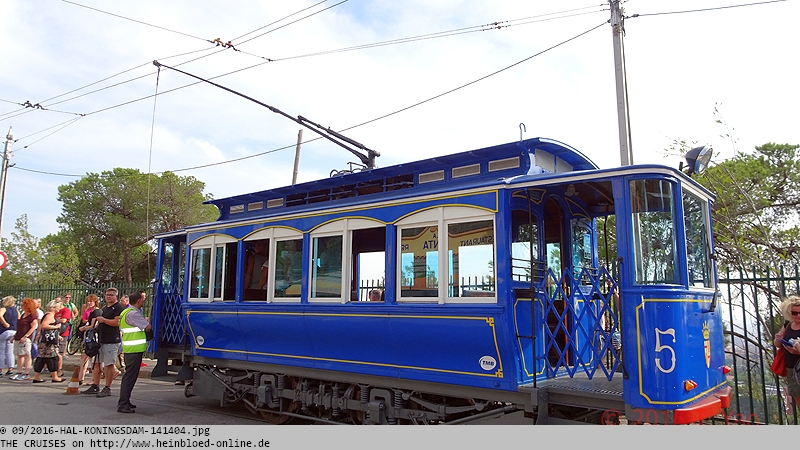 Arrival at the terminal.

We were heading on the funicular upto to Tibidabo. On the way witht he nicest view over Barcelona. Costs 7.70 EUR (2017) without vititing the amusement park.

Weiter geht es mit der
Stand-Seilbahn
hoch nach
Tibidabo
. Unterwegs mit dem schönsten Blick über Barcelona. Kostet 7,70 EUR (2017) ohne den Besuch des Vergnügungsparks.
"
Vicky, Cristina, Barcelona
" (mit Penélope Cruz, Scarlett Johansson, Javier Bardem), "
L'auberge espagnol
" mit Filmszenen, in denen man sich sofort in Barcelona verliebt, auch wenn man noch nie da war. Ich liebe diesen Ort. Fantastisch. Hier sind wir garantiert nicht zum letzten Mal.

"Vicky, Cristina, Barcelona" (with Penélope Cruz, Scarlett Johansson, Javier Bardem), "L'auberge espagnol" with scenes you fell immediately in love with Barcelona even you have not been there before. I love this place. Fantastic. Here we should not be the last time.

We did not take the blue tram to get downhills but Bus 196. Your regular day pass was working here.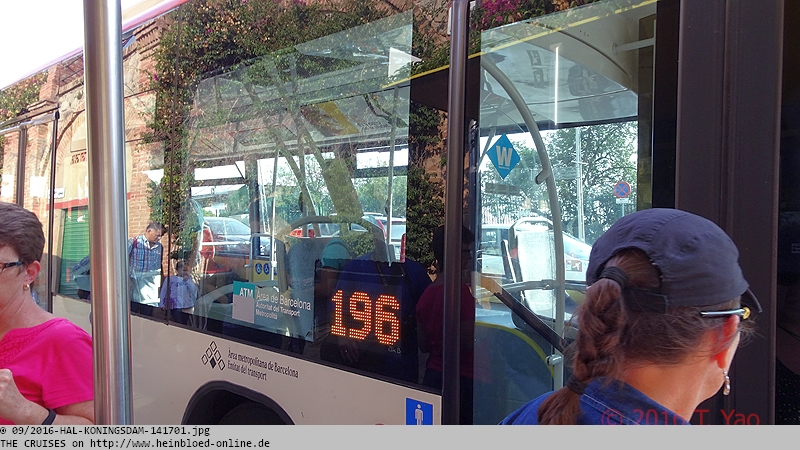 Wir nehmen runter nicht mehr die blaue Straßenbahn, sondern mit
Bus 196
. Hier gilt unsere normale Tageskarte.
Es geht wieder zurück.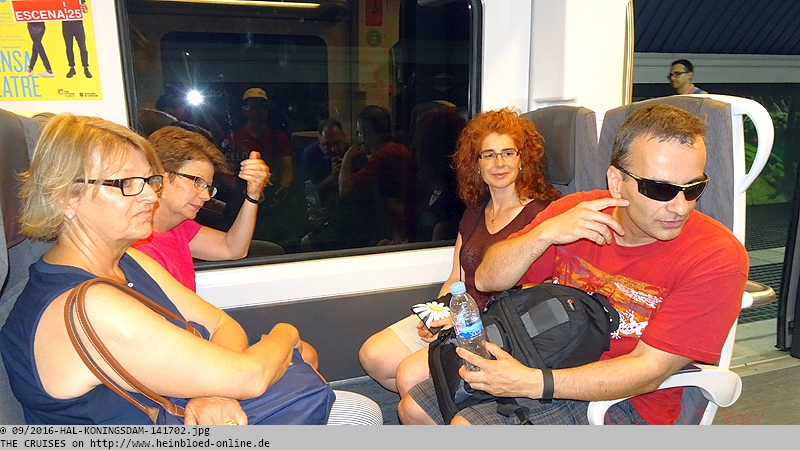 We were heading back.

Nice bunch who had fun together.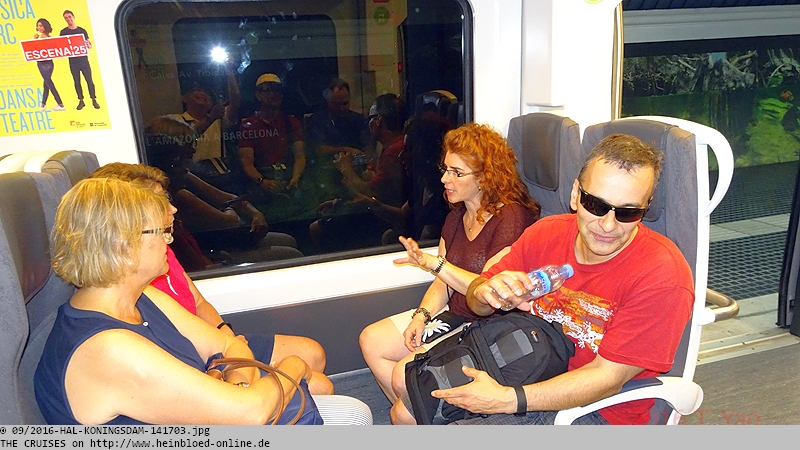 Nette Truppe, die sich sofort gut versteht.
Ich habe auf jeden Fall meinen Spaß.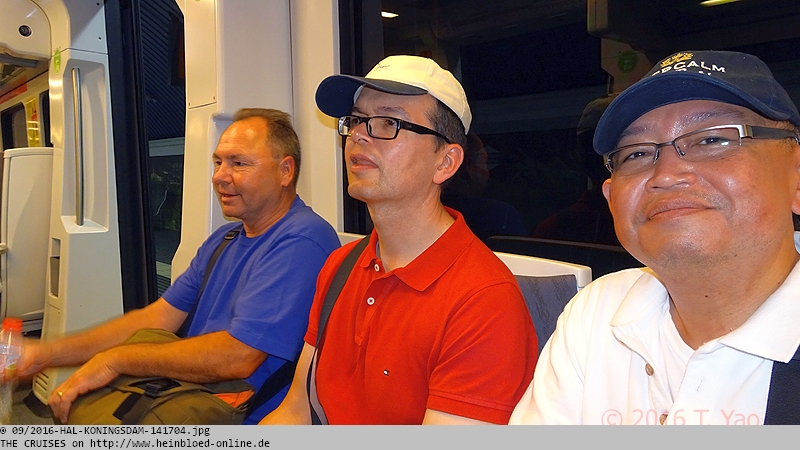 I definately had my fun.

There are two Gaudi-Houses Casa Battlo and Casa Mila (officially La Padrera - there was no sign in the station to show the right exit...), which were both located at Passeig de Gracia and were about 500 yards apart. The third time we went for Casa Mila and the third time I mixed up the the places and the third time we had to walk the 500 yards. For the next visits I will cancel all visits so I cannot mix up anything. I like Casa Mila more because there is a roof terrace which you also know of "Vicky, Cristina, Barcelona" and "L'auberge espagnol" and I love visit and visit again. Casa Battlo has also a roof terrace but the view from the roof terrace is not as nice as from Casa Mila. Just the view of Sagrada Familia was beautiful. As you could not get any tickets anymore to pre-book you had no more chance to get in without longer waiting times.

Es gibt zwei Gaudi-Häuser
Casa Battlo
und Casa Mila (offiziell
La Padrera
- es gab bloß im Bahnhof kein Schild, welchen Ausgang wir hätten benutzen müssen...), die beide an der Passeig de Gracia liegen und 500 m von einander bekannt sind. Zum dritten Mal geht es in Casa Mila und zum dritten Mal verwechsele ich die Orte und zum dritten Mal müssen wir wieder die 500 m laufen. Also für die nächsten Besuche werden kurzerhand beide Häuser gestrichen. Dann kann ich auch nichts verwechseln. Für mich ist Casa Mila schöner, weil es dort eben eine Dachterrasse gibt, die man auch aus "Vicky, Cristina, Barcelona" und "L'auberge espagnol" kennt und die man auch immer wieder besucht. Casa Battlo hat auch eine Dachterrasse - nur leider ist der Ausblick von der Dachterrasse nicht so schön, wie bei bei Casa Mila. Schon alleine der Blick zur
Sagrada Familia
ist wunderschön. Da man leider gar keine Tickets mehr im Vorfeld buchen konnte, gab es keine Chance ohne Wartezeiten reinzukommen.
Im Rahmen unserer Reise auf der
NORWEGIAN SPIRIT 2013
waren wir schon mal hier in der
Bodega Joan
. Damals war an diesem Abend ein Spiel von FC Barcelona, die im Fernsehen übertragen wurde. Damals hat es Spaß gemacht hier zu essen. Heute sind wir wieder da. Ohne die FCB-Fans ist es doch sehr touristisch. Leider ist es auch so kalt runterklimatisiert, dass es hier keinen echten Spaß mehr gemacht hat. Die Tapas sind wieder sehr lecker. Auf einen Hauptgang verzichte ich, da ich mit den Tapas schon zu kämpfen habe. Nach dem Essen fahren wir noch gemeinsam zum Placa Espanya, damit Sandy, Josée, Scott und Steven auch noch den Zauberbrunnen sehen können. Hier verabschieden wir uns dann von ihnen. Nun haben wir auch Kontakte nach Quebec City, was sehr praktisch ist: wir haben eine Kreuzfahrt St. Lorenz Strom eh auf unserer Liste. Nun müssen wir gucken, dass wir das nächste Mal über St. Paul/Minneapolis (blöderweise kein Hub von Star Alliance sondern vom SkyTeam) in die USA einreisen, um Scott, Sandy und ihre Familie zu besuchen. Irgendwie ist es schön mit Kreuzfahrern: die meisten ticken alle gleich: die Welt entdecken, offen für neue Kulturen, und überall auf der Welt Freunde. Für diesen schönen Tag fliegen wir auf dem Weg von Rom nach Frankfurt doch mal schnell in Barcelona vorbei.

When we were on NORWEGIAN SPIRIT 2013 we came here before to Bodega Joan. At that night there was a soccer game of FC Barcelona which was broadcasted on TV. That was fun to eat here. Today we were back again. Without the fans of FCB it was more a tourist place. It was air-conditioned but too cold that it was no fun to stay. The tapas were great again. I did not take an entry as I had already to fight with the quantity of food. After the dinner we went together to Placa Espanya to enable Sandy, Josée, Scott and Steven to see the Magic Fountain. Here it was time to say good bye. Now we had also contacts to Quebec City what fit perfectly since a cruise on St. Lawrence is any how on our list. But we need to check to go next time via St. Paul/Minneapolis (unfortunately not hub of Star Alliance but Sky Team) to see Scott, Sandy and her family on the way to the US: Somehow it is nice with cruisers: most of the them are same minded: dicovering the world, open for new cultures and friends all over the world. For this nice day we loved to jumped in to Barcelona, Spain on the way from Rome, Italy to Frankfurt, Germany.

We took back the bus to our hotel. After the alternative Kit-Kat flavors in Japan on DIAMOND PRINCESS I disovered here the Kit-Kat Ice Cream. I need to try. And as it is from the Swiss company Nestlé I could start to remember my work life in Switerland. Anyhow the nicest voyage comes to the end and you need to think to start working... to finance your next voyage.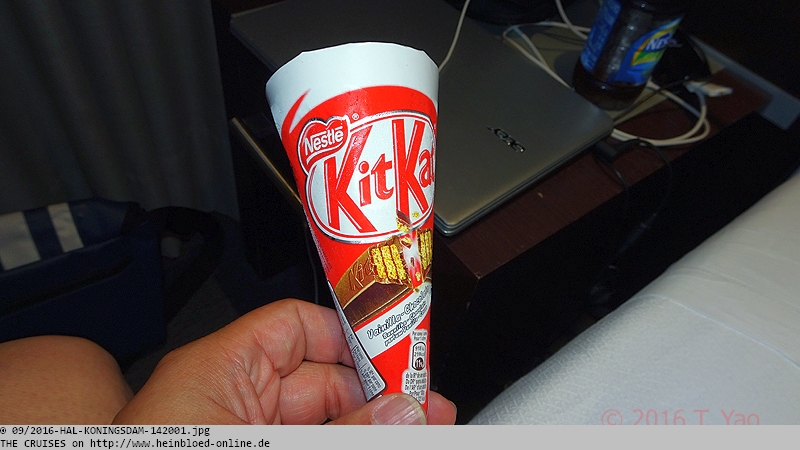 Wir fahren dann mit dem Bus zurück zum Hotel. Nach den alternativen Kit-Kat Sorten in Japan auf der DIAMOND PRINCESS, entdecke ich hier ein Kit-Kat Eis. Das muss ich noch probieren. Und da von Nestlé gewöhne ich mich an mein Arbeitsleben in der Schweiz zurück. Irgendwann geht eben auch die schönste Reise zu Ende und man muss leider wieder ans Arbeiten denken... um die nächste Reise zu finanzieren.