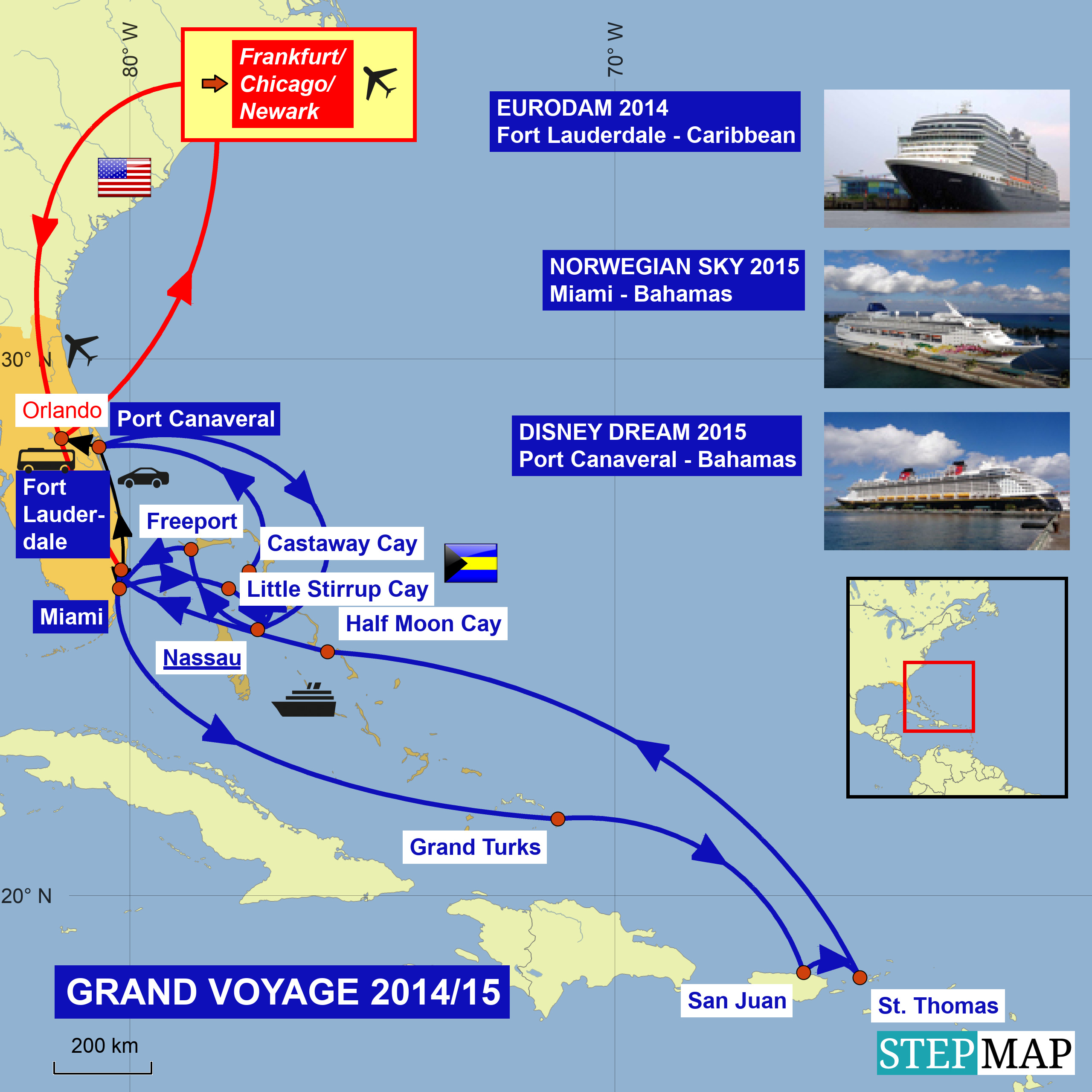 Der Tag beginnt mit einer Katastrophe. Mein Selfie-Stick ist kaputt gegangen.
SOS - WIR MÜSSEN SOFORT DEN NÄCHSTEN HAFEN ANLAUFEN.
Ein echter Notfall. Darunter soll aber die Crew nicht leiden... So werden eben klassisch die Bilder von Gesa, Kimberly, Lovely und Ray gemacht. Auf jeden Fall: ich habe Spaß. Welcher Idiot hatte mir damals eigentlich erzählt, dass Holland America nur für alte Leute sei und ein Altersheim wäre? Selbst nie damit unterwegs gewesen zu sein, und so einen Mist erzählen. Zum Glück höre ich auf solche Leute nicht und bin 2008 erstmalig mit Holland America unterwegs und seit dem bin ich nur einfach glücklich! Der Teil Holland in Holland America Line wird entsprechend durch das Angebot an
Sirupwaffeln
bestätigt. Die gab es zuletzt auch bei Lufthansa inkl. Gebrauchsanleitung. Und Paola versüßt meinen Tag mit Hilfe eines Eddings. Den Tag nutzen wird, um uns in den Sonnenliegen gemütlich zu machen, einzukaufen, uns die Kunst an Bord und die Kochshows anzusehen. Die Uhr ist im wahrsten Sinne des Wortes stehengeblieben. Anders kann ich es mir kaum erklären, dass die Bibliothek während der Öffnungszeiten nicht geöffnet hat.

The day started with a disaster. My selfie-stick broke. SOS - WE MUST CALL THE NEXT PORT IMMEDIATELY, A true emergency. No crew-should suffer... So we took the classical way of Gesa, Kimberly, Lovely and Ray. Anyhow: I had my fun. Which idiot told me then that Holland America was only for old people and was a senior resident? Never had been on and telling every one such a bullshit. I was glad that I have never listened to such people and was the first time with Holland America in 2008 and I become only happy! The part Holland in Holland America Line was confirmed by the Dutch syrup waffles. Recently Lufthansa had them on their flights incl. manual how to use them. And Paola made my day a little sweeter with the help of a felt pen. The day we used to make ourselves comfortable in our sun-loungers, doing some shopping, to watch art and the cooking shows. The clock had truly stopped. I could not explain myself why the library was not open during the opening hours.

For Bruno, they got him again the very best blueberry muffin on the seven seas. I was happy with my Japanese breakfast. Only Bruno found it was too breezy at this place.

Für Bruno gibt es zum Frühstück mal wieder den besten Blueberry Muffin auf den sieben Weltmeeren. Ich freue mich über das japanische Frühstück. Nur Bruno zieht es an der Stelle mal wieder zu sehr.
On Deck for the Cure - ein 5 km-Wohltätigkeitslauf für die Krebsforschung auf dem Promenadendeck, an dem ich zum ersten Mal nicht nur dafür bezahle, dass ich das T-Shirt bekomme, sondern auch mitmache, weil ich mich gerne an unseren schönen Momente mit unseren Kreuzfahrerfreunden erinnere, und die leider nicht mehr mit uns reisen können: Günther, Jenny, Barbara und Frau Pannen. Schade, dass man vergessen hat der technischen Abteilung Bescheid zu geben, dass diese wichtige Veranstaltung stattfindet, so wurde es leider eher zum Hindernislauf. Und in diesem Fall muss ich ausnahmweise mal mit dem Catering schimpfen: wir laufen zwar keinen Marathon, aber ein bisschen mehr aufgeschnittenes Obst und mineralreichere Getränke zum Grabschen im Vorbeilaufen, wären sicherlich bei den Temperaturen und der Luftfeuchtigkeit in der Karibik sehr hilfreich gewesen, um die Situation für die Läufer zu verbessern.

On Deck for the Cure - a 5 km-Charity walk for the cancer research on the promenade deck. The very first time I did not just pay for the t-shirt but also join to remember our good cruise friends who cannot come with us again: Günther, Jenny, Barbara, and Mrs. Pannen. Sad that they forgot to tell the maintenance department that this important event was conducted, but so it became more a steeplechase. And the only single time I need to claim to the catering: we did not run a marathon but some more pre-cut fruits and some more beverages with more minerals to grab while walking would be much nicer due to the temperatures and humidity you had in the Caribbean to improve the situation for the participants.

As we wanted to have the laundry back folded we were already in preparation for our debarkation.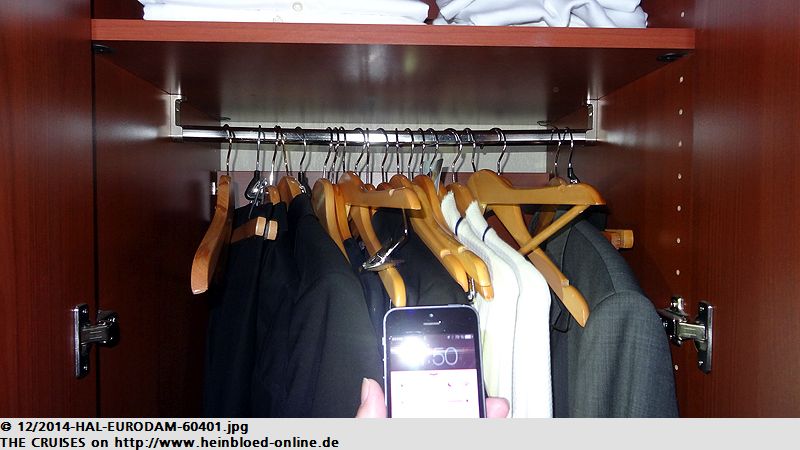 Da wir die Wäsche immer gefaltet wieder haben wollten, sind wir bereits mit den Vorbereitungen für unsere Ausschiffung so gut wie fertig.
Ansonsten sind wir wie immer vom Kabinenservice von Holland America sehr begeistert.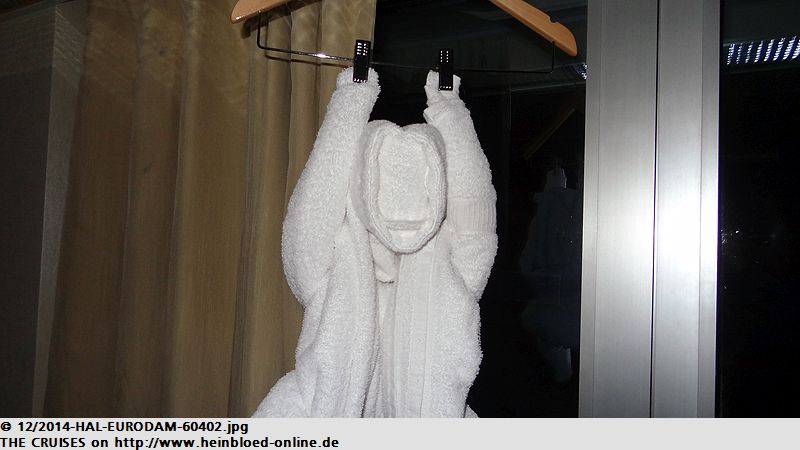 But we were exited to have the cabin service of Holland Amrica.

Such a day at sea passed like time flies in a flight. Time for lunch. That time as Mariner's Brunch for the members of the Mariner's Society. Here always Captain, Hotel- and Cruise Director welcomed the frequent travelers, and they introduced the guests with the most day on Holland America, who were actually on board.

So ein Seetag vergeht immer wie im Flug. Zeit für das Mittagessen. Dieses Mal als Mariners Brunch für die Mitglieder der Mariner Society. Hier begrüßen immer Kapitän, Hotel- und Kreuzfahrtdirektor die Vielfahrer und es werden die Gäste vorgestellt, die die meisten Tage mit Holland America verbracht haben und gerade an Bord sind.
Vielleicht hätten wir besser ins SB-Restaurant gehen sollen. Indisches Essen.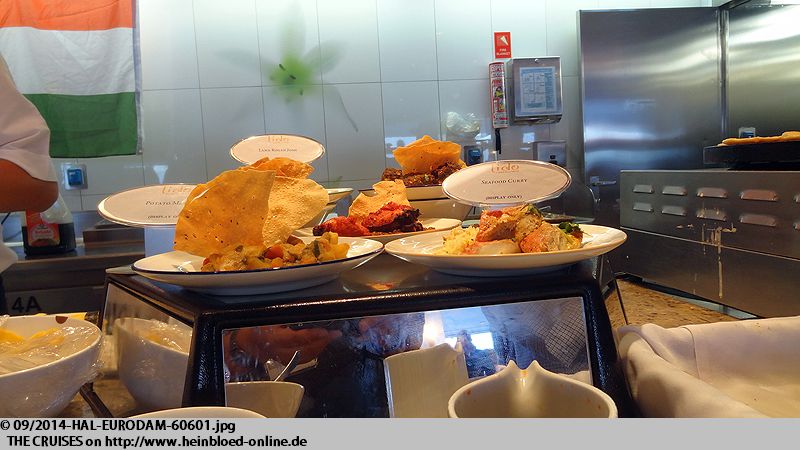 May we should better had gone to the self-service restaurant. Indian food.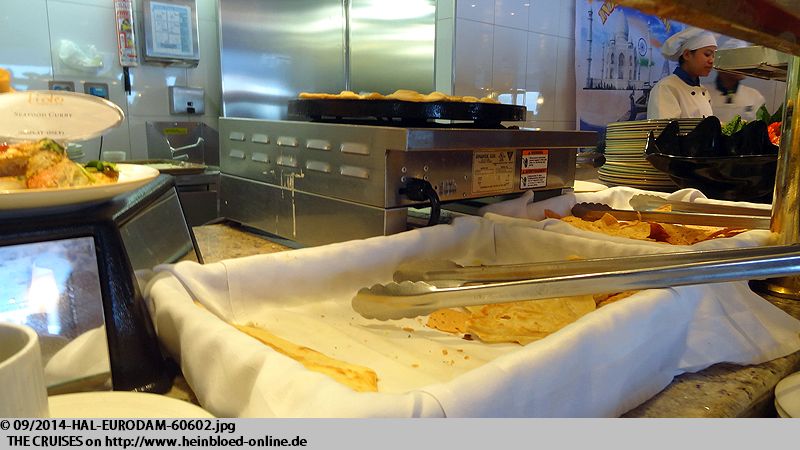 Das sah so toll aus: Sogar Nan-Brot wurde frisch gebacken.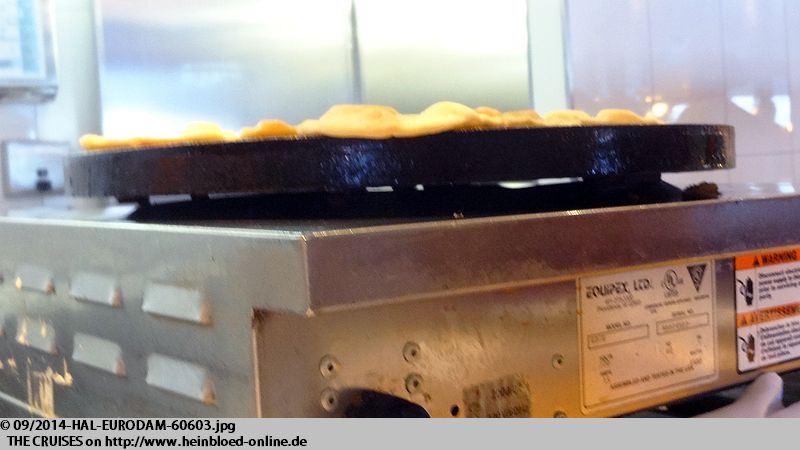 It looked so wonderful: Even nan-bread was baken freshly.

I had to try some.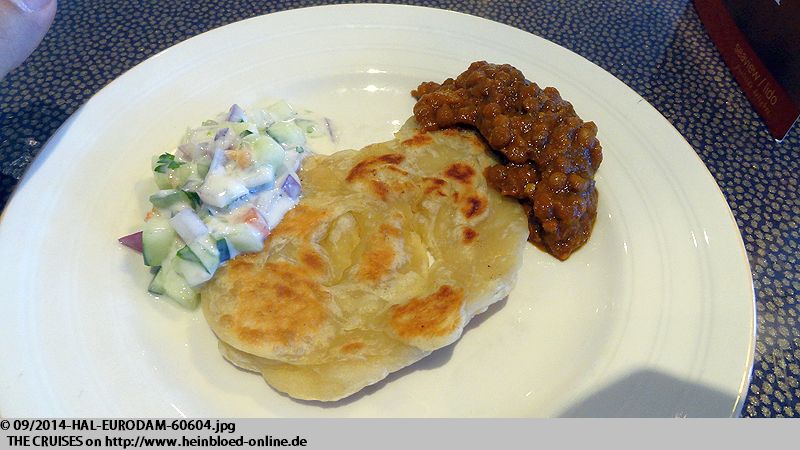 Etwas muss ich probieren.
HAL SX SUB (steht für Submarine = U-Boot - Die Form des Sandwiches erinnert eben an ein U-Boot): Ist das eine Portion? Oder schneidet man sich etwas davon ab?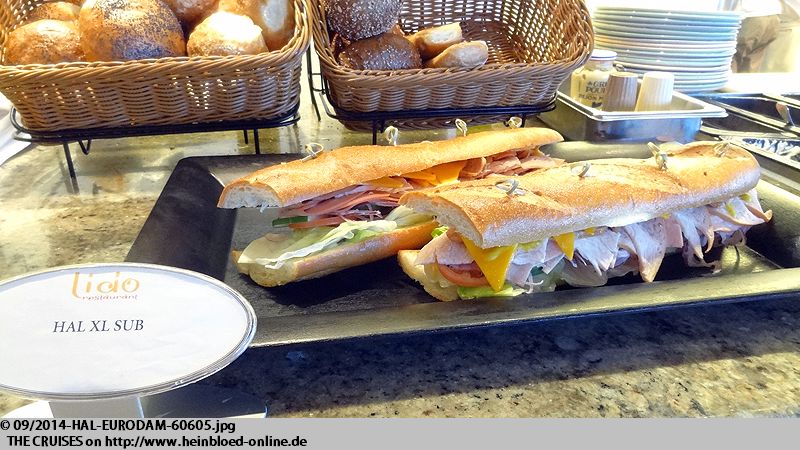 HAL SX SUB: Was this one portion? Or did you have to cut off a part yourself?

I used the chance in the afternoon for the King's Room.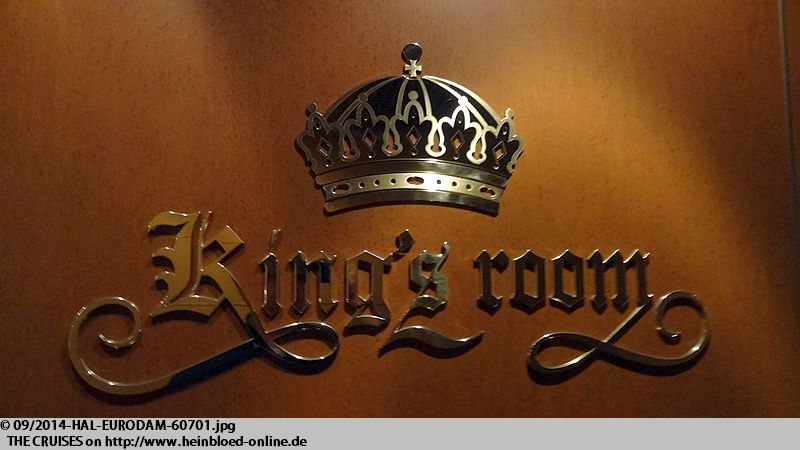 Ich nutze nachmittags die Chance und gehe in den King's Room.
Der ist als Digital Workshop von Windows umfunktioniert.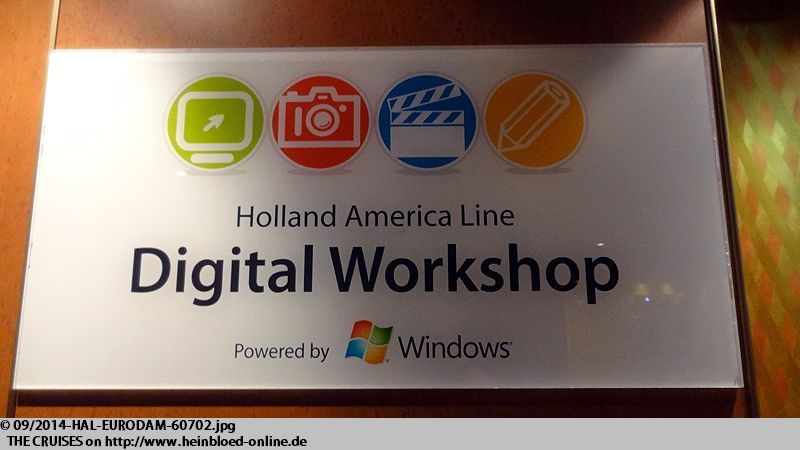 It was redesignated to Digital Worksho of Windows.

Although I was using for many YEARS a Windows 8-device: I finally need to learn how to use the tiles. I still cannot use it and always switch to the classical desktop application.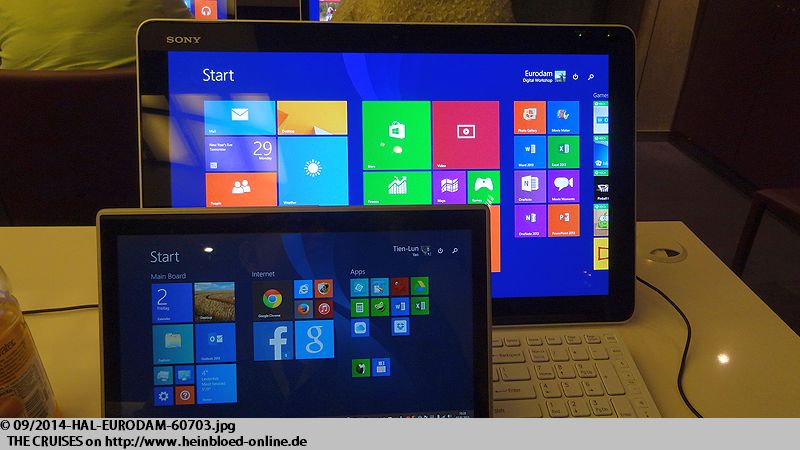 Obwohl ich seit JAHREN einen Windows 8-Rechner besitze: ich muss mal endlich lernen, mit den Kacheln umzugehen. Ich kann es immer noch nicht und schalte immer auf den klassischen Desktop um.
Ab und zu für das "schlechte" Gewissen, überprüfe ich mal den kurzfristigen Blutzuckerwert... Dafür dass ich bis vor kurzem Werte weit über 160 gemessen habe, finde ich mich echt gut.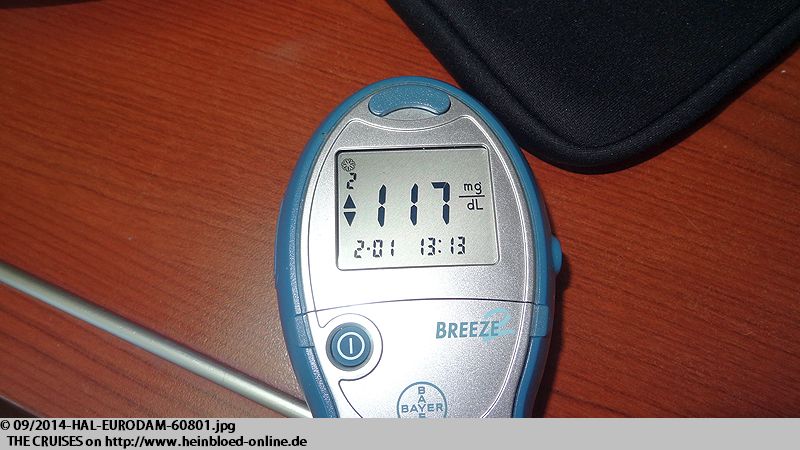 On and off for the "bad" conscious I checked my short-term blood glucose value... For the fact that I seized recently much more than 160 it was not so bad.

High time for tea-time.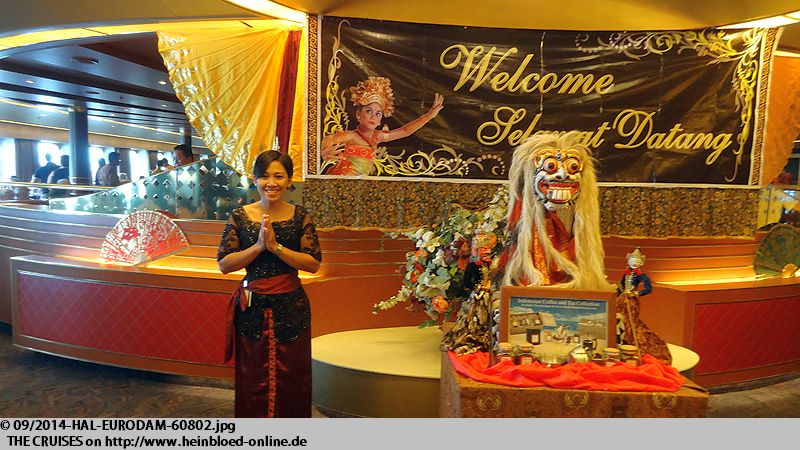 Höchste Zeit für Tea-Time.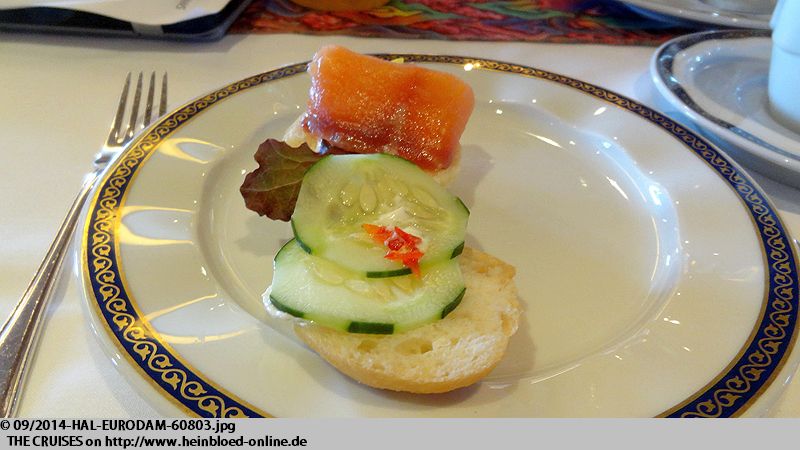 We asked them to brew some Sumatra-coffee. You can get it on request.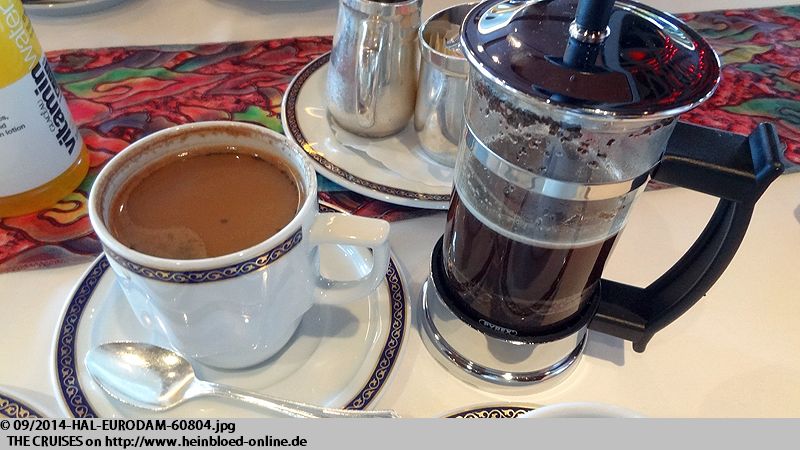 Wir lassen uns mal Sumatra-Kaffee aufbrühen. Gibt es nur auf Anfrage.
Und da der Tag ja so stressig und anstrengend war, geht es kurz danach wieder zum Essen. Insgesamt können wir nicht klagen. Alles gut!

And as the day was so stressy and exhausting we need to dine. No reasons to complain. Everything was fine!

One more time to see a show. Dave presented the show again very professionally. The show fit my taste. Such a voyage around the world: one size fits all. With the finale, it became very colorful and glittering as you can see on the globe.

Noch einmal geht es zur Show. Dave moderiert die Show wieder sehr professionell an. Die Show ist eine nach meinem Geschmack. So eine Reise durch die ganze Welt: One size fits all - eine Größe, die allen passt. Am Schluss wird es richtig bunt und glitzernd, wie man auf der Erde sieht.
Auf in die Bars. Ich fange ein neues Leben an... dazu gehört der alkoholfreie Cocktail mit Salatgurken! Die Shrimps sind lecker, machen aber zuviel Arbeit, weil man sie selbst pulen muss. Wir genießen die Musik und ich stelle an diesem Bild fest: meine Anzüge muss ich wohl langsam entsorgen. Selbst, die vorher schon sehr eng saßen, passen nicht mehr.

Let me head to the bars. I started a new life... part of it was the alcohol-free cocktail with cucumber! The shrimps were yummy but made too much work because you need to peel them yourselves. We enjoyed the music, and I found out in the pictures: I had to dispose of my suits. Even those who were extremely narrow did not fit anymore.

At least I need to see the late-night-snack and try. At least I did that right thing and walked 5 km. So my body needed some regeneration: Food and sleep... A very strenuous day full of stress came to an end.

Einmal müssen wir uns doch mal den Late-Night-Snack ansehen und probieren. Immerhin habe ich heute ja schon gutes getan und bin 5 km gelaufen. Also muss sich mein Körper regenerieren: Essen und danach schlafen... Ein verdammt anstrengender Tag voller Stress geht zu Ende.
Die anderen Reisen in diesem Blog/
The other voyages in this blog: