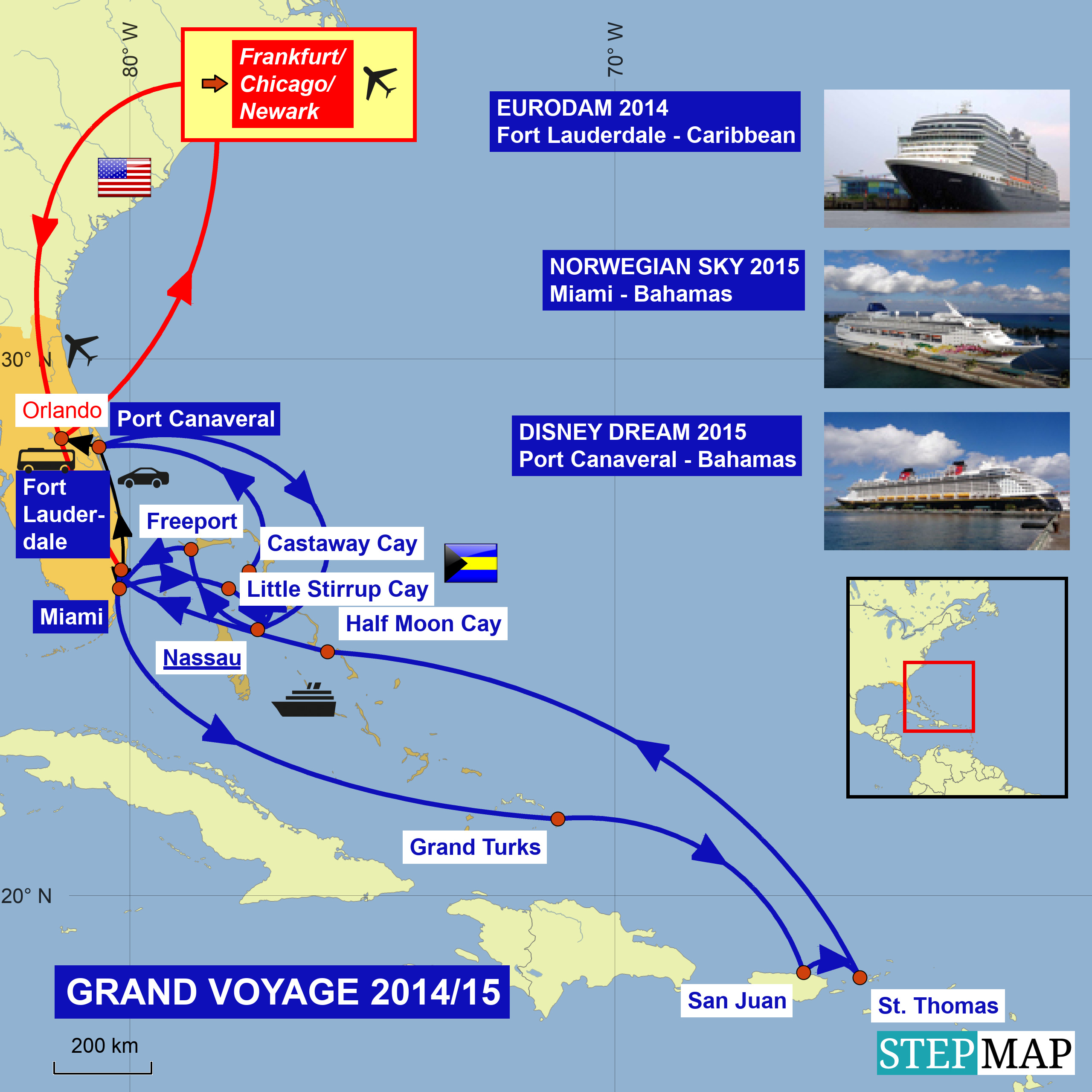 Mit dem Service rund um unsere Kabine waren sehr zufrieden: wir bekommen unsere Wäsche in der gewünschten Weise gemacht, alle notwendigen Informationen für das Leben an Bord, jeden Abend Schokolade, einen weisen Spruch und unser Handtuchtier.

We were delighted with the service in our cabin: we got our laundry made the way we liked it, we got all necessary information for life onboard, we got every night chocolate, a smart saying, and our towel animal.

So we stayed more often in our cabin.

So halten wir uns auch öfters in der Kabine auf.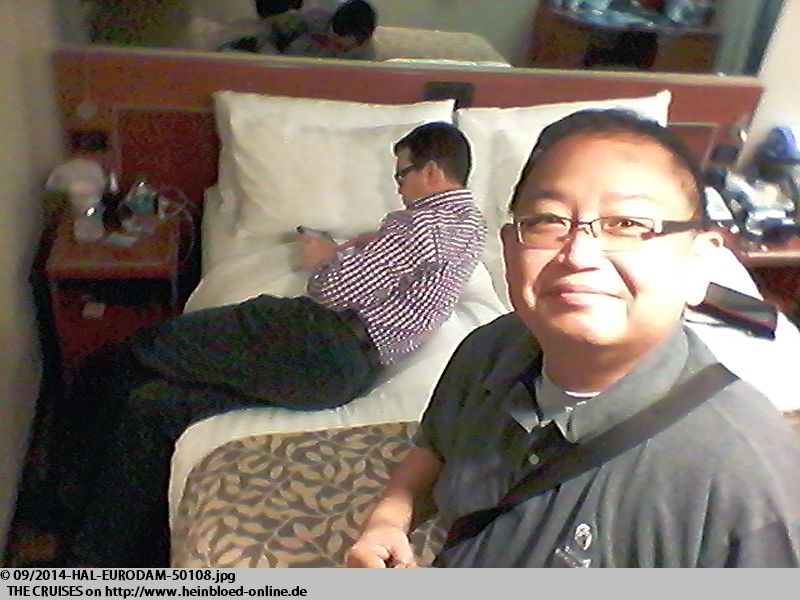 Bagun was really a very nice cabin steward who took care that we felt all around very comfortable.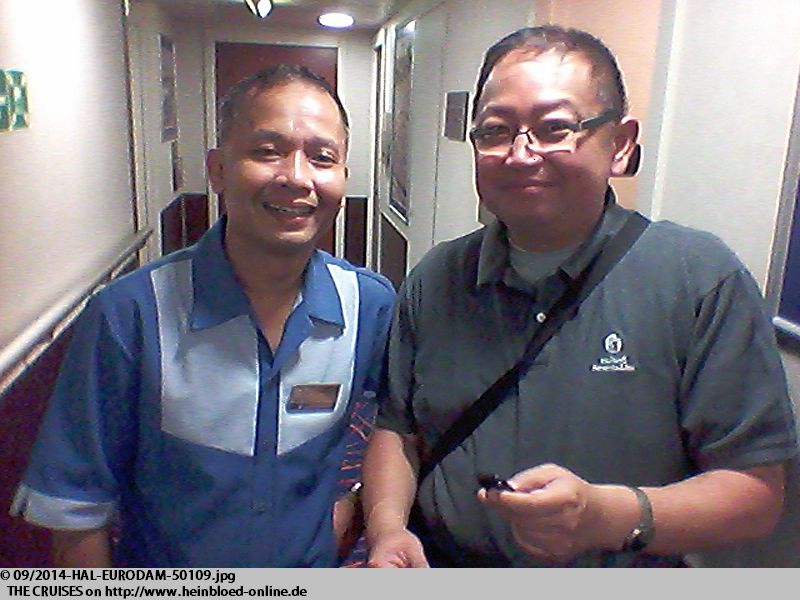 Bangun ist wirklich ein sehr netter Steward, der dafür sorgt, dass wir uns rundum wohlfühlen.
Wir wollen Sigi zum Frühstück abholen. Aber es ist o.k. Frauen eben... Wir wussten ja, worauf wir uns einlassen... Beim Frühstück passiert etwas, was einem nur bei Holland America passiert: eine Pittahaya ist an Bord (und das will schon viel heißen!) und wenn du danach fragst, bekommst du sie auch. Das ist eine der Kleinigkeiten, die immer wieder für Holland America sprechen. Es sind die vielen kleinen Unterschiede, die das Besondere für mich ausmachen. Ricco fällt auf, weil er mit uns Deutsch spricht, aber auch ansonsten immer ein Auge darauf hat, dass alles gut läuft und wir keinen Grund zur Klage haben und mit Herdi und Nyoman erleben wir wieder einen erstklassigen Service. Natürlich hat Herdi nicht schlecht geguckt, als ich nach der Pittahaya fragte. Aber statt "Nein" zu sagen, meinte er nur freundlich "Lassen Sie mich sehen, was ich für Sie tun kann...". Ein unvergesslicher Morgen für einen rund-um-glücklichen Gast.

We wanted to pick-up Sigrid for breakfast. But it was o.k. Women... We knew what we should expect... With the breakfast something happened which would only happen with Holland America: one Dragon Fruit was onboard (and that meant a lot!), and when you asked for it you got it. There were so many small things which were pros for Holland America. There were so many small differences which made it so special. Ricco attracted our attention because he spokes German with us and also kept an eye on that everything ran smooth and we had no reasons to claim. With Herdi and Nyoman we experienced a very nice first class service. Certainly, Herdi was surprised when we asked for a Dragon Fruit. But instead of saying "No" he said in a friendly way "Let me see what I can do for you...". An unforgettable morning for an all-around-happy guest.

Although Sigrid became one year older... she could not leave it... We went around the ship to browse. Many new things to discover. Everything was still nicely decorated for Christmas. We stopped at the presentation of the Cognacs and remembered the WESTERDAM. Here we learned: high-value Cognac must be served by the Bar Manager only as it will be celebrated lavishly. Sigrid refused to order such a cognac just that I could take pictures.

Obwohl Sigi nun ein Jahr älter ist... sie kann es nicht lassen... Wir gehen uns noch ein wenig auf dem Schiff umsehen. Es gibt immer wieder etwas neues zu entdecken. Noch ist alles weihnachtlich schön dekoriert. Bei der Cognac-Präsentation bleiben wir stehen und erinnern uns an die WESTERDAM. Hier erfahren wir auch: höherwertiger Cognac darf nur durch einen Bar Manager serviert werden und das wird aufwändig zelebriert. Sigi weigert sich jedoch sich einen höherwertigen Cognac zu bestellen, bloß damit ich das fotografieren kann.
Sigi verdirbt mich! Ich habe sogar Spaß an der Bar. Mit Jovanni und Roberto. Erst arbeitslos seit einem Tag und dann auch noch dem Alkohol verfallen... Es geht bergab... Mal gucken, wie es mit mir weitergeht.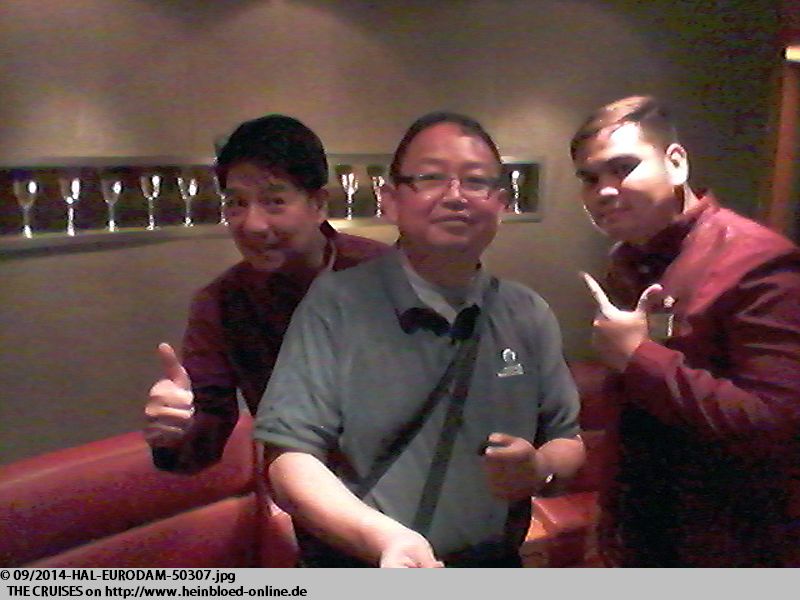 Sigrid spoiled me! I had even fun at the bar. With Jovanni and Roberto. First becoming unemployed for one day and then starting to consume alcohol... I was moving down... Let us see how it went with me...

We arrived on St. Thomas, USVI.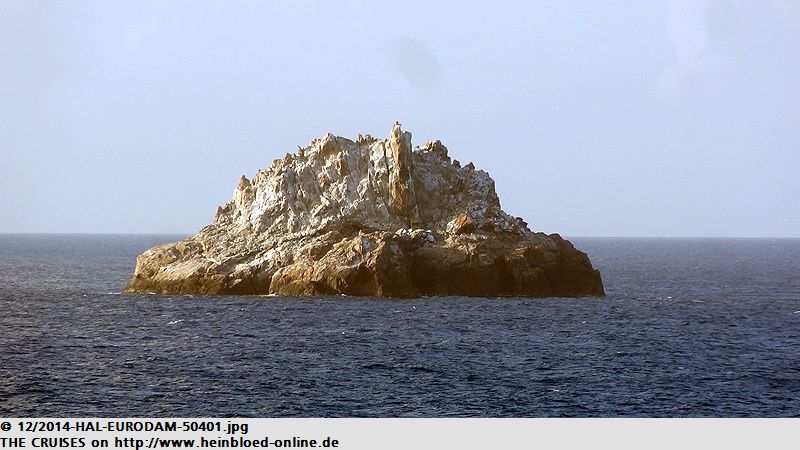 Wir kommen auf St. Thomas, US Jungferninseln.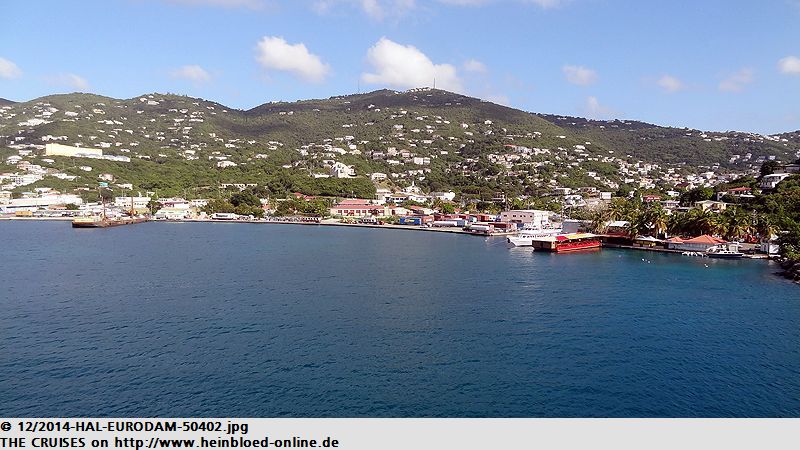 We were not interested anyway to be the first off the ship.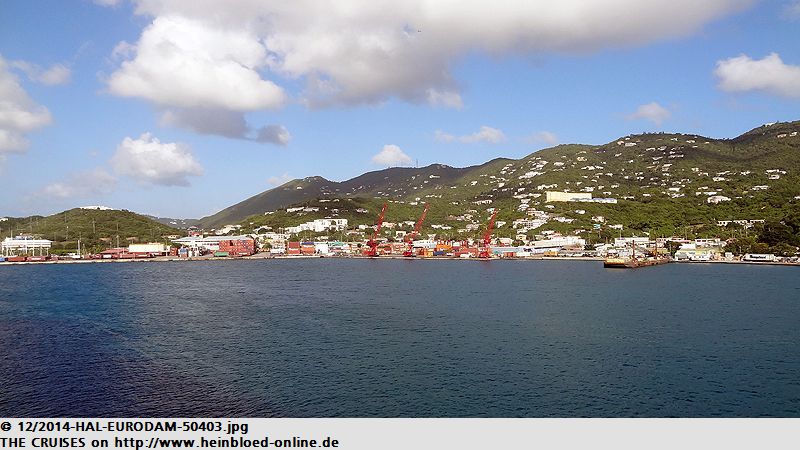 Wir wollen ja eh nicht mit den ersten runter.
So macht dann Frappé trinken richtig Spaß. So startet der Morgen, der Tag, die Woche, der Monat und das Jahr richtig gut!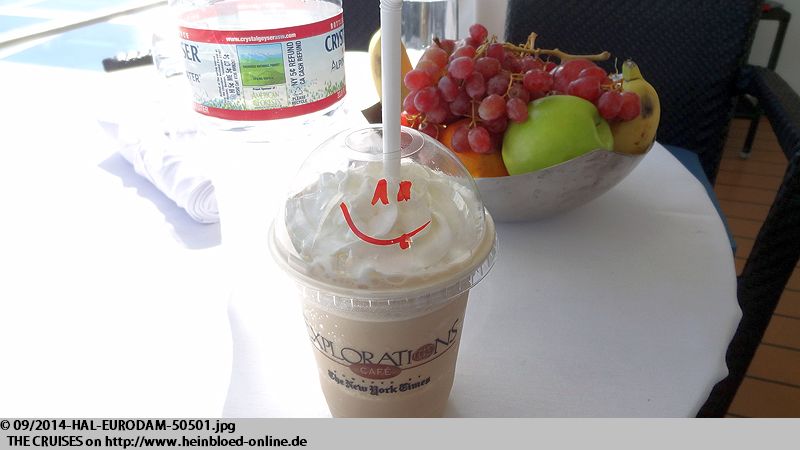 This was the perfect way to enjoy a Frappé: the right start of the morning, of a day, of a week, of a month or of a year!

Everyone off the ship virtually. So we had the Lido-Restaurant just for ourselves. A great selection which was awaiting us and so we had breakfast here before we left the ship.

Alle Mann sind quasi von Bord. Also haben wir das Lido-Restaurant für uns alleine. Eine tolle Auswahl, die uns erwartet und so essen wir erst hier bevor wir an Bord gehen.
Letzten Monat war ich ja erst auf der ARTANIA und habe dort Bewerbungsbilder machen lassen. Leider lassen die sich nicht mehr einsetzen, weil ich so schnell abgenommen habe, dass die Bilder nicht mehr meinem aktuellen Aussehen entsprechen. Ich wollte einen Bezug zu meinem Beruf als Logistik-Leiter. Und hier im Hafen ist ein Frachtschiff und ein Container zu sehen. Ich frage an der Rezeption nach, ob zufällig ein Fotograf an Bord ist, weil sie normalerweise die Schiffsausflüge begleiten. Der Zufall will es, dass ausgerechnet der Manager der Fotografen Serhat an Bord geblieben ist und mit mir die Session macht. Bruno muss als Assistent herhalten und es entstehen echt tolle Bilder. Nur leider kann ich sie bereits im April trotz des neuen Anzuges nicht mehr verwenden, weil sich mein Aussehen wirklich sehr schnell verändert, Außerdem gab es noch die Schwierigkeit, dass ich eine selbsttönende Brille habe und bei dem Licht, die ständig dunkel war. Unmöglich geeignet als Bewerbungsfoto. So trage ich Brunos Brille, die mich jedoch nicht authentisch rüberkommen lässt. Auf jeden Fall haben wir sehr viel Spaß bei der Session.

Last month I was on ARTANIA (former P&O's ARTEMIS or Princess' previous ROYAL PRINCESS) and had there some job applications pictures taken. Unfortunately, I could not use them anymore since I lost so quickly weight that they did not reflect anymore my actual appearance. I wanted to the have a certain relationship to my profession as Logistics Manager. And here in port, I could see a freight ship and a container. I asked at the front desk whether there may be a photographer stayed on board because they normally accompanied the tour groups. By accident, the manager of the photo studio Serhat stayed on board and could do the photo session with me. Bruno needed to assist, and great pictures were taken. But in April I could not use them anymore since my appearance changed again so quickly. Furthermore, we had the problem as I used some auto-tint glasses and with the light conditions, they were all the time dark. Impossible to use as job application pictures. So I wore Bruno's glasses which did not let me appear very authentic. But anyhow we had a lot of fun with the photo session.

Before we left the ship, we could have an imagination on the options what we might do. Also later ashore we checked the transport options getting to town. And we observed the lizard having a sunbath. By the way, they had two cruise ship piers on St. Thomas. We docked at Crown Bay. It was West of Charlotte-Amalie. In the East you had OASIS OF THE SEAS or ALLURE OF THE SEAS docking there.

Bevor wir das schiff verlassen, können wir uns schon ein Bild über die Möglichkeiten machen, was man so alles machen kann. Auch später an Land sehen wir uns die Fahrmöglichkeiten in die Stadt an. Und wir gucken der Echse beim Sonnenbaden zu. Übrigens gibt es auf St. Thomas zwei Anlegestellen für Kreuzfahrtschiffe. Wir legen am Crown Bay an. Das liegt westlich von Charlotte-Amalie. Östlich legen beispielsweise OASIS OF THE SEAS oder ALLURE OF THE SEAS an.
Noch ein paar Bilder von
MEINER
EURODAM auf St. Thomas.

Few more pictures of MY EURODAM on St. Thomas.

You could see quickly how much we liked EURODAM.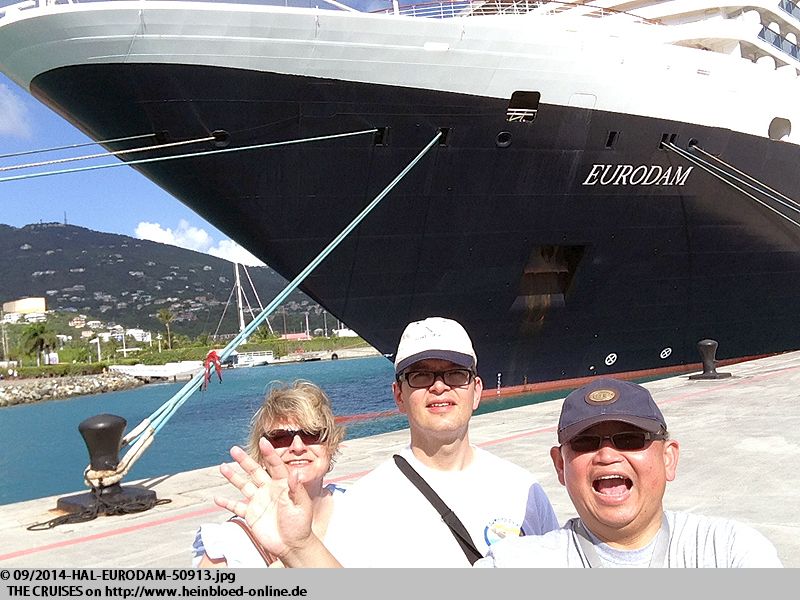 Man sieht wohl, dass es uns allen auf der EURODAM gefällt.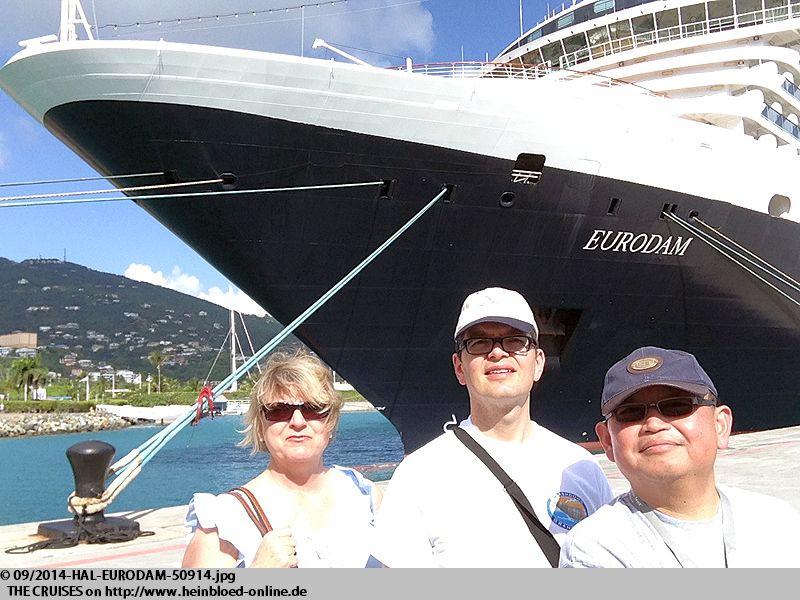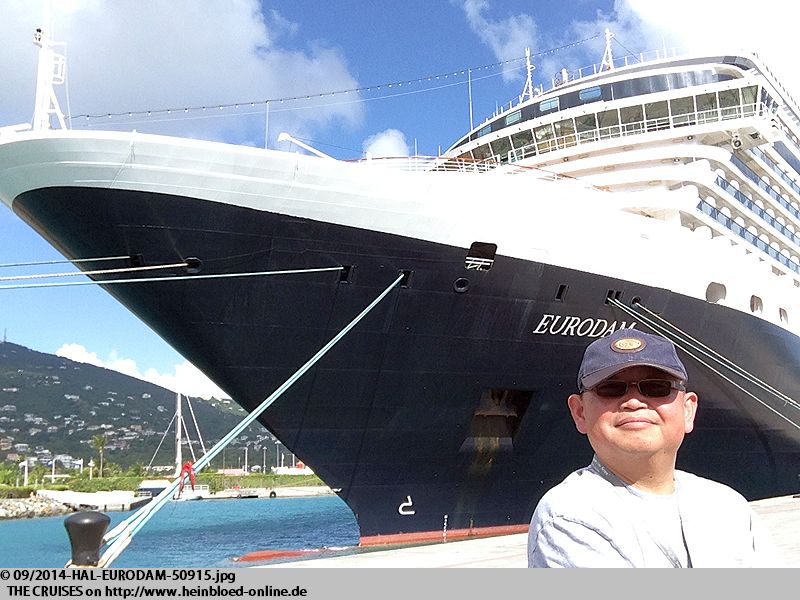 Wir nehmen ein Sammeltaxi in die Innenstadt. Es dauert nur wenig Minuten. Wir lassen uns in der Stadt absetzen, aber besonders aufregend ist es dort nicht. Jede Menge Juweliergeschäfte, die uns versuchen mit Lockangeboten reinzuziehen. Ansonsten ein bisschen Stadt, ein bisschen Land. Von jedem etwas.

We took a collective taxi to downtown. It took only a few minutes. We asked for a drop-off in the city, but it was not very exciting. Many jewelry shops which tried to pull us into with special bargains. Apart from that: a little city, a little countryside. A little thing about everything.

A small break was a must. Unfortunately, no classical street café like you knew from Europe. So we landed with Big Kahuna. It got quite good reviews on Tripadvisor, but for me, the beverages were too cold, and Hummus did not taste very oriental.

Eine kleine Pause muss sein. Leider gibt es kein klassisches Café, wie man es von Europa her kennt. So landen wir bei
Big Kahuna
. Es hat ganz gute Bewertungen auf Tripadvisor, aber mir sind alle Getränke zu kalt und das Hummus schmeckt auch nicht sehr orientalisch.
So richtig gibt es nichts zu erleben. Auf den direkten Weg wollen wir nicht zum Schiff. So halten wir ein Taxi an und erklären unserem Taxifahrer Simon, dass wir zurück zum Schiff wollen, aber unterwegs auch noch etwas sehen wollen. Er sammelt nicht weiter, sondern zu dritt nehmen wir ein Fahrzeug, das für 25 Personen zugelassen ist. So fahren wir am
Mountain Top
vorbei. Dort kann man entweder einkaufen, etwas trinken oder auch rüber auf die Britischen Jungferninseln gucken. Im Gegensatz zu vielen anderen Taxifahrern in der Karibik, kommt er sogar mit auf die Terrasse, um uns den Ausblick zu erklären. Und da Bruno das passende T-Shirt anhatte, konnten wir auch gut verfolgen, wo wir gerade sind.

There was not really a lot to experience. On the direct way, we did not want to return to the ship. So we stopped a taxi and explained our taxi driver Simon that we want to get back to the ship but also want to see something. He did not collect any other guests and took us three in a vehicle permitted for 25 persons. So we went to Mountain Top. There you could either shopping, drinking something or having a view of the British Virgin Islands. In contrast to other taxi drivers in the Caribbean, he came with us to the terrace and explained all the view. And as Bruno had the perfect t-shirt to follow his explanations on the map.

Back on the ship, we had a look at what we supposed to miss in the main dining room and self-service restaurant.

Zurück an Bord gucken wir erst mal, was wir heute Abend im Haupt- und SB-Restaurant verpassen.
Bevor wir essen gehen, führt uns der Weg zum Kapitänsempfang. Da hat Hotel Manager Don gewusst, was für eine riesige Freude uns er uns mit der Einladung machen würde. Ich gehe extra mit einem Holland America Polo-Shirt hin, denn ich habe keinen Grund zu "provozieren". Ich habe keinen Grund angesprochen zu werden, warum ich Flagge einer anderen Gesellschaft trage. Normalerweise mache ich das auch, um nicht für ein Crew-Mitglied gehalten zu werden, um nicht ständig nach einem Weg gefragt zu werden. Aber hier wäre ich irgendwie sogar "stolz" darauf, für einen Teil dieses tollen Teams gehalten zu werden. Ich bin ja bei meiner "Aufbaukur". Denn wenn ich Pech habe, werde ich lange lange Zeit nicht mehr auf Kreuzfahrt gehen können, denn oft bekommt man ja in der Probezeit keinen Urlaub. Wer weiss, wie lange die Probezeit läuft. In meiner Position sind sechs Monate nicht unüblich und ich fange ja nicht am 01.02. irgendwo an, sondern fange ja erst an zu suchen. Und leider hat Holland America bereits den Vertrieb in Europa neu organisiert und so kann ich nicht mehr Vertriebschef von Holland America und gleichzeitig bester Kunde von Holland America werden. Ich hätte schon Pläne, um mich mal in Seattle, Valencia oder Miami vorzustellen. Quereinsteiger haben in den USA immer Chancen, wenn man sich gut verkaufen und andere begeistern kann. Aber noch bin ich nicht soweit und nach Ende meiner Phase beim Outplacement-Unternehmen, komme ich zur Erkenntnis, dass ich als Schuster bei meinen Leisten bleiben sollte, und daher suche ich mir wieder eine Stelle als Logistik-Leiter. Wenn ich also weiterhin zu solchen Empfängen eingeladen werden will, muss ich weiterhin guter Gast sein. Das geht nur, wenn ich fleißig fahre, und das geht nur wenn ich eine gut bezahlte Stelle habe. Schon bin ich hoch motiviert, mir eine gute Stelle zu suchen. Mein erster Vorsatz für 2015 und das dritte meiner vier Ziele nach dem Ausstieg im September 2014.

Before we went for dinner our way took us to the Captain's reception. As Hotel Manager Don knew how he could make us really happy by this invitation. I went especially for this event with my Holland America Polo-Shirt as I had no reason to "provoke". I could not find any reasons why anyone should ask me why I was wearing the flag of another cruise line. Normally I was doing it only for not being identified as a crew member and been asked for directions. But here I might be "proud" to be counted as a member of a great crew. I was on my "revitalization therapy". If I am in an unfortunate situation, I might not go on a cruise for a long, long time since many companies do not grant any vacation during the trial period. No idea how long such a trial period could be. In the kind of position, I was looking six months are not unusual. And I am not starting to work February 01 but start to look for a new job. And unfortunately, Holland America just recently reorganized the sales organization in Europe recently and becoming the Head of Sales of Holland America and their best customer. I had plans to introduce myself in Seattle, Valencia, and Miami. Career changers always have chances in the United States if you can sell yourself and excite others. But I was not ready yet, and after the end of my stage with the outplacement-company, I came to the end that cobbler should stick afford to yours. So I planned to find a new job as Logistics Manager. If I wanted to be invited to such receptions in the future, I need to be a good guest. That would only be possible if I go with them on a cruise. And this would be only possible if I have a well-paid job. So I was highly motivated to find a well-paid job. My first resolution for 2015 and the third of the four targets I had after my exit in September 2014.

2008 my parents and us were the first paying guests in the Tamarind. It is a Fusion-Restaurant. For me as Asian, it is neither fish nor meat. 2015 I tried it again. I had to notice that it became more Asian. The Won-Tons they could wrap like in Hong Kong, but everything else was much better than expected. Mainly it was very nice that they remembered that we came here with Sigrid and she had the birthday the day before. When Sigrid asked for "nothing", she got "nothing". And finally, we had little cake and an Indonesian birthday serenade. Anyhow chocolate made so addict that Sigrid even started to eat the garnish. Thank you Koming, Aya, Panca, Eka, Ara, Riri and Ketut Panca for an attentive, cordial and lovely service. So another perfect day came to an end.

2008 waren meine Eltern und wir die ersten zahlenden Gäste im Tamarind. Es ist ein Fusion-Restaurant. Für mich als Asiaten so weder Fisch noch Fleisch. 2015 wage ich einen neuen Versuch. Es ist doch zu meiner Freude mehr asiatisch geworden. Die Wan-Tans können sie zwar immer noch noch so wickeln wie in Hongkong, aber der Rest war doch sehr viel besser, als erwartet. Vor allem eines: sie haben sich daran erinnert, dass wir gestern mit Sigi hier waren und sie gestern Geburtstag hatte. Als Sigi "nichts" mehr zum Dessert möchte, bekommt sie auch "nichts" ("Nothing"). Und am Schluss gibt es noch in kleines Törtchen und ein kleines indonesisches Geburtstagsständchen. Auf jeden Fall macht die Schokolade wohl so süchtig, dass Sigi sogar anfängt, die Garnitur aufzuessen. Vielen Dank an Koming, Aya, Panca, Eka, Ara, Riri und Ketut Panca für den aufmerksamen, herzlichen und liebevollen Service. So geht also auch weiterer perfekter Tag zu Ende.
Die anderen Reisen in diesem Blog/
The other voyages in this blog: