Scroll down for English explanations - alternates with German explanations.

Ist es eigentlich unverschämt, wenn man etwas von ihrer Freundlichkeit, Energie, Aufmerksamkeit, für sich selbst aufsaugt??? HAL fahren = einfach wohlfühlen...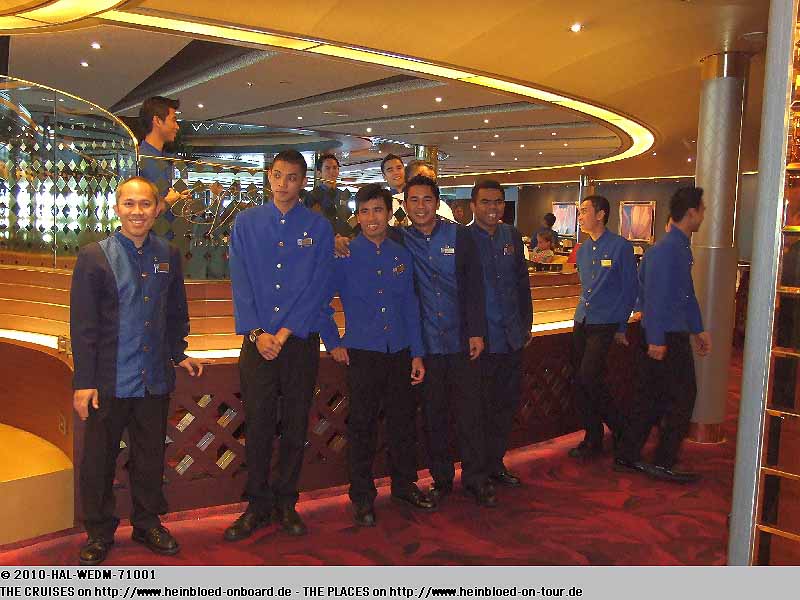 Would it be very exorbitant to absorb some of their friendliness, energy and attention??? Going HAL = just feeling well...

Today I was again upset... so many great options that I would like to come multiple times for dinner...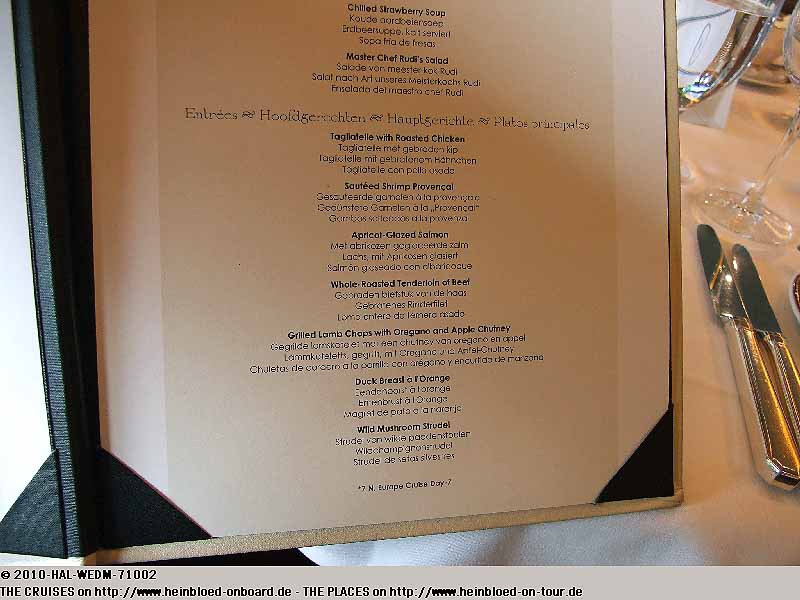 Heute bin ich mal wieder sauer... es gibt heute so eine tolle Auswahl, dass ich am liebsten mehrmals heute Abend noch kommen möchte...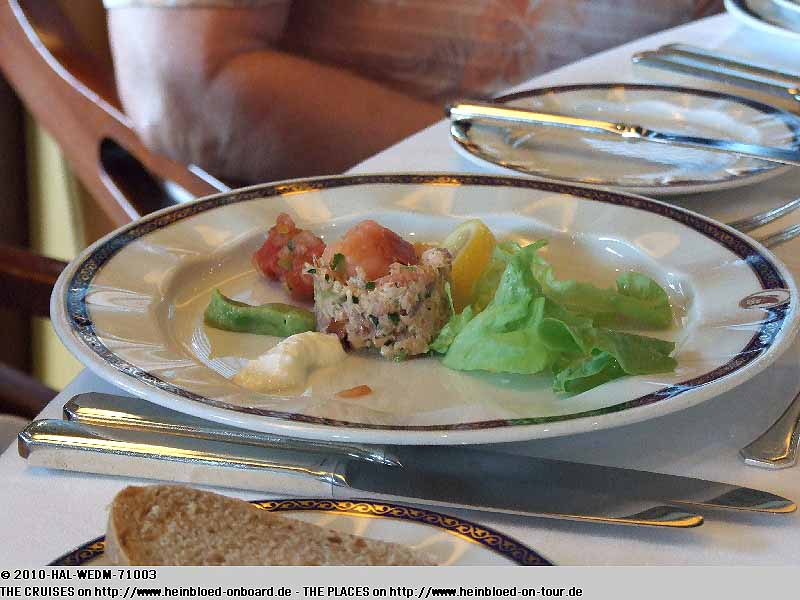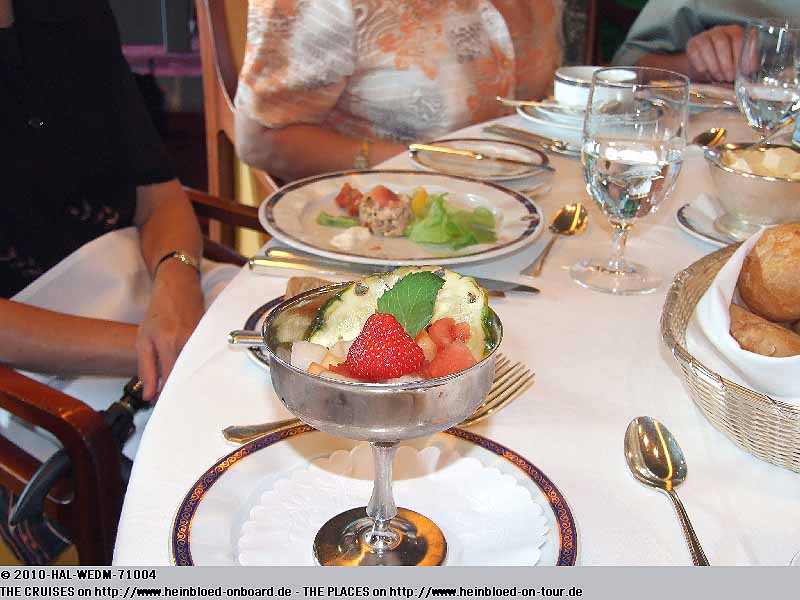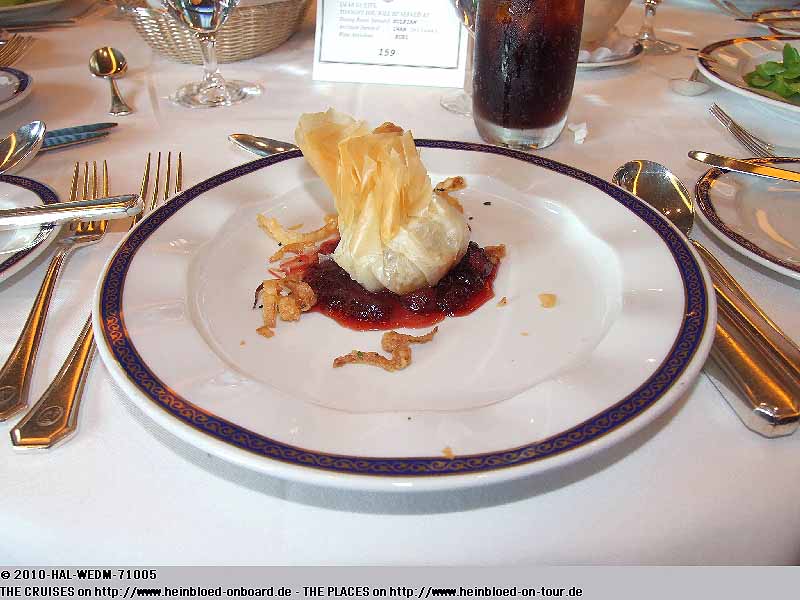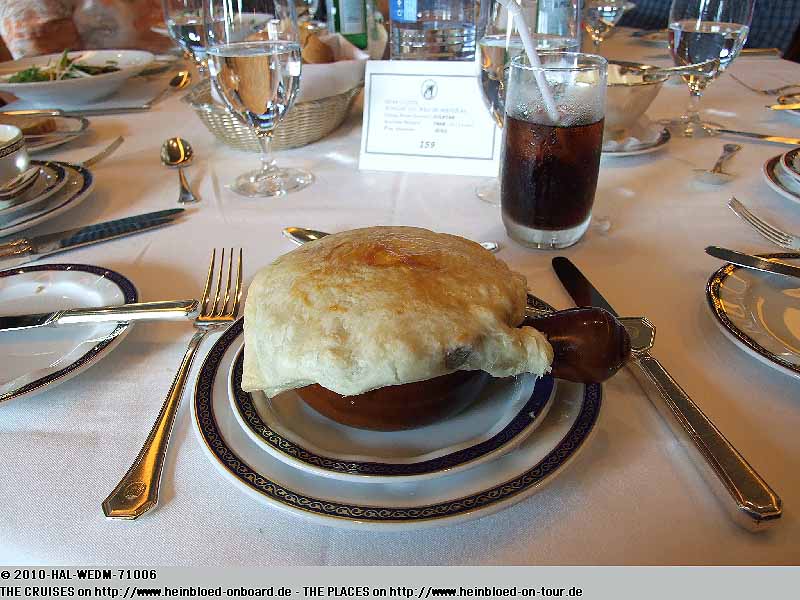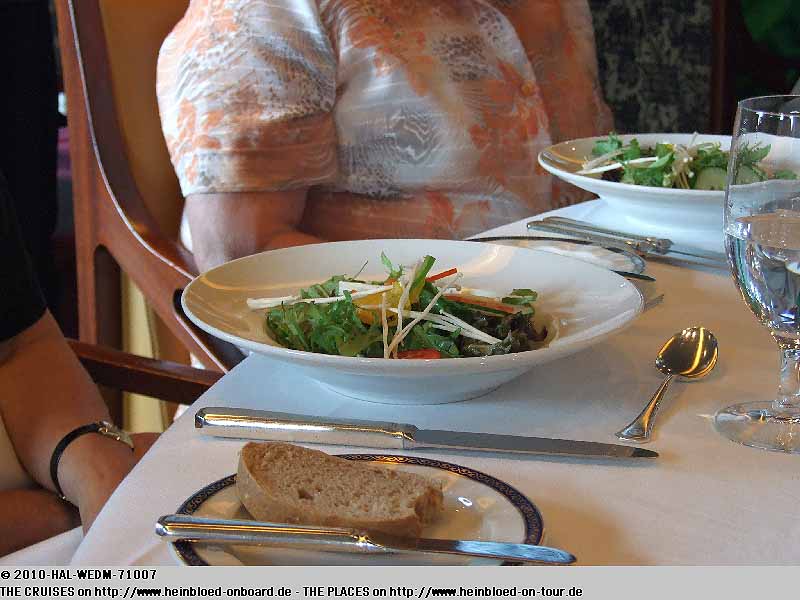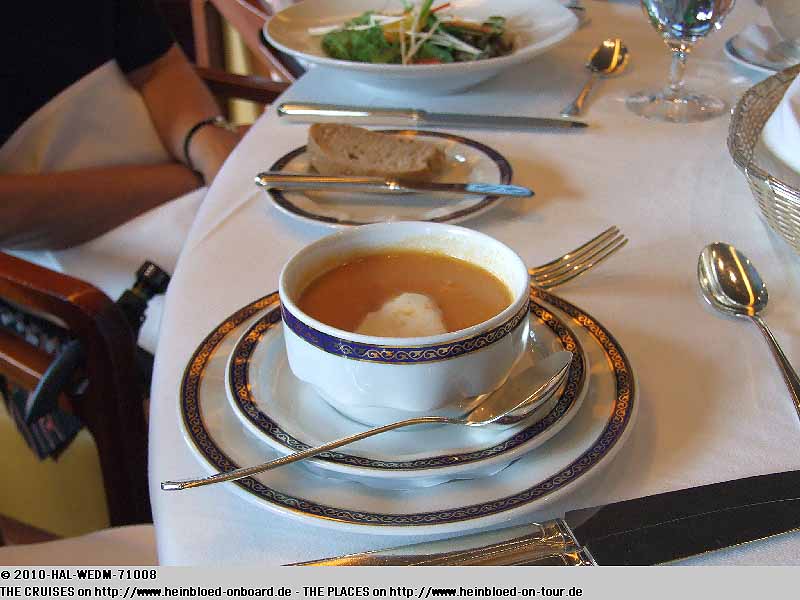 Only the flower was the one which hang the head... I would like to do it too if I imagine that I will not have my dinner anymore here the next day.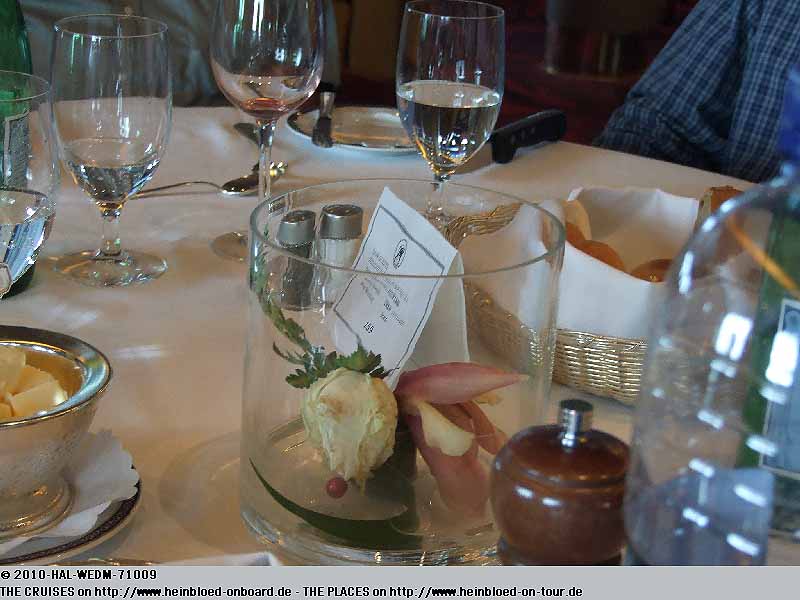 Nur die Blume lässt den Kopf hängen... ich würde es auch tun, bei der Vorstellung, dass ich morgen hier nicht mehr zu Abend essen werde.
Guckt mal hier: erst Frau Pannen...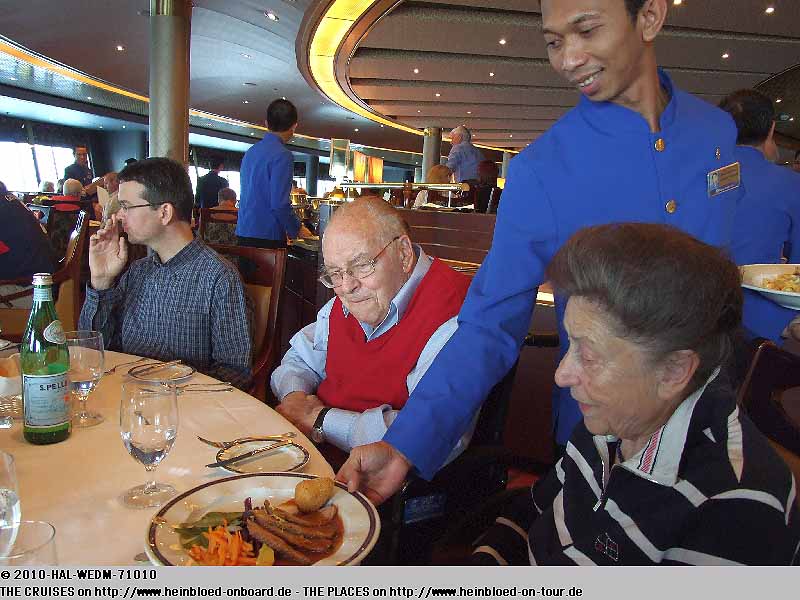 Look at this: first Mrs Pannen...

then my mother...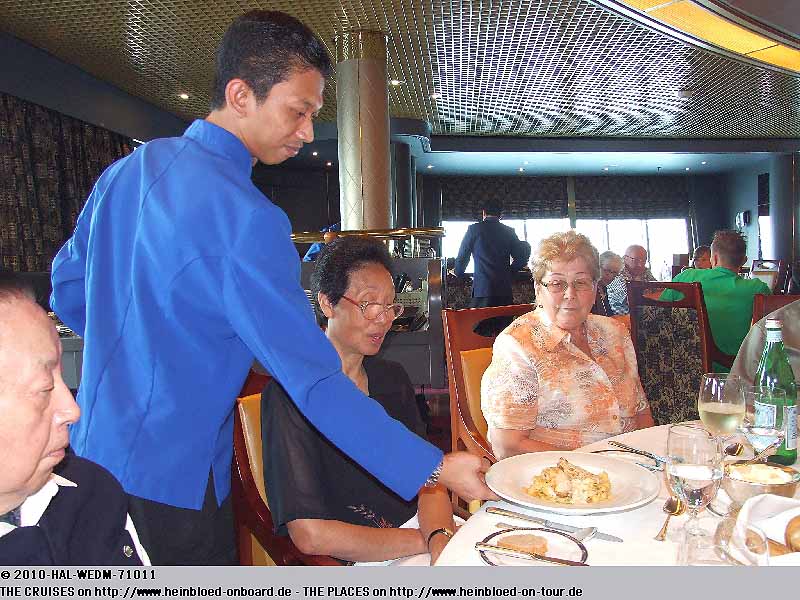 dann meine Mutter,
dann Brunos Mutter... perfekter hätte es nicht sein können.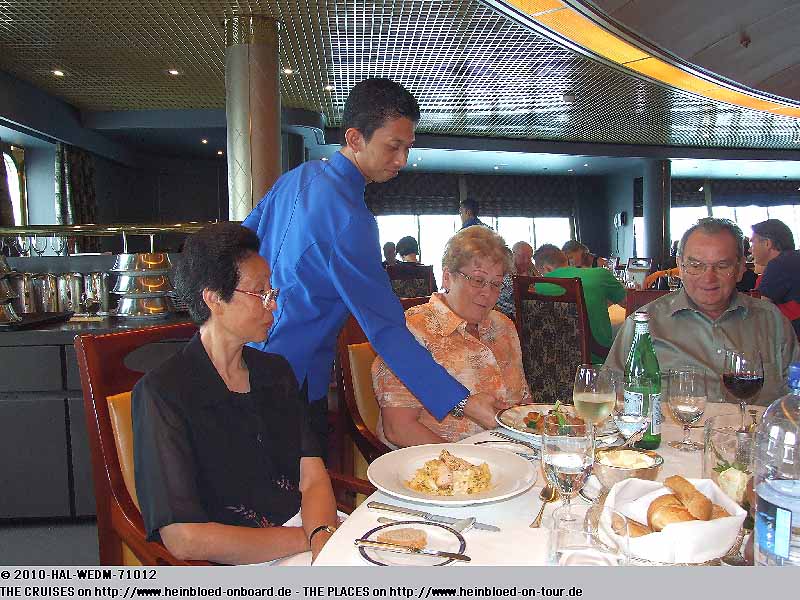 then Bruno's mother... more perfection was impossible.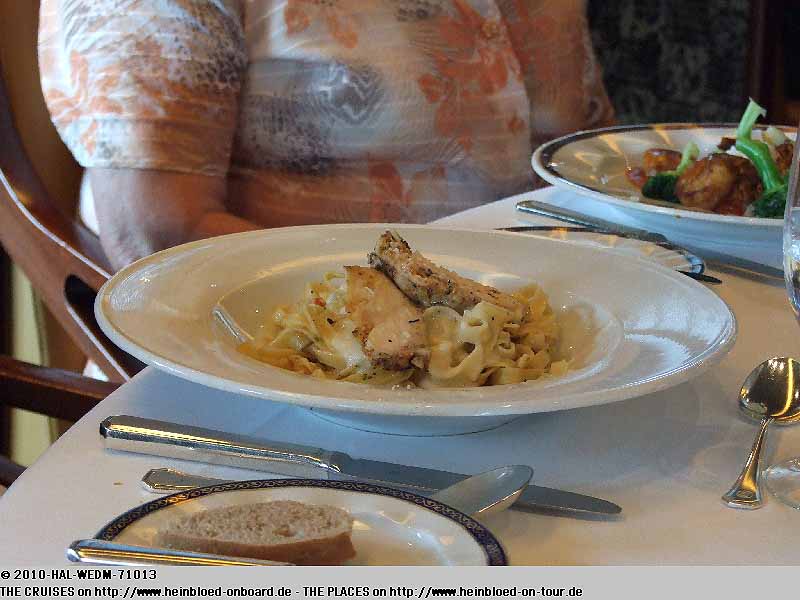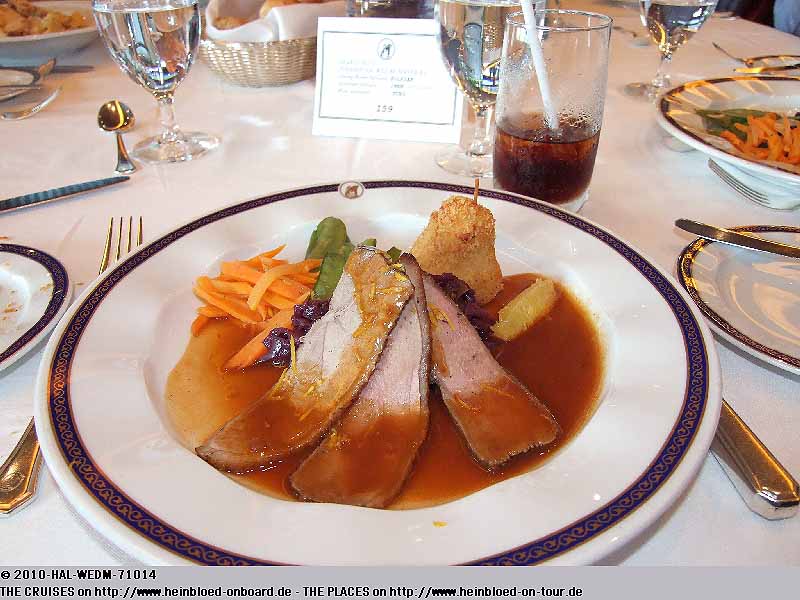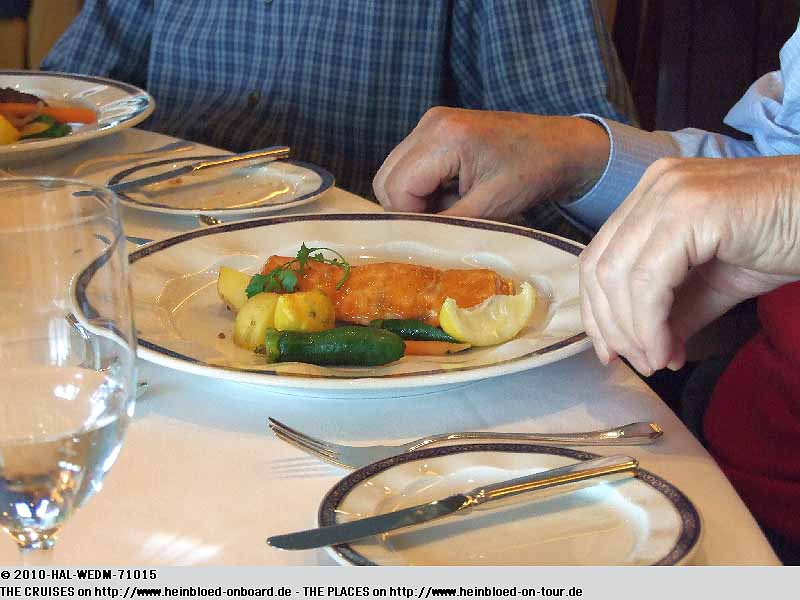 The steward got us one plate of shrimps additionally. Today Mrs Pannen tried a lobster bisque and was surprised how good it was. So far she had no access to shellfish. For a lobster it was too lake but not for some shrimps. Reason to go again cruising - or???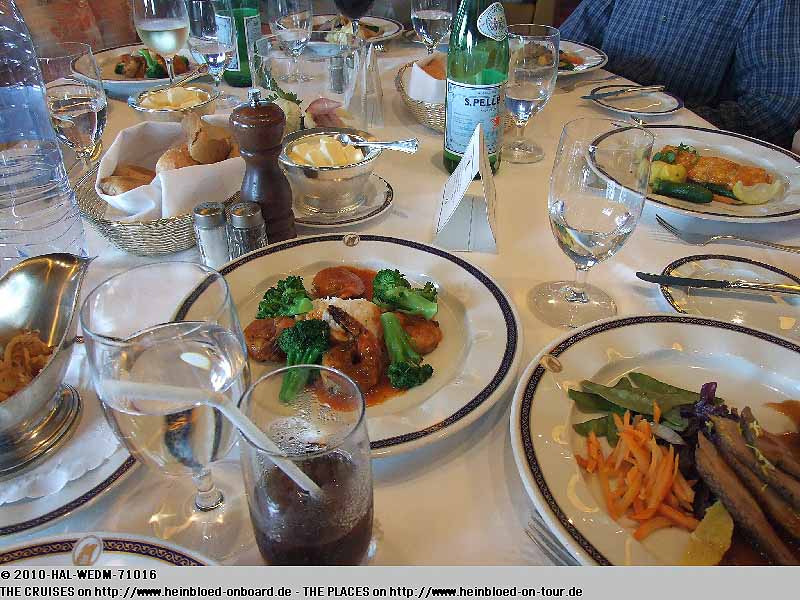 Den Teller Shrimps bringt uns der Kellner zusätzlich. Heute hat Frau Pannen sich doch mal getraut eine Hummercremesuppe zu probieren und war überrascht, wie gut es schmeckte. Bislang hatte sie noch keinen Zugang zu Krusten- und Schalentieren. Für einen Hummer ist es zu spät, aber für ein paar Shrimps nicht. Grund wieder auf eine Kreuzfahrt zu gehen, um doch mal einen Hummer zu probieren - oder???
Die letzte Auswahl fiel auf die Ente... aber es gab heute Abend so viel Gutes zur Auswahl...

My last choice was the duck... but tonight there was so many good to choose...

I knew that I was mean. I saw that he cleared the crumbs on the next table. I was curious if we will get the same service if there would be some crumbs...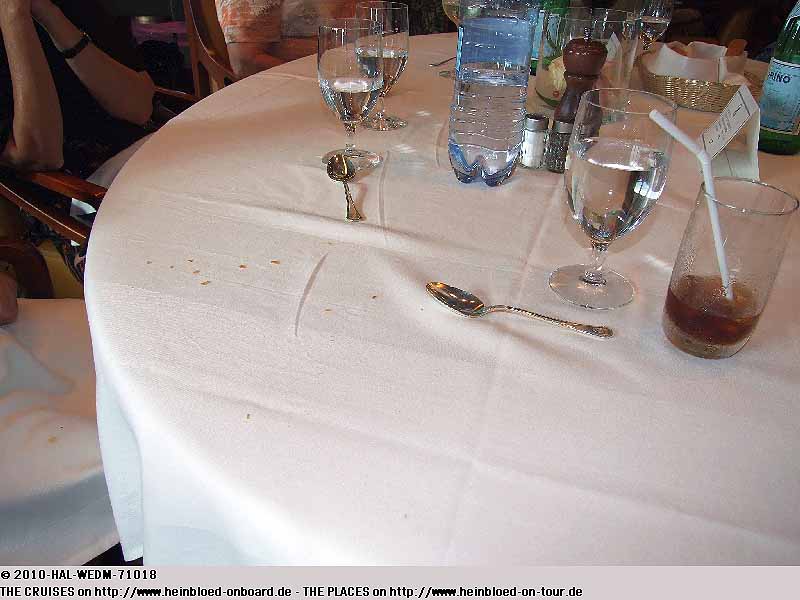 Ich gebe zu, dass ich hier gemein war. Zufällig hatte ich gesehen, dass er am Nachbartisch die Krümel entfernt hat. Wird er es bei uns auch machen, wenn ein paar Krümeln hier sind...
Natürlich hat er es gemacht... Warum konnten wir nicht an jedem Abend diesen phantastischen Service genießen???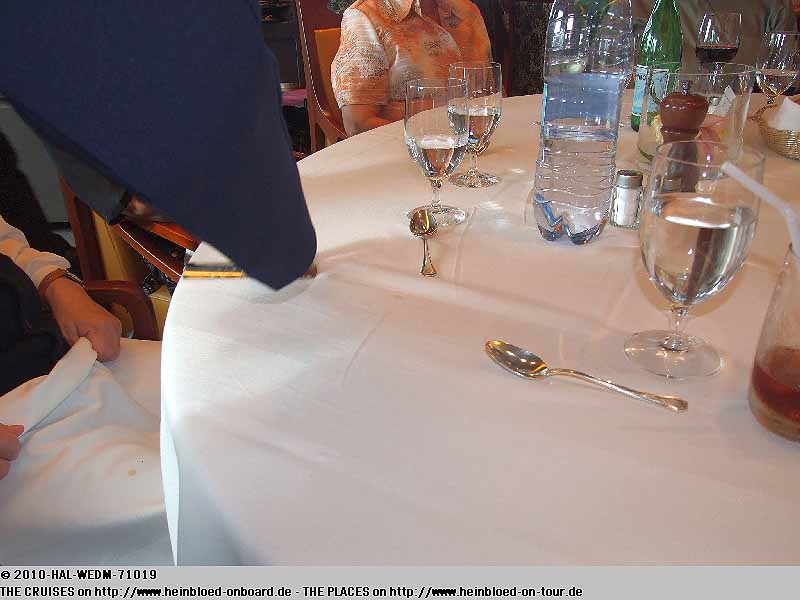 Certainly he did it... Why could not we have every night the fantastic service???

What might me behind "The Master Chef's Sundae"???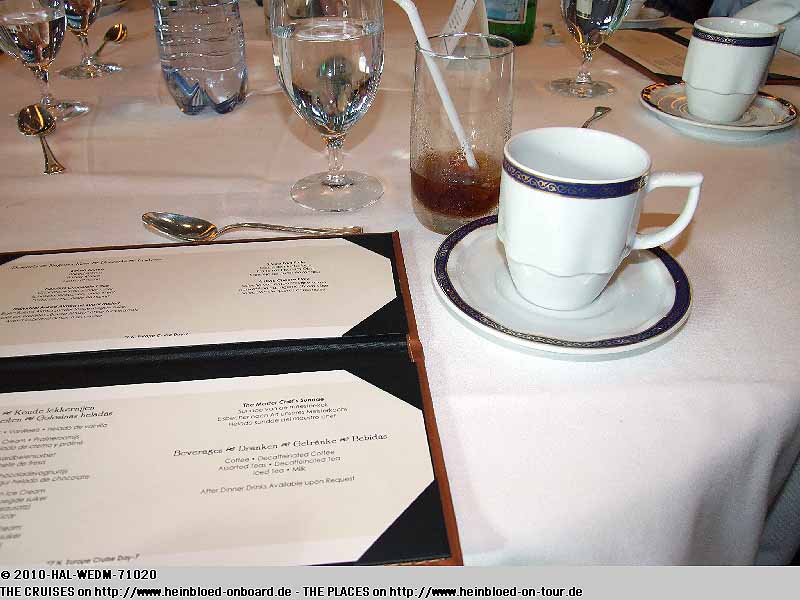 "The Master Chef's Sundae" (Der Eisbecher des Meisterchefs) - was mag sich dahinter verbergen???
Herr Pannen hatte schon die ganze Woche ein Abo für die Eisbecher.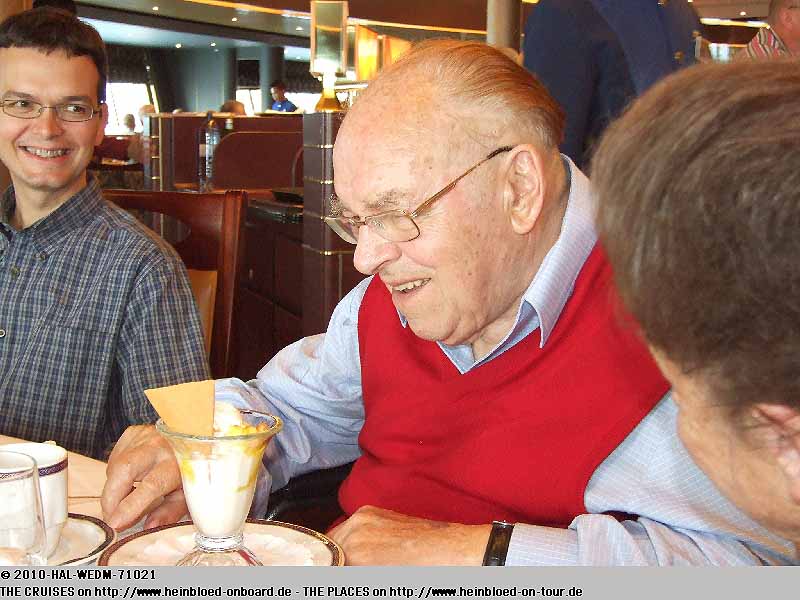 Mr Pannen had already a subscription for the sundae all the week.

I had no idea what was so special on this and was angry that I did not choose the Baked Alaska.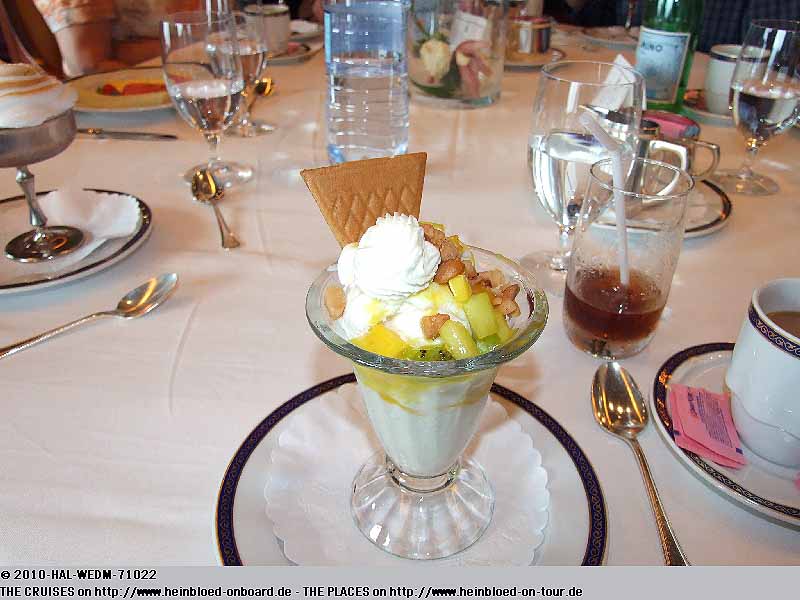 Ich persönlich konnte jetzt nicht so viel damit anfangen und ärgere mich, dass ich nicht einen Baked Alaska genommen habe.
Den gab es auch in der zuckerfreien Fassung und muss toll gewesen sein, wie alle anderen am Tisch berichten. Am Nachbartisch sitzen ein paar ältere Niederländer. Als der Kellner einer älteren Dame ihren Schokolandenkuchen bringen will, schreit sie ihn an, dass sie einen Baked Alaska haben wollte und zeigt auf den Nachbartisch. Der Kellner erklärt ihr, dass sie ausdrücklich sagte, dass sie kein Eis wünsche und sich doch deswegen für den Schokoladenkuchen entschieden hat. Sie schreit wieder, dass sie kein Eis will, sondern Baked Alaska. Der Kellner nimmt einen Baked Alaska und schneidet ihn auf und zeigt ihr den Inhalt. Sie wird rot und still und isst schnell ihren Schokoladenkuchen auf, bevor sie wortlos und diskret verschwindet. Den anderen am Tisch war die Szene sehr peinlich.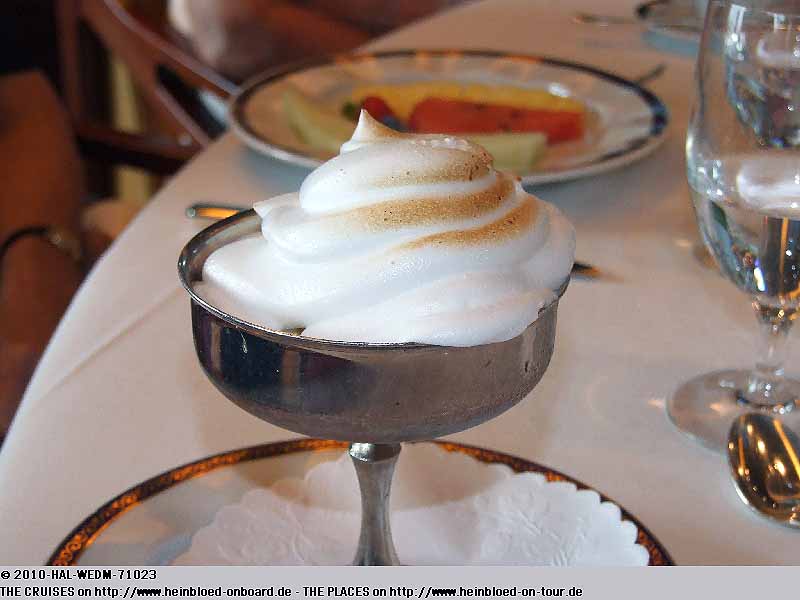 It was available in a sugar-free version as well and told by all others at the table it must be very delicious. Next table there were few older Dutch guests. When the steward served an older lady her chocolate cake she screamed that she wanted to have Baked Alaska and pointed to another table. The steward explained that she said explicit that she does not want to have any ice-cream and her selection therefore was the chocolate cake. She screamed again that she did not want ice cream but Baked Alaska. The waiter took a Baked Alaska, opened it and show her the inside. She become red-skin and silent and ate quickly her chocolate cake before she disappeared very calm and discreet. The others at the table found the scene very embarrassing.

The Baked Alaska was upgraded by hot cherries... und I had the sundae... grrr...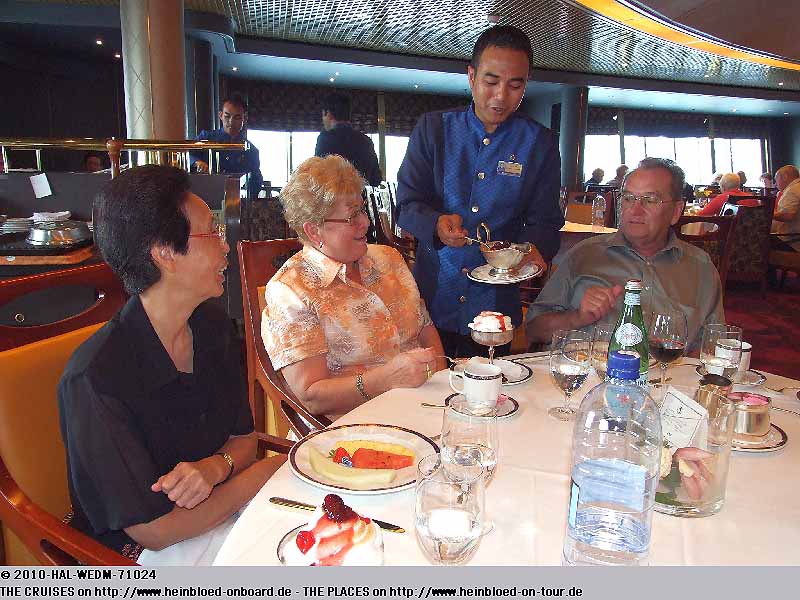 Der Baked Alaska wird dann noch mit heißen Kirschen aufgewertet... und ich habe den Eisbecher... grrr....
Das sind übrigens Iwan Setiawan und Zulfian. Ein wunderbares Team für den perfekten Abschluss der Reise. Übrigens waren sie auch unsere Kellner am ersten Abend. So schließt sich der Kreis, worüber wir uns sehr freuen.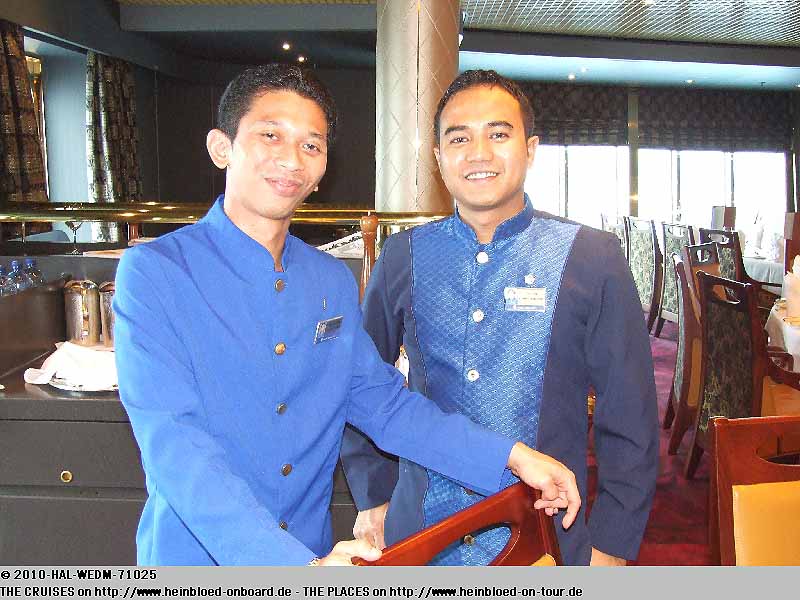 By the way these are Iwan Setiawan and Zulfian. A wonderful team for a perfect ending of the voyage. They were also our stewards on the first night. So the circle was closed which made us very happy.

And thank you to all of you for making this cruise to an outstanding experience.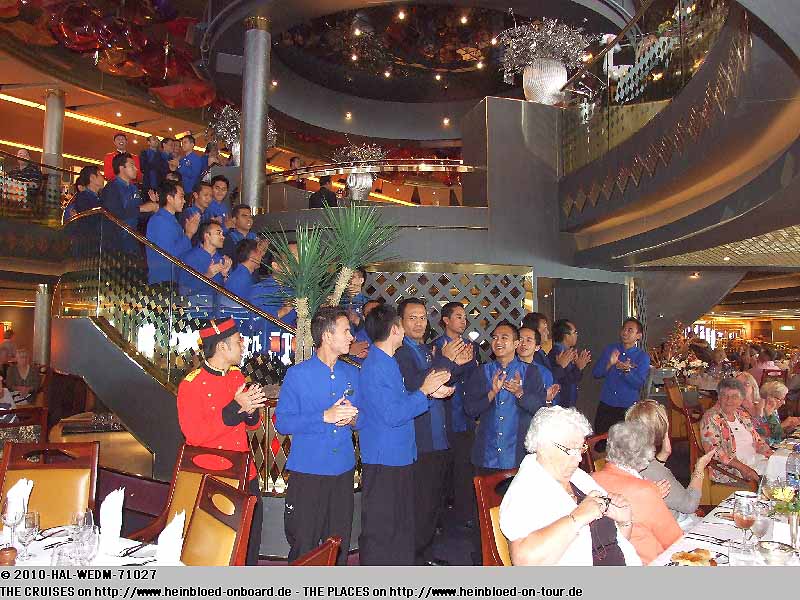 Und vielen Dank an alle von ihnen, dass sie aus unserer Kreuzfahrt ein unvergessliches Erlebnis gemacht haben.