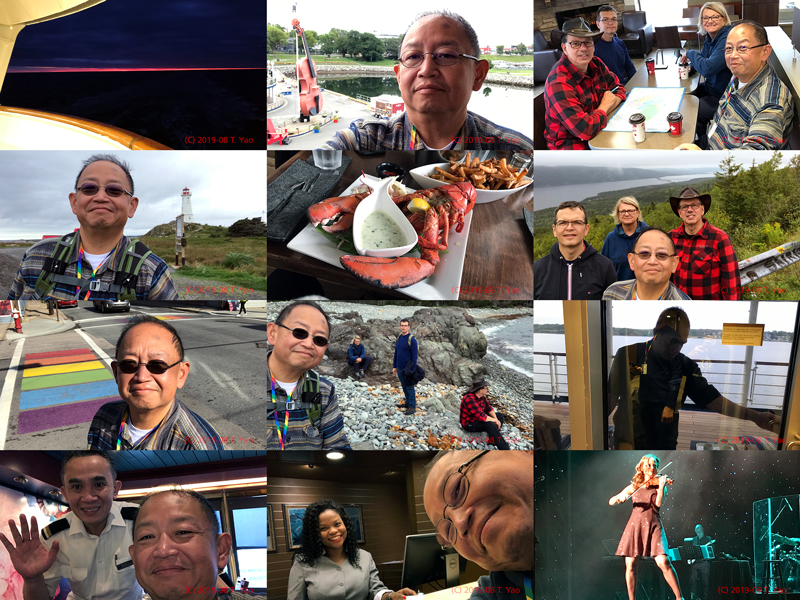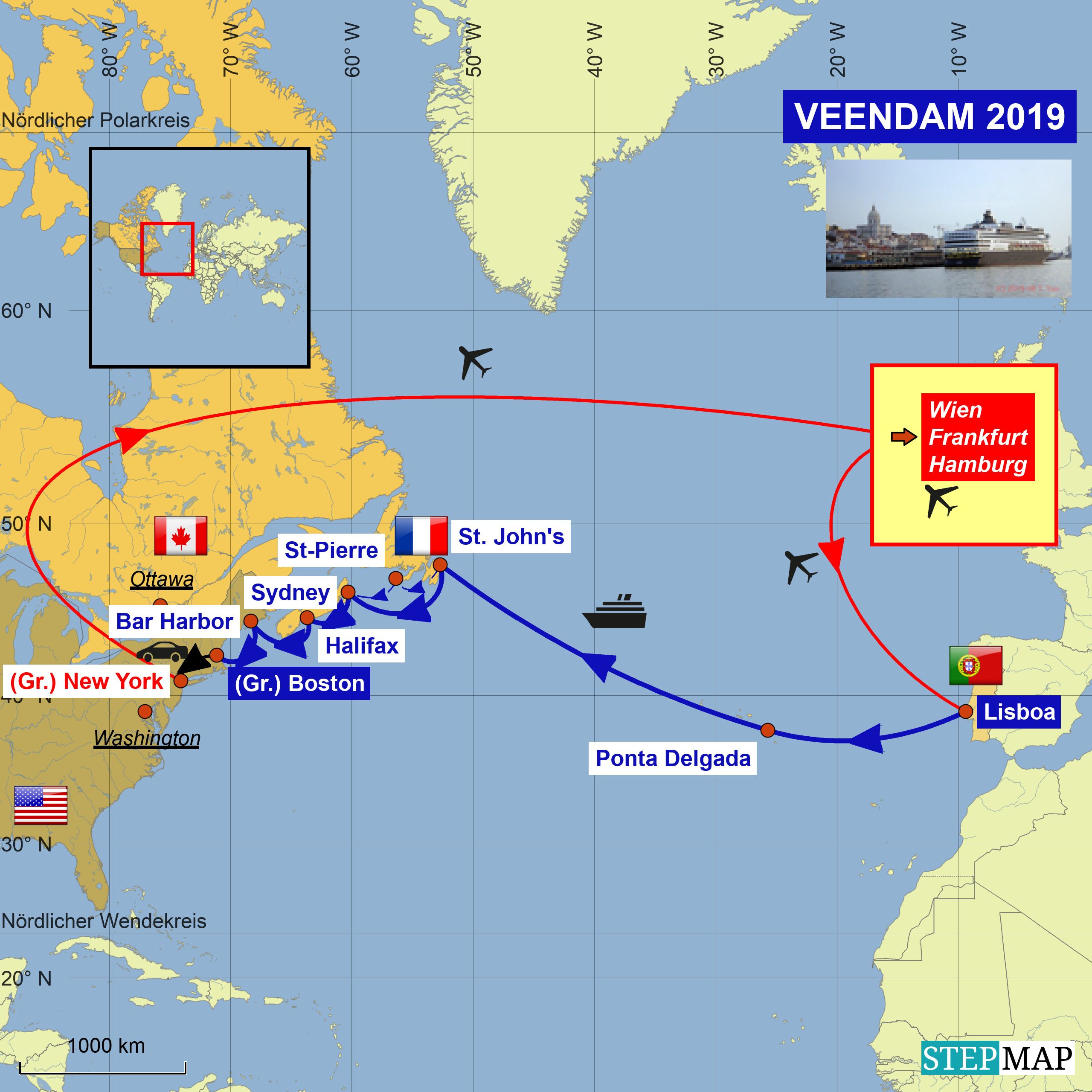 Die Show heute Morgen ist nicht ganz so spektakulär, aber trotzdem lohnt es sich zu gucken.

The show this morning was not so spectacular at all, but it was worth to watch.

This morning you could observe another change in the self-service-restaurant: no more butter in single containers.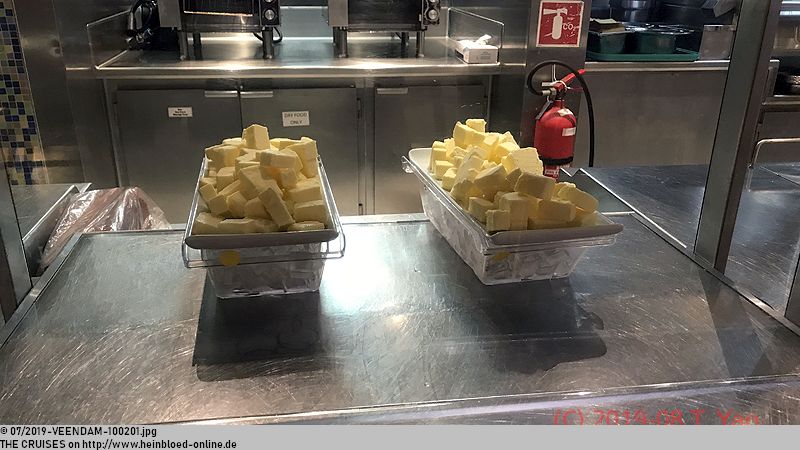 Heute Morgen sieht man eine weitere Änderung im SB-Restaurant: Es gibt keine Butter mehr in Einzelgebinden.
Aber ich nehme ja eh Congee. Das gibt es nicht in Einzelgebinden.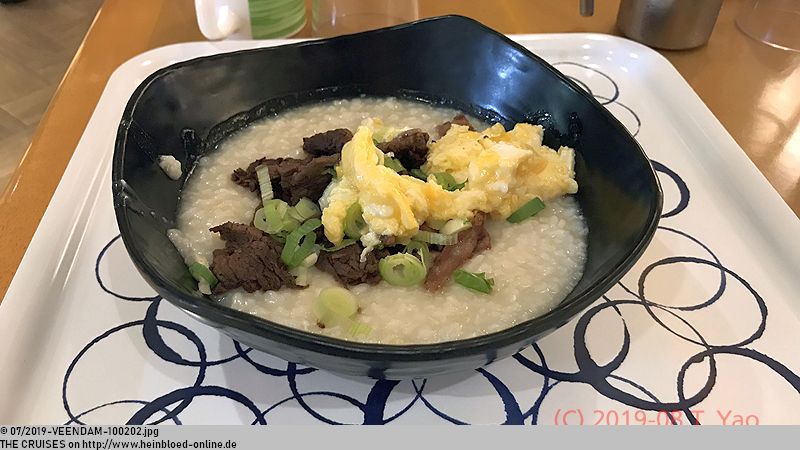 But anyhow I took congee. That was not available in single container.

The length of the queue in front of the Explorations Café was too long. So I grabbed the hot beverages from the self-service restaurant. Since it was no day at sea, I was not able to wait.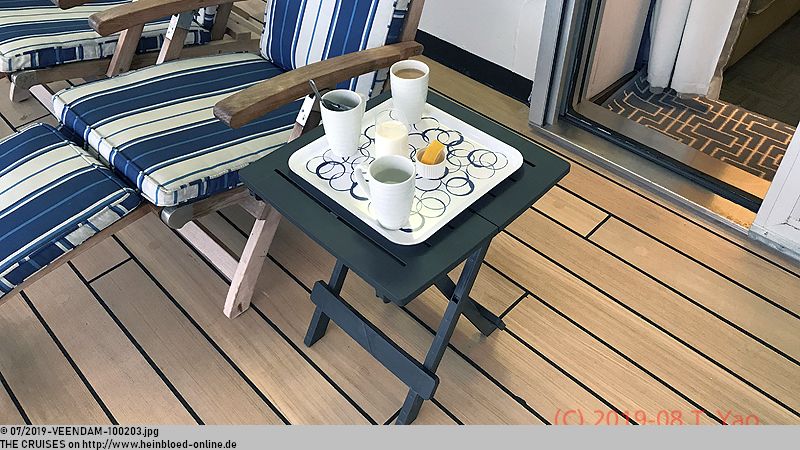 Je nach Länge der Schlange vor dem Explorations Café gibt es auch mal Heißgetränke aus dem SB-Restaurant. Da kein Seetag ist, kann ich leider nicht warten.
Wir laufen in Sydney, Nova Scotia, Kanada ein. Leider kein Opernhaus!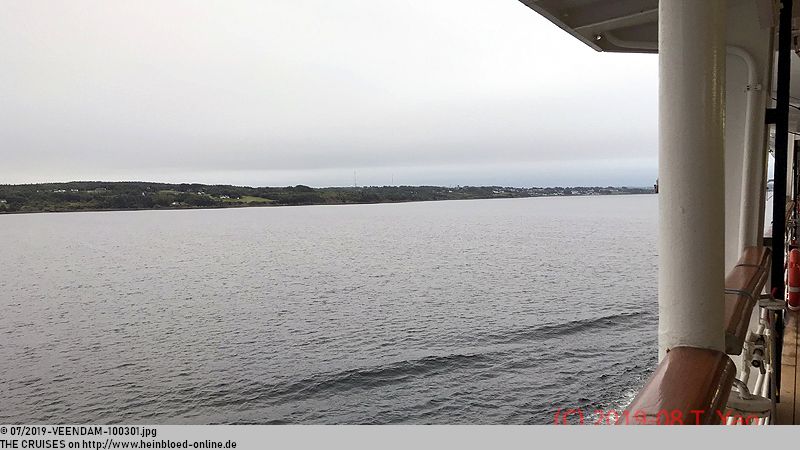 We arrived in Sydney, Nov Scotia, Canada. Unfortunately, no opera house!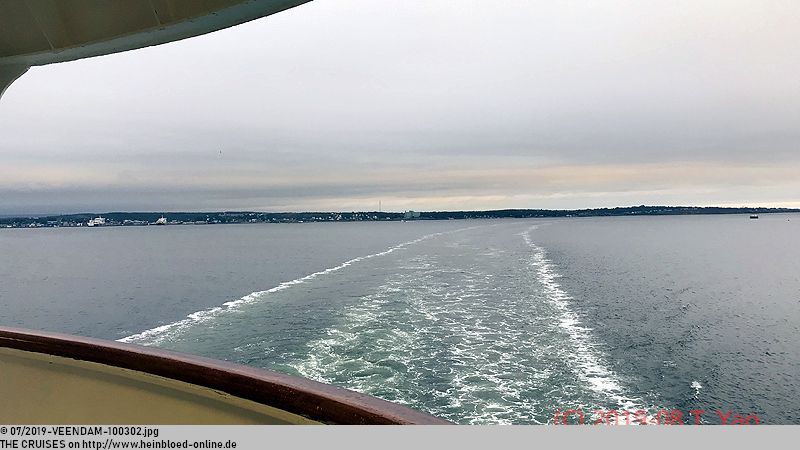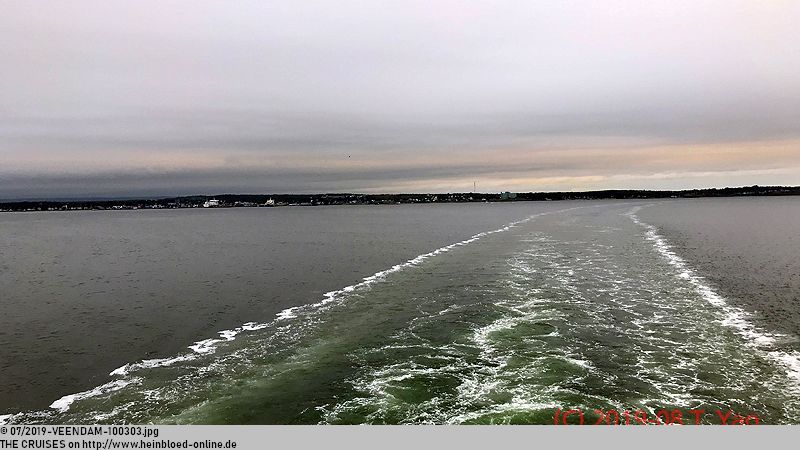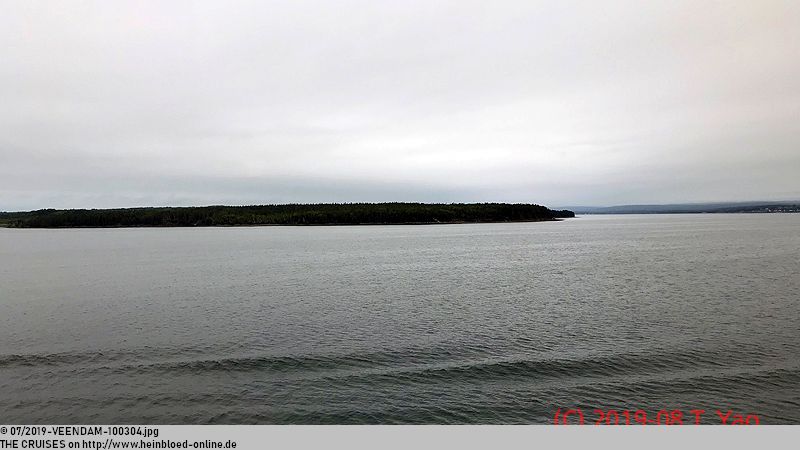 Every day, they also cleaned the our glass doors to the promenade.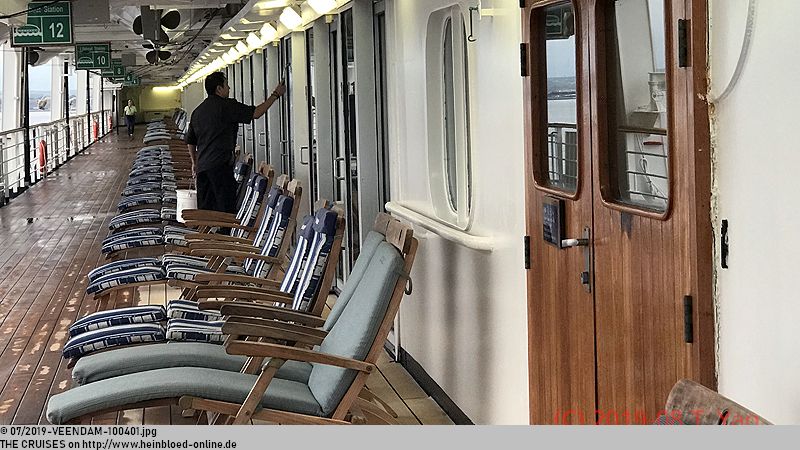 Jeden Tag werden auch immer unsere Glastüren zur Promenade gereinigt.
Und auch Ermawan kommt vorbei, um unsere Scheiben von außen sauber zu machen.

And also Ermawan came by every day, to clean our windows from outside.

Soon, we would need to enter the USA. We got the instructions.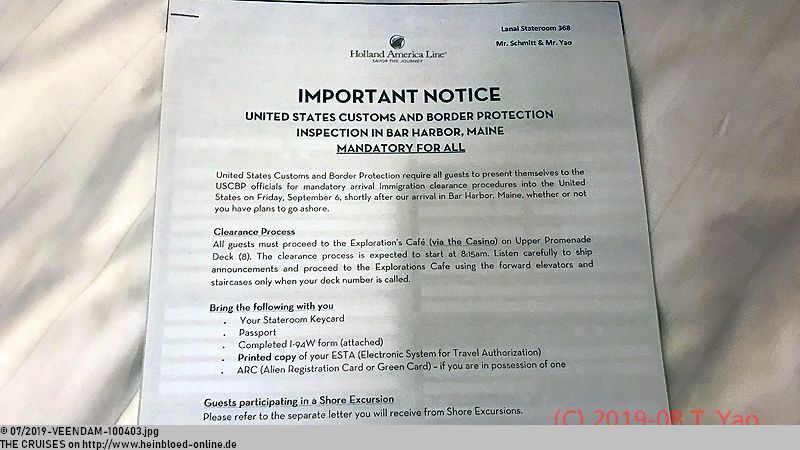 Bald haben wir die Einreise in die USA. Wir bekommen die Anweisungen.
Mangels Kioske wie am Flughafen: wir müssen noch klassisch Formulare ausfüllen. Es findet jedoch nur die Personeneinreise statt. Waren dürfen wir in Bar Harbor nicht vom Schiff nehmen.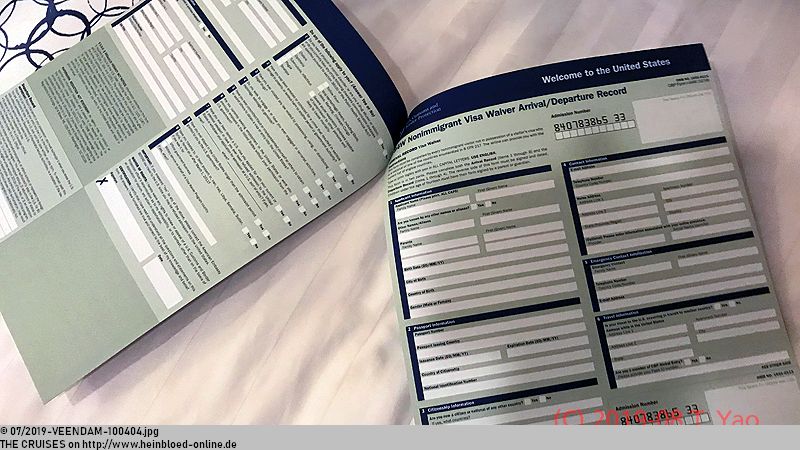 Due to the lack of kiosks at an airport: we needed to fill out classic forms. We would only have the entry of persons. We were not allowed to take any goods off the ship in Bar Harbor, ME.

Today, we got a frog.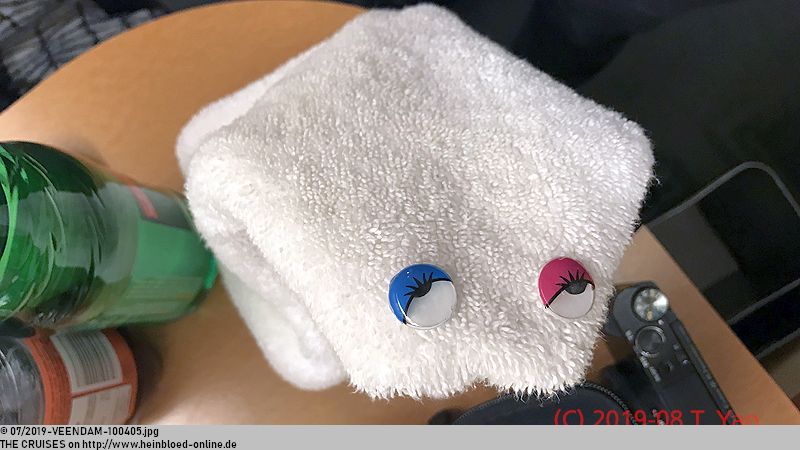 Heute gibt es einen Frosch.
Subur kümmert sich immer darum, dass wir alles haben, was wir brauchen, um glücklich zu sein. Da es kein Uitsmijters mehr angeboten wird, muss ich eben meinen selbst bauen. Aber eben ohne Käse. Die Blueberry-Muffins waren früher mal besser. Früher gab es morgens "Vogelgezwitscher" vom Band. Das war nicht unbedingt besser, aber
Darude "Sandstorm"
,
Taio Cruz "Dynamite"
,
Anastasia "I'm Otta Love"
,
Quad City DJ's "C'mon N' Ride It (The Train)"
finde ich unerträglich und das gehört auf die Liste der Gründe, nicht mehr mit Holland America zu fahren. Vielleicht sollte ich mir einfach Brunos Ohrenstöpsel zum Frühstück aufsetzen. Die haben einen Knall. Wenn sie bisher nicht geschafft haben, mich zu als Gast zu vergraulen: jetzt würden sie es schaffen.

Subur always cared about us having everything we needed to be happy. Since there were no more Uitsmijters offered, I had to build my own. But without the cheese. The blueberry muffins used to be better. In the morning, there were birds "singing" from the tape. That was not necessarily better, but "Sandstorm" by Darude, "Dynamite" by Taio Cruz, "I'm Otta Love" by Anastasia, and "C'mon N 'Ride It (The Train)" by Quad City DJ's were unbearable. And that went on the list of reasons not to sail anymore with Holland America. Maybe I should just put in Bruno's earplugs for breakfast. They became crazy. If they did not manage to scare me off the ship as a guest, now they would do it.

We berthed at the pier in Sydney, NS. The tallest violin in the world was waiting for us. With plenty of love and effort, Sydney, NS, was presenting itself in a beautiful way.

Wir legen am Pier von Sydney an. Die größte Geige der Welt wartet hier auf uns. Mit sehr viel Liebe und Mühe präsentiert sich Sydney auf eine tolle Art und Weise.
Unser Willkommenskommittee.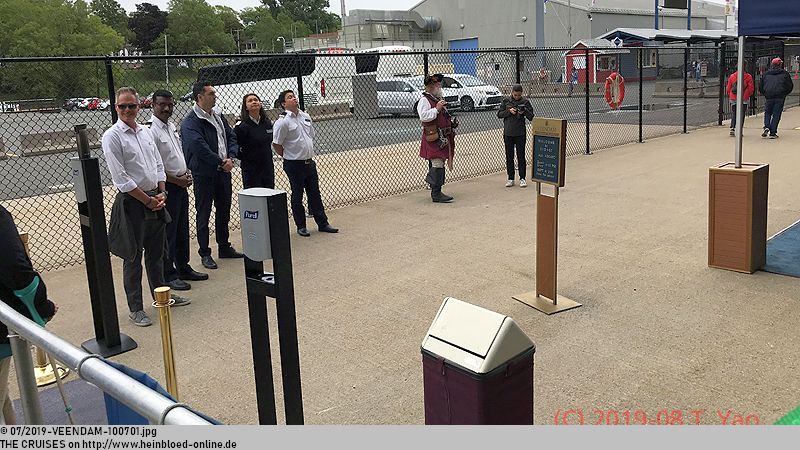 Our welcome-committee.

16:30 hrs, we needed to be back.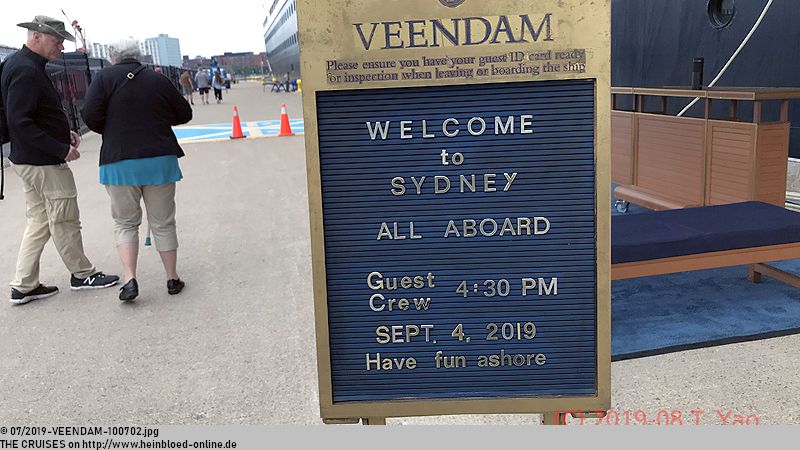 16:30 Uhr müssen wir wieder zurück sein.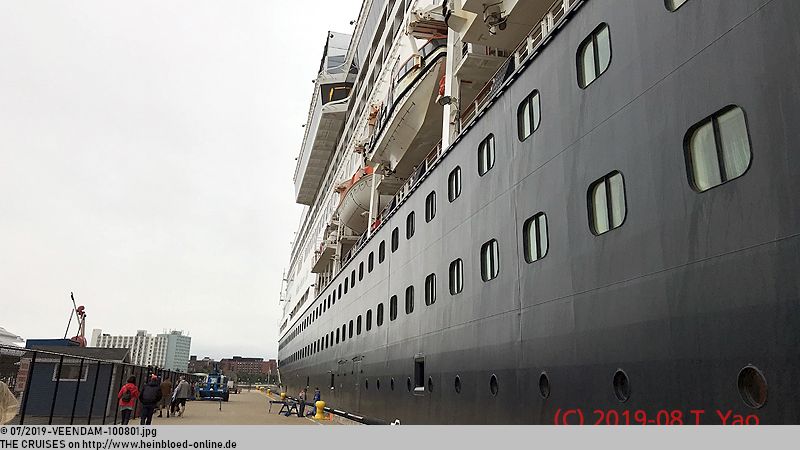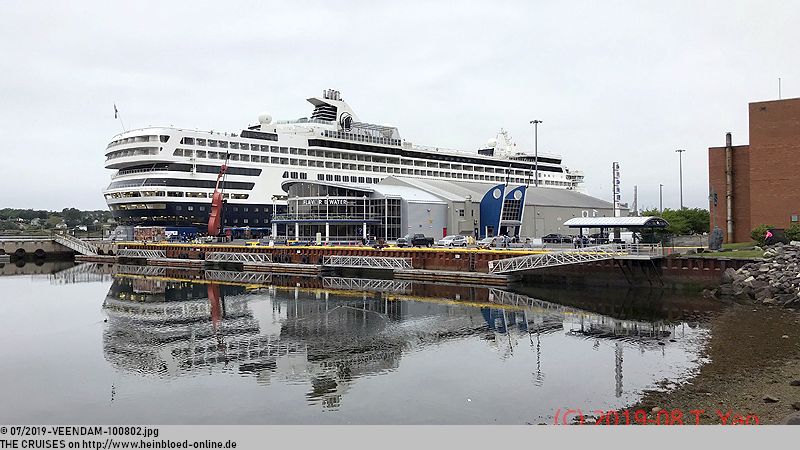 Wir werden so begrüßt, wie es hier üblich ist: mit einer Umarmung. Unser Führer Joe kommt mit seinem Pick-Up, um uns abzuholen. Den Kontakt hat
Destination Cape Breton Association
für uns hergestellt. Die Tour findet auf Deutsch statt und der Pick-Up ist perfekt für unsere Gruppe. Da er aus Hamburg ist und Sigi auch, haben wir den Rest des Tages auf beide verzichtet, weil sie die Neuigkeiten aus der Heimat austauschen.

We were greeted as it was usual here: with a hug. Our guide Joe came with his pick-up to collect us. The contact between him and us was arranged by Destination Cape Breton Association. The tour took place in German, and the pick-up was perfect for our group. Since he was from Hamburg, Germany, and Sigi also, we waived the rest of the day on both, because they exchanged the news from home.

We went to Tim Hortons. Joe saw it the same way as me: no visit in Canada without seeing Tim Hortons.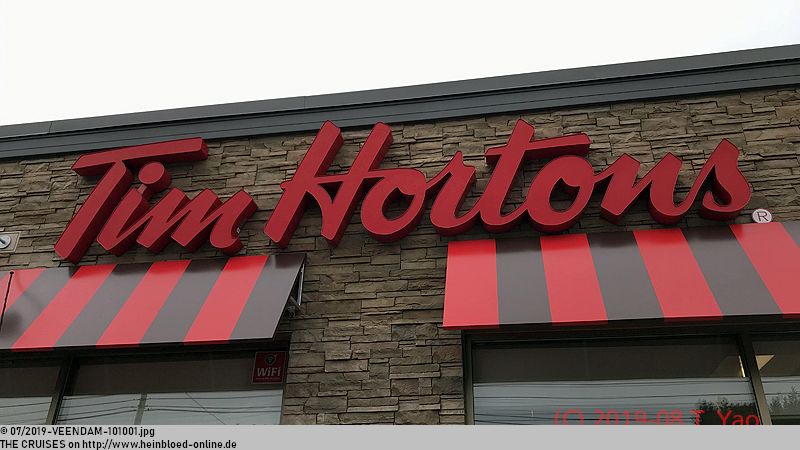 Wir gehen zu
Tim Hortons
. Joe sieht es genauso wie ich: kein Besuch in Kanada ohne Besuch eines
Tim Hortons
.
So komme ich doch noch zu meinem Double-Double.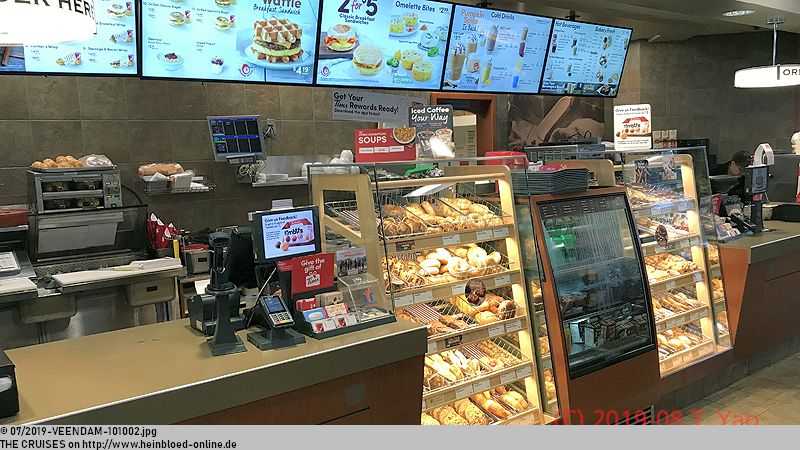 So I could get finally my double-double.

The maple leaf was even here on the coffee cup.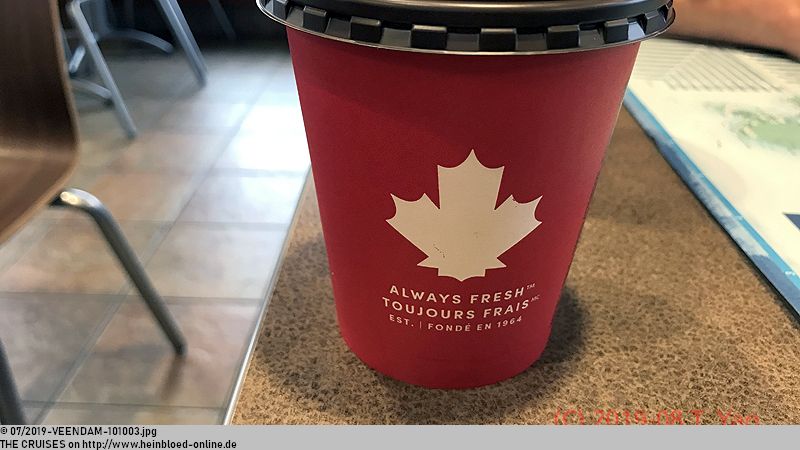 Das Ahornblatt ist sogar hier auf dem Kaffeebecher.
Joe nutzt hier die Zeit mit uns den Tagesablauf durchzusprechen. Wir können selbst aussuchen, was wir sehen wollen. Zwischendurch fahren wir noch bei
Shoppers Drug Mart
. Kanada ist wohl ein Paradies für Hypochonder. Dann schauen wir noch bei einem
Best Buy
vorbei. Aber mangels Fachberatung und weil auch kein überzeugendes Modell dabei ist, lassen wir es sein, eine Kamera hier zu kaufen. Außerdem ist es hier ziemlich teuer.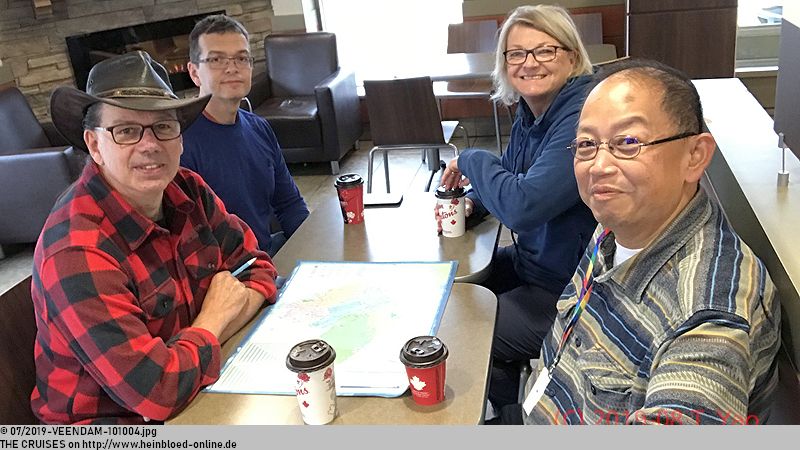 Joe used the time to talk to us about the day activity options. We could choose what we wanted to see for ourselves. In between, we drove at Shoppers Drug Mart. Canada was probably a paradise for hypochondriacs. Then he let us have a look at Best Buy. But the lack of expert advice and because no convincing model was available, we let it be to buy a camera here. Besides, it was pretty expensive here.

We went to Louisbourg and hiked. That was how I imagined the Atlantic coast of Canada. Pure nature. Rough coastal landscape. Hardly any people whom we met here. Just perfect!

Wir fahren nach
Louisbourg
und wandern. So habe ich mir die Atlantikküste Kanadas vorgestellt. Natur pur. Rauhe Küstenlandschaft. Kaum Menschen, die hier antreffen. Einfach perfekt!
Weiter geht es zum Hummeressen: The Lobster Pound and Moore in North Sydney. LECKER! Tagsüber gibt es eigentlich keinen ganzen Hummer. Aber für uns machen sie welchen. So frisch. So lecker und Teil unseres Tourpreises. Von hier starten auch die
Autofähren nach Neufundland von Marine Atlantic
als Teil des
Trans-Canada Highways
.

We went to our lobster lunch: The Lobster Pound and Moore in North Sydney, NS. DELICIOUS! Usually, there was no lobster during the day. But for us, they prepared some. So fresh. So delicious and part of our tour price. Also, the car ferries of Marine Atlantic to Newfoundland would start from here as part of the Trans-Canada Highway.

We went to Boularderie Island to get some fresh air and to watch the nature and the sea. We liked it very much here. Joe also could offer Bed and Breakfast. We should remember that for the future. A few days pre-cruise here and then heading to Québec City and there going on a cruise.

Wir fahren noch zur Boularderie Insel, um hier noch ein wenig frische Luft zu schnappen und auf die Natur und das Meer zu gucken. Uns gefällt es hier sehr gut. Joe bietet auch Bed and Breakfast an. Das werden wir uns mal für die Zukunft merken. Ein paar Tage Pre-Cruise hier und dann weiter nach Québec City und dort auf eine Kreuzfahrt.
Die letzten Minuten nutzen wir noch, um uns in Sydney selbst umzusehen. Ich freue mich über die Fußgängerüberwege in Regenbogenfarben. Ein schöner Ausflug geht zu Ende. Da wir aber sehr viele Optionen von Joe nicht sehen konnten, wäre es nicht schade, wenn wir mal wieder in Sydney anlegen würden.

The last minutes, we still used to have a look around in Sydney, NS. I was happy to see the pedestrian crossings in rainbow colors. A wonderful tour came to an end. Since we could not see a lot of options, Joe presented before, it would not be sad, to call again in Sydney, NS.

Back on board: I received finally another order form for a future cruise deposit.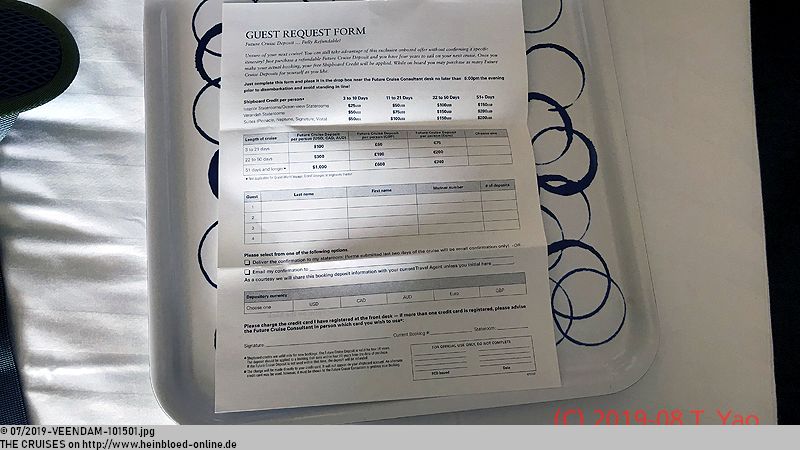 Zurück an Bord: Ich bekomme endlich ein weiteres Bestellformular für eine Anzahlung für eine künftige Reise.
Und endlich werden sie auch ausgelegt, damit man sich selbst bedienen kann, ohne dass man einen Termin vereinbaren muss und ohne dass man extra anfragen muss.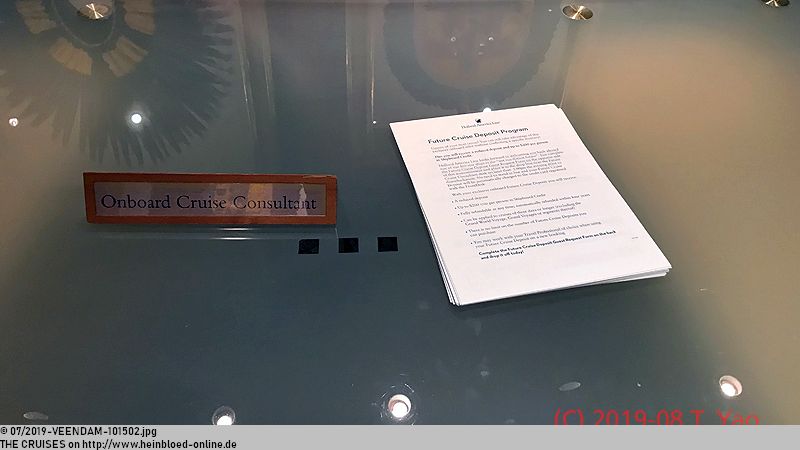 And finally, they were also placed to help yourself without the need to make an appointment or to request extra.

I was checking how we would set sail.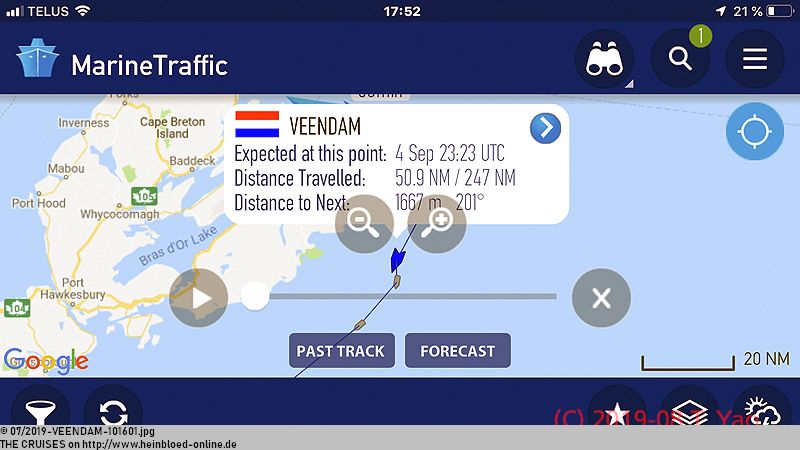 Ich prüfe nach, wie wir rausfahren.
An der SCENIC ECLIPSE fahren wir wohl erst vorbei, wenn es dunkel ist. Und leider sehen wir auch die QUEEN MARY 2 nicht, die in der Nähe unterwegs ist.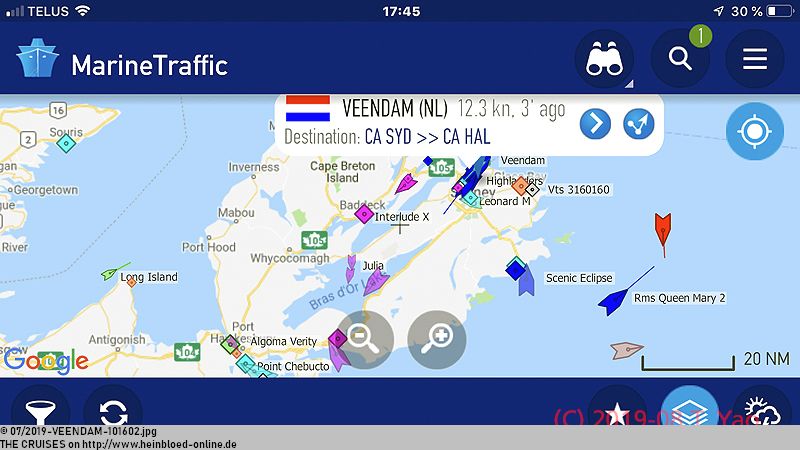 We should pass SCENIC ECLIPSE once it would be dark. And unfortunately, we had no chance to see QUEEN MARY 2, which was sailing close by.

Always very friendly at the front desk: Zenoby.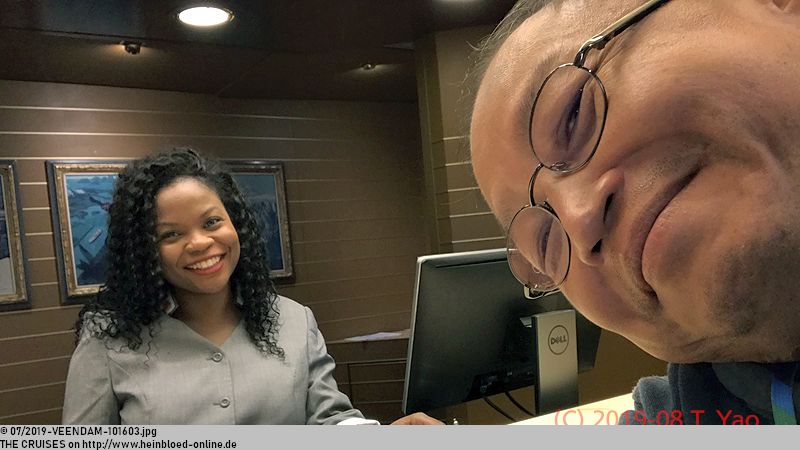 Auch immer sehr nett an der Rezeption: Zenoby.
Es ist furchtbar: schon Mittwoch.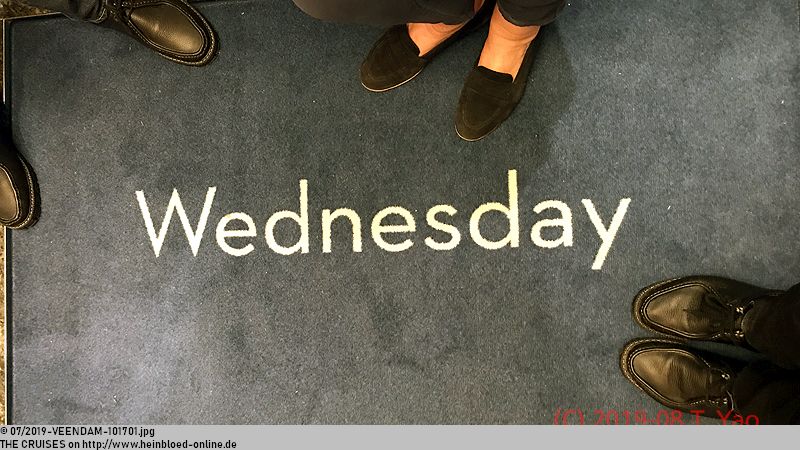 It was terrible: already Wednesday.

We went again to Explorations Café to get cappuccino.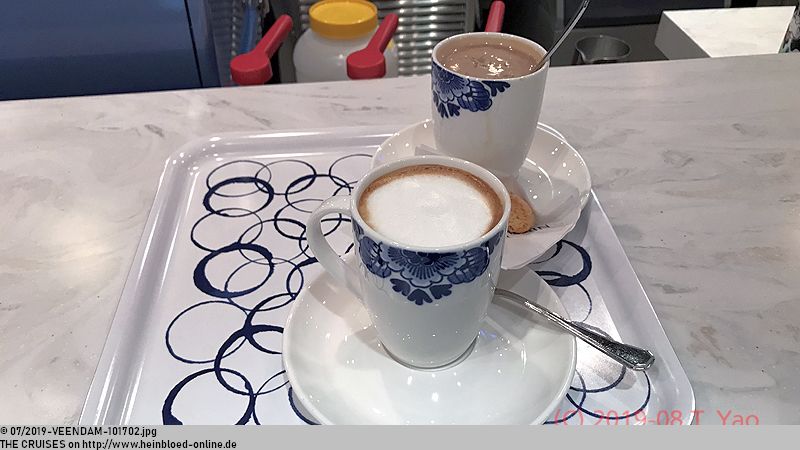 Wir gehen wieder zum Explorations Café, um Cappuccino zu holen.
Für meinen Blog von der
KONINGSDAM 2016
hat sich Holland America mit einem Gutschein für ein Abendessen im Canaletto bedankt. Sie haben wohl mitbekommen, dass ich zuletzt nicht da war. Der Gutschein war zwei Jahre gültig und wären wir auf die Transatlantik auf die NIEUW STATENDAM gegangen, hätte die Zeit auch gereicht. Aber wir haben ja auf die VEENDAM umgebucht. Der Gutschein war fast ein Jahr per Post unterwegs. Holland America hat es an eine alte Anschrift von uns geschickt und sie haben tatsächlich unsere neue Anschrift zu ermitteln und uns den Gutschein hinterher geschickt. Wir lassen über Hoteldirektor Frank in Seattle anfragen, ob wir ihn noch nutzen dürfen. Und sie haben sofort ja gesagt und so freuen wir uns nochmals darüber, dass wir im Canaletto essen dürfen. Mit der jetzigen Karte kann ich gut leben. Alles ist wieder sehr lecker! Wir werden also in Zukunft einen Besuch im Canaletto wieder mit aufnehmen.

For my blog from KONINGSDAM 2016, Holland America thanked me with a voucher for a dinner with Canaletto. They probably noticed that I was not there recently. The voucher was valid for two years, and if we had gone on the transatlantic on NIEUW STATENDAM last year, it would have been long enough. But we transferred to VEENDAM. The voucher was almost one year by mail on the way to us. Holland America sent it to an old address, and they actually had to find our new address and sent us the coupon after that. We asked through Hotel Director Frank in Seattle, whether they would still honor it. And they immediately said yes, and so we were happy again that we were allowed to eat one more time in the Canaletto. I could live well with the current menu. Everything was delicious again! So we would be back in the future for another visit to the Canaletto.

At the end of the day, there was still violin artist Juliette Primrose. It fit almost perfectly to Sydney, NS. There was a violin at the pier. Nevertheless, Cape Breton was known for its fiddlers. They came from Scotland - hence Nova Scotia. And Sydney, NS, was part of Cape Breton. That was why it was chosen entirely well for this evening.

Zum Schluss des Tages gibt es noch Violin-Künstlerin
Juliette Primrose
. Es passt fast perfekt zu Sydney. Da stand ja eine Geige am Pier. Nichts desto trotz: Cape Breton ist für seine Streicher bekannt. Sie kamen aus Schottland - daher auch Nova Scotia. Und Sydney liegt am Cape Breton. Deswegen perfekt für diesen Abend ausgewählt.
Die anderen Reisen in diesem Blog/
The other voyages in this blog: