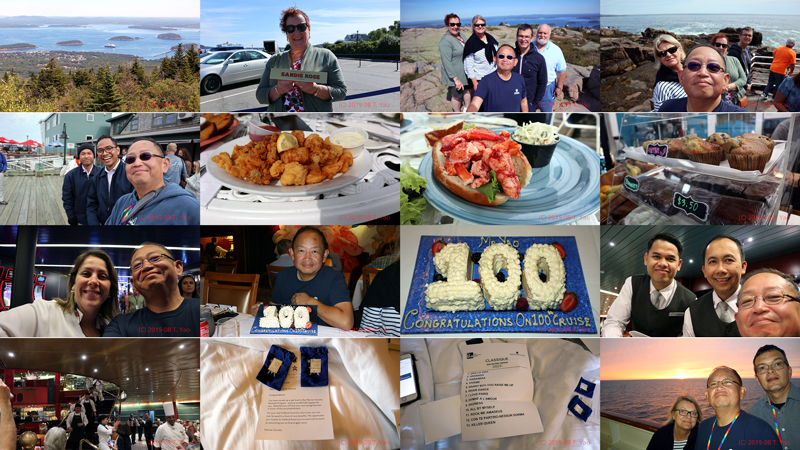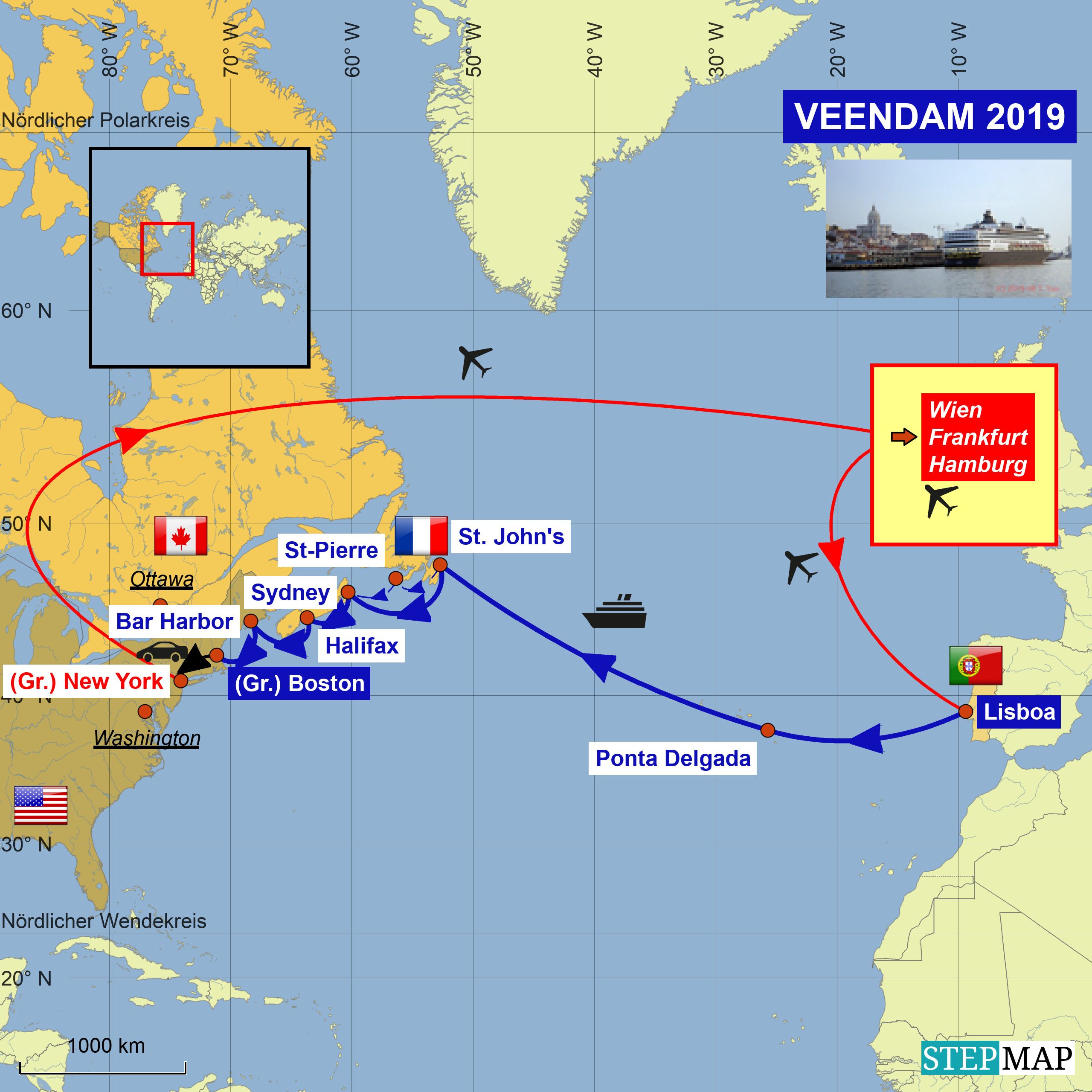 Bar Harbor, Maine, wir kommen! Es ist so schön hier. Sie wollen keine weiteren Kreuzfahrttouristen.

Bar Harbor, ME, we supposed to come! It was so lovely here. They did not want more cruise ship tourists.

Our air-conditioning did not work correctly.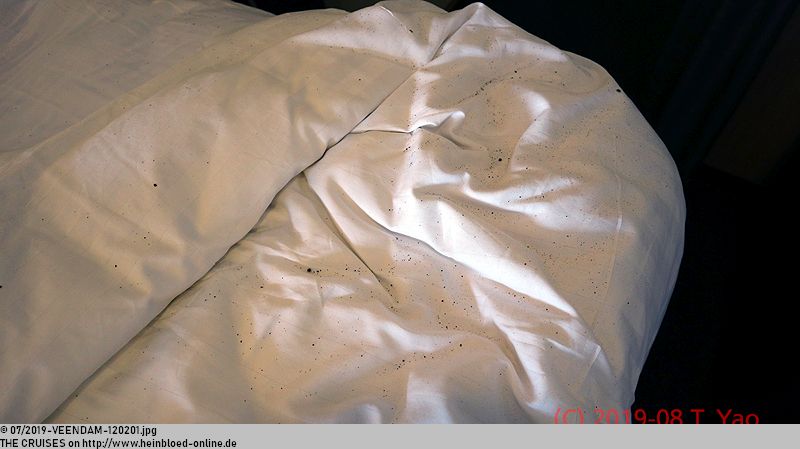 Unsere Klimaanlage spinnt.
Aus der werden Rußpartikel rausgepustet. Mir tut es nur sehr leid, Ermowan und Hartoyo heute nochmals unsere Betten frisch beziehen müssen, weil wir ja morgen ausschiffen müssen.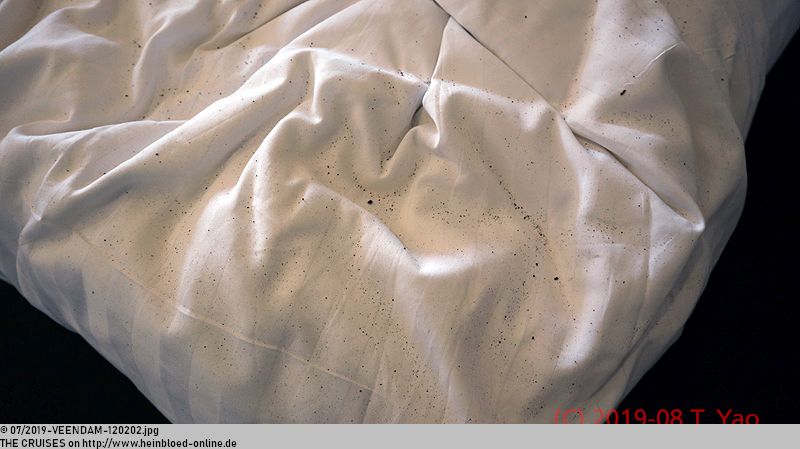 Soot particles were blown out of the air outlet. I was just very sorry that Ermowan and Hartoyo had to replace our linens that day one more time because we supposed to disembark the next day.

We were wondering what happened there?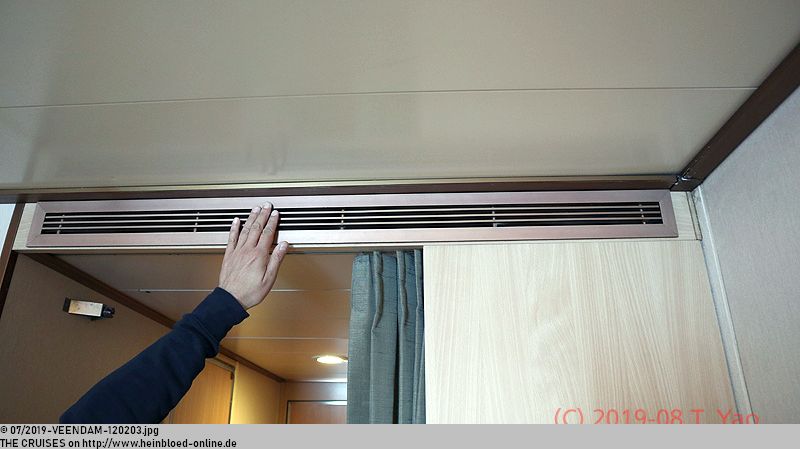 Was mag da wohl passiert sein?
Von Kreuzfahrtdirektor Tommy bekomme ich die Liste der Lieder der Production Shows. Aus gegebenem Anlass fragen wir Karten für "Carmen" im Mannheimer Nationaltheater an, da Teil von "Classique" die
Habanera
ist. Wir waren ja anlässlich der Reisen auf der
KONINGSDAM 2016
und
NORWEGIAN SPIRIT 2018
in Sevilla und jetzt wollen wir mehr. Zu Hause habe ich mir dann noch
Cole Porters "I love Paris"
und
Edith Piafs "Hymne à l'Amour"
heruntergeladen. Sachen, die ich leider jahrelang nicht mehr gehört habe. Wir freuen uns endlich über den Aufstieg zu 3* Mariners. Vielen Dank an Ryan, der sich um die Mariners an Bord kümmert. Die Zusammenfassung der Reise ist sehr schön geworden. Die hätte ich auch gerne in der Form für meine vergangenen Reisen auf der
EURODAM 2008
,
EURODAM 2009
,
WESTERDAM 2010
,
ZAANDAM 2012
,
RYNDAM 2013
,
EURODAM 2014
,
KONINGSDAM 2016
bitte!

From cruise director Tommy I got the list of songs from the production shows. On occasion, we were requesting tickets for "Carmen" in the Mannheim National Theater, as part of "Classique" was the Habanera. We were on the occasion of the voyages on KONINGSDAM 2016, and NORWEGIAN SPIRIT 2018 in Seville, Spain, and now we wanted more. At home, I downloaded "I Love Paris" by Cole Porter, and "Hymne à l'Amour" by Edith Piaf. Things I did not hear for years. We were finally happy about the ascent to 3* Mariners. Many thanks to Ryan for taking care of the Mariners on board. The summary of the journey became very nice. I also would like to have it in the same form of my past sailings at EURODAM 2008, EURODAM 2009, WESTERDAM 2010, ZAANDAM 2012, RYNDAM 2013, EURODAM 2014, KONINGSDAM 2016, please!

I also compared the list of "Classique" of RYNDAM 2013, that cruise director Michael Langley gave me, with the list of today. The show on VEENDAM supposed to be probably a little shorter than on RYNDAM 2013: "Could it be magic" by Barry Manilow/Take That was missing.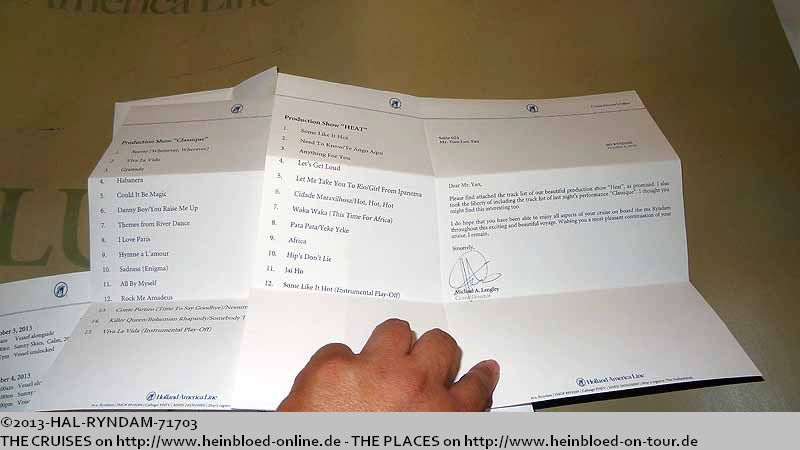 Ich gleiche noch die Liste von "Classique" von damals
RYNDAM 2013
, die mir Kreuzfahrtdirektor Michael Langley gegeben hat, mit der Liste von heute ab. Die Show jetzt auf der VEENDAM ist wohl etwas kürzer als damals auf der
RYNDAM 2013
:
"Could it be magic" von Barry Manilow
/Take That fehlt.
Die Shows bei HAL fand ich schon immer anspruchsvoll. Das gab es damals ja auch schon auf der
EURODAM 2009
: Aufgrund eines sehr guten Auftritts von
Justin Miller
, habe ich auch fast alle Stücke, die er gespielt habe, sofort zu Hause runtergeladen hat. Damals habe ich so viel über amerikanische Musikgeschichte gelernt. Mit Holland America fahren ist ja auch immer etwas Bildungsurlaub, um seinen Horizont zu erweitern!

I always found the shows at HAL to be challenging. That was already on EURODAM 2009: Due to an excellent performance by Justin Miller, I immediately downloaded almost all of the pieces that he played, when I was back at home. Back then, I learned so much about American music history. Sailing with Holland America Line was always a bit of educational travel to broaden your horizons!

And this was before more elegant to bid farewell, like then on EURODAM 2008.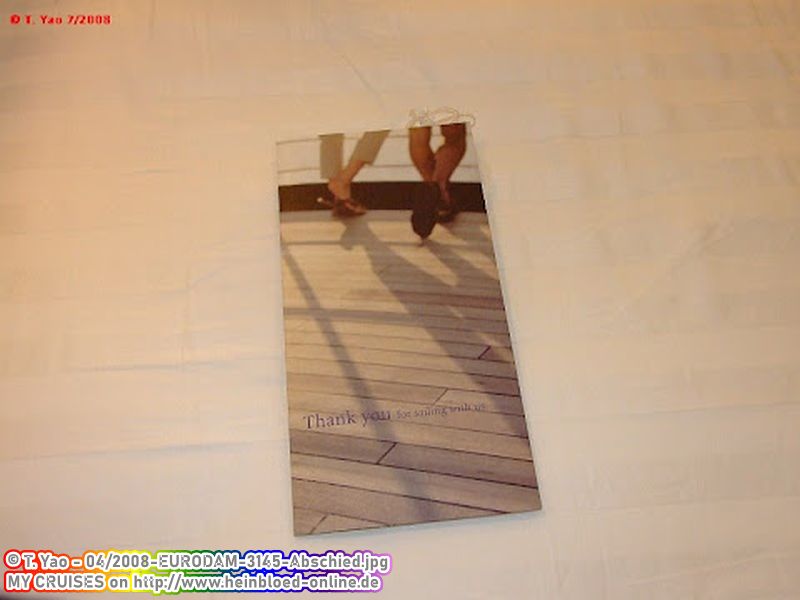 Und sie waren ja auch mal eleganter beim Abschied, wie damals auf der
EURODAM 2008
.
Schon auf der
EURODAM 2009
wurde es dann weniger. Ab
RYNDAM 2013
gab es dann nur noch diese weißen Briefumschläge. Wieder ist ein bisschen Eleganz alter Zeiten verblasst.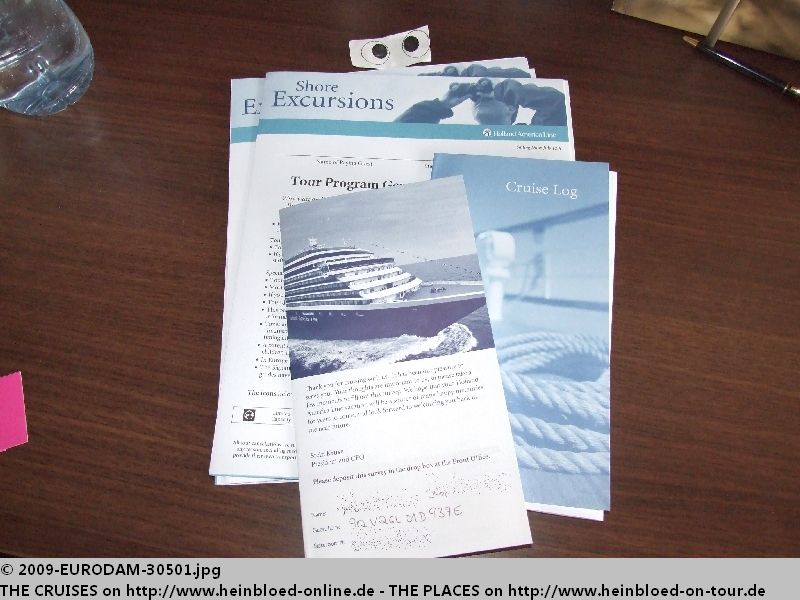 Right after on EURODAM 2009 it became less. From RYNDAM 2013, we had only the white envelopes. Again, a little elegance of the old days faded.

Again, we were heading for breakfast.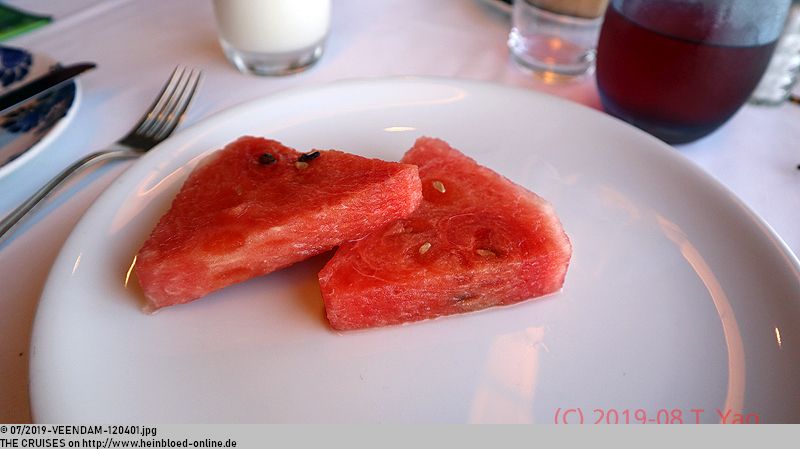 Es geht wieder zum Frühstück.
Wir sind in Neu-England. Heute mal englisches Frühstück.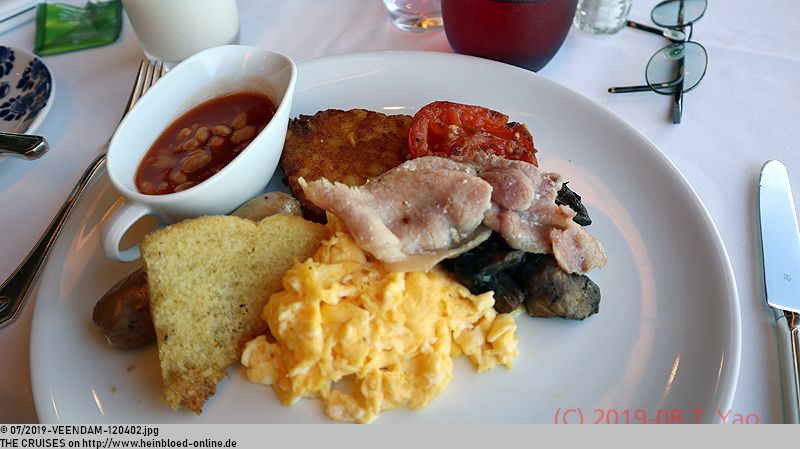 We were in New-England. So I had English breakfast.

Fabiana took care that all guests were well prepared before joining the US-immigration. Apart from that, she was also accommodating at the front desk.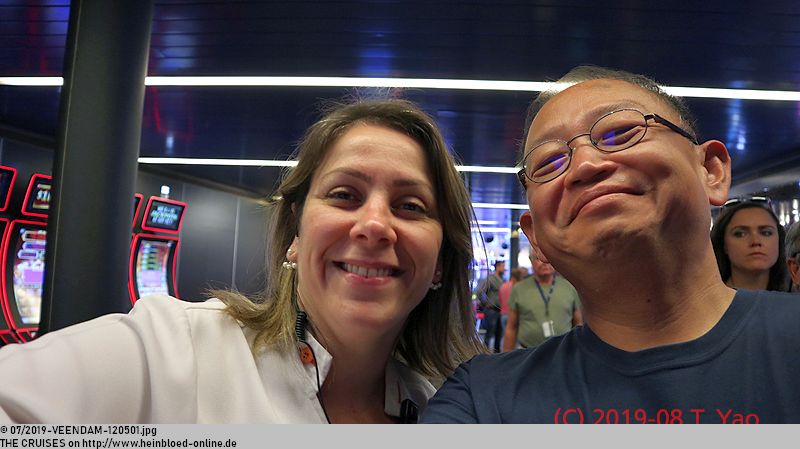 Fabiana sorgt dafür, dass alle Gäste gut vorbereitet zur US-Immigration kommen. Ansonsten ist sie auch immer an der Rezeption sehr hilfreich.
Und es steht wieder eine Waage hier an der Rezeption, damit wir das Gewicht der Koffer ermitteln können.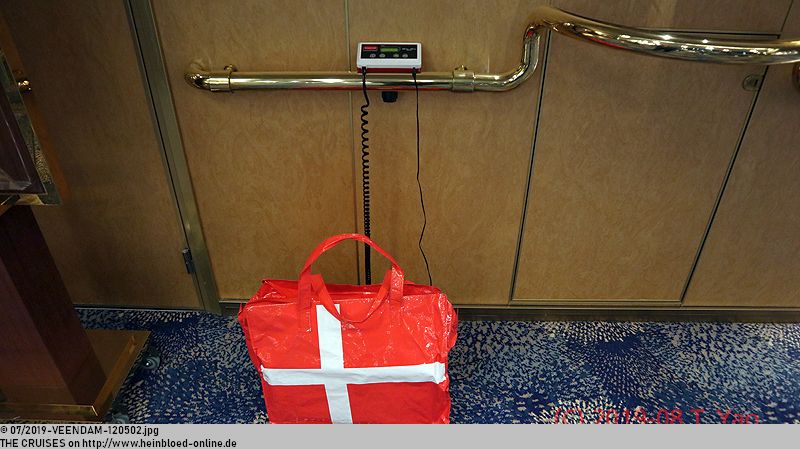 And at the front desk, you could find a scale, to check the weight of your bags.

To be safe, the details of the port agent.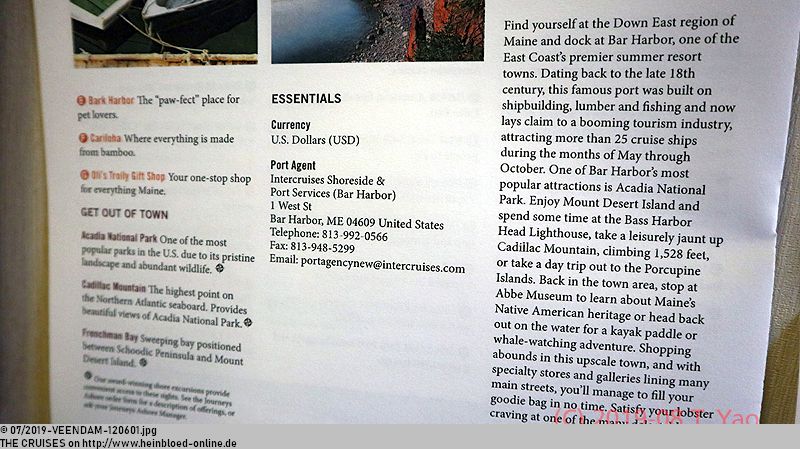 Sicherheitshalber die Daten des Hafenagenten.
Aufgrund der erwarteten Schlechtwetterfront sollen wir bereits eine Stunde früher ablegen, damit wir Boston früher erreichen und sicher im Hafen liegen.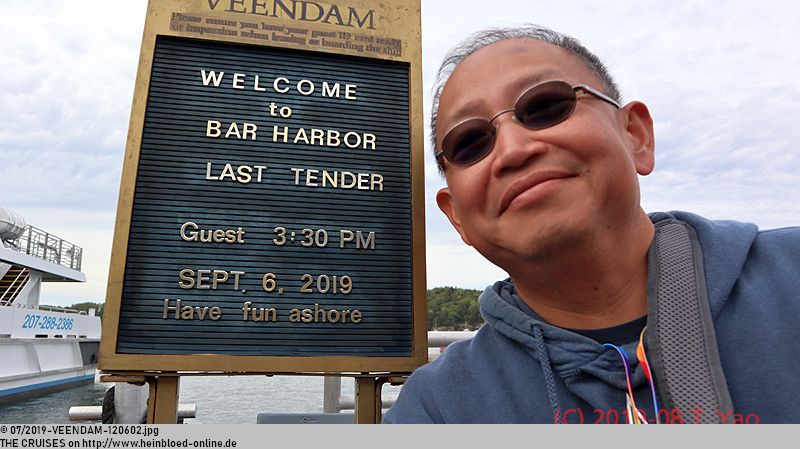 Due to the bad weather front, we should leave the port one hour ahead, to reach Boston earlier to stay safe there in port.

We got the number 35 and needed to wait at the Ocean Bar. As usual: the guests who booked excursions were preferred to be taken ashore again. External tender boats were also in use, so the whole thing went very quickly. On these boats, several numbers could be shuttled at the same time, and boarding was more comfortable. On the return trip, I was officially the last guest to get onboard. So Holland America actually had a perfect experience with me: "Where is Mr. Yao?"... back then on ZAANDAM 2012 in Singapore, when I was still shipspotting. But I was on time on board. At the last minute! I was again greeted warmly by some waiters who were on duty at the tender pier. Unfortunately, I could no longer assign the names because part of the name badges that I photographed, disappeared. I had to get out of the tender boat, the "classical" way. They could lift me up to our deck in the tender boat, and almost dropped me off in front of our cabin. So that it would not be so hard for us to return the key card for the door to the outdoor deck, all sun loungers on the promenade deck were already removed. We should not longer have any reason to go to the promenade. And here you could see again: The location of our lanai cabin was ultimately perfect because our area of ​​the promenade deck was not closed off during the tender operation and, therefore, it could be used.

Wir bekommen Nummer 35 und müssen an der Ocean Bar warten. Wie üblich: es werden wieder die Gäste bevorzugt an Land gebracht, die Ausflüge gebucht haben. Es werden auch externe Tenderboote eingesetzt, so geht das ganze doch sehr zügig. Auf diesen Booten können mehrere Nummern gleichzeitig mit und das Einsteigen fällt einfacher. Bei der Rückfahrt bin ich offiziell der letzte Gast, der an Bord geht. Damit hat eigentlich Holland America sehr gute Erfahrung mit mir: "Where is Mr. Yao?"... damals auf der
ZAANDAM 2012
in Singapur, als ich noch zum Shipspotting unterwegs war. Ich war aber PÜNKTLICH an Bord. Auf die letzte Minute! Ich werde wieder freundlich von einigen Kellnern, die am Tenderpier Dienst tun begrüßt. Leider kann ich die Namen nicht mehr zuordnen, weil ein Teil der Namensschilder, die ich fotografiert habe, verschwunden sind. Ich muss "klassisch" aus dem Tenderboot aussteigen. Dabei hätten sie mich direkt im Tenderboot zu unserem Deck hochfahren können und mich fast vor unserer Kabine absetzen können. Damit uns die Rückgabe der Schlüsselkarte für die Tür zur Promenade nicht so schwerfällt, hat man bereits alle Sonnenliegen auf dem Promenadendeck entfernt. Wir sollen keinen Grund mehr haben, auf die Promenade zu gehen. Und hier sieht man auch wieder: Die Lage unserer Lanai-Kabine ist letztendlich doch sehr gut, weil unser Bereich des Promenaden-Decks während des Tenderns nicht abgesperrt und somit nutzbar ist.
In Bar Harbor sind sehr schöne Außenaufnahmen von MEINER VEENDAM möglich.

In Bar Harbor, ME, it was a good occasion to take brilliant outside pictures of MY VEENDAM.

During my time with H.C. Starck in Goslar, Germany, I was often at our US-site in Newton, MA (for us Germans too tricky to pronounce, and a perfect reason to be used in a sketch of the German comedian Loriot). During that time, Sandie Rose and I became friends who shared my passion for cruises, good food, and good music. Now she was retired and stayed in her summer house in Maine. Officially we could only take on board quantities that might be described as a bar of chocolate for one-day consumption. I hope that it was ok for the US Customs Service if the bar was triangular in this case. Unfortunately, I had no idea if the chocolate was eaten within a day. She met us with her husband Richard, who showed us the area. We quickly drove past a pharmacy, and while we were waiting in the car, we could see some squirrels playing in the parking lot.

Während meiner Zeit bei H.C. Starck in Goslar war ich oft an unserem US-Standort in Newton, Massachusetts (
Loriot: Frau Berta Panislovski... Ein Klavier, ein Klavier... Mutter, wir danken dir!"
). In der Zeit habe ich mich Sandie-Rose angefreundet, die die Leidenschaft für Kreuzfahrten, für gutes Essen und gute Musik mit mir teilt und jetzt ihren Ruhestand in ihrem Sommerhaus in Maine genießt. Offiziell dürfen wir ja nur Mengen von Bord nehmen, die man umschreibt mit einer Tafel Schokolade für den Tagesverbrauch. Ich hoffe, dass es o.k. für die US-Zollbehörden ist, wenn die Tafel in diesem Fall dreieckig ist und ich weiß leider auch nicht, ob die Schokolade innerhalb eines Tages aufgegessen wurde. Sie holt und mit ihrem Mann Richard ab, die uns die Gegend zeigen. Wir fahren schnell bei einer Apotheke vorbei und während wir im Auto warten, sehen wir einigen Eichhörnchen beim Spielen auf dem Parkplatz zu.
Zuerst fahren wir auf
Cadillac Mountain
im
Acadia Nationalpark
auf der
Insel Mount Desert
. Man kann hier alles in einem Wort zusammenfassen: Wunderschön.

First, we went on Cadillac Mountain in the Acadia National Park on the Island of Mount Desert. You can wrap up the experience in one word: gorgeous.

We headed then for Thunder Hole.

Es geht weiter zum
Thunder Hole
.
Obwohl die Römer es ja gar nicht bis nach Nordamerika geschafft haben: Es sieht sehr römisch aus: die Acadia Brücken.

Although the ancient Romans never made it to North America: It looked very Roman style: the Acadia Bridges.

Finally, we went to the Seafood Ketch Restaurant in Bass Harbor, ME. No buses from the ship! In the middle between the fishing boats. The lobster roll was something incredible. And also the freshly deep-fried fish fillets. Delicious!!! We would definitely be happy to return to Bar Harbor, ME. I really enjoyed spending time with Sandie-Rose and her husband Richard.

Wir fahren zum Schluss noch in das Seafood Ketch Restaurant in Bass Harbor. Keine Busse vom Schiff! Mitten zwischen den Fischerbooten. Lobster Roll ist etwas wunderbares. Und auch die frisch gebackenen Fischfilets. Lecker!!! Gerne kommen wir bestimmt nach Bar Harbor wieder. Die Zeit mit Sandie-Rose und ihrem Mann Richard habe ich sehr genossen.
Das letzte, das ich aus Bar Harbor mitnehme: frischgebackene Muffins, die am Tenderpier im
Sunrise Café
angeboten werden.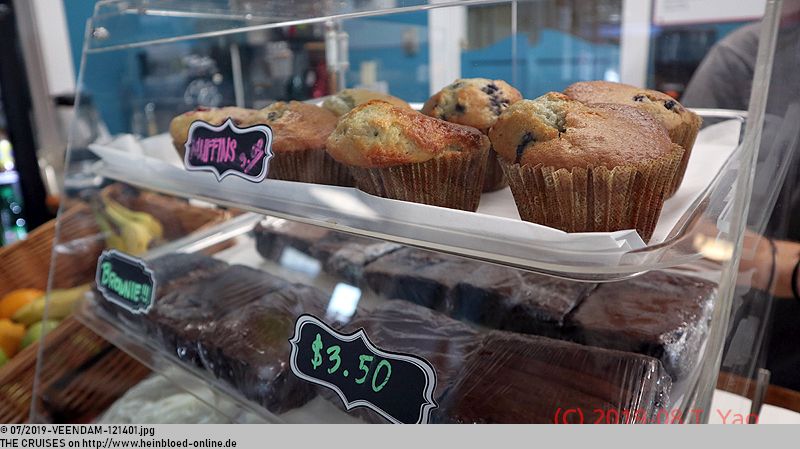 The last item, I took from Bar Harbor, ME: freshly baked Muffins which were offered at the tender pier by Sunrise Café.

I missed here the hour, we supposed to leave earlier. Here, homemade lemonade was offered.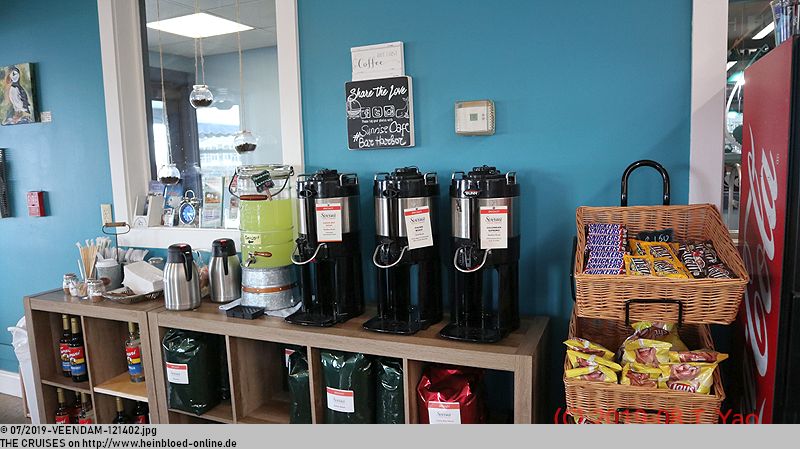 Hier fehlt mir die Stunde, die wir früher abfahren. Sie haben hier selbstgemachte Limonade.
Und ganz modern: die Quittung kommt per E-Mail.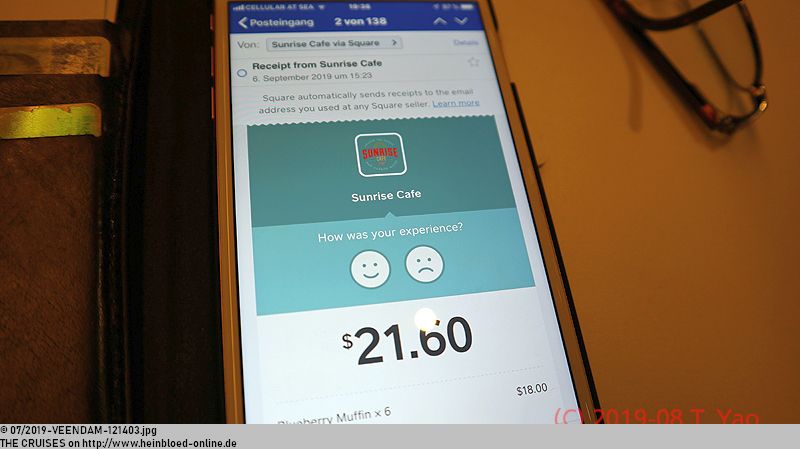 And very modern: the receipt came by e-mail.

The set sail now was as gorgeous as the arrival this morning. Captain Mark speeded up to arrive in Boston, MA, as early as possible. The would not start to handle the ship earlier but just to allow a safe stay in the port.

Genauso schön wie Einfahrt heute Morgen ist auch die Ausfahrt. Kapitän Mark legt einen Zahn zu, damit wir möglichst früh in Boston ankommen. Das Schiff wird nicht früher abgefertigt, sondern soll nur früher im sicheren Hafen ankommen.
Ich versuche mich weiter an der Kamera.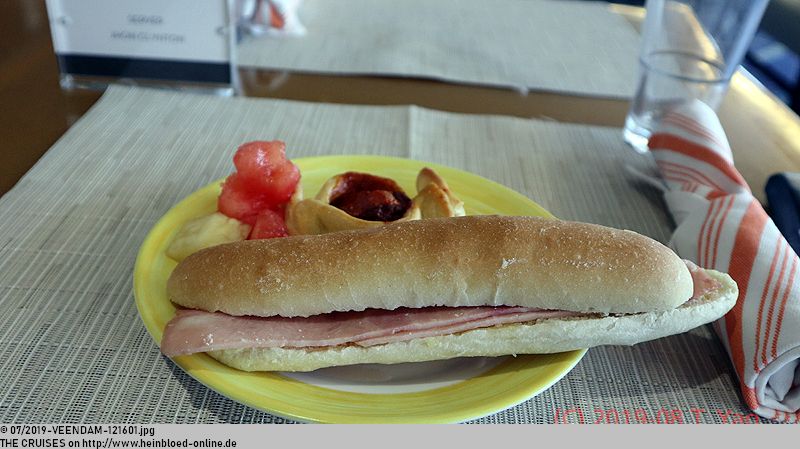 I tried to work with the camera.

It had a special food-porn-function.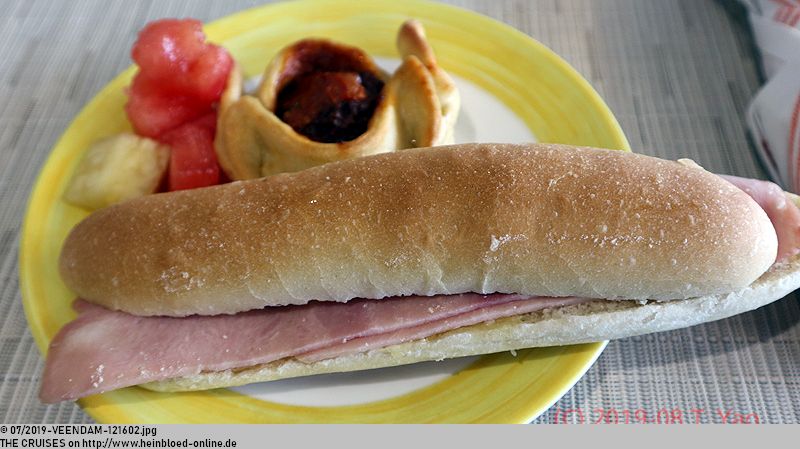 Sie hat ja extra eine Food-Porn-Funktion.
Aber ich bin halt zu blöd für die Kamera.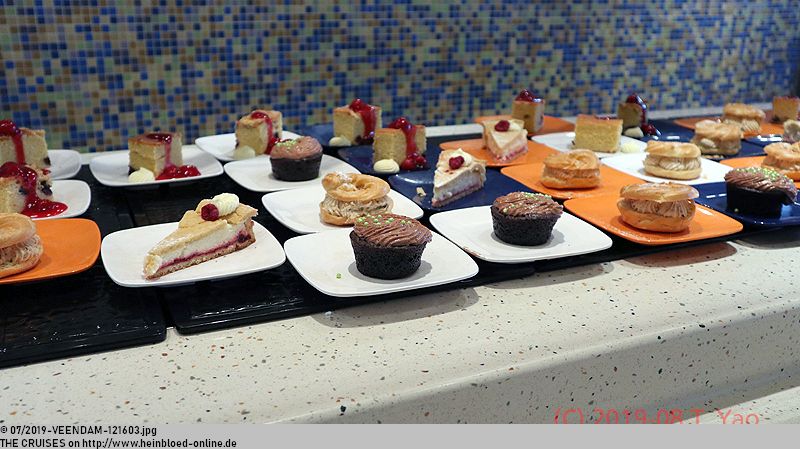 But I was too stupid for that camera.

Our last dinner. Our last waiters were July and Bekti. I was not 100% sure: I lost the Exif-data of the pictures that I took of the name tags, and I could, therefore, no longer assign them securely. To get myself in the mood for Germany again, I chose Black Forest Gateau as my desert (Greetings to Southern California).

Unser letztes Abendessen. Unsere letzten Kellner Juli und Bekti. 100%ig sicher bin ich mir nicht: bei den Bildern, die ich noch von den Namensschilder habe, sind die Exif-Daten weg und ich kann sie daher nicht mehr sicher zuordnen. Damit ich mich auf Deutschland wieder einstimme, nehme ich als Nachtisch Schwarzwälder Kirschtorte (Grüße nach Südkalifornien).
Wie üblich am letzten Abend: Die Abschiedsparade der Galley- und Restaurant-Crew. Wir erleben sie zwei Mal: da wir ja freie Tischzeit haben und die Parade immer am Ende der 1. bzw. 2. Tischzeit stattfindet, bekommen wir beide Paraden mit.

As usual on the last evening: the farewell parade of the galley and restaurant crew. We experienced them twice: since we had flexible dining, and the parade always took place at the end of the 1st or 2nd sitting, we could see both parades.

The last dinner was always something exceptional on any voyage. Especially with Holland America. On EURODAM 2008 and EURODAM 2009, we spent those nights in an alternative dining venue. The first time, we made the experience in the main dining room, was on WESTERDAM 2010.

Die letzten Abendessen einer Reise stellten immer besonderes dar. Speziell bei Holland America. Auf der
EURODAM 2008
und
EURODAM 2009
haben wir diese Abende in einem Zuzahlrestaurant. Erstmalig haben wir es im Hauptrestaraunt auf der
WESTERDAM 2010
erlebt.
Auf der
ZAANDAM 2012
war ich in Macau und bin daher sehr spät zum Essen wieder zurück.

I spent the day in Macau, China, so I came back very late for dinner on ZAANDAM 2012.

On RYNDAM 2013, we participated in the Master Chefs' International Dinner, the very first time.

Auf der
RYNDAM 2013
erlebten wir erstmalig den Master Chefs' International Dinner. Das fand ich echt klasse!
Nochmals konnten wir es auf der
EURODAM 2014
erleben.

We could do it another time on EURODAM 2014.

Accordingly, we were integrated into the parade of the Galley- and Restaurant-Crew.

Wir wurden entsprechend in die Parade der Galley- und Restaurant-Crew eingebunden.
Und danach haben wir einfach weitergegessen.

After that, we continued to eat.

"An Evening with the Culinary Council" was our experience on KONINGSDAM 2016 then instead.

"An Evening with the Culinary Council" gab es dann auf der
KONINGSDAM 2016
stattdessen.
Mit dem letzten Abendessen bekomme ich von Holland America noch eine kleine Aufmerksamkeit.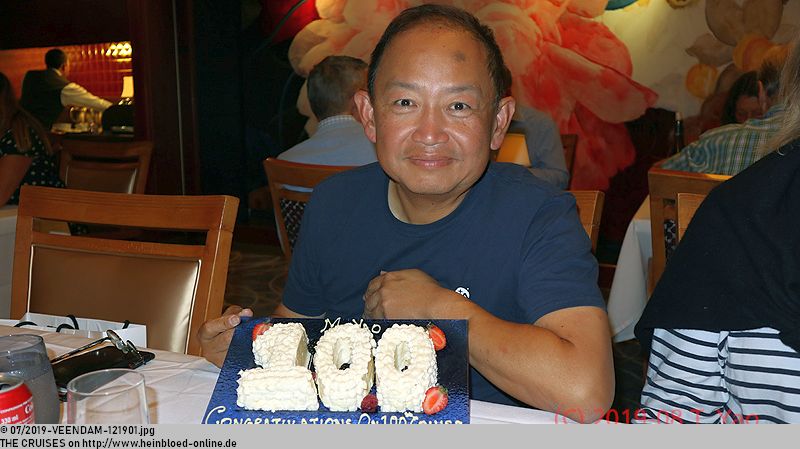 With the last dinner, I received from Holland America a gesture of attention.

The end of my cruise no. 100 came to an end, and it was time for a QUICK lookback. And Holland America always played an important role.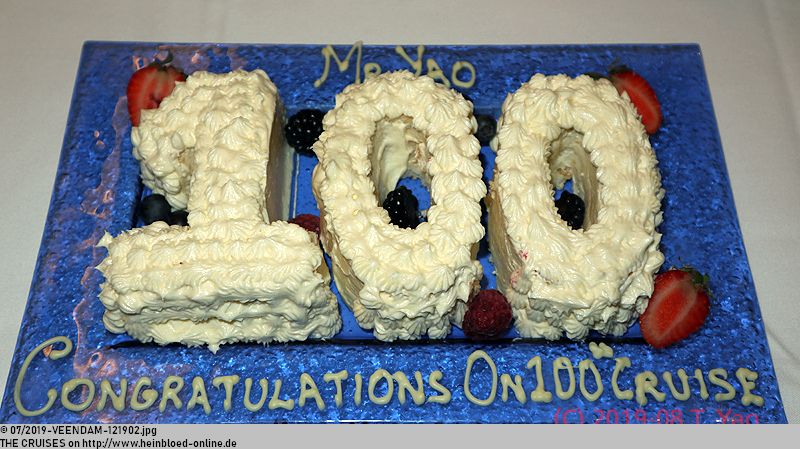 Das Ende meiner 100. Kreuzfahrt naht und Zeit für einen KLEINEN Rückblick. Und dabei Holland America hat immer eine besondere Rolle gespielt.
Angefangen hat unsere Leidenschaft für die Kreuzfahrt während der Fußball-Weltmeisterschaft in Deutschland auf der
LILI MARLEEN 2006
. Das Schiff war alt. Es hatte Charme und es war unser erstes Schiff ohne Vergleichsmöglichkeiten. Zu einer weiteren Fahrt auf der LILI MARLEEN kam es dann nicht mehr. Kurz nach unserer Reise ging Holiday Kreuzfahrten insolvent. Unser allererster Katalog war allerdings der von Holland America mit unbezahlbaren Katalog-Preisen und unsere allerersten DVDs: über die Bordangebote für Behinderte und Alaska-Touren.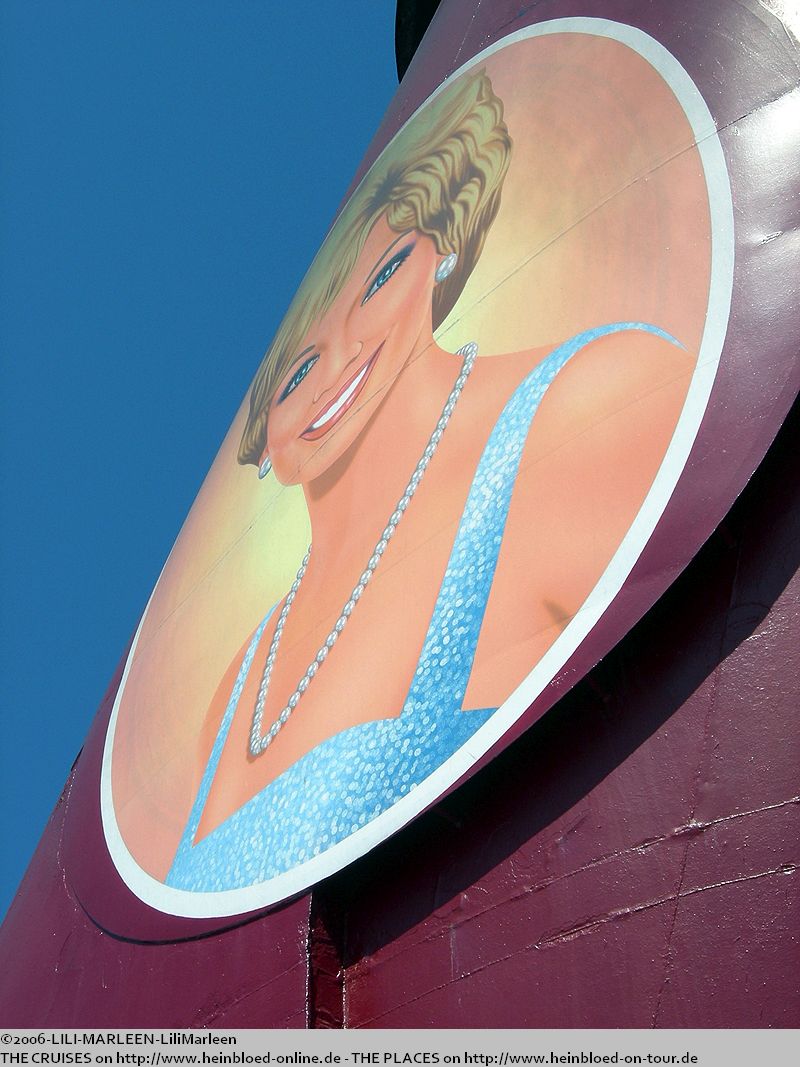 Our passion for cruises started during the Soccer World Cup in Germany on LILI MARLEEN 2006. The ship was old. It was charming, and it was our very first ship without the chance to compare. We had no other chance to do another cruise on LILI MARLEEN. Short after our voyage, the German cruise operator Holiday Cruises went bankrupt. But our very first catalog was one from Holland America with unaffordable catalog-prices and our very first DVDs: of the offers onboard for disabled guests and Alaska-tours.

Love at first sight: The first time with a US company and on a brand new ship: NORWEGIAN PEARL 2006. Overall, we were sailing 27/100 with NCL. Unfortunately, we also became a witness of how it gradually waned: private equity. Only the crew stayed that way, and no matter what the management made worse: the staff somehow tried to make up for it. Many of these crew members from NCL could find with Holland America today. We saw many parallels, like savings, etc., but unfortunately also now with Holland America. Nowadays, there was not much to experience that made the difference between NCL and others. And just now the same with HAL.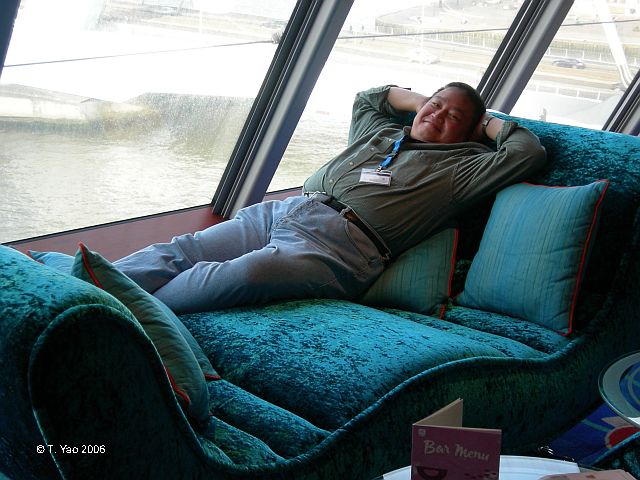 Liebe auf den ersten Blick: Das erste Mal mit einer US-Gesellschaft unterwegs und auf einem nagelneuen Schiff:
NORWEGIAN PEARL 2006
. Insgesamt sind wir 27/100 mit NCL unterwegs gewesen. Leider haben wir auch miterlebt, wie es nach und nach nachgelassen hat: Private Equity. Nur die Crew ist so geblieben und egal, was das Management verschlechtert hat: die Crew hat es irgendwie versucht wieder wettzumachen. Viele dieser Crewmitglieder von NCL, treffen wir heute bei Holland America. Wir sehen viele Parallelen bei Einsparungen usw. aber leider auch bei Holland America. Vieles sehen wir nicht mehr, was den Unterschied zwischen NCL und anderen gemacht hat. Und eben auch jetzt bei HAL.
MSC MUSICA 2007
: die Chance die "Kreuzfahrt-Ikone"
Douglas Ward
und seine Frau zu treffen.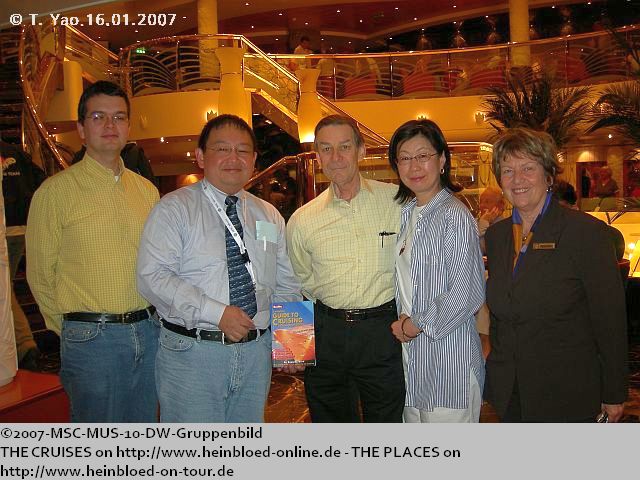 MSC MUSICA 2007: the chance to meet "Cruise-Icon" Douglas Ward and his wife.

QUEEN ELIZABETH 2 2007: our very first Cunard experience. The very first time in the first row of a show. The very first time the vocalist on my nap during the show. Since that time: never again the first row during a performance on a stage. (Unfortunately, or luckily) We had no photos of this event. Happy to see QUEEN ELIZABETH 2 yet next year in Dubai, United Arab Emirates.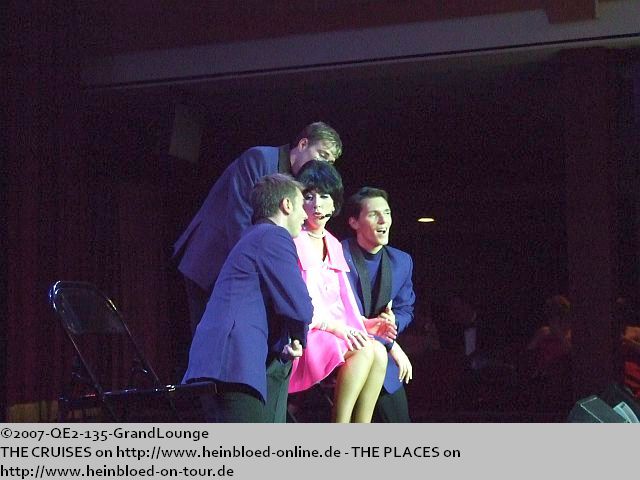 QUEEN ELIZABETH 2 2007
: zum ersten Mal mit Cunard unterwegs. Zum ersten Mal während der Show in der 1. Reihe. Zum ersten Mal die Sängerin auf meinem Schoss während der Show. Seit dem nie wieder 1. Reihe in einer Show. Davon gibt es (leider oder zum Glück) keine Fotos. Wir freuen uns auf ein Wiedersehen mit der
QUEEN ELIZABETH 2
im kommenden Jahr in Dubai.
EURODAM 2008
: zum allerersten Mal mit Holland America unterwegs - auf der allerersten Reise, die man als Passagier buchen konnte. Unsere Mitfahrer aus
cruisecritic.com
haben Holland America damals sehr gut beschrieben: "Kreuzfahren für Erwachsene!". Ich saß im Kofferraum meines Mietwagens auf dem Parkplatz des
Kreuzfahrtterminal HafenCity
in Hamburg und habe in Ruhe mir das Feuerwerk angeguckt, bevor ich den Wagen abgeschlossen, den Schlüssel im Safe eingeworfen habe und wieder an Bord gegangen bin. Ein unvergessliches Erlebnis.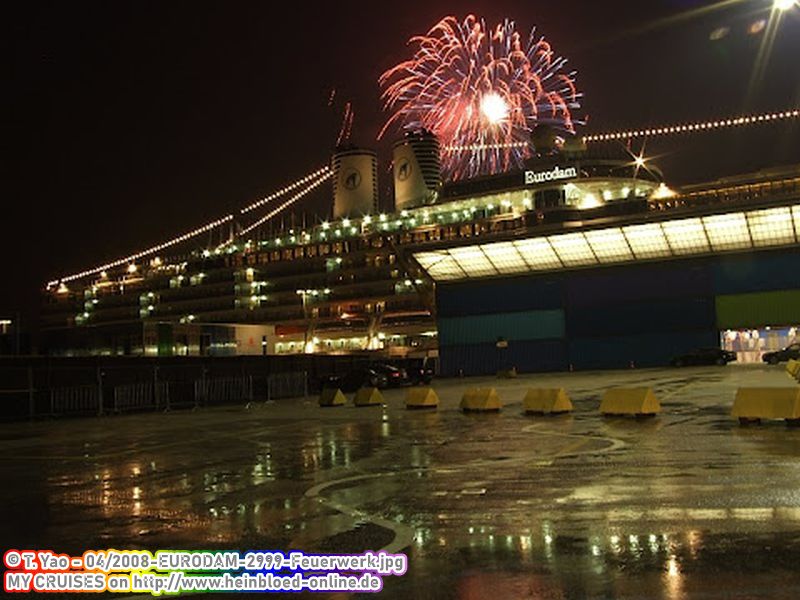 EURODAM 2008: sailing with Holland America for the very first time - on the very first voyage that could be booked as a passenger. At the time, our fellows from cruisecritic.com described Holland America very well: "Cruising for adults!" I sat in the trunk of my rental car in the parking lot of the cruise terminal HafenCity in Hamburg, Germany, and watched the fireworks in privacy before I locked the car, put the key in the safe and went back on board. An unforgettable experience.

The 25th cruise took place on one of my favorite ships: NORWEGIAN SPIRIT 2008. Formerly the SUPERSTAR LEO, she was built for the Asian market. Therefore, the atmosphere on board was right for me, as it was based on feng shui aspects. Light, wood, plants, water - the atrium was just an oasis of perfect harmony.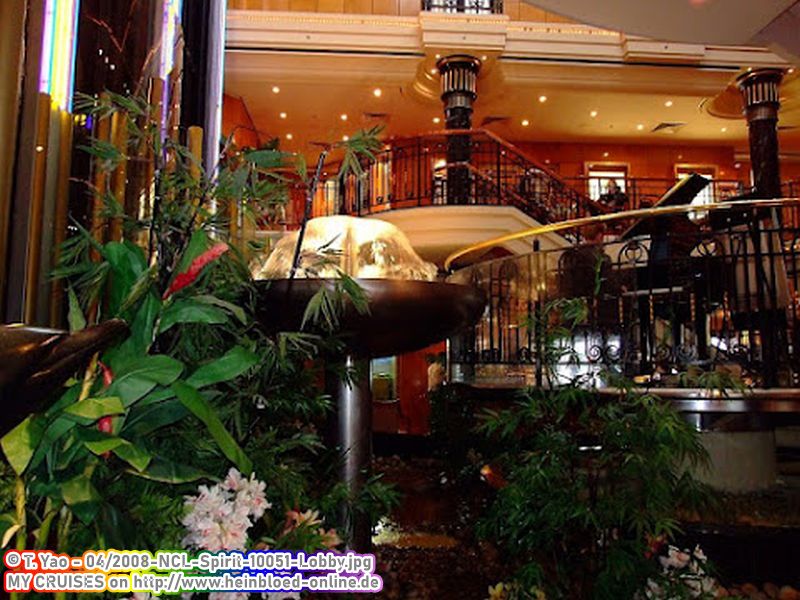 Die 25. Kreuzfahrt fand auf einem meiner Lieblingsschiffe statt:
NORWEGIAN SPIRIT 2008
. Ehemals die SUPERSTAR LEO und für den asiatischen Markt gebaut. Daher stimmte die Atmosphäre für mich an Bord, da es nach Feng-Shui-Gesichtspunkten ausgerichtet wurde. Licht, Holz, Pflanzen, Wasser - Das Atrium war einfach eine Oase perfekter Harmonie.
EURODAM 2009
:
Justin Miller
und sein Vortrag über die amerikanische Musikgeschichte. Mit dabei:
"Alexander's Ragtime Band" von Irving Berlin
oder
"Walk Don't Run" von The Ventures
. Schade, dass er heute nicht mehr für Holland America arbeitet. Seaborn können wir uns leider nicht leisten.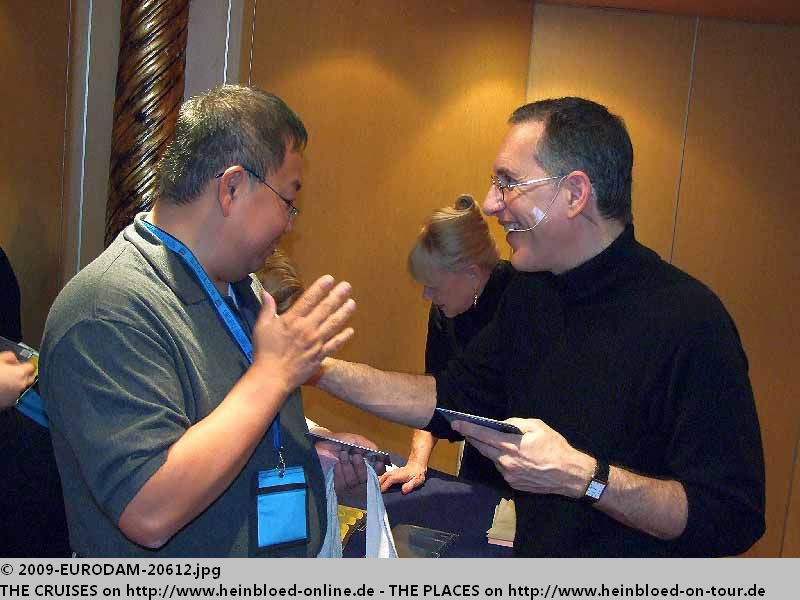 EURODAM 2009: Justin Miller and his presentation on American music history. Including: "Alexander's Ragtime Band" by Irving Berlin or "Walk Don't Run" by The Ventures. It was a pity that he was not working anymore for Holland America. We cannot afford to go with Seaborn.

Our very first voyage together with the parents of Bruno and with my parents on NAVIGATOR OF THE SEAS 2009. Only in the Pinnacle Grill and at that time in Portofino with Royal Caribbean were the great grill skewers available. Unforgettable. And unfortunately, both of them no longer have skewers. So we have to find a new culinary home on the ships.

Unsere allererste Reise mit den Eltern von Bruno und mit meinen Eltern gemeinsam auf der
NAVIGATOR OF THE SEAS 2009
. Nur im Pinnacle Grill und damals im Portofino bei Royal Caribbean gab es die tollen Grillspieße. Unvergesslich. Und leider gibt es bei beiden die Spieße nicht mehr. Wir müssen also eine neue kulinarische Heimat auf den Schiffen uns suchen.
Nie wieder nehme ich meine Grundschullehrerin Frau Pannen und ihren Mann und unsere Eltern mit auf eine Kreuzfahrt. Damals auf der
WESTERDAM 2010
in den norwegischen Fjorden: meine Grundschullehrerin meinte etwas zur Tischkonversation beitragen zu müssen. Sie erzählte Sachen, die bis dahin meine Eltern noch nicht wussten. DAS WAR PEINLICH UND UNANGENEHM! NIE WIEDER! Und die späteren Diskussionen mit meinen Eltern nach 40 Jahren! Herr Pannen hatte den Wunsch gehabt einmal im Leben die norwegischen Fjorde zu sehen - trotz seiner Einschränkung bei der Mobilität. Mit Holland America war es möglich. Mit Hurtigruten wäre es zu anstrengend geworden. Auch wenn es am Anfang der Reise eher danach aussah, dass das Projekt zum Scheitern verurteilt ist, weil der gemietete Rollstuhl nicht auffindbar war. Der Rest ist Geschichte. Nachdem Herr Pannen später verstorben ist, kam der Pfarrer nach der Beerdigung auf mich zu und erzählte, welche Bedeutung diese Reise für Herrn Pannen hatte. Er hat noch lange von den Erinnerungen an diese Reise gezehrt. Den Kranz habe in den Farben von Holland America bestellt. Die Kreuzfahrten sind für alle von uns wie ein Energy-Boost und geben uns einfach die Kraft die Tage im Alltag bis zur nächsten Kreuzfahrt zu überstehen. Und Holland America gibt uns (derzeit) sicherlich noch ein wenig mehr und andere, vielleicht auch bessere Energie mit, als manch andere.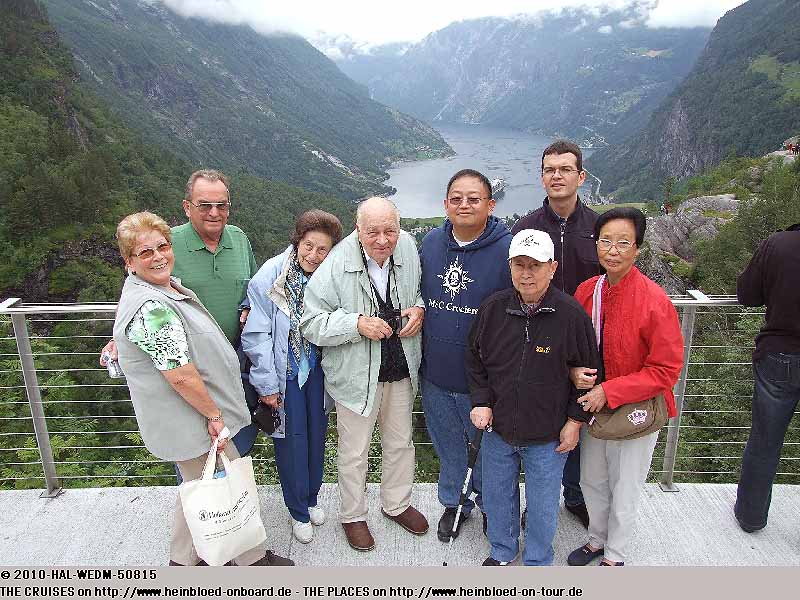 Never again, I would take my primary school teacher, Mrs. Pannen, her husband and our parents with me on a cruise. Back then, on WESTERDAM 2010 in the Norwegian fjords: my primary school teacher thought that she had to contribute something to the table conversation. She told stories to my parents; they did not know before. THAT WAS EMBARASSARING AND UNCOMFORTABLE! NEVER AGAIN! And later the discussions with my parents after 40 years! Mr. Pannen wanted to see the Norwegian fjords once in his life - despite his mobility restrictions. With Holland America, it was possible. It would be too exhausting with Norwegian Coastal Line Hurtigruten. Even at the beginning of the cruise, if it looked more like that, the project was doomed to failure because the rented wheelchair could not be found. The rest became history. After Mr. Pannen later died, the priest came to me after the funeral and told me how significant this travel was for Mr. Pannen. He absorbed off the memories of this voyage for a long time. The wreath was ordered in the colors of Holland America. The cruises were like an energy boost for each of us and simply gave us the strength to survive the days in everyday life until the next journey. And Holland America surely gave us (at the moment) a little more and different, maybe even better energy than some others.

Ms. Pannen got this globe as a small excuse for the fiasco at the beginning of the cruise. When she passed away, I was asked if there were any of the personal belongings that I would like to take. Then I asked for this globe, which she received as a present on WESTERDAM 2010. In one thing, however, Holland America is still unchanged: what they are doing well, they are doing exceptionally well. What they are doing wrong, unfortunately, they are doing extremely bad. They are not used to doing something terrible and act a little helpless in such situations. But somehow you will forgive everything at the end and will sail with them again.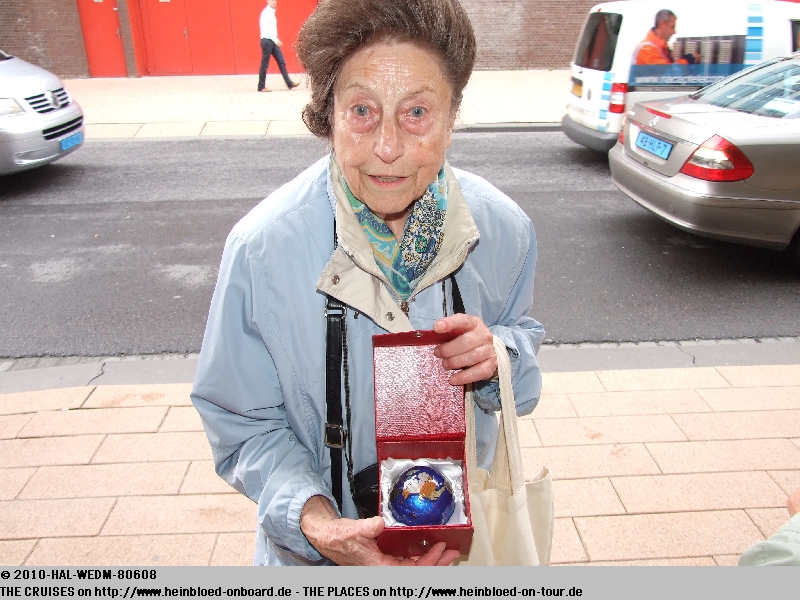 Frau Pannen bekam damals als kleine Entschuldigung für das Fiasko am Anfang der Reise diese Weltkugel. Als sie verstarb, wurde ich gefragt, ob es etwas von den persönlichen Sachen gibt, die ich gerne an mich nehmen würde. Ich habe dann um diese Kugel gebeten, die sie auf der
WESTERDAM 2010
geschenkt bekommen hat. In einem ist jedoch Holland America unverändert: was sie gut machen, machen sie extrem gut. Was sie allerdings schlecht machen, machen sie leider auch extrem schlecht. Sie sind es nicht gewohnt etwas schlecht zu machen und agieren dann ein wenig hilflos in solchen Situationen. Aber irgendwie verzeiht man am Schluss denen doch alles und fährt wieder mit denen.
Kapitän Kim Karlsson hatte damals auf der
NORWEGIAN JADE 2011 (1)
mitbekommen, dass ich von meinen Reisen blogge und mich auf die Brücke eingeladen. Ein Höhepunkt für mich und meinen Blog. Eine Anerkennung dafür, dass ich auch immer die Crew-Mitglieder ohne Rang im Blog niemals zu kurz kommen und immer auch Erwähnung finden. Unsere Mitreisenden Käthe und Karl-Heinz durften auch mit. Wir sind Kapitän Kim noch auf weieren Reisen begegnet. Ein toller Kapitän zum Anfassen, und der mich immer als Freund der NCL behandelt hat. Seinetwegen gibt man doch NCL wieder und wieder eine Chance. Egal, wie man sich gerade wieder über NCL ärgert. Zuletzt in Südamerika auf der
NORWEGIAN SUN 2019
. Von seiner Sorte haben wir auf den 100 Reisen nur sehr wenige kennengelernt. Aber auch solche tollen Crew-Mitglieder haben wir bei HAL auch kennengelernt. Sie finden sich alle in meinen guten Erinnerungen meiner Reisen im Holland-America-Blogs wieder.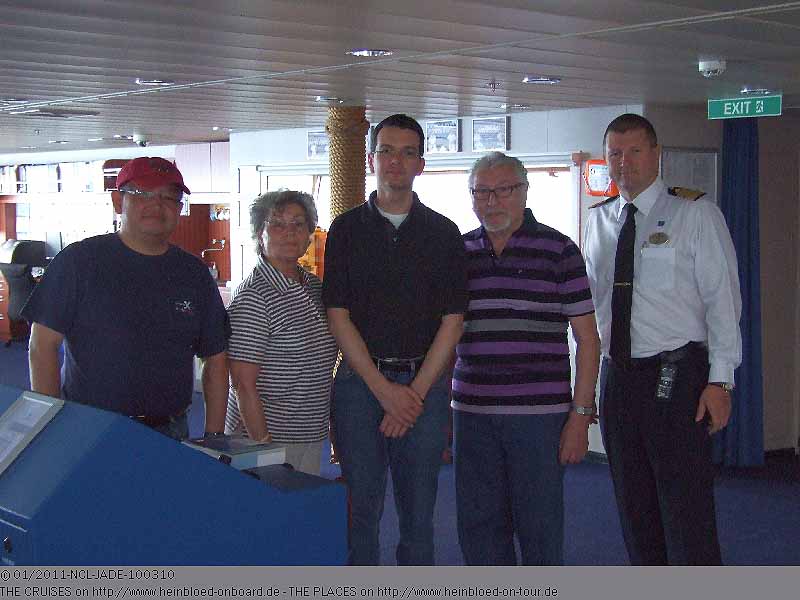 At that time, Captain Kim Karlsson noticed on NORWEGIAN JADE 2011 (1) that I was blogging from my travels and invited me to the bridge. A highlight for me and my blog. A recognition that I never neglect the crew members without rank in the blog, and they are always mentioned. Käthe and Karl-Heinz, our fellow-cruisers, were also allowed to join. We met Captain Kim on some more sailings. A great captain to touch and who always treated me as a friend of the NCL. Because of him, you give NCL another chance again and again. No matter how annoyed you are about NCL. Most recently, in South America on NORWEGIAN SUN 2019. We got to know only a very few of its variety on the 100 trips. But we also got to know such great crew members with HAL. You can find them all in my good memories of my travels in the Holland America blogs.

A cruise to paradise with the CARNIVAL SPIRIT 2011: Hawai'i! Overnight on Maui and the chance to experience the sunrise on Haleakalā. Unforgettable.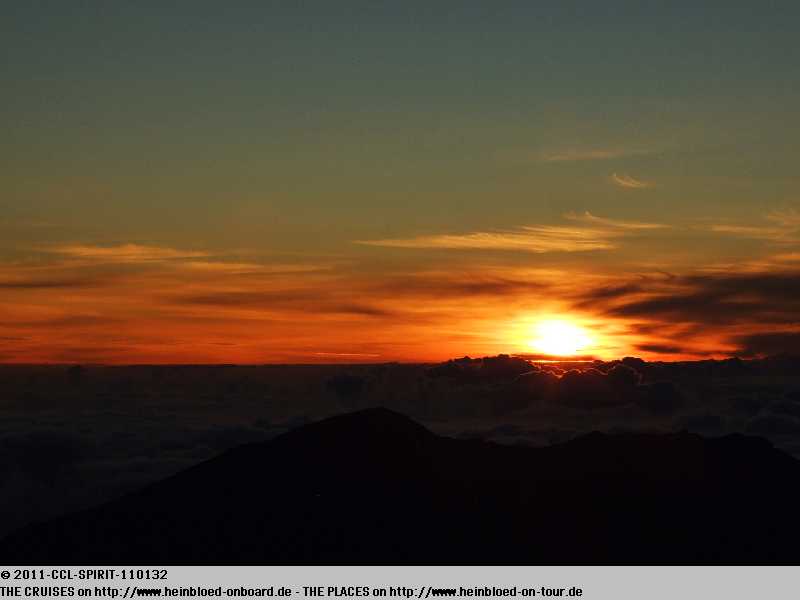 Eine Kreuzfahrt ins Paradies mit der
CARNIVAL SPIRIT 2011
: Hawai'i! Übernacht auf Maui und die Chance den Sonnenaufgang auf dem Haleakalā zu erleben. Unvergesslich.
Ein Dinner gemeinsam mit Hoteldirektor Armando auf der
NORWEGIAN JADE 2011 (2)
. Er war begeistert, dass wir uns noch die Mühe machen, unsere Eltern mit in Urlaub zu nehmen. Für ihn war die Familie das wichtigste. Jeder Wunsch, den wir hatten, damit die Reise etwas ganz besonderes für unsere Eltern wird, wurde an Bord erfüllt. Unvergessen: er zwischen unseren Müttern und die Blicke unserer Väter.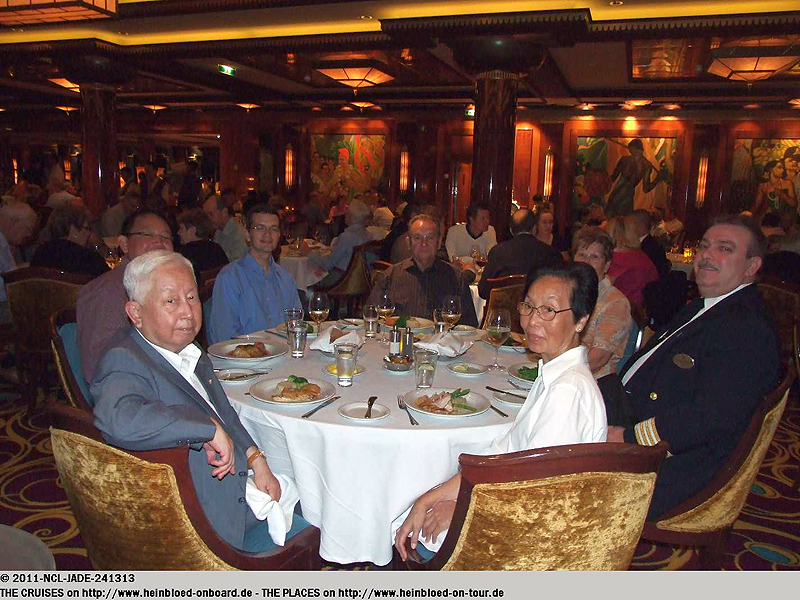 A dinner with Hotel Manager Armando on NORWEGIAN JADE 2011 (2). He was thrilled that we were still trying to take our parents on vacation. The family was the most important thing for him. Every wish we had to make the trip something extraordinary for our parents was fulfilled on board. Unforgettable: him between our mothers and how our fathers looked.

On ZAANDAM 2012 we celebrated my parents' wedding day in Sanya, Hainan, China under the tree of lovers. My mother's birthday and mine were celebrated on board. We were always impressed by the warmth of the crew because they made these special days unforgettable. We should sail originally from Hong Kong, China to Kobe, Japan, but Japan was completely removed from the itineraries of all cruise lines due to the Fukushima accident. It was a shame that we, therefore, could not get to my father's home in Northern China and could not spend the wedding anniversary day there, but the main thing was that we could spend it together.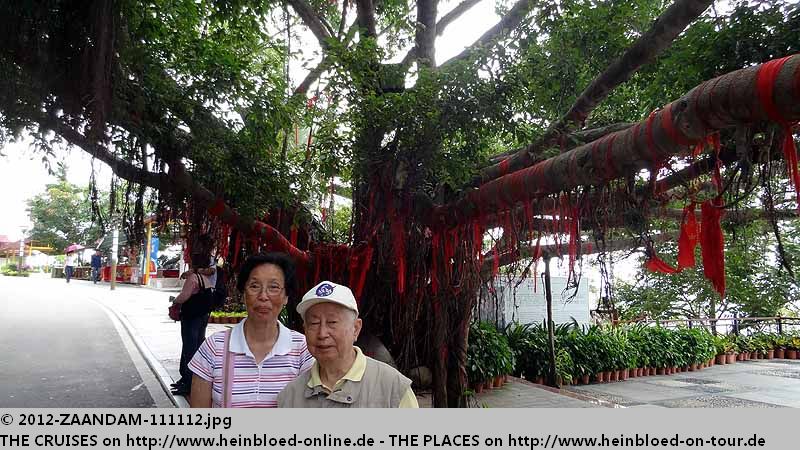 Auf der
ZAANDAM 2012
haben wir den Hochzeitstag meiner Eltern in Sanya, Hainan, China unter dem Baum der Liebenden gefeiert. An Bord wurde noch der Geburtstag meiner Mutter und von mir gefeiert. Die Herzlichkeit der Crew hat uns hier immer begeistert, weil sie diese besonderen Tage unvergesslich gestaltet haben. Eigentlich hätten wir ursprünglich von Hongkong nach Kobe fahren sollen, aber Japan wurde aufgrund von dem Unglück in Fukushima komplett aus der Karte aller Kreuzfahrtgesellschaften gestrichen. Schade, dass wir daher nicht in die Heimat meines Vaters in Nordchina gekommen sind und dort den Hochzeitstag verbringen konnten, aber Hauptsache, wir konnten ihn gemeinsam verbringen.
Meine 50. Kreuzfahrt auf unserem allerersten Schiff LILI MARLEEN. Sie heißt jetzt
OCEAN COUNTESS 2012
. Bruno fand, dass es keine gute Idee war. Selbst der Weissrost im Kleiderschrank, der schiefe Knopf der WC-Spülung und die hässliche Überdecke waren immer noch in unserer Kabine wie damals auf der
LILI MARLEEN 2006
. Sie wäre meine erste Wahl für die 100. Kreuzfahrt gewesen, aber 2013 brach jedoch ein Feuer aus und sie wurde 2014 verschrottet. Sie war übrigens ein ehemaliges Cunard-Schiff: CUNARD COUNTESS.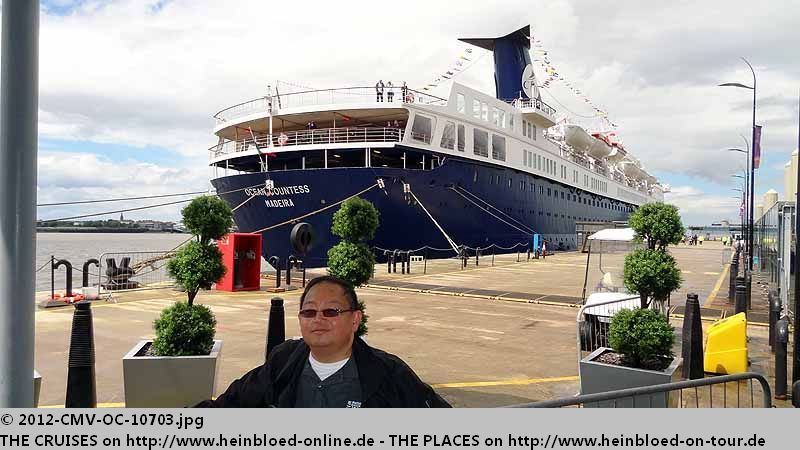 My 50th cruise was on our very first ship LILI MARLEEN. It was now named OCEAN COUNTESS 2012. Bruno thought it was not a good idea. Even the white rust in the closet, the crooked button of the toilet flush, and the ugly blanket were still there as in our cabin on LILI MARLEEN 2006. It would be my first choice for the 100th cruise, but in 2013 a fire broke, and she was scrapped in 2014. Incidentally, she was a former Cunard ship: CUNARD COUNTESS.

Very impressive: Alaska on ISLAND PRINCESS 2013 - our first cruise tour. In the future, only the land tour first and then going on the sea. Something that we must see again soon before global warming may no longer allow it in a few years. The experience of seeing and hearing a glacier calving and the total silence on Mount Denali: an unforgettable and addictive experience. Unfortunately, Alaska is on the other side of the world. Otherwise, we would definitely be here more often. At some point, we also have to make the comparison: is the mother better - or the daughter?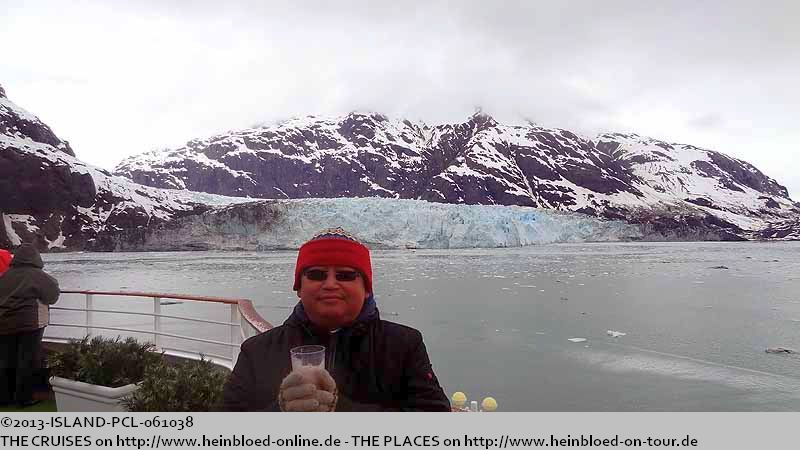 Sehr beeindruckend: Alaska auf der
ISLAND PRINCESS 2013
- unsere erste Cruise Tour. In Zukunft nur noch noch erst Land und dann See. Etwas, das wir bald wiedersehen müssen, bevor die globale Erderwärmung das vielleicht in einigen Jahren nicht mehr zulässt. Das Erlebnis ein Gletscher kalben zu sehen und zu hören und die totale Stille auf dem Denali: ein unvergessliches Erlebnis das süchtig macht. Leider ist Alaska am anderen Ende der Welt. Sonst wären wir bestimmt schon öfters hier. Irgendwann müssen wir auch den Vergleich machen: ist die Mutter besser - oder die Tochter?
Auf der
RYNDAM 2013
haben wir die Vorzüge einer Suite auf einem kleinen Schiff genossen. Das mussten wir den Passagieren der NAVIGATOR OF THE SEAS gegenüber am Pier zeigen. Wir haben die
RYNDAM 2013
geliebt. Nicht nur wegen der Suite und der Neptune Lounge.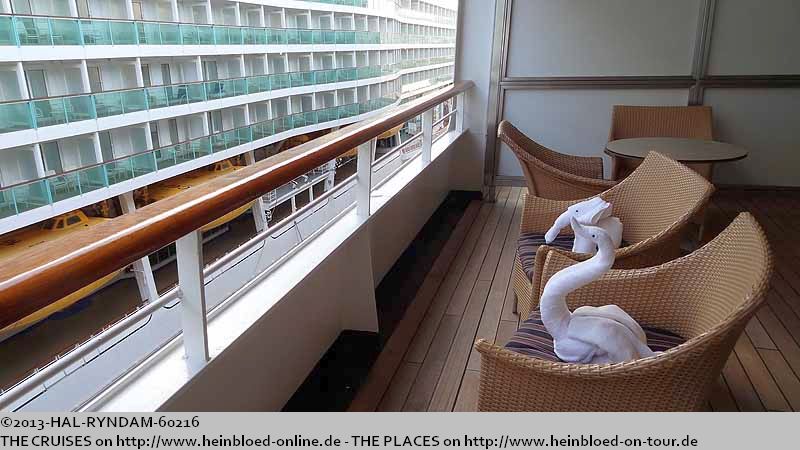 On RYNDAM 2013, we enjoyed the advantages of a suite on a small ship. We had to show this to the passengers of NAVIGATOR OF THE SEAS opposite at the pier. We loved RYNDAM 2013. Not just because of the suite and the Neptune Lounge.

July 25, 1956: Collision in the North Atlantic of STOCKHOLM with ANDREA DORIA. The ANDREA DORIA sank. STOCKHOLM, built-in 1948, still sails today as VÖLKERFREUNDSCHAFT, VOLKER, FRIDTJOF NANSEN, SURRIENTO, ITALIA I, ITALIA PRIMA, VALTUR PRIMA, CARIBE, ATHENA. We got to know them as AZORES 2014. Today she is still sailing as ASTORIA. True cruise history.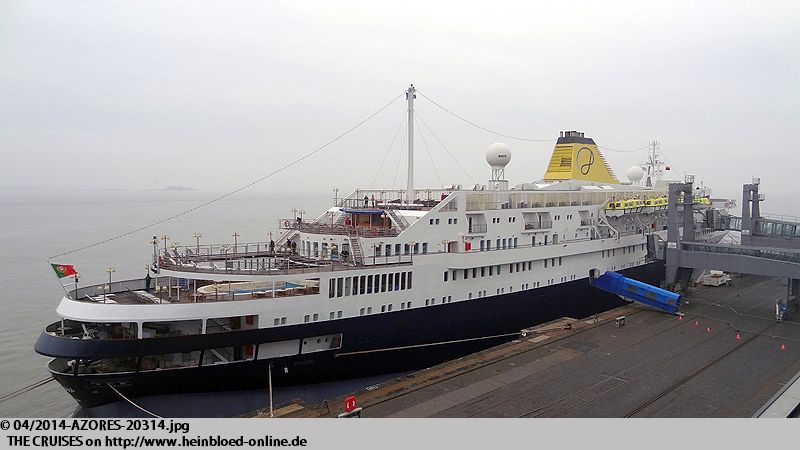 25.07.1956: Kollision im Nordatlantik der STOCKHOLM mit der ANDREA DORIA. Die ANDREA DORIA sinkt. Die 1948 gebaute STOCKHOLM fährt noch bis heute als VÖLKERFREUNDSCHAFT, VOLKER, FRIDTJOF NANSEN, SURRIENTO, ITALIA I, ITALIA PRIMA, VALTUR PRIMA, CARIBE, ATHENA. Wir lernten sie als
AZORES 2014
kennen. Heute fährt sie immer noch als ASTORIA. Echte Kreuzfahrtgeschichte.
Bestimmt die wichtigste Kreuzfahrt meines Lebens:
CELEBRITY MILLENNIUM 2014
, damit mein Vater seinen Enkelkindern die Stätten seiner Kindheit zeigen kann. Meine Schwestern und deren Familien waren mit dabei und sogar die Mutter meines Schwagers: Familie ist Familie.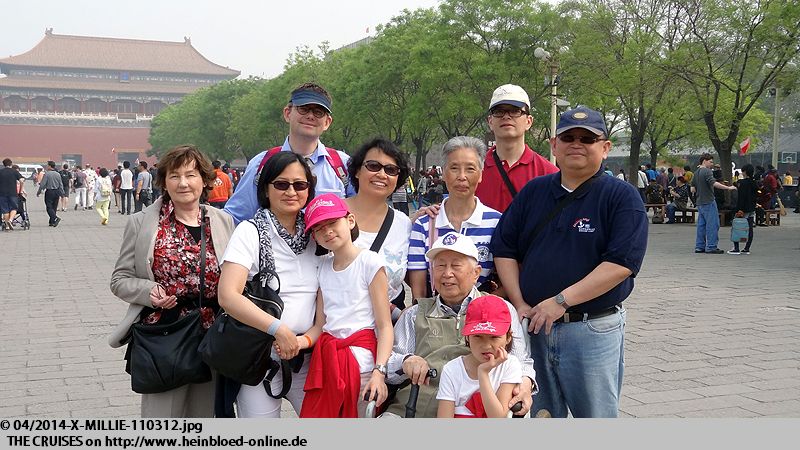 Definitely the most crucial cruise of my life: CELEBRITY MILLENNIUM 2014, so that my father could show his grandchildren the places of his childhood. My sisters and their families were there too, and even my brother-in-law's mother: family is family.

Until the inauguration of EUROPA 2, EUROPA was the best ship in the world, according to Douglas Ward. Once in a lifetime: one night on EUROPA 2014. We did not fit to other passengers, and we did not need a waiter who ran after us and offered us to cut a roll. Yes - but once in a lifetime.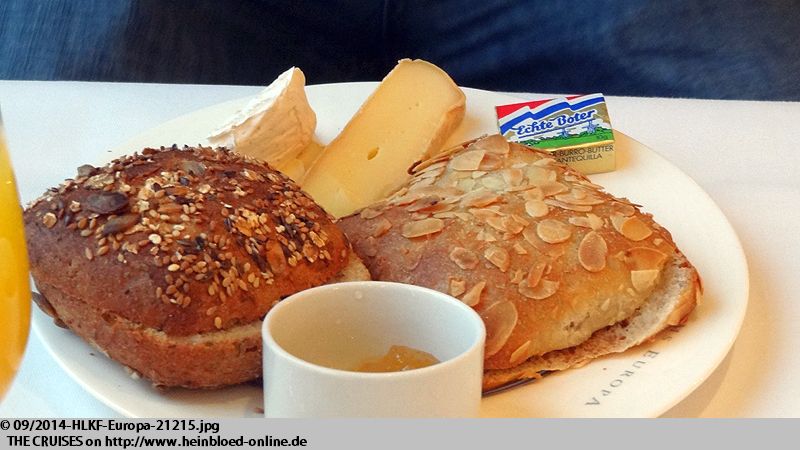 Bis zur Indienststellung der EUROPA 2, war die EUROPA lt.
Douglas Ward
das beste Schiff der Welt. Einmal im Leben: eine Nacht auf der
EUROPA 2014
. Wir passten nicht zu den anderen Passagieren und auch brauchten wir keinen Kellner, der hinter uns herläuft, und uns anbietet ein Brötchen aufzuschneiden. Ja - einmal im Leben eben.
Das Pech der Norwegian ist das Glück der Holland America. Es gibt nur wenige Crew-Mitglieder, mit denen man sich so gut versteht, dass man als Gast zum privaten Mittagessen mit der Familie an Land eingeladen wird. Wir haben Glück auf der
NORWEGIAN JADE 2014 (2)
, dass wir Mahmut Atar seit vielen Jahren kennen. Damals bei NCL Assitant Maître D' und heute bei HAL Restaurant Manager. Ein sehr guter Botschafter, bei der jede Kreuzfahrtgesellschaft ihre Freude haben müsste. Würde er auf der TITANIC arbeiten: wir würden trotzdem dort buchen, nur um wieder mal sein Gast zu sein.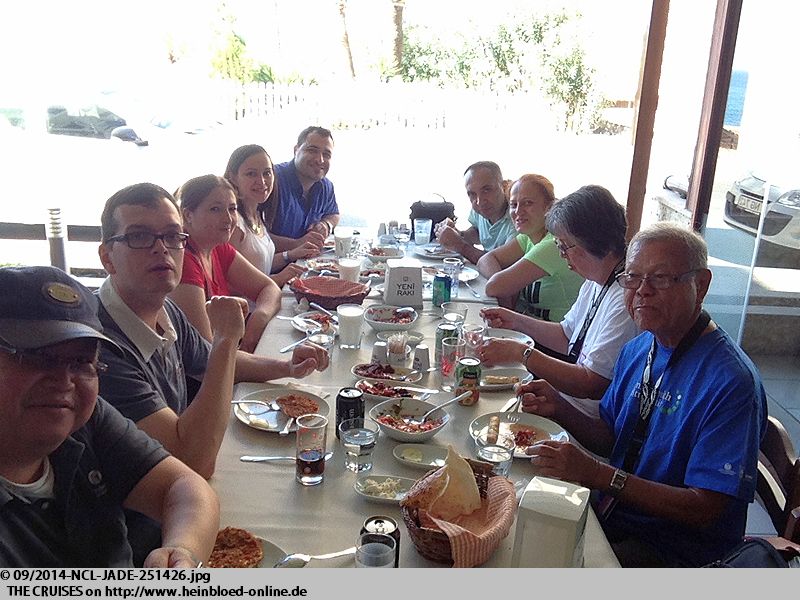 The bad luck of Norwegian is the luck of Holland America. There are only a few crew members with whom you get along so well that you were invited as a guest to a private lunch with the family ashore. We were lucky on NORWEGIAN JADE 2014 (2) that we knew Mahmut Atar for many years. Back then, with NCL Assistant Maître D', and now with HAL Restaurant Manager. An outstanding ambassador that every cruise line company should enjoy. Would he work at TITANIC: we would still book for the sailing, to be his guest again.

Brainwashing for everyone on DISNEY DREAM 2014. It became apparent that my father would soon no longer be able to take part in such kind of voyages. So I went out with my parents again for a month. We visited my aunt and cousins in the USA. Then you came with us on DISNEY DREAM 2014. I was surprised at how much attention we got. Even we had no kids with us. And in my age or in the age of my parents. The shows and the musicians too! You could feel that it was an entertainment company that employed high professionals in the field of show productions.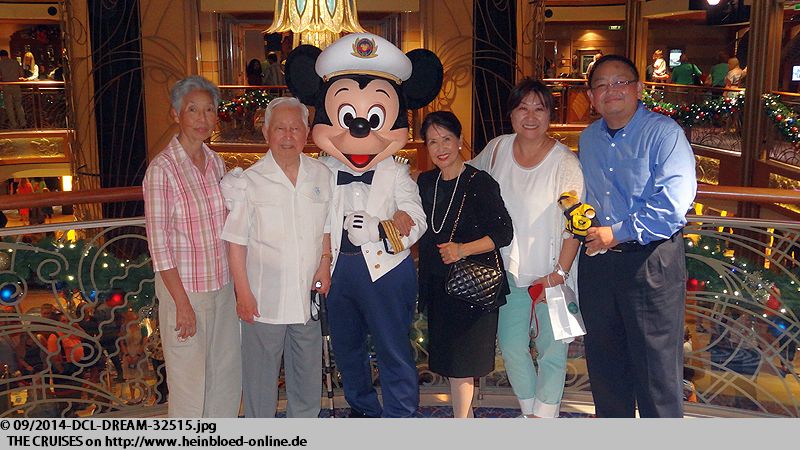 Gehirnwäsche für alle auf der
DISNEY DREAM 2014
. Es zeichnete sich ab, dass mein Vater bald nicht mehr an solchen Reisen teilnehmen kann. Daher bin ich mit meine Eltern nochmals einen Monat gemeinsam losgezogen und haben meine Tante und meine Cousinen in den USA besucht. Sie sind dann auf die DISNEY DREAM 2014 mitgekommen. Die Aufmerksamkeit, die es auch für Erwachsene in meinem Alter bzw. im Alter meiner Eltern gab und das ohne Kinder hat uns überrascht. Auch die Shows und die Musiker! Da merkt an, dass es ein Unterhaltungskonzern ist, der Hochprofis im Bereich der Showinszenierungen beschäftigt.
Hin ging es auf der Jungfernfahrt der
QUANTUM OF THE SEAS 2014
. Das hat aber meinem Vater nicht so gut gefallen, weil der Kapitän nur die Gäste beim Chef's Table begrüßt hat, die er schon persönlich kannte. Für uns anderen gab es nicht mal einen Guten Abend. Zurück ging es dann auf der
QUEEN MARY 2 2014
. Mein Vater war schwer begeistert vom Schiff und ihrem Kapitän Christoper Wells. Es gab für jeden Passagier ein paar freundliche Worte vom Kapitän. Leider war es dann auch die letzte Reise, die für ihn körperlich möglich war. Er denkt auch heute noch sehr gerne an die vielen gemeinsamen Reisen zurück. Er hatte auf dem Schiff so lange genörgelt, bis dass wir ihm das Schiffsmodell gekauft haben. Und an dem Anblick erfreut sich noch jetzt jeden Tag. Es kam dann zu Hause nach so vielen Jahren doch noch zur Ehekrise: mein Vater hatte meiner Mutter gesagt, dass er sich zu Hause den White Star Service wünscht, wie auf der
QUEEN MARY 2 2014
.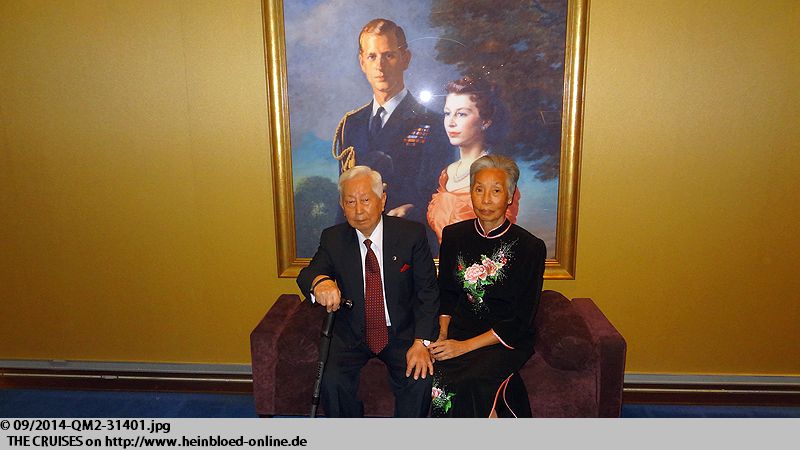 Outward, we went on the maiden voyage of QUANTUM OF THE SEAS 2014. But my father did not like that because the captain only welcomed the guests at the Chef's Table, who he already knew personally. There was not even a good evening for the rest of us. Then we went back on QUEEN MARY 2 2014. My father was very enthusiastic about the ship and her captain Christoper Wells. There were a few kind words from the captain for each passenger. Unfortunately, it was the last trip that was physically possible for him. Even today, he still likes to think back on the many journeys together. He had nagged on the ship until we bought the ship model for him. And the sight he is still enjoying every day. Then after so many years, there was still the marriage crisis at home: my father told my mother that he wanted the White Star service at home, as on QUEEN MARY 2 2014.

Unforgettable on EURODAM 2014: we were the only ones at the cruisecritic.com Meet & Greet, and all senior officers, including the captain, were there. It was embarrassing, and I still was not banned from Holland America. Here we also got to know Hotel Manager Don Habets, whom we later met again on KONINGSDAM 2016. It was a shame that he was not already our hotel director on WESTERDAM 2010 - then it would probably have been different. But then I would not have Mrs. Pannen's globe either.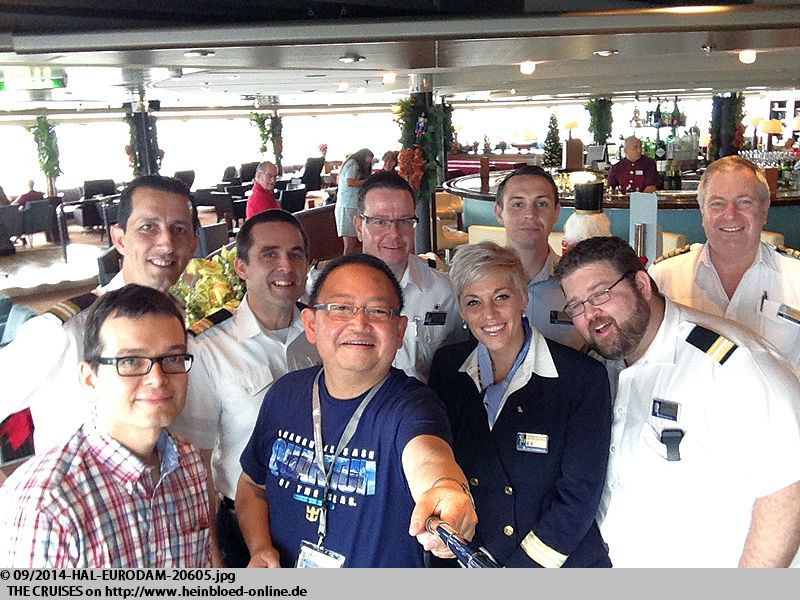 Unvergessen auf der
EURODAM 2014
: wir waren die einzigen beim
cruisecritic.com-Meet & Greet
und alle Senioroffiziere inkl. Kapitän waren da. Es war peinlich und ich habe trotzdem kein Hausverbot bei Holland America bekommen. Hier haben wir auch Hoteldirektor Don Habets kennengelernt, dem wir später auf der
KONINGSDAM 2016
wieder begegnet sind. Schade, dass er nicht schon unser Hoteldirektor damals auf der
WESTERDAM 2010
war - dann wäre es vermutlich anders gelaufen. Aber dann hätte ich heute auch nicht die Weltkugel von Frau Pannen.
Auf der
DISNEY DREAM 2015
habe ich dann meine 75. Kreuzfahrt gefeiert. Es war wenige Monate so gut: ich musste nochmals hin! Es ist einfach eine andere Welt. Interessant war dann auch der Vergleich Half Moon Cay und Castaway Cay. Auf beiden Inseln läuft man, als ob man auf Puderzucker laufen würde.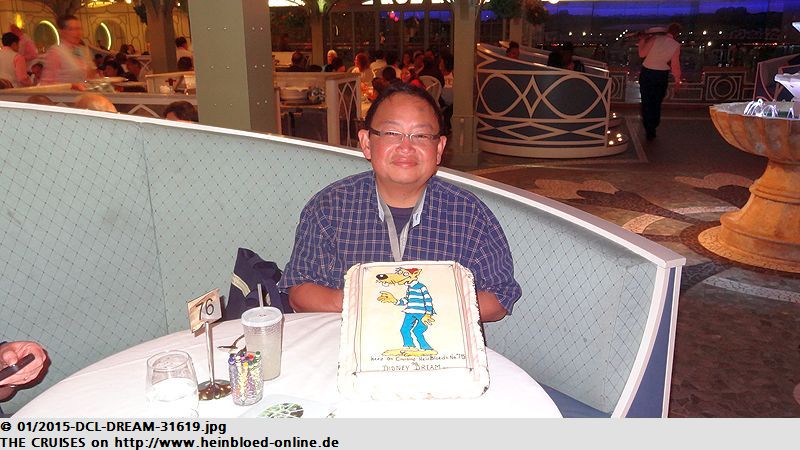 Then, I celebrated my 75th cruise on DISNEY DREAM 2015. It was so good for a few months: I had to go again! It was just a different world. The comparison between the Half Moon Cay and the Castaway Cay was also interesting. On both islands, you walked as if you were walking on powdered sugar.

I celebrated my 50th birthday on BRITANNIA 2016. In Le Havre, France, while my family supposed to wait for me in Zeebrugge, Belgium. The terrorist attacks in Brussels, Belgium, prevented the arrival in Belgian ports.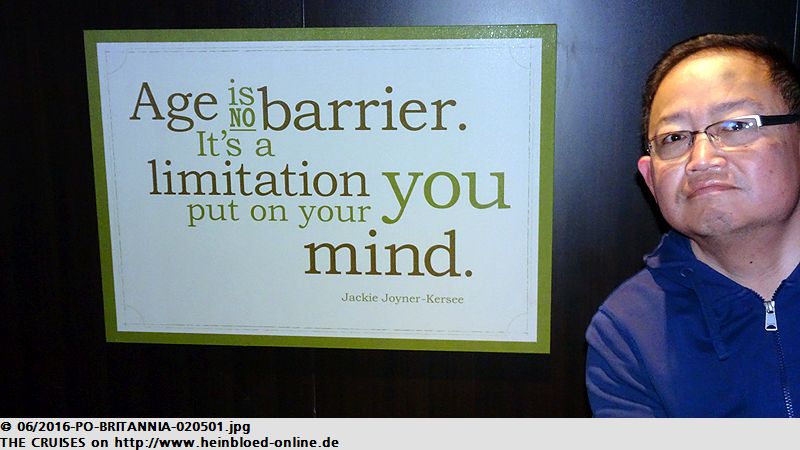 Meinen 50. Geburtstag habe ich auf der
BRITANNIA 2016
gefeiert. In Le Havre während meine Familie in Zeebrugge auf mich warten sollte. Die Terroranschläge von Brüssel ließen eine Anfahrt von belgischen Häfen nicht zu.
Die preiswerteste Kreuzfahrt:
DIAMOND PRINCESS 2016
von Singapur nach Yokohama. Aufgrund eines Downgrade-Angebots sollten wir unsere Balkonkabine aufgeben und dafür konnten wir kostenlos in einer Innenkabine mitfahren. Seitdem warten wir jeden Tag darauf, dass
Dorothy von CruiseBrothers
wieder bei uns anruft und uns wieder so ein Angebot macht. Seit dem buchen wir mindestens eine Außenkabine, damit ein Downgrade möglich ist. Unsere Mitfahrer hatten ja eine Innenkabine. Ein Downgrade in eine Crewkabine war ja nicht möglich.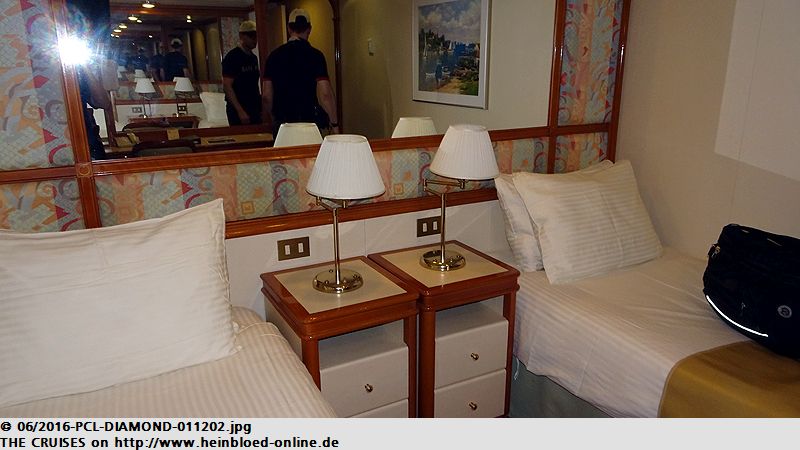 The cheapest cruise: DIAMOND PRINCESS 2016 from Singapore to Yokohama, Japan. Due to a downgrade offer, we should give up our balcony cabin, and we could go in an inside cabin for free. Since then, we are waiting every day for Dorothy from CruiseBrothers to call us again and make us another offer. Since then, we are booking at least an oceanview cabin so that a downgrade would be possible. Our fellow-cruisers had an inside cabin. A change down to a crew cabin was not possible.

The tastiest lobster on the high seas in the Tamarind on KONINGSDAM 2016. The ship itself was much too big for us after our voyage on RYNDAM 2013. We did not like the main dining room: it was the corporate yellow color of the German Post, and we always thought that we would eat in a branch of a German Post Office. Nevertheless, it was a great journey again in the end, thanks to an unforgettable crew. Because of the staff, we originally booked the transatlantic on NIEUW STATENDAM. But when this trip was offered on MY VEENDAM, we had to rebook immediately.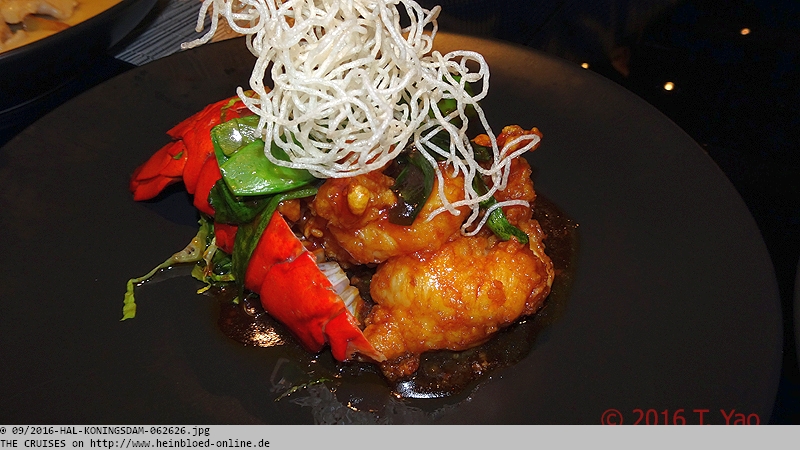 Der leckerste Hummer auf hoher See im Tamarind auf der
KONINGSDAM 2016
. Das Schiff selbst ist uns nach der
RYNDAM 2013
-Reise viel zu groß. Wir mochten das Hauptrestaurant ja nicht: es war in postgelb und wir dachten immer, dass wir in einer Filiale der Postbank essen würden. Trotzdem war es am Schluss wieder eine tolle Reise, dank einer unvergesslichen Crew. Wegen der Crew haben wir ursprünglich die Transatlantik der NIEUW STATENDAM gebucht. Aber als dann diese Reise auf MEINER VEENDAM angeboten wurde, mussten wir sofort umbuchen.
Den 50. Geburtstag von Bruno feierten wir auf der
QUEEN MARY 2 2018
. Dank Maître D' Attila und Patisserie Chef Roen, die wir von vielen Fahrten mit Cunard kennen, ein unvergessliches Erlebnis, bei dem Brunos Eltern auch nochmals Teil haben konnten. Übrigens Brunos Statistik und meine driften etwas auseinander, weil ich zehn Reisen alleine unternommen habe.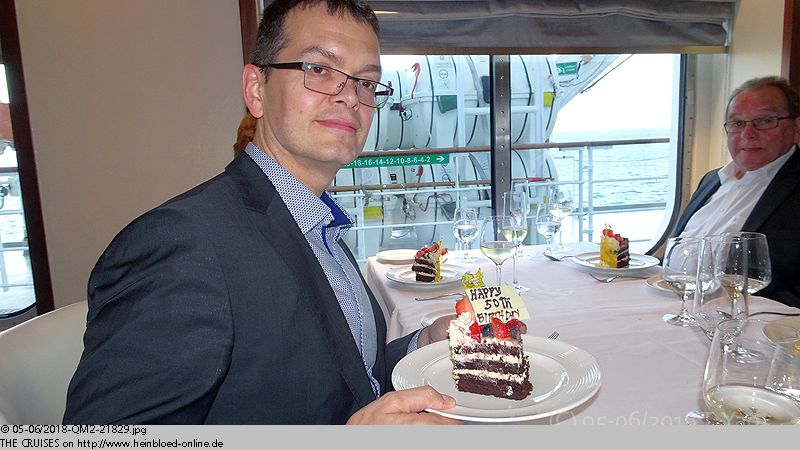 We celebrated the 50th birthday of Bruno on QUEEN MARY 2 2018. Thanks to Maître D 'Attila and Patisserie Chef Roen, who we knew from many voyages before on Cunard, it was an unforgettable experience in which Bruno's parents were able to retake part. By the way, Bruno's statistics and mine are drifting apart because I made ten sailings alone.

Another highlight was the waterfalls of Iguazu, Brazil/Argentina, and the penguins on the Falkland Islands at NORWEGIAN SUN 2019. Actually, we would have preferred to take ZAANDAM, which we also met in Montevideo, Uruguay. But in this season, there were only 3-week trips. We would need to do without Iguazu, Brazil/Argentina. So far, a short review of 100 x HeinBloed. All voyages with all highlights on land, on the ships, and the unforgettable crew members can be read here: HeinBloed online. Some are still not translated. But one day, when I am retired...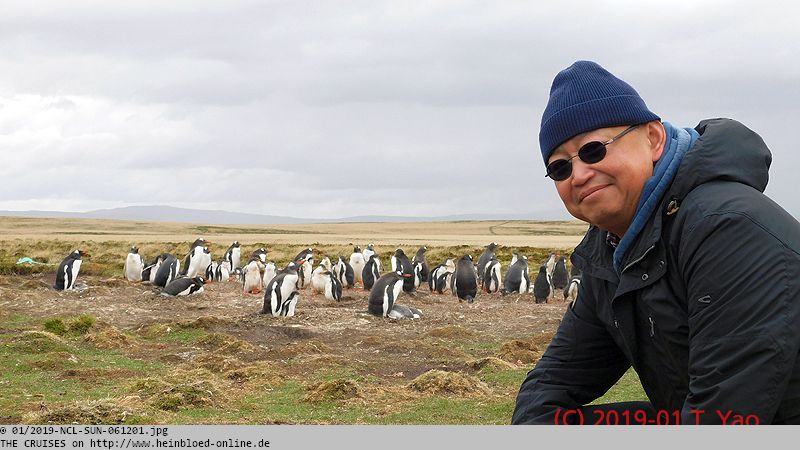 Ein weiterer Höhepunkt war neben den Wasserfällen von Iguazu noch die Pinguine auf den Falkland-Inseln auf der
NORWEGIAN SUN 2019
. Eigentlich wären wir lieber mit der ZAANDAM gefahren, die wir auch in Montevideo getroffen haben. Aber in der Saison gab es nur 3-wöchige Fahrten. Da hätten wir auf Iguazu verzichten müssen. Soweit ein kleiner Rückblick auf 100 x HeinBloed. Alle Reisen mit allen Höhepunkten an Land, auf den Schiffen und den unvergesslichen Crewmitgliedern kann man unter
HeinBloed online
nachlesen.
Die anderen Reisen in diesem Blog/
The other voyages in this blog: