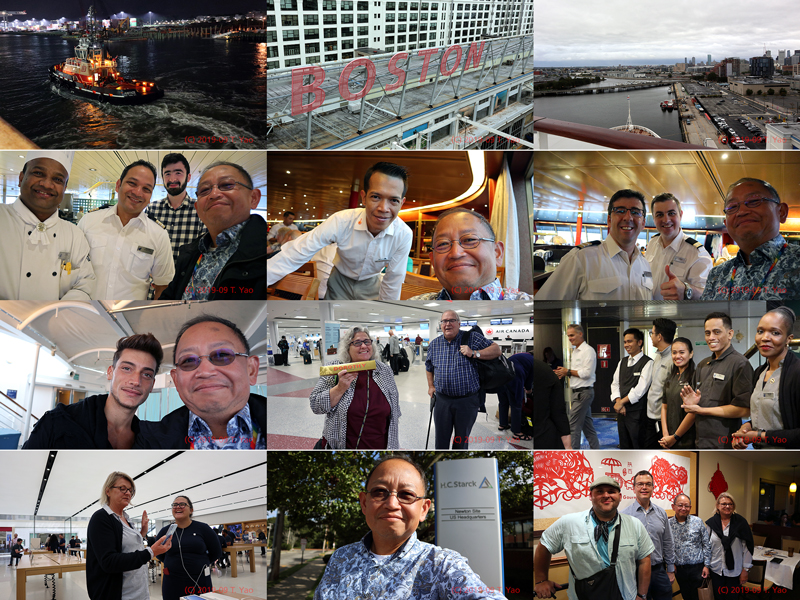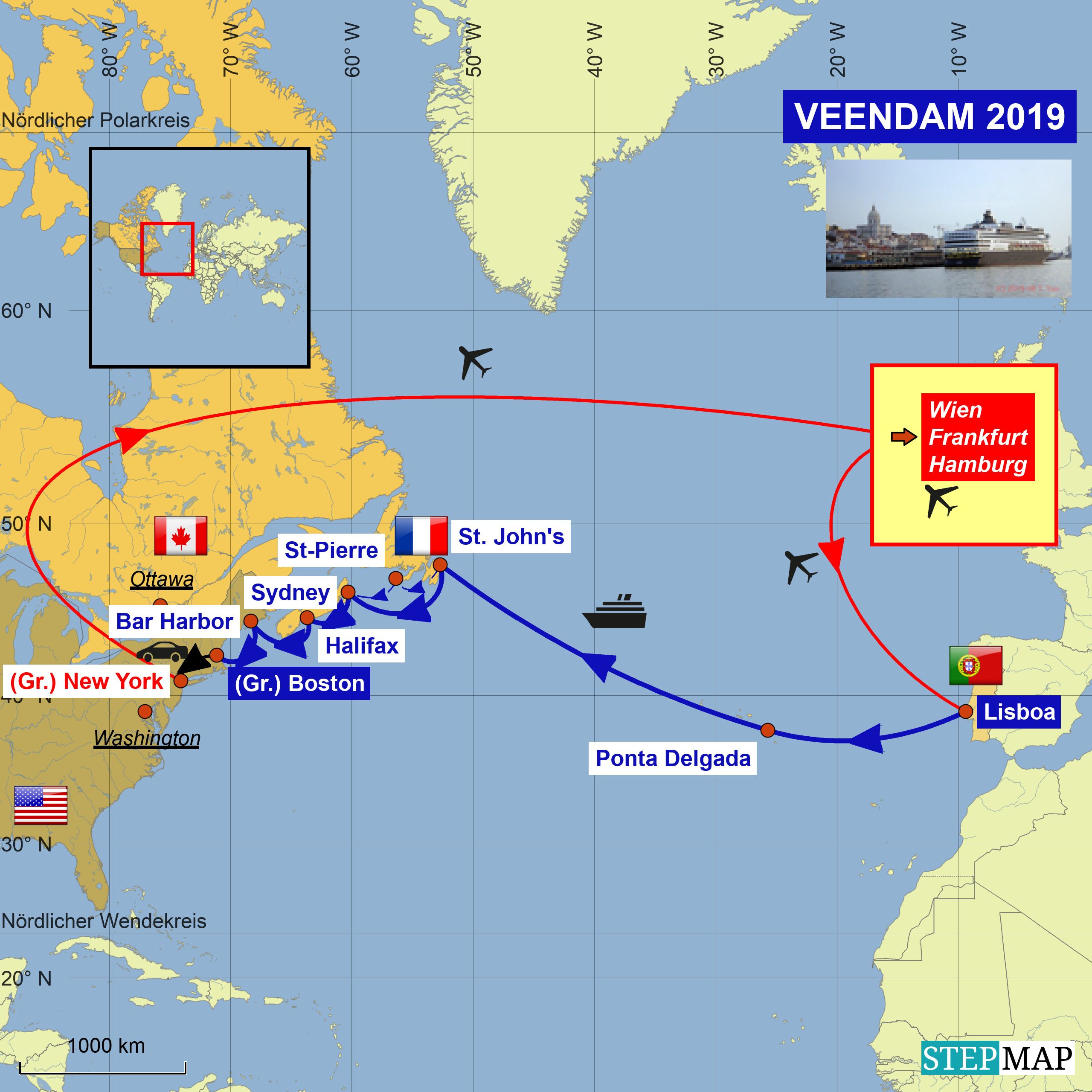 Gegen 02:00 Uhr kommen wir in Boston an.

Around 02:00 hrs, we arrived in Boston, MA.

It was the second time that we arrived here. The first time, we were on the farewell sailing of NORWEGIAN DREAM 2008. Here we saw the silhouette of Boston in the light.

Es ist das zweite Mal, dass wir hier einlaufen. Das erste Mal damals auf der Abschiedsreise der
NORWEGIAN DREAM 2008
. Hier sahen wir im Hellen die Silhouette von Boston.
Im Hafen liegt noch die CARIBBEAN PRINCESS, die auf das Auslaufen verzichtet hat und das Ende der Schlechtwetterfront abwartet. Die GRANDEUR OF THE SEAS wurde umgeleitet, so dass das auch die einzige Schiffsbegegnung in Boston ist und später auch die letzte der Reise bleibt.

The CARIBBEAN PRINCESS was still in port and refrained from setting sail and awaited here the end of the bad weather front. The GRANDEUR OF THE SEAS was rerouted, making this the only ship encounter in Boston, MA, and later the last of the entire voyage.

One last round on MY VEENDAM. One of the dancers stood out on stage due to his pronounced posture. There was always a little bit more perfection than the others. We suspected that he had a classical ballet training, which he also confirmed in the conversation. Unfortunately, his picture with the name tag was even gone. So far, we remembered the correct name: Antonio. Too bad. It was enjoyable to watch him dance. A final picture with Senior Sous Chef Guru, Beverage Manager Gregory and Photographer Aaron.

Eine letzte Runde über MEINE VEENDAM. Einer der Tänzer fiel auf der Bühne durch seine ausgeprägte Körperhaltung auf. Da war immer das bisschen mehr Perfektion als bei den anderen. Wir vermuten, dass er eine klassische Ballettausbildung hatte, die er im Gespräch auch bestätigt. Leider ist auch sein Bild mit dem Namensschild weg. Wenn wir uns richtig erinnern: Antonio. Schade. Hat wirklich Spaß gemacht, ihm beim tanzen zuzusehen. Ein letztes Bild nochmals mit Senior Sous Chef Guru, Beverage Manager Gregory und Fotograf Aaron.
Wir gehen noch einmal zum Frühstück. Man merkt schon: sie haben unterwegs nichts mehr zugekauft und das Schiff ist zu klein für die Menge, die man für so eine lange Reise bräuchte. Man hat es immer am Ausgang des Hauptrestaurants bemerkt, weil irgendwann nur noch drei von sechs Schalen mit Ingwer, Minze oder ähnliches zur Verfügung standen. Und jetzt gibt es auch keinen "normalen" Philadelphia Frischkäse mehr, sondern nur noch den mit Gemüse. Aber meine Pittahaya gibt es für mich bis zum letzten Tag. Ich genieße meinen Blueberry Muffin von gestern vom
Sunrise Café
aus Bar Harbor. Noch ein letztes Bild mit unserem letzten Kellner, aber auch hier ist das Namensschild leider weg. Ich bedanke mich nochmals bei Teilen der "türkischen Gang" bei Holland America: Bahadir und Koray. Sie mal alle auf einem Schiff zu erleben: dort läuft es dann bestimmt ab, wie auf einer Reise in 1.001 Nacht.

We went for breakfast a last time. You could feel: they did not purchase anything else en route, and the ship was too small for the quantities you would need for such a long trip. You always noticed it at the exit of the Main Dining Room because, at some point, only three out of six bowls of ginger, mint, or the like were available. And now there was no "regular" Philadelphia cream cheese anymore, only the one with vegetables. But my dragon fruits existed for me until the last day. I was enjoying my Blueberry Muffin from yesterday from Sunrise Café in Bar Harbor, ME. One last picture with our last waiter, but here too, the name tag disappeared, unfortunately. Thanks again to parts of the "Turkish gang" with Holland America: Bahadir and Koray. To experience them all on one ship: it will definitely be there, like on a journey in 1,001 nights.

The last time, we arrived here, was eleven years ago: we could notice a lot of changes.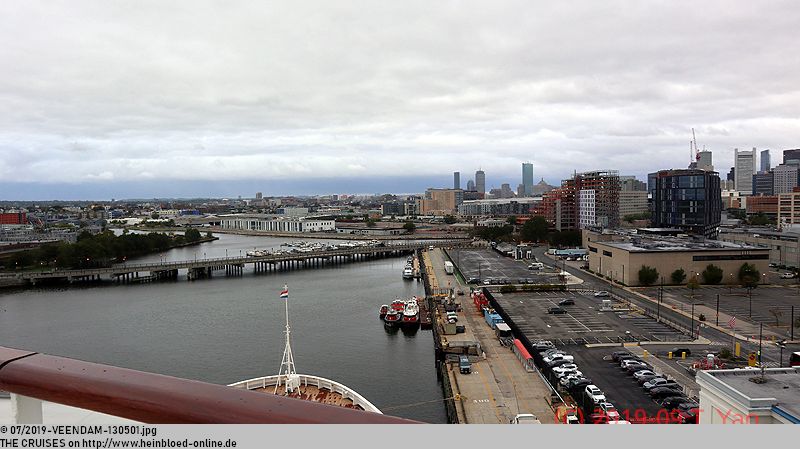 Wir waren zuletzt vor elf Jahren hier: es hat sich einiges verändert.
Früher hieß es noch Black Falcon Cruise Terminal. Heute heißt es
Flynn Cruiseport
.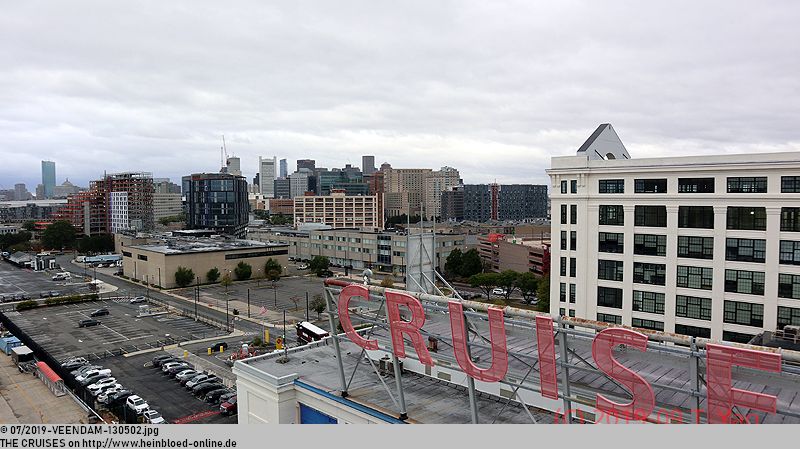 Before, it was called the Black Falcon Cruise Terminal. How it was Flynn Cruiseport.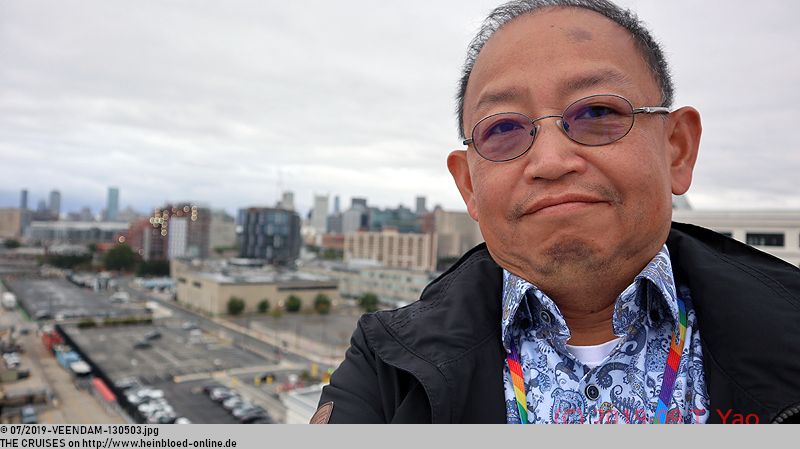 Wir warten auf unser Zeitfenster. Es läuft sehr gut. Pünktlich kommen wir von Bord. Im Abschiedskommittee erkennen wir noch Vladimir, unseren Weinsteward aus dem Canaletto. Von Kreuzfahrtdirektor Tommy bekomme ich nochmals eine Umarmung. Der Abschied fällt mir doch schwer. Auch wenn ich mich während der Reise, und vor allem am Anfang über den einen oder anderen Punkt sehr geärgert habe: insgesamt war die Reise aber trotzdem sehr schön. Und bald bleiben eh nur noch die guten Erinnerungen.

We were waiting for our time window. It was going very well. We left the ship on time. In the farewell committee, we recognized Vladimir, our wine steward from the Canaletto. I get another hug from Cruise Director Tommy. It was hard to say goodbye. Even though I was very annoyed during the trip, and especially at the beginning about one or the other point: overall, the trip was still very nice. And soon, there would only be good memories anyway.

Inside, everything was meanwhile modernized beautiful.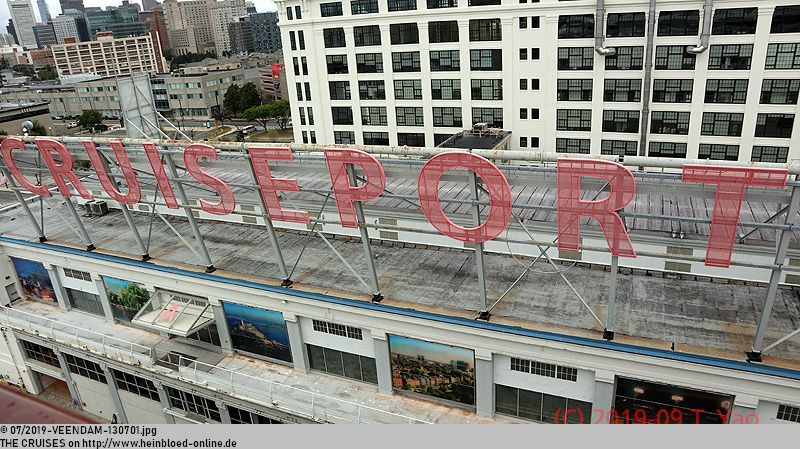 Drinnen ist alles sehr schön modernisiert worden.
Eine Zollkontrolle findet nicht mehr statt.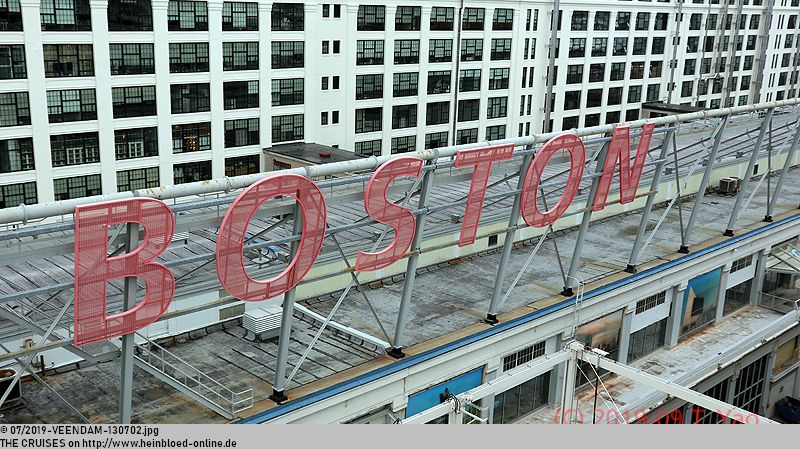 No more customs inspection was conducted.

Hard to recognize. When we embarked for NORWEGIAN DREAM 2008, I thought that the hall had not been modernized since the Boston Tea Party in 1773.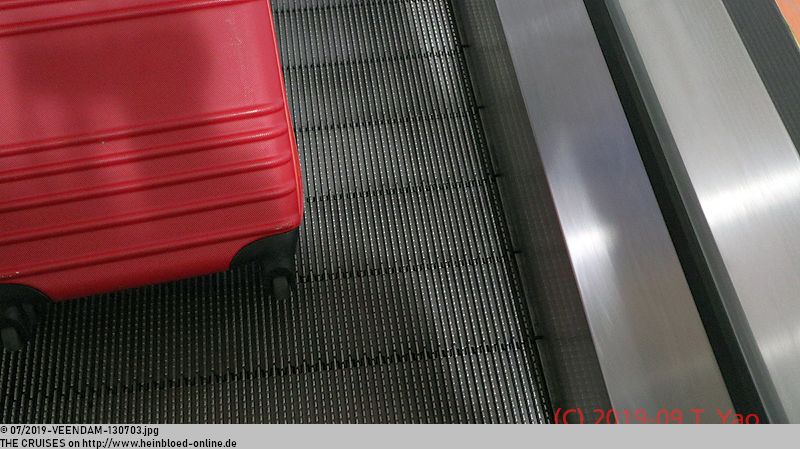 Kaum wiederzuerkennen. Als wir damals für die
NORWEGIAN DREAM 2008
eingeschifft haben, dachte ich ja, dass damals die Halle seit der Boston Tea Party 1773 nicht mehr modernisiert wurde.
Als wir nachfragen, an welchem Ort wir uns am besten mit dem
Uber
-Fahrer treffen, sagt man uns: wir sollen unserem Fahrer einfach die Nummer an der Decke nennen, an der wir warten. Das ist ein klasse System. So warten nicht alle am gleichen Punkt.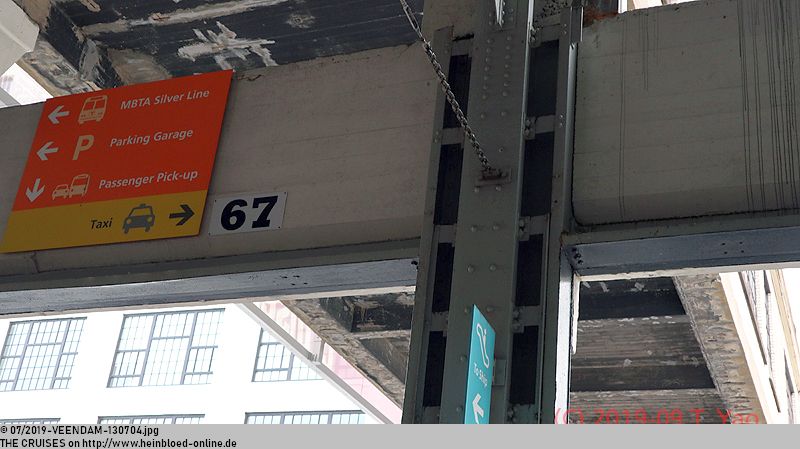 When we asked where we could meet the Uber driver, we were told: we should tell our driver the number on the ceiling we would wait for. It was a great system. So not everyone was waiting at the same point.

We were going to Logan airport. Here too, a lot was redone. We ordered a rental car from Alamo through the German automobilist club ADAC. Things went very well at the kiosk now. All rental car companies were now accommodated here in a car rental center with a parking garage. We could choose a car within the group, and we decided to take a Nissan that was large enough for the three of us. We kindly asked if we could leave the car here so that we could go to Terminal B for an hour.

Wir fahren zum
Flughafen Logan
. Auch hier ist einiges neugemacht. Wir haben über den
ADAC
einen Mietwagen bei
Alamo
bestellt. Es läuft jetzt auch am Kiosk sehr gut. Alle Mietwagengesellschaften sind jetzt hier im
Mietwagenzentrum
mit einem Parkhaus untergebracht. Wir dürfen uns innerhalb der Gruppe einen Wagen aussuchen und wir suchen uns einen Nissan aus, der für uns drei reicht. Wir fragen freundlich nach, ob wir den Wagen hier stehen lassen dürfen, damit wir mal für eine Stunde zum Terminal B fahren dürfen.
Mit dem
Shuttlebus
fahren wir zum
Terminal B
. Öffentliche Verkehrsmittel am Flughafen in den USA ist immer etwas zwiespältig. Immer noch muss man mit dem
Shuttle
zur
blauen U-Bahn-Linie
und immer noch fahren die Busse der
silbernen Linie
zum Bahnhof South Boston. In den USA kenne ich kein System wie in
Hongkong
oder
Wien
, das ich vorbildlich finde: einen Check-In in der Stadt und ohne Gepäck zum Flughafen auf einer eigenen Linie fahren. In
Chicago O'Hare
,
San Francisco
und
Seattle/Tacoma
fahren reguläre U-Bahnen bis zum Flughafen, aber sie sind Teil des öffentlichen Nahverkehrs den man mit allen anderen Pendlern entlang der Route teilt. Oder eben auch eine Anbindung an den Fernverkehr wie in
Frankfurt
,
Wien
,
Zürich
,
Kopenhagen
,
Amsterdam
,
Paris Charles de Gaulle
in denen man praktisch oft vom Heimatort bis zum Flughafen fahren kann.

We took the shuttle bus to Terminal B. Public transportation at the airport in the United States was always a bit ambiguous. You still had to take the shuttle to the blue subway line, and the silver line buses were going for South Boston train station. In the US, I did not know of a system like in Hong Kong, China, or Vienna, Austria, that I found exemplary: checking-in in the city and traveling to the airport on your own line without luggage. In Chicago O'Hare, IL, San Francisco, CA, and Seattle/Tacoma, WA, regular subways were running to the airport. Still, they were part of public transportation that was shared with all other commuters along the route. Or also a connection to long-distance transport such as in Frankfurt, Germany, Vienna, Austria, Zurich, Switzerland, Copenhagen, Denmark, Amsterdam, The Netherlands, Paris Charles de Gaulle, France, in which you could simply get from your home place to the airport.

Arrival at Terminal B, which actually consisted of two wings. When I last time flew here on Air Canada, the Air Canada area was still a separate part of the terminal. It was very narrow, and there was hardly anything to buy behind the TSA security control. Air Canada was now integrated into the central check-in area.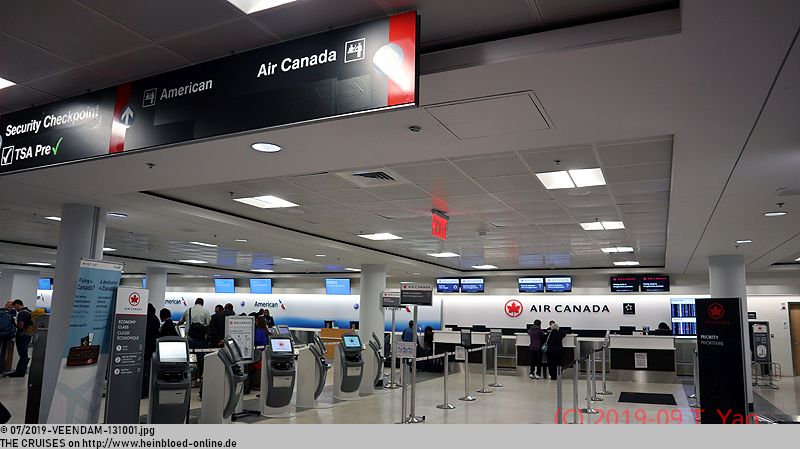 Ankunft am
Terminal B
, der eigentlich aus zwei Flügeln besteht. Als ich zuletzt mit Air Canada hier abgeflogen bin, war der Bereich von Air Canada noch ein unabhängiger Teil innerhalb des Terminals. Es war ganz furchtbar eng und es gab kaum etwas hinter der TSA-Sicherheitskontrolle zu kaufen. Jetzt ist Air Canada mit im zentralen Check-In-Bereich integriert.
Wir treffen hier auf viele Kreuzfahrer von der VEENDAM. Für wenig Geld hätten sie umbuchen und früher fliegen dürfen, aber sie bleiben lieber auf ihrem Koffer sitzen und warten. Sitzmöglichkeiten gibt es vor der TSA-Sicherheitskontrolle kaum. Im Teil von Air Canada und American gibt es auch vor der TSA-Sicherheitskontrolle keine Möglichkeiten einen Kaffee oder etwas zu essen zu kaufen. So müssen wir gegenüber der Vorfahrt zum Terminal-Teil von Southwest und United laufen und können dort bei
Dunkin Donuts
einen Kaffee kaufen.
Dunkin Donuts
hat sich stark verändert. Auch hier stehen jetzt überall Barista-Kaffeemaschinen und der Kaffee schmeckt besser als bei
Starbucks
. Im Gegensatz zu der Diskussion bei
Tim Hortons
in Kanada, kaufen wir sofort auch Donuts, damit wir doch behaupten können, dass wir in den USA sind.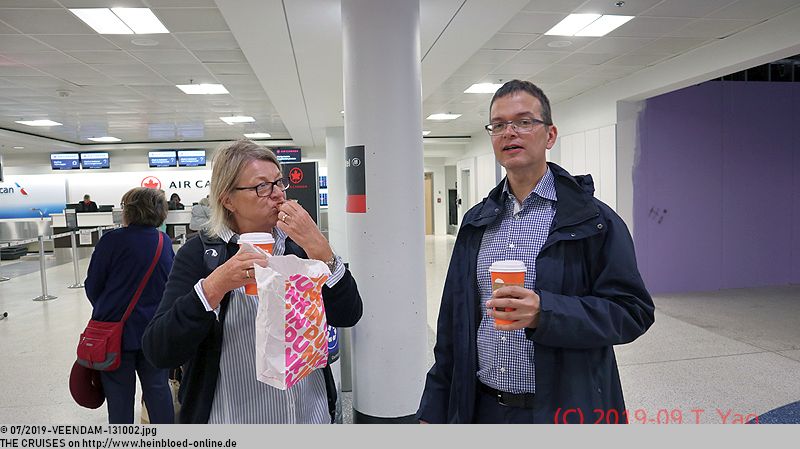 We met many VEENDAM cruisers here. They could change their bookings and fly earlier for little money, but they would rather stay on their suitcases and wait. There were hardly any seats before going through the TSA security check. In the Air Canada and American section, there were no opportunities to buy coffee or something to eat before the TSA security check. So we had to walk across the driveway to the terminal part of Southwest and United. And there we could buy some coffee with Dunkin Donuts. Dunkin Donuts changed a lot. Barista coffee machines were now everywhere, and the coffee tasted better than with Starbucks. Contrary to the discussion at Tim Hortons in Canada, we also immediately bought donuts so that we could claim that we were in the USA.

Usually, I would like to meet Dorothy of CruiseBrother's and her husband Dennis for lunch in Rhode Island. But they were on their way to Copenhagen, Denmark, to join their transatlantic cruise.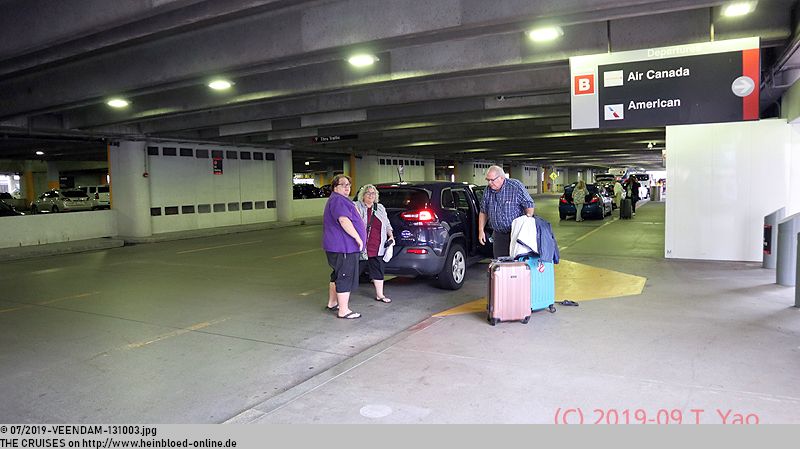 Normalerweise hätte ich mich ja gerne mit
Dorothy von CruiseBrothers
und ihrem Mann Dennis zum Mittagessen in Rhode Island getroffen. Aber sie sind auf dem Weg nach Kopenhagen, um auf ihre Transatlantik-Kreuzfahrt zu gehen.
Ihr Sohn setzt sie hier ab. In sofern treffen wir uns hier ganz kurz und es passt daher gut, dass wir unser Auto hier abholen und sie von hier abfliegen.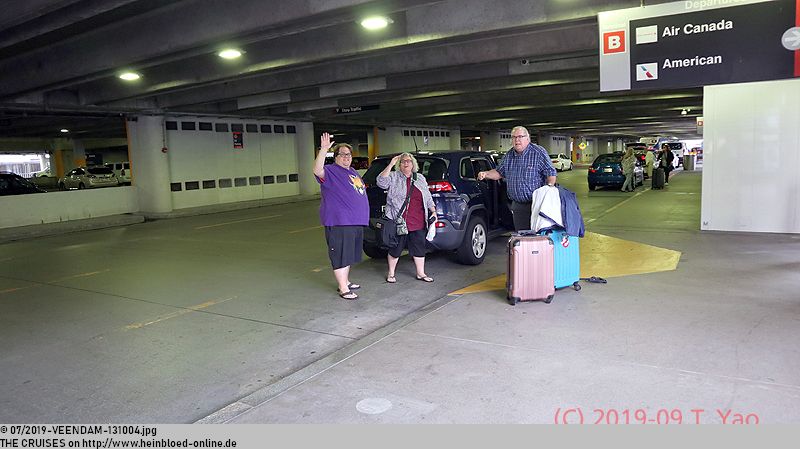 Her son dropped them off here. In that respect, we met here very briefly, and it, therefore, would fit well that we picked up our car here, and they flew it from here.

It was a shame: since my camera still controlled me, instead of me controlling my camera, there was, unfortunately, no group selfie.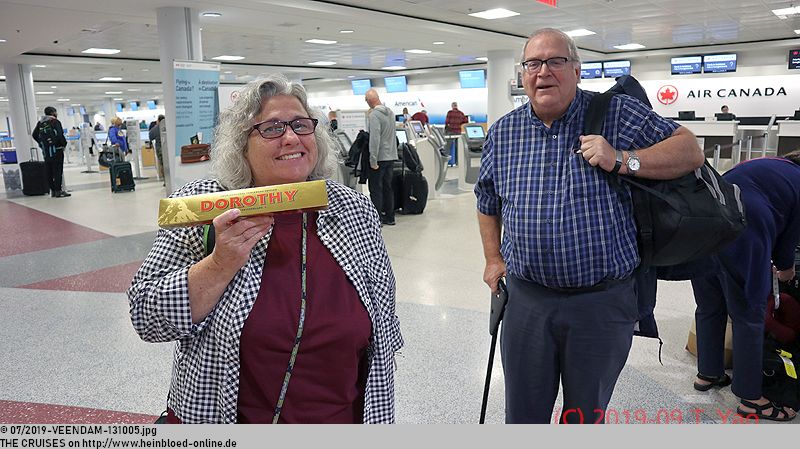 Sehr schade: da meine Kamera mich immer noch beherrscht, statt dass ich meine Kamera beherrsche, gibt es leider kein Gruppen-Selfie.
Wir haben
Dorothy
sehr viel zu verdanken: nicht jedes Reisebüro setzt sich so für ihre Kunden ein. Viele Reisebüros machen bei Preisanpassungen nicht mit, weil man ja zum Zeitpunkt der Buchung mit dem Preis "einverstanden" war. Mit einer Preisanpassung nach unten, sinkt ja auch ihre Kommission. Deswegen haben wir erstmalig schon damals vor unserer
NORWEGIAN JADE 2011 (2)
Reise,
Dorothy
und Dennis in Köln von ihrem Flusskreuzfahrtschiff abgeholt und sie hoch zur
Loreley
im
Mittelrheintal
gebracht und sie später in Koblenz wieder abgesetzt.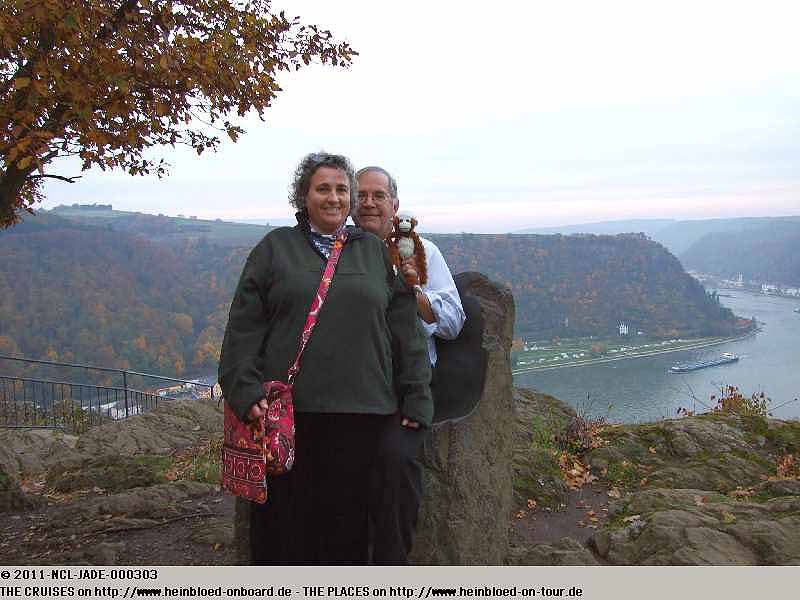 We owed a lot to Dorothy: not every travel agency worked for its customers in this way. Many travel agencies would not take part in price adjustments because you agreed to the price at the time of booking. With a price adjustment down, their commission would also drop. That was why we picked Dorothy and Dennis from their river cruise ship in Cologne, Germany, for the first time before we went on NORWEGIAN JADE 2011 (2) and took them up to Loreley Rock in the Central Rhine Valley, Germany, and later dropped them off in Koblenz, Germany.

Before our sailing on NORWEGIAN GETAWAY 2017, I went to Warnemünde, Germany, again to accompany Dorothy and Dennis to Berlin, Germany. I ordered tickets in advance for the Reichstag Glass Dome Rooftop. After the free voyage on DIAMOND PRINCESS 2016, we could thank her enough.

Nochmals bin ich dann vor unserer
NORWEGIAN GETAWAY 2017
-Reise nach Warnemünde gefahren, um
Dorothy
und Dennis nach Berlin zu begleiten. Im Vorwege hatte ich Karten u.a. für die
Reichstagskuppel
bestellt. Nach der kostenlosen Reise auf der
DIAMOND PRINCESS 2016
können wir uns gar nicht genug bedanken.
Holland America und der Verlust eines iPhones. Irgendwie ist das wohl "normal" auf unseren Reisen. Auf der
ZAANDAM 2012
wurde mein iPhone von einem Fahrer in Vietnam gestohlen. In Hongkong habe ich mir ein neues gekauft und über Nacht konnte es so wieder so eingerichtet werden, wie ich es zu vor hatte. Deswegen hatten wir auch auf der
DIAMOND PRINCESS 2016
auch auf eine Tour wieder nach Ho-Chi-Minh-Stadt verzichtet. Leider ist es wieder passiert: dieses Mal hatte es Sigi erwischt. Allerdings im Theater auf dem Schiff. Es wurde nicht wiedergefunden und auch hat es niemand an der Rezeption abgegeben. Deswegen fahren wir zu
Apple
, die uns nur sehr begrenzt helfen können. Zwischen damals
ZAANDAM 2012
und heute sind die Sicherheitsanforderungen so hoch geschraubt worden: man muss ein zweites verbundenes Apple-Gerät mitführen, damit man sofort mit der Synchronisation auf ein neues Gerät beginnen kann. Mit Hilfe des
T-Mobile
Tourist Plan, den es noch gibt und kurz danach durch ein neues Angebot von
Ultra Mobile
ersetzt wird, könnte man daher ein neues iPhone zumindest als Standalone in Betrieb setzen, ohne dass man Zugang zu den bisherigen Funktionen wie Kalender, Adressbuch, Log-In Daten, Apps hat. Für die Zukunft werden wir daher auf die Reisen immer unser iPad mitführen oder eben auch die 2. Authenfizierung über Fremdgeräte vorher freigeben. Auch ist das Zweitgerät praktisch, um sein iPhone zu suchen. Meines ist meistens auf lautlos gestellt. Zu Hause suche ich oft mein iPhone. Aber mit Hilfe des Zweitgerätes kann jedoch trotzdem einen Suchton auslösen, solange der Akku noch voll ist. Das hätten wir auf der VEENDAM auch gebraucht. Reisen mit Holland America sind immer auch ein wenig Bildungsreisen für die Meister des Alltags.

Holland America and the loss of an iPhone. Somehow this became "standard" on our sailings. On ZAANDAM 2012, my iPhone was stolen by a driver in Vietnam. I bought a new one in Hong Kong, China, and overnight it could be set up the way it was before. That was why we decided not to go to Ho Chi Minh City, Vietnam, again on DIAMOND PRINCESS 2016. Unfortunately, it happened again: this time, it was Sigi's: in the theater on the ship. It was not found again, and nobody handed it over to the reception. That was why we went to Apple, who could only help us to a minimal extent. The security requirements were raised so high today since our sailing on ZAANDAM 2012. You had to carry a second connected Apple device to be now able to start synchronizing with a new device immediately. With the help of the T-Mobile Tourist Plan, which still existed and should soon be replaced by a new offer of Ultra Mobile, you could at least put a new iPhone into operation as a standalone device. Without having access to the previous functions such as calendar, address book, log-In data, apps. For the future, we would, therefore, always carry our iPad with us on our trips, or we would also release the second authorization via third-party devices beforehand. The second device would also be practical for finding your iPhone. Mine would be mostly set to silent. I often looked for my iPhone at home. But with the help of the second device, a searching tone could still be triggered as long as the battery would be still full. We would need that done on VEENDAM. Traveling with Holland America would always be a bit of educational travel for the masters of everyday life.

We were in "The Shops at Chestnut Hill" shopping mall. I used to shop here a lot when I was in Newton, MA. We needed a bite to eat at the Tokyo Japanese Steak House. A terrible place run by Chinese. But eating out in the United States was pretty expensive now if you did not just want to eat McDonald's hamburgers. The price was usually ok at noon, but unfortunately, the food was very Americanized.

Wir sind im Shopping Mall "
The Shops at Chestnut Hill
". Hier war ich früher oft einkaufen, als ich in Newton war. Wir gehen schnell eine Kleinigkeit im
Tokyo Japanese Steak House
essen. Ein schrecklicher Laden, der von Chinesen betrieben wird. Aber Essen gehen in den USA ist mittlerweile ziemlich teuer, wenn man nicht nur vom Hamburger von McDonald's sich ernähren möchte. Der Preis ist mittags meistens o.k., aber leider ist das Essen doch sehr amerikanisiert.
Der Weg zum Hotel führt mich an der Fabrik von H.C. Starck vorbei. Ein Erinnerungsfoto muss sein.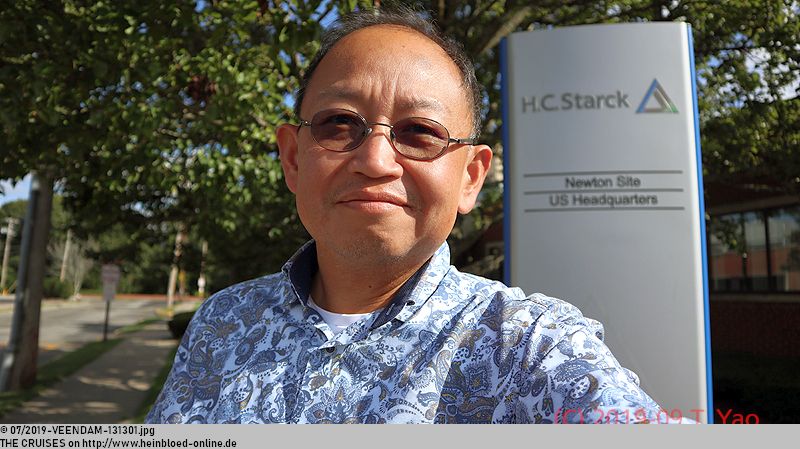 The way to the hotel led me to the H.C. Starck over. A souvenir photo must be.

Hotels in the Boston-area, MA, became really expensive. Or those who were cheap were often former places of the better chains, but they shied away from investing and gave up the locations to budget chains that were hardly involved in maintenance. I actually had good experiences around Waltham, MA, because you could get out of here quickly. If necessary, you could also take the commuter train into the city because parking in Boston, MA, was now too unaffordable.

Hotels in der Umgebung von Boston sind wirklich teuer geworden. Oder diejenigen, die günstig sind, sind oftmals ehemalige Häuser der besseren Ketten, die aber sich scheuen zu investieren und die Häuser an Budget Ketten abgeben, die kaum in den Unterhalt reinstecken. Ich habe eigentlich gute Erfahrungen rund um Waltham gemacht, weil man von hier gut wegkommt und ggfls. auch mit dem
Vorortzug
auch in die Stadt könnte, weil auch Parken in Boston mittlerweile unbezahlbar ist.
Erinnerungen an das goldene Zeitalter der Transistor-Radios. Für die jungen: das ist der Vorläufer von einem MP3-Player bzw. iTunes. Aber selbst die gibt es ja schon nicht mehr. Ich kann doch unmöglich jedem Baby bereits das neueste iPhone in die Wiege liegen - oder?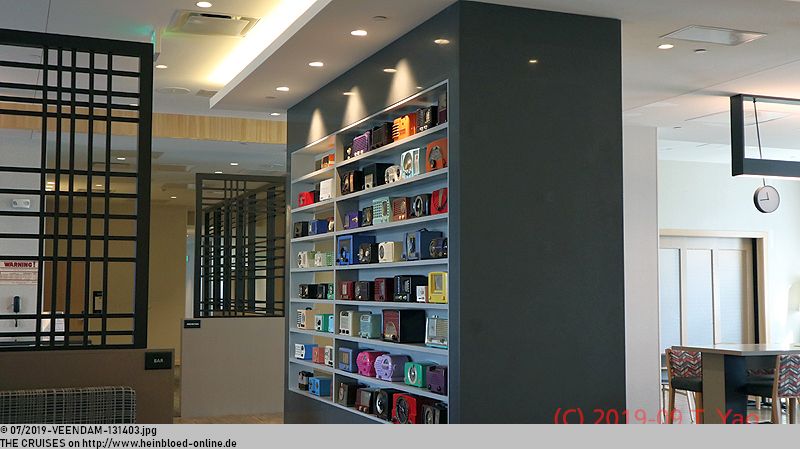 Memories of the golden age of transistor radios. For the young: this was the forerunner of an MP3 player or iTunes. But even that did not exist anymore. You could not possibly have the latest iPhone in the cradle of every baby - right?

So we stayed at the Hampton Inn in Waltham, MA. But somehow I missed the luggage service that we were used to from Holland America - or you could simply set up your own luggage service.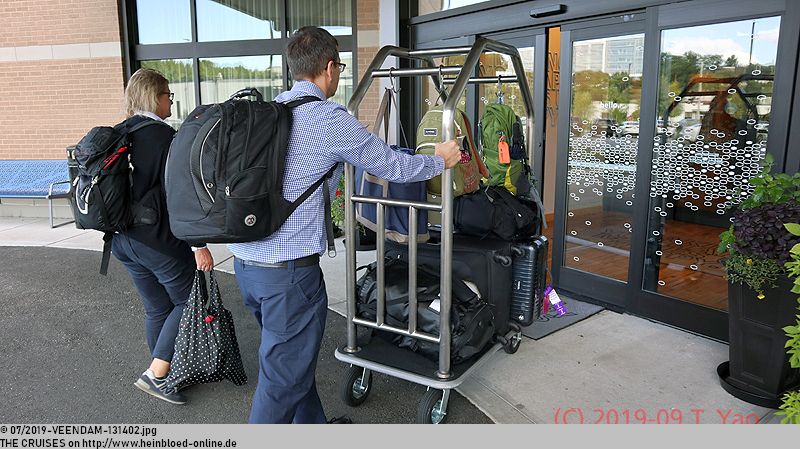 So steigen wir im
Hampton Inn in Waltham
ab. Aber irgendwie fehlt der Gepäckservice, den wir von Holland America gewohnt sind - oder man baut sich einfach einen eigenen Gepäckservice auf.
Irgendwie ist es sehr nett aufgemacht.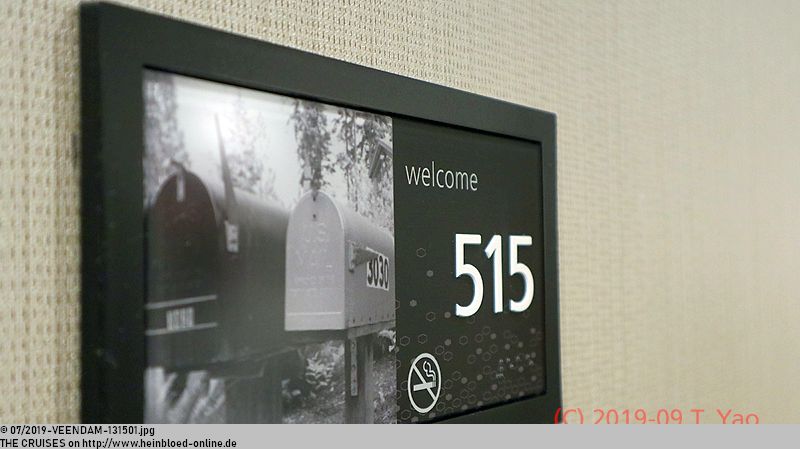 Somehow it was set up very nicely.

We always booked twin rooms with two queen beds. This was still good for families who liked it cozy because there was only one duvet for two. But it was so ok for us.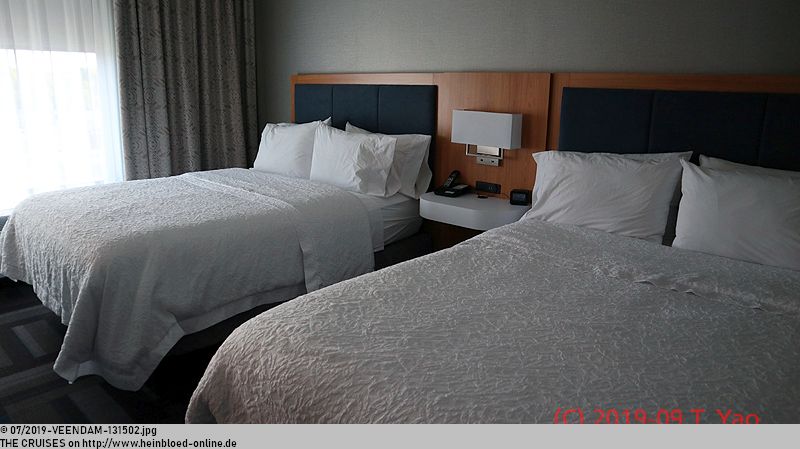 Wir buchen uns immer Twin Rooms mit zwei Queensize-Betten. Das ist auch immer gut für Familien, die es kuschelig mögen, weil es nur eine Bettdecke für zwei gibt. Aber für uns ist es so ok.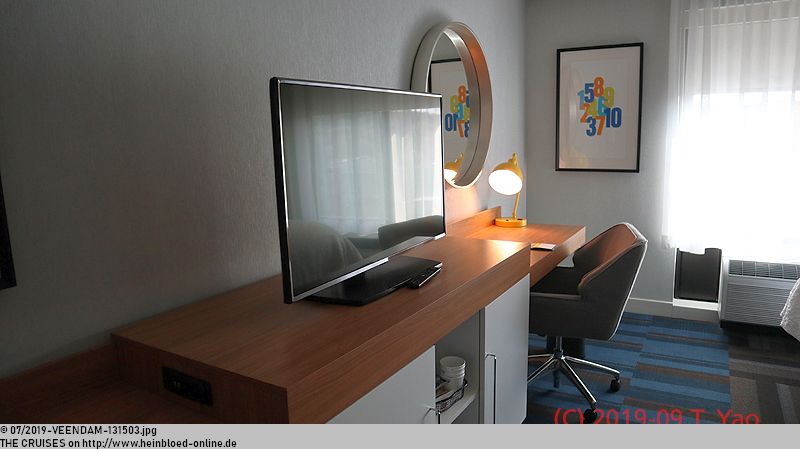 The details in the room.

Die Details im Zimmer.
Als Europäer sollte man sich jedoch Duschgel mitbringen. Typisch amerikanisch: ein Stück Seife.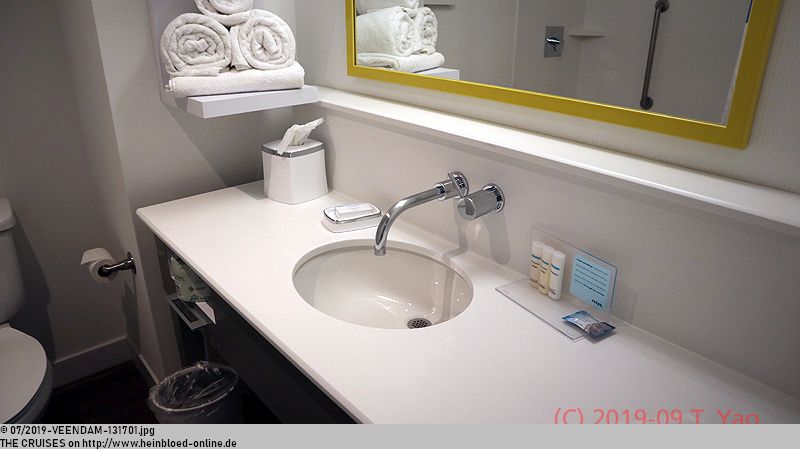 As European, you should have some shower gel with you yourself. Typical American: a bar of soap.

Only the bathtub was not renewed yet. It looked the same in most hotels, no matter from which chain.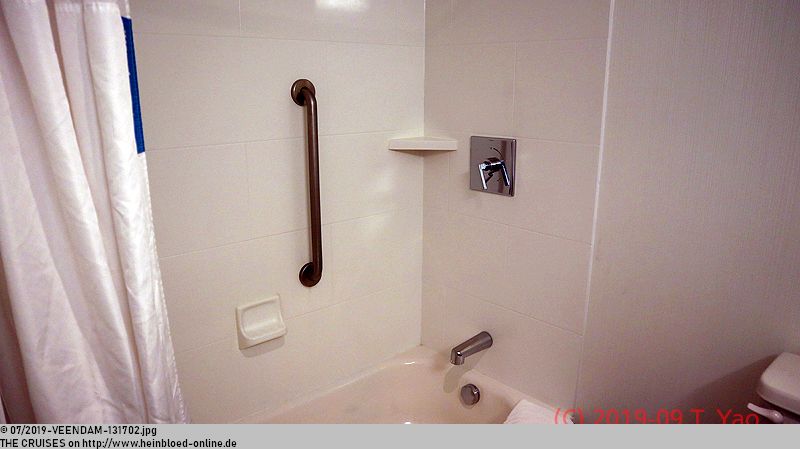 Nur die Badewanne wurde noch nicht erneuert. Die sieht in den meisten Hotels gleich aus, egal von welcher Kette.
Ich hatte mich am Anfang der VEENDAM-Reise ja sehr über die Art der Organisation der "Friends of Dorothy"-Treffen geärgert. Bei den Reisen, wie bei denen jeden Tag ein entsprechendes Treffen angeboten wurde, in es einfacher sich mit jemanden anzufreunden. Man kann jeden Tag zur selben Zeit unverbindlich erscheinen. Aber auf der VEENDAM muss man sich ständig selbst verabreden und man kann nicht später einfach in die Runde einsteigen. Ich gehe beispielsweise sehr selten zu jedem Treffen und freue mich, wenn ich weiss, dass ich später wieder dazukommen kann. Mit einigen freunden wir uns auch später auf Facebook an. Wir sehen uns nicht jeden Tag auf Facebook. Wir kommentieren auch nicht jedes Ereignis. Wir freuen uns mit ihnen, wenn sie sich freuen, und das "gefällt mir". Wenn wir etwas nicht mögen, müssen wir es auch nicht zwingend kommentieren. Man verfolgt deren Leben mit einem Auge und gratuliert zu Ereignissen, die für sie wichtig sind. Alles sehr locker und entspannt. David haben wir auf der
QUEEN MARY 2 2017
kennengelernt. So haben wir dann anhand der Postings gemerkt, dass David in der Ecke lebt und seine Beiträge oft aus der Gegend kommen, die wir jetzt bereisen. Wir würden jetzt auf TripAdvisor nach einem Restaurant suchen. Aber er kennt sich hier aus und deswegen fragen wir ihn.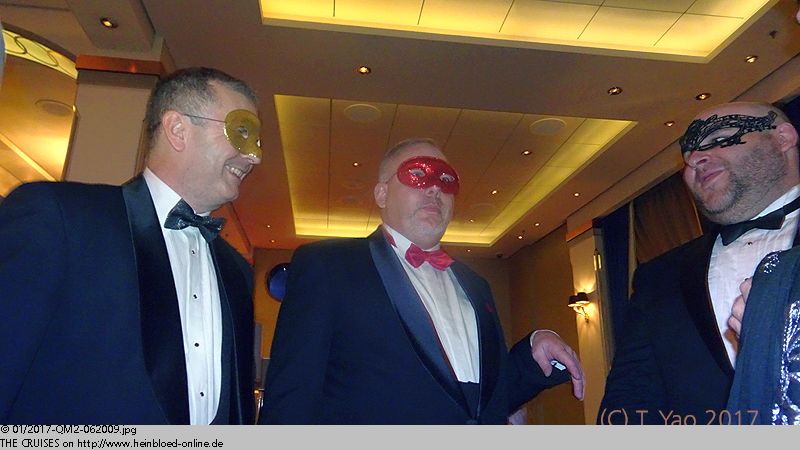 At the beginning of the VEENDAM trip, I was furious about the way the "Friends of Dorothy" meetings were organized. When sailing on ships, where a meeting was offered every day, it was easier to make friends. You could appear non-binding every day at the same time. But on VEENDAM, you had to make appointments yourself, and you could not just join the group later. For example, I very rarely would go to every meeting and was happy when I knew that I could rejoin later. We would be friends with some of them then on Facebook. We would not see each other on Facebook every day. We also would not comment on every event. We would be happy with them when they would be happy and "like" it. If we would not like something, we simply would not have the need to comment on it. You would follow their lives with one eye and would congratulate on events that would be important to them. Everything very relaxed. We met David on QUEEN MARY 2 2017. So we noticed from the postings that David should live here around, and his assignments often come from the area that we were now traveling to. We would now search for a restaurant on TripAdvisor. But he might know his places around, and that was why we ask him.

What could be more evident than to ask whether they already made plans for Saturday night and if we should dine together? There was an immediate yes, and so he also got a bar of triangular chocolate, which I did not know if he ate within a day. But the regulation probably only applied to Bar Harbor, ME.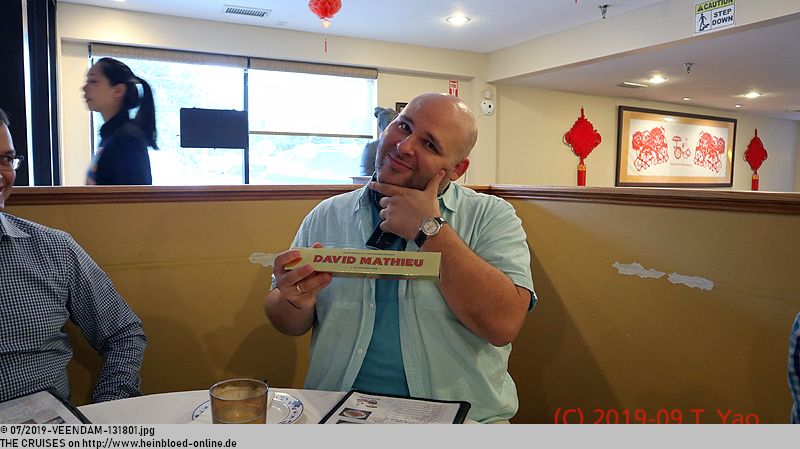 Was liegt näher, als anzufragen, ob sie an einem Samstagabend schon Pläne haben und ob man ggfls. zusammen essen geht? Es kam sofort ein Ja und so bekommt er auch eine dreieckige Schokolade, von der ich nicht weiß, ob er sie innerhalb eines Tages auch gegessen hat. Aber die Regelung galt ja wohl nur für Bar Harbor.
Er freut sich darüber, wobei wenige Wochen später ändert sich sein Name, weil er heiratet. Wir lernen auch seinen Freund kennen, aber er ist sehr schüchtern, so dass es kein gemeinsames Bild gibt. Für einen Asiaten eigentlich eher untypisch, wenn ich an meine bisherigen Reisen denke. Es hätte vermutlich eh nicht geklappt, weil immer noch meine Kamera mich beherrscht, statt dass ich sie beherrsche.

He was happy about it, but a few weeks later his name changed because he got married. We also got to know his friend, but he was timid, so there was no common picture. Actually rather untypical for an Asian, when I thought of my previous trips. It probably would not have worked anyway, because my camera still controlled me instead of me controlling the camera.

Well... pita and lamb... Was that a Greek Gyro in a Chinese Soup? Something, you could only find in the USA - like here with Shaanxi Gourmet in Natick, MA.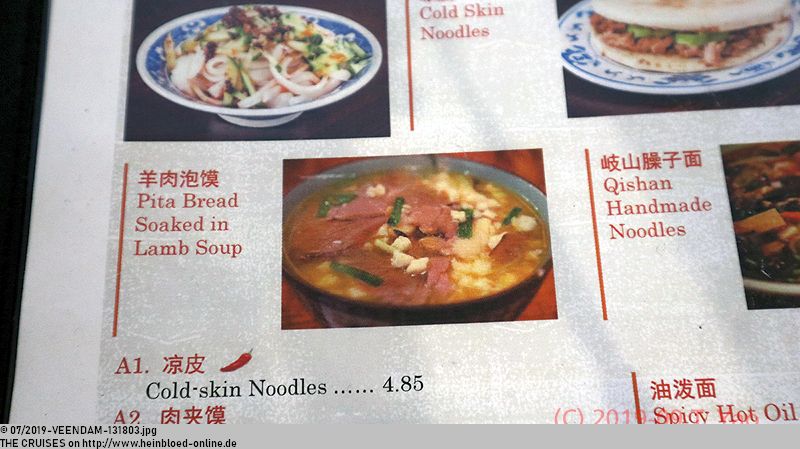 Hmmm... Pita und Lamm... Das ist also griechisches Gyros in einer chinesischen Suppe aufgelöst. So etwas ist nur in den USA möglich. Wie hier bei
Shaanxi Gourmet in Natick
.
Wir reden über frühere Erfahrungen und künftige Reisepläne.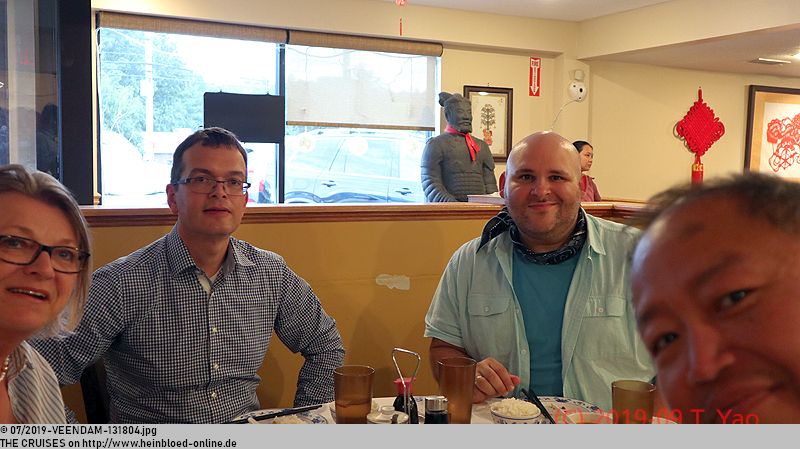 We talked of previous experiences and future travel plans.

And a lovely evening was quickly over. Hopefully next time in Germany. But I still had to look for a Chinese restaurant that also would serve Greek pork knuckle with sauerkraut.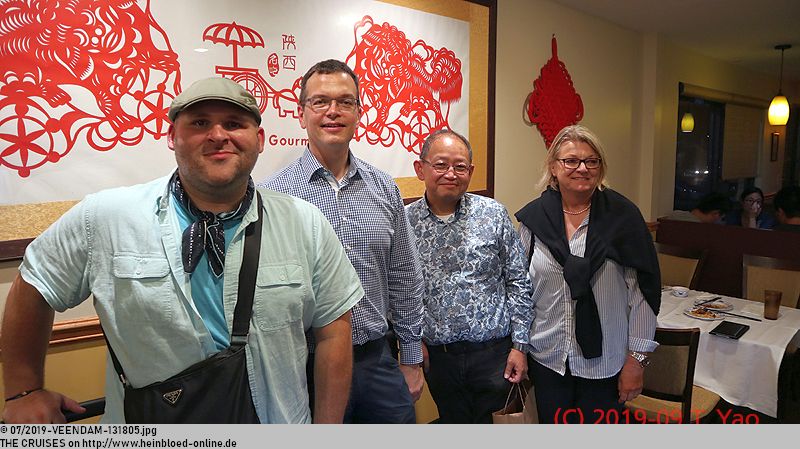 Und schon ist ein schöner Abend auch schnell vorbei. Hoffentlich das nächste Mal dann in Deutschland. Da muss ich aber noch ein China-Restaurant suchen, das auch griechisches Eisbein mit Sauerkraut serviert.
Da ich früher oft in Natick war, weiss ich sofort, wo wir den
Supermarkt Stop & Shop
finden. Dort finden wir u.a.
Siggi's
Joghurt (gibt es sogar in Deutschland!). Ein G zuviel. Vermutlich die amerikanische Schreibweise für Sigi. Wir lernen einen Roboter kennen, der uns versucht zu bedienen. Am Anfang der Reise bekam ich in Lissabon meinen
Pure Leaf Eistee
und meine
Fritos
. Und jetzt am Ende der Reise wieder. So schließt sich der Kreis. Nur beim Kauf der
Cracker Barrel Bites
vertue ich mich: die haben nichts mit der Restaurantkette
Cracker Barrel Old Country House
zu tun. Aber dazu kommen wir später. In zwei Tagen.

Since I used to be in Natick, MA, a lot, I immediately knew where to find the Stop & Shop supermarket. There we found Siggi's yogurt. A letter "G" too much. Probably the American spelling for Sigi. We got to know a robot that tried to serve us. At the beginning of the journey, I got my Pure Leaf Iced Tea and my Fritos in Lisbon, Portugal. And now at the end of the journey again. It came to a full circle. I only made a mistake when buying the Cracker Barrel Bites: they had nothing to do with the Cracker Barrel Old Country House restaurant chain. But we would get to that later. In two days.
Die anderen Reisen in diesem Blog/
The other voyages in this blog: