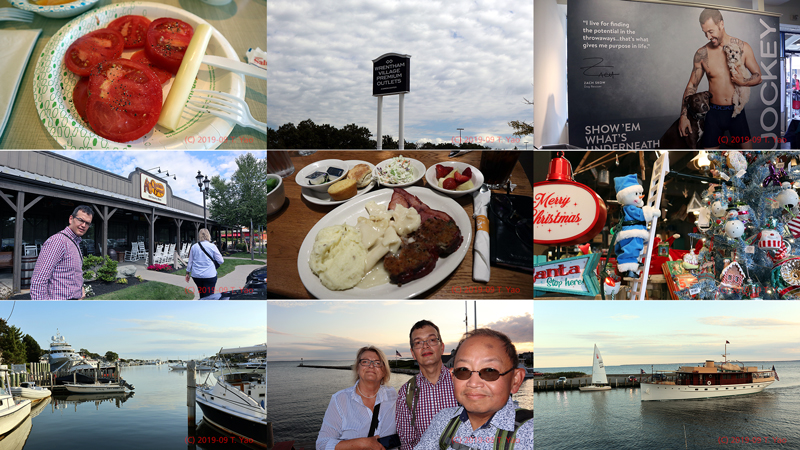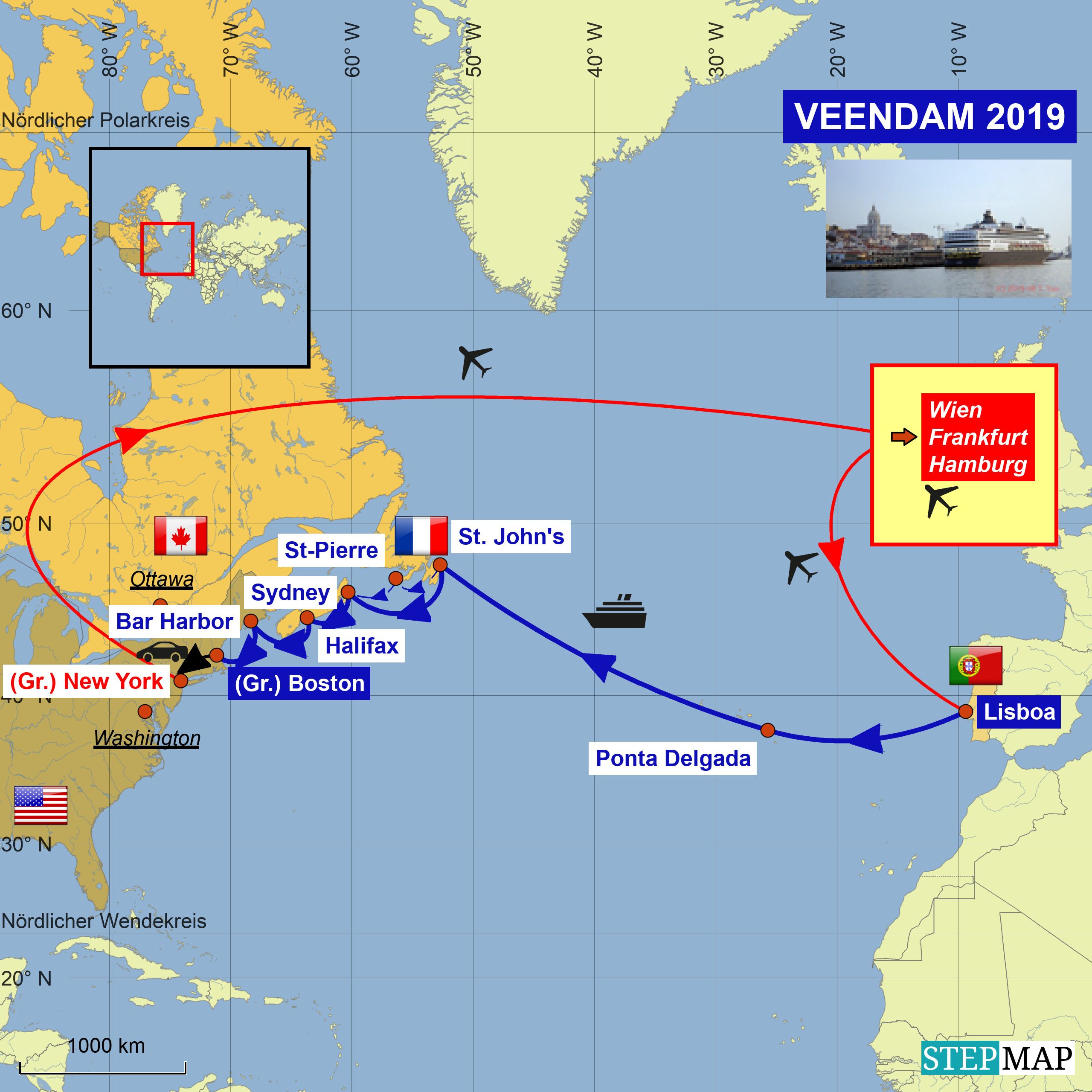 Wir haben Glück. Das Frühstück ist immer noch grauenhaft. Es gibt andere Sachen als gestern, aber immer ist noch nichts dabei, was so richtig gut schmeckt. Wir haben aber Larrys Tomaten aus seinem Garten. Schön in Scheiben geschnitten auf geröstetem Brot. Es fehlt nur ein wenig Olivenöl und Knoblauch.

We were lucky. Breakfast was still horrible. There were other items than yesterday, but there was still nothing that tasted really good. But we had Larry's tomatoes from his garden. Nicely sliced on toasted bread. Only a little bit of olive oil and garlic was missing.

Then we would be back in Barcelona, Spain, after our sailing on KONINGSDAM 2016. Our regular taxi driver Eva showed us how to make fantastic bread from tomatoes, garlic, and olive oil. Our friends from the USA and Canada, Sandy and Scott, and Josée and Steven were also thrilled. But here, we were lack of fresh garlic and olive oil.

Dann wären wir im Gedanken zurück in Barcelona nach der
KONINGSDAM 2016
. Unsere Stammtaxifahrerin Eva hat uns damals gezeigt, wie man ganz wunderbare Brote aus Tomaten, Knoblauch und Olivenöl machen kann. Unsere Freunde aus den USA und Kanada, Sandy und Scott und Josée und Steven sind auch begeistert. Aber hier fehlt uns frischer Knoblauch und Olivenöl.
Wir fahren zum Shopping nach
Wrentham Village Premium Outlet
. Spaß macht es nicht: es wird kräftig umgebaut. Ich brauche eine Mini-Stärkung, aber es gibt kaum etwas zu essen, weil der alte Food-Court weg ist. Ich finde nur ein
Aunt Anni's
. Es ist allerdings ungenießbar. Ich kaufe wie üblich bei
Eddie Bauer
,
Jockey
und
Vitamin World
ein. Im Moment gibt es tolle Prozente. Die Preise in den USA sind oft so hoch: ohne Aktionen wie BOGO (Buy One Get One Free) o.ä. macht es oft wenig Sinn hier einzukaufen. Außerdem merkt man, dass es keine reguläre Ware ist, sondern etwas "einfachere" und weniger äufwändige Produktionslinie hier angeboten werden.

We went shopping at Wrentham Village Premium Outlet, MA. It was no fun: it was rebuilt vigorously. I needed a mini buff, but there was hardly anything to eat because the old food court was gone. I only found Aunt Anne's. However, it was inedible. I shopped as usual with Eddie Bauer, Jockey, and Vitamin World. There had great discounts at the moment. The prices in the USA were often so high: without promotions like BOGO (Buy One Get One Free) or similar, it usually would make little sense to shop here. You also noticed that it was not a standard product, but something "simpler" and less expensive product line was offered here.

For lunch, we were heading to the Cracker Barrel Old Country Store. Here everything was tuned with the southern feeling and Christmas.

Zum Mittagessen geht es zu
Cracker Barrel Old Country Store
. Hier ist schon alles auf Südstaaten-Feeling und Weihnachten eingestimmt.
Wir essen im Restaurant. Von den Restaurantketten, gehe ich am liebsten hier essen, weil es hier klassische Südstaaten Hausmannskost gibt. Die "
Dumplins
" erinnern an Riesen-Spätzle in gebundener Hühnerbrühe.

We ate in the restaurant. From the restaurant chains, I preferred to eat here because they offered classic Southern home-style dishes. The "Dumplins" were reminiscent of giant "Spaetzle" (Swabenian homemade noodles from Germany) in thickened chicken broth.

Even before our sailing on DISNEY DREAM 2014, we were eating here with my parents and my aunt. Although my aunt lived in the USA for 30-40 years, it was her first time here.

Auch vor der Reise auf der
DISNEY DREAM 2014
waren wir mit meinen Eltern und meiner Tante hier essen. Obwohl meine Tante bestimmt seit 30-40 Jahren lebt: sie war hier das erste Mal.
Da es allen gut gefallen hat, fahren wir auf der Rückreise nach der
DISNEY DREAM 2014
auch nochmals vorbei. Ich freue mich einfach über ein Stück
Hackbraten
mit
Kartoffelpürree
. So etwas bekomme ich auch in Deutschland recht selten, wenn ich es nicht selbst zubereite.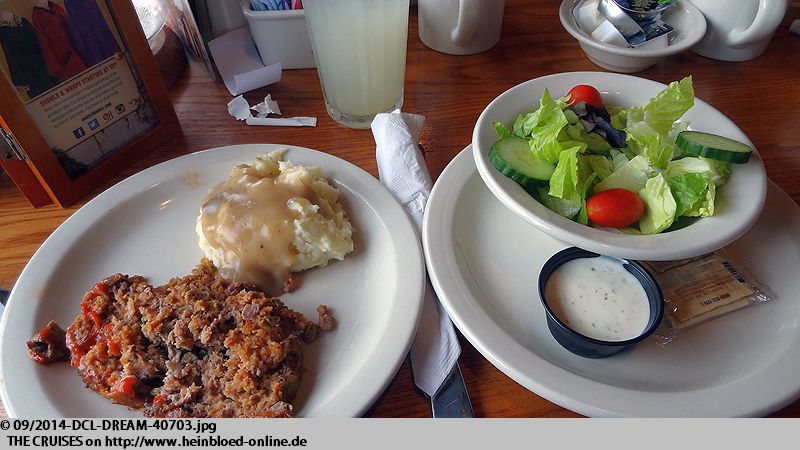 Since everyone liked it a lot, we stopped by on the way back after our sailing on DISNEY DREAM 2014. I was just happy about a piece of meatloaf with mashed potatoes. Something which would be hard to get in Germany too, hence you liked to prepare it by yourself.

Cape Cod was the "preferred" corner for the rich and beautiful. Cape Cod was associated with celebrities like John F. Kennedy, Harry Connick Jr., Meg Ryan, Carly Simon, Dan Aykroyd, Tommy Hilfiger, or Taylor Swift, who used to live here for a long time or still were living here. Cape Cod also includes Martha's Vineyard. We could not make a visit today.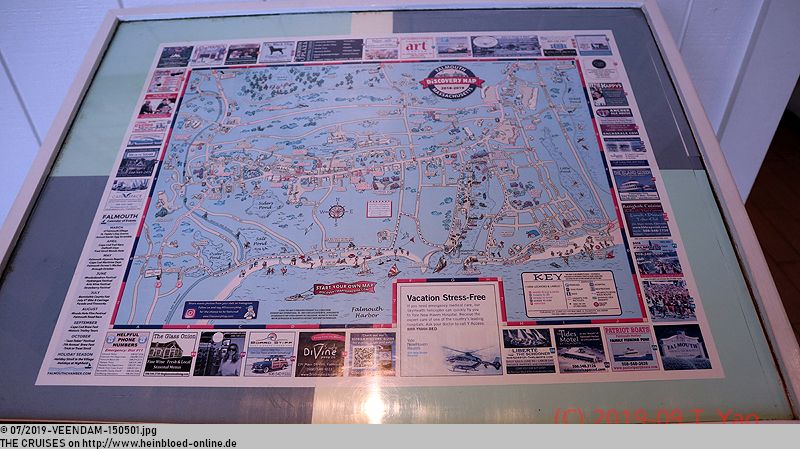 Cape Cod sind die "bevorzugte" Ecke für die Reichen und Schönen. Mit Cape Cod verbindet man Berühmtheiten wie
John F. Kennedy
,
Harry Connick Jr.
,
Meg Ryan
,
Carly Simon
,
Dan Aykroyd
,
Tommy Hilfiger
oder
Taylor Swift
, die hier früher für lange Zeit gelebt haben oder immer noch hier leben. Zu Cape Cod zählt noch die Insel Martha's Vineyard. Einen Besuch schaffen wir heute nicht.
Wir übernachten im
Holiday Inn in Falmouth, MA
.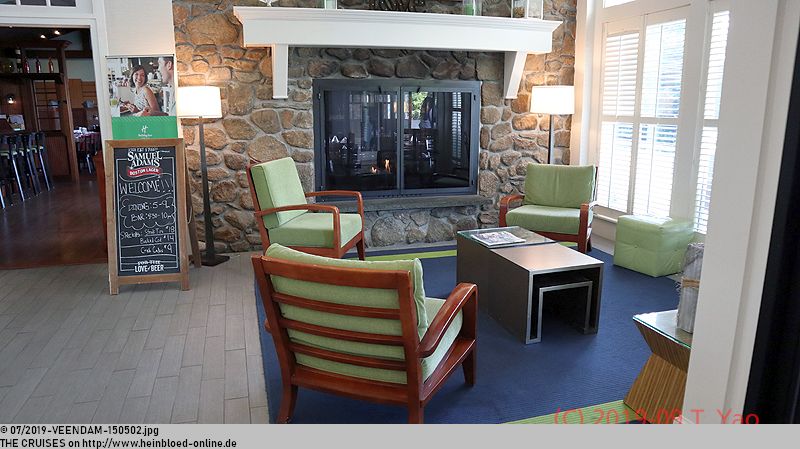 We stayed overnight at the Holiday Inn in Falmouth, MA.

A very nice lobby.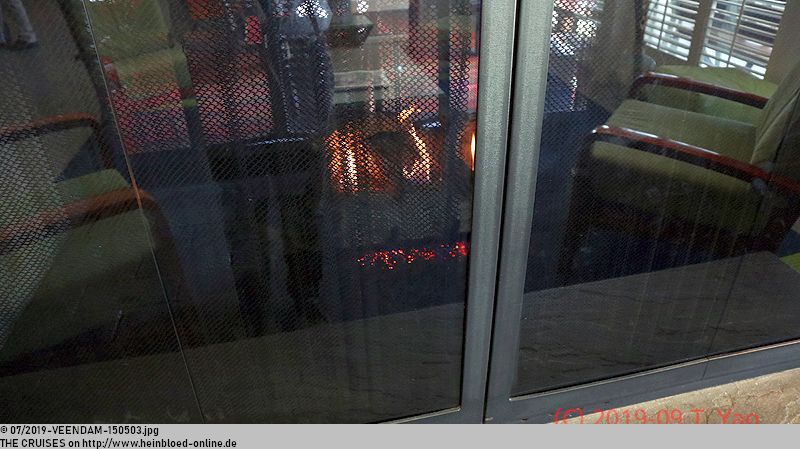 Sehr schöne Lobby.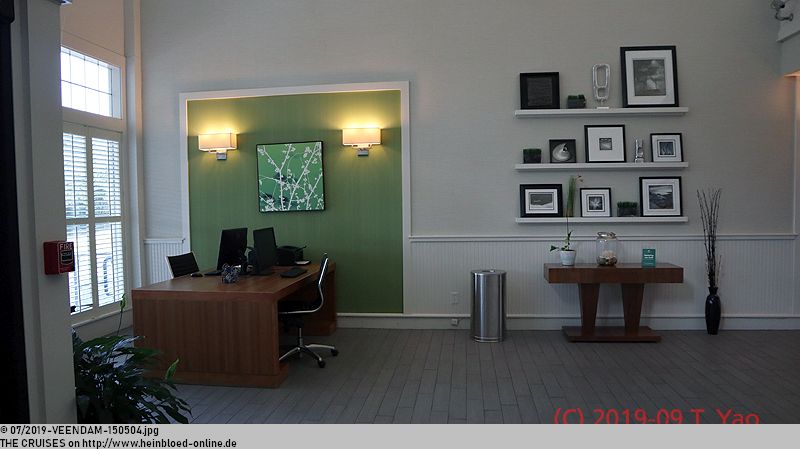 Our rooms were in the sous-terrain. The hotel was laid out in the area, so you also had additional access to the parking lots without having to walk past the reception. ALMOST everything was renovated. Somehow the wall color ran out.

Unsere Zimmer liegen im Sousterrain. Das Hotel ist in die Fläche angelegt, so hat man auch zusätzliche Zugänge zu den Parkplätzen, ohne dass man immer an der Rezeption vorbei laufen muss. Es ist wohl FAST alles renoviert. Irgendwie ist die Wandfarbe aber wohl ausgegangen.
Aber im Bad hat sich etwas verändert.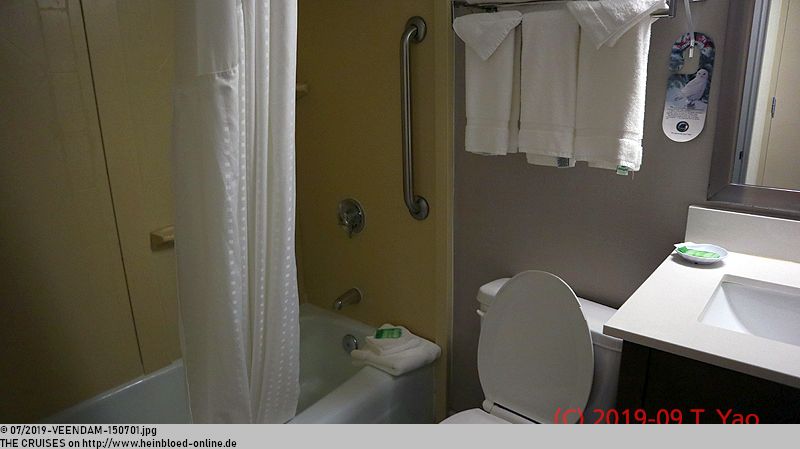 But something changed in the bathroom.

We had at least a modern sink furniture.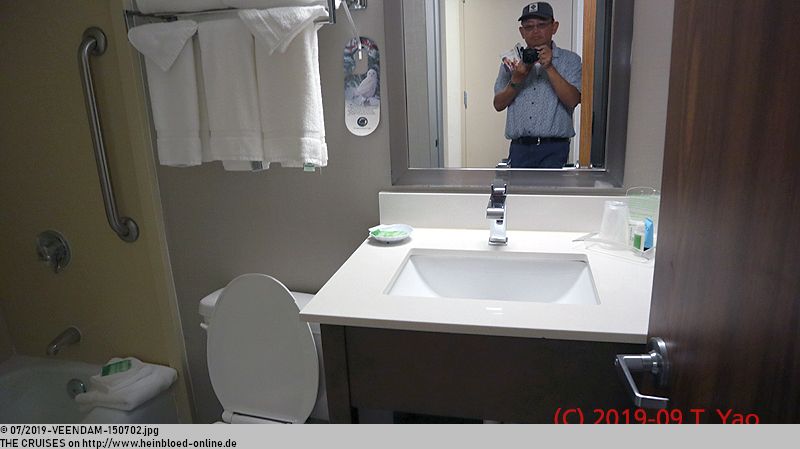 Es gibt zumindest einen modernen Waschtisch.
Wir sitzen soviel im Auto, dass wir zu Fuß in den Ort gehen. Das Hotel liegt am Ortsrand. Aber wir sind froh, dass wir uns bewegen können. Hin laufen wir und später zurück als es kalt und dunkel ist, bestellen wir Uber. Man merkt, dass die Saison vorbei ist. Viele Restaurants sind bereits in der Winterpause oder haben nur noch am Wochenende geöffnet, wie das
Pier 37 Boathouse
.
Jim' Clam Shack
hat leider auch geschlossen. Aber zufällig treffen wir den Wirt an, der uns Tipps gibt, wo wir gut essen und günstig essen gehen können. Er ist auch noch so nett, uns auf seinen Bootsteg und seine Dachterrasse einzuladen, damit wir noch schöne Eindrücke von Cape Cod mitnehmen können. Sigi gefällt es hier sehr gut. Vielleicht wäre das ein passender Ruhesitz. Es kommt zufällig die Yacht ENTICER rein, die Sigi für ihren Ruhestand kaufen könnte. Die vielen Blumen machen den Ort sehr schön.

We sat in the car so much that we walked into town. The hotel was on the outskirts. But we were happy that we could move. We ran there, and back later, when it was cold and dark, we ordered Uber. You could tell that the season was over. Many restaurants were already in the winter break or were only open on weekends, such as Pier 37 Boathouse. Jim's Clam Shack was also closed. But, by chance, we met the host who gave us tips on where to eat well and cheaply. He was also so nice to invite us to his jetty and roof terrace so that we could get some nice impressions of Cape Cod with us. Sigi liked it very much here. Maybe that would be a suitable retirement home. The ENTICER yacht came in, which Sigi could buy for her retirement. The many flowers made the place very beautiful.

In the evening, we dined on the terrace of The Flying Bridge restaurant. I made it easy for myself and just ordered another lobster roll. Delicious. In the end, however, I would not have an espresso tonight.
Abends essen wir auf der Terrasse des Restaurants
The Flying Bridge
. Ich mache es mir einfach und bestelle einfach nochmals ein Hummer-Brötchen. Lecker. Auf einen Espresso zum Schluss verzichte ich jedoch heute Abend.
Die anderen Reisen in diesem Blog/
The other voyages in this blog: