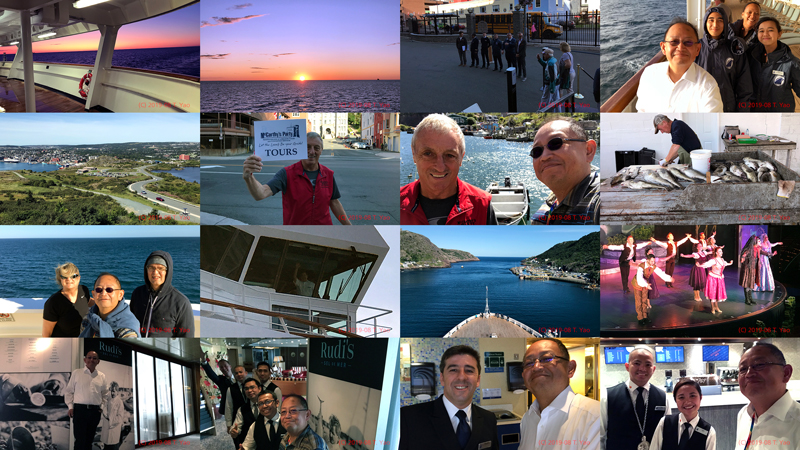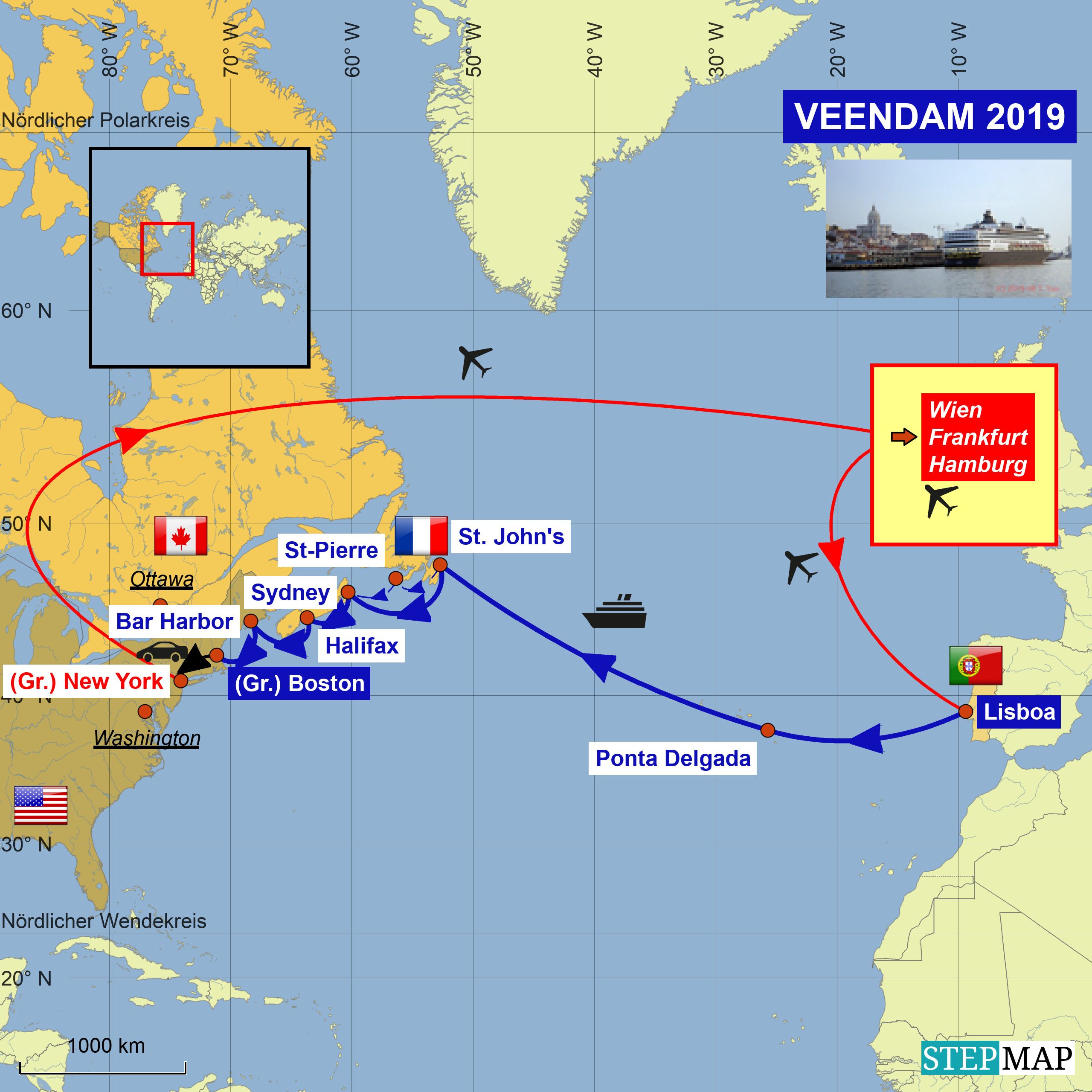 Die schönste Show findet niemals unter der Leitung des Kreuzfahrtdirektors statt. Es ist die Mutter Natur, die diese Show bringt. Deswegen laufe ich gerne meine Runden morgens, um diese Show möglichst oft zu sehen. Und niemals gleicht eine Show der anderen. Und deswegen: egal, wieviele Sonnenaufgänge ich in meinem Leben noch sehen werde bzw. gesehen habe. Ich freue mich immer auf eine neue Show. Und dazu läuft
Udo Jürgens: "Denn, immer, immer wieder geht die Sonne auf. Und wieder bringt ein Tag für uns ein Licht. Ja, immer, immer wieder geht die Sonne auf. Denn Dunkelheit für immer gibt es nicht!"
.

The most beautiful show never took place under the direction of the cruise director. It was Mother Nature that presented this show. That was why I liked to walk my laps in the morning. I liked to watch this show as often as possible. And never one show was like another. And that was why: no matter how many sunrises I would see or saw in my life. I was always looking forward to a new show. And the Austrian singer Udo Jürgens said: "Because, always, the sun rises again and again and again. A day brings to light to us. Yes, always, again and again, the sun comes up. Because darkness does not exist forever!".

Another unpleasant discussion on cruisecritic.com, which I "instigated": the light conditions on the promenade deck. To understand everything, you had to be on the ship yourself: every few feet, that changed: up, at the side. You thought that you should actually have a clear view of the sea and suddenly there was a steel wall. Conclusion: not every lanai cabin or cabin on the lower promenade deck was equally good: there were better and worse. We could use ours during the tender boat operation, but not when they were working above on the liferaft platform. Liferaft platform stood over, and therefore, our location was a bit shadier. We would need to try the next time to catch a lifeboat because the lifeboats were indeed stuck during the tender mode. Unless they would conduct a crew life drill. So far, I never saw the liferafts swimming in the harbor during a life drill. And despite everything: I would book it again. Then somewhat under a lifeboat - not under a tender boat. And that was why it annoyed me that in Alaska only the 14-nights voyages 2021 were offered on a ship with lanai cabins that would be unaffordable.

Eine weitere unerfreuliche Diskussion auf
cruisecritic.com
, die ich "angezettelt" habe: die Lichtverhältnisse auf dem Promenadendeck. Um alles zu verstehen, muss man schon selbst auf dem Schiff sein: alle paar Meter ändert sich das: oben, an der Seite. Man denkt, dass man eigentlich freien Blick auf das Meer haben sollte und auf einmal ist da eine Stahlwand. Fazit: nicht jede Lanai-Kabine bzw. auf dem unteren Promenaden-Deck ist gleich gut: es gibt bessere und schlechtere. Wir können unsere während des Tenderbetriebes nutzen, aber eben nicht, wenn oben darüber auf der Plattform mit den Rettungsinseln gearbeitet wird. Plattform der Rettungsinsel steht über und daher ist unsere Lage etwas schattiger. Man müsste versuchen das nächste Mal eine mit Rettungsboot zu erwischen, weil die Rettungsboote ja auch beim Tenderbetrieb hängen bleiben. Außer es ist eine Rettungsübung für die Crew angesagt. Die Rettungsinseln habe ich bislang bei einer Rettungsübung noch nie im Hafenbecken schwimmen sehen. Und trotz allem: ich würde sie wieder buchen. Dann eher unter einem Rettungsboot - keinesfalls unter einem Tenderboot. Und deswegen ärgert mich es ja auch, dass in Alaska nur die 14-tägigen Fahrten 2021 auf einem Schiff mit Lanai-Kabinen angeboten werden, die unbezahlbar sind.
Ankunft in St. John's, Neufundland und Labrador, Kanada.

Arrival in St. John's, Newfoundland and Labrador, Canada.

One week we are now on board.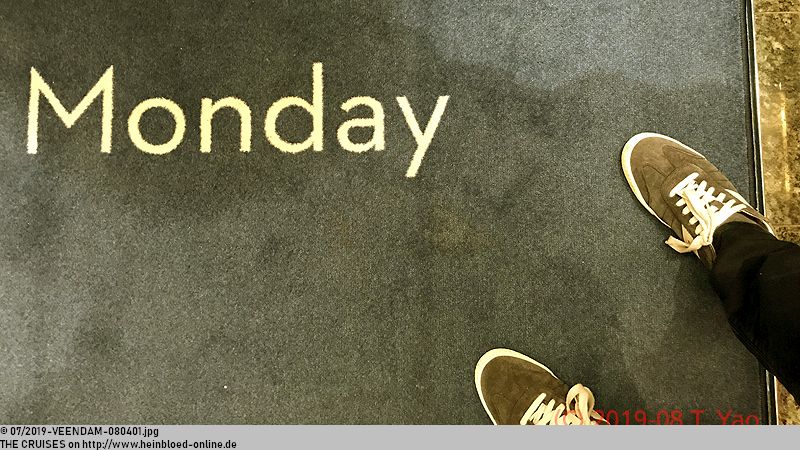 Eine Woche sind wir jetzt an Bord.
Sehr schön: nun weiss man auch, dass diese Box für die Meldungen an Hoteldirektor Frank Ulbricht ist und sie bestätigen auch, dass die Box nun auch regelmäßig geleert wird.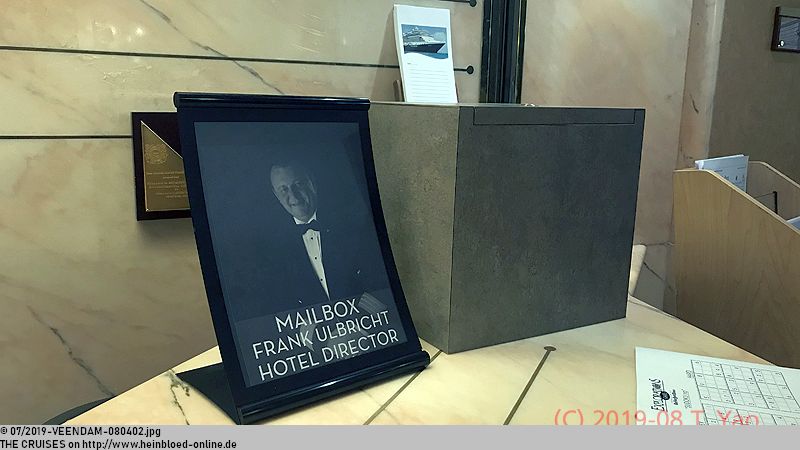 Very nice: now you also knew that this box was for the messages to hotel manager Frank Ulbricht and they also confirmed that the mailbox would be now even regularly emptied.

There were also good things that you could look up from NCL, like last time on NORWEGIAN SUN 2019. But they still made it a little more perfect: there were pens next by. Yes, someone could turn with his concerns to the reception. Their options were limited depending on the cruise company, and when it would become frustrating, and nothing would change, the Hotel Director would be just there. And I would be actually more pleased that it would be now openly communicating that the Hotel Director was there for the guests - and not like on WESTERDAM 2010. The Hotel Director said back then to me that he was there only for his crew and himself, he was not interested in the concerns of the passengers. But as I said before: excellent that that has changed.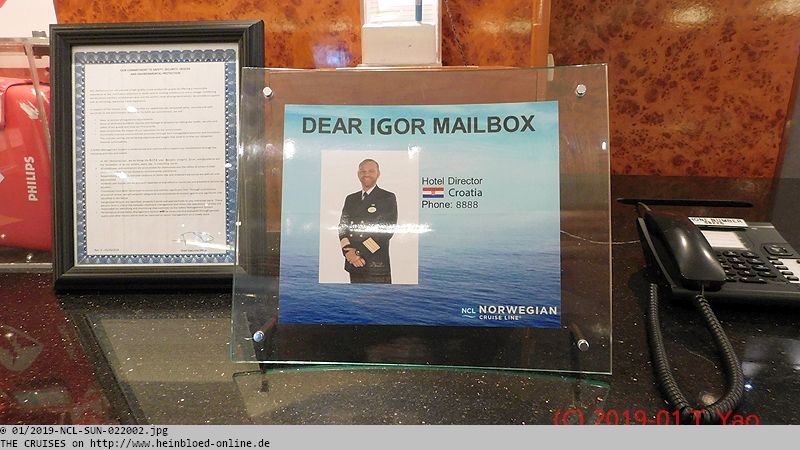 Es gibt ja auch gute Sachen, die man von NCL abgucken kann, so wie zuletzt auf der
NORWEGIAN SUN 2019
. Aber sie haben es noch ein wenig perfekter gemacht: dort liegen direkt Kugelschreiber aus. Sicherlich kann man sich mit seinen Anliegen an die Rezeption wenden. Deren Möglichkeiten sind nach Gesellschaft begrenzt und wenn es dann frustrierend wird und sich nichts ändert, ist der Hoteldirektor dafür eben da. Und ich freue mich eigentlich mehr darüber, dass es jetzt auch offen kommuniziert wird, dass der Hoteldirektor für die Gäste da ist - und nicht wie auf der
WESTERDAM 2010
. Der Hoteldirektor meinte damals zu mir, dass er nur für seine Crew da sei und sich nicht um die Anliegen der Passagiere da wäre. Aber wie gesagt schön, dass sich das geändert hat.
Da ich extrem früh bin, gibt es für die anderen nur Heißgetränke aus dem Lido. Und für mich Congee.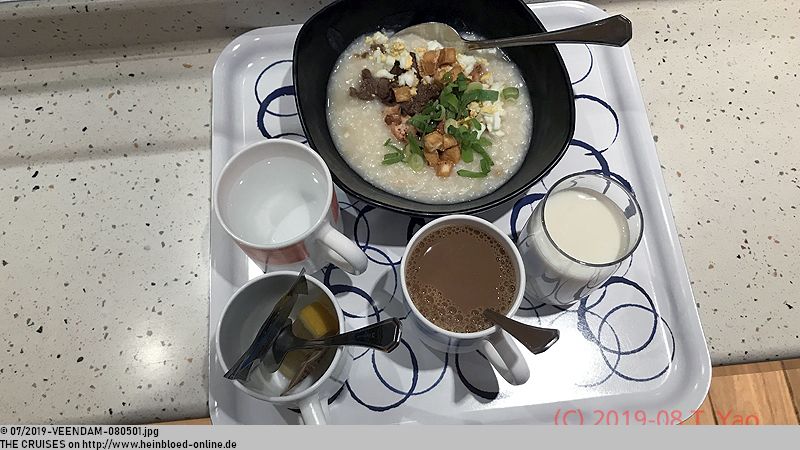 Since I was extremely early, there were only hot drinks from the Lido for the others. And for me, Congee.

The congee was always a strength of Holland America because relatively many Asian groups travel with them. On QUEEN MARY 2 2017, I was looking for at the Kings' Court Self-Service-Restaurant and was asked to sit down. They made Congee fresh for me.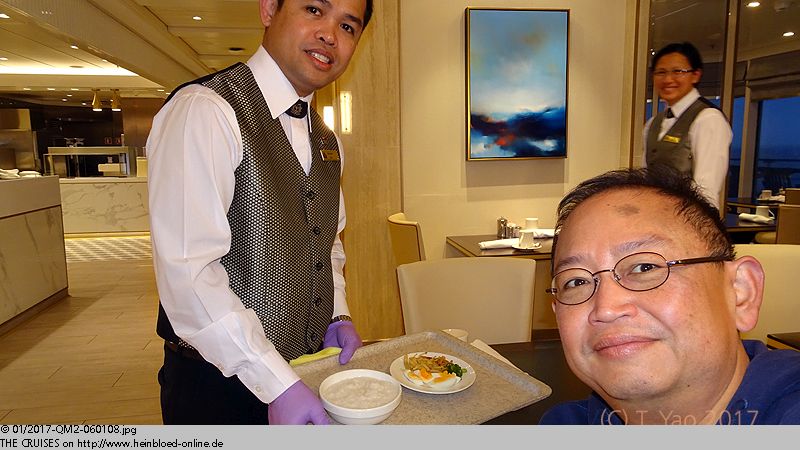 Congee ist immer eine Stärke von Holland America, weil mit denen verhältnismäßig viele asiatische Gruppen mitfahren. Auf der
QUEEN MARY 2 2017
hatte ich damals im Kings' Court SB-Restaurant gefragt und wurde dann aufgefordert mich zu setzen. Sie haben mir Congee frisch gemacht.
Den Vogel hat man jedoch auf der
QUEEN VICTORIA 2018
abgeschossen: was die alles an Beilagen für mich beschafft haben.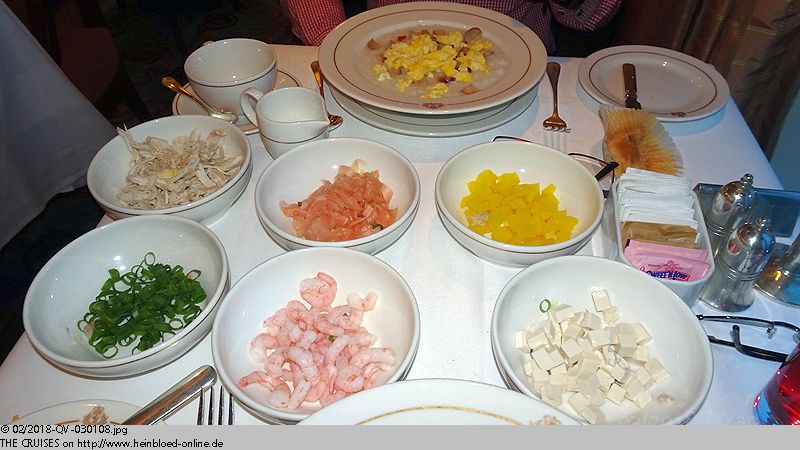 However, the hit was on QUEEN VICTORIA 2018: what they all got for condoments for me.

The then assistant Maître D' Hubi at ISLAND PRINCESS 2013 asked in disbelief if we meant what the crew got every morning in the crew mess.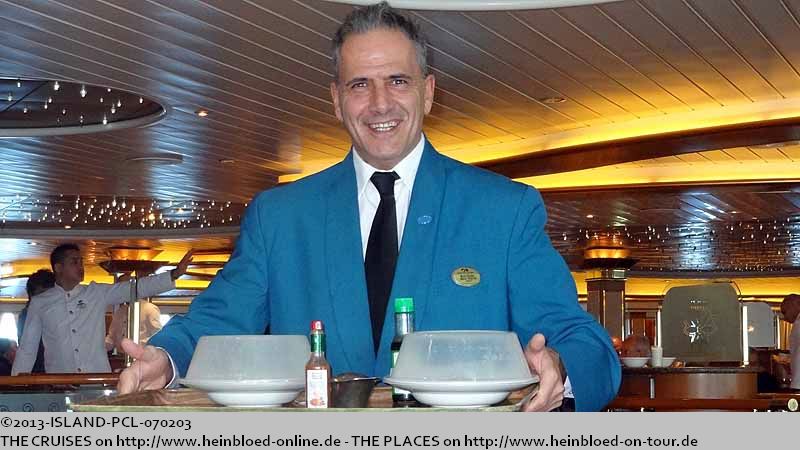 Der damalige Assistant Maître D' Hubi auf der
ISLAND PRINCESS 2013
fragte ganz ungläubig, ob wir das meinten, was die Crew jeden Morgen in der Crewmesse ist.
Schon war er unten und hat das Congee der Crew weggenommen, damit wir es bekommen. Und es war geschmacklich das allerbeste Congee bis heute und jedes Mal, wenn ich auf einem Schiff frage: ich bekomme kein Crew-Congee mehr. So toll gewürzt. Nur noch die Version für Passagiere.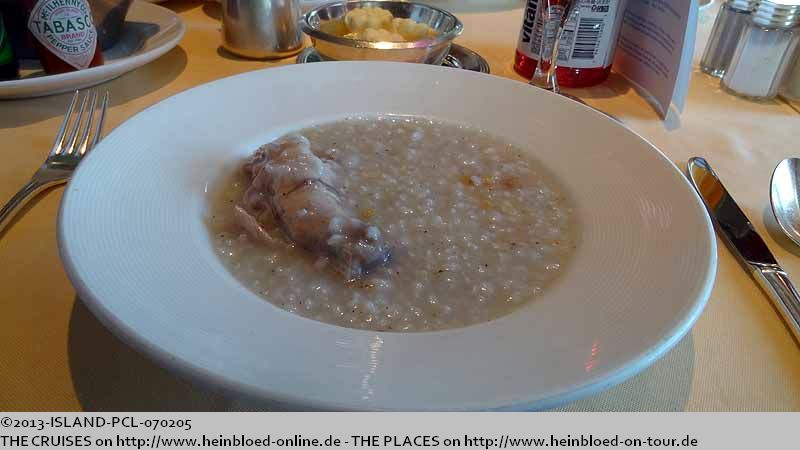 Quickly he walked down and took the congee from the crew so we could get it. And it was the best Congee in terms of taste up to date, and every time I asked on a ship: I could not get any crew congee anymore. Spiced so wonderful. Only the version for passengers.

On the NORWEGIAN SUN 2019, it was cooked and served with love and passion every morning for me. With lots of fresh ginger and a lot of roasted garlic... I always had plenty of space in the tender boat for me...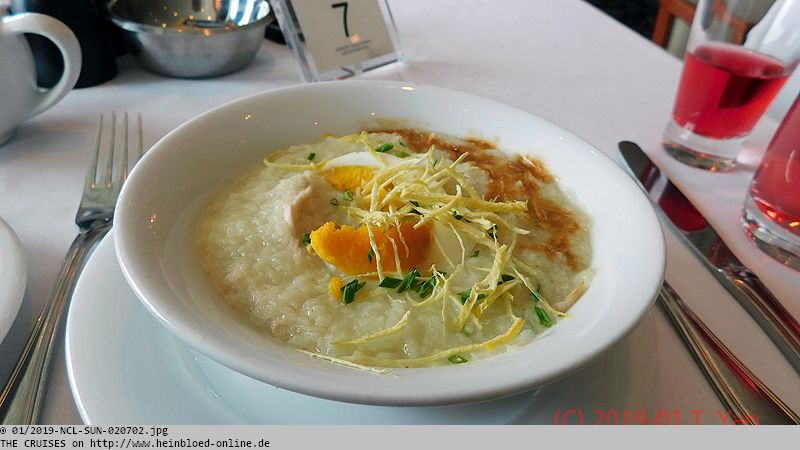 Auf der
NORWEGIAN SUN 2019
wurde es dann jeden Morgen für mich mit Liebe gekocht und serviert. Mit viel frischem Ingwer und viel geröstetem Knoblauch... ich hatte im Tenderboot immer viel Platz für mich...
Und auf der
VENTURA 2018
: da habe ich vergessen, dass die Mehrheit der Crew aus Indien kommt und daher gibt es in der Crew-Messe nur einmal die Woche Congee. Trotzdem haben sie es für mich gemacht, damit ich nicht noch ein paar Tage warten muss: aber eben mit Curry - wie in Indien üblich. In einer Fragestunde mit dem Hoteldirektor lautete eine Frage: "Was wäre die größte Katastrophe in der Galley?". Damals sagte der Hoteldirektor: "Wenn der Reis ausgehen würde und wir unserer Crew kein Essen mehr zubereiten könnten. Dann würde hier alles stehen und nichts mehr laufen!". Tut mir leid: 100 x HeinBloed auf Kreuzfahrt bedeutet leider auch, dass die Anekdoten immer wieder aufgewärmt werden und ich auch mal zurückblicke. Sorry, wenn es daher mal zwischendurch langweilig wird.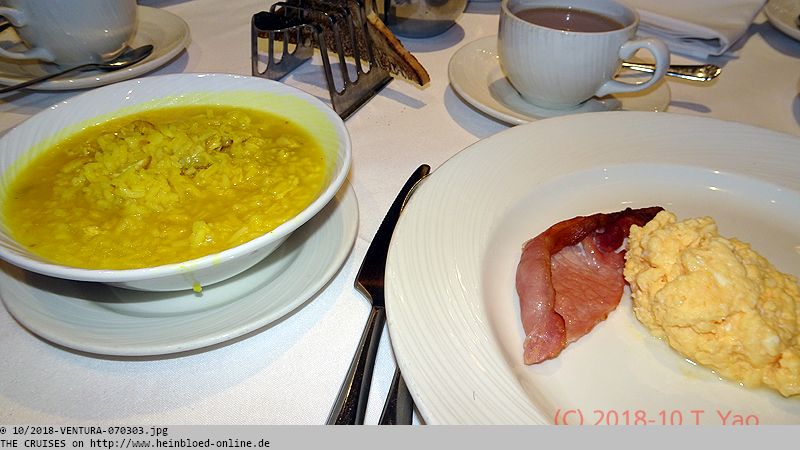 And on VENTURA 2018: I forgot that the majority of the crew would be from India and therefore there was congee in the crew mess only once a week. Nevertheless, they did it for me, so I did not need to wait a few days: but just with curry - as usual in India. In a question and answer time with the Hotel Manager, one question was: "What would be the biggest disaster in the galley?". At that time, the Hotel Manager said: "If the rice would run out and we could not prepare our crew food, then everything would stand still here, and nothing would move!". I'm sorry: 100 x HeinBloed on cruises, unfortunately, means that the anecdotes are reheated again and again as I am looking back. Sorry to get bored in between.

Again for breakfast. Boiled eggs posed a unique challenge on all ships: 1. to get them single, 2. to get them without side dishes, 3. to get them the way you would most like, 4. and when they came as a couple again to get both in a comparable state of cooking.

Wieder zum Frühstück. Auf allen Schiffen stellen gekochte Eier eine besondere Herausforderung dar: 1. sie einzeln zu bekommen, 2. sie ohne Beilagen zu bekommen, 3. sie so zu bekommen, wie man es am liebsten hätte, 4. und wenn man sie als Paar doch wieder bekommt, dass beide im vergleichbaren Garzustand sind.
Diese Herausforderung bringt mich auf die Idee Hoteldirektor Frank zu fragen, wie er seine Anweisung gibt, damit er sie so bekommt, wie er sie sich wünscht. Seine Antwort: er kocht sie selbst! Das wäre eine gute Idee. Das habe ich zuletzt in der Schweiz (ganz einfach am
Maggi Fondor
oder
Knorr Aromat
zu erkennen!) im
Swiss Heidi Hotel
gesehen: jeder Hotelgast kocht sein Ei selbst. Das einzige Problem: sobald ein neues rohes Ei hineingegeben wurde, stimmte die Wassertemperatur nicht mehr. Irgendein Hotelgast regelte es nach, damit es wieder kocht. Dann kochte es über. Die Bedienung regelte es wieder runter. Usw. usw. usw. - Das nennt man in der Technik einen Regelkreislauf. Man könnte so etwas ja auf einen Servierwagen stellen und zu den Tischen fahren, die sich gekochte Eier bestellen... Auf einem Schlag wäre man schiffsseitig die Verantwortung los, dass die Eier zu hart oder zu weich wären und übernimmt dafür die Verantwortung, dass der Gast sich nicht verbrüht oder sonst das Restaurant in Flammen aufgeht.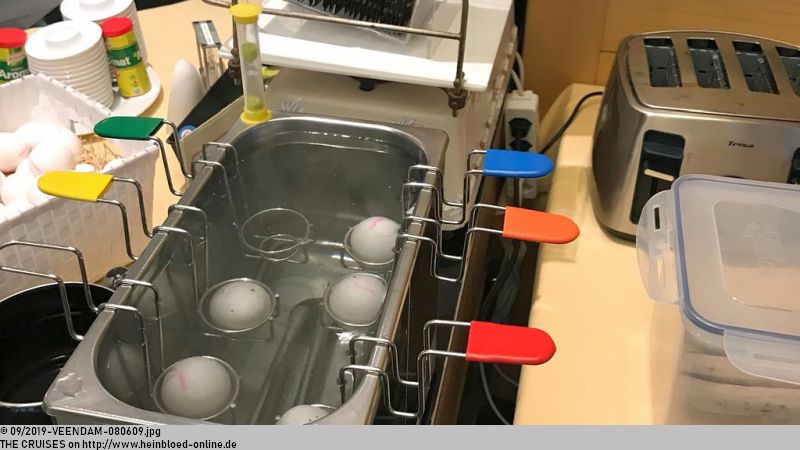 This challenge brought me to the idea of ​​asking Hotel Manager Frank how he would place his order so he would get the boiled eggs the way he wanted them. His answer: he would cook them himself! That would be a good idea. I saw that last time in Switzerland (quite merely to identify by the background of Maggi Fondor or Knorr Aromat!) At the Swiss Heidi Hotel: every hotel guest would need to cook his own egg. The only problem: as soon as a new raw egg was put in, the water temperature was not right, some hotel guests set it to make it boiling again. Then it boiled over. The waitress set it down back. Etc., etc., etc. - This was called a control loop in the technics. You could put such a thing on a trolley and could forward it to the tables, which ordered boiled eggs... In one fell swoop, you would lose the responsibility on the ship, that the eggs would be too hard or too soft and would take over the trust that the guest would not scald or otherwise the restaurant would go up in flames.

Finally land: St. John's, Newfoundland and Labrador, Canada. We were very centrally located in the city. Only one block from the main street. The reception was very friendly. Musically The Antle Sisters welcomed us. A real Newfoundland dog. The weather was a bit cooler, although we were actually at the altitude of Munich, Germany. There would be late summer. On the board with the information to the ship, it was shown next port, Sydney, NS. But actually, we would be tomorrow in St-Pierre, French Territory. Was it already clear that we would not dock there tomorrow? I showed this at our reception: they told me that we would be on our way to St-Pierre.

Endlich Land: St. John's, Neufundland und Labrador, Kanada. Wir liegen sehr zentral in der Stadt. Nur ein Block von der Hauptstraße. Der Empfang ist sehr freundlich. Musikalisch empfangen uns
The Antle Sisters
. Ein echter Neufundländer. Das Wetter ist ein wenig kühler, obwohl wir eigentlich auf der Höhe von München sind. Dort wäre jetzt Spätsommer. Auf der Tafel mit den Informationen zum Schiff steht als nächster Hafen Sydney, NS. Aber eigentlich wären wir ja morgen in St-Pierre. Steht etwa schon fest, dass wir morgen dort nicht anlegen? Ich zeige das an unserer Rezeption: dort sagt man mir, dass wir auf dem Weg nach St-Pierre sind.
Die Planung von HAL in Seattle hat sich den blödesten Tag ausgesucht, um in einem kanadischen Hafen festzumachen. Es ist Tag der Arbeit (Labour Day)! Der ist in Kanada so "heilig", dass sogar die ganzen Kettengeschäfte geschlossen haben. Nur wenige Geschäfte, an denen wir schon außen sehen, dass wir als Gäste der VEENDAM willkommen sind. Die meisten Geschäfte haben geschlossen und heißen noch die Gäste der CARIBBEAN PRINCESS willkommen, die hier gestern im Hafen lag. Auf dem Schiff heißt es, dass sogar die
St. John's Hop On-Hop Off-Busse
nicht fahren würden, aber sie fahren doch. So ein Geschäft mit den Kreuzfahrtgästen lässt man sich nicht entgehen. Ansonsten sind die Wohnviertel der Stadt kunterbunt und wirken daher sehr freundlich. In der Stadt trifft man überall Botschafter St. John's die herumlaufen, damit sie für die Fragen der Kreuzfahrtgäste beantworten. Aber auch sie erklären uns: es ist fast einfacher an Weihnachten ein offenes Geschäft zu finden, als jetzt am Tag der Arbeit.

HAL's planning in Seattle, WA chose the dumbest day to dock in a Canadian port. It was Labor Day, a public holiday! It is so "sacred" in Canada that even all the chain stores were closed. Only a few shops where we could see from the outside that we would be welcome as guests of VEENDAM. Most of the shops were closed and still welcomed the guests of CARIBBEAN PRINCESS. She was in the harbor the day before. On the ship, they said that even the St. John's Hop On-Hop Off-buses would not run, but they did. They could not miss a deal with the cruise guests. Otherwise, the residential areas of the city were colorful and therefore very friendly. Ambassadors of St. John's ran around the city to answer questions from cruise guests. But they also tould us: it would be almost easier to find an open business at Christmas than on Labor Day.

We took a picture of all essential information, so we did not need to carry the entire brochure with us.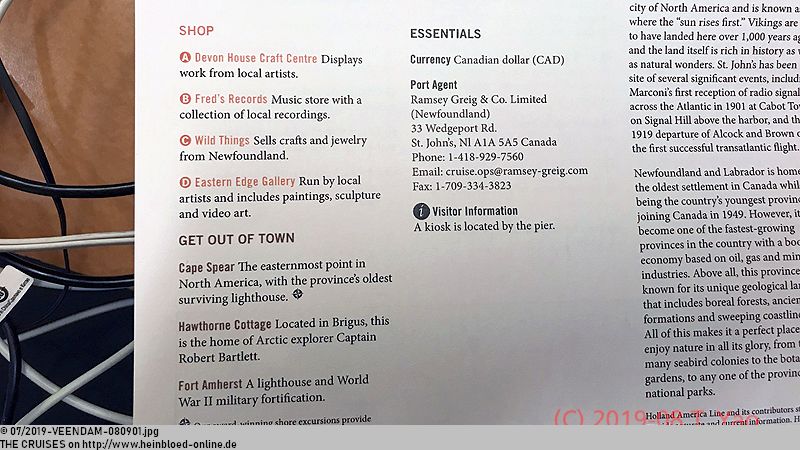 Alle notwendigen Informationen fotografieren wir nochmals ab, damit wir nicht die Broschüre mitschleppen müssen.
Draußen wartet das Abschiedskommittee.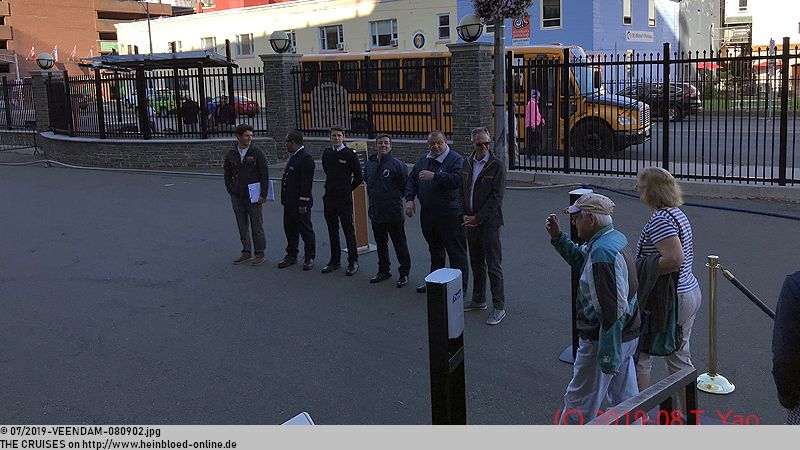 Outside, a farewell committee was waiting.

Always a critical picture: 16:30 hrs we would need to be back.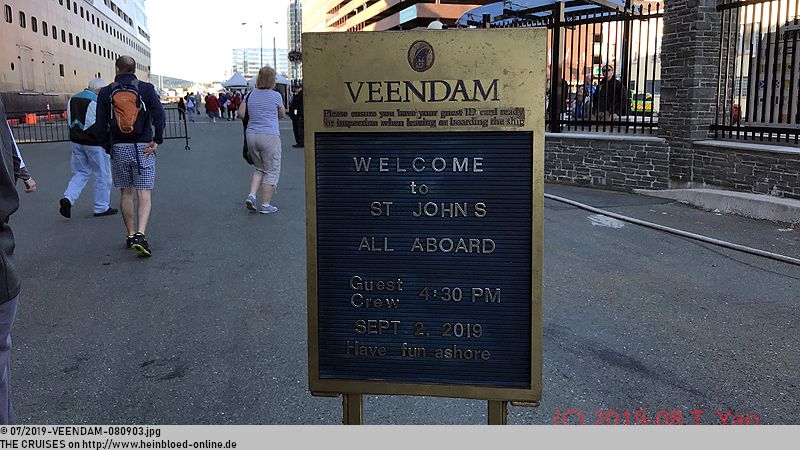 Auch immer ein wichtiges Bild: 16:30 Uhr müssen wir wieder da sein.
Wir sind auf Empfehlung der Konkurrenz, die keinen Platz mehr für uns hat, mit
Mc Carthy's Party
unterwegs. Das gefällt mir gut, dass es den Touranbieter darum geht, dass man als Gast in St. John's eine gute Zeit hat und daher man eine Weiterempfehlung bekommt. Es gibt auch andere, die einfach nicht reagieren oder sagen, dass man selbst weitersuchen muss. Larry ist unser fahrender Fremdenführer. Später erklärt man uns, dass die Ostfriesen Kanadas die Neufundländer ist und obwohl ich auch oft in den USA und in Kanada war und mit vielen Kontakt hatte: deren Aussprache ist für mich genauso unverständlich, als wenn ein Nordengländer aus der Liverpool-Manchester Ecke oder innerhalb des deutschsprachigen Raums einer aus Ostsachsen, Niederbayern oder aus dem Kanton Uri mit mir spricht. Es ist doch sehr gewöhnungsbedürftig.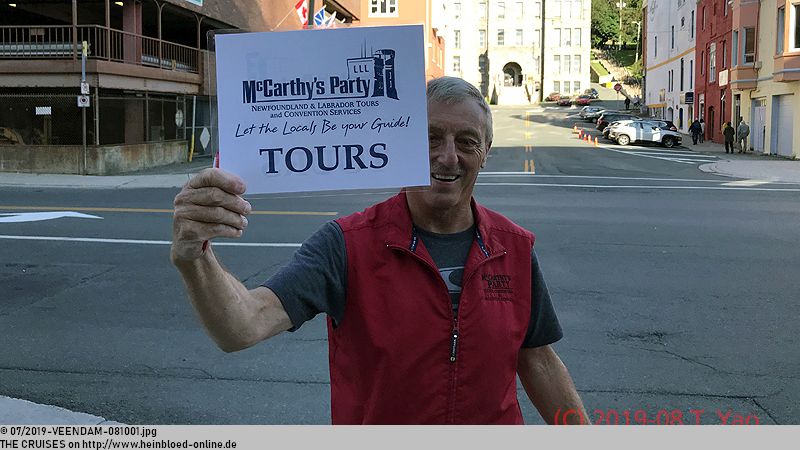 We were joining with Mc Carthy's Party on the recommendation of the competition, which had no room for us. I liked that the advice came from the tour operator, and it counted only that you, as a guest, should have a good time in St. John's, NL, Canada. Others simply would not respond or just would say that you had to keep looking. Larry was our driver-guide. Later we were told that the "St. Olaf-people" (from the former TV-show "The Golden Girls") of Canada would be the Newfoundlanders. Although I was also often in the US and Canada and had many contacts: their pronunciation was incomprehensible to me. Same as listening to Northern English to someone from Liverpool-Manchester area. Or within one of the German-speaking countries, one from East Saxony, Lower Bavaria, or from the Swiss canton of Uri would speak to me. It was tough to get used to.

We disliked tours in big buses.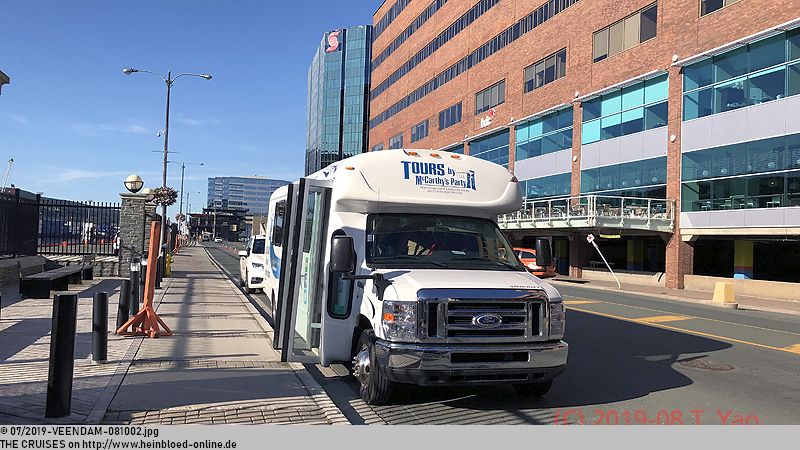 Wir mögen ja keine Touren in großen Bussen.
Der Midi-Bus kommt uns daher sehr entgegen. Um das Budget nicht überzustrapzieren, machen wir ein Teil als private Kleingruppentouren (an den interessantesten Orten), ein Teil in semi-öffentlichen Touren und ein Teil eben anders. Es ist immer ein Mix.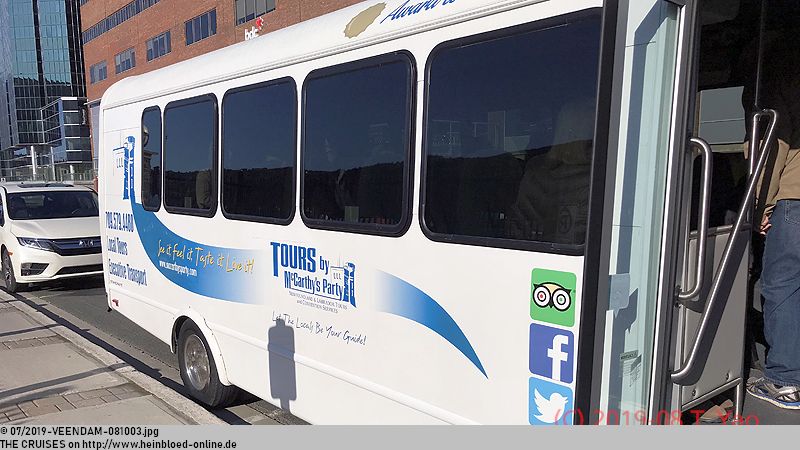 The midibus was therefore very accommodating. In order not to overstate the budget, we did one part as a private small group tour (in the most interesting places), one part in semi-public tours, and one part just different. It was always a mix.

It was good that Larry always talked to us with his hands. So you could guess what he was telling about in the front.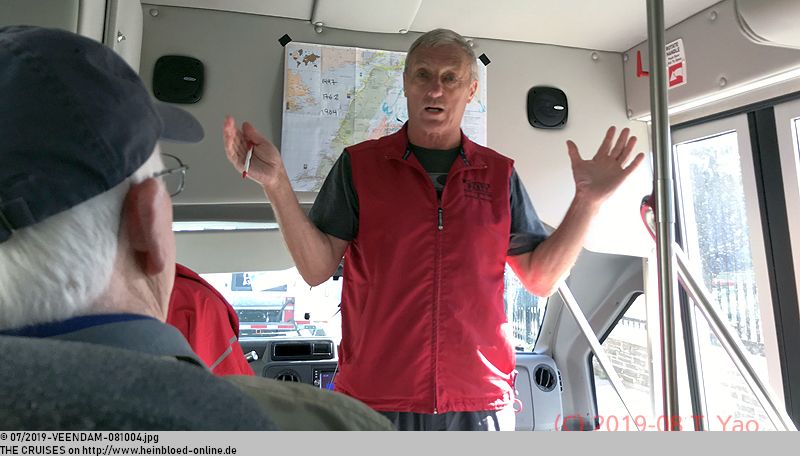 Es ist gut, dass Larry auch immer sehr viel mit seinen Händen spricht. So kann man erahnen, was er vorne erzählt.
Zunächst geht es zum östlichsten Punkt Kanadas:
Cape Spear
. Wie gesagt: München liegt auf 48° nördlicher Breite. Sehr viel Natur. Ein schöner Leuchtturm. Nur wir bekommen hier wegen des Feiertages nicht mal etwas zu trinken gekauft. Sogar die Toiletten öffnen am Feiertag erst um 10:00 Uhr. Und trotzdem ist es schön.

First, we went to the Easternmost point of Canada: Cape Spear. As I said: Munich, Germany, was at 48° Northern latitude. A lot of nature. A beautiful lighthouse. Only we did not even get something to drink here because of the holiday. Even the toilets opened on holidays at 10:00 hrs. And yet it is nice.

We continued towards the fishermen village of Petty Harbor, NL. Despite the holiday: the fishermen were back, and the fish had to be processed. In addition to lobster, there was the fresh cod. Unfortunately, my hope to meet here, the chef of the Pinnacle Grill Jan Laurent, was not fulfilled. So I did not see how the raw fish was purchased for tonight. Only "The Birds" made me nervous and reminded me of the film by Alfred Hitchcock with Tippi Hedren and Rod Taylor.

Es geht weiter in das Fischerdorf Petty Harbour. Trotz Feiertages: die Fischer sind zurück und der Fisch muss verarbeitet werden. Neben Hummer gibt es hier den frischen Kabeljau. Meine Hoffnung hier den Chefkoch vom Pinnacle Grill Jan Laurent hier anzutreffen, erfüllt sich leider nicht. Ich sehe also nicht, wie für heute Abend der frische Fisch gekauft wird. Nur "
Die Vögel
" machen mich nervös und erinnern mich an den Film von Alfred Hitchcock mit Tippi Hedren und Rod Taylor.
Nun geht es auf die andere Seite der Stadt zu Cabot Tower auf dem
Signal Hill
. Von hier hat man einen fantastischen Panoramablick.

Now we were heading to the other side of the city to Cabot Tower on Signal Hill. From here, you had a fantastic panoramic view.

From here you could also see MY VEENDAM. Unfortunately, we could not find an open photoshop, so I only had the opportunity to take pictures with the iPhone. Nevertheless, it was a great view.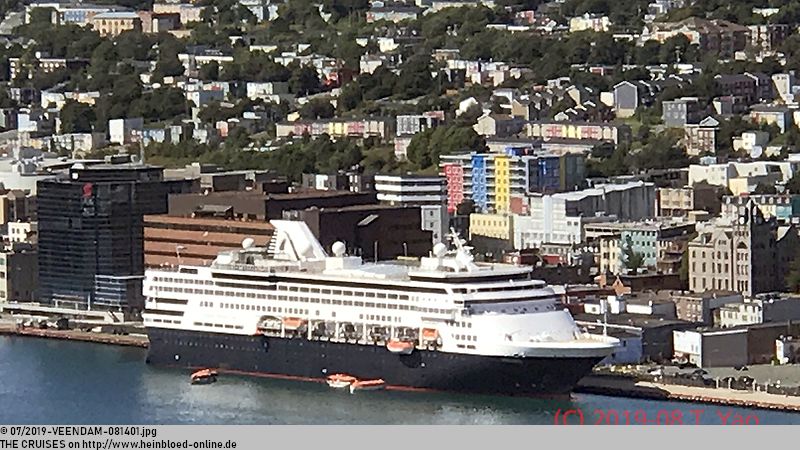 Von hier sieht man auch MEINE VEENDAM. Da wir leider kein Fotoladen finden, der geöffnet hat, bleibt mir nur die Möglichkeit Bilder mit dem iPhone zu machen. Trotzallem ist es ein toller Anblick.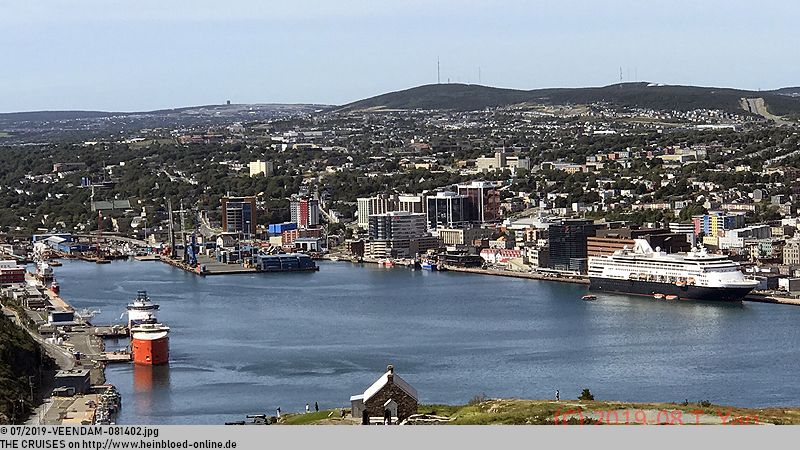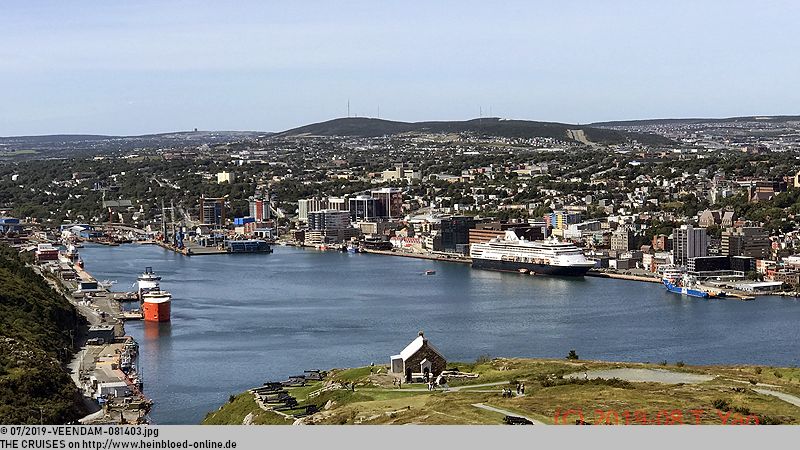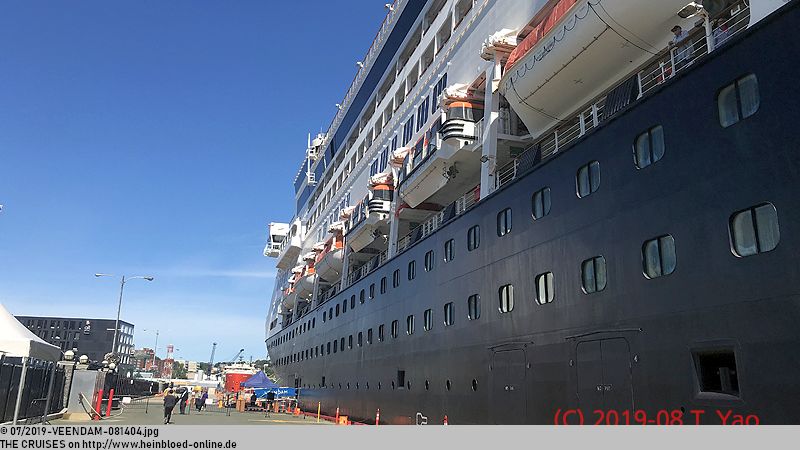 Quidi Vidi. Larry was surprised that we knew the name of the place. But we had to learn the correct pronunciation onboard with Cisco. Definitely, a very nice place that invited you to linger, if not all shops were closed because of the holiday and you could really just stroll and watch. Therefore, the attraction today was not the brewery restaurant Quidi Vidi Brewery that was still closed, but Larry's fishing boat.

Quidi Vidi. Larry ist überrascht, dass wir den Namen des Ortes kennen. Aber wir mussten an Bord mit Cisco die korrekte Aussprache lernen. Bestimmt ein sehr schöner Ort, der zum Verweilen einlädt, wenn nicht alle Geschäfte wegen des Feiertages geschlossen wären und man wirklich nur bummeln und gucken kann. Daher ist die Attraktion heute nicht die
Brauereigaststätte Quidi Vidi Brewery
, die noch geschlossen hat, sondern Larrys Fischerboot.
Larry bietet uns an, dass wir schon in dem Viertel aussteigen können, in dem die bunten Wohnhäuser stehen. Das Angebot nehmen wir an und lassen uns schon im Ort aussetzen. Wir haben einen schönen Überblick für unseren ersten Besuch bekommen. Dort möchte ich gerne zu einem
Tim Hortons
(die bessere Alternative in Kanada zu
Starbucks
und DIE Institution schlecht hin in Kanada!) Ohne "Double-Double" (Kaffee aus der klassischen Kaffeemaschine mit zwei mal Zucker und zwei Mal Milch) bei
Tim Hortons
ist man nicht in Kanada gewesen. Bruno und Sigrid sind lieber nicht in Kanada gewesen und ich beschließe, dass sie in Zukunft ihre Ausflüge selbst planen müssen, wenn ich nicht noch irgendwann zu meinem "Double-Double" komme.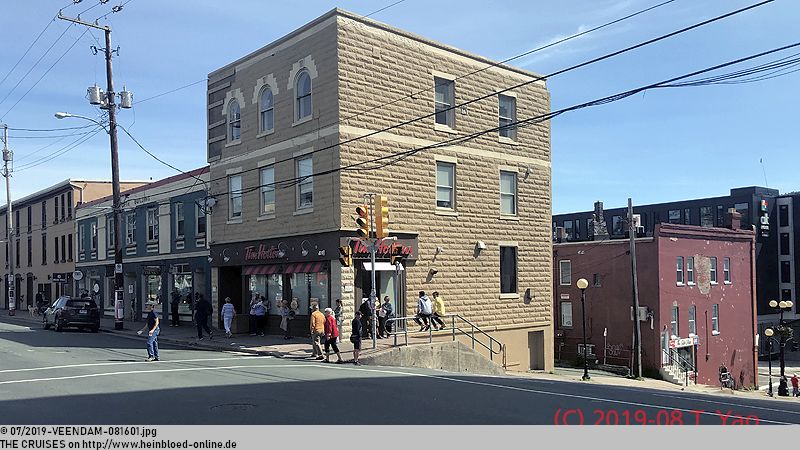 Larry offered us that we could get out in the neighborhood where the colorful houses were. We accepted the offer, and he let us already in the village suspend. We got a nice overview of our first visit. I would like to see a Tim Hortons (the better alternative in Canada to Starbucks and THE institution in Canada!) Without "double-double" (coffee from the classic coffee machine with two portions of sugar and two portions of milk) at Tim Hortons you would not be in Canada. Bruno and Sigrid would rather not be in Canada, and I decided that in the future, they would need to plan their own excursions if I would not come to my "double-double" at some point.

Just opposite was a branch of Jumping Beans: for sure it was double as big as the tiny Tim Hortons.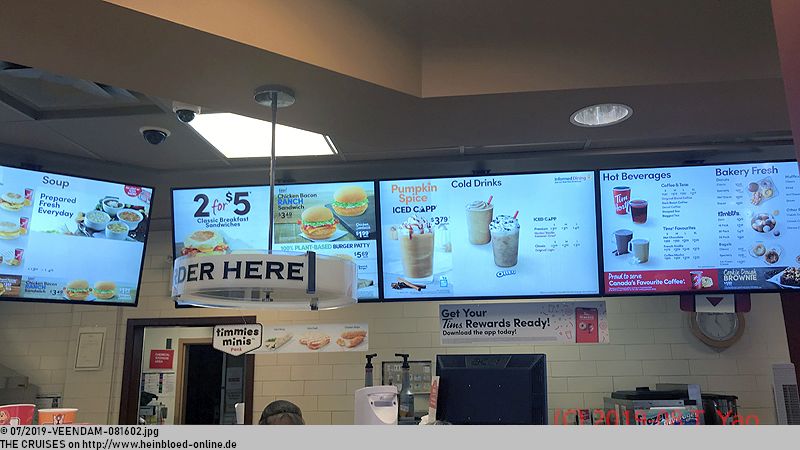 Gegenüber ist ein
Jumping Beans
: bestimmt doppelt so groß wie der kleine
Tim Hortons
.
Und auch mit Barista Maschine. Aber nur halb soviele Besucher. Wir finden sofort einen Tisch.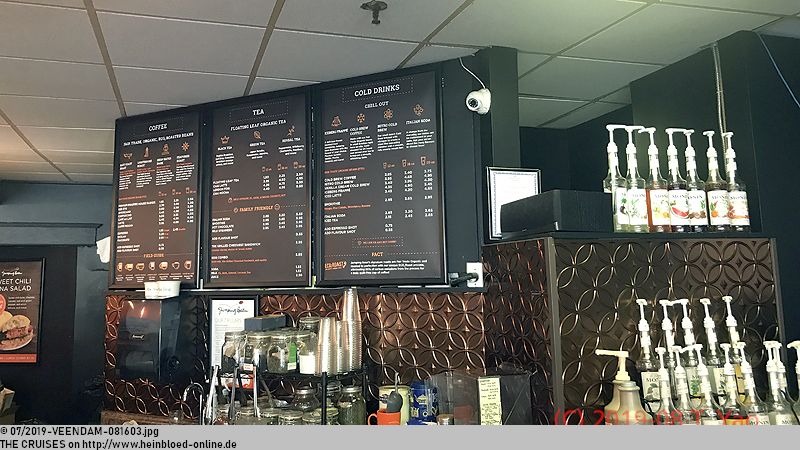 And also with a Barista coffee machine. But only half of the frequency of guests. We found a table immediately.

Unfortunately, as it was common in North America, you could have the best barista machine in the world. The coffee was still only served in a paper cup.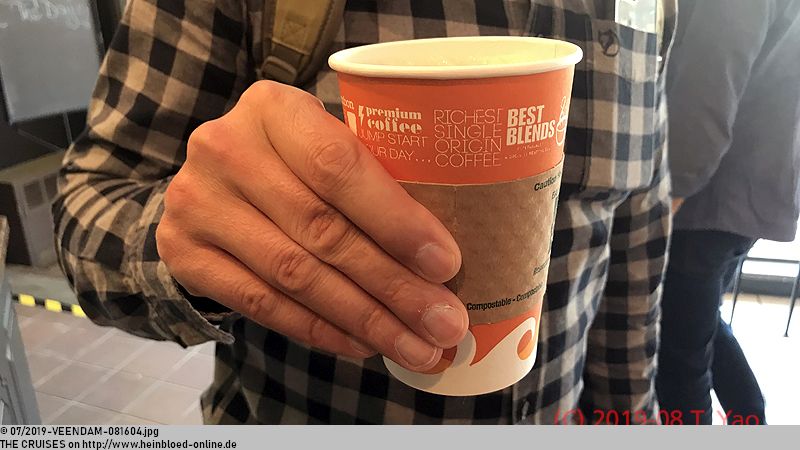 Leider wie in Nordamerika sehr verbreitet: sie können die beste Barista-Maschine der Welt haben. Den Kaffee gibt es trotzdem nur in einem Pappbecher.
Wenn wir schon in St. John's sind, dann müssen wir auch den Kabeljau von hier probieren müssen. Im
Olivier's Restaurant
klingt nichts nach
Long John Silver's
oder
Red Lobster
. Und schmeckt auch nicht danach. Wir treffen im Restaurant auch Mitglieder der Crew. Das ist immer ein gutes Zeichen, weil die ja sehr darauf achten, dass sie das beste für ihr Geld bekommen. Ich probiere
Bull's Head Cola
. Die Hühner-Nudelsuppe sieht (und schmeckt) auf jeden Fall anders als die aus dem Eimer, die es fast in der selben Rezeptur in jedem anderen Restaurant gibt. Und der Kabeljau ist nicht einer Panade ertränkt und zu Tode frittiert worden.

If we were already in St. John's, NL, then we had also to try the cod from here. Olivier's Restaurant did not sound like Long John Silver's or Red Lobster. And it did not taste like that either. We also met members of the crew in the restaurant. This was always a good sign because they were cautious about getting the best for their money. I tried Bull's Head Cola. The chicken noodle soup looked (and tasted) definitely different than the one from the bucket, which was almost the same recipe in every other restaurant. And the cod had not been drowned in a battering and deep-fried to death.

On the opposite side of the street was also something available which you had to eat mandatory when you were in Canada: Poutines. Like here with Smoke's Poutinerie.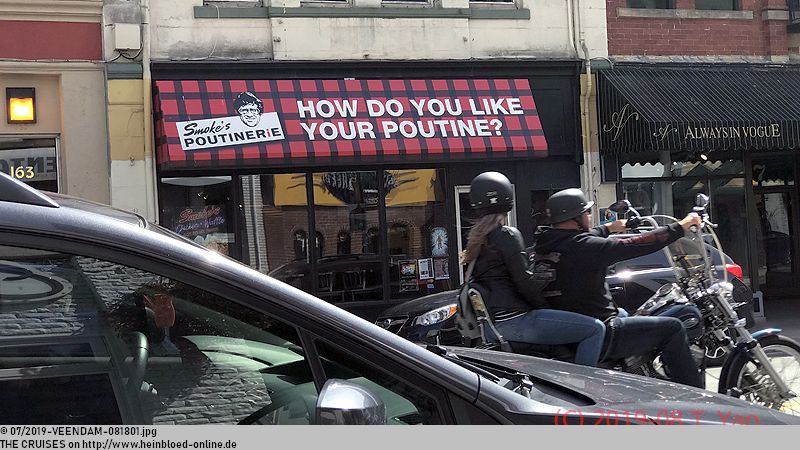 Gegenüber ist ja noch etwas, dass man obligatorisch in Kanada essen muss, wenn man da ist:
Poutines
. Wie hier bei
Smoke's Poutinerie
.
Aber
Chicken + Waffle
ist mir dann doch zu pervers. Vermutlich noch mit Ahornsirup oben drauf.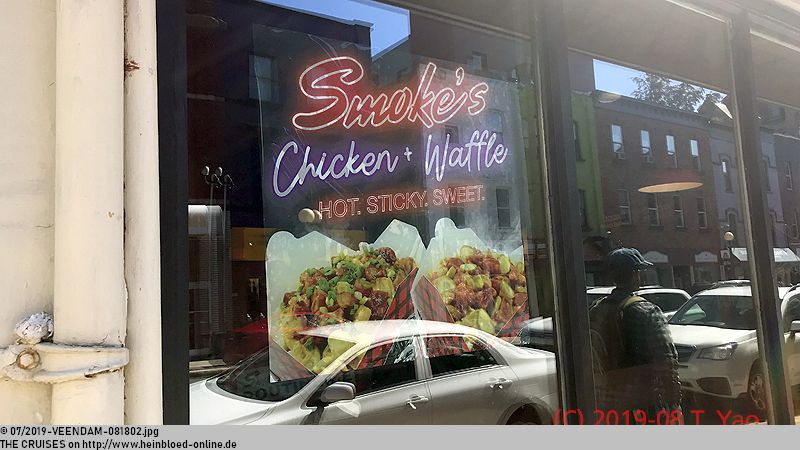 But Chicken + Waffle was too pervert to me. I assume you would get on top maple syrup.

As I said before: the National dish of Canada. But I would say: it would be something with maple syrup.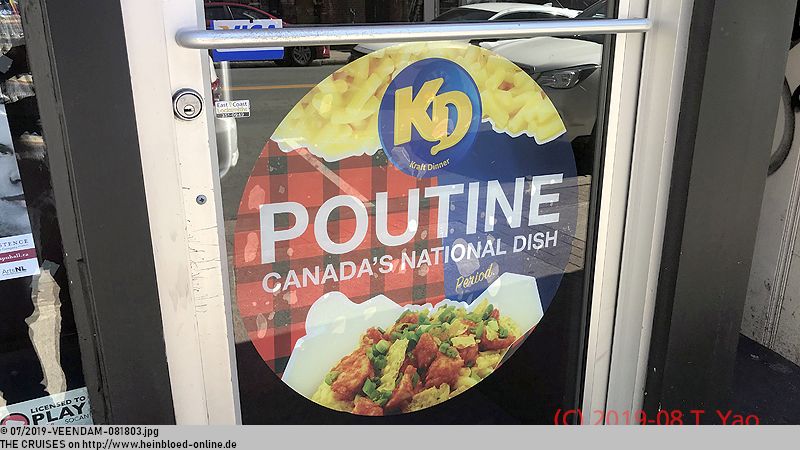 Ich sag es doch: das Nationalgericht Kanadas. Wobei ich sagen würde: es wäre irgendwas mit Ahornsirup.
Es geht wieder an Bord. Da wir ja formell wieder in die EU ausreisen und dann wieder später nach Kanada einreisen haben wir nochmals Einreiseformulare an der Tür.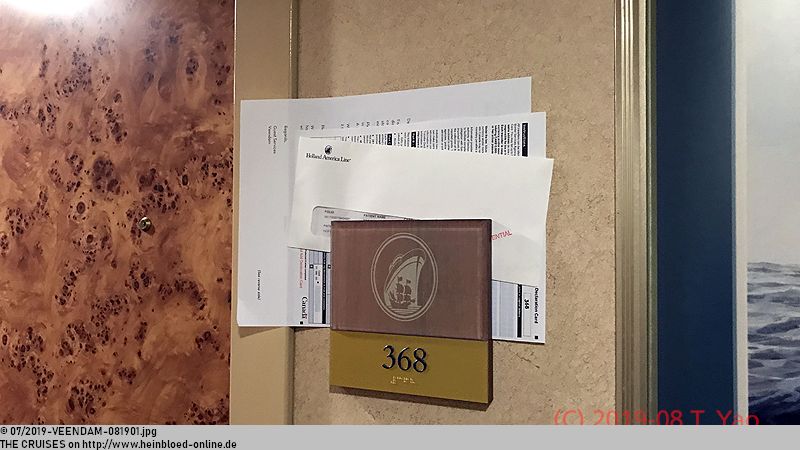 We returned onboard. Since we formally would exit to the EU and re-enter later to Canada again, we got another entry form at our door.

And the medical center sent an invoice for the medication again. The amount was a multiple of the expenses for travel health insurance. But it was worth to have one.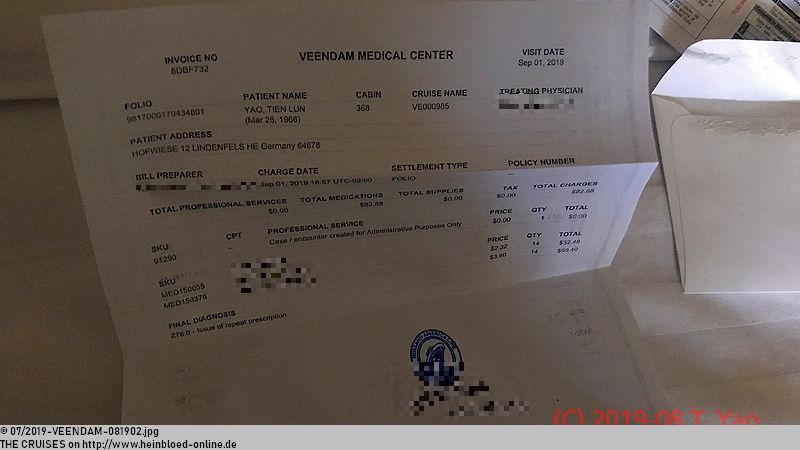 Und das Bordhospital schickt wieder eine Rechnung für die Medikamente. Die Summe übersteigt ein Vielfaches der Kosten einer Auslandsreisekrankenversicherung. Aber sie hat sich gelohnt.
Und wieder einen Elefanten.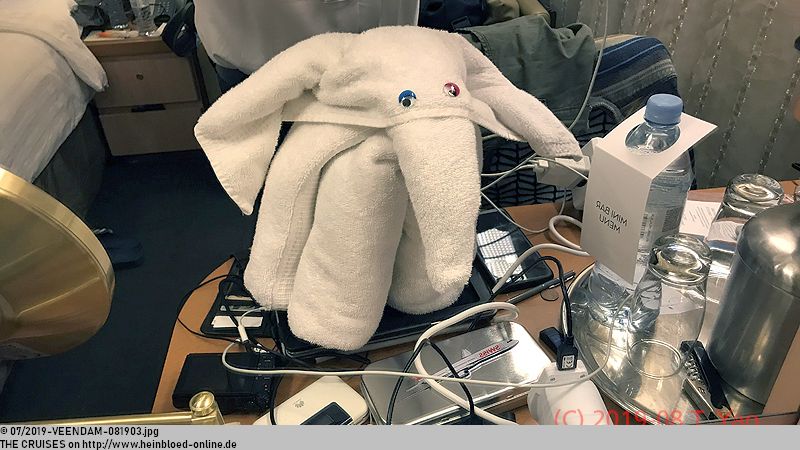 And again an elephant.

Tonight would be again time change. The 30 minutes were somehow strange to me.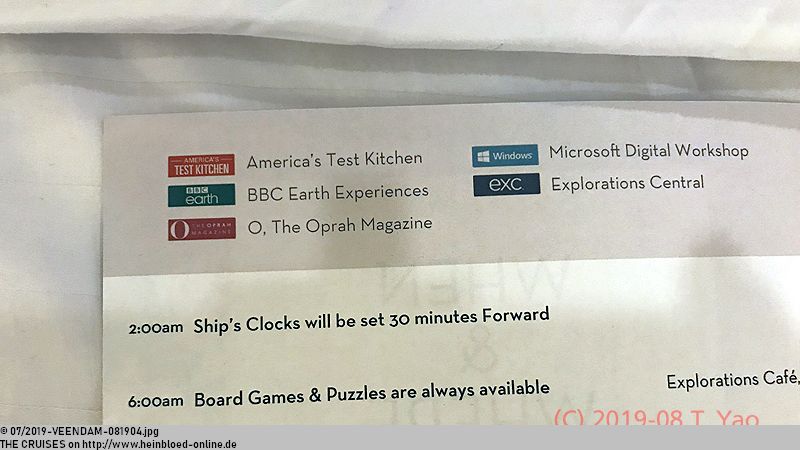 Heute Nacht ist wieder Zeitumstellung. Diese 30 Minuten sind doch etwas ungewohnt.
Und noch sicherheitshalber ein Hinweis auf dem Bett.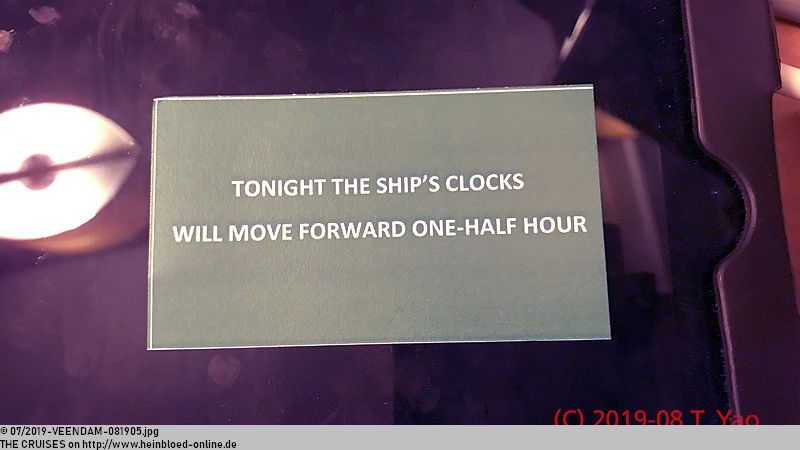 To be safe but sorry: one more advise on your bed.

The Carnival-World changed. It should be plastic-free and away from single containers. Throughout the Carnival Group.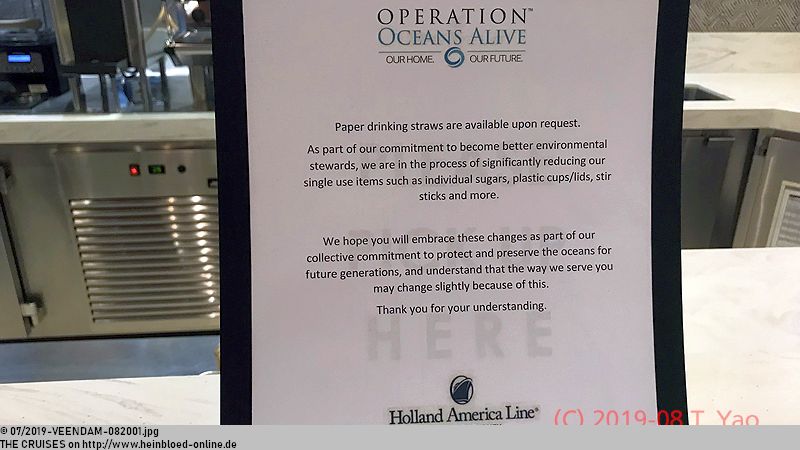 Die Carnival-Welt hat sich verändert. Es soll plastikfrei und weg von den Einzelgebinden. Im gesamten Carnival-Konzern.
Ich mag persönlich keine Zuckerstreuer an hochfrequenten Punkten, wie eben der Kaffeebar oder Heißgetränkeausgabe im SB-Restaurant und hoffe, dass sie stündlich ausgetauscht und desinfiziert werden, sonst werden die Keime hier gut übertragen. Außerdem ist es unpraktisch, wenn ich etwas für andere mitnehmen möchte. Ich werde mir auf der nächsten Reise einen eigenen Zuckerstreuer mitbringen oder am Anfang der Reise direkt den Bar Manager fragen, ob ich einen persönlichen für meine Kabine haben darf. Es gibt für mich durchaus Bereiche, in denen Einzelgebinden auch aus Plastik durchaus Sinn machen.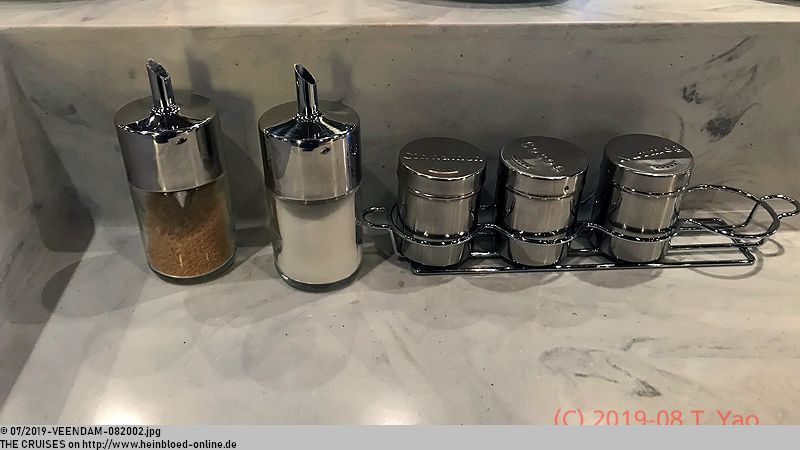 Personally, I did not like sugar shakers at high-frequency points, like the coffee bar or hot drink outlet in the self-service restaurant and hoped that they would be exchanged and disinfected every hour. Otherwise, the germs would be transferred well here. Also, it was impractical if I wanted to take something for others. I would bring my own sugar shaker on the next voyage or would ask the bar manager at the beginning of the sailing if I could have a personal one for my cabin. For me, there were applications in which single containers made of plastic would make sense.

For my cold coffee beverage with the whipped cream, there was not any "optically beautiful" reusable solution available so far.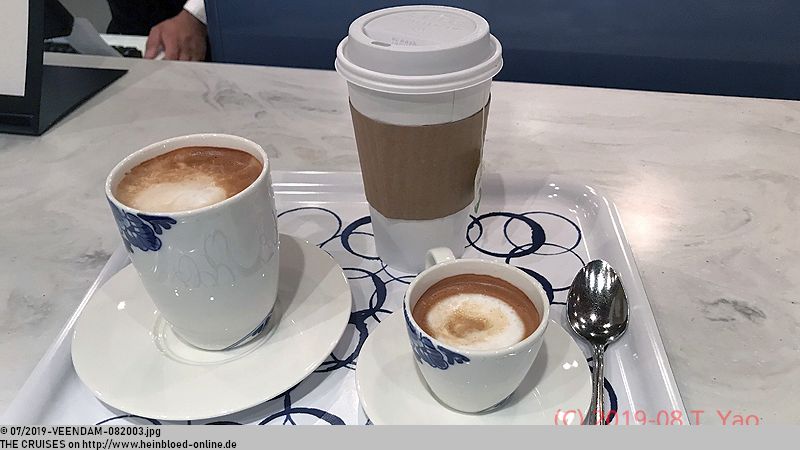 Für mein Kaffeekaltgetränk mit der Schlagsahne gibt es noch keine "optisch schöne" Mehrweglösung.
Mir macht das nicht aus, mein benutztes Geschirr wieder zurückzubringen und daher verlange ich eben alles in Porzellan und habe mein Tablett mit, um es zu holen.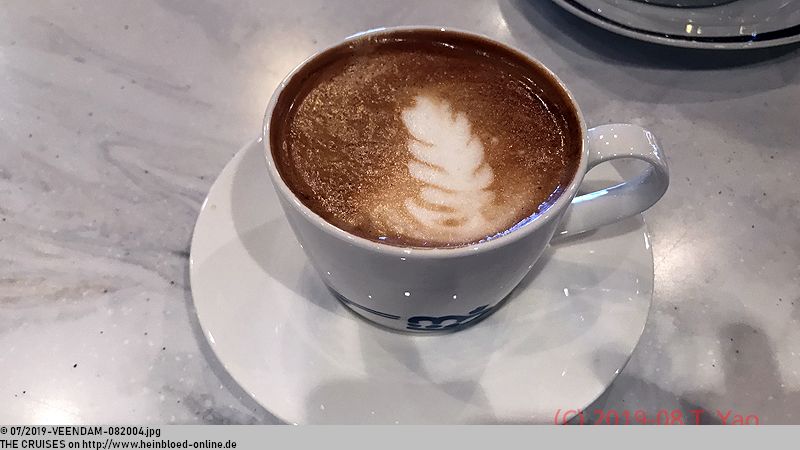 I did not mind bringing my used dishes back and therefore I requested everything in porcelain and had my tray with me to carry it.

By the way, Mel and Caryl were married to each other. Whether here at the Exploration Café or in the Pinnacle Grill: we were always served by both very attentive and friendly.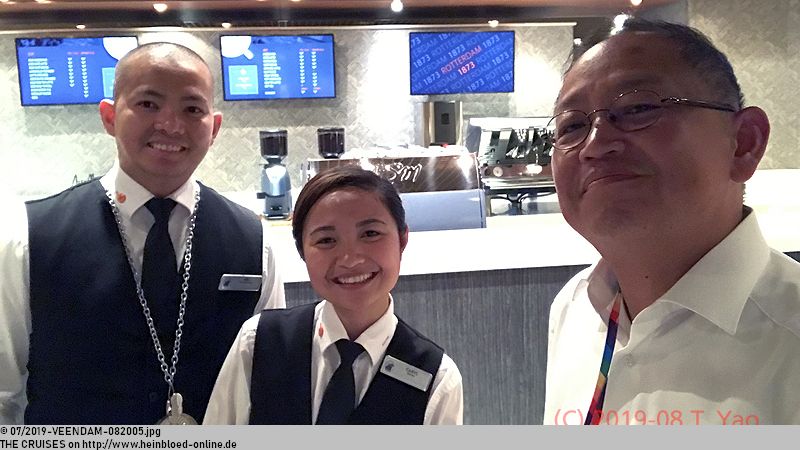 Mel und Caryl sind übrigens mit einander verheiratet. Egal ob hier am Exploration Café oder im Pinnacle Grill: wir werden von beiden immer sehr aufmerksam und freundlich bedient.
Wir dürfen zur Ausfahrt auf den Bug. Die Ausfahrt ist einfach traumhaft. Aber auch sehr windig. Kapitän Mark sieht uns und winkt uns zu.

We were allowed to exit to the bow. The set sail was just fantastic. But also very windy. Captain Mark saw us and waved to us.

For us passengers, this was a rare privilege: on WESTERDAM 2010, we found it excellent that the bow area was opened twice in the morning for the passengers, and they offered a buffet with hot drinks (alcohol-free, with alcohol for a fee), and Norwegian pastries were offered. The lector then explained the admission to the fjords of Norway. That was breathtakingly spectacular and unforgettable.

Für uns Passagiere ist das ein seltenes Privileg: Auf der
WESTERDAM 2010
fanden wir es klasse, dass frühmorgens der Bugbereich zwei Mal für die Passagiere geöffnet wurde und dort ein Büffet mit Heißgetränken (ohne Alkohol kostenlos, mit Alkohol gegen Bezahlung) angeboten und norwegisches Gebäck gereicht wurde. Der Lektor hat dann die Einfahrt in die Fjorde Norwegens erklärt. Das war atemberaubend spektakulär und unvergesslich.
Auch auf der
DIAMOND PRINCESS 2016
hatten wir Glück, dass wir von hier die Ausfahrt aus Singapur mitverfolgen konnten. Die Einfahrt in Hongkong später ist leider aufgrund des Nebels abgesagt worden.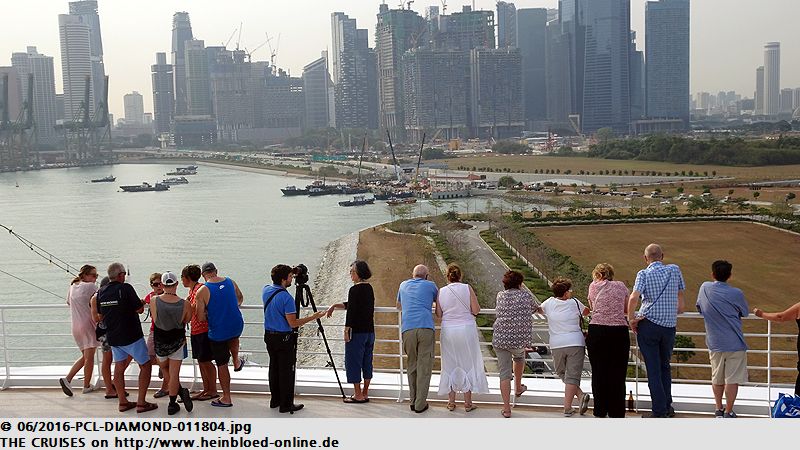 Also on DIAMOND PRINCESS 2016 we were lucky that we were able to follow the set sail out of Singapore from here. The approach to Hong Kong later, unfortunately, was canceled because of the fog.

In the Explorers Lounge, the Adagio Duo was playing again.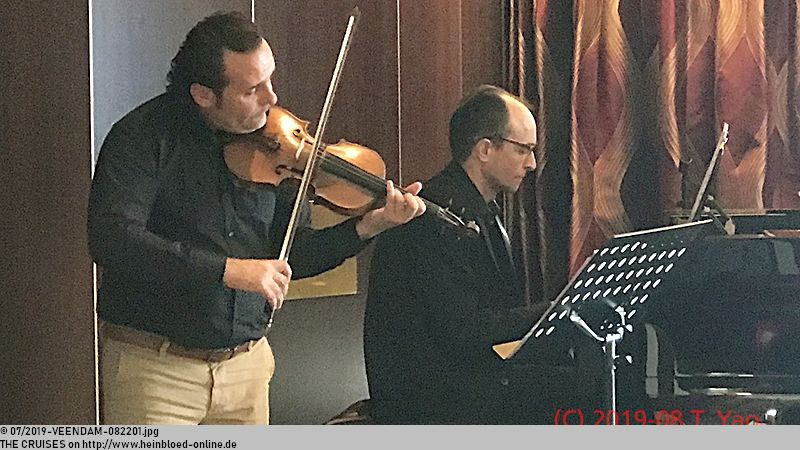 In der Explorer Lounge spielen wieder das Adagio Duo.
Meine Vorsprache hat gefruchtet. Es ist ein wenig wärmer - leider nur für dieses eine Mal. Es sitzen mehr Leute da. Aber viele haben sich schon sicherheitshalber ihre Jacken mitgebracht.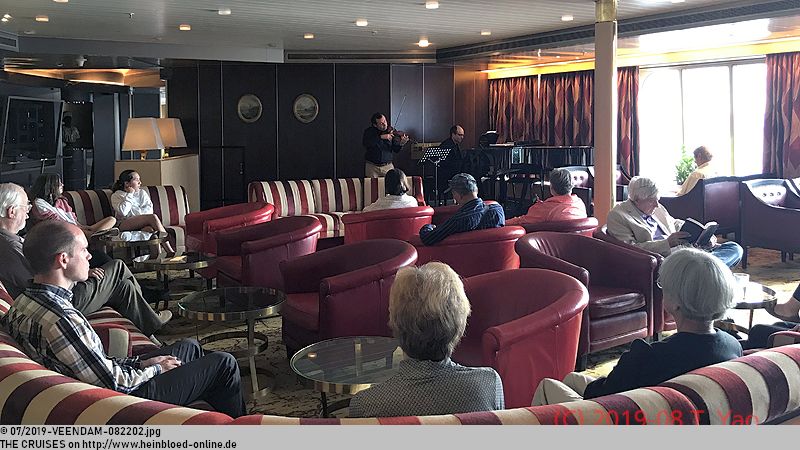 My complaint was successful. It was a bit warmer - unfortunately only for this one single time. More people were sitting there. But many had already their jackets with them for safety's sake.

And our violinist was practicing again for his next performance.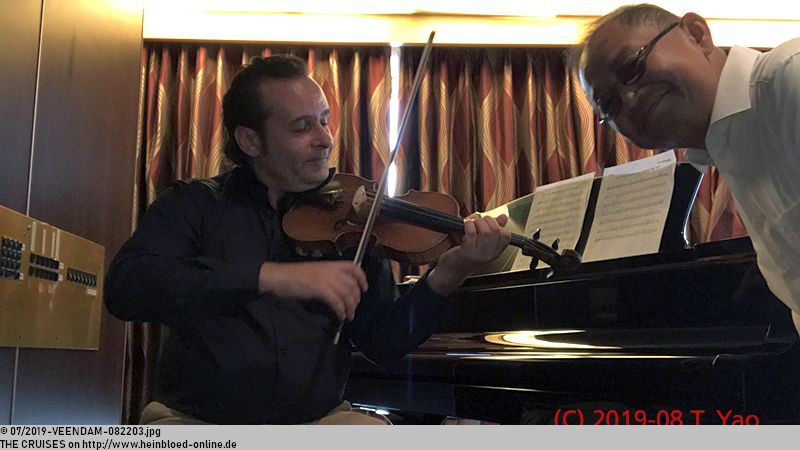 Und unser Violinist übt wieder für seinen nächsten Auftritt.
Ich bereite mich für den Pop-Up-Abend im Pinnacle Grill vor. Dabei laufe ich noch ein wenig über das Promadendeck. Man kennt sich und man grüßt sich. Man lächelt sich zu und man fragt sich untereinander, wie es einem geht. So freue ich mich immer morgens und abends diejenigen zu treffen, die dafür sorgen, dass morgens unsere Liegen aufgestellt sind und abends wieder zusammenklappen: Ranti, Lany, Putra. Selbstverständlich bekommen sie für ihre Arbeit auch Süßigkeiten wie die anderen von der Crew, die mich nett behandeln.

I was preparing for the pop-up evening at the Pinnacle Grill. I was still walking a little over the promenade deck. You knew each other, and you greeted each other. You smiled, and you asked each other, how were you. So I was always happy to meet in the morning and in the evening some crew members like Ranti, Lany, and Putra. Those who made sure that our sunbeds were set up in the morning. And folded up again in the evening. Of course, they also got some sweets for their work like the others from the crew, who treated me nicely.

Rudi's Sel de Mer as a pop-up solution in the Pinnacle Grill: a first-class idea. And it looked like the same menu we knew from KONINGSDAM 2016. No - I still could not get excited about the plates of Rudi Sodamin. There was again a greeting from the kitchen. The service was precisely what we know from the Pinnacle Grill: very attentive and with lots of little extras and also some preparation at the table. Many thanks to Restaurant Operational Manager Bahadir and the Pinnacle Grill Team around Job, Yuni, Ahmad, Troy and Mel.

Rudi's Sel de Mer als Pop-Up-Lösung im Pinnacle Grill: eine erstklassige Idee. Und es sieht nach der gleichen Karte aus, die wir von der
KONINGSDAM 2016
kennen. Nein - ich kann mich immer noch nicht für die Teller von Rudi Sodamin begeistern. Es gibt hier wieder einen Gruß aus der Küche. Der Service ist genauso, wie wir es von früher vom Pinnacle Grill kennen: sehr aufmerksam und mit vielen kleinen Extras und auch Service am Tisch. Vielen Dank an Restaurant Operationals Manager Bahadir und das Pinnacle Grill Team rund um Job, Yuni, Ahmad, Troy und Mel.
Und hier noch die Bilder aus dem Sel de Mer auf der
KONINGSDAM 2016
.

And here also the pictures from Sel de Mer on KONINGSDAM 2016.

The other pop-up-restaurants we made the acquaintance of De Librije on KONINGSDAM 2016.

Die anderen Pop-Up-Restaurants, die wir erlebt haben waren
De Librije
auf der
KONINGSDAM 2016
.
Und
Le Cirque
auf der
ZAANDAM 2012
. Da aber der Pinnacle Grill immer eine tolle eigene Karte hatte, fand ich persönlich die Standardkarte des Pinnacle Grills besser.

And Le Cirque on ZAANDAM 2012. Since the Pinnacle Grill always had an excellent menu of it is own, I always liked more the standard menu of the Pinnacle Grill.

And if I could express a wish: I thought that the best lobster was in Tamarind on KONINGSDAM 2016. For such long journeys, please have a second pop-up evening in the Pinnacle Grill with the specialties of Tamarind.

Und wenn ich einen Wunsch noch äußern dürfte: ich finde den besten Hummer gab es damals im Tamarind auf der
KONINGSDAM 2016
. Bei so langen Fahrten bitte noch einen zweiten Pop-Up Abend im Pinnacle Grill mit den Spezialitäten des Tamarind.
Last not least geht es noch zur Production Show Droom. Ein toller Tag geht zu Ende.

Last not least, we went to the production show Droom. A wonderful day came to the end.
Die anderen Reisen in diesem Blog/
The other voyages in this blog: