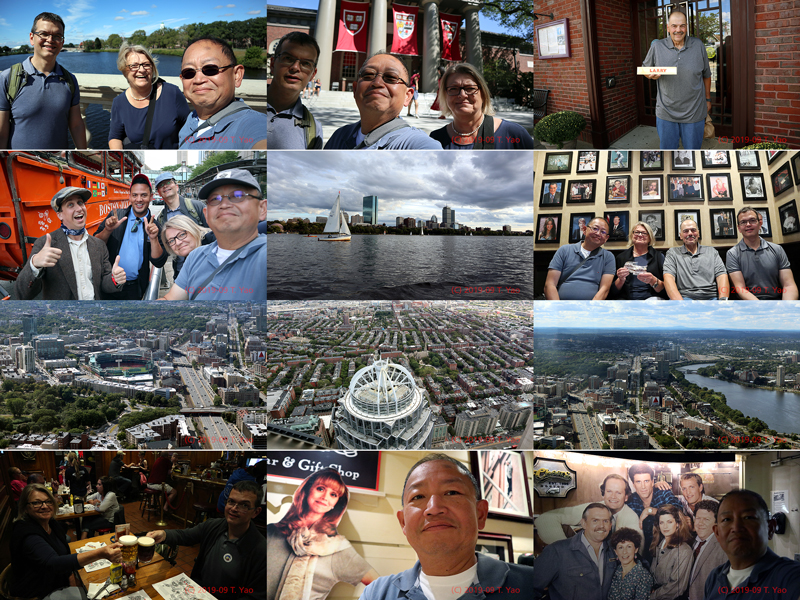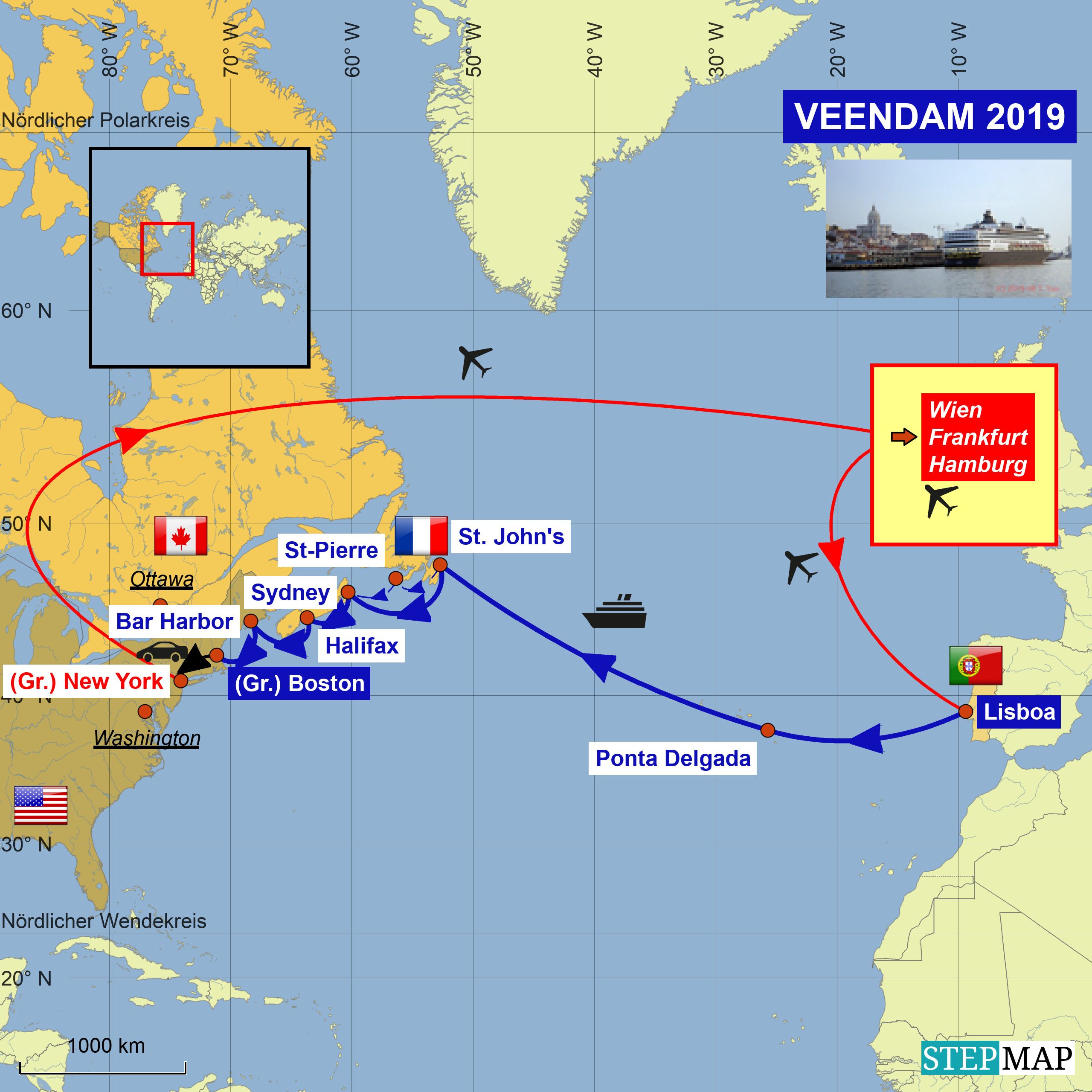 Meine "Achillessehne" in amerikanischen Hotels: das Frühstück. In Häusern wie
Hampton Inn
ist es kostenlos. Es ist sehr energiereich, als wenn man noch den ganzen Tag auf den Feldern schuften muss. Nur irgendwie für jemand, der europäisches Frühstück gewohnt ist, nicht immer ansprechend. Für mich empfinde ich es als Überlebenstraining. Ich habe meinen
Pure Leaf ungesüßten Eistee
mit, sowie einen
Cheribundi Kirschsaft
und
V8 Gemüsesaft
.

My "personal weak point" in American hotels: breakfast. It was mostly free at places like Hampton Inn. It was very energetic as if you would need to work all day in the fields. Just somehow not always appealing to someone who was used to European breakfast. I saw it as survival training. I had my Pure Leaf unsweetened iced tea, as well as a Cheribundi cherry juice and V8 vegetable juice.

The hotel had a bar. I was surprised. Many Germans were upset about the prices for a beer on board. But they would correspond to the level of a bar like this.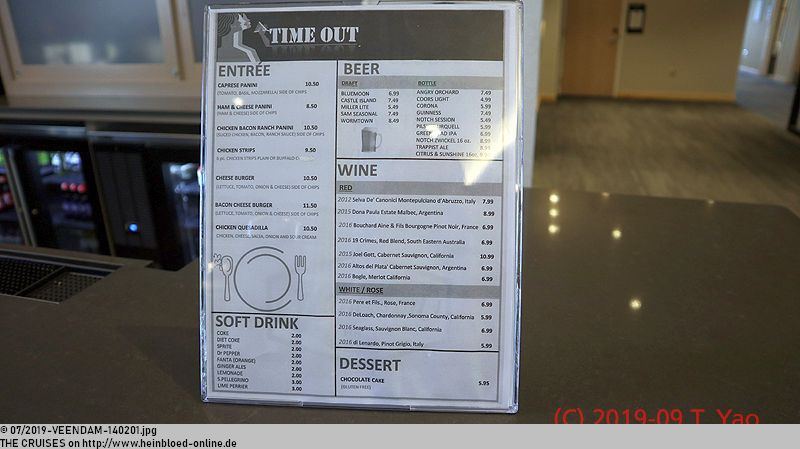 Das Hotel hat eine Bar. Ich bin überrascht. Viele Deutsche regen sich ja über die Bierpreise an Bord auf. Aber die entsprechen dem Niveau einer Bar wie dieser.
Damals noch... als im Business Center eine Sekretärin saß, die einem die Arbeiten abgenommen hat und man für die Nutzung zahlen musste... Lange ist es her...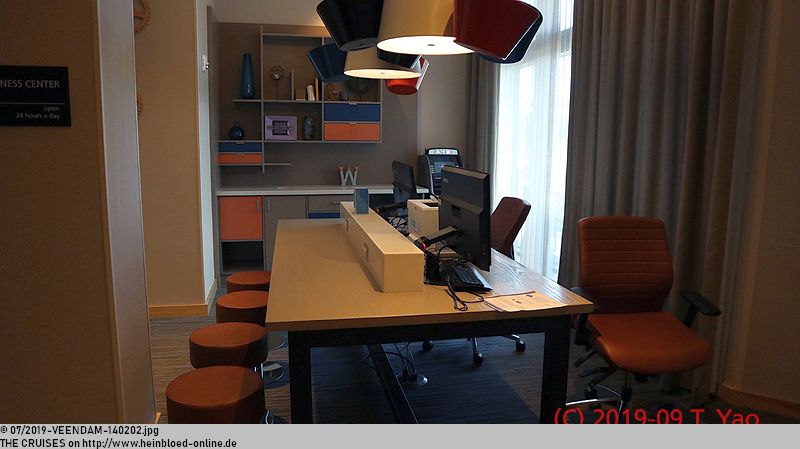 Back then... when there was a secretary in the business center who did the work for you and you had to pay for the use... It was a long time ago...

We went to Cambridge, MA. First, they needed to have good coffee. We knew Peet's Coffee from our voyage on DIAMOND PRINCESS 2016.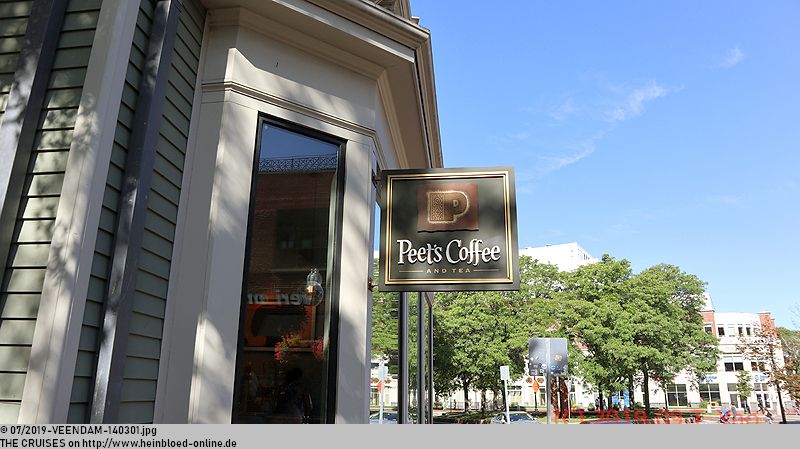 Wir fahren nach Cambridge, Massachussets. Erst mal einen guten Kaffee trinken. Wir kennen
Peet's Coffee
von der
DIAMOND PRINCESS 2016
-Reise.
Ich nehme jedoch einen kalten Tee.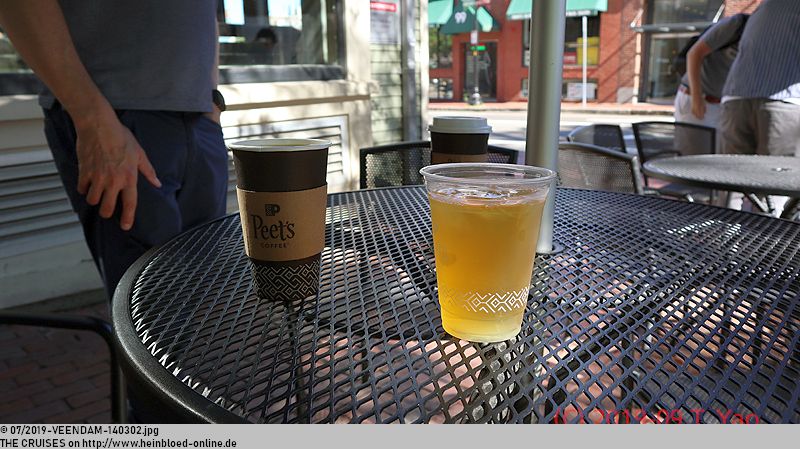 But I took an iced tea.

We walked through Cambridge, MA.

Wir laufen durch Cambridge.
Vor der
VENTURA 2018
waren wir in Cambridge, England. Also ein paar Ähnlichkeiten gibt es schon. Deswegen fühlt man sich auch in Cambridge, MA fast wie in Europa.

Before we joined VENTURA 2018, we were in Cambridge, England. Here, you found some similarities. So you get nearly a feeling like you would be in Europe, here in Cambridge, MA.

Then we also walked through Trinity College in Cambridge, England. The style of architecture here in Cambridge, MA, looked quite similar.

Damals sind noch durch
Trinitiy College in Cambridge, England
gelaufen. Die Baustile hier in Cambridge, MA ähneln sich sehr.
In Cambridge, England waren wir natürlich in einem Bekleidungsgeschäft, das Artikel mit Universitäts-Logo führt. Für so etwas gehen wir in die offizielle
THE COOP Universitäts-Buchhandlung in Cambridge, MA
.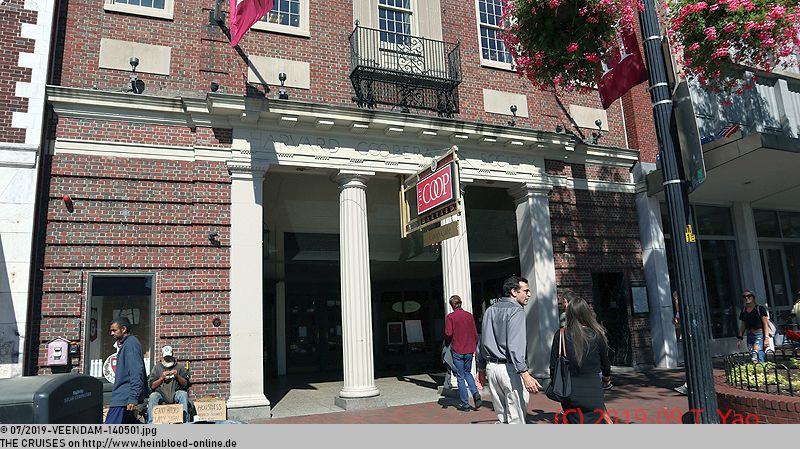 In Cambridge, England, we went indeed to a cloth store which offered items with the logos of the university. For things like these, we went to the official bookstore of the university in Cambridge, MA.

We were hugely disappointed because the selection of textiles was minimal. We talked about it in German and complained about the small collection. Someone listened and came to us and greeted us. The agent told us that we should go around the quarter block. All textiles would be sold there. We asked how he came to understand us but could not speak German. He still had relatives from Germany. As always in the United States.

Wir sind sehr enttäuscht, weil die Auswahl an Textilien sehr gering ist. Wir unterhalten uns in Deutsch darüber und beklagen die kleine Auswahl. Jemand hört uns zu und kommt zu uns und begrüßt uns. Er teilt uns mit, dass wir mal einmal um den Viertel-Block gehen sollen. Dort sind alle Textilien ausgelagert. Wir fragen nach, wie es dazu kommt, dass er uns versteht, aber kein Deutsch spricht. Er hat noch Verwandte aus Deutschland. Wie immer in den USA.
Überall gibt es die aktuellen Bestseller:
Becoming von Michelle Obama
. Aber schon zum Ausverkauf freigegeben.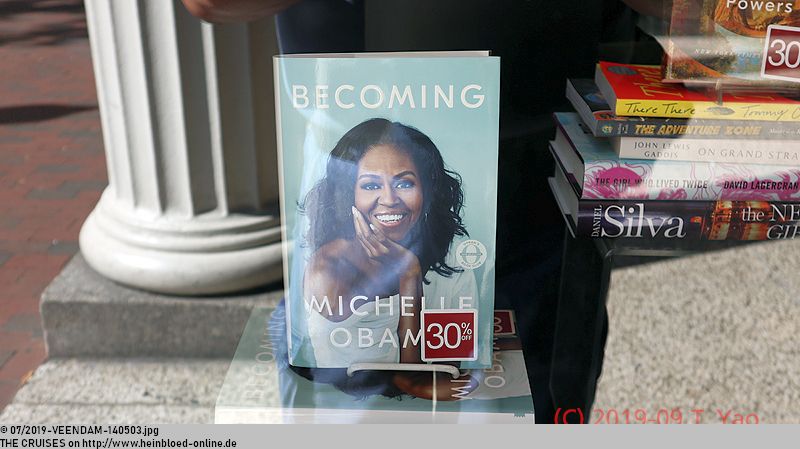 There were current bestsellers everywhere: Becoming by Michelle Obama. But already released for sale.

The Mueller Report by The Washington Post was also 30% off. As soon as something came onto the market here and was up to date, it would be quickly old again.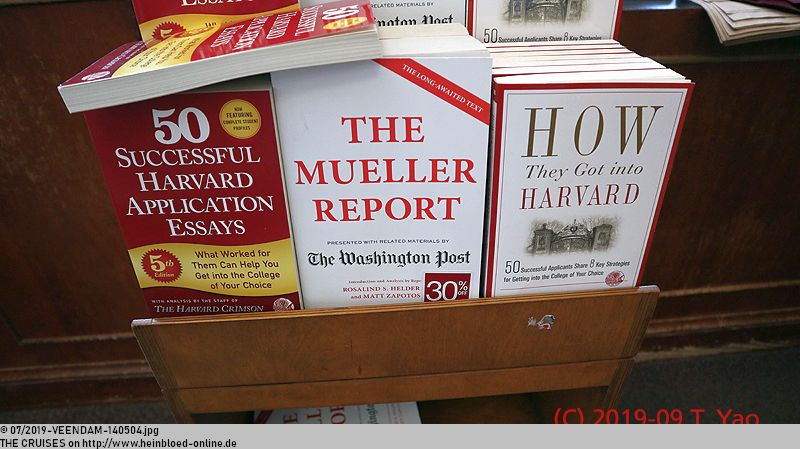 Auch den
Mueller Report der Washington Post
gibt es mit 30%. So schnell wie hier etwas auf den Markt kommt und aktuell ist, so schnell ist es auch wieder Schnee von gestern.
Harvard
oder
Yale
oder
Princeton
? Nun mit der Entscheidung, uns in Cambridge, MA, umzusehen, ist die Entscheidung für
Harvard
gefallen. Es werden auch Touren zu Fuß angeboten, aber die passen einfach zeitlich nicht. So laufen wir ein wenig durch den Campus. Wir sind sehr angetan durch das Sportangebot, bei dem alle mitmachen können. Nicht in jedes Gebäude dürfen wir auch rein. Von außen kennt man die Fassaden aus dem Fernsehen oder dem Kino. Kurze Sequenzen für die Filme "
Love Story
", "
Natürlich Blond
" und auch für die Fernsehserie "
Gilmore Girls
" wurden hier gedreht.

Harvard or Yale or Princeton? Now that we decided to look around Cambridge, MA, we chose Harvard. There were also walking tours, but they just did not fit in time. So we walked a bit through the campus. We were very impressed by the range of sports that everyone could participate in. We were not allowed in every building. Many facades, you would recognize from the TV or from the cinema. Short sequences were filmed here for movies like "Love Story" or "Legally Blonde" - but also for the television series "Gilmore Girls".

We have an appointment for lunch at Frank's Steak House. Many celebrities, including Stephen King, were guests here. He came from Maine. That was why many of his stories played there. Again, there was a Tomahawk Steak for 69.00 USD. On top came the tax. Usually, you paid a lot less on the ship than on the street, which made eating onboard very attractive. But probably not in this case. We were guests of Larry.

Zum Mittagessen sind wir bei
Frank's Steak House
verabredet. Viele Berühmtheiten, wie auch Stephen King, waren hier zu Gast. Er kommt ja aus Maine. Deswegen spielen viele seine Geschichten dort. Auch hier gibt es ein
Tomahawk-Steak
für 69,00 USD. Kommt noch die Steuer darauf. Normalerweise zahlt man auf dem Schiff sehr viel weniger als auf der Straße, was das Essen an Bord sehr attraktiv macht. Aber wohl nicht in diesem Fall. Wir sind Gäste von Larry.
Larry kennen wir von der letzten Reise auf der
NORWEGIAN DREAM 2008
. Eine tolle Truppe hatte sich im Roll-Call von
cruisecritic.com
zusammengefunden. Viele Jahre später habe viele bei Facebook wiedergefunden und mit vielen von damals bin ich noch heute in Kontakt. Mit Larry verbindet mich das Schicksal, dass wir beide eine Magen-Bypass-OP hinter uns haben. Daher mein besonderes Interesse ihn wieder zu treffen. Er ist griechischer Abstammung. Für ihn kommt es nicht in Frage, dass wir als Besucher in den USA bezahlen. Da schlägt die griechische Gastfreundschaft durch. Wir hoffen, dass er mal auf dem Weg nach Griechenland unterwegs in Deutschland hält und wir uns revanchieren können. Zu einem weiteren Treffen mit jemandem aus der
cruisecritic.com
kommt es krankheitsbedingt nicht mehr.

We knew Larry from the last sailing on NORWEGIAN DREAM 2008. A great group came together in the roll call from cruisecritic.com. Many years later, I found a lot on Facebook, and I was still in touch with many of the time. Fate connected me to Larry that we both have a gastric bypass surgery behind us. Hence my special interest in meeting him again. He was of Greek descent. It was out of the question for him that we would pay as visitors in the USA. This was where Greek hospitality comes through. We hoped that he would stop in Germany on the way to Greece and that we could return the favor. Another meeting with someone from cruisecritic.com no longer occurred due to illness.

We were heading for the Prudential Center in Boston, MA.

Wir fahren weiter zum
Prudential Center
in Boston.
Um die Zeit zu überbrücken und weil man von hier wirklich einen tollen Ausblick auf Boston hat, fahren wir rauf auf den
SkyWalk Aussichtspunkt
. Das ist echt richtig teuer geworden. Hier reicht es schon aus, dass man 62 Jahre alt ist, um in den Genuss von Senioren-Tickets zu kommen. Wir haben
Kombi-Tickets
. Oben gibt es auch tolle Videoshows von Boston. Von hier haben einen schönen Blick über den Charles River und bis nach Cambridge, MA. Als ich vor ca. 25-30 Jahren hier war, konnte man noch sehr gut bis zur Innenstadt gucken. Der
Prudential Tower
war einer der wenigen Hochhäuser der Stadt. Nun ist in die Richtung so ziemlich alles zugebaut. Von hier sieht man den
Fenway Park
. Eine heilige Spielstätte. Heimat des Baseball Teams
Boston Red Sox
. Um den Hype nachzuvollziehen, sollte man am Besten den Film "
Ein Mann für eine Saison
" mit Drew Barrymore und Jimmy Fallon ansehen. Wenn ich etwas von meinen US-Kollegen wie Sandie-Rose etwas wollte: erst prüfen, ob die
Red Sox
zuvor verloren oder gewonnen haben. Haben sie verloren, dann sollte man vielleicht besser noch 1-2 Tage warten und wenn sie gewonnen, bekam man alles durch, was man wollte. Man musste aber auch noch gleichzeitig die Spielergebnisse von
New England Patriots
im American Football verfolgen. Zum Glück sind die
Boston Bruins
im Eishockey und
Boston Celtics
im Basketball nicht ganz so erfolgreich, so dass man deren Ergebnisse nicht auch noch verfolgen musste.

To bridge the time and because you really had a great view of Boston from here, we moved up to the SkyWalk observatory. It was costly. Here it was enough to be 62 years old to enjoy senior tickets. We had combo-tickets. There were also great Boston video shows above. From here, you had a beautiful view over the Charles River and to Cambridge, MA. When I was here about 25-30 years ago, you could still look very well towards the city center. The Prudential Tower was one of the few skyscrapers in the city. Now pretty much everything was built in that direction. From here you could see Fenway Park. A sacred venue. Home of the Boston Red Sox baseball team. To understand the hype, it would be best to watch the film "Fever Pitch" with Drew Barrymore and Jimmy Fallon. If I wanted something from my US colleagues like Sandie-Rose: check first whether the Red Sox had previously lost or won. If they lost, then maybe it would be better to wait another 1-2 days, and if they won, you got everything you wanted. But you also had to watch the results of New England Patriots in American Football. Fortunately, the Boston Bruins in ice hockey and Boston Celtics in basketball were not quite as unbeaten, so you did not have to follow their results.

At Blue Bottle Coffee, we took a break. Here we met a boy with a Swiss cross on his baseball cap and blue tongue. I had permission from his mother to take the picture for my blog and use it. The family lived in Geneva, Switzerland for several years and the boy was born there.

Bei
Blue Bottle Coffee
legen wir eine Pause ein. Hier treffen wir auf einen Jungen mit Schweizerkreuz auf seiner Baseballmütze und blauer Zunge. Von der Mutter habe ich die Genehmigung das Bild für meinen Blog aufzunehmen und zu nutzen. Die Familie hat einige Jahre in Genf gelebt und dort ist auch der Junge geboren.
Einen weiteren Espresso nach europäischer Art trinken wir dann im
Eataly
. Hier gibt es
Lavazza
-Kaffee, den es ja leider bei NCL nicht mehr gibt.

We later drank another European-style espresso at Eataly. There was Lavazza coffee here, which unfortunately was no longer available at NCL.

On some MSC-ships, they had alternative dining from Eataly, like then on MSC MERAVIGLIA 2017.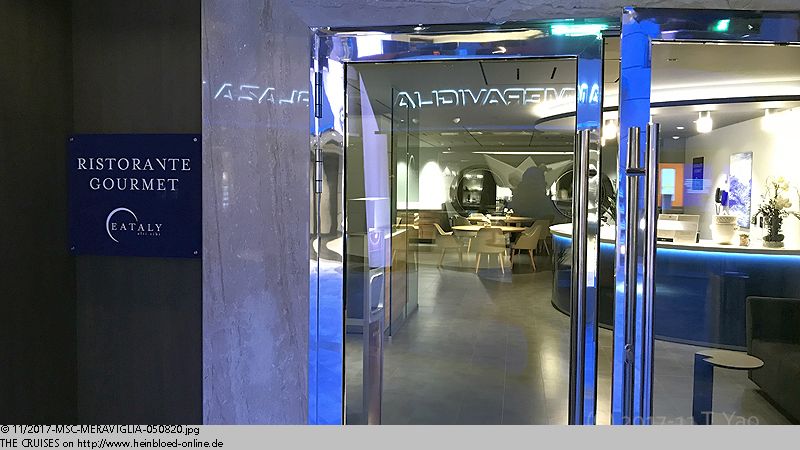 Auf einigen MSC-Schiffen gibt es Zuzahlrestaurants von Eataly, wie damals auf der
MSC MERAVIGLIA 2017
.
Da wir an Bord keine Zeit hatten, Eataly zu besuchen, haben wir nach der Reise auf der
MSC MERAVIGLIA 2017
bei
Eataly in Genua
uns umzusehen.

Since we had no time to see Eataly onboard, we went to Eataly in Genoa, Italy, after our voyage on MSC MERAVIGLIA 2017.

Here, we also dined. Very yummy.

Hier haben wir auch gegessen. Sehr lecker.
Wie in Italien üblich gab es dann nach dem Essen noch einen Espresso an der Kaffeebar.

Like used in Italy, we had an espresso after the meal at the coffee bar.

Also, after our sailing on MSC SEAVIEW 2018, we saw Eataly in Milan, Italy, and even ate there. Sad, that we only had one in Munich, Germany. Otherwise, we would eat there more frequently.

Und auch nach der Reise auf der
MSC SEAVIEW 2018
haben wir
Eataly in Mailand
besucht und auch dort gegessen. Schade, dass es nur in
München
eines gibt. Sonst wäre dort bestimmt öfters essen.
Als ich vor 25-30 Jahren hier war, ging es schon auf die
Boston Ducktours
. Und auch später nochmals. Und jetzt zum dritten Mal. Die Tour ist immer wieder gut. Unser Führer Lionel und unser Fahrer Jorge machen ihre Sache toll. Leider sind wir nicht in dem Fahrzeug in den Regenbogenfarben. Das angenehme: normalerweise hätte ein Fahrzeug für die letzte Abfahrt gereicht, dann wäre es sehr eng geworden für alle. Aber sie teilen uns auf zwei Fahrzeuge auf. Unser Fahrzeug bietet nämlich auch internationale Erläuterungen. Aber wir hören mehr Lionel zu. Obwohl ich oft schon hier war: ich kenne eigentlich nur die
New England Clam Chowder
als lokale Spezialität, die man unbedingt probiert haben muss. Während meine japanischen Kollegen in Mito, Japan, unbedingt meine Leidensfähigkeit austesten wollten und mir
Natto (fermentierte Bohnen)
angeboten haben, hatten bislang meine Ex-Kollegen und Freunde noch nie
B&M Brown Bread
angeboten. Vermutlich mögen sie es selbst nicht. Ich habe mir keine Dose mit nach Hause genommen.

When I was here 25-30 years ago, I was on the Boston Duck Tours. And again later. And now for the third time. The tour was always good. Our guide Lionel and our driver Jorge did a great job. Unfortunately, we were not in the vehicle in the rainbow pride colors. The pleasant thing: normally one vehicle would be enough for the last departure, then it would be very tight for everyone. But they allocated us into two vehicles. Our vehicle also offered international explanations. But we listened to Lionel more. Although I was here many times: I actually only knew the New England Clam Chowder as a local specialty that you had to try. While my Japanese colleagues in Mito, Japan, absolutely wanted to test my ability to suffer and offered me natto (fermented beans), my ex-colleagues and friends had never offered B&M Brown Bread before. They probably did not like it themselves. I did not take a can home with me.

A part of the tour was done ashore.

Ein Teil der Tour findet ja an Land statt.
Und dann fahren wir in den Charles River und genießen hier einen tollen Panoramablick. Genauso sehen so die Überblendungen in den Fernsehserien "
Ally McBeal
", "
Boston Legal
" und "
Crossing Jordan
" aus, wenn sie den Eindruck erwecken wollen, dass die Serien in Boston spielen.

And then we drove into the Charles River and enjoyed a great panoramic view. The fades in the television series "Ally McBeal", "Boston Legal", and "Crossing Jordan" looked exactly the same if they wanted to give the impression that the series was set in Boston, MA.

When we went ashore again, we also drove through the old city center. I did not recognize it. On a Starbucks with a tea kettle hanging outside, we were told that in Boston Dunkin 'Donuts was more critical than Starbucks.

Als wir wieder an Land fahren, fahren wir auch durch die alte Innenstadt. Ich erkenne es nicht wieder. An einem
Starbucks, an dem draußen eine Teekanne
hängt, wird uns erläutert, dass in Boston
Dunkin' Donuts
einen größeren Stellenwert hat, als
Starbucks
.
Wir haben schon mal eine
Ducktour (Viking Splash Tour)
gemacht: damals in Dublin bei der Reise auf der
BLACK PRINCE 2008
.

We made before a Duck Tour (Viking Splash Tour): like then in Dublin, Ireland, on our voyage on BLACK PRINCE 2008.

And again in Singapore with my parents before we joined ZAANDAM 2012.

Und auch nochmals in
Singapur
mit meinen Eltern vor der Reise auf der
ZAANDAM 2012
.
"Sometimes you want to go - Where everybody knows your name - And they're always glad you came - You want to be where you can see - The troubles are all the same..."
- Mit diesen Zeilen fing immer die Fernsehserie "
Cheers
" an. Mit Ted Danson und Shelley Long in ursprünglichen Besetzung. Auch hier war ich vor 25-30 Jahren zu ersten Mal:
Bull & Finch Pub
oder eben heute als "
Cheers
" viel bekannter. Ein T-Shirt und Selfies mit den Stars müssen sein. Das Essen ist in Ordnung, aber dafür sitzen wir auch in einer echten Ikone.

"Sometimes you want to go - Where everybody knows your name - And they're always glad you came - You want to be where you can see - The troubles are all the same..." - The TV series "Cheers" always started with these lines. With Ted Danson and Shelley Long in their original line-up. I was here for the first time 25-30 years ago: Bull & Finch Pub or today, much better known as "Cheers". A t-shirt and selfies with the stars were a must. The food was okay, but we were also sitting in a real icon.

We went to the "Cheers" by Uber, but now we were walking the way back through the Boston Public Garden. Further through the "New York's 5th Avenue" of Boston: Newbury Street with all the luxury shops. We walked past Trinity Church on Copley Square and the Boston Public Library. Shortly before we were back at the Prudential Center, we passed Bar Boulud. I saw Daniel Boulud on the return flight from DIAMOND PRINCESS 2016 in the film "From 5 to 7", and afterward, we ate with him at the former DBGB Kitchen and Bar before we joined QUEEN MARY 2 2017 in New York, NY, which was closed shortly after our visit. We booked a table in Boulud Sud for New York, NY, and also at the Chef's Table at CELEBRITY CONSTELLATION next year from Dubai, Unite Arab Emirates to Civitavecchia, Italy.

Zum "
Cheers
" sind wir
Uber
gefahren, aber jetzt laufen wir den Weg zurück durch den
Boston Public Garden
. Weiter durch die "Düsseldorfer Kö" von Boston: Newbury Street mit all den Luxusläden. Wir laufen an der
Trinity Church
am Copley Square und der
Boston Public Library
vorbei. Kurz bevor wir wieder am
Prudential Center
sind, kommen wir an der
Bar Boulud
vorbei. Ich hatte
Daniel Boulud
ja damals auf dem Rückflug von der
DIAMOND PRINCESS 2016
im Film "
Von 5 bis 7
" gesehen und anschließend waren wir vor der
QUEEN MARY 2 2017
-Reise in New York bei ihm im damaligen DBGB Kitchen and Bar gegessen, das leider kurz nach unserem Besuch geschlossen wurde. Für New York haben wir einen Tisch im
Boulud Sud
reserviert und auch beim Chef's Table auf der CELEBRITY CONSTELLATION im kommenden Jahr von Dubai nach Civitavecchia.
Die anderen Reisen in diesem Blog/
The other voyages in this blog: