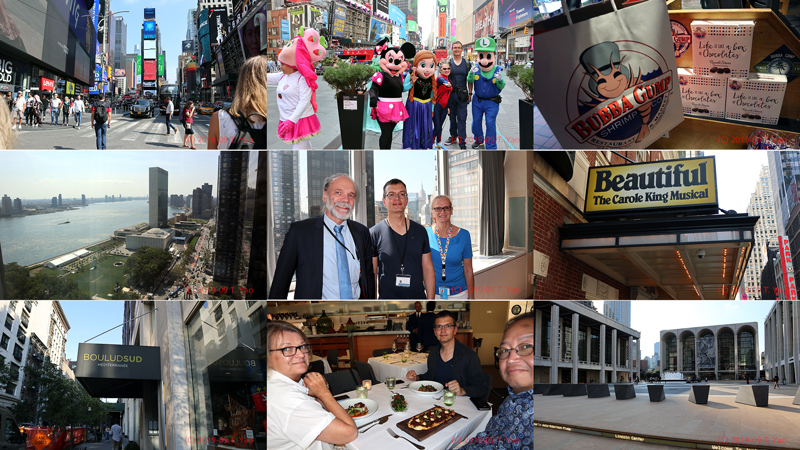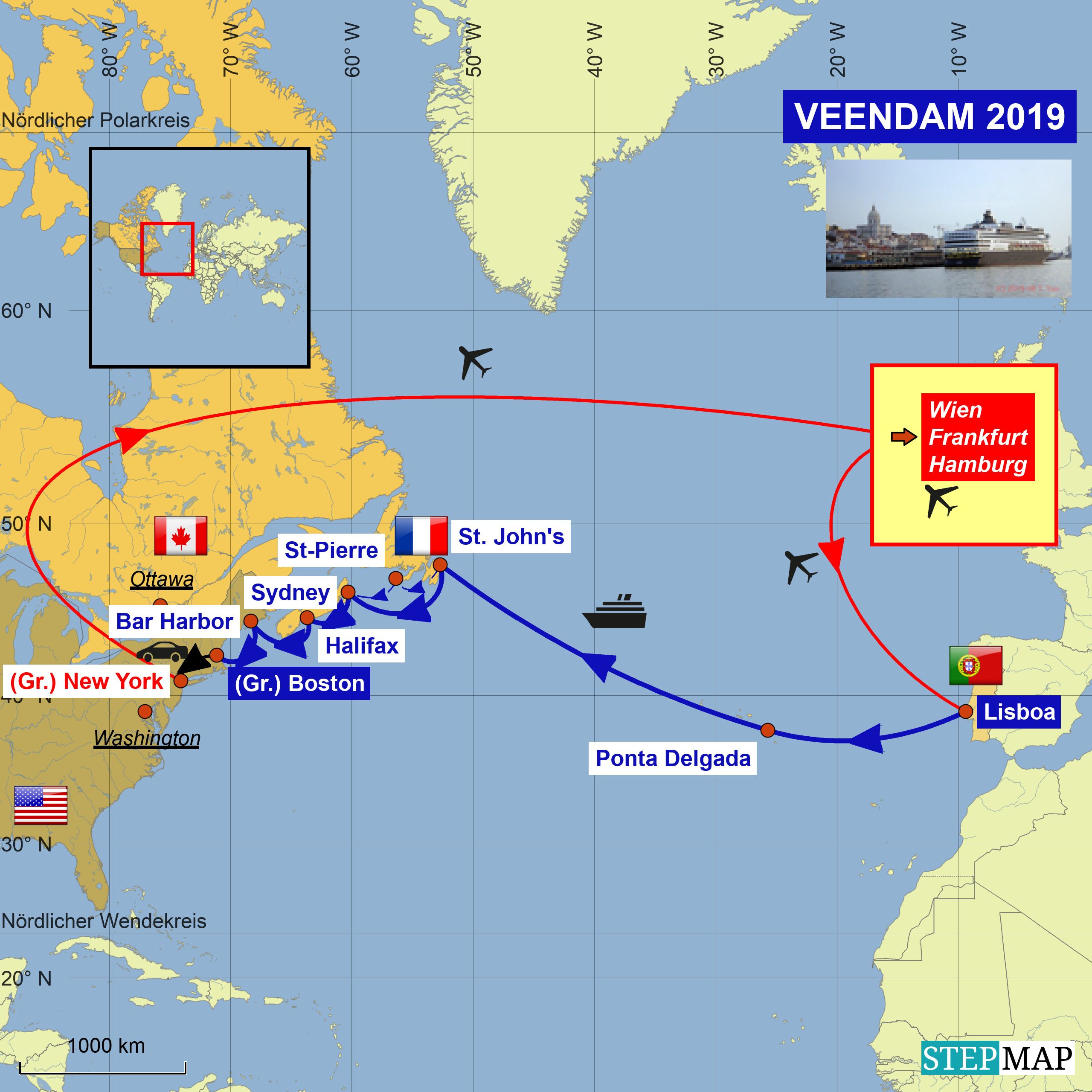 Zum Glück haben wir immer noch Tomaten aus Larrys Garten. Wir bemerken die neidischen Blicke der anderen Gäste im
Holiday Inn Express
und dann nochmals zum Büffet und gucken, ob noch Tomaten da sind.

We were still lucky to have tomatoes from Larry's garden. We could notice the jealous look of the other guests in our Hotel Holiday Inn Express, who went another round to the buffet to check if still, tomatoes were available.

On Uber, I ordered a vehicle at the train station in Roslyn, NY. While we were waiting for I found out that no MTA LIRR trains were going from Roslyn station at the moment, so I wanted to leave from Port Washington, NY.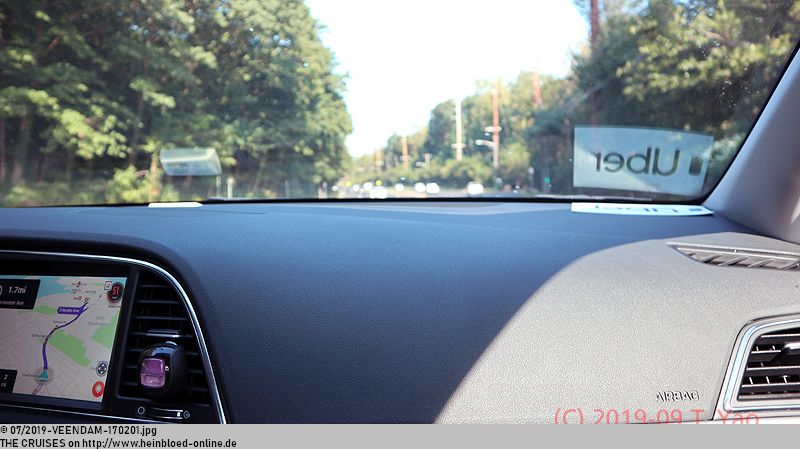 Über
Uber
bestelle ich Fahrzeug zum
Bahnhof von Roslyn
. Während wir warten stelle ich fest, dass im Moment gar keine
MTA LIRR-Züge
zum
Bahnhof Roslyn
fahren, sondern will daher nach
Port Washington
.
Ich denke mir nichts böses und erkläre dem
Uber
-Fahrer, dass er uns bitte zum
Bahnhof Port Washington
bringen soll. Er versteht nur Koreanisch und bringt uns zum
Bahnhof Roslyn an der Oyster Bay Strecke
. Das nächste Mal weiß ich Bescheid: Sofort stornieren und sofort neu buchen, wenn man sein Ziel ändert. Der Nachteil von
Uber
.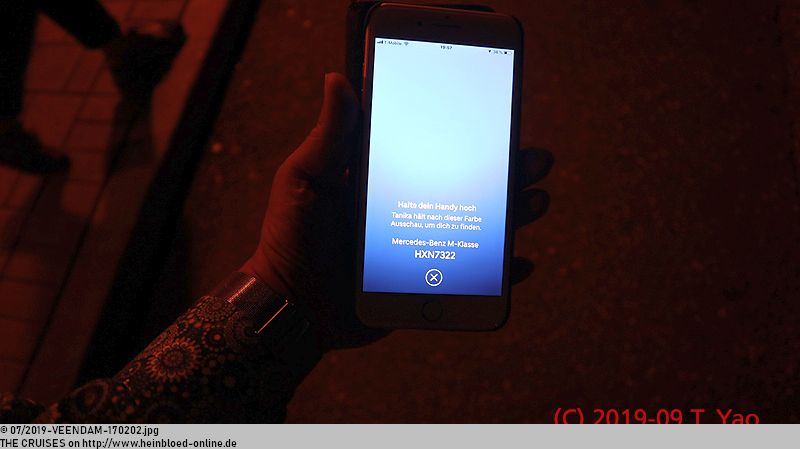 I did not think anything wrong, and I told the Uber driver to take us to Port Washington train station, please. He only understood Korean and took us to Roslyn train station at the Oyster Bay Branch. Next time I would know: to cancel immediately and to book again if you need to change your destination. The downside of Uber.

The MTA LIRR took us from Port Washington, NY, to New York, NY, Penn Station. Unfortunately, we turned into a tunnel before we got to Manhattan.

Mit der
MTA LIRR
geht es von
Port Washington
nach
New York, Penn Station
. Leider biegen wir vor Manhattan in einen Tunnel ein.
Wir erreichen den
unterirdischen Bahnhof Pennsylvania Station
und steigen hier auf die
U-Bahn in New York
um. Es gibt keine Wertmünzen (Token) mehr. Alles nur noch auf der
MetroCard
, für die jetzt 1 USD berechnet werden. Wir fahren vom 34. zur 42. Straße. Aber mit dem ganzen Auf und Ab wäre das Laufen auf der Oberfläche genauso schnell gewesen.

We arrived at the underground Pennsylvania Station and changed here to the New York Subway. There were no more tokens. All on the MetroCard, for which 1 USD was now charged. We went from 34th to 42nd streets. But with all the walks up and down, walking on the surface would have been just as quick.

We get off the next stop again.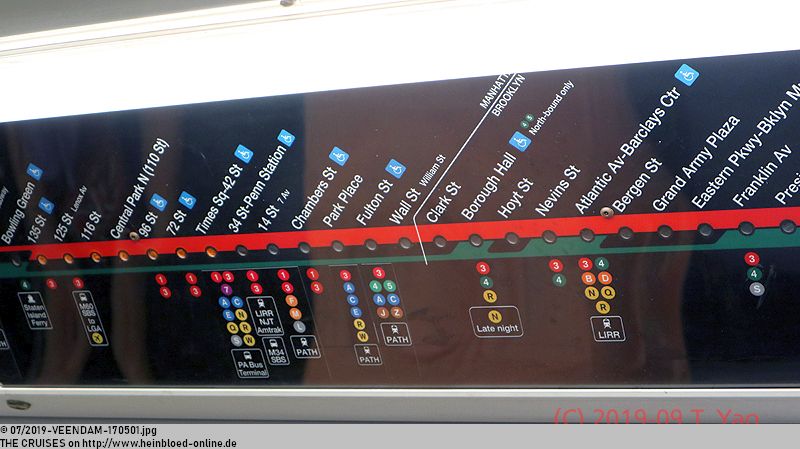 Wir steigen also an der nächsten Haltestelle wieder aus.
Times Square - 42. Straße.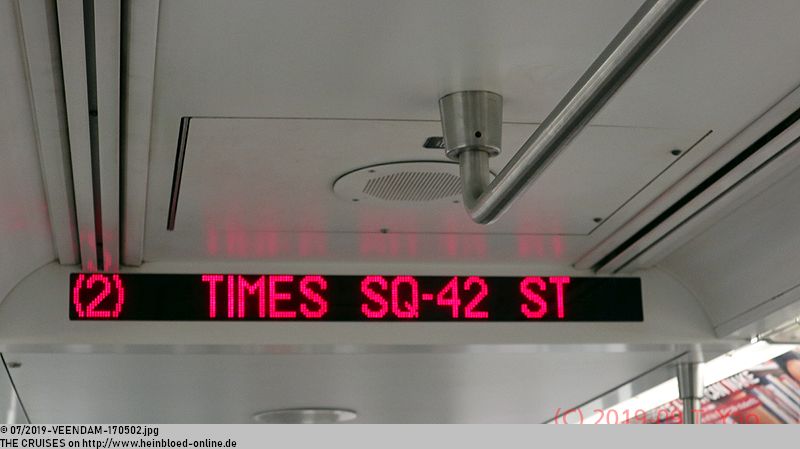 Times Square - 42nd Street.

Here we first had to find the right exit. A restaurant of the Bubba Gump chain was also located directly at Times Square. I had to buy a t-shirt here. We were eating here in Chicago, IL, and Miami, FL. Before we joined CARNIVAL SPIRIT 2011 in Los Angeles, CA, and during our stop in Long Beach, CA, on GRAND PRINCESS 2018, we did not manage to buy a T-shirt quickly for me. And Bruno took a few pictures with his superheroes, which however took a lot of money as a photo company.

Hier müssen wir zunächst den richtigen Ausgang finden. Direkt am Times Square befindet sich auch Restaurant der
Bubba Gump
-Kette. Hier muss ich unbedingt ein T-Shirt kaufen. In Chicago und in Miami waren wir hier schon essen. Vor den Fahrten auf der
CARNIVAL SPIRIT 2011
in Los Angeles und während unseres Stopps in Long Beach mit der
GRAND PRINCESS 2018
hatten wir es nicht geschafft, schnell ein T-Shirt für mich zu kaufen. Und Bruno macht mit seinen Superhelden ein paar Bilder, die allerdings sehr viel Geld als Fotomotiv nehmen.
Es sieht komplett anders aus, als vor der
QUEEN MARY 2 2017
-Reise. Damals waren wir abends hier, als alles hell erleuchtet war.

It looked completely different than before we joined QUEEN MARY 2 2017. We were here in the evening when everything was brightly illuminated.

We wanted to buy the remaining tickets for the same day. It was Wednesday, and there were afternoon performances (matinee). You could find them here at TKTS. You just had to queue up and to see what else there was. We chose "Beautiful". We got three tickets for 309.60 USD. We would need to pay 519.75 USD for the similar seats if we would buy them directly with the Stephen Sondheim Theatre. So it was worth to be here early, and check what they offered. There were other queues for visitors to the matinee shows. There was not one single queue, but you had to allocate into several waiting lines.

Wir wollen Restkarten für den gleichen Tag kaufen. Heute ist Mittwoch und da gibt es Nachmittagsvorstellungen (Matinee). Die gibt es hier zentral bei
TKTS
. Man muss halt anstehen und sehen, was es an Rest gibt. Wir entscheiden uns für "
Beautiful
". Wir bekommen drei Karten für 309,60 USD. Für die gleichen Plätze hätten wir beim direkten Kauf im
Stephen Sondheim Theater
hätten 519,75 USD bezahlt. Es lohnt sich also schon frühzeitig hier zu sein und zu prüfen, was es gibt. Für Besucher der Matinee-Shows gibt es extra Schlangen. Es gibt keine zentrale Schlange, sondern man muss sich auf mehrere Schlangen aufteilen.
Da der Ticketkauf etwas länger dauert, müssen wir direkt weiter zur
UNO
weiter. Mit dem
Bus M42
macht es wenig Sinn. Der Bus steckt nur im Stau und wir laufen später die Strecke lieber zurück. Hinterher stellen wir fest: wir sind von
TKTS
an der 47. Straße bis zu 42. Straße runtergelaufen und dann eben mit dem Bus im Stau zu stehen und um später wieder bis zur 47. Straße wieder hochzulaufen. Wir hätten also auch bis zur
Deutschen Mission
durchlaufen können, um Brunos Verwandte zu besuchen. Seine Cousine Kornelia und ihr Mann Wolfgang laden uns zum Mittagessen in der österreichischen Kantine der
Deutschen Mission
ein. Wir genießen den tollen Blick über die
Vereinten Nationen
, über den East River, rüber zu Dumbo und zum
Empire State Building
. So entsteht hier auch der Gruß aus den New York ins Saarland anlässlich der Goldenen Hochzeit von Brunos Eltern.

Since the ticket purchase took a little longer, we had to go directly to the UN. It made little sense with the M42 bus. The bus was only stuck in traffic, and we preferred to walk back the route later. Afterward, we found out that we walked down from TKTS on 47th Street to 42nd Street and then just got stuck in a traffic jam and later walked back up to 47th Street. So we could have gone through to the German Mission to visit Bruno's relatives. His cousin Kornelia and her husband Wolfgang invited us for lunch in the Austrian canteen of the German Mission. We enjoyed the magnificent view of the United Nations, the East River, over to Dumbo, and the Empire State Building. This was how the greeting from New York, NY, to Germany was created on the occasion of Bruno's parents' golden wedding.

The zigzag course on foot took us passing the Grand Central Terminal and the former Pan Am Building. Today's MetLife Building.

Zu Fuß geht es im Zickzack-Kurs am
Grand Central Terminal
vorbei am ehemaligen Pan Am Gebäude vorbei. Das heutige
MetLife Gebäude
.
Am
Stephen Sondheim Theater
stehen wir für den Einlass für das Musical "
Beautiful
" an. Während wir warten, folgen wir einigen Darstellungen der
New Camerata Opera
. Im Durchgang zum Theater hängt auch die
Schuldenuhr
. Im Theater sind Fotoaufnahmen verboten. Es sind auch keine Bilder im Theatersaal vom Bühnenbild zugelassen während wir auf den Beginn der Aufführung warten. Es geht um das Leben der Sängerin und Texterin
Carole King
. Ihre Lieder wie "
So Far Away
", "
I Feel the Earth Move
", "
It's Too Late
" kennt jeder und jeder kann mitsingen. Sie schrieb Lieder wie
"Will You Love Me Tomorrow" (The Shirelles)
,
"Take Good Care of My Baby" (Bobby Vee)
,
"Up on the Roof" (The Drifters)
,
"(You Make Me Feel Like) a Natural Woman" (Aretha Franklin)
,
"You've Got A Friend" (James Taylor)
,
"The Loco-Motion" (Little Eva)
,
"One Fine Day" (The Chiffons)
. Diese Lieder wurden oftmals zunächst von anderen Stars gesungen und populär. Später hat sie einige dieser Lieder selbst gesungen und veröffentlicht. In ihrem Umfeld entstanden auch Songs wie
"Oh Carol" (Neil Sedaka)
,
"On Broadway" (The Drifters)
,
"You've Lost That Loving Feeling" (The Righteous Brothers)
. Auch diese Stücke, die in ihrem Freundeskreis entstanden, fanden Einzug in das Musical. Eine fast dreistündige Ü50-Party findet statt. Man verlässt das Theater mit richtig guter Laune.

At the Stephen Sondheim Theatre we were queuing for the admission to the musical "Beautiful". While we were waiting, we followed some of the New Camerata Opera performances. The debt clock was also displayed in the passage to the theater. Photographs were prohibited in the theater. No pictures of the stage set were allowed in the audience hall while we were waiting for the performance to begin. It was about the life of singer and songwriter Carole King. Everyone would know her songs like "So Far Away", "I Feel the Earth Move", "It's Too Late", and everyone could sing along. She wrote songs like "Will You Love Me Tomorrow" (The Shirelles), "Take Good Care of My Baby" (Bobby Vee), "Up on the Roof" (The Drifters), "(You Make Me Feel Like) a Natural Woman" (Aretha Franklin), "You've Got A Friend "(James Taylor), "The Loco-Motion" (Little Eva), "One Fine Day" (The Chiffons). Those songs were often initially sung by other stars and became popular. Later, she sang and published some of these songs herself. Songs like "Oh Carol" (Neil Sedaka), "On Broadway" (The Drifters), "You've Lost That Loving Feeling" (The Righteous Brothers) were also created in her environment. These songs, which were created by her friends, also found their way into the musical. An almost three-hour 50+ party took place. You were leaving the theater in an excellent mood.

We wanted to go Northbound by subway. But somehow, I was still in the musical in my thoughts. "Downtown-Trains" would lead us down towards the South.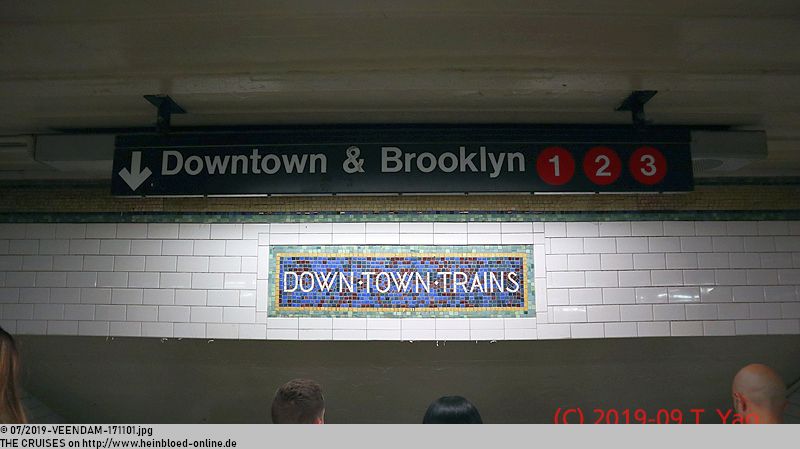 Mit der
U-Bahn
wollen wir in den Norden. Aber irgendwie bin ich im Gedanken noch im Musical. "Downtown-Trains" führen nach unten in den Süden.
Aber mit den "Uptown-Trains" müssen wir in den Norden, also müssen wir den Bahnsteig wechseln.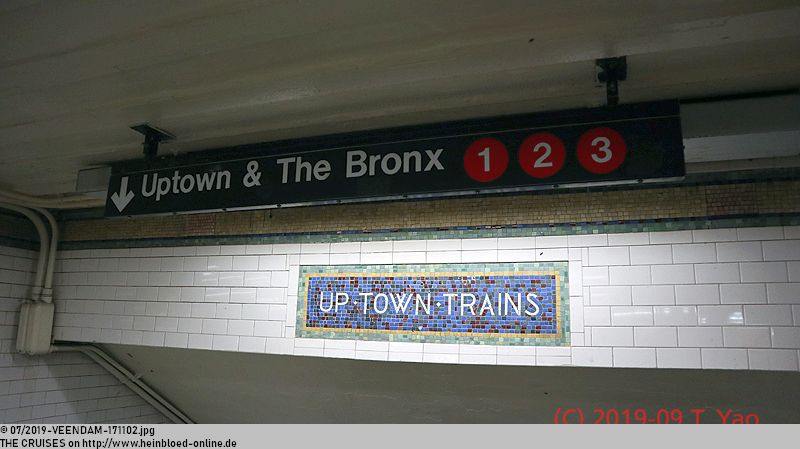 But on the "Uptown-Trains" we had to go Northbound, so we had to change the platform.

From the 42nd to 66th Street it was a little farther, so we were happy that we could sit.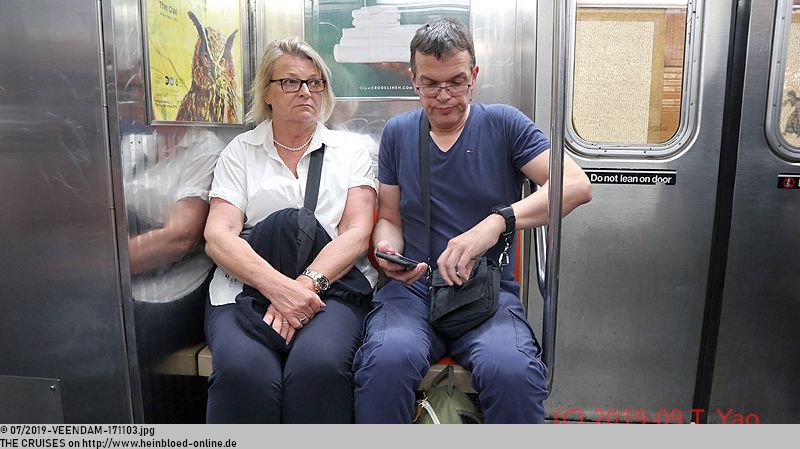 Von der 42. bis zur 66. Straße ist es doch etwas weiter, so dass wir froh sind, dass wir sitzen können.
An der 66. Straße -
Lincoln Center
steigen wir wieder aus.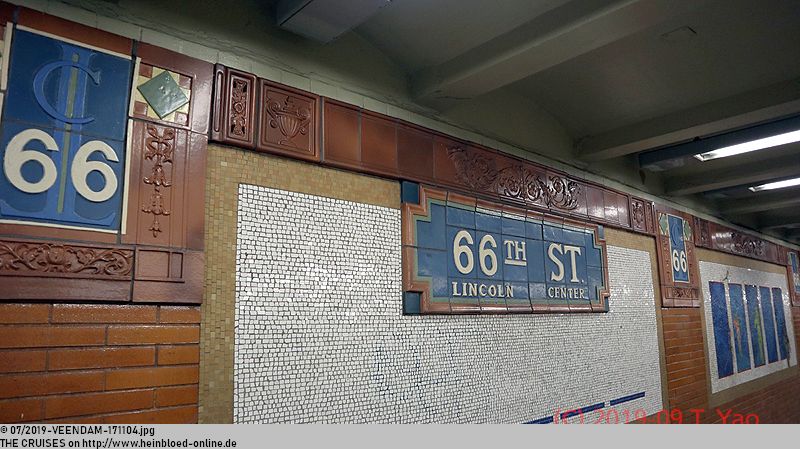 At 66th Street - Lincoln Center, we got off again.

Such a crap! I was the king of scriptures and signposts. When I discovered the sign, I was about to postpone our return flight to visit the exhibition in the New York Transit Museum.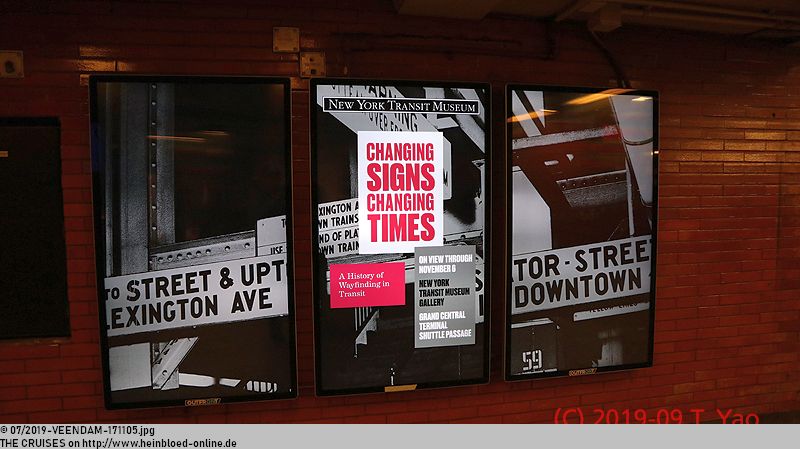 So ein Mist! Ich bin ja der König der Schriften und Beschriftungen. Als ich das Schild entdecke bin ich kurz davor unseren Rückflug zu verschieben, um die Ausstellung im
New York Transit Museum
noch zusehen.
Wir laufen am
Lincoln Center
vorbei. Eine Prüfung im Vorfeld ergibt leider keine Möglichkeit für heute. Die
New York Philharmoniker
spielen live die Musik zum Film "
Die unheimliche Begegnung der Dritten Art
" - ein Film, der leider wenig Interesse bei mir findet und die Veranstaltung startet leider zu spät für unsere Rückfahrt nach Roslyn. Aber auf den Plakaten nur die Stars der Stars.

We walked past the Lincoln Center. Unfortunately, an examination in advance did not reveal an option for today. The New York Philharmonic played live the music for the movie "Close Encounters of the Third Kind" - a film that unfortunately found little interest in me, and the event, unfortunately, started too late for our return trip to Roslyn, NY. But only the stars of the stars on the posters.

I ordered the table for our dinner at 17:30 hrs. So went into Starbucks, to bridge the time.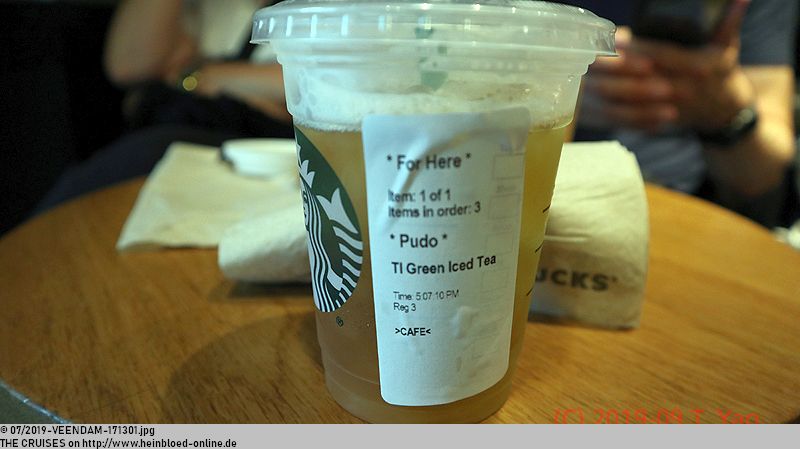 Den Tisch für das Abendessen habe ich für 17:30 Uhr bestellt. So gehen wir noch kurz in den
Starbucks
rein, um die Zeit zu überbrücken.
Aber wir hätten einfach um 17:00 Uhr schon reingehen können.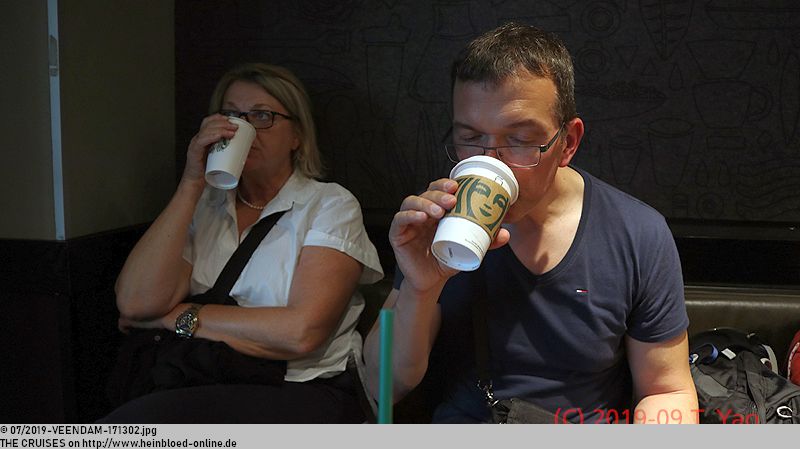 But we could simply enter at 17:00 hrs already.

We went to Boulud Sud today. Another Daniel Boulud restaurant. They had no problem with the fact that we shared the starters and the dessert, and I only ordered one starter as the main course. We paid a lot, but we also experienced the first-class service and, above all, first-class food. Even the assistant waiter: so attentive and courteous. It was "normal" for New York standards, and we did not do it every day.

Wir sind heute im
Boulud Sud
. Wieder ein Restaurant von
Daniel Boulud
. Sie haben kein Problem damit, dass wir die Vorspeisen und das Dessert teilen und ich als Hauptgang nur eine Vorspeise bestelle. Wir bezahlen viel, aber wir erleben auch einen erstklassigen Service und vor allem erstklassiges Essen. Sogar die Hilfskellner: so aufmerksam und zuvorkommend! Für New Yorker Verhältnisse ist es "normal" und wir machen das ja auch nicht jeden Tag.
Ich bin auf
Daniel Boulud
auf dem Rückflug von der
DIAMOND PRINCESS 2016
aufmerksam geworden. In dem Film "
Von 5 bis 7
" hatten
Menschenrechts-Aktivist Julian Bond
,
Dirigent der New York Philharmoniker Alan Gilbert
und eben
Daniel Boulud
. Seitdem wollte ich immer dort essen: vor der Reise auf der
QUEEN MARY 2 2017
haben wir bei DBGB Kitchen and Bar (leider mittlerweile geschlossen) gegessen. Aber selbst ein Hamburger und ein Grünkohlsalat von ihm waren damals schon ein Hochgenuss.

I became aware of Daniel Boulud on the return flight from DIAMOND PRINCESS 2016. In the movie "From 5 to 7", human rights activist Julian Bond, conductor of the New York Philharmonic Orchestra Alan Gilbert, and Daniel Boulud had a cameo appearance. Since then, I always wanted to eat there: before we joined QUEEN MARY 2 2017, we ate at DBGB Kitchen and Bar (unfortunately now closed). But even a hamburger and kale salad from him was a treat at the time.

An Épicerie Boulud was open next door. We also had breakfast here at World Trade Center before we went on QUEEN MARY 2 2017. It was fantastic. And I am really looking forward to the Chef's Table on CELEBRITY CONSTELLATION next year, what Celebrity would be doing with the partnership with Daniel Boulud.

Nebenan hätte auch ein
Épicerie Boulud
geöffnet. Wir haben hier schon mal auch damals vor der
QUEEN MARY 2 2017
im
World Trade Center
gefrühstückt. Es war fantastisch. Und ich bin wirklich auf den Chef's Table auf der CELEBRITY CONSTELLATION nächstes Jahr gespannt, was Celebrity aus der Partnerschaft mit
Daniel Boulud
macht.
Die anderen Reisen in diesem Blog/
The other voyages in this blog: