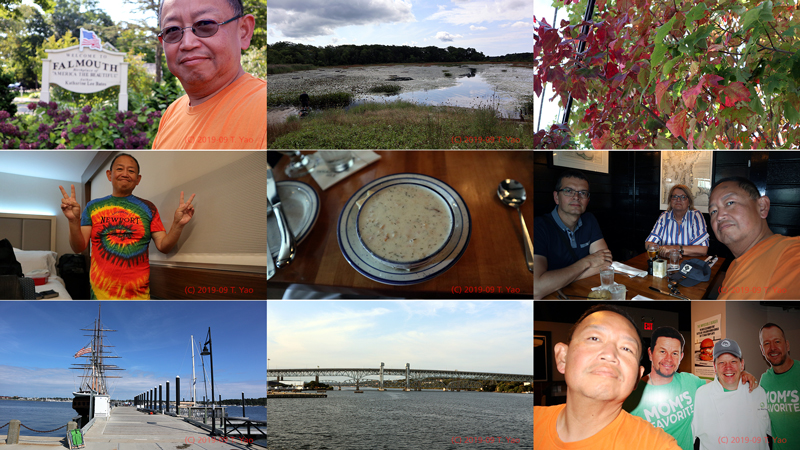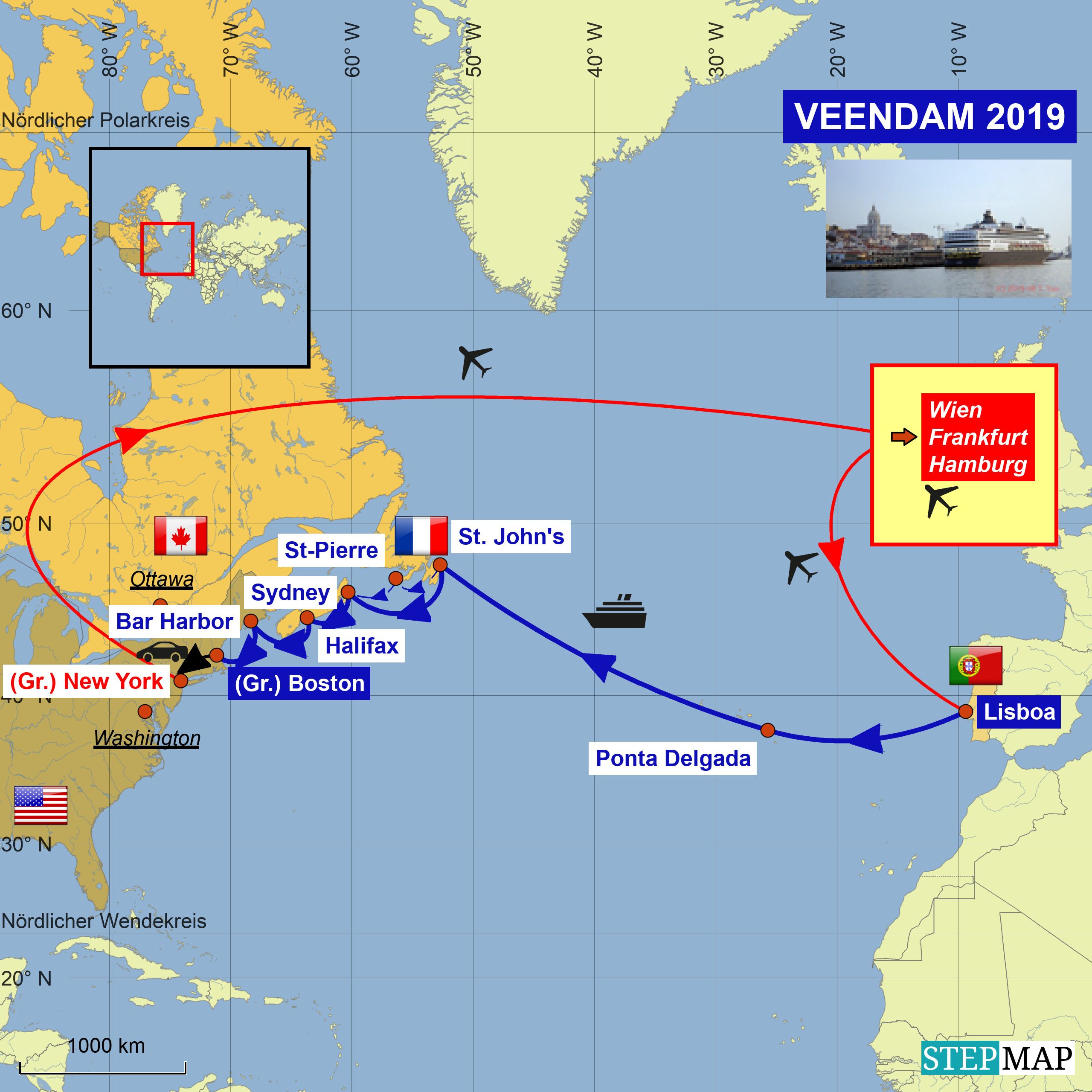 In unserer Rate ist Frühstück inkludiert. Hier gibt es ein Restaurant, in dem Frühstück serviert wird. Das Restaurant im
Holiday Inn Falmouth
ist besser im bisherigen Hotel. Aber wir nutzen aber weiterhin Larrys Tomaten aus seinem Garten. Und auch wenn das Frühstück inkludiert ist: man gibt Trinkgeld auf einen fiktiven Umsatz.

Breakfast was included in our rate. There was a restaurant here where breakfast was served. The restaurant in the Holiday Inn Falmouth, MA, was better in the previous hotel. But we still used Larry's tomatoes from his garden. And even if breakfast was included: you should tip on a fictitious turnover.

Now it was possible to stop at the entrance of the place and to take some pictures.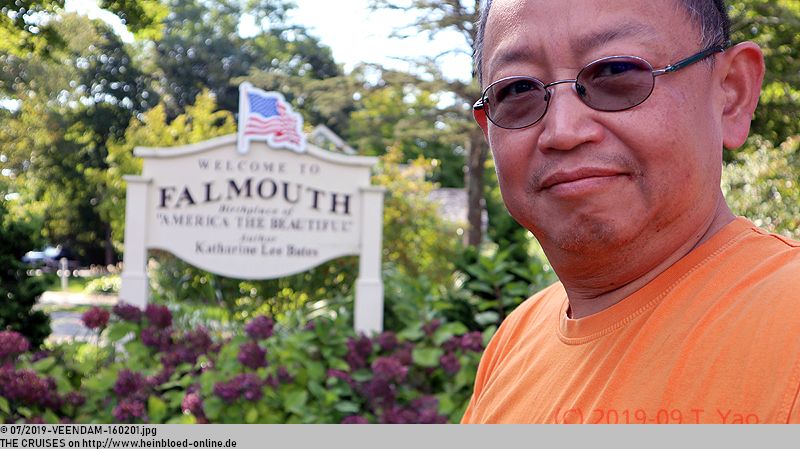 Jetzt können wir mal am Ortseingang kurz halten und fotografieren.
Falmouth ist der Geburtsort des Liedes "
American The Beautiful
" von Katharine Lee Bates.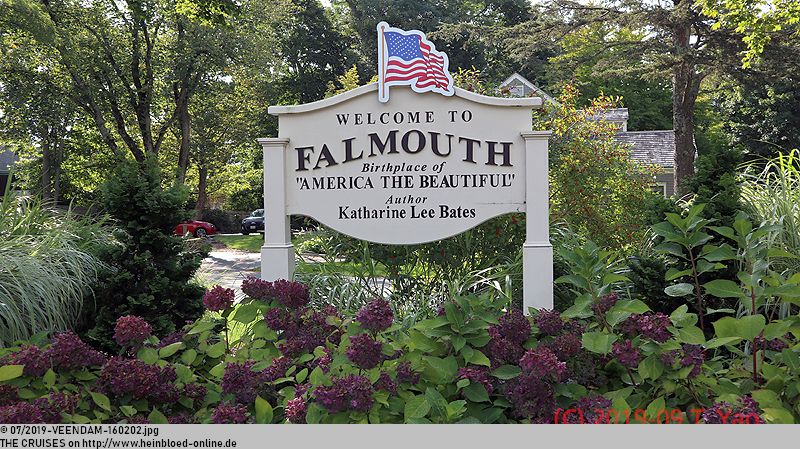 Falmouth was the birthplace of the song "American The Beautiful" by Katharine Lee Bates.

A typical little town in the USA.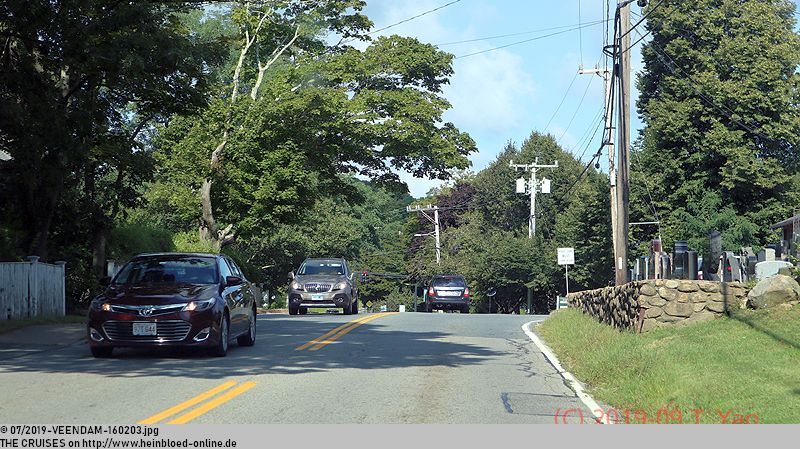 Eine sehr typische Kleinstadt in den USA.
Ein kleines
Postamt
.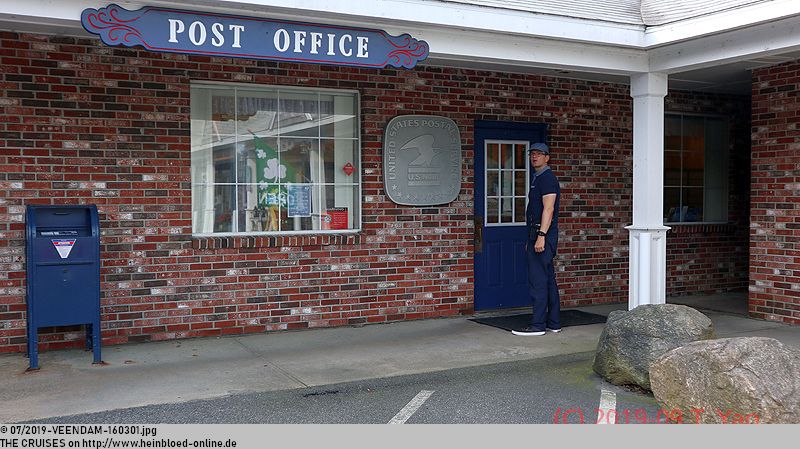 A little Post Office.

To prevent the pens from being stolen, they attached the flower decoration.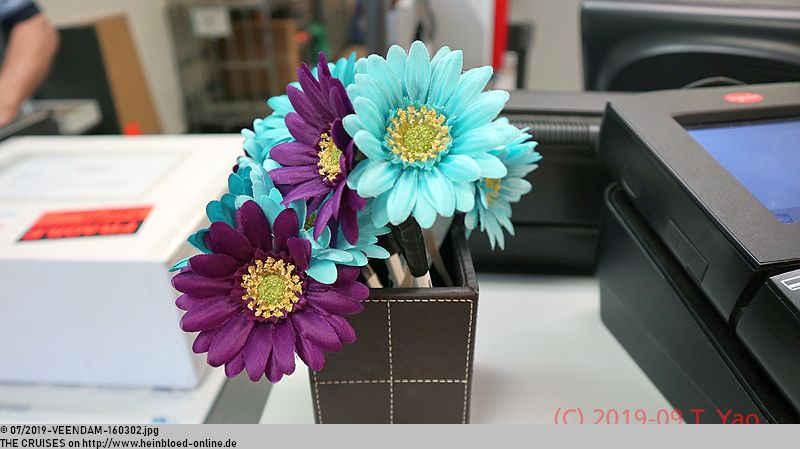 Das Klauen der Kugelschreiber wird durch die Blumen versucht zu verhindern.
Die klaue ich schon nicht! Schon alleine, weil die Angestellten sehr unkooperativ sind. Sie wollen mir nicht mal einen kleinen Klebestreifen geben. Ich soll es kaufen. Wir hatten zu vor woanders auch schon Pakete verschickt: aber die Angestellte war so freundlich und hilfsbereit. Sie hat von mir meine Kontaktdaten bekommen, falls sie eine Europareise plant und ich sie unterstützen kann. Netterweise bekam ich von ihr jede Menge Tipps, wie ich am günstigsten alles verschicke und gab mir auch Klebeband ohne extra dafür zu bezahlen.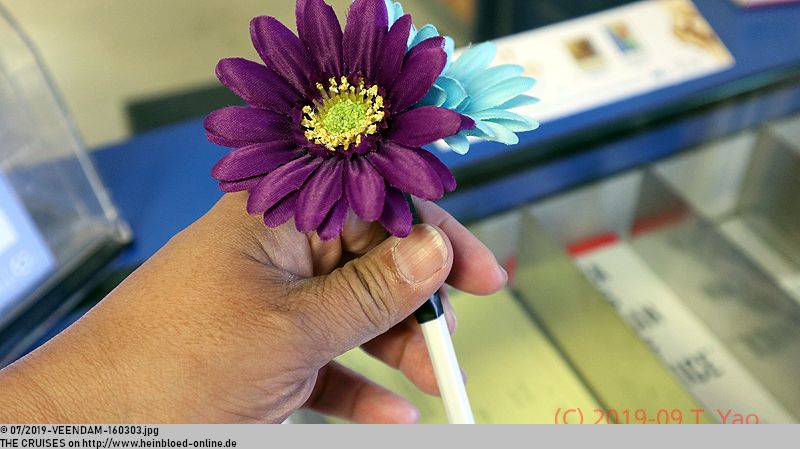 I would not steal it! If yes, only because of the very uncooperative employees. You did not even want to give me a little piece of tape. I should buy it. We had already sent packages from another post office: but the staff was so friendly and helpful. She got my contact details from me if she would be planning a trip to Europe, and I could give her support. Kindly I got a lot of tips from her on how to send everything cheaply, and she gave me some tape without paying for it.

Off the highway, we drove to Newport, RI. On the way, I saw a turtle that was run over in a swamp.

Abseits der Autobahn fahren wir nach Newport, Rhode Island. Unterwegs sehe ich in einer Sumpflandschaft eine Schildkröte, die überfahren wurde.
Wir kommen in Newport an.

We arrived in Newport, RI.

I noticed a lot of changes. They formed the Newport Gateway Transportation and Visitor Center.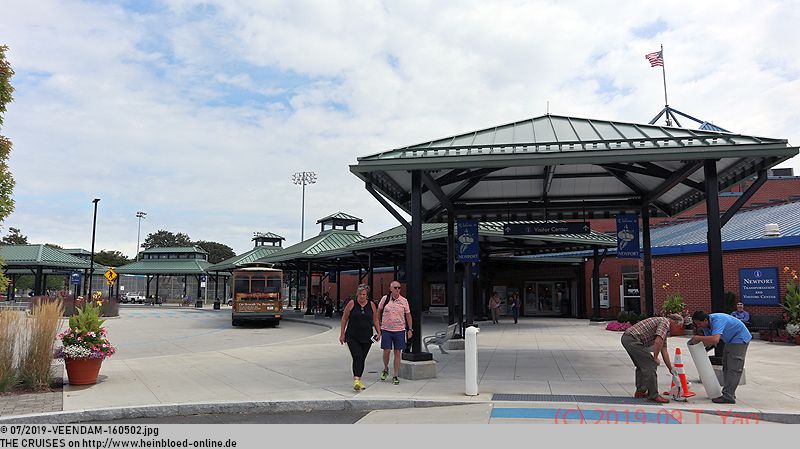 Da hat sich einiges verändert. Es ist das
Newport Gateway Transportation und Visitor-Center
entstanden.
Hier ist ein Großparkhaus entstanden und hier kann man in die Touren, öffentlichen Verkehrsmittel umsteigen. Man ist ein wenig weiter an den Rand der Innenstadt gedrängt worden. Aber immer noch fußläufig erreichbar.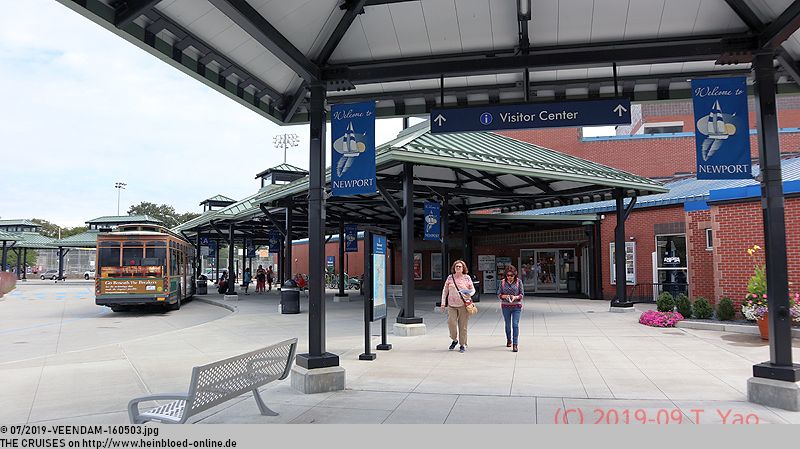 Here, they installed a giant parking garage, and here you could join the tours and public transport. Now, we were a little more at the edge of the city center. But it was still within walking distance.

What a pity, that it was not raining: The exhibition on Jacqueline Kennedy's wedding "Return to Camelot" would be otherwise the right event to join.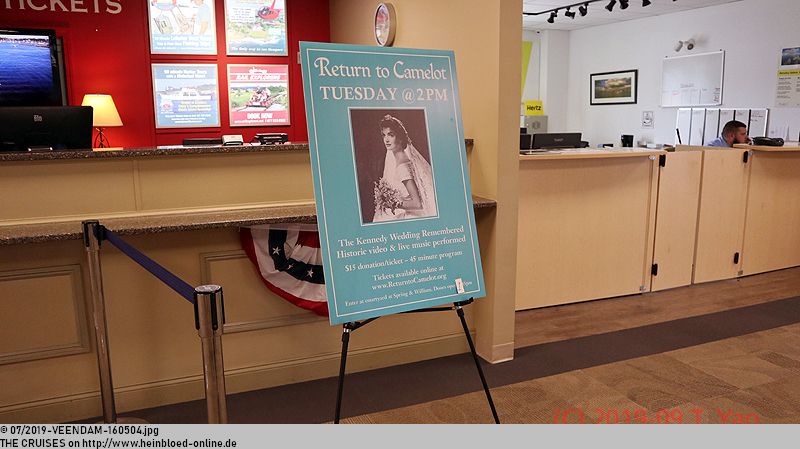 Schade, dass es nicht regnet: Die Ausstellung über die Hochtzeit Jacqueline Kennedy "
Return to Camelot
"wäre sonst genau das richtige.
Aber so laufen wir in die Innenstadt. Bis 1983 war Newport, RI unmittelbar mit dem
America's Cup
verbunden. Aber auch heute noch ein Paradies für Segler. Sigi und ich hatten ja gemeinsam vor vielen Jahren den Segelschein bei
Käpt'n Prüsse in Hamburg
gemacht. Viele Läden könnten wir hier leer kaufen. Es bleibt aber nur bei einem T-Shirt für mich. Mein Leben muss farbiger werden.

But that was how we walked into the city center. Until 1983, Newport, RI, was directly associated with America's Cup. But today, it was still a paradise for sailors. Sigi and I had got the sailing license together with Captain Prüsse in Hamburg, Germany, many years ago. We could buy many shops empty here. But I only stayed with a T-shirt for myself. My life became more colorful.

The Black Pearl in Newport, RI, was the #1 address if you liked clam chowder. I was here for the first time 25-30 years ago. The restaurant was recommended to me by a unique friend who unfortunately passed away in the meantime and who I knew from my student days in Berlin, Germany. The clam chowder was still first class. Bruno got his first whole lobster about 20-25 years ago. Only got a bib, and I was utterly wet spray. During this trip, we also tried to reach my friend in her office as a professor at Salve Regina University. Her name tag was on. Messages for her hung on the door. I also left another one, but there was never an answer. We later did some research on the Internet. We were there a few days after she passed away. R.I.P. Gabriele Bleeke-Byrne. And thank you for everything you enriching my life.

The Black Pearl in Newport
ist die 1. Adresse, wenn man Clam Chowder mag. Ich war hier vor 25-30 Jahren zum ersten Mal. Das Lokal wurde mir durch eine sehr gute Freundin empfohlen, die leider zwischenzeitlich verstorben ist und die ich aus meiner Studentenzeit in Berlin kenne. Die Clam Chowder ist nach wie vor erstklassig. Bruno bekam damals vor ca. 20-25 Jahren seinen ersten ganzen Hummer. Nur bekam bekam ein Lätzchen und ich wurde komplett nassgespritzt. Bei dieser Reise hatten wir auch versucht, die Freundin in ihrem Büro als Professorin der
Salve Regina Universität
zu erreichen. Ihr Namensschild war dran. Nachrichten für sie hingen an der Tür. Ich habe auch eine weiteren hinterlassen, aber es kam nie eine Antwort. Später haben wir im Internet recherchiert. Wir sind wohl wenige Tage nach dem sie verstorben ist, damals da gewesen. Ruhe in Frieden
Gabriele Bleeke-Byrne
und vielen Dank dafür, dass du mein Leben bereichert hast.
Eine weitere Empfehlung von ihr war damals Scales (heute
Scales & Shells
). Das Restaurant gibt es immer noch. Leider haben sie ausgerechnet heute ausnahmsweise geschlossen.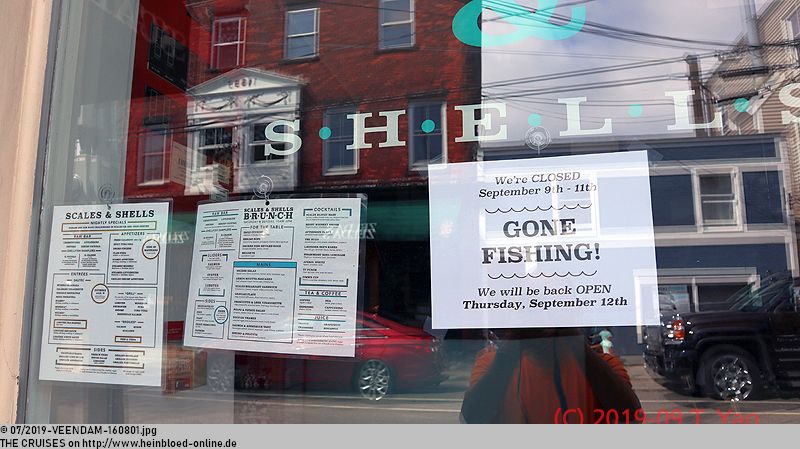 Another recommendation from that time was Scales (today Scales & Shells). The restaurant was still existing. But unfortunately, today, it was closed by exception.

I would love to eat a grilled scallop-shrimp-skewer again. The skewer was so good that we ordered another skewer instead of a dessert. Just as lovely skewers we had in the Pinnacle Grill on WESTERDAM 2010 and ZAANDAM 2012 or in Portofino on NAVIGATOR OF THE SEAS 2009.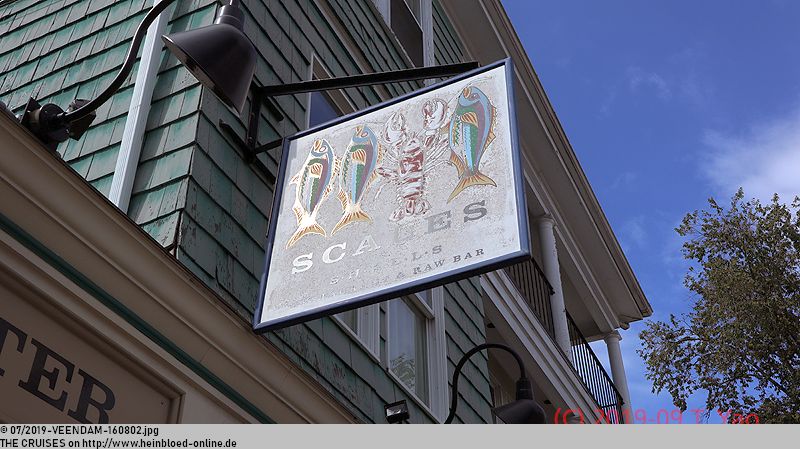 Ich hätte sehr gerne wieder einen gegrillten Jakobsmuschel-Scampi-Spieß gegessen. Der Spieß war so gut, dass wir damals statt eines Desserts noch einen Spieß genommen haben. Genauso schöne Spieße wie damals im Pinnacle Grill auf der
WESTERDAM 2010
und
ZAANDAM 2012
oder im Portofino auf der
NAVIGATOR OF THE SEAS 2009
.
Ich hätte mir so gerne hier ein T-Shirt gekauft. In M. Zu Hause habe ich noch das T-Shirt von damals in XXL. Ein Grund wieder zu kommen.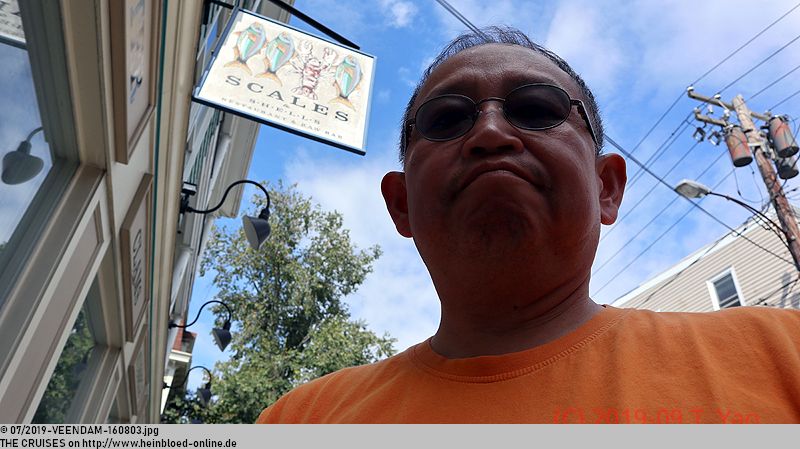 Here, I really would love to buy a t-shirt. In size M. At home, I still had the t-shirt from then in size XXL. One more reason to return.

Newport, RI was one of the more beautiful places of America.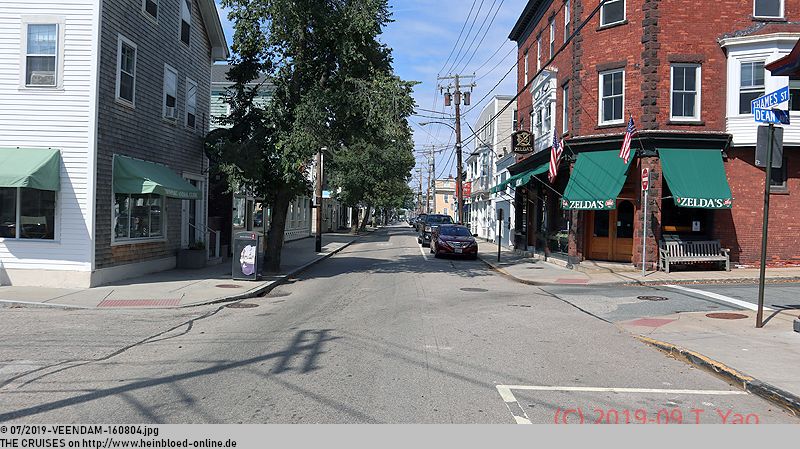 Newport ist schon eine schöne Ecke Amerikas.
Sonnenblumen auf der einen Seite der Straße.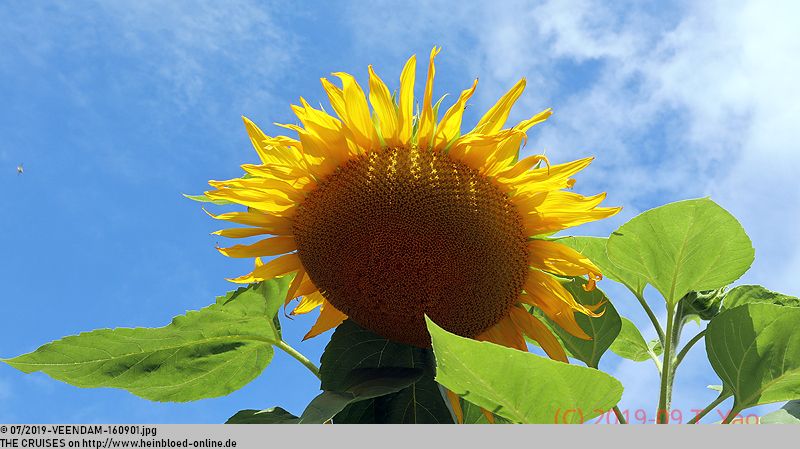 Sun flowers on the one side of the street.

In bloom.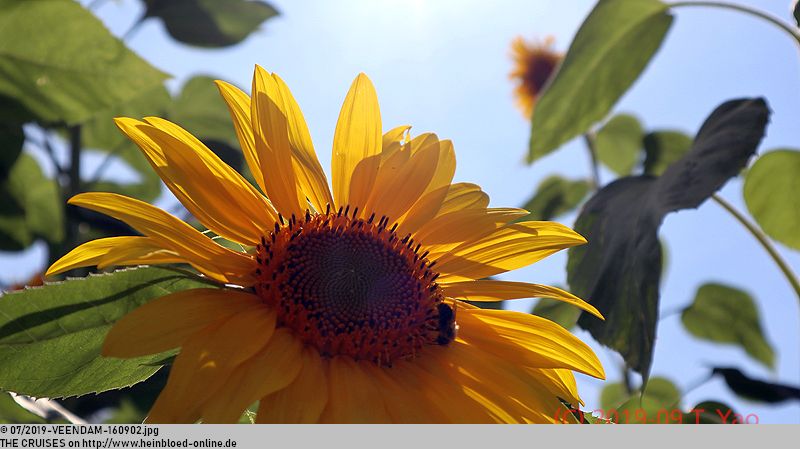 In voller Blüte.
Und auf der anderen Straßenseite beginnt sich das Laub schon rot zu verfärben. Wir müssen unbedingt nochmals wiederkommen, wenn alles in rot ist.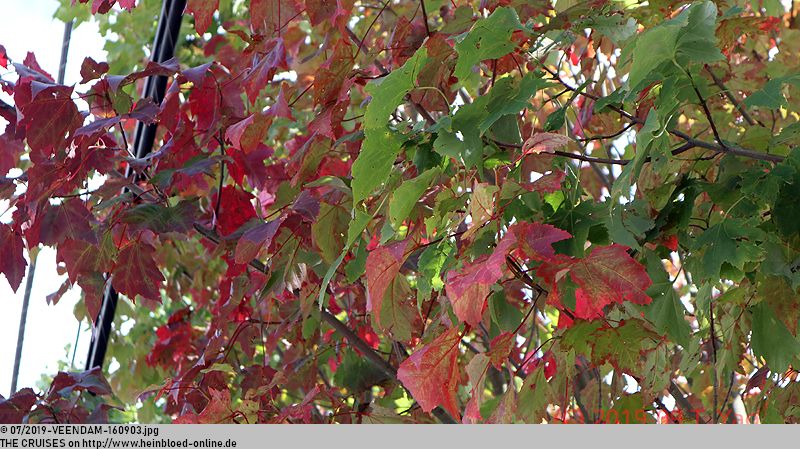 And on the other side of the street, the leaves started to turn the color. We had to return when everything would be red again.

Sightseeing in American often meant: just sitting in the car and following a circular route. But we got out in the meantime when we drove along Ocean Drive: like at King Park. From here you had not only a beautiful view of the city but also of Fort Adams and the Claiborne Pell Newport Bridge.

Sightseeing auf amerikanisch heißt auch oft: einfach im Auto sitzen bleiben und einem Rundweg folgen. Wir steigen aber doch mal zwischenzeitlich aus, als wir den
Ocean Drive
entlangfahren: z. B. am
King Park
. Von hier hat man nicht nur einen schönen Blick zur Stadt, sondern auch zu
Fort Adams
und der
Claiborne Pell Newport Bridge
.
Ein weiteres Mal halten wir am
Fort Adams State Park
. In
Fort Adams
gehen wir nicht. Aber direkt am Pier liegt die
OLIVER HAZARD PERRY
. Aber auch hier gehen wir nicht rein. Das Wetter ist zu schön, dass wir nur einfach die Wind und die Sonne genießen und den Anblick von Newport genießen. In Newport RI spielt
"Die oberen Zehntausend" mit Bing Crosby und Grace Kelly
(in ihrem allerletzten Film). Das Haus, an dem einige Außenaufnahmen entstanden sind (
Clarendon Court
) liegt auf der anderen Seite der Halbinsel. Trotzdem wirken die Mansions hier so, als ob man mitten im Film sei. Damit ich in Stimmung komme, lade ich mir "
True Love
" auf mein iPhone herunter. Von
Gabriele Bleeke-Byrne
wusste ich, dass auch Newport ein Ort für die Reichen und Schönen ist. Nur sie zitierte oft William Randolph
Hearst
(Sr., Jr., II. oder III. - keine Ahnung, welchen von denen ich mit einer deutschen Schulbildung kennen muss), mit dem ich damals in meiner Studentenzeit in Deutschland gar nichts anfangen konnte.

We stopped again at Fort Adams State Park. We were not going into Fort Adams. But the OLIVER HAZARD PERRY was right on the pier. But we did not go in here either. The weather was too nice that we just enjoyed the wind and sun and the sight of Newport, RI. In Newport RI, "True Love" played with Bing Crosby and Grace Kelly (in their very last film). The house, where some exterior shots were taken (Clarendon Court), was on the other side of the peninsula. Nevertheless, the mansions looked like you were in the middle of the film. To get me in the mood, I downloaded "True Love" on my iPhone. I knew from Gabriele Bleeke-Byrne that Newport, RI, was also a place for the rich and beautiful. She was the only one who often quoted William Randolph Hearst (Sr., Jr., II. Or III. - I had no idea which of which I should know with a German school education) with whom I could not do anything at the time when I was a student in Germany.

We stopped again at Brenton Point State Park. Here Sigi and Bruno liked it so much that they climbed down to the water and ran around on the rocks there.

Ein weiteres Mal halten wir am
Brenton Point State Park
. Hier gefällt es Sigi und Bruno so gut, dass sie unten ans Wasser klettern und dort auf den Felsen herumlaufen.
Weiter geht es durch den historischen Teil am
Ocean Drive
entlang.

We headed to the historic part of the Ocean Drive.

In the area around Bellevue Avenue, there were some mansions open for visitors. Like the Marble House.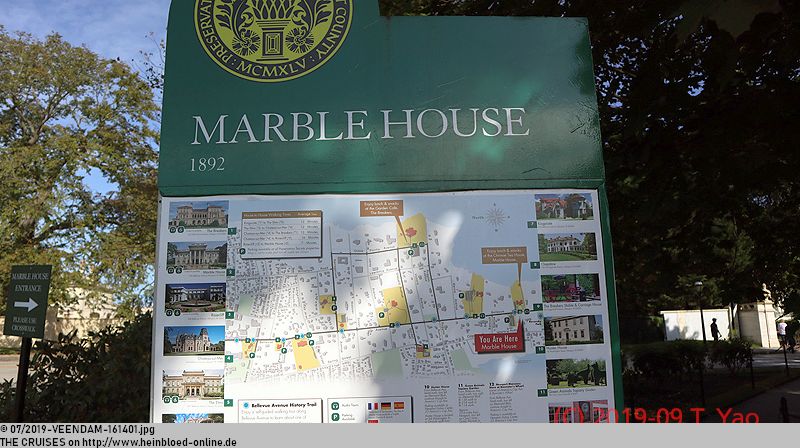 Im Bereich der Bellevue Avenue stehen einige der Mansions für Besucher offen. Z. B. das
Marble House
.
Aber unsere Zeit erlaubt uns keinen Besuch im Haus. Müssen wir uns für ein weiteres Mal aufheben. Es gibt ja auch Kreuzfahrtschiffe, die hier in Newport anlegen.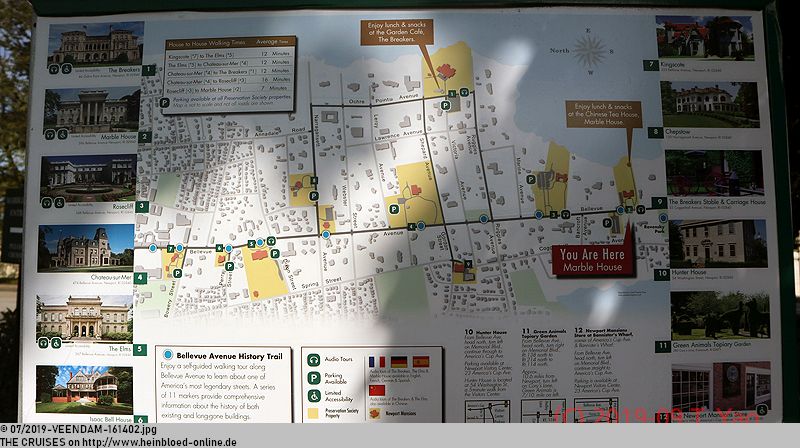 But our time did not allow us to see the house inside. We had to save this for another visit. There were also cruise ships that would anchor here in Newport, RI.

It would be worth to return one day.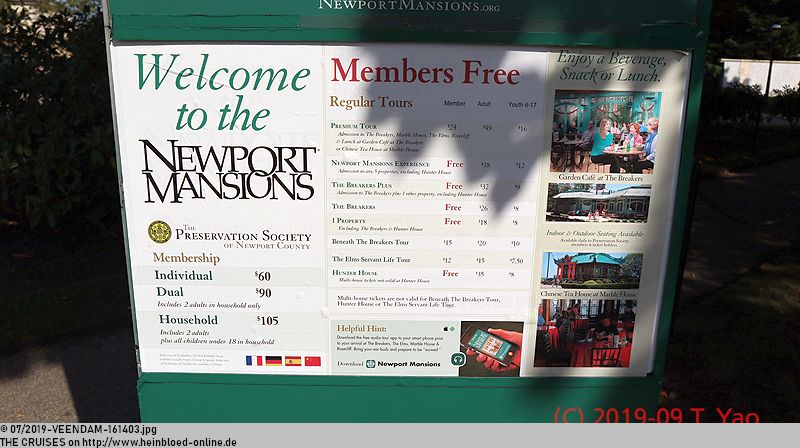 Es lohnt sich bestimmt wieder zu kommen.
Der Außendrehort von "
Die oberen Zehntausend
"
Clarendon Court
liegt in unmittelbarer Nachbarschaft. Er hat aber nicht für Besucher geöffnet.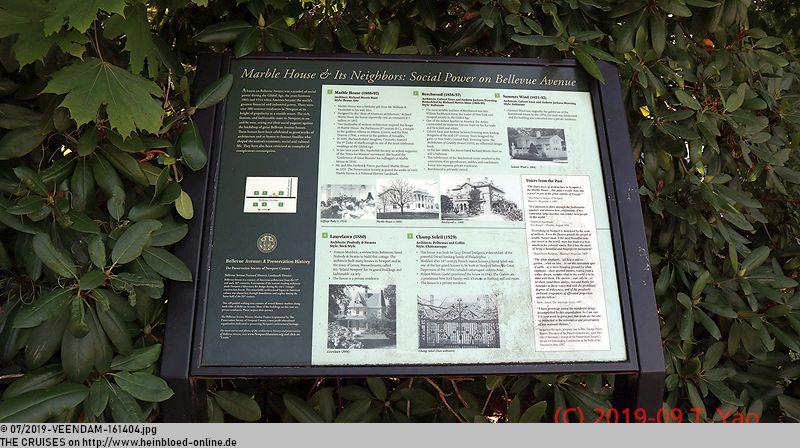 The outside film set of "True Love" Clarendon Court was located right in the neighbourhood. But it was not open to visitors.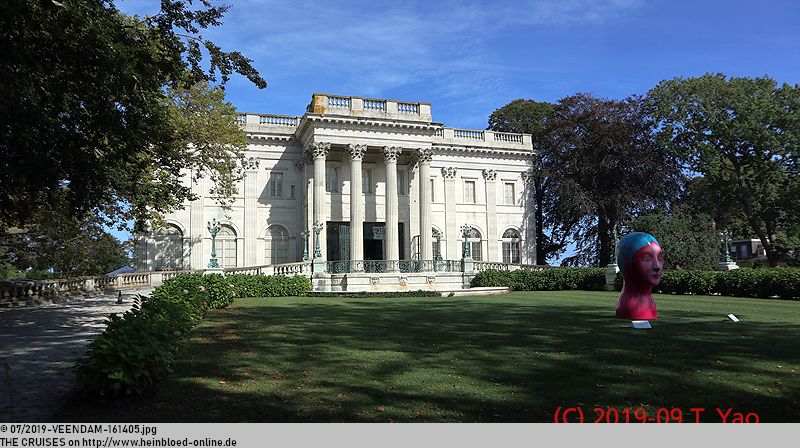 Wir fahren weiter Richtung Connecticut über die
Claiborne Pell Newport Bridge
.

We headed towards Connecticut by crossing the Claiborne Pell Newport Bridge.

On the way, we stopped another time at a Dunkin' Donuts for a cup of coffee.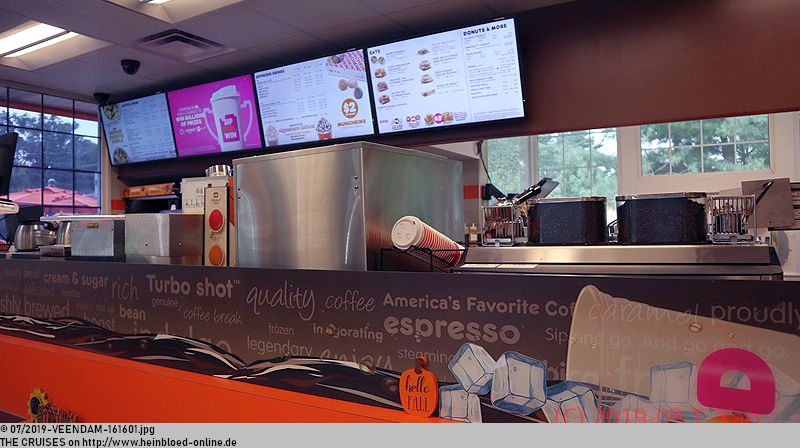 Unterwegs halten wir wieder an einem
Donkin' Donuts
zum Kaffeetrinken.
Sieht wieder aus, wie im
Postamt
. NEIN - ich habe keine Stifte geklaut!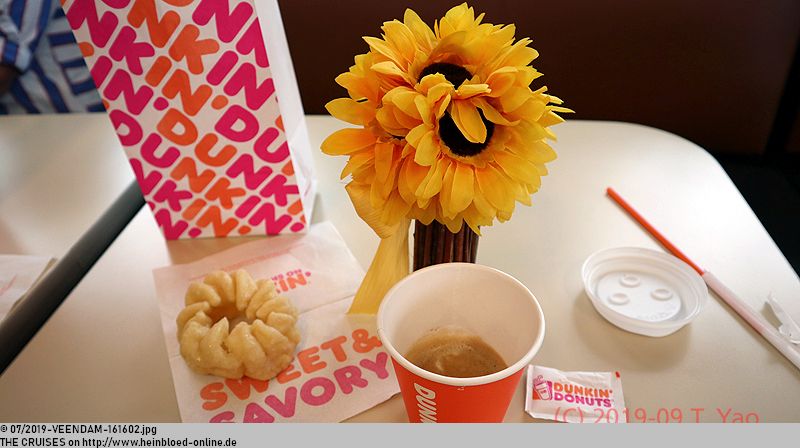 It looked again like in the Post Office. NO - I did not steal any pens.

A French cruller was a must.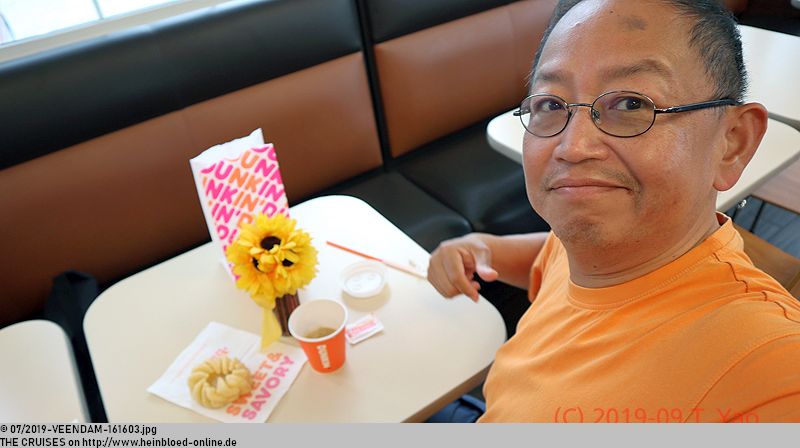 Ein Spritzkuchen muss sein.
Im Bad merke ich wieder: die Kamera beherrscht mich und nicht ich die Kamera. Mit meinem Bauch gelingen mir immer wieder ein paar Aufnahmen.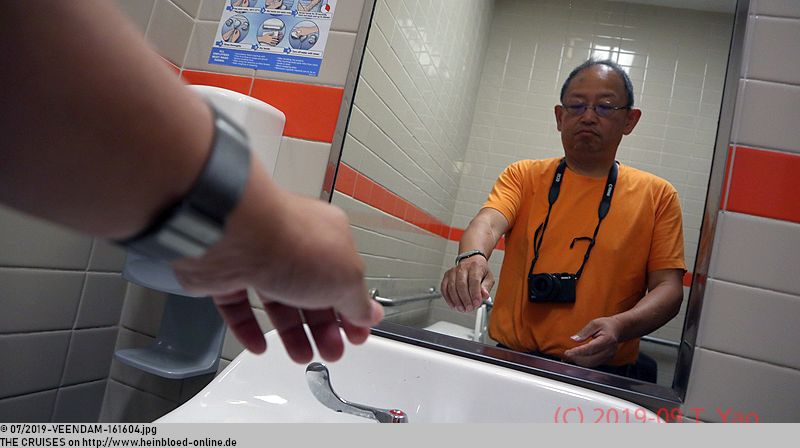 In the bathroom I noticed again: the camera was controlling me but me controlling the camera. I could take shots with my belly.

We were heading to New London, CT. Here we had to wait for the AMTRAK Acela high-speed train to pass through between Washington, DC, New York, NY, and Boston, MA. Hopefully, we would not miss the ferry because of that. We were not the last, but the penultimate who could still take the boat.

Wir fahren bis New London, Connecticut. Hier müssen wir warten, dass der
AMTRAK-Hochgeschwindigkeitszug Acela zwischen Washington, DC, New York und Boston
durchgefahren sit. Hoffentlich verpassen wir deswegen die
Fähre
nicht. Wir sind zwar nicht die letzten, aber die vorletzten, die noch mit auf die
Fähre
können.
Mit der
Cross Sound Ferry fahren wir nach Orient Point auf Long Island im Staat New York
. Beim Ablegen sehen wir dem Personal zu, wie sie Ballettfiguren machen oder einen Kollegen mit einem Lasso einfangen. Drinnen haben wir supermoderne Waschbecken. An Bord gibt es eine europäische Aushilfe, der uns vor dem Kaffee warnt, als er heraushört, dass wir aus Europa sind.

On Cross Sound Ferry we sailed to Orient Point on Long Island in New York State. When we set sail, we watched the staff making ballet figures or catching a colleague with a lasso. Inside, they had super modern washbasins. There was a European temporary help on board who warned us of having a coffee when he heard that we were from Europe.

The crossing was very lovely. We reached Long Island when it became dark. The break on the ferry was right for me.

Die Überfahrt ist sehr schön. Wir erreichen Long Island als es dunkel ist. Die Pause auf der Fähre tut mir gut.
Auf dem halben Weg zum Hotel liegt Port Jefferson Station. Hier gibt es einen
Wahlburgers
. Es gehört der
Familie Wahlberg
. Fast jeder kennt den Schauspieler
Mark Wahlberg
. Aber ich ja Fan von
Donnie Wahlberg
, den man als Bandmitglied von
New Kids on the Block
kennt. Ich persönlich mag ihn wegen seiner Darstellung in der Serie "
Blue Bloods
" mit Tom Sellek. Die Zwiebelringe sind einfach fantastisch. Und wieder gibt es auf Wunsch hier die Coca Cola aus Rohrzucker aus Mexiko.

Half way to the hotel was Port Jefferson Station, NY. There was a Wahlburgers here. It belonged to the Wahlberg Family. Almost everyone knew the actor Mark Wahlberg. But I was more a fan of Donnie Wahlberg, who was known as a band member of New Kids on the Block. I personally liked him because of his portrayal in the TV-series "Blue Bloods" with Tom Sellek. The onion rings were just fantastic. And again, there was the Coca Cola made from cane sugar from Mexico.

We knew the chain Wahlburgers from Las Vegas, NV. Here, we had lunch after our voyage on GRAND PRINCESS 2018. This time again, it was yummy.

Wir kennen die Kette
Wahlburgers aus Las Vegas
. Hier hatten wir damals nach unserer
GRAND PRINCESS 2018
-Reise gegessen. Auch dieses Mal ist es wieder richtig lecker.
Es geht weiter nach
Roslyn ins Holiday Inn Express
.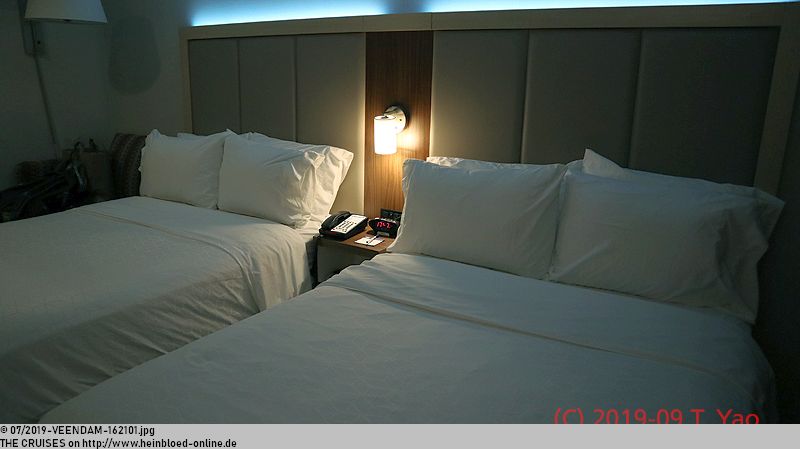 We continued our way toward the Holiday Inn Express in Roslyn, NY.

We could notice that we were close to New York City: everything became smaller.

Wir merken, dass wir in der Nähe von New York City sind: alles wird kleiner.
Aber je näher wir Richtung New York City kommen, desto unbezahlbarer wird es.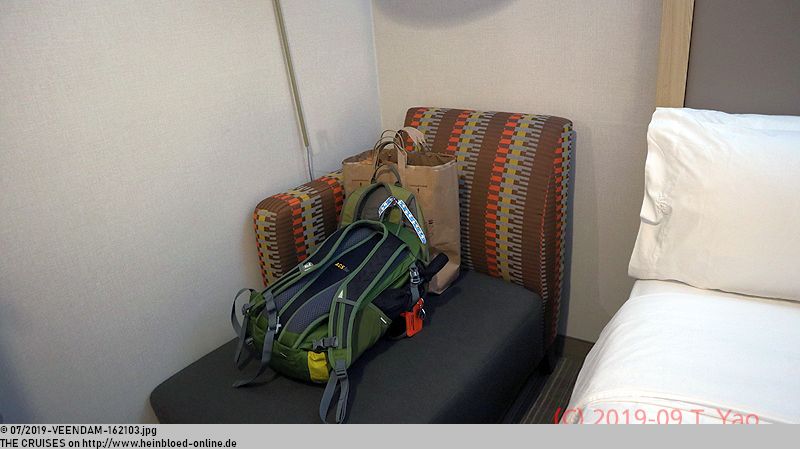 But the closer you were getting towards New York City, it became more unaffordable.

But at least, we had a new bathroom: lovely new tiles.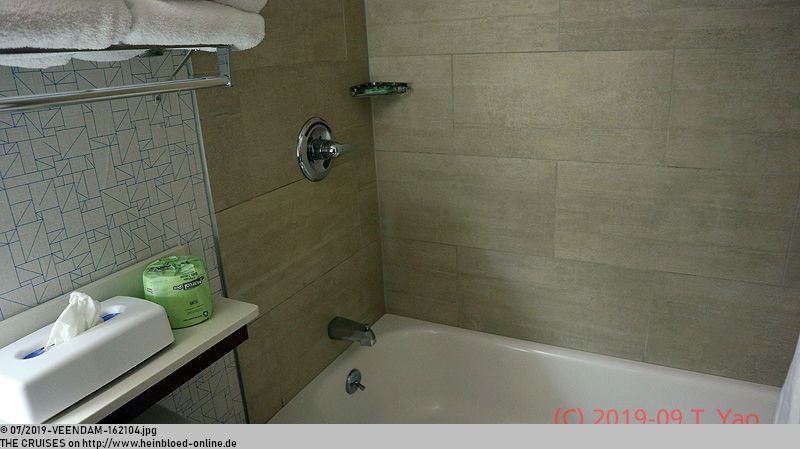 Aber wenigstens haben wir ein neues Bad: schöne neue Fliesen.
Wir schlafen ja hier nur zwei Mal und dafür ist es in Ordnung.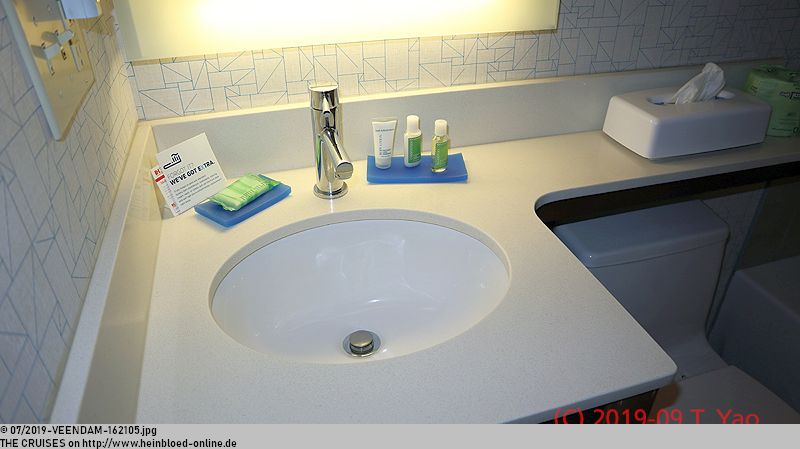 We would sleep here only two times and for that purposes it was fine.
Die anderen Reisen in diesem Blog/
The other voyages in this blog: