Um auf die deutsche Version zu kommen, bitte unten auf dieser Seite

Older Post

anklicken.

After an extensive breakfast for 17.90 GBP we left the hotel. On the way we found out that we could have breakfast for 4.99 GBP at all service stations. Next time...

Around 10.00 hrs we reached Dover. We dropped-off our bags. There are no embarkation baggage tags available just debarkation. Somehow it made me headaches but I just lifted of the coulored debarkation number and put on my prepared stickers. I just wanted to avoid that my baggage will be put to the bags of the debarking guests. But to make a long story short. Our bags made it immediately after lunch. And there was one big difference to others: It was in and not in front of our staterooms.

For the very first time we had the occassion to see the castle after they did not let us driving on Prince of Wales-Pier to take pictures of our ship.

You need some time to get to on the castle as the traffic control let only alternating few cars in and out.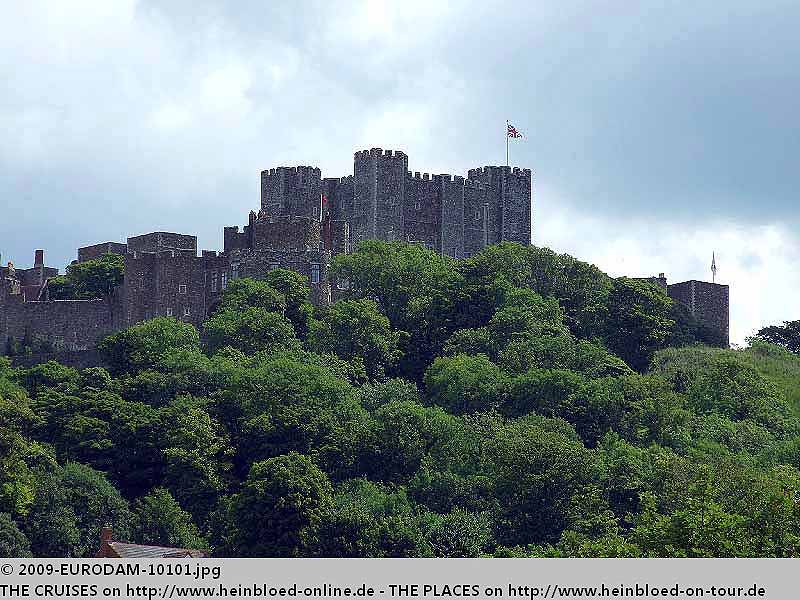 The admission fee is 10 GBP pp. As we waited very long in the queue we did not care too much for the price. Anyhow 30 minutes was only left until we need to be at the Bus Station to pick up Bruno's sister and brother-in-law at 11.00 hrs...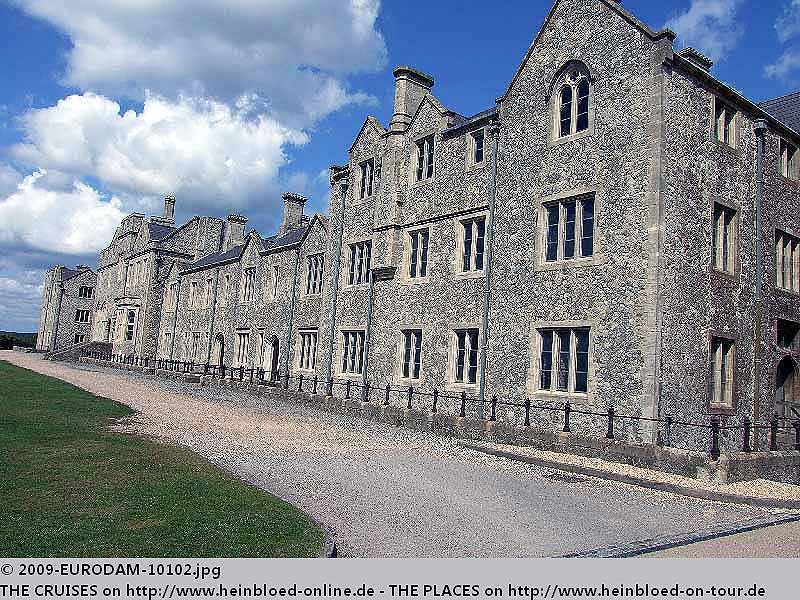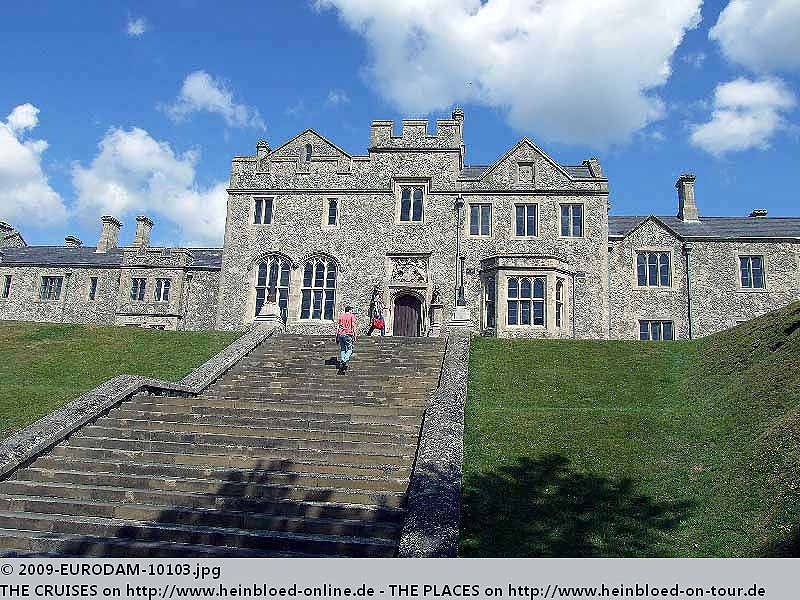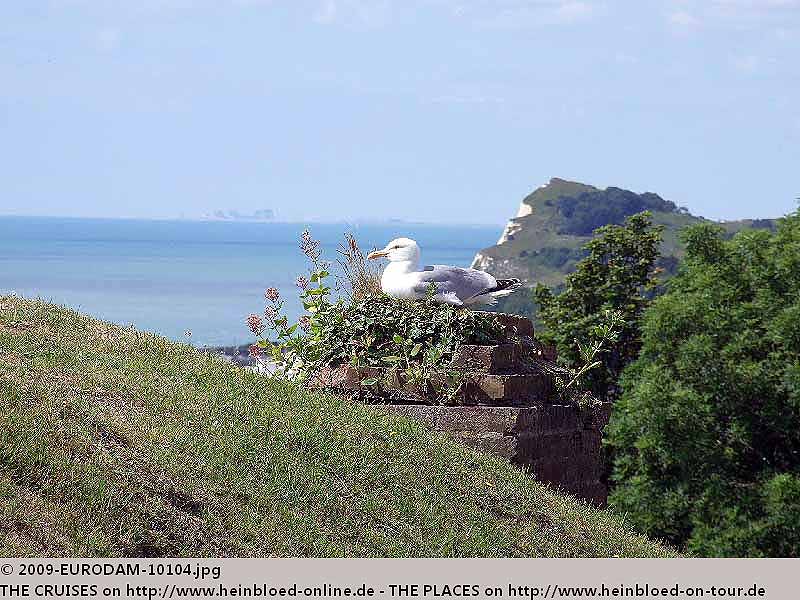 We enjoyed the beautiful view and moeve (she is a cc-member - but it's German and means seagull)... and we were able to defense MY EURODAM against the attack from the castle...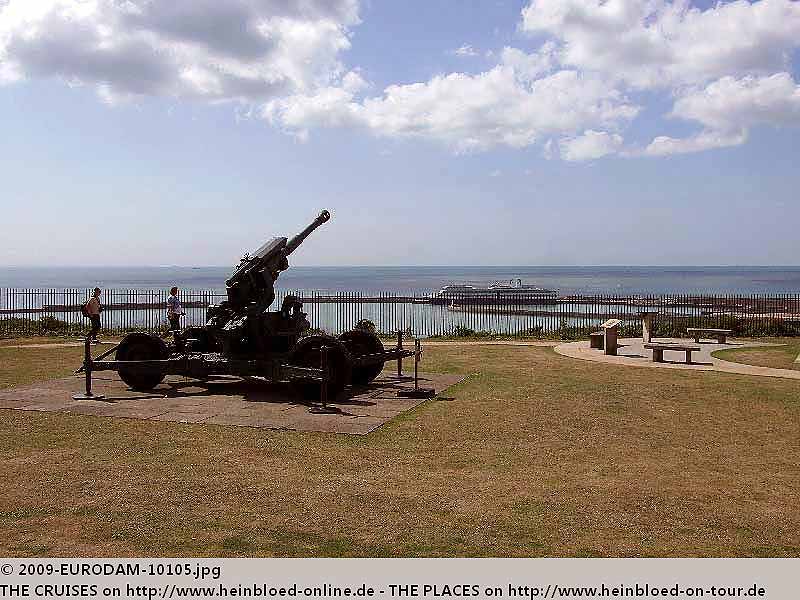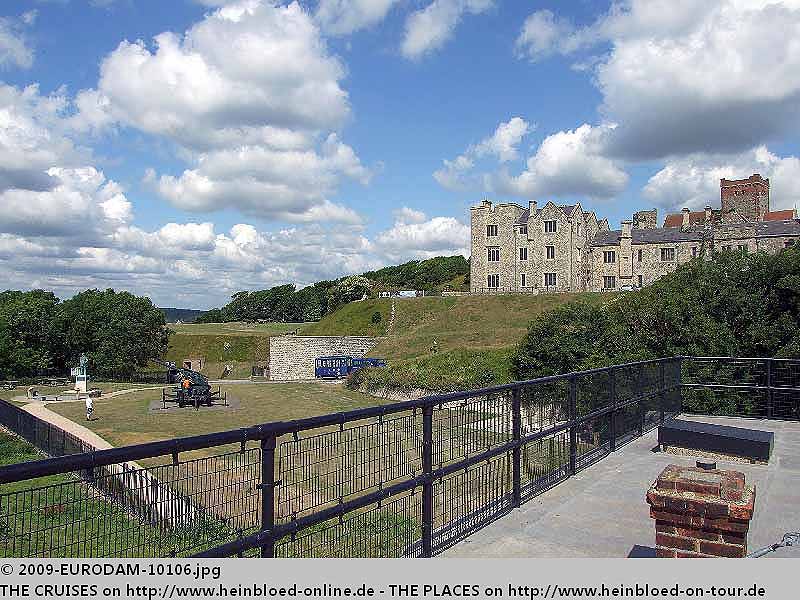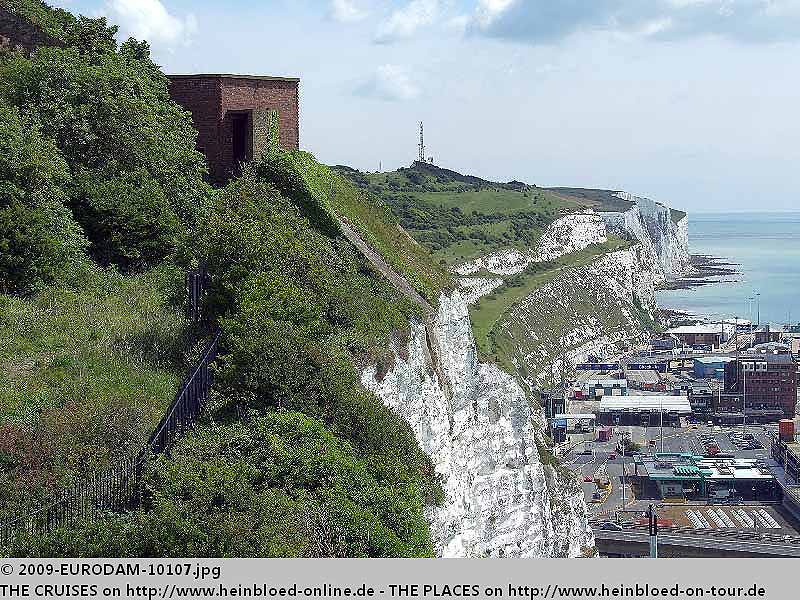 Finally we made it so close to the White Cliffs... and observed the ferry terminal life.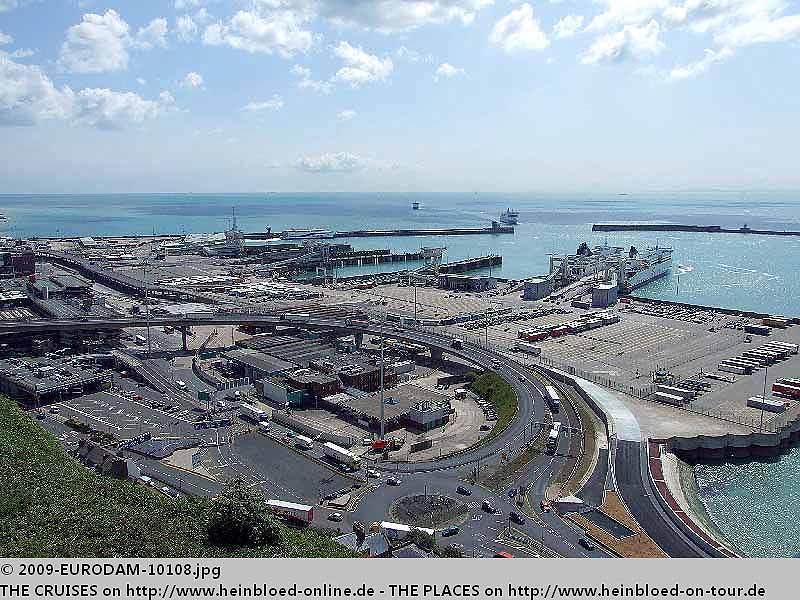 The only reason why we paid the 20 GBP: from here we were able to take pictures of MY EURODAM. But the location of the sun is unpleasent for taking pictures in the morning.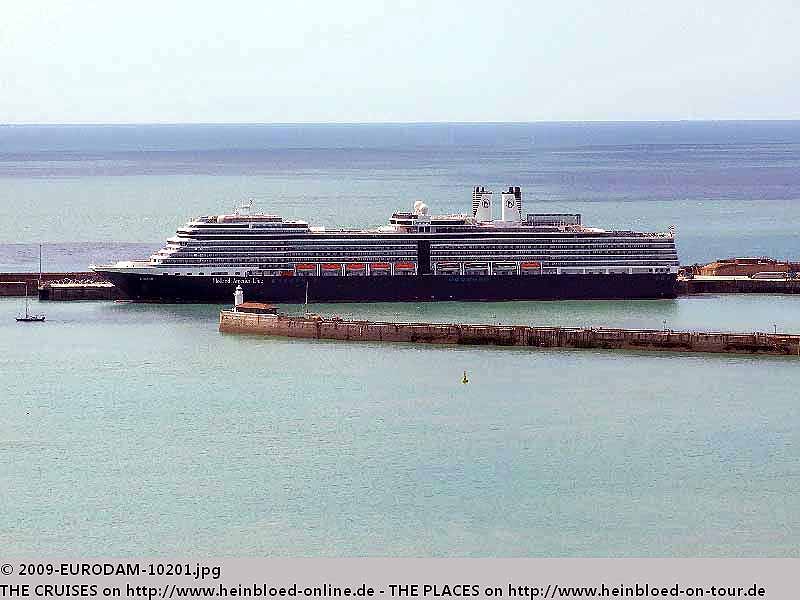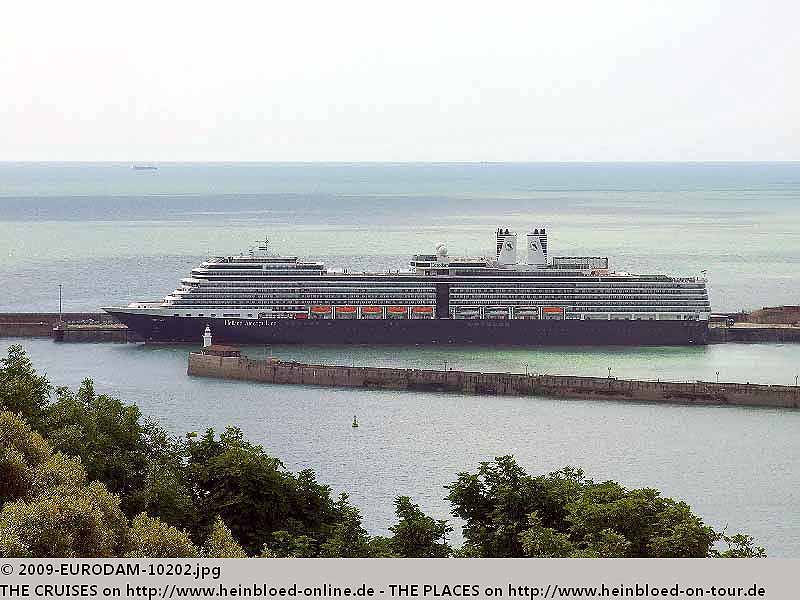 By the way: who loves to walk from the City Center to the Cruise Terminal... The Cruise Terminal is on the left part of this picture and the City Center to the right...

So roughly around 10 times of the length of the ship... so start to excercise...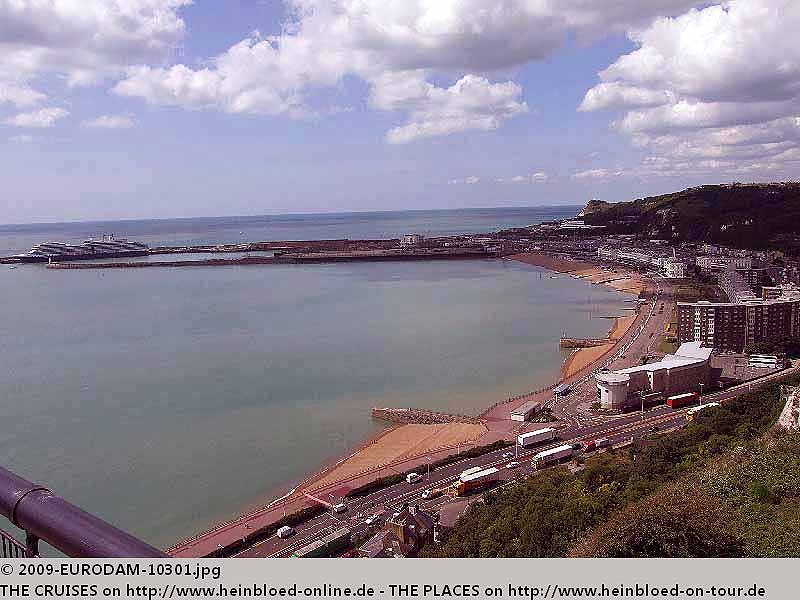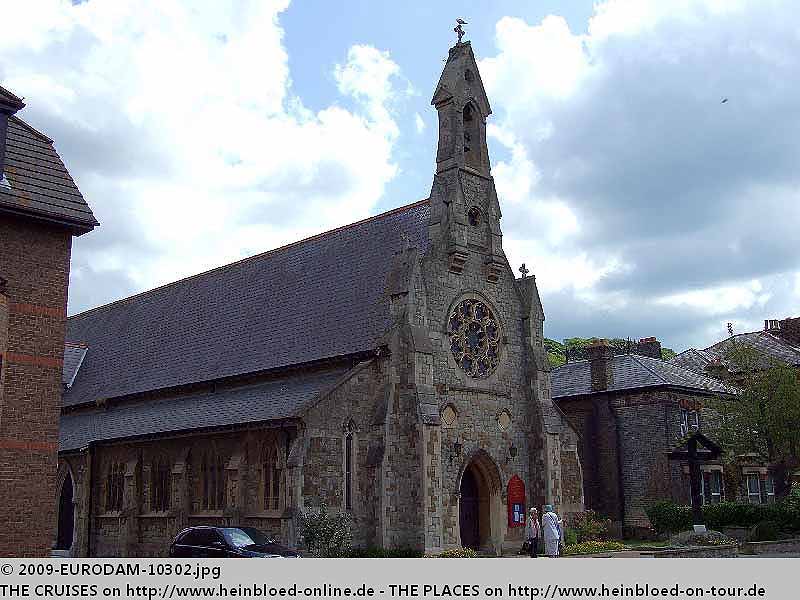 Bruno's Sister and Brother-in-law arrived by NATIONAL EXPRESS. We were lucky that we still had the car. There was no taxi around. But we should have solved the reunion problem much more easier: It was not avaialable in any schedule: 08.30 hrs departure from London Victoria also stopped at the Cruise Terminal. So we could not be with them to see their faces when they see a ship like MY EURODAM much more larger than our DELPHIN which we used before with them.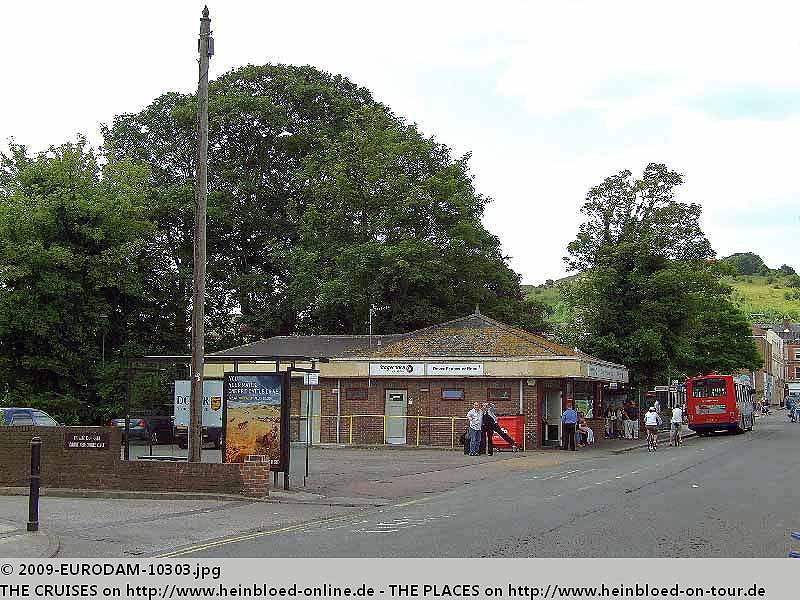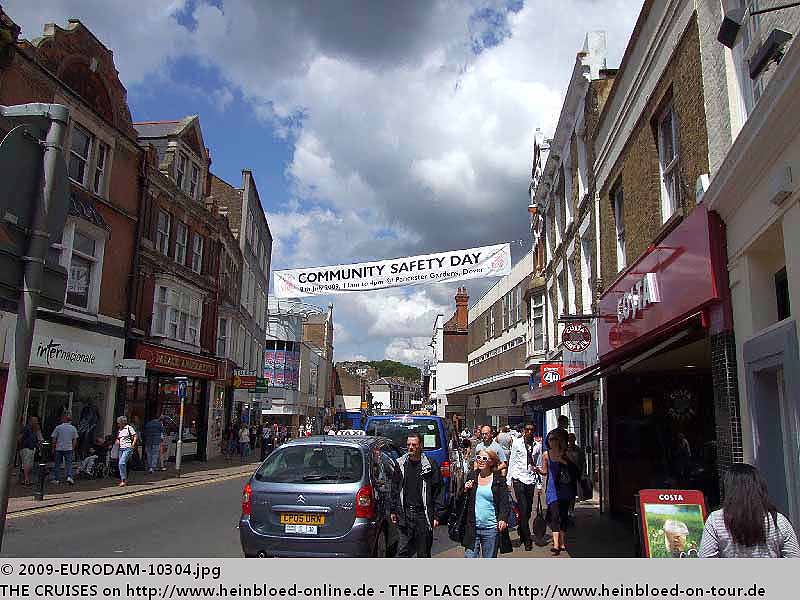 At the end of the pedestrian shopping zone you find the town hall (that's no church). Here you also find the tourist information.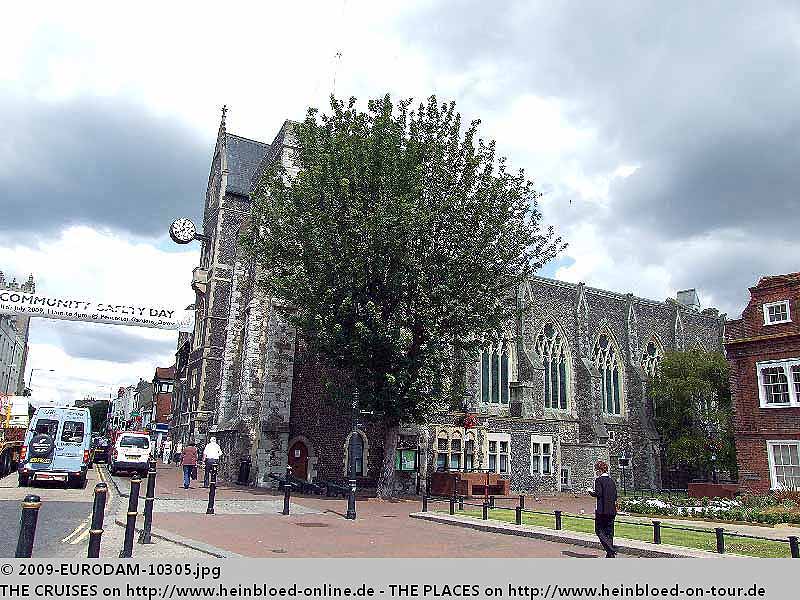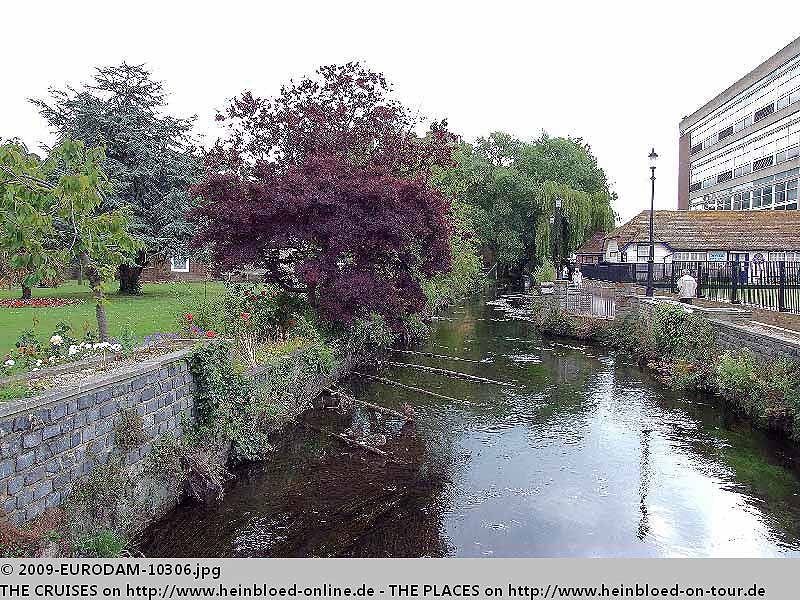 EUROPCAR (National/Alama) is located in sight and walk distance to the Cruise Terminal.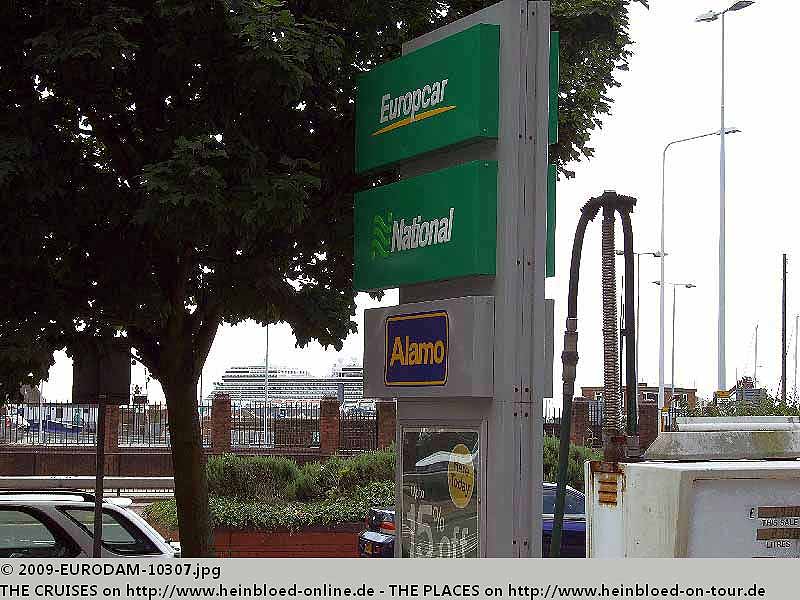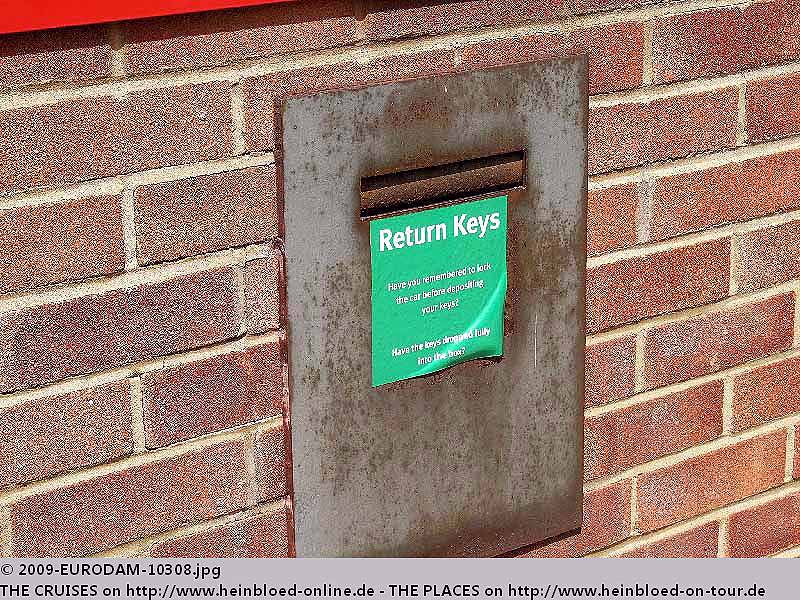 And you can return and collect cars out of office hours...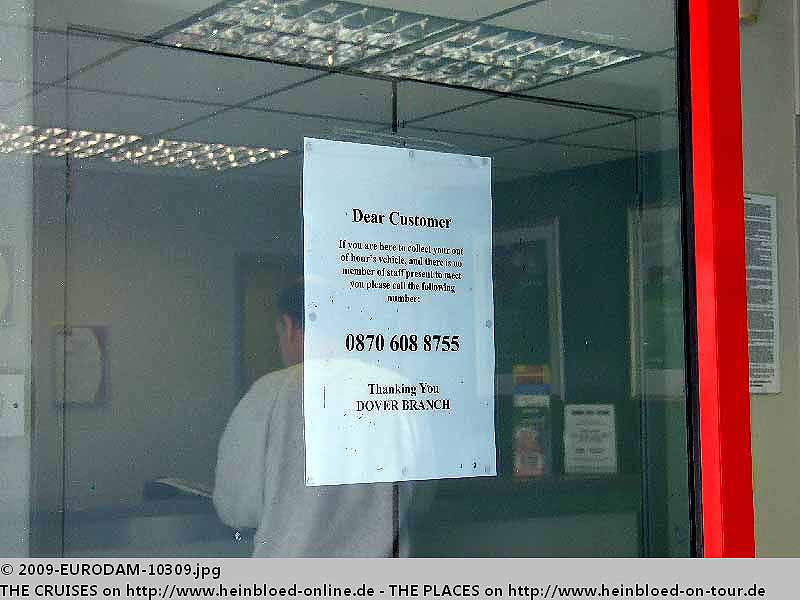 A driver of EUROPCAR drove us to the Cruise Terminal so we did not need to walk with all the baggage.

We could also have used the shuttle to the city and to the castle.

https://www.opentopbus.co.uk/terminal.htm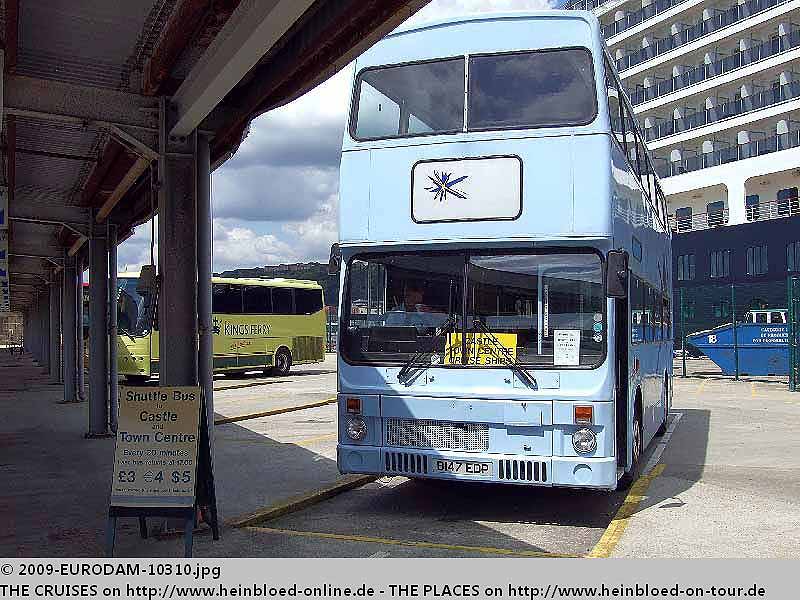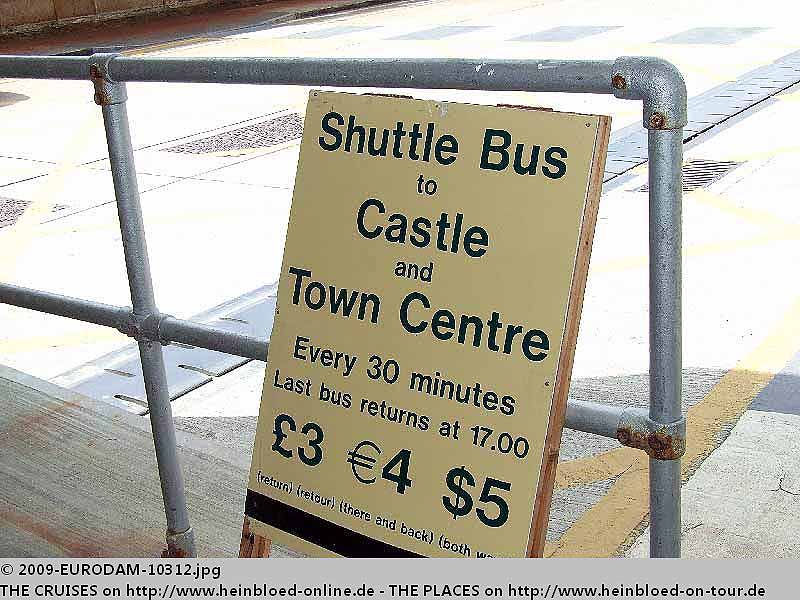 Some costs transparency for the different mean of transports.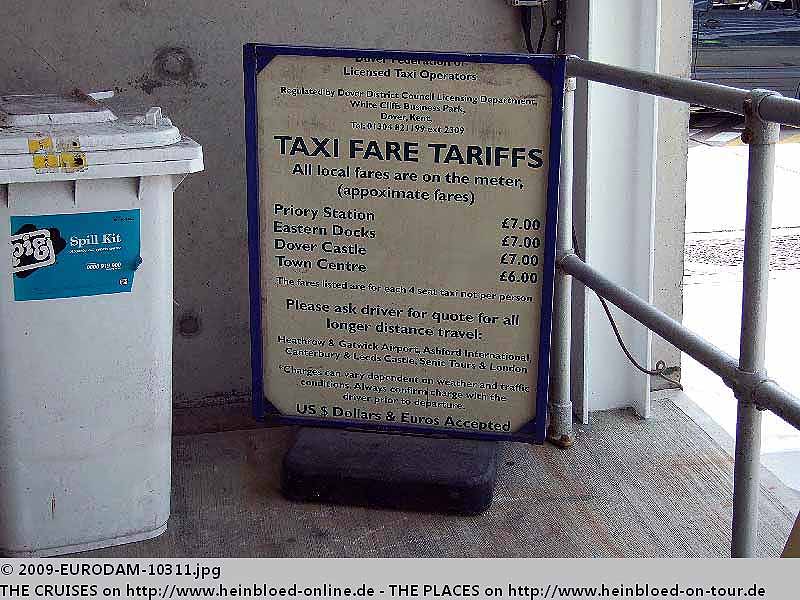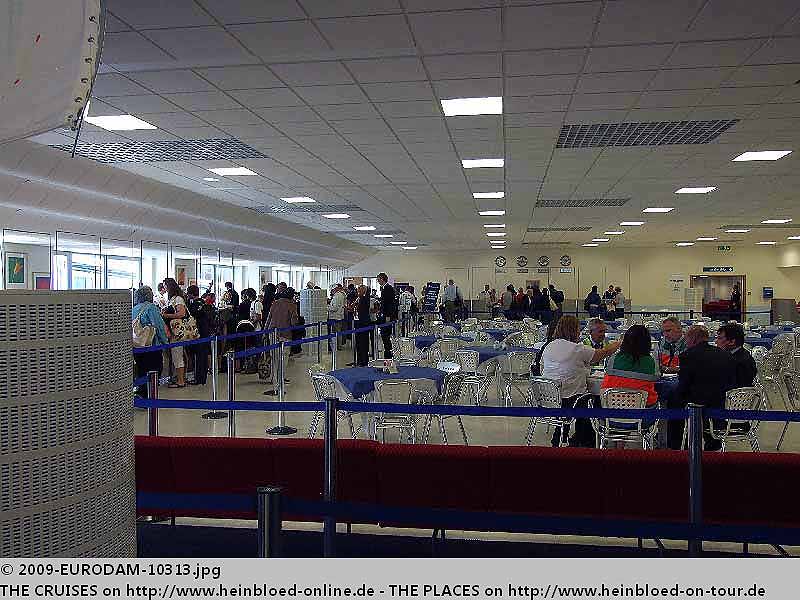 It worked well with British discipline. Embarkation already started. We had an older American in front of us who need an eternality. She made a fun of the situation to tell me all the time that I am stucked with her and her girl friends.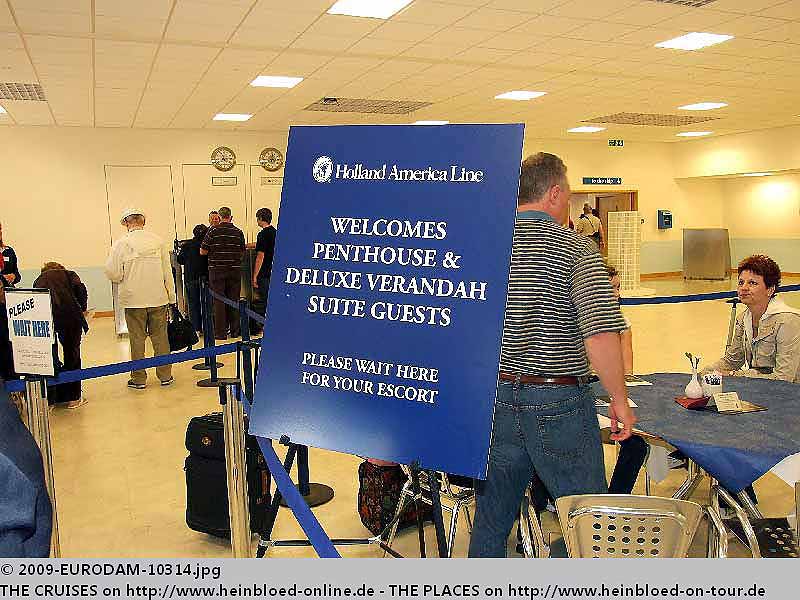 Well she got her payback: we took the shortcut for suite-guests...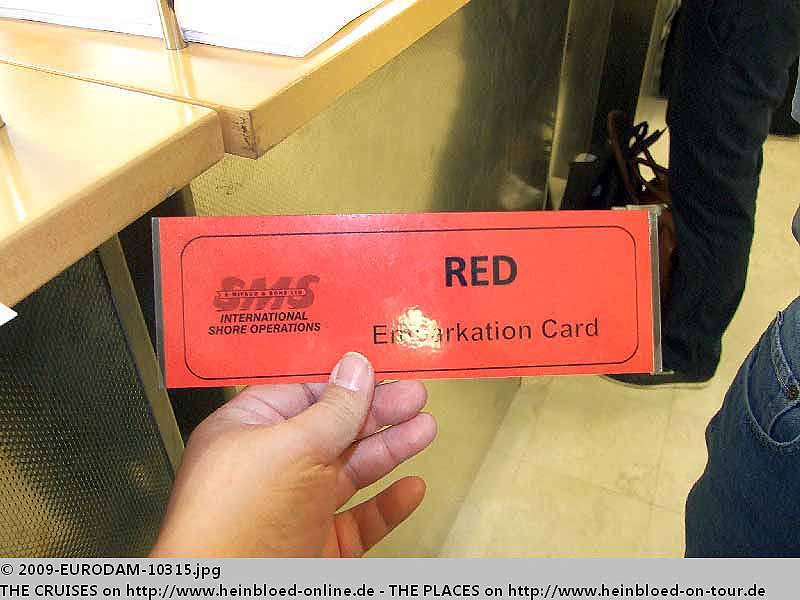 ... and we got embarkation card red which meaned that we can go on board asap without waiting for another paging call.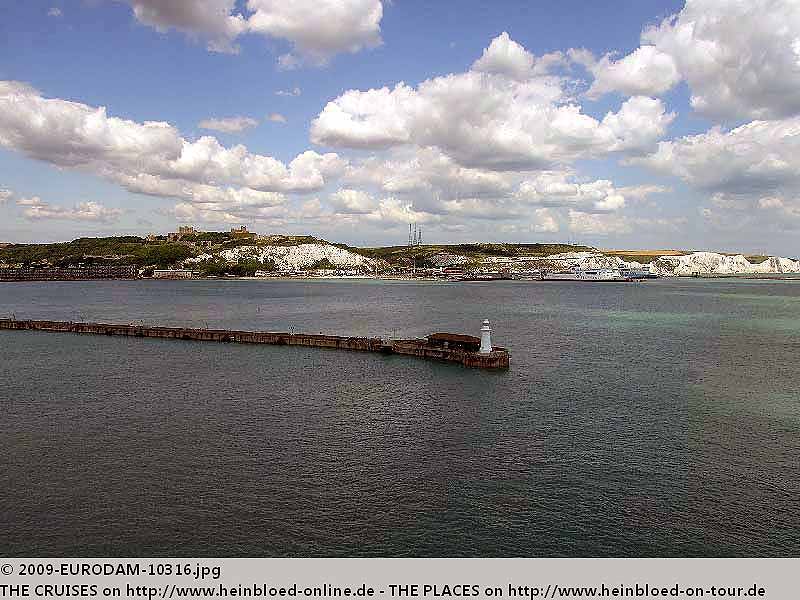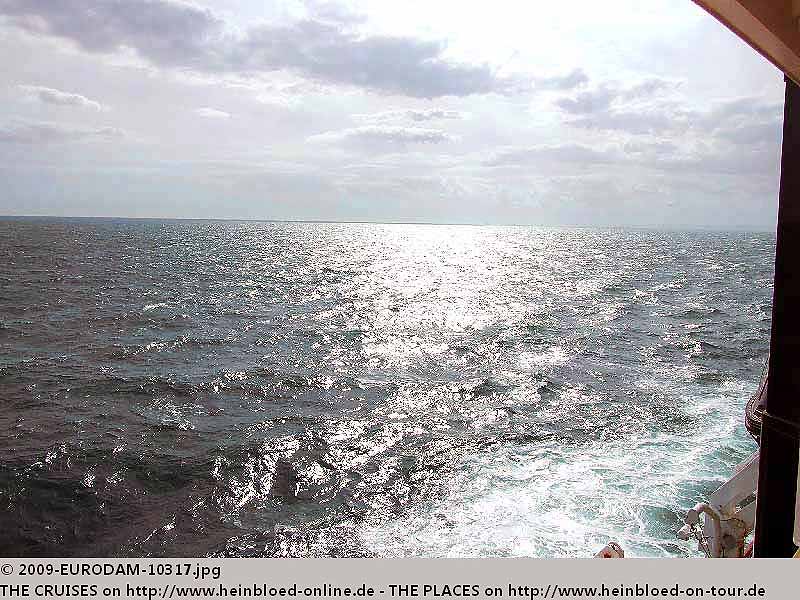 We left Dover with beautiful weather. I could not believe that a weather change was expected...

On Board: the mandantory hand sanitizing ritual...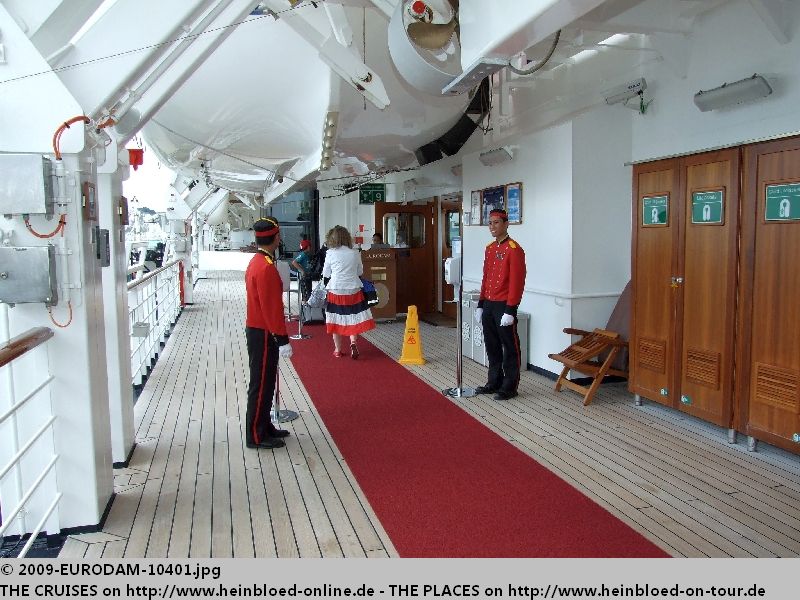 We did not make a big ship's tour as we know EURODAM from our last year's voyage.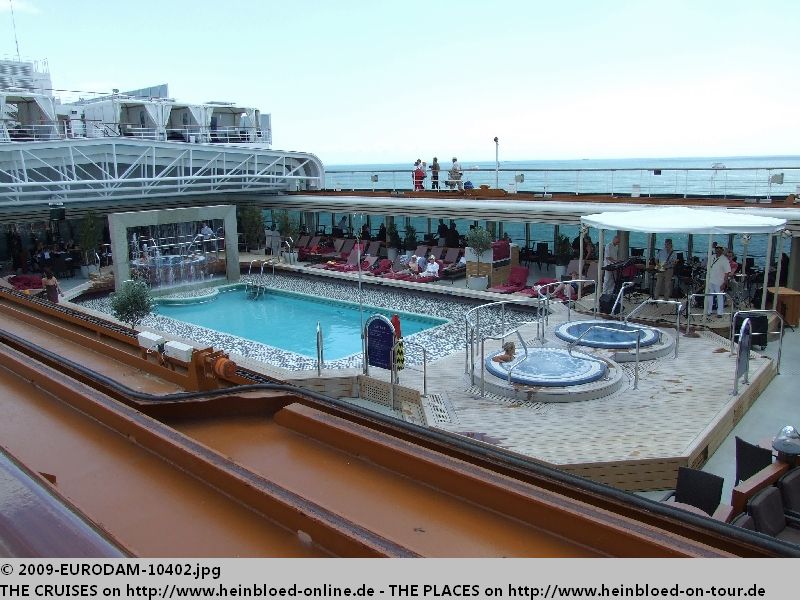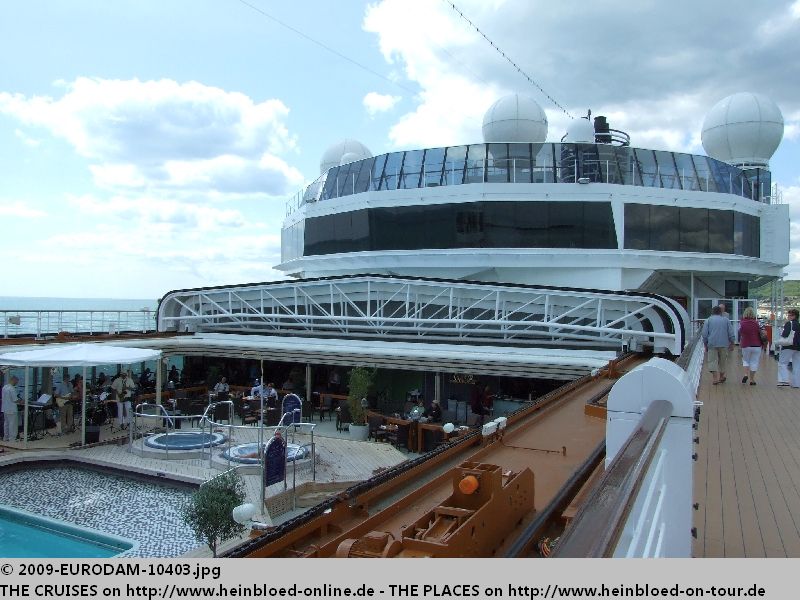 The moveable roof was great.

As the staterooms were not ready yet all guests were taken to Deck 9 to have lunch. As alternatives you had only TAMARIND and PINNACLE GRILL. That's what I like more with NCL: You get 24/7 service-restaurant and also on embarkation day.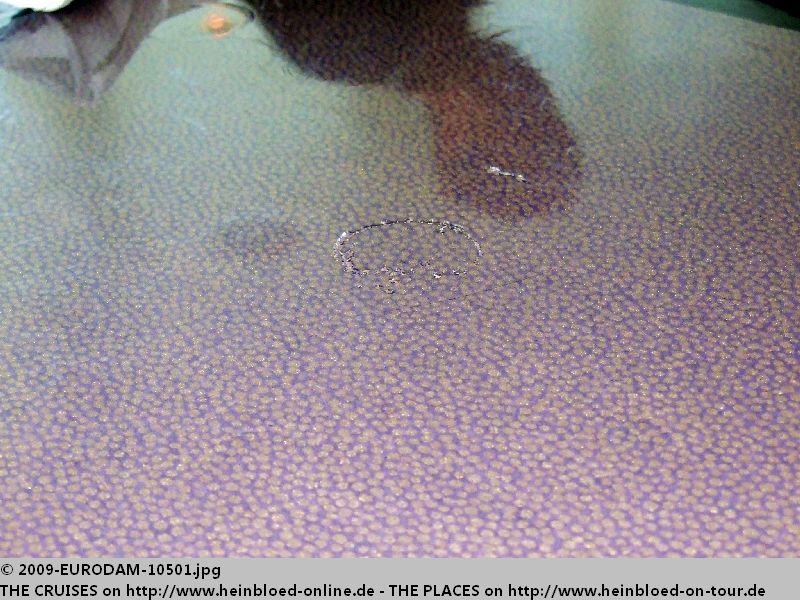 It's over-crowded. We find a vacant table after a very long search. They cleared it immediately when we came but forgot to wipe...

There it was very narrow. And the next tables with Russians took so much space that we hardly had a chance to get on the seats. Their mentality we need to make acquaintance with for the future. Against this the typical German-British-sunchair-battle would be nothing...

What a pity that the restaurant management had no eye on it...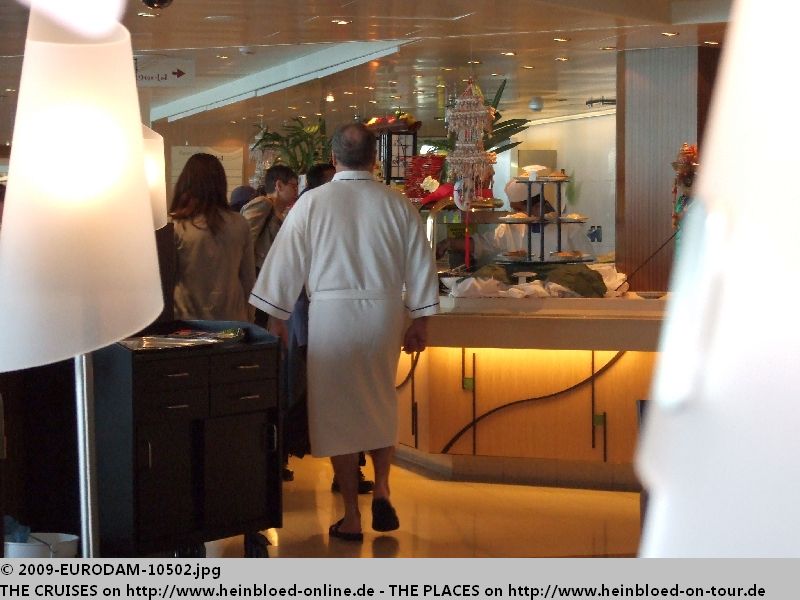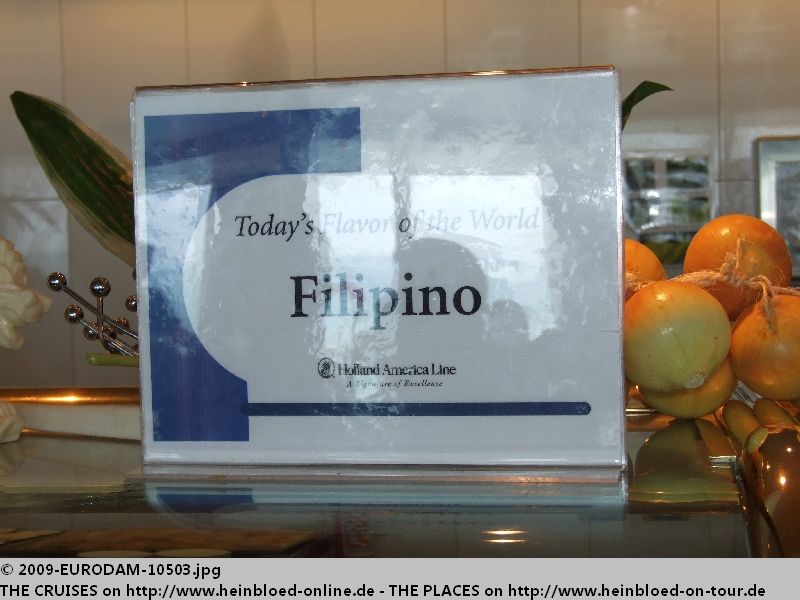 It was so full that I only looked over one buffet and took from there something. It was the Philipino buffet.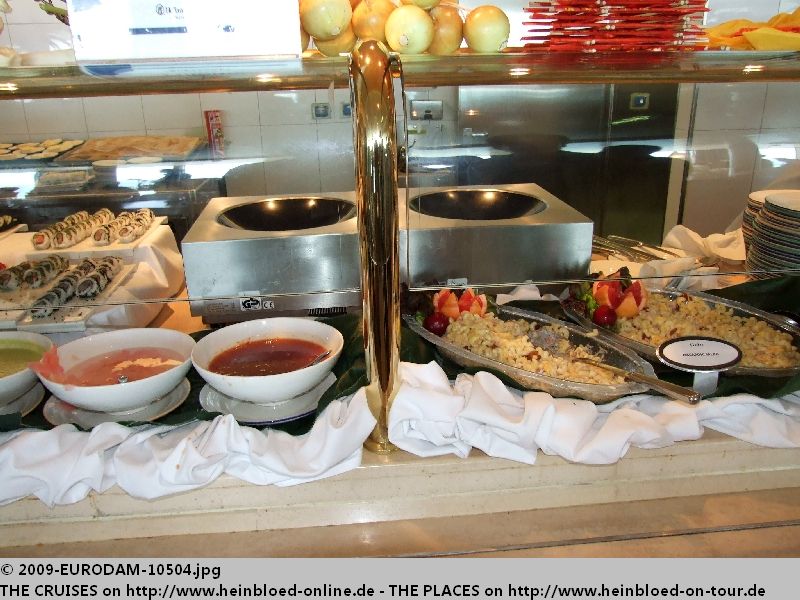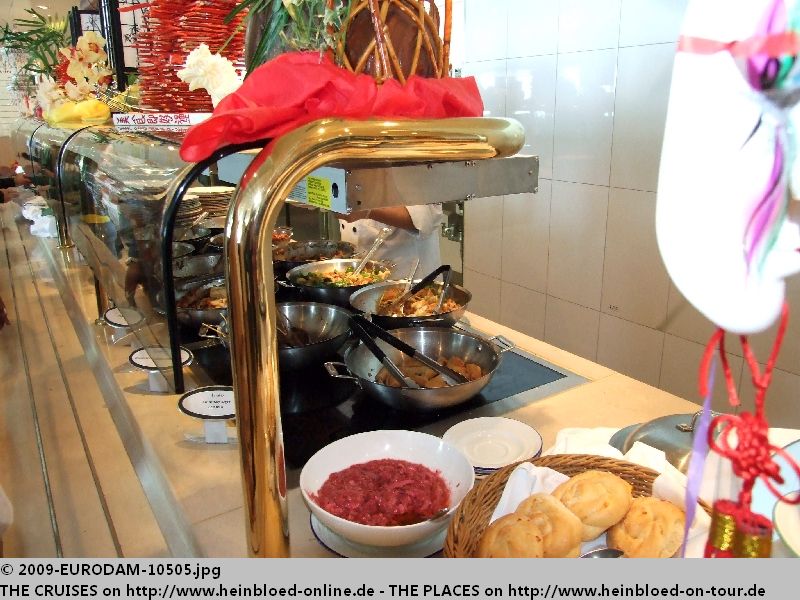 It does not matter on which ship you are... the food was not really hot anymore...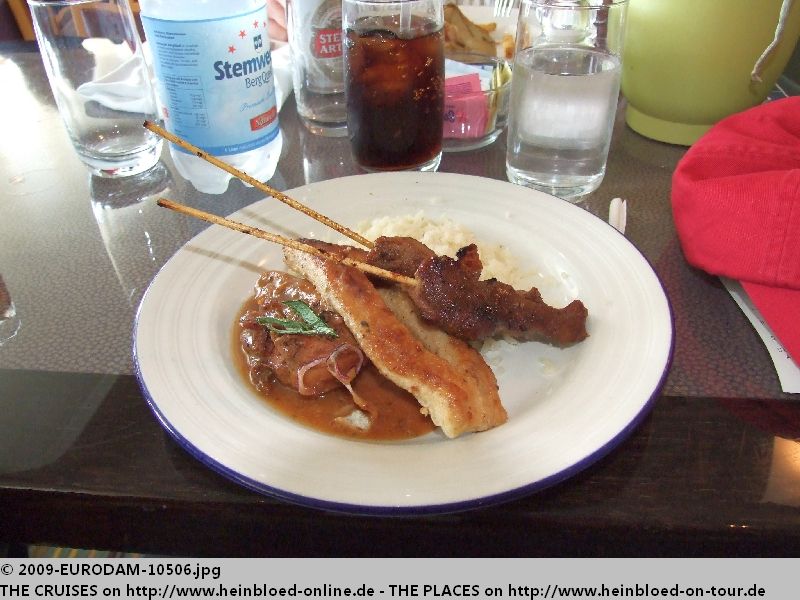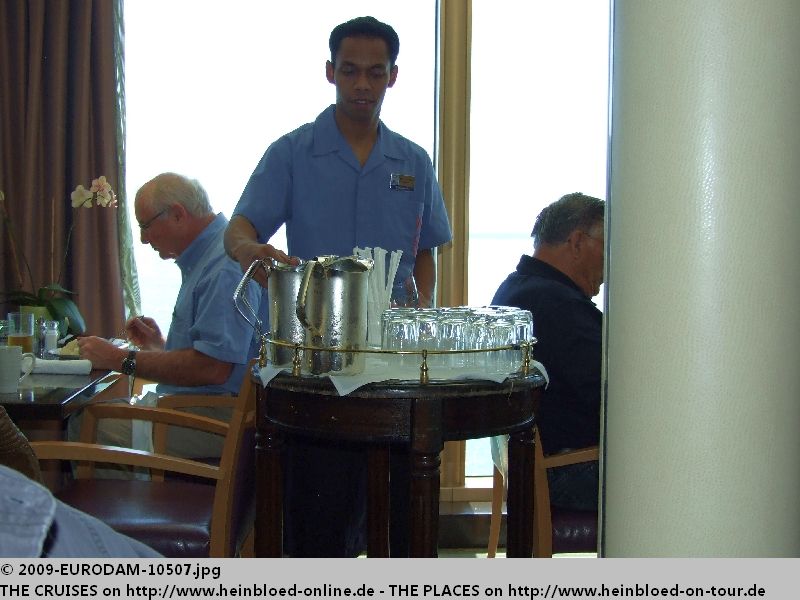 It was nice that you did not need to walk by yourself to get some water.

We got quickly our announcement that the staterooms were ready to use.

We booked our SY-stateroom on https://www.thecruisestore.co.uk with MY Louise (whom I share meanwhile with few others from the forum...).

The rates went down extremely. The first time HAL charged the cancellation fee and insisted for a new booking. So we moved (in theory) to a better verandah stateroom. When the prices droped again we asked for an Upsell offer which was denied by HAL London. Louise asked again and our request was forwarded to Seattle. For just 30 GBP more we could get SY-stateroom 5091 and 5093. So for approx. 250 EUR we got this...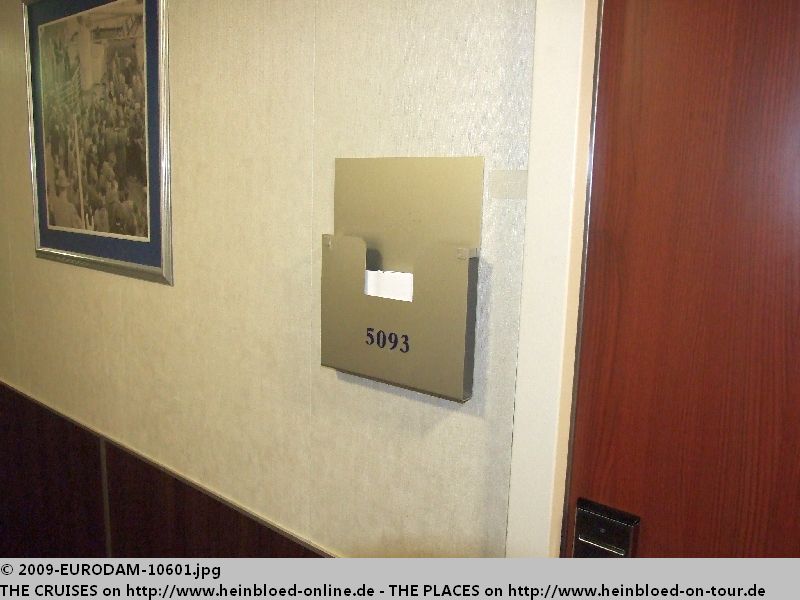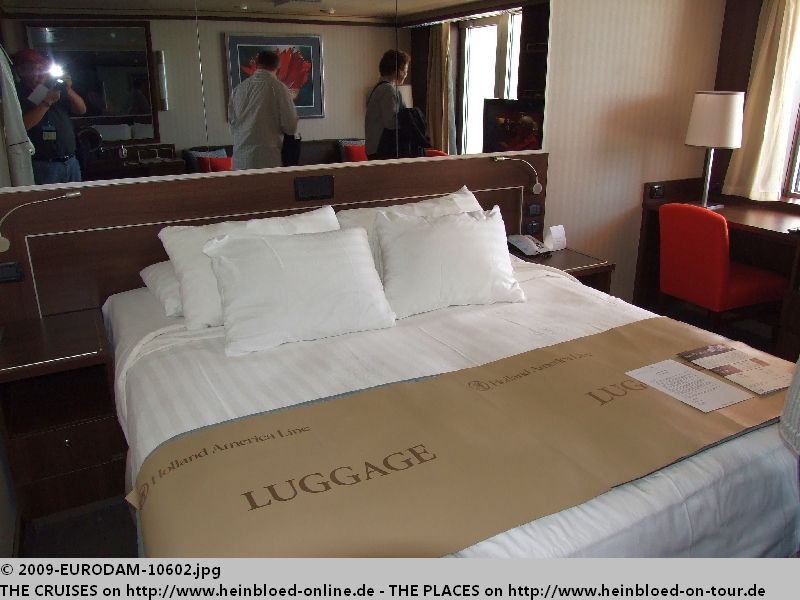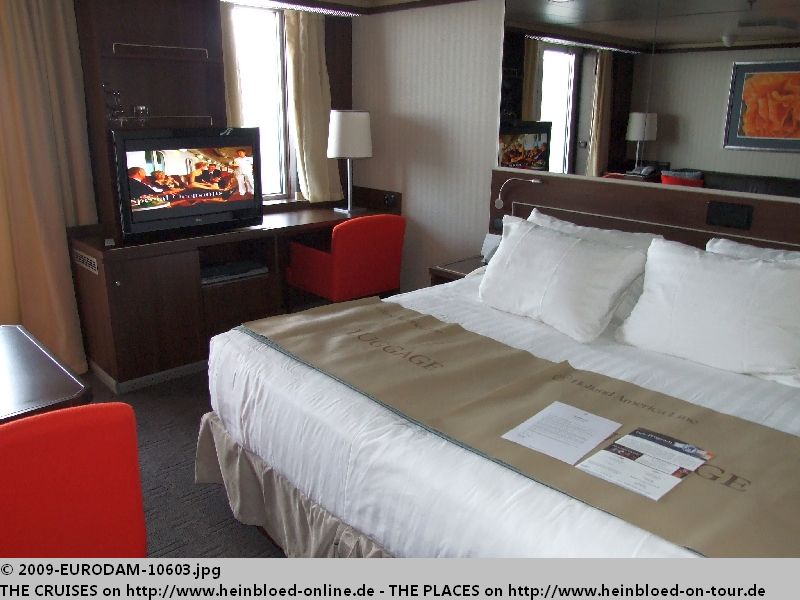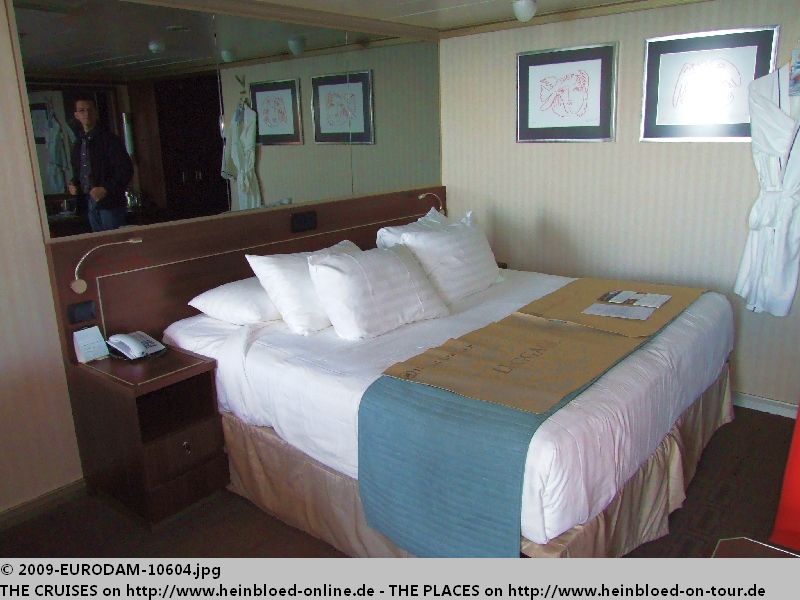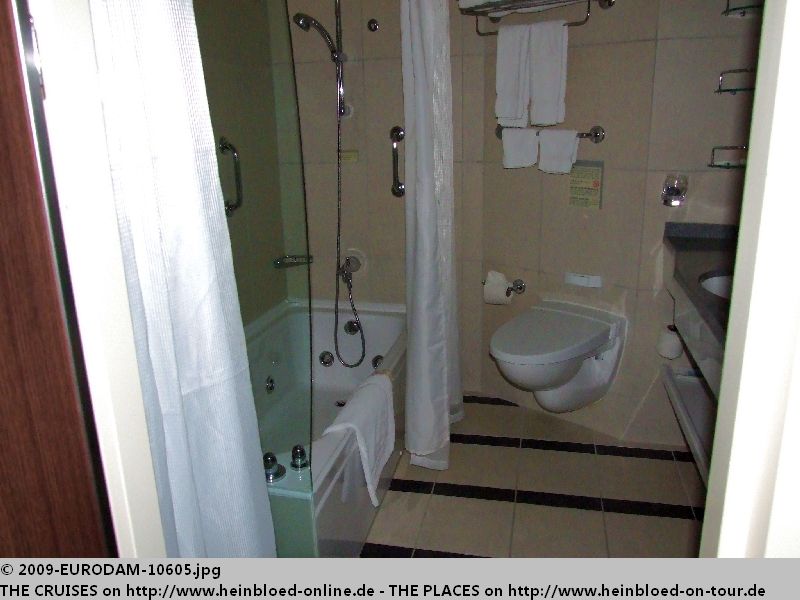 wow... incl. jacuzzi in the bath tub...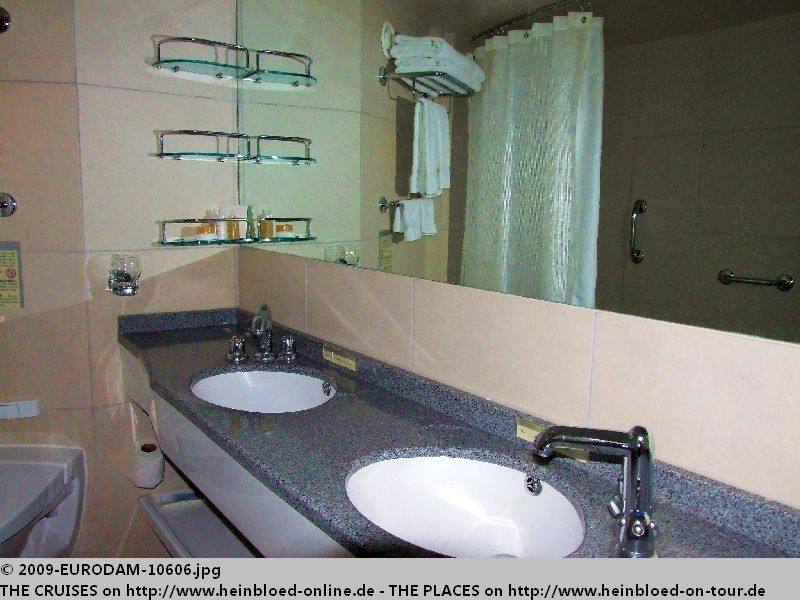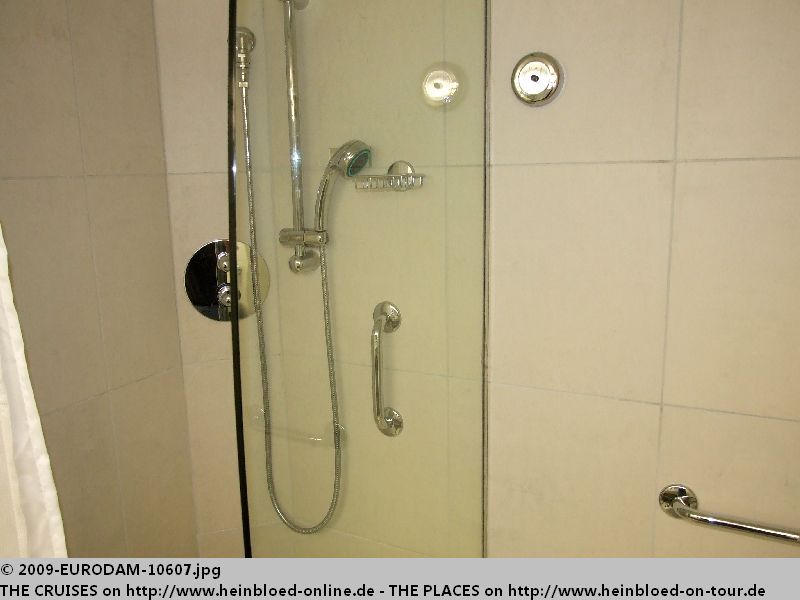 ... a separate shower and my beloved Elemis-products...

... and while other took for their sweathearts a Garden-Villa on NCL incl. butler, Bruno refused to give me his credit to book for 70 GBP more to an SC-Suite...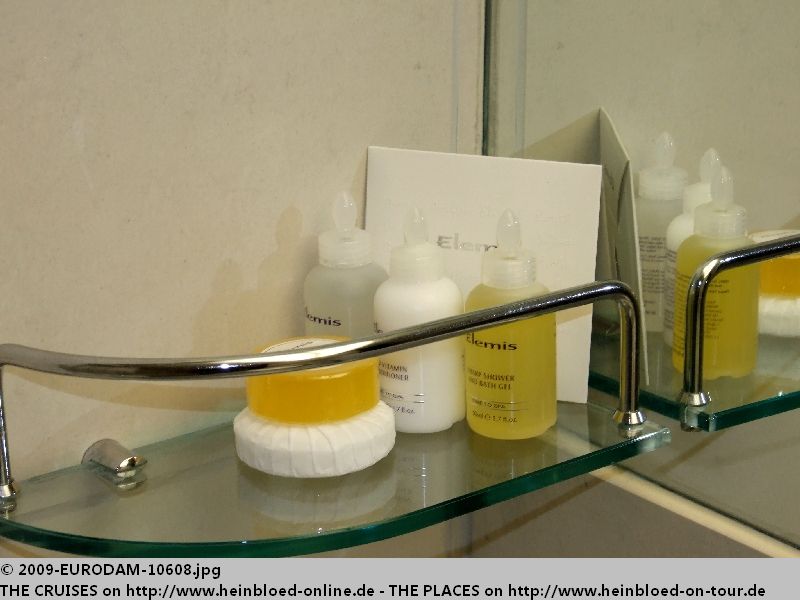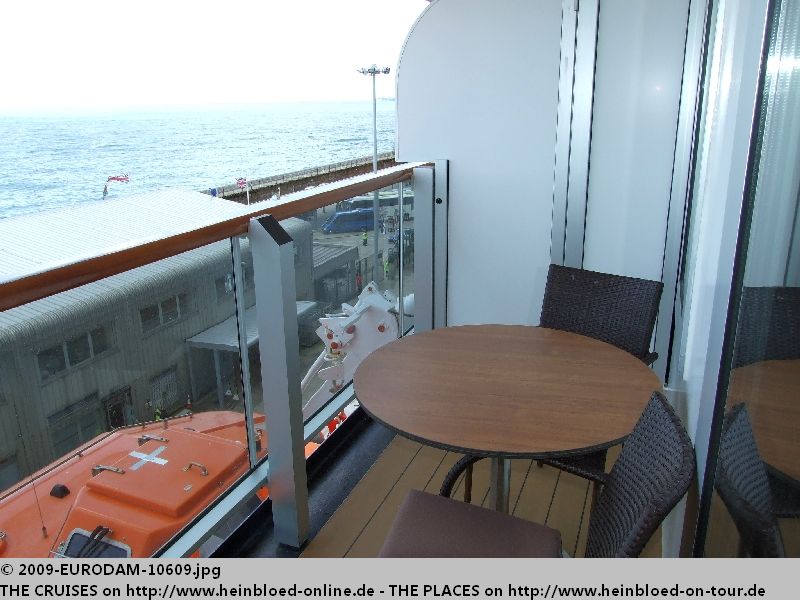 That's typical for Fincanteri: Baconies are somehow disadvantaged constructed... with the swinging door it's a fight if it's windy outside. Unfortunately there is an obstructed view due to the tender boats.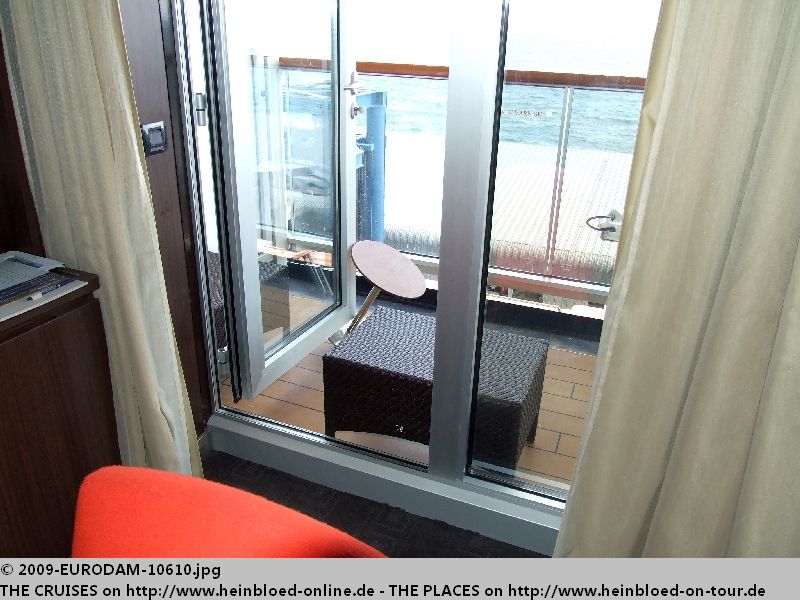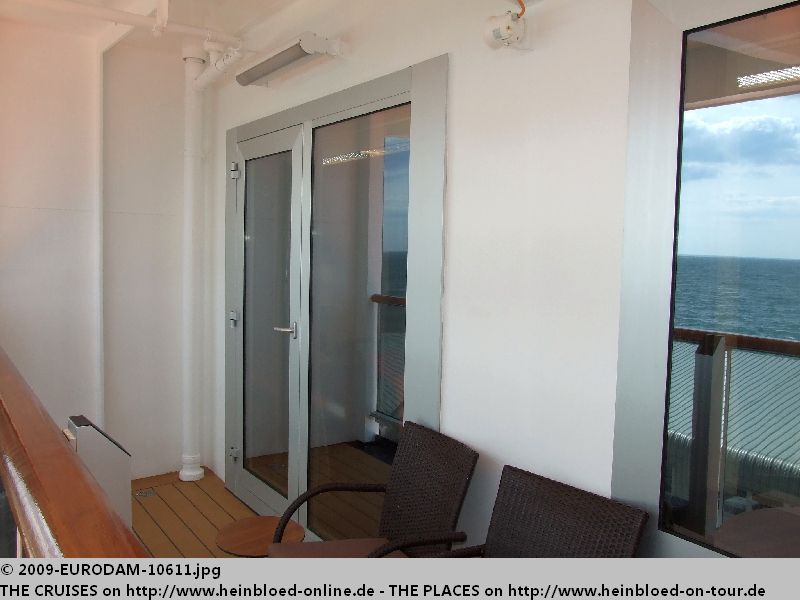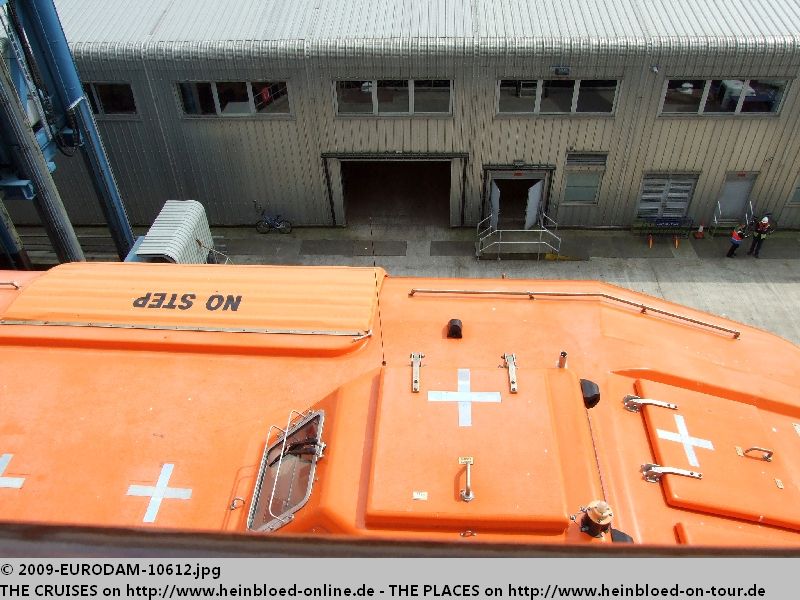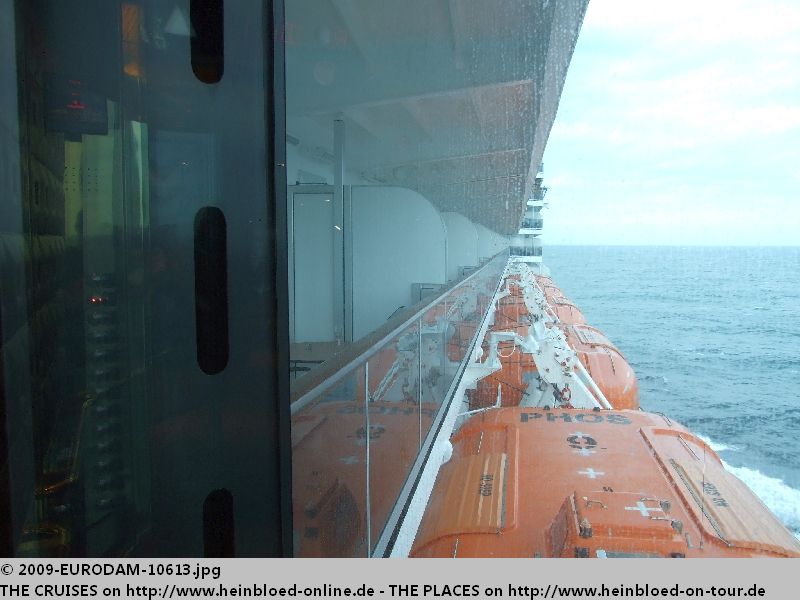 What I did not like too much: you can watch from the glass elevators into the verandah of 5093 (which was not our stateroom...)

What I liked very much: the little details like the reclinable boards in the closet to adjust the closet to your individual needs...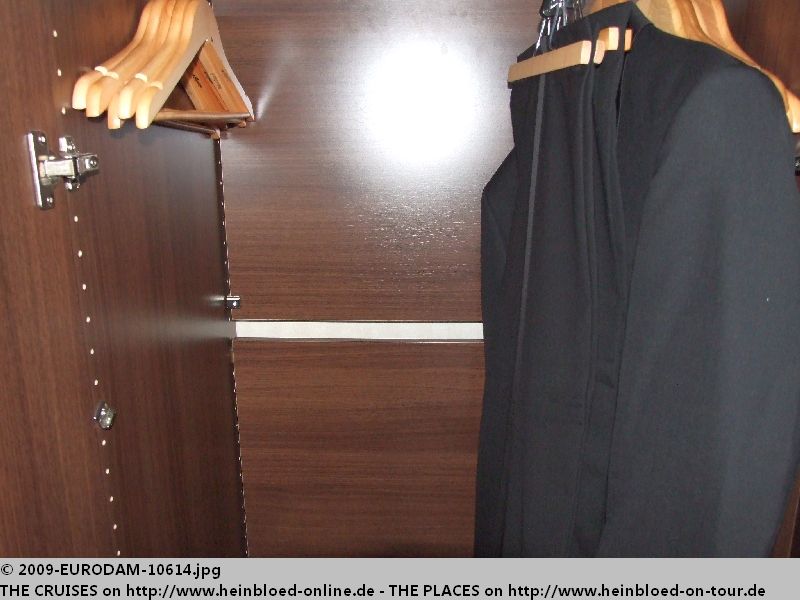 Nina welcomed us in German and we got a short version of the daily programme. The short version is somehow too short...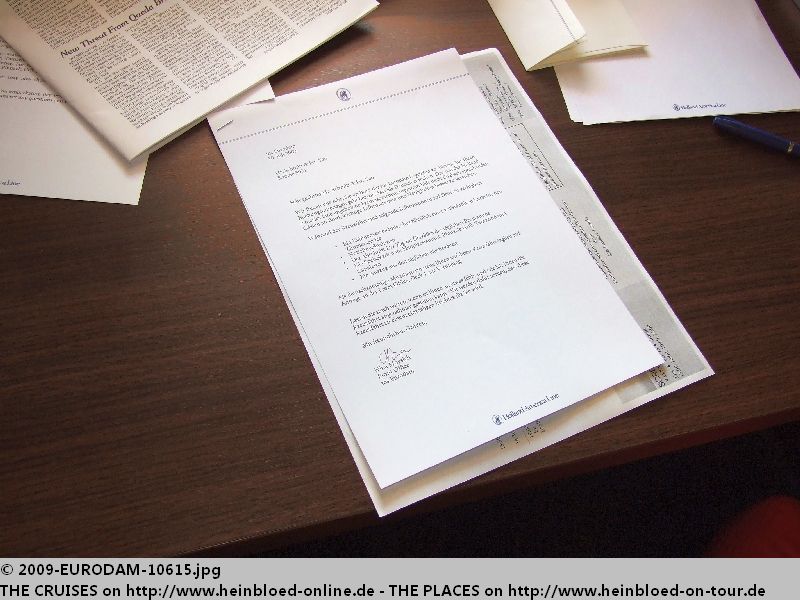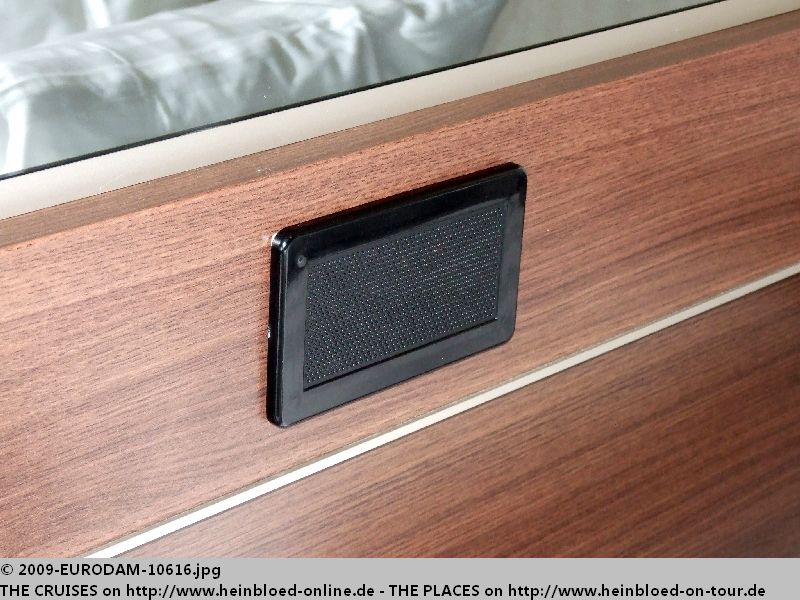 While we had to open the stateroom doors on the NAVIGATOR OF THE SEAS to listen to announcements we had our announcements just at our bed.

The climate technicians of Fincantieri should have joined the G8-Summit... Although we did not touched the controller of the air condition: I varies more than 2°C during all the day and night.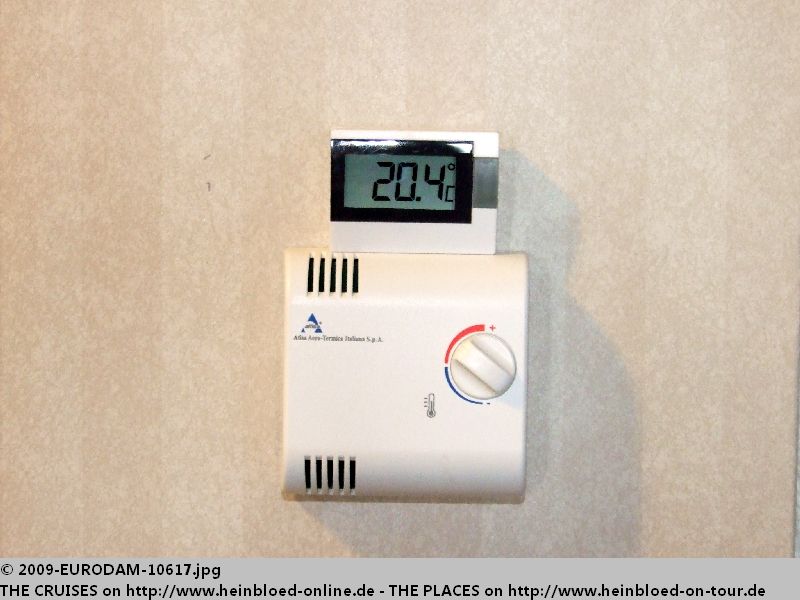 In the evening there were the towel animal, chocolate and nice cotton bags which were taken immediately in our possession...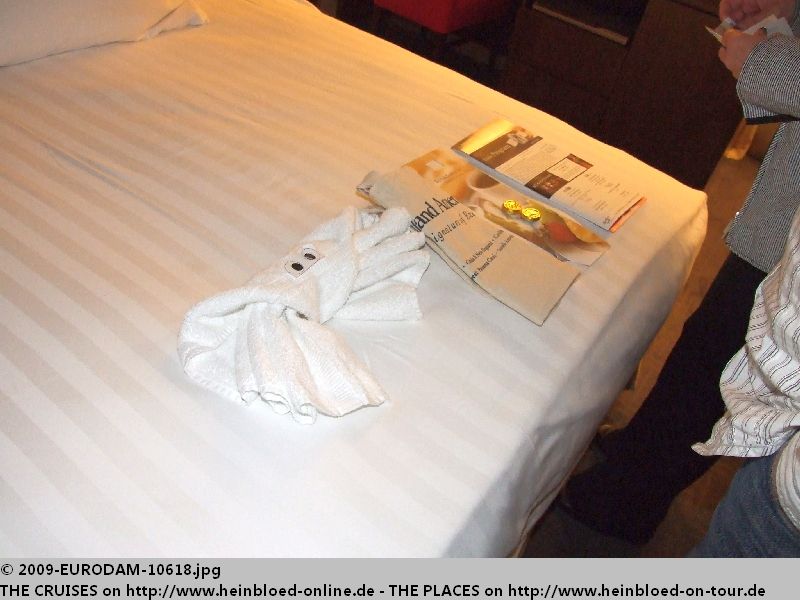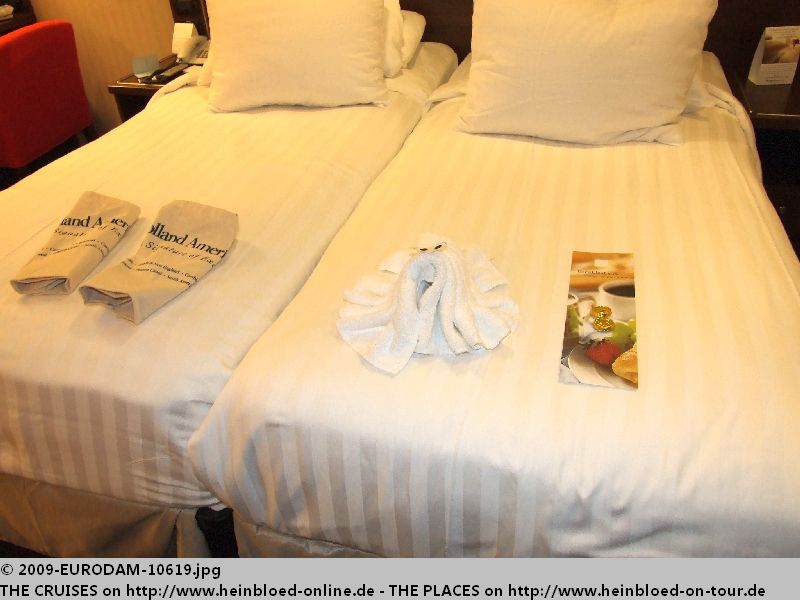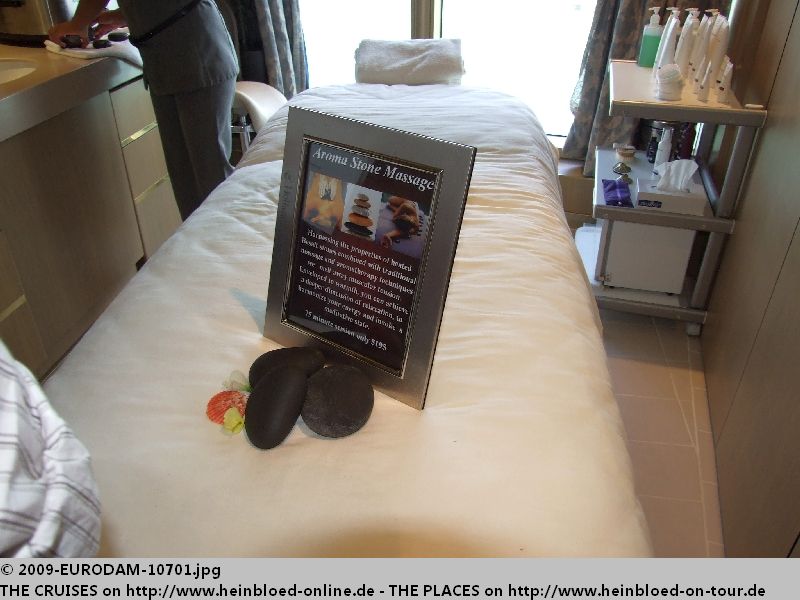 As Bruno's sister and brother-in-law were celebrating their silver anniversary they wanted to get pampered. That's why we made an extensive spa-tour...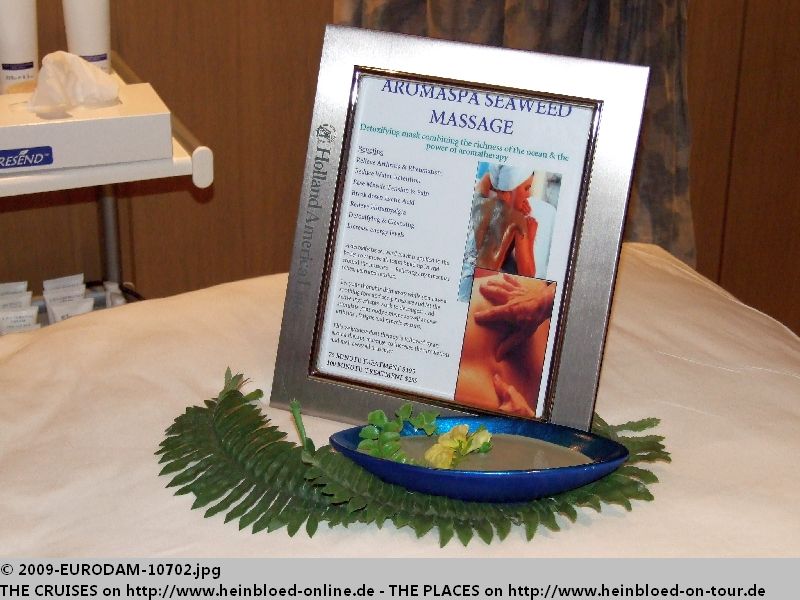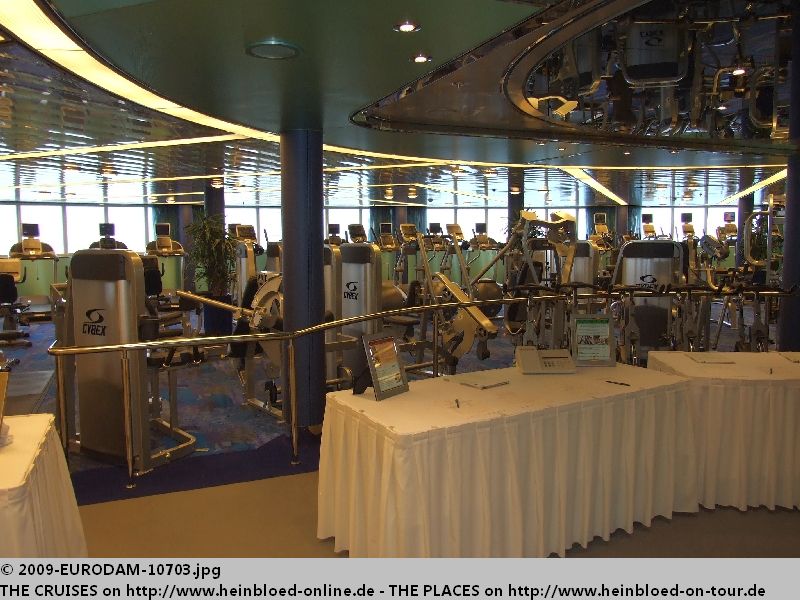 Unfortunately the gym was not available 24 hours a day. Maybe I should have joined the seminar: "Eat more and weigh less"... Sounds very attractive to me...

The waiting lounge for the treatments were just wonderful...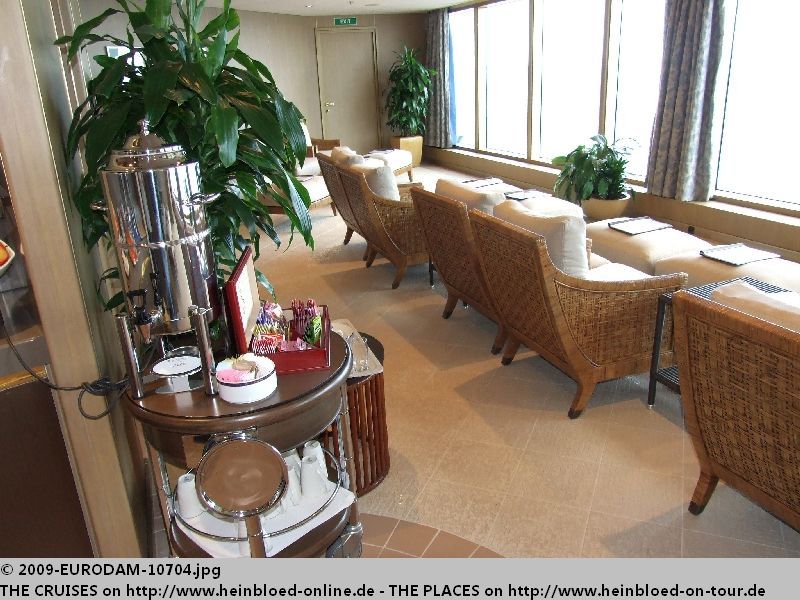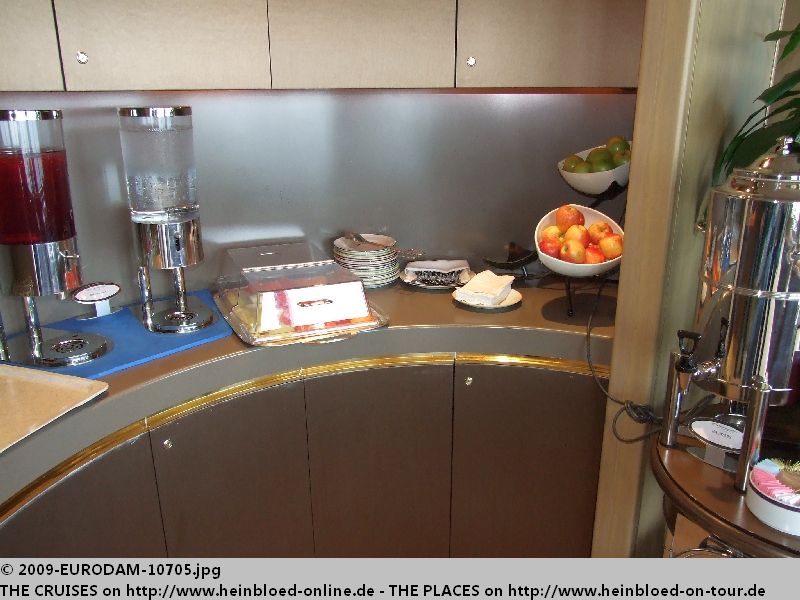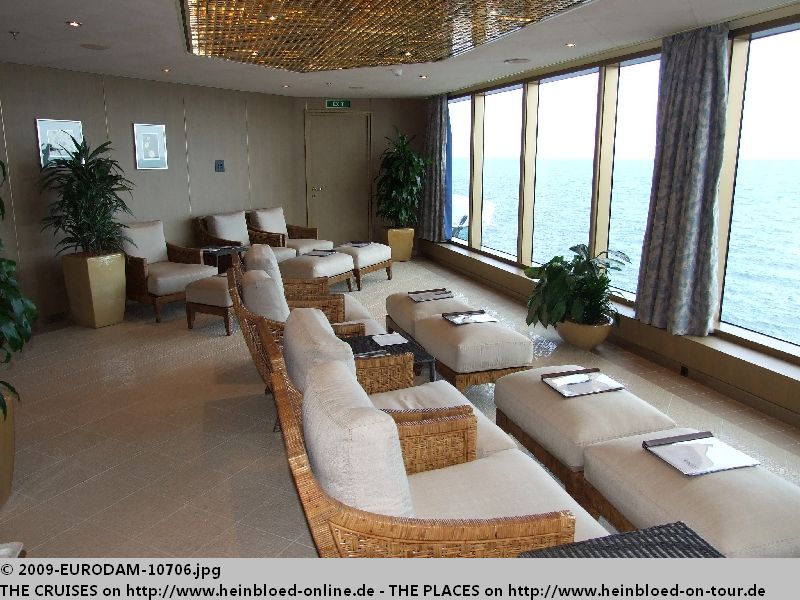 A day pass for the Thermal Suite would be 40 USD - but for the whole cruise you get discounted tickets.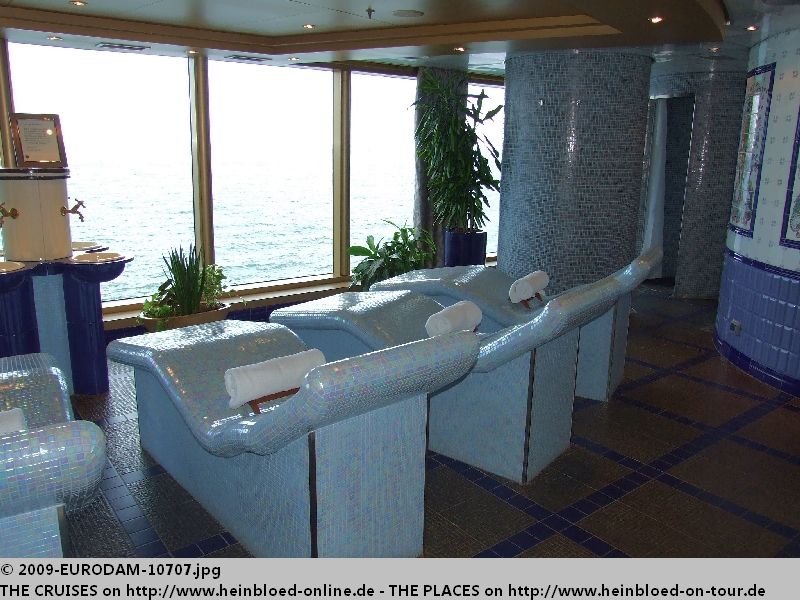 Unfortunately there were only six of the warm ceramics lies but there was also a very spacious Thalasso-area with a lot of sunbeds and chairs which was part of the day pass offer.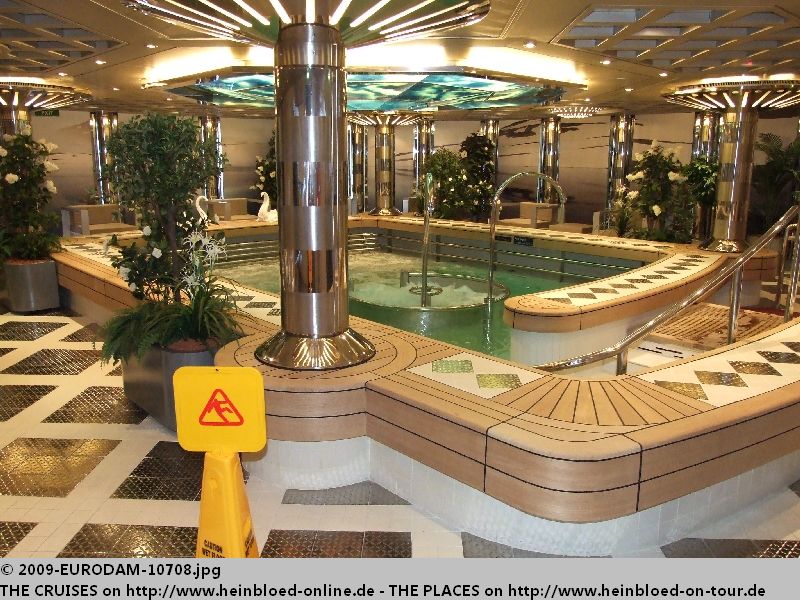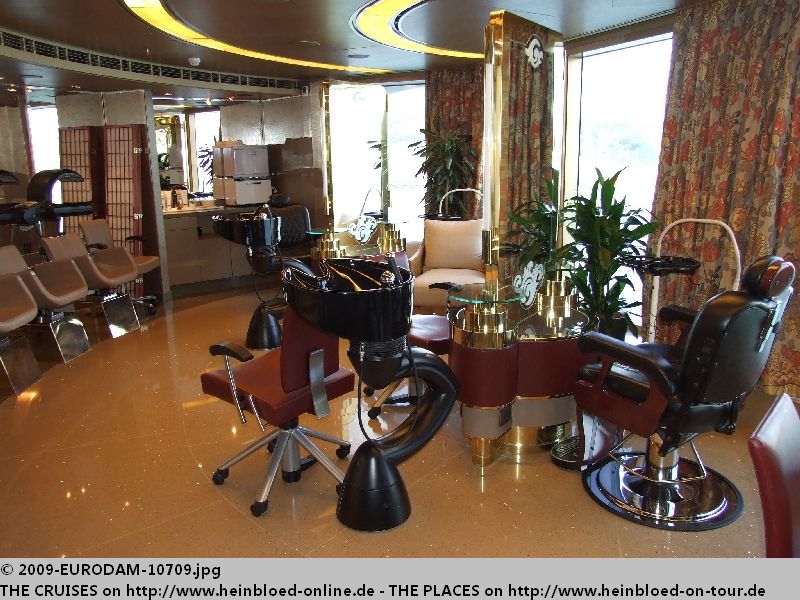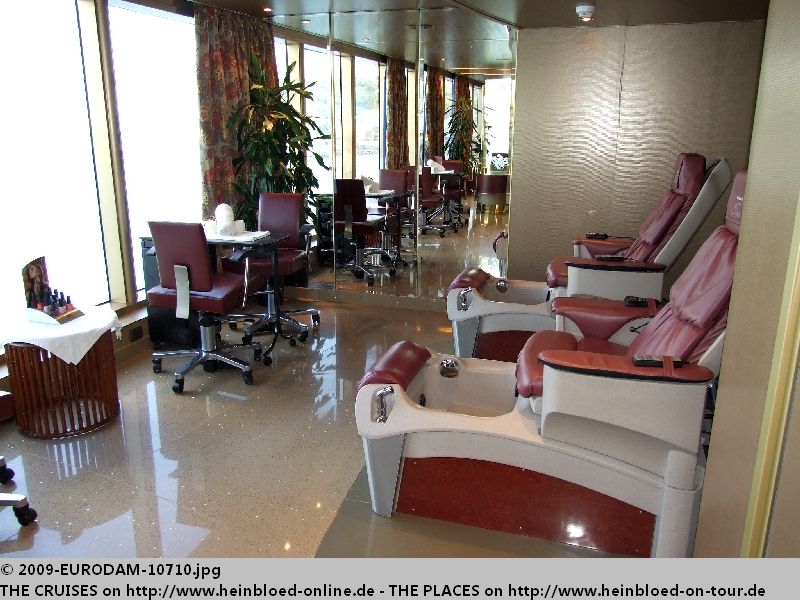 As I did not feel very comfortable in the Lido-Restaurant because of it was too loud and crowded we wanted to see the TAMARIND. But they were only open for one hour from noon. More plus points for NCL.

I ordered some food to my stateroom as we booked a table at 20.00 hrs (21.00 hrs in Germany!!!). We participate to the flixble dining programme My Wish dining.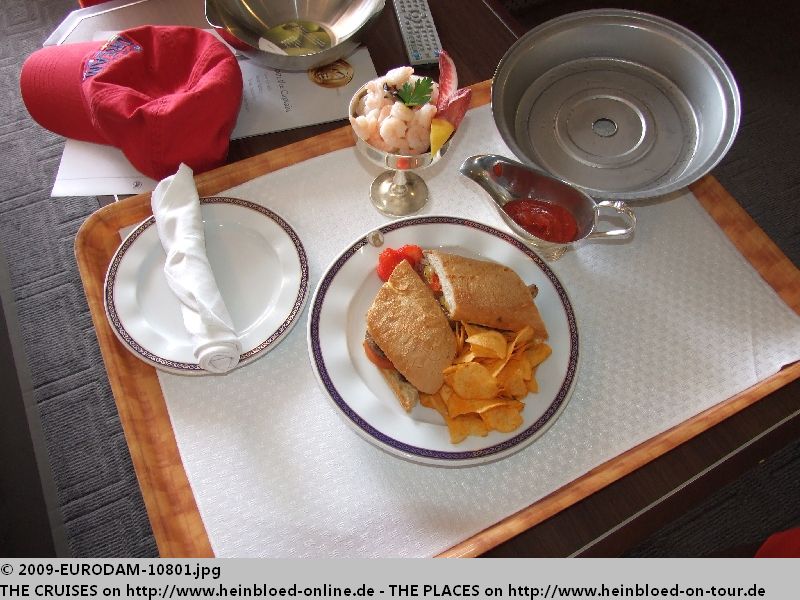 Shrimp-Cocktail and Steak-Sandwich were very tasty. The only surprise was the locked mini-bar. But I still had some water from this morning...

From our friends Agens and John (whom we know from our BLACK PRINCE-cruises) we got postcards from NORWEGIAN SUN and NORWEGIAN JADE. They sent us their thanks for the cabin greetings. There it worked properly. But RCI did not return any response so far (Just for non-German speaking readers: we had a desaster with RCI on NAVIGATOR OF THE SEAS - not-devilered and delivery to a wrong stateroom).

Unfortunately it did not worked with HAL either...

The invitations for the Pinnacle Grill were delivered...

... but the Bon Voyage Package did not came... and we would have expected that this should be in the stateroom once you are coming to your stateroom. So we had no surprise for Brunos sister and brother-in-law.

But here as well: they need to reassure in Seattle if my bookings were correct. Seattle's confirmation mail and my credit card bill were not enough. But they understood my concerns and disappointment and sent immediately the Champagne so Bruno's sister and brother-in-law had them for the sail-away on their verandah.

I had my netboook with me at the front desk. Our cabin attendant was unable to solve our problem and asked me to contact the front desk where I had to queue for about 30 minutes. Minor problems and simple questions were already taken care while guests were standing in the queues. So they made sure that none had to queue unnecessary long with small problems. They were so professional: I got an USB-stick from the receptionist to copy the confirmation mail.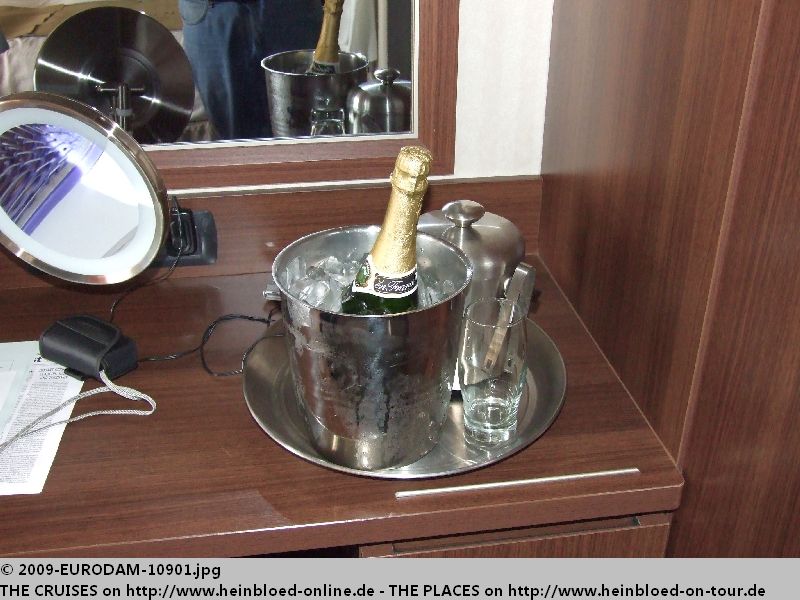 But we did not ordered the Bon Voyage Champagne but the Package for 3 USD more... 1 USD, 2 USD, 3 USD... Ha, ha, ha... we could have saved this money...

The balloons came after few requests during the late show.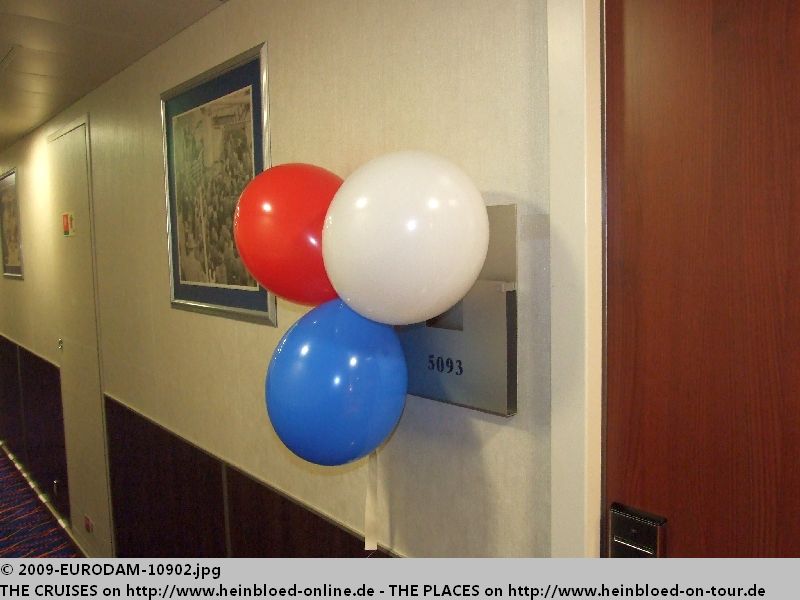 These were my two guardian angels... Nina and Anne Garcia... who were taking care of everything...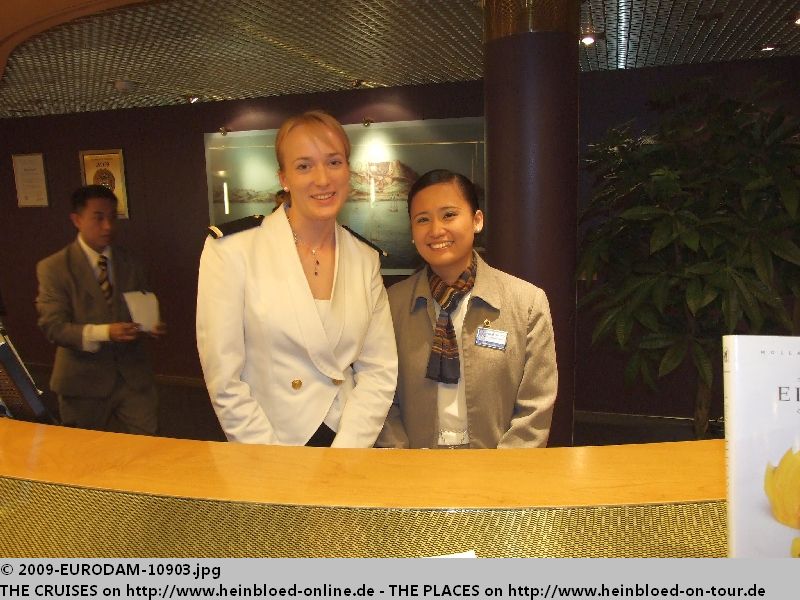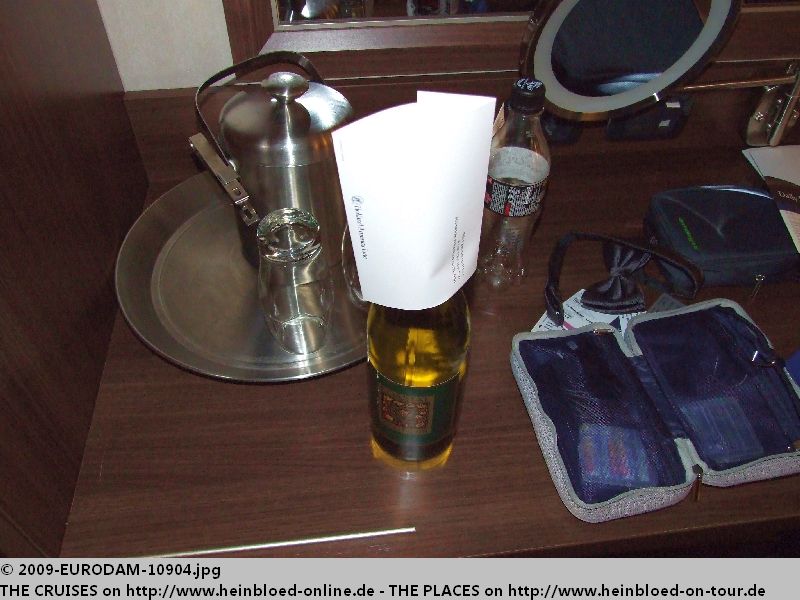 I was so fascinated: they sincerely shared my problem and participated to my suffers and they showed it: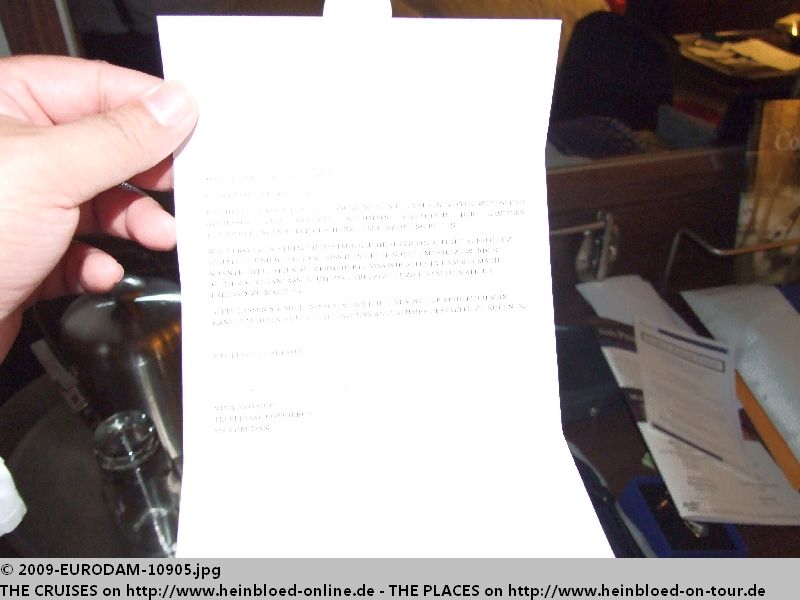 They could not know that we do not drink alcohol but the gesture and the written apology were great. RCI never regretted while we were onboard...

The Polo- and T-Shirt which I ordered were available in Bruno's size. Mine might be delivered on my day of debarkation. But they found an individual solution which was pleasant for me.

I am unable to say that HAL Seattle was unorganized. On their website you cannot cancel an item even you have not processed the order. One call and the credit was back on my credit card the next day.

But generally spoken: the receptionists were all great:

While I was waiting an older lady attracted my attention. She booked an inside stateroom and claimed that she did not get a stateroom but a closet. She was upset because of the size of the stateroom and told that even her walkable closet is larger at home than her stateroom.

I wanted to give a comment but maybe I better keep my mouth shut and just think: someone who can afford a house with a walkable closet larger than the stateroom... why only an inside stateroom???

The ship was fully booked. They tried to explain that they can put her on an upgrade list... subject someone cancelled last-minute or missed the ship. But currently they did not have an overview here about because boarding had not been completed yet so far.

She continued her show and threw her cruise card on the desk and shouted that the receptionist wanted her to cancel her own cruise.

Very professionelly she was calmed down...

As a First-Aid-action they offered her to rearrange the stateroom how she would like it...

In another case I did not keep my mouth shut:

In the elevator cabin a mid-aged couple blocked the logistics flow because they had no idea which cabin they are... I showed them. She did not believe me although, it's indicated as "Cabin". She wanted to find the cabin which appeared as 6-digit-booking reference and asked where she may find this stateroom. I pushed the elevator for level 1 and asked her to see the front desk if she did not believe me which part of the number was her cabin number. I thought that they might be still in the elevator when I got the same cabin when I was on the way for dinner... but they were not...

Leslie is future crusie consultant. We got the standard offer of 100 USD future cruise deposit. Meanwhile it's also for Euro-Customer available (65 EUR)... only their German agent Unlimited Cruises has no idea that this programme exisits...

Before we went to the crusie I contacted the HAL-board because I needed a signal if VOLENDAM will go to Asia in 2010 or not. On facebook I learend that we can make future cruise deposits for our parents as well onboard. But as they are non-refundable we need to be sure that the cruises will come. When you asked Seattle you only get the response: look into the internet. It was an unpleasant situation for me and all I need to know was: will they come or not. I did not need any prices.

Leslie was acting very profossionally and loyal: she explained that the HAL-board normally would have answered but the decision that VOLENDAM will not go to Asia in 2010 was made few days ago and so the HAL-board was unable to give me an applicable answer.

She sincerely wanted to solve my problems:

She did not try to sell me segments of the AMSTERDAM-Grand Voyages but told me exactly who might offering the cruises like VOLENDAM in 2009. And my problems to find the right cruise was in her mind when she recommended companies which are not part of the Carnival-Group. This women is what we call in Germany a "hammer": I have never experienced on all my cruises someone whose main target was to solve my individual problem and not her commission.

As usual we just hang around in Silk Den and it was shame that there was for extra tipping...

We enjoyed a great service by Enrico and a great Latte...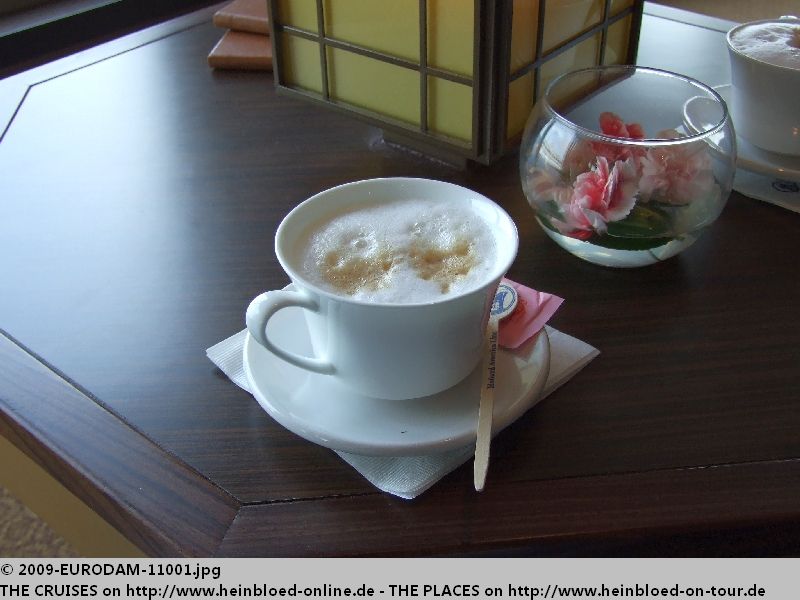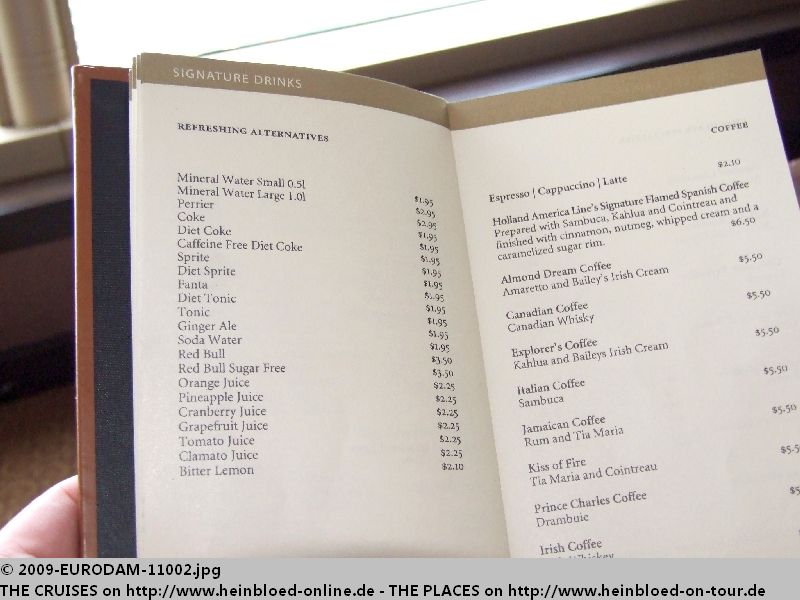 You saw that the standard HAL-client has a tendency to have diabetis. There is no other line you such a range of light-beverages like on HAL.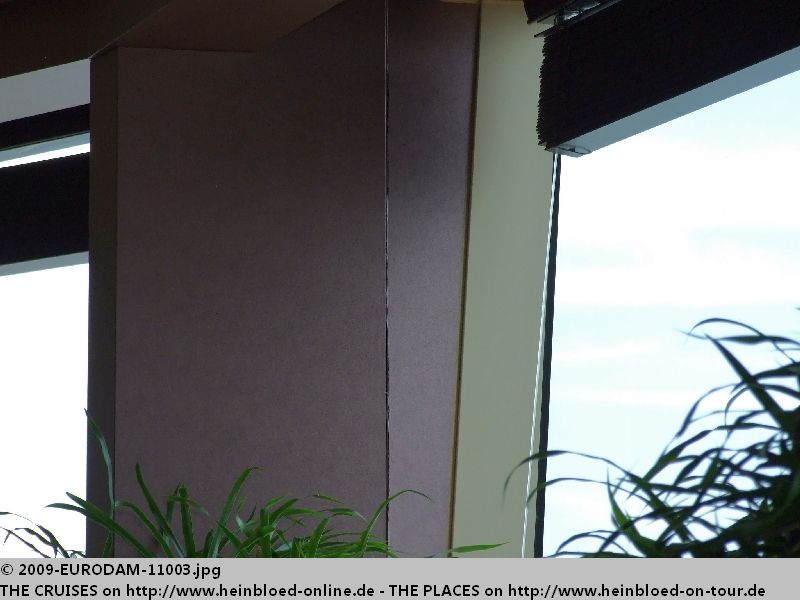 ... and you can see on small details that this ship was made in Italy with Fincantieri...




Brunos Father ordered some potrait pictures as cabin greetings. They were not delivered either. Normally you dress up nicely on formal nights. So it would not be helpful to wait until Seattle waked up (8 hours time difference) and confirmed the purchase once the formal night is over. Great to see: no TITANIC-stairways as background but great photographer who took the pictures with great passion and perfectionism. My angels arranged a prompt delivery of the vouchers as they saw: it would not make any sense to tell Brunos Sister and Brother-in-law to let the photographers taking the pictures after the formal night... Just great... Angels and photographers...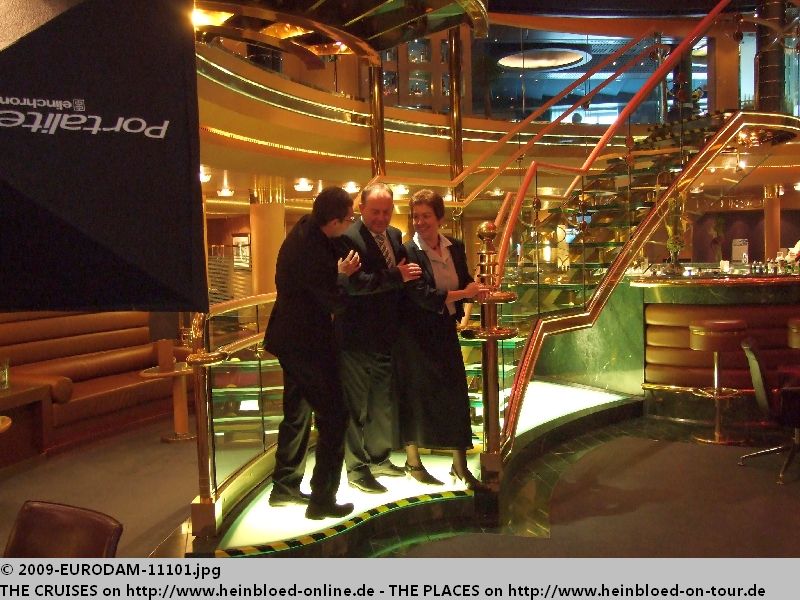 We made reservation for the covercharge-free Italian restaurant Canaletto...

After the last worse experience on NORWEGIAN JADE regarding the food: Hats off!!! And without cover charge (with an higher basic cruise rate...)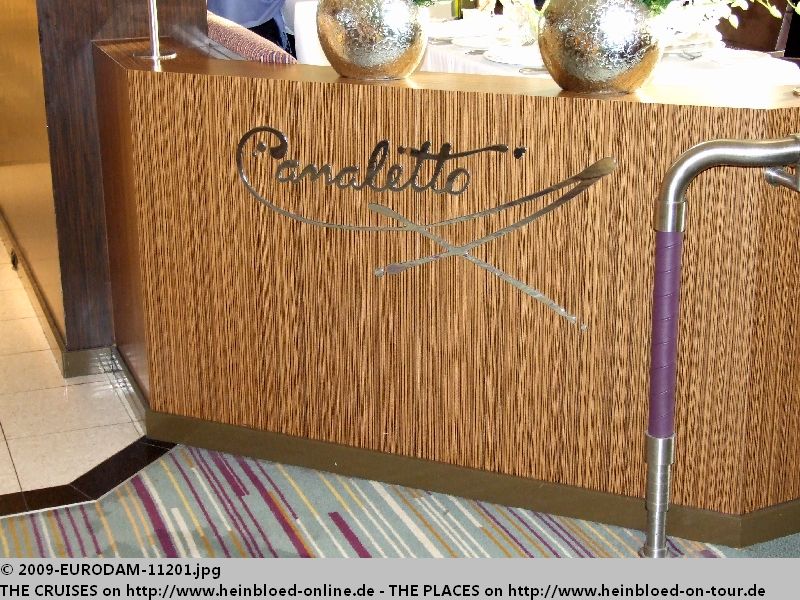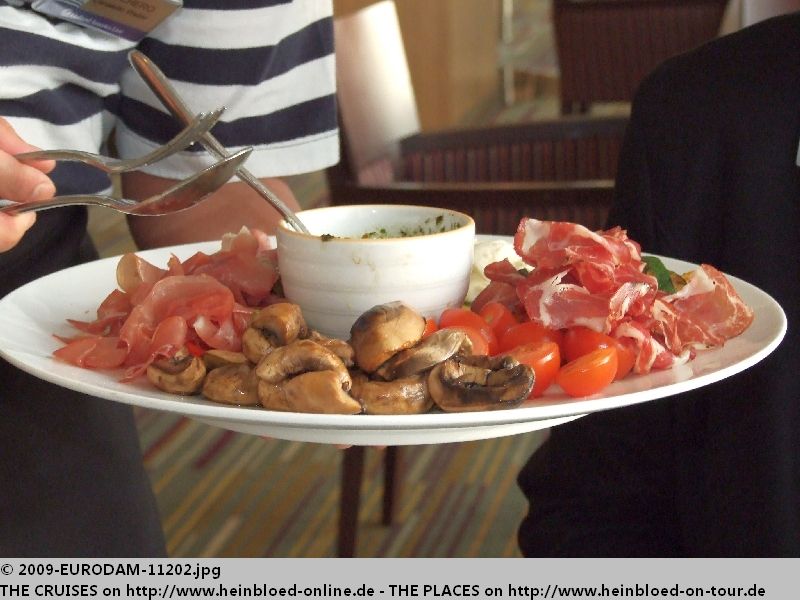 Not my taste: the stripped t-shirts like the Godoliers in Venice and that waiters had an Italian name...

First class was the Antipasti-Service...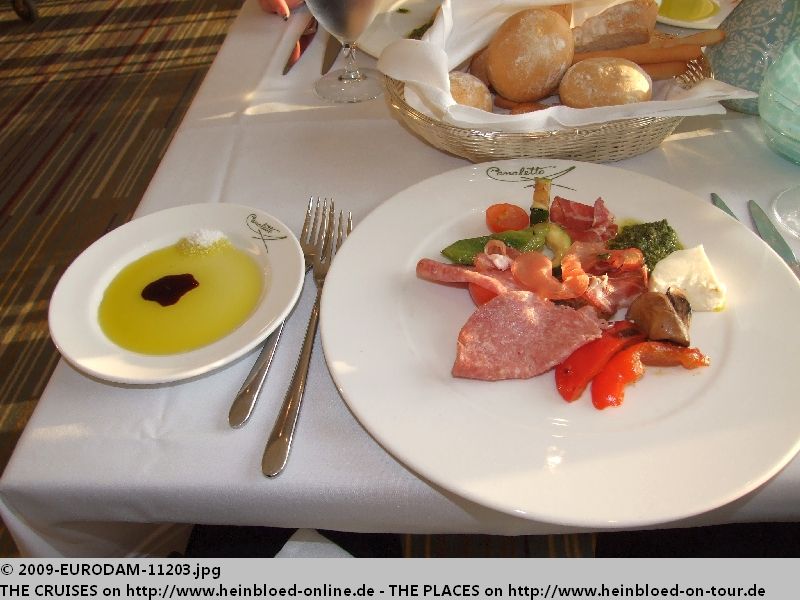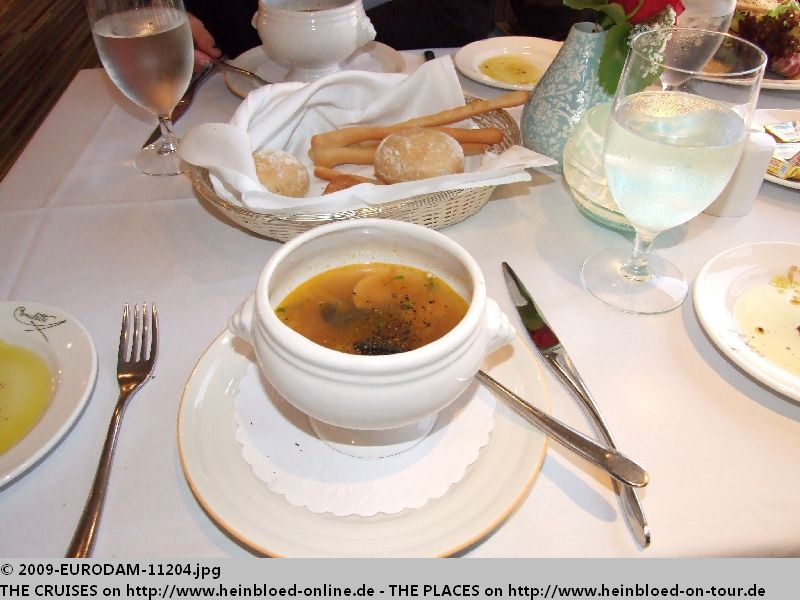 The fish brooth was the ever best fish brooth I ever had in my eternal life. Put it into glasses and let me take some home... I was sorry that I had no Tupperware with me...

We all took Chicken Marsala.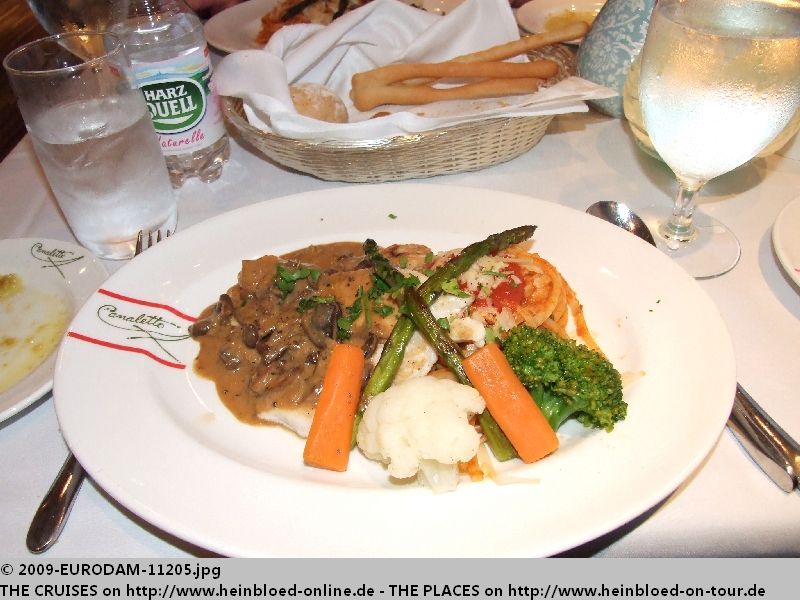 There was one thing I will NEVER EVER forgive HAL... Did they call my company that I should feel like in the office??? Or how did it come that they brought me Harz mineral water which was from the place where I am working. I was in an Italian restaruant and expected Aqua Panna instead...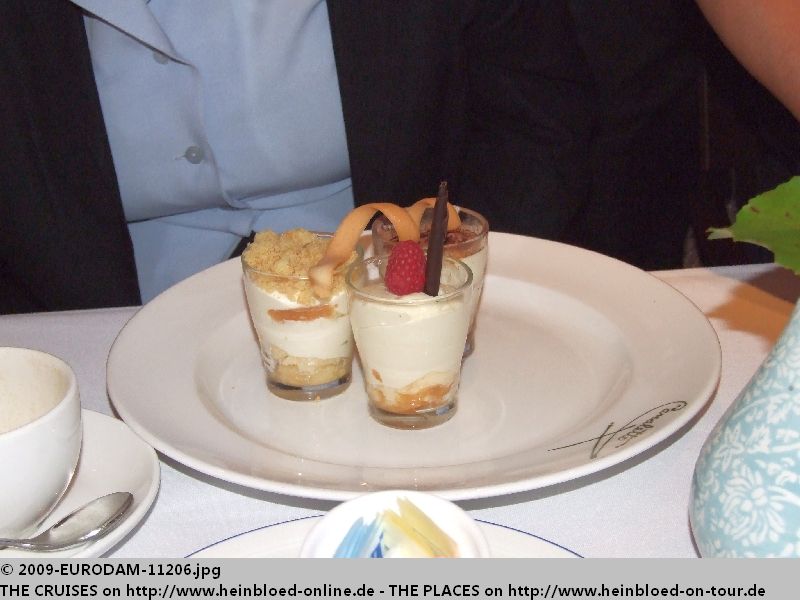 The dessert selection was small but very nice... instead of Tris di Pasta... Tris di Tiramis Sus... I decided for the walnut icecream on puffed pastry... hmmmm....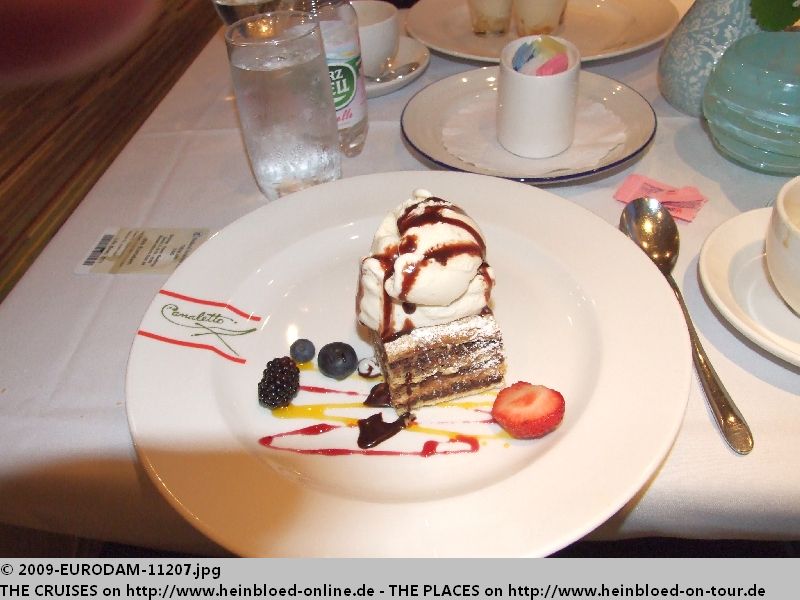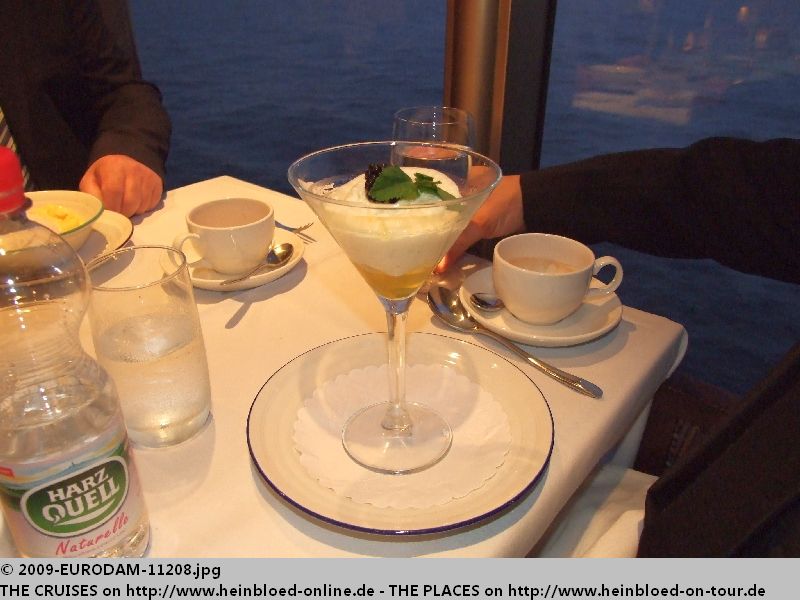 Something for Limoncello-Fans...

We continued with the show...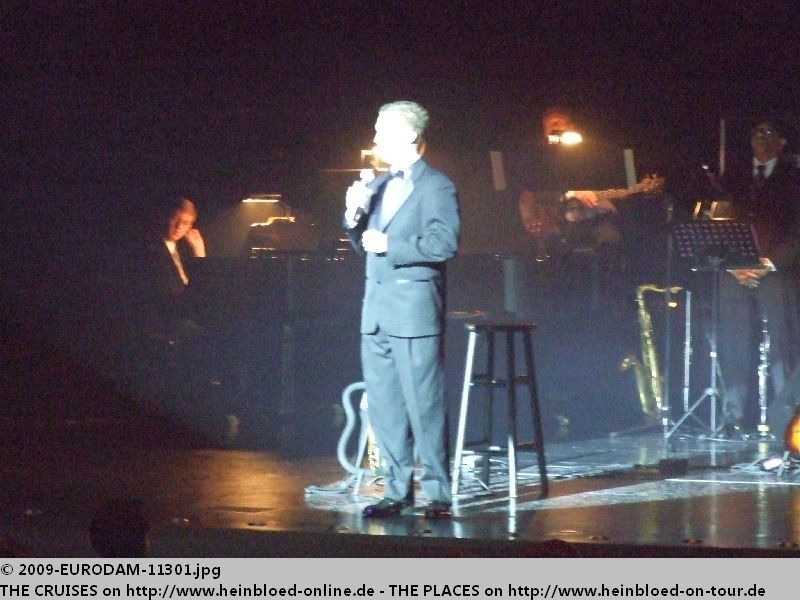 The very young-appearanced Cruise Director JT introduced Dr. Justin Miller - an absolute genious guitar artist...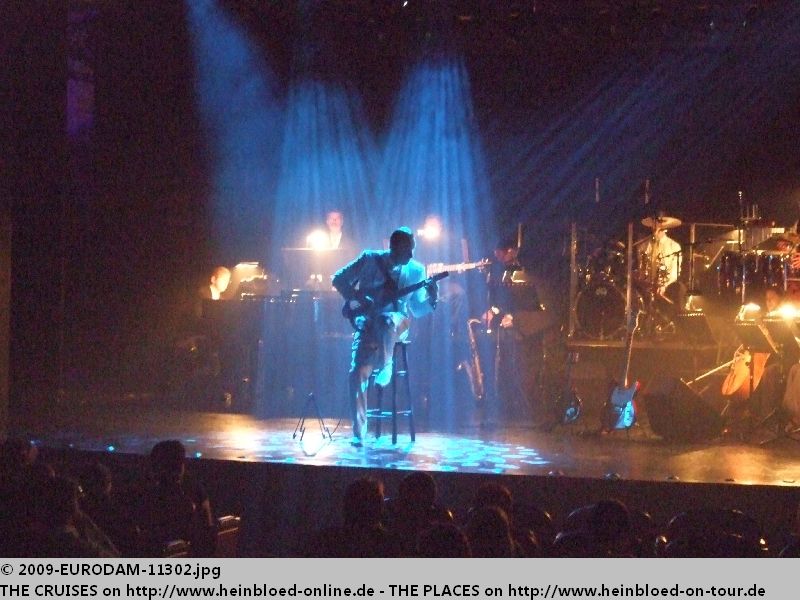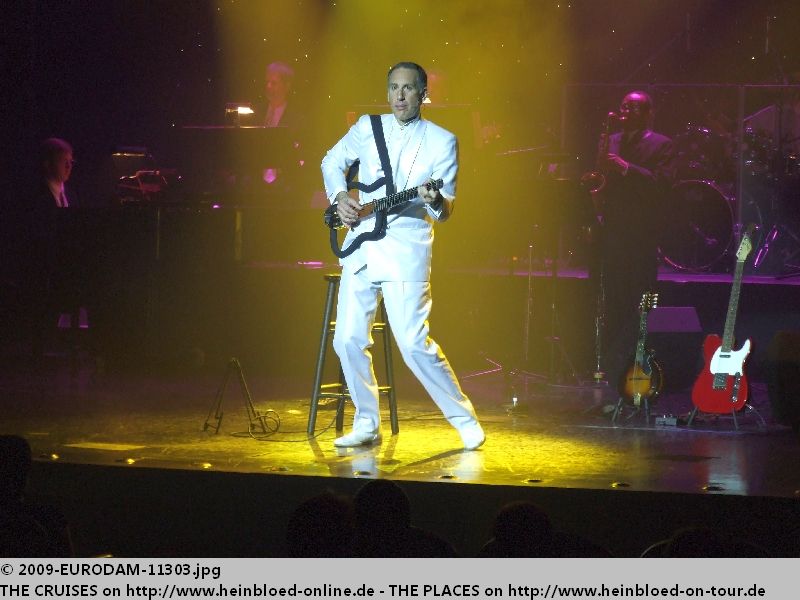 With his way of playing

Pachebel's Canon and Gigue
and
Bach's Jesu, Men of Desire

and all his explanations to the music's background...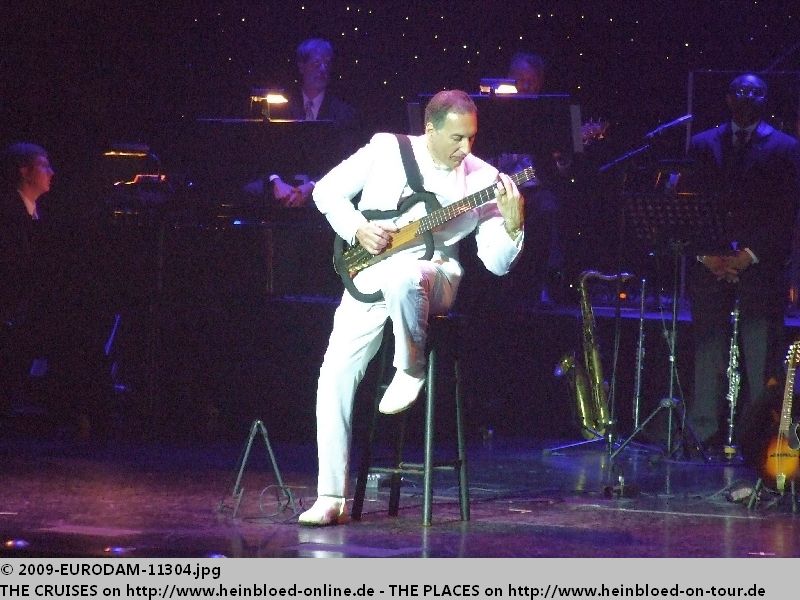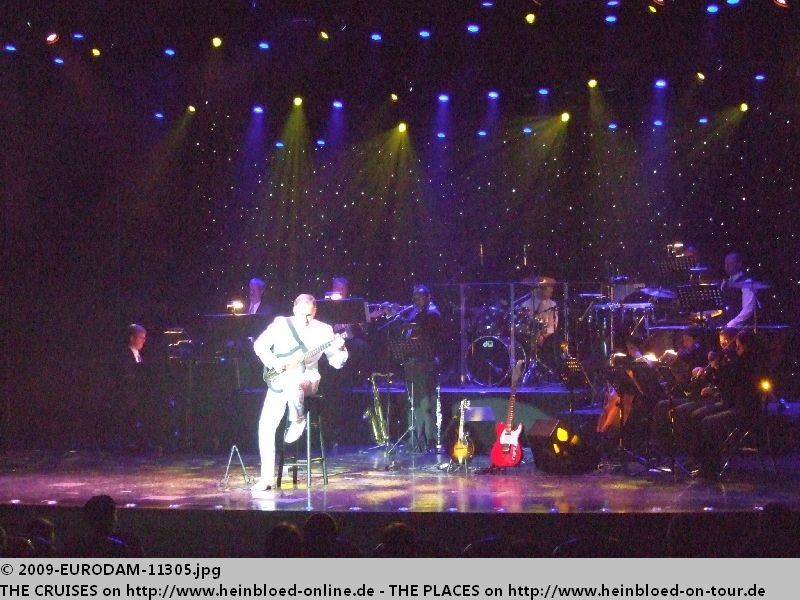 he made it to kick my wish to see again NCL's "One World"-show from No. 1. I wanted to see and listen to him again.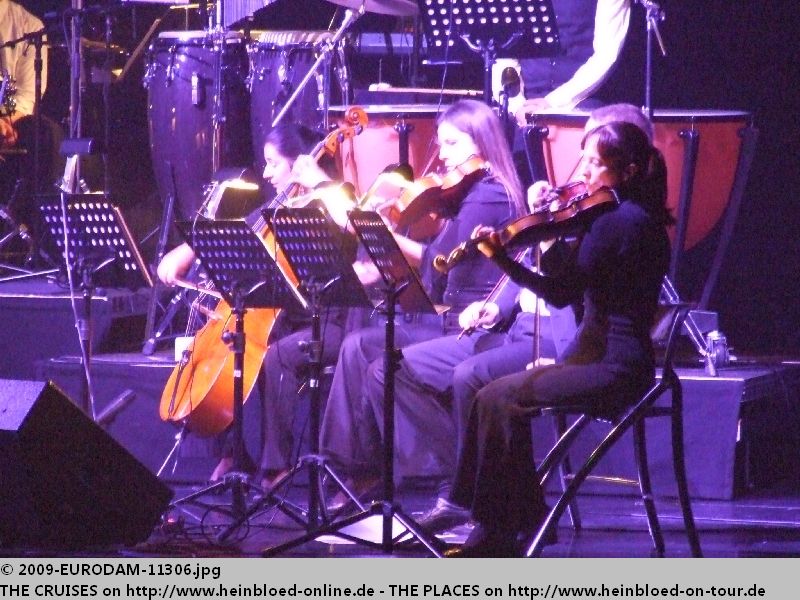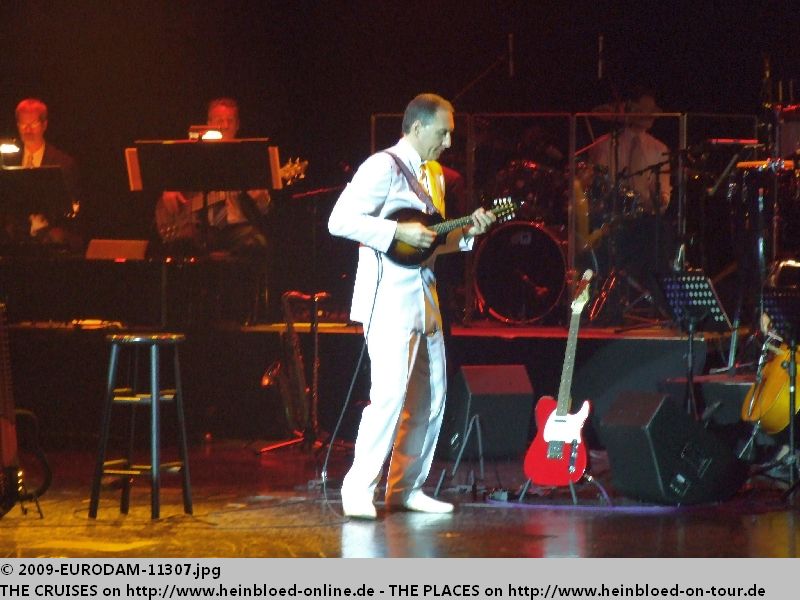 There was more:

Bourrée from Bach
Annie's Song from John Denver
Londonderry Air (Oh Denny Boy)
Auld Lang Syne
Walk Don't Run from The Ventures
You are always on my mind...

and many many more which made me crying. I left the theater with light skin...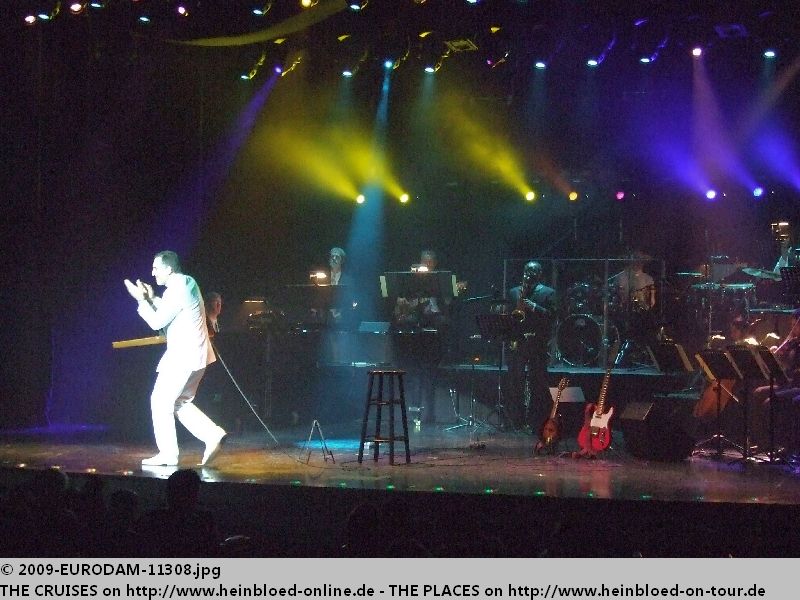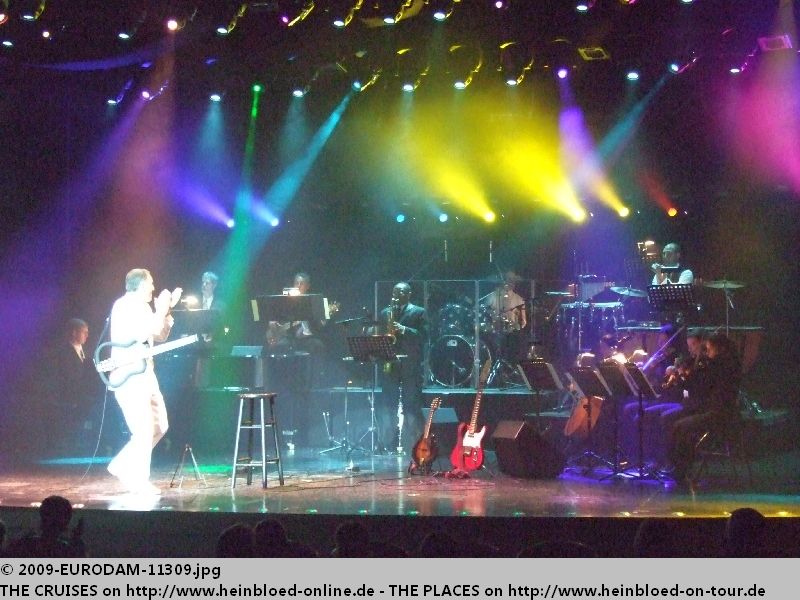 One size fits all... That's why there was also Rosamunde... and you can easily identfy the Germans: they all sang the song...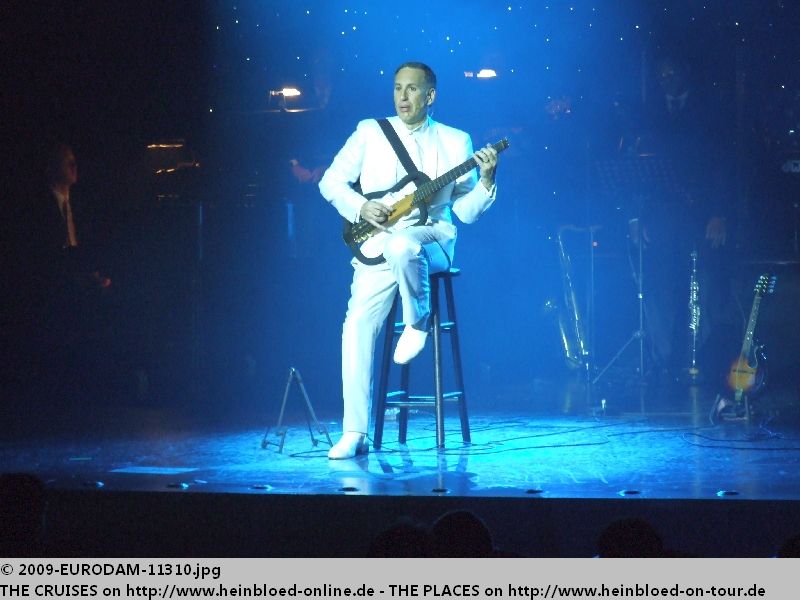 Error happens. Only the way how they are managed counts for forgiving or not.

Here you can only say one thing:

A perfect day on a perfect ship with a perfect crew is terminating now - unfortunately.

See you tomorrow.

Regards
HeinBloed