Um auf die deutsche Version zu kommen, bitte unten auf dieser Seite

Older Post

anklicken.

After bid farewell to Bruno's Sister and Brother-in-law we need to have a strong coffee.

It was again Cruise Director JT who made me need caffeine, if possible intravenously. Although I was in my most favorite city: I had to kill my dead spot to enjoy the rest of the day in Copenhagen.

Just for adults and it's a German-Danish-English play of words...

To walk the streets (like hookers) is in German to walk on a stroke (like you testing alcohol consumption by highway patrol).

We are going to walk on the stroke!!! Yes!!!

Like all Danes who are the only people who are walking on a stroke!!!

The main shopping street "Strøget" means stroke. So for us German it's somehow funny to walk on a stroke... and doing shopping... (Definately not what you might thought... Honi soit qui mal y pense!) But the street is not just one street - it's more a collection of single streets: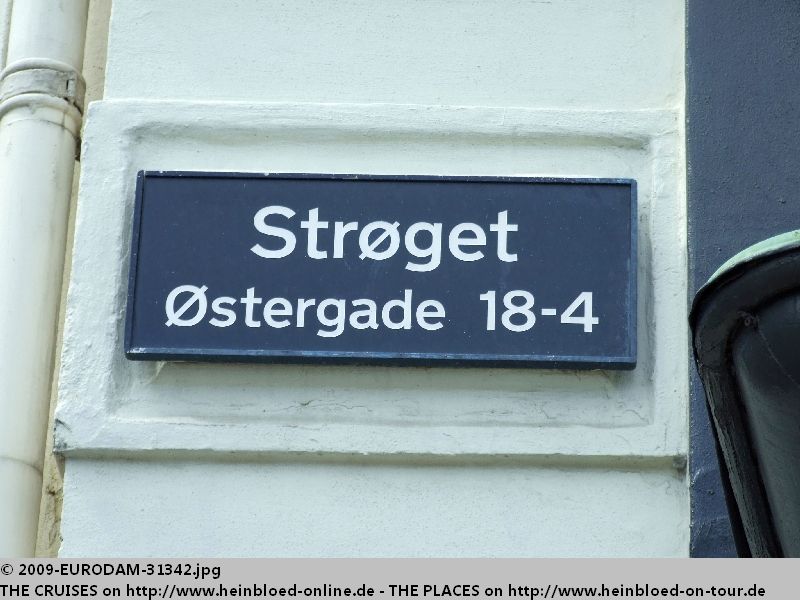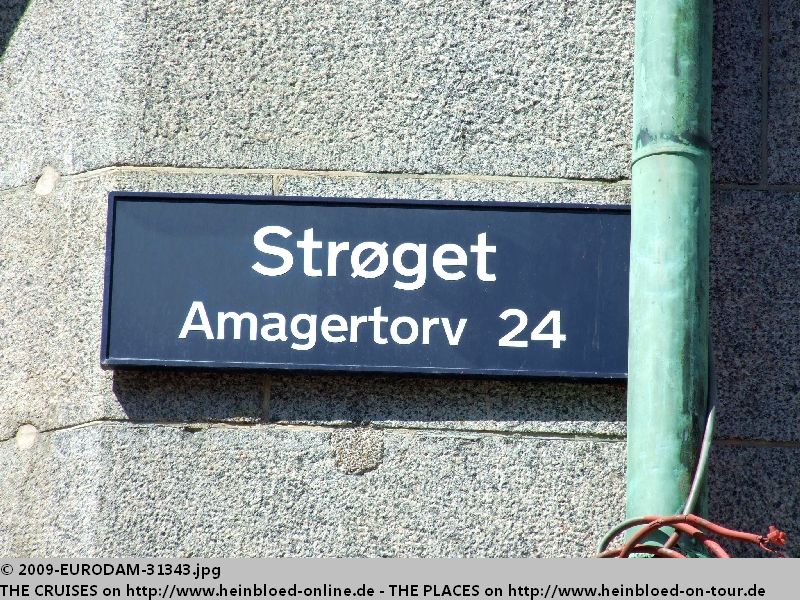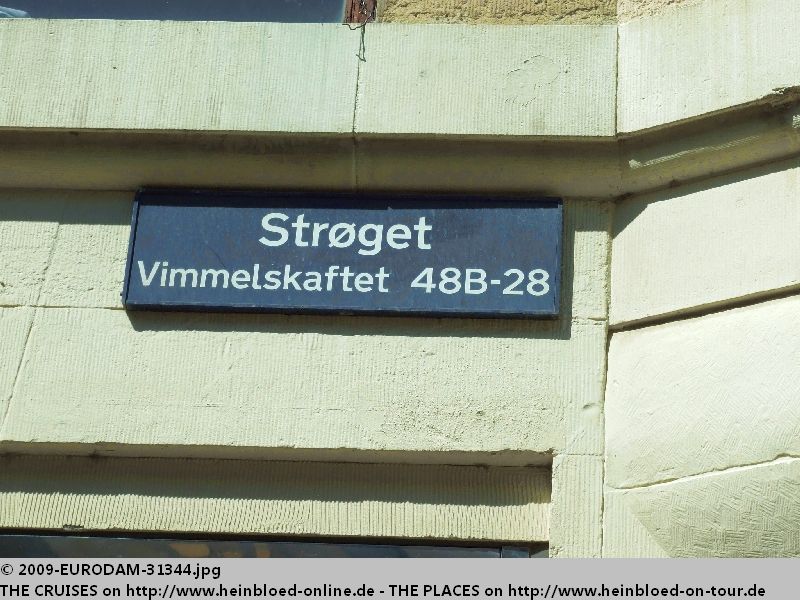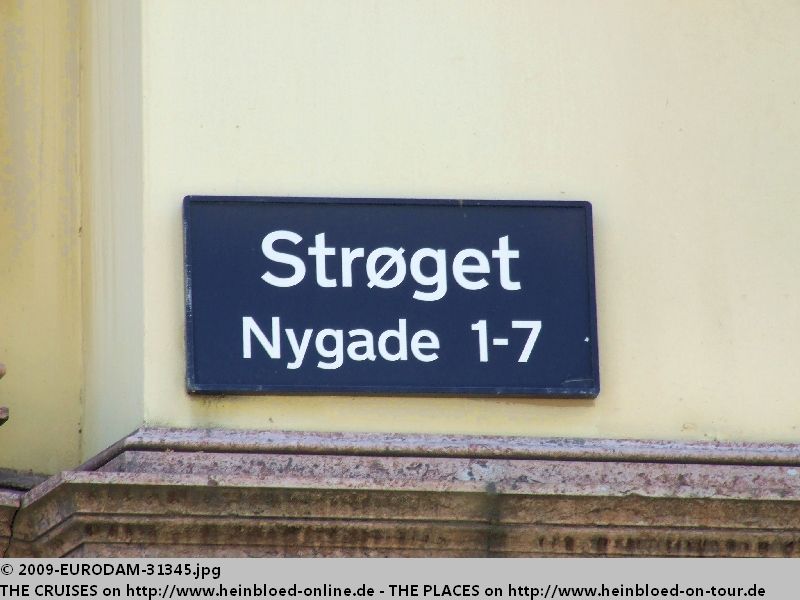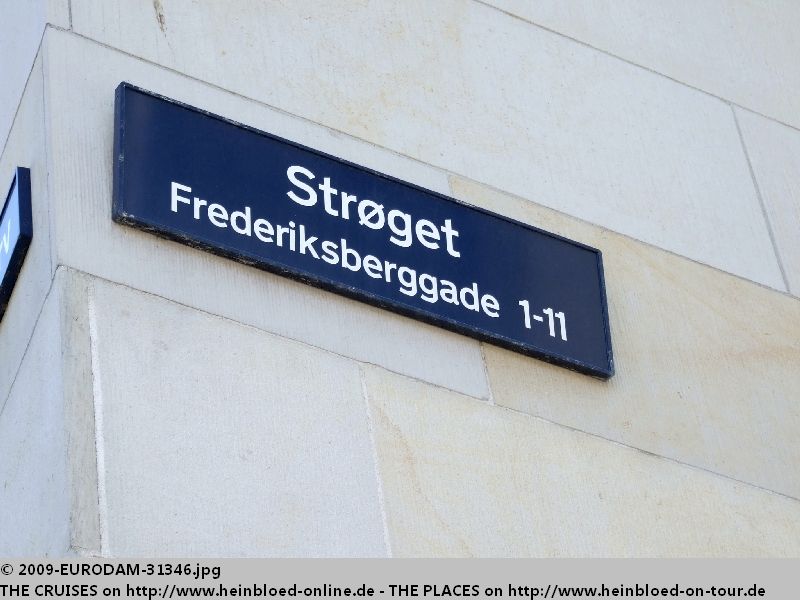 Some stores were open due to c

OPEN

hagen-open for you-promotion also on Sunday. But most stores are open 1st Sunday in the month only.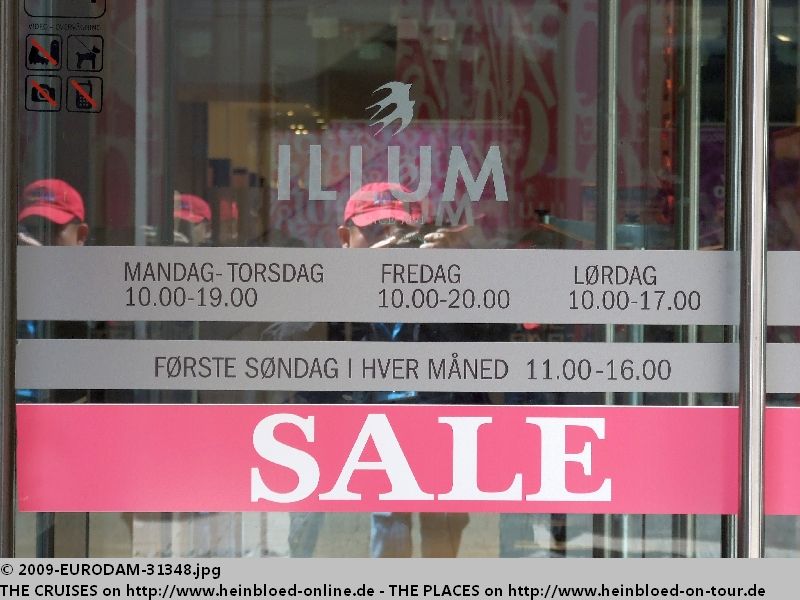 While the main building of Illum Department Store was closed the Illum Bolighus (housing and housing accessories) was open. But this is also available at the airport...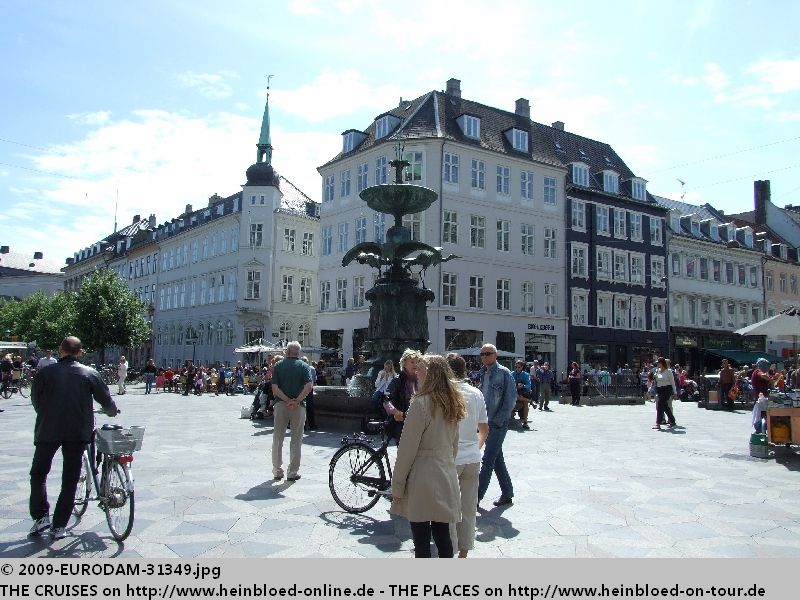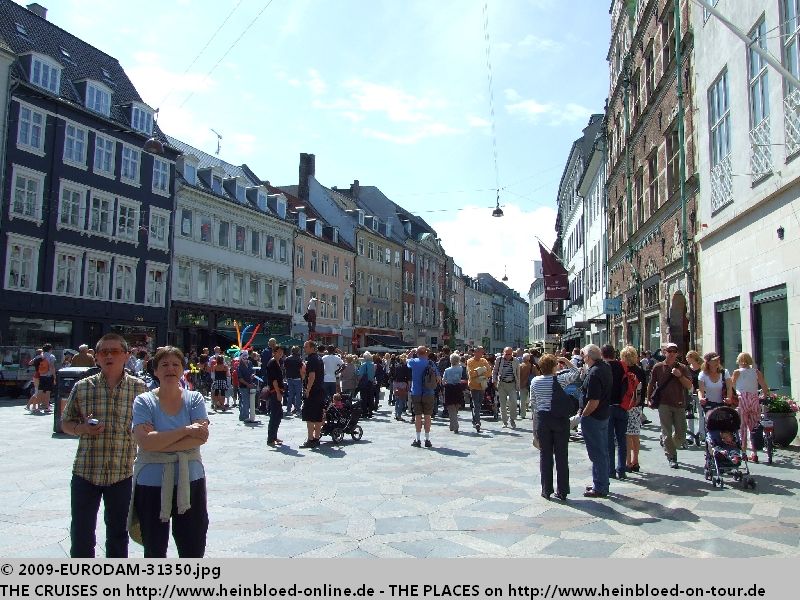 As the weather was very nice it was very busy in the streets.

I remember from my childhood that then the court of the Holy Ghost Church was used to have breaks or things like this there...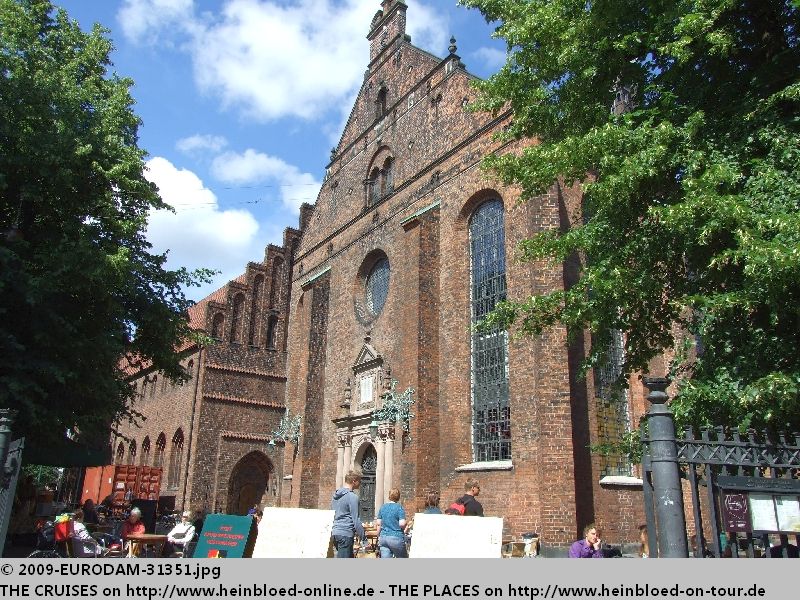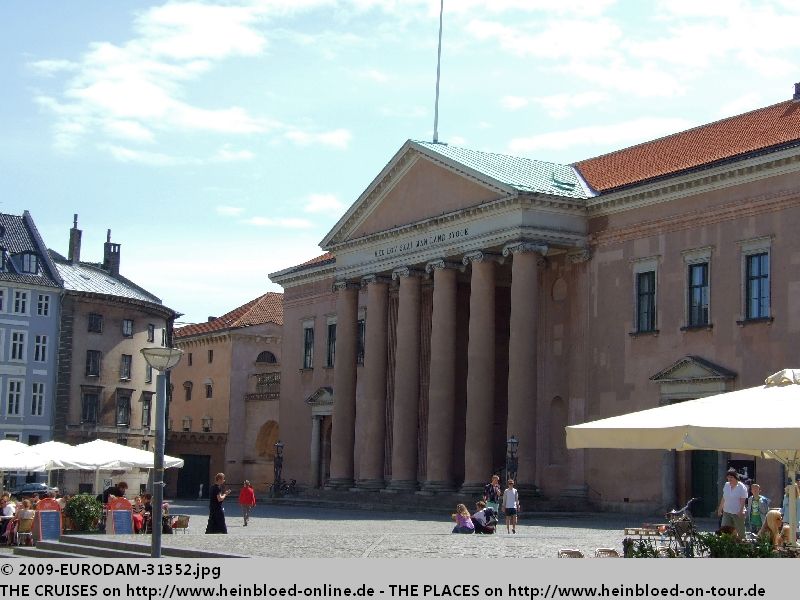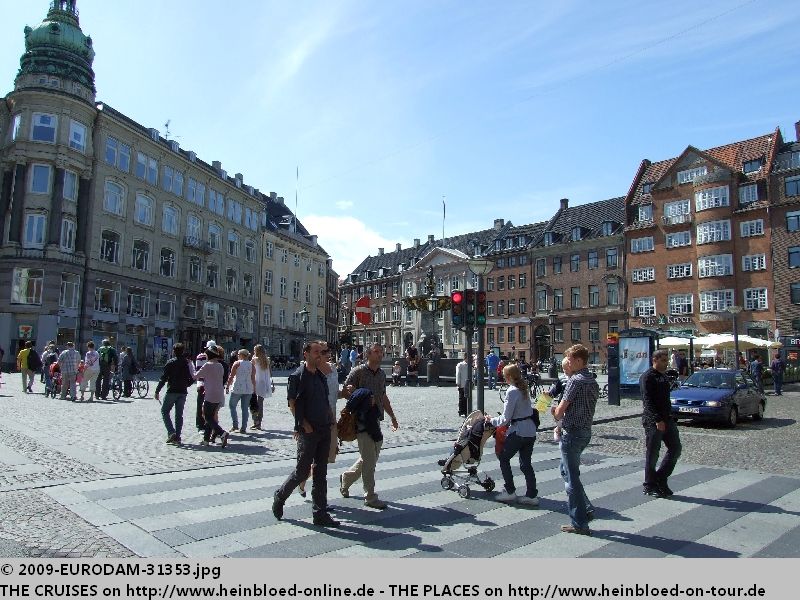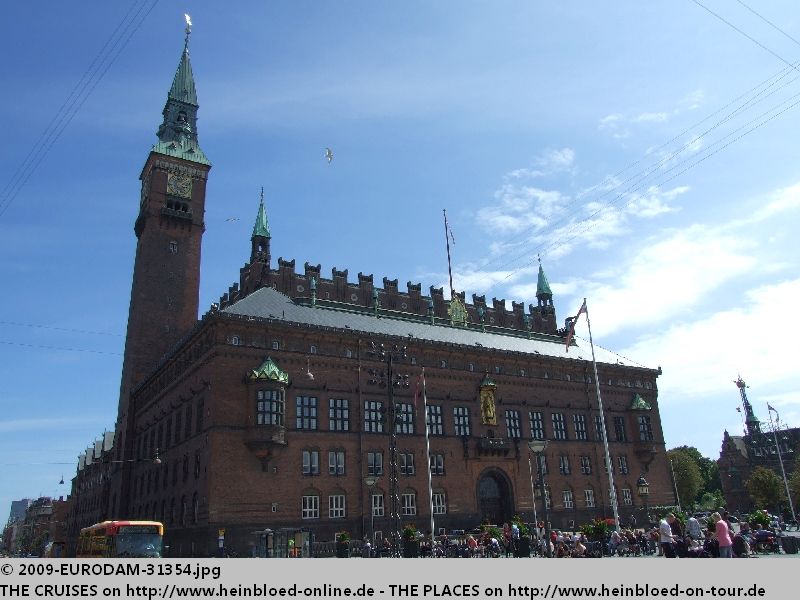 Our walk trough Strøget terminated at Town Hall Square which I remember very well. We stayed the first time in a hotel close to the airport and took the bus to Town Hall Square.

Like then the sightseeing tours started there. But you did not have open double-decker Ho-Ho-Buses...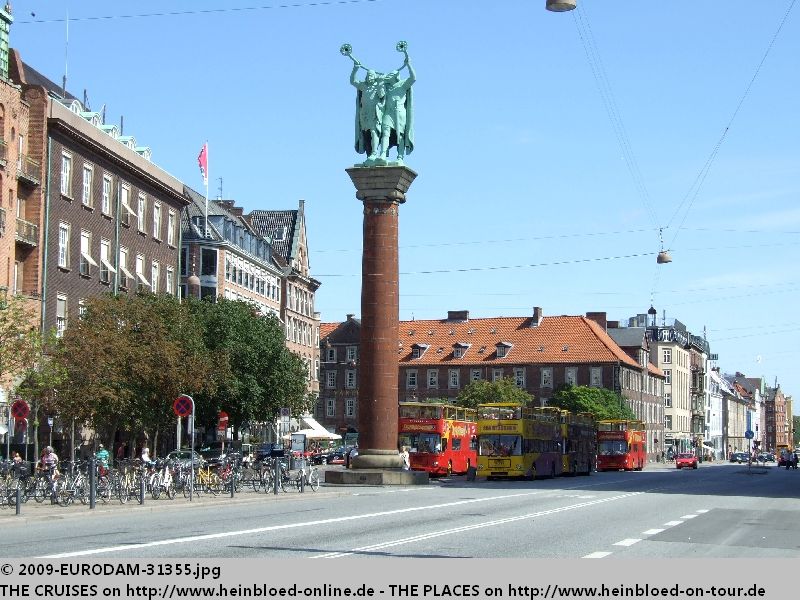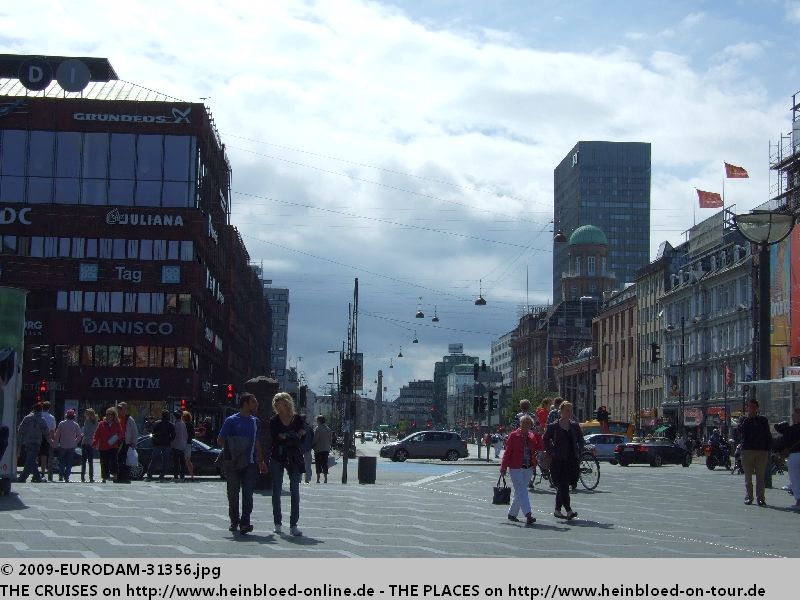 Vesterbrogade has not changed so much for the last 30 years.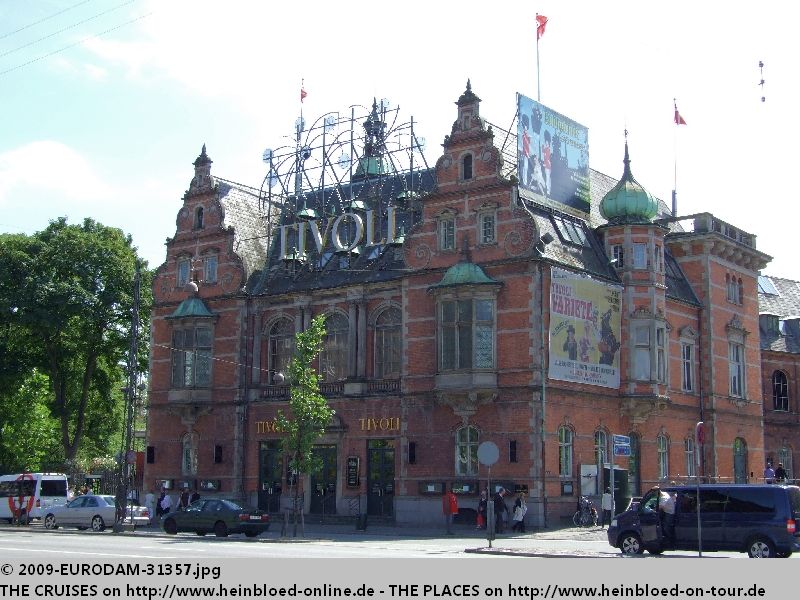 And Hans Christian Andersen is still sitting there and watch over to Tivoli.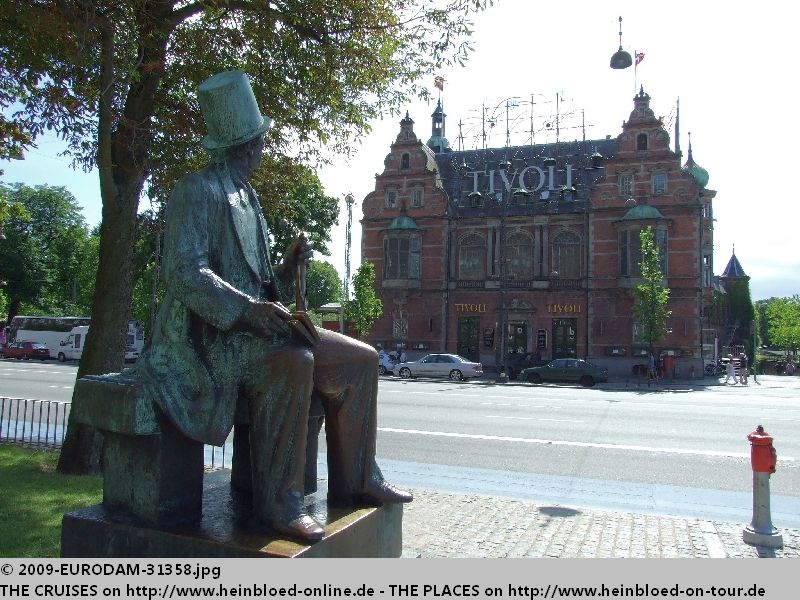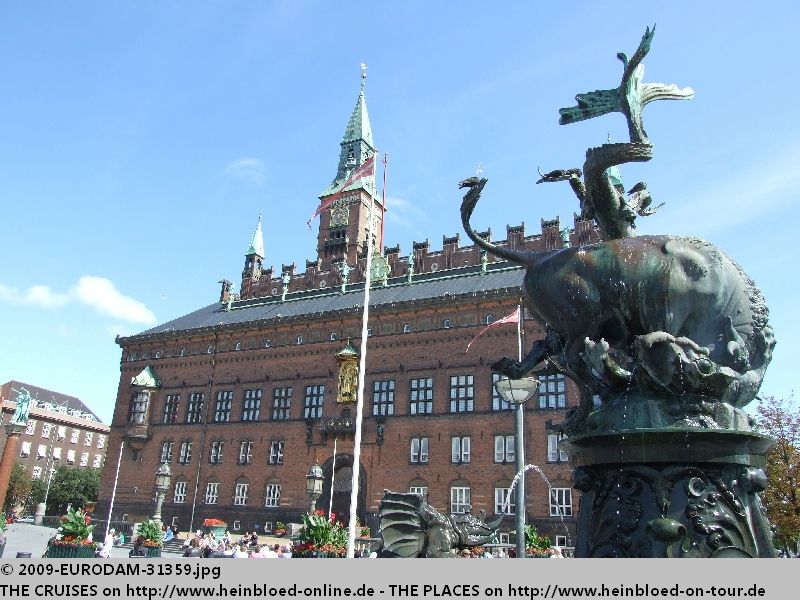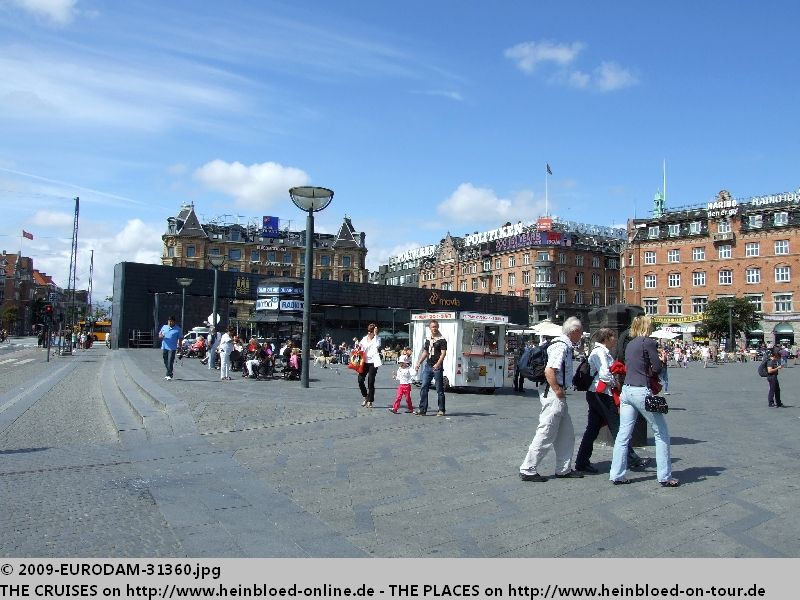 Only the busstation changed. The black building is new to me.

We should have a meeting with a cruise-mate in Vesterbro Bryghaus (House brewery). Although he is local: obviously he never drinks on Sunday otherwise he should know that it's closed on Sunday...

So we just waited next door at Rosie McGee's and enjoyed sun and wind.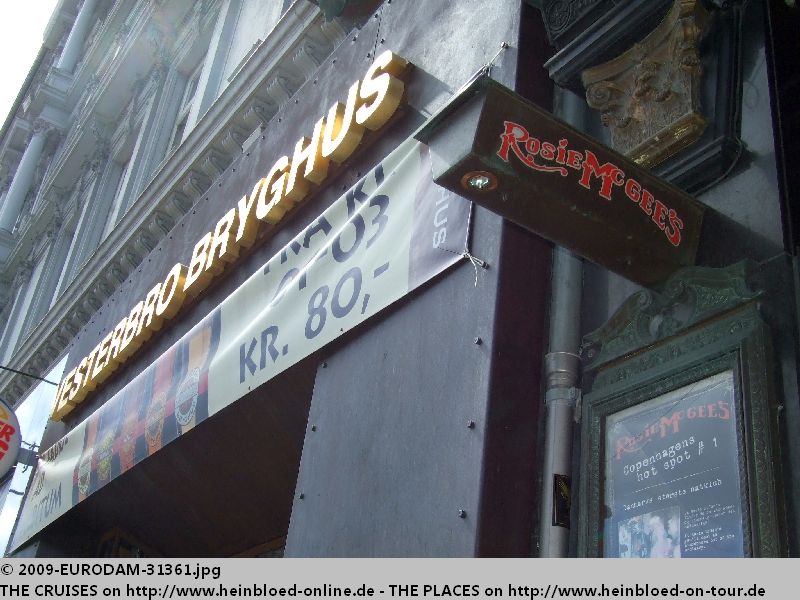 Unfortunately due to breakdown of his computer he could find anymore the meeting and my contacts.

So we waited another ten minutes and we decided to say bye-bye to EURODAM and checking the situation at Nordhavn-Train-Station.




Few yards next to this Tivoli-Entrance is Hovedbanegård (Central Station). Correct pronounciation is a true challenge.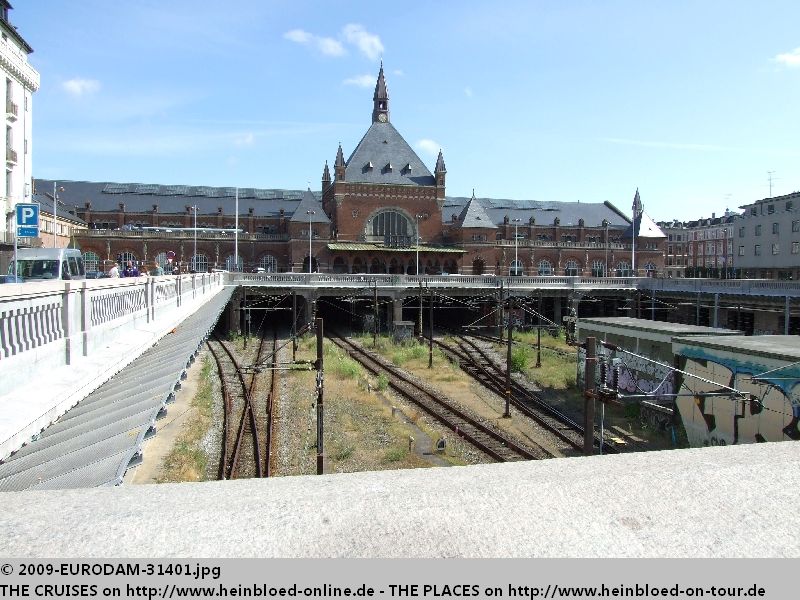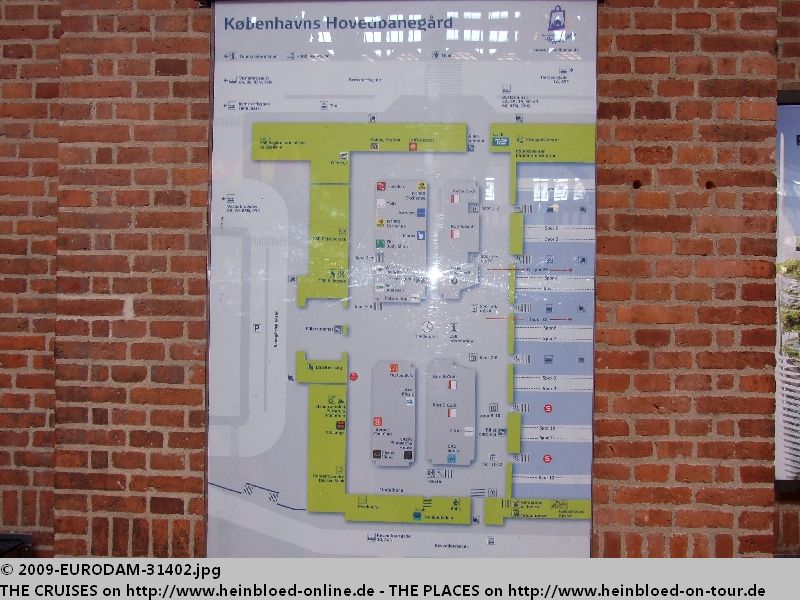 Somehow it's important to find the exit towards Banegårdspladsen. But the signpost is not the best...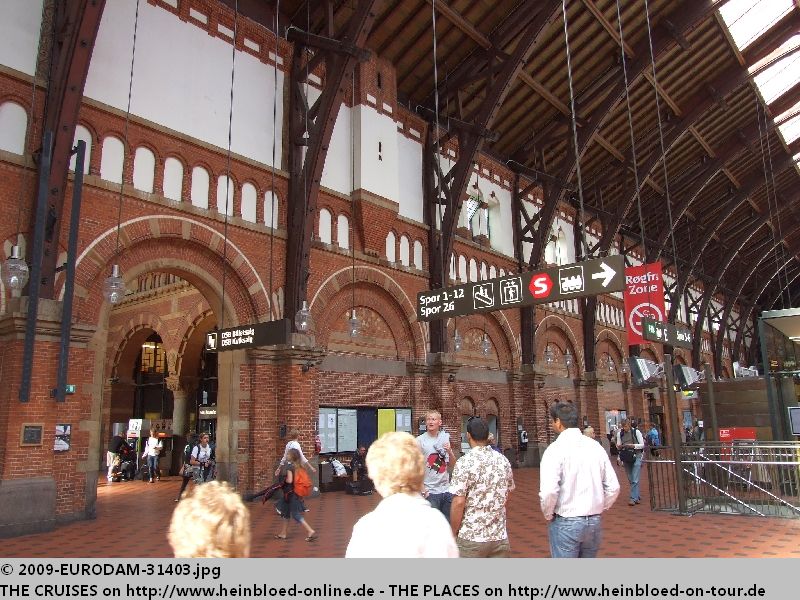 The best is to find the ticket counters which are well signposted...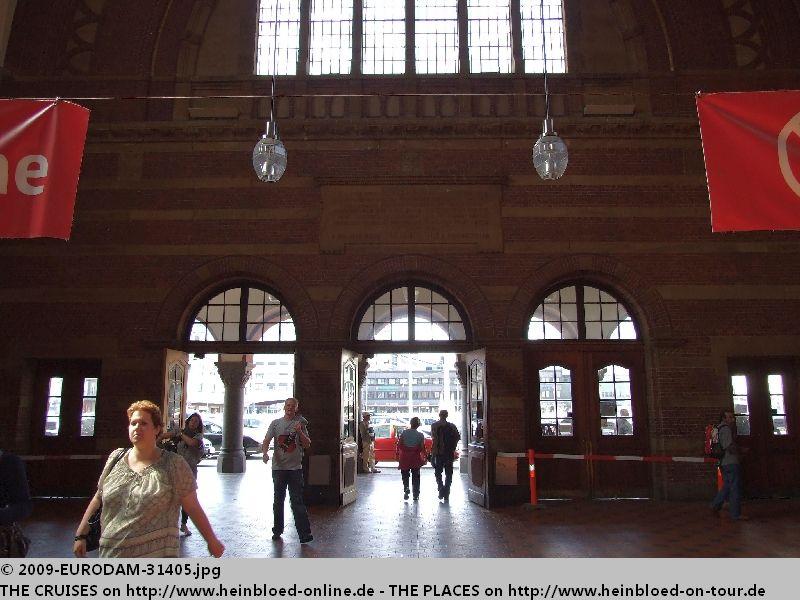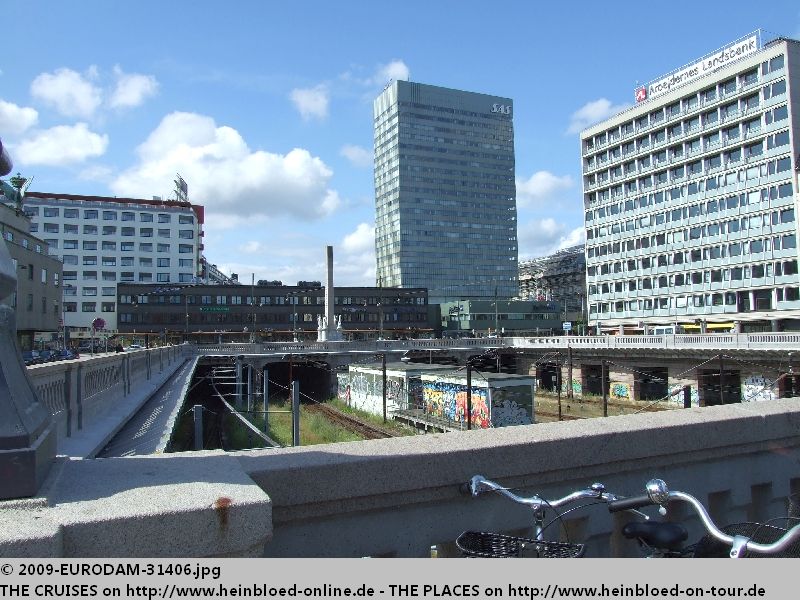 Just opposite another first class hotel: at my childhood it was always SAS ROYAL HOTEL but today it's officially the Radisson Blu Royal Hotel.

Right hand at the opposite corner you find the Tourist Information.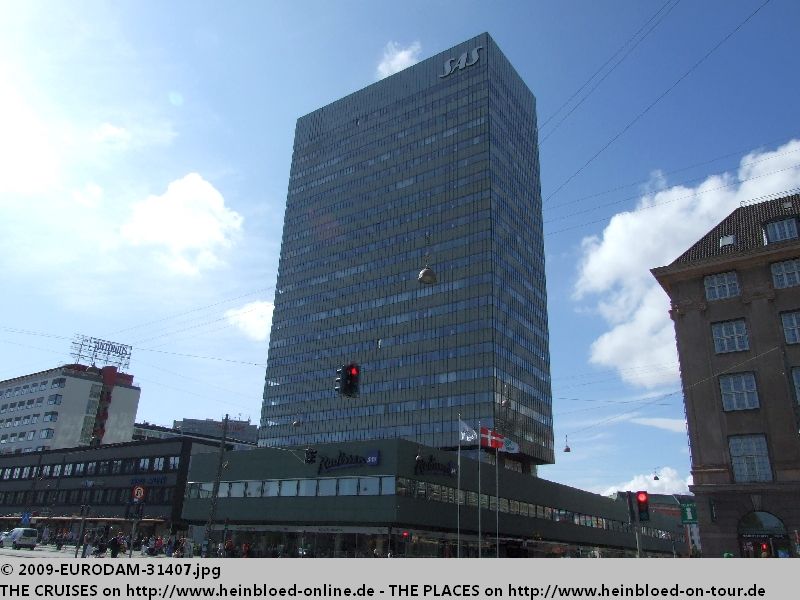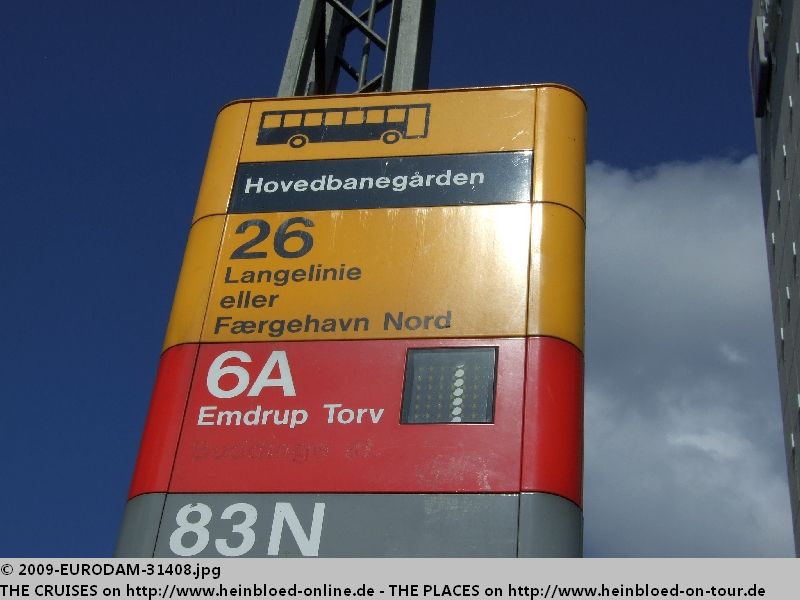 On the opposite bridge of the Banegårdspladsen-exit you find the busstop for Route 26:

Daily service to Langeline-Terminal,
but only Monday to Friday there is an alternative route (Færgehavn Nord) which takes you near to Freeport-Terminal.

You can download an actual schedule (Juli 2009) as pdf here:

https://www.moviatrafik.dk/Timetable%20Resources/26-0026-030209.pdf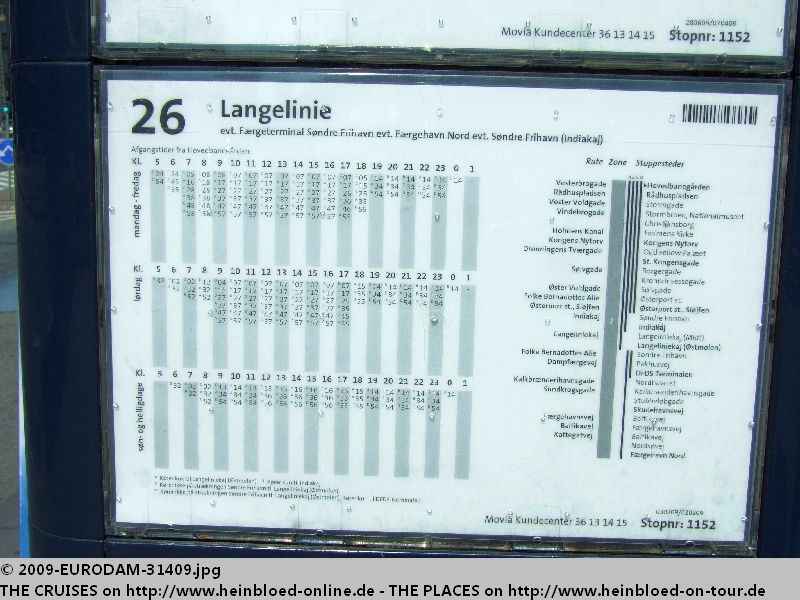 This time we tried the touch-screen-ticket-machine of the Danish Railways DSB to buy the correct ticket for the airport...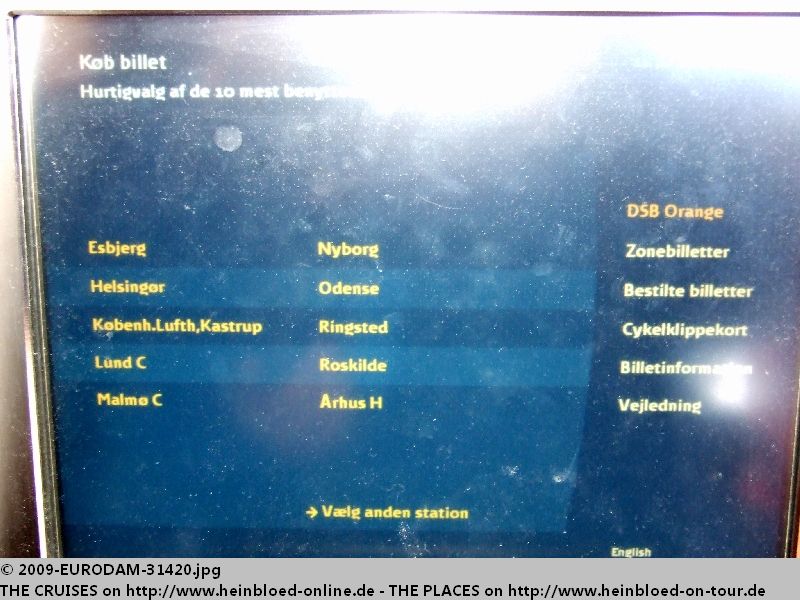 Even you made it to change to English:

Københ. Lufth. Kastrup stands for

Københavns Lufthavn Kastrup which is the airport.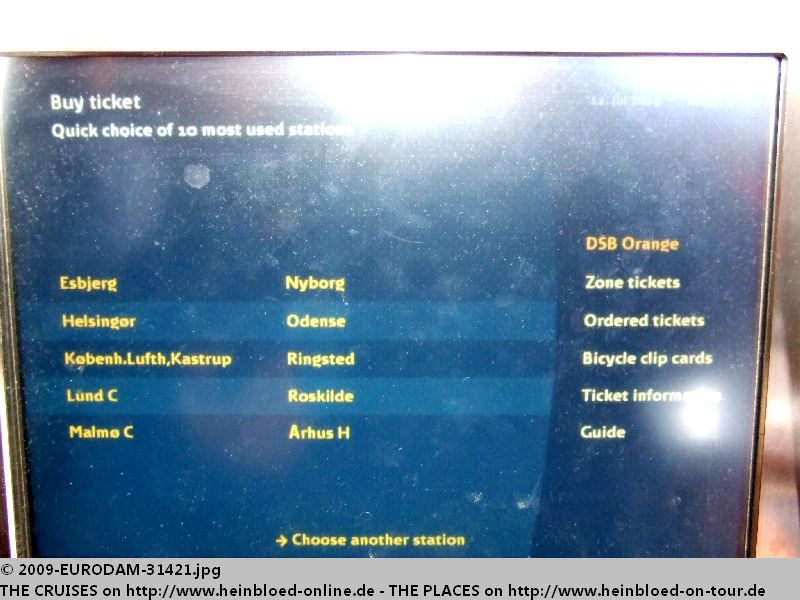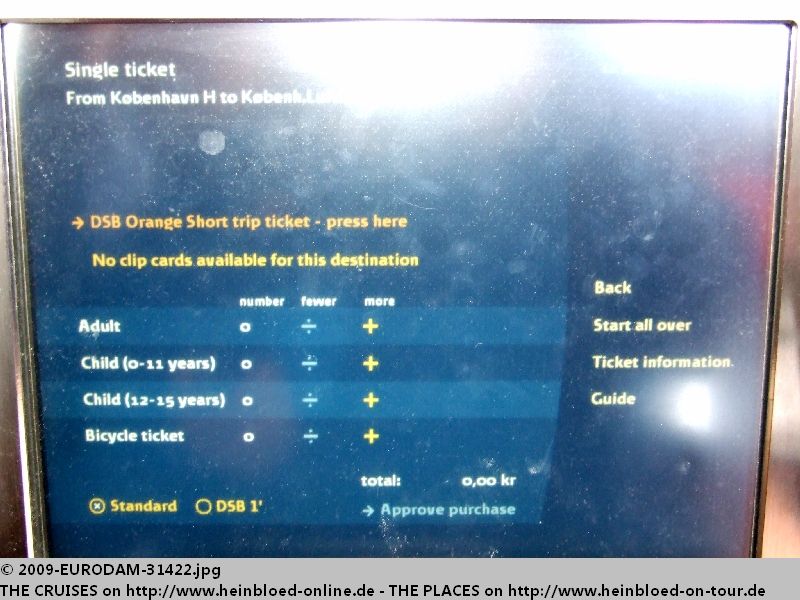 That's very simple to understand...

31.50 DKK... why did we only pay 21.00 DKK from the airport??? Did we make a mistake???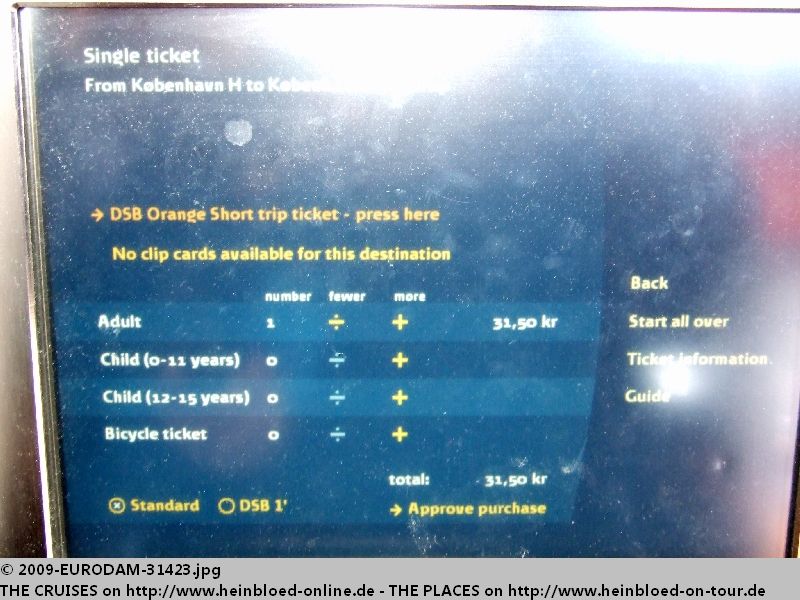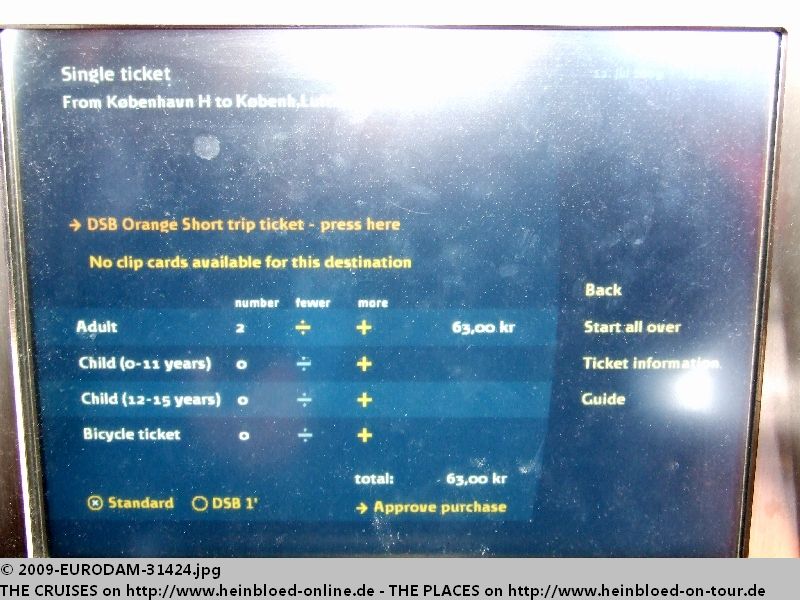 That's great: again no acceptance of bills...

and why chip on credit card... I do not have one!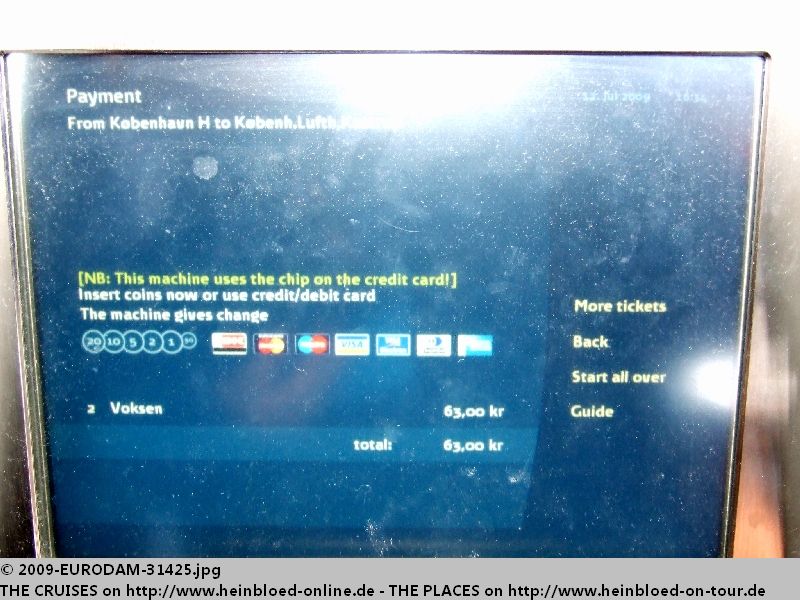 My credit card was accepted but only with PIN...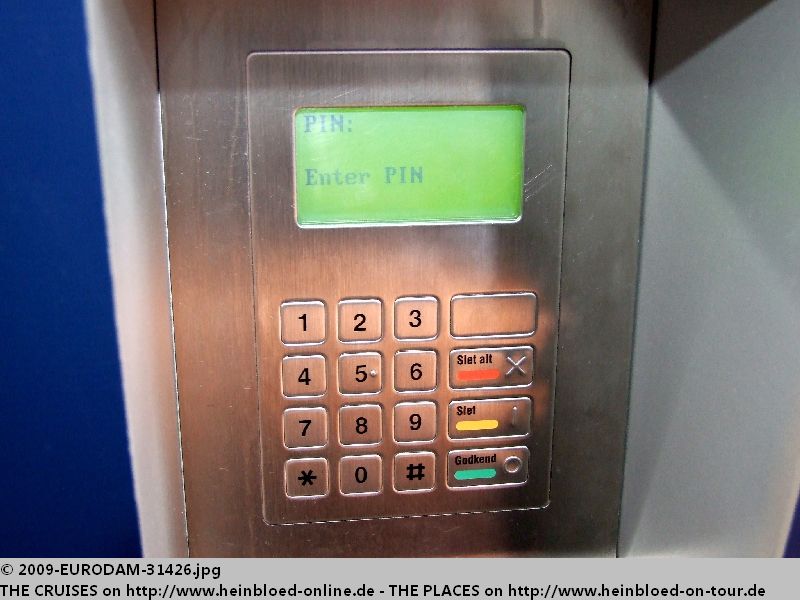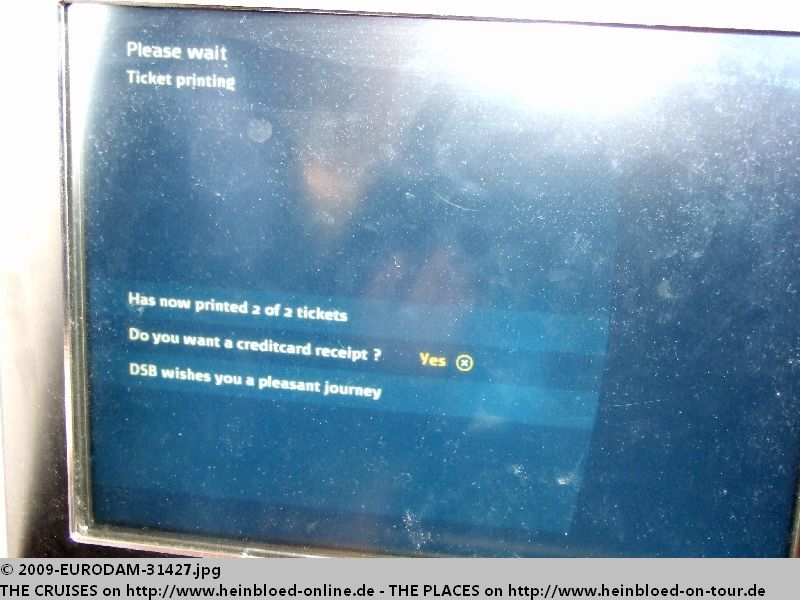 ... even without chip: we got the tickets.

First let's go to Nordhavn.

All trains start from platform 9 and 10.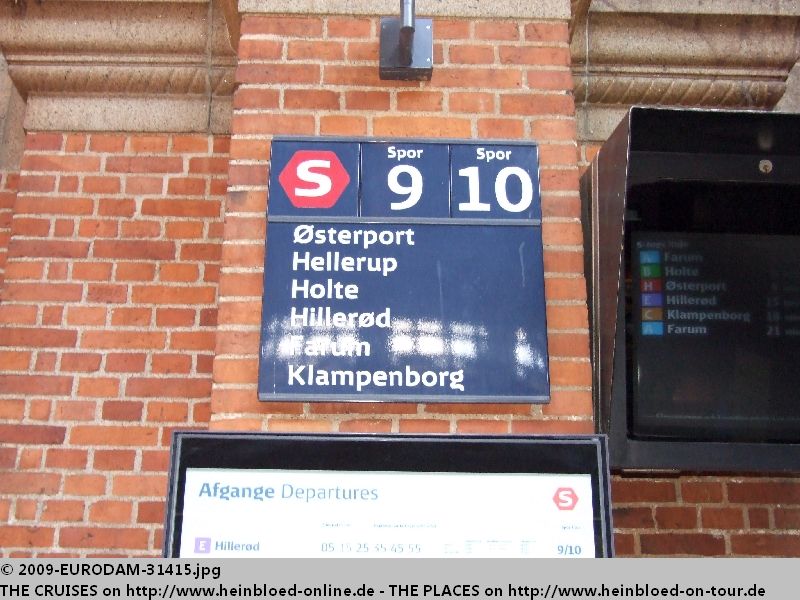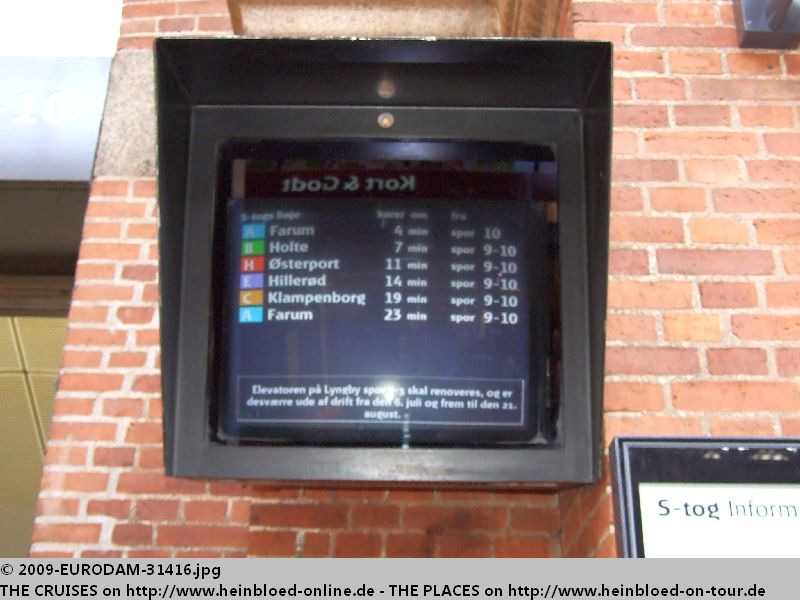 We can use all routes but route H.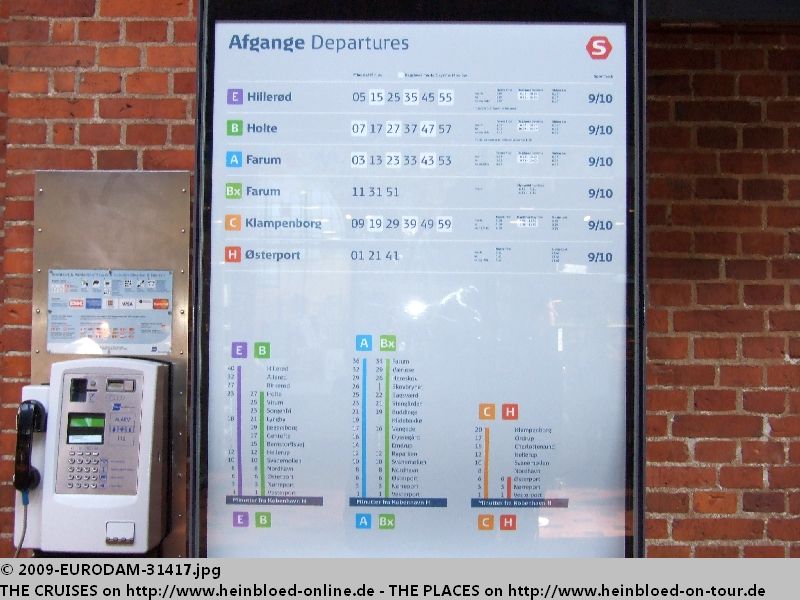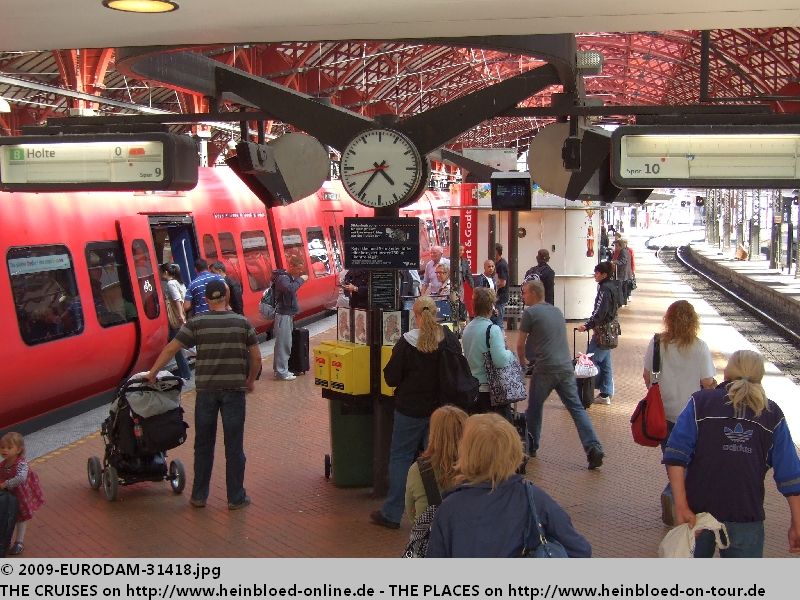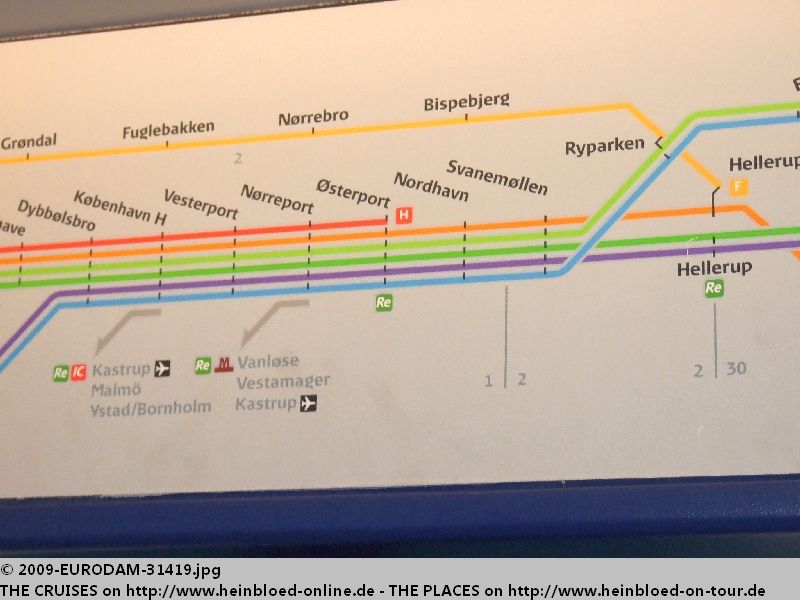 When our train left the station we could see her:

EURODAM and also COSTA ATLANTICA.

But with baggage I think it might be too far to walk... I am on vacation...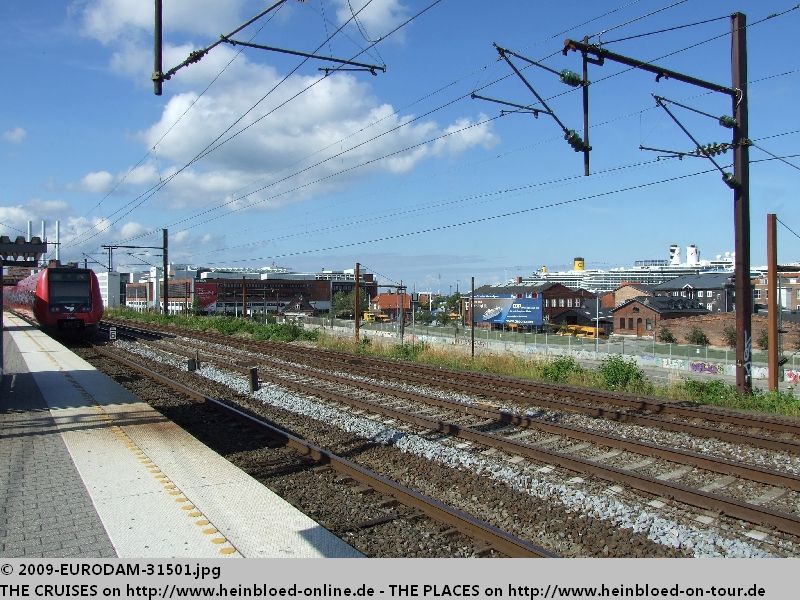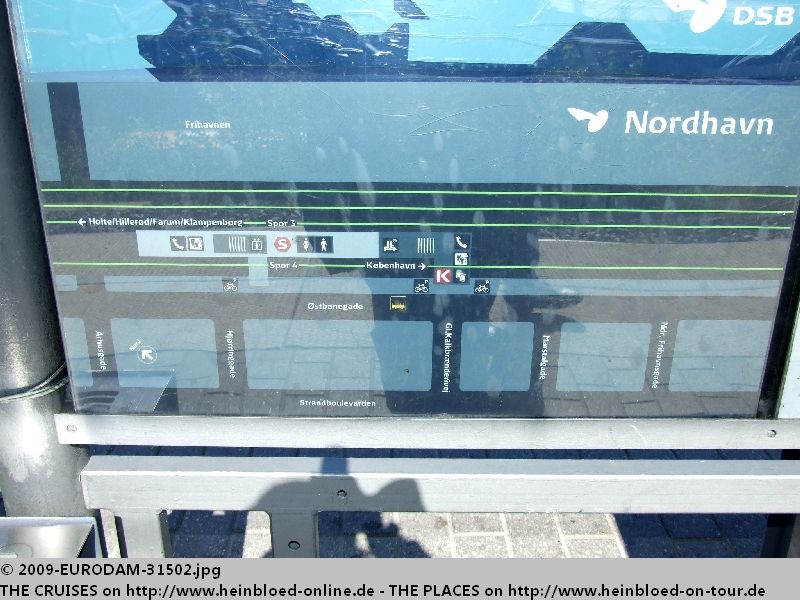 There is no direct access to the Freeport-side...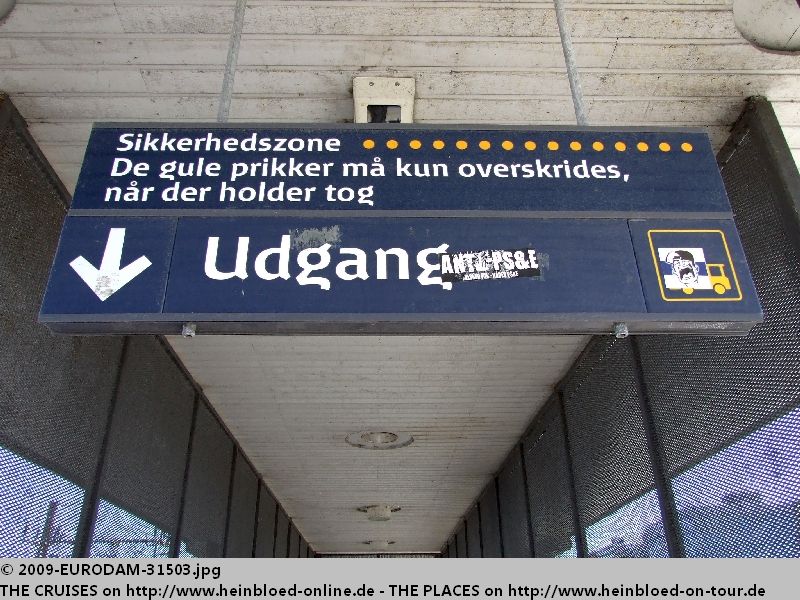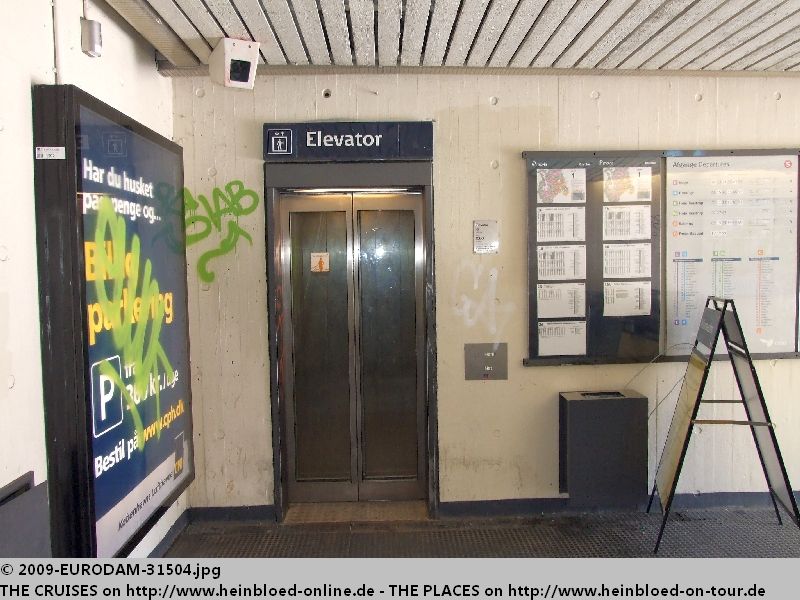 But there is an elevator to get to the wrong side of the tracks...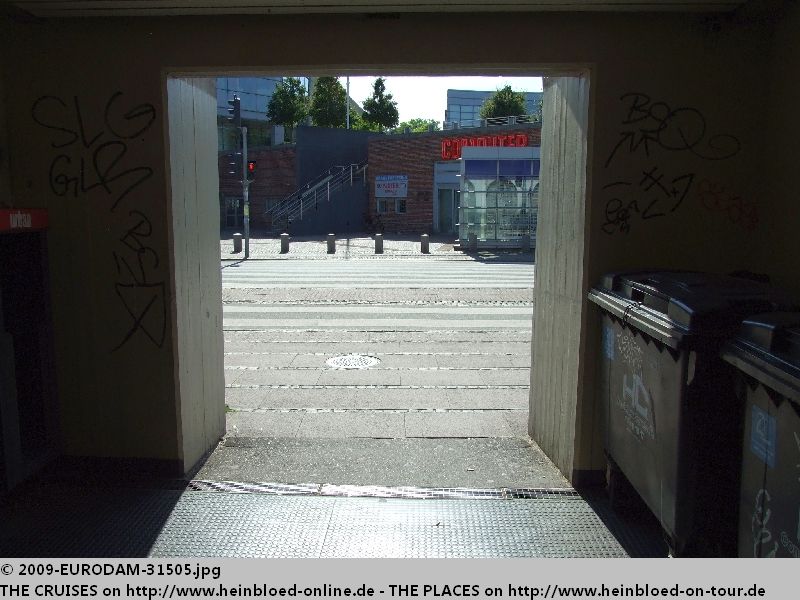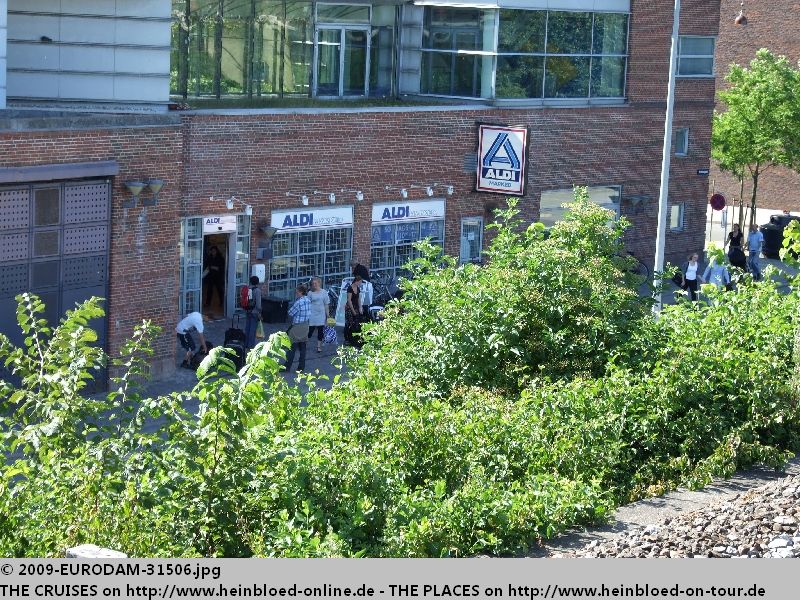 ... so left to pass the German food discounter ALDI to buy beverages etc. and then to right of the tracks...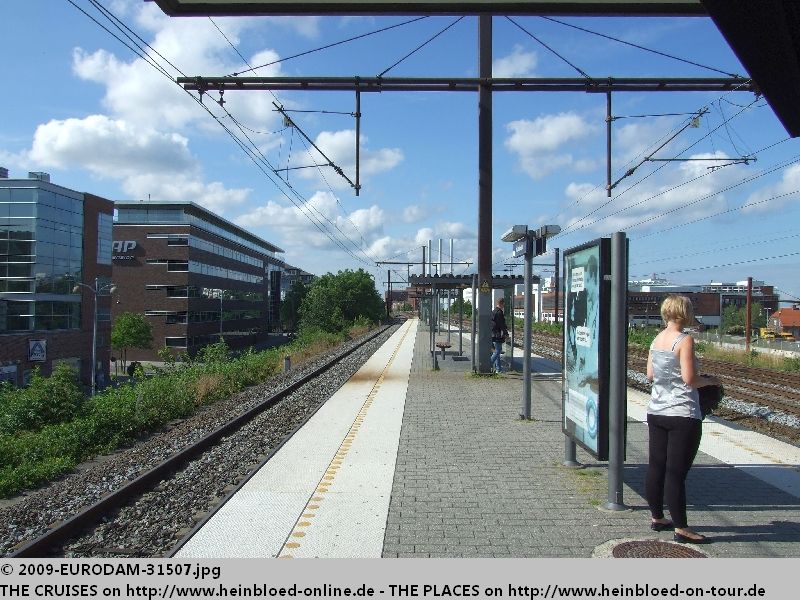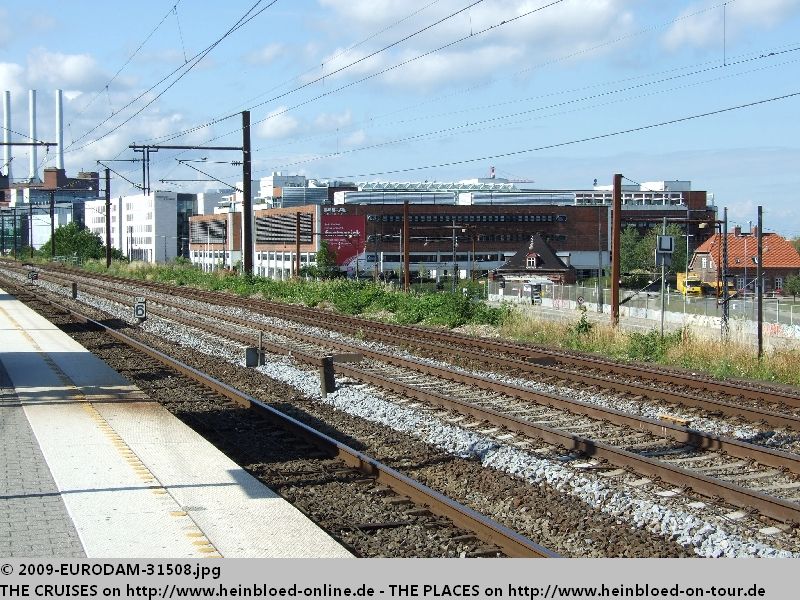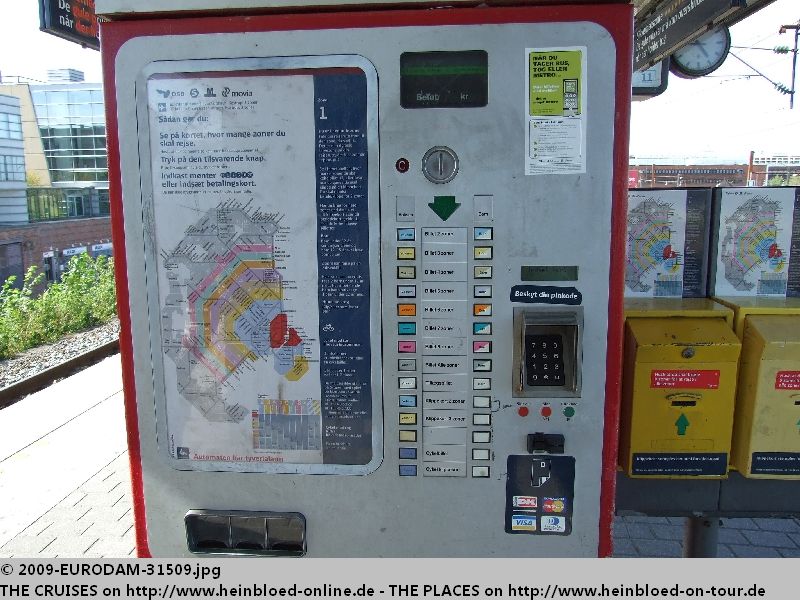 And if you ever arrive by a cruise ship: first shopping at ALDI to have enough change... or ask your bank for the PIN of your credit card...

... and please do not forget:

2 zones for journeys to the city center
3 zones for journeys to the airport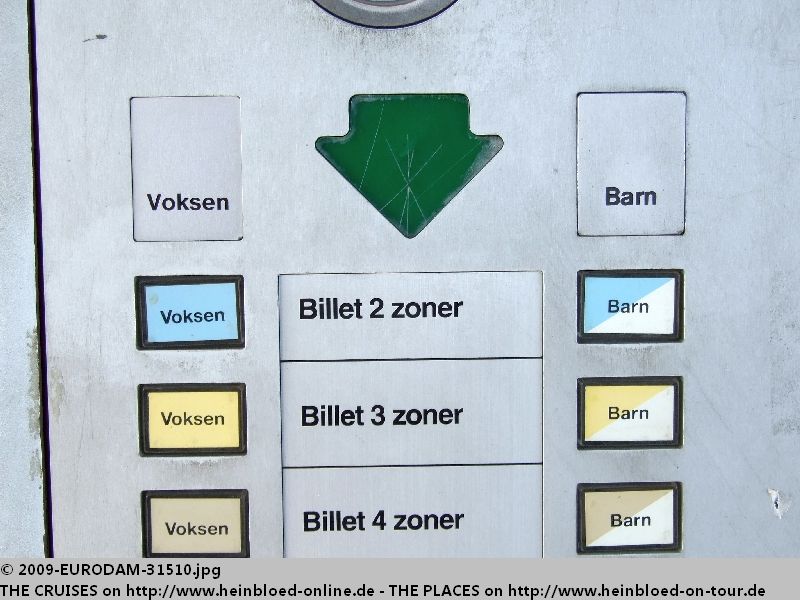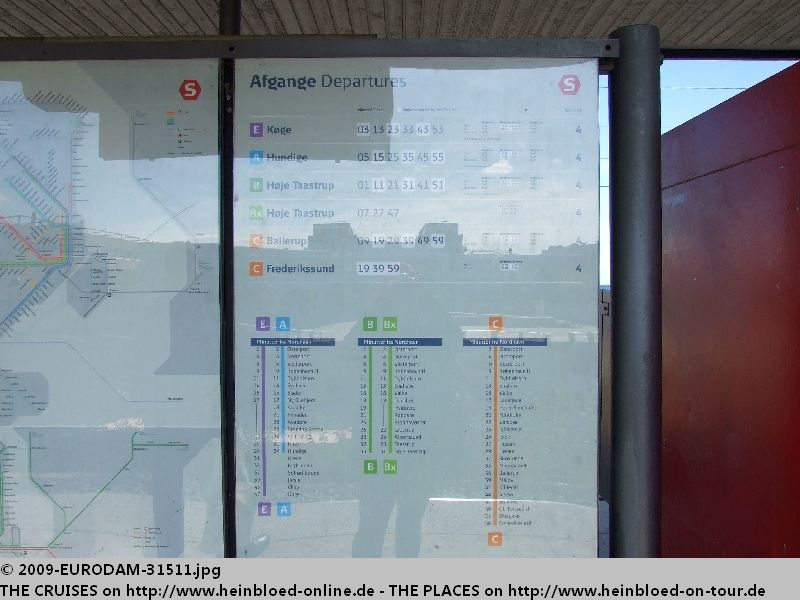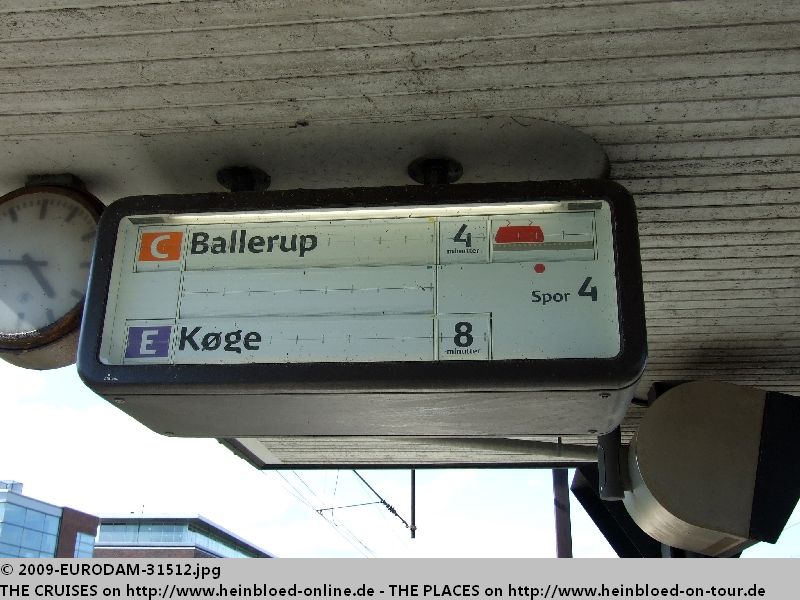 We returned to Nørreport as here should be subway (Metro) and regional trains to the airport available.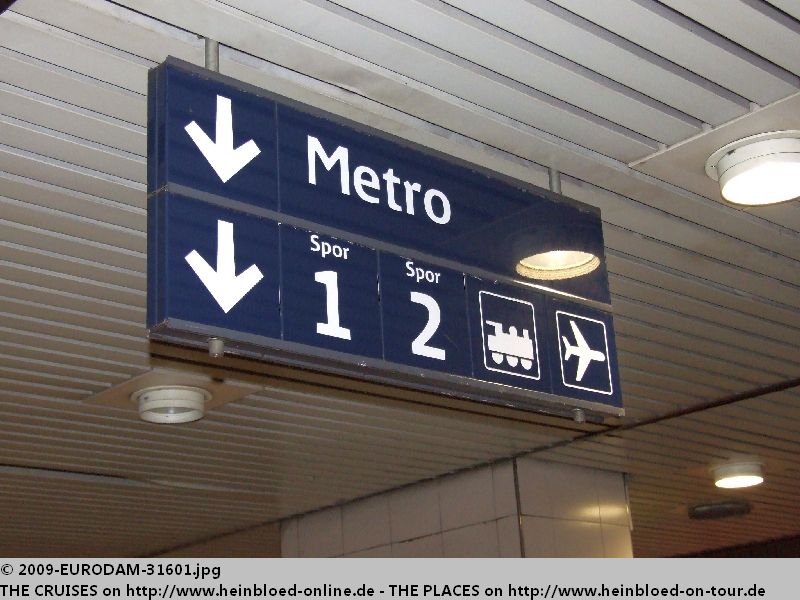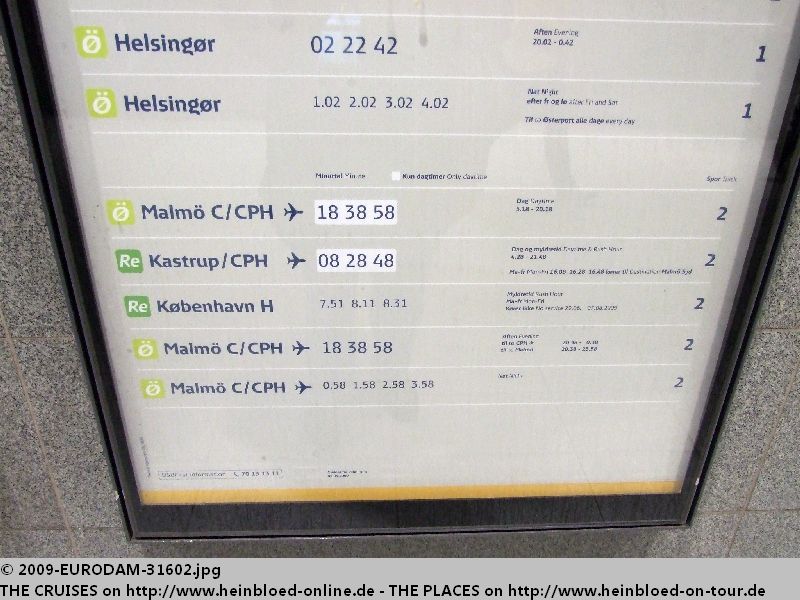 The trains leave every 10 minutes and they stop not so often like the metro. Let's take the train.

A bad idea as the narrow stairs were the only access to the platform...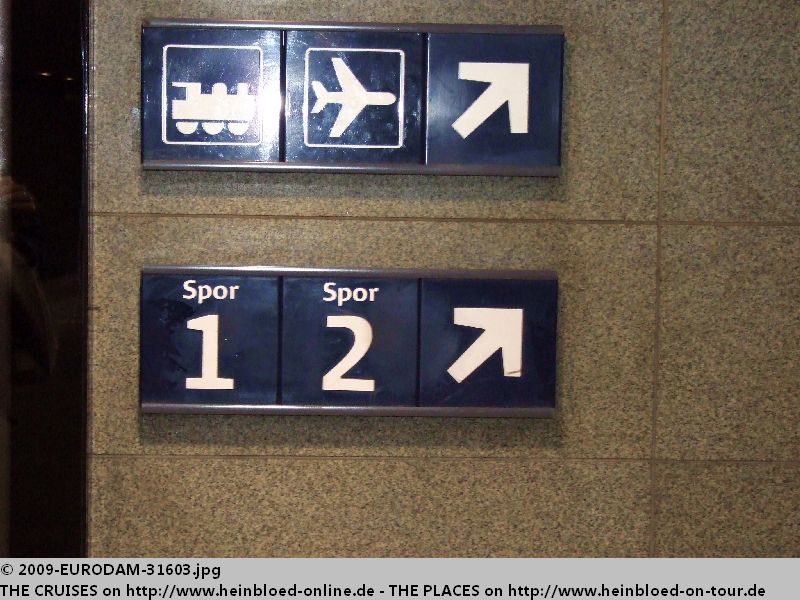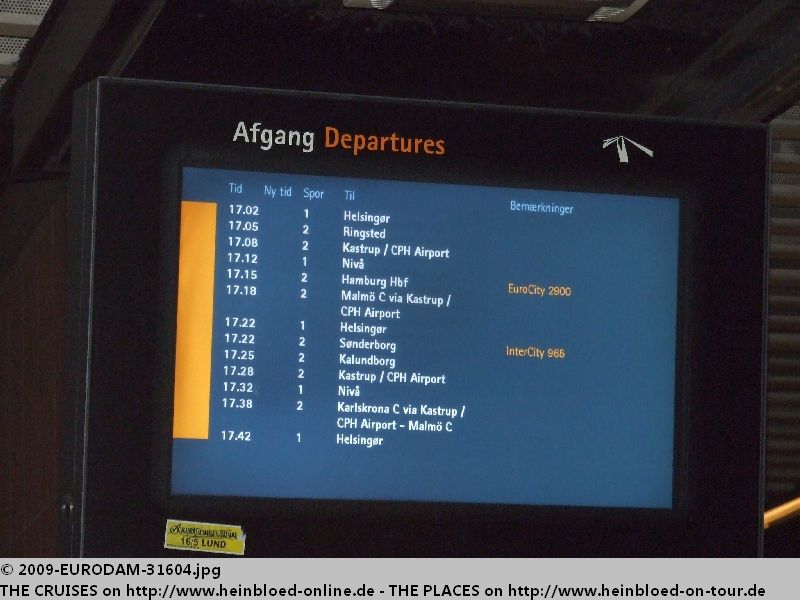 Seemed to be that we just missed one... should we use the subway???

But until we find the other platform the subway would be also gone...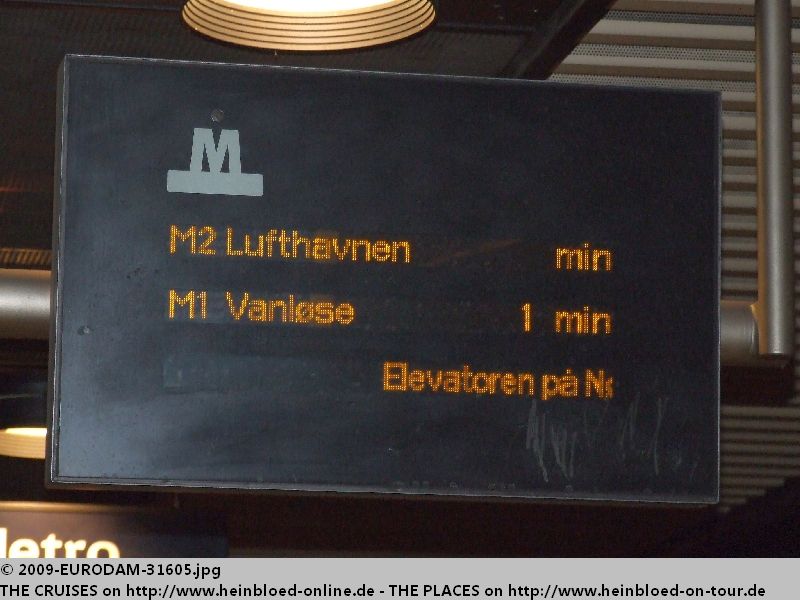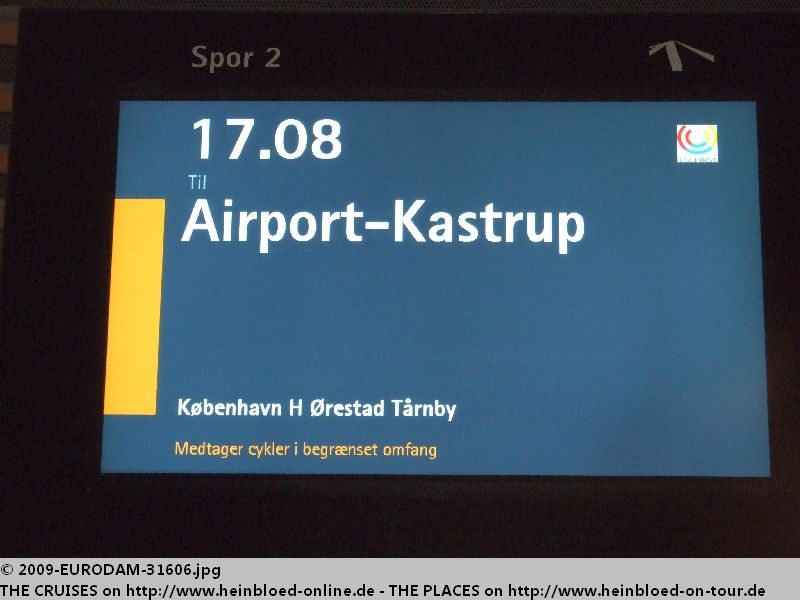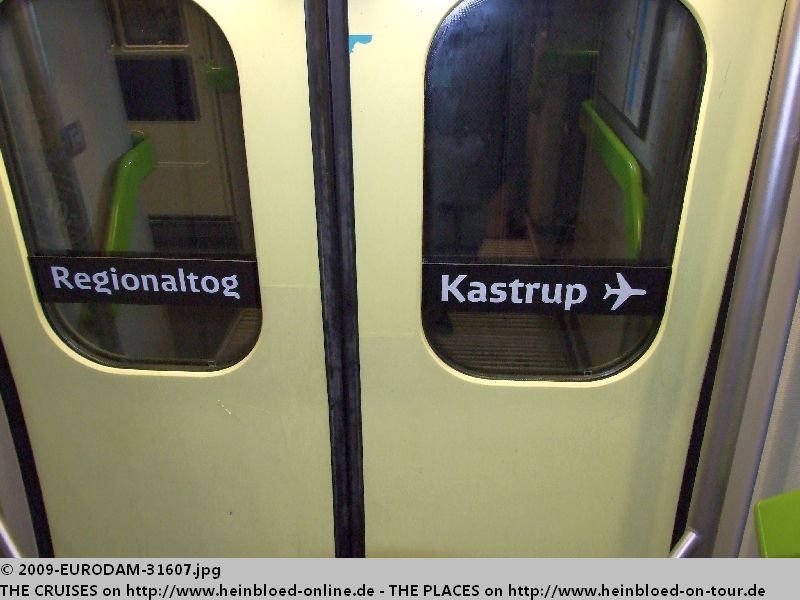 We were in the right train and the advantage to board ahead of Central Station: it's empty and once you arrive at Central Station it was very crowded.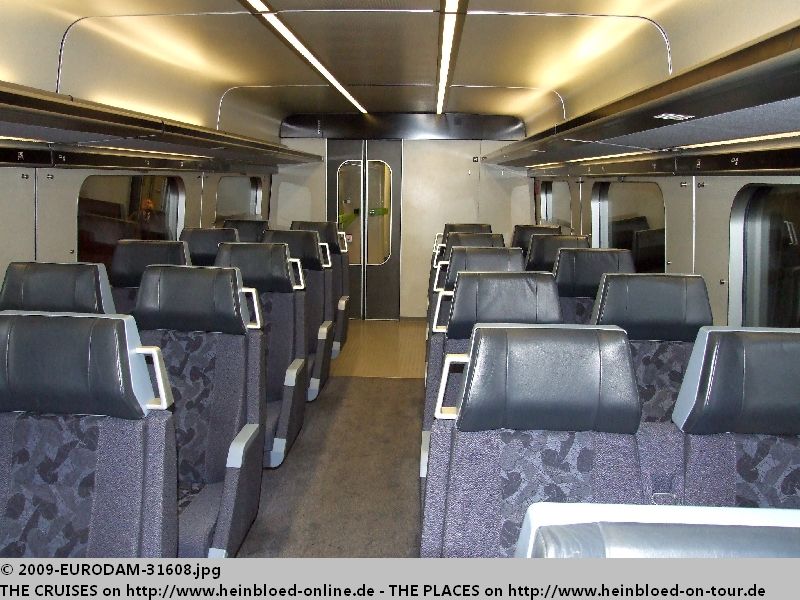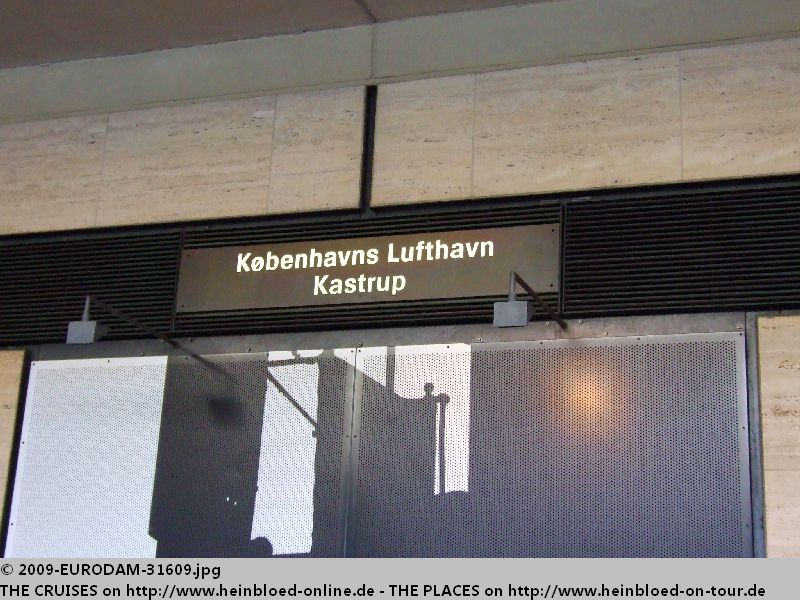 ... but we made it finally...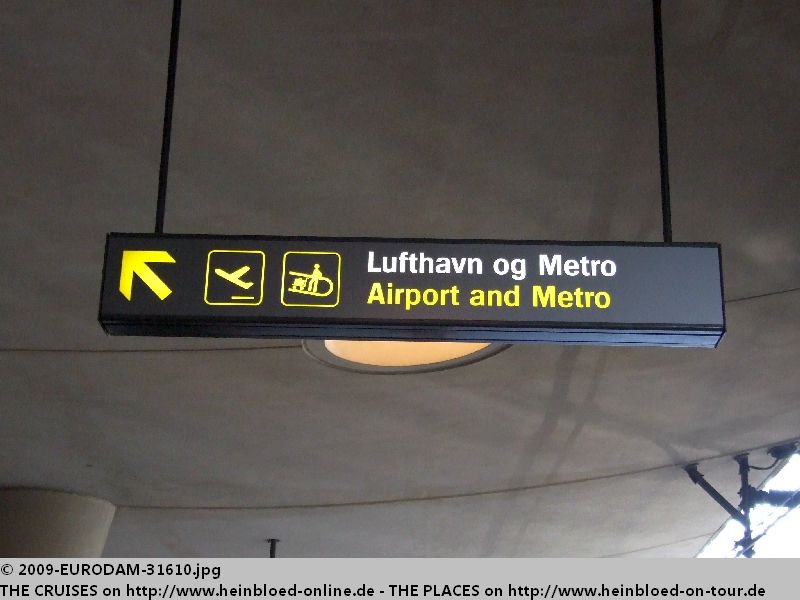 There was not so much left to stay long time in the very nice SAS Lounge. We were lucky that it was a Lufthansa-flight so we get something to drink and eat without paying.

That this voyage was great success was the result of two items:

The access to information was huge. But not with the German Sales Representative who was not very friendly.

For a company who is specialist to older guests who might not have access to internet I was very surprised that I could chat (yes!!!) with agents in Seattle during their office hours.

Every question was responded to my fully satisfaction. But you need to be a fast type-writer. The agents can type very fast...

This cruise was not free of problems too.

The only difference: problems were taken as challenge to solve them - especially the front desk.

It might sound stupid: I wish I had more problems just to let them have solved by a great team. They did not let anything untried to help you.

All problems which need to be solved right on time were solved very professionally to my full satisfaction.

Open problems were not just responded as a card with an address you can write to when you calmed down...

The after-sales-service still works and I am still in touch with the ship. I am optimistic that my open gift deliveries will be shipped to my address. They contacted me to tell me when they get the delivery on board.

I never experienced such a great service on board before.

And we honour it:

We booked WESTERDAM for next year for a week and let them pamper us again in such great way.

Just one request to Cruise Director JT if he might be on WESTERDAM next year:

I am becoming older and cannot coordinate all activities with my brain and body... Please add some hours of sleep to your daily programme...



Subject: After-Sales-Service - let me add another reaction from another cruise company:

Royal Caribbean sent me tons of text modules...


And last not least: there will be a refill for shipspotters following...

Greetings
HeinBloed