Um auf die deutsche Version zu kommen, bitte unten auf dieser Seite

Older Post

anklicken.

No more baggage with us... great!!!

Our driver told us to use the subway (Metro) to return to Copenhagen Downtown at Kongens Nytorv.

That's around Strøget and Nyhavn. What was not in a true walking distance of the city center we did already by our taxi.

The access to the metro is in Terminal 3: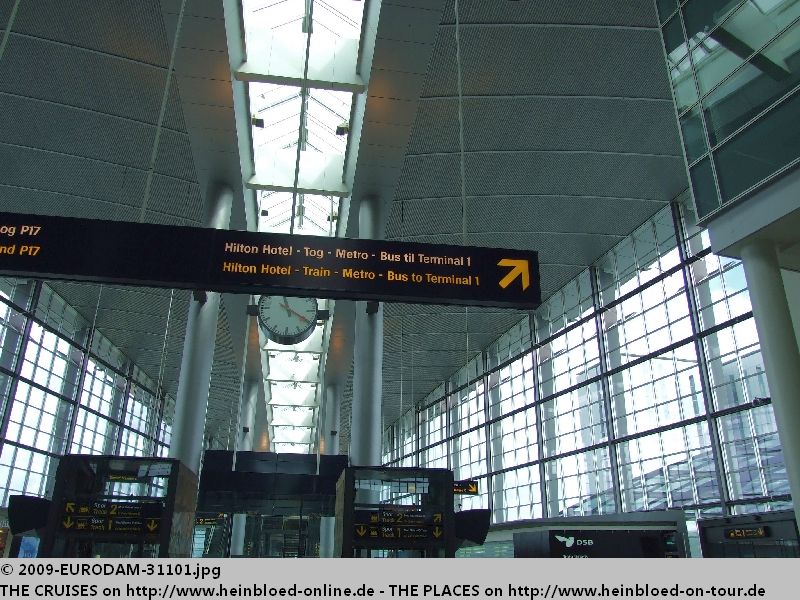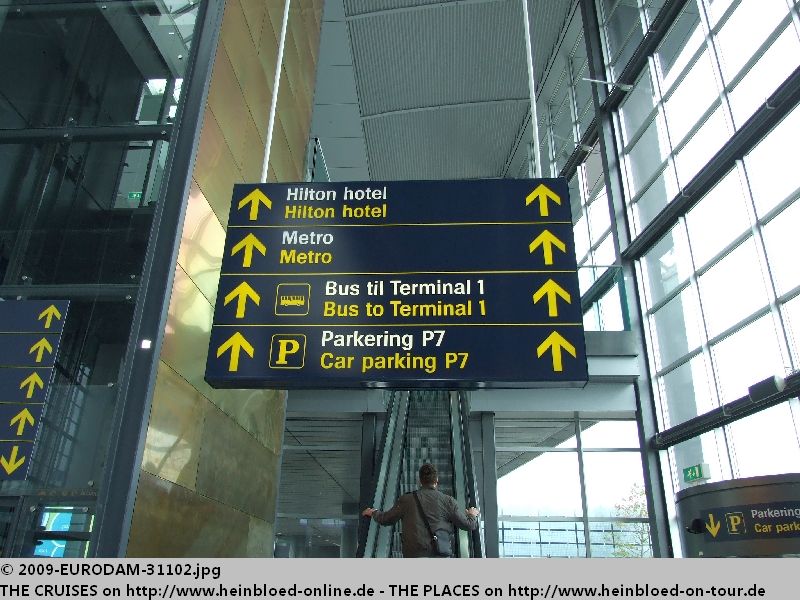 Although I had Danish lessons: somehow it was unclear what kind tickets we need.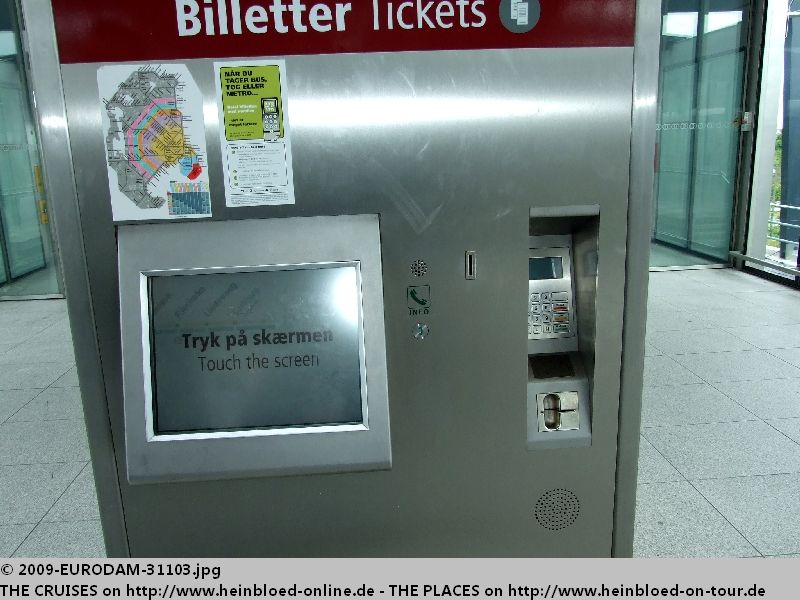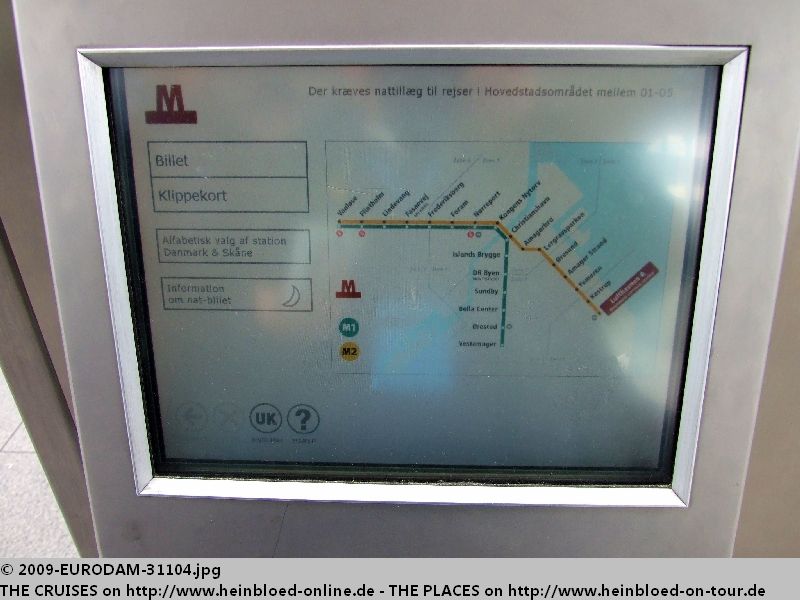 Even changed to English it was not very much helpful.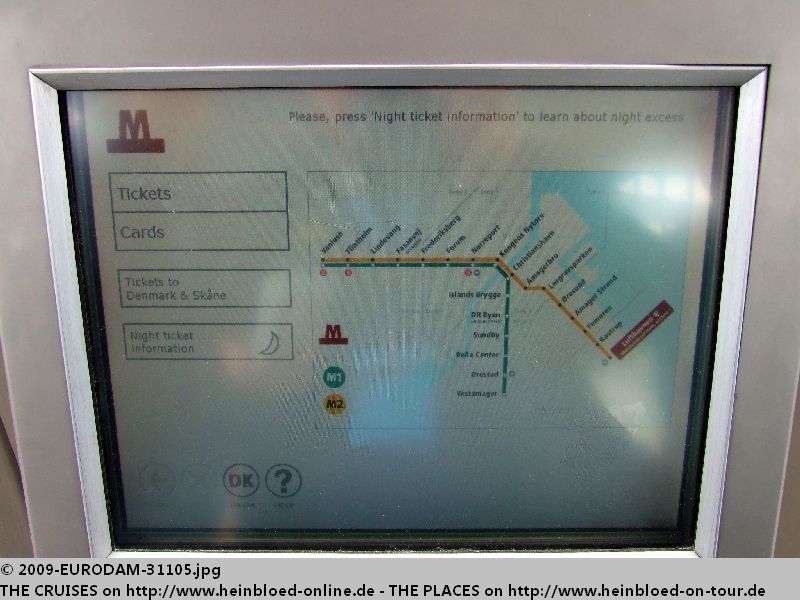 What is the difference between "tickets" and "cards"? I wanted to have a day-pass but I cannot find them with the one or other. (It's available for all zones in Northern Sealand (so incl. Helsingör to the North...) for 120.00 DKK - but not just for Copenhagen City Limit.)

So we purchased "tickets" for single journeys.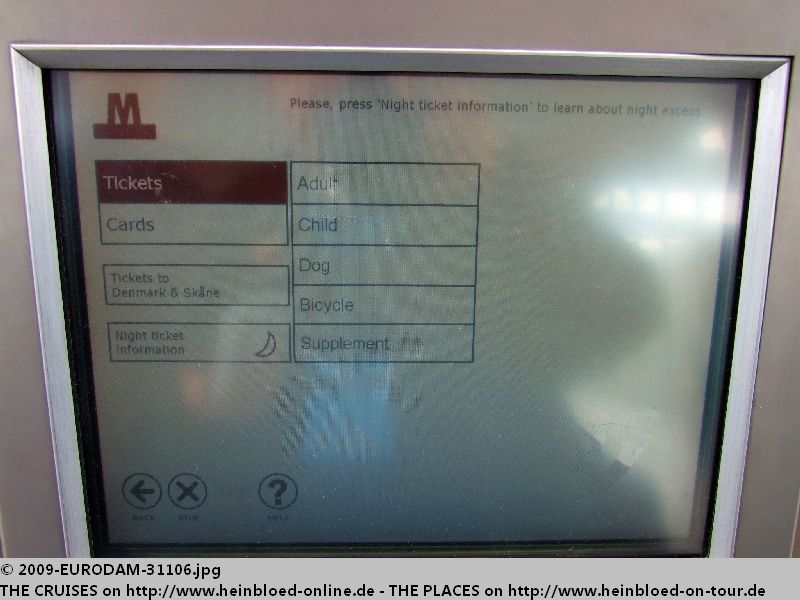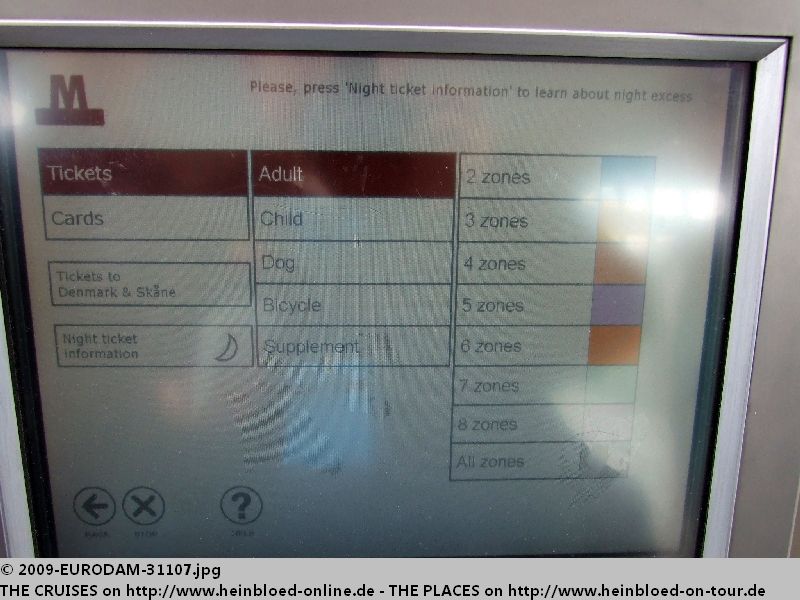 By mistake we purchased tickets only for 2 zones, which cover more or less the City Center of Copenhagen or a journey from the City Center to Nordhavn (Frihavn-Cruise Terminal). (21.00 DKK / July 2009)

But you need 3 zones for a journey to/from the airport. (31.50 DKK / July 2009)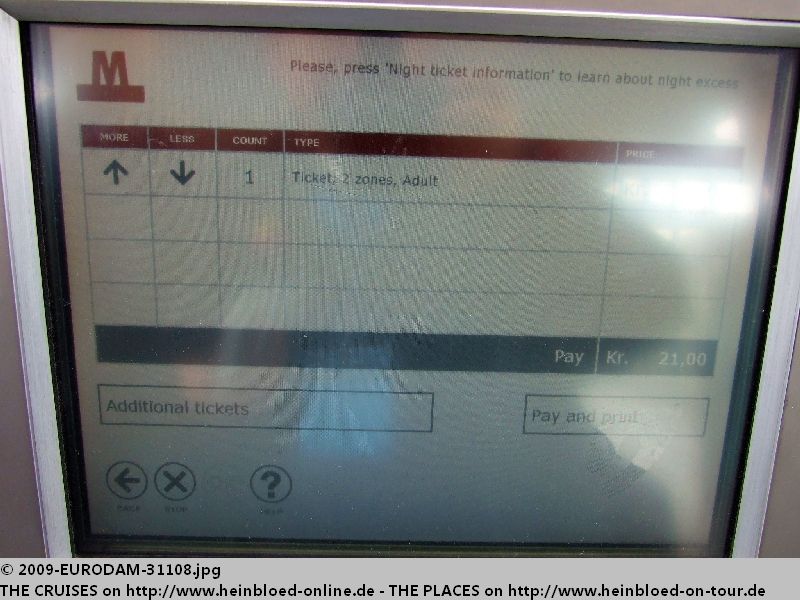 You can purchase four ticket at one time by clicking on "Additional Tickets".

Now let's surprise you...

Do you know any ATM which release change/coins???

I do not - you do not either??? Congratulation... This machine only accepts Danish change/coins...

I did not have 84 DKK in change/coins with me.

Next question: who has asked his bank for the PIN of your credit card???

Some of you: absolutely... but everybody??? Next problem: if you pay by credit card your PIN is requested...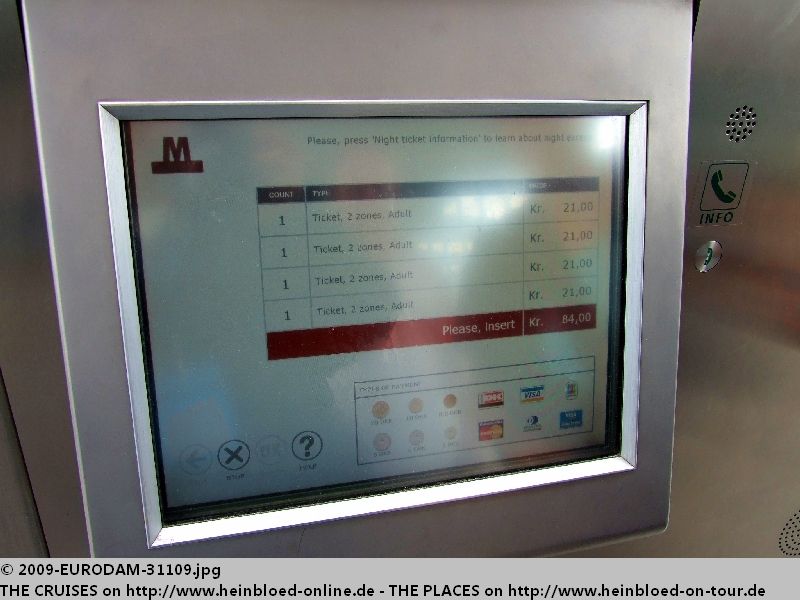 But the machine also accepts our Bank-(maestro)-Card with PIN...

That was also the luck of six Italian tourist who gave me 120 DKK in cash and I bought them the tickets with my bankcard. 6 DKK loss were my luck because I was able to see their smile for my help which was more value than 6 DKK... Hope that they were not caught by ticket inspectors... I bought them 2 instead of 3 zones by mistake...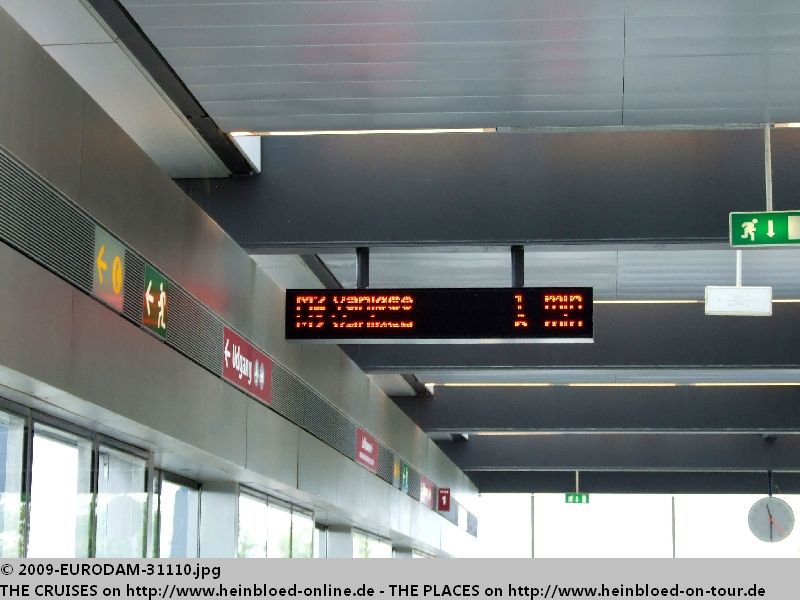 Every 5 minutes is a nice frequency.

Fully automatically without operator...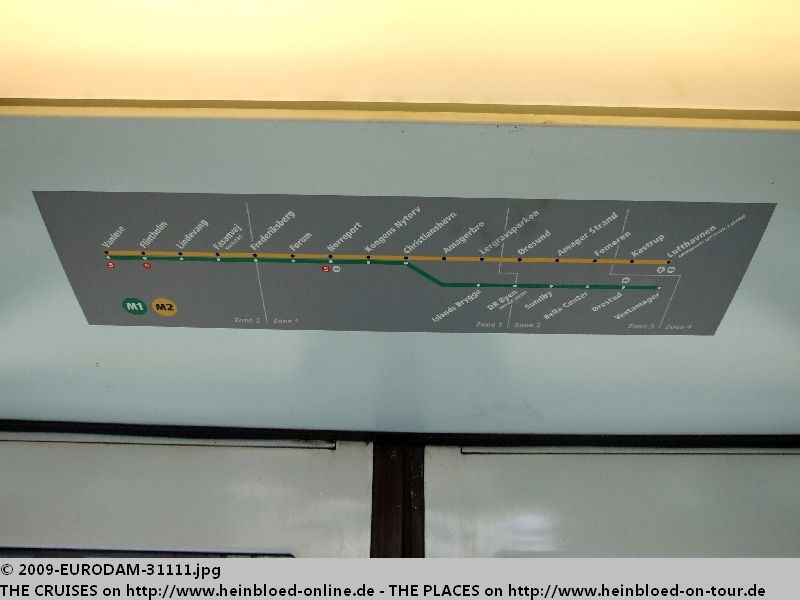 For the return journey we remember that there are two lines and we need to catch M2 for airport-bound trains.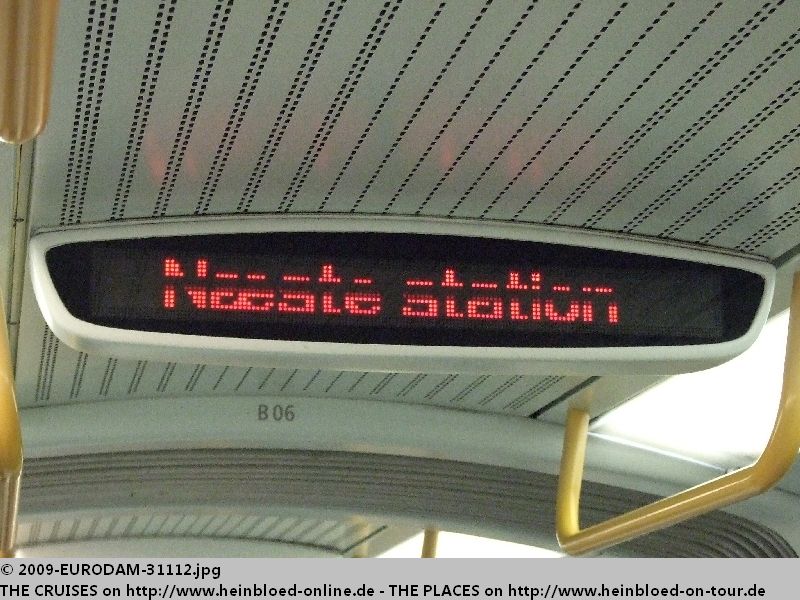 After approx. 15 minutes we had to leave the train...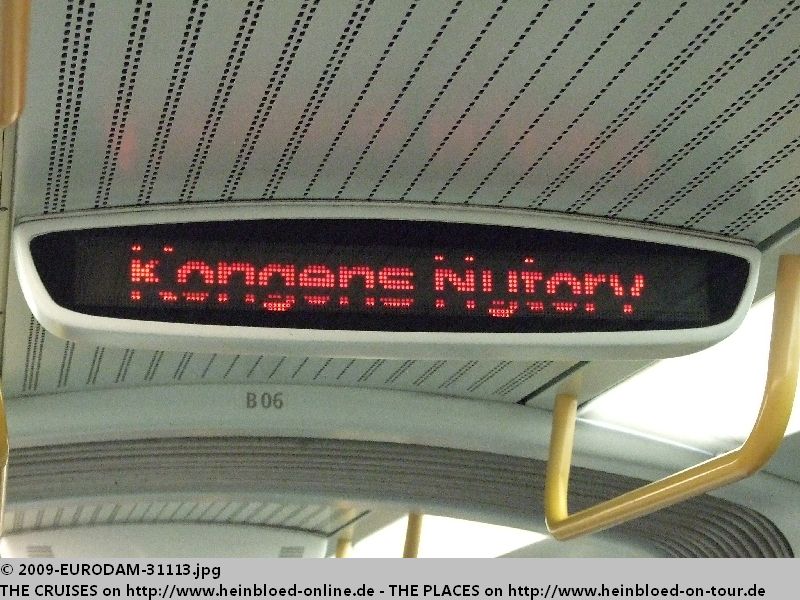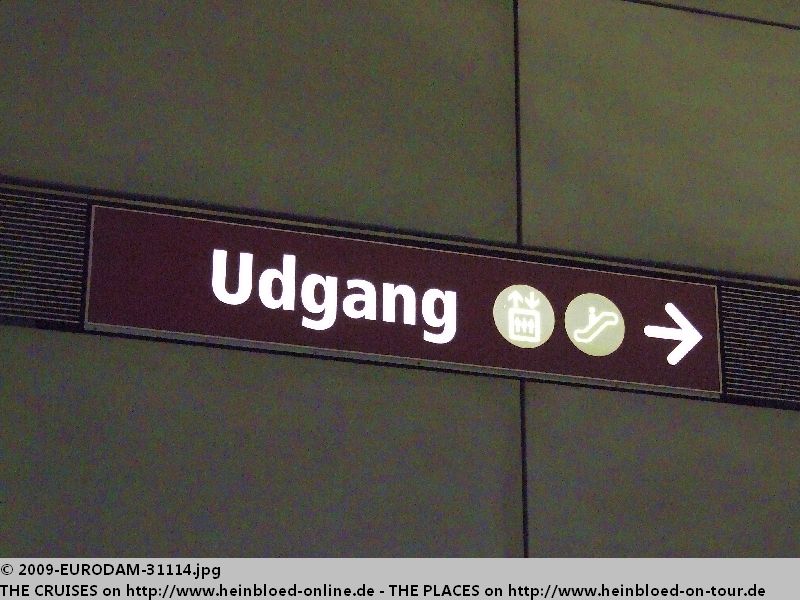 A "/ Exit" would be appropiate for an international place like Copenhagen...

But we did not need to search the exit as there is only one at Kongens Nytorv.

Just in front of the department store Magasin du Nord und opposite of the old Opera-building.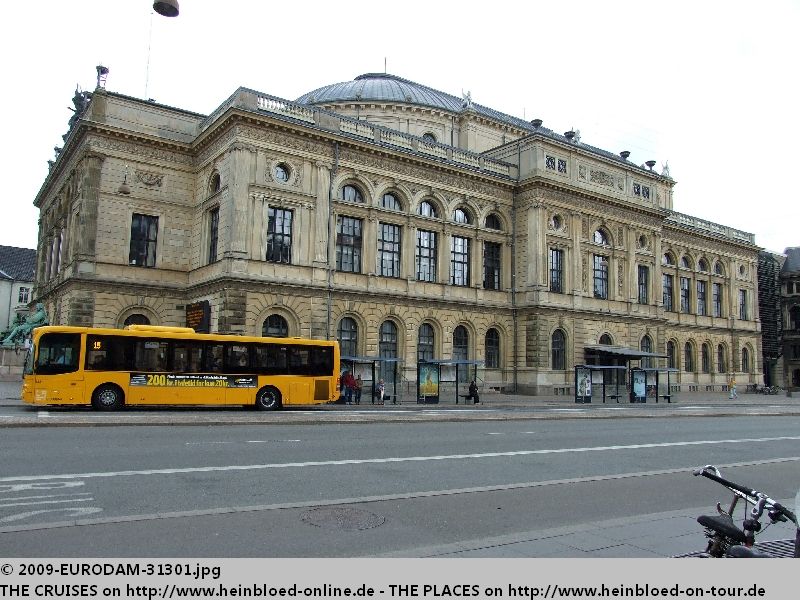 There are two companies operating the canaltours in Copenhagen.

The Tourist Information only doing ad for DFDS. Only on request their office at Langeline-Terminal told us more or LESS voluntary where the other company departs: at Holmen's Church which is same distance from Kongens Nytorv like Nyhavn.

But I did not want to start from Nyhavn and with the other company: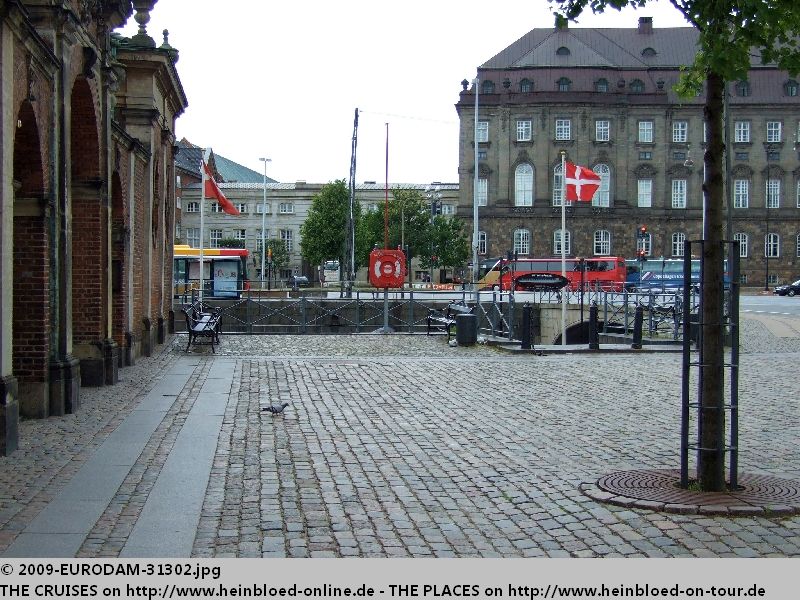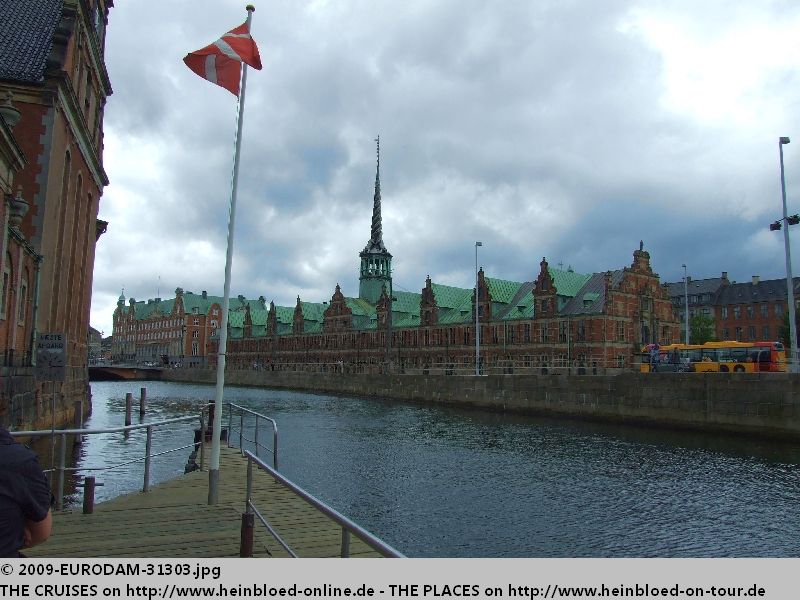 The other company, which is not existing for the Tourist-Office, is Netto-Bådene (https://www.netto-baadene.dk/index.htm).

They only take 30 DKK per person (instead of 60 DKK with DFDS).

But they do not accept credit cards and EUR and USD at the non-advantaged rate of exchange. When we wanted to pay in Euro we were asked for DKK to make sure that we get the best price.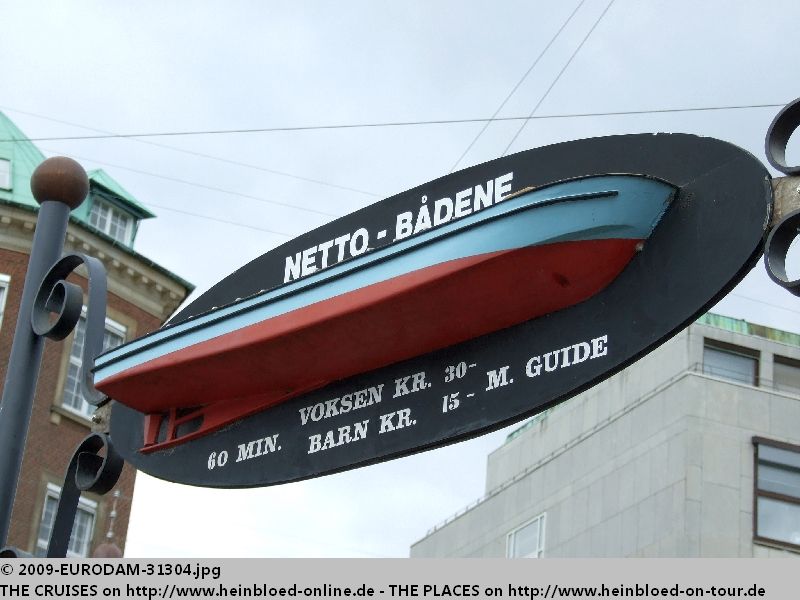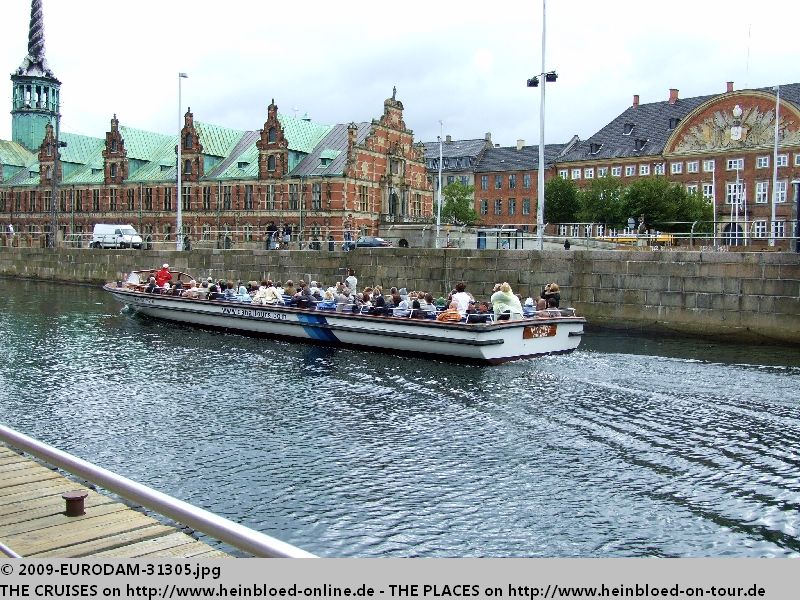 That's the boats of the competitors: DFDS Canaltours (https://www.canaltours.dk/).

I do not like them in my job so I do not want to deal with them during my vacations either.

Just when our tour should start there was a little rain for few minutes. There is one glass-roof-boat in their fleet but just from Nyhavn. While DFDS has several glass-roof-boats in their fleet we can see how they exchange the boats by and by. But after few minutes it stopped to rain.




Normally you get live comments in English, Danish and German. Because there were also some French onboard we got all comments in French as well. The operator went so slow that there was not matter which language you were listening to: you see all sights with your comments but I was listening more or less all comments four times in the different languages...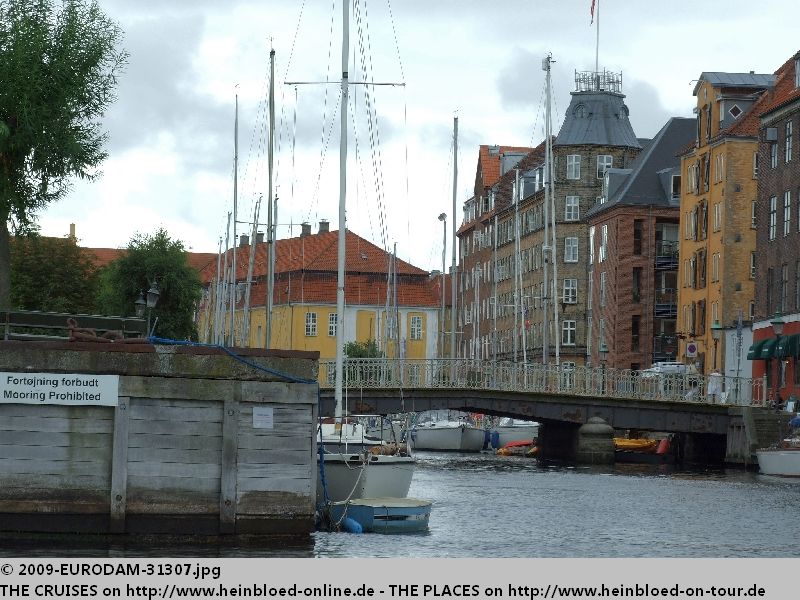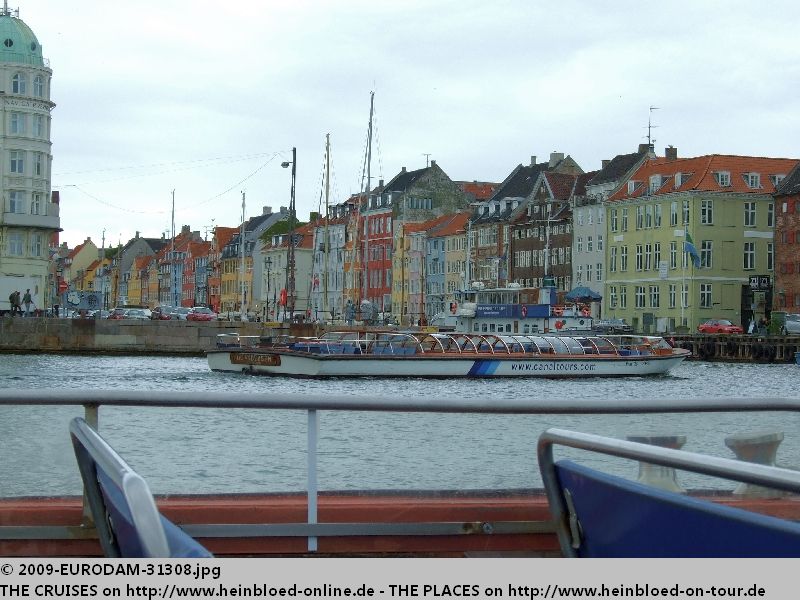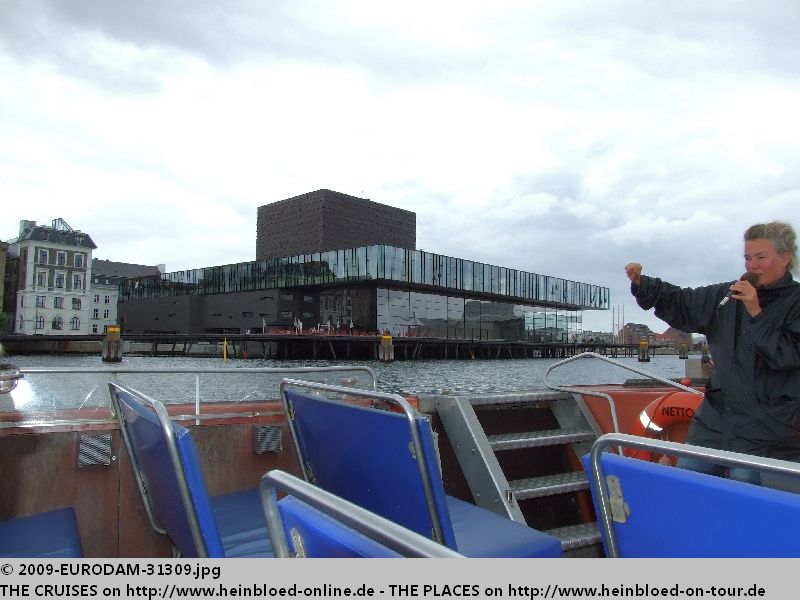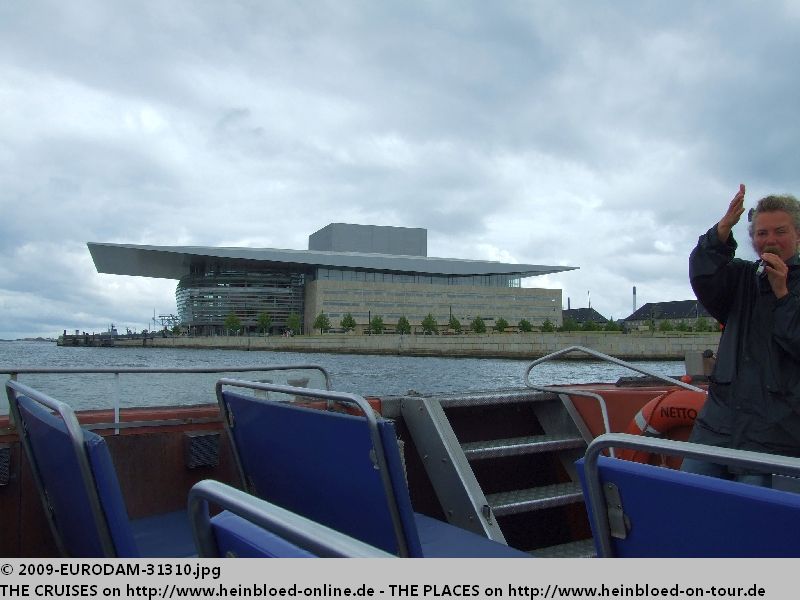 The new Opera House was a donation by the shipping company Mærsk. But that was not true. Because our container shipping rates were so high with Mærsk, you should normally tell that I was donating the Opera House...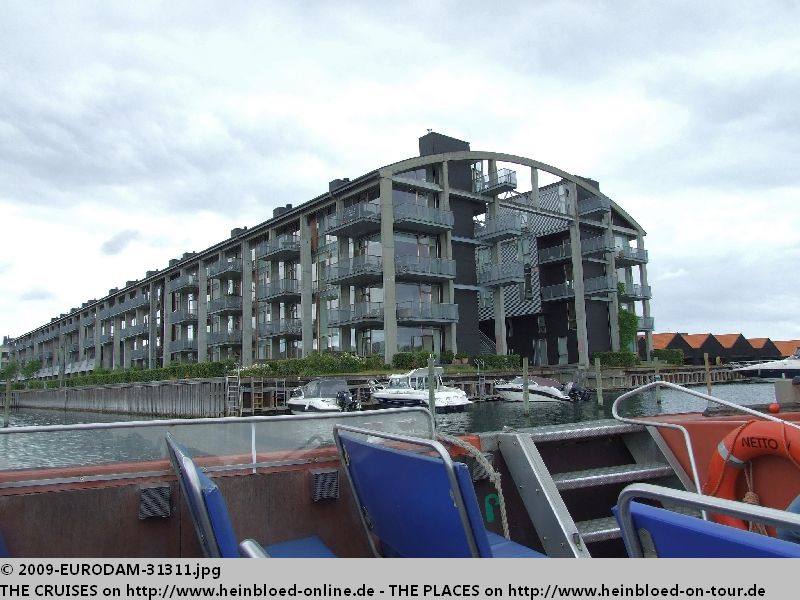 We went through a former Navy Base which was changed to a Residential area. Here is the former shipyard where the built torpedo boats.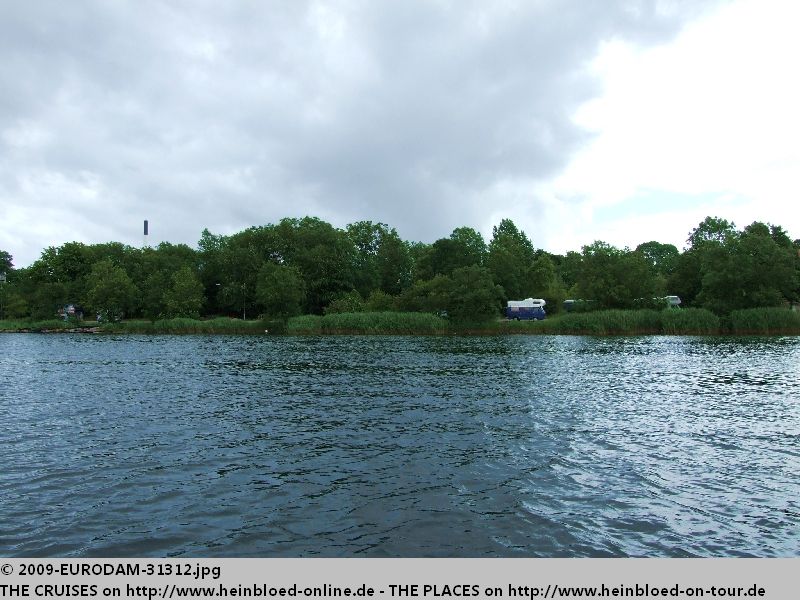 That's the border to the Free State of Christiana. As taking pictures is not allowed and we had anyway no time, we did not visit it.

That looked interesting: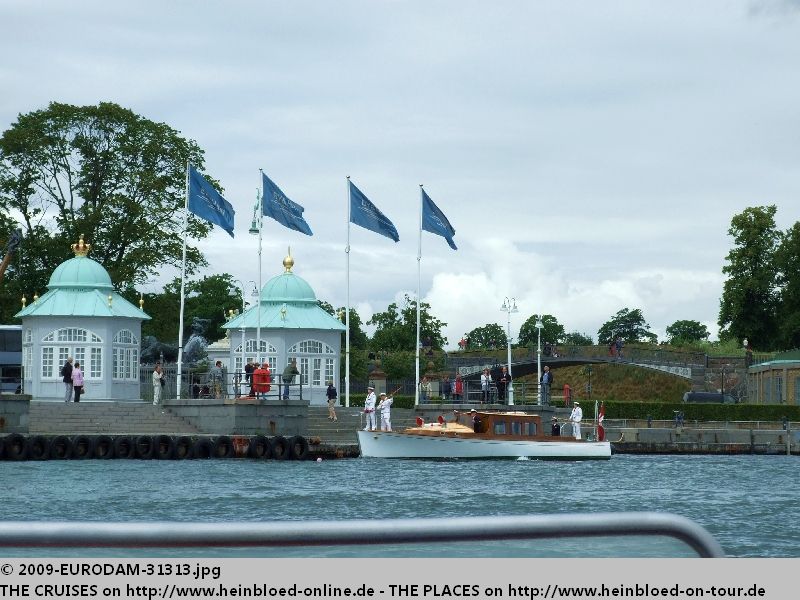 Our guide told us that she would revert on the way back.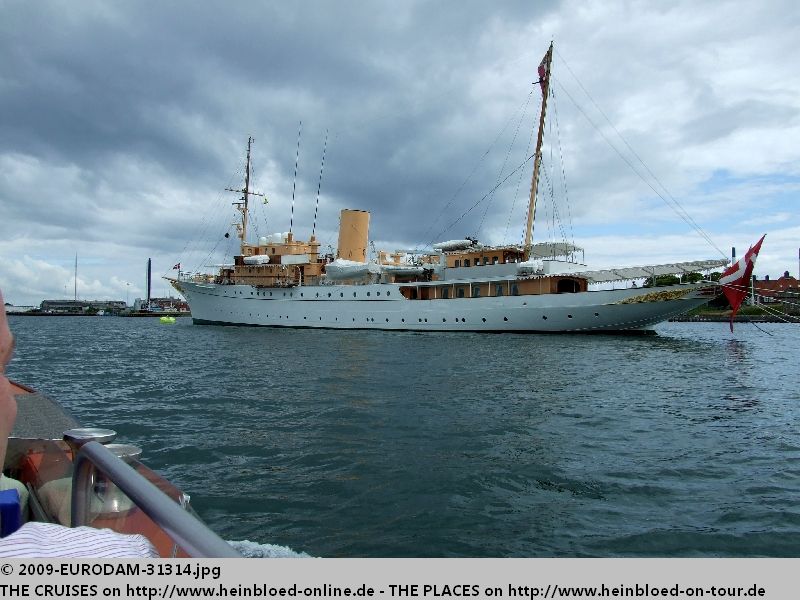 And you could get so close to the Royal Yacht DANNEBROG.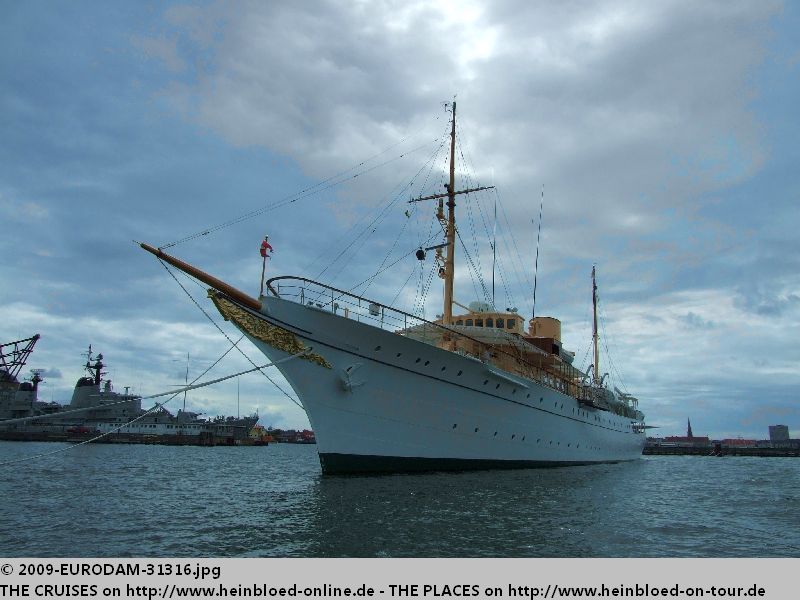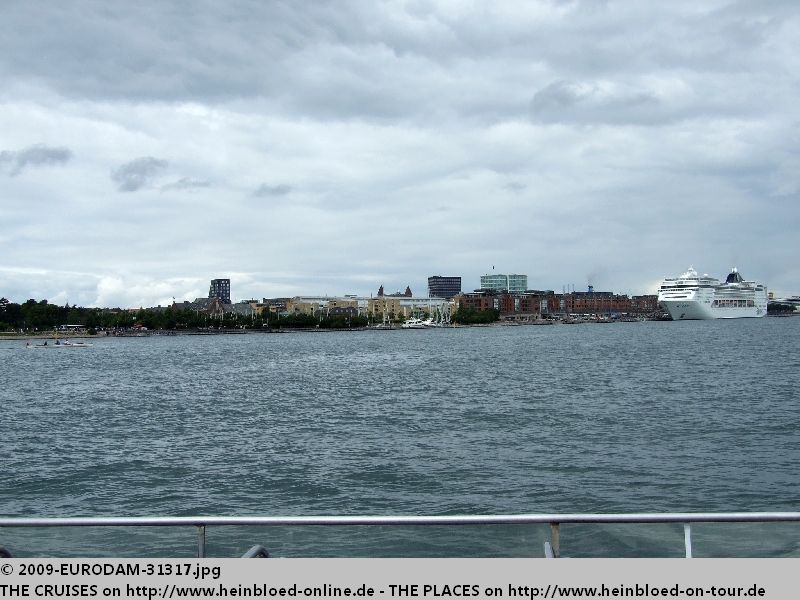 So close is the Little Mermaid located to the Langeline-Terminal.

Still crowded. We were so happy that we saw her already this morning.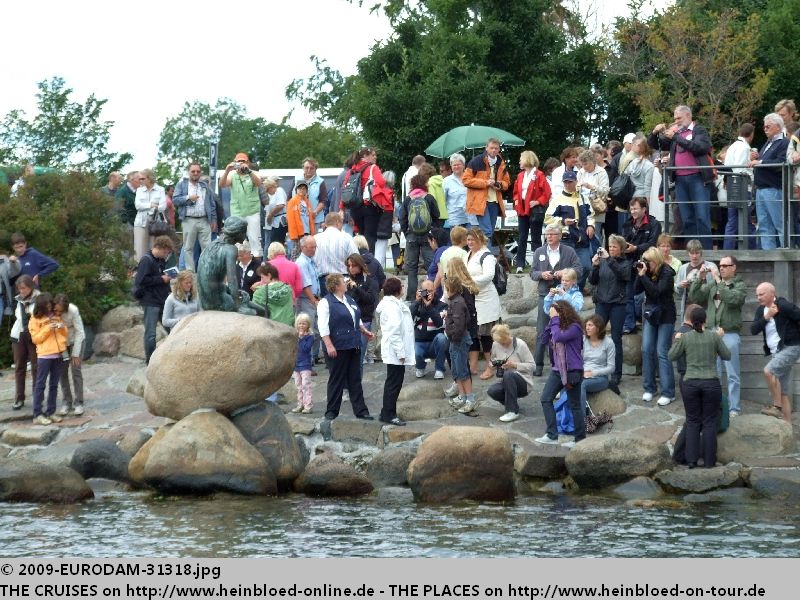 The guide explained that this was the Royal Tender.

Does it mean that ROYAL CARIBBEAN use them??? Maybe one single reason to book with them again...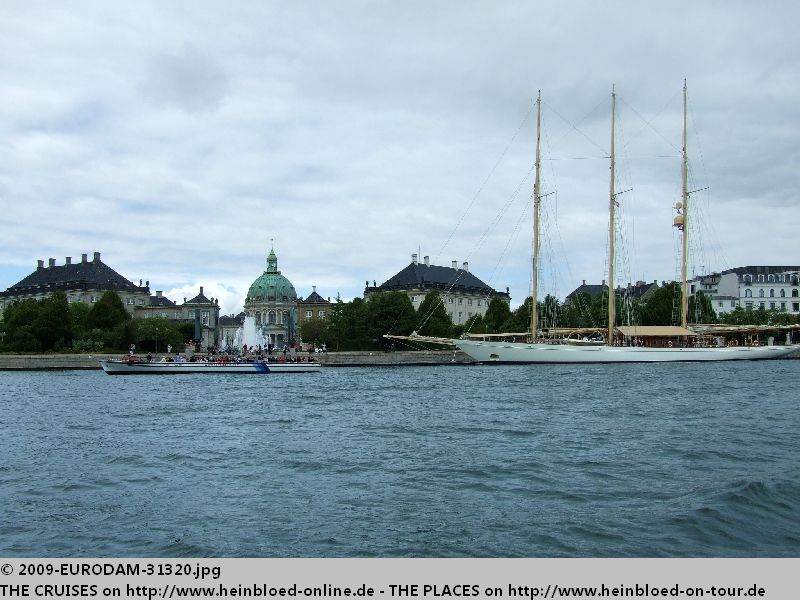 And the same place like this morning but from the rearside...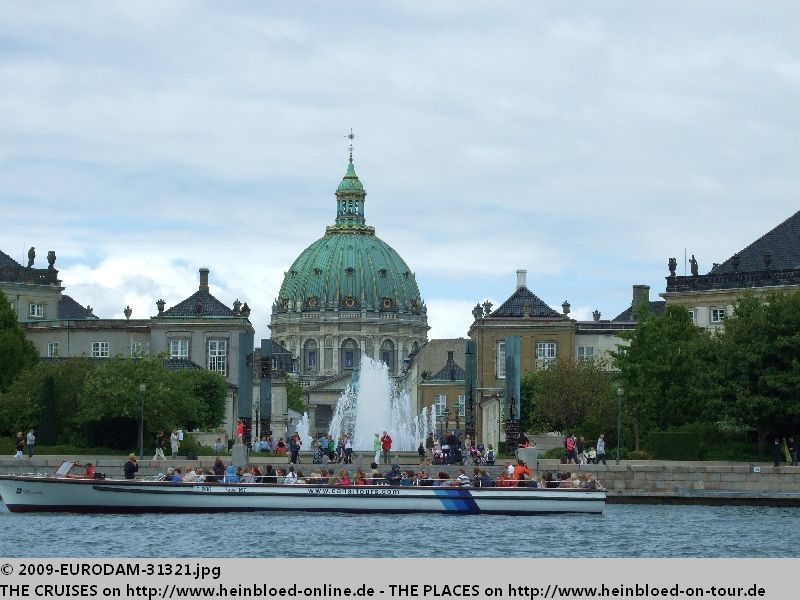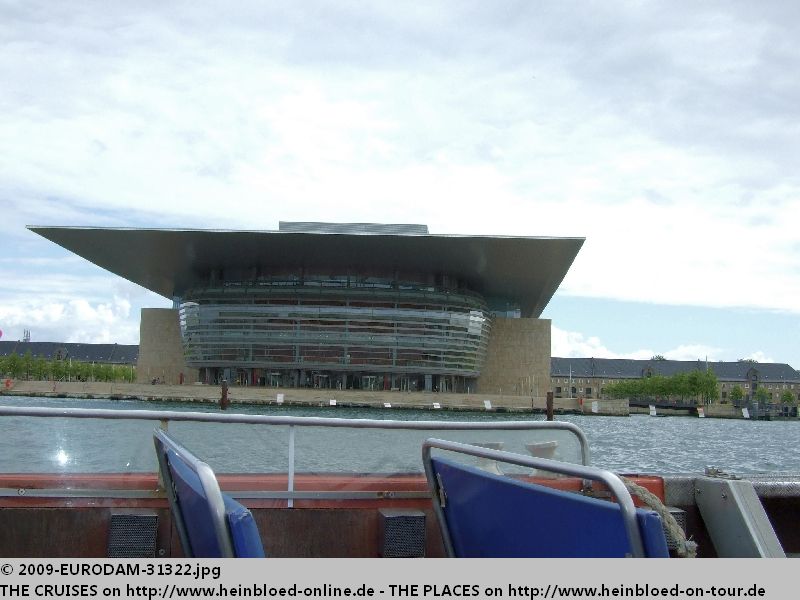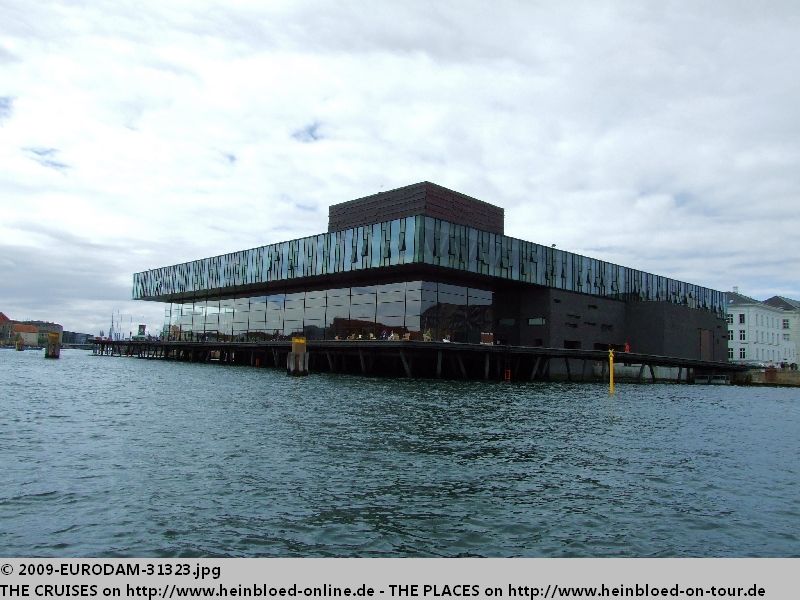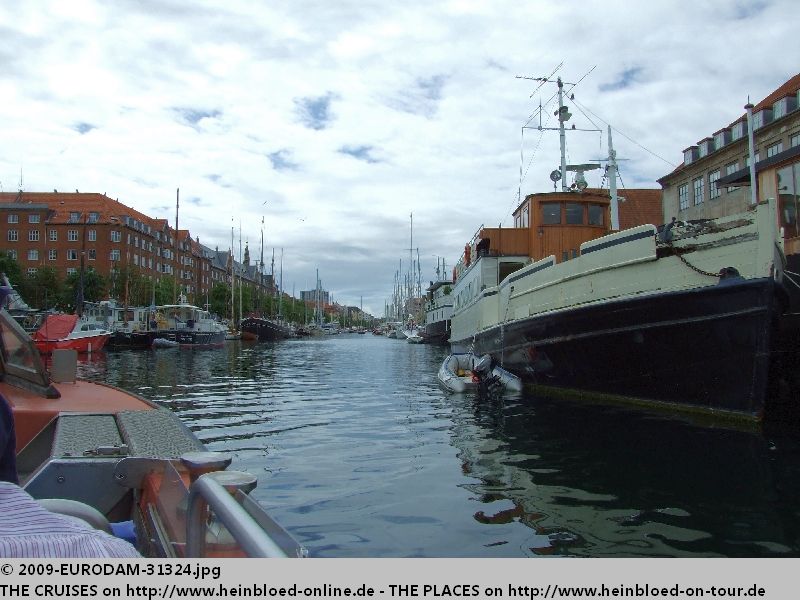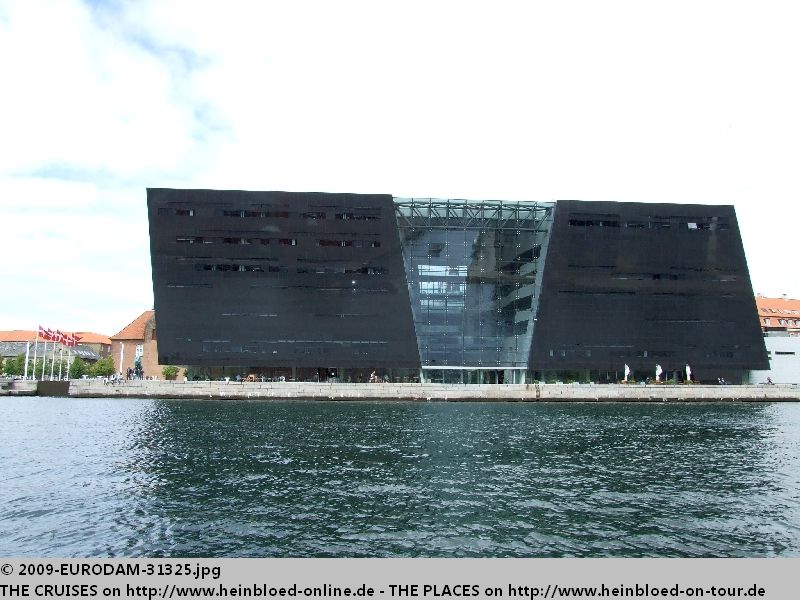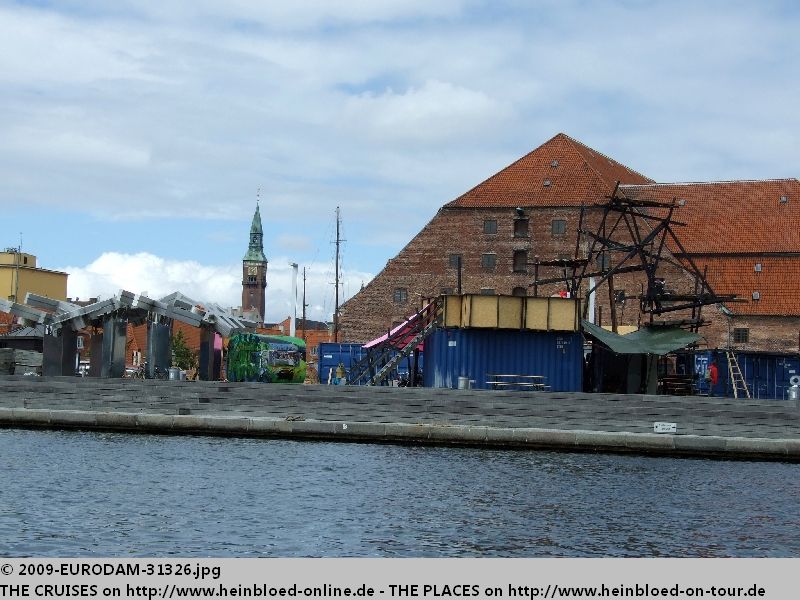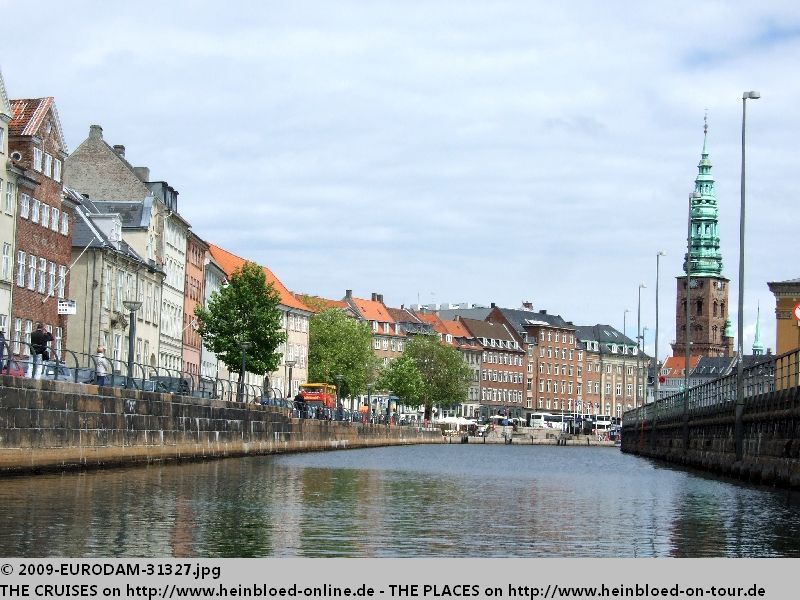 Few yards and after one hour we were back at Holmen's Church.

And we could see on the way for our next transit in Copenhagen: Bus 26 is very practical for cruisers...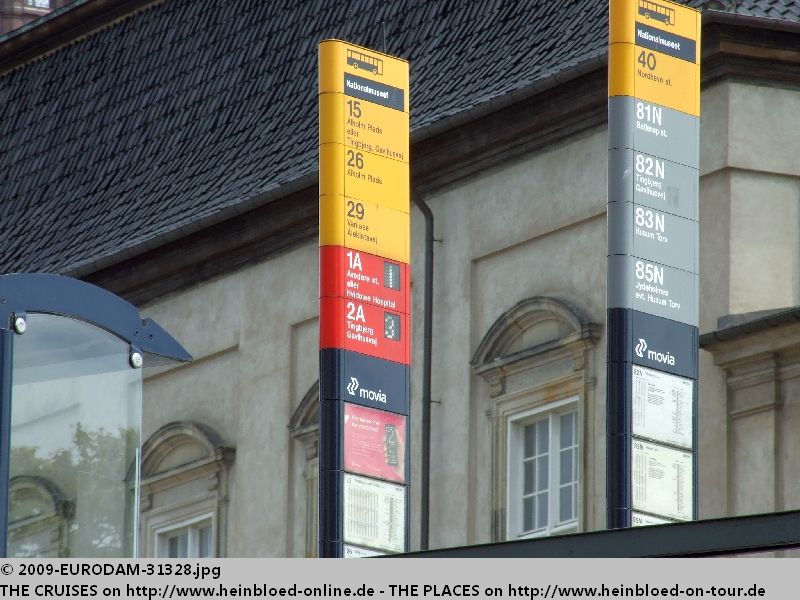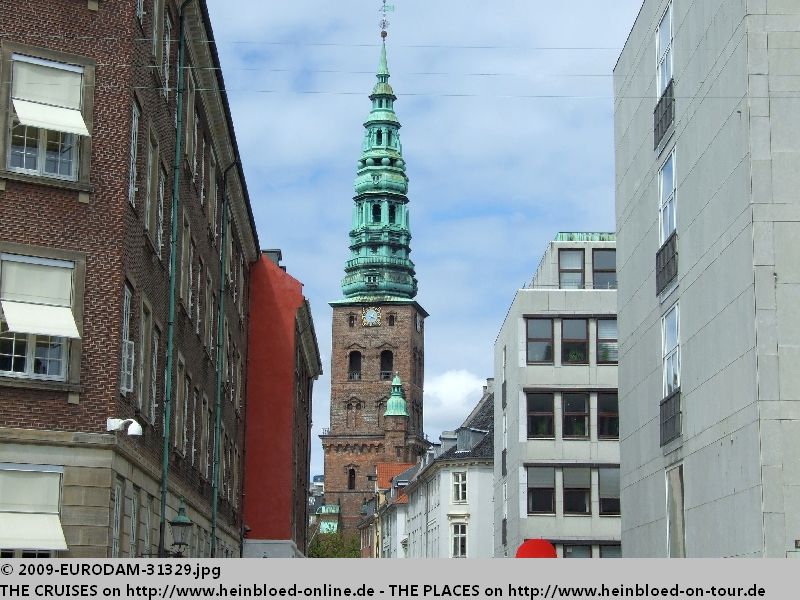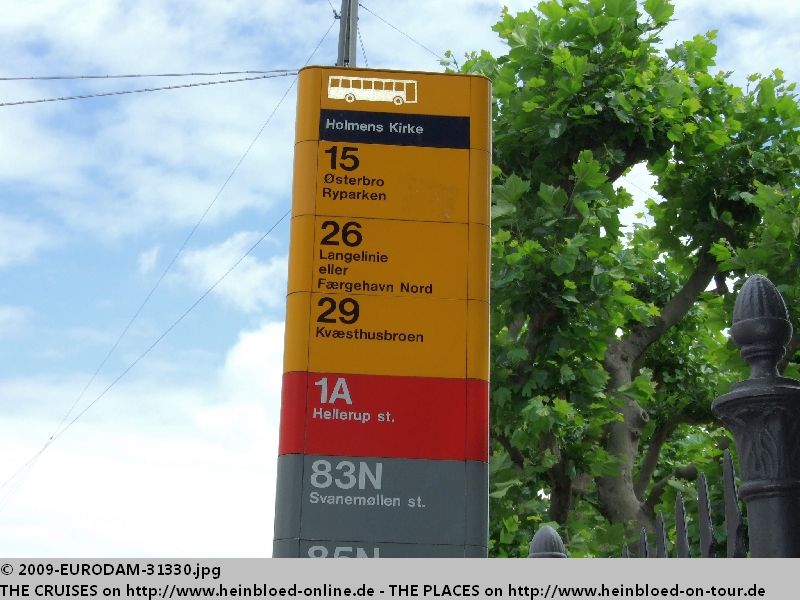 So it's easy to get back to the Cruise Terminal.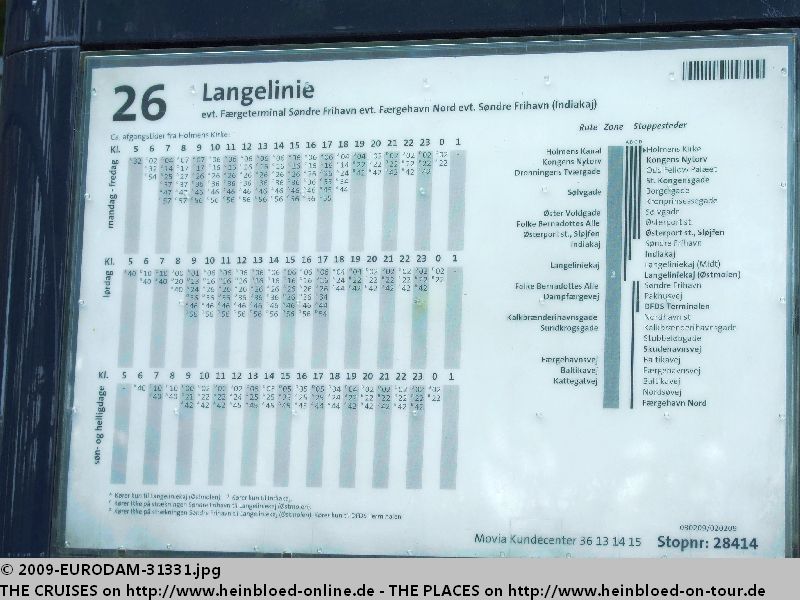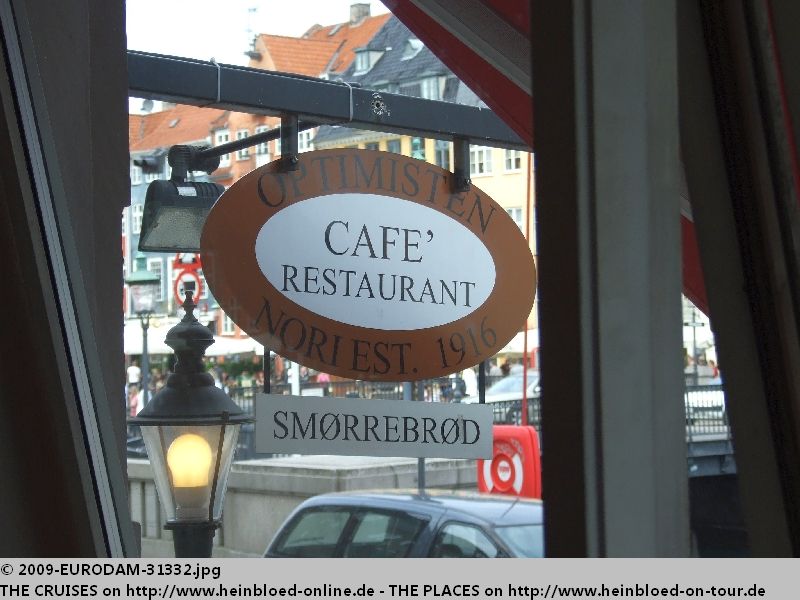 Unfortunately all famous Smørrebrød-(Danish open face sandwich)-Restaurants are closed on Sunday. It's a typical lunch when you are at work. But in July all good restaurants are closed anyway.

So we went to the tourist-ripp-off Nyhavn. One side facing to Kongens Tytorv with one restaurant next to the other and you see it on the menu card... and the other side facing to the open sea where we got a platter with three Smørrebrøds for less than 100 DKK...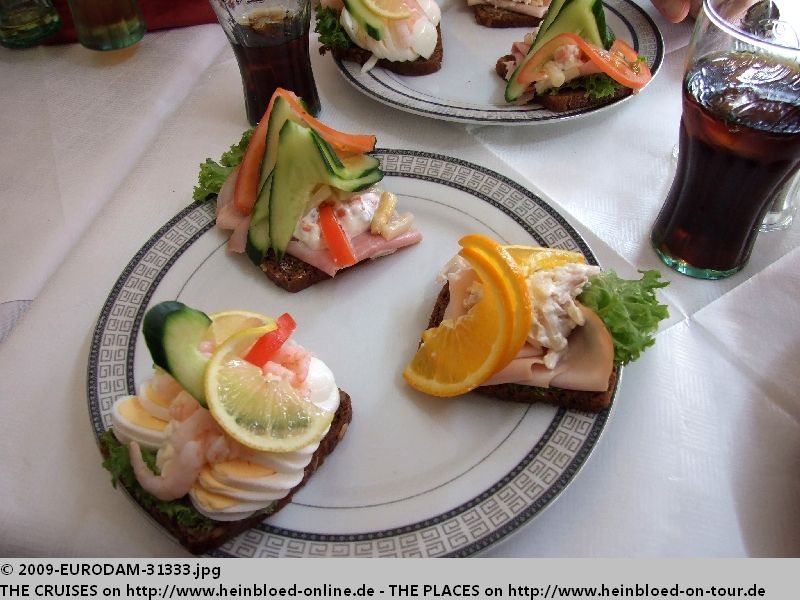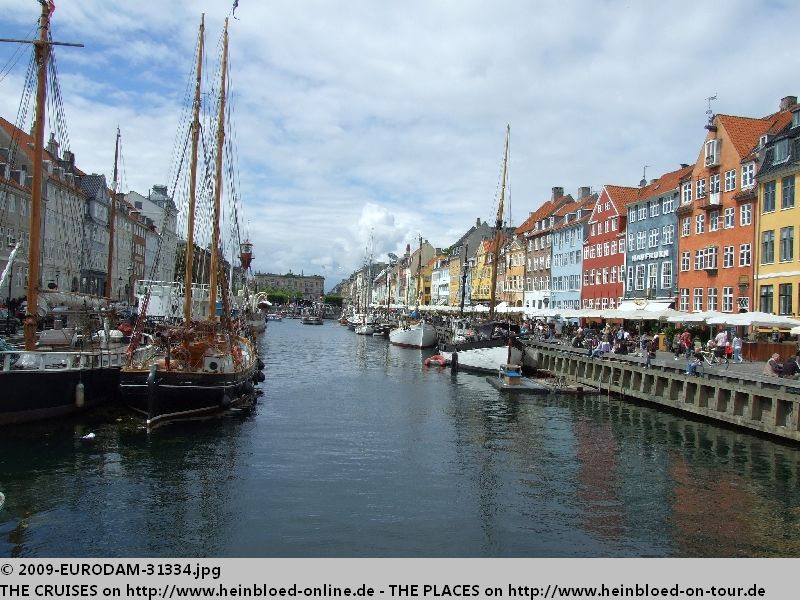 As Bruno's sister and brother-in-law need to return to the airport we did not walk all the way with them to Tivoli. So we went slowly to Kongens Nytorv to get them back on the subway towards the airport.

This would have been the boarding point for Netto...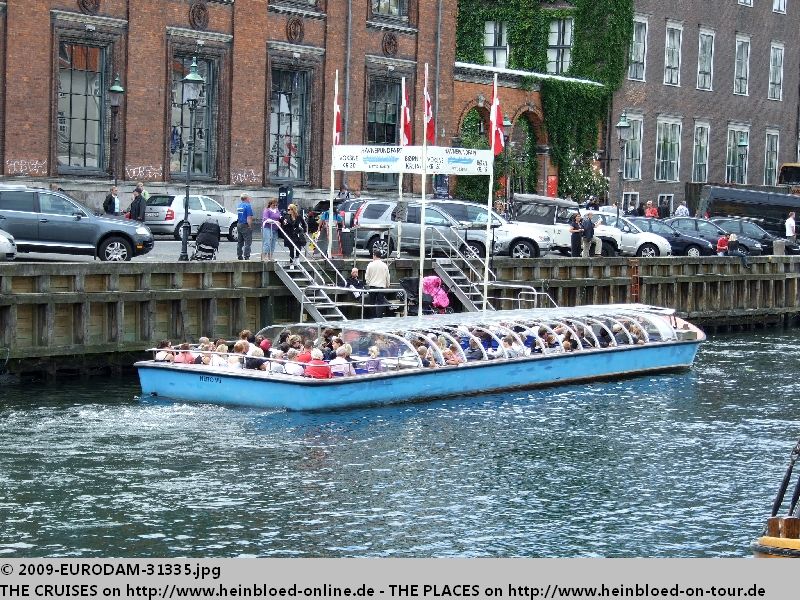 ... and with a glass-roof-boat but watching how many guests were onboard and also to see how many were on DFDS' boat we were more than happy to board the tour at Holmen's Church.

DFDS offers also HoHo-Service. These boats were mostly empty because there are no guides on. A day pass is also 60 DKK.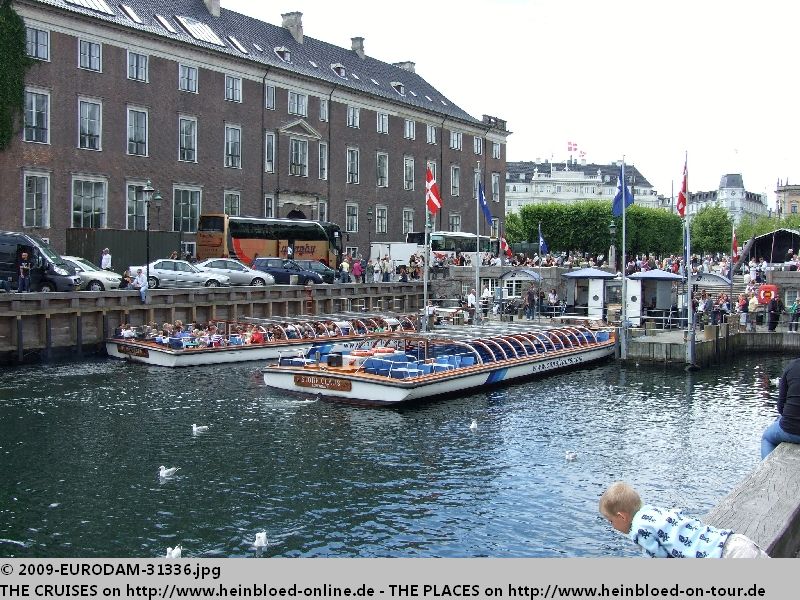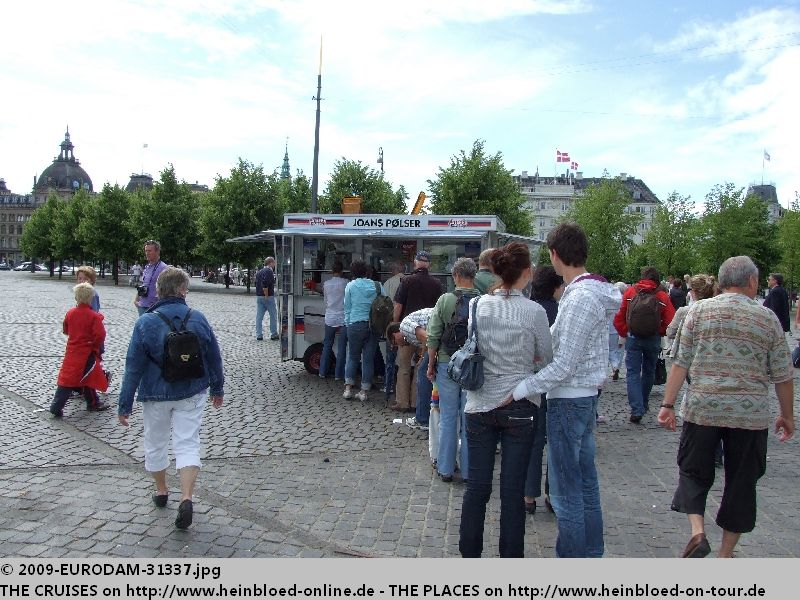 Somebody told me that should be the most famous Røde Pølser-(Danish Red Hot Dog)-stand, what might be the reason for the long queue.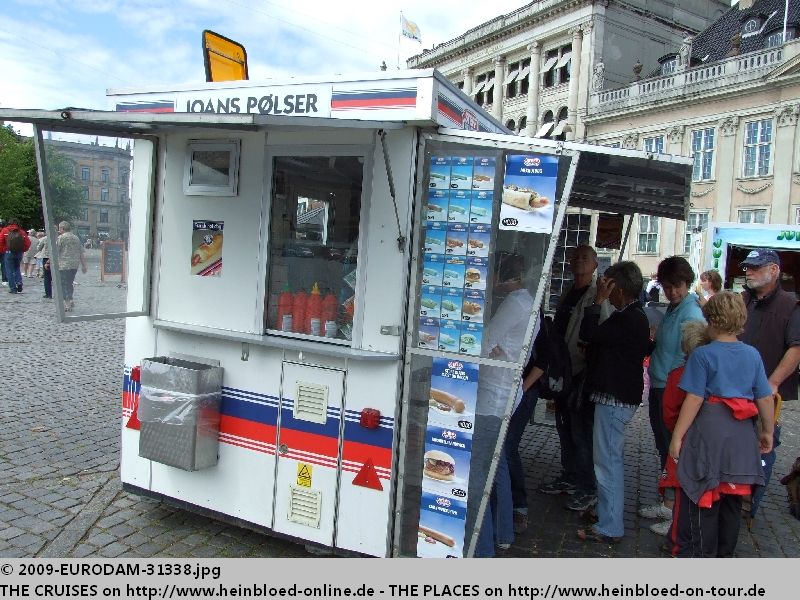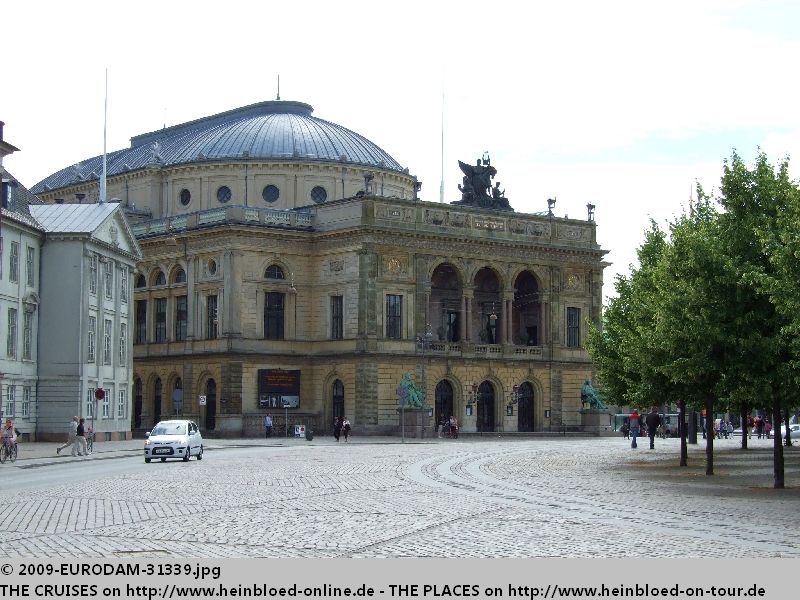 So we were back where we started our walking and canal tour: in front of the Opera building but just from the square side...

Subject we will get the jack pot in the lottery we would like to stay here at the Hotel de l'Angleterre...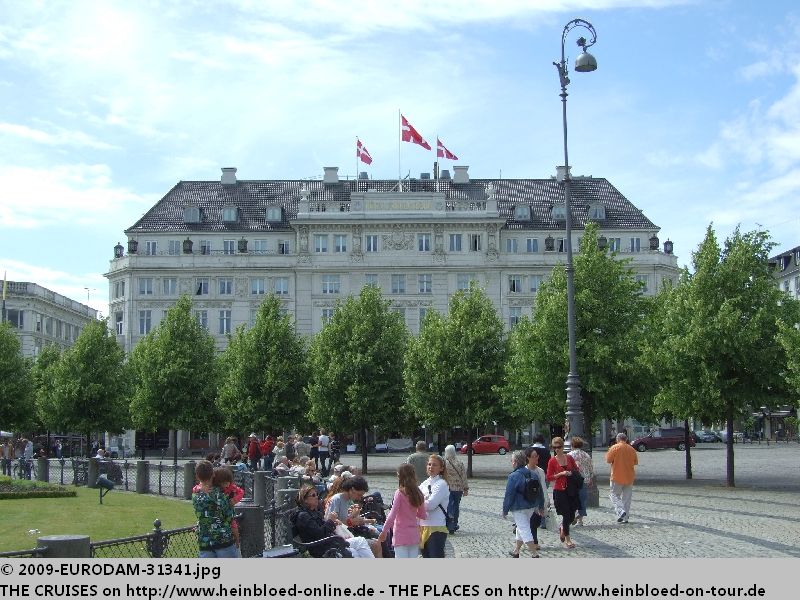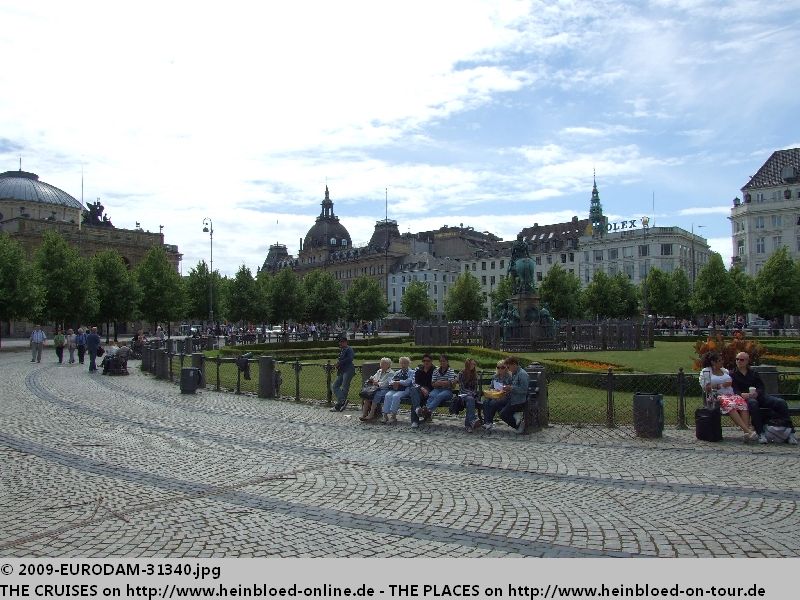 On the left side that's my most favorite department store in Copenhagen: Magasin du Nord. Unfortunately it's only open on the 1st Sunday in a month.

Now it was time to say good-bye to Bruno's Sister and Brother-in-law...

Our tour has not finished yet: We continue the story in a 3rd separated blog (3.3) due to organisational reason... Undskylt!!! Sorry!!!