Um auf die deutsche Version zu kommen, bitte unten auf dieser Seite auf

Older Post

anklicken.

The very first time I woke up too late. No wonder: I missed the Sound passage at Helsingör/Helsingborg and how we entered Copenhagen - because of our Cruise Director JT. I stayed much more longer awake last night and it was one hour shorter...

AZAMARA JOURNEY did not make it into the port without my knowledge.

Although she was sliding into the basin: I noted her somehow...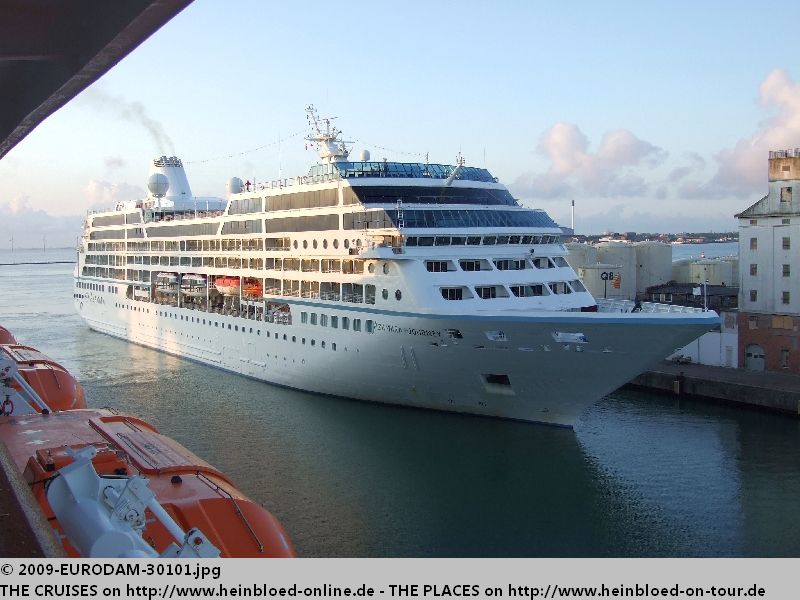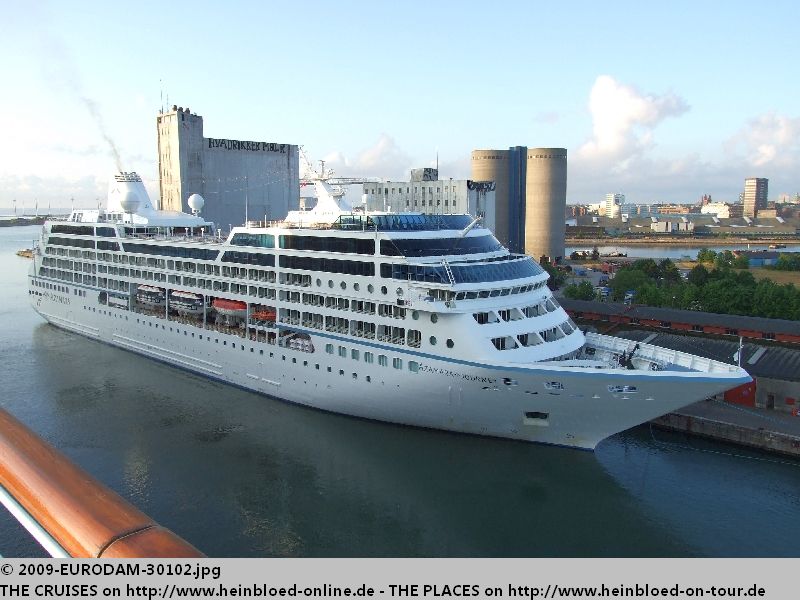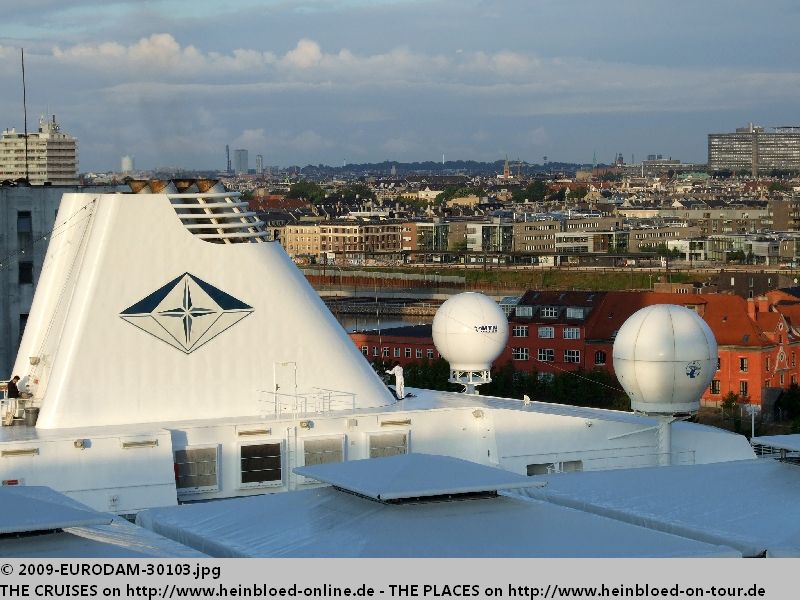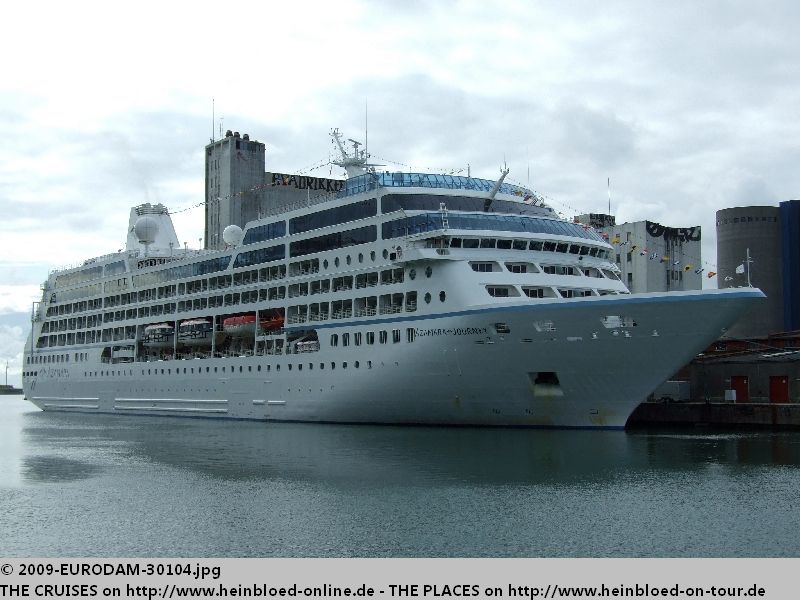 As we already turned around I could not see all the port's life. So I went up to the upper deck and looked around. To keep my discovery in one block you see also some impressions although they were not discovered the same early time.

To buy some souvenirs you do not need to go to the city...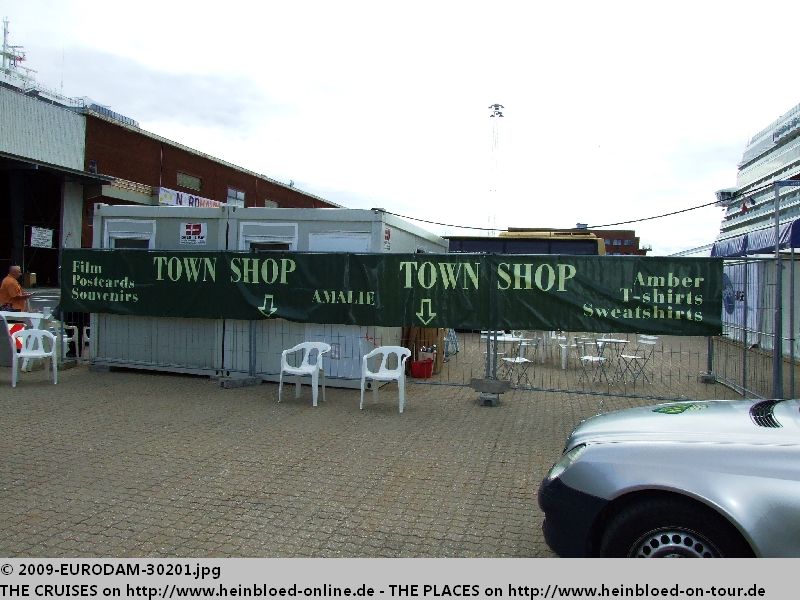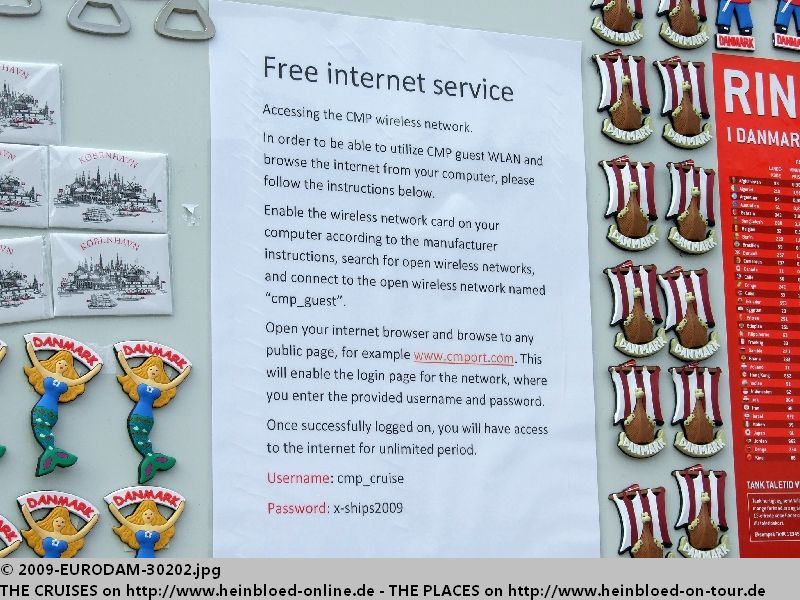 You better should known on board: you have free WiFi which I might have used from my varandah for my picture-transfer to my blog:

Network: cmp_guest
User: cmp_cruise
Password: x-ships2009

Parking in Freeport is available: 15 EUR per day and 80 EUR per week.

But I could not find the map of the parking...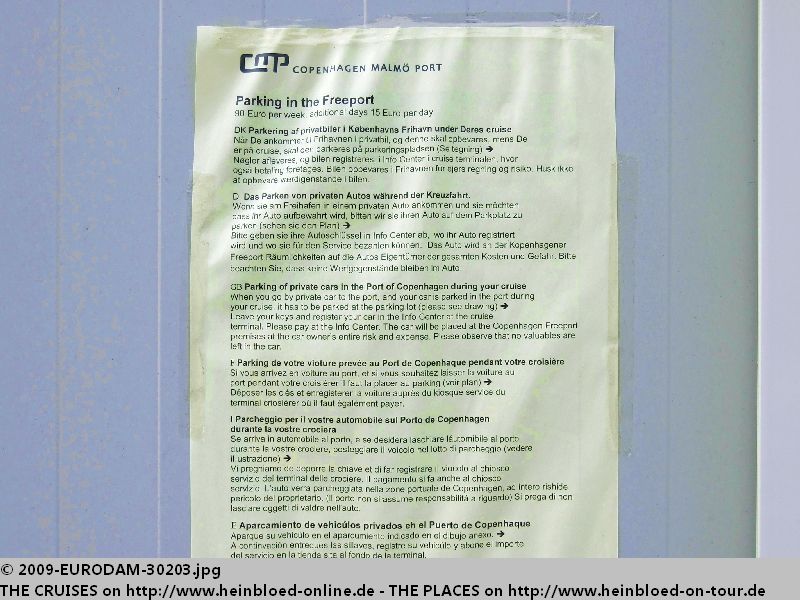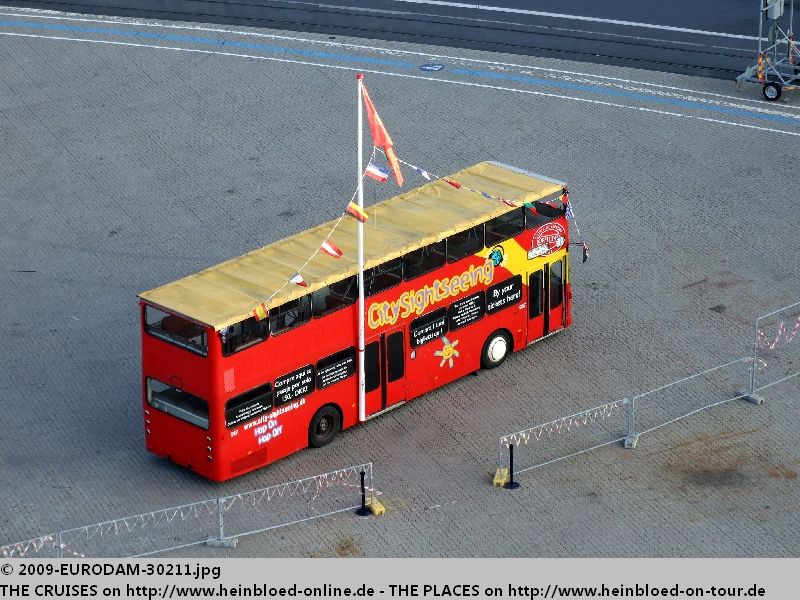 Who is transitting Copenhagen by cruise ship can use the Ho-Ho-Bus offer directly at the port... This one is only for decoration... The real buses came later and it costs 150 DKK per day...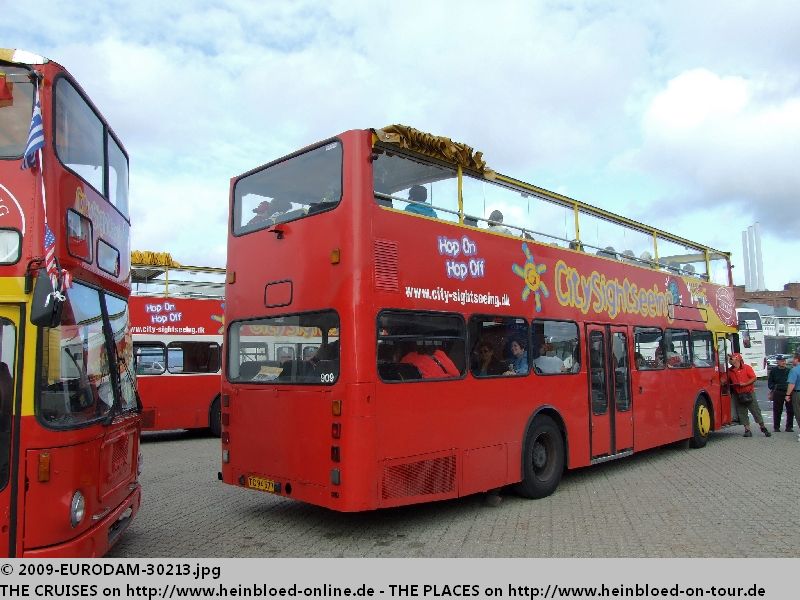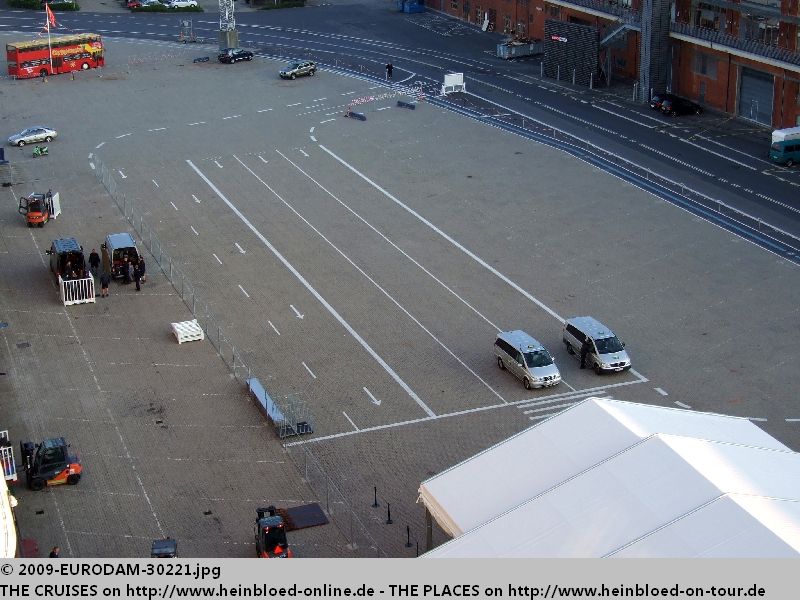 At 06.00 hrs there were only two van-cabs available...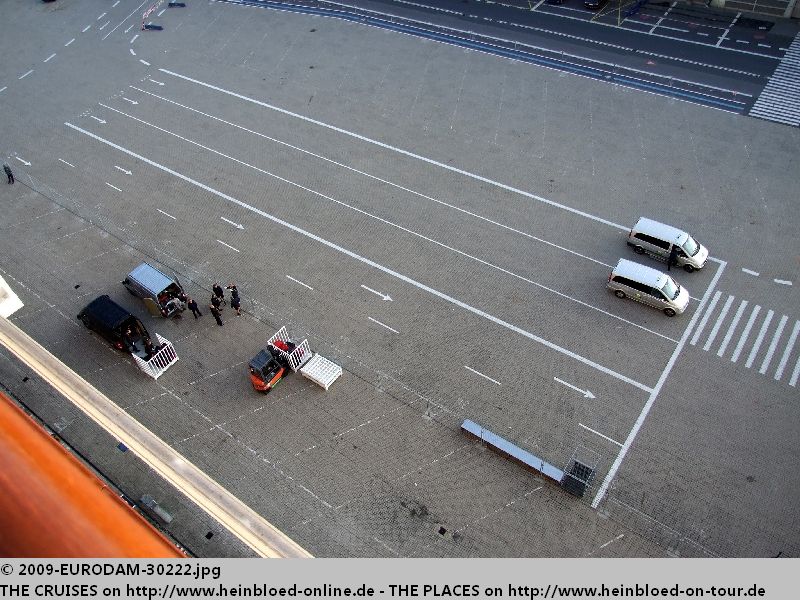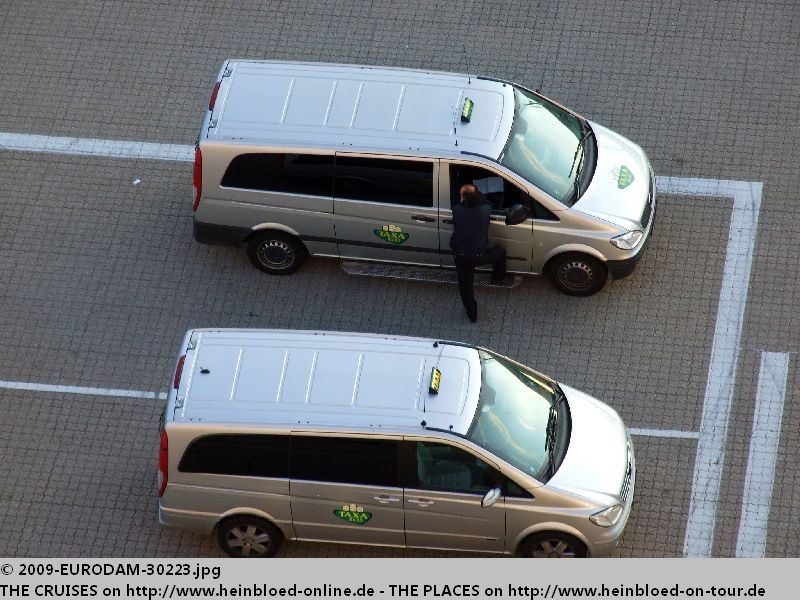 But for the next time I will note that also Taxa 4x35 = (+45 35353535 / https://taxa.dk/), for the worse case that we are more than 3 and we need a van...

But until 08.30 hrs there were more and more taxis coming...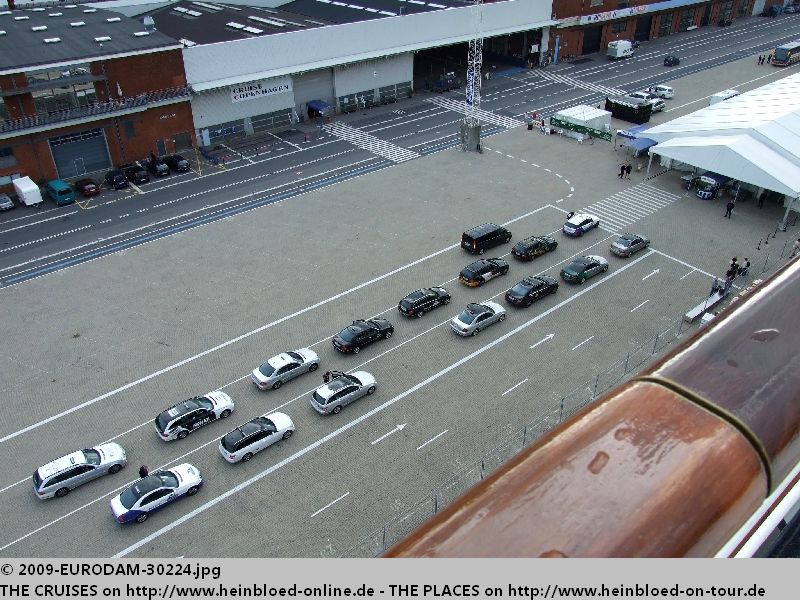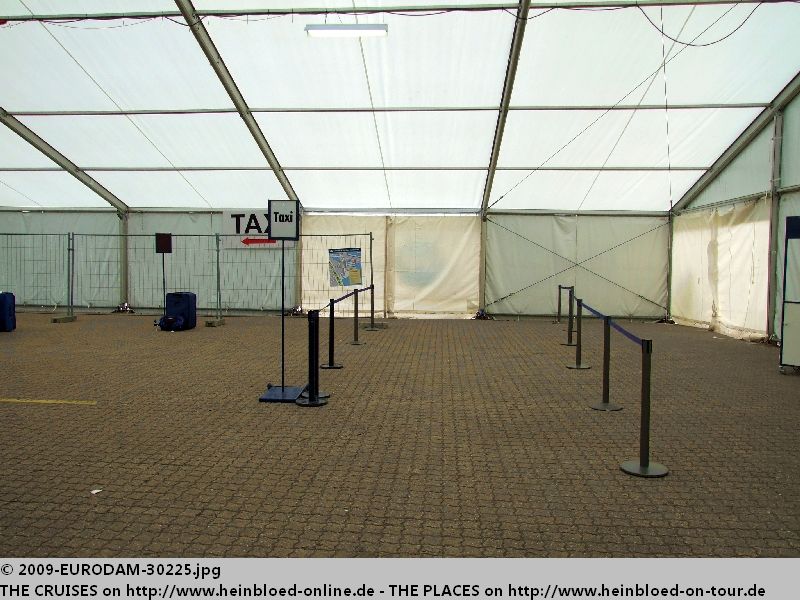 For 09.30 hrs we booked our taxi. That's why we got new baggage tags for leaving at 09.00 hrs. But as only half of the passengers were debarking in Copenhagen it went very fast. 09.15 hrs would have been enough.

Well managed with two queues: one for limousines for upto 3 passengers and the other for station-wagons and vans for parties of 4 and more: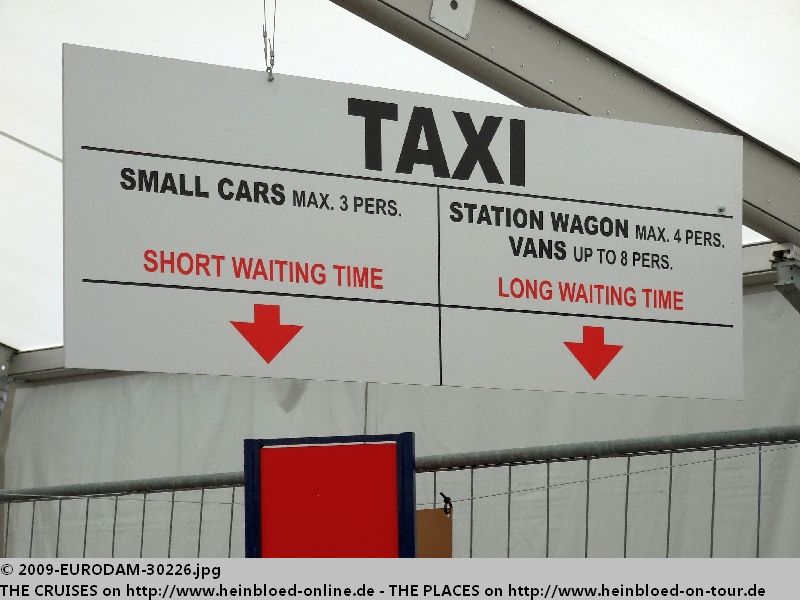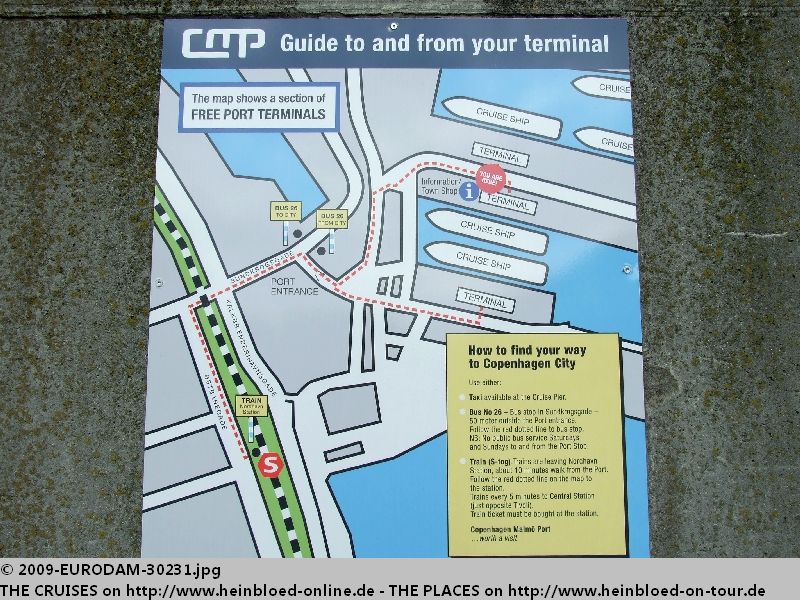 I was using the wait time to do my researches:

The accessibility by public transport is not so good.

Our taxi driver told us a ride to the Central Station is about 120.00 DKK and to the airport about 300.00 DKK (2009).

Bus 26 only operates Monday to Friday and on the weekends it only serves Langeline-Cruise Terminal but not Freeport-Cruise Terminal.

As it is a Sunday: 15 -20 minutes walk to the commuter train (S-tog) station Nordhavn...

.... and who need some excersise incl. baggage...

You see left of the white building the platform and right of the white building it's the port exit. Here is where Bus 26 stops during weekdays.

But you are going a zick-zack-course to the left then to the right and then again to the left... before you are getting to the station...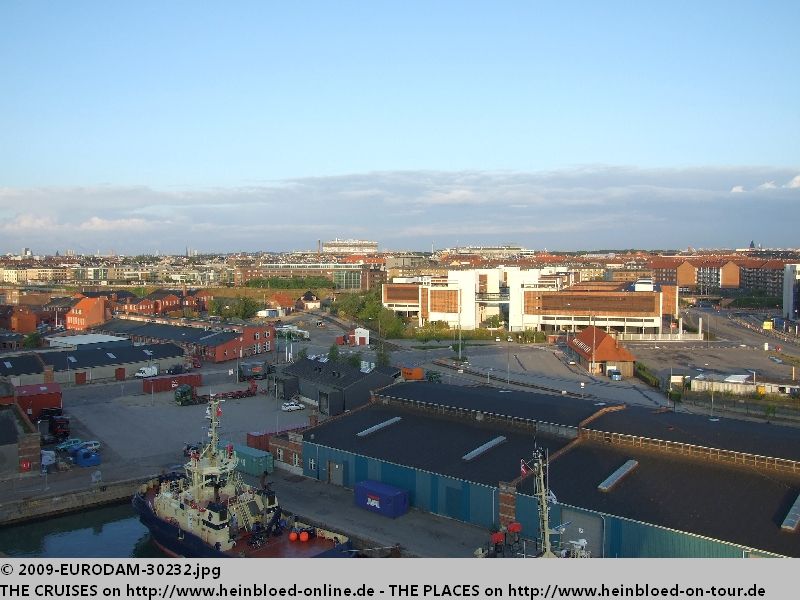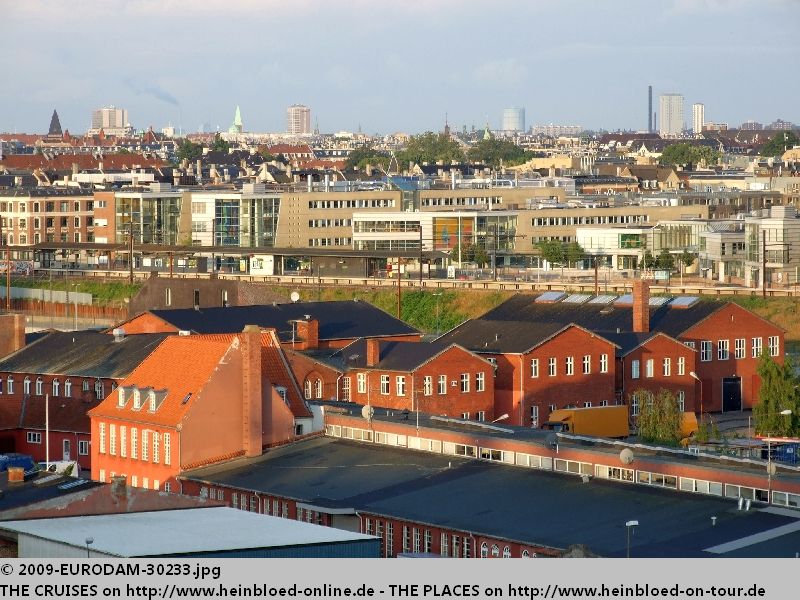 Above again the platform

and

below the port exit with the bridge you need to pass under to get to the station.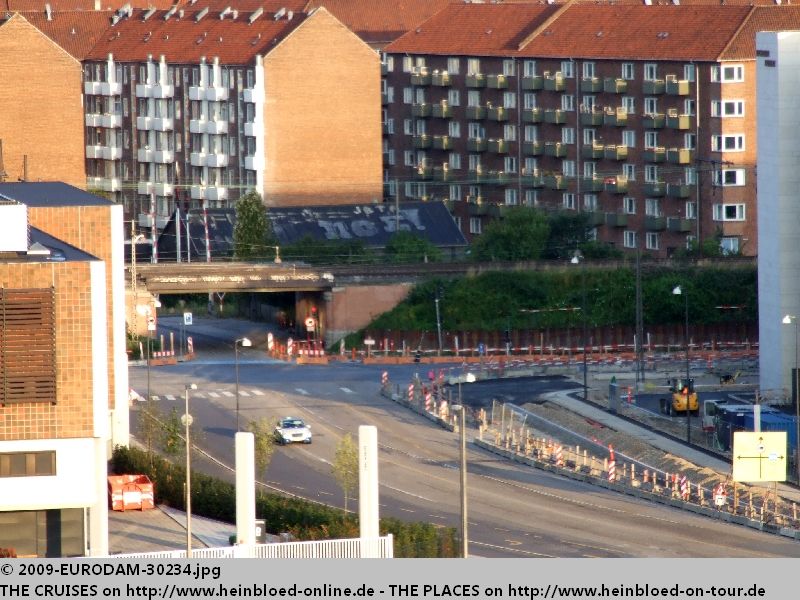 At this time more impressions for whose who wants to walk. So it's your last chance to fill up your tupperware at the Lido-Restaurant for a long walk...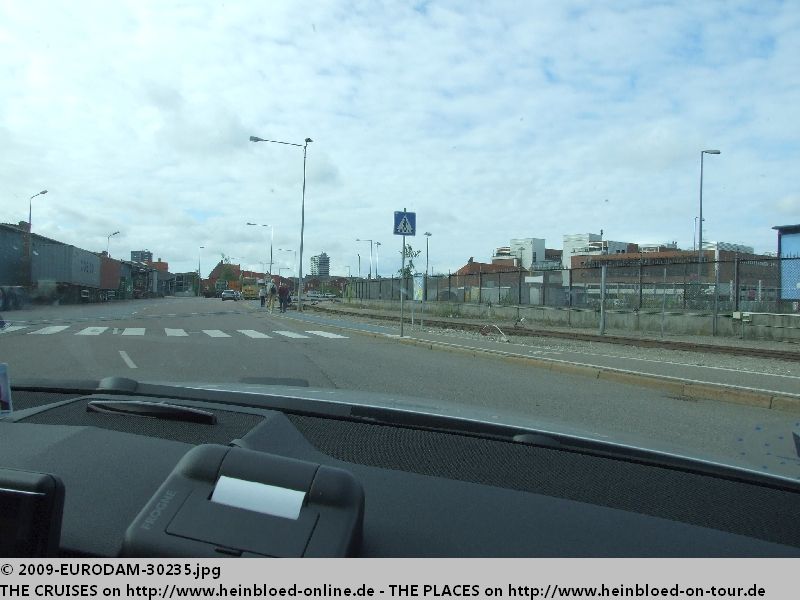 So first to the left...

then to turn right to get out of the port...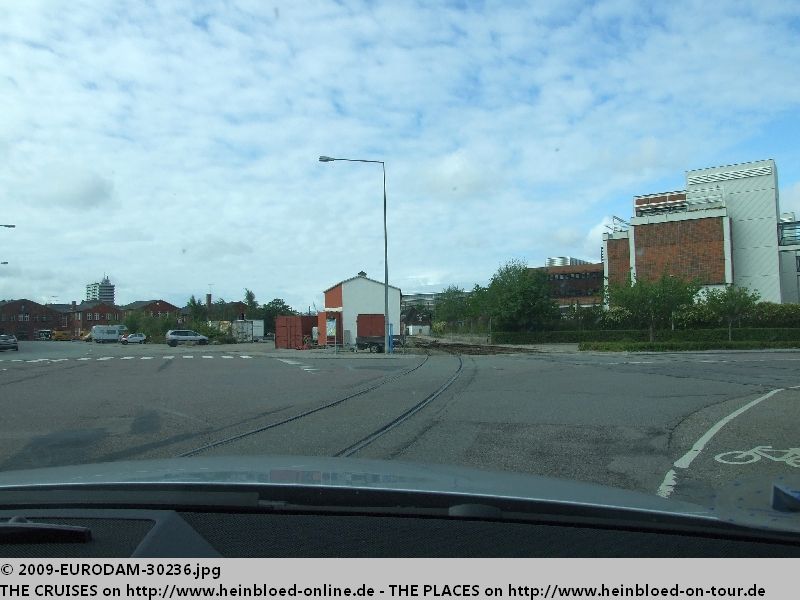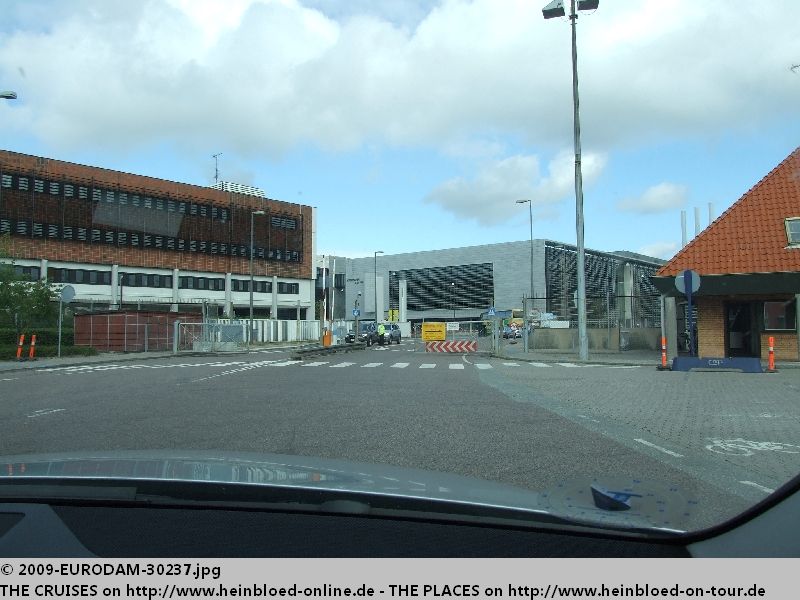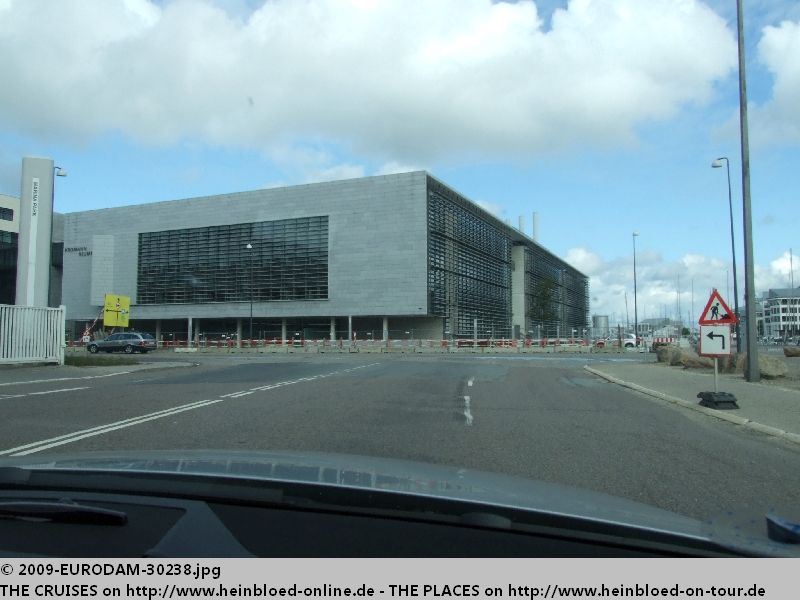 Then you left the port to get to the left again...

Straight ahead you should go for the station...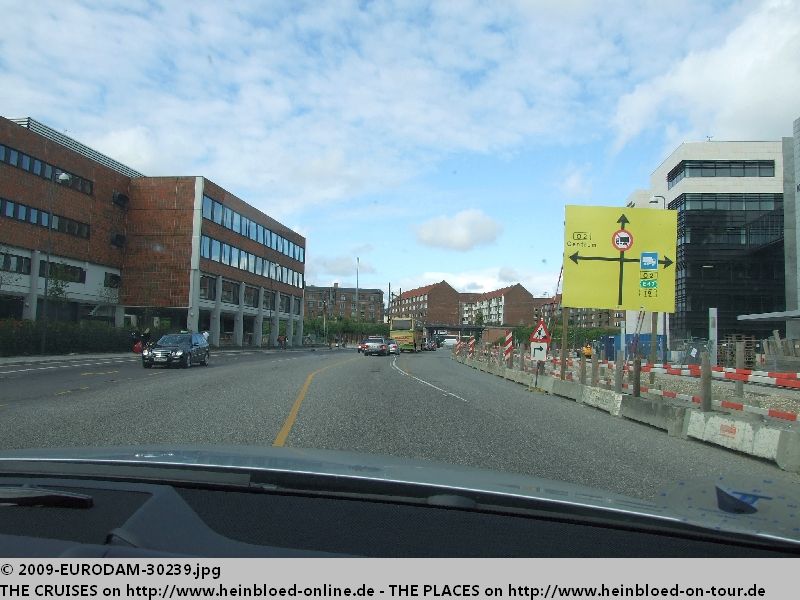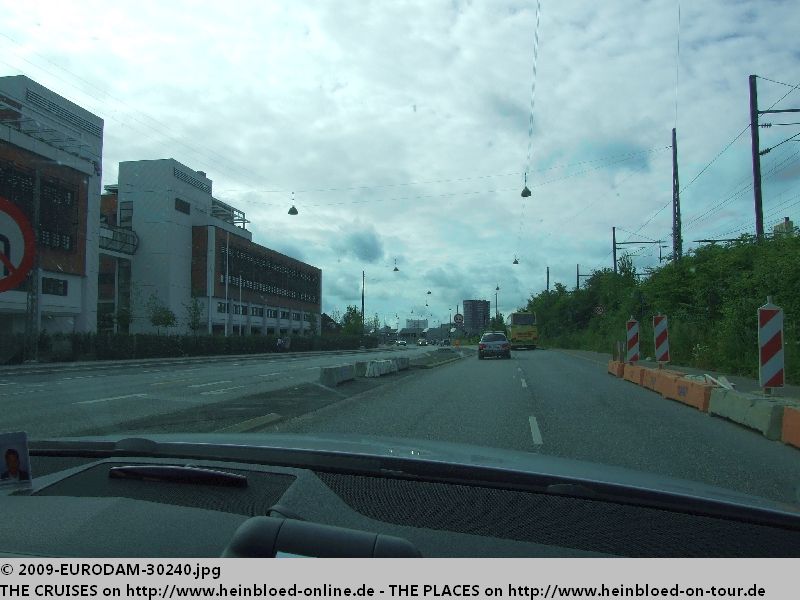 If you missed to get on the other side of the tracks then you will find out that the station does not have an access to the Freeport-Side...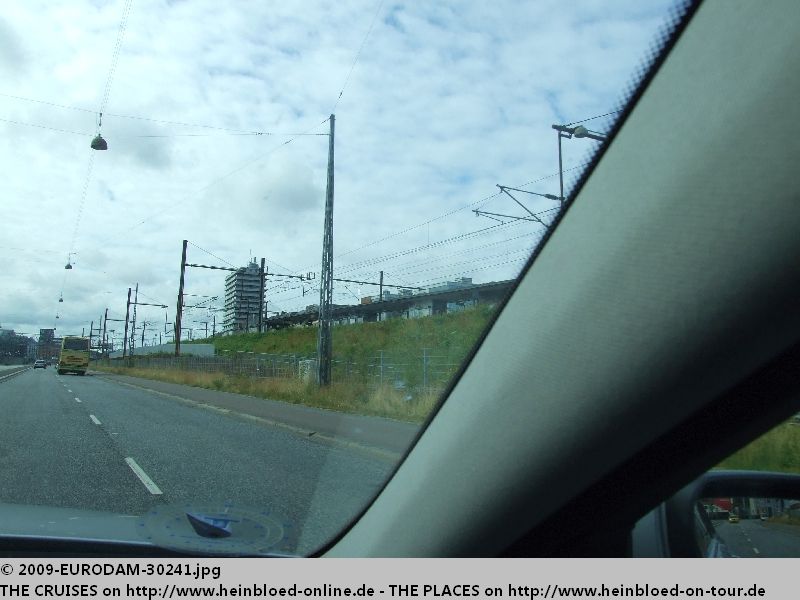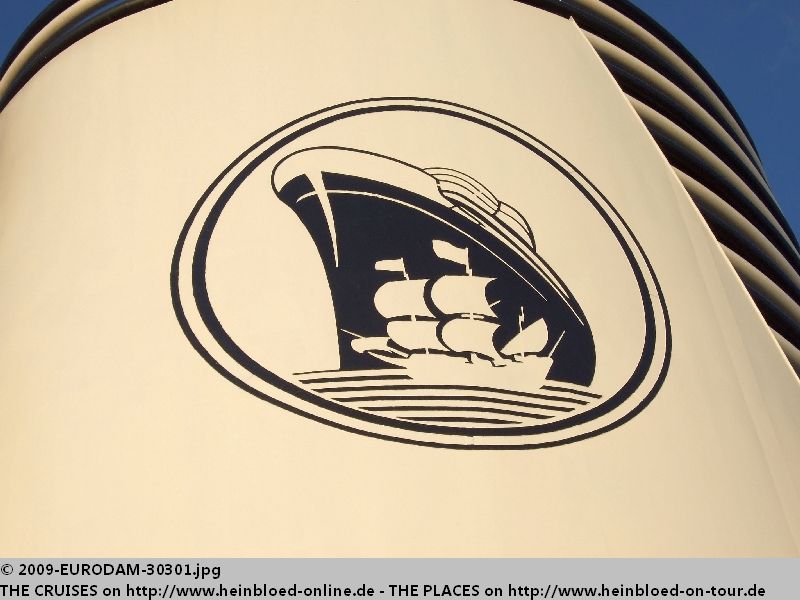 How will I miss these funnels...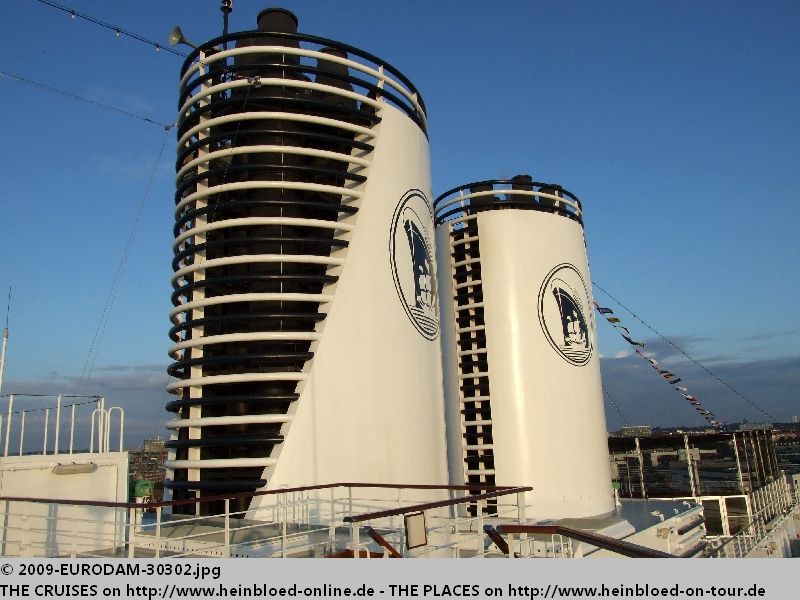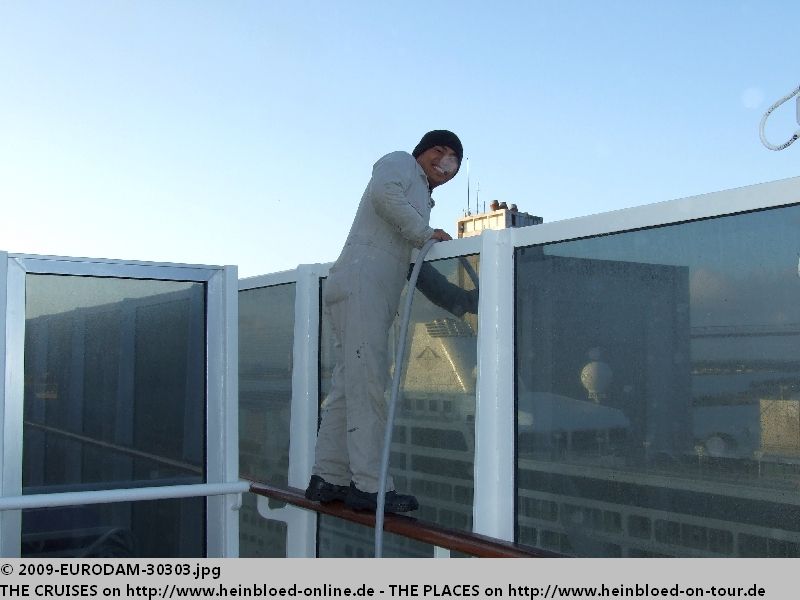 no... I was not dusturbing anyone when I passed the early morning...

He turned off the water and with a smile he said: "Good Morning, Sir! How are you doing today! Very nice weather!"... and when I was far away to become wet, he turned on again the water. No anger in his eyes - just friendliness...

I do not need to book special suite to have access to this view over the bow...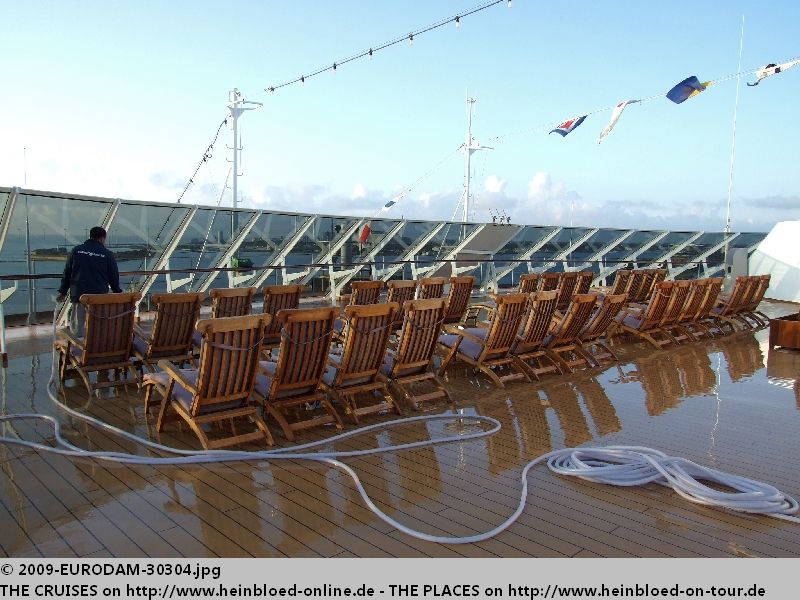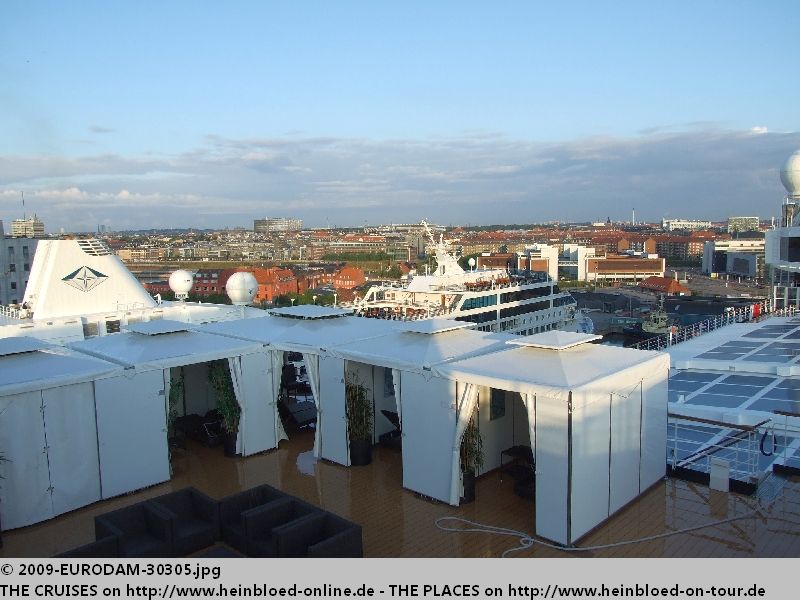 I should think about to book an inside stateroom and a cabana when the weather is good...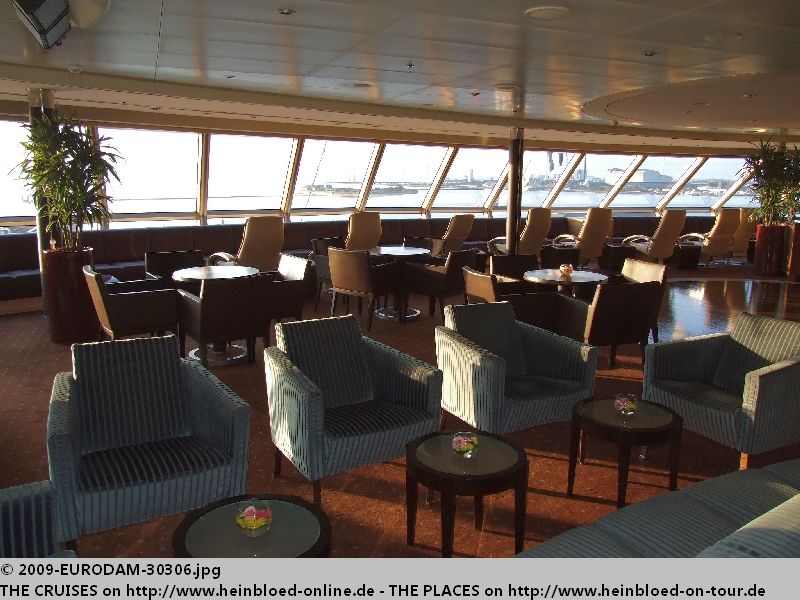 And also in Crow's Nest inside: a front view for all passengers: no matter which categorie you booked.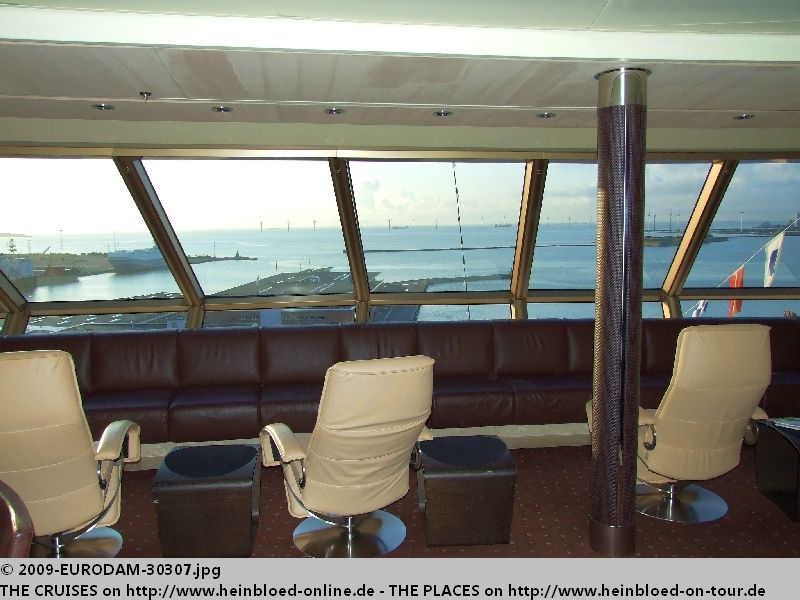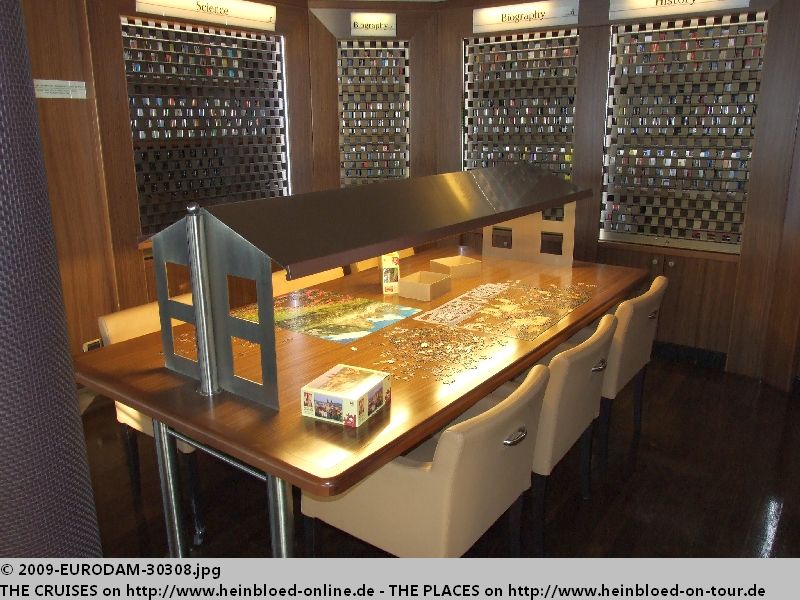 I liked the place...

55.00 USD for 100 minutes and 100.00 USD for 250 minutes. 0.75 USD/minute without a prepaid-package. 3.95 USD activation fee and who purchased on the day of embarkation got 10 or 20 minutes extra - automatically without visiting the reception desk before you want to use internet.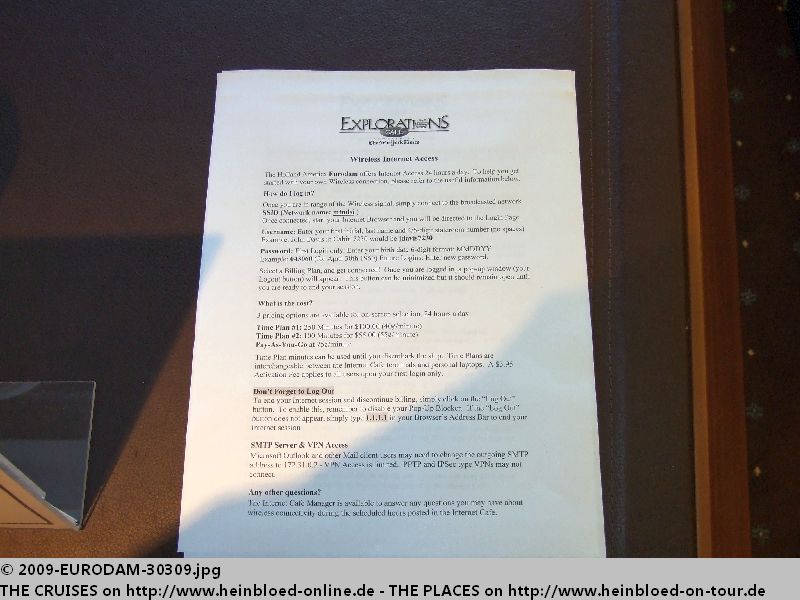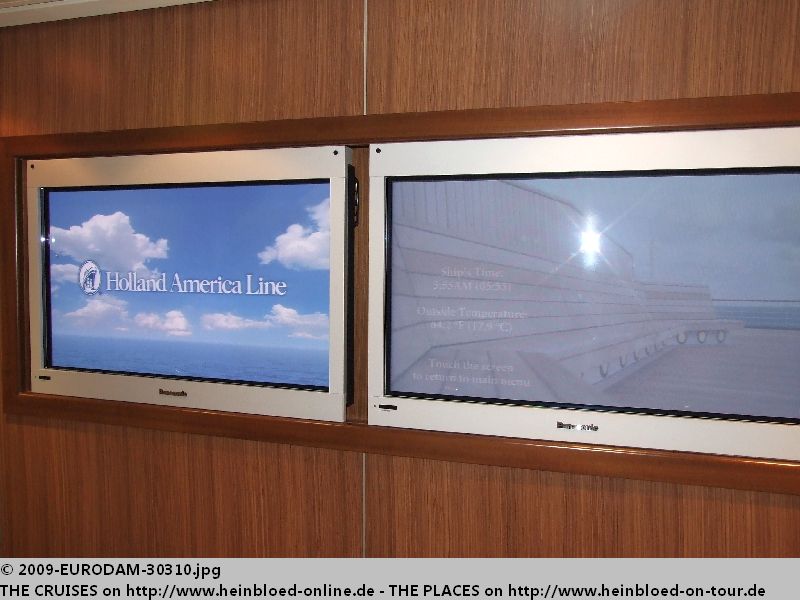 The touchscreen worked properly...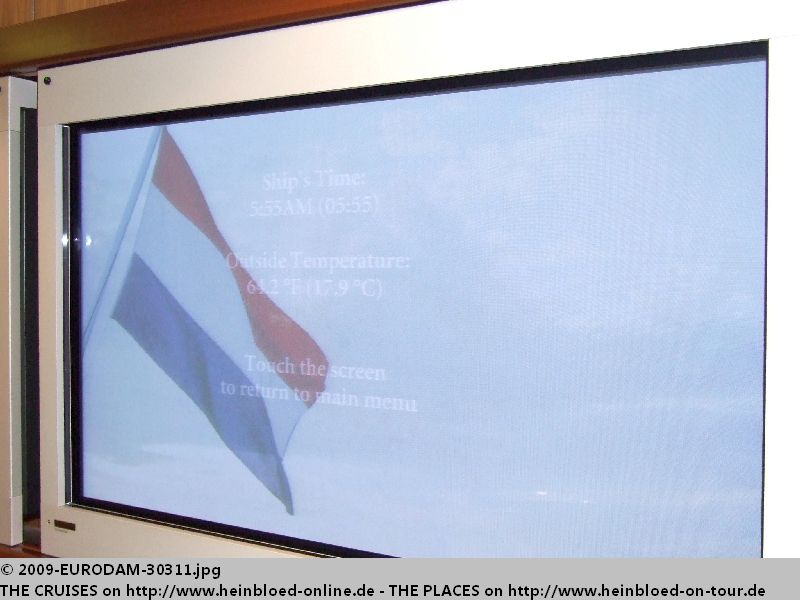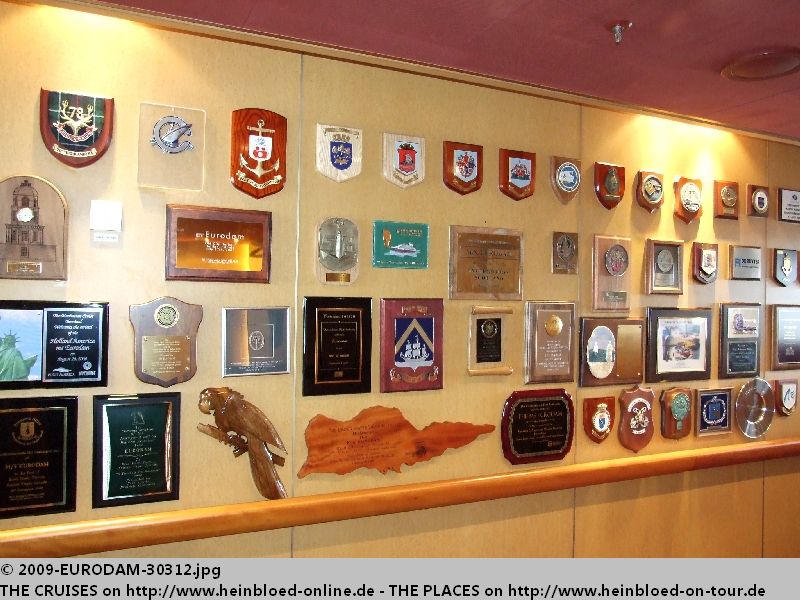 ... I think what we have not discovered this wall one year ago because this wall was blank...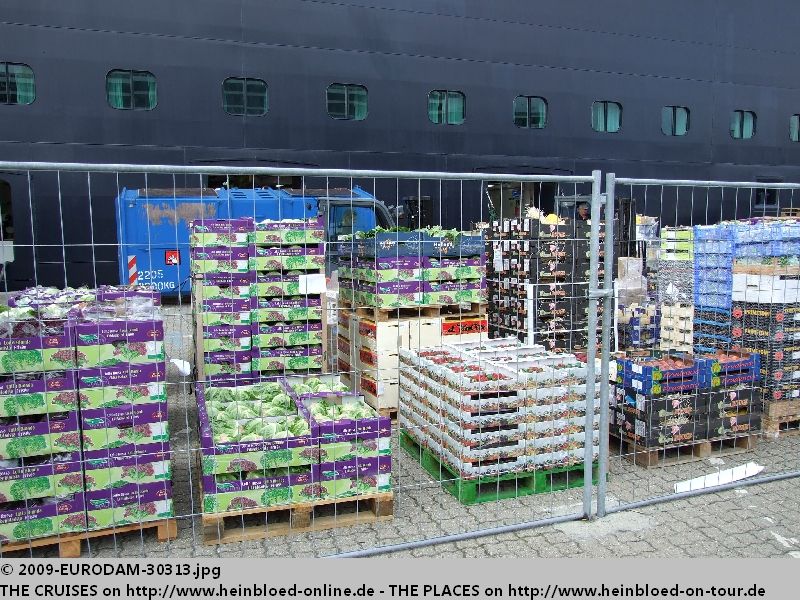 Should I steal a tomato although it was a fence around... looked really good...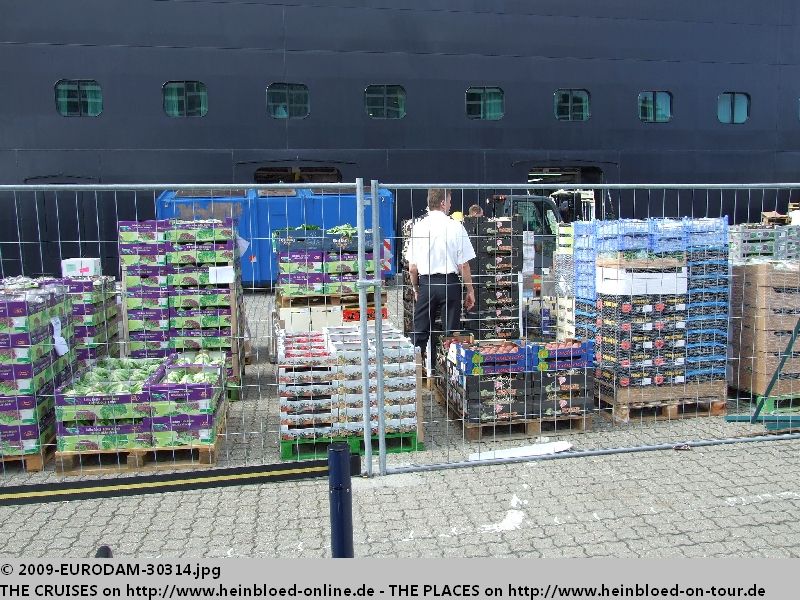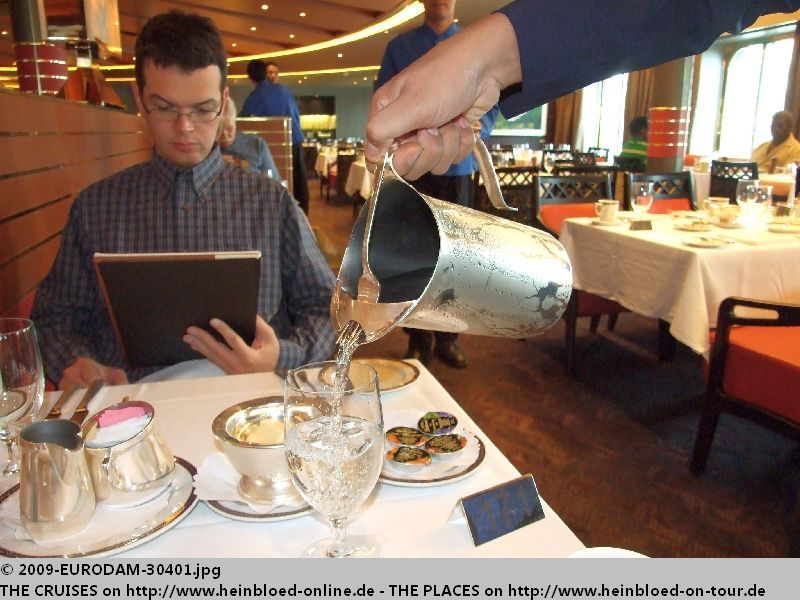 We went the very last time to breakfast. Our yesterday's waiters welcomed us again in a very friendly way. We asked for no ice and with a help of a fork our request was solved in a professional and clean way.

This time we did not make so many pictures of outstanding crew members. There was non who treated us bad. We should have make a meeting with all crew members in the theater to make a group picture in the night time. This made also the discussion very simple about VOLENDAM to Asia or not and reading all the reviews: better a great crew on an older ship than a nasty crew on a new ship. That's why we deeply regretted that VOLENDAM will by-pass Asia for Australia for 2010 and only AMSTERDAM will do Grand Voyage-segments in Asia.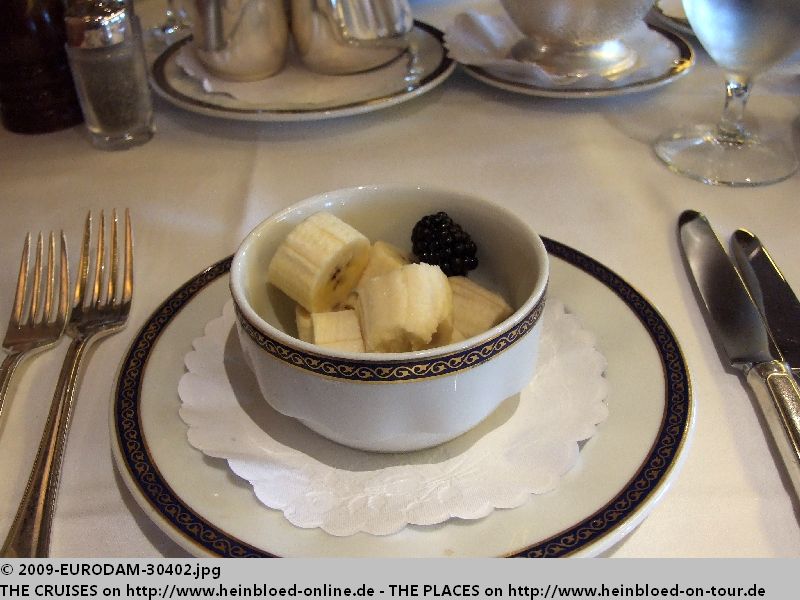 Today I ordered the Frittata which might be the same like yesterday's daily special. But this was also something MSC could do much more better... Our waiter asked me if they can bring something else but I was still full from the last night's dinner in Pinnacle Grill and the farewell was blocking my stomach anyway... I did not want to leave the ship...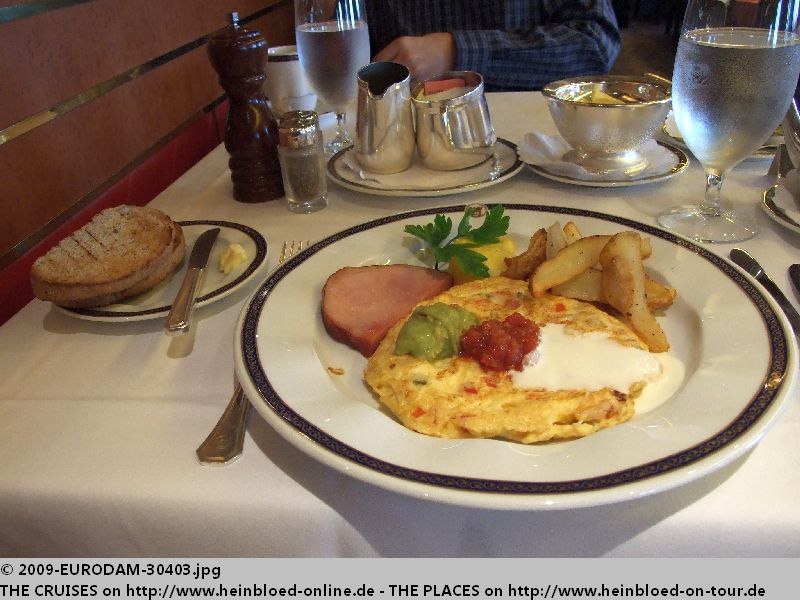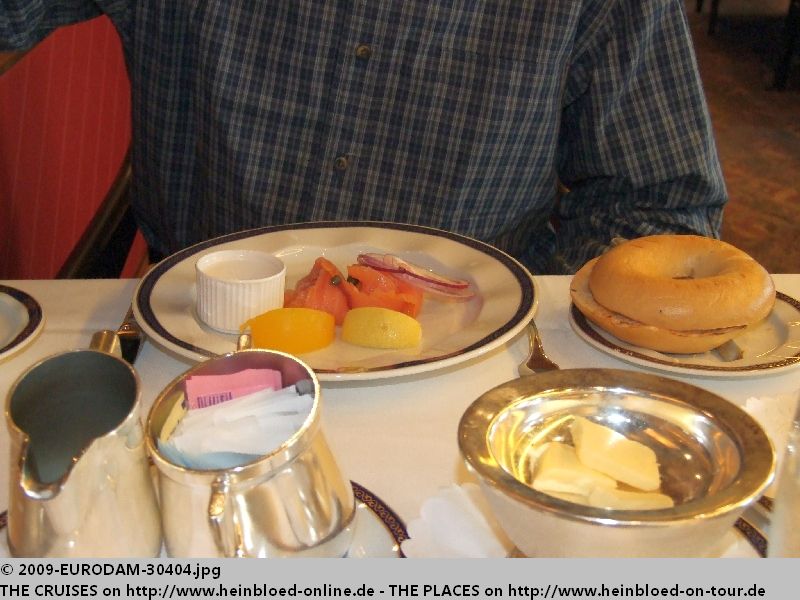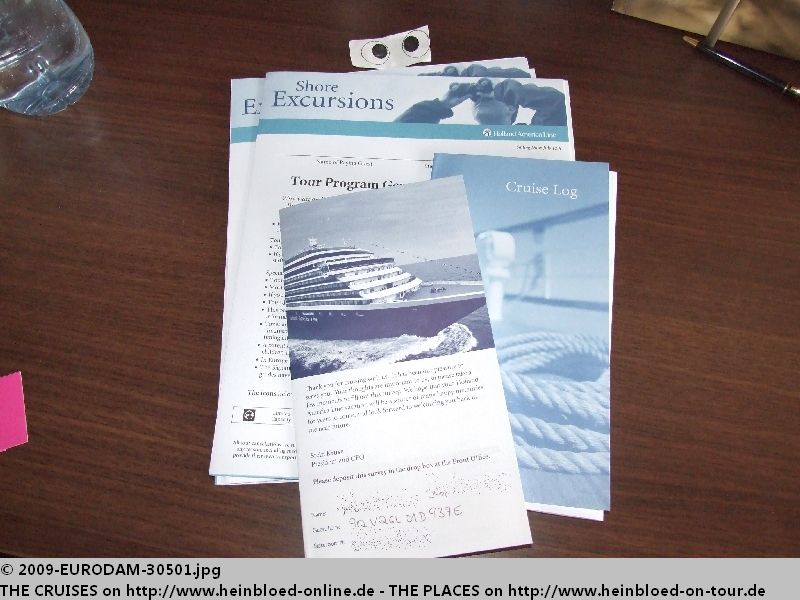 Of course some small things attracted my attention:

Cruise-Log, Questionaire and Debarkation Questionaire were only available for guests boarding on July 6 by mistake. Guests boarding on July 10 were totally forgotten. But I got them on request without discussion.

The highest rating was 9 - my handwritten commentary: they all deserve a 99. 9 was to less to reflect their performance.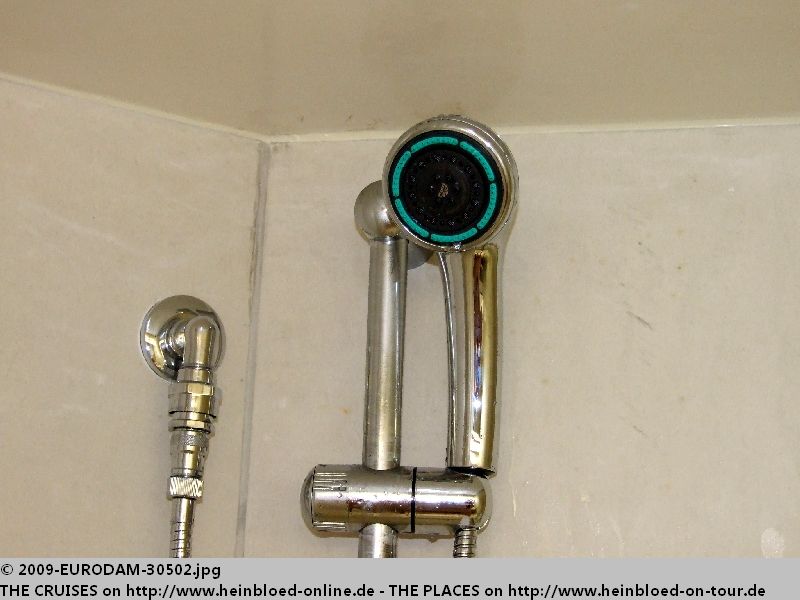 It's a pity that they use Grohe or Hand Grohe imitations... they are not Made in Germany... and do not stay in a good condition for a long while... that's where Fincantieri cut the costs at the wrong place... just looks like Grohe or Hans Grohe...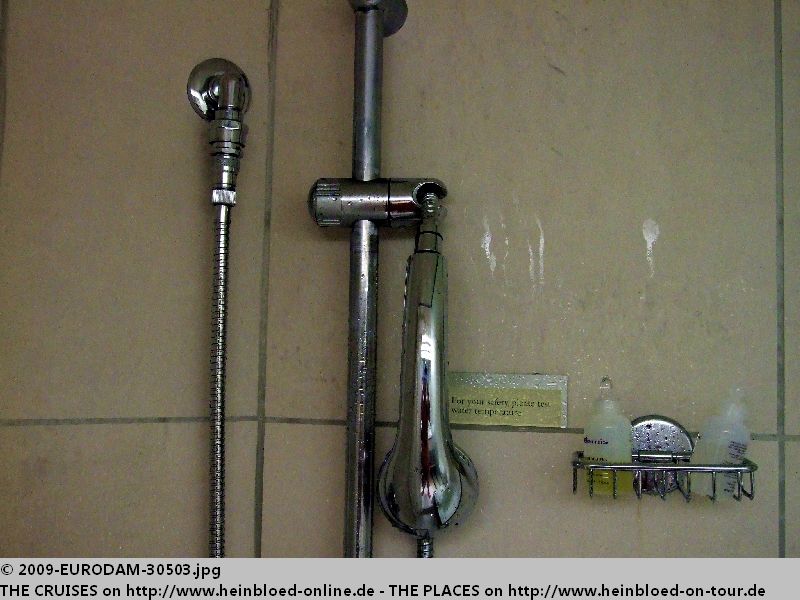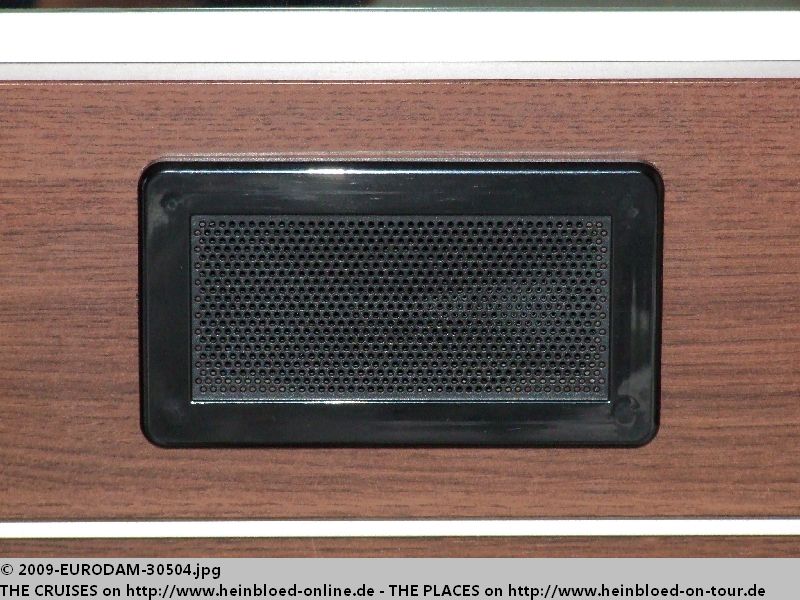 It's also a pity that debarkation information were not announced in the staterooms... I think because of transit guests who might do not want to hear the information... so you need to open the doors to hear the announcements and to leave the ship...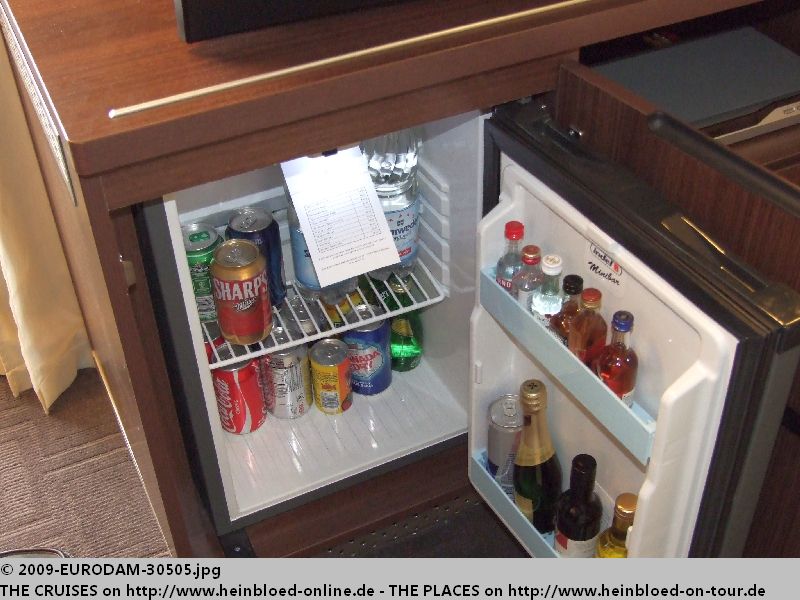 We got a visitor: Walter the winesteward from Pinnacle Grill. During the day time he was taking care of the mini-bar. He came to unlock the mini-bar for the next guests.

He apology for the double-charging last night.

But everything was set and there was no reason to discuss on it. He worked on DEUTSCHLAND (it's the German version of the LOVE BOAT-Ship) and he told that you can see him in the show once the ship was in Cuxhaven, Germany.

So I asked him if he was not afraid that we will help ourselves from the mini-bar. He just said: "You will not do it! Sir! Otherwise I would have come back after you left!". A real nice guy whom I like to meet again to take a picture of him. But as said again: there was none on board who treated us bad - it was so positive on board.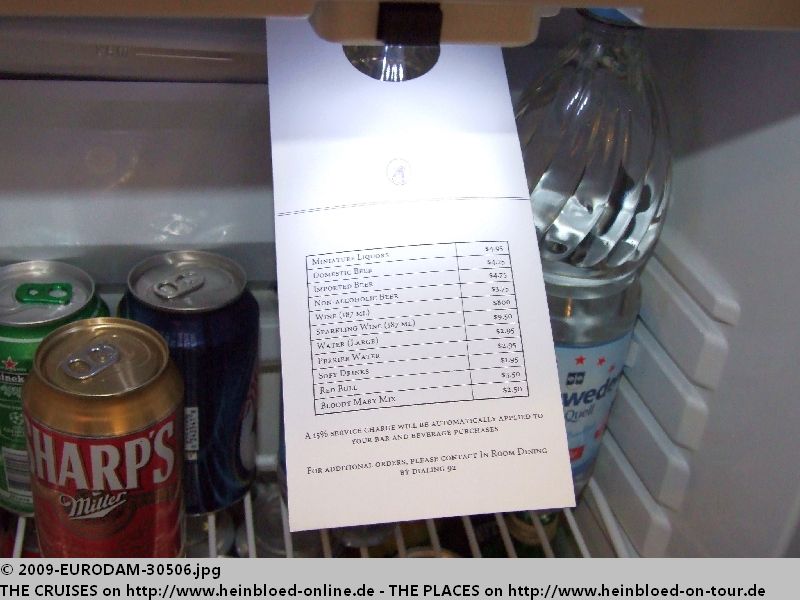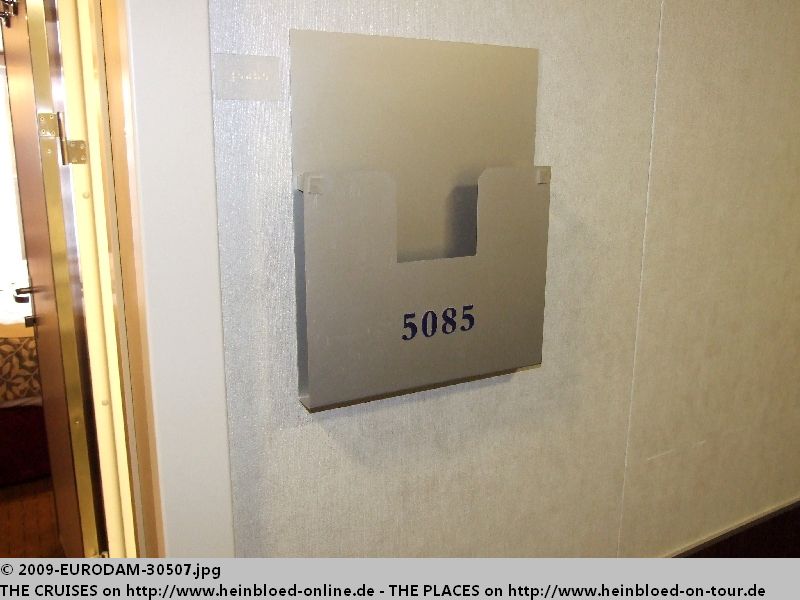 We had a look to the neighbourgh stateroom and check if we can accept such a "downgrade" for the next time...

The difference of the size of the stateroom was just the width of the shower. So the problem with the gap between shower and bathtub would have been solved... there is no gap...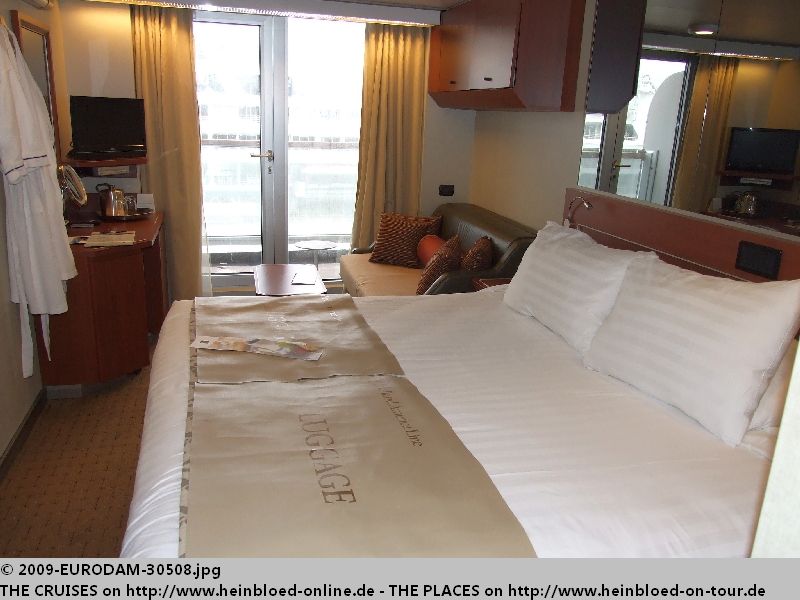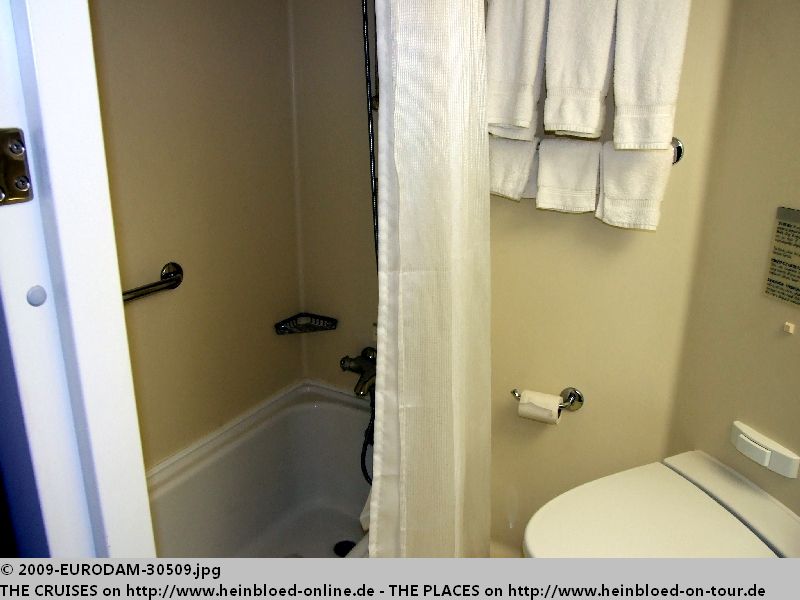 Can I live in future without jacuzzi function in my bathroom???

Until debarkation I cannot get a another lock for our door so we can stay in our stateroom until the ship's departure in Copenhagen and we can stay for another cruise on the ship...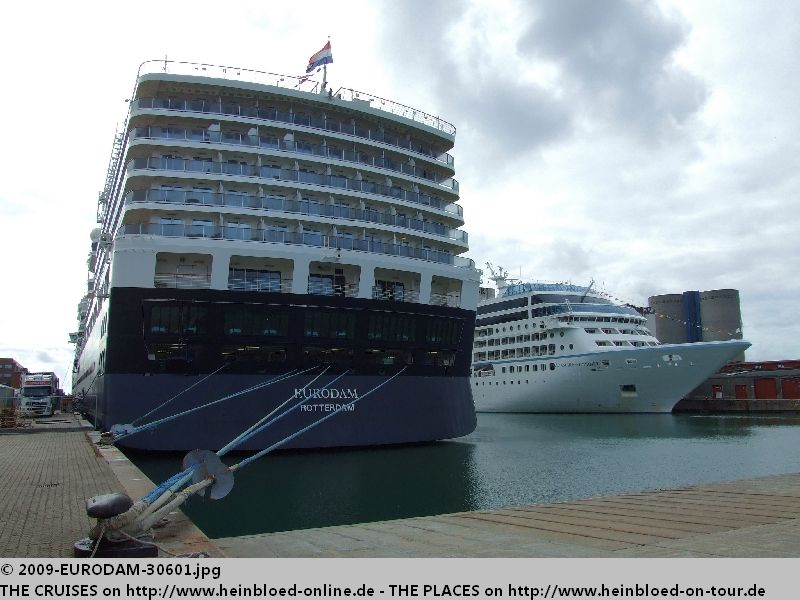 So we were able to make some pictures of the ship outside because we had to leave the ship...

... and our verandahs which you can see from the glass elevator...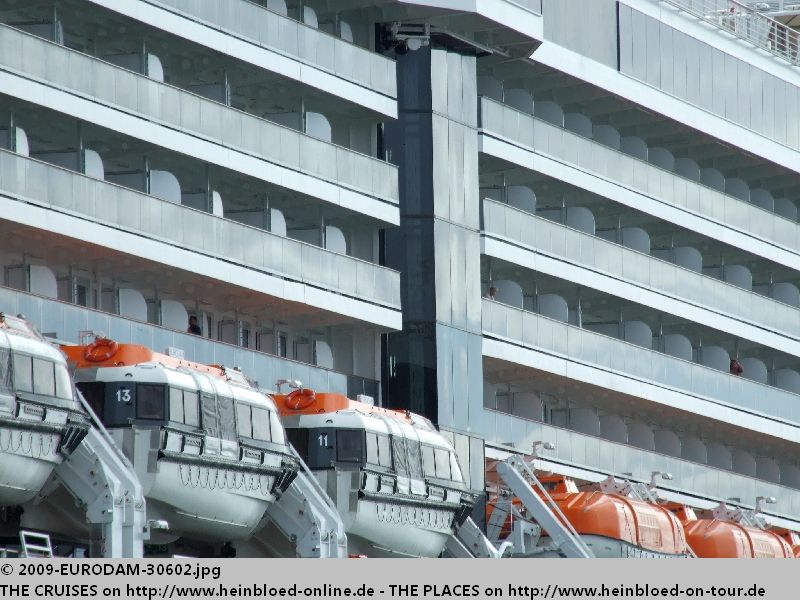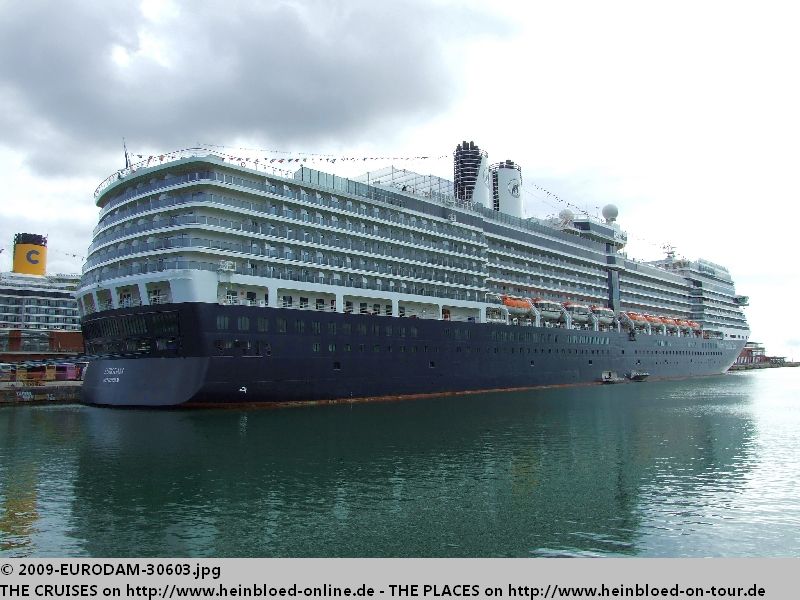 And we got the very best table in the center of the stern... and there was no need to book a Yacht-Club-Suite. Everybody else had also a chance to get this table... Thanks for getting some food after 13.00 hrs...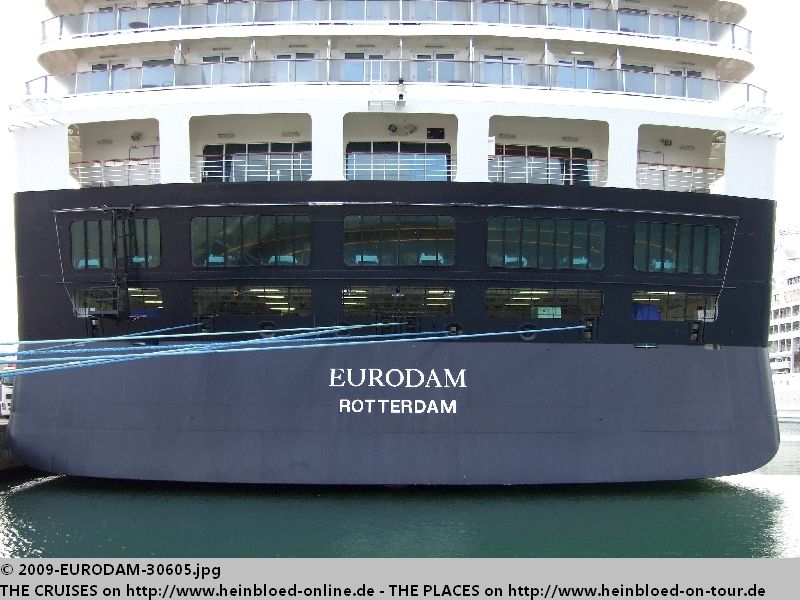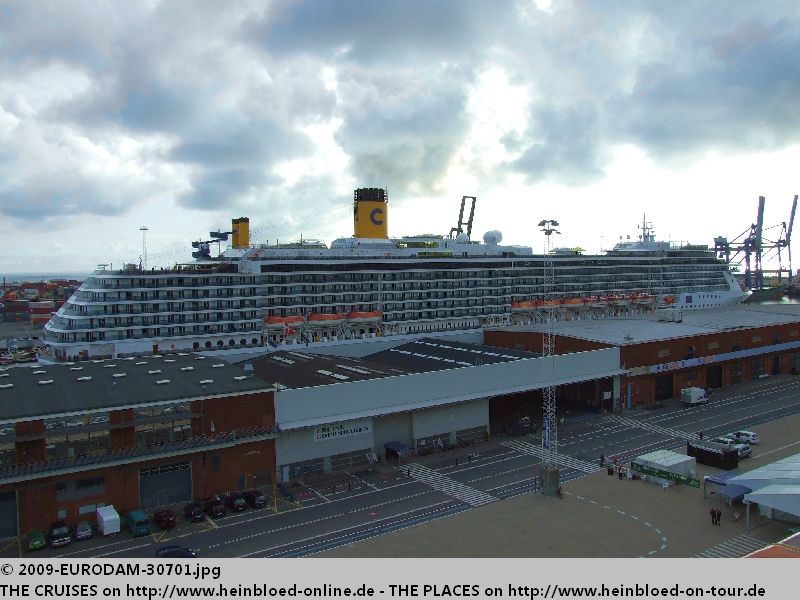 We had breakfast when COSTA ATLANTICA berthed but I felt so great that I did not miss observing her docking...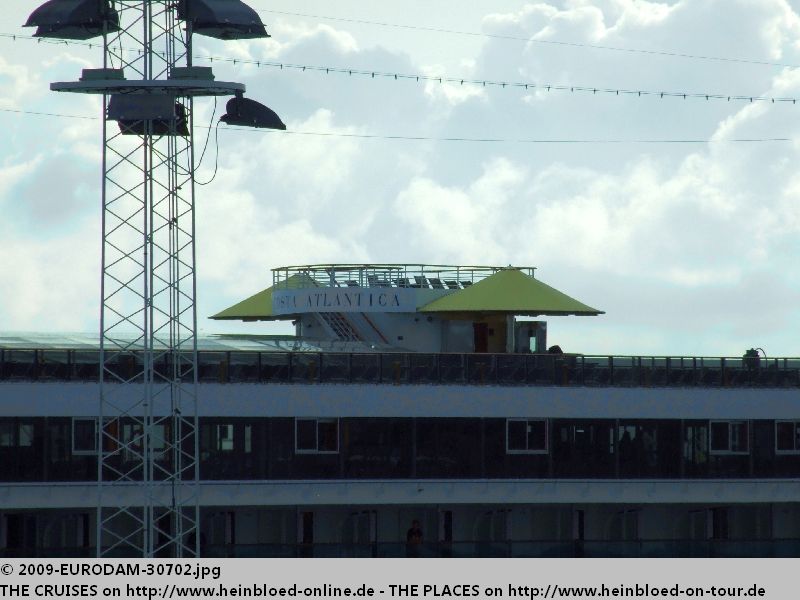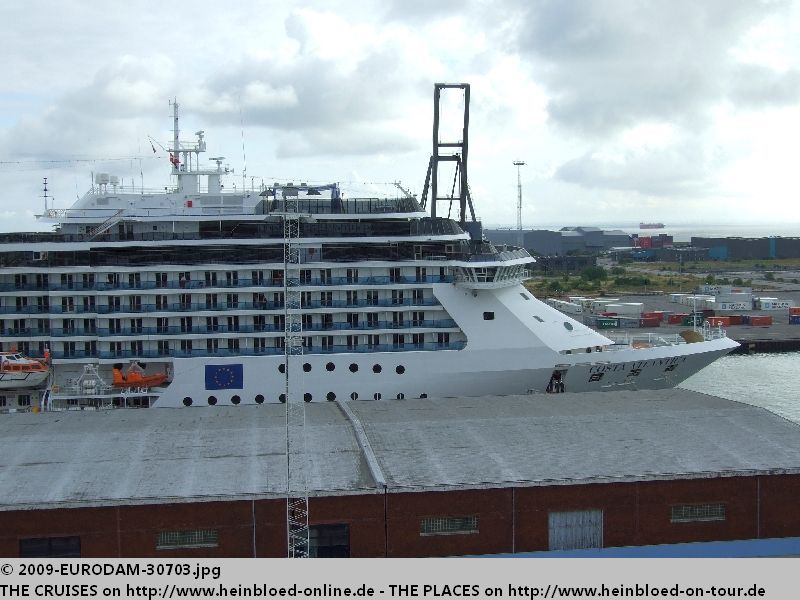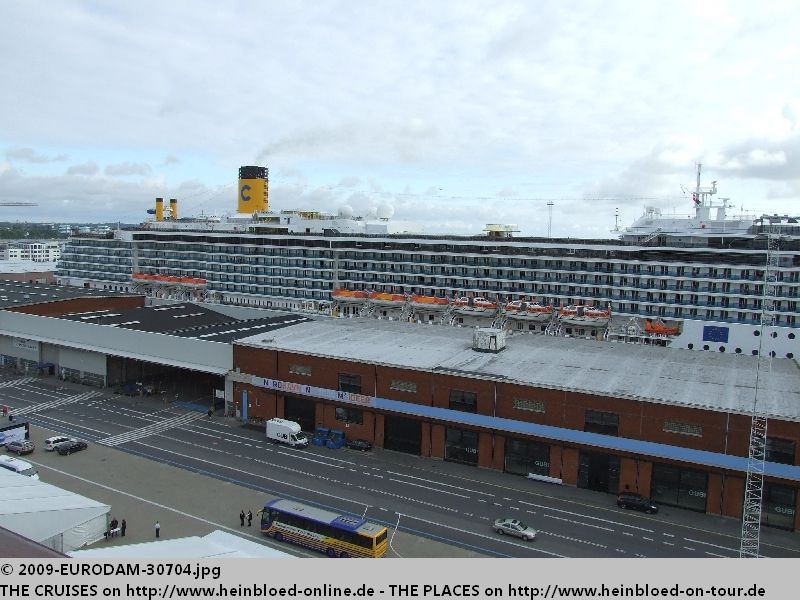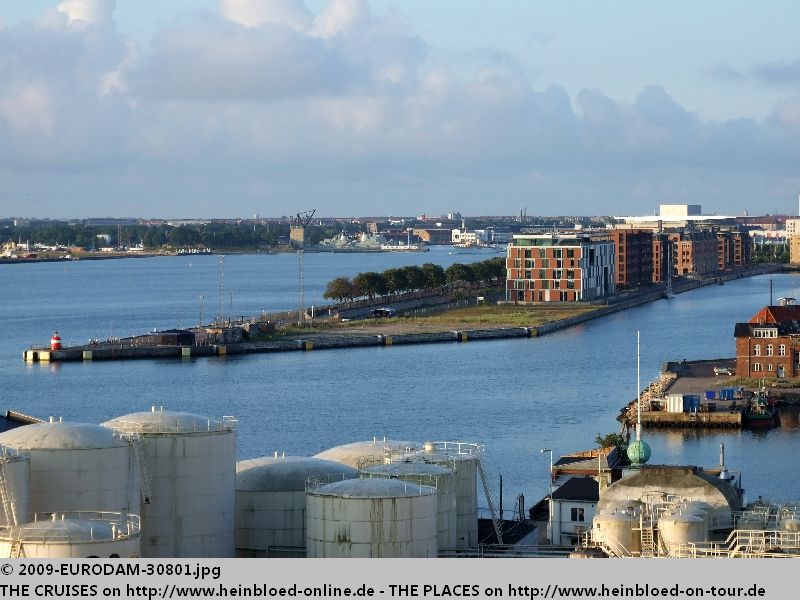 Early in the morning there was nothing at Langelinie-Terminal but after the breakfast there was MSC OPERA but I did not worry either... sometime... somewhere... I will get her in front of my camera...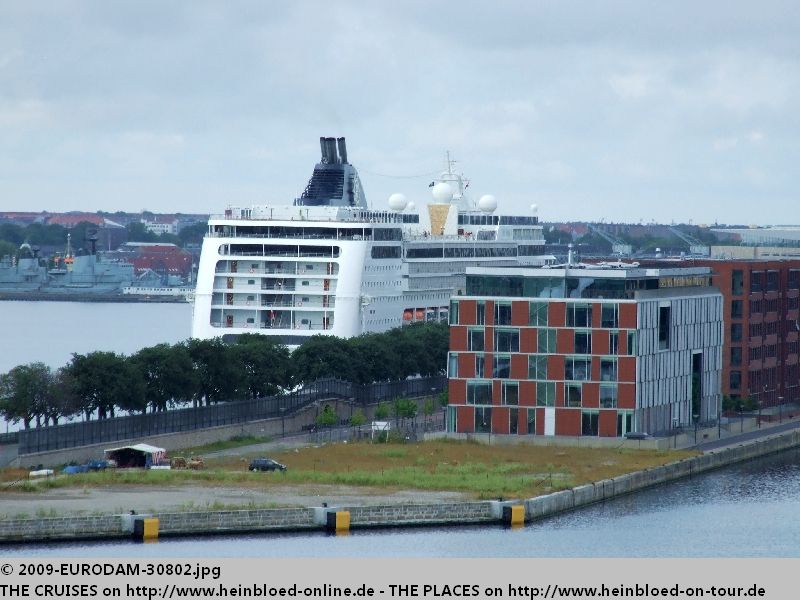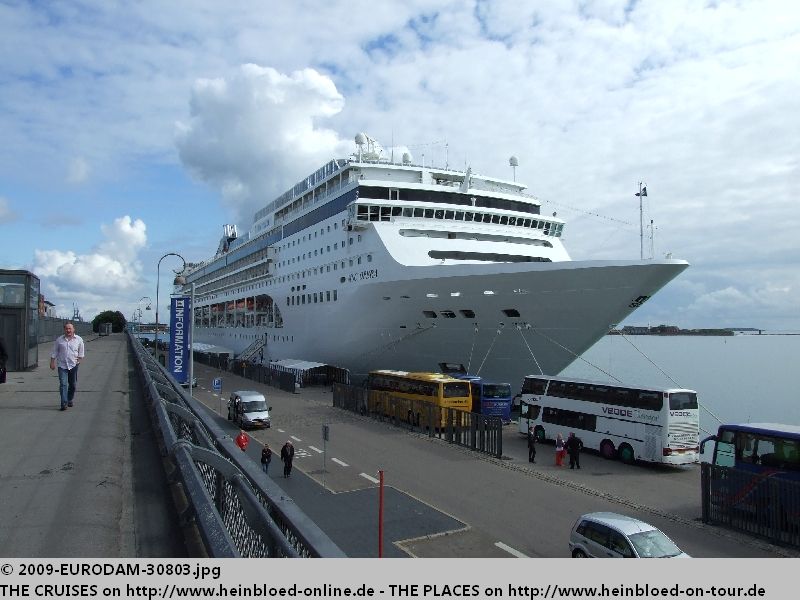 ... at least in 15 minutes when we were on the way to the Little Mermaid...

... or noon on a canal tour...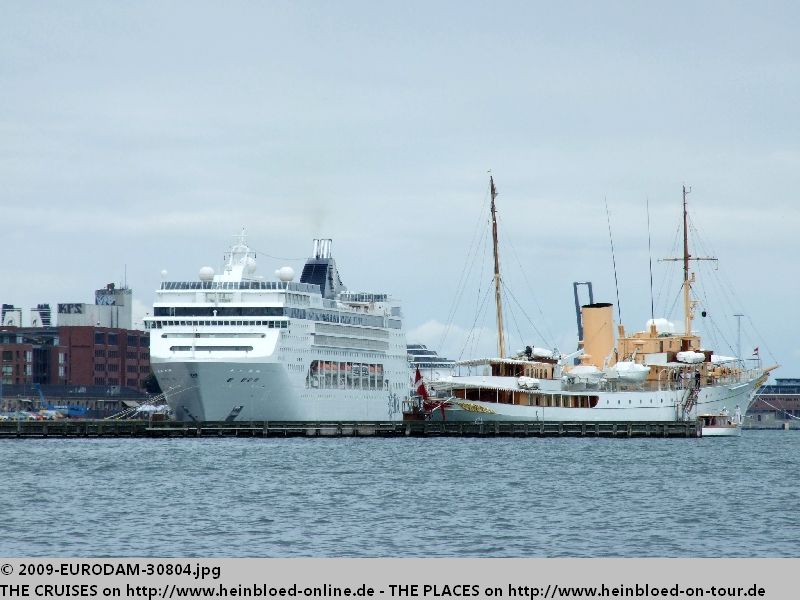 ... and together with the Royal Danish Yacht DANNEBROG.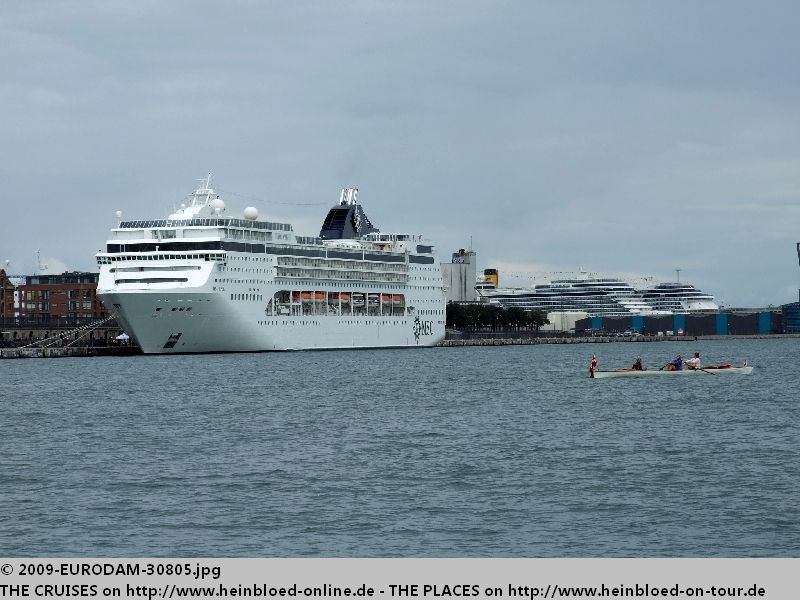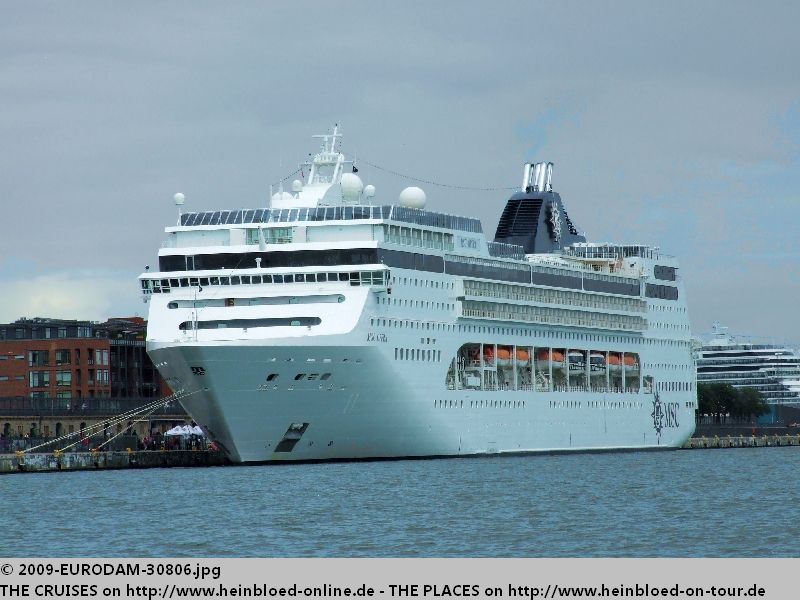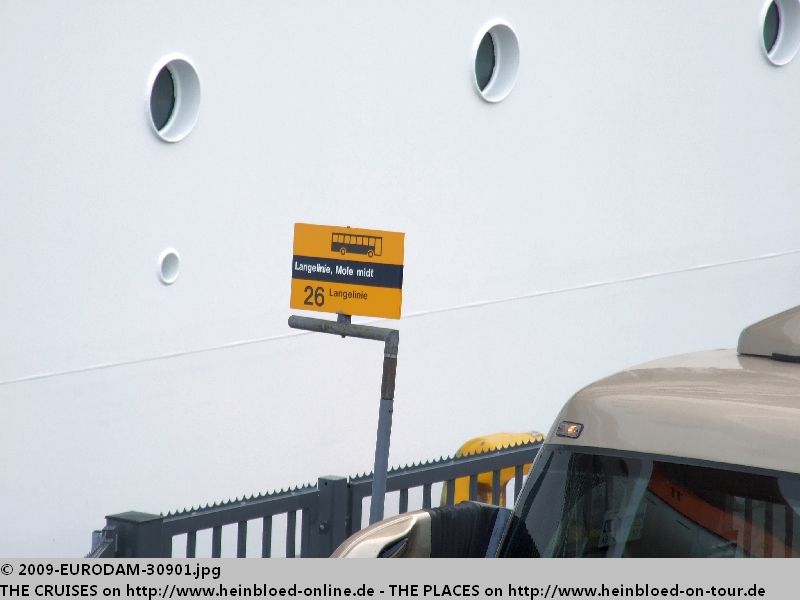 Later we had a look around the terminal:

Bus 26 stops directly in front of the ship...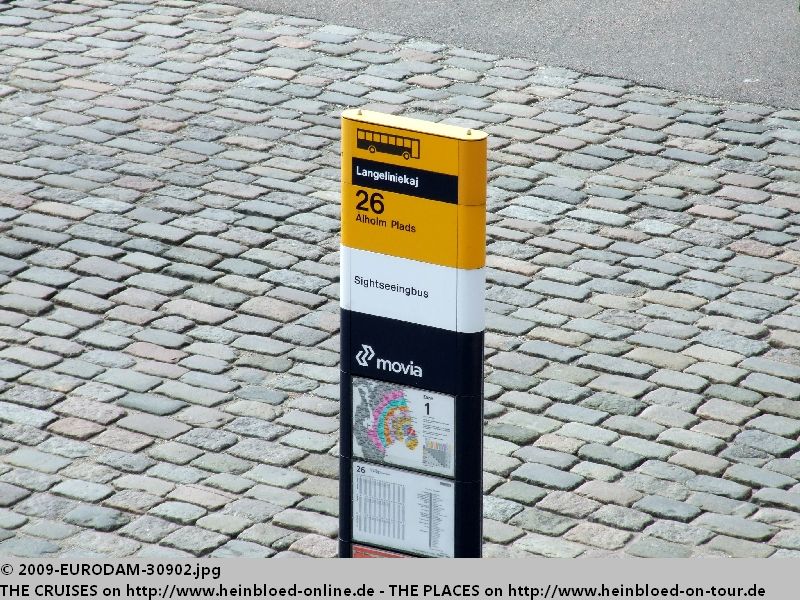 One of the German forum member became recently board-fotographer (MathiasK - NORWEGIAN DREAM-Baltic-Sea-Cruisers might know him as he organised the NORWEGIAN DREAM Fan-Club who arranged the greeting in the Kiel-Canal). But there was no photographer with a pirate or Go-Go-Girl-costume in front of the ship with a rescue ring showing "Velkomment til København"...

... and the next time I will kidnap the EURODAM and will divert her to the Langeline-Terminal...

That's a great infrastructure for cruisers. Why is this not available at Freeport-Terminal:

Tourist-Information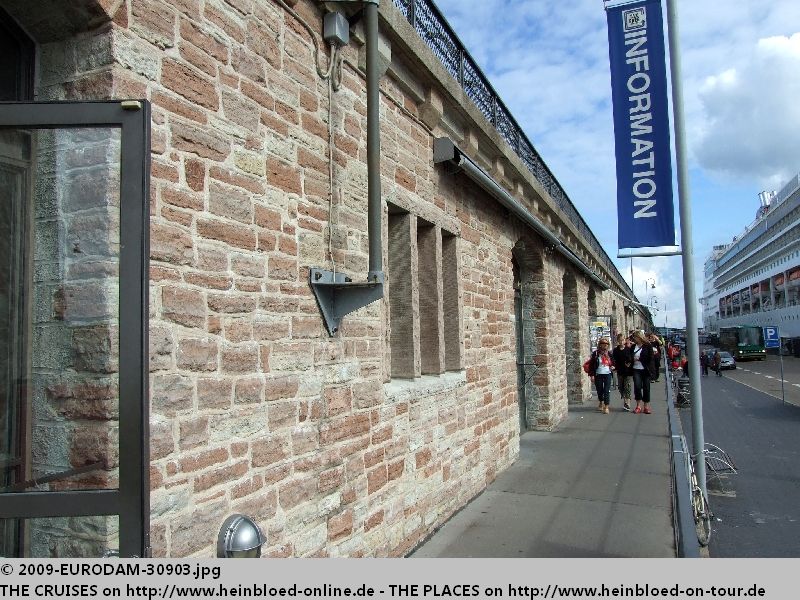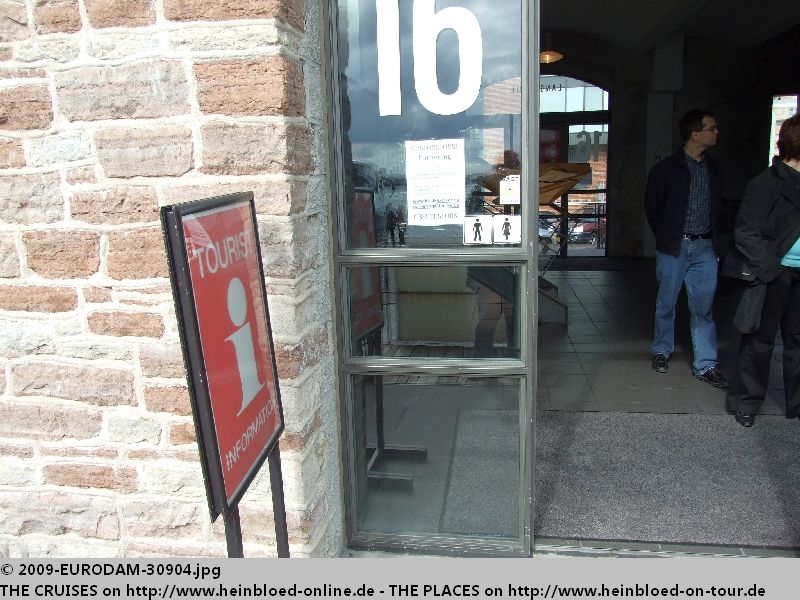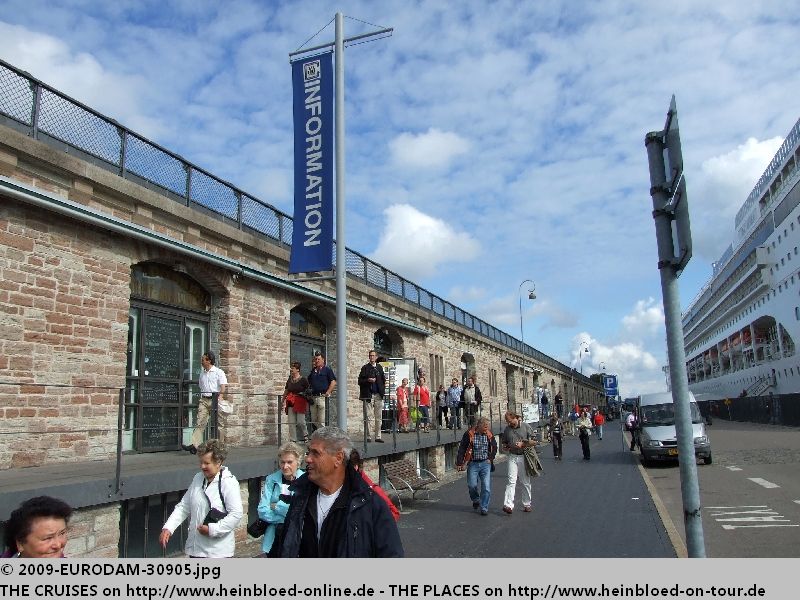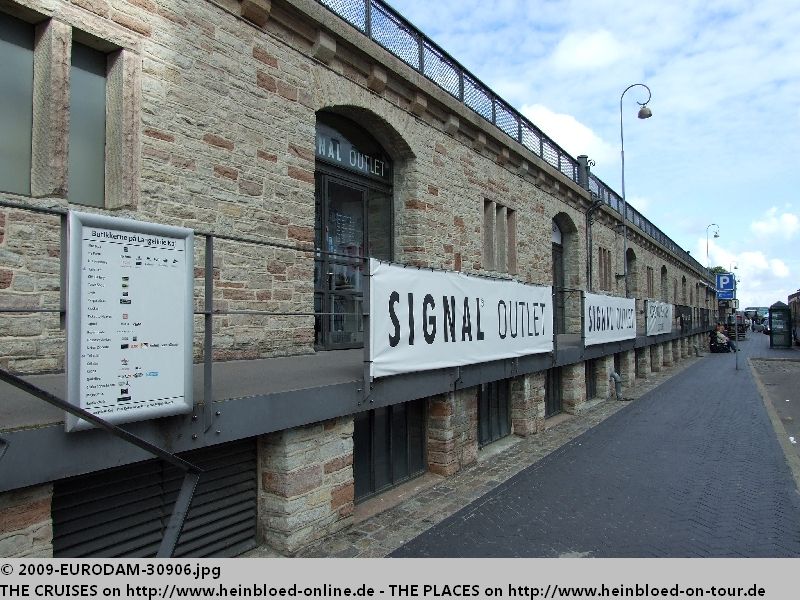 Outlets...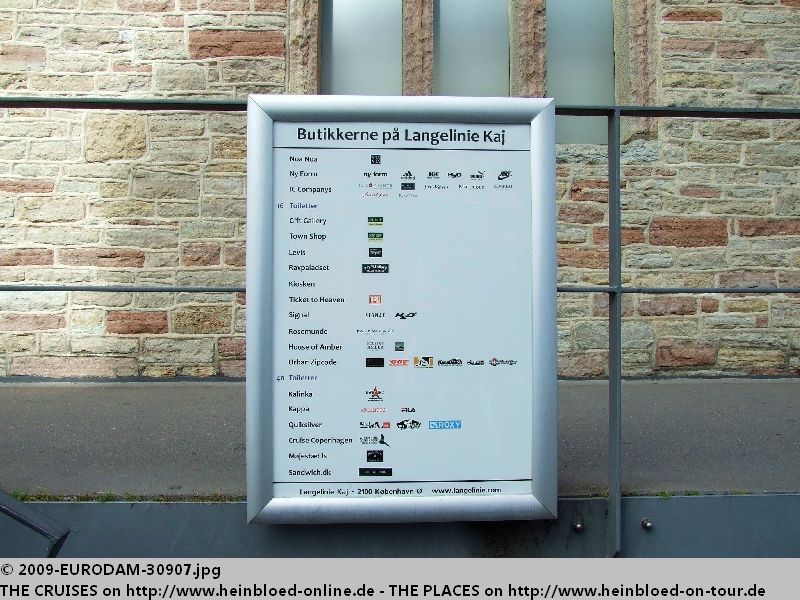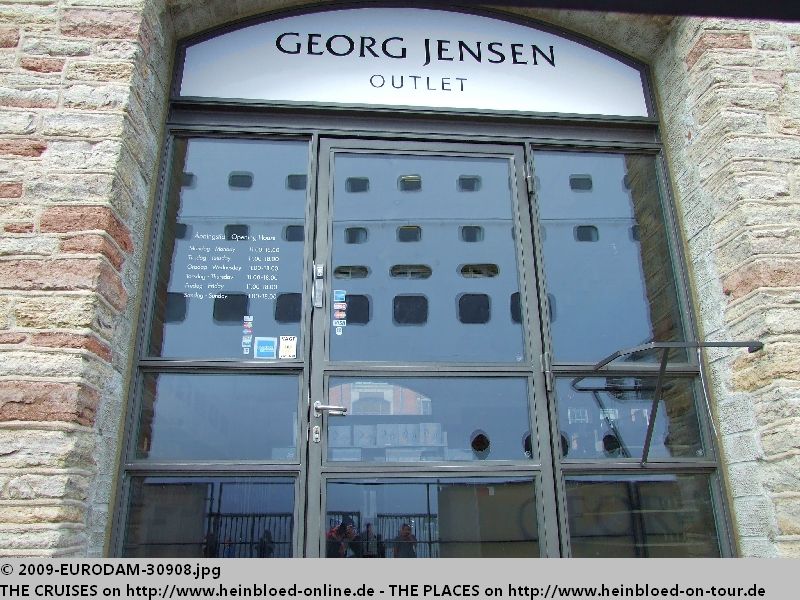 Georg Jensen... open on Sunday but not on Saturday...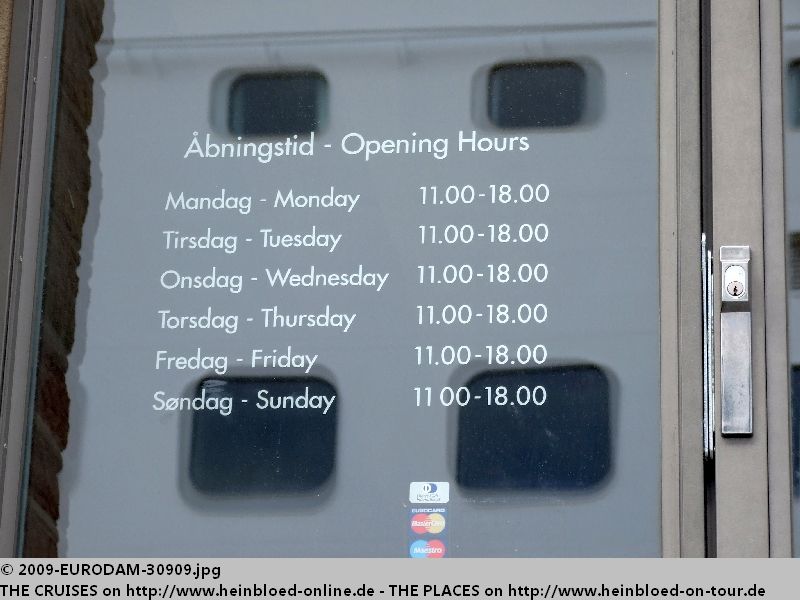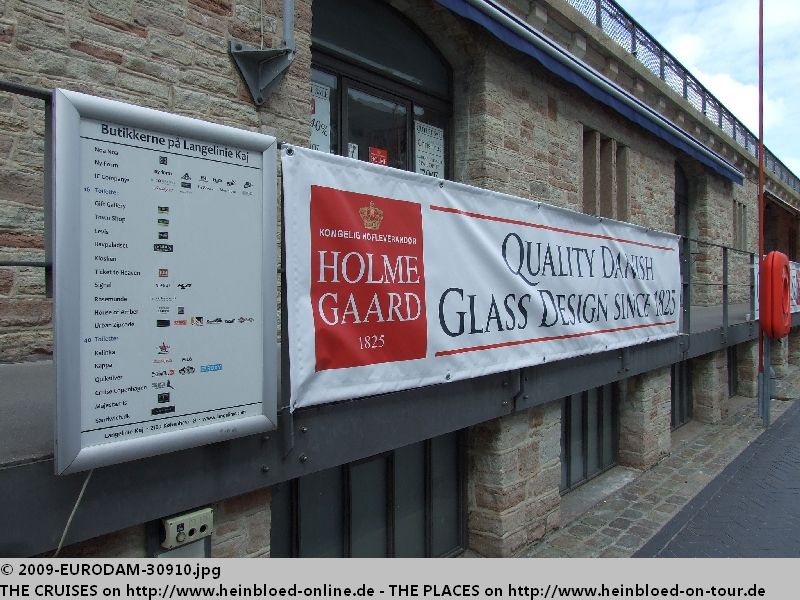 ... and Holmegaard...

and a nice-looking coffee bar...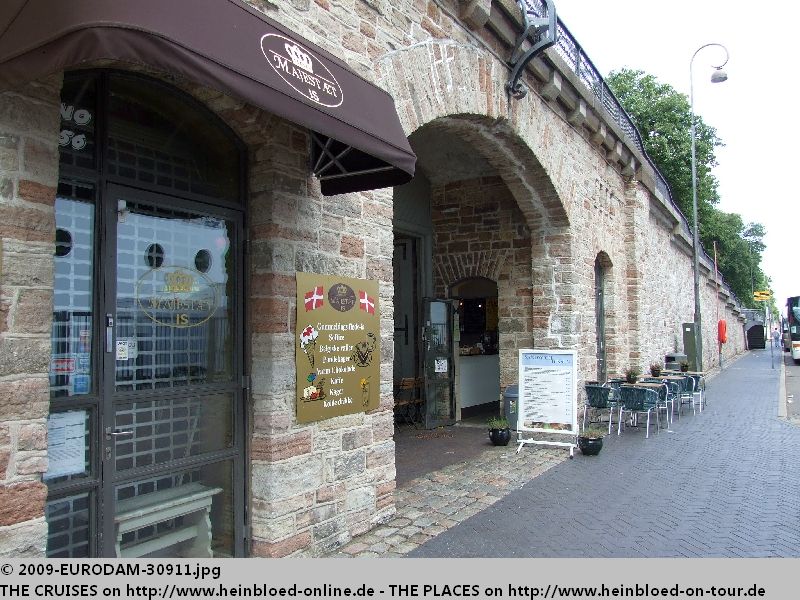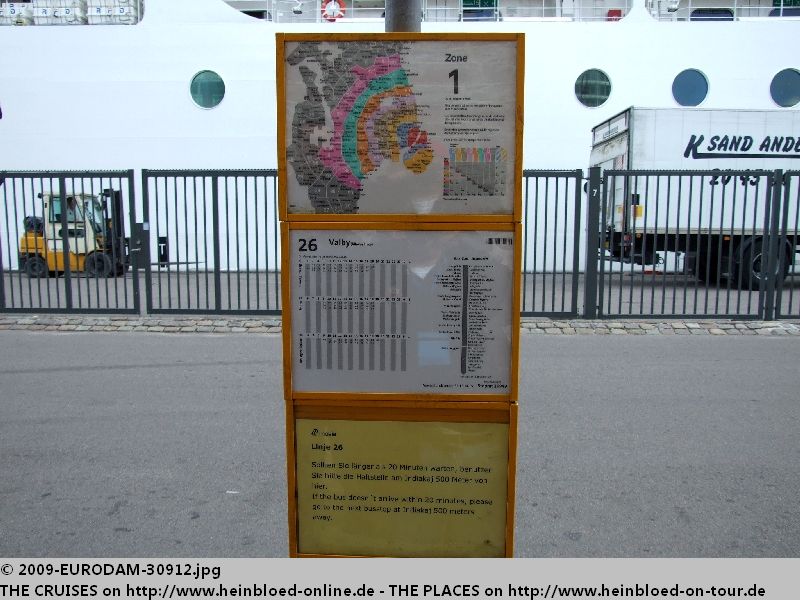 and a bus which takes you every day into the City Center... (for 21.00 DKK (2009))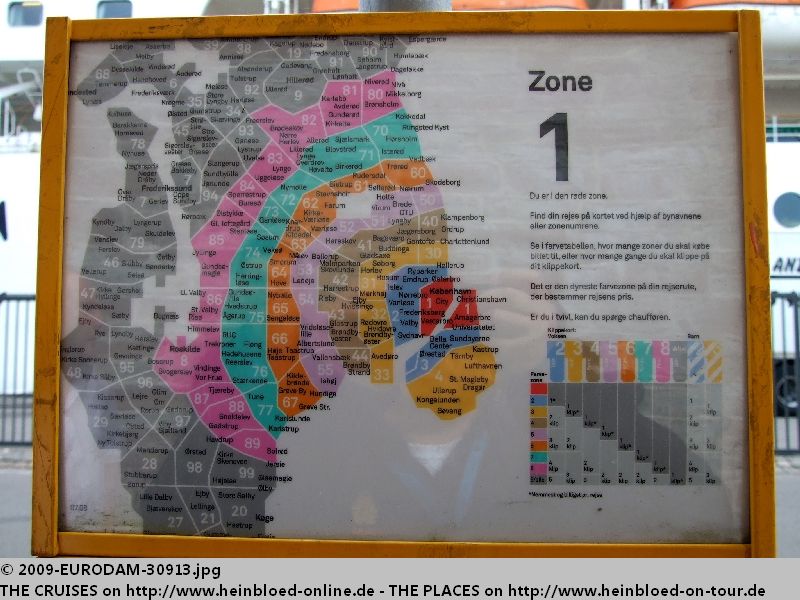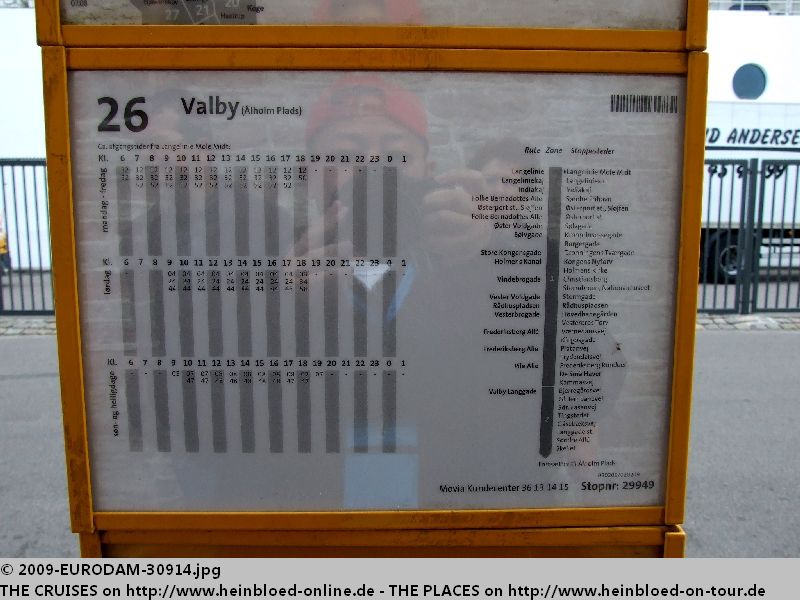 And if the quay has to be closed due to ship loading activites and the bus cannot get through... the bus still ends at the bow of the ship...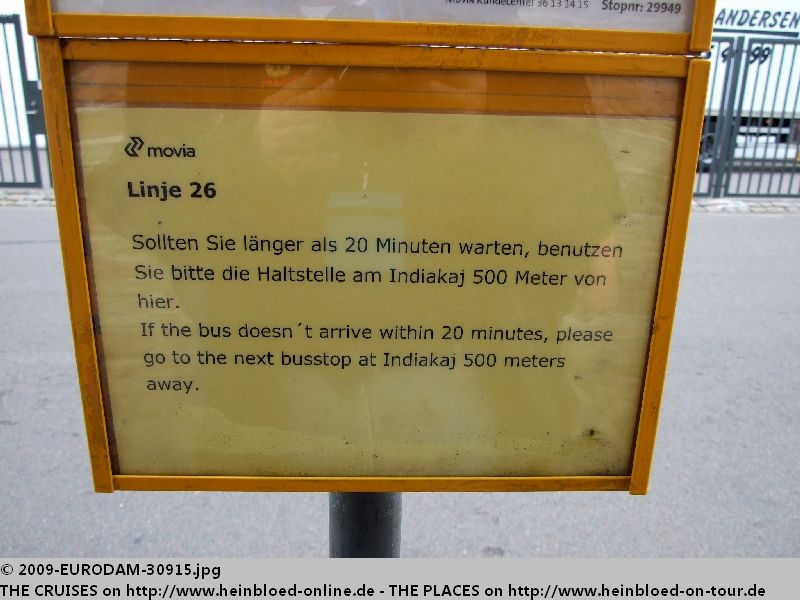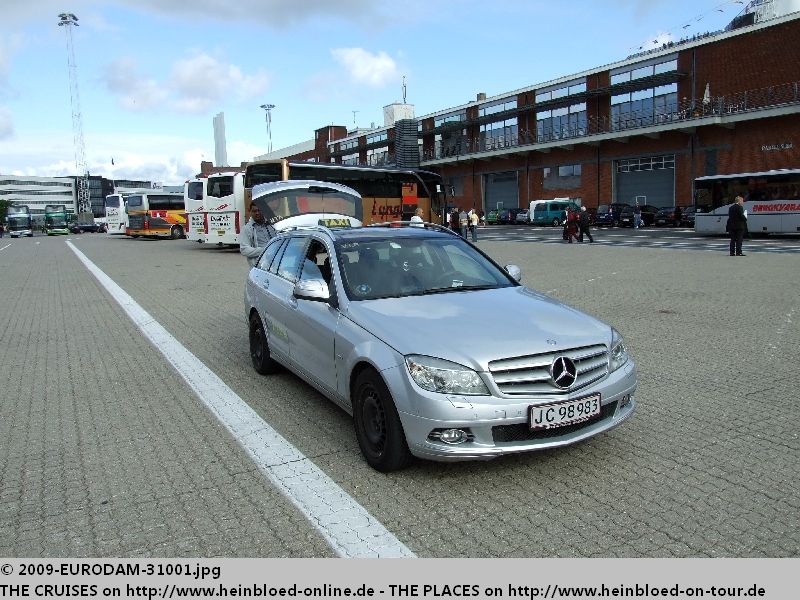 We ordered our taxi with Codantaxi (https://www.codantaxi.dk) 09.30 hrs. At 09.29 hrs our driver was waiting for us.

First we visited the Langline-Terminal. On the way DELPHIN (this was our last 1-nighter from Hamburg to Kiel on Kiel-Canal) brought herself into our memories... but the jump from EURODAM to DELPHIN was too big for my mind...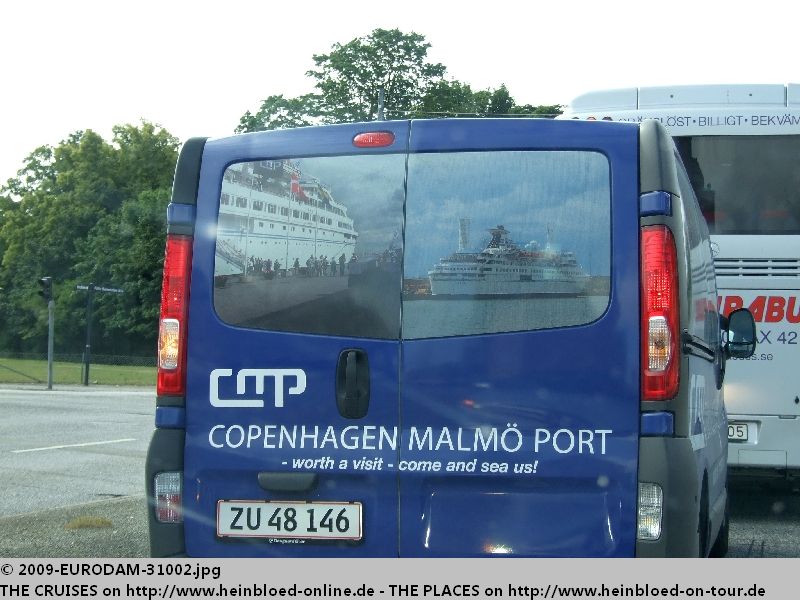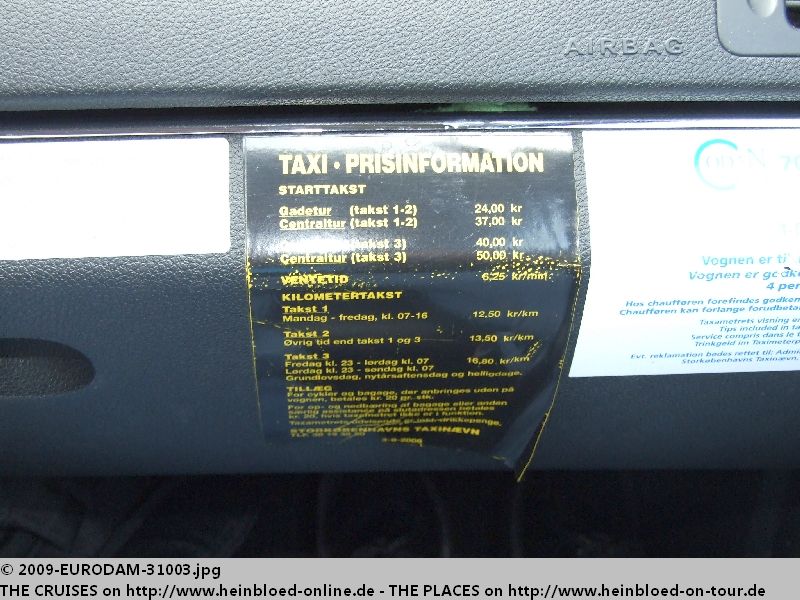 We used the meter with beat 2...

After checking Langeline-Terminal we went to this place which everyone wanted to visit...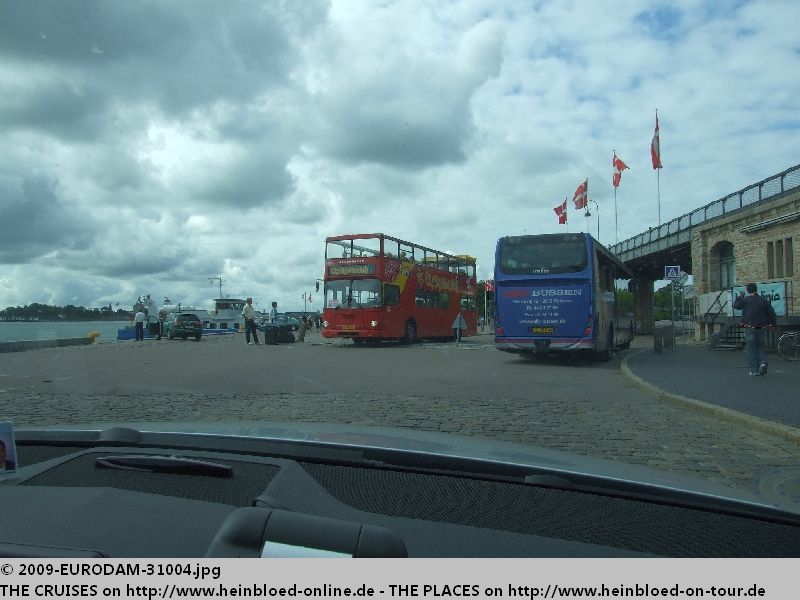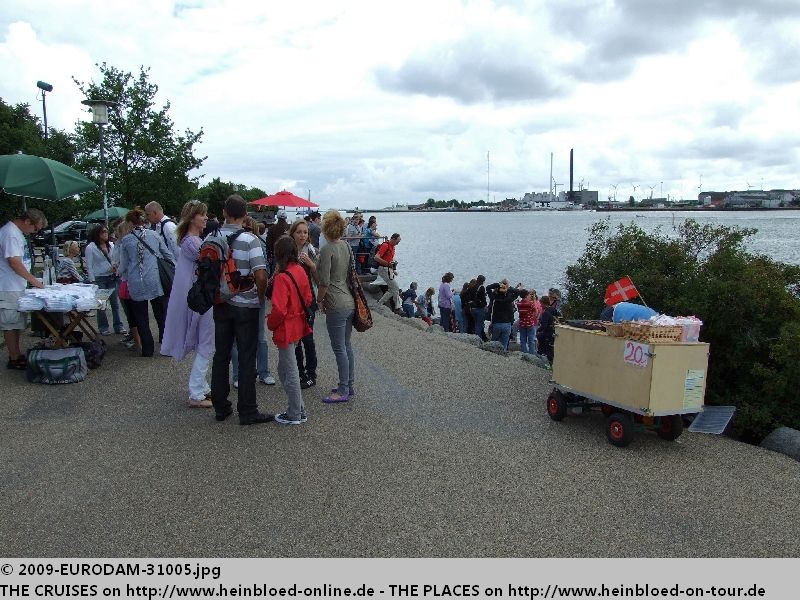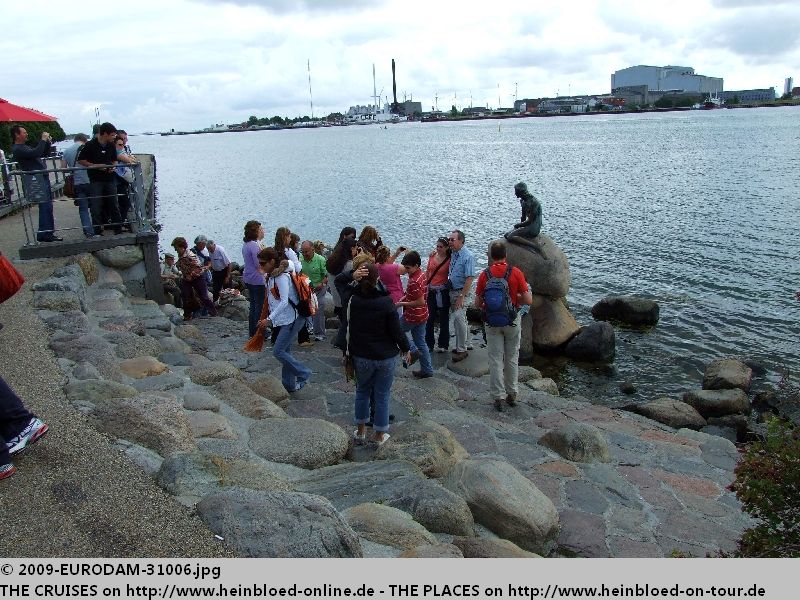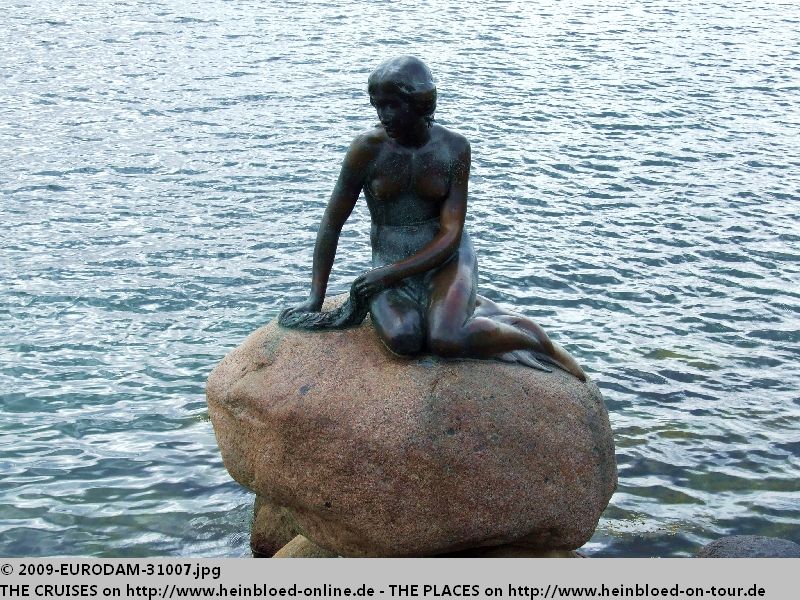 But next year she will not be there... She will be on EXPO 2010 in Shanghai... The Chinese are World Champion to copy... why do they need the original??? And 2011 we will see her in Hong Kong, Xingang, Dalian, Tianjin etc. etc.... If there are copies: I can see her without Chinese tour groups around as they have her by themselves (subject they return her to Denmark) and they do not need to go to Copenhagen anymore to see her.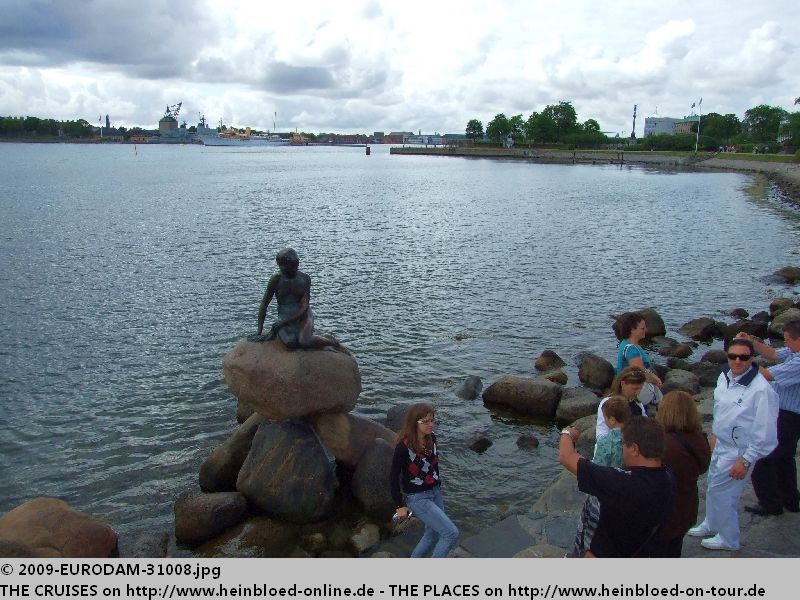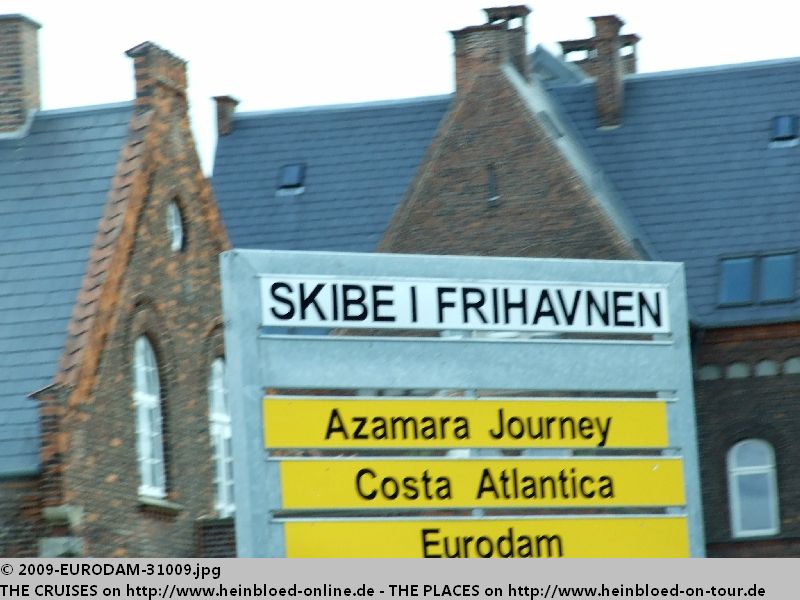 There was no electronic display in town like in Southampton or Kiel...

We continued for Rosenborg Palace...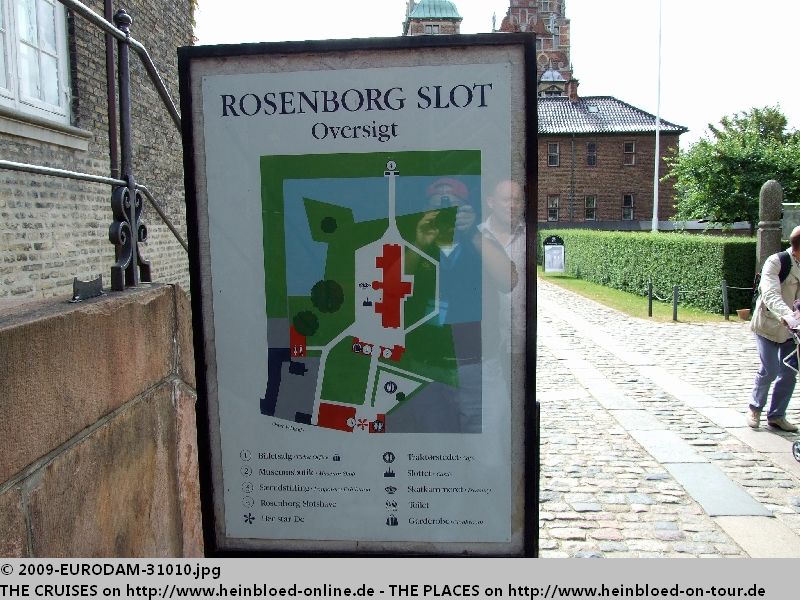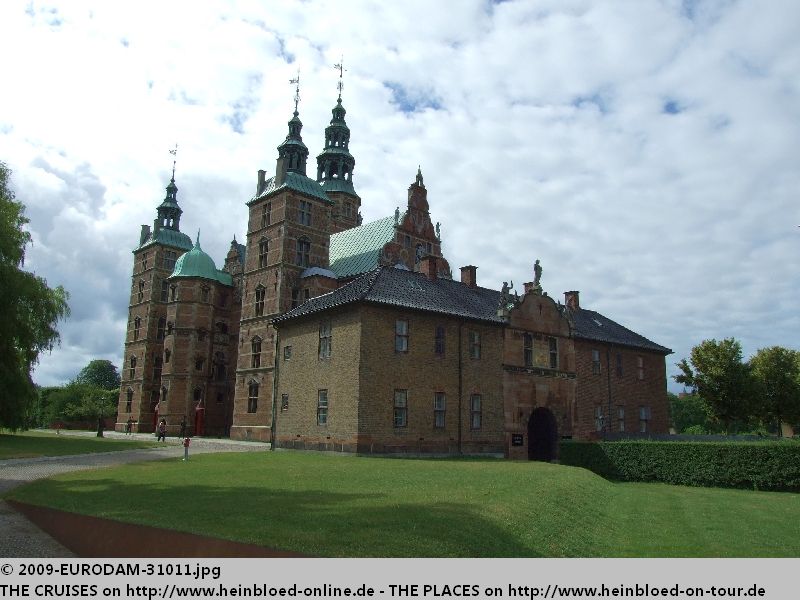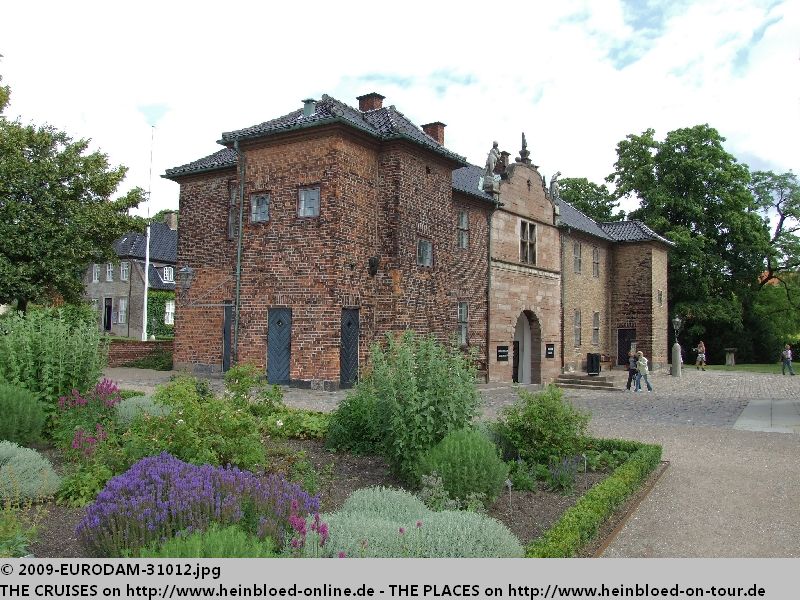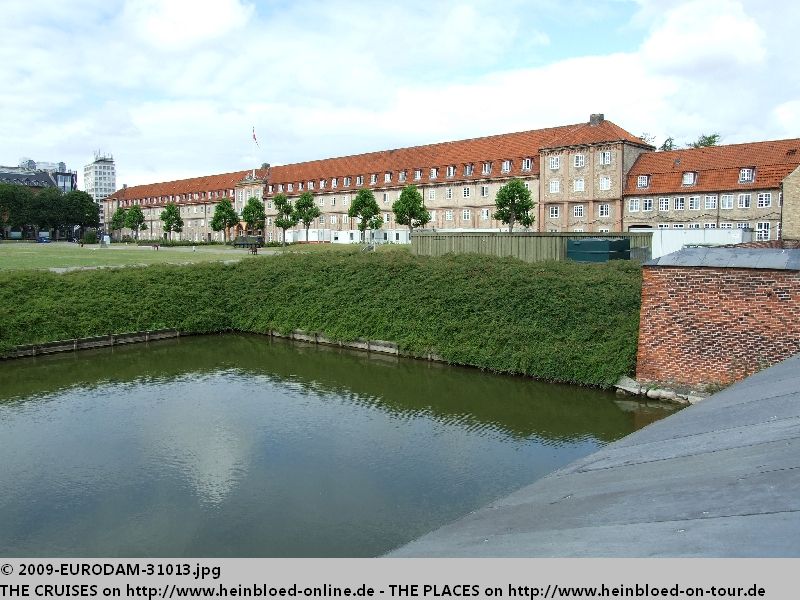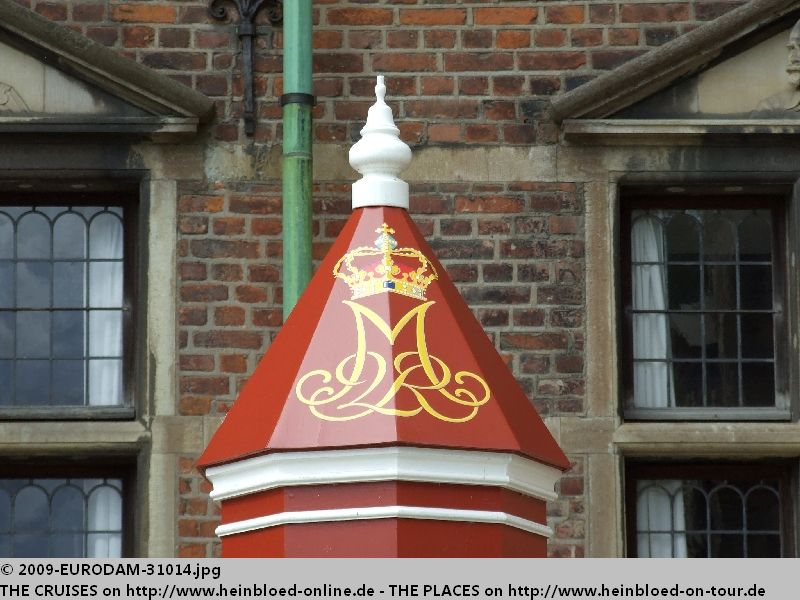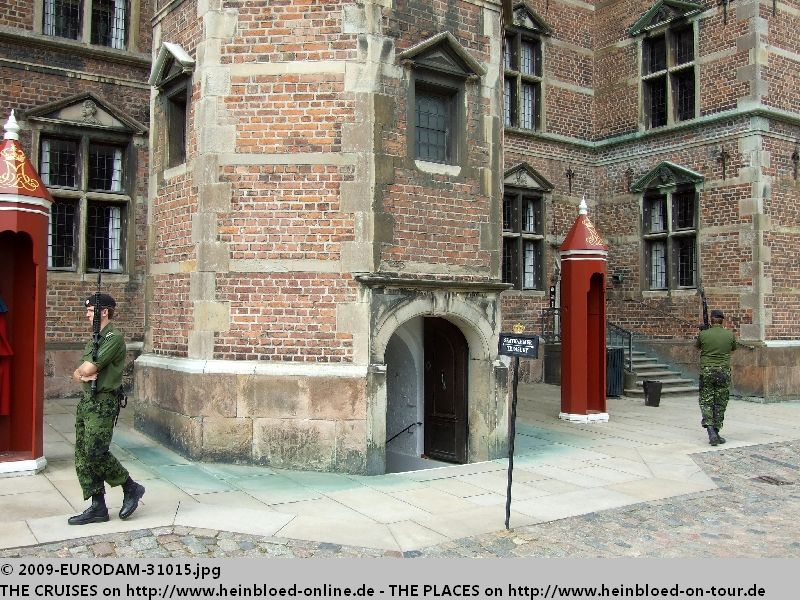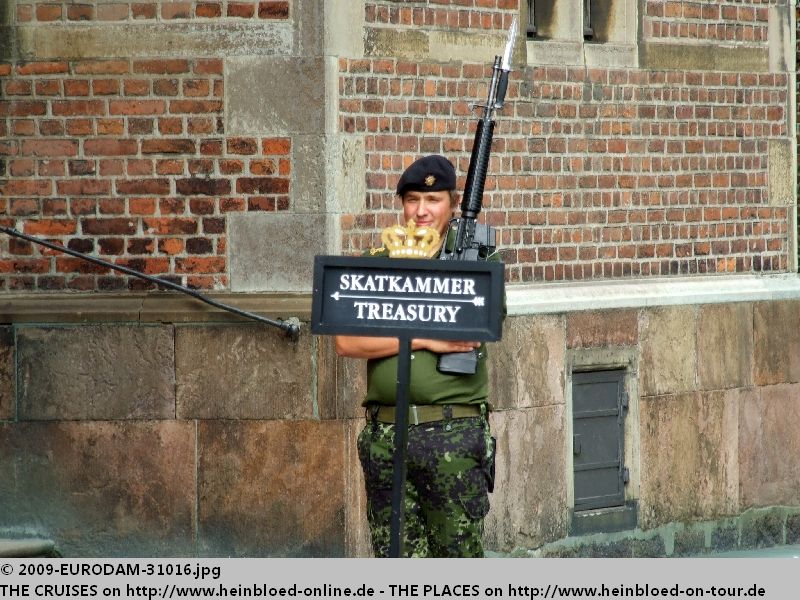 He showed me his tongue... But he refused to repeat when I was waiting with the camera to take a picture of his tongue...

A very nice oasis in Copenhagen. Even cats liked the place...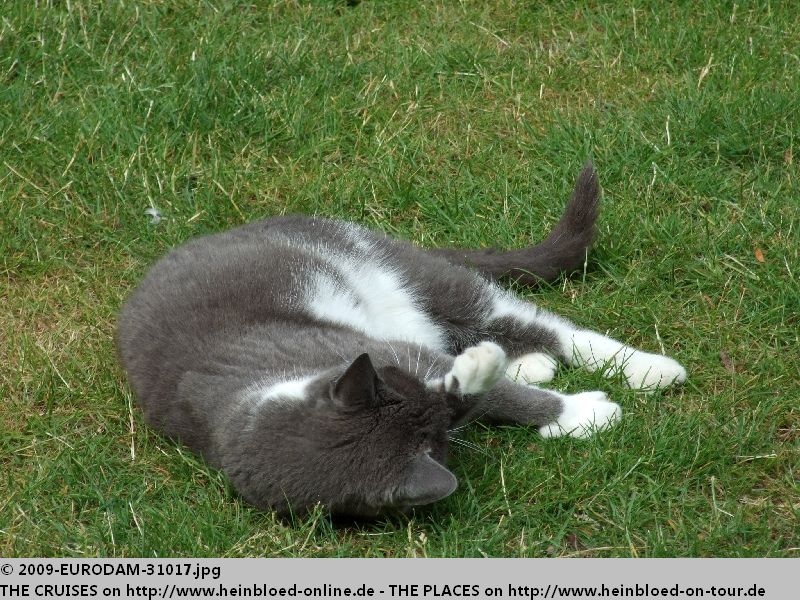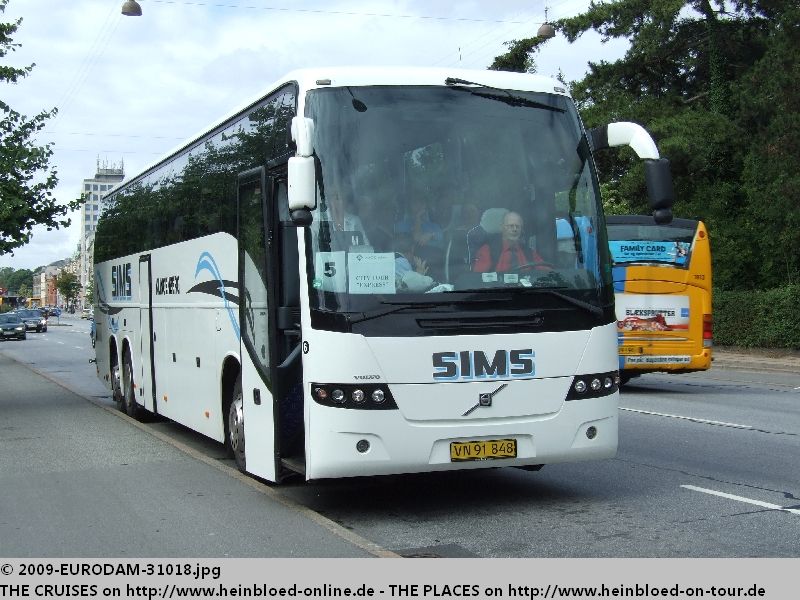 When the first MSC buses arrived we better escaped from there. MathiasK was not onboard as photographer.

Our driver took us to the Fredrikschurch and stopped there so can walk over the square at Amalienborg Palace...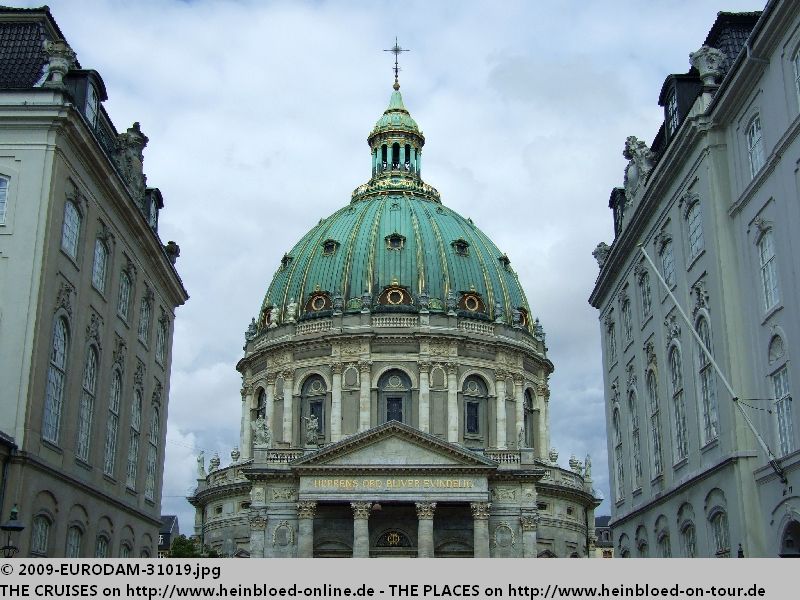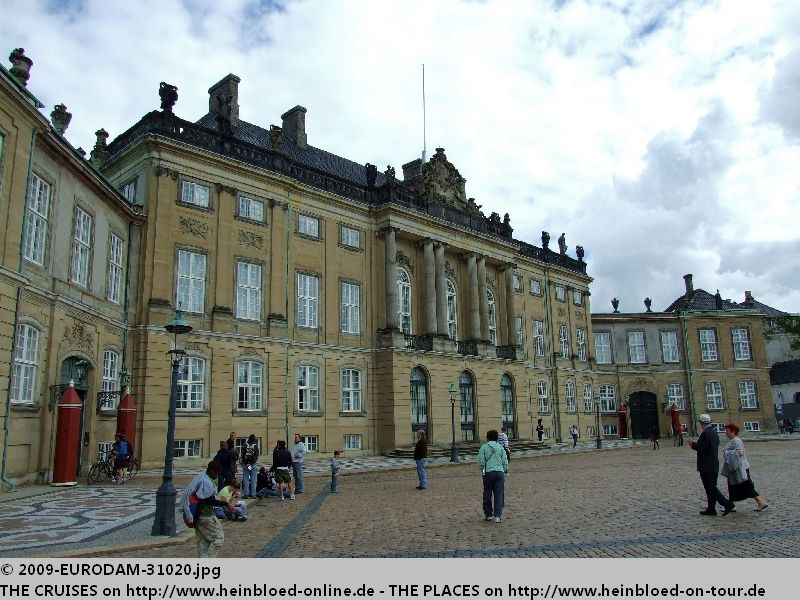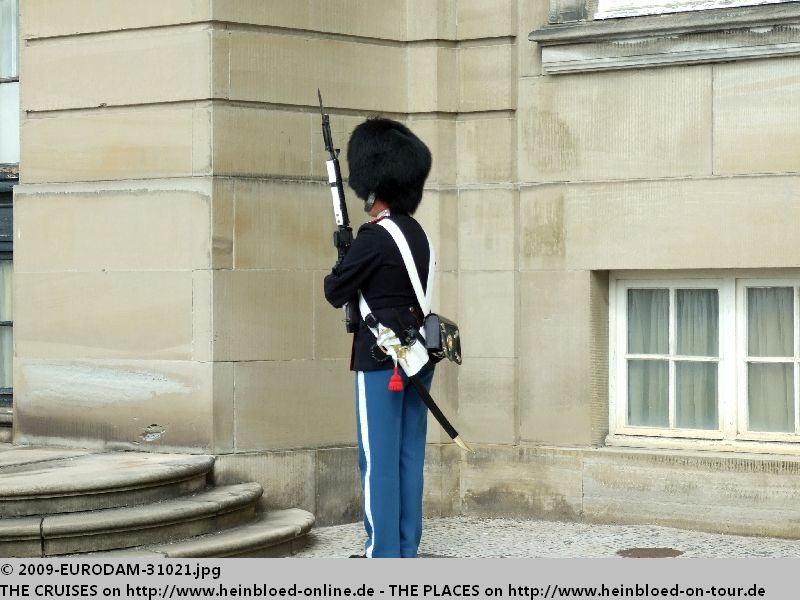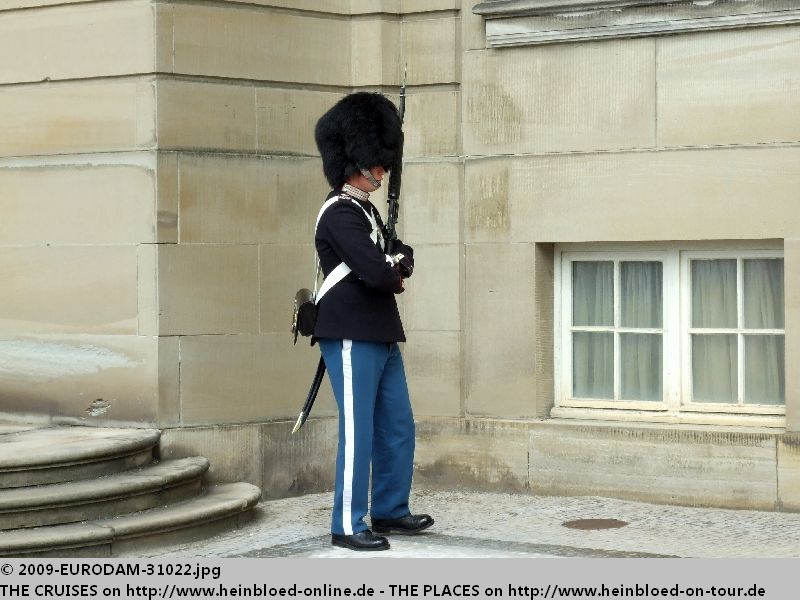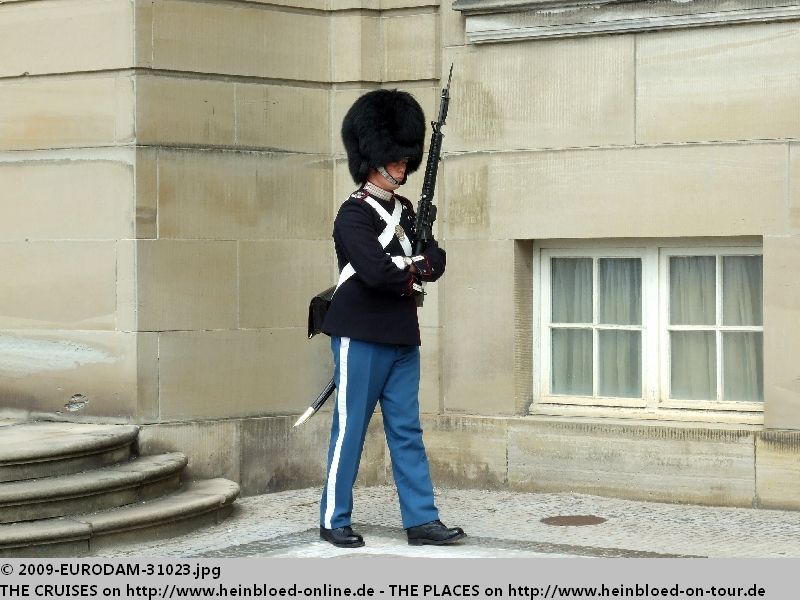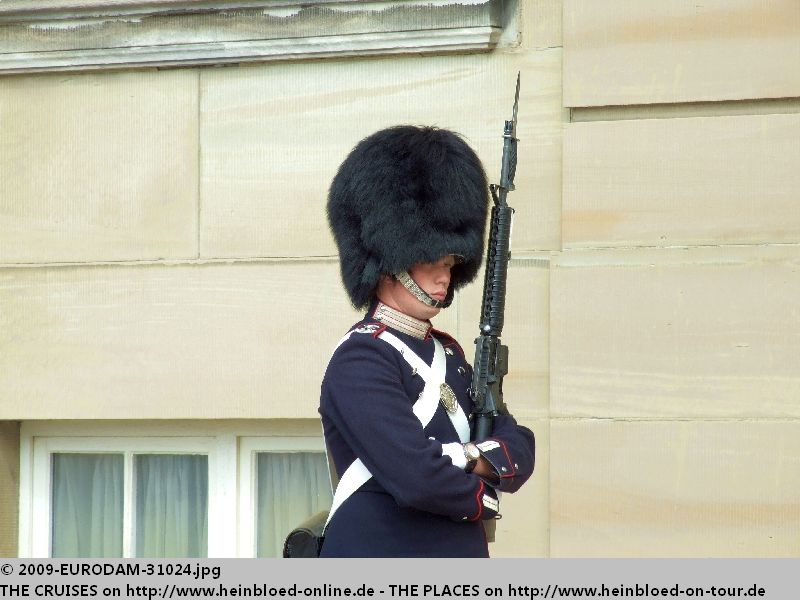 We continued for the airport... Our driver took a shortcut by crossing the square in front of the palace...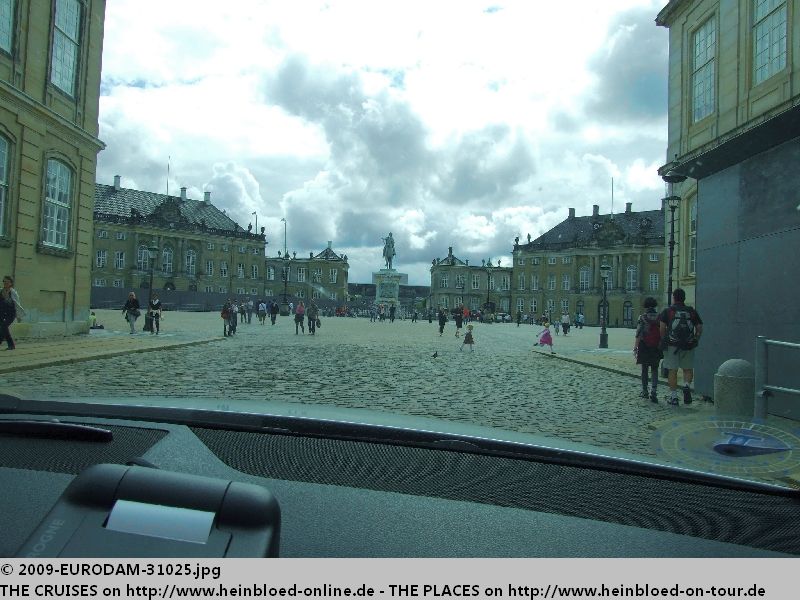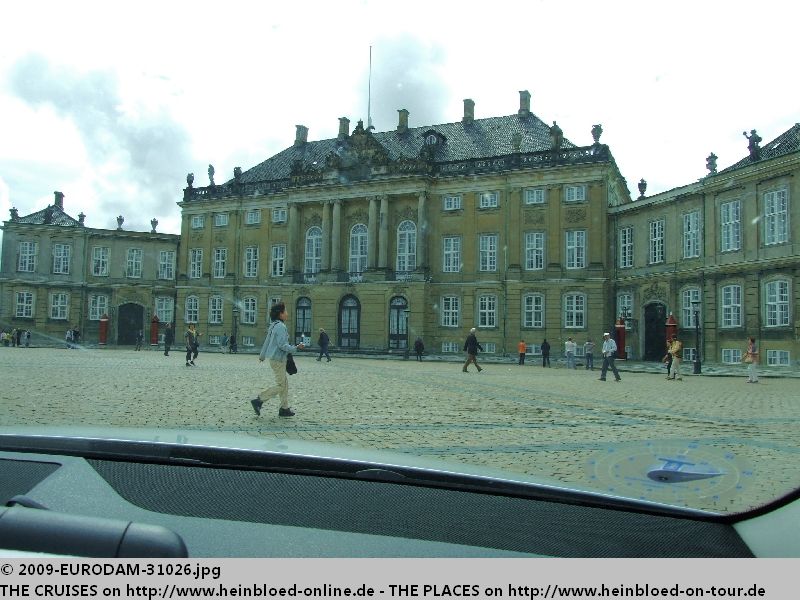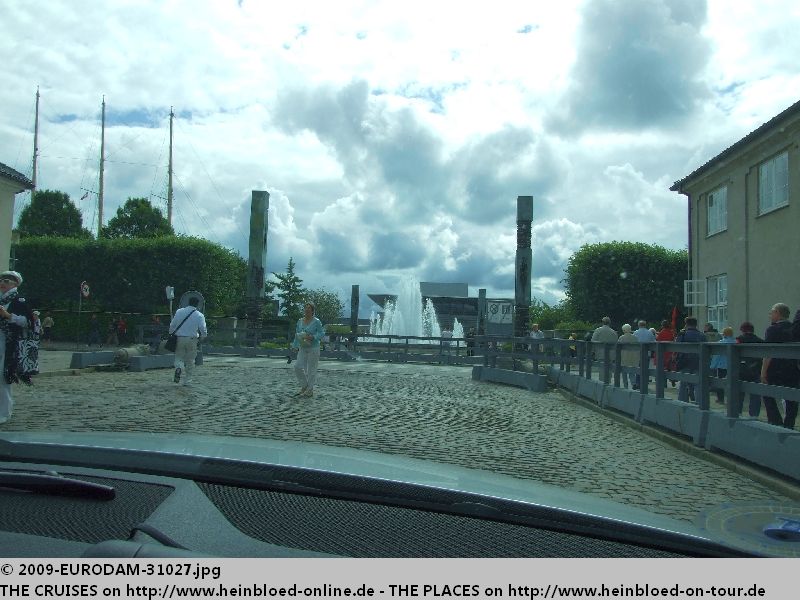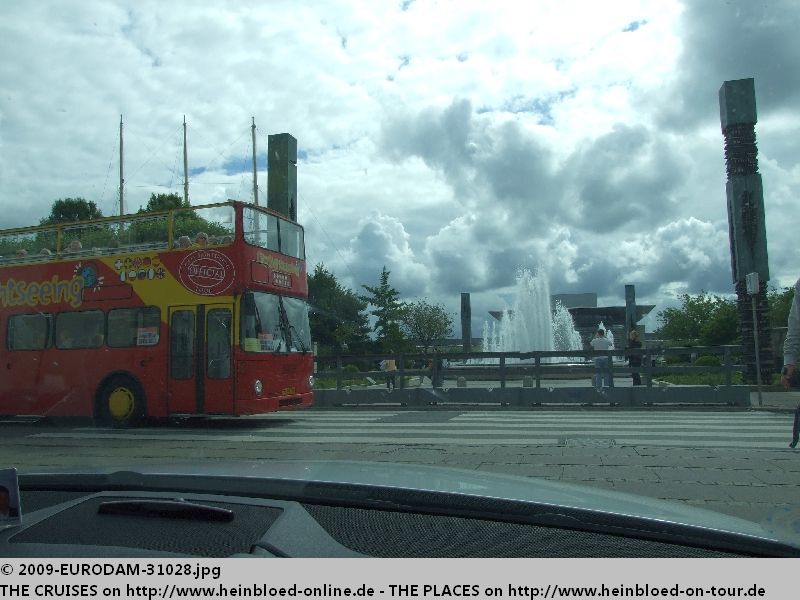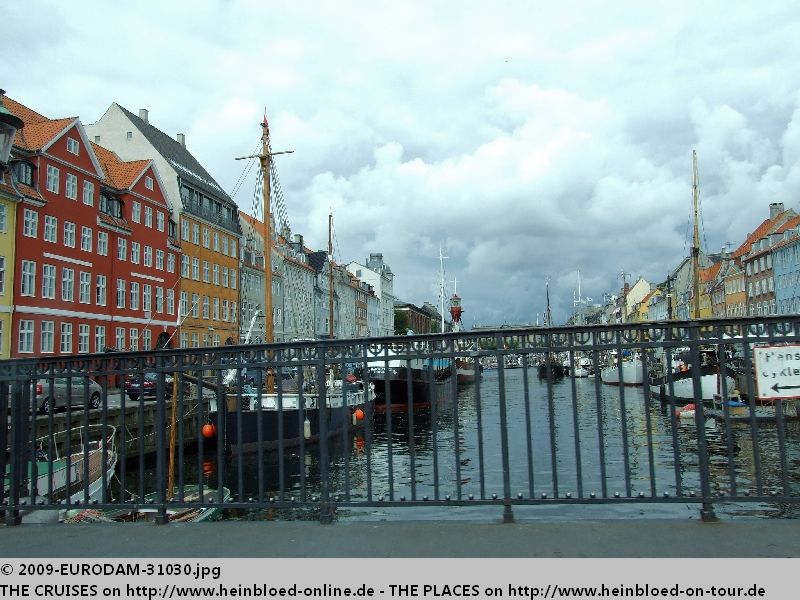 On the way to the airport we stopped at an ATM. But I saw that HAL hold several amounts of my credit card so that we do get anything (we are using a

prepaid

-VISA with an individual photo showing our favourite cruise ship BLACK PRINCE and us - it's good for non-Euro-transactions as we are paying only 1% for conversion: so for most cruise ships charging in USD or GBP and for shore expenses like here in Denmark - but if a cruise ship line holds too much you cannot get the amount you need although it should be on your account). So have to use our more expensive cards to get cash... But it was unnecessary as the driver offered us to pay by credit card...

We paid for 1 1/2 hours 750 DKK incl. tips (which is uncommon in Denmark but we had a very nice driver).

At approx. 11.00 hrs we arrived at the airport.

We checked-in. Bruno's Sister and Brother-in-law had already their boarding passes as we got them on the ship. At the airport you have kiosks for the baggage tags. So after minutes she could handed over her bags.

Originally we were booked for Hamburg and would have take the high speed train to get home due to affordable one-way-tickets to Frankfurt.

SAS cancelled the flight and booked us on the late night flight.

I explained the situation at the phone that our final destination is Frankfurt.

But all SAS-operated flights are fully booked.

They book us on Lufthansa Copenhagen - Frankfurt - Hamburg and asked us not to use the Frankfurt - Hamburg segment.

That's why Bruno's sister and brother-in-law will return at 16.00 hrs to Luxembourg

and we at 19.35 hrs to Frankfurt.

After all bags were handed over to SAS and all of us had the boarding passes we went to the 2nd part of our Copenhagen visit and returned to the city by subway (Metro).

But this you will find seperately. Otherwise all my free traffic on fotki will be used off too fast.

På gensyn i København - See you in Copenhagen...