Scroll down for English explanations - alternates with German explanations.

Wir mussten nochmals zur ZAANDAM, weil wir dort etwas haben lieben lassen. Leider lassen sie uns nicht mehr an Bord, damit wir schnell mit Hilfe unserer Stewards selbst gucken. Leider meldet sich aber auch keiner bei uns zurück. Dass das weg ist, kann eigentlich kaum sein.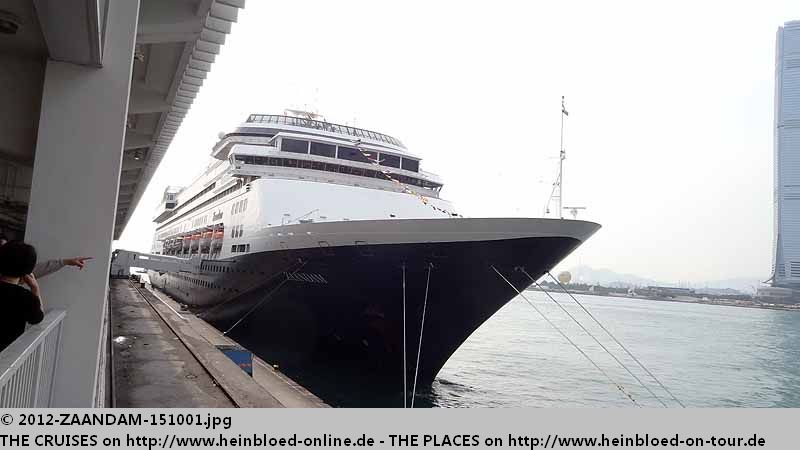 We need to return to ZAANDAM again because we forgot something. But they did not let us go onboard so we could check with the help of our stewards. Unfortunately until today nobody contacted us. We cannot believe that nobody found it.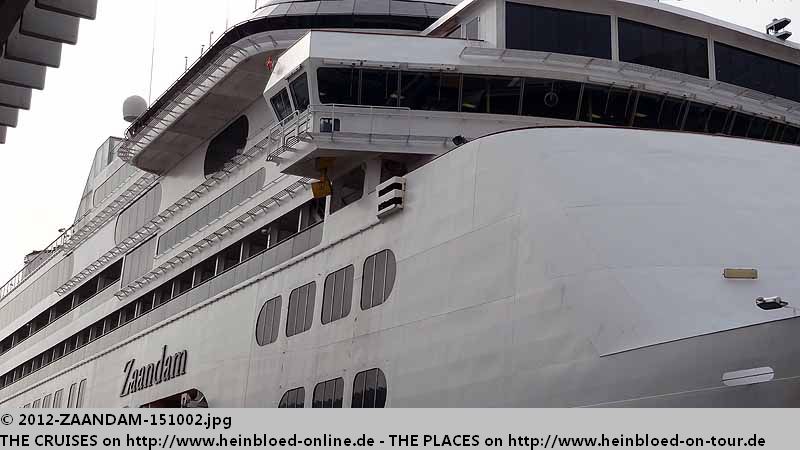 Zwei Stunden später zieht sie bei uns am Hotelfenster vorbei. Good-Bye ZAANDAM. Es war schön.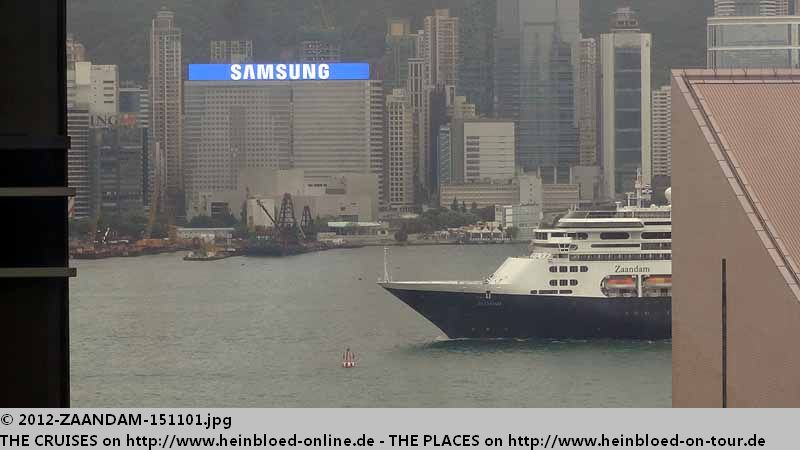 Two hours later she passed our hotel window. Good-Bye ZAANDAM. It was beautiful.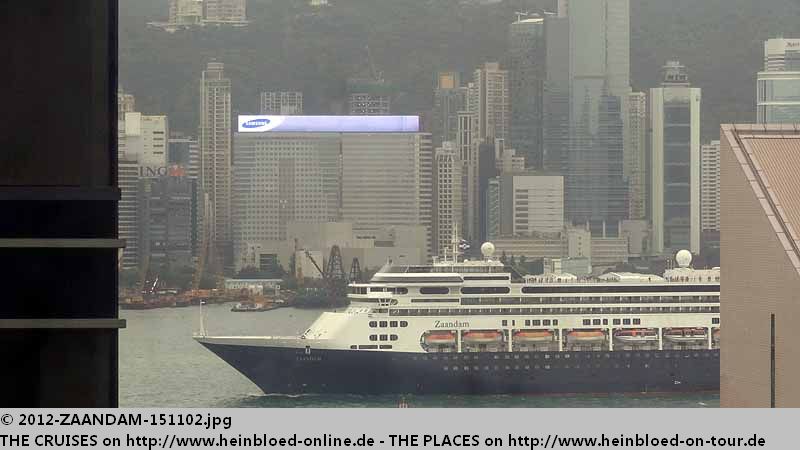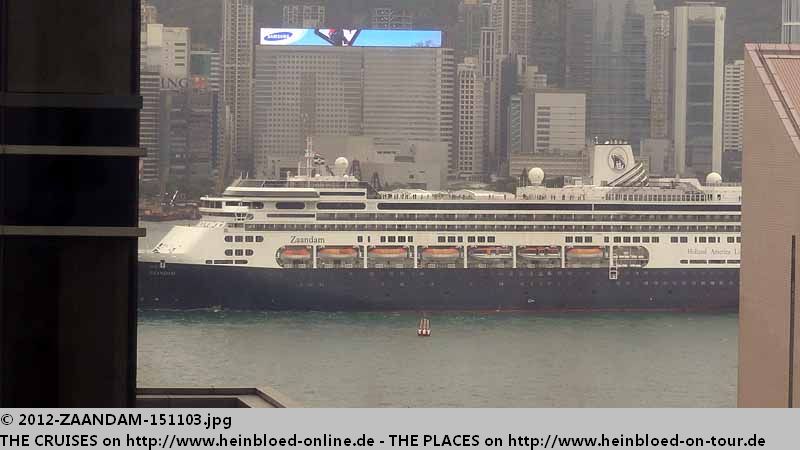 And then a casino ship returned to collect new guests for the night tour.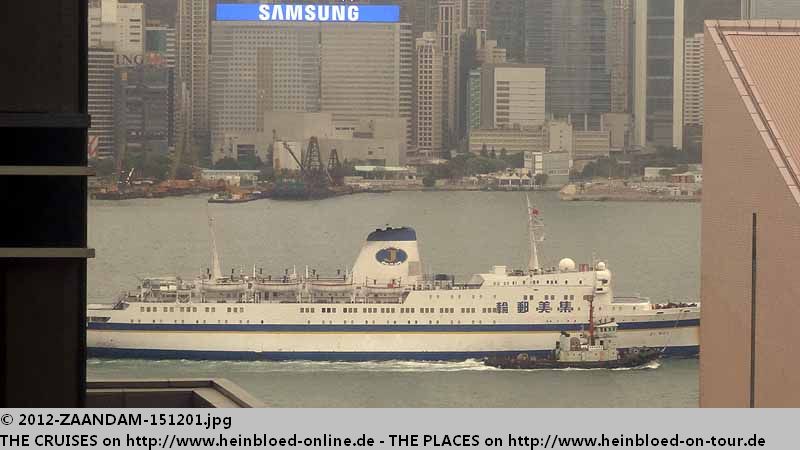 Und dann kommt noch ein Casino Schiff wieder zurück, um neue Gäste für die Nachttour aufzunehmen.
Bruno und ich ziehen nochmals los. Meine Eltern wollen nicht mit.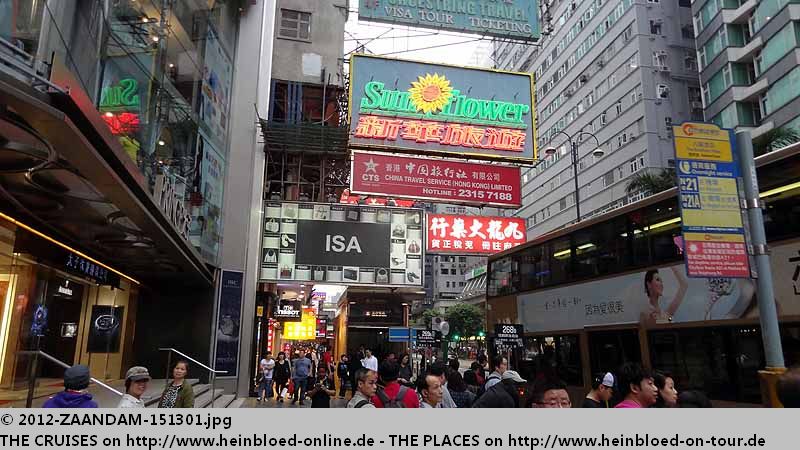 Bruno and I started again. My parents did not want to join us.

We wanted to go to Aberdeen. Even we had a station information map (incl. transfer information)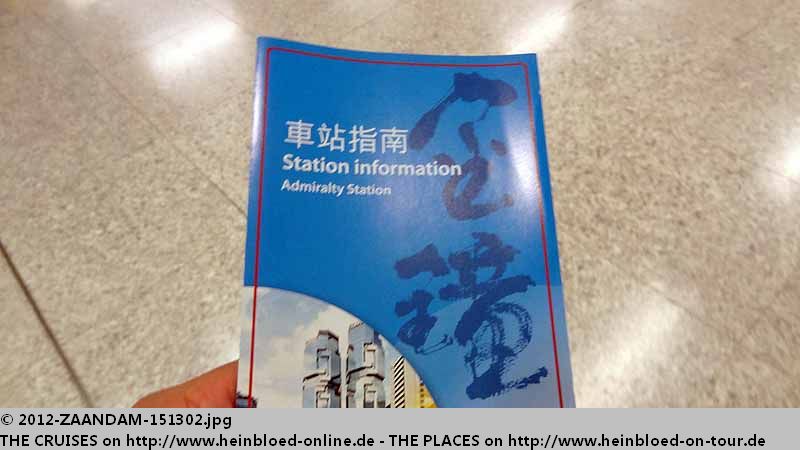 Wir wollen nach Aberdeen. Trotz eines Umsteigeplans des Bahnhofes, den wir bekommen,
und Schildern: wir finden den Bus nicht.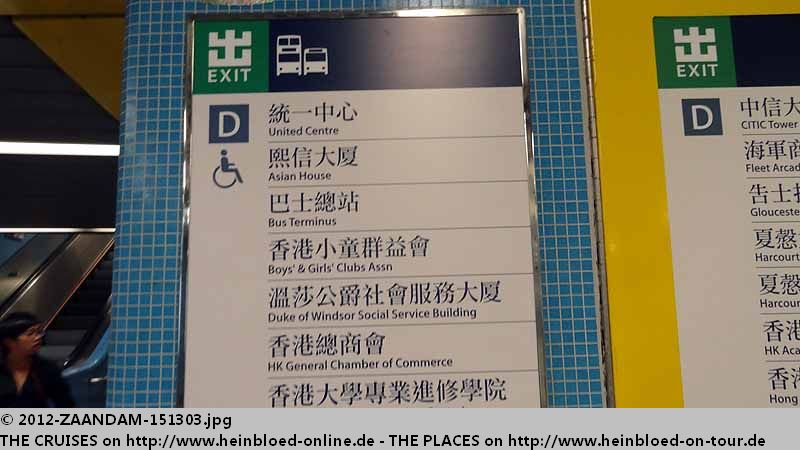 ... and signposts: we could not find the bus.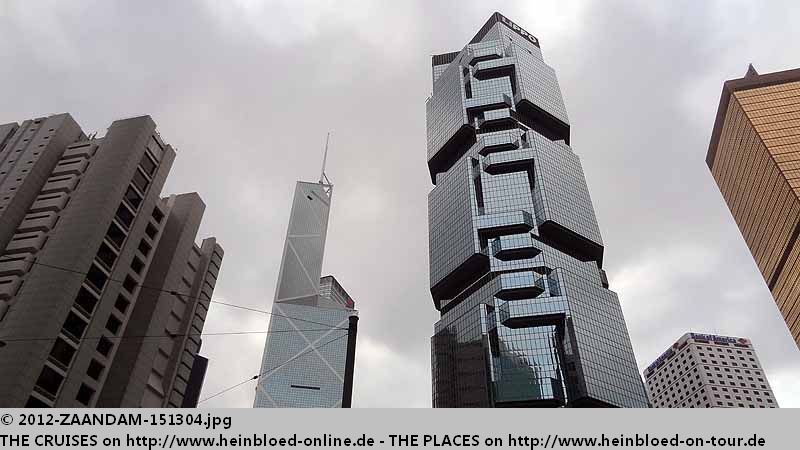 Kurzerhand nehmen wir uns ein Taxi. Unterwegs sehen wir, dass auch die U-Bahn in Richtung Aberdeen weitergeführt wird.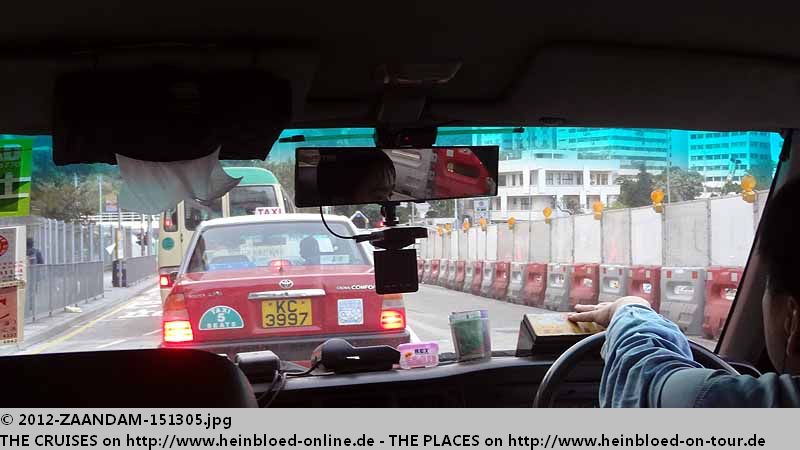 Spontaneously we took a taxi. On the way we saw that the subway will find her way towards Aberdeen.

First of all I wanted to take some pictures of the floating Restaurant Jumbo.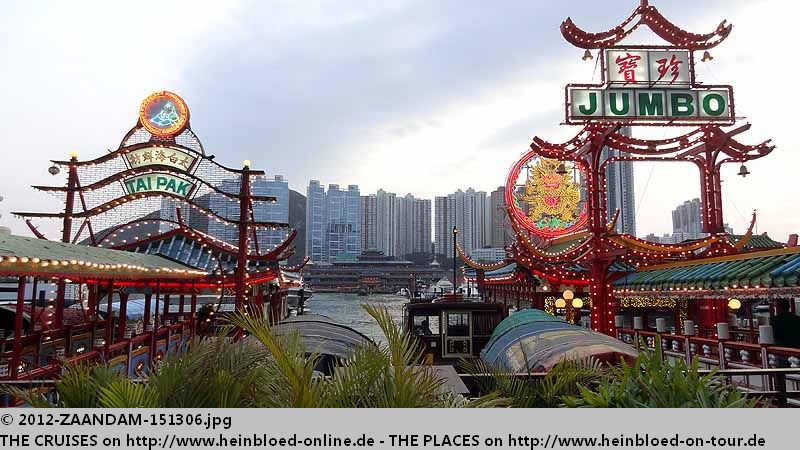 Zunächst will ich nochmals das schwimmende Restaurant
Jumbo
fotografieren.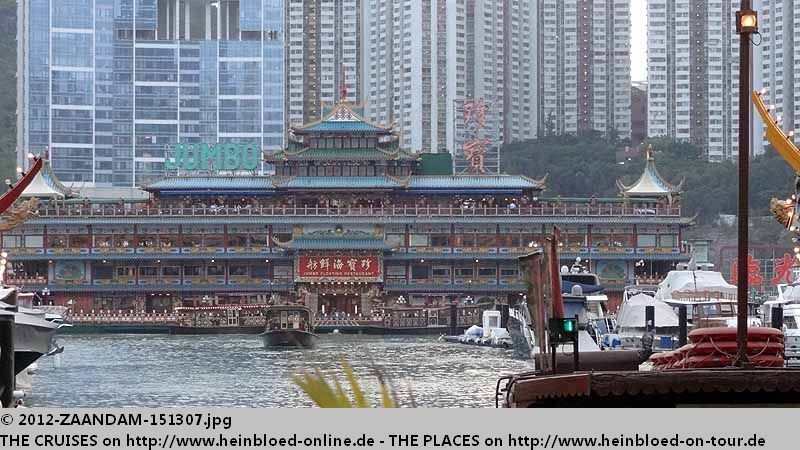 Somehow it was already too late... the old fishermen villages do not exist anymore. Instead you find more and more tall buildings and in front of them yachts. Who looks closer to the picture: few little men worked on the picture...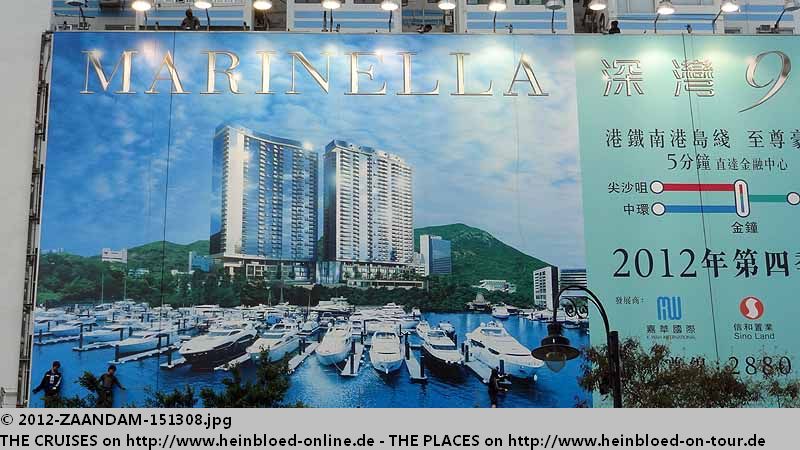 Es ist eigentlich schon zu spät... die alten Fischerbootdörfer existieren nicht mehr. Stattdessen werden immer mehr Hochhäuser hochgezogen und dort gibt es Yachten. Wer genauer hinguckt: am Bild wird gearbeitet... die Männchen sind echt.
Der nächste Taxifahrer hatte dann verstanden, dass wir Touristen sind, und auf der Suche nach dem alten Aberdeen waren. Kurzerhand führt er uns zu einem Fischgroßhandel, der sich bereits auf das Geschäft von morgen vorbereitet. Er erklärt uns, dass sich die Fischer immer mehr nach China zurückziehen und nicht mehr in Hongkong bleiben.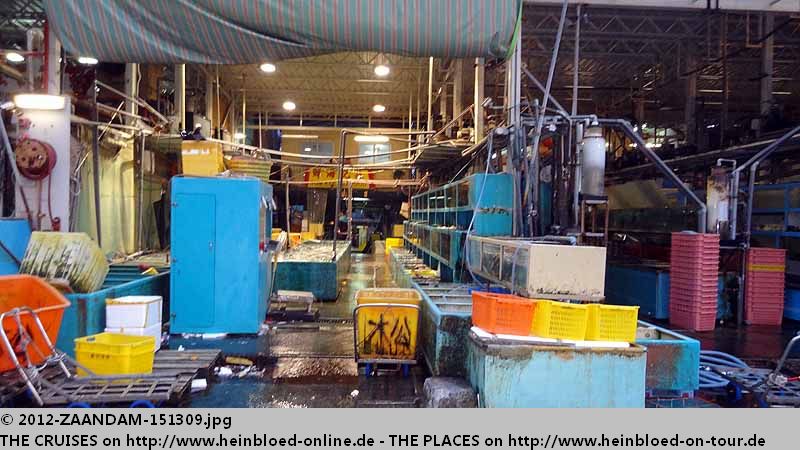 The next taxidriver understood that we were tourists and what we wanted to see: the old Aberdeen. So he took us the fish wholesale market which was already preparing itself for the next day's business. He explained more and more fishermen stay in China now and not anymore in Hong Kong.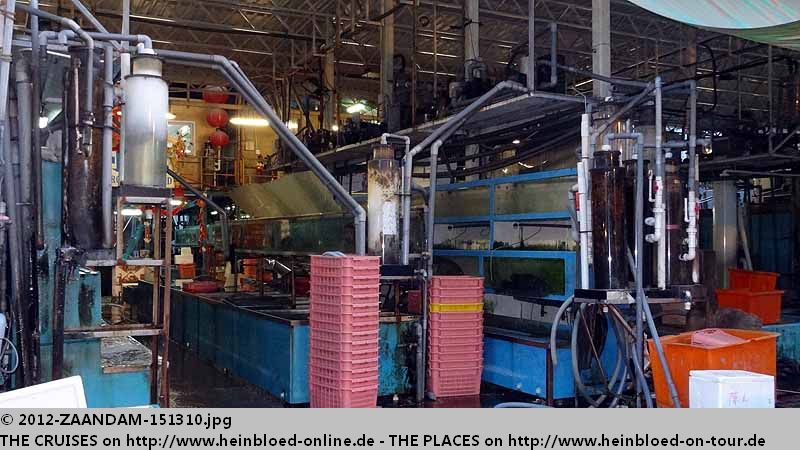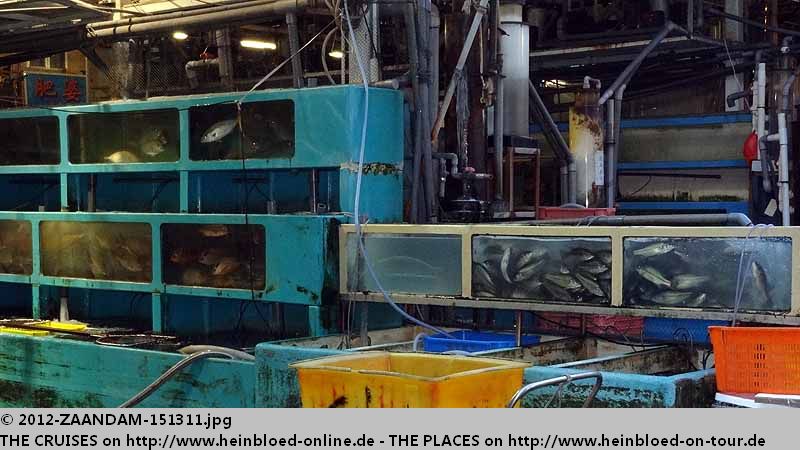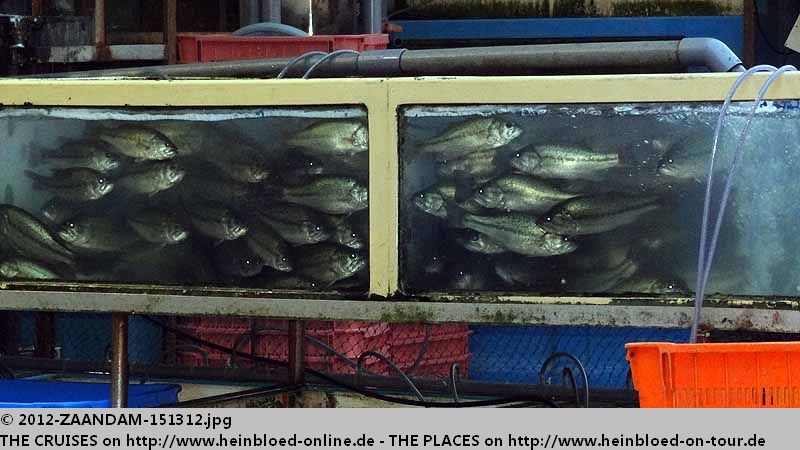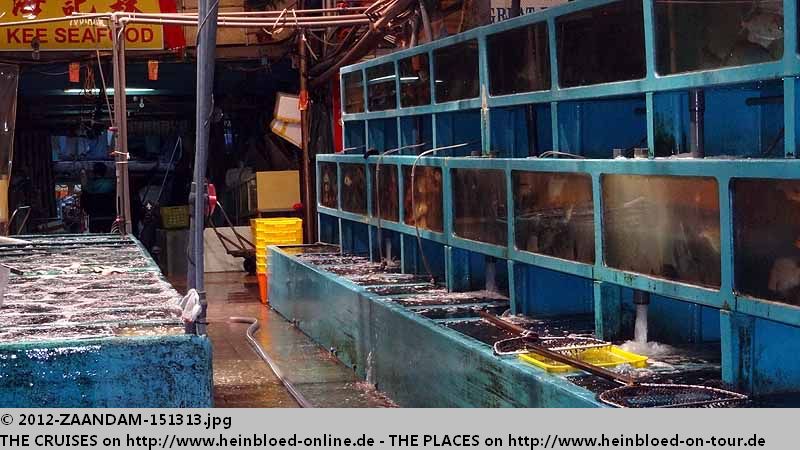 He showed us the rest of the boat-people who also lived on their boats.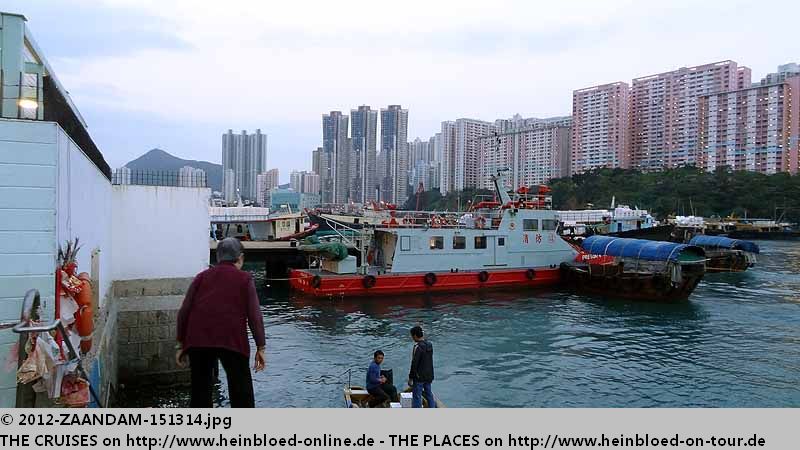 Er zeigt uns die Reste dieser Bootsleute, die auch auf den Booten leben.
Aber wenn wir das nächste Mal kommen, würde es sie vielleicht nicht mehr geben.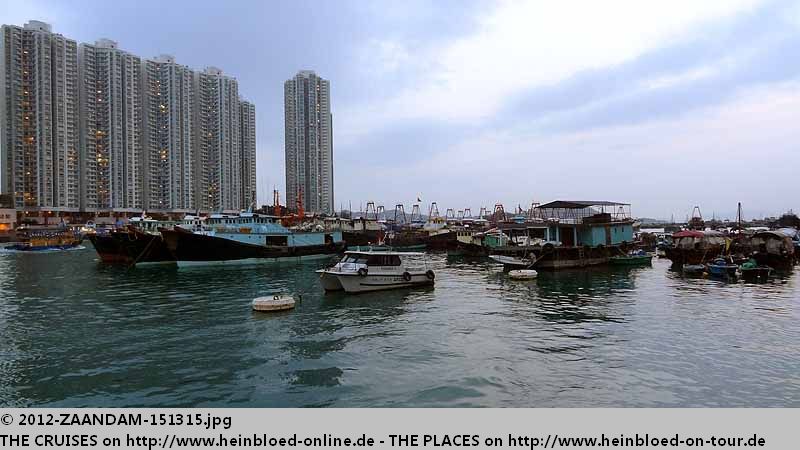 But next time when we come again they will not be there anymore.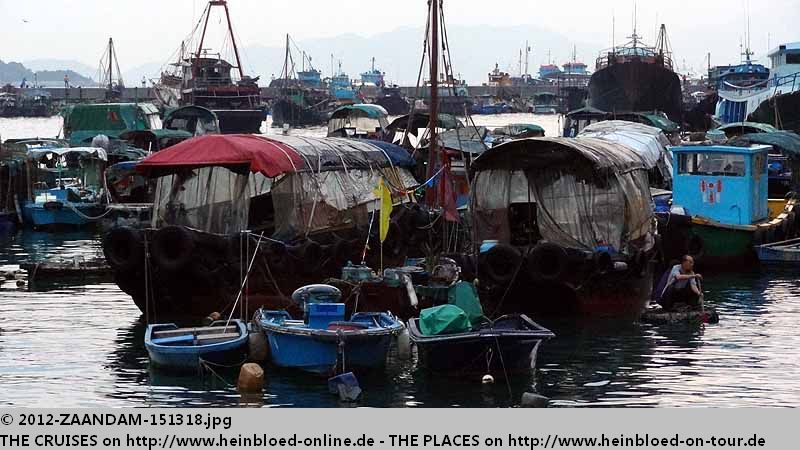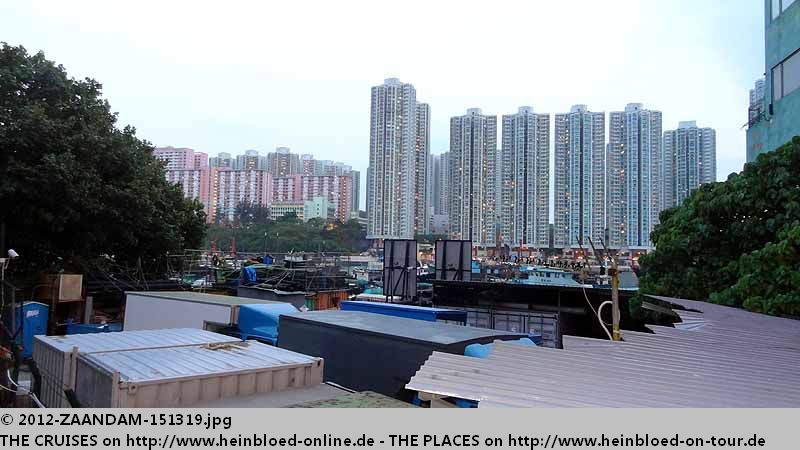 The next place to go was Happy Valley originally to start a tram tour but the taxi driver persuaded us to get us to Kennedytown and to start there the tour. An so we drove along the West coast of the island of Hong Kong.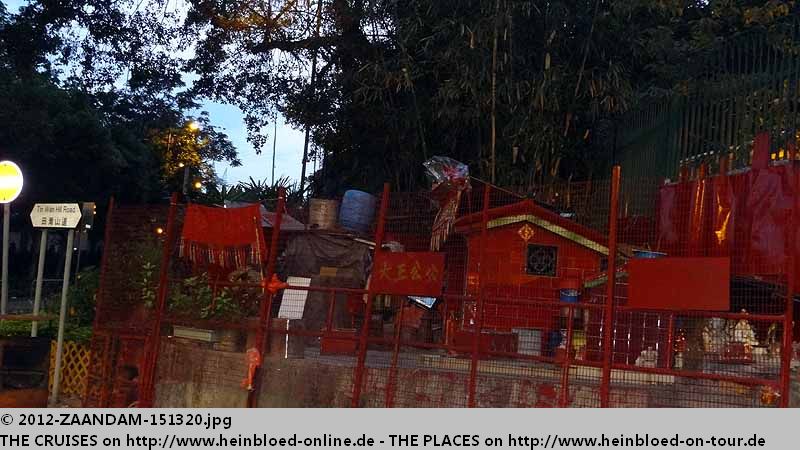 Eigentlich wollten wir als nächstes nach Happy Valley, um dort eine Straßenbahntour zu starten, aber der Taxifahrer überredet uns nach Kennedytown zu fahren und dort die Tour zu beginnen. Und so fahren an der Westküste der Insel Hongkong entlang.