Scroll down for English explanations - alternates with German explanations.

Für diese Reise haben wir weniger als 100,00 EUR/Nacht bezahlt.
Was haben wir dafür bekommen?
1.541 Punkte von Douglas Ward = 4* - Das ist die gleichhohe Wertung wie bei der Britannia Class der QUEEN MARY 2!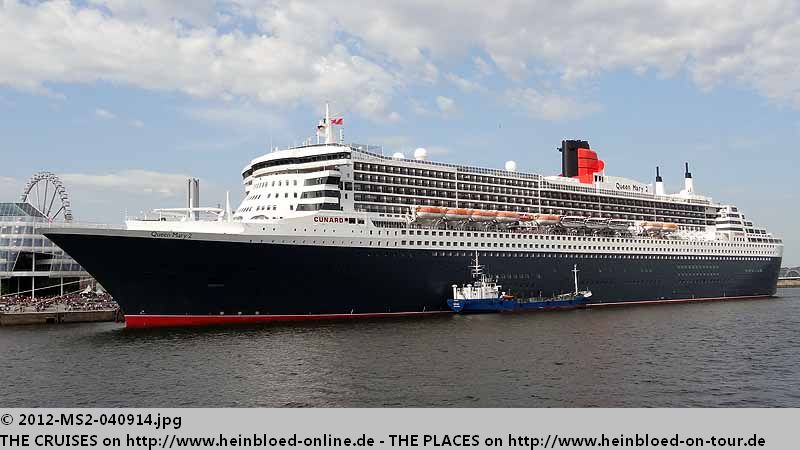 Gleiche Wertung in der Britannia Class: QUEEN MARY 2 in Hamburg. /

Same rating in the Britannia Class: QUEEN MARY 2 in Hamburg.

For this voyage we paid less than 130.00 USD/night.

What did we got?

1,541 Points from Douglas Ward = 4* - The same high rating like the Britannia Class on QUEEN MARY 2!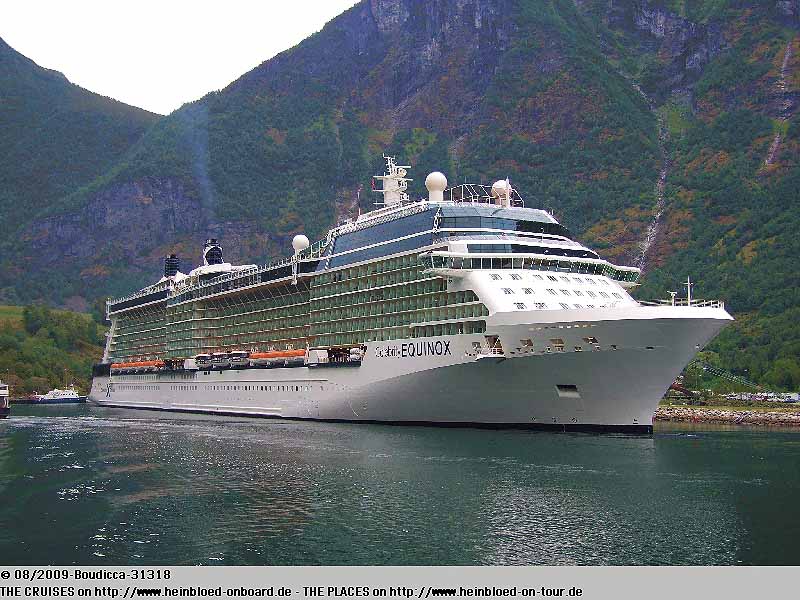 Die höchste Wertung, die wir persönlich kennen: CELEBRITY EQUINOX in Flaam. /

The highest rating we know personally: CELEBRITY EQUINOX in Flaam.

Von den Schiffen, die wir kennen wird sie nur noch übertroffen: CELEBRITY EQUINOX, CELEBRITY CENTURY und NORWEGIAN EPIC.
Insgesamt war das Schiff schon zwölf Jahre alt, aber ich fand in einem verDAMmt guten Zustand. In den öffentlichen Bereichen gab es nichts negatives, das mir auffiel. An wenigen Stellen musste ein wenig Farbe dran, aber nichts, dass eine schöne Seereise beeinträchtigt hätte. Mir hat das Innenleben sehr gut gefallen. Es war eigentlich groß genug, damit fast alles, was große Schiffe bieten, auch geboten wurde. Nur bei einer 15-Tage-Reise fiel dann irgendwann auf, dass man nicht "genügend" Bars hatte, zwischen denen man sich "bewegen" konnte.
Ich bin ja nicht so der Sonnenlieger, aber insgesamt fiel sogar mir auf, dass man überall Platz fand und insbesondere auf dem (unteren) Promenadendeck (es gab ja eigentlich bloß eins!), man das Gefühl von Freiheit und Ruhe genoß und das auf fantastischen Holzsonnenliegen mit einer tollen dicken Auflage.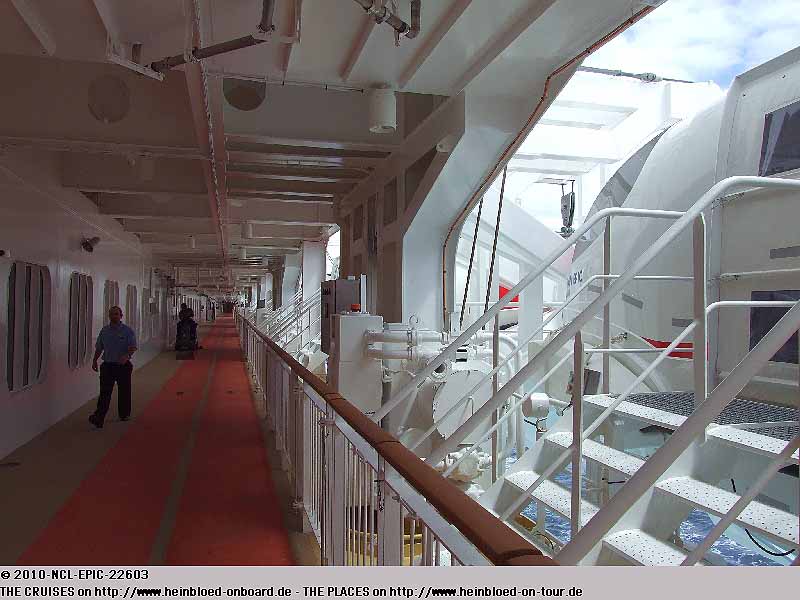 Alles andere als schön: Promenadendeck auf der NORWEGIAN EPIC. /

Anything else but nice: promenade on NORWEGIAN EPIC.

From the ships we knew only hit by: CELEBRITY EQUINOX, CELEBRITY CENTURY and NORWEGIAN EPIC.

In total the ship was already twelve years old but I find it was in a DAMed good condition. In the public area there was nothing bad which attracted my attention. On few spots you need some little paint but nothing which should impact a great ocean voyage. I loved the interior. It was large enough to have (almost) everything big ship offers. But with a 14-night-cruise you had the feeling that there were not "enough" bars which you can "move" between.

I am not so the sun lover but even I saw that you find everywhere space and especially on the (lower) promenade deck (there was only one!) so you had the feeling of freedom and silence - and on great wooden sunbeds with real thick mats on.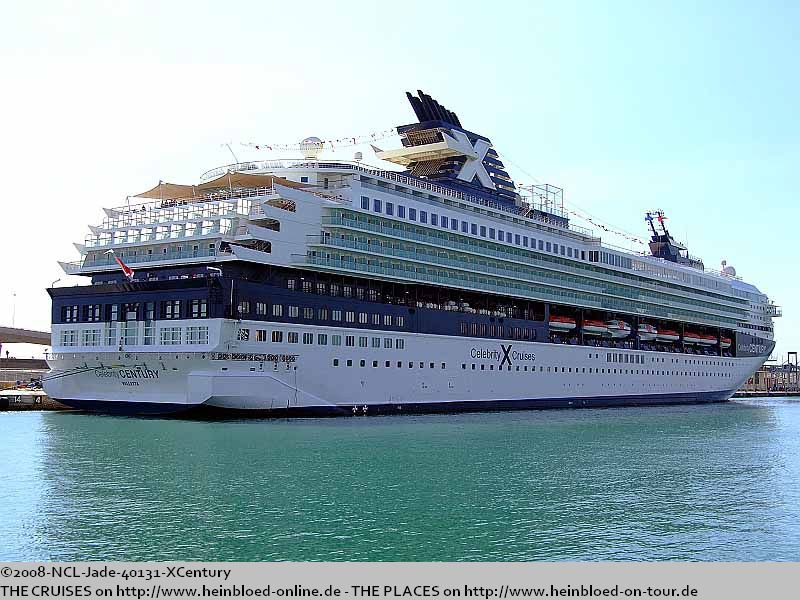 Nicht immer teilen wir die Meinung von Douglas Ward, wie in diesem Fall: CELEBRITY CENTURY in Barcelona. /

Not always we share Douglas Ward's opinion like here: CELEBRITY CENTURY in Barcelona.

Wir hatten eine Kat. G-Heck-Außenkabine (offiziell mit Sichteinschränkung), die um einiges breiter war, als die Standardkabinen. Unsere war in einem sehr guten Zustand. Kleinigkeiten, die nur im Rahmen einer umfangreichen Renovierungen gemacht werden können (Fixierung der Schranktüren). Kleinere Probleme gab es mit dem Wasserdruck (Dusche), dem Abfluß im Waschbecken und dem Wasserstand (Toilette), was wohl auf einen Rohrbruch auf dem Deck zurückzuführen war. Meine Eltern hatten Probleme mit der Kaltwasserversorgung (wurde sofort repariert) und unsere Freunde hatten keine funktionierende Klimaanlage. Also je nach Kabine gab es also schon Probleme, aber wir hatten Glück: wir haben haben viel für unser Geld bekommen und fast alles funktionierte und war in Ordnung. Mit dem Service unserer Kabinenstewards waren wir mehr als zufrieden. Unsere Probleme wurden weitestgehend sofort beseitigt, wenn man diese gemeldet hatte.
Gut: das Bad erinnert mehr an die 70er-Jahre, obwohl das Schiff erst in 2000 gebaut wurde. Es war sauber und es funktionierte alles. Und ich bekam eine Dusche mit Handbrause, die ich bei Celebrity in vergleichbarer Klasse und trotz besserer Bewertung nicht bekomme. Nur die Elemis-Produkte scheinen ja bei manchen ein paar Probleme auszulösen: bei mir nicht. Bei Bruno ja und wie ich bei einem Bericht von österreichischen Freunden gelesen haben, auch dort. Am Besten nimmt man sich von den eigenen Sachen etwas mit, wenn man etwas empfindlicher ist. Eine Badewanne (für Zwerge), wie sie meine Eltern hatten, haben wir nicht vermisst. Insgesamt konnten wir mit der Dusche sehr gut leben. Fantastisch auch die Stauflächen im Spiegelschrank, der auch nicht selbstverständlich ist.
Einen Balkon hatten wir gar nicht mal so vermisst: wir hatten einen direkten Zugang zum Außendeck (Deck 2) und eine direkte Treppe zu Deck 3 (unteres Promenadendeck), so dass wir in wenigen Sekunden Zugriff zur ersten Sonnenliege hatten.

Wir nehmen auch mal ohne Balkon bei "Extremlagen" wie hier am Bug der EURODAM /

We also take occasionally no balcony when we get an "extreme locations" like here at the bow of EURODAM.

We had a Cat. G-aft-oceanview-cabin (officially with obstructed view) which was much wider than standard cabins. Our was in a very good condition. Small things which can only be done during a dry dock stay with major refurbishments (like fixing the doors of our closets). We had minor problems with the water pressure (shower), the drainage in the sink and the water level (toilet) which were occured by a pipe burst in the ceiling of our deck. My parents had some problems with the cold water supply (which was fixed immediately) and our friends had all the time no working air-condition. So depending to the cabin you had some problems but we had luck: we got a lot for our money and most of our cabin was in a good condition and it worked. With the service of our cabin stewards we were more than satisfied. Our problems were solved mostly immediately once we reported them.

Well - the bathroom reminded me more to the 70s although was built in 2001. I was clean and everything worked. And I got a bathroom with a handshower which I will not get if I book Celebrity in a similiar category and even it has a better rating. Only the Elemis products occur few problems: not with me. With Bruno yes and according to a different review with an Autrian friend too. So it would be the best to have your own staff with you if you are more senstitive. We did not miss a bathtub (for dwarfs) like my parents had one. We could live very well with our shower. The stowage in the mirror closet was fantastic and it was no standard.

We did not miss so much a balcony since we had a direct access to the outer decks (Deck 2) and a direct stairways to Deck 3 (lower promenade deck) so we only need seconds to have access to the sunbeds.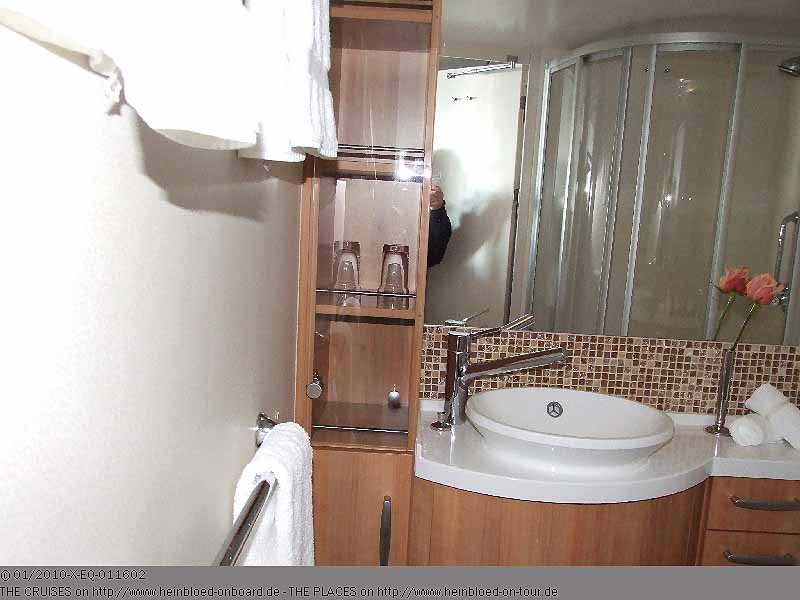 Ein modernes schönes Bad, aber mit einem festen Duschkopf in der Duschkabine wie in Concierge Class Balkonkabine auf der CELEBRITY EQUINOX /

A nice modern bathroom: but a fixed shower head in the shower cabin like in a Concierge Class Balcony Cabin on CELEBRITY EQUINOX.

Ein wichtiges Thema Essen. Wir sind durchaus bereit auch hohe Zuzahlung zu leisten, wenn die Gegenleistung stimmt. Beim Pinnacle Grill ist die Situation die: zu Recht bei cruisecritic.com zum besten Zuzahlrestaurant gewählt, weil alles stimmt: Umgebung, Service, Auswahl und Qualität des Essens. Schade, dass wir nicht öfters Gelegenheit bekommen hatten, auch mittags dort zu essen. Bisher habe ich nicht herausbekommen, wie man mittags dort reinkommt. Deswegen stellte für uns Le Cirque ein größeres Problem dar: da 39,00 USD Zuzahlung (Pinnacle Grill: 25,00 USD abends und 10,00 USD mittags), war die Erwartungshaltung besonders hoch und daher der tiefe Fall besonders tief. Gutes Marketing. Nur das von Cunard ist noch besser. Denn obwohl wir wissen, was wir dort bekommen: dort zieht es uns immer wieder zurück und wir ärgern uns jedes Mal, dass wir es gemacht haben und schwören uns auch jedes Mal: nie wieder. Aber anscheinend hat ihr Marketing etwas richtig gemacht, wenn wir trotzdem immer wieder zurückkommen. Nur leider hat Le Cirque dazu keine Chance. Die Qualität des Essens stimmt zwar, aber irgendwie der Rest nicht.
Ich habe 2 kg Gewicht verloren. Nicht weil ich so schlecht gegessen habe, wie damals auf der MSC FANTASIA, sondern weil ich so gut und so viel gegessen habe. Man merkt schon, dass hochwertige Materialien eingesetzt werden und man sich wohler fühlt. Das wurde aber nicht nur von mir so wahrgenommen, sondern auch von Bruno und unseren Freunden. Allerdings muss ich sagen, dass ich nach etwas zehn Tagen so einen kleinen Koller bekam und mir am liebsten ein Lebenwurstbrot gewesen wär.
Vom Canaletto war ich etwas enttäuscht: es war so ziemlich alles gleich und die zwei Neuerungen, die ich für mich feststellen konnte, haben wir nicht so zugesagt: die Zuckerwatte und der Einsatz der neuen Light-Creme für die Herstellung von Cremespeisen. Sie mag zwar gesünder sein, aber sie schmeckte mir nicht, vor allem hatte sie so eine komische Konsistenz. Letzteres gilt aber für alle Creme-Süßspeisen auf dem gesamten Schiff.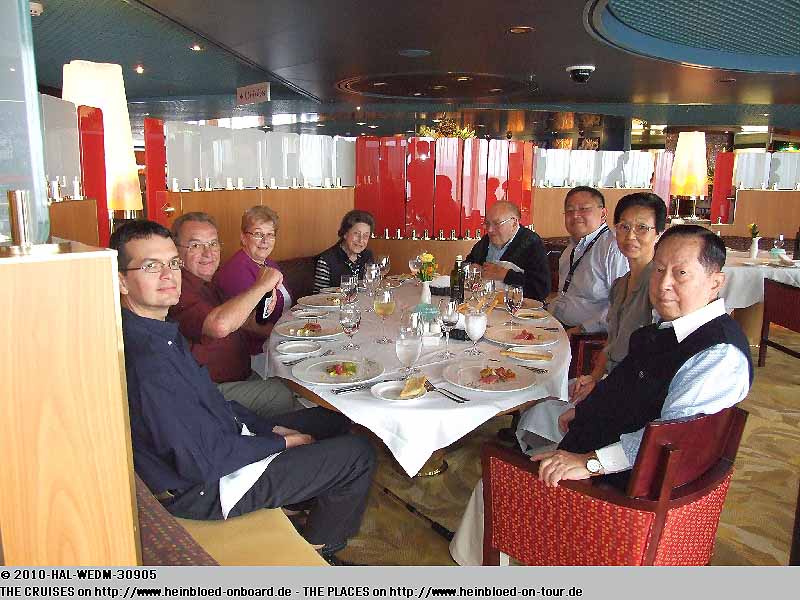 Schöne Erinnerung an den Besuch des Canaletto-Restaurants auf der WESTERDAM /

Nice memories of the visit onf the Canaletto-Restaurant on WESTERDAM.

An important part of the cruise is the food. We are willing to pay a high cover charge if you get an appropiate performance. With the Pinnacle Grill the situation is as follows: it was right to choose it for the best cover-charge restaurant with cruisecritic.com because everything is right: surrounding, service, variation and quality of food. It was bad that we had no more occasions to have more luncheons there. We could not find out how you get access for lunch. So Le Cirque became for us a major problem: the cover charge was 39.00 USD (Pinnacle Grill only 25.00 USD for dinner and 10.00 USD for lunch) so your expectations were much more higher and so your turn down is extremely high. Good Marketing. But Cunard's is much better. Although we know what we get: we are coming back again and again and we are upset every time that we did it again and again and we swear every time: never again. But their marketing did something right when we return again and again. But Le Cirque will not have the same chance. The quality of the food is fine but nothing else.

I lost about 4 lbs. of weight. Not because the food was bad like we had on MSC FANTASIA because we had so much and so good food. You can feel the better material they used and you are feeling much more better. I was not the only person who has this impression but also Bruno and our other friends. But I need to say that after about ten days I became a little mad and really wanted to have a German Liver Sausage Sandwich.

Somehow I was a little disappointed of the Canaletto: it was absolutely similar and two new introductions I do not like so much: the cotton candy and the use of the new light creme which they used to prepare the new creme desserts. It might be more healthy but I did not like it as it had a strange feeling in your mouth. But that applied to all creamy sweet dishes based on this ship.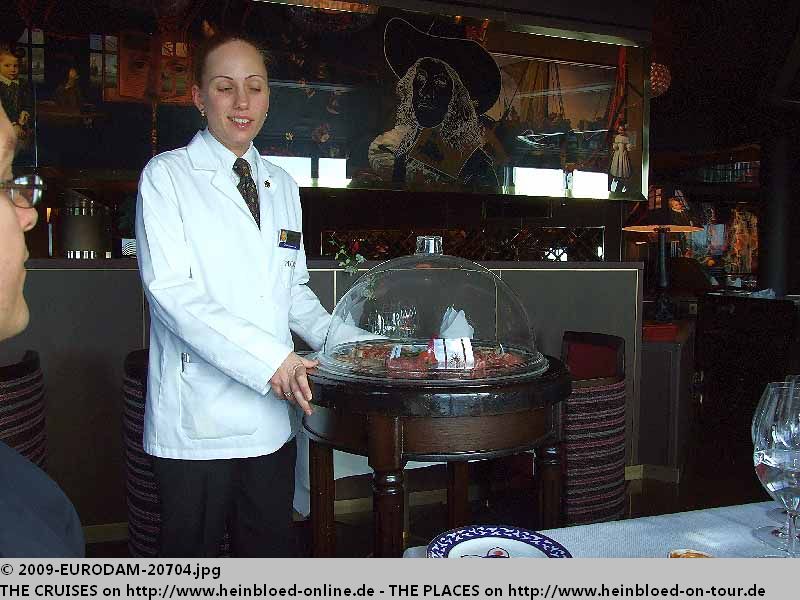 Ein früherer Höhepunkt beim Besuch im Pinnacle Grill, den es leider nicht mehr gibt: Die Präsentation des Fleisches auf der EURODAM. /

A former highlight when you visited the Pinnacle Grill and you have no more today: the presentation of the meat on EURODAM.
Die Crew: fantastisch. Viele sind für uns die Extra-Meilen gelaufen. Einzelne entsprachen nicht so unseren Erwartungen und Gewohnheiten. Vor allem haben wir darüber gefreut, dass wir wieder erkannt wurden, obwohl wir auf einem anderen Schiff vor zwei Jahren unterwegs waren. Bei den Weinstewards war es wie immer: einer, der uns ignorierte, weil wir keinen Alkohol tranken und die anderen, die uns trotzdem gut bedient haben.
Die Maître waren bis auf eine Ausnahme immer für alle Gäste da und wenn es ein Problem gab, dann lag es an ihnen und nicht an uns Gästen.
Schade, dass bloß kein Chef's Table angeboten wurde. Die Senior-Offiziere im F&B-Bereich: sehr nett dieses Mal und vor allem sehr kundenorientiert, auch wenn das Revenue für den Einzelbereich davon betroffen ist. Vielen Dank.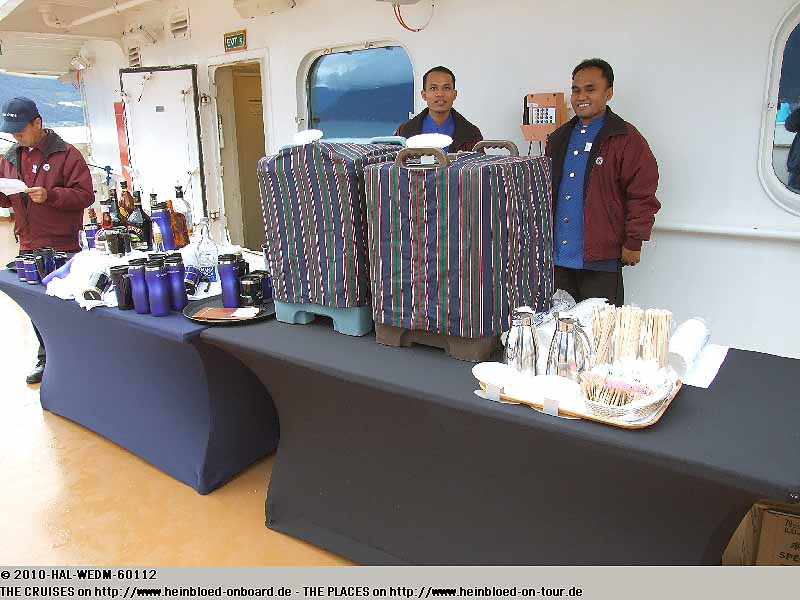 Besonders freundliche Erinnerungen an die WESTERDAM: Mitglieder der ausgezeichneten Crew. /

Very friendly memories of WESTERDAM: Members of the outstanding crew.

The crew: fantastic. Many walked extra-miles for us. Very single did not meet our expectations and habits. Especially we were mor than happy to be recognized although we sailed on a different ship two years ago. With the wine stewards it was as usual: one who ignored us because we do not drink alcohol and others who treated us very well.

The maîtres were available for all guests with one single exeption and if you had a problem it was there problem and not a guest's problem.

It was sad that there was no Chef's Table offered. All the officers in the F&B-area were very nice and very service- and customer oriented even it applied to the revenue their responsible area. Thank you.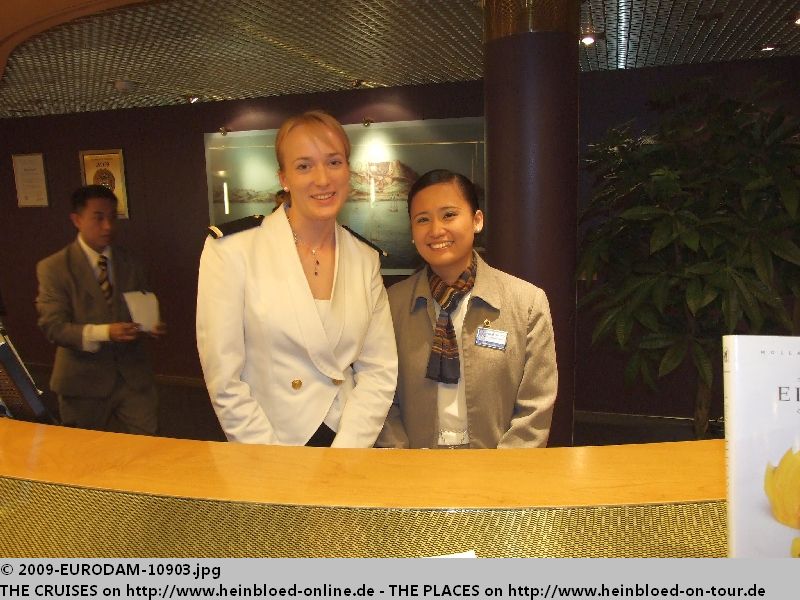 Alle Probleme gelöst an der Rezeption der EURODAM. /

All problems solved at the front desk of EURODAM.

Gefreut hat uns übrigens, dass es jetzt auch deutschsprachige Speisekarten gibt. Insbesondere die neue Frühstückskarte ist klasse.
Wie bei HAL üblich: die ungewohnten Öffnungszeiten der Restaurants insbesondere im SB-Restaurant - für mich nicht lang genug geöffnet.
Die Barstewards: auch alle sehr nett und freundlich: haben uns auch alle sehr gut behandelt, auch wenn wir keinen Alkohol getrunken haben. Besonders haben wir uns über eine persönliche Geste gefreut, die letztendlich dazu führte, dass wir zu Gunsten von HAL wieder eine Cruise 2013 gebucht haben. Ich will wieder so einen persönlichen Service! Und hier bekomme ich ihn auch! Übrigens auch gut: Die Getränkewertkarten mit den Rabatten. Weniger gut für Kaffeeliebhaber wie Bruno.

Schade, dass es die alten Kaffeekarten bei HAL nicht mehr gibt. /

Bad that there were no more old coffee cards with HAL.
We were glad to have German menus now. Especially the new breakfast menu is wonderful.
As standard with HAL: the strange opening hours of the restaurants especially the self-service-restaurant - for my taste they are not open long enough.
The bar stewards were all very kind and friendly: they treat us all very nicely even we did not drink alcohol. Especially we appreciated very much a personal gesture which made us booking again for the favour of HAL another cruise in 2013. I want again such a personal service! And I can get it here! By the way: a good idea too: The new beverage value cards with discounts. Less good for coffee lovers like Bruno.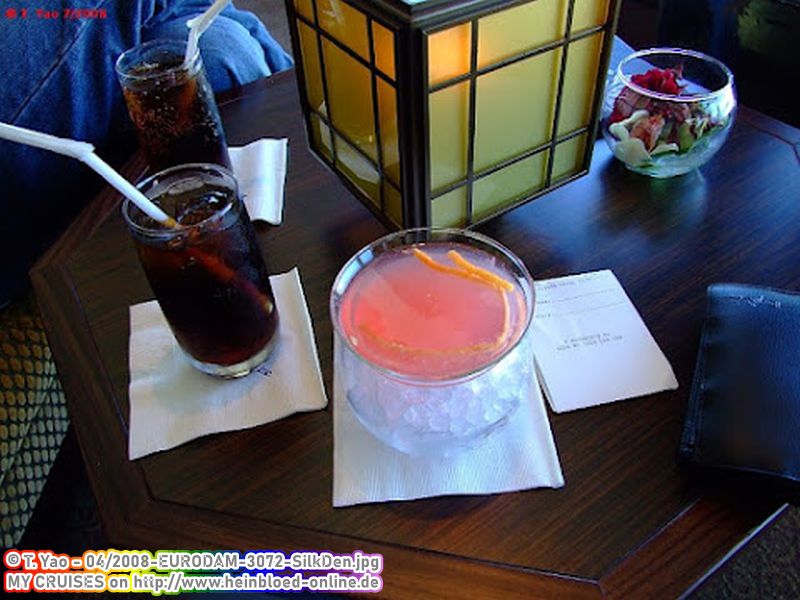 Die größte Auswahl an Light-Getränken und alkoholfreien Cocktails gibt es bei HAL. /

The widest variation on light-beverages and alcohol cocktails you get with HAL.

Die Bordunterhaltung: wir haben drei Shows gesehen und offen gesprochen: die haben uns vom Inhalt her nicht vom Hocker gehauen. Wahrscheinlich sind wir schon zu oft auf Kreuzfahrten gewesen, damit wir uns noch begeistern können. Nur die Shows, die wir gesehen haben, waren uns zu altbacken. Schade bloß, weil die Musiker, Sänger und Tänzer alle fantastisch waren und sicherlich noch mehr hätten zeigen können. Meistens waren wir beim Bar-Pianisten und beim Streicherquartett. Beide waren so gut, dass ich mich aufteilen musste und immer irgendwie jemanden vermisst habe, wenn ich beim anderen saß. Gerne hätte ich mehr auch vom Countrysänger gehört, nur war der Plan, wie sie auftreten so steif, dass ich kaum eine Gelegenheit hatte, ihn spielen zu hören und als ich ihn gehört habe, war es dort menschenleer. Obwohl wir gar keine Zeit hatten, so gut wie irgendetwas zu machen: wir hatten subjektiv den Eindruck: alles was interessant war lief parallel und das gleiche galt für das uninteressante. Irgendwie hat sich der Lector vor uns versteckt, oder es gab tatsächlich keinen. Während wir in Norwegen auf der WESTERDAM gut jemanden wahrnahmen, haben wir hier Erläuterungen wie z. B. bei der Einfahrt in Halong Bay sehr vermisst.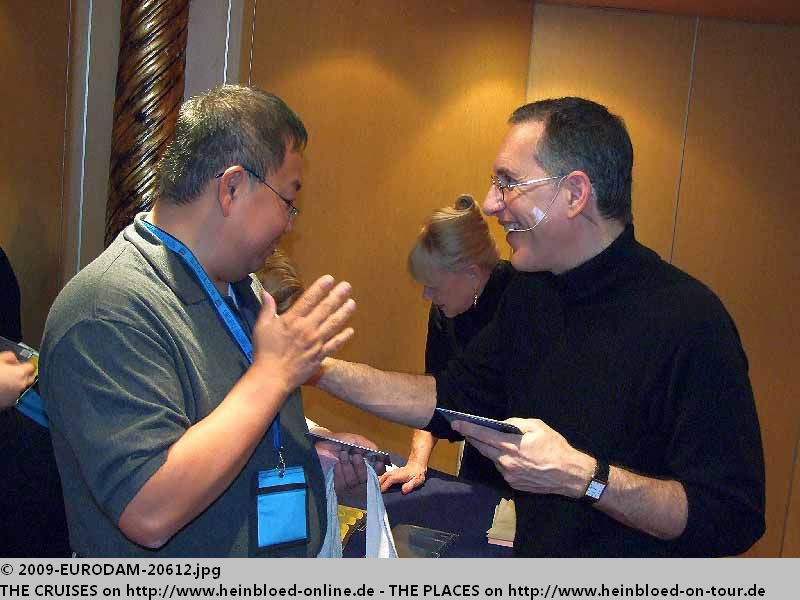 Anspruchsvolle Unterhaltung auf hohem Niveau: Dr. Justin Miller auf der EURODAM. /

Ambitious entertainment on a high level: Dr. Justin Miller on EURODAM.

The onboard entertainment: we watched three shows and frankly spoken: none of them really convinced us by content. I assume that we went on too many cruises that someone could surprise us. But all the shows we saw were too old-fashioned. I felt sorry for the musicians, vocalists and dancers as they were all fantastic and normally could perform much more. Most of the time stayed with the bar pianist and with the stringers. Both were so fantastic that I had to split my presence and somehow I missed the others when I sat with one of them. I wish I could hear more from the country-singer. But the schedule they performed was so fixed that I never had a chance to hear him playing and when I had a chance to listen there was nobody else around but me. Although we had no time to develop any kind of activities: we had personally the impression: everything what might be interesting ran on the same time and same was with all less interesting activities. Somehow a lector must well hide somewhere on board or there was really no one on board. While we remembered very well to have one in Norway on WESTERDAM we missed somehow any explanations like with the entry of Halong Bay.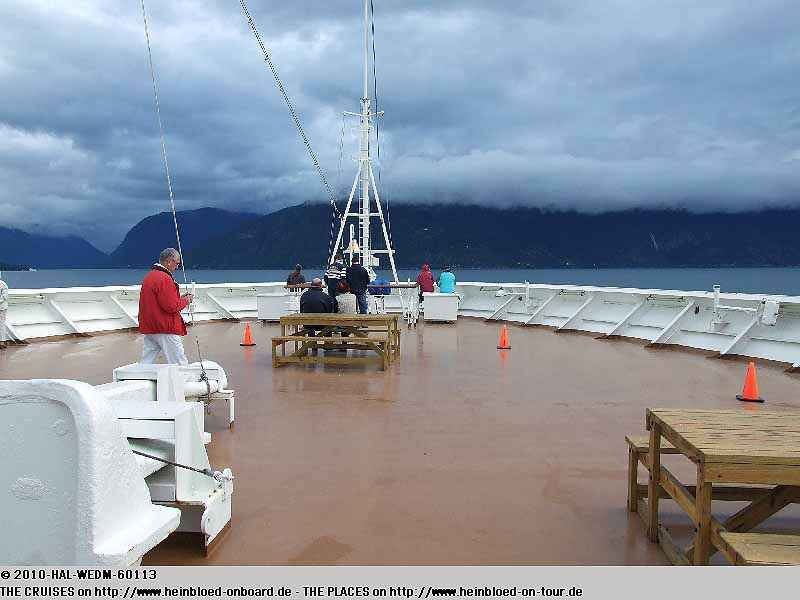 Wieso gab es keine Erläuterungen bei der Einfahrt in Halong Bay vom Lektor wie damals auf der WESTERDAM bei der Einfahrt in die Fjorde? /

Why were there no explainations by the lector when we entered Halong Bay like we had on WESTERDAM when we entered the Fjords?

Gut war der DVD-Service und die Bibliothek. Leider gab es Internet in unserer Kabine: weder WLAN noch Kabel. Und in manchen öffentlichen Räumen war die Versorgung auch nicht gut.
Die Tagesprogramme könnten auch besser sein. Insbesondere bei den übersetzten Fassungen.
Zum Spa können wir sehr wenig sagen: normalerweise sind wir die Spa-Freaks. Aber bei 30°C Außentemperatur hatten wir wenig Lust, dann waren wir auch zwei Tage nicht an Bord und da wir meine Eltern dabei hatten, mit denen wir auch Zeit verbringen wollten, kam ein Spa-Pass dieses Mal nicht in Frage. Bruno, der gerne das Fitness-Studio nutzt, hatte das Problem, dass es zu klein und daher überfüllt war. Viele warten auf die Öffnung um 06.00 Uhr und es ist dann auch ruck-zuck voll, zumal nicht alle Geräte funktionsfähig sind. Als Ausweichmöglichkeit stand das (untere) Promenadendeck nicht zur Verfügung. Denn dort ist Jogging verboten.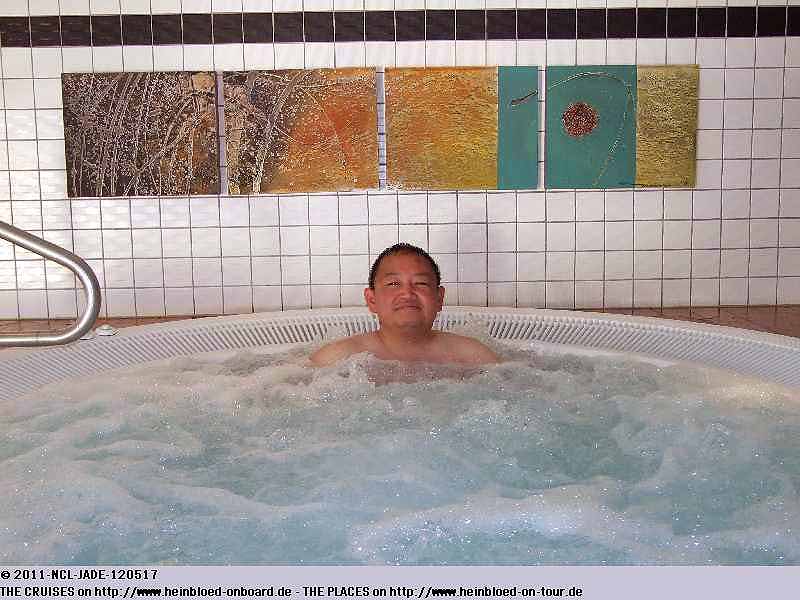 Wir mögen die Thermal Suites wie damals auf der NORWEGIAN JADE. /

We loved thermal suites like we had on NORWEGIAN JADE.

The DVD-service and the library were great. But we had no internet in our cabin: neither wired nor wireless. And in few public areas the internet-service was extremely bad.

The daily programmes could also be better. Especially the translated versions.

We could not tell too much to the spa: normally we love the spa. But with 90F outdoor temperature we did not like to see the spa and as we would leave the ship for two days and wanted to spend some time with my parents whom we had with us we did not buy a spa-pass. Bruno who likes to use the gym had the problem that it was too small and so it was always crowded. Many waited for the opening at 06.00 hrs and it went quickly until it was full as some training devices were out of order. No chance to find an alternative as it was forbidden to do jogging on the lower promenade deck.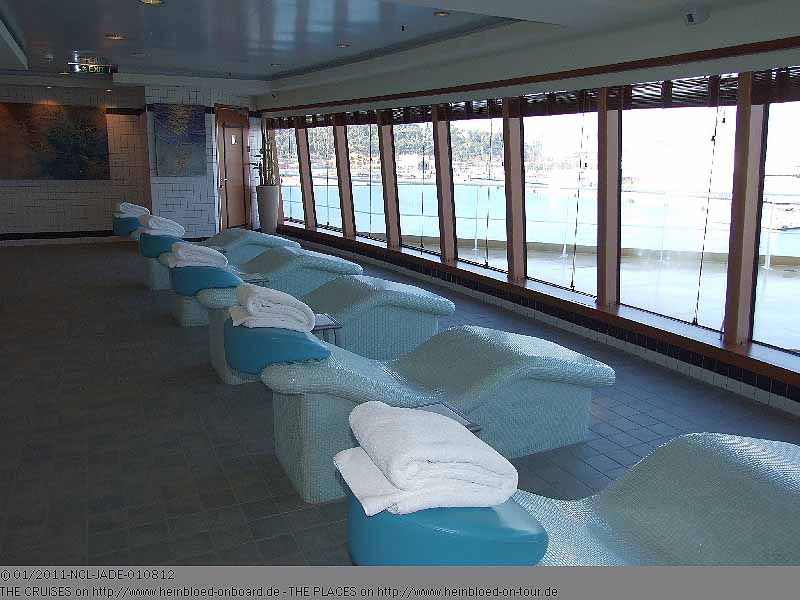 Viel Platz im Spa auf der NORWEGIAN JADE. Ausreichend Platz auch für Gäste mit gebuchten Anwendungen. /

A lot of space in spa on NORWEGIAN JADE. Space enough for guests with booked treatments.

Kommen wir nun zur Route:
Fantastisch.
Wobei es hätte noch perfekter sein können:
1. Wir hatten ja eigentlich Hongkong - Kobe, Japan gebucht. Das war auch ein Hick-Hack. Viele Gäste wurden einfach im Regen stehen lassen. Und der größte Witz: wegen Fukushima und Tsunami fährt HAL nicht nach Japan. Und hinterher kam ein Vollcharter, der das Schiff nach Japan brachte. Für Geld tut HAL alles.
2. Warum eigentlich dieser Zickzack-Kurs rund um Sanya? Man hätte dem Gast die 2. Visumsgebühr für Vietnam sparen können. Sanya hatte für mich die gleiche Qualität wie Koh Samui: am Anfang oder am Ende der Cruise der richtige Anfang und das richtige Ende. Und damit hätte man auch das Hick-Hack um die Schiffszeit sich ersparen können.
3. Das Chaos um die Visa in China. Das war die Katastrophe vor der Reise, weil man von Seattle gar keine Antwort bekam, dann eine Antwort bekam, weil man dem Vorstand geschrieben hat, dann kamen doch mal ein paar Nachrichten und alle paar Tage änderte sich die Nachrichtenlage. Das darauffolgende Chaos mit den Pässen meiner Eltern an Bord hatten vermutlich bloß wir.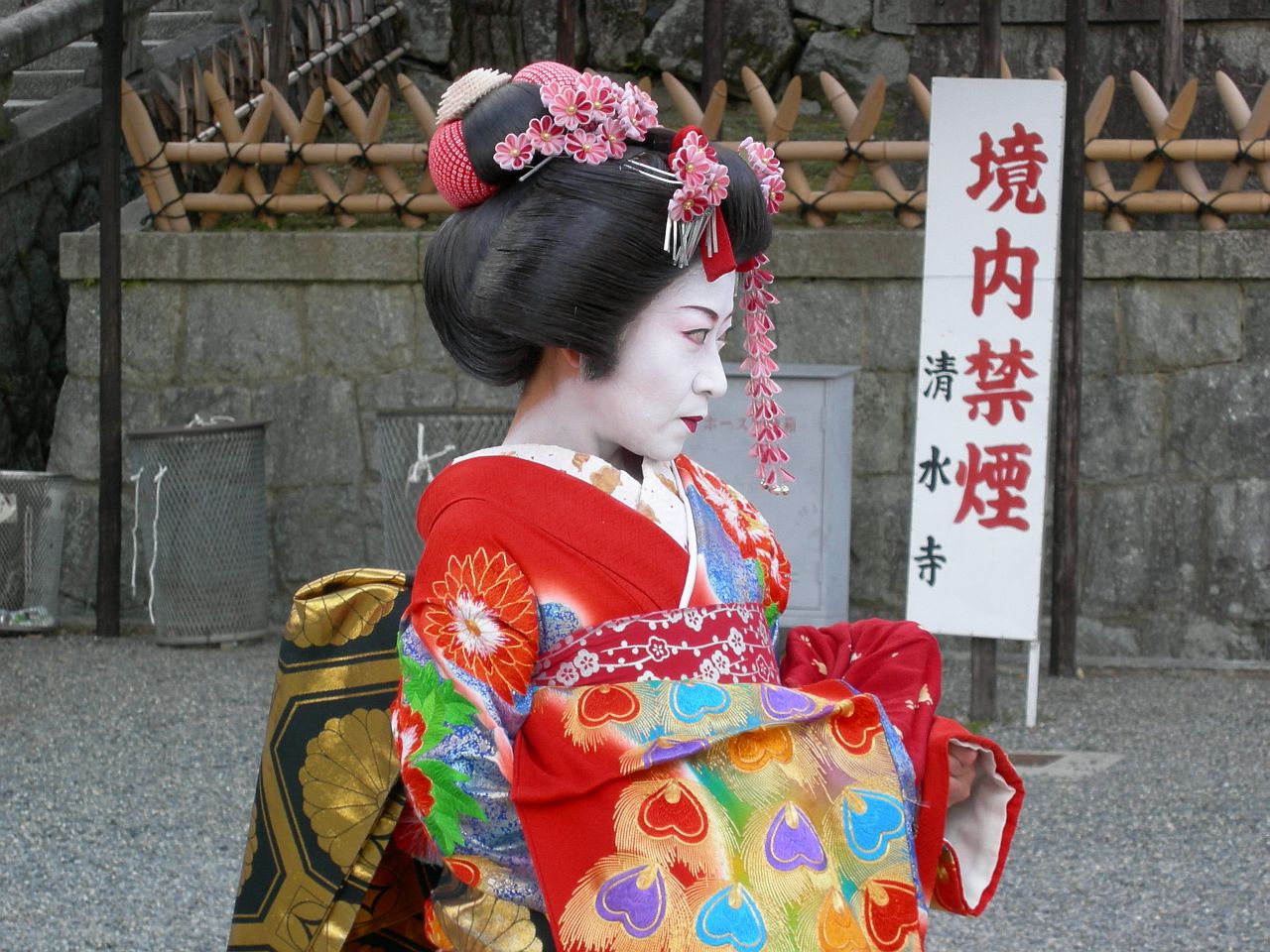 Gerne wären wir nach Kobe und Kyoto gefahren. /

We loved to go for Kobe and Kyoto.

Let us face now the itinerary:

Fantastic.

But it could be more perfect:

1. We should go originally Hong Kong - Kobe, Japan. This was a hick-hack. They just let many guests out in the rain. And the biggest joke: due to Fukushima and Tsunami HAL does not go to Japan. And later they had a full charter which took the ship back to Japan. For money HAL did everything.

2. Why the zick-zack route around Sanya? They could save their guests to pay for a 2nd visa to Vietnam. Sanya had the same quality like Koh Samui: at the beginning or at the end of a cruise the perfect start and the perfect end. And so you could avoid the hick-hack with the ship's time.

3. The chaos regarding the visa for China. This was a true disaster prior to the voyage because you could not any answer from Seattle. Then you get an answer because you wrote the board. Then few messages followed and every few days the content changed. I guess the disaster with the passport of my parents we only had.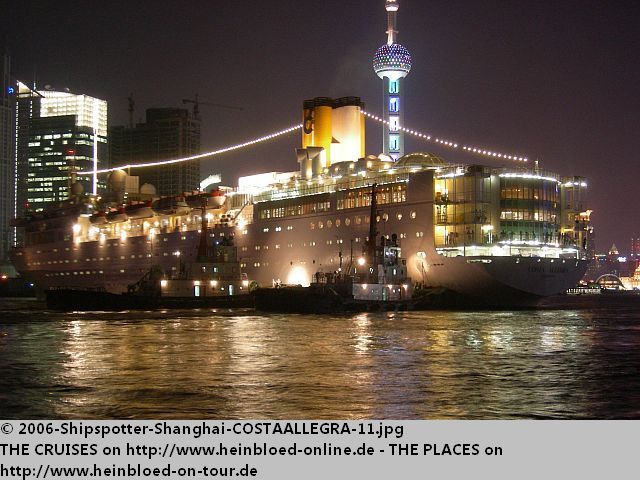 Schade, dass wir nicht Schanghai angefahren haben, wie die COSTA ALLEGRA. /

Sorry that we did not call Shanghai like COSTA ALLEGRA did.

Was ebenfalls noch verbesserungswürdig ist:
Tendern... Flexible Tischzeit und alle Mann gleichzeitig reinlassen, obwohl nicht soviele Kellner zur Verfügung stehen.... die kalten Handtücher die ich am Pier vermisst habe... das neuerdings viele Polyester statt Baumwolle... die Patzigkeit der Fotografen... die miese DVD...
Daran müssen sie noch arbeiten...
Auch noch eine Kleinigkeit: der Versuch mit den halben Geschenken. Ein Mariners' Society Geschenk pro Kabine bzw. ein halbes pro Person. Kann ich nur den Kopf schütteln.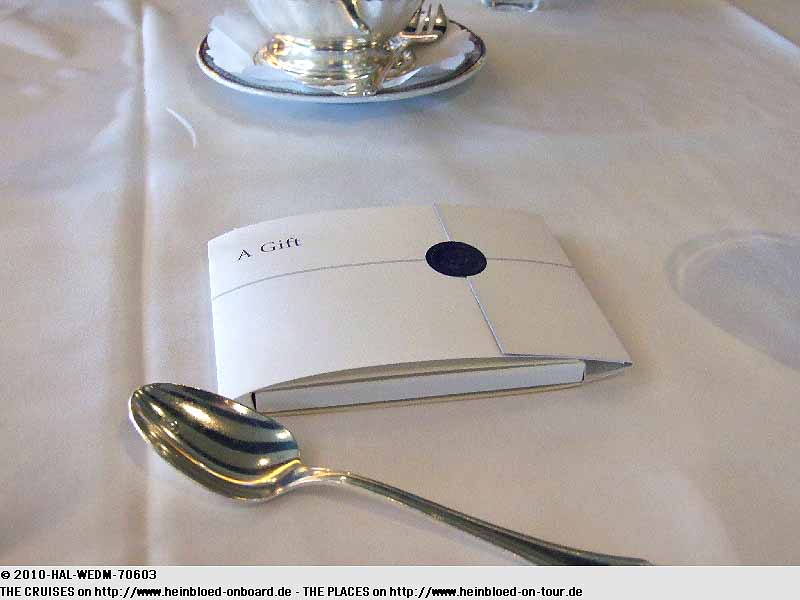 Auf der WESTERDAM lag ein Geschenk pro Gast auf dem Tisch. /

On WESTERDAM there was one gift per guest ready on the table.
Few more things with potential for improvements:

Tendering... Flexible dining and let all guests in although you do not have enough waiters... I missed the cold towels at the pier... nowadays too much polyester instead of cotton... the snotty photographers... the bad DVD...

They should work on it...

And one more minor job to work on: trying with the half gifts. One Mariners' Society gift per cabin or a half per person. I can only shake my heads.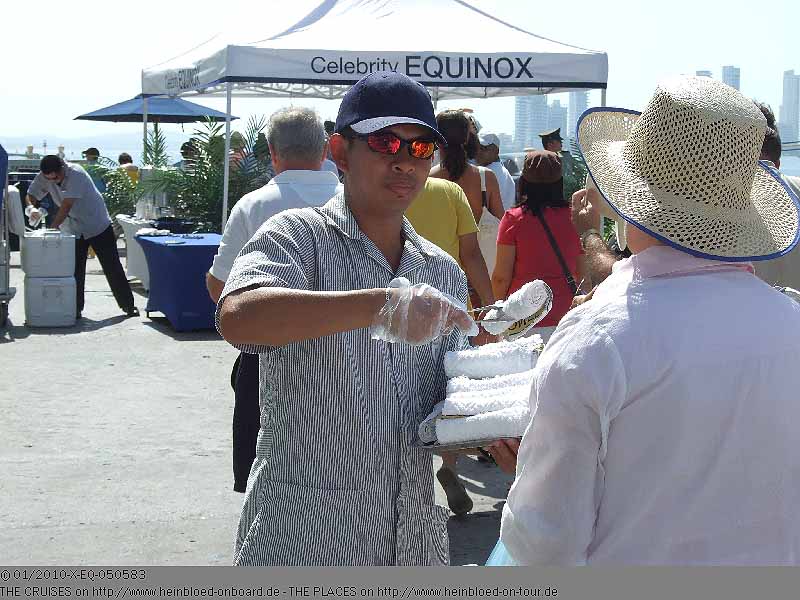 Leider kein Standard auf der ZAANDAM aber bei der CELEBRITY EQUINOX. /

Unfortunately no standard on ZAANDAM but on CELEBRITY EQUINOX.

Einschiffung/Ausschiffung liefen gut. Auch ohne, dass wir Statuskunden waren. Der Mariners' Lunch hat auch geklappt. Innen ist das Schiff wunderschön. Nur an sehr wenigen Stellen hatte man den Eindruck, dass sie dringendst in eine Werft müsste. Bei keiner Seenotrettungsübung fühle ich mich sicherer als bei HAL. Genauso beim externen Tender, für die sichergestellt wurde, dass die gleichen Standards gelten, wie für die eigenen Tenderboote. Die Rezeptionisten waren alle fantastisch. Serviceangebote wie Unlimited Laundry und Pressing waren klasse. Einfache schöne Unterhaltung durch tolle Musiker. Tolle Orte, die wir in Eigenregie gesehen haben... (weil leider die Ausflugsangebote zu teuer sind)...
Dieses und vor allem das tolle hochwertige Essen und die phantastische Crew... sorgen dafür, dass ich immer wieder mit HAL fahren will und mehr oder minder gerne die Sachen in Kauf nehme, die so richtig schief laufen und normalerweise eine Reise vermiesen würden. Aber das was gut lief, lief 150% gut.
Vor allem, dass sie mich an meinem Geburtstag nicht haben im Regen stehen lassen, als der Halt in Nha Trang ausgefallen ist.
Deswegen freue ich mich auf die RYNDAM nächstes Jahr. HAL ist nicht Jedermanns Sache. Aber es ist einfach toll und wir lieben es und wir freuen uns über jeden, mit dem wir die Erfahrungen mit Holland America teilen können. Wie Freunde aus cruisecritic.com sagten: Kreuzfahren für Erwachsene.
Vielleicht können ja unsere Freunde und unsere Eltern wieder mit. Deswegen war es eigentlich noch schöner - nur schade, dass unsere Freunde als Kabinennachbarn von uns weggesetzt wurden.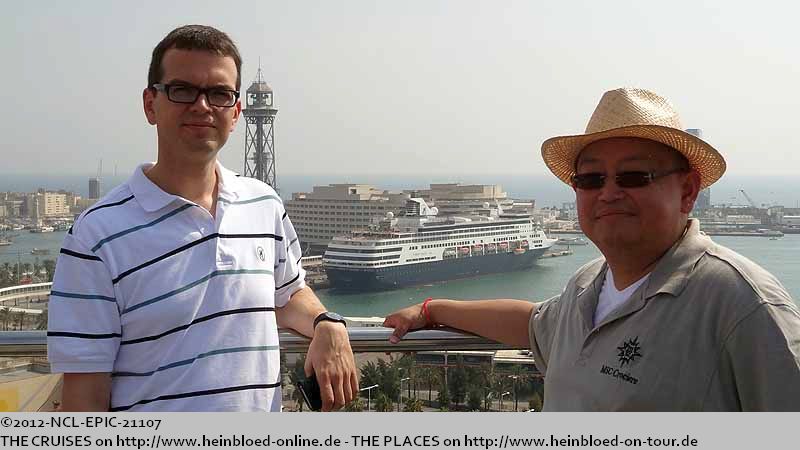 Herbst 2013: Griechenland mit der RYNDAM. /

Fall 2013: Greece by RYNDAM.

Embarkation/Debarkation went smooth. Even we were not high-tier-customers. The Mariners' lunch went also fine. Inside the ship is most beautiful. Only few spots told you that the ship need to have a dry-dock stay. No other life-drill I feel safer but with HAL. Same with the use of external tenders when they made sure that same standards like for own tenderboats apply. The front desk agents were all fantastic. Service offers like unilimited laundry and pressing were just fabulous. Just simple good entertainment by great musicians. Great places we saw - all arranged by ourselves... (because their tour offers were too expensive)...

That all and especially the high-rated food and fantastic crew... made us that we love to go on HAL ever and ever and accept bad things which ran totally out of control and normally would ruin you vacation. But everything what was running good, ran 150% well.

Especially that they did not let me stand out in the rain on my birthday I wall never forget them since the call in Nha Trang was cancelled.

So I am looking forward for RYNDAM next year. HAL is not everybody's world. But it is just simply great and we love it and we love to share our experience with everyone with HAL-experience. How did friends on cruisecritic.com said: Cruising for adults. Maybe our friends and parents could join us again. This made everything more special - only sorry that they moved our friends away from us as cabin neighbours.