Scroll down for English explanations - alternates with German explanations.

Ein Nudelsuppenladen erregt unser Interesse.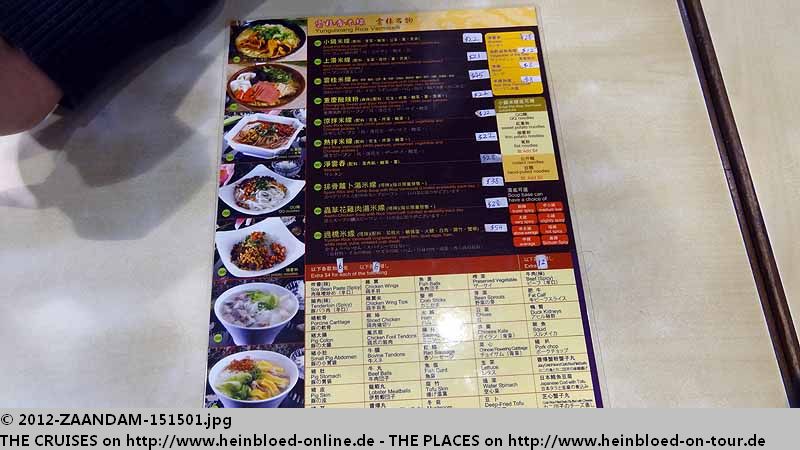 A noodle soup restraurant attracted our attention.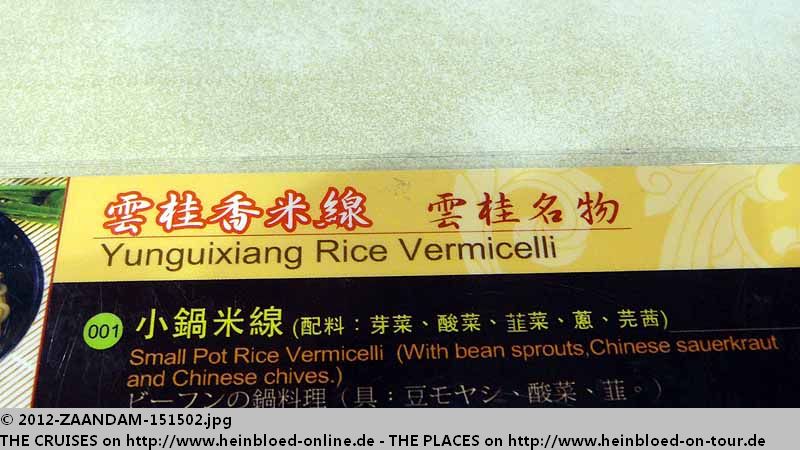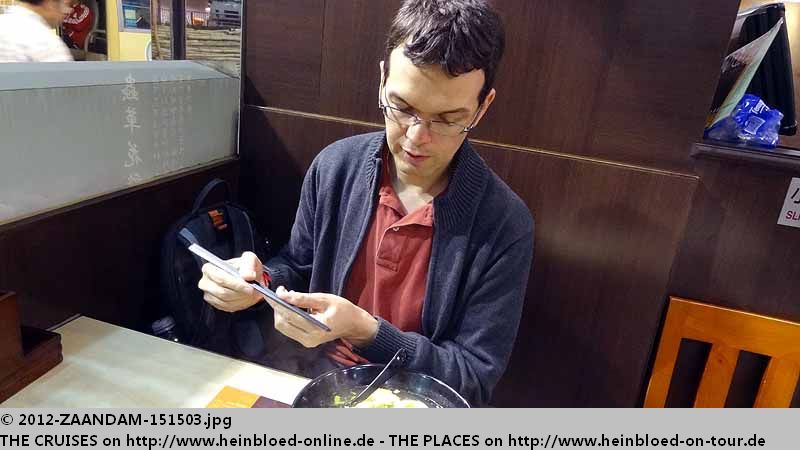 Very authentic Chinese... everything with bones... Bruno liked it...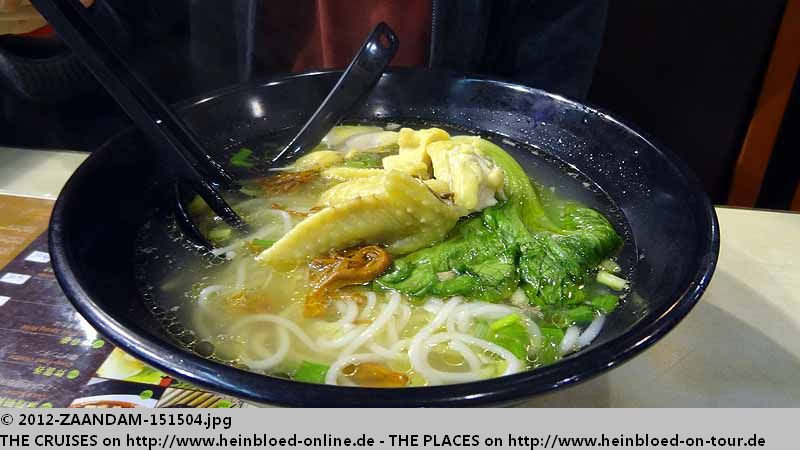 Sehr chinesisch-authentisch... alles mit Knochen... Bruno fand es gut...
Sehr chinesisch-authentisch... alles mit viel Gemüse... Bruno fand es gut... bloß ich nicht...

Very authentic Chinese... everything with many vegetables... Bruno liked it... but not me...

I only ordered some broth (very good), few noodles and a little vegetables...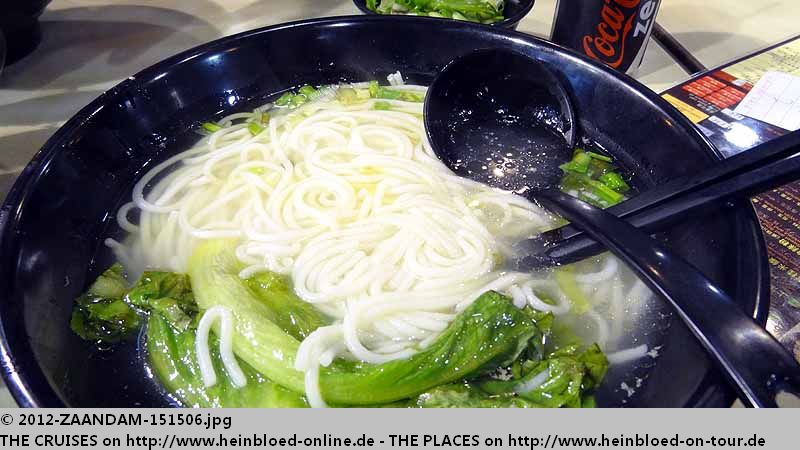 Ich bestelle mir nur klare Brühe (sehr gut), ein paar Nudeln und ganz bißchen Gemüse...
Tja... es gab bloß keine Visitenkarten in Englisch...

Well... there was no business card in English...

Last not least we went to Victoria Peak. Here we enjoyed the last time the great spectacular sight of Hong Kong.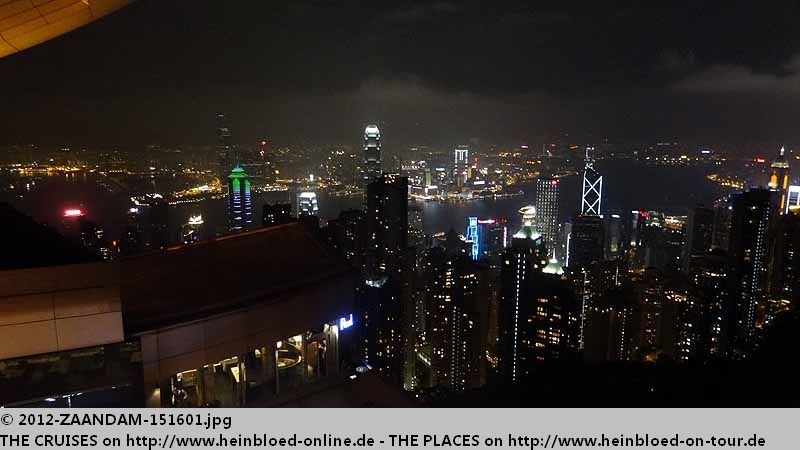 Wir fahren hoch zum Victoria Peak als Abschluss unserer Reise. Hier genießen wir den spektakulären Ausblick auf Hongkong.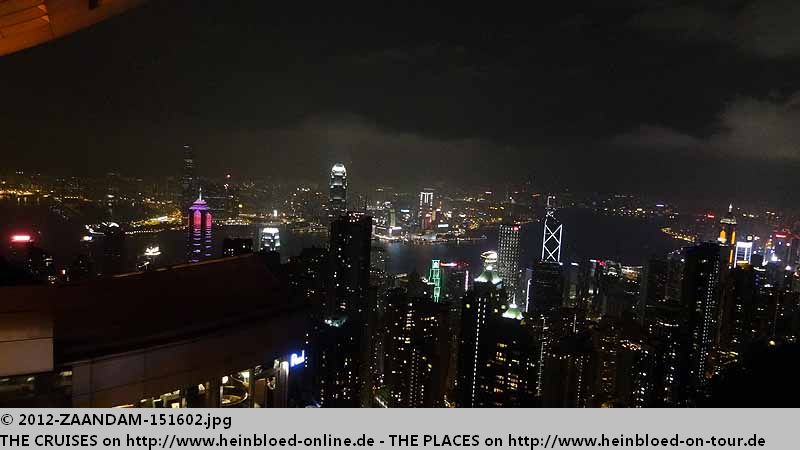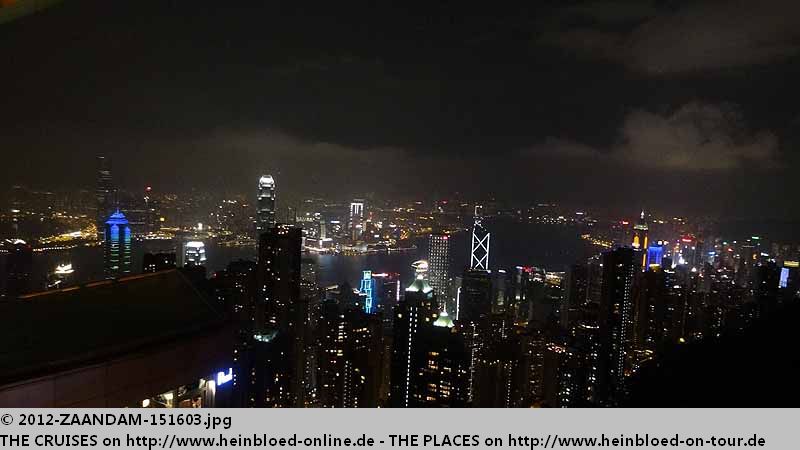 Wer es nicht zum Mund der Wahrheit in Rom geschafft hat... hier gibt es eine Alternative.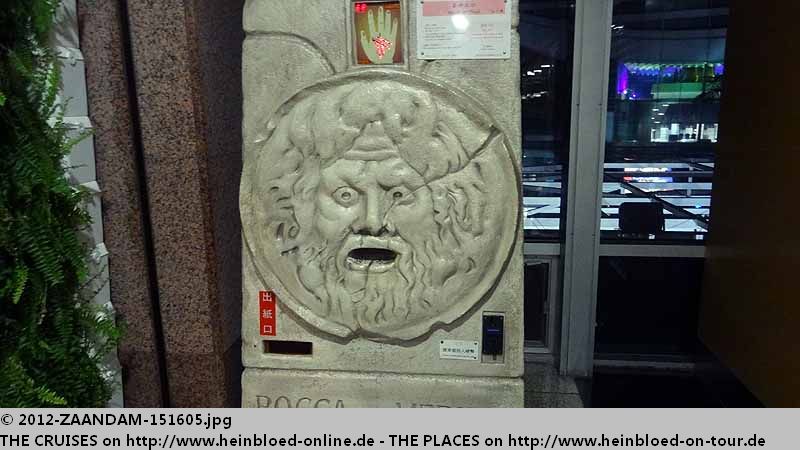 Who cannot make it to the Mouth of Truth in Rome... here you have an alternative.

We took the mini-bus as the queue for the tram was endless that we expect to get down the next morning.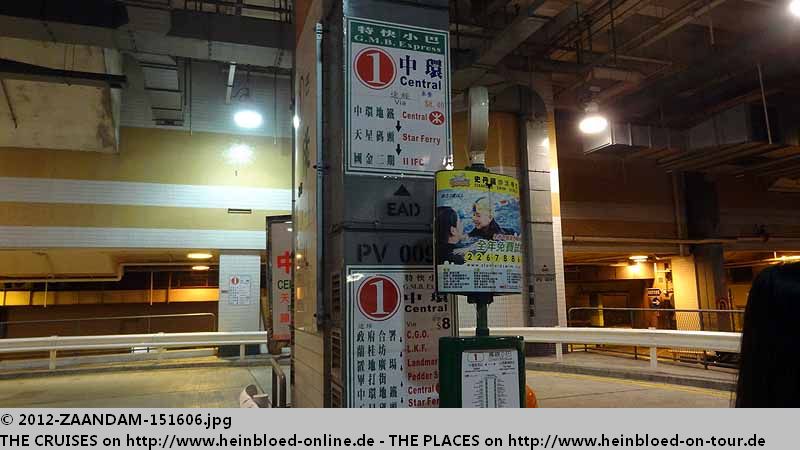 Wir fahren mit dem Mini-Bus runter, weil die Schlange zur Bahn so voll ist, dass wir damit rechnen morgen früh erst runterzukommen.
Allerdings hatten wir einen Kamikaze-Fahrer erwischt gehabt. Das war Abenteuer pur die Serpentinen runterzufahren. Dagegen waren die Postbus-Strecken in der Schweiz zwischen St. Moritz und Lugano geradezu langweilig.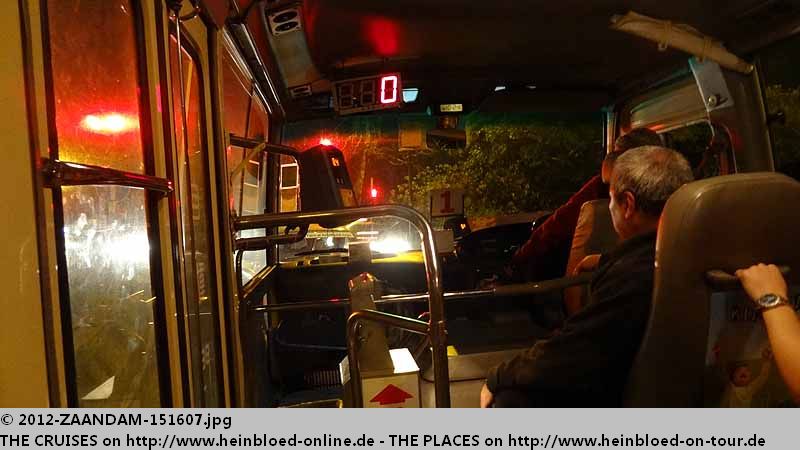 But we caught an HellsAngels-driver. It was pure adventure to have a ride on the serpentines. Against this our experience on the Swiss Postal Buses between St. Moritz and Lugano was just boring.

Never ever again!!!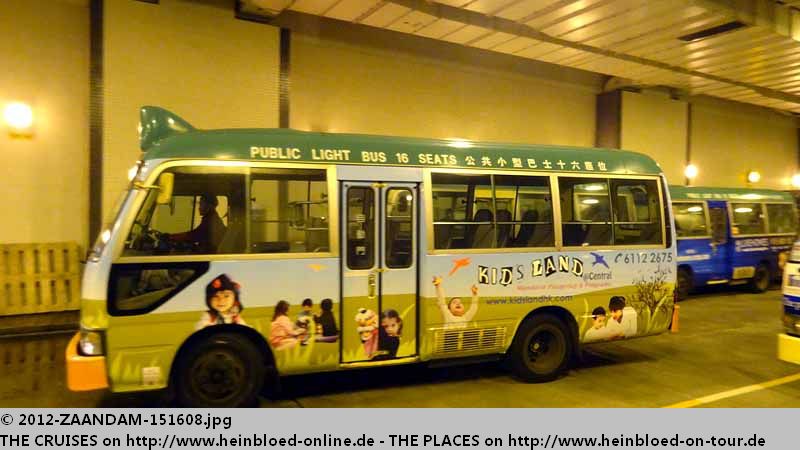 Nie wieder!!!
Wir gehen mal zu einem Stadtterminal der Flughafenbahn.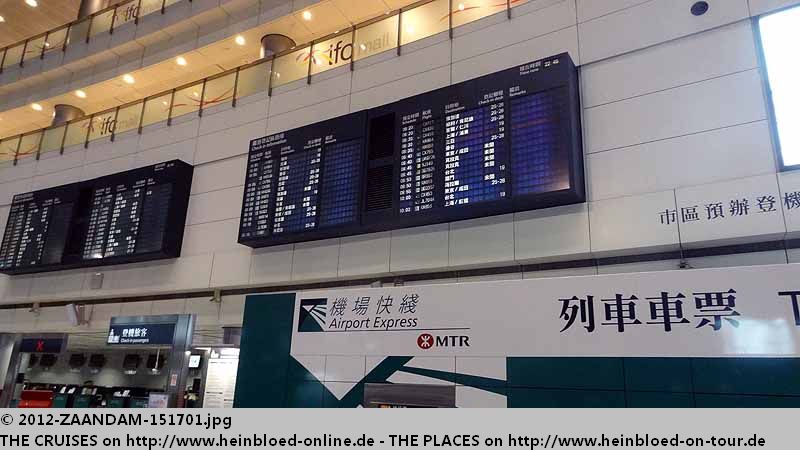 We went to the City Terminal of the airport train.

You chould check-in here and than use the train to the airport.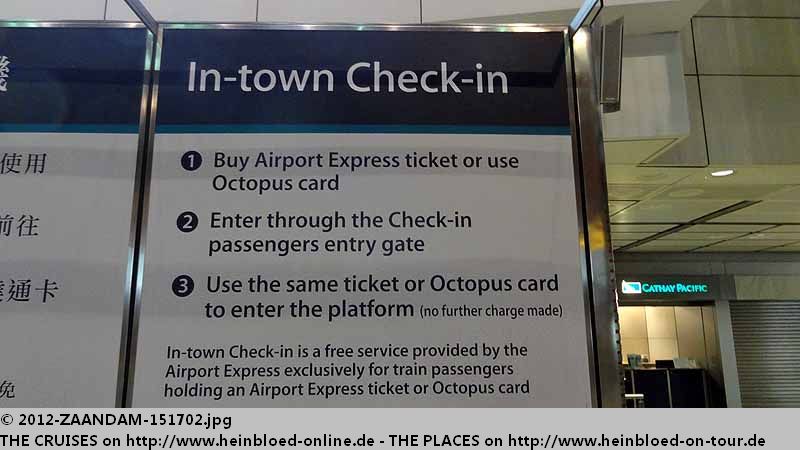 Hier kann man bereits einchecken und dann mit der Bahn zum Flughafen fahren.
Man kann auch nach dem einchecken wohl nochmals in die Stadt gehen und später fahren.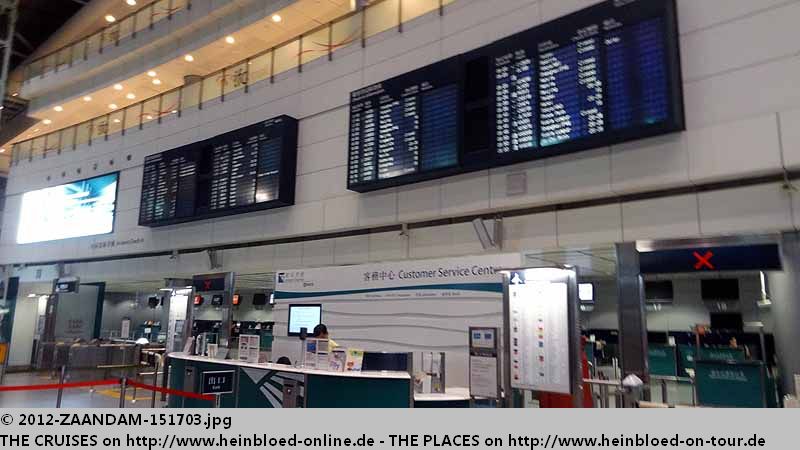 If you like you could also return to the city after check-in and go later to the airport.

On the return journey I bought by mistake concessionary tickets (for seniors and children). But I had no bad concious as I payed for my parents full fare for adults earlier the day... When the platform conductors saw that I was a tourist they just gave us two exit tickets and let us go.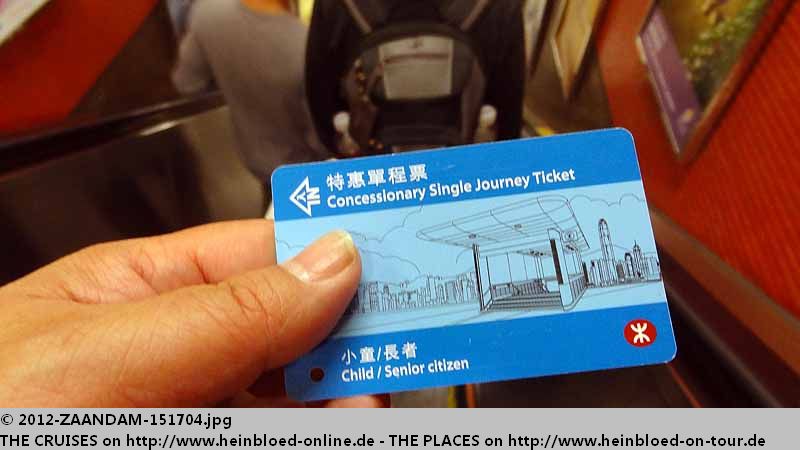 Auf der Rückfahrt habe ich irrtümlich Karten für Senioren (und Kinder) gekauft. Ein schlechtes Gewissen habe ich nicht unbedingt, weil ich ja vorhin für meine Eltern Vollpreise für Erwachsene bezahlt habe... Und die Bahnsteigkontrolleure merken, dass ich wohl Tourist bin und geben uns einfach im Austausch zwei Ausgangstickets, damit rauskommen.