Das Badezimmer.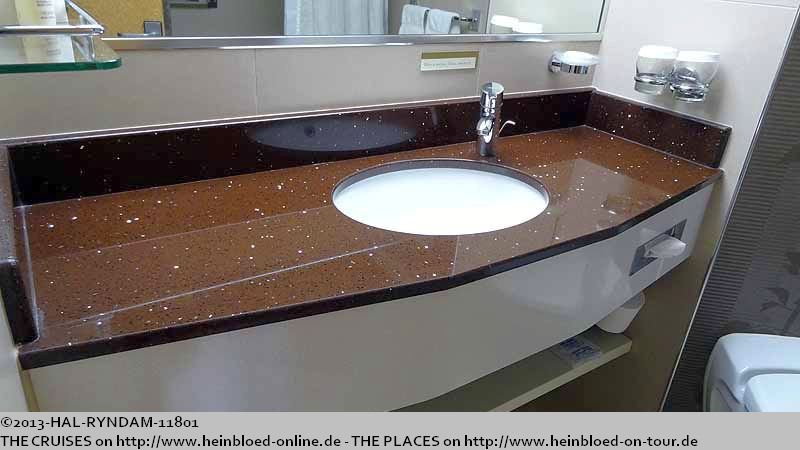 The bath room.

Elemis... and few goodies.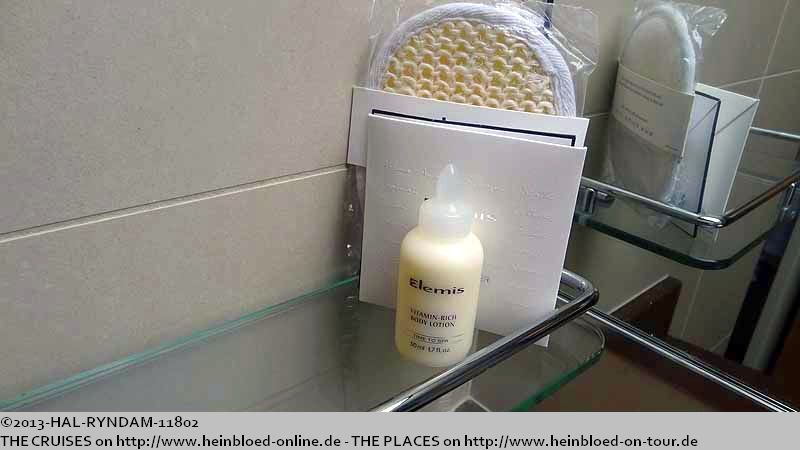 Elemis... und ein paar Nettigkeiten.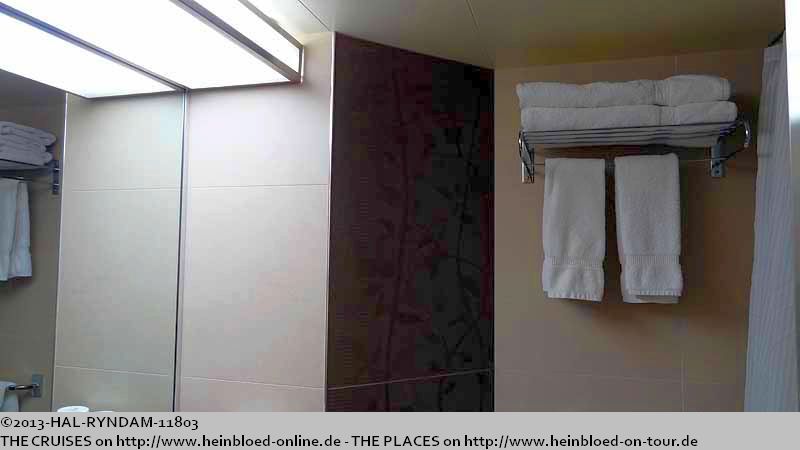 Whirlpool-Bathtub... someone wrote in a rating forum that the bathroom reminded her in a French budget-hotel... but I never have seen a whirlpool-bathtub in a budget hotel...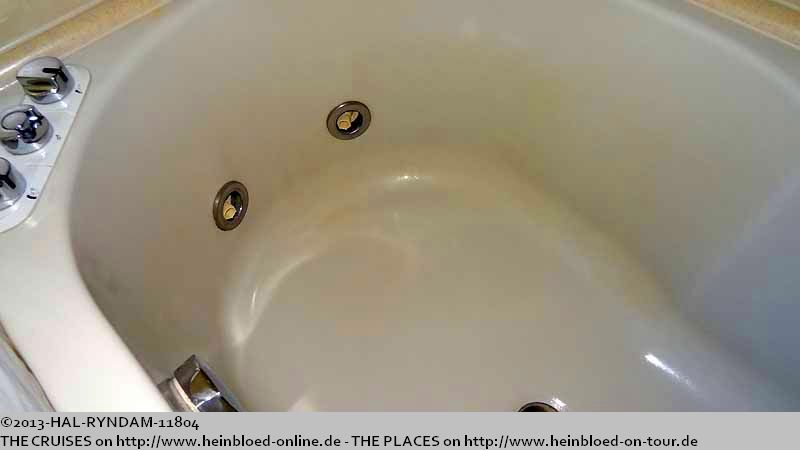 Whirlpool-Badewanne... jemand schrieb mal beim Holiday-Check, dass das Bad sie an ein Etap-Hotel erinnert... nur bisher habe ich noch nie eine Whirlpool-Badewanne in einem Etap-Hotel gesehen...
An der Dusche gibt es die Elemis-Produkte nur noch aus dem Spender. Aber das Duschgel hat eine ungewöhnliche Farbe und eine ungewöhnliche Konsistenz auf der Haut.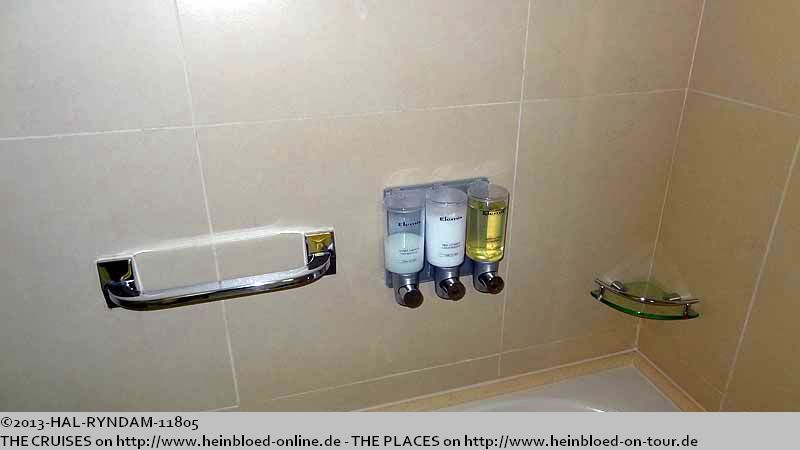 At the shower they had Elemis-Products out of a dispenser. But the shower gel had a strange colour and somehow it felt strange on the skin.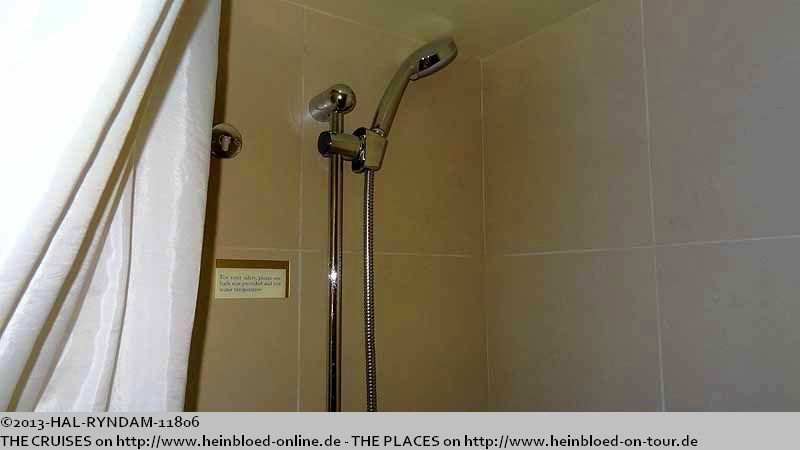 Eine Handbrause... die man nur in eine Richtung fixieren kann.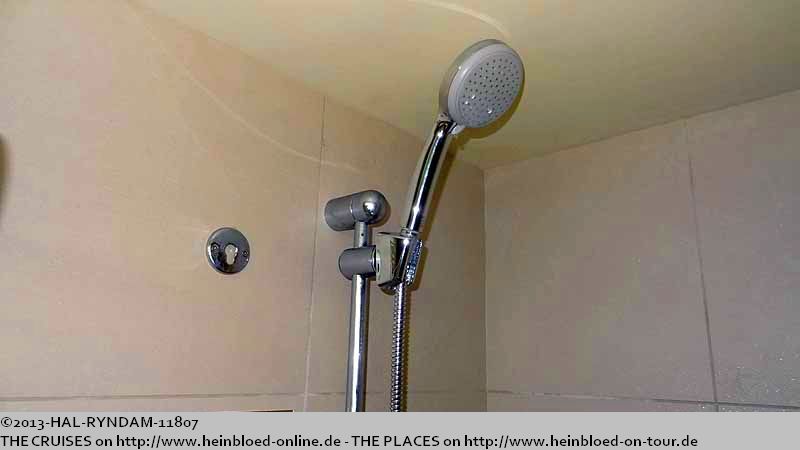 A shower head... which you can fix only to one direction.

A great balcony.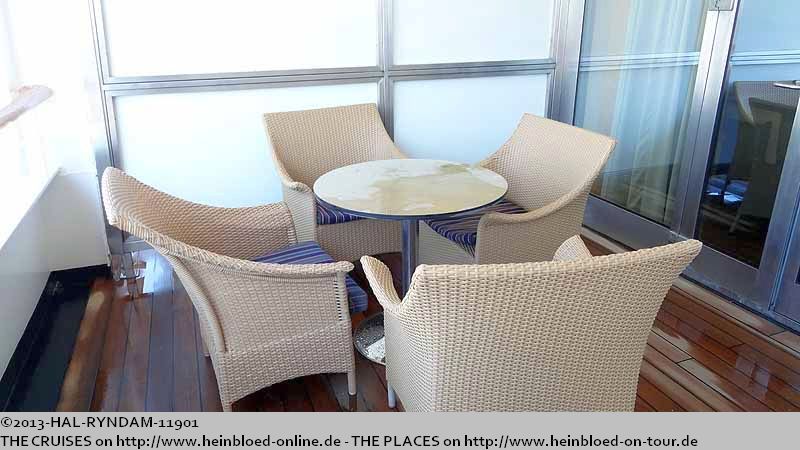 Toller Balkon.
Nur in den Prospekten gibt es eigentlich die gepolsterten Sonnenliegen beworben.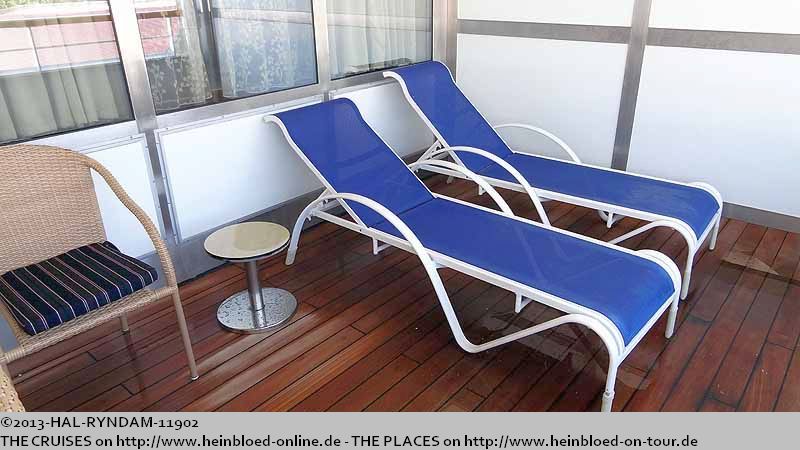 In the brochure they had cushioned sunlounger.

O.K. - someone need to fix the lamp...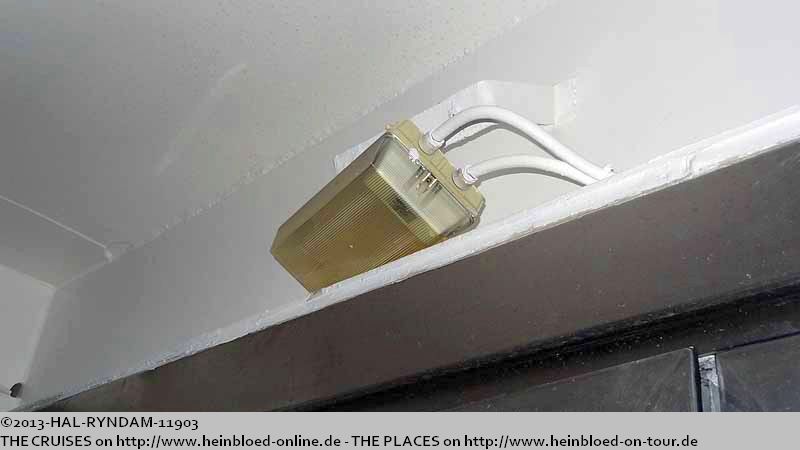 O.K. - die Lampe müsste mal wieder fixiert werden...
Und fast vis-à-vis ist die Neptune Lounge für die Gäste der Neptune und Penthouse Suiten.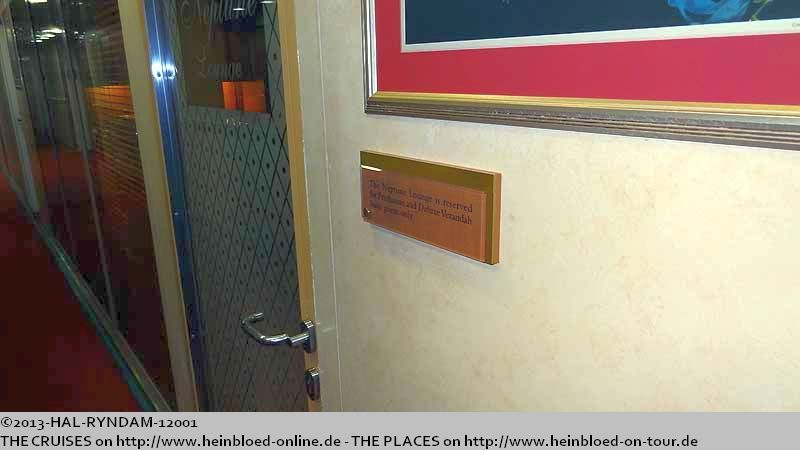 And more or less adjustant you find the Neptune Lounge for the guests of the Neptune and Penthouse Suites.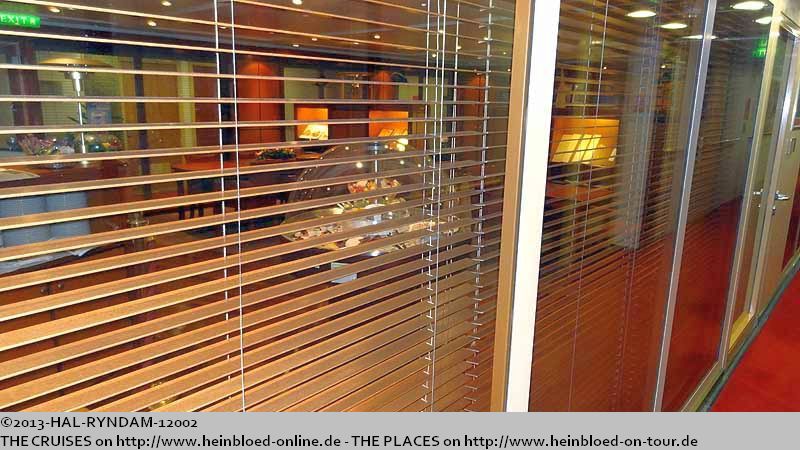 Aber auch hier gilt Code Orange: keine Selbstbedienung für 48 Stunden.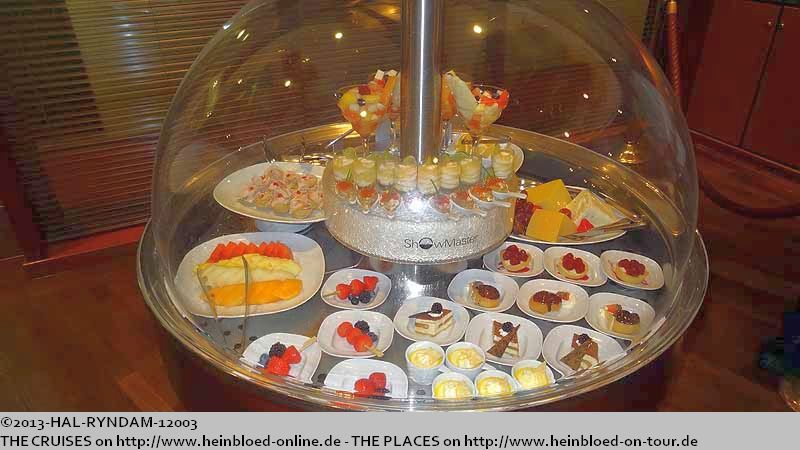 Here they had Code Orange too: no self-service for 48 hours.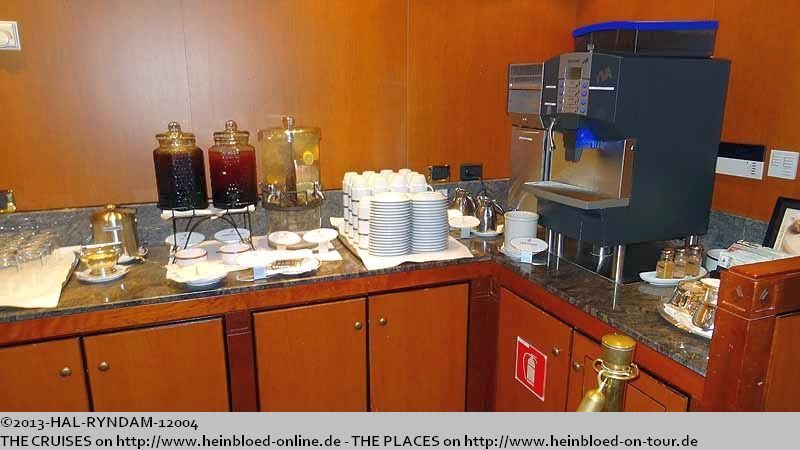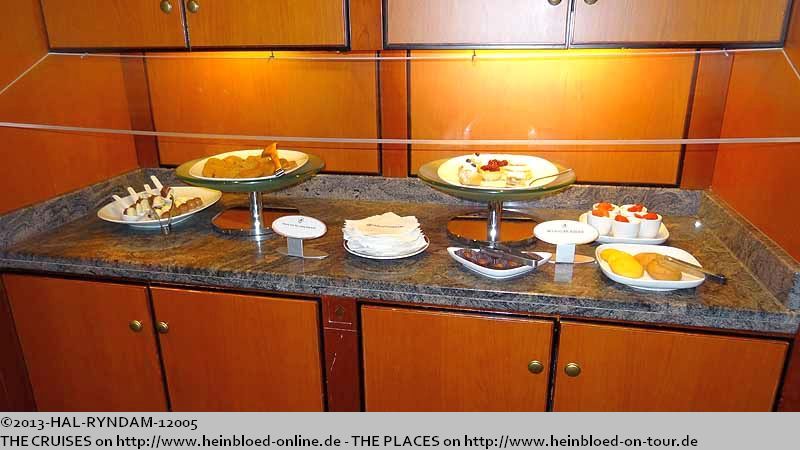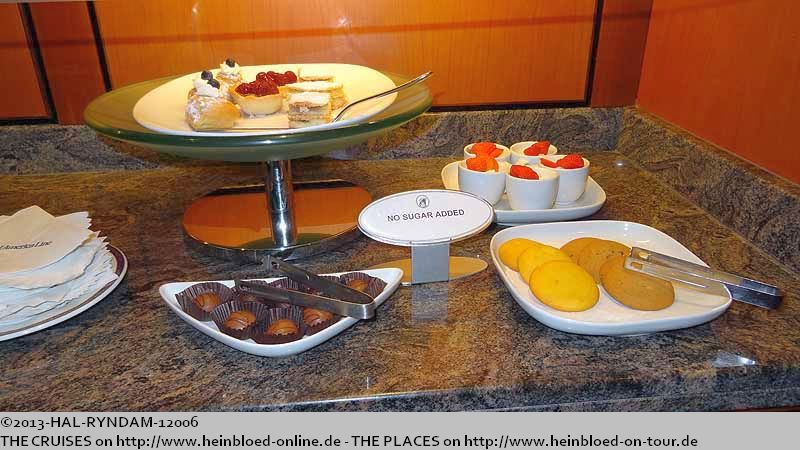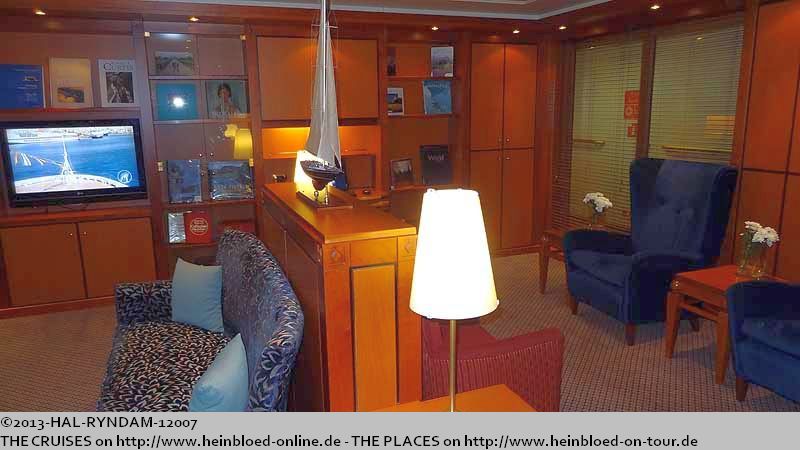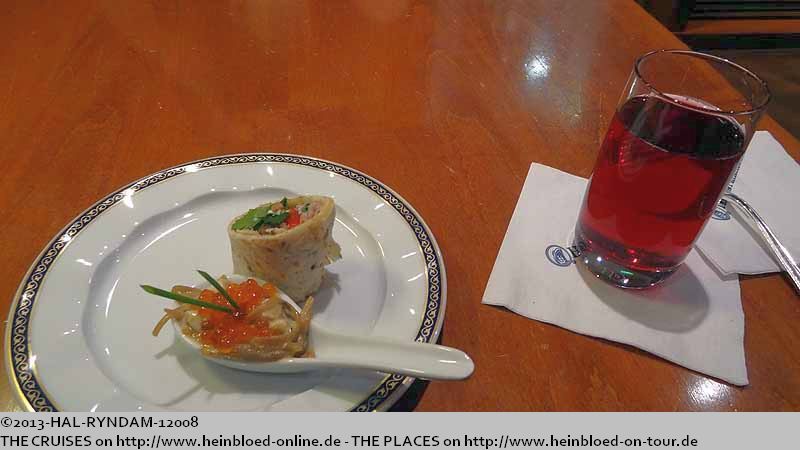 Kenner wissen das: es gibt nur wenige Anlässe, dass ich ein T-Shirt der Gesellschaft trage, mit der ich auch fahre. Aber selbst nach wenigen Stunden: "dam good ships" stimmt einfach.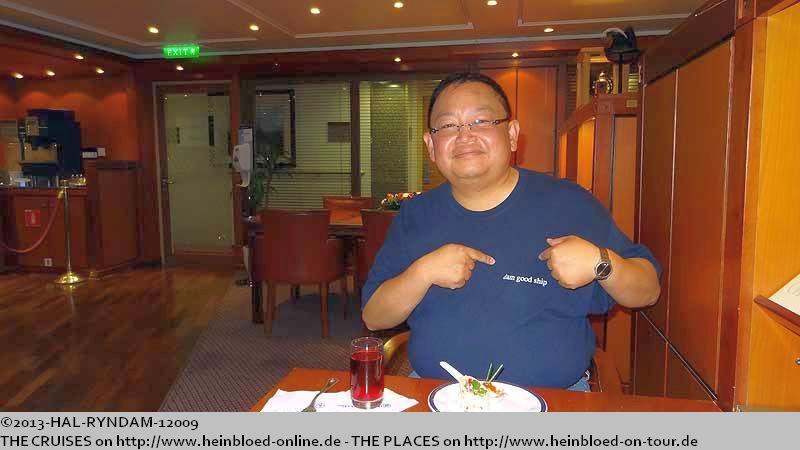 Connaisseurs knew: there are only very few occassions I am wearing the t-shirt of the cruise line I am actually on. But just after few hours I need to say: "dam good ships" which was true.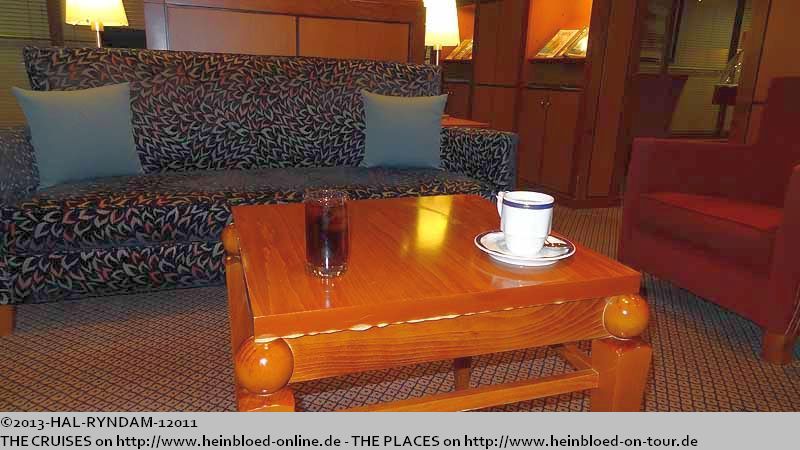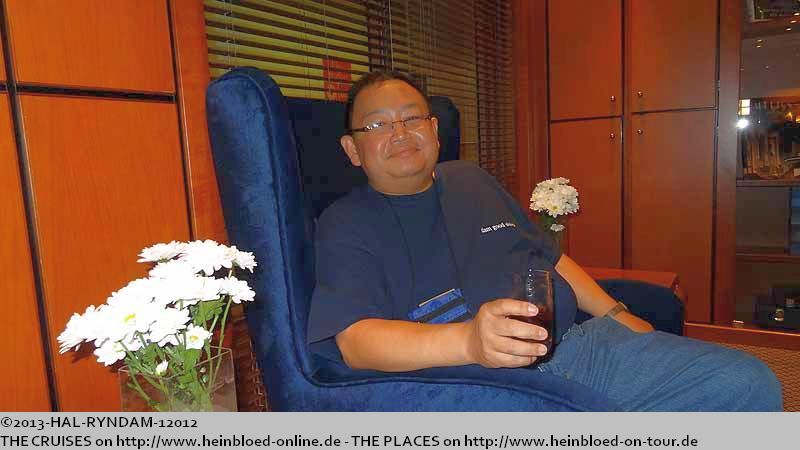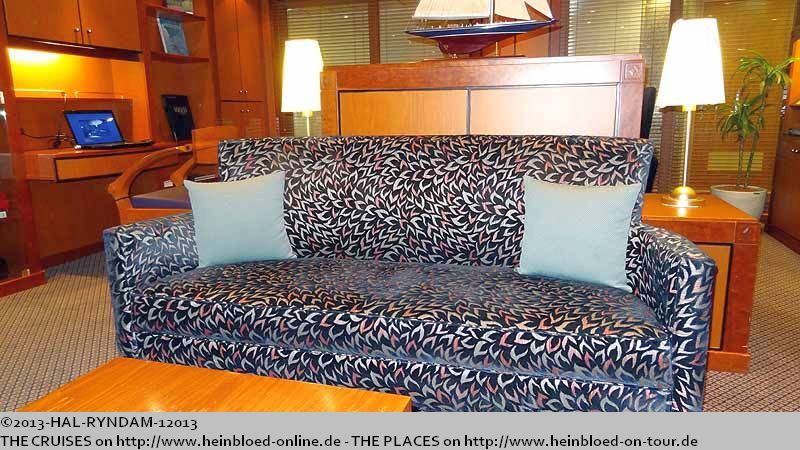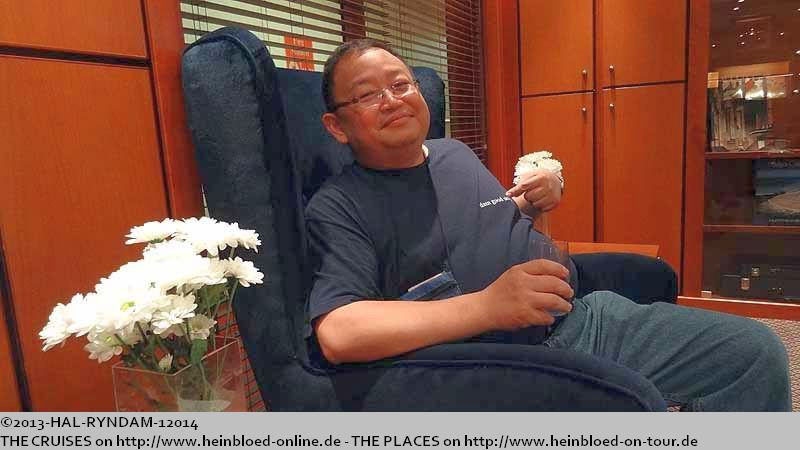 Das Essensangebot wird mehrmals am Tag ausgetauscht.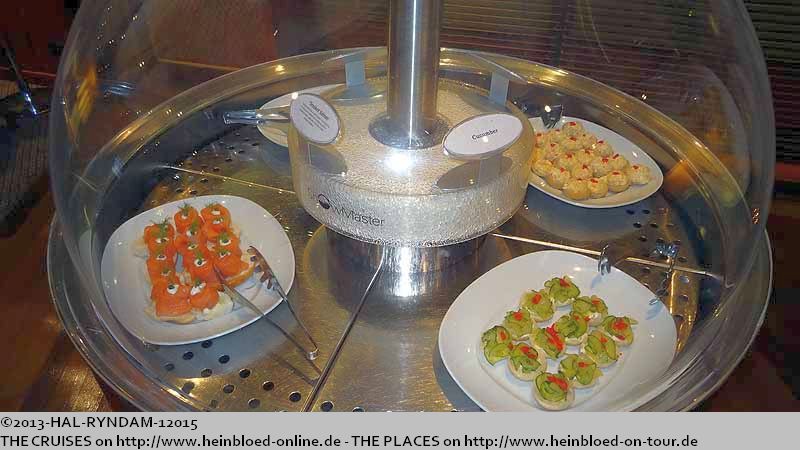 They changed the food at multiple times of the day.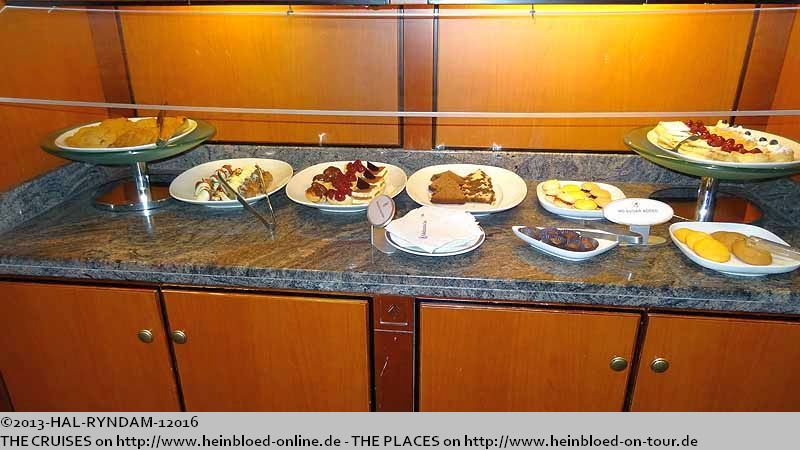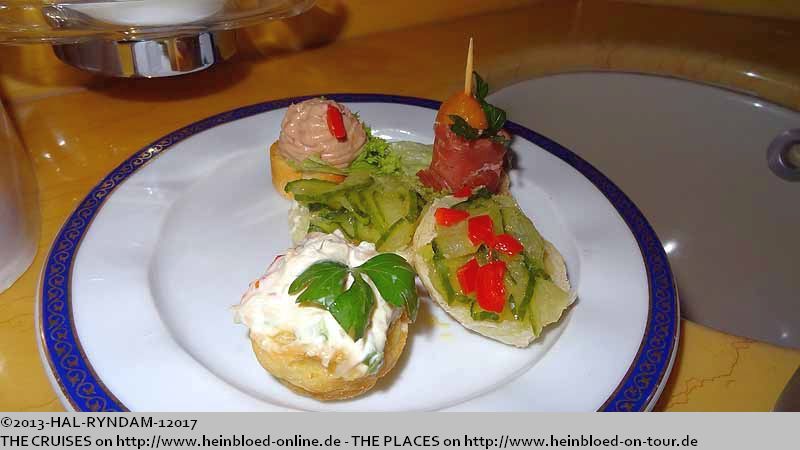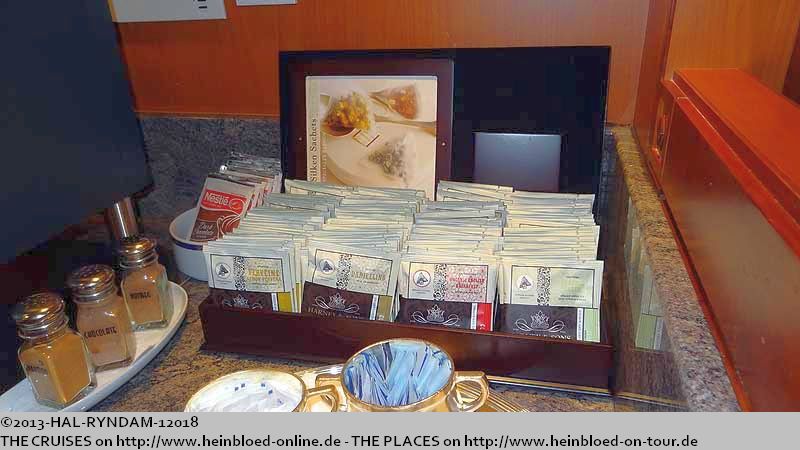 Wir gehen ins Rotterdam Hauptrestaurant zum Mariner's Lunch.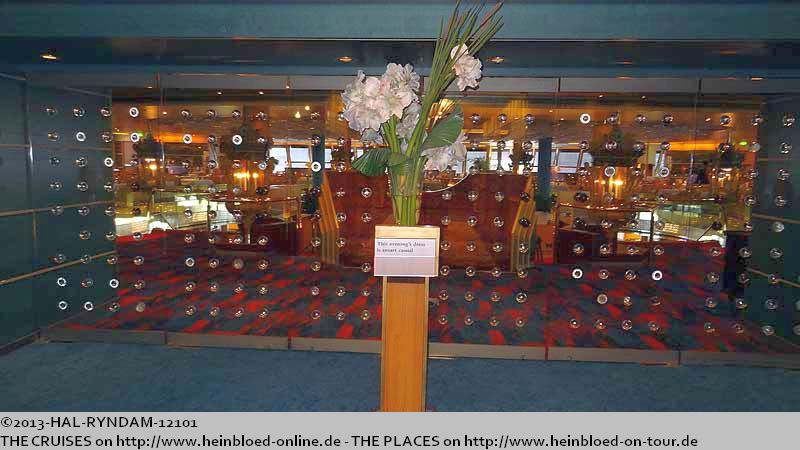 We went to the Rotterdam MDR for Mariner's Lunch.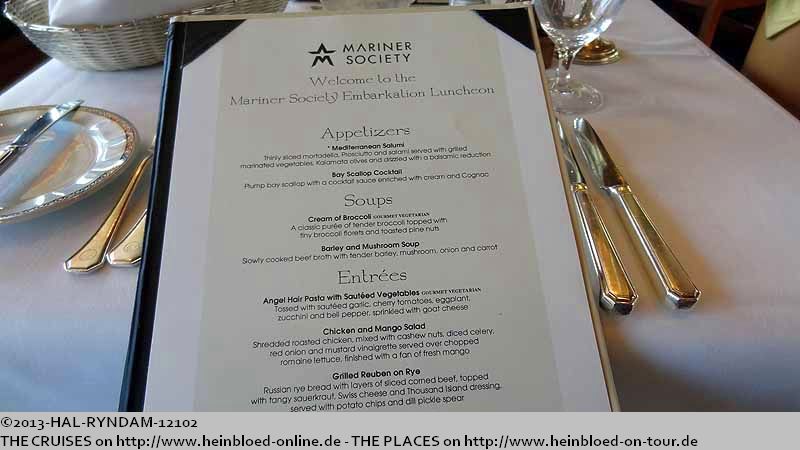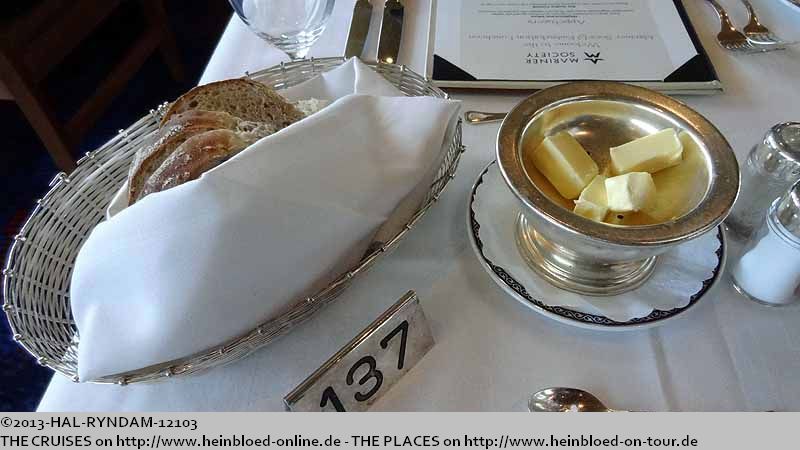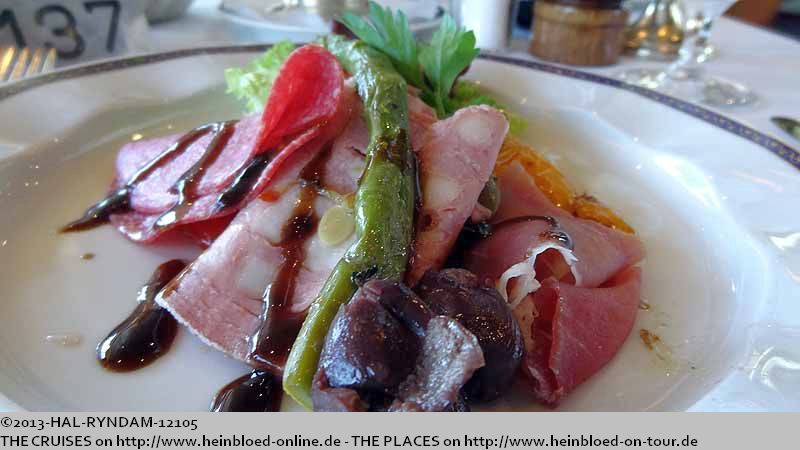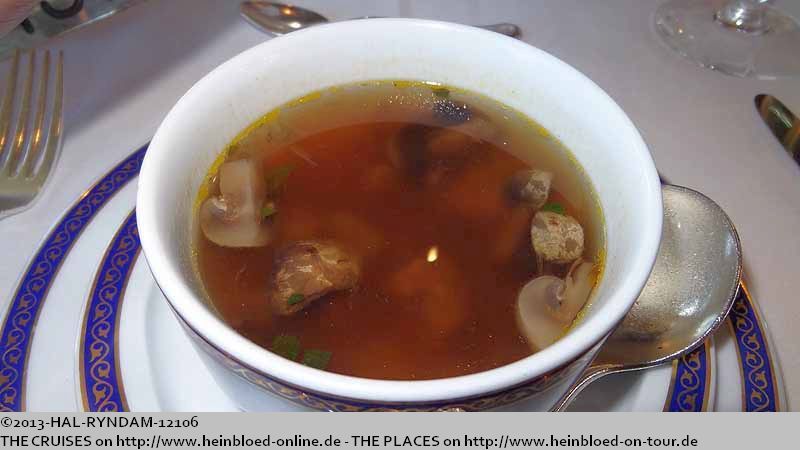 Die Brühe ist sehr gut!!!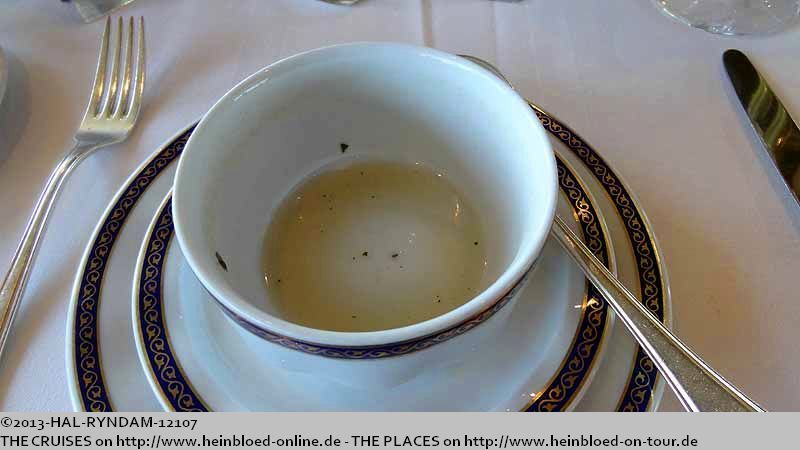 The broth was very good!!!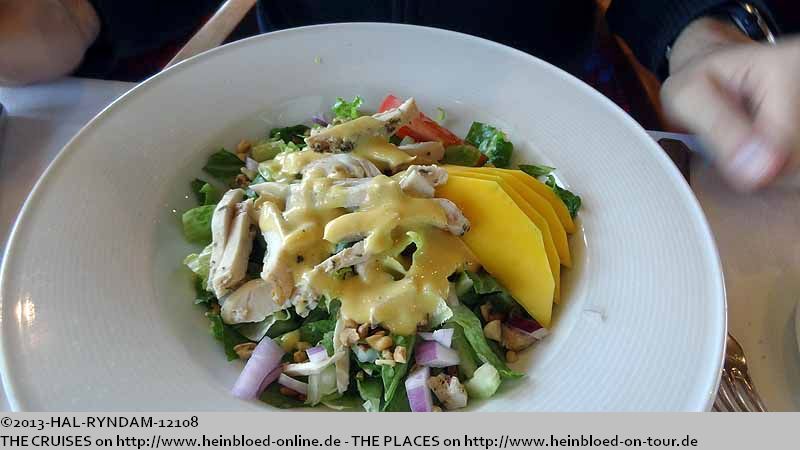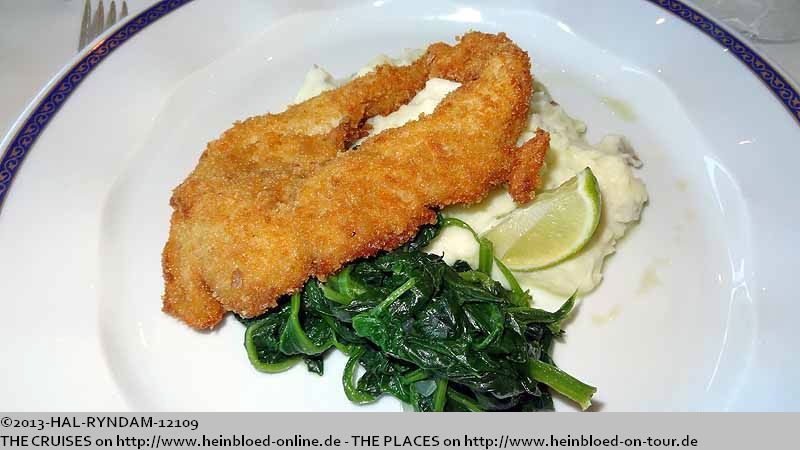 A peppermill on the table - a sign that there is no peppermill service anymore.

Eine Pfeffermühle am Tisch - ein Zeichen, dass wohl der Pfeffermühlenservice abgeschafft wurde.